LEGO City Town Advent Calendar is here for 2019!
LEGO Advent calendars are undeniably one of the hottest advent calendars for all ages all over the globe. Every year, they release 3 advent calendar designs you can choose from and this year they've added Harry Potter! This year's advent calendar lineup includes this LEGO City Town Advent Calendar, LEGO Star Wars Advent Calendar, Lego Friends Advent Calendar, and the LEGO Harry Potter Calendar.
For 24 days of fun, a different surprise awaits you behind each door. These are buildable Legos and they promise to bring in plenty of variety. Models range from a space shuttle and robot to a Christmas tree. Great for either play or display, these models can be enjoyed not just during Christmas but all year long.
If you're in the UK, grab these calendars from IWOOT in the UK (delivery is $2.99 in the US).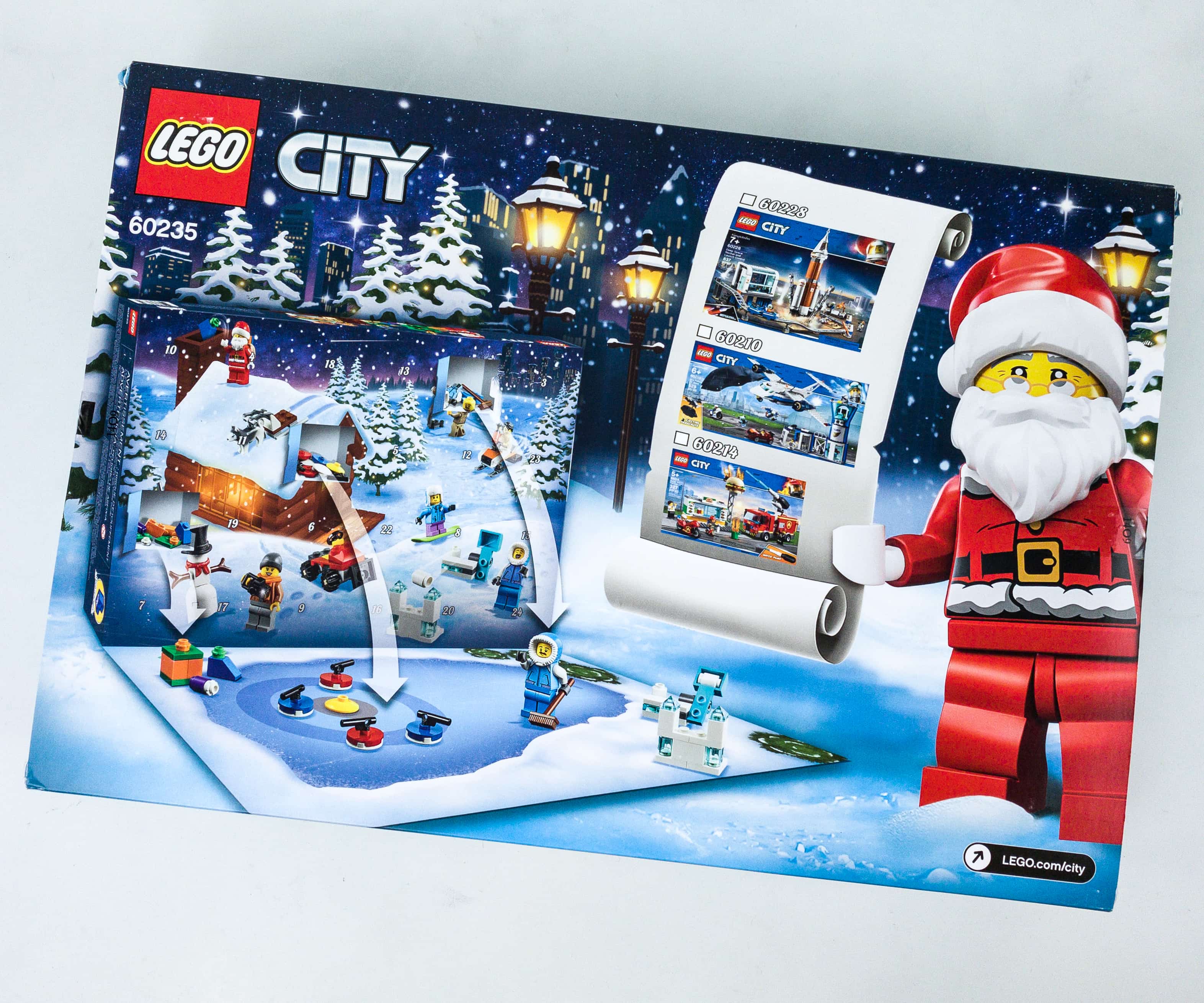 Lego City Advent Calendar 2019 ($32.99)
Build 24 different presents in this Christmas countdown Advent Calendar, including vehicles, minifigures and other seasonal items
With 7 LEGO City minifigures (including Santa Claus!) and a husky dog figure
Vehicles include a sleigh, snow plow tractor and a snowmobile
234 pieces – For boys and girls aged 5+ and for fans and kids of all ages
This LEGO City Advent Calendar 60235 playset can be built together with all other original LEGO sets and LEGO bricks for creative building
This year's Lego City Calendar features a snowy scenery with a smooth-surfaced snow curling ring!
As always, all the mini-boxes are placed in a random order to make it more fun and exciting!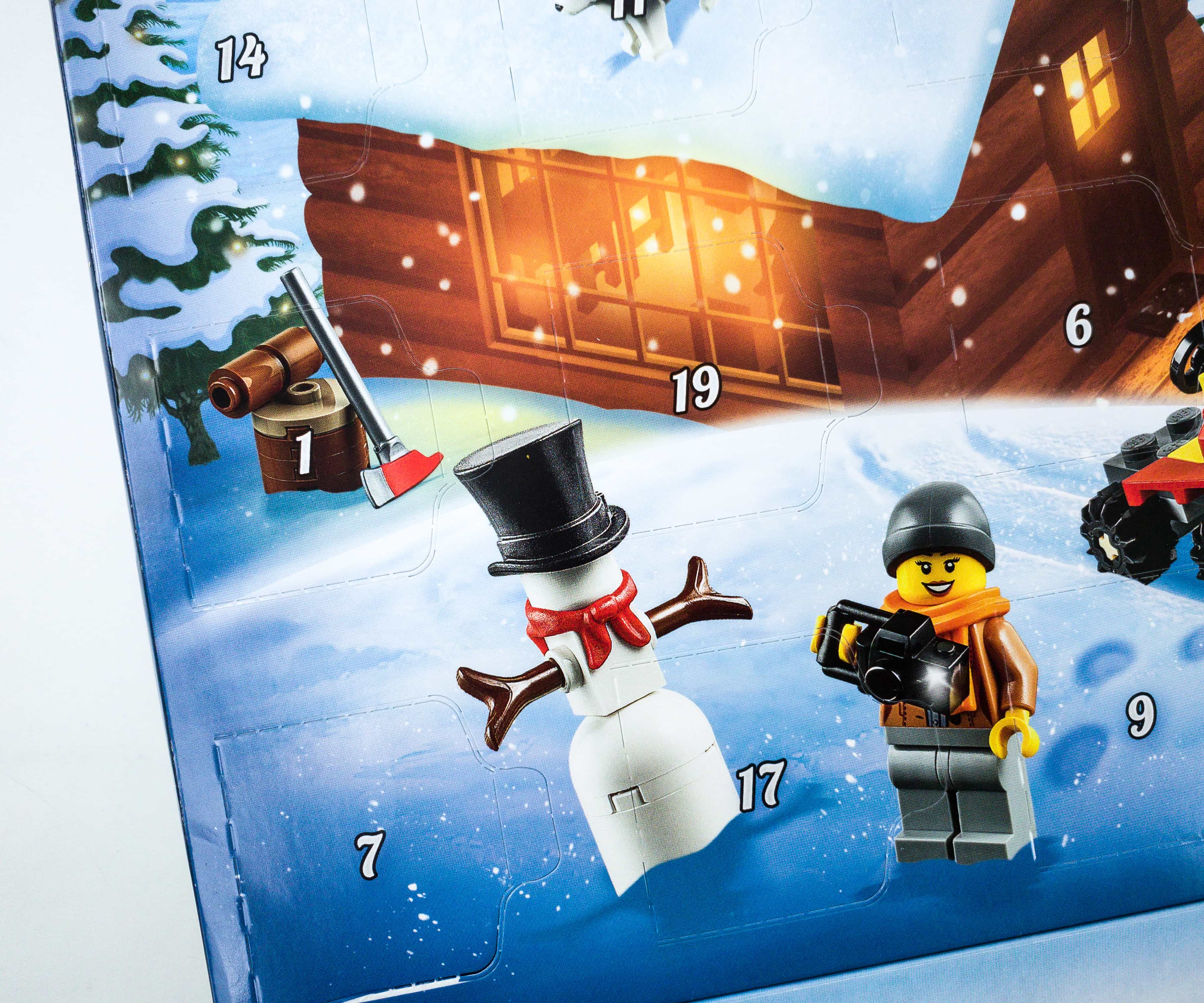 To open, simply push the lock on the side and tear it slowly. We will be starting with the first compartment!
The first on our advent calendar is a snowplow tractor or winter service vehicle!
All the Lego pieces are packed in a small plastic container.
Since it only contains a number of Lego bricks, we don't even need an instruction card to build it. So easy!
The second compartment is located in the middle part of the box, above the sixth room.
This next item we got is a snow slingshot!
Each compartment features a variety of surprising Lego pieces to build, and my kids were really thrilled to open them!
This eleventh room contains a curling set which includes 2 pairs of curling stones.
There is no room more exciting than the 24th compartment!
Inside is a pack full of red, white, and yellow Lego bricks. It also features a picture of a very familiar Christmas figure.
It's a Santa Claus mini-figure with his bag full of gifts!
Here are some Lego bricks that are interchangeable, meaning you can also put them on the other builds and still fit perfectly!
Here's the full line-up of all the items inside our 2019 Lego City advent calendar!

For our first week of Lego set, we built a snowplow tractor, slingshot, a mini-figure, snow fort, wood and axe, and a Christmas tree!
The second batch includes 3 more exclusive mini-figures, a curling set, and a rocking chair.
The third batch also comes with two mini-figures, side table, kitchen set, dining set, and snowmobile.
This last batch includes a vintage floor standing clock, telescope, fireplace, a sleigh with a husky dog, a snowboarder, and of course Santa Claus!
When you put all the Lego builds together, the scene looks so fun and busy!
Everything looks so great together!
Everyone is so busy doing their own chores. The Christmas tree is set, the dinner is ready, and the they are all here. It's time for party!
Santa was caught sneaking in! So cute!
This year's Lego City Advent Calendar has once again amazed us with their impressive curation of fantastic Lego builds and figures! My kids find this box really enjoyable and so exciting. Every compartment features a variety of colorful and high-quality Lego pieces. They even came up with a number of interchangeable extra pieces, which we find amusing as well. It really makes a perfect gift for the holidays, totally worth it!
Did you get this year's Lego Advent Calendar?
Looking for even more advent calendars? Check out all our posts on Advent Calendars or find more on Amazon, or see the list of Advent Calendars in the directory!