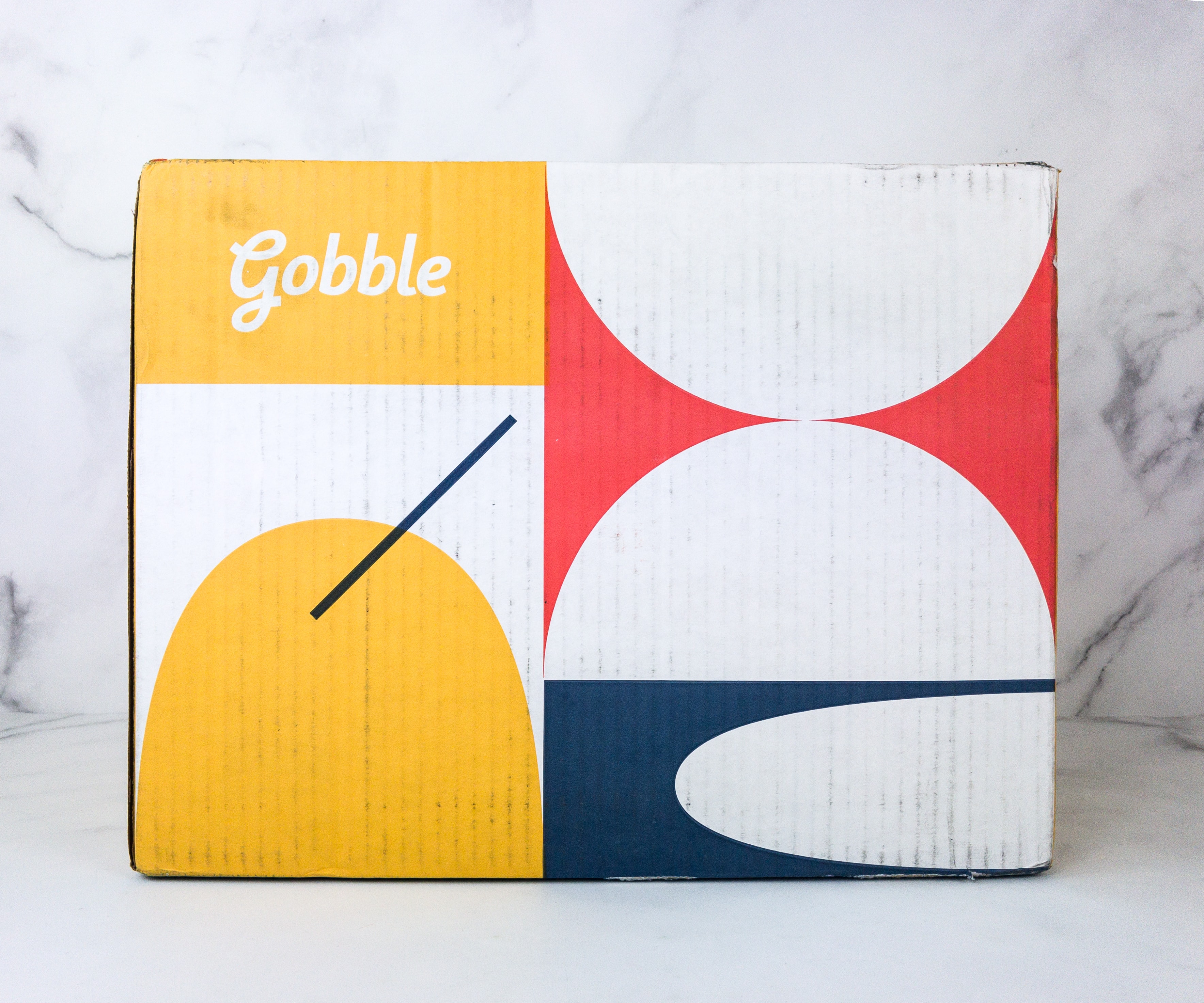 Gobble is a weekly dinner kit subscription box. Each delivery includes 3 dinner kits, each with 2 or 4 meals, but you can add on meals and get as many as you want! Each meal comes with a simple three-step recipe card to guide you in getting your dinner to the table. Gobble's focus is on making dinner preparation as quick and easy as possible without compromising on freshness. They speed up the process through the strategic use of pre-prepped items, allowing them to promise a prep time of 15 minutes or less for all of their meals!
DEAL: Save $50 on your first box! Use coupon code 50DPARTNER.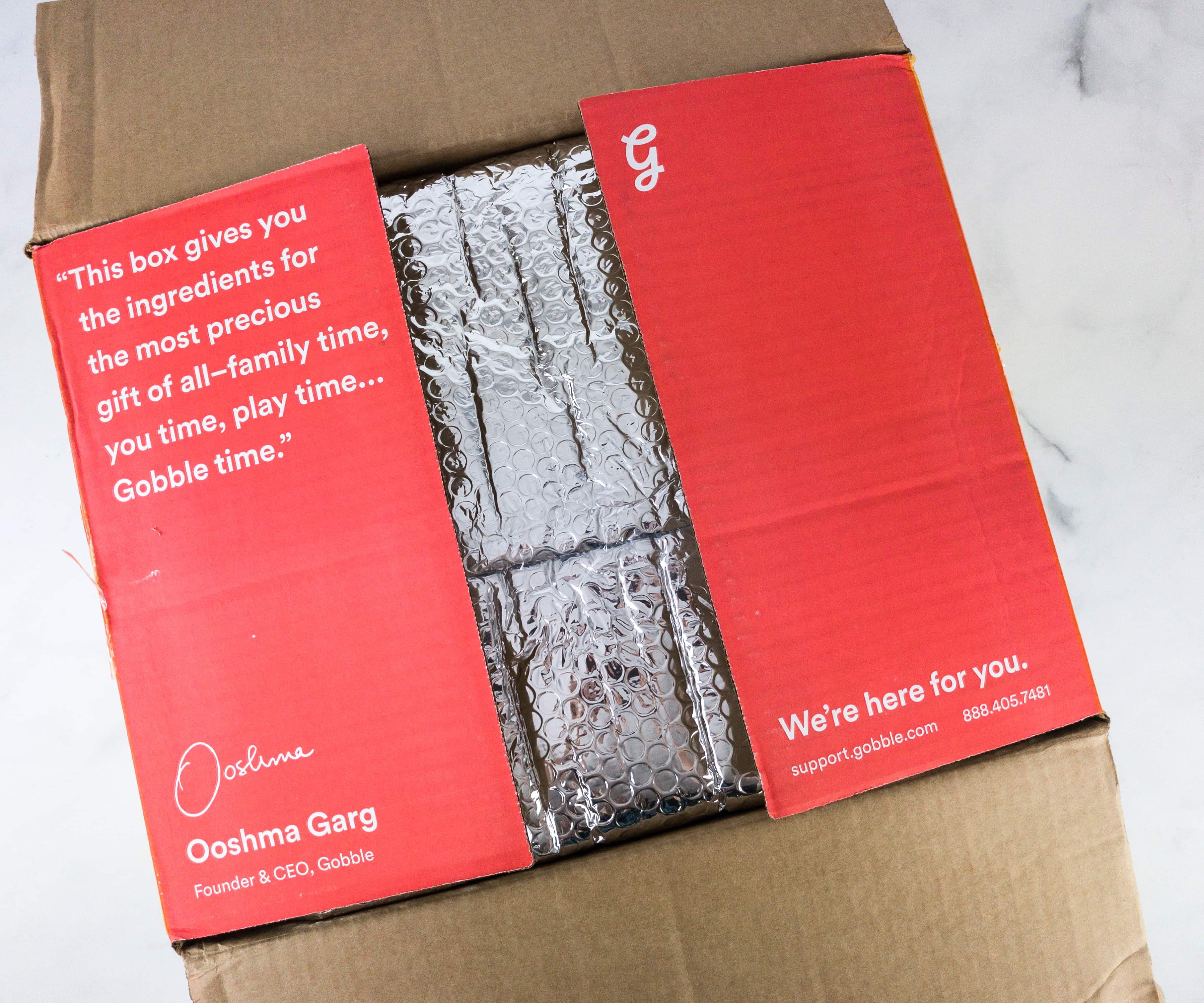 Their boxes are always well packed, to ensure the safety and the freshness of the ingredients!
All of the items are topped with ice packs to keep them fresh.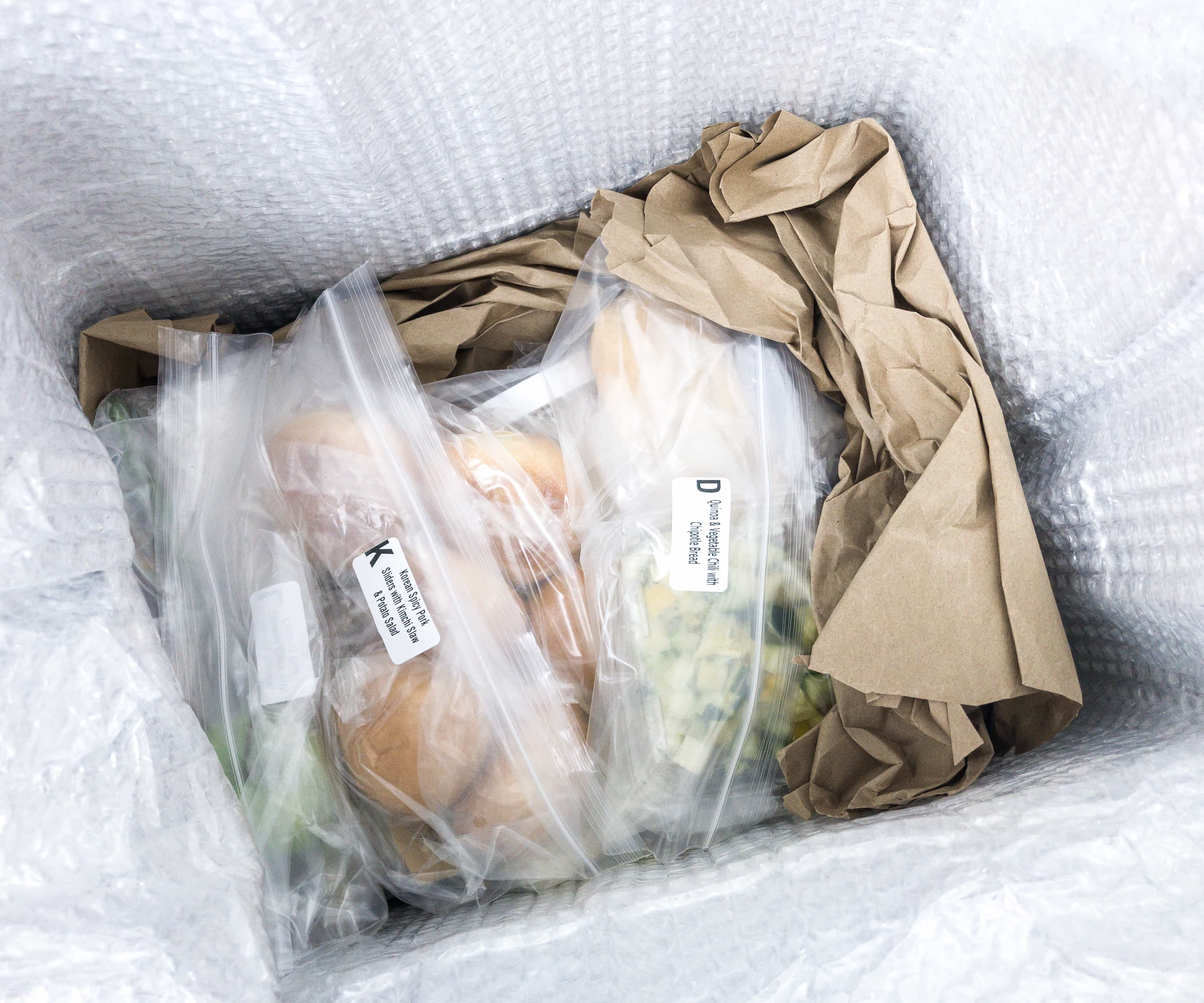 Protected inside the padding, the ingredients are in separate resealable plastic bags.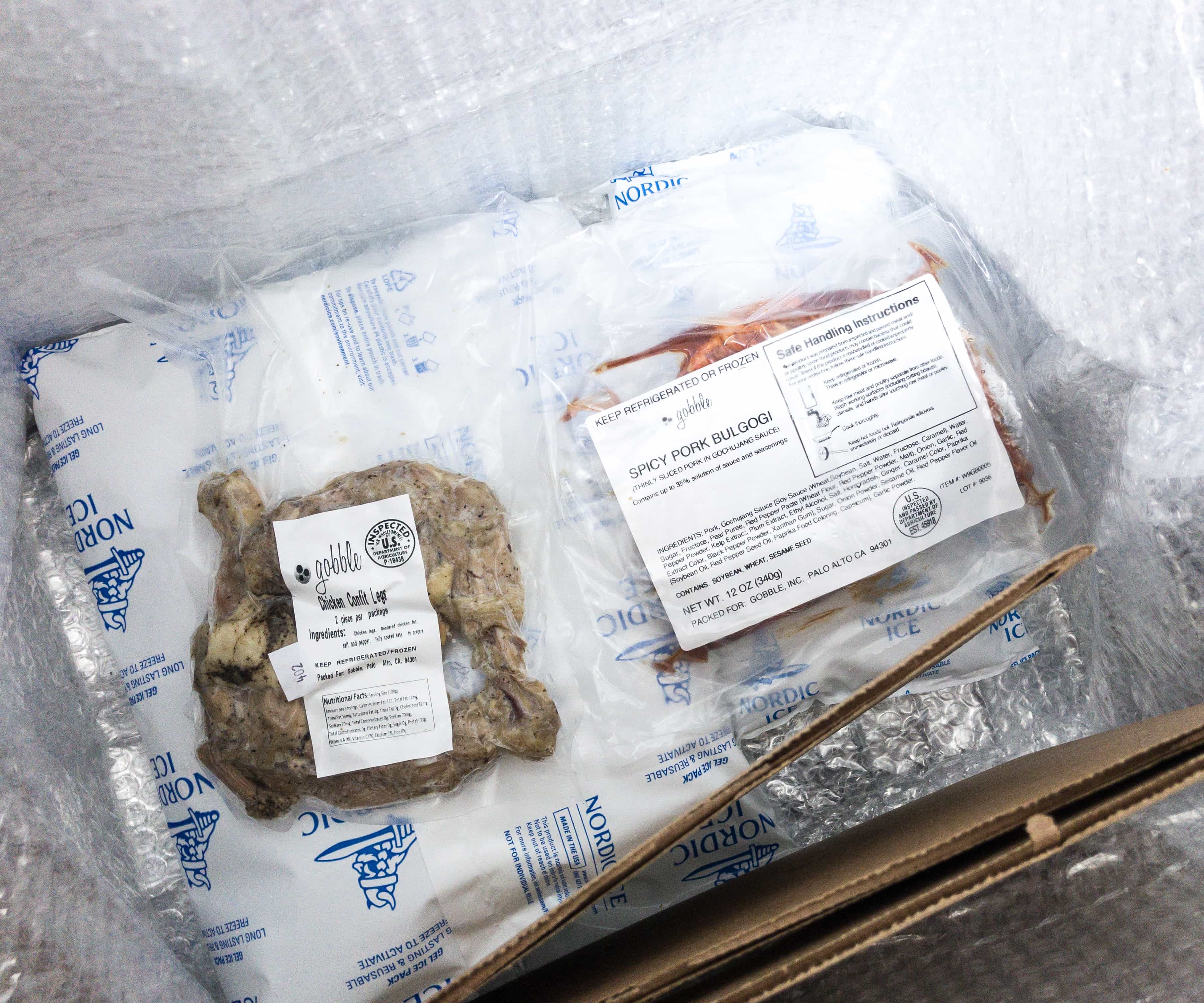 All the meats are also segregated and are kept on ice at the bottom part of the box.
Each Gobble recipe has its own lovely card with a picture of the plated dish, calorie count per serving, a list of supplies you need to gather from your own kitchen, a list of items from the dinner kit, and some useful trivia. The card is tinier than that used by other kits (about half again the size of a classic recipe card), but they've managed to fit everything you need on it.
Everything in my box!
The ingredients were neatly packaged and bagged together by recipe. This box has my favorite packaging of any kit — it is similar to Plated or Home Chef, with a combination of bags and screw-top canisters, but it was very neatly packed, and the bags were thick and pleasant to handle. It seems odd to note the quality of the plastic bags, but they stood out enough for me to notice them. I was also immediately impressed by the cleanliness and freshness of the ingredients — everything was absolutely pristine and extremely fresh looking.
Chocolate Chip Cookies. This month's box includes a bonus item from Gobble, delicious chocolate chip cookies. They also included instructions on how to bake them.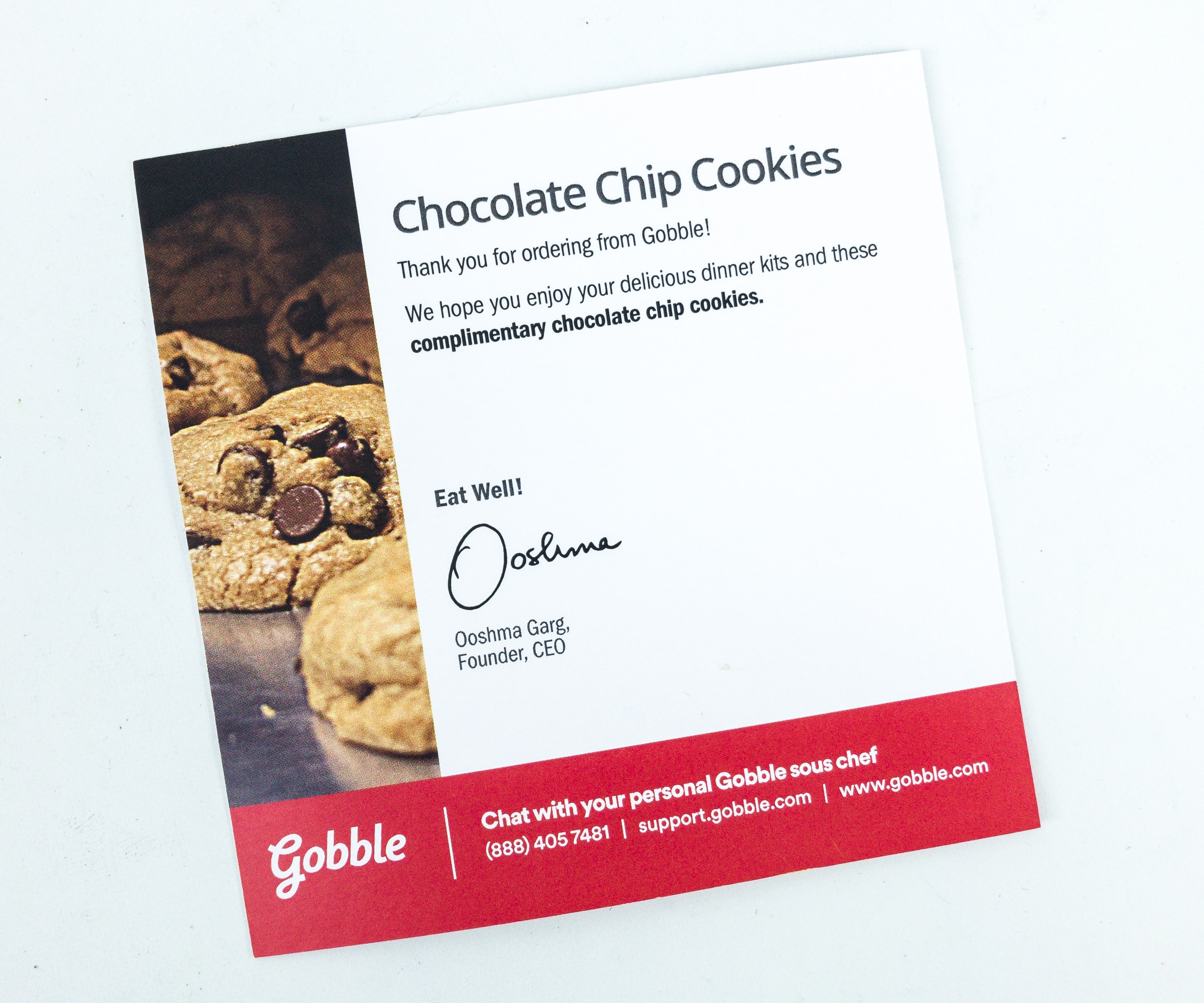 At the back of the instruction card, there's a message from Gobble Founder and CEO, Ooshma Garg.
According to the card, avoid thawing the cookie dough in advance as it might deteriorate its quality and freshness.
In baking, place the cookie dough onto a nonstick bake sheet and bake it at 375°F for 12-15 minutes or until it turns golden brown.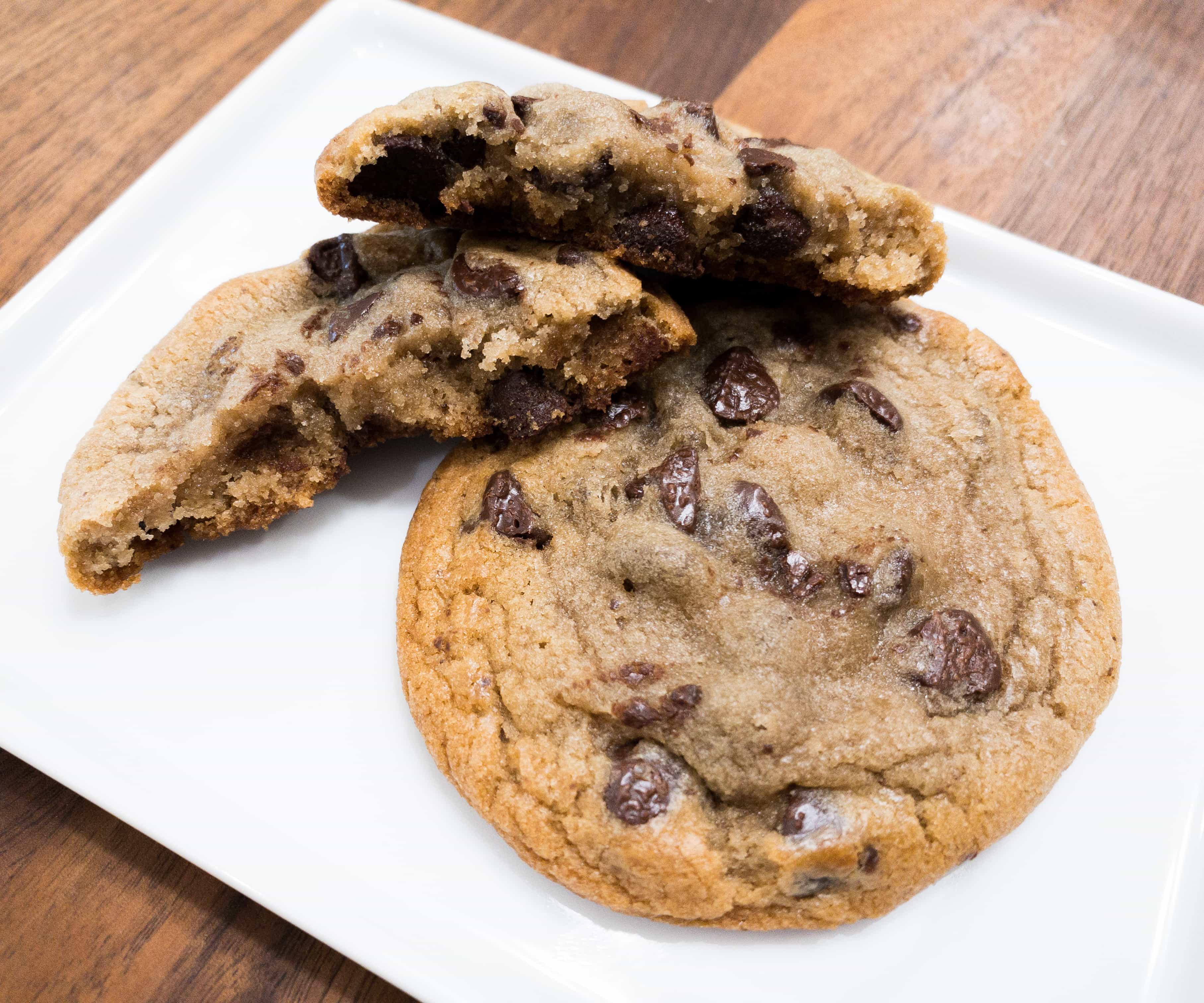 The cookies turned out wonderful! They're soft and delicious, all that's missing is a glass of milk!
Quinoa Vegetable Chilli With Southwest Garlic Bread – 680 calories per serving (2 servings per kit)
For the first recipe, we used quinoa chili, diced squash, demi baguette, chipotle butter, sour cream, and pico de gallo!
The cooking instructions are pretty detailed. Everything was a breeze and I didn't encounter any problems. Also, the chili base arrived pre-prepared so that reduced cooking time greatly. All I had to do was to saute the diced squash with it and then add some salt and pepper. Gobble even gave us ideas for plating! For this one, they suggested to place the quinoa chili into serving bowls and top it with sour cream and pico de gallo.
A quick and easy dinner option, this vegetable chili features a thick texture with a savory taste. Onions, tomatoes, summer squash, peppers, quinoa, kidney beans, and sweet corn make such a hearty combination. They pair well with the baguette! It's such a complete, filling, and satisfying meal. Plus, it's way much healthier than your usual chili since it's made with protein-rich quinoa!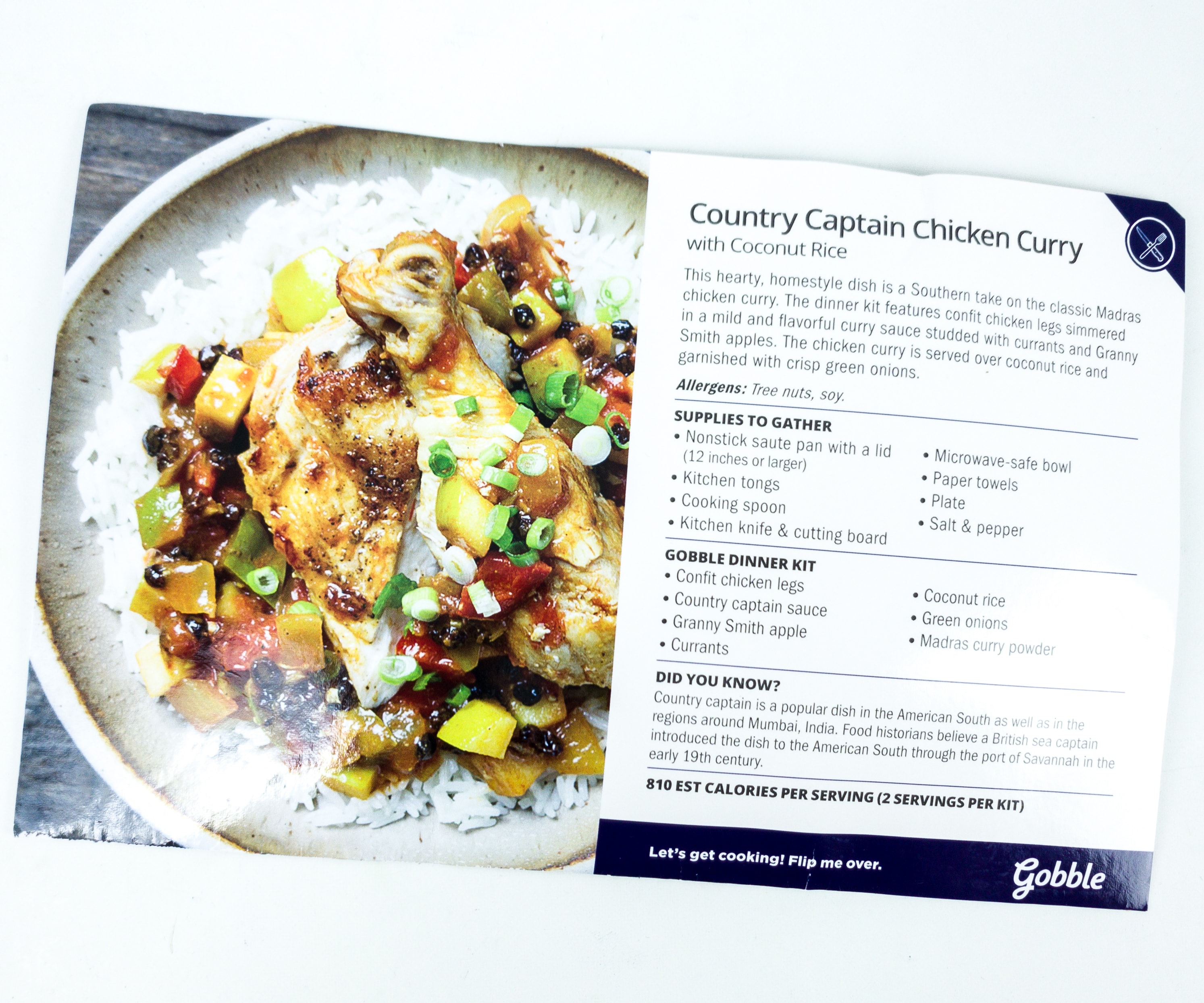 Country Captain Chicken Curry with Coconut Rice – 810 calories per serving (2 servings per kit)
For the second dish, we received chicken legs, country captain sauce, Granny Smith apple, currants, coconut rice, green onions, and madras curry powder.
The key to making this dish tasty is in the captain curry sauce. It should be placed on top of the whole dish together with the chicken and finish it off with by garnishing it with the sliced green onions.
Country Captain Chicken Curry is one of the most popular dishes in South America. It's also popular in India, most especially in the regions around Mumbai!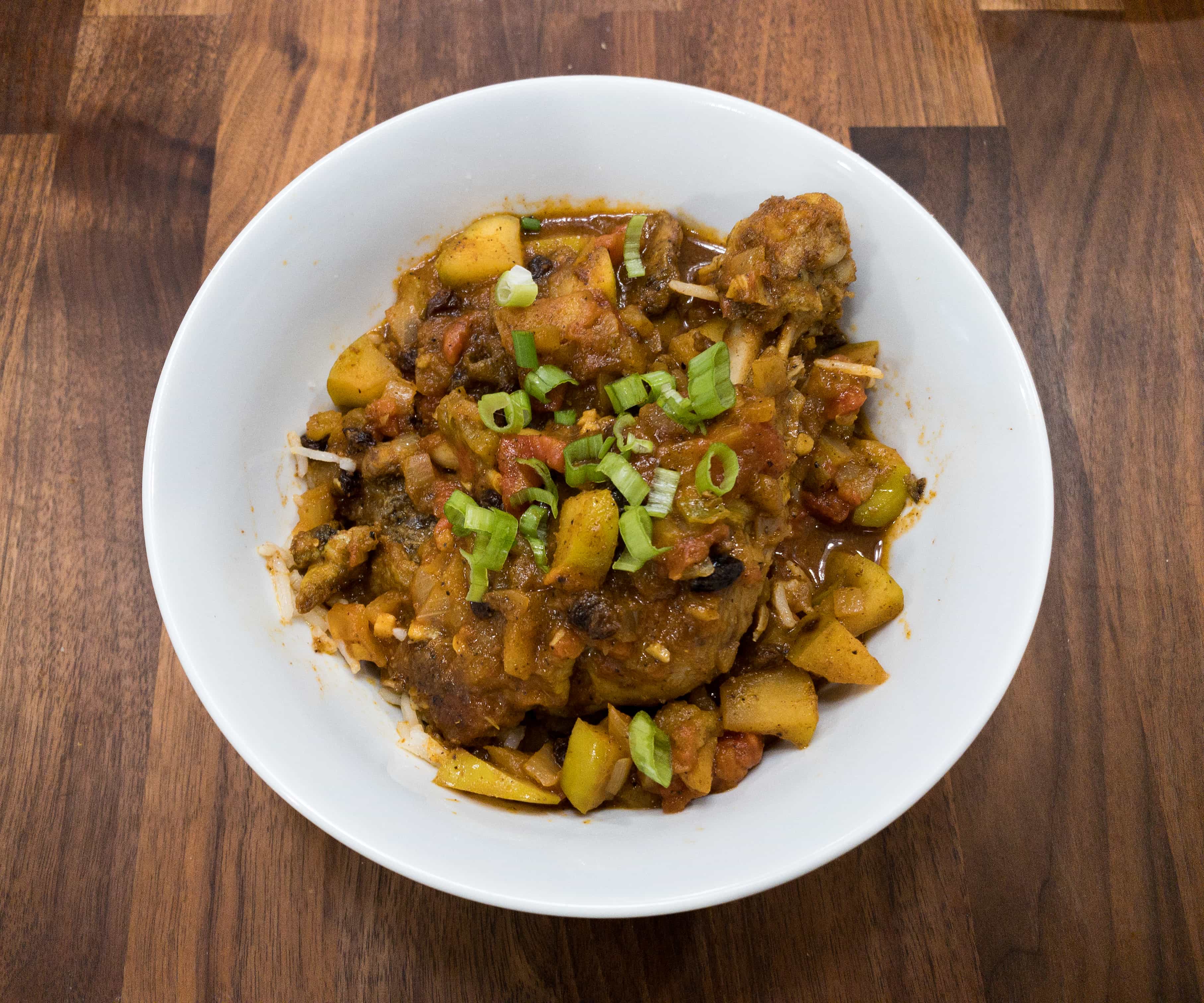 The sauce makes all the difference! The chicken absorbed the curry flavors pretty well, and it came out really juicy and tasty. The currants and Granny Smith apples rounded out the dish well. They even provided coconut rice that makes it a heavy, gratifying meal!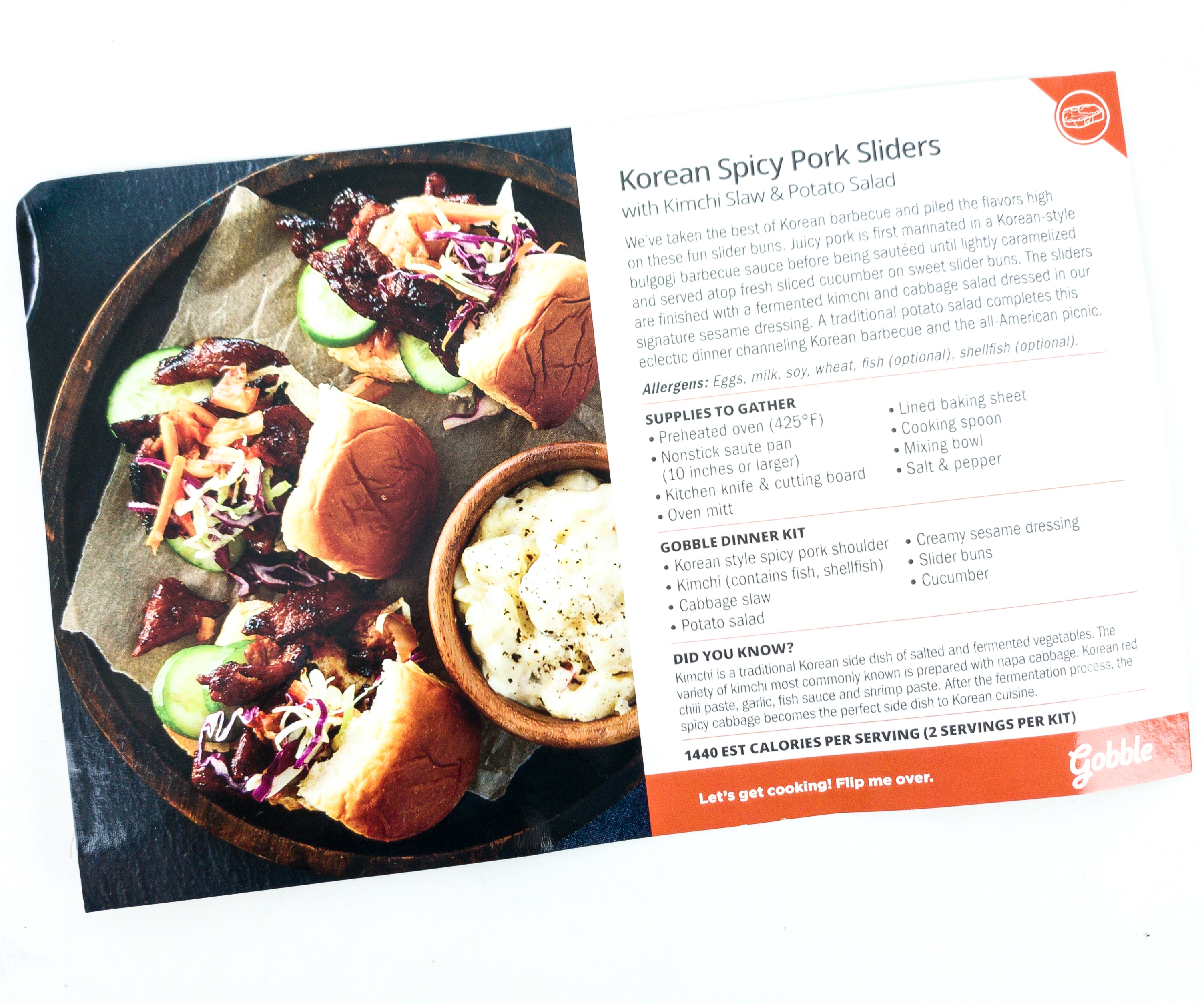 Korean Spicy Pork Sliders With Kimchi Slaw & Potato Salad – 1440 calories per serving (2 servings per kit)
For the third recipe, we used Korean style spicy pork shoulder, kimchi, cabbage slaw, potato salad, creamy sesame dressing, slider buns, and cucumber.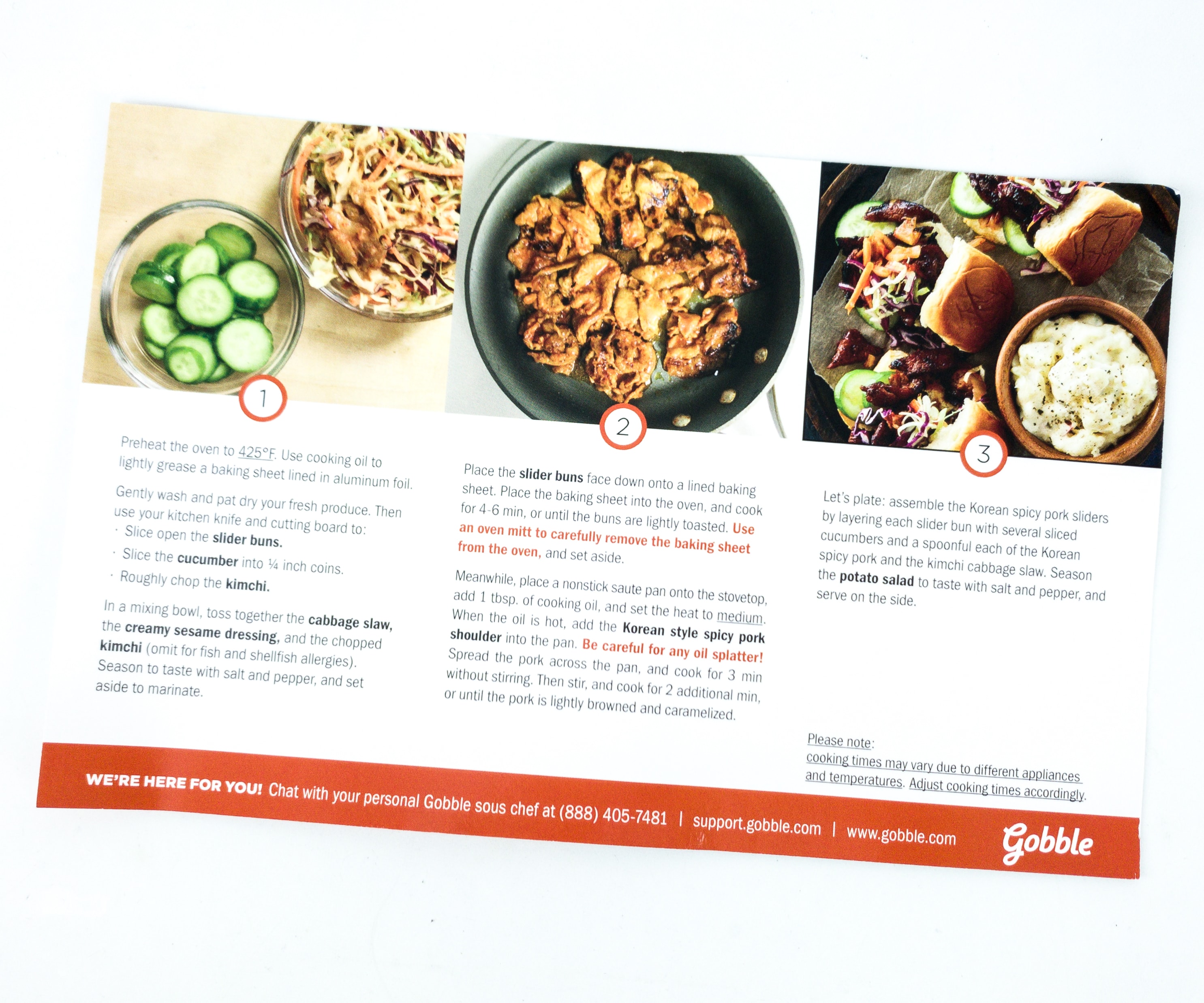 This recipe is for the Korean barbecue fans! They just made it easy for us to enjoy traditional Korean flavors in a few easy steps, and all in one bun at that!
It's an easy-to-prepare sandwich recipe featuring pork marinated in Korean-style bulgogi barbecue sauce. This recipe definitely calls for a glass of wine!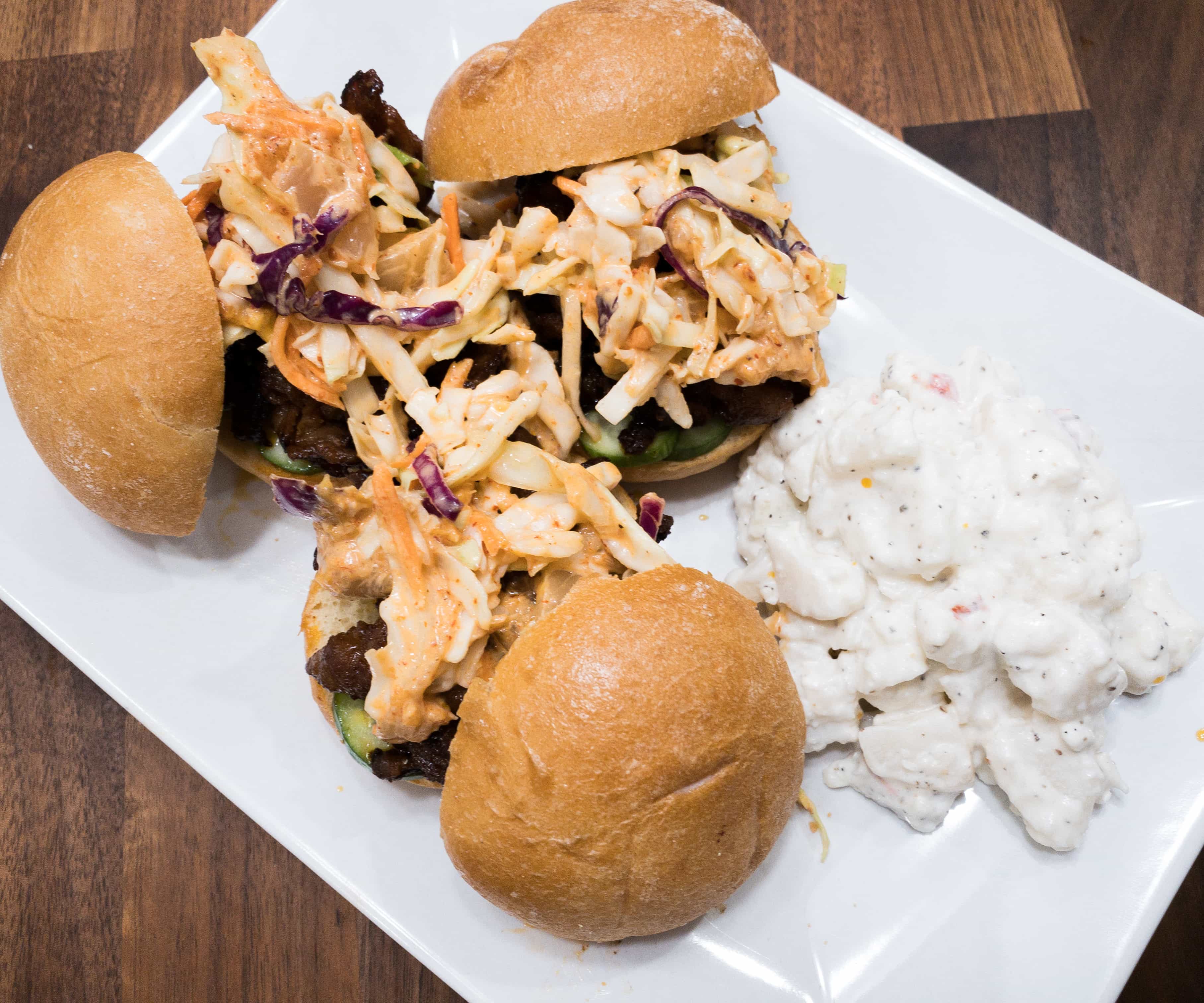 We served them together with some freshly sliced cucumber, and a fermented kimchi and cabbage salad in a sesame seed dressing. These didn't just look restaurant-quality, they tasted absolutely amazing as well.
It's my first Gobble Box in a long time, and I'm just glad to have it back! The recipes offered diverse flavors and I didn't even have to exert too much effort because detailed recipe cards are included along with the ingredients. It's really a great way to reduce prep and cooking time. No more wasting time in thinking what to serve for dinner as well. They even share ideas for plating, so pretty much everything is taken care of. I also like how all the ingredients are packed and grouped accordingly. This box is indeed a great meal subscription for anyone who loves cooking but doesn't have enough time or brainpower to spend on it!
What do you think of this month's box?