Fresh Fiction Box Not To Miss is a monthly book subscription that sends 5-7 new release books for $25.95. Shipping is free to the U.S. and extra to Canada. You can choose from a 1 or 3 month plan and both plans auto renew. Alternatively, you can also buy a one-time box from their online shop. They send 3-5 new release print books and codes for some downloadable ebooks! Most of the books will be from the romance genre but they may occasionally send mystery, erotica, YA, and paranormal books too.
DEAL: Save $3 on your first Fresh Fiction Not To Miss box with coupon code HELLO.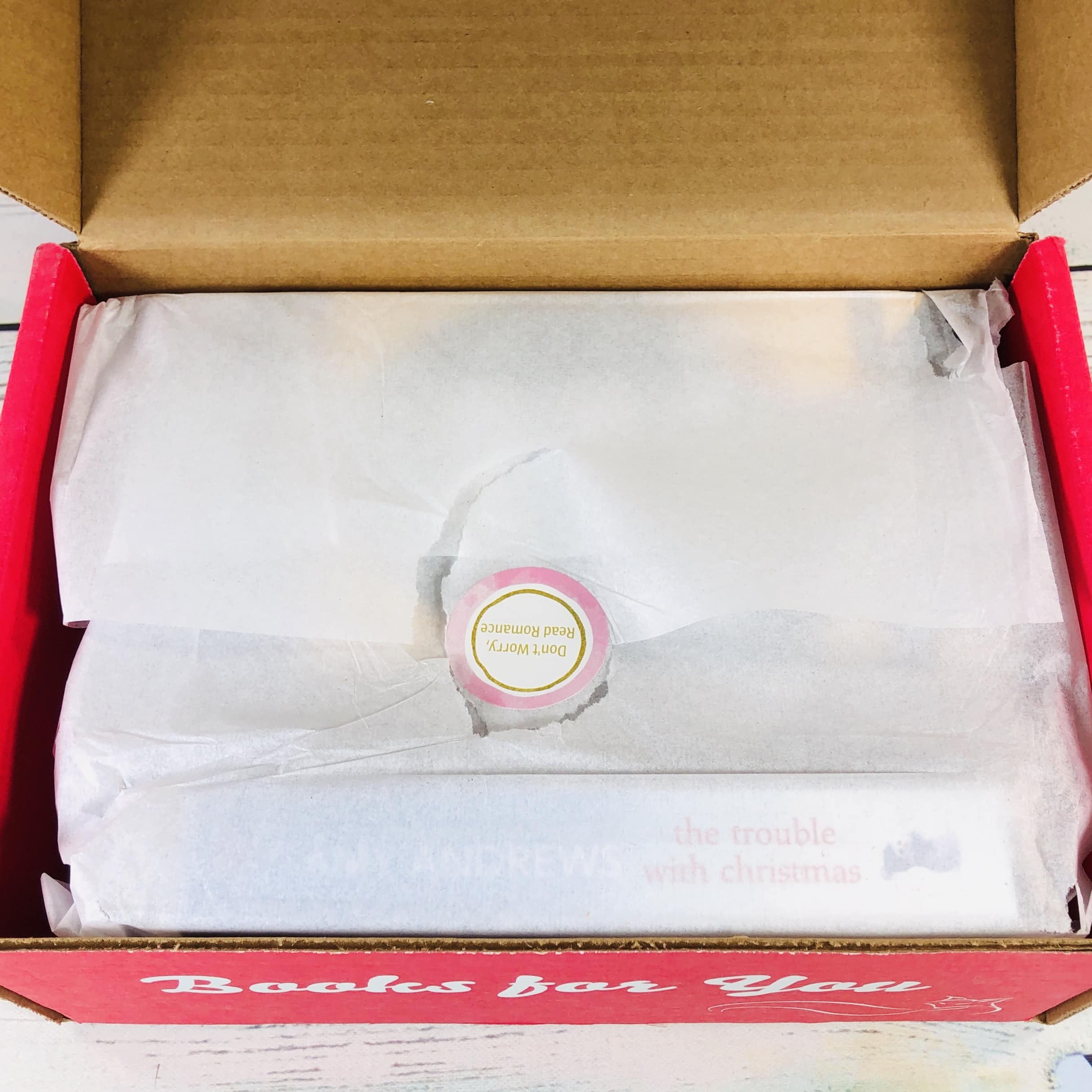 My box had a simple presentation: items were wrapped in tissue paper and sealed with a sticker.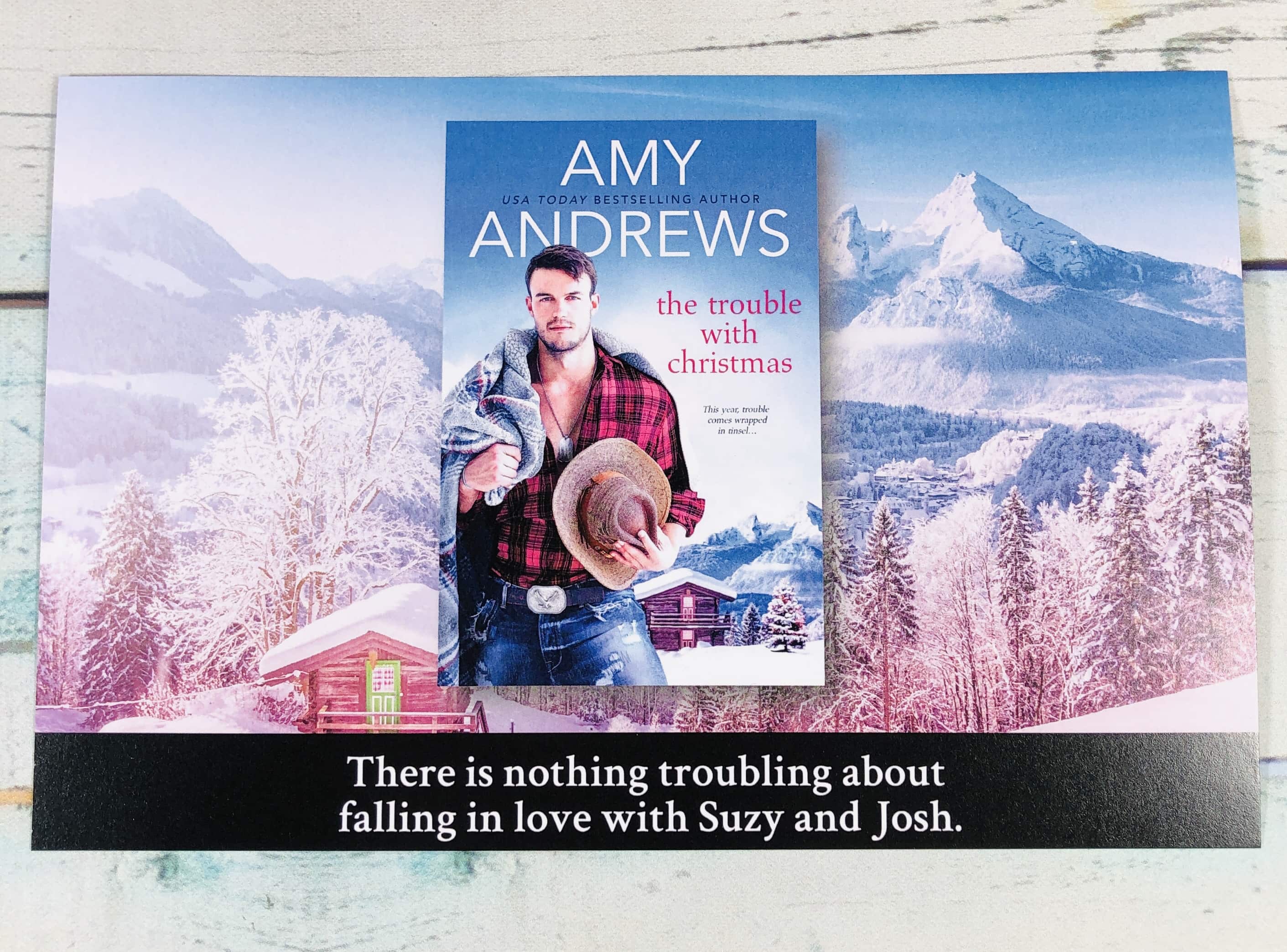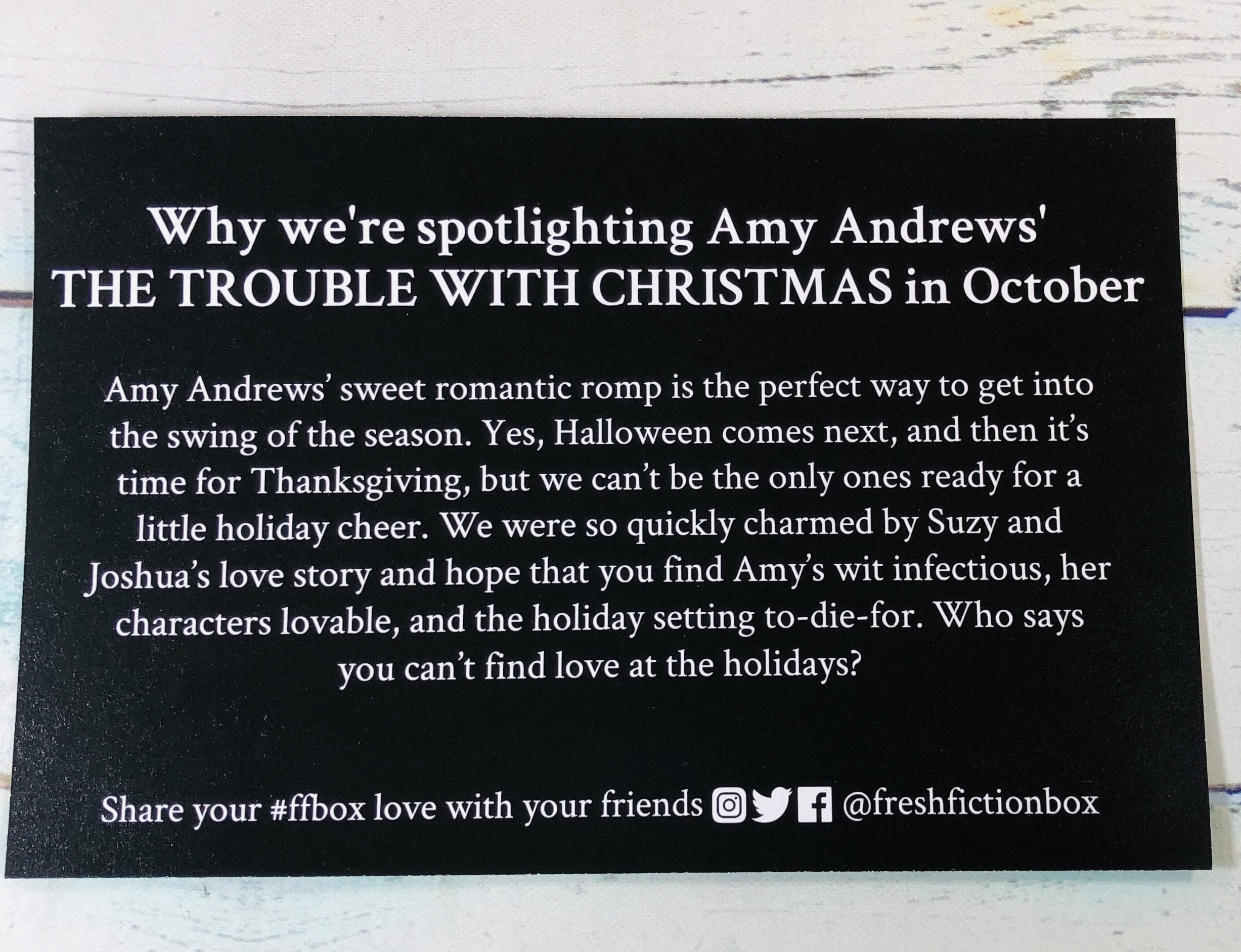 There isn't a traditional product info card but there was a card with info on a spotlighted book. The books in the subscription will vary from box to box but I believe this book is standard in each October box.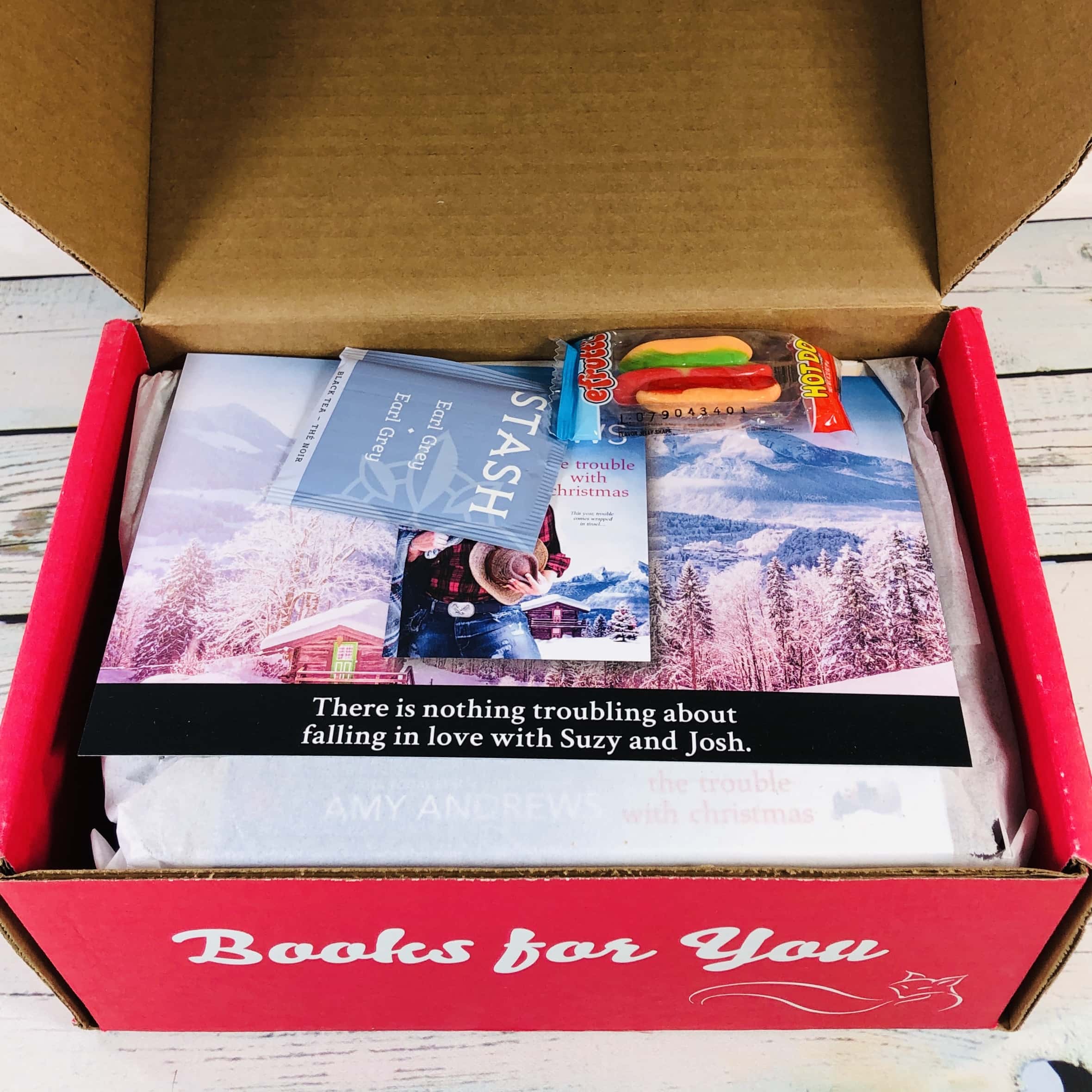 I found a stack of books inside!
Everything in my box!
I received a couple of treats in my box. My daughter ate the candy and I enjoyed a lovely cup of tea from one of my favorite tea purveyors!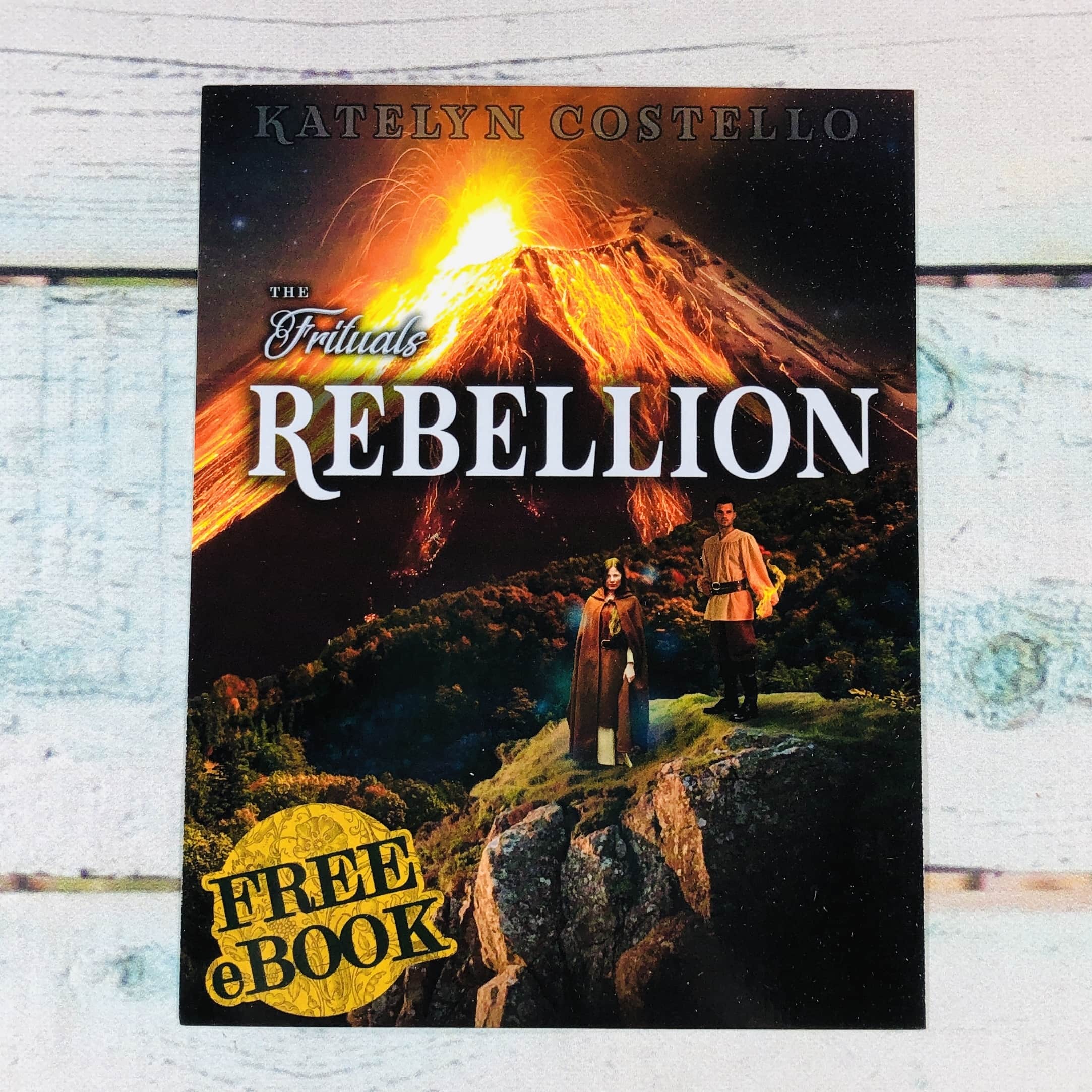 I found a card with a code for an e-book, Rebellion by Katelyn Costello ($2.99 value for Kindle edition).
Goodbye, Paris by Anstey Harris ($16) just came out a few days ago and so far it has a 4-star rating on Amazon. It is considered women's fiction and I really don't mind reading books that take place in Paris!
* International Bestseller * A Book of the Month Club Pick*

The Little Paris Bookshop meets Jojo Moyes in Goodbye, Paris, an utterly charming novel that proves that sometimes you have to break your heart to make it whole.

From the simple melody of running her violin shop to the full-blown orchestra of her romantic interludes in Paris with David, her devoted partner of eight years, Grace Atherton has always set her life to music.

Her world revolves entirely around David, for Grace's own secrets have kept everyone else at bay. Until, suddenly and shockingly, one act tips Grace's life upside down, and the music seems to stop.

It takes a vivacious old man and a straight-talking teenager to kick-start a new song for Grace. In the process, she learns that she is not as alone in the world as she had once thought, that no mistake is insurmountable, and that the quiet moments in life can be something to shout about…

Filled with charming and lovably flawed characters—and illuminated with the undeniable romance and magic of Paris—Goodbye, Paris is a poignant, compulsively readable novel that shows us that when it comes to love, there's more than one way to find happiness.
Lethal Nights by Lora Leigh ($7.99, advance reader copy is free) is Book 3 (out of 3) in the Brute Force series. It is romantic suspense and promises to be sexy.
#1 bestselling author Lora Leigh turns up the heat in her latest novel of high-stakes passion and persuasion featuring the men of Brute Force.

Ilya Dragonovich is no stranger to the dark side. As a safe-house owner for security agency Brute Force, Dragon knows that the battle line between good and evil runs through the heart of every man―and, sometimes, a beautiful woman…

Emma Jane Preston needs help. After her marriage crumbled, she believed she could get back to a normal, happy life. But now she needs the kind of protection that comes at a cost―one that only someone like Dragon can provide. But can Emma Jane trust this handsome, undercover operator to keep her safe when she is in danger of falling into the arms of the deeply seductive, fiery Dragon. . .and never letting go?
Love on Lexington Avenue by Lauren Layne (List price $16, now $12.23) is Book 2 (out of 3) in the Central Park Pact series. It looks like a fun, flirty, and light-hearted romance and perfect for a laid-back weekend read.
From New York Times bestselling author Lauren Layne comes the second delightfully charming installment in the Central Park Pact series, following a young widow whose newfound cynicism about love is challenged by a sexy, rough-around-the-edges contractor.

There are no good men left in New York City. At least that's Claire Hayes's conviction after finding out her late husband was not the man she thought he was. Determined to rid her home of anything that reminds her of her cheating husband, Claire sets out to redesign her boring, beige Upper East Side brownstone and make it something all her own. But what starts out as a simple renovation becomes a lot more complicated when she meets her bad-tempered contractor Scott Turner.

Scott bluntly makes it known to Claire that he only took on her house for a change of pace from the corporate offices and swanky hotels he's been building lately, and he doesn't hesitate to add that he has no patience for a pampered, damaged princess with a penchant for pink. But when long workdays turn into even longer nights, their mutual wariness morphs into something more complicated—a grudging respect, and maybe even attraction…

Filled with laugh-out-loud scenes that blend perfectly with the touching friendships Layne brings to life on the page, this "hugely entertaining" (USA TODAY) novel is perfect for fans of Lauren Weisberger.
No One Knows by J.T. Ellison ($9.99) is a psychological thriller and I've read a book by this author (Lie To Me) so I am really looking forward to this one that is supposed to have a lot of twists similar to Gone Girl.
In an obsessive mystery as thrilling as The Girl on the Train and The Husband's Secret, New York Times bestselling author J.T. Ellison will make you question every twist in her page-turning novel—and wonder which of her vividly drawn characters you should trust.

The day Aubrey Hamilton's husband is declared dead by the state of Tennessee should bring closure so she can move on with her life. But Aubrey doesn't want to move on; she wants Josh back. It's been five years since he disappeared, since their blissfully happy marriage—they were happy, weren't they?—screeched to a halt and Aubrey became the prime suspect in his disappearance. Five years of emptiness, solitude, loneliness, questions. Why didn't Josh show up at his friend's bachelor party? Was he murdered? Did he run away? And now, all this time later, who is the mysterious yet strangely familiar figure suddenly haunting her new life?

In No One Knows, the New York Times bestselling coauthor of the Nicholas Drummond series expertly peels back the layers of a complex woman who is hiding dark secrets beneath her unassuming exterior. This masterful thriller for fans of Gillian Flynn, Liane Moriarty, and Paula Hawkins will pull readers into a you'll-never-guess merry-go-round of danger and deception. Round and round and round it goes, where it stops…no one knows.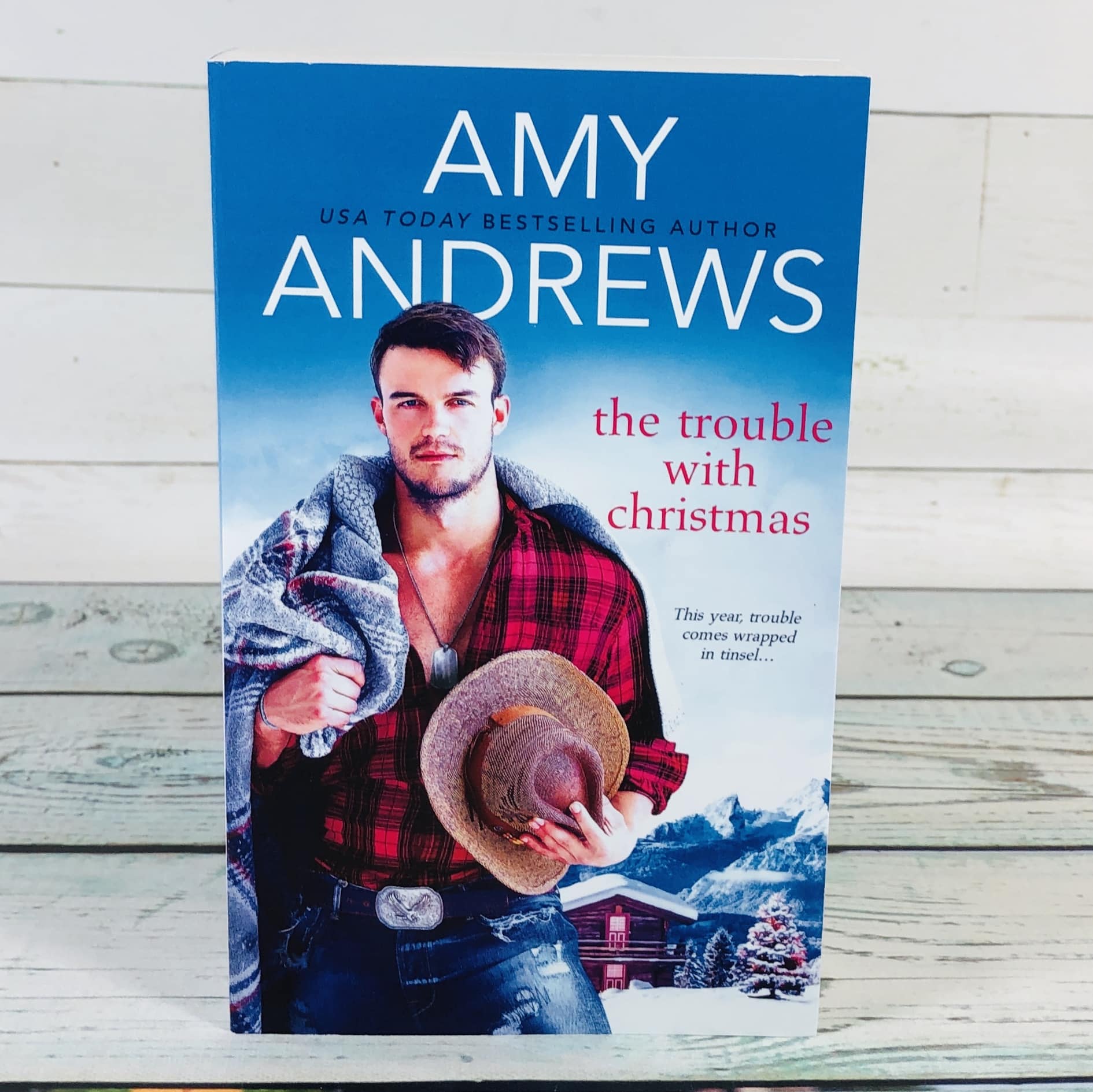 The Trouble With Christmas by Amy Andrews ($7.99 list price, now $6.39) is the featured book of the month and is also Book 2 (of 2) in the Credence, Colorado series. Thankfully Amazon made sure to mention that each book in this series is a standalone so I can go ahead and get started on this holiday romance book that looks like it would make a perfect movie for the Hallmark or Lifetime channels!
"[W]ill generate holiday spirit in even the most Scrooge-like reader." Kirkus Review, Starred Review

All Suzanne St. Michelle wants is an over-the-top, eggnog-induced holiday with her best friend in Credence, Colorado. But when her hoity-toity parents insist she come home for Christmas in New York, she blurts out that her sexy landlord is actually her boyfriend and she can't leave him―Joshy loves Christmas. The more twinkle lights the better.

Rancher Joshua Grady does not love Christmas. Or company, or chatty women. Unfortunately for him, the chattiest woman ever has rented the cottage on his ranch, invited her rich, art-scene parents, and now insists he play "fake rancher boyfriend" in a production of the Hokiest Christmas Ever. And somehow…she gets him to agree.

Apparently, he'll do anything to get his quiet life back. At least there's mistletoe every two feet―and kissing Suzy is surprisingly easy. But in the midst of acres of tinsel, far too many tacky Christmas sweaters, and a tree that can be seen from space, he's starting to want what he lost when he was a kid―a family. Too bad it's with a woman heading back to New York before the ball drops…

Each book in the Credence, Colorado series is STANDALONE:
* Nothing But Trouble
* The Trouble with Christmas
Fresh Fiction sent 5 paperbacks in a variety of romance genres this month! If you are looking for something twisty, flirty, sexy, or even funny then they are all here for you. I know which one I'm reading first (the mystery) but I don't know which to choose next! The value for this month's books, not including the advance reader copy, is around $47.60, based on current sale prices on Amazon at the time of this review. That's an amazing value compared to the price paid for the box!
Which book would you read first? Let me know in the comments! 
Visit Fresh Fiction Not To Miss to subscribe or find out more!