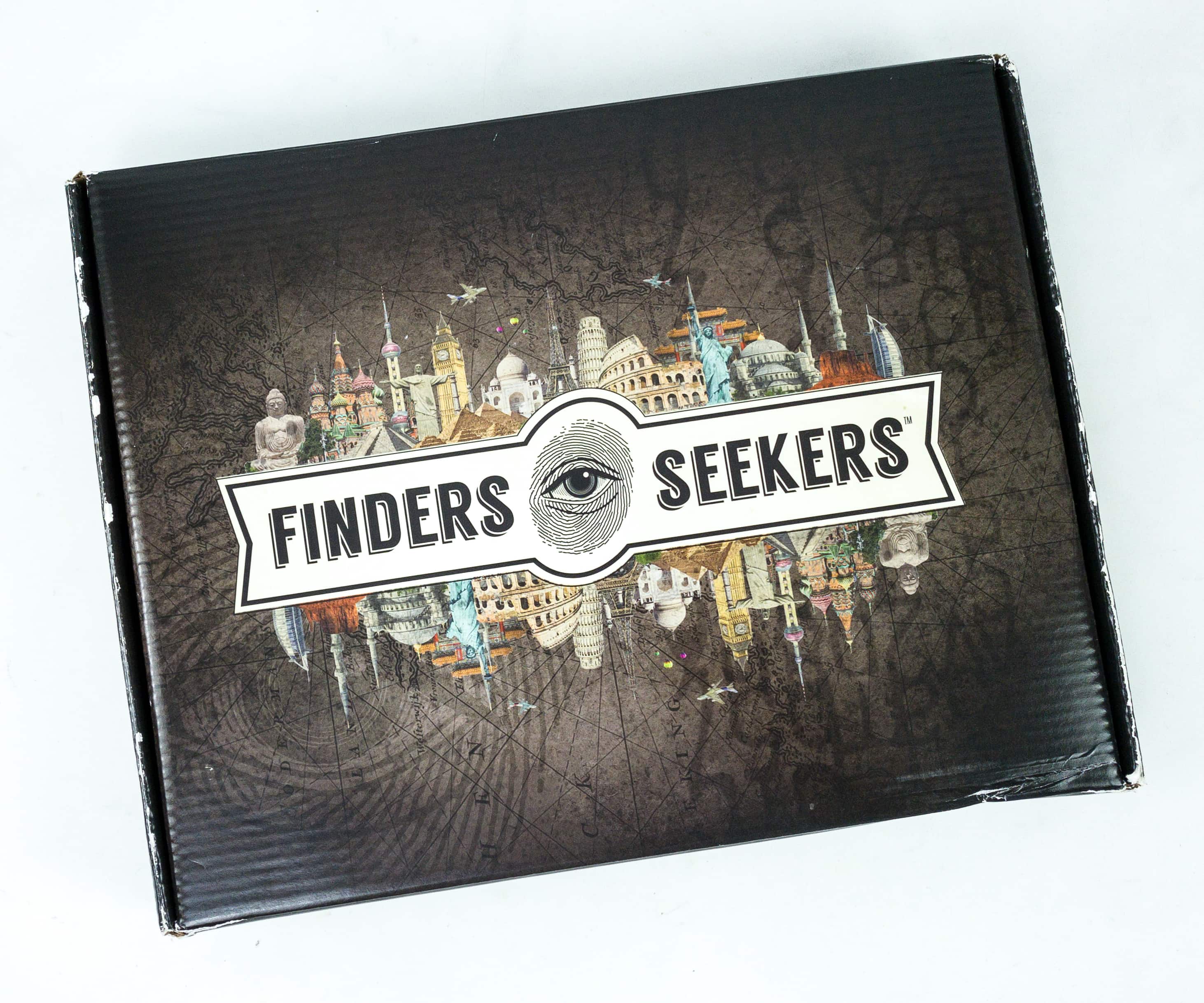 Finders Seekers is a monthly puzzle subscription box for anyone who loves puzzles, escape rooms, Sherlock Holmes, mysteries, or anything requiring a little brainpower. Finders Seekers features a new destination each month, so in addition to the puzzle/escape room experience, you get a mini travel experience, too, exploring a new city and its culture every month.
DEAL: Save $5 on your first box! Use this link and coupon code BRAINQUEST.
FYI – there are SPOILERS in this post!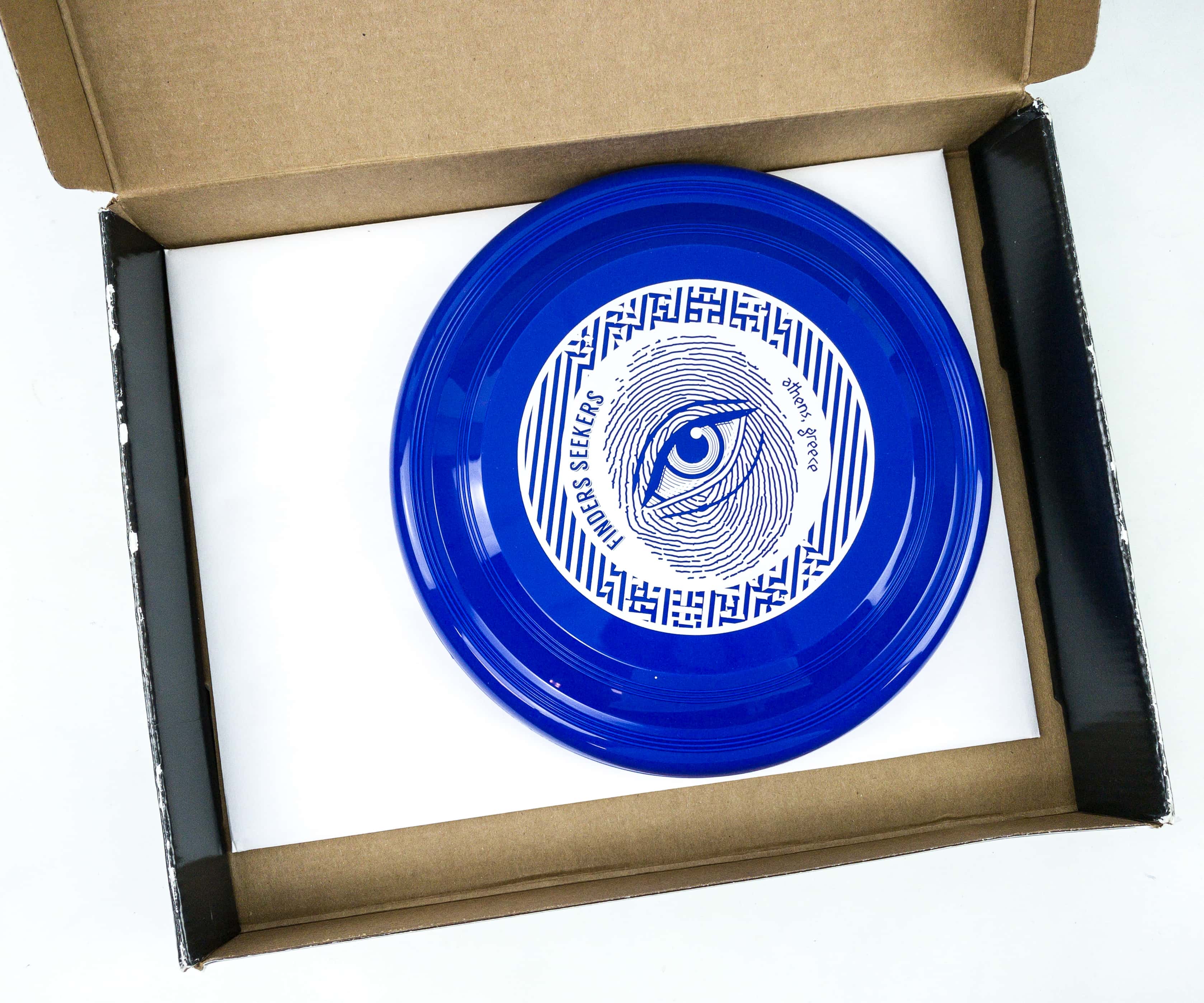 As a subscriber (limited numbers can join each month), you are invited to join the Society of Seekers, a group of like-minded puzzle fiends who use their heads and a little bit of internet-search know-how to explore a city and solve a mystery each month. We're going to GREECE this month!
Everything that you'll need to solve the case is inside the box, placed inside a large white envelope! We're excited to solve this one!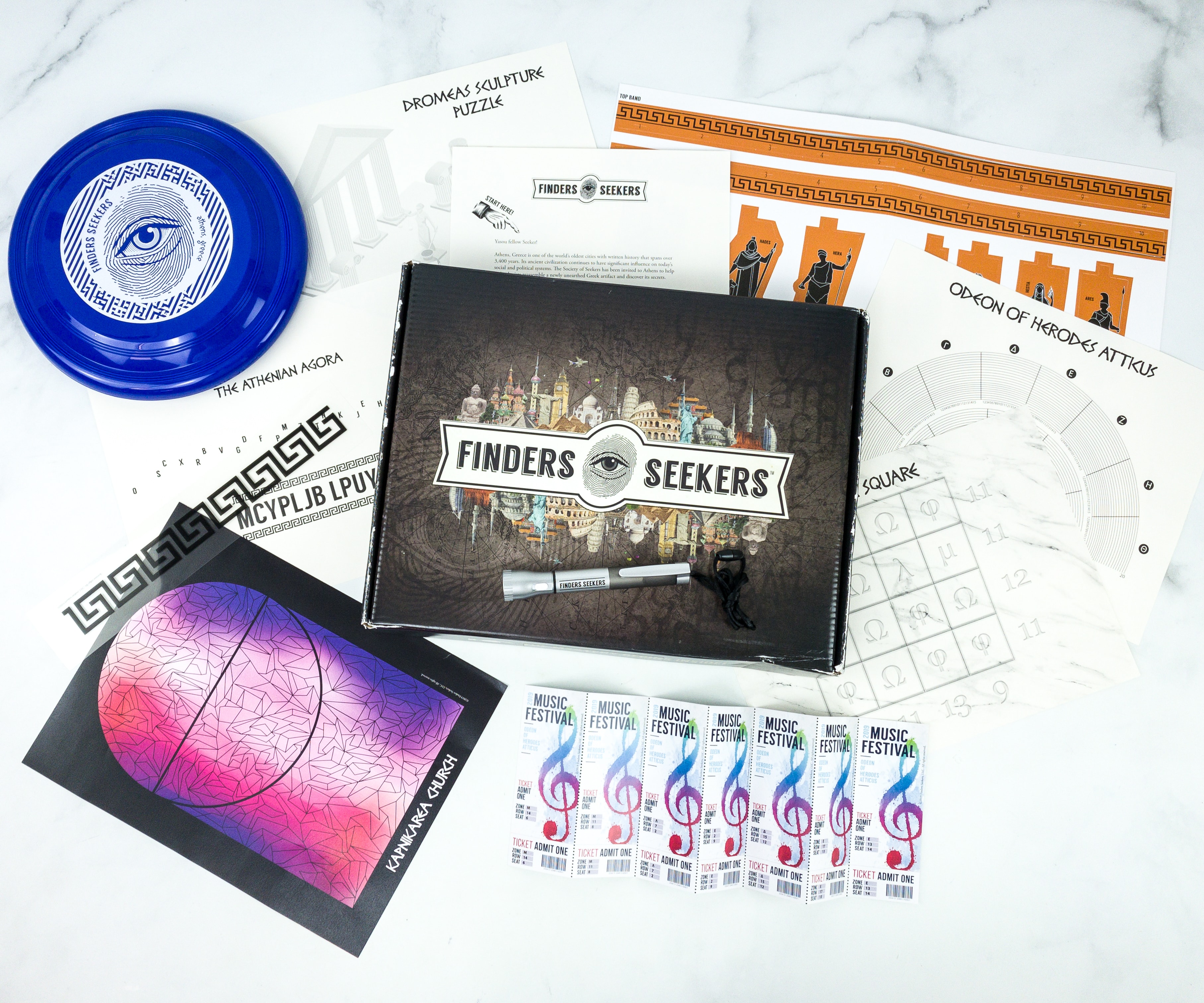 Everything in the box!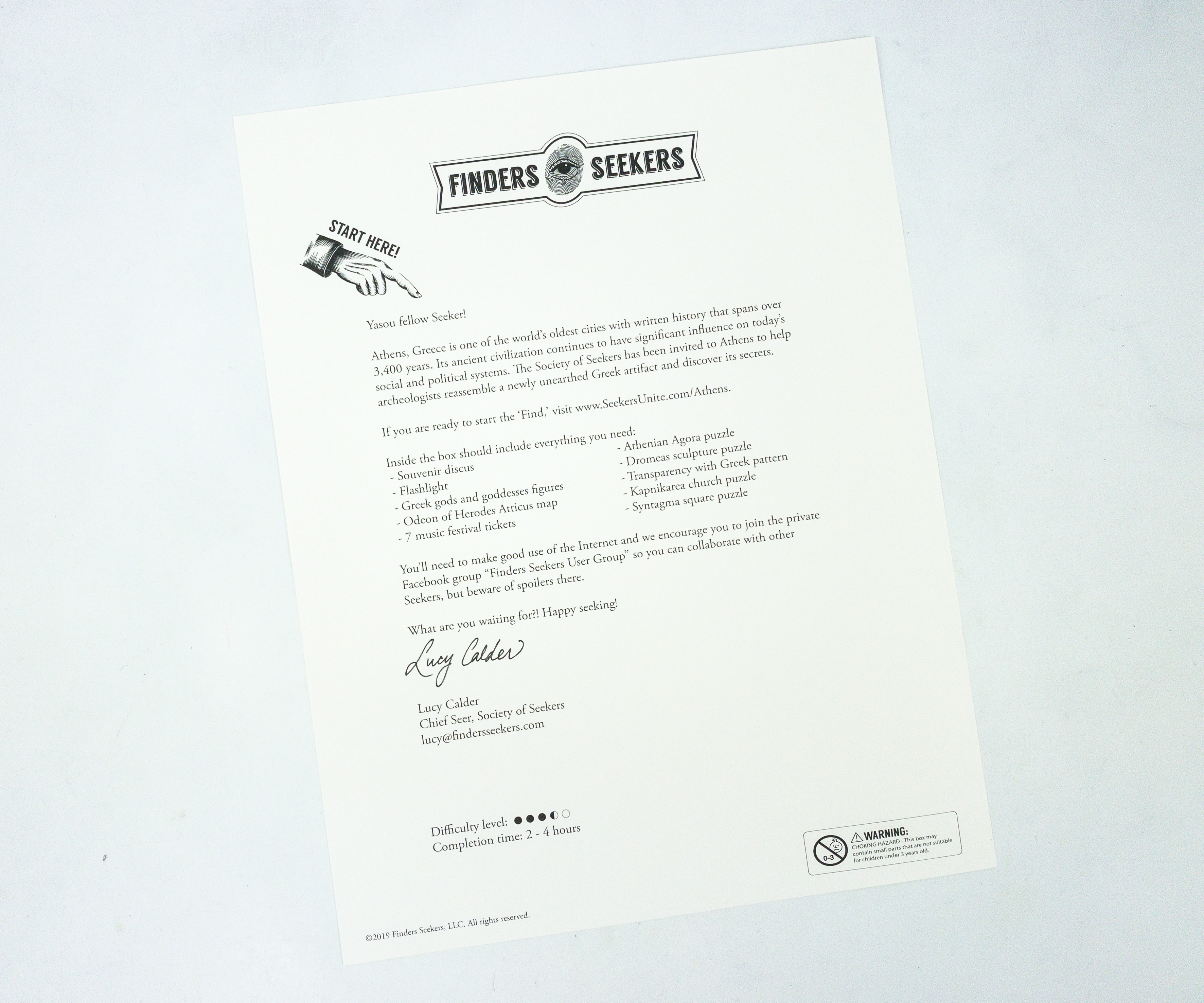 Also included in this month's box is a welcome letter and checklist of every item that should be inside the package, with all the clues you'll need to solve the mystery. Plus, we now know where to start the journey! In this case, we are invited to Athens to help archaeologists reassemble a newly unearthed Greek artifact and discover its secrets.
The website took us to Athens, Greece. However, unlike the past locations, this welcome page doesn't come with an image. I clicked the "Get Started" button.
It took me to this page, with the image of the Athenian Agora, and it's the first puzzle.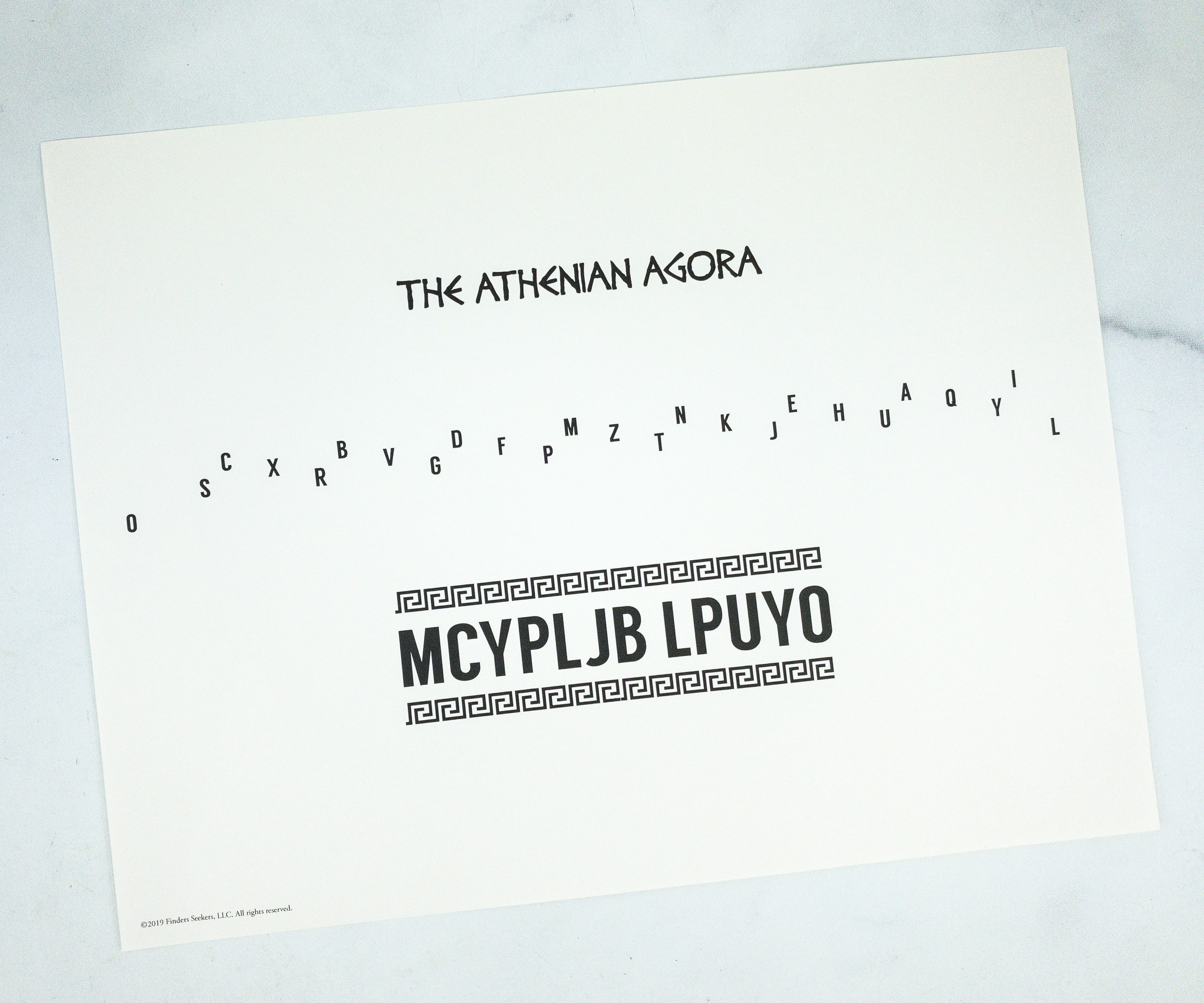 Athenian Agora Puzzle. This Athenian Agora puzzle is the very first puzzle that you'll need to solve to proceed with the rest of the puzzle/case.

Transparency With Greek Pattern. This will play a great role in solving the first puzzle. The transparency will connect some of the random letters to unlock a message, which is the answer to the puzzle.
As always, each puzzle that you will be able to solve will lead you to another until you solve everything. For this box, after solving a puzzle, you will be given a sculpture. You'll need all the placements of these sculptures as well to solve the final puzzle.
And here are more clues to keep us going (along with the website!):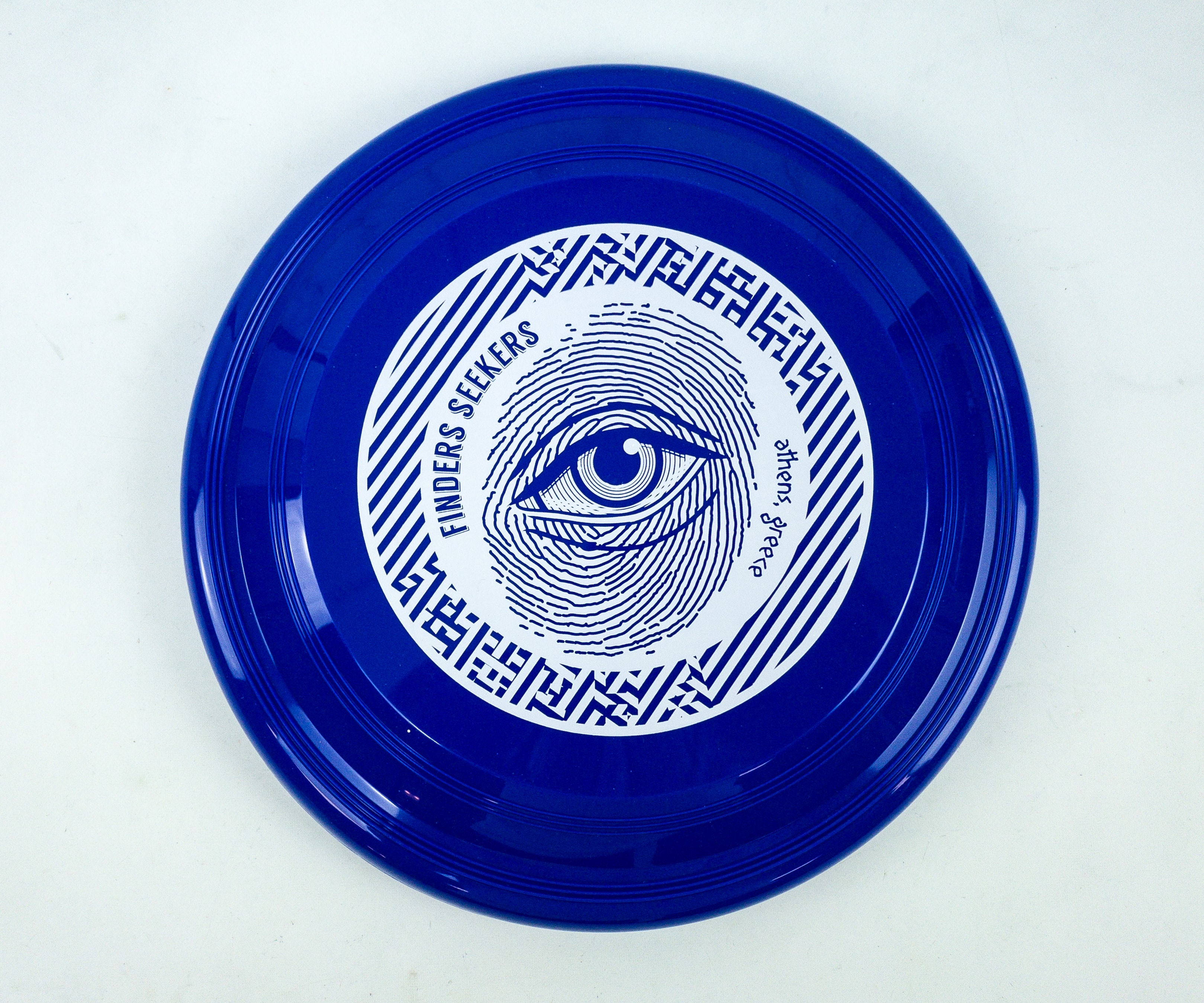 Souvenir Discus. A discus is originally made of stone, then later made of bronze, iron, or lead, however, the modern version has a metal core and rim, while its sides are typically made of plastic. It is used in the ancient Olympics, which is held to celebrate Zeus. The discus here has a Finders Seekers branding sticker with the words Athens, Greece on one side, and some symbols that we can work on to get some hints or clues on some puzzles.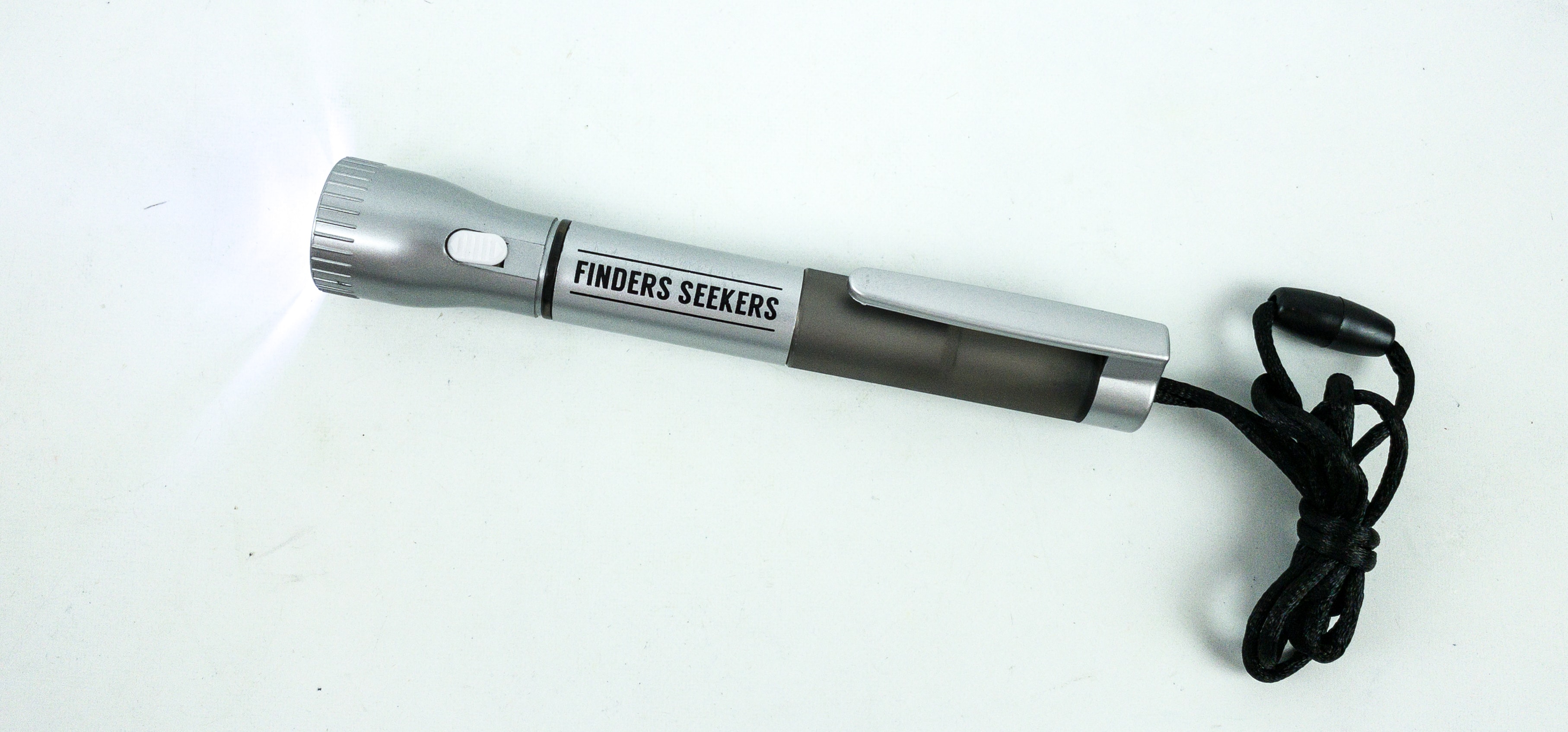 Flashlight. We also got this small flashlight, we'll see what this thing will be used for.

The other side of the flashlight has a clip, similar to a pen.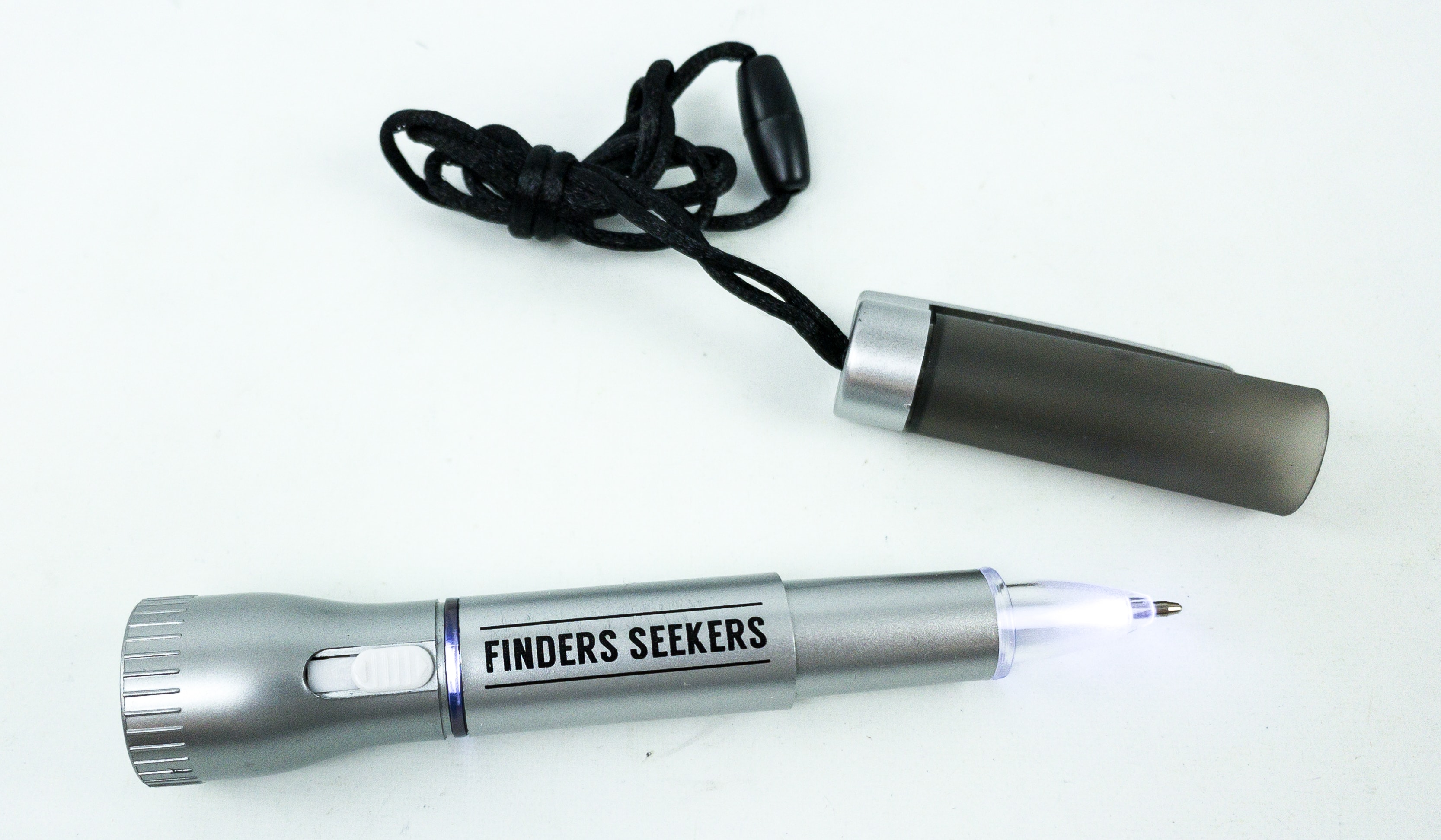 Yes, the other end of the flashlight is a pen! There's also a lace attached to it so you can wear it as a necklace and easily bring it along, just in case you'll need some light, or you'll need something to write with.
Greek Gods and Goddesses Figures. Gods and Goddesses are significant figures in ancient Greek's practices and rituals. Here's a sheet of figures featuring some of the well-known deities: Zeus, Hades, Hera, Aphrodite, Dionysis, Hestia, Ares, Demeter, Hermes, Athena, Artemis, Coeus, Poseidon, and Hephaestus. There are also bands included which positions the gods to see the next clue. This part will require the use of the included flashlight as well.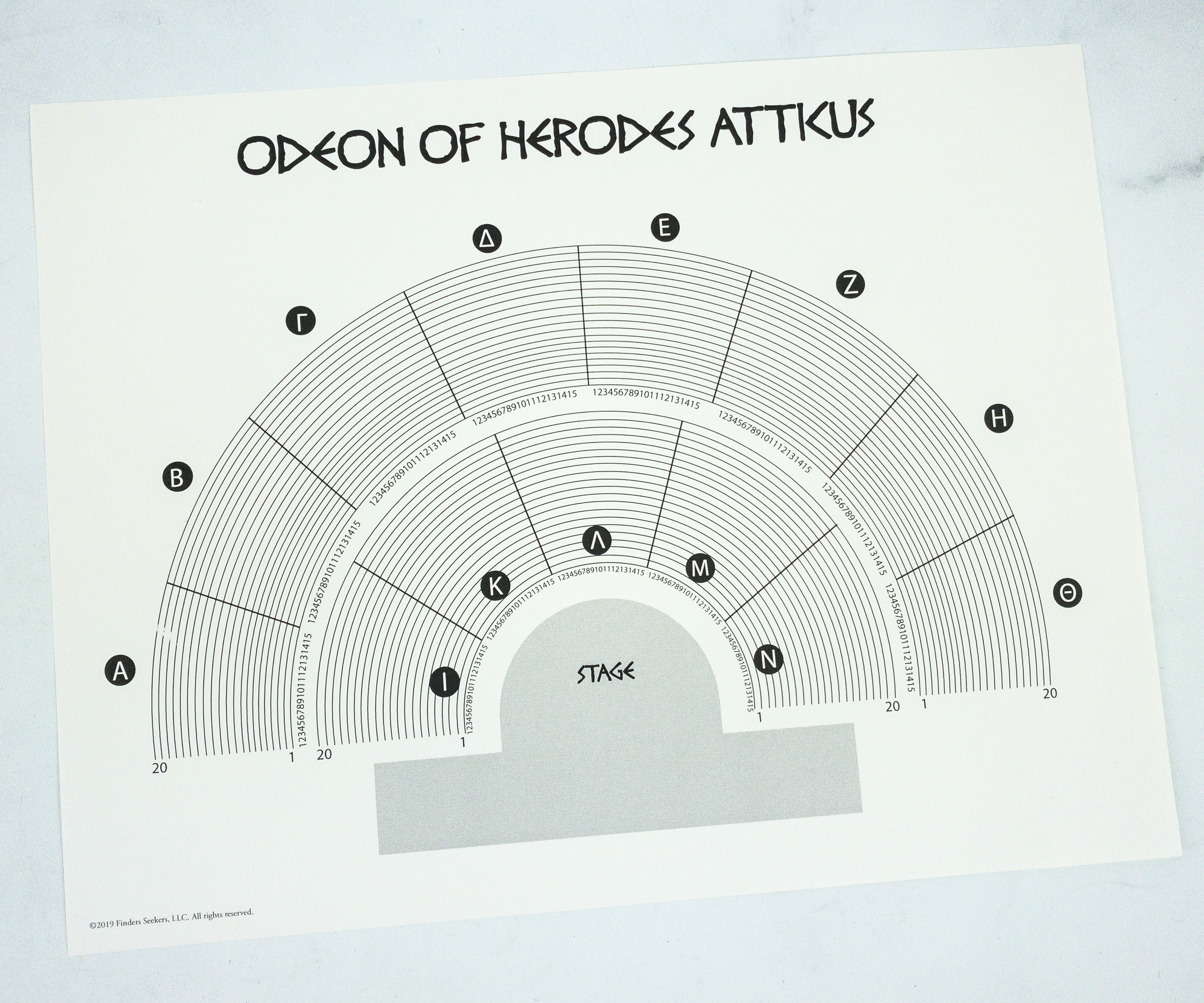 Odeon Of Herodes Atticus Map. Popularly known as the Herodion, Odeo of Herodes Atticus is a stone theater structure which can be found at the Acropolis of Athens, located on its southwest slope. It was completed in 161 AD and renovated in 1950. Here's a map, or specifically, a seating chart, the letters are also in the Greek alphabet.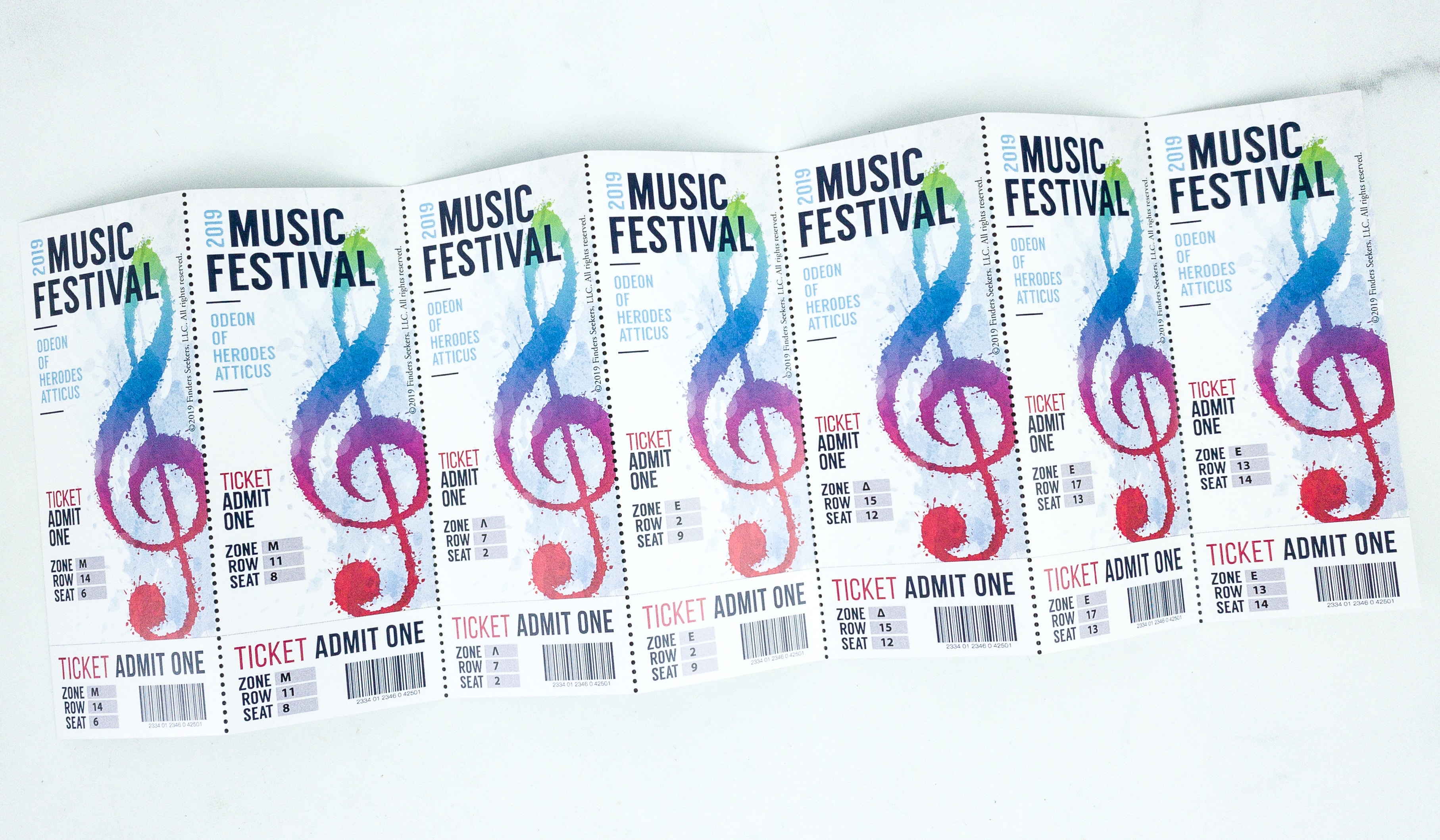 7 Music Festival Tickets. Along with the copy of the Herodion seating chart, we also got 7 Music Fest tickets. Each ticket has a seat location that can be found in the chart.
Dromeas Sculpture Puzzle. Dromeas, or the Runner, is a sharp sculpture made of thousands of pieces of jagged glass, located in Athens. For this puzzle, this floorplan will help us locate where the sculpture can be moved.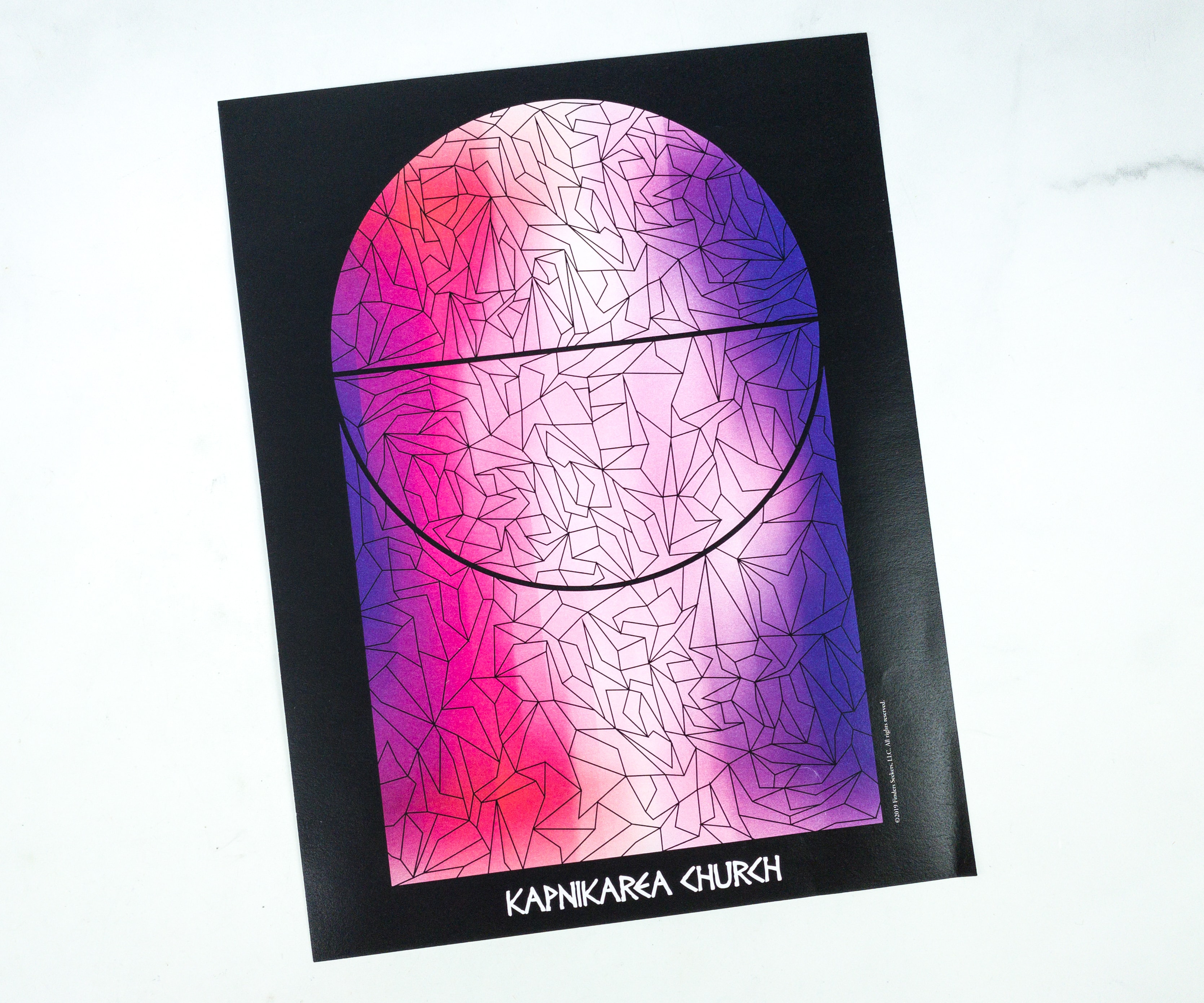 Kapnikarea Church Puzzle. A Greek Orthodox church, the Church of Panagia Kapnikarea is one of the oldest churches in Athens, it also features the Byzantine architecture. It was built in the early 11th century on the former location of an ancient temple that was dedicated either to goddess Athena or Demeter. For this one, we need to locate a secret passcode in this colorful window artwork dedicated to the great mathematician, Pythagoras.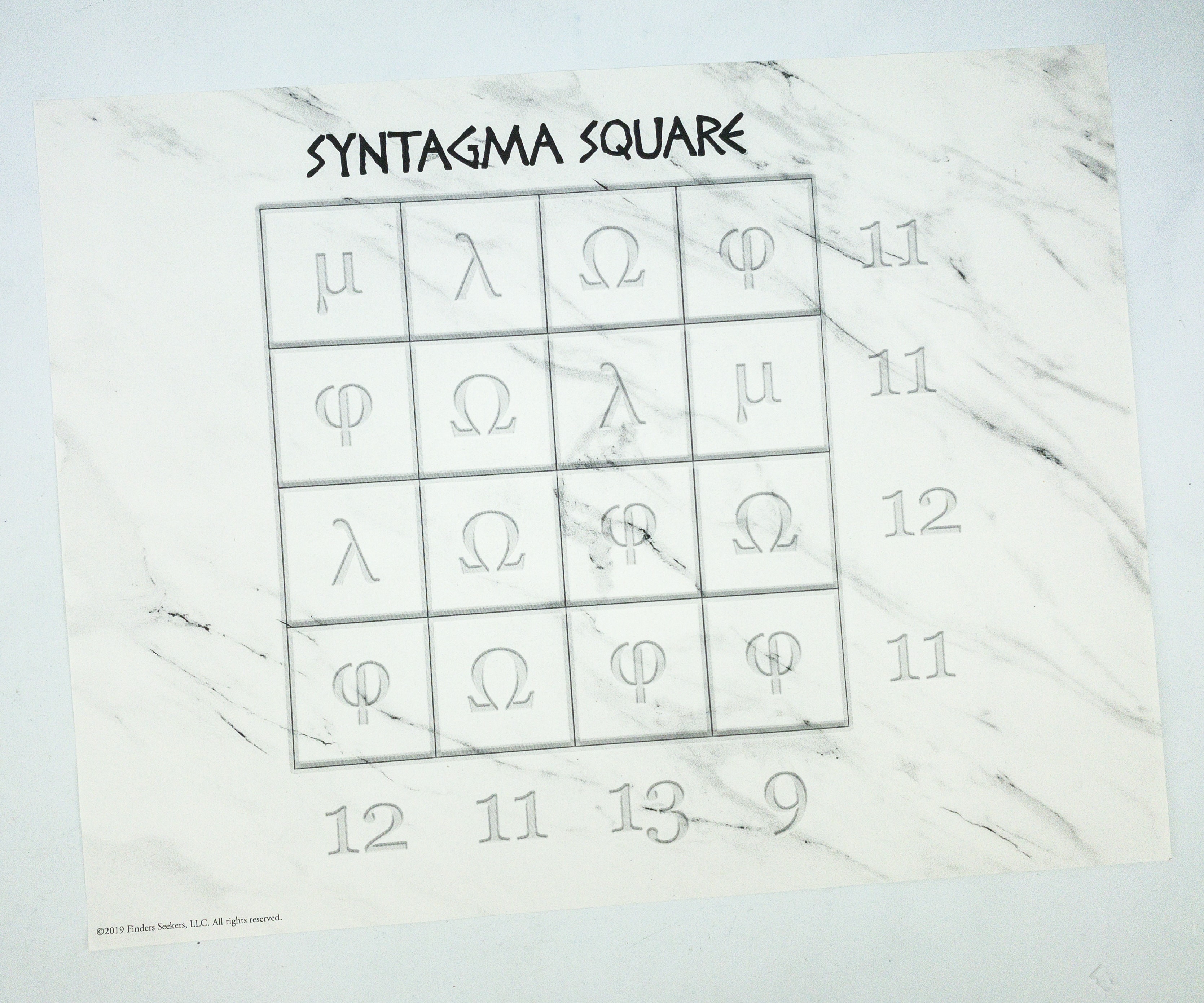 Syntagma Square Puzzle. This puzzle features the central square of Athens, Syntagma Square. It also houses the Greek Parliament since 1934. For this one, we need to find out the value of the symbols, so that when you add them up, the value will be equal to the numbers at the end of each row and column.
Search engines can help you a lot with unlocking some puzzles, and if you really had a hard time solving one puzzle, you can consult the Facebook fan page for hints. Don't worry, there are just hints and there are almost no spoilers so you'll still feel the thrill fully!
It's another fun adventure from Finders Seekers, and this time, they took us to Greece, a place that's rich in history! We would love to visit the place itself and see how the ancient times have influenced modern times. The structures are all well-made as we can still see them today, and we would like to know more about Greek culture and practices. The difficulty goes up as we go, but we're still able to solve them, thanks to the Facebook Group! You can visit certain places by just solving puzzles at the comforts of your home, many thanks to this amazing mystery box!
Did you solve the mystery?  How long did it take you?  Let us know in the comments below!