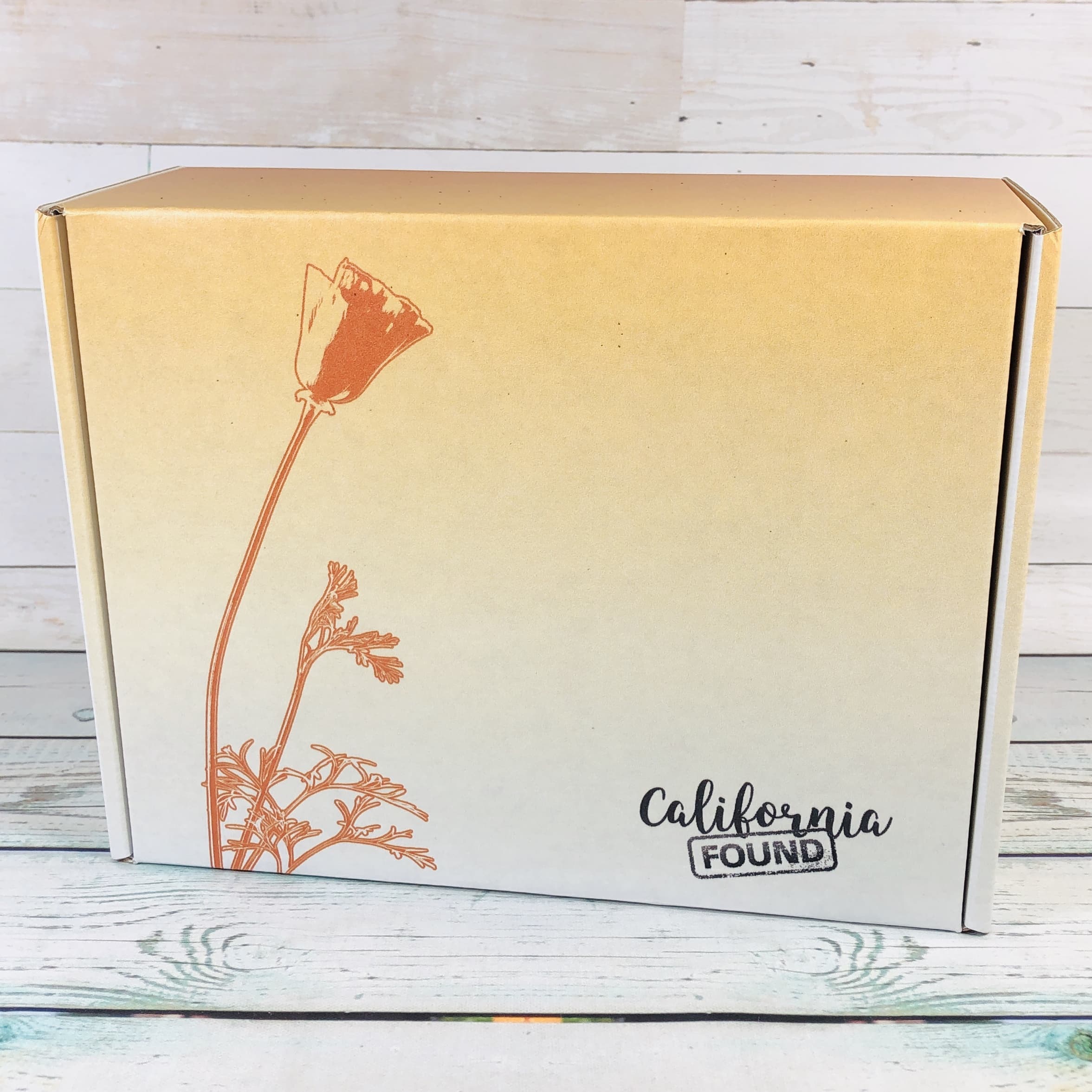 California Found is an awesome monthly subscription box that delivers the best of The Golden State, directly to your mailbox! Each box is $49, but has a value of $90+! What will you find in your box?
Once a month, our subscribers experience the California lifestyle through a box filled to the brim with natural spa & beauty products, locally sourced gourmet treats, beautifully crafted home goods, and infinitely wearable jewelry. Each box tells the story of five to seven California makers through their products and an individual notecard dedicated to each one. Every beautifully packaged delivery reflects the laid back, stylish, uniquely chic attitude that is California.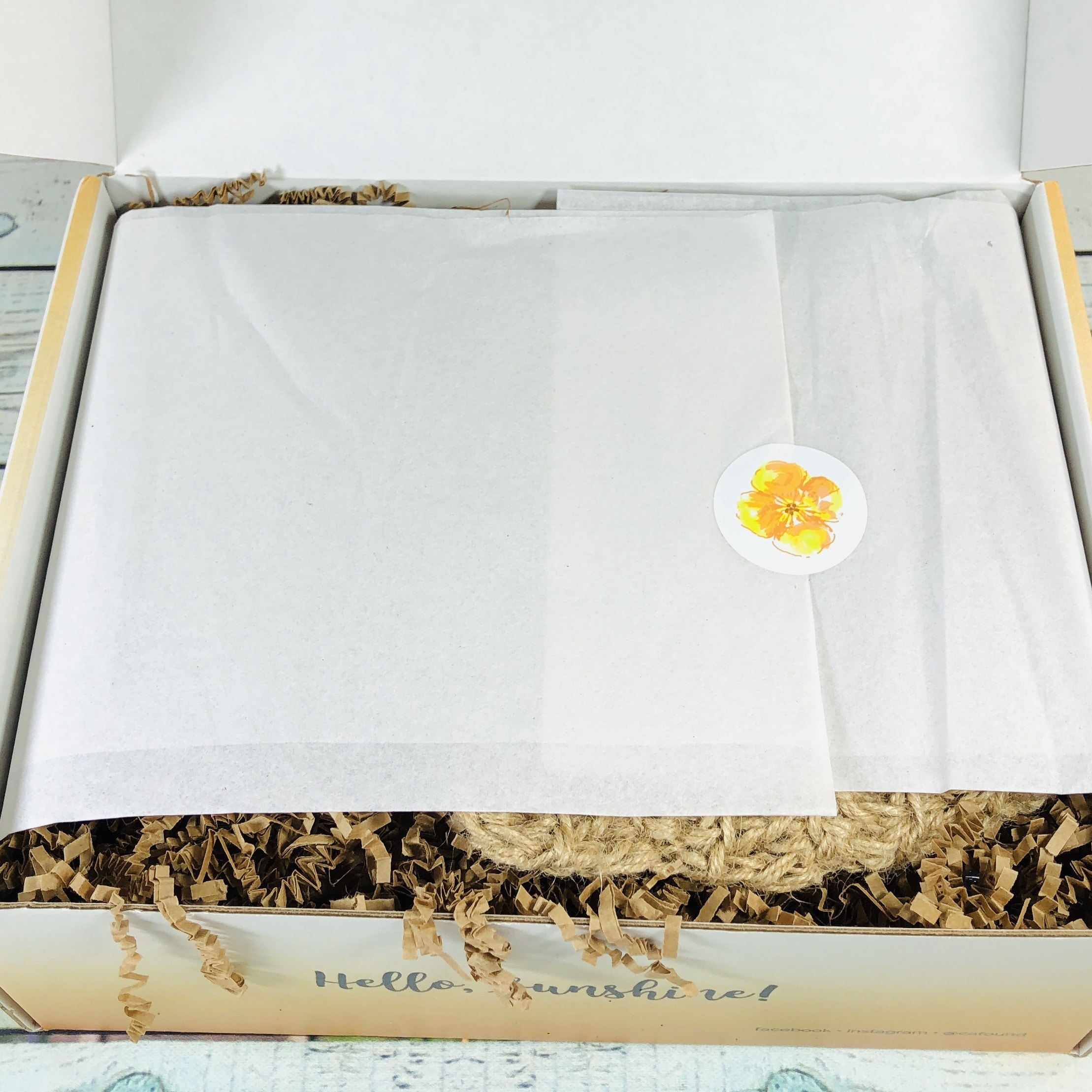 I love opening this box, it always looks so well put together! My items were wrapped in tissue paper that was sealed with a sticker and the items were cushioned in shredded paper.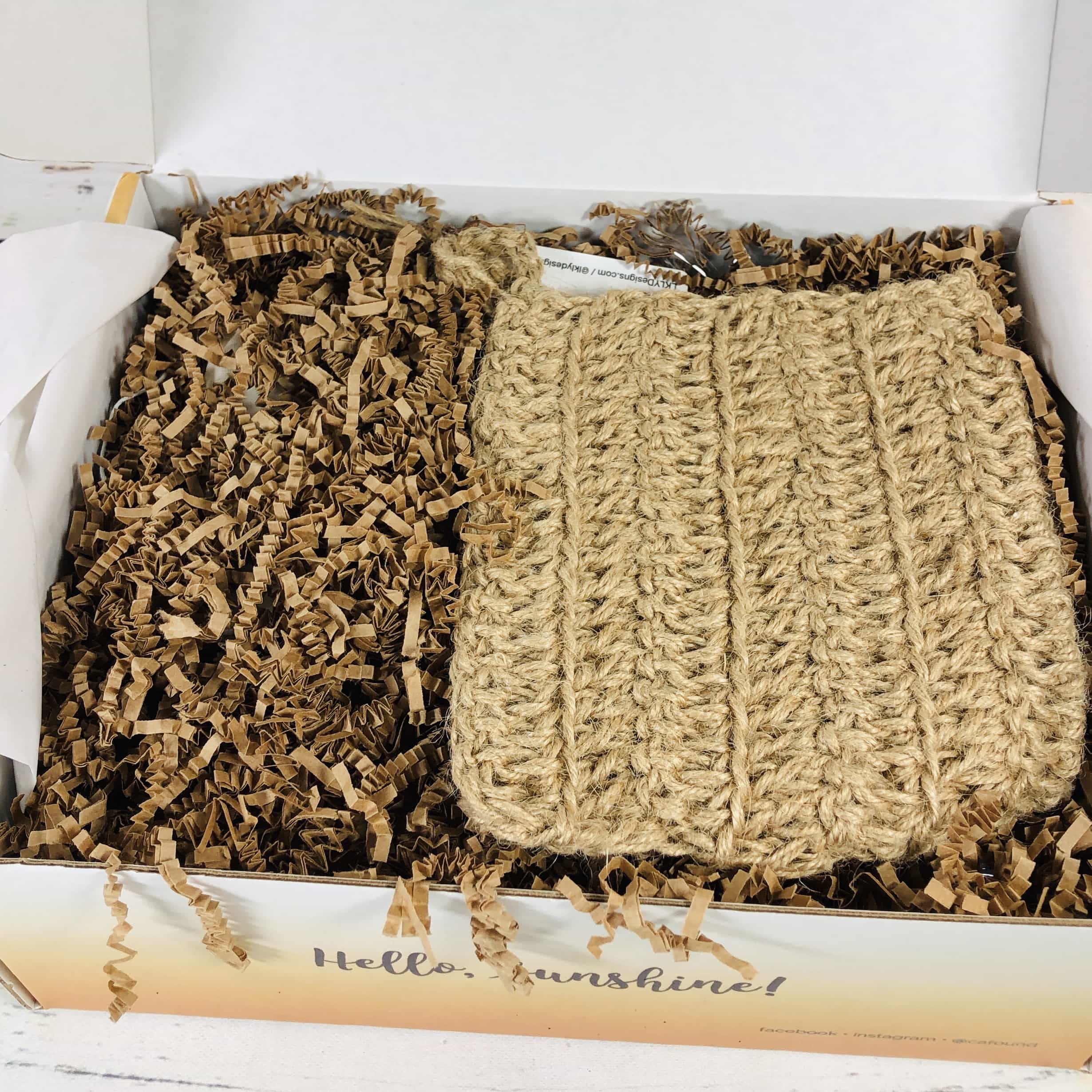 Some of the items had additional packaging to keep them safe during transit.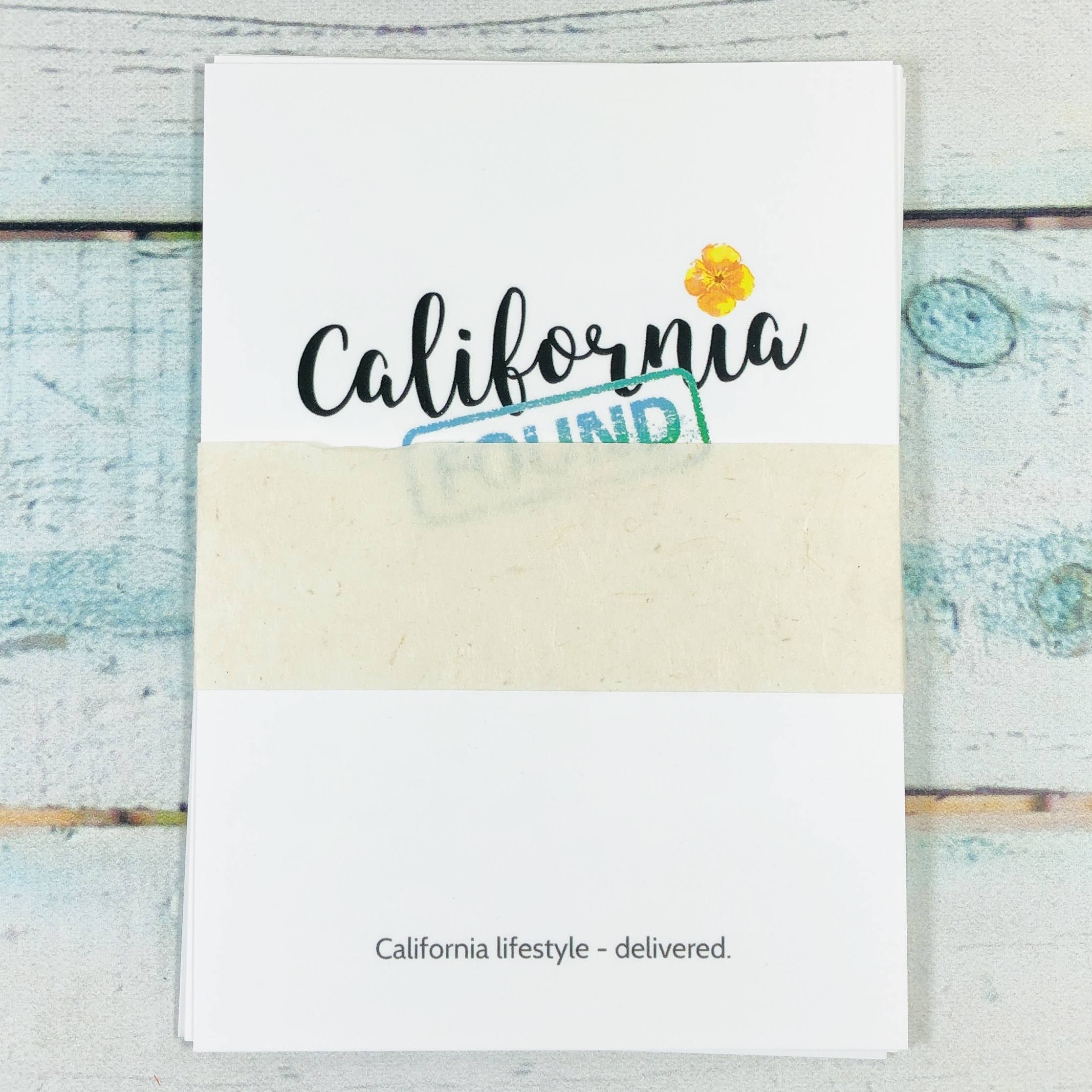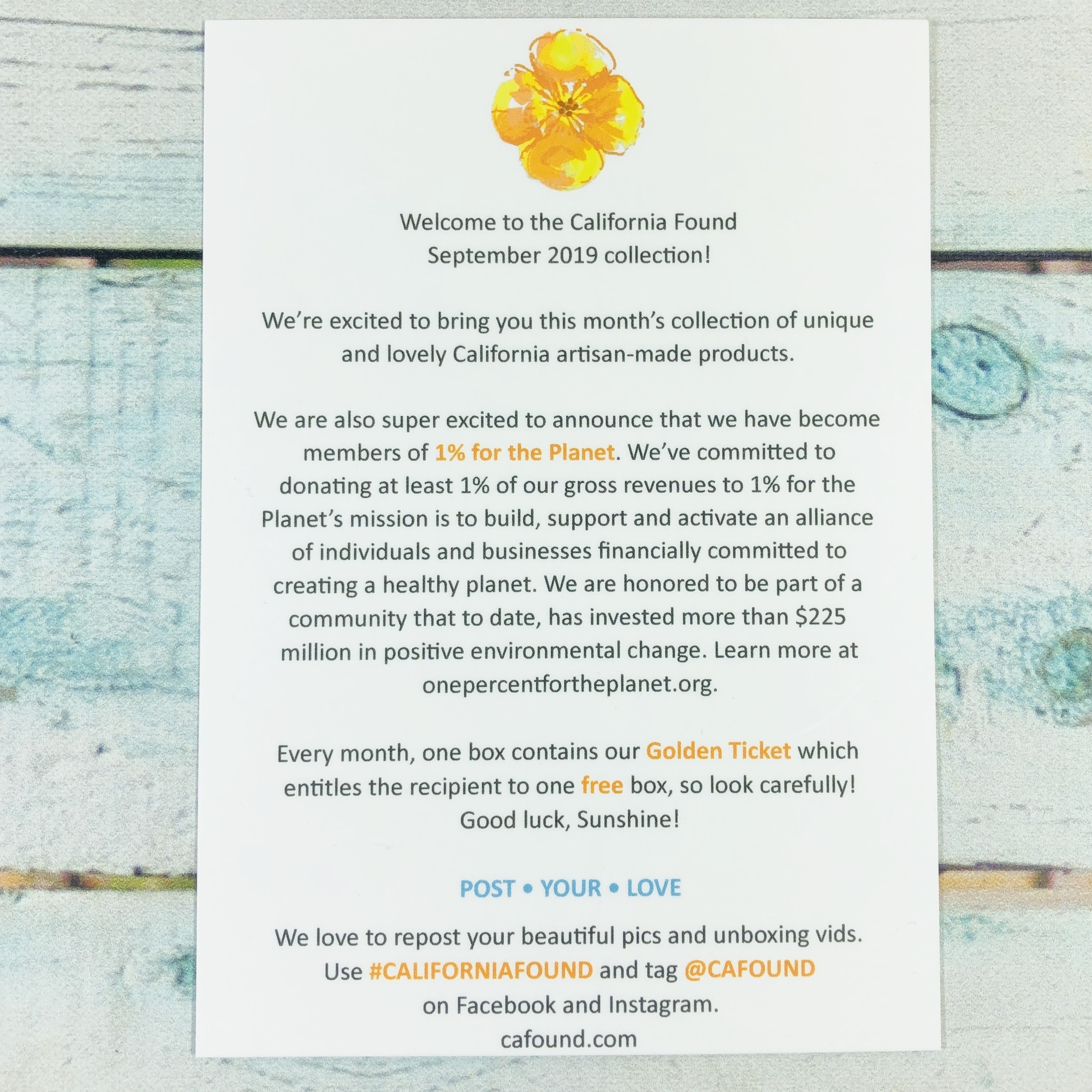 I found a set of cards – one with an introduction to the current box, and one for each of the vendors featured in this month's box. The bundle was secured with seeded paper. California Found has The Golden Ticket, which is perfect for a box coming from The Golden State! One box each month will contain a special ticket that will entitle the subscriber to a free box for themselves or for a friend. Also, California Found is now part of 1% For The Planet, which means they donate at least 1% of their gross revenue to this charity that works to promote a healthier planet.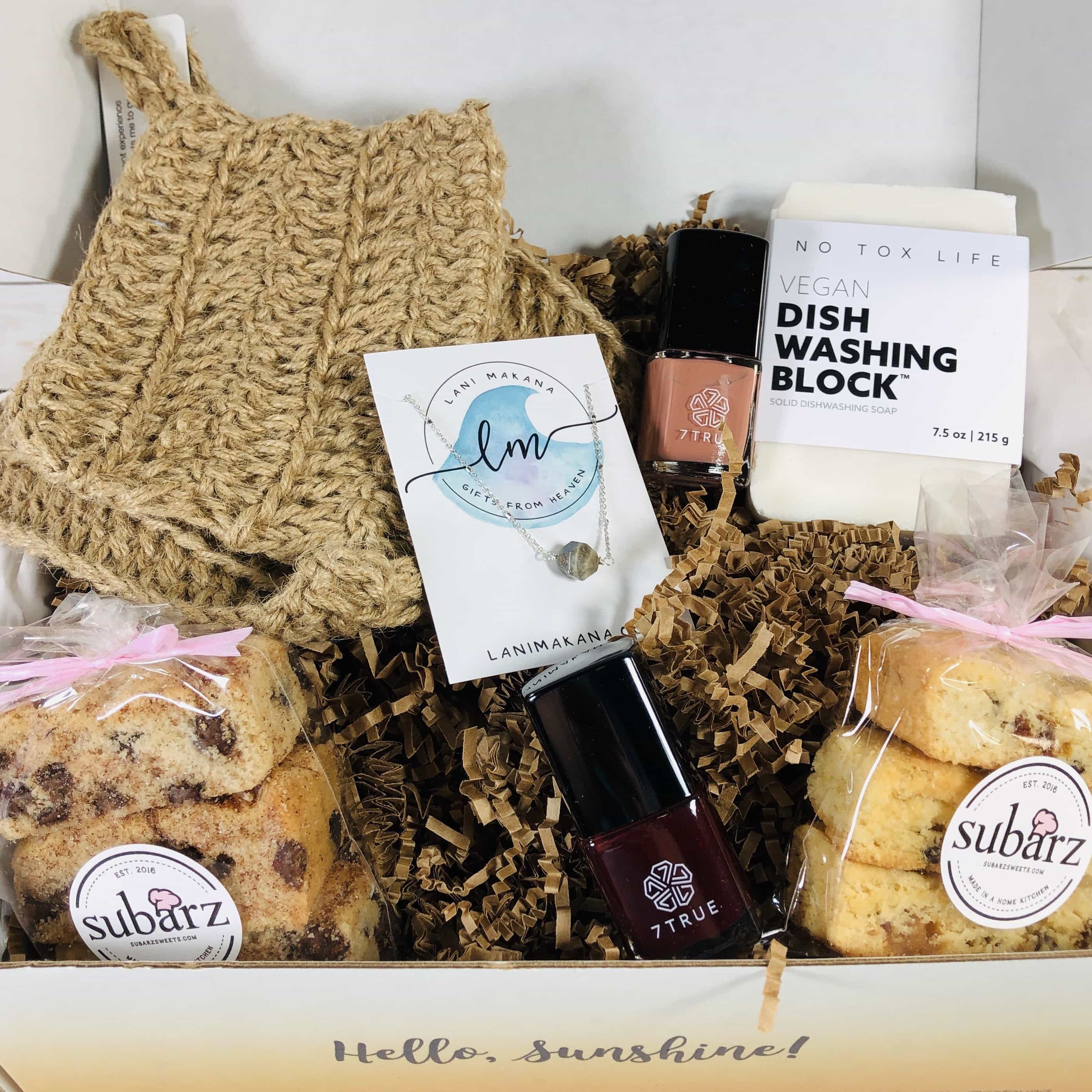 Everything in my September 2019 California Found box!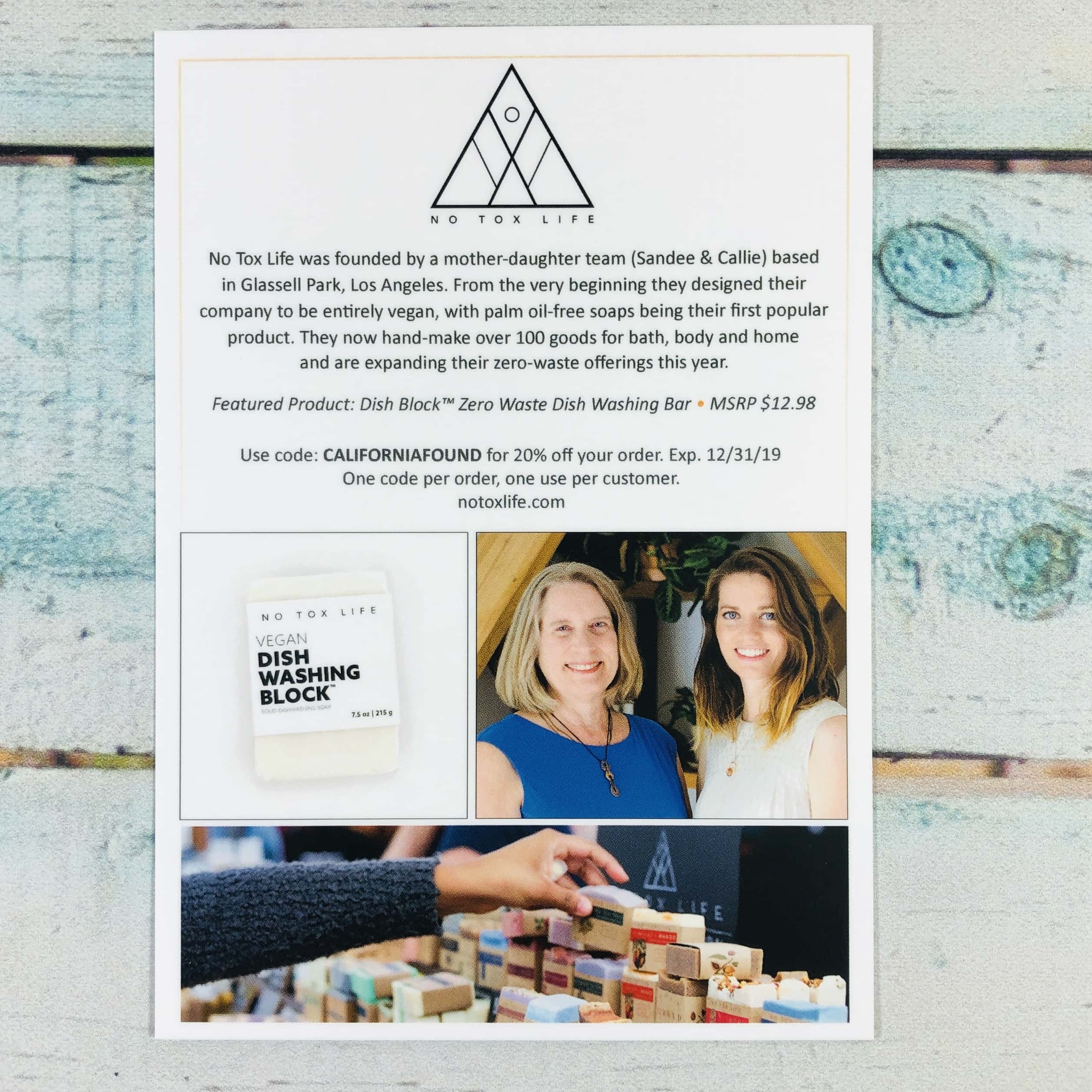 No Tox Life Vegan Dishwashing Block ($11.98) We received two eco-friendly dish washing products this month and the first is meant to replace your liquid detergent.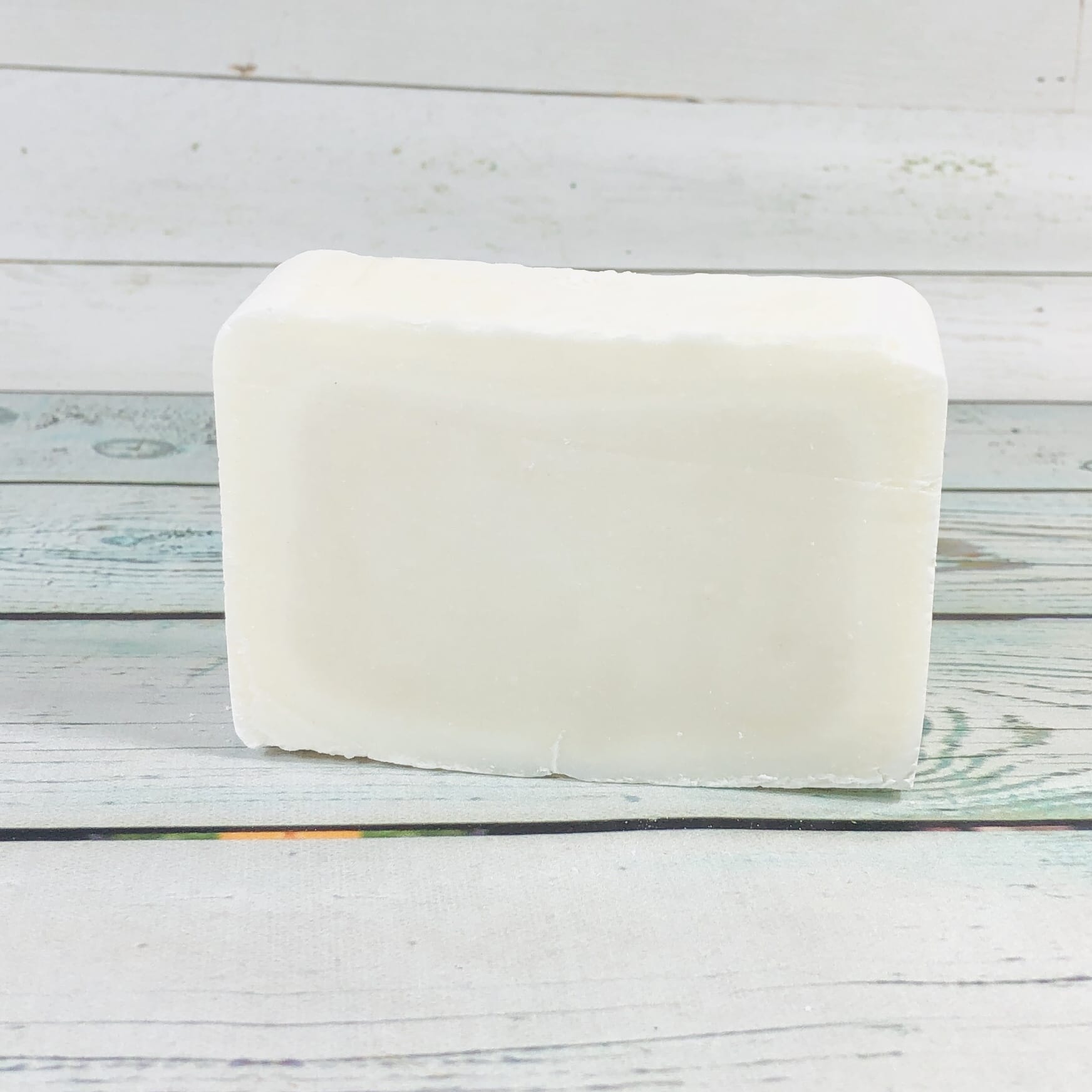 It is a giant block of soap and it will last longer if you set it on a raised soap dish to keep it from sitting in water.

The ingredients are plant derived and this is a vegan product.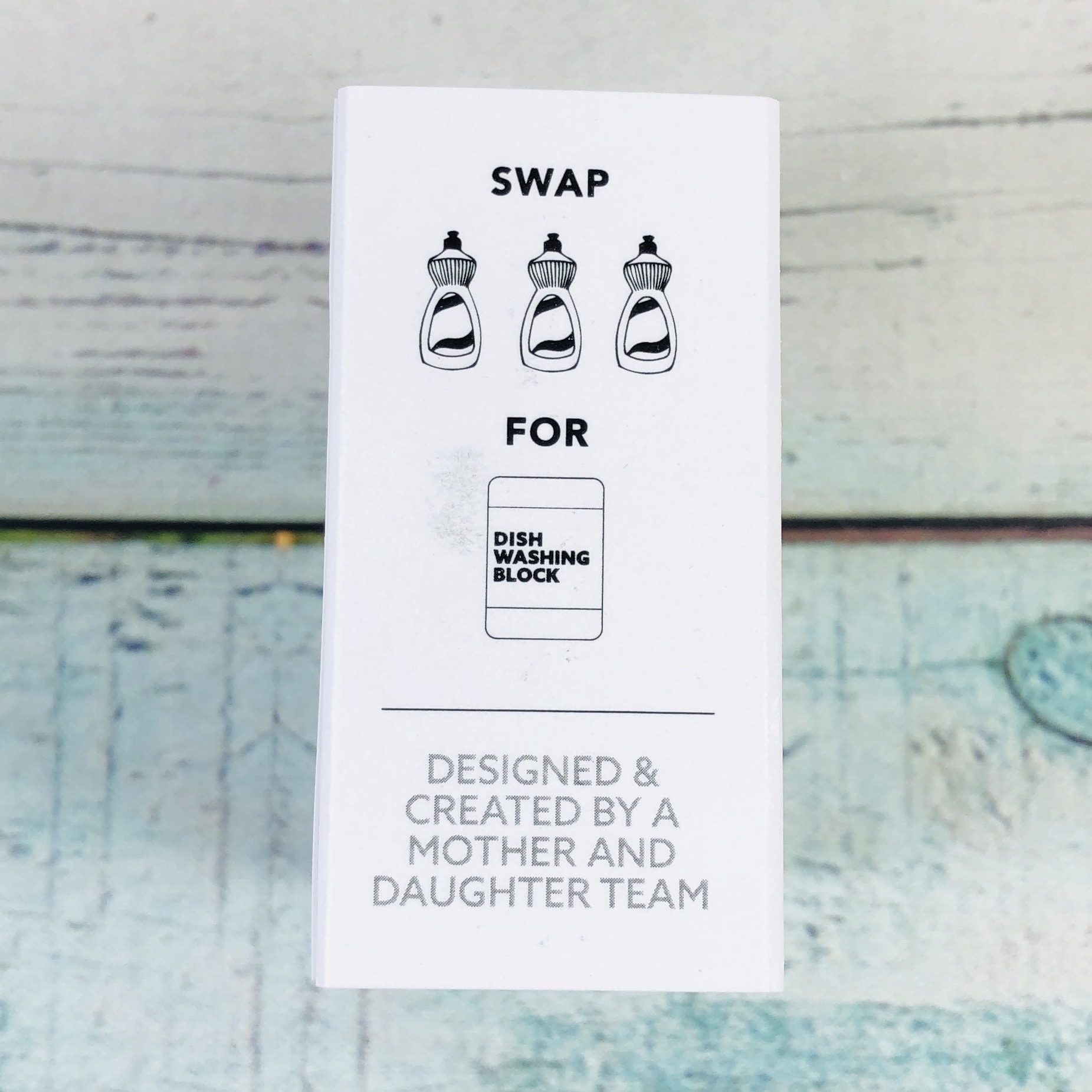 It could last for months depending on how many dishes you need to wash and it may replace up to 3 bottles of dish detergent.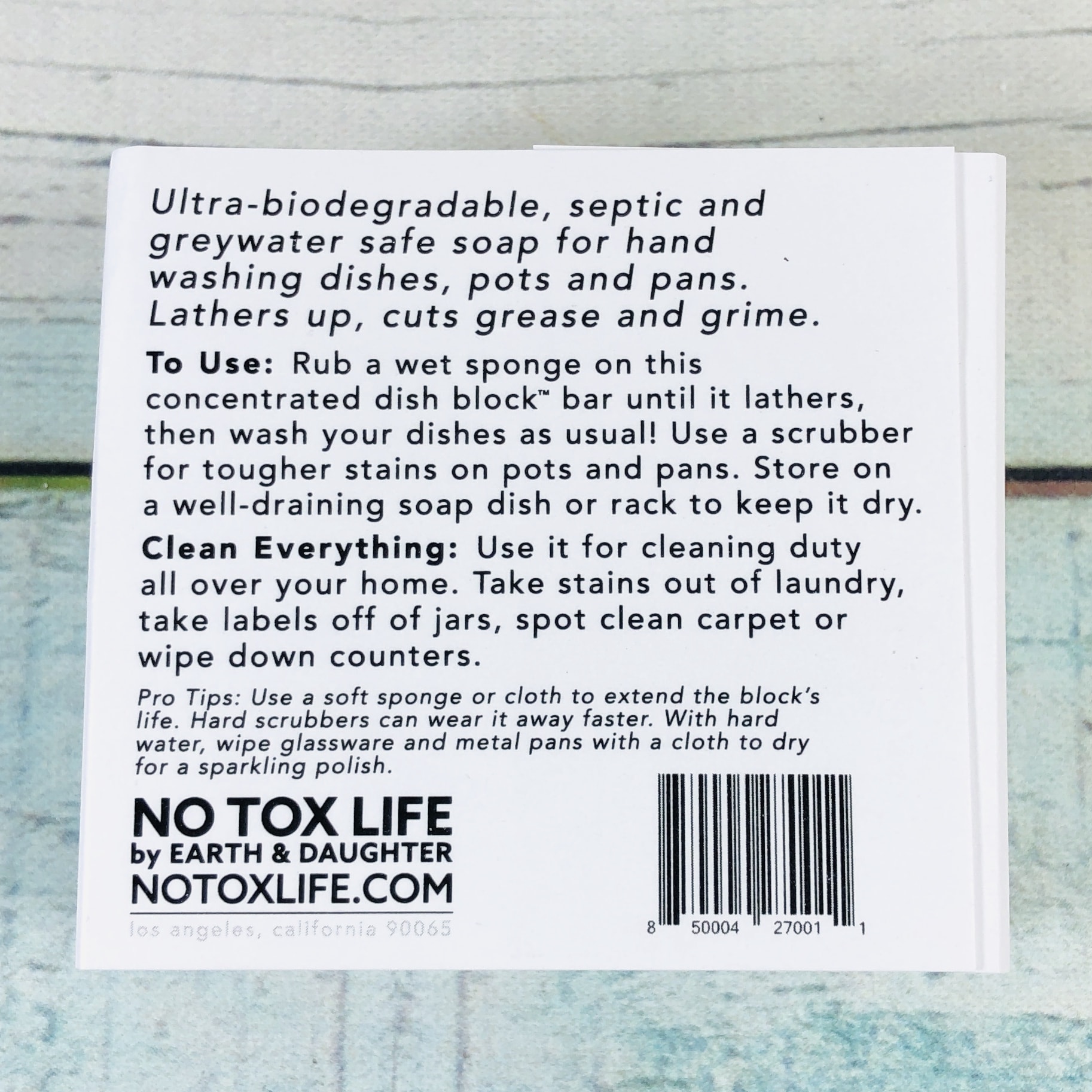 Just rub a wet sponge or brush over the soap block and then use the sponge to wash your dish. I think this is perfect if you just have a few dishes to clean, it took me a lot of time to wash a sink full. I rubbed my sponge on the bar and found that it sudsed up really well. I even discovered that I could use it to clean my makeup brushes!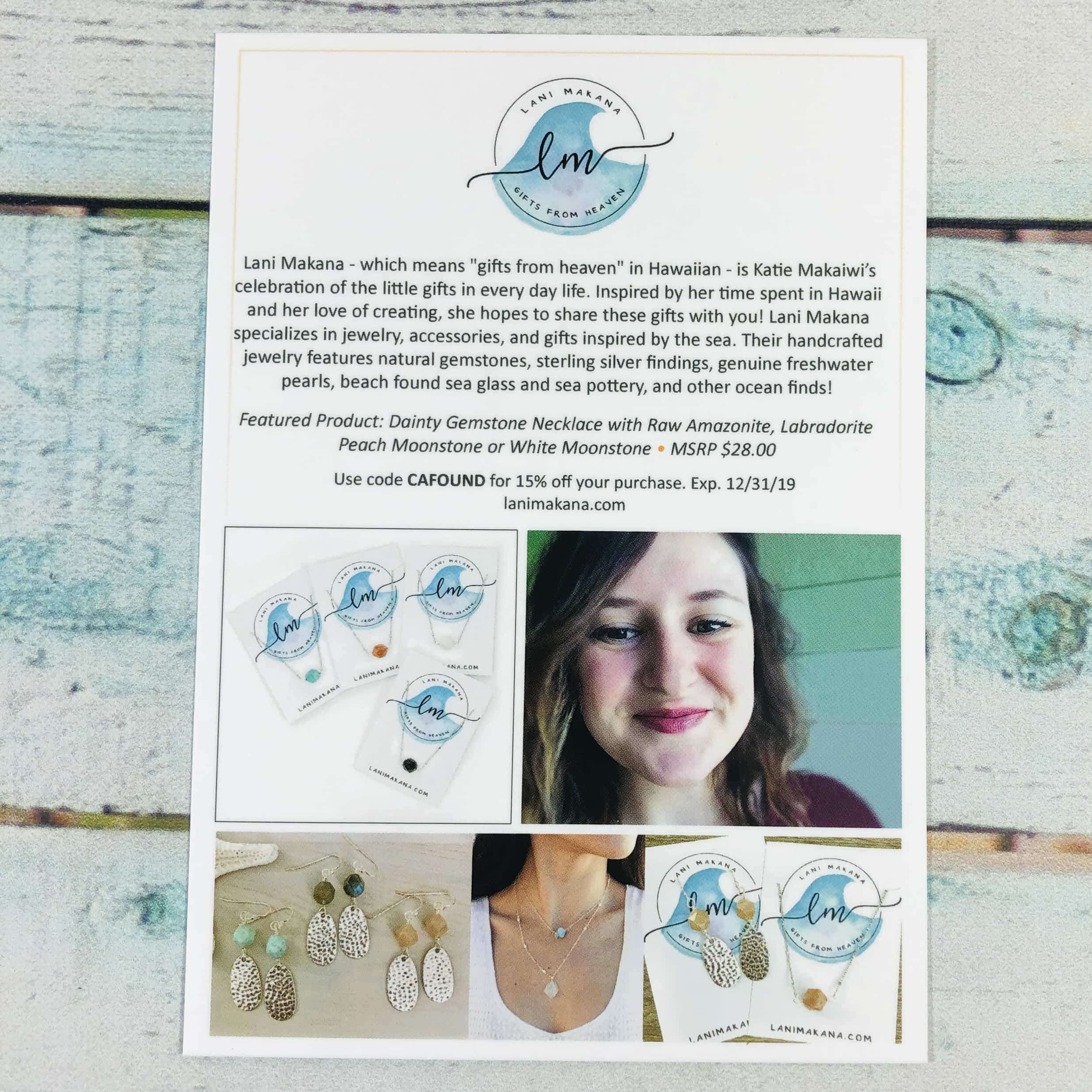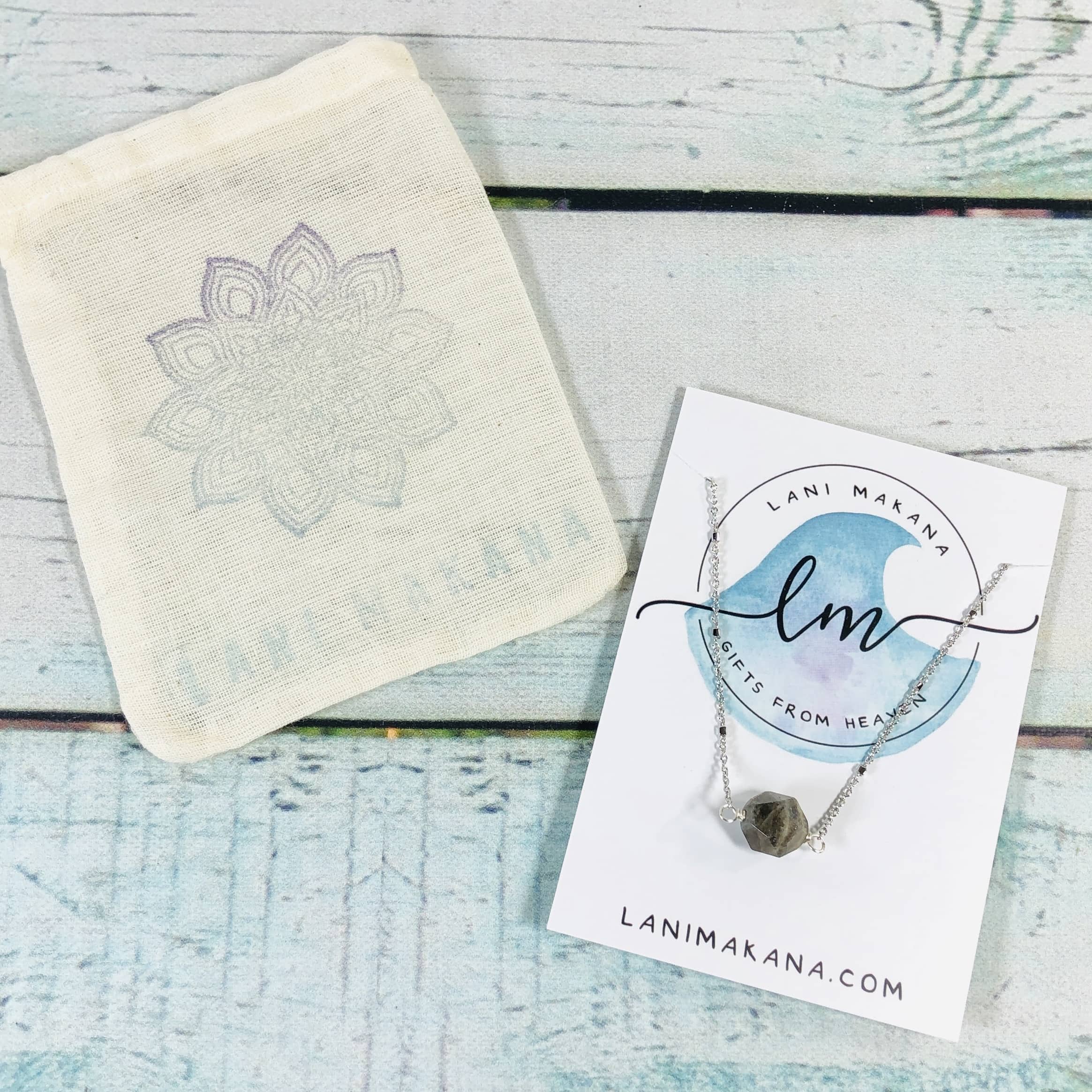 The Dainty Gemstone Necklace by Lani Makana ($28) came in its own little pouch.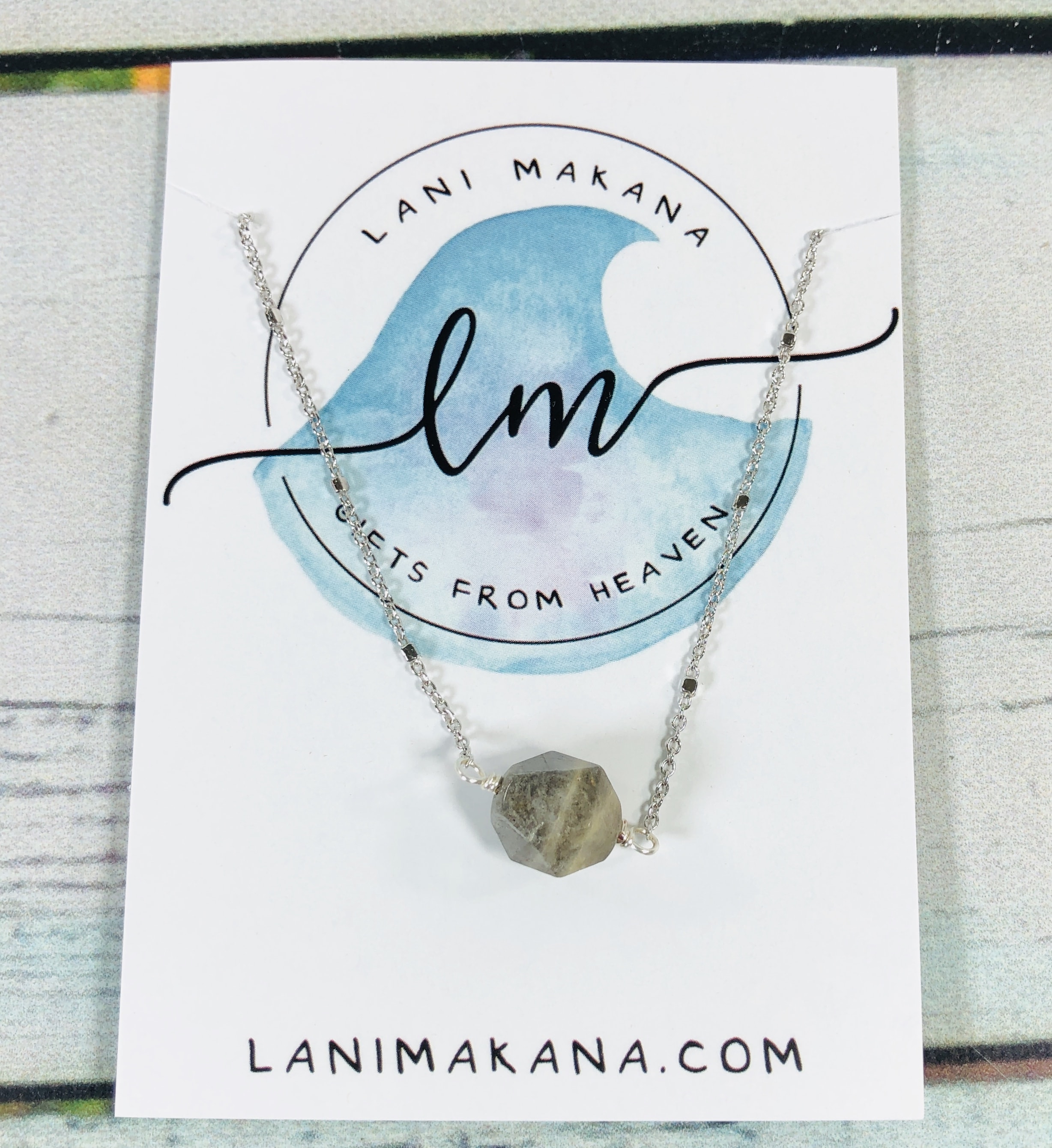 Subscribers received one of several stones and I received labradorite.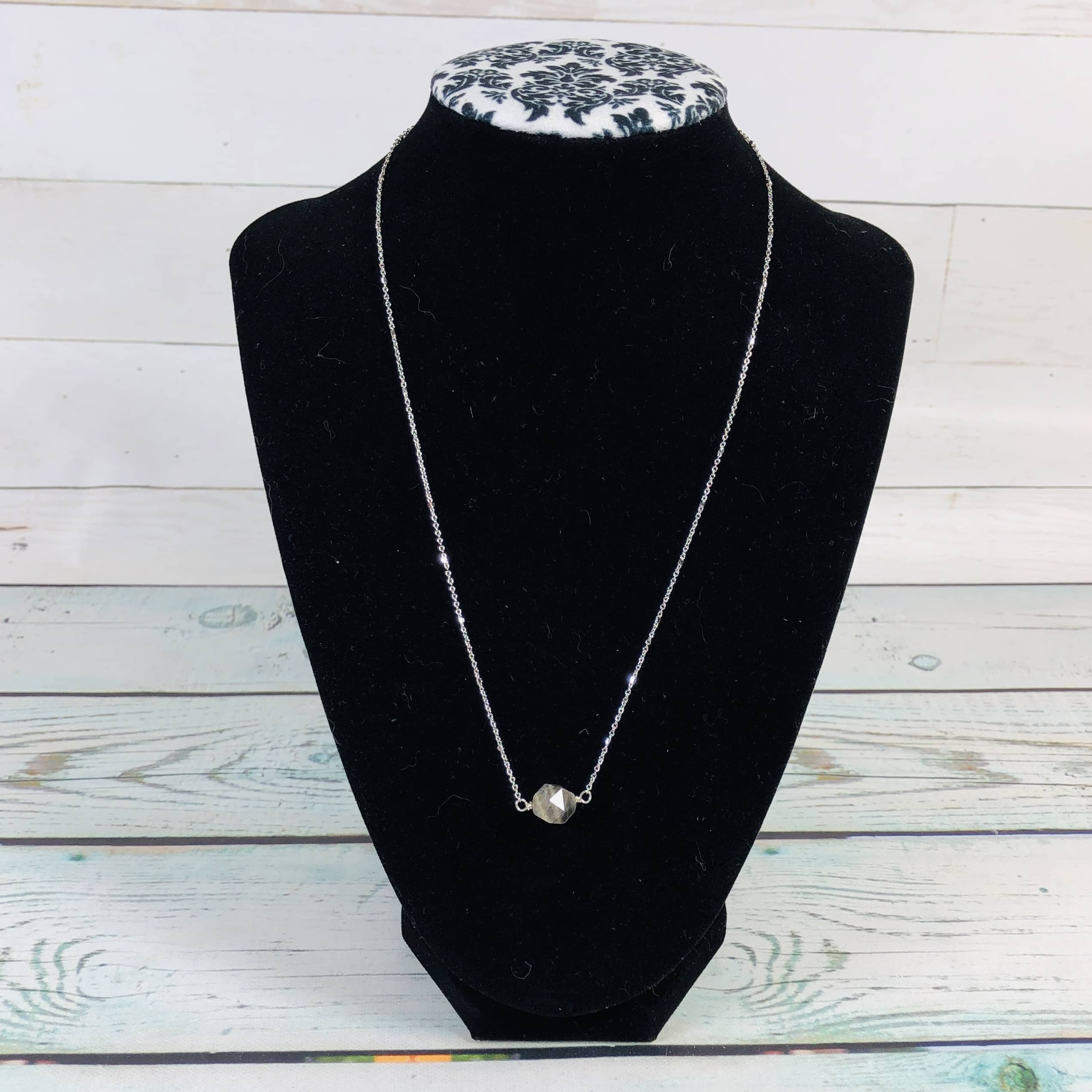 My necklace was about 18″ long from one clasp to the other. The stone is fixed in place and the chain is sterling silver and is called a satellite chain, with little beads every 3/4″ or so.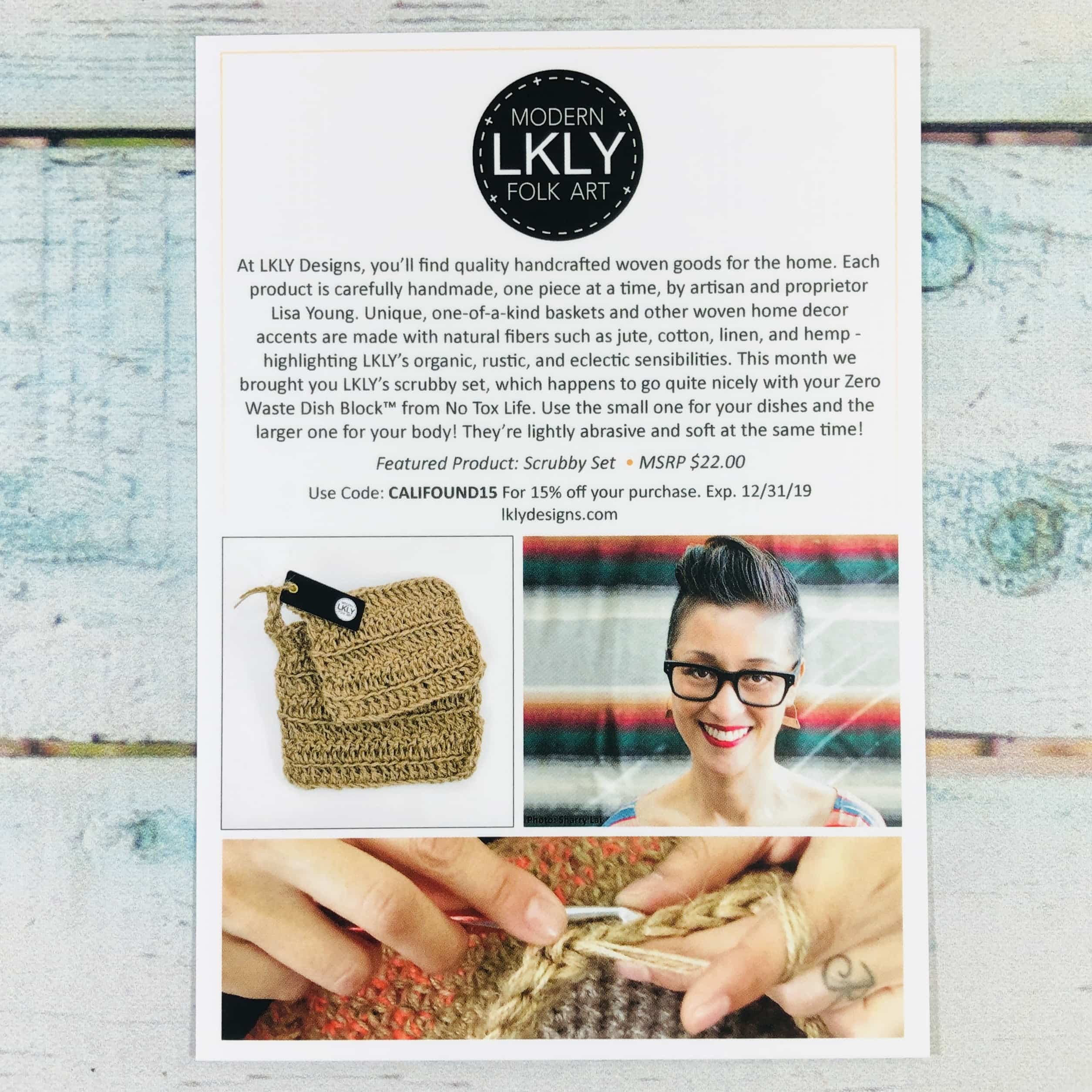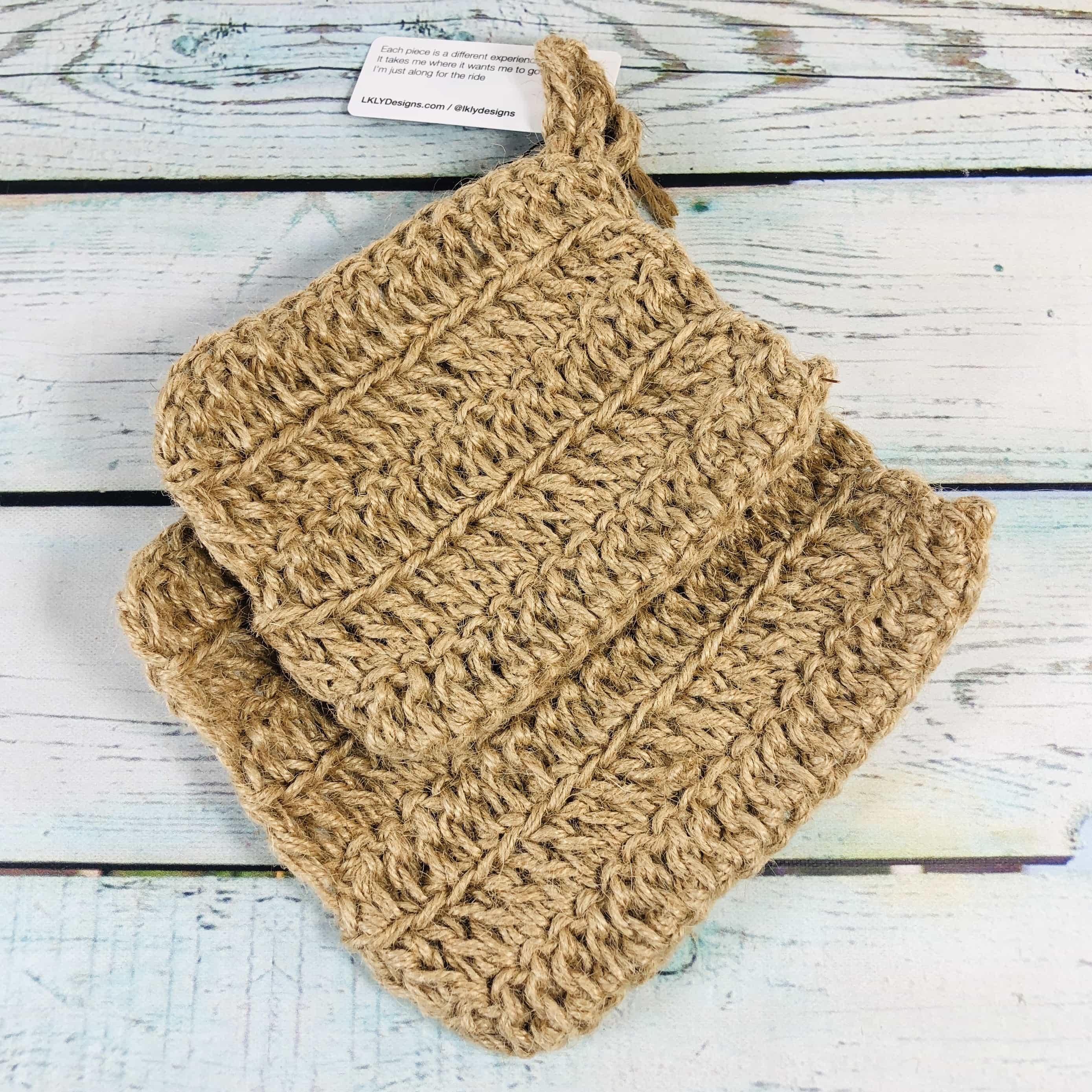 LKLY Design's Scrubby Set ($22) Our second cleaning product has two sizes, so you can use one for the dishes, and one for your body!
These are made of hemp, a natural fiber, and it has a unique scent, like burlap. I had a hard time using it on things like water glasses, it wasn't very flexible. It works better for plates or pans. The larger one is about the size of a traditional potholder.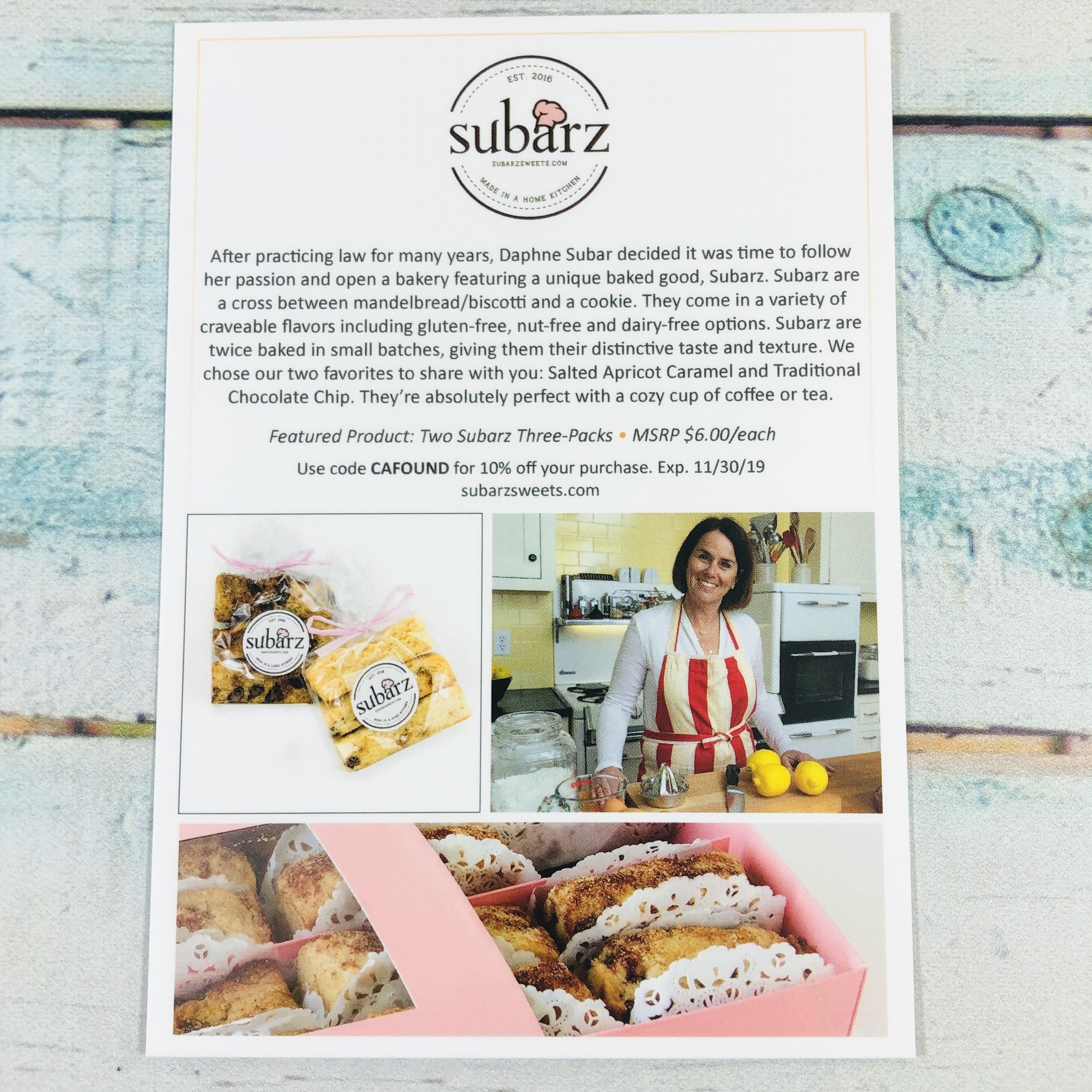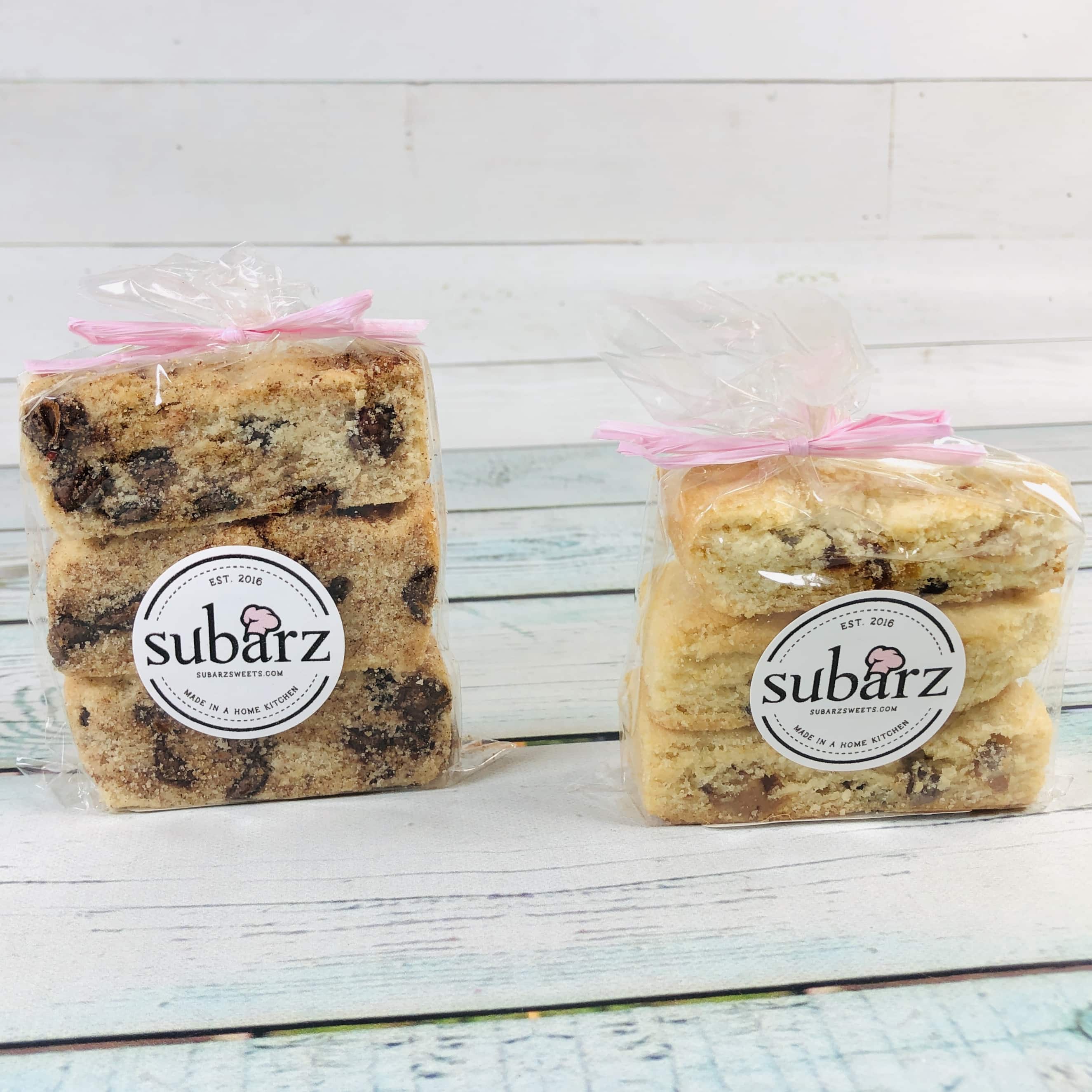 Subarz Sweets Cookie Pack in Salted Apricot Caramel ($6) and Traditional Chocolate Chip ($6) My daughter spotted these and wanted to know if they were biscotti so I told her they were similar although they were based on a similar Jewish specialty, mandel bread.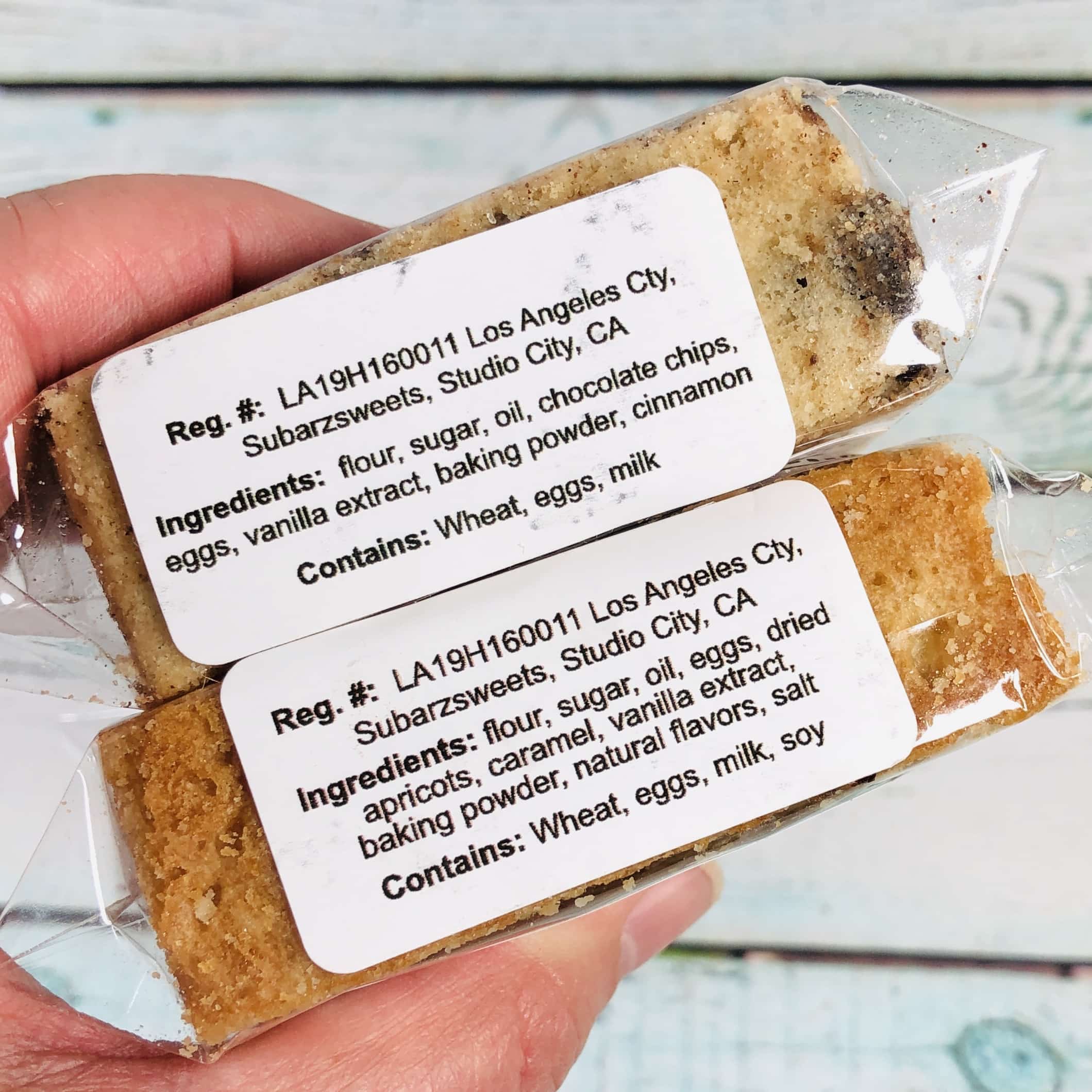 Ingredients were listed on the package and were short, sweet, and pronounceable! It's been a while since I tried biscotti but I think these were a little softer, a little easier on the teeth. The salt really brought out the sweetness of the apricots and chocolate combined with cinnamon is really the only way to go. Both cookies were delicious!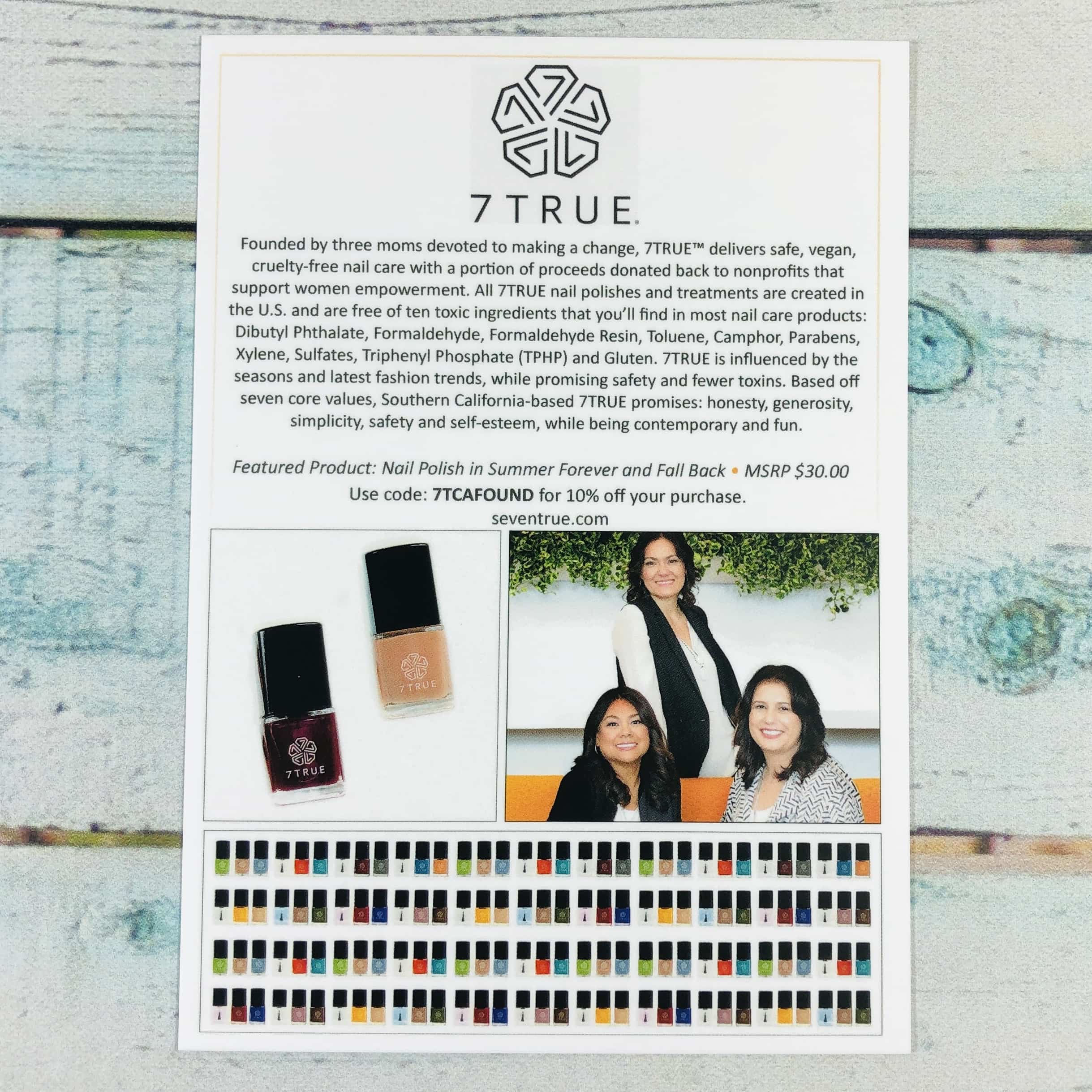 7TRUE Non-Toxic Nail Color in Summer Forever and Fall Back ($15 each) 7True polishes are free of 10 harmful ingredients that are found in some brands of polish: formaldehyde, formaldehyde resin, DBP, toluene, camphor, xylene, parabens, sulfates,TPHP, and gluten.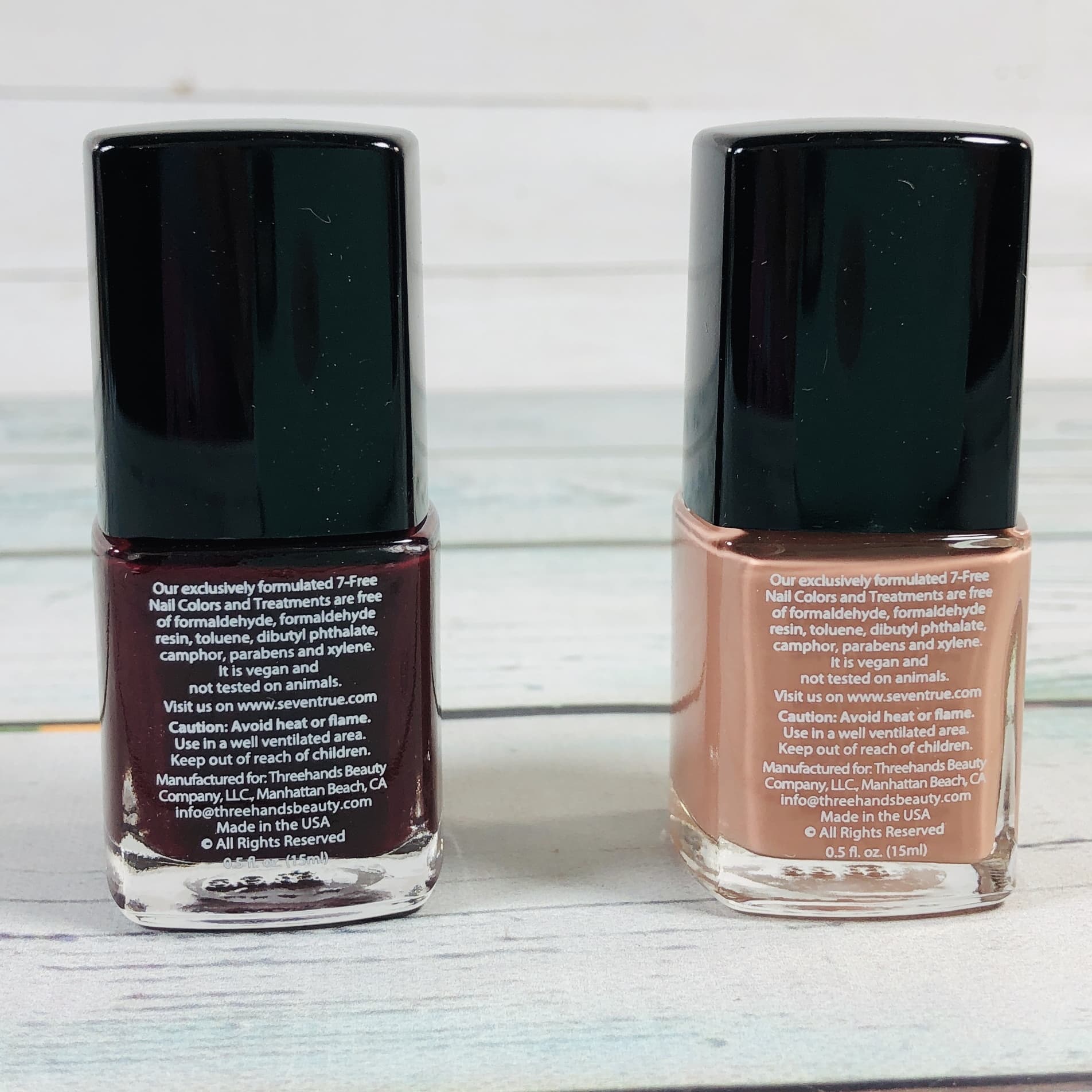 They are vegan and cruelty-free. One color looks perfect for summer's end, the other will take me through the holidays.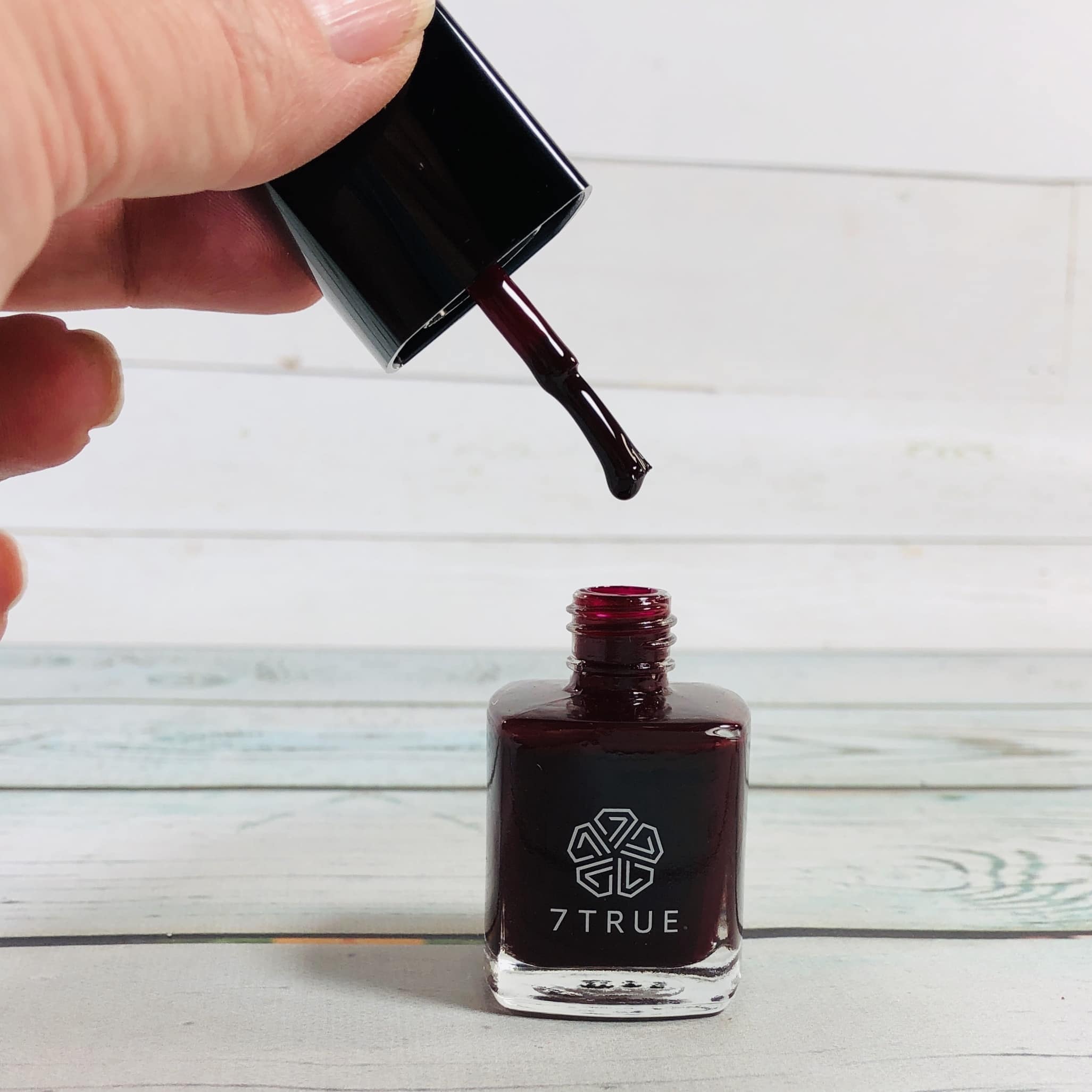 Fall Back is described as "a deep rich wine that is sure to get second glances from everyone" and it is my favorite of the two, I love a deep color, especially on my toes.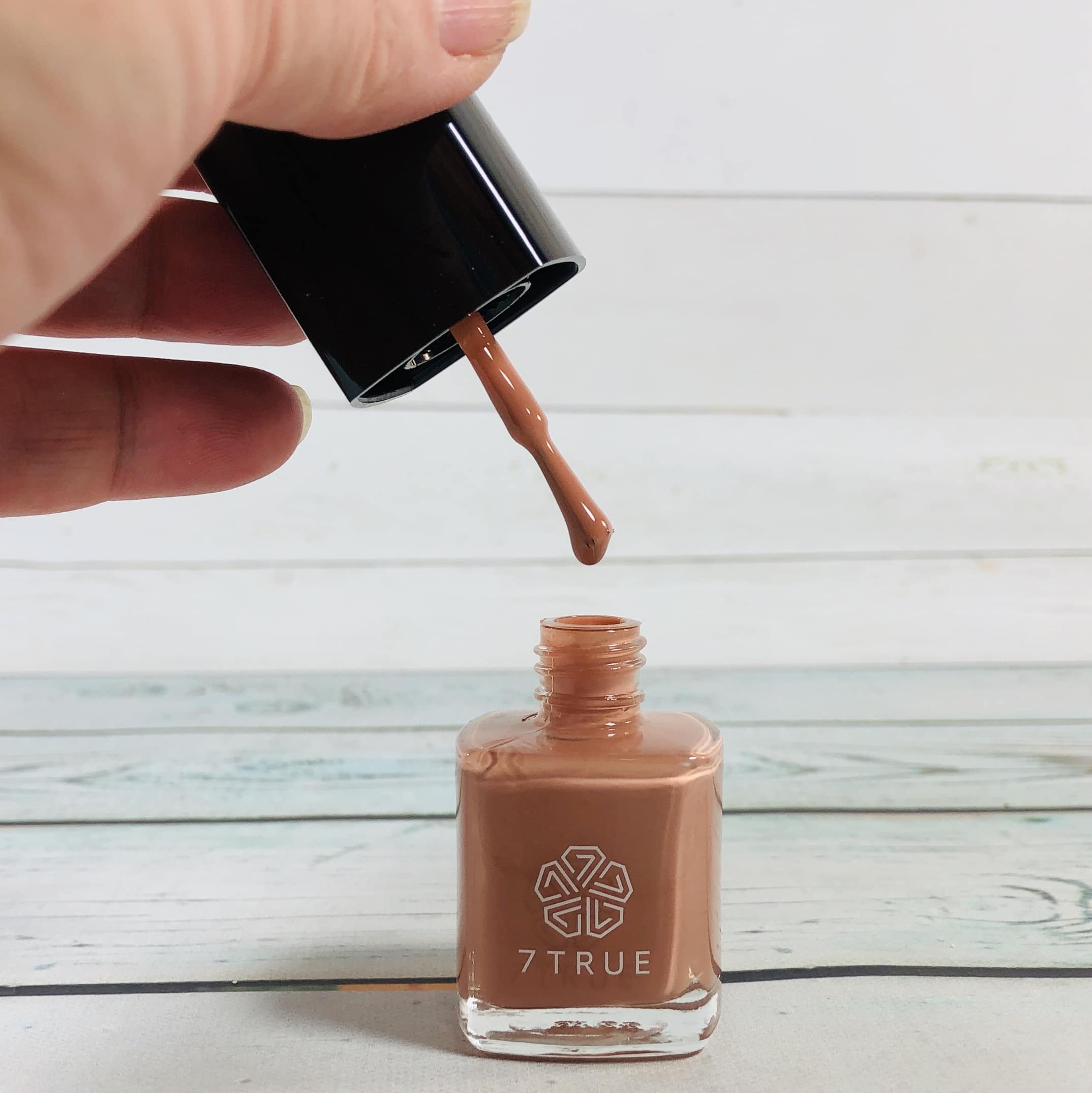 Summer Forever is described as "a beautiful neutral that complements the bold colors of summer and the earthy tones of the fall", so it works with a variety of outfit choices. They will get plenty of use this fall and into next year!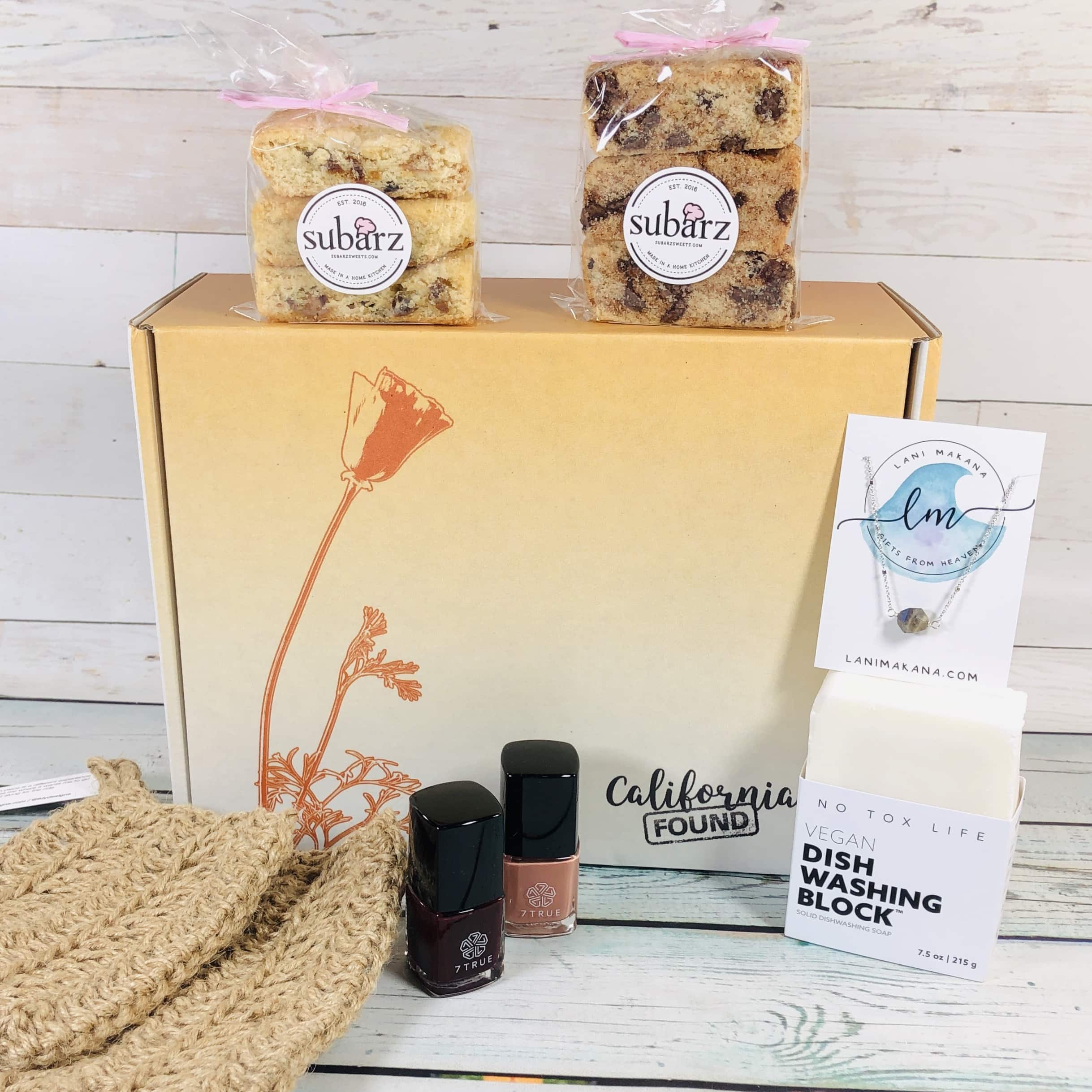 California Found finds some pretty amazing products and ships them directly to subscribers, and I think they always send just what I need, when I need it. The snacks were tasty and the soap block will last for months if I use it for a few glasses here and there. I will use the larger scrubby as a body scrubber, and the necklace is cute. I adore the polish colors and look forward to taking the time to do my nails. The value for the September box was around $103.98!
What do you think of California Found? Let me know in the comments!