Bath Bevy is a monthly subscription box for those who love their tub time. You'll receive a box full of bath products like bath bombs, bubble bars, bath salts, body scrubs, handmade soaps, and more, 6-10 items per box! Too many bath bombs? Opt for a quarterly box instead or save some cash with a multi-month subscription.
Bath Bevy is a box full of carefully curated bath products delivered to your door every month. We will provide everything you need to elevate your bathing experience. Just add water.

Each month we carefully select a combination of bath goodies that could be bath salts, soaks, bombs, bubble bars, bubble bath, body scrubs or anything else you can enjoy at bath time. We feature different brands every month and everything in the box was tested by our Founder first!
DEAL: Receive 10% off your first subscription and renewals for the Bath Bevy Subscription Box. Use coupon code HELLO10.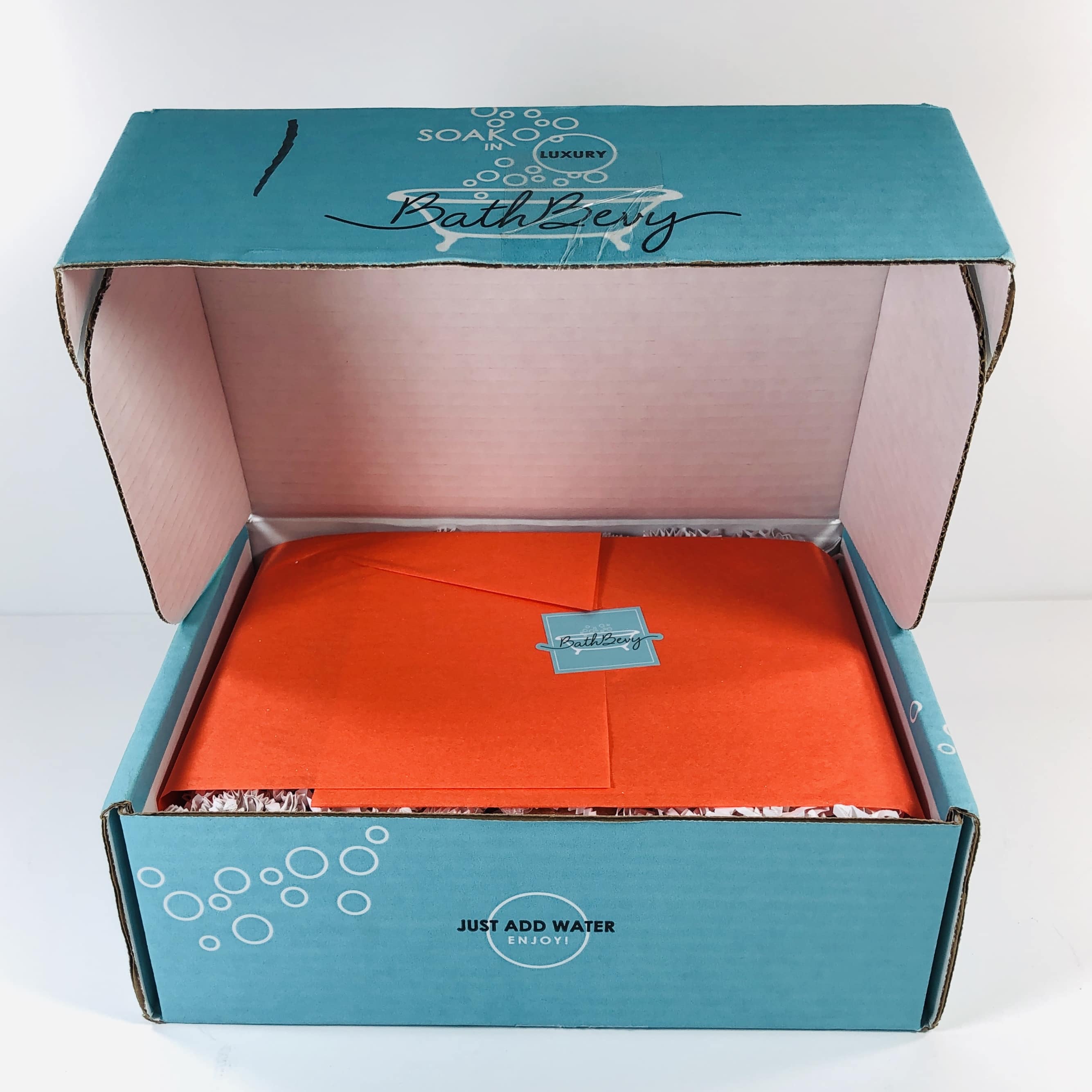 This month's items were wrapped in tissue paper and sealed with a Bath Bevy sticker.
Everything was tucked into shredded paper squiggles and the entire box smelled gooooood!

I found a card that introduced the theme. The October theme is SPOOKY CUTE.

The back of the card listed all of the products in the box.

Everything in my SPOOKY CUTE Bath Bevy Box!

Willow Bella Bath and Body Sorbet Bath Truffle in Citrus Sour Candies ($7 value, buy a box of 4 for $28) I have never received a bath truffle before!
It has that classic combo of baking soda and citric acid that sets things a fizzing.

It looks like a scoop of ice cream but you're supposed to place it in your bath tub! The scent is "citrus sour candies" and it makes my mouth water, it smells so much like a Sour Patch Kid.

Bath Bevy Bubbling Cauldron Bath Bomb ($8) Bubble bubble, but hopefully without too much toil and trouble! Baking soda and citric acid gets the potion going in this cauldron, but of course you need some water too.

Just stick the whole thing into your bath and enjoy the scent of citrus and fruit punch. It smells like rainbow sherbet!
Bath Bevy Sweet Cinnamon Pumpkin Bath Salt ($7) Tis the season for everything pumpkin spice and while I may not want a drink inspired by a holiday pie, I do want all of the smells!

Dead Sea salts are given a colorful treatment and are magically transformed into the go-to scent of the season. Pour some into your bath and relax while breathing in this dreamy sweet and not too spicy fragrance.

Twisted Allure Halloween Candy Whipped Soap ($7 value, buy 8 ounces for $14)  FYI, website not suitable for work, although the link leads to a tame shot of the product.

According to the container this is supposed to smell like Jolly Rancher candy. It has coconut oil and sweet almond oils in the ingredients.
Doesn't this look awesome! It smells like a combo of Sprite and fruit punch. According to the website a little is enough to get a good lather going but I didn't really get much lather at all, even when I used a quarter sized amount on a bath pouf.

Willow Bella Soaps Campfire Memories Bath Bomb ($7.50, I linked to Nights By The Fire) There wasn't any info on this bomb and I believe I linked to the right scent, which was also mentioned on the Willow Bella Instagram page. I'm going to have to describe the scent on my own since there are no other details, and I would say it's sweet and smokey, maybe like roasting marshmallows on a stick over a wood fire. Epsom salt, kaolin clay, coconut oil, and cocoa butter are some of the ingredients, and of course citric acid and baking soda starts the fizzing action.

Primal Elements Jack Soap ($9) Yes, this is exactly what I need to get into a slightly spooky mood for this month! The weather is still hot where I live but now my shower time can smell like fall!
This is a pretty good sized soap and is hand made in small batches.
It looks like it's glowing! It also smells delicious, like pumpkin spice of course! It lathered well and rinsed clean without a lingering scent.

Bath Bevy sends such cute items that are perfect for the month! I liked that there were some not too scary items for the Halloween lovers and some warm and spicy scents for those who are all about fall. Some of the items even smelled like candy so it's not all spice either. The items are fun to use and add a touch of silliness and a reminder of the season each time I use one in my shower or bath!
Did you love this month's box?