Baby Play Kits by Lovevery feature the best play products designed by child development experts. The toys are customized by stage and thoughtfully crafted using sustainably forested wood, organic cotton, and baby-safe plastics.
Head's up – this is a BIG box, with lots of photos! There is SO much in this box, along with guidance for parents, and just a ton of developmentally appropriate toys, that we couldn't really get rid of anything. We think this box is worth it, and this review will show you how the parent guide and all the items really work together. Every baby who has played with the toys in this box has found them absolutely fascinating, and we couldn't be happier with the Lovevery kits.
DEAL: Get 10% off on 3+ months prepaid subscriptions. Deal applies automatically, just use this link to subscribe.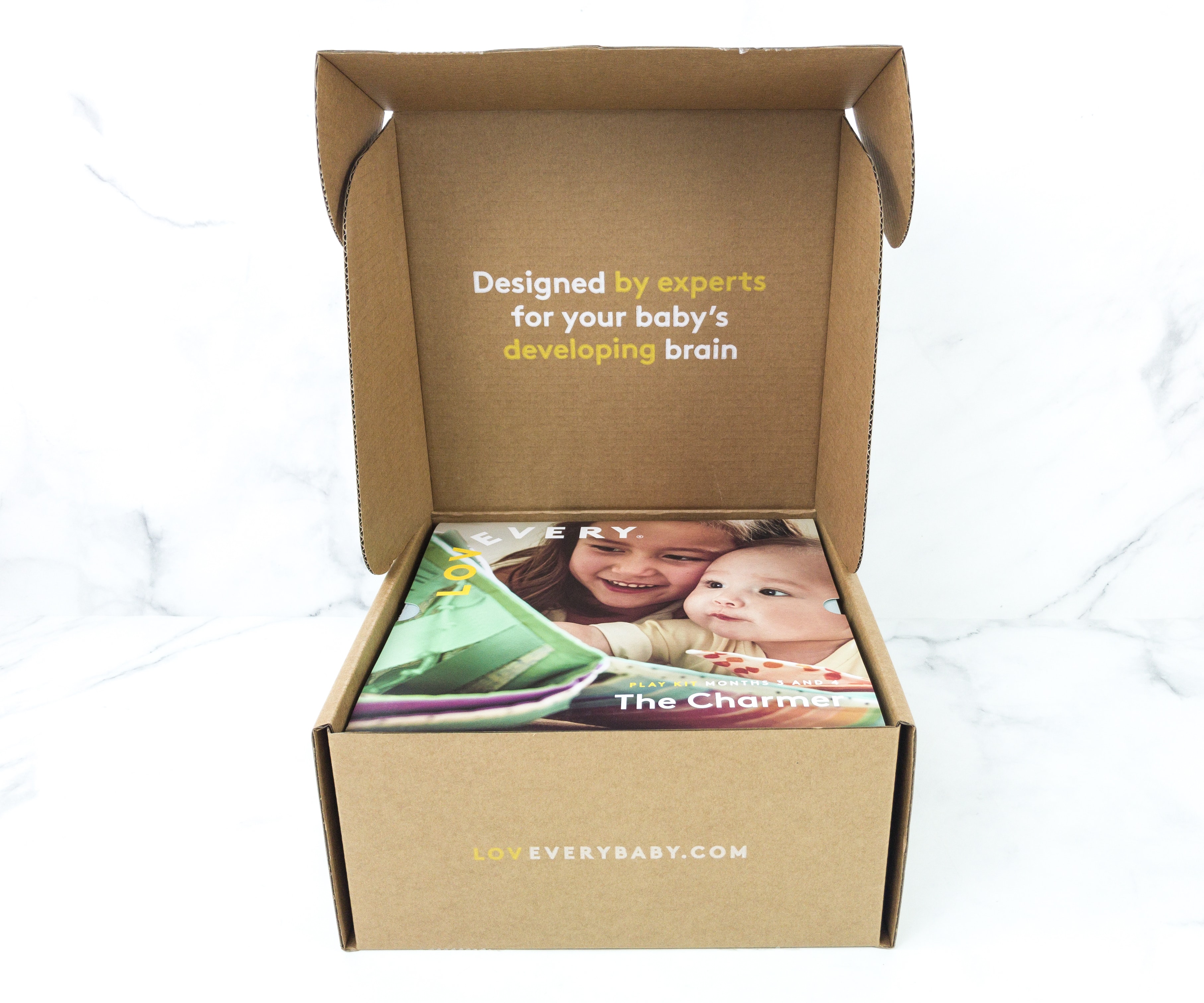 The box is quite full and heavy!
There is a card on top of all the items.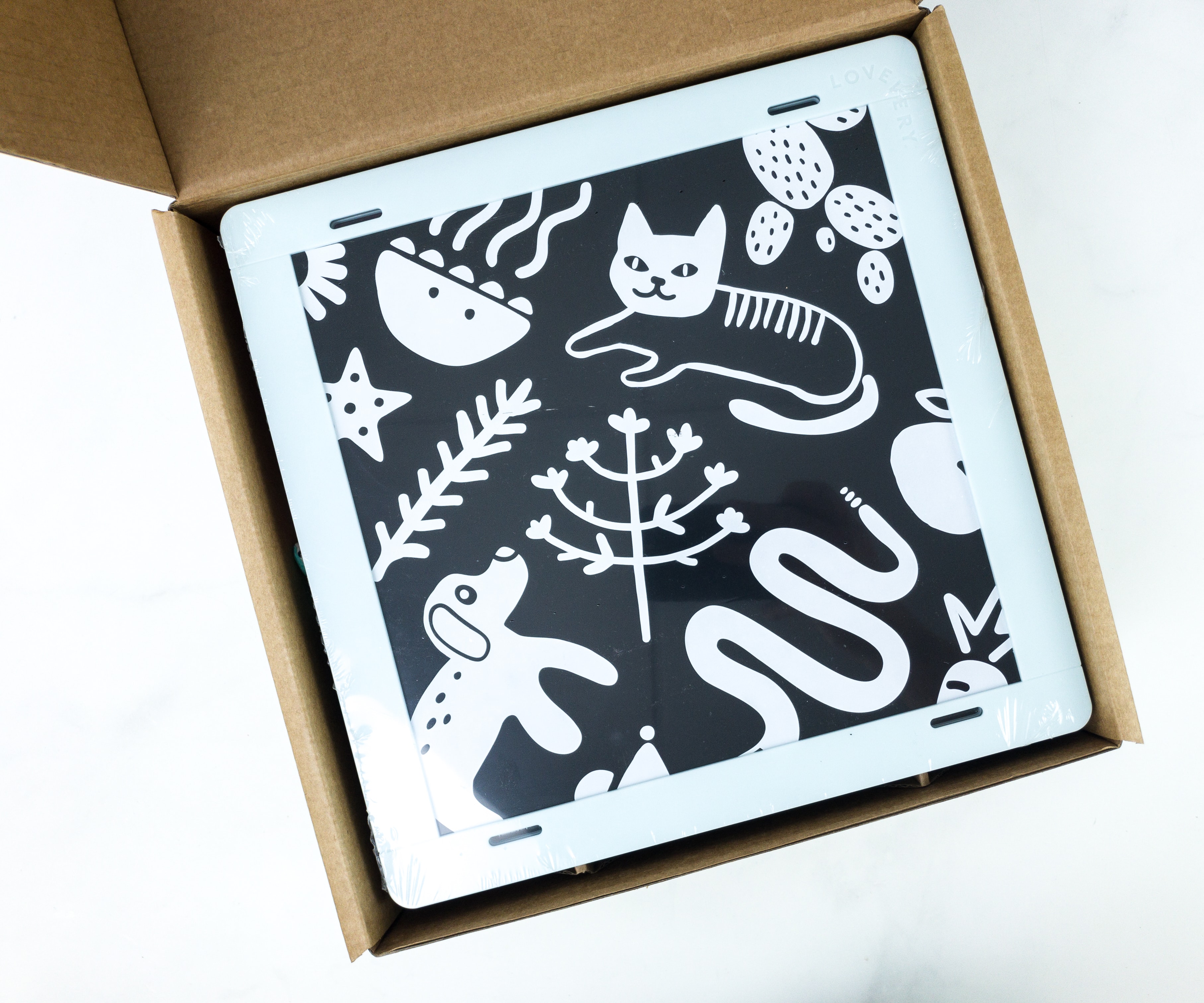 The toys came neatly packaged.
There are lots of cute things inside! We're really excited!
This play kit is specially designed for babies 3 to 4 months old. They're called "The Charmer!"
The information sheet gave us a rundown of all the items in the box!
To make this a fun and safe experience for all, they included a material and care manual.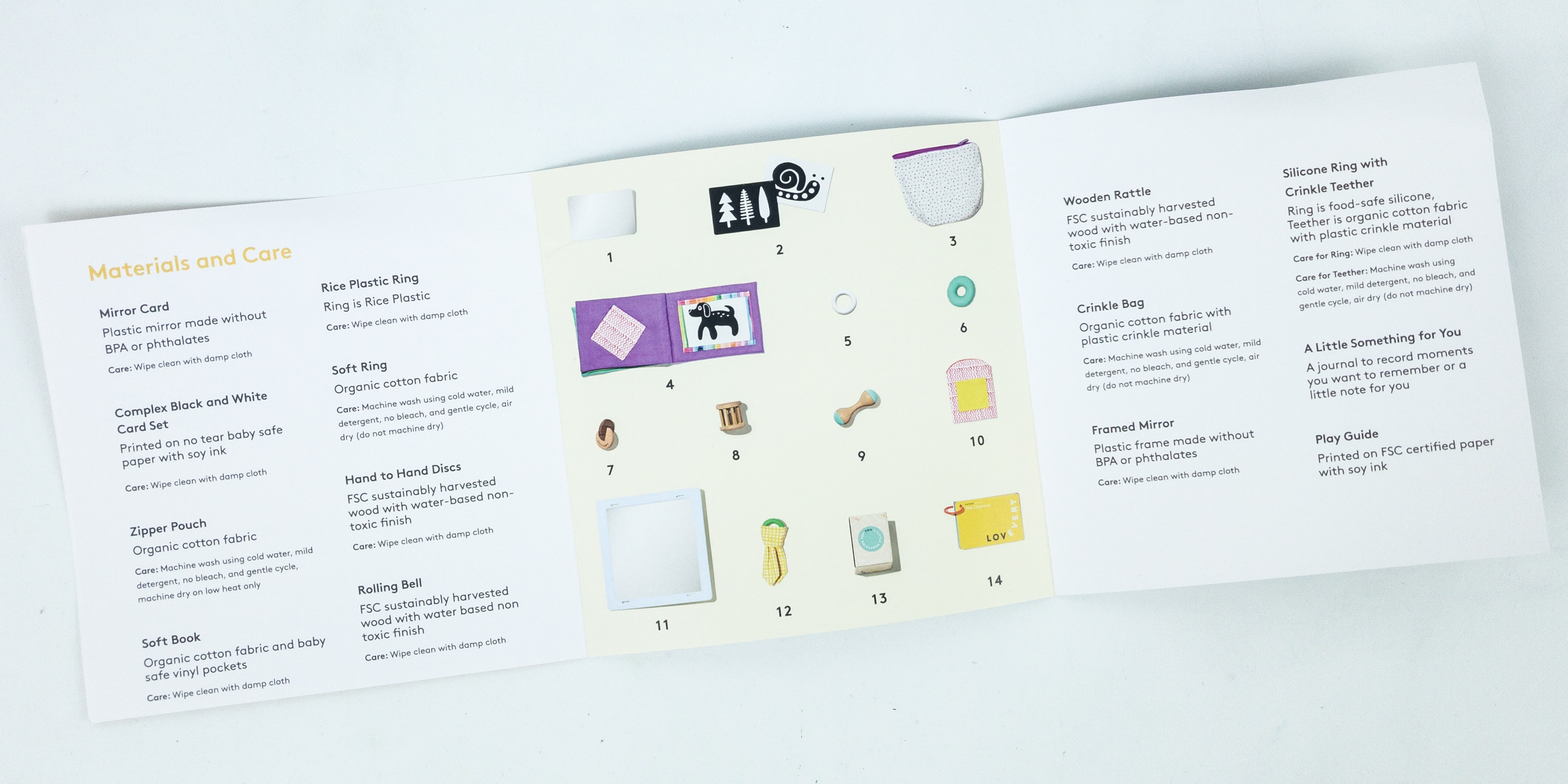 There's a list of safety tips and warnings!
They even listed how to care for each item.
Some toys can be simply wiped clean using a cloth, while others are needed to be hand-washed.
There are corresponding photos for each number, so it's easier for you to determine which is which.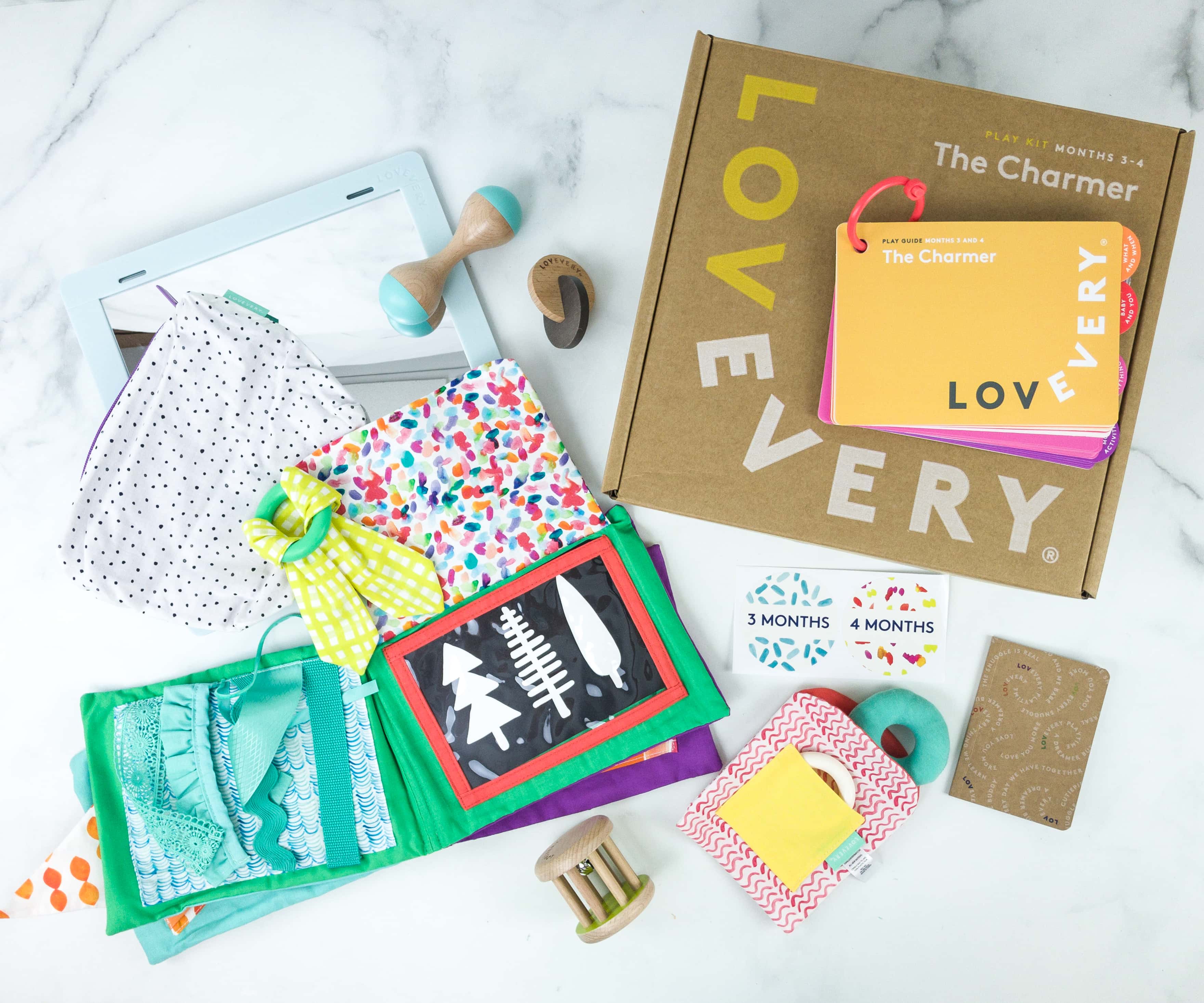 Everything in my box!
Baby Play Kits will include stickers to help you keep track of your baby's growth. Just attach the appropriate sticker to your baby's top and take their photo!
First up is the Play Guide!
This guide is divided into different sections, so it's easier to flip through them and find what you're looking for.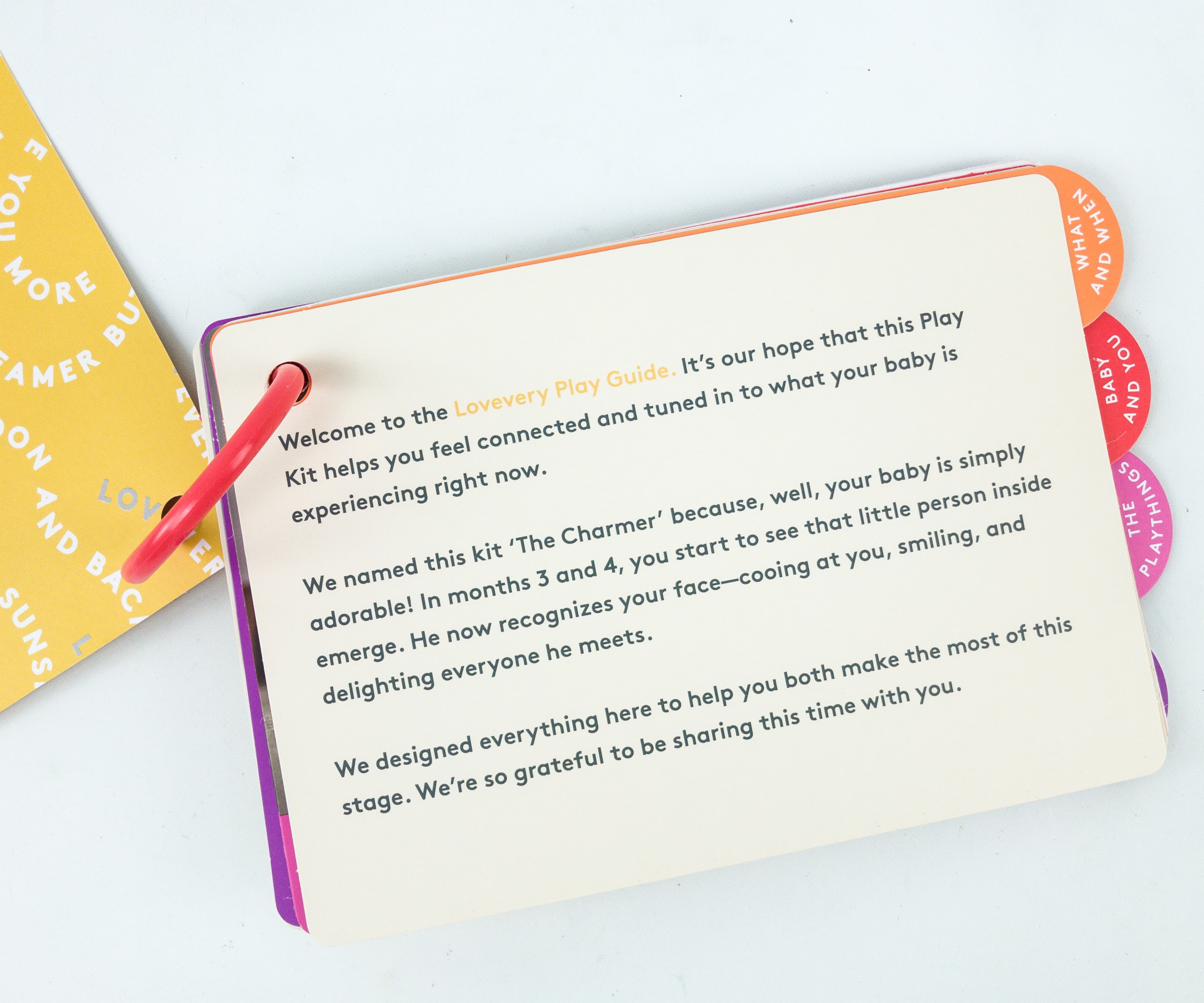 There's a welcome note!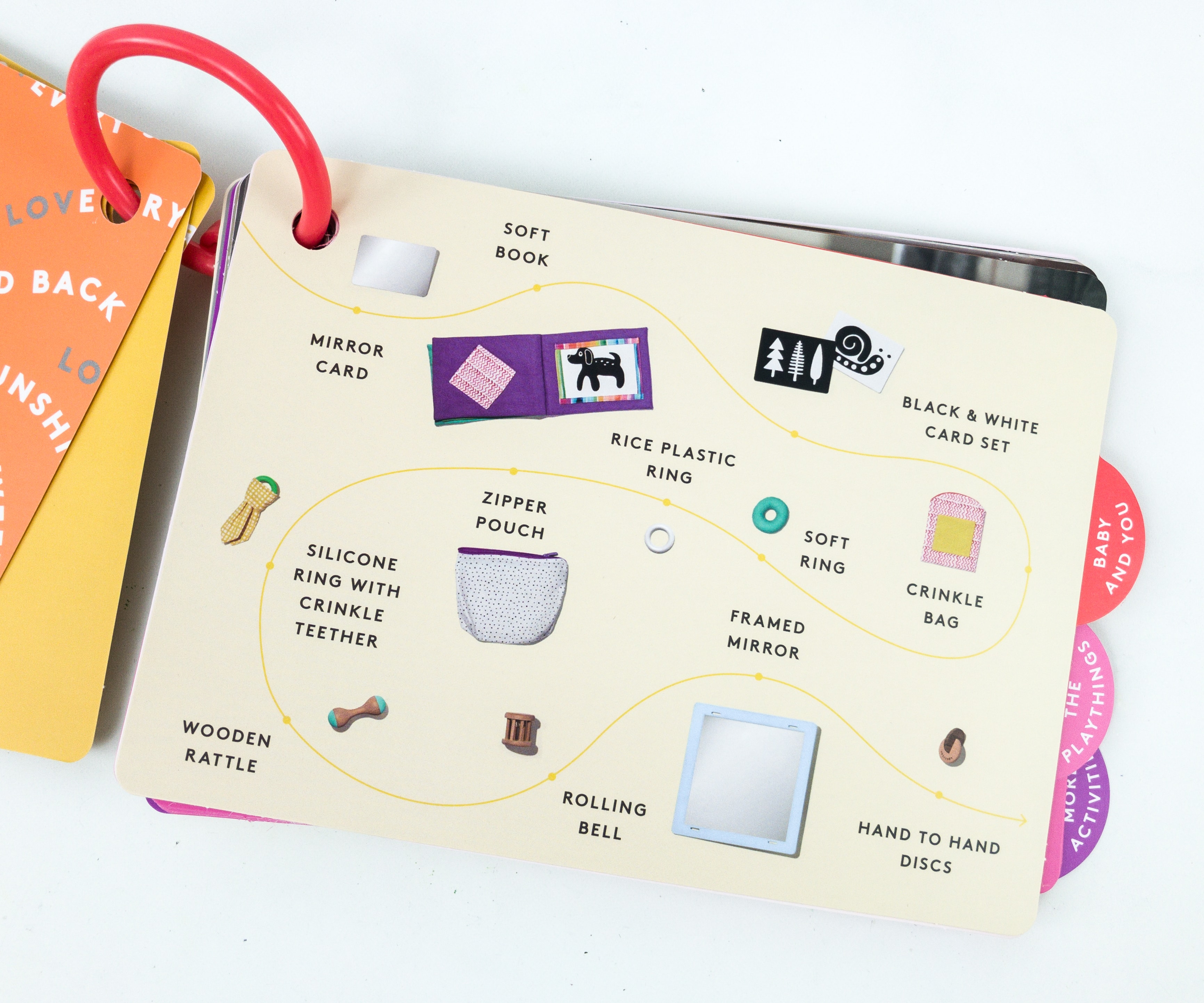 Like the information sheet, it gave us a rundown of all the toys in the box.
They also remind you that each baby's development path is unique and that it's okay if your baby isn't interested in playthings right away.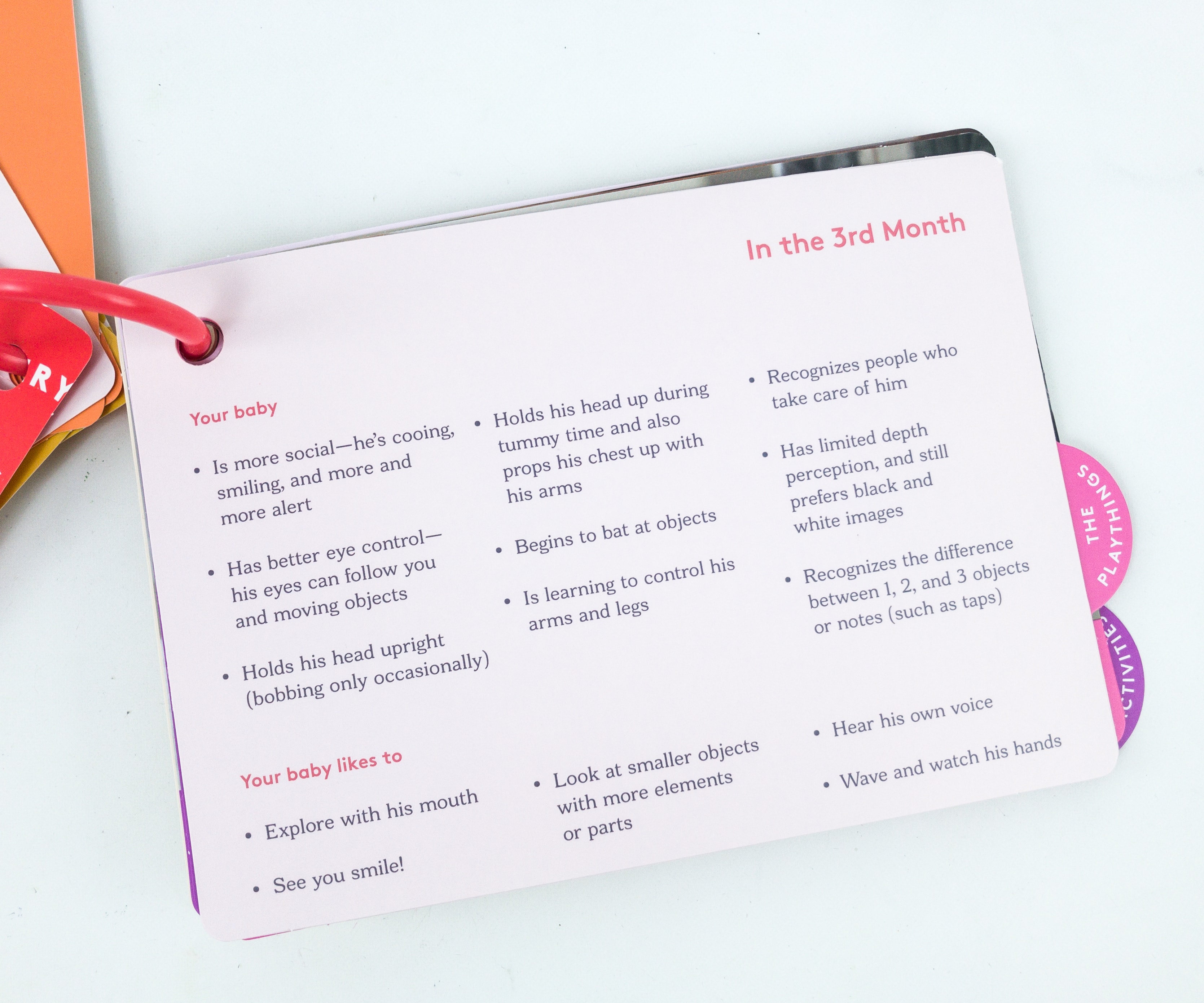 They listed what your baby is already capable of in their 3rd month. It's also really helpful that they listed down what babies of this age like to do! Not everything would apply to your baby, but at least you'd get a general idea.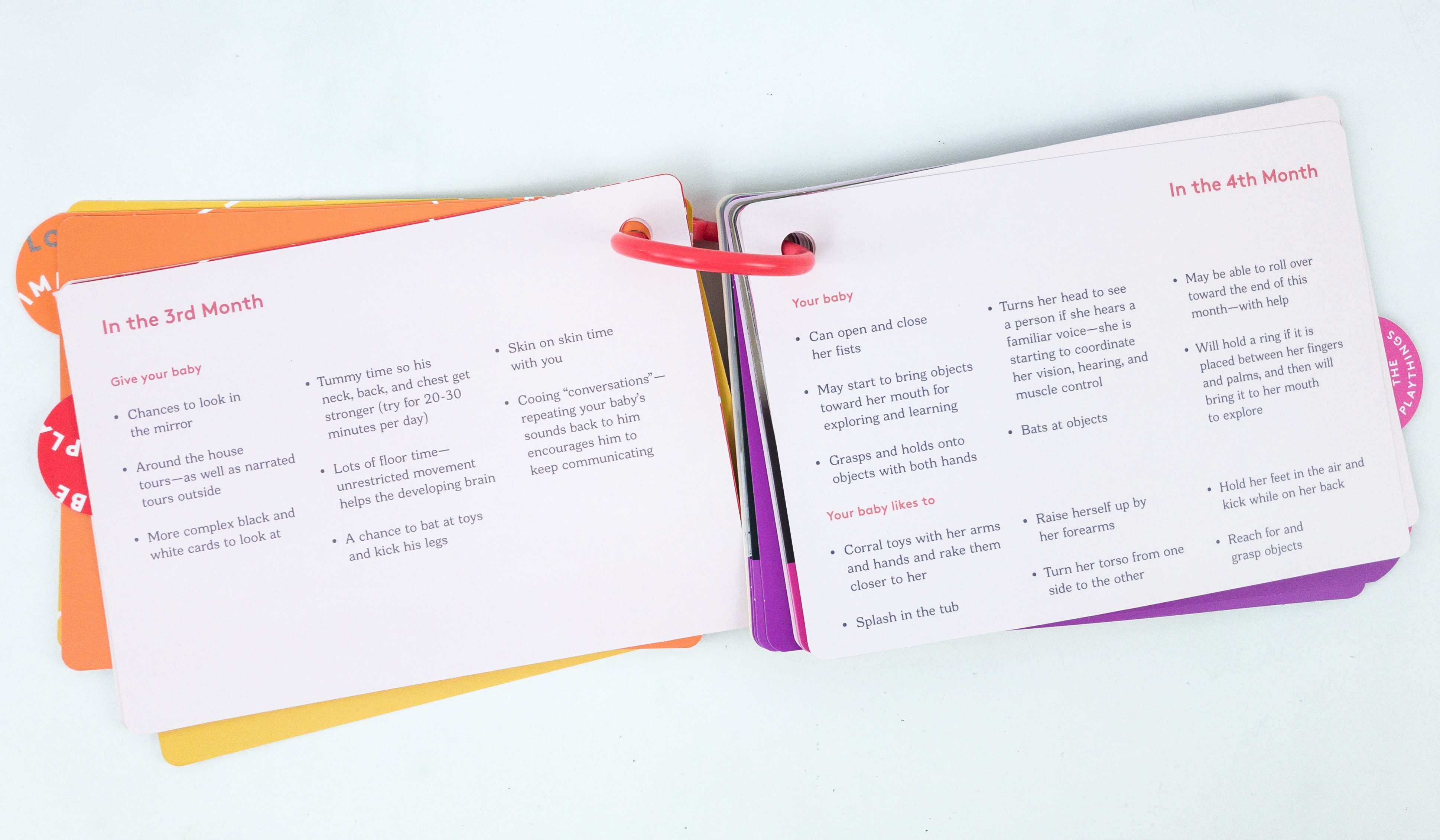 A separate page is dedicated to a list of things your baby can do and likes to do in their 4th month.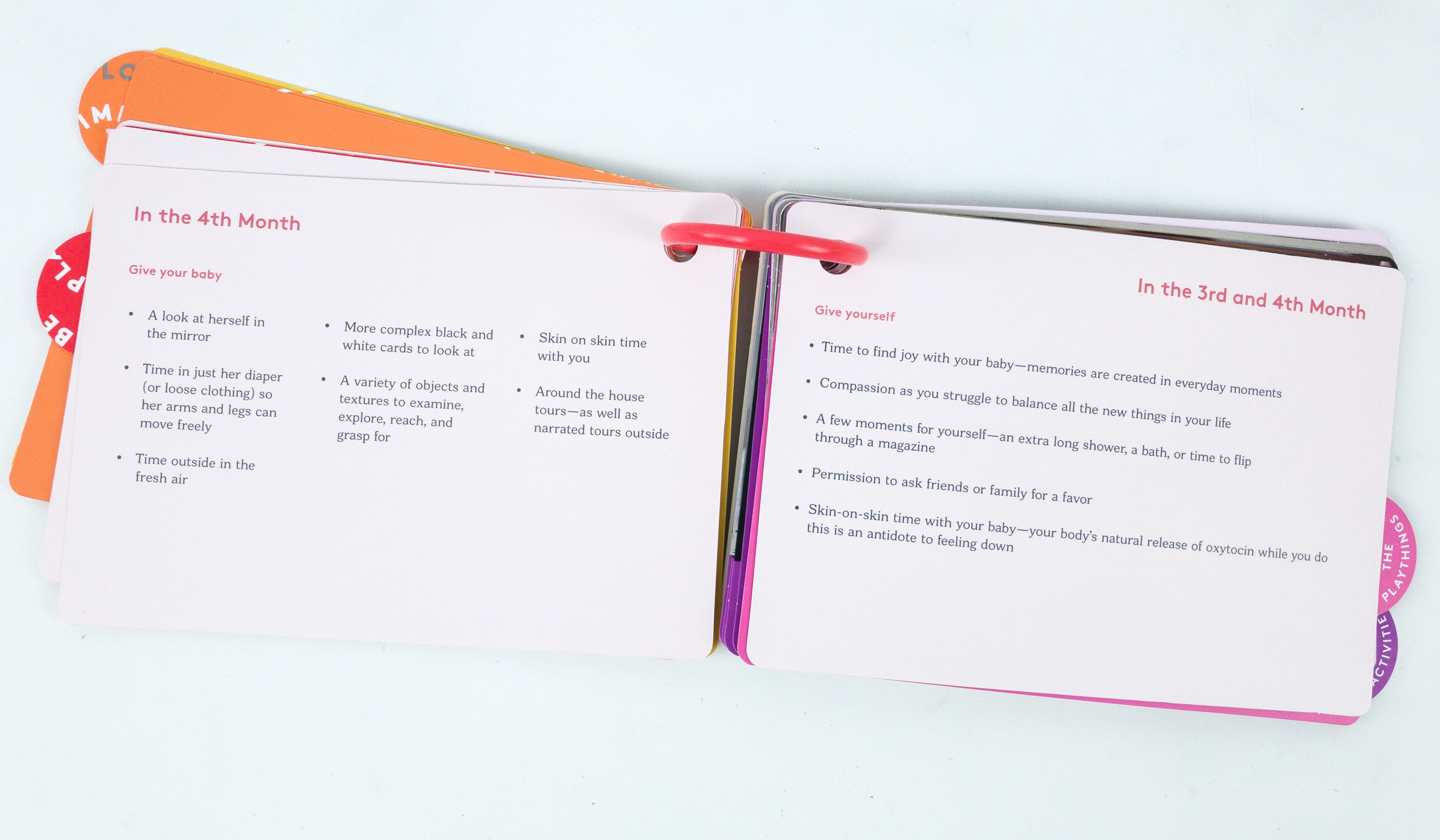 There's even a list of the appropriate things we should give our baby at this stage. Although quite long, it's a great read for parents.
Next section is The Playthings! We're getting on to the toys and activities!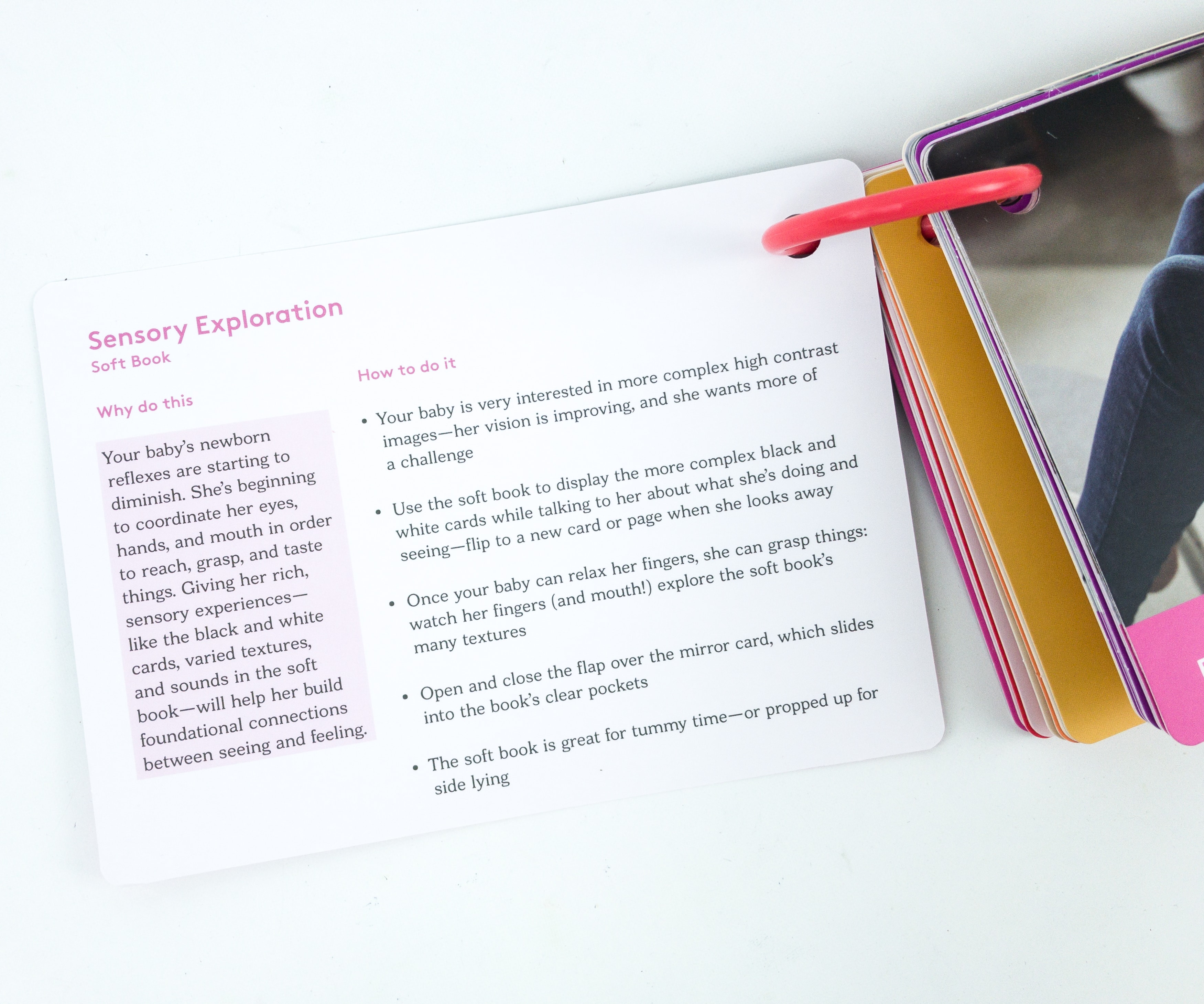 Here's the first activity, Sensory Exploration!
Your baby's newborn reflexes are starting to diminish. She's beginning to coordinate her eyes, hands, and mouth in order to reach, grasp, and taste things. Giving her rich, sensory experiences — like the black and white cards, varied textures, and sounds in the soft book — will help her build foundational connections between seeing and feeling.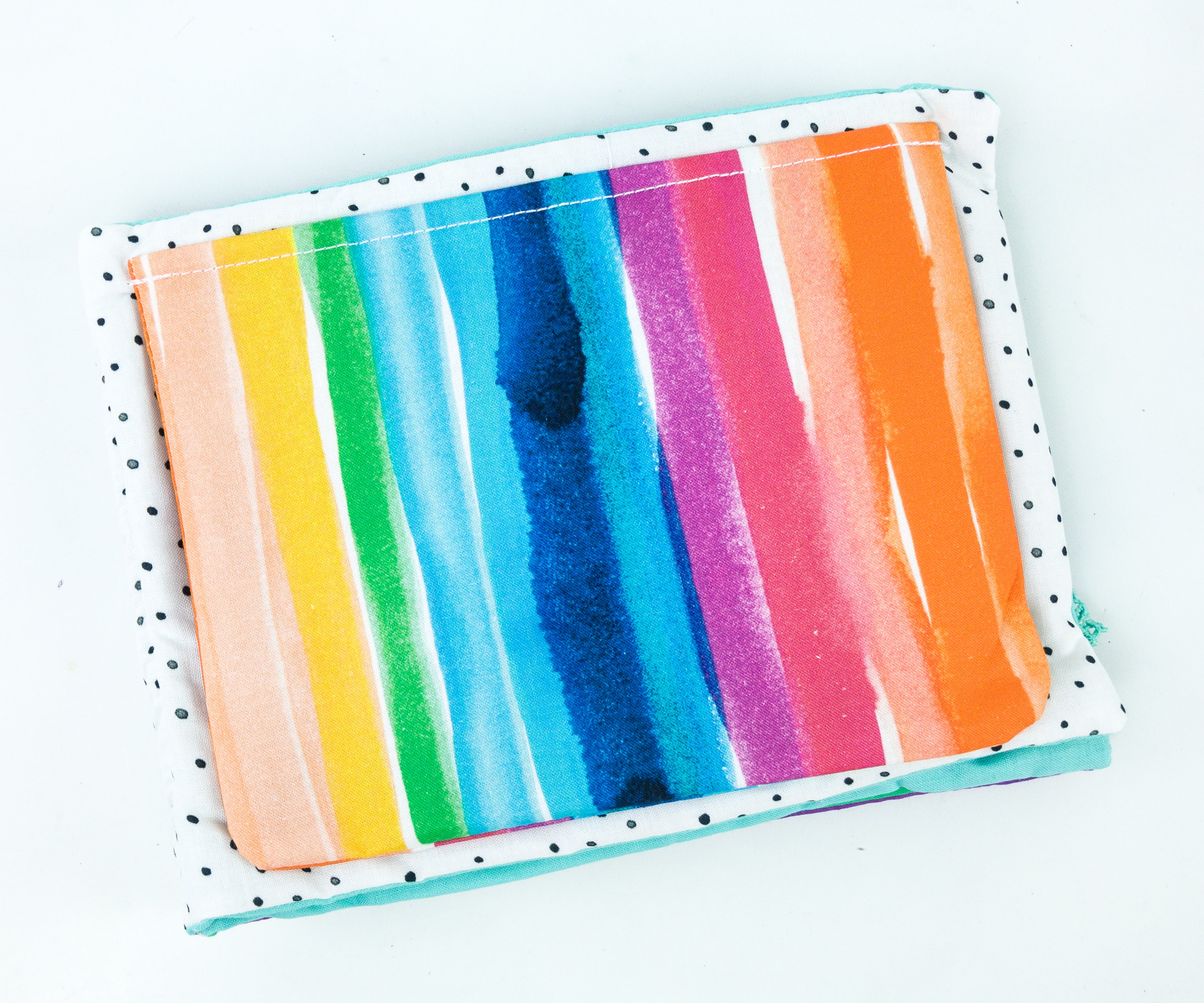 For this activity, we received a Soft Book! It's made with cloth and other light materials, since an actual book might still be too difficult and complicated for your baby.
The cover is a colorful cloth and when you lift it up, it reveals a clear pocket.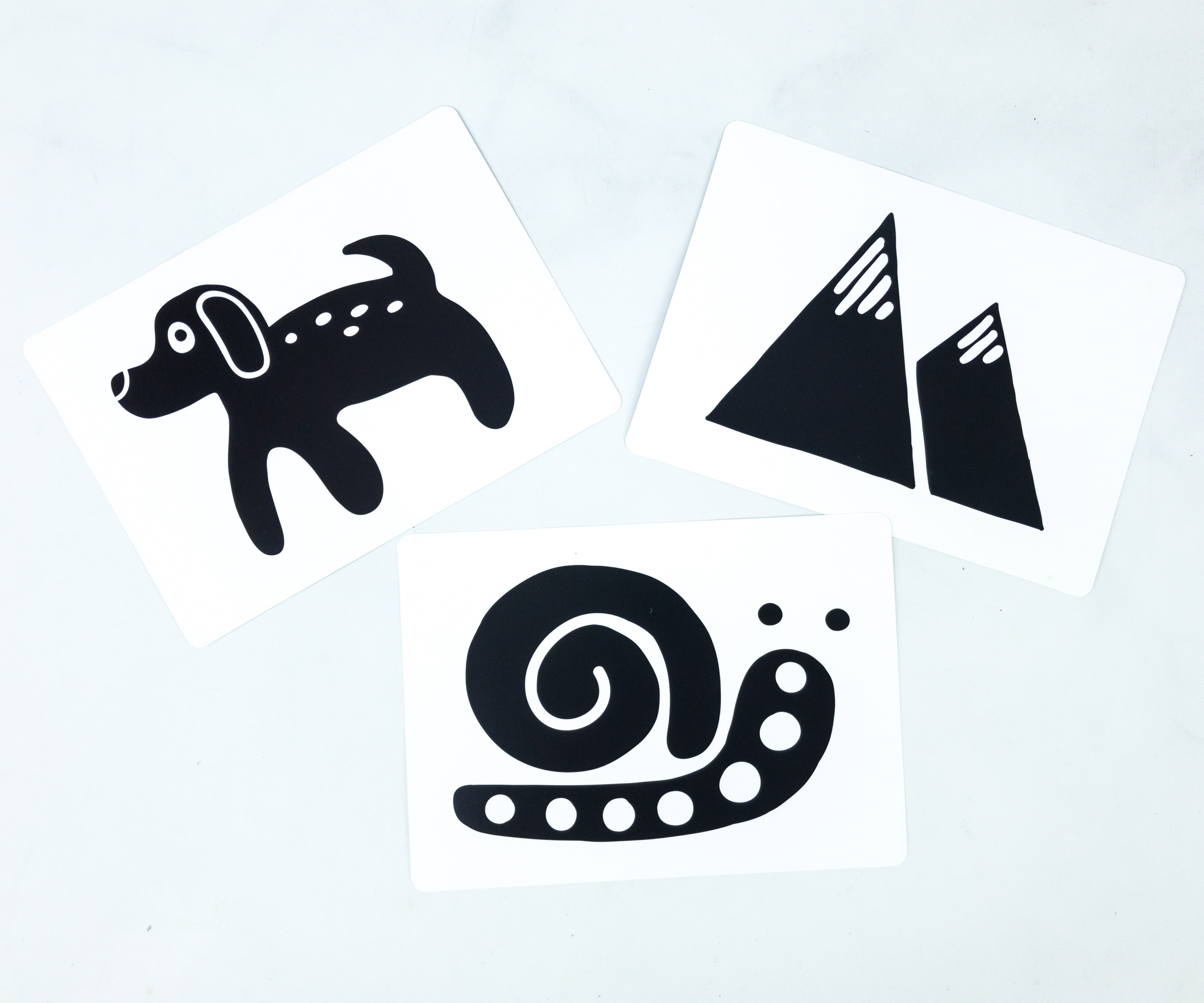 We also received high-contrast cards which can be easily inserted in the soft book. The background is white and the images are in black.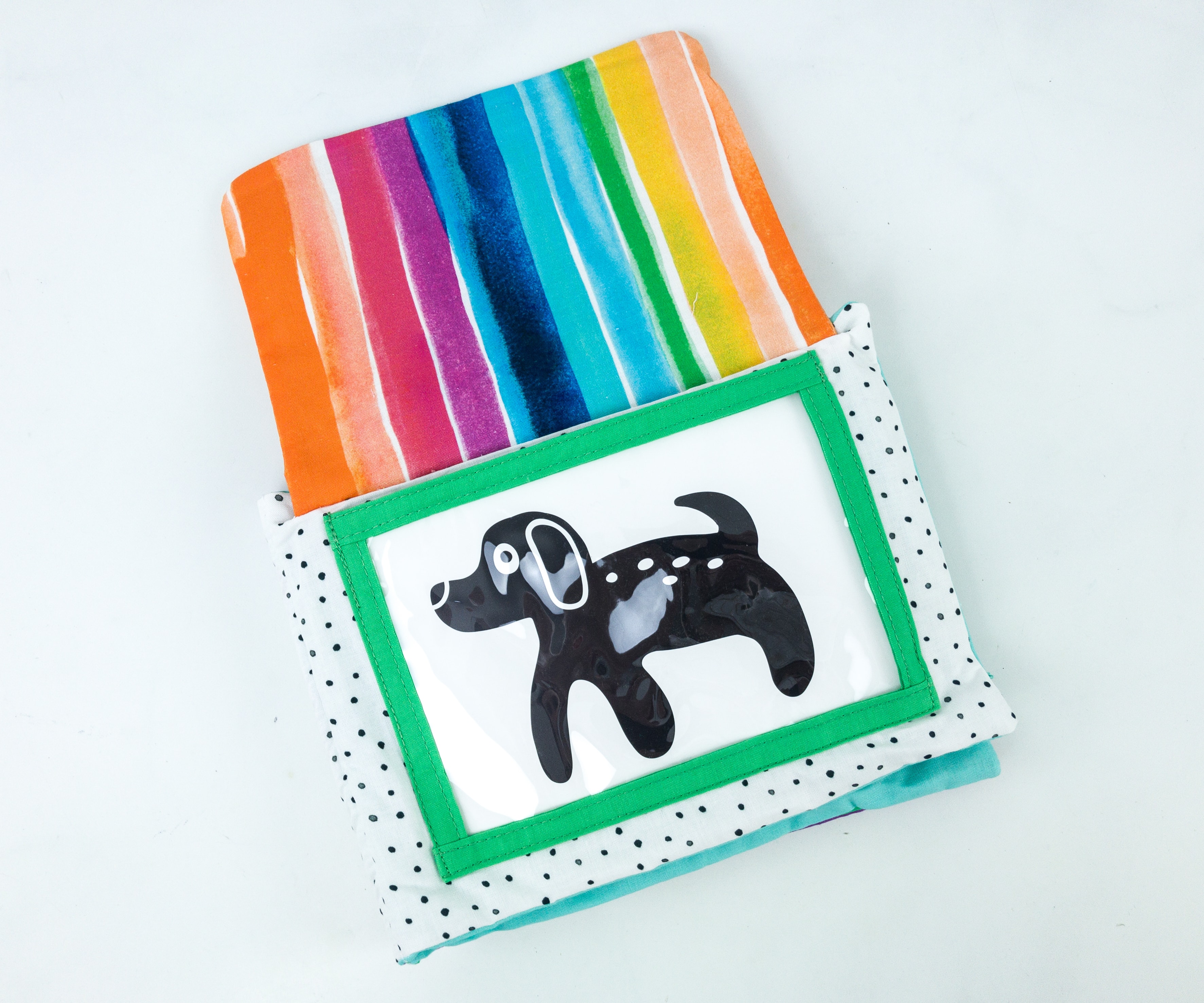 As mentioned in the previous box, these high contrast images are important for a baby's cognitive development.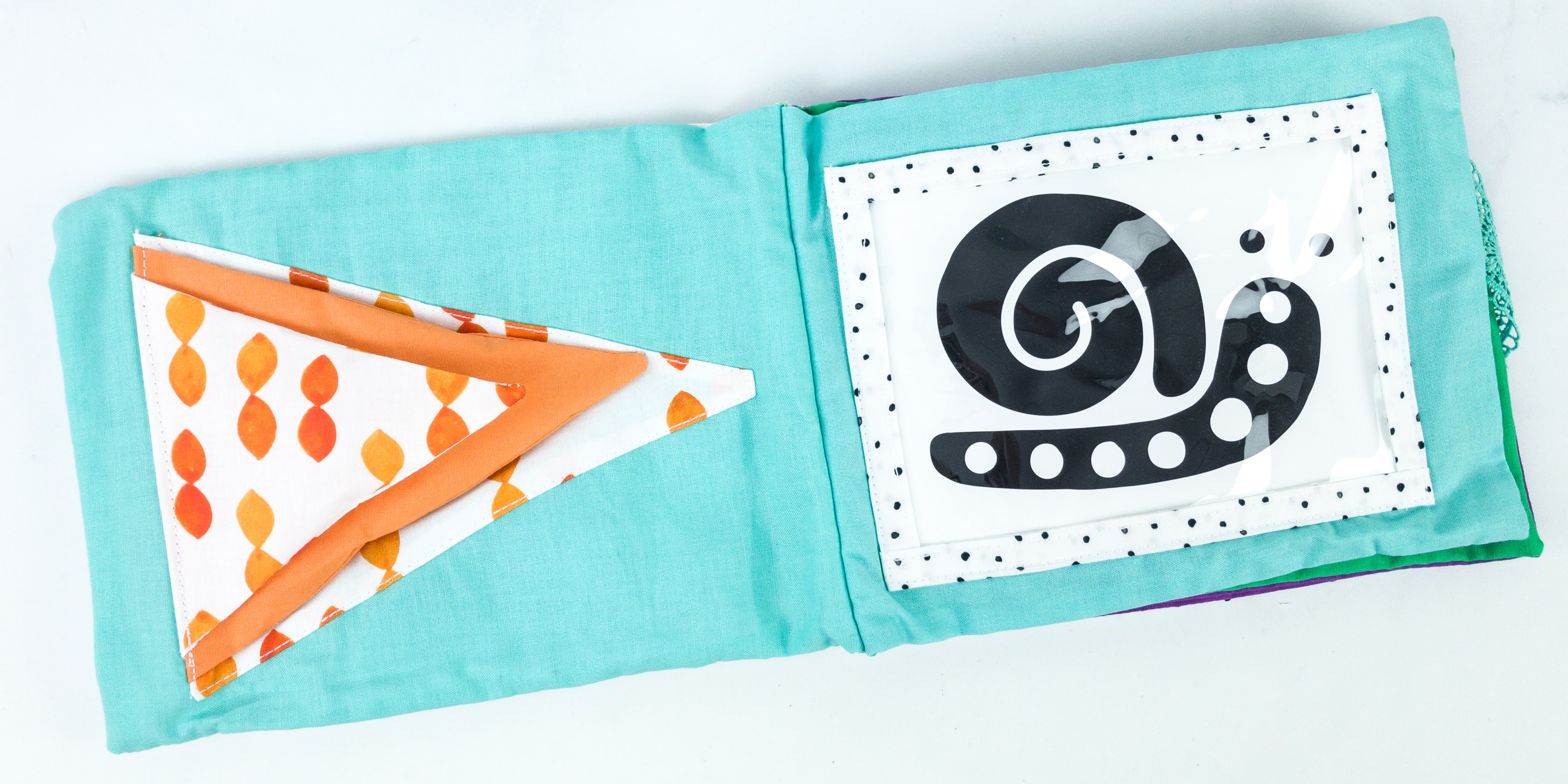 Aside from the clear pockets and high-contrast images, this book also offers varied textures of cloth for a rich sensory experience.
When your baby is already able to grasp things, they can start exploring this book's pages as well.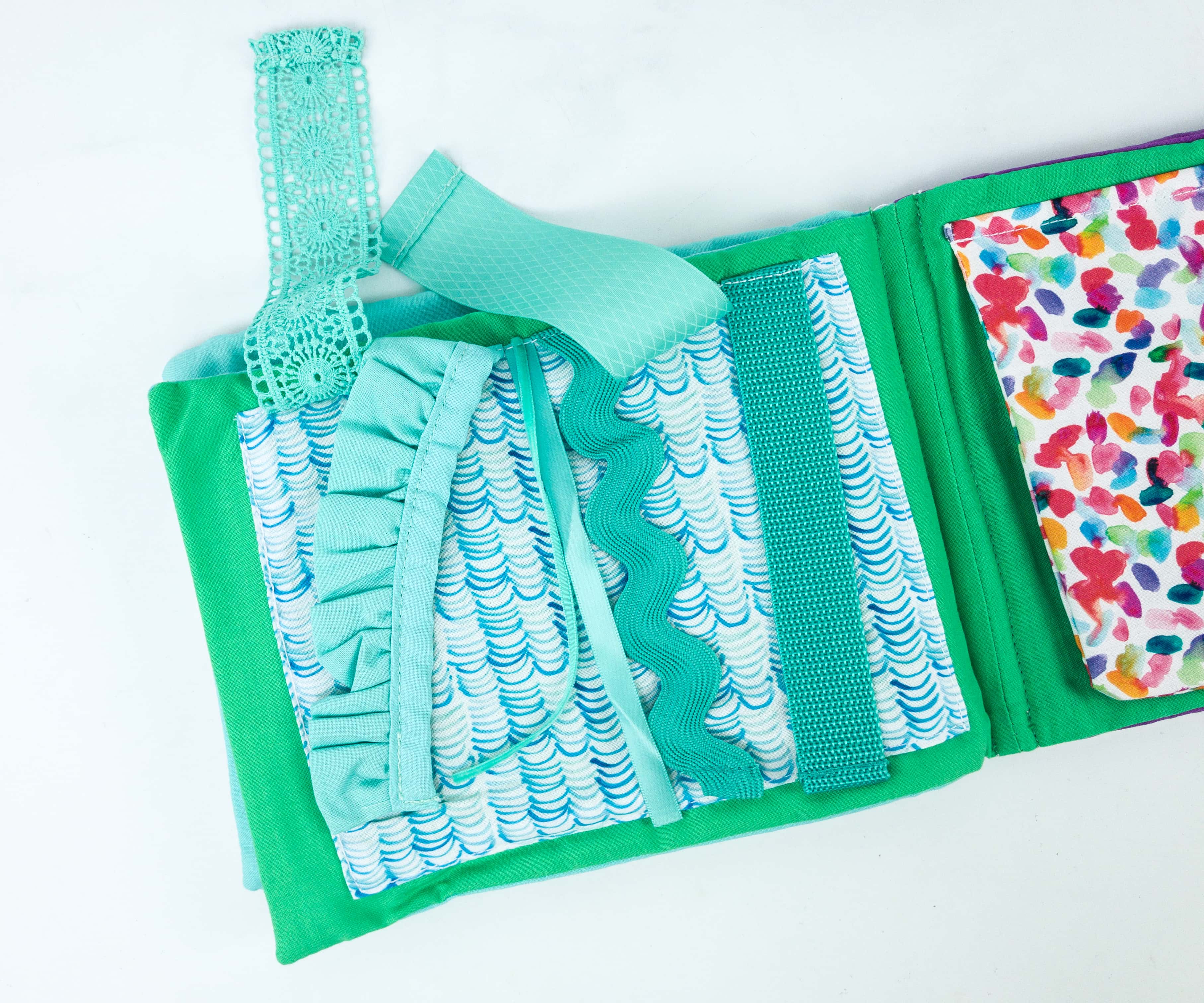 Here's another sample page, where they used lace, ribbons, and rickracks for more texture!
How colorful! There's so much to explore in this book!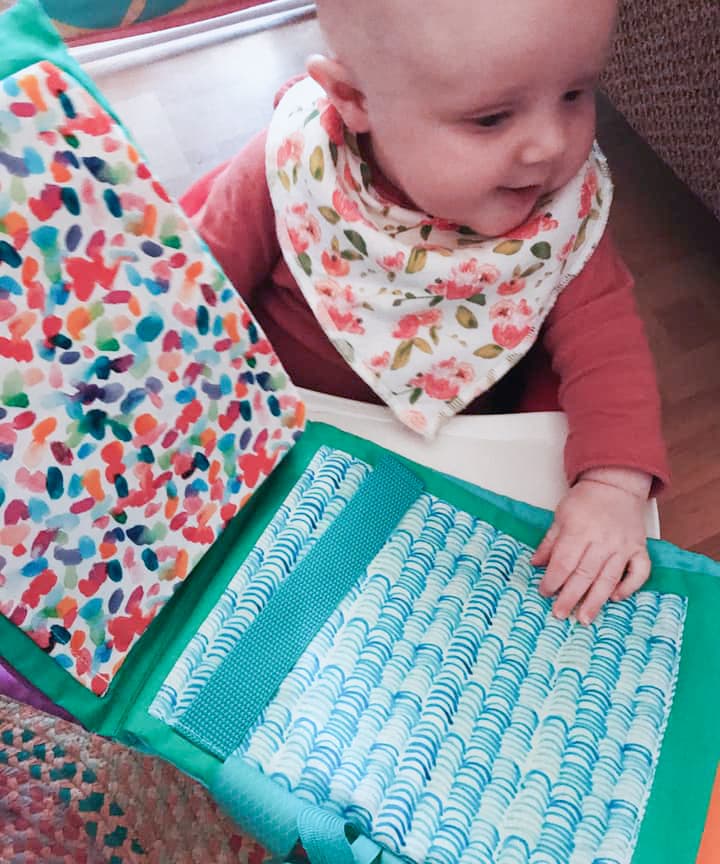 We shared the book with a friend's baby and they had fun with it!
Here are more high-contrast images! This batch included cards featuring a black background and white images.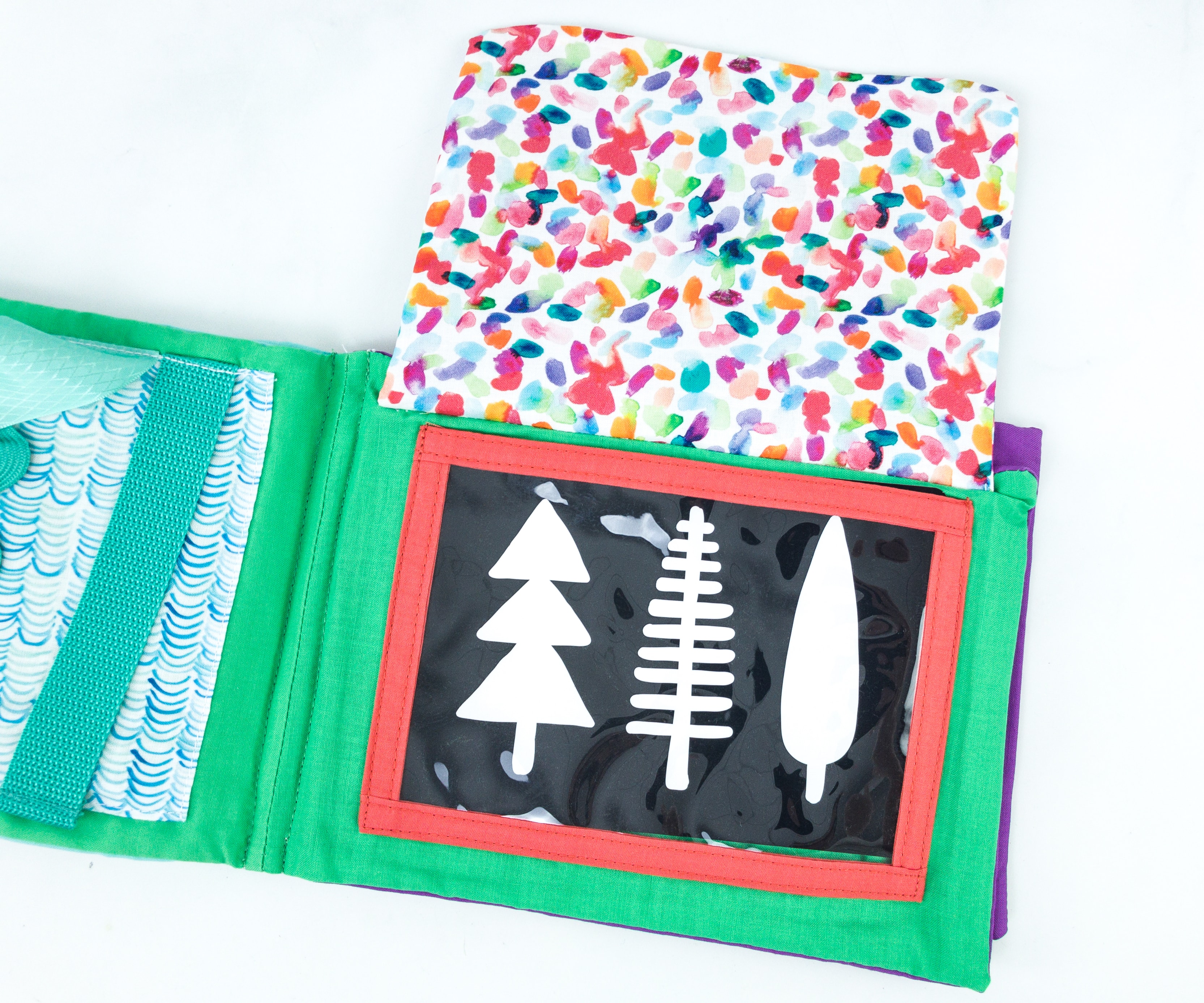 It also helps when you talk to your baby about what she's doing with the book and what she's seeing in it.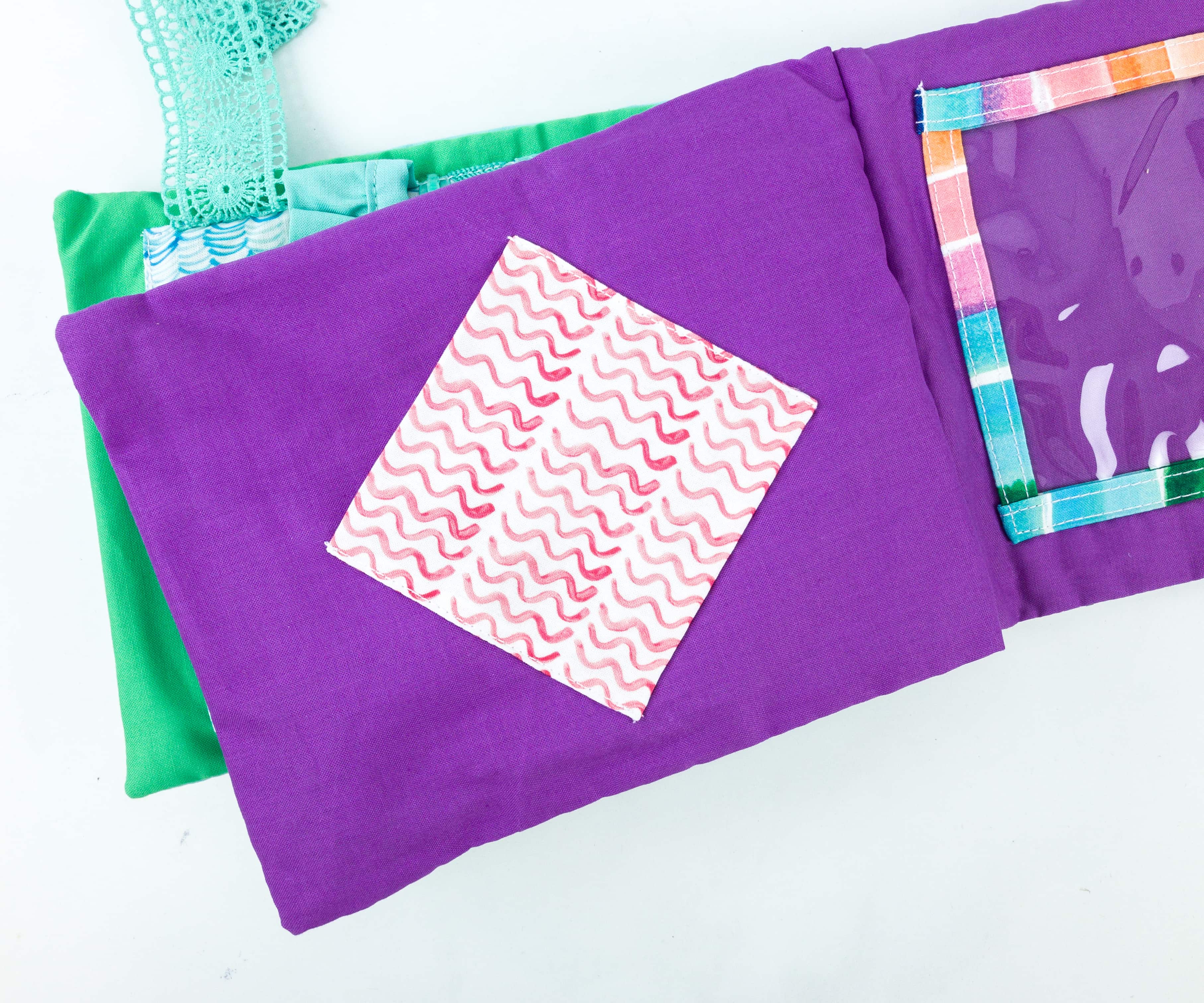 Here's another page, featuring a printed cloth on a purple background!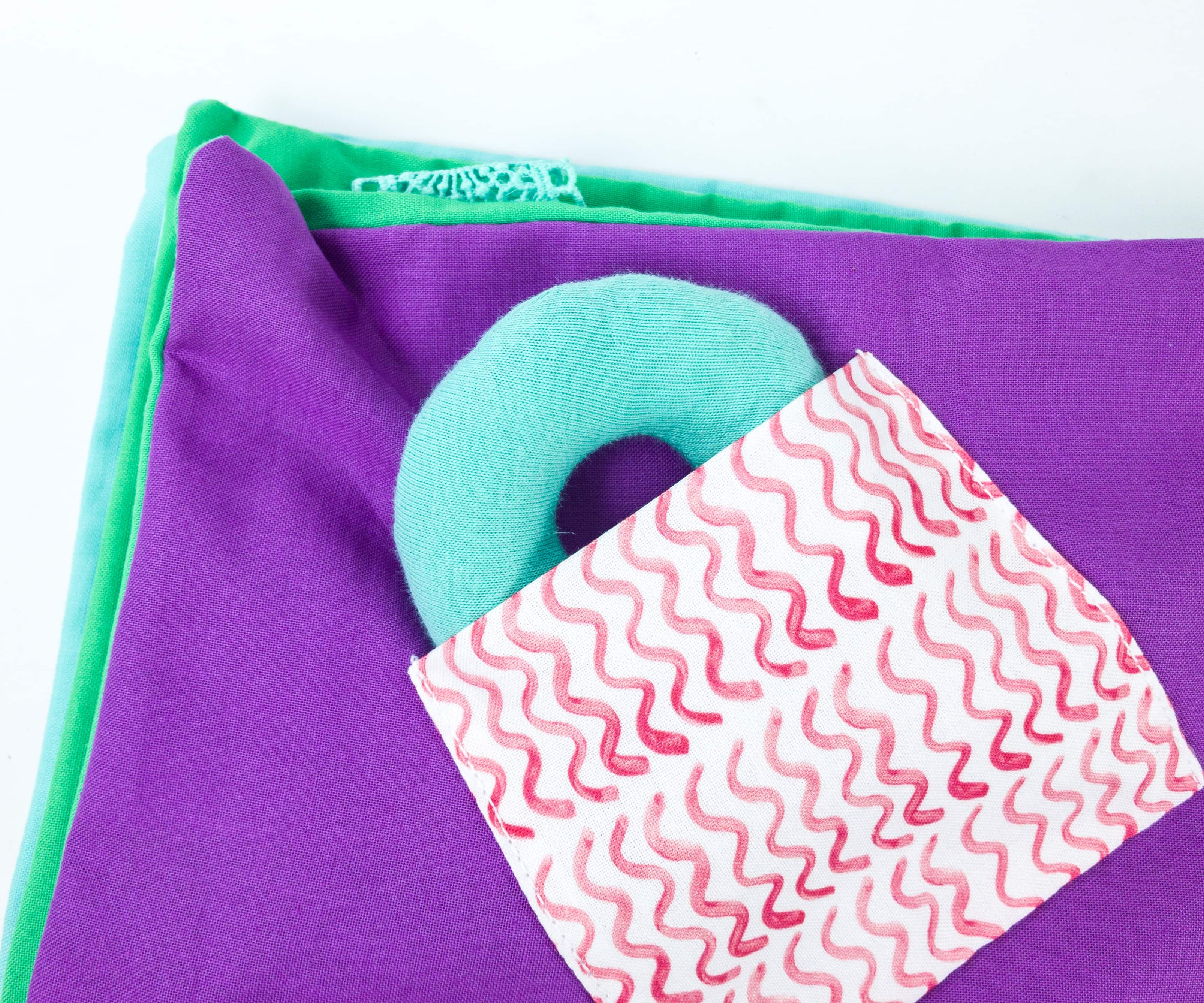 Apparently, it's also a pocket where you can insert other toys from the box.
This toy is great for tummy time! You may also prop it up when your baby is lying on their side.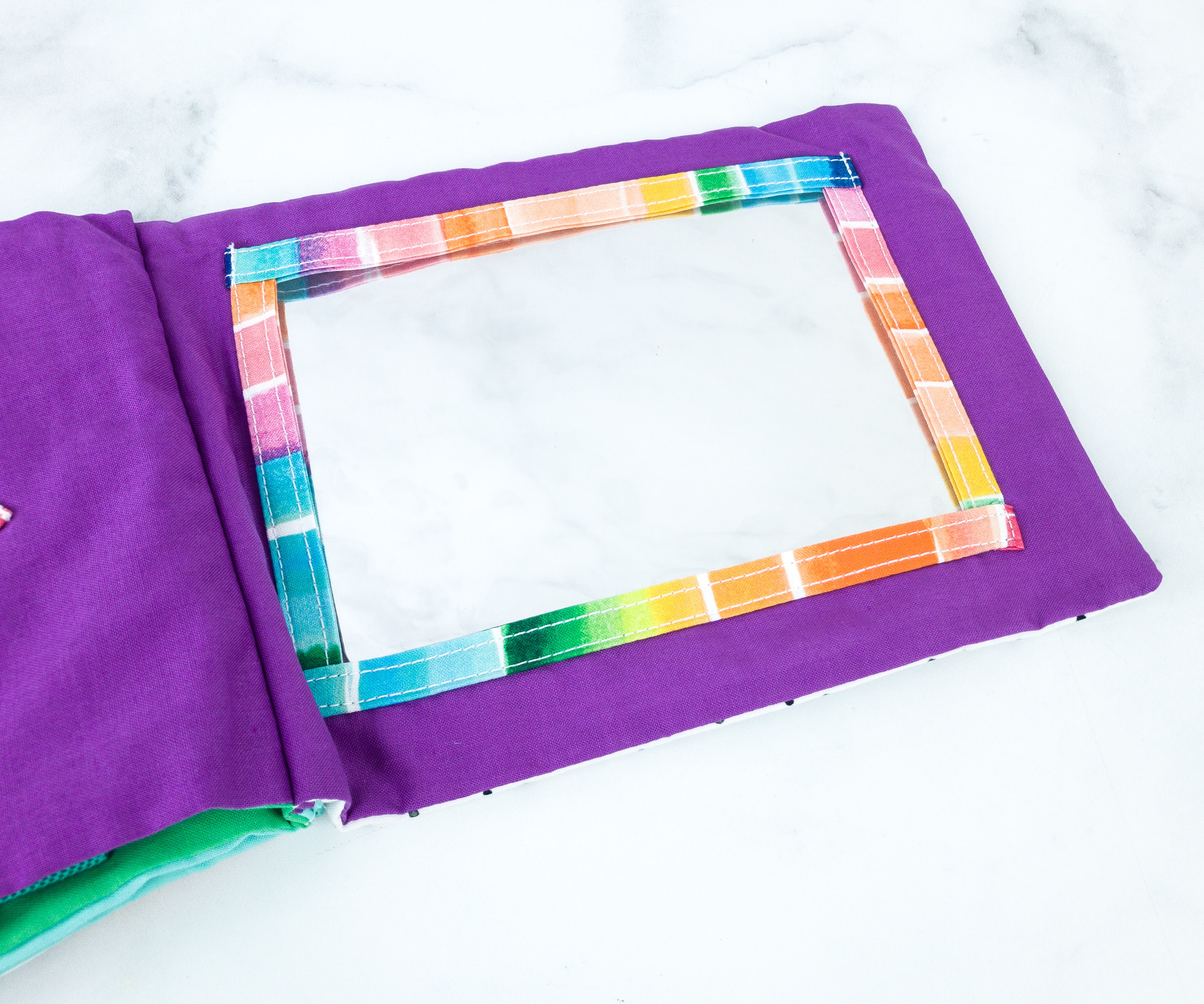 This mirror card is also included in the box and you may slide it into the book's clear pockets.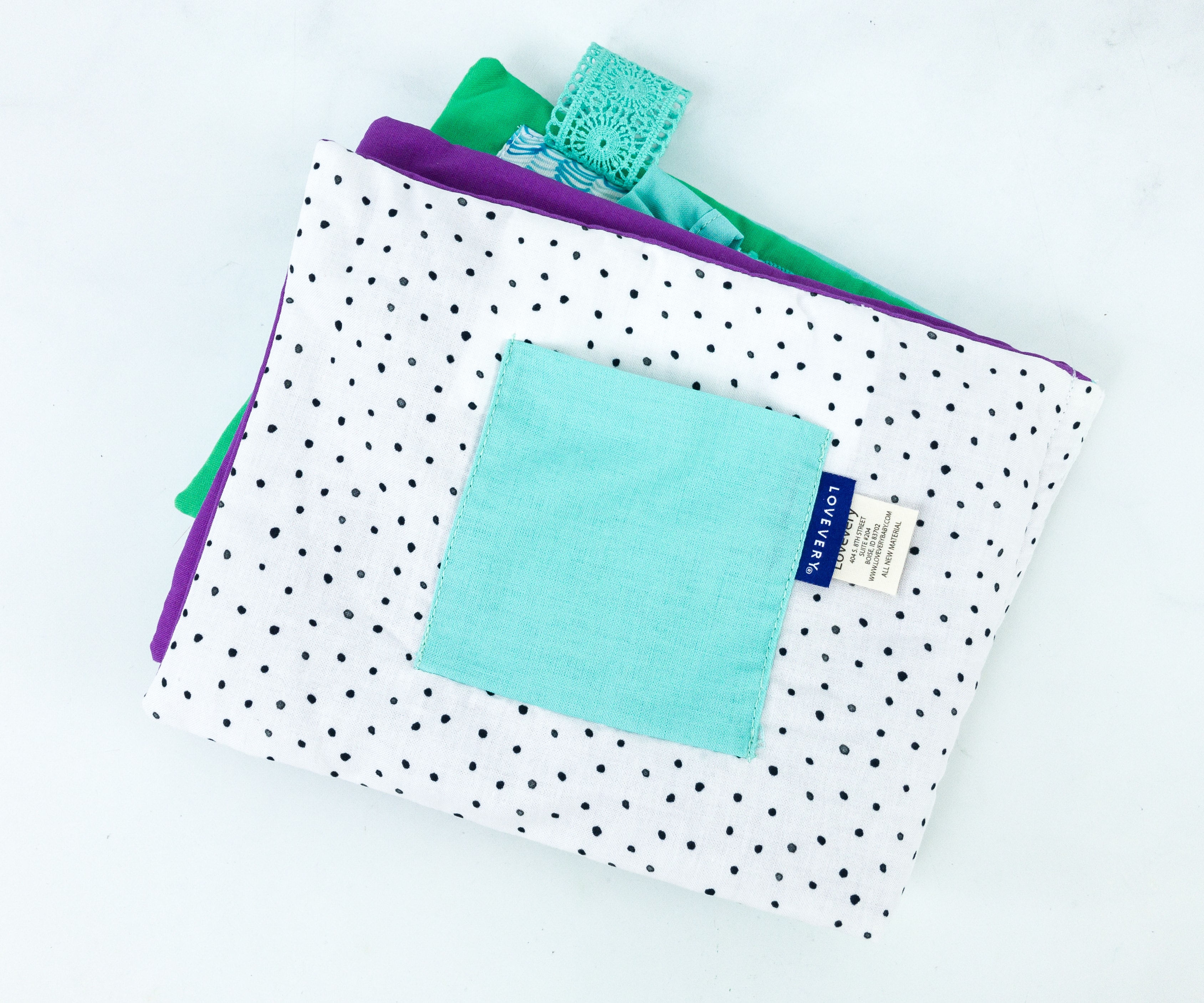 Lots of pockets! There's even one at the back of the book!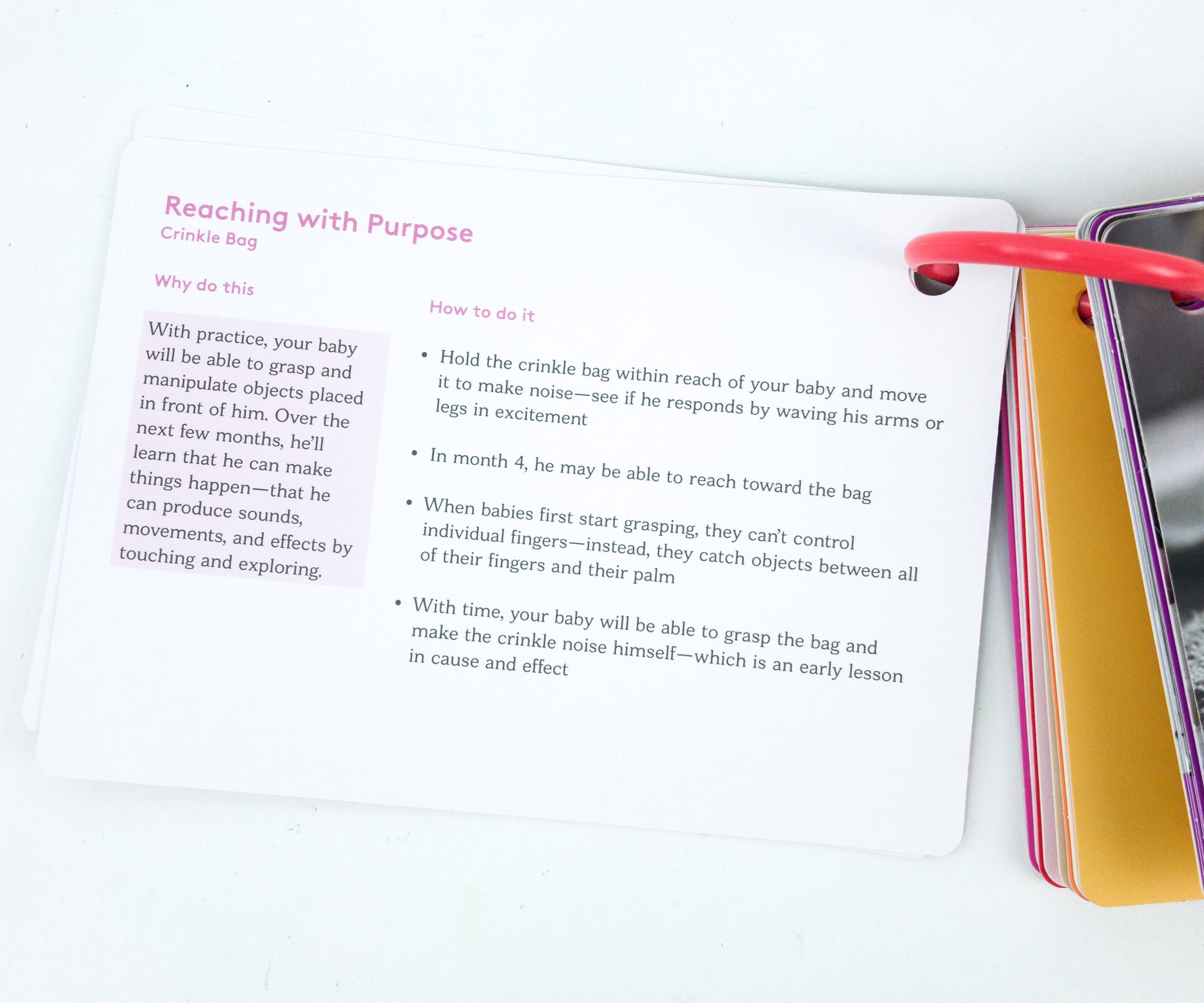 The next activity is entitled Reaching with Purpose!
With practice, your baby will be able to grasp and manipulate objects placed in front of him. Over the next few months, he'll learn that he can make things happen–that he can produce sounds, movements, and effects by touching and exploring.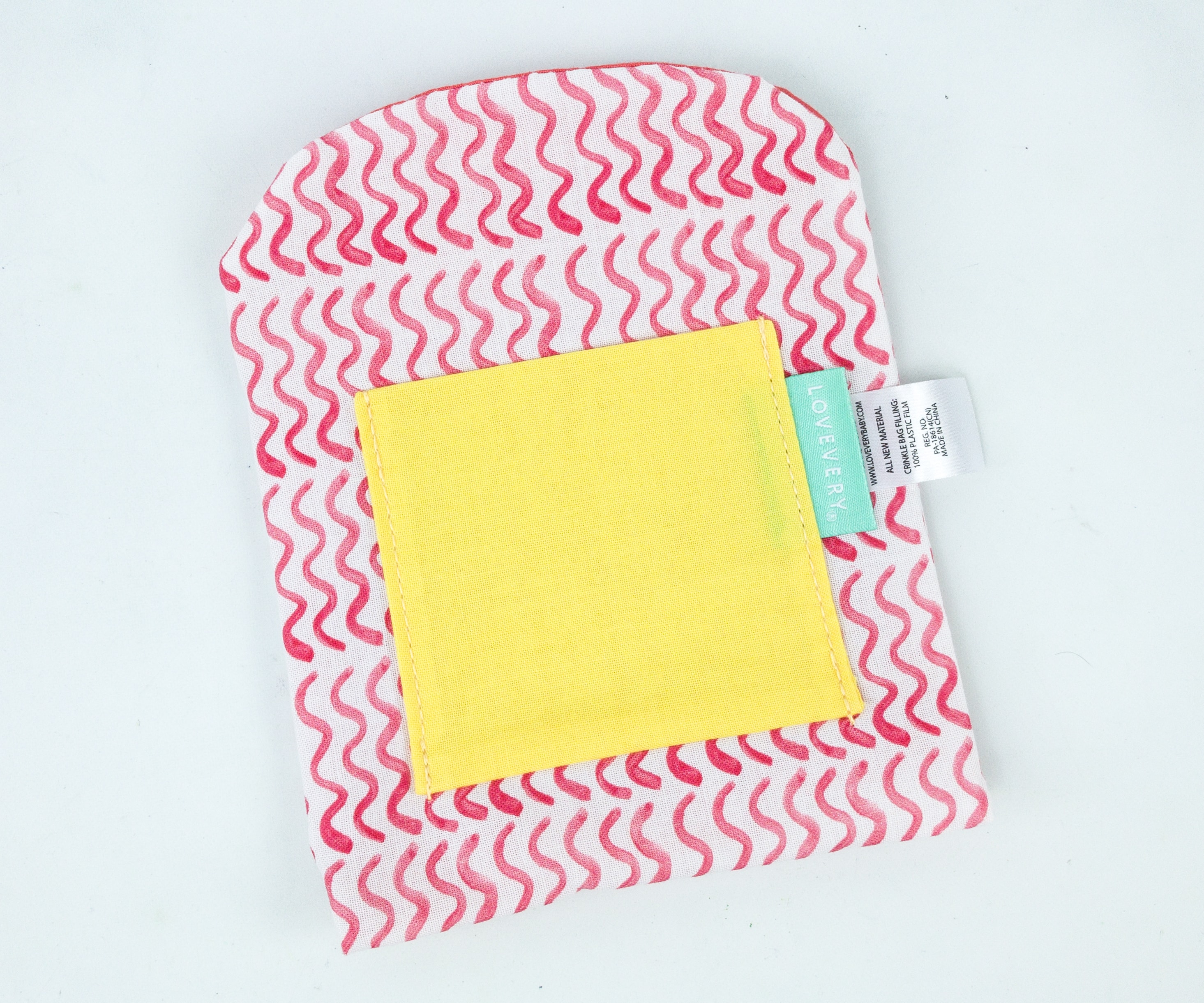 This bag makes sounds when you move it! Lovevery suggests to hold it within reach of your baby, make noise, and see if they respond.
Babies start to be able to reach toward things during their 4th month. Afterward, they'll be able to figure out that they can make sounds using the bag as well.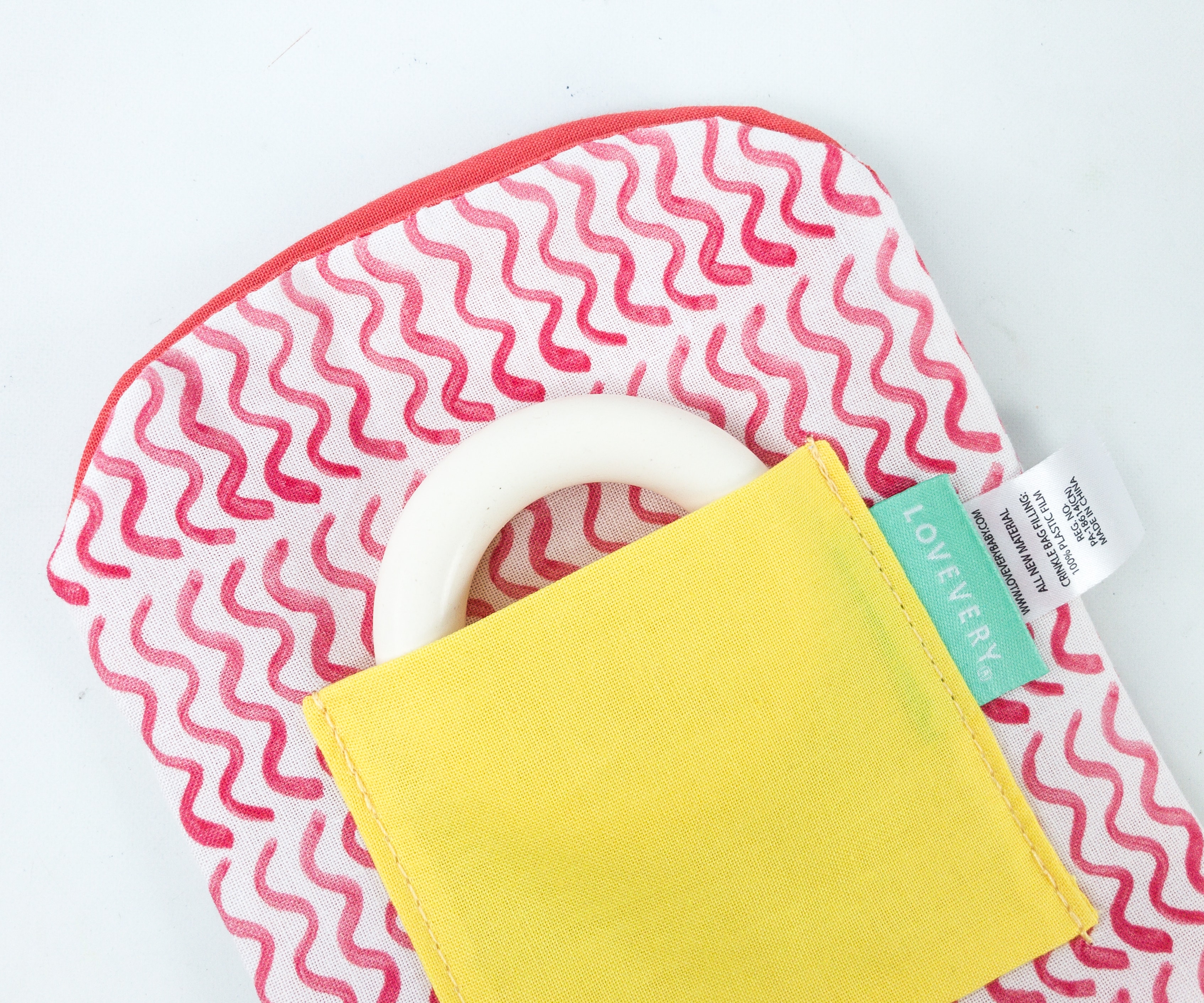 This crinkle bag is really cute and colorful. Just like the Soft Book, it also has a pocket where you can insert some of the toys included in this box.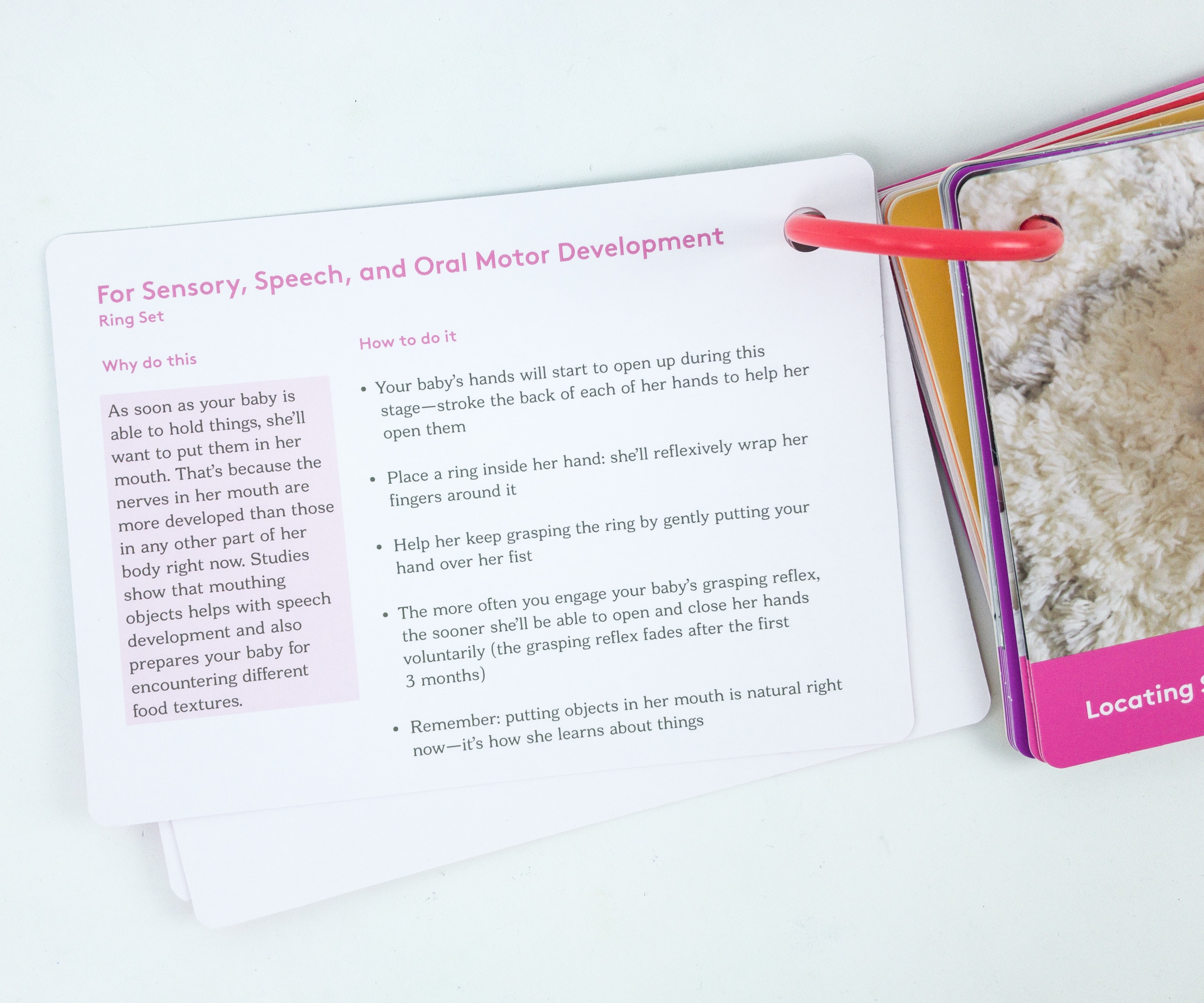 Here's another interesting activity: For Sensory, Speech, and Oral Motor Development!
As soon as your baby is able to hold things, she'll want to put them in her mouth. That's because the nerves in her mouth are more developed than those in any other part of her body right now. Studies show that mouthing objects helps with speech development and also prepares your baby for encountering different food textures.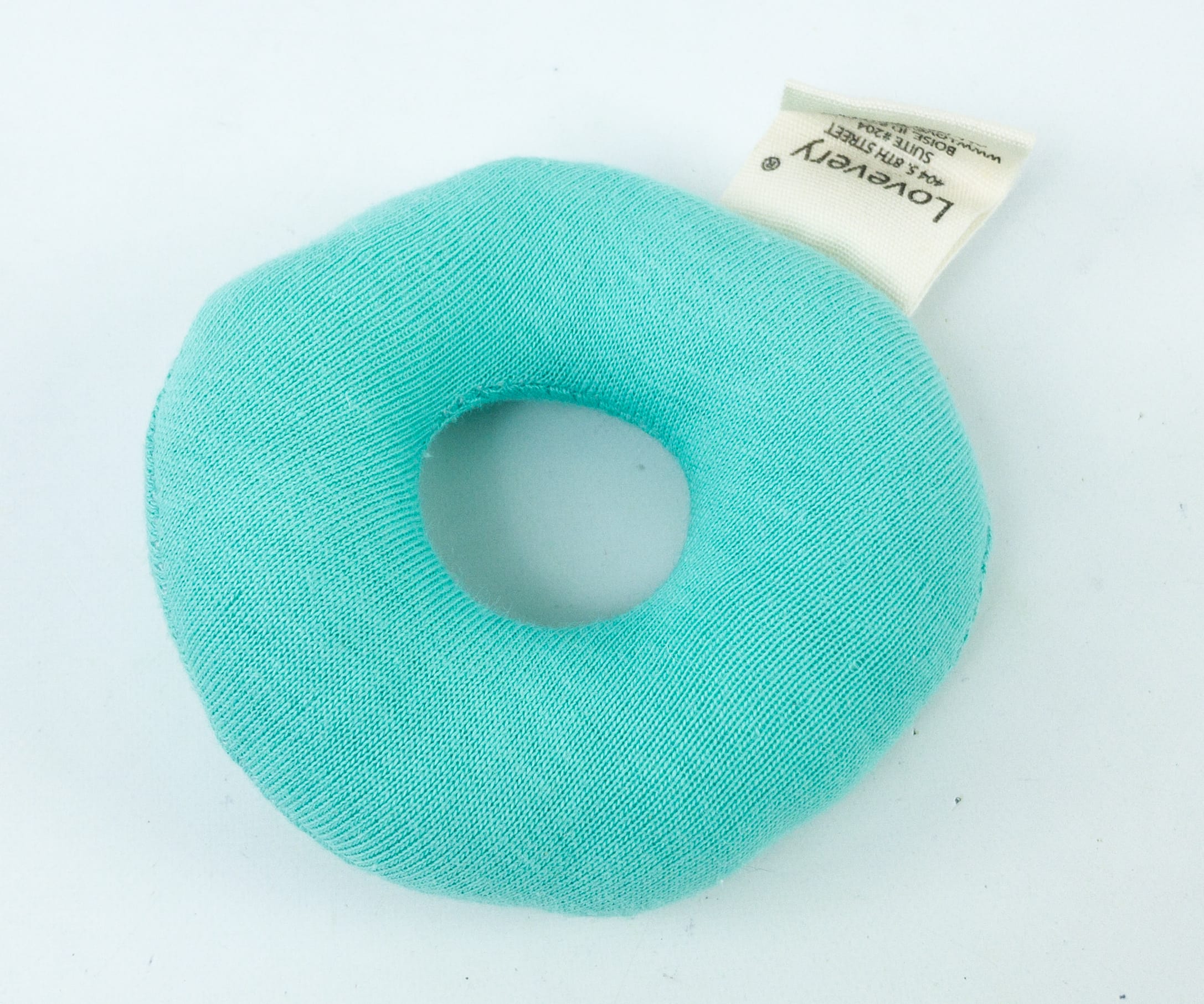 To help develop your baby's sensory, speech, and oral motor skills, they included a ring set in the box. The first one is a soft ring.
This one is made with rice plastic, therefore it's baby-safe.
The third ring is made with silicone and comes with a crinkle teether.
The crinkle teether is a sensory toy and a teething relief at the same time.
When you place the ring inside a baby's hand, they'll reflexively wrap their fingers around it. Just like how my friend's baby did!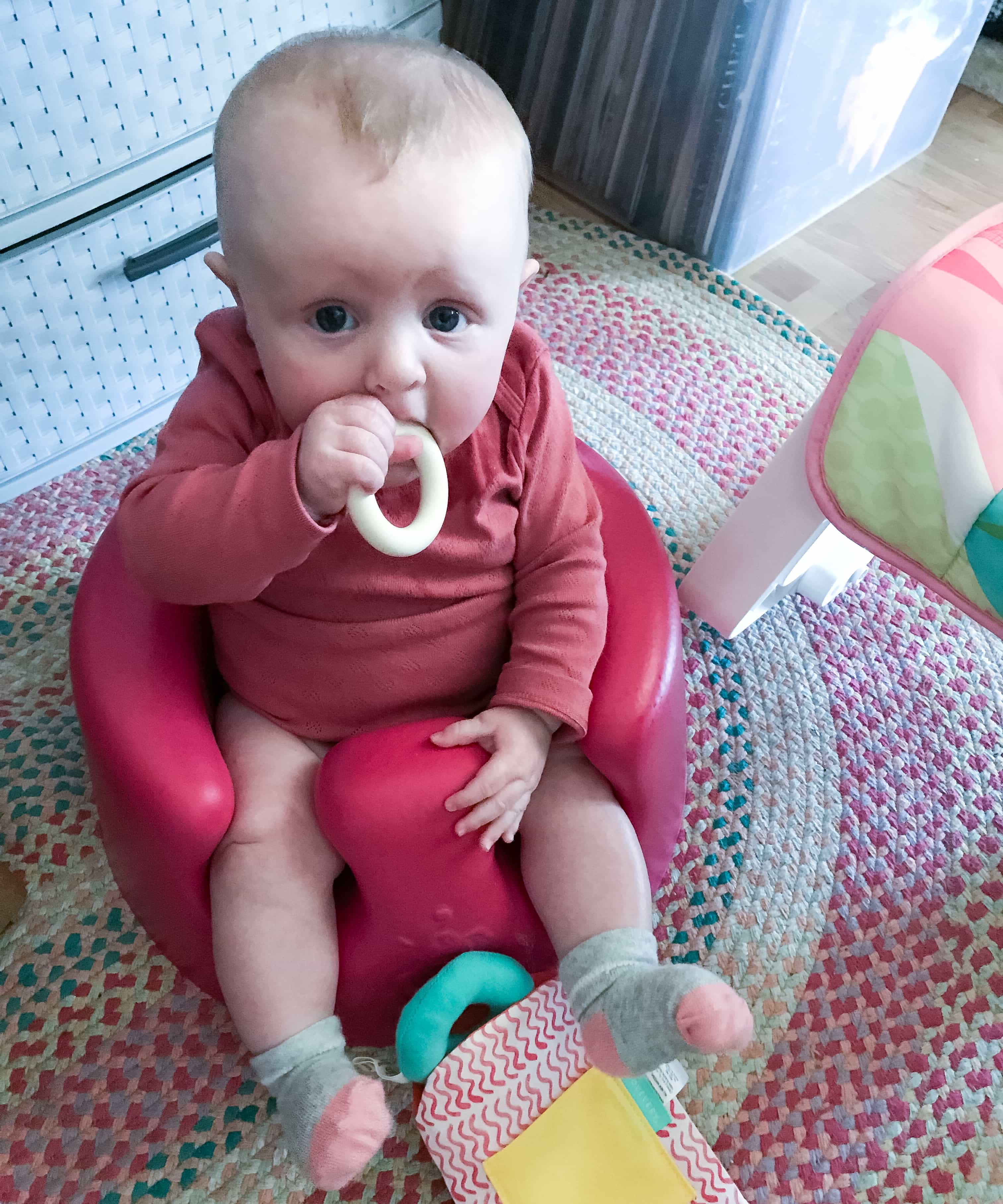 She put the ring in her mouth! At this age, it's normal for babies to do so because it's how they learn about things.
The next activity is called Locating Sounds!
Sometime in month 4, your baby will start to look for and track the sources of sounds he hears. He'll recognize the sound of this rattle, for an instance, even when there are other noises in the background. Understanding that objects (and people!) can make sounds is an early lesson in cause and effect.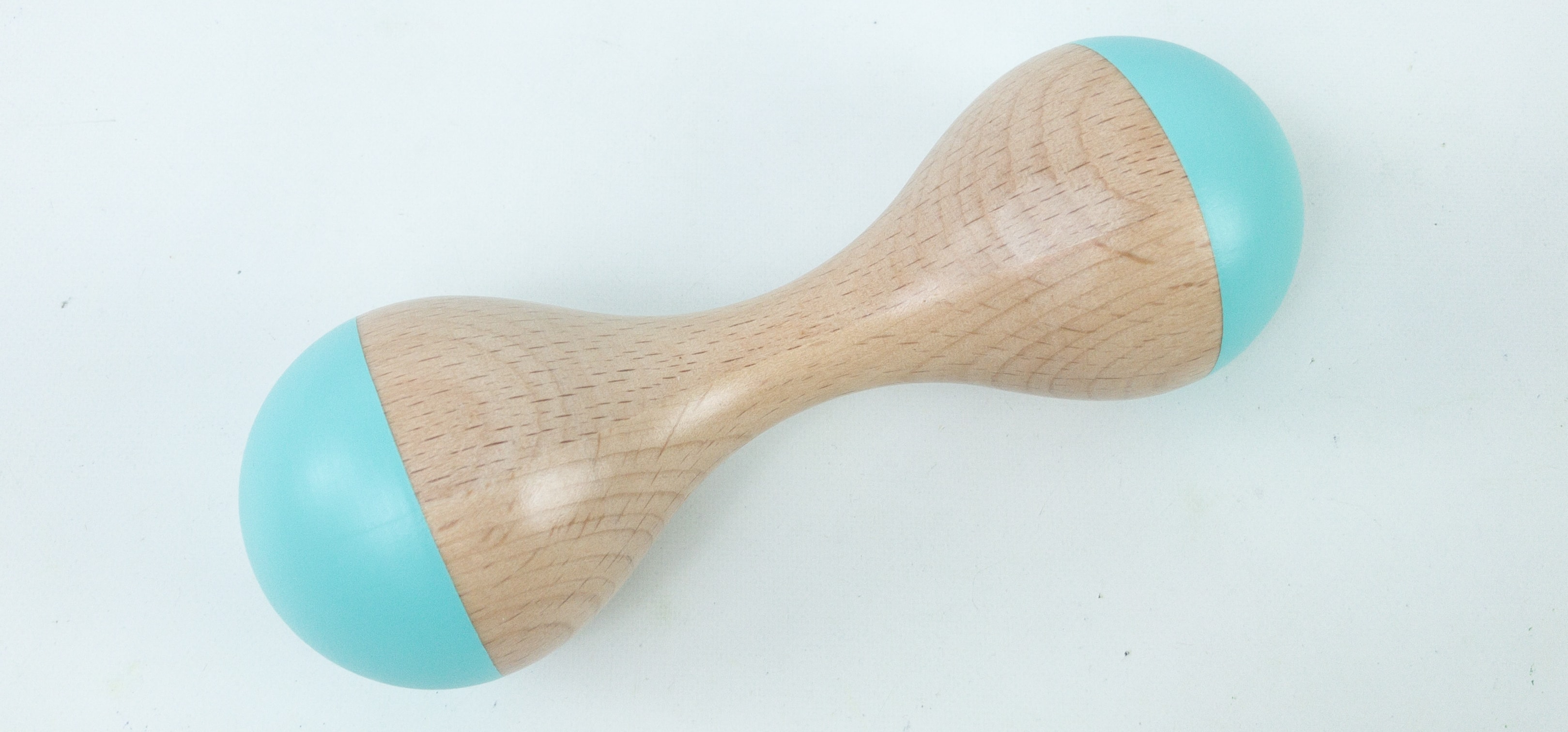 They included a wooden rattle for this activity, and all you have to do is to gently shake the rattle near your baby's face. When they can finally recognize the sound, you may now start to shake it in rhythm.
Next up is Making Connections!
Mirror gazing is a favorite activity for 3 to 4 month olds. Your baby doesn't yet recognize her own face–but she gets to see a fascinating (and adorable!) human looking back at her.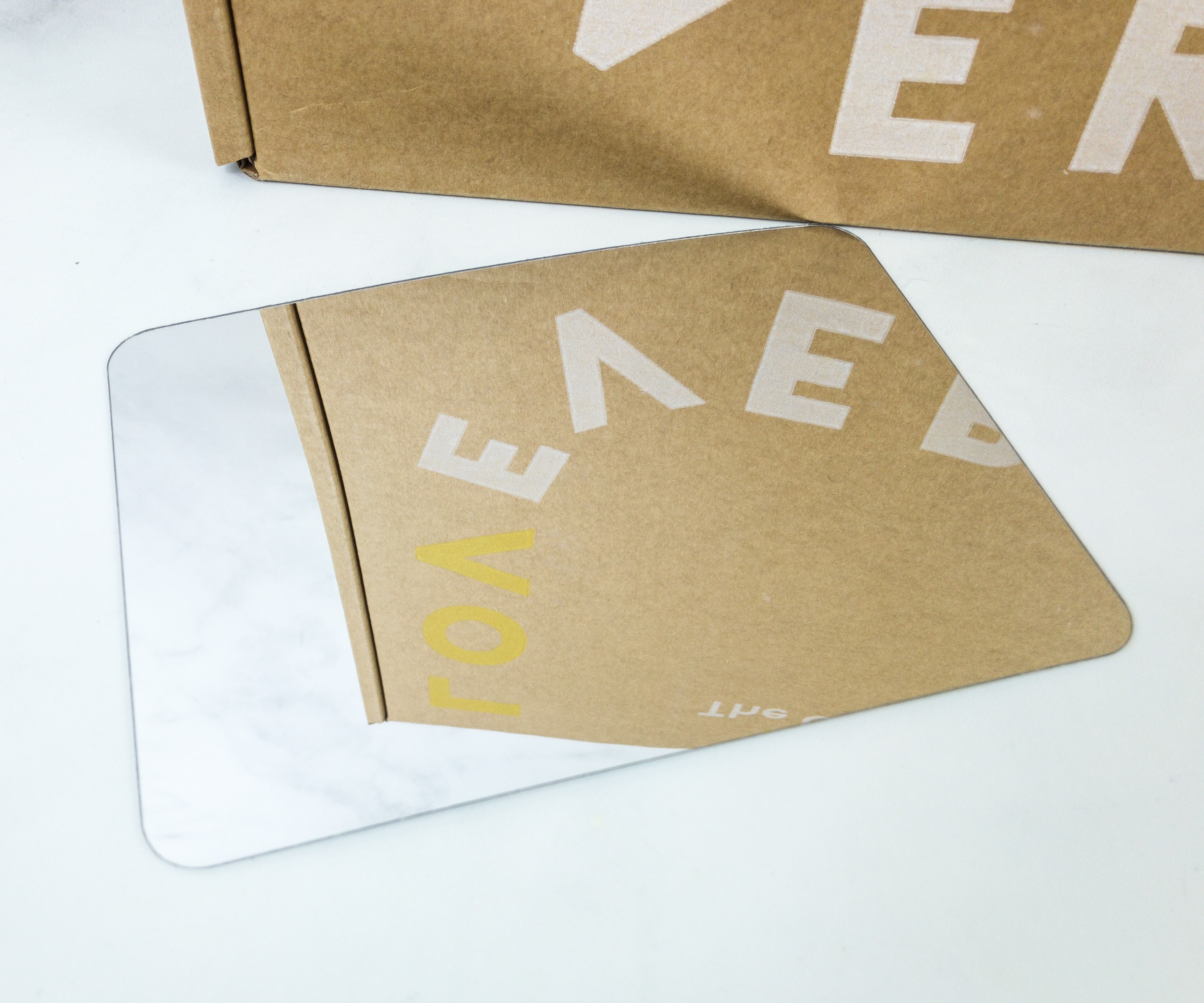 Yay for tummy time! They included a mirror for this activity!
Just place the mirror on the floor or make it stand by propping it against a safe object. You can make faces in the mirror with them, or point at the different parts of their face and talk about them.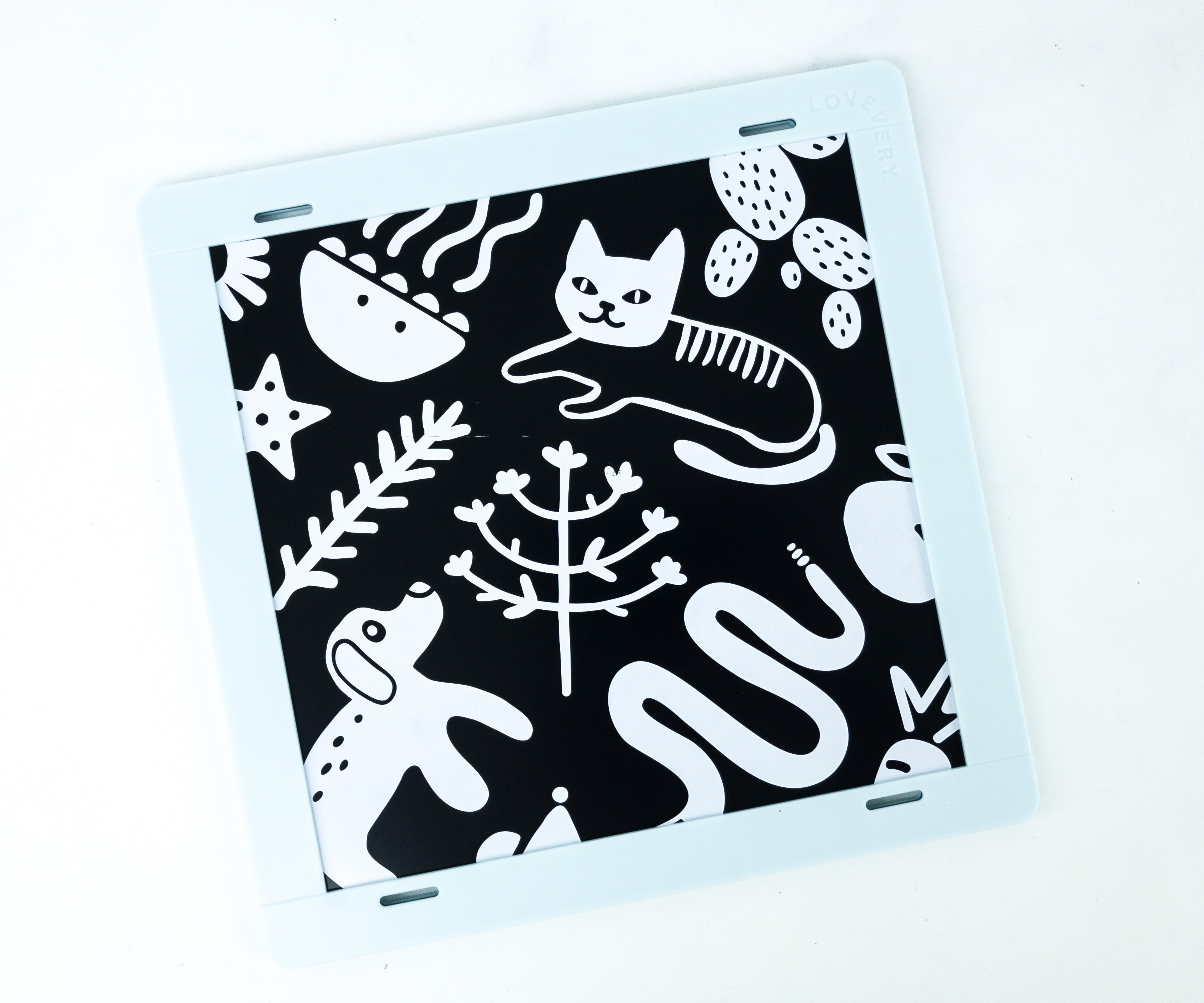 To make the mirror safe for the babies, they included a frame for it. At the back, there are also high-contrast images that your baby can enjoy.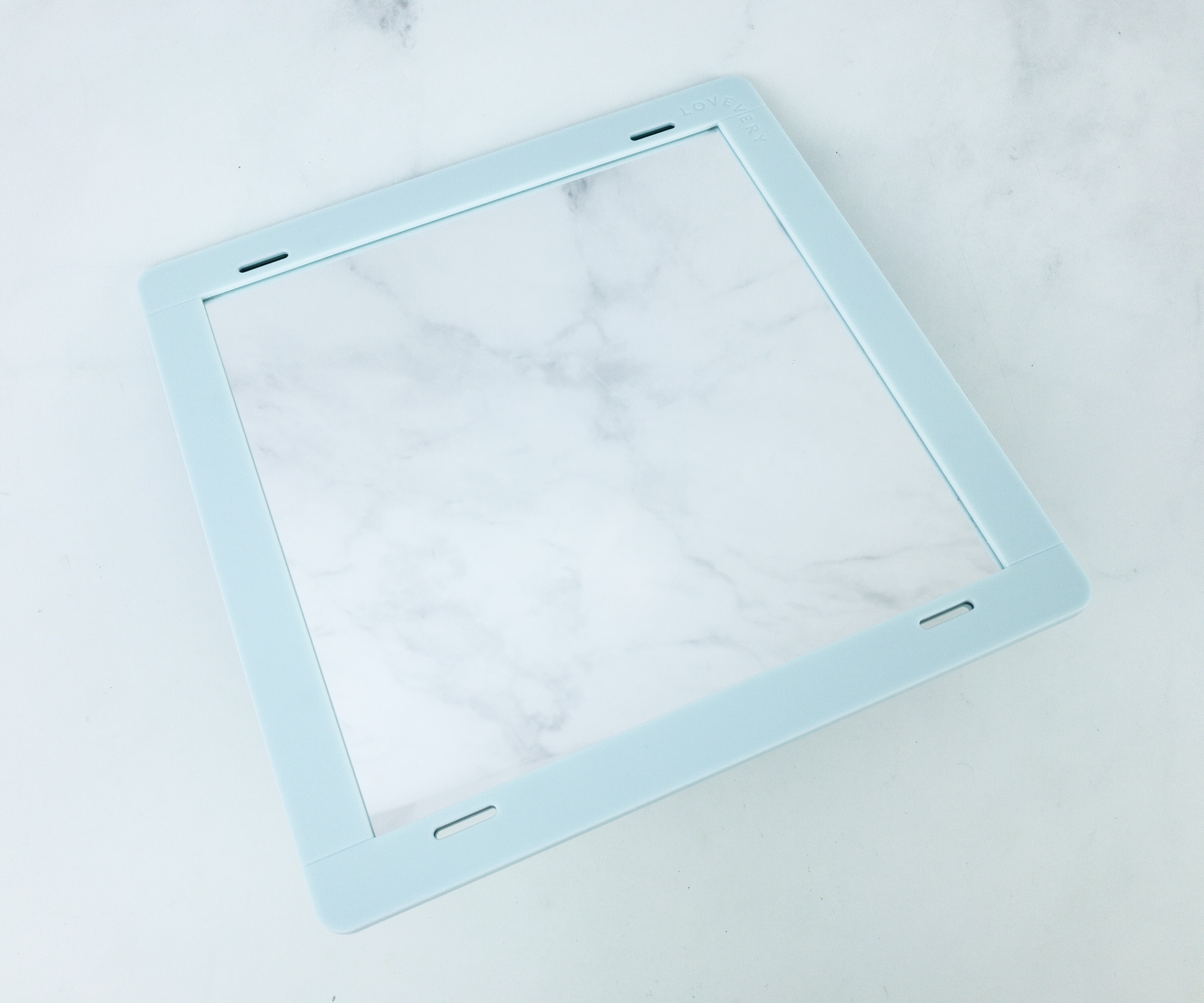 Here's how the mirror looks like when inserted in the frame.
Now, we're on to Encouraging Motor Control!
When your baby plays with the rolling bell, he discovers new ways to coordinate his senses: the feel of the wood when he's grasping it, the sound it makes when you or he rolls or shakes it, and how it moves when it's rolling along.
We got the Rolling Bell for the activity. It has the Lovevery logo on top.
It's made of wood. The bell is surrounded by wooden posts so it won't come out.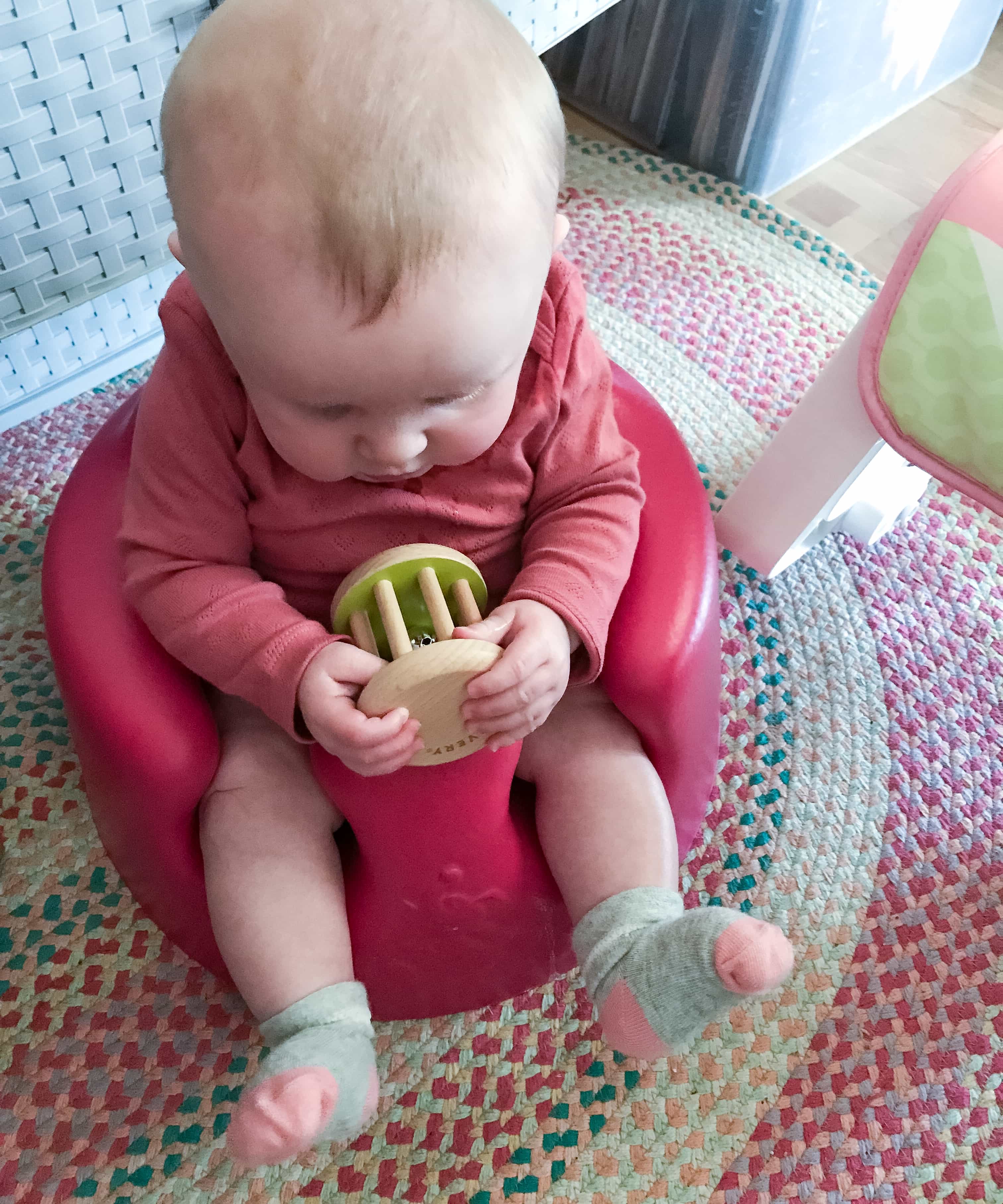 This toy was met with lots of giggles!
The next activity is Using Both Sides of the Brain!
Passing an object between two hands is a step babies work toward for months–getting it right involves coordination across the center of her body. Skilled hand-to-hand transfer won't happen until between months 5 and 7. It's the basis for later motions such as dressing herself, eating with utensils, holding crayons, and running.
This Hand to Hand Discs is an important tool for practicing manipulating an object.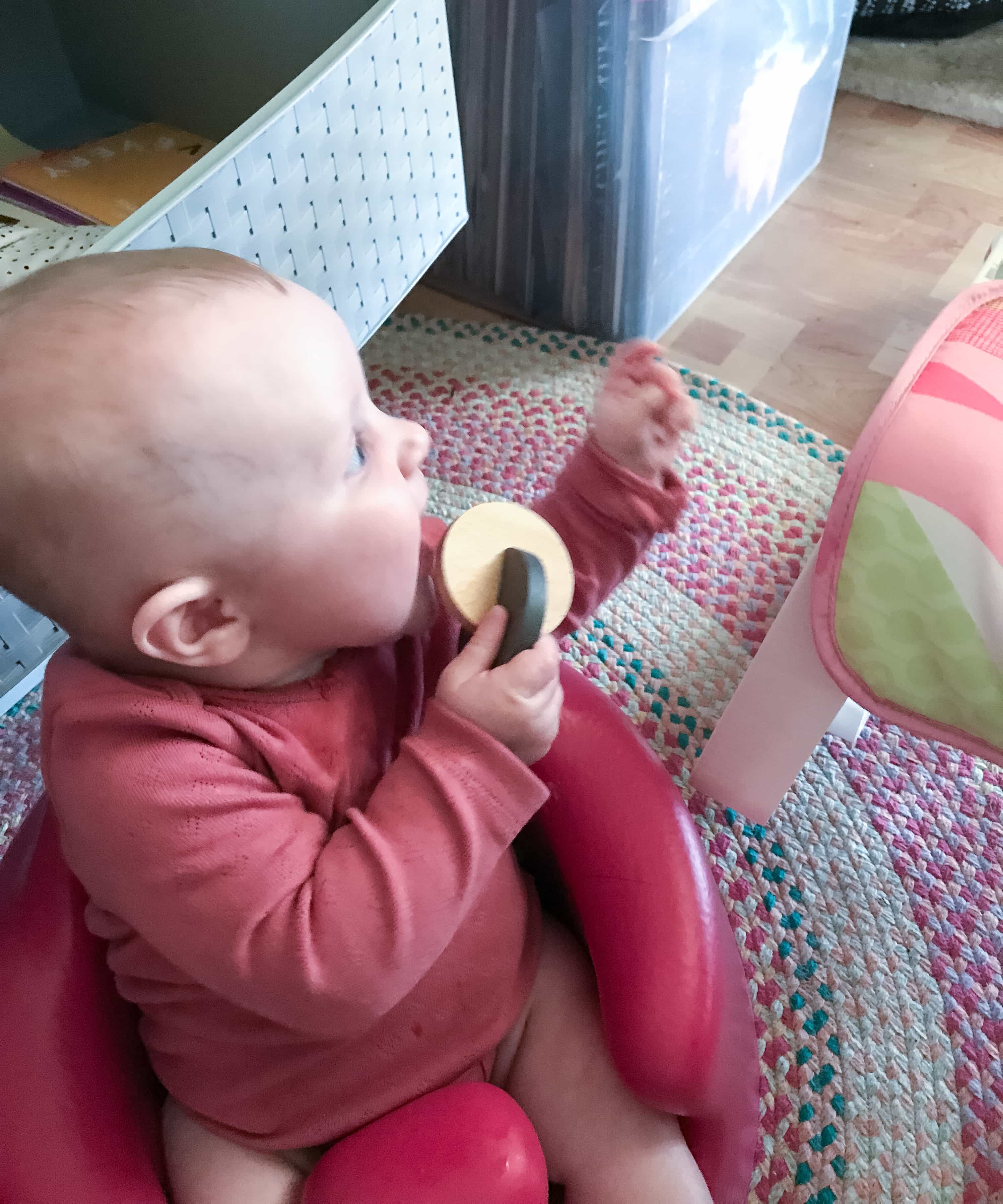 Holding this toy requires a baby to build up new fine motor skills! According to the booklet, if a baby is able to hold the discs at 4 months, it's already a big accomplishment!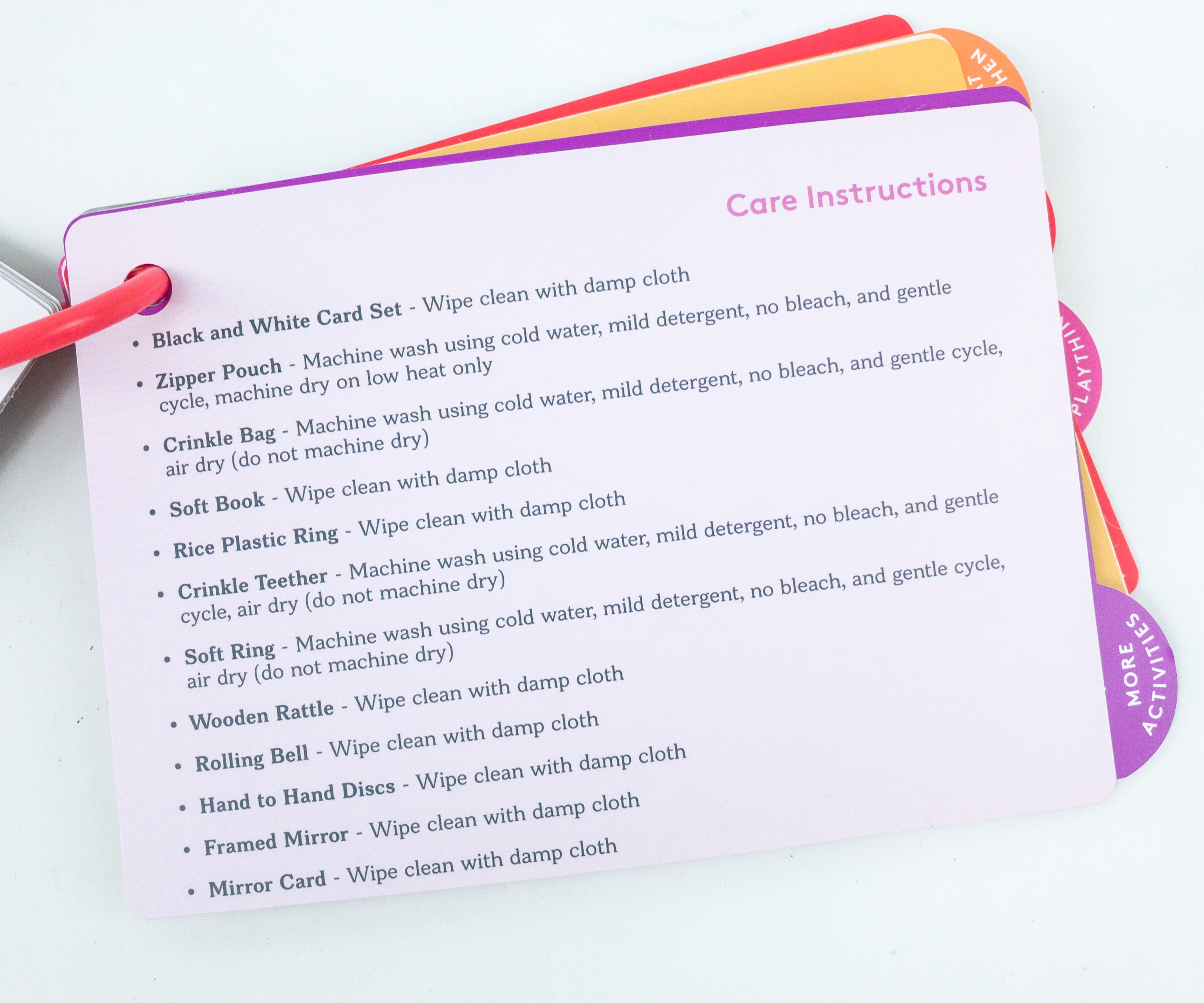 Additional care instructions are listed in the booklet.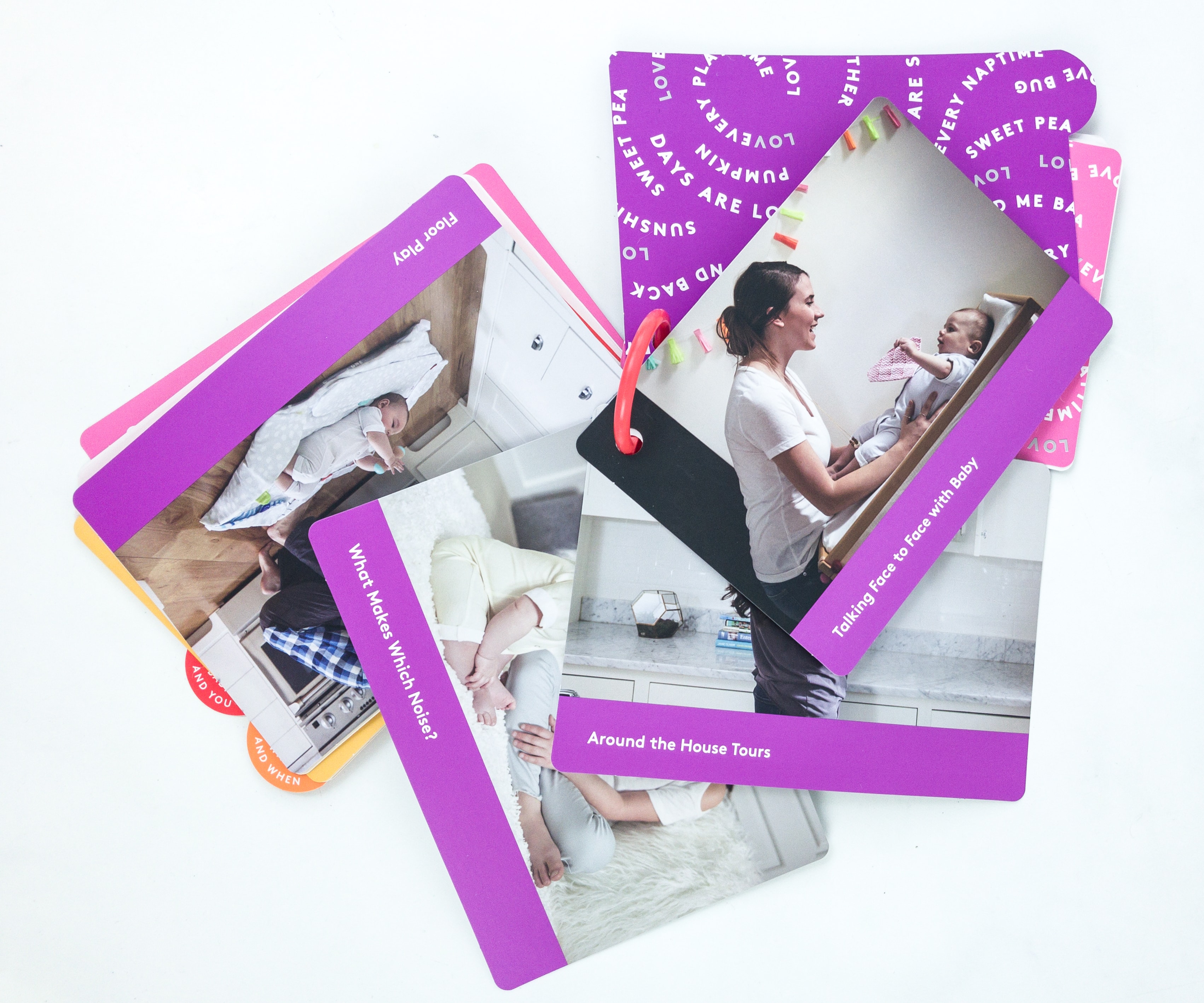 We're onto the last part of the booklet, which suggests more activities for parents and babies!
The first one is entitled Talking Face to Face with Baby! Babies process what they hear so it's important to speak to them directly and introduce them to a variety of words.
Talking with your baby is one of the very best things you can do to help build his developing brain. The more you talk with him, the more he understands, and the more he'll eventually learn to say by himself. Hearing lots of words early is proven to expand babies' mental capacities.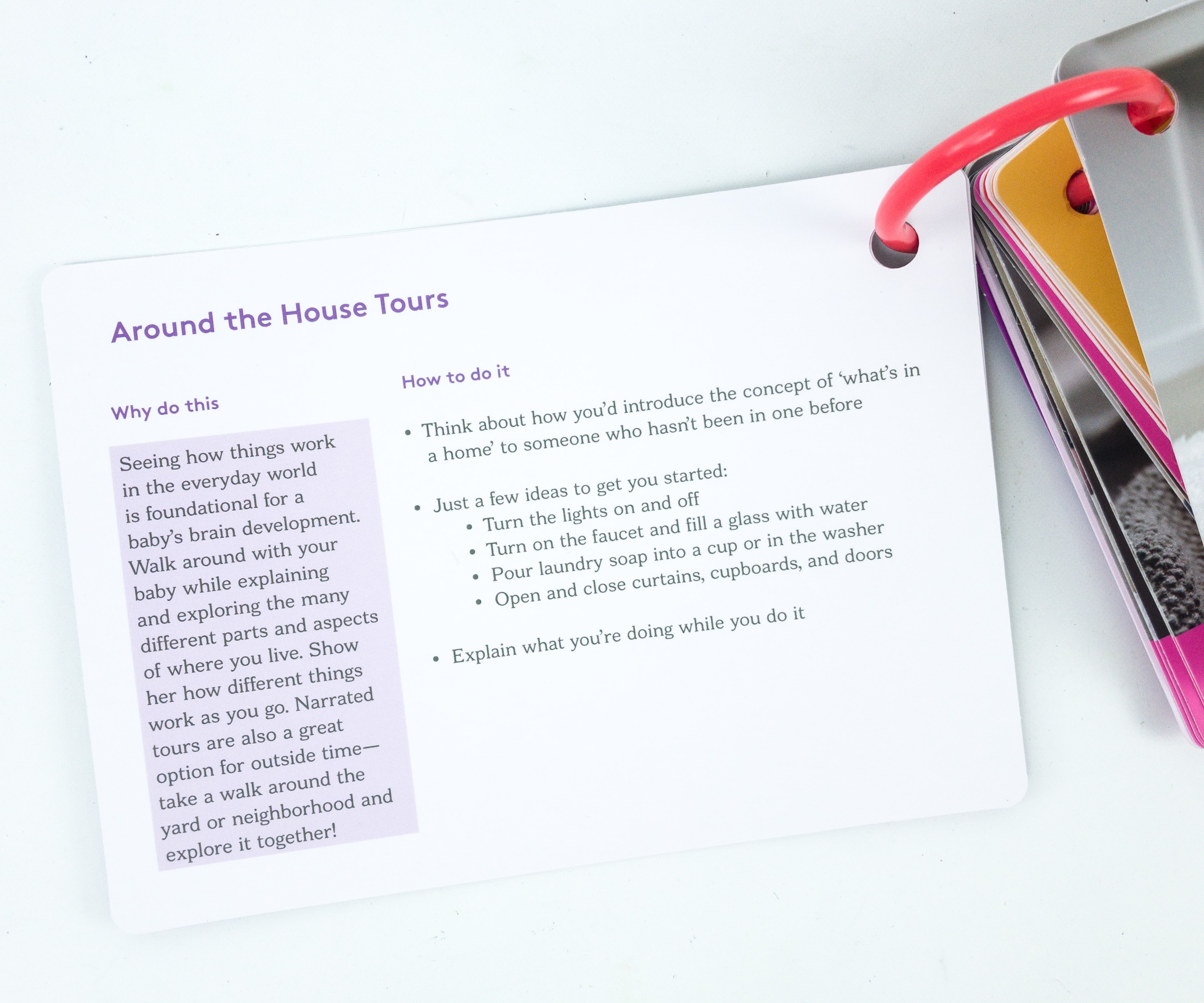 Next up is Around the House Tours! The key to the success of this activity is the way you introduce your home and even the simplest things in it to your baby.
Seeing how things work in the everyday world is foundational for a baby's brain development. Walk around with your baby while explaining and exploring the many different parts and aspects of where you live. Show her how different things work as you go. Narrated tours are also a great option for outside time–take a walk around the yard or neighborhood and explore it together!
We're moving on to the next activity, What Makes Which Noise! You can use different items from home, such as keys, papers, spoons, and even your doorbell!
Babies are intrigued by things that make noise. Help your baby work on coordinating his eyes, ears, and neck muscles by encouraging him to follow things that make sounds. Doing this will help him associate objects with the sounds they can make.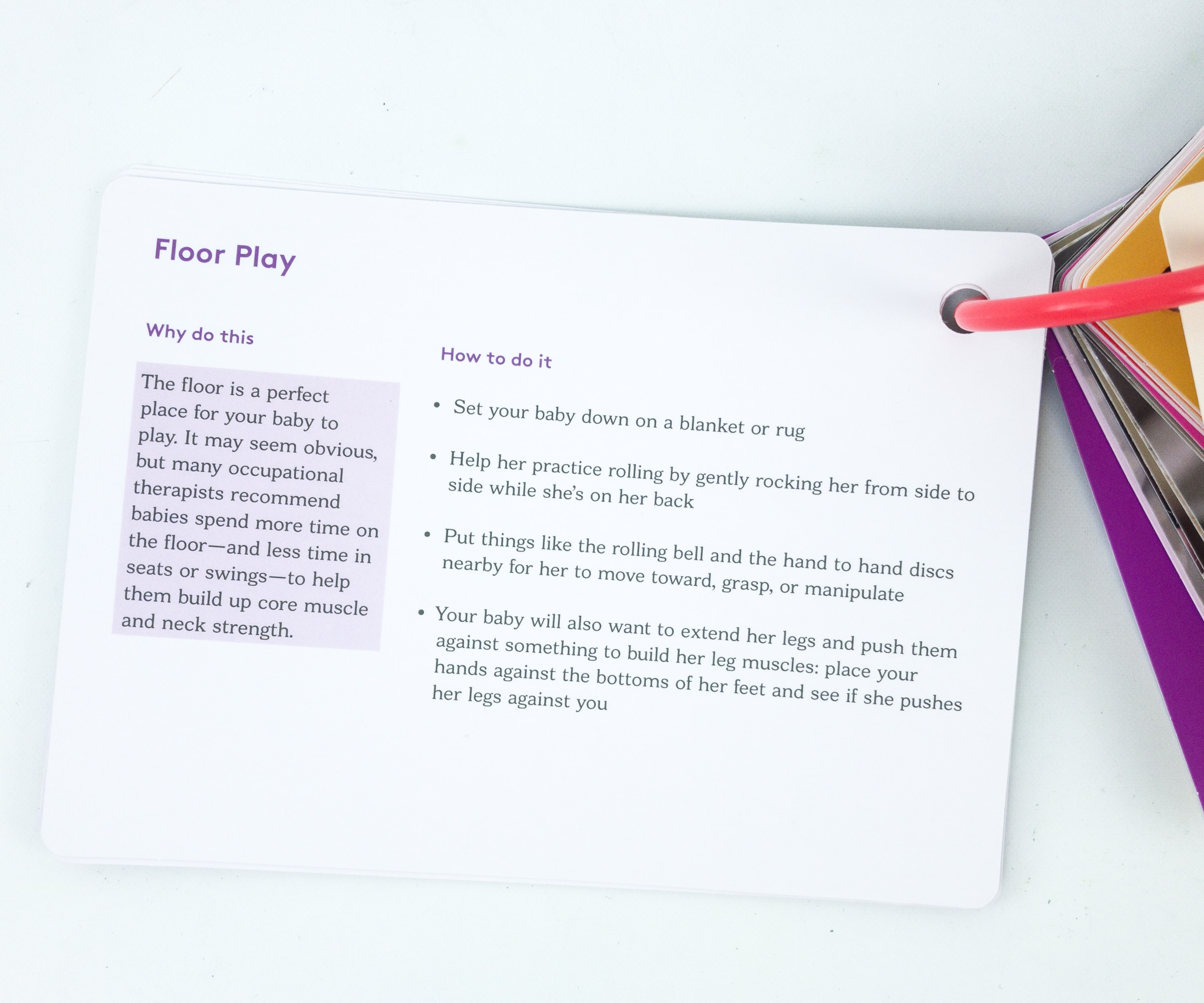 Another fun suggestion is Floor Play! Place a clean blanket or a rug, and then help your baby practice rolling on it. You may also place your hands against the bottom of their feet and see if they will push their legs against you. This helps build leg muscles.
The floor is a perfect place for your baby to play. It may seem obvious, but many occupational therapists recommend babies spend more time on the floor–and less time in seats or swings–to help them build up core muscle and neck strength.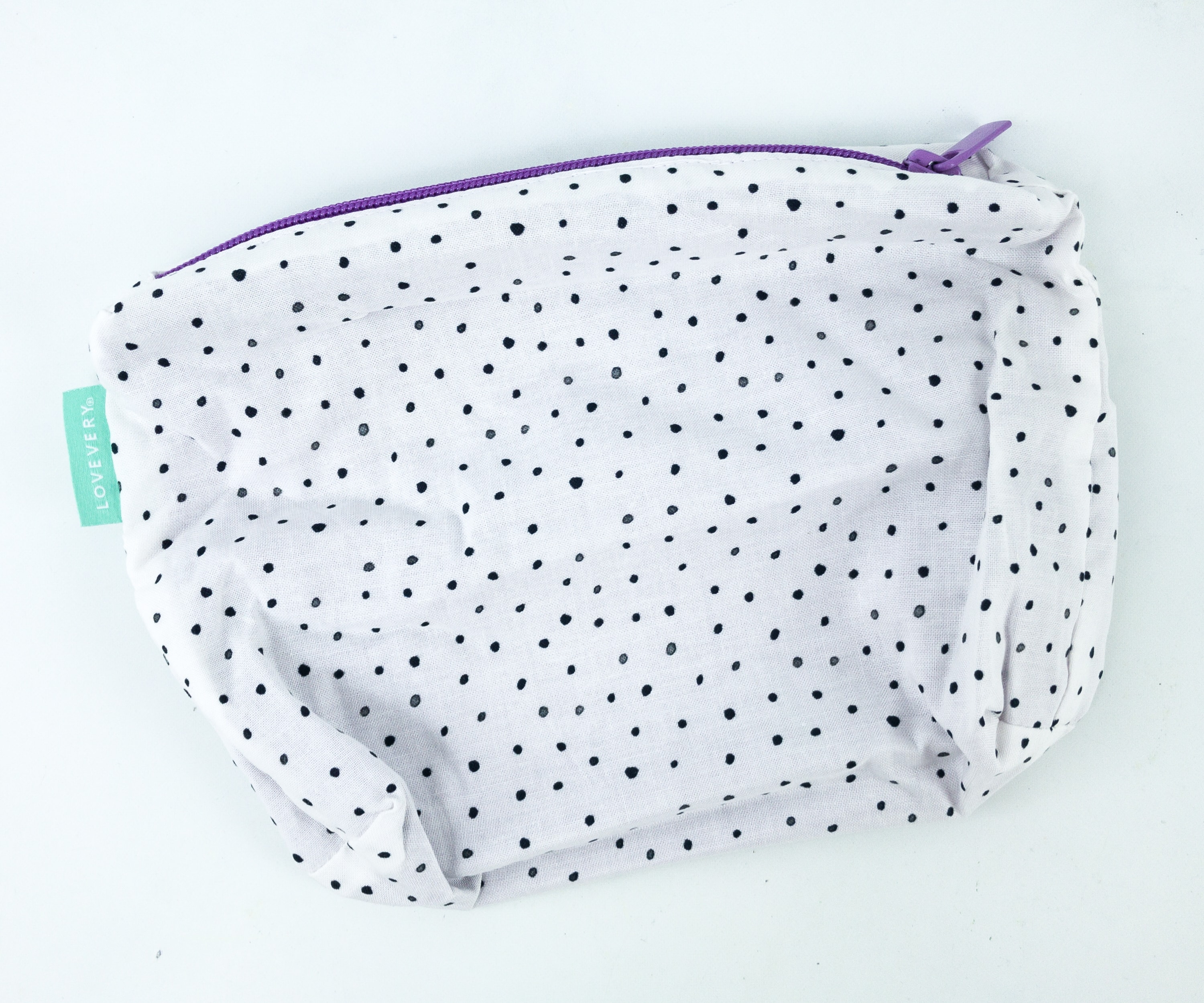 Also included in the box is a zipper pouch, where you can stash your baby's toys. The polka dots design is really cute.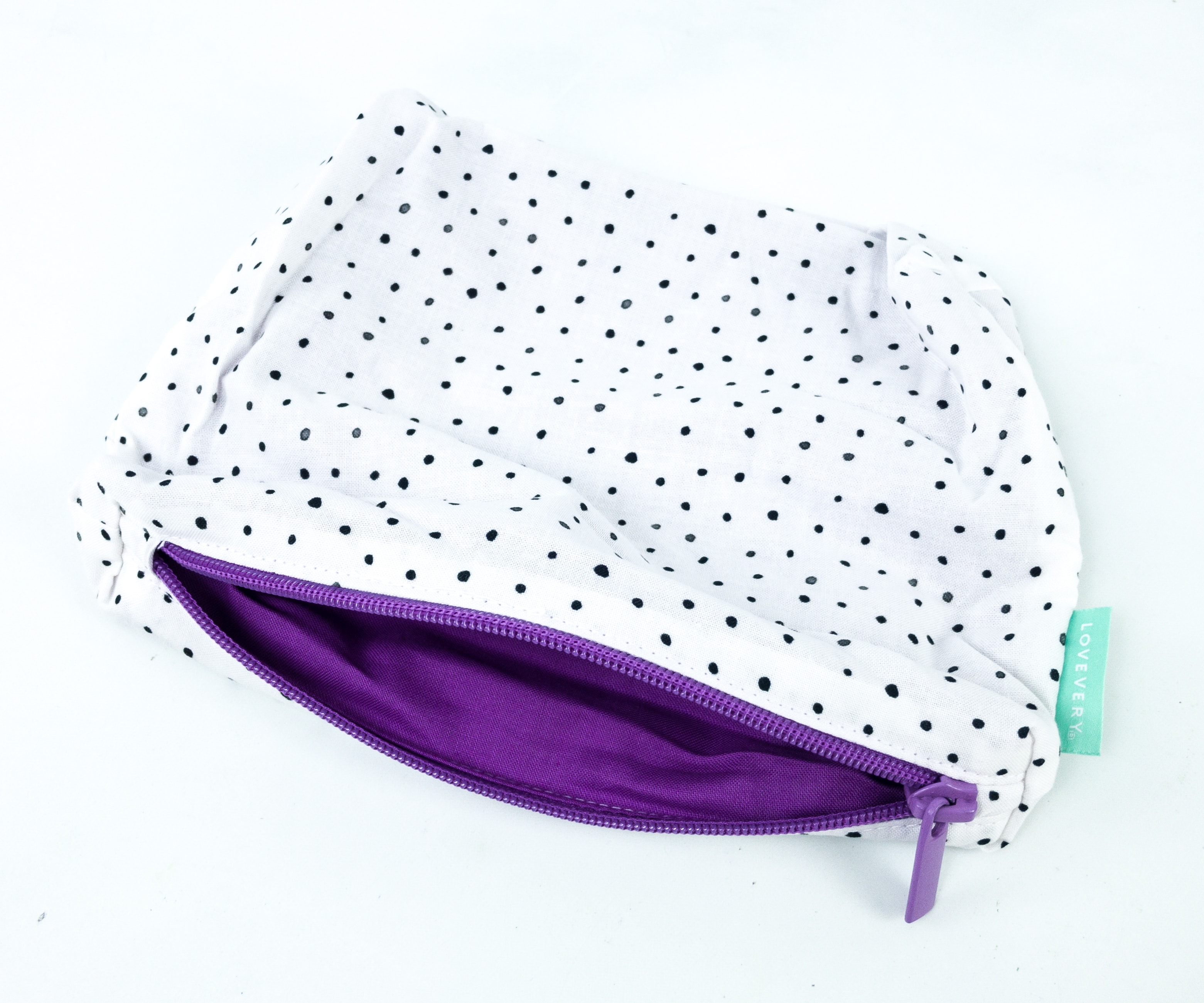 It's made with organic cotton and also secured with a zipper.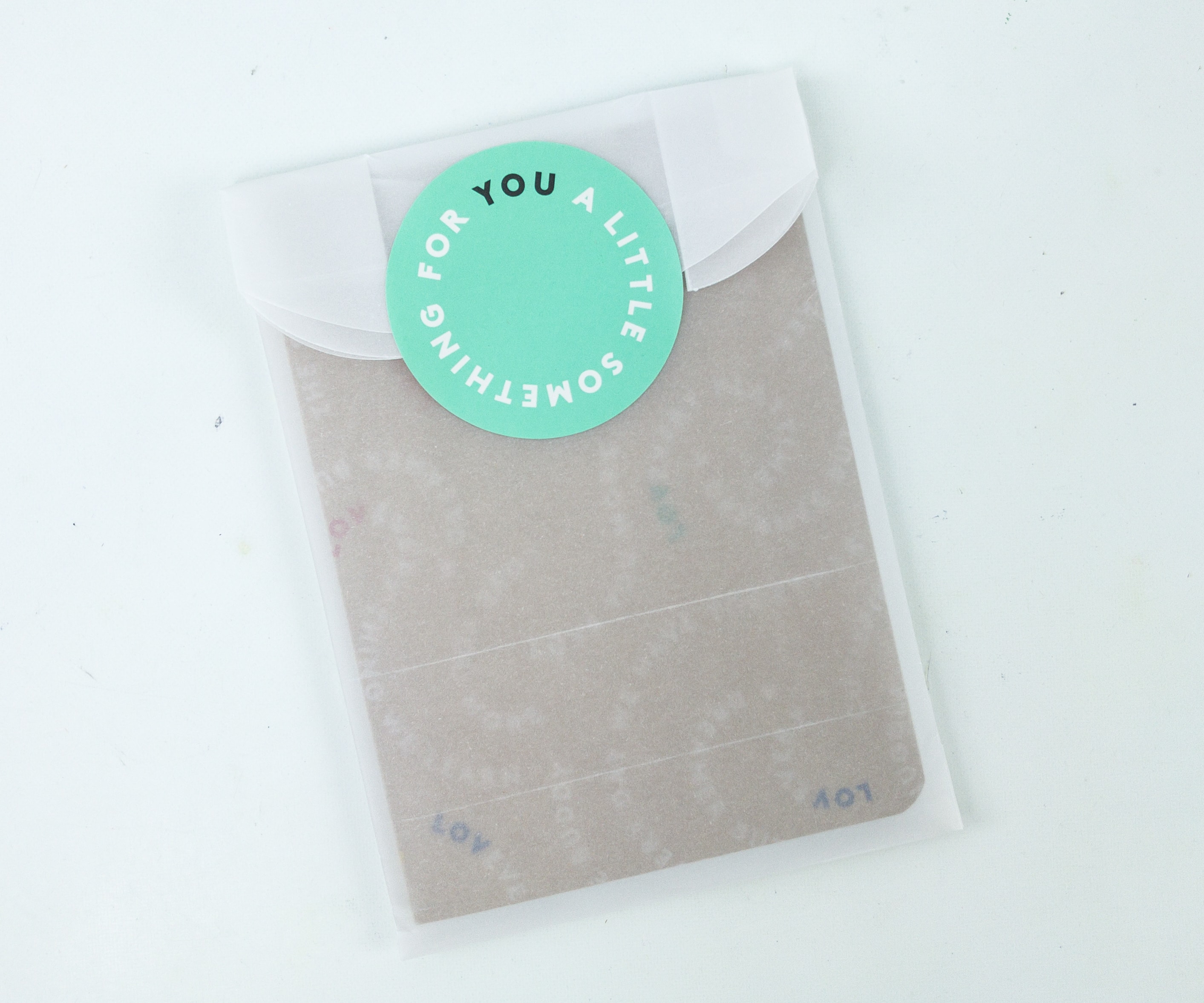 Like the past box, they included a parent gift! It's packed in a semi-seethrough envelope, sealed with an "a little something for you" sticker.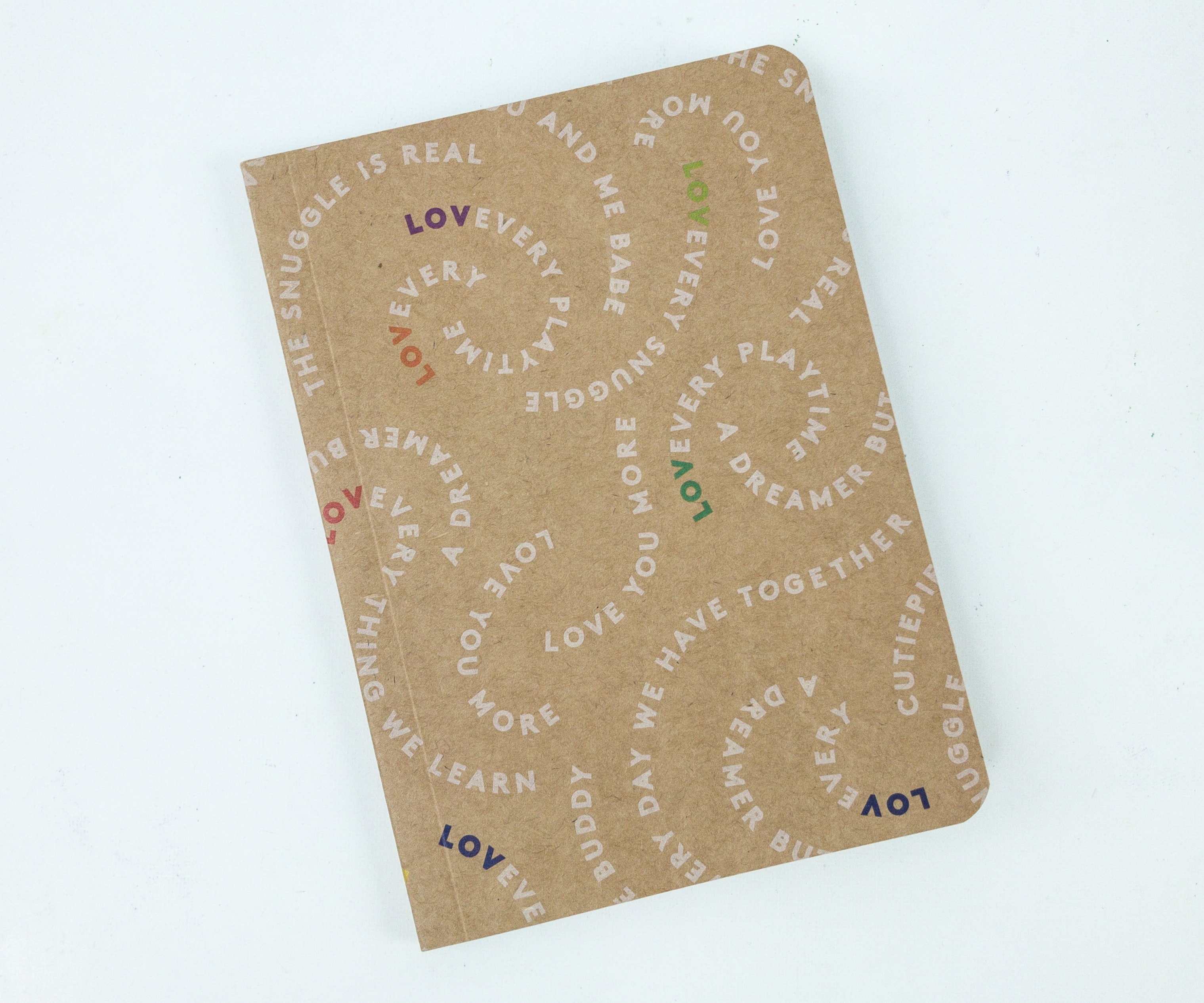 It's a cute notebook! The cover is filled with Lovevery patterns, similar to what's in the booklet.
The pages are blank, so you can write and doodle however you want. You may use it as a journal to keep track of your baby's growth, or simply for listing down your thoughts and other things you've learned from Lovevery.
Baby Play Kits by Lovevery has once again proved that they are not an ordinary baby subscription. The materials they send are products of thorough research, making them valuable and informative for parents and, of course, fun for babies. If you have a growing baby, things could be hectic and difficult, but having this subscription makes things a little better especially when it comes to helping your baby in their development. As always, the booklet is jam-packed with activity and bonding ideas for parents and their babies. It's lengthy but always a worthy read, because they explain thoroughly why each activity is important. We also appreciate the toys they provided in this box! Everything is made with baby-safe materials and are age-appropriate! This is one of the biggest boxes we've ever encountered and we love it!
What do you think about the Baby Play Kits by Lovevery?
Visit Baby Play Kits by Lovevery to subscribe or find out more!