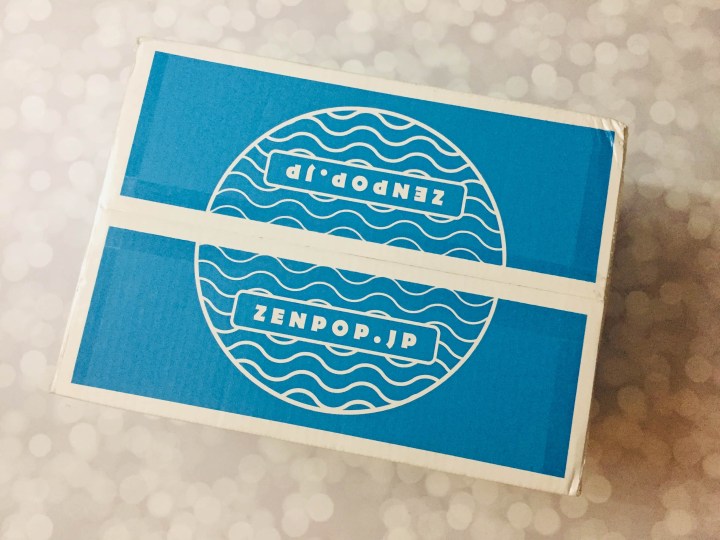 ZenPop Japanese Packs offers five different boxes from Japan — Sweets, Ramen, Sweets + Ramen, and Stationery! You can do a one-time box to try it out, or subscribe and save some money. I've reviewed a couple of their boxes before and was so impressed with the curation!
This is a review of the Ramen Pack!
DEAL: Get $3 off on your first box on any plan! Use the coupon code HELLOSUB2020 at checkout!
First look!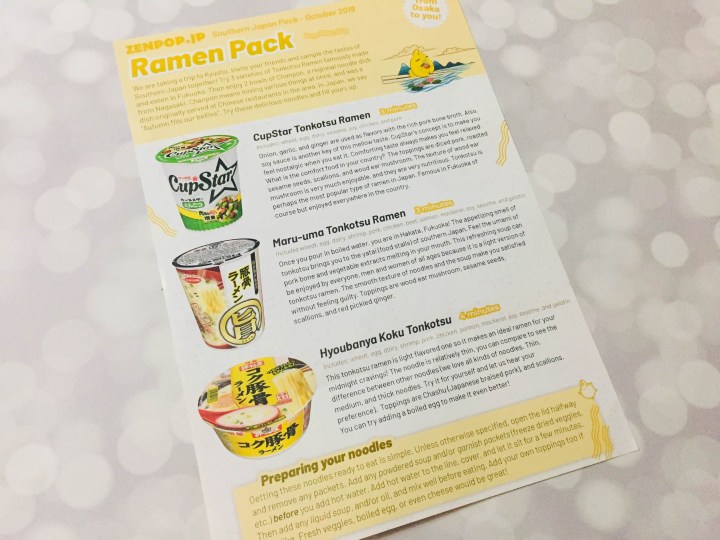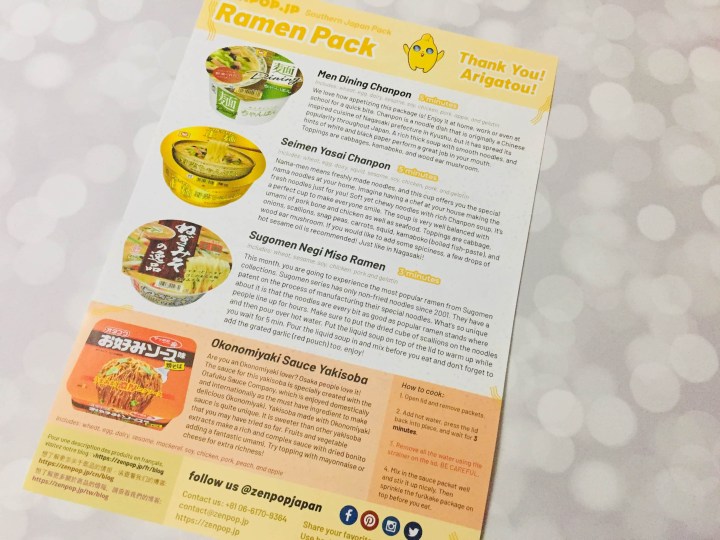 The information sheet is a standard size piece of paper; everything is described. The October theme is SOUTHERN JAPAN! We're headed to Kyushu! This month's box includes various tonkotsu ramen as well as some champon ramen. Many of the selections this month feature similar ingredients popular in the region, which is cool!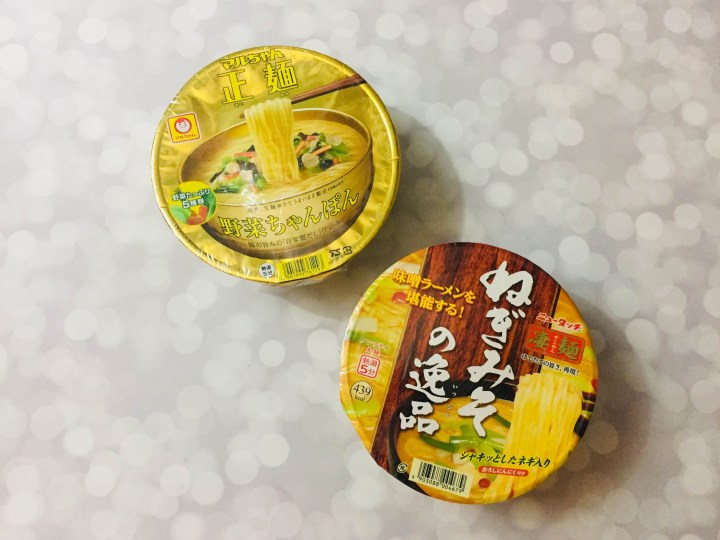 Seimen Yasai Chanpon — Chanpon originated in Chinese restaurants. It's a hodge podge of different ingredients added to soup, for a truly hearty experience. This version has pork bone, chicken, cabbage, onions, scallion, peas, carrots, squid, fish paste, and wood ear mushroom. I didn't add the fish paste/squid to mine and am grateful it was separately packed. This ramen was absolutely delicious, and the generous toppings made it quite filling!
Sugomen Negi Miso Ramen — This was hands down the BEST instant ramen I've ever had. It was amazing. First of all, there is a cube of dried scallions that you place on the noodles before adding hot water. The hot water hydrates the green onion and it's so cool to watch them float over the water like a little waterfall. The liquid soup base is savoury and delicious. And finally there's grated garlic to add to the soup once it's done, and it was so fresh and delicious. This ramen was amazing and I am sad it's all gone!
Hyoubanya Koku Tonkotsu — Another tonkotsu ramen, which I'm now familiarizing with the creamy broth it produces. This one was actually fairly simple in terms of ingredients and flavour, and Zenpop suggests adding a boiled egg for more flavour.
Men Dining Chanpon — The toppings in this ramen look amazing! I haven't yet had this one and am saving it for a rainy day. The toppings include cabbage, kamaboko (fish cake) and wood ear mushroom.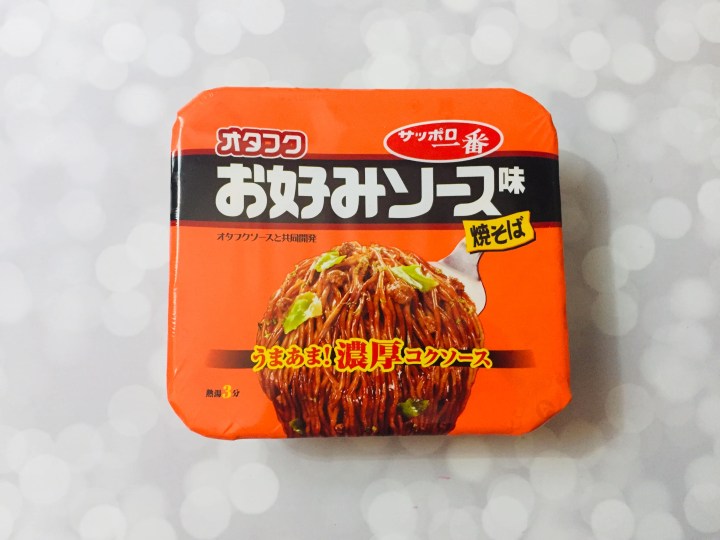 Okonomiyaki Yakisoba — Okonomiyaki is a Japanese pancake dish with ingredients like cabbage,. The famous Otafuku Sauce Company made this sauce just for this yakisoba, and it has a fruity flavour. It's a bit strange having a sweet noodle, but it was delicious. There was also furikake for the top which added a fishy, savoury flavour to balance it out.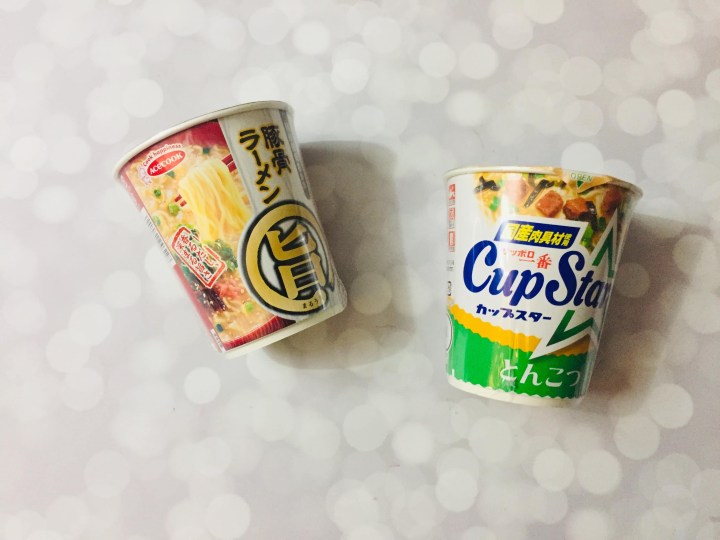 Haru-Uma Tonkotsu Ramen — I am eating this ramen as I write the review! This is another more simple kind of ramen in appearance but the flavour is amazing! The pickled ginger adds a tiny bit of heat. There are lots of scallions and sesame seeds as well as some wood ear mushrooms.
CupStar Tonkotos Ramen — Another solid ramen with wood ear mushrooms, scallions, and sesame seeds. It has some diced pork that adds a meaty flavour with every bite.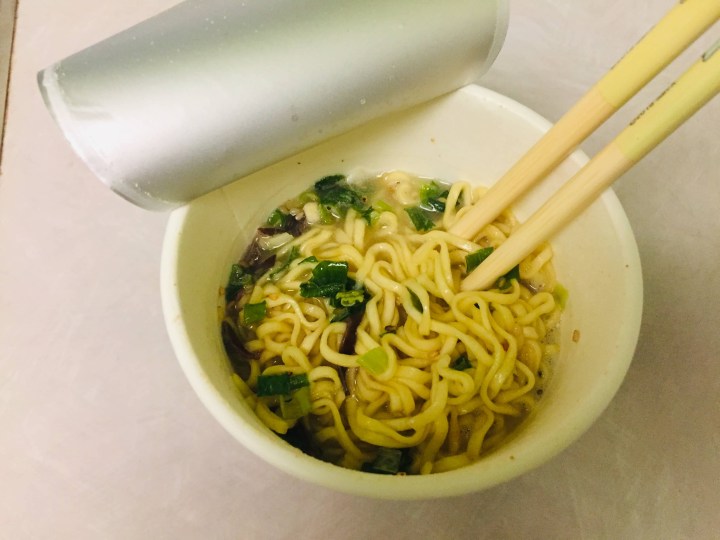 This is the Haru-Uma ramen. The broth is amazing!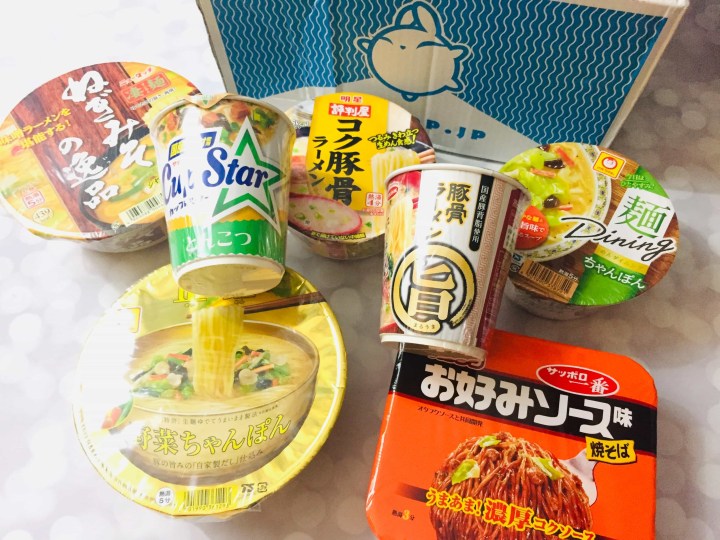 Zenpop sent us a combination of tonkotsu and chanpon ramen for October, and it was interesting to taste different interpretations of the same dishes. I really enjoyed everything they sent, with my favourites being that magical garlic and onion ramen!