Winc is a wine subscription service that sends a selection of unique wines based on your personalized palate profile. When you sign-up, you Winc asks a brief series of questions so they can customize your selections to suit your tastes — things like how your take your coffee, and how much you enjoy salt, citrus, berries, and earthy flavors. You can also choose how many reds and whites you want amongst your order, as well as how much you generally like to spend per bottle ($15-$30). To get better recommendations, you can rate the wines on your account. A monthly order starts at 3 bottles a month for $39, plus $9 flat shipping rate and tax. If you order 4 or more bottles, shipping is free. Bottles start at $13 a piece, and you can add as many additional bottles as you'd like to your monthly shipment.
DEAL: Save $20 on your first box – just use this link to subscribe. Tip – Grab 4 bottles instead of 3 to get FREE shipping!
The wines arrived in special-purpose protective packaging.
Here are my awesome new selections. I chose an even split between whites and reds. Sparkling wines and rosés are counted as white wine for selection purposes.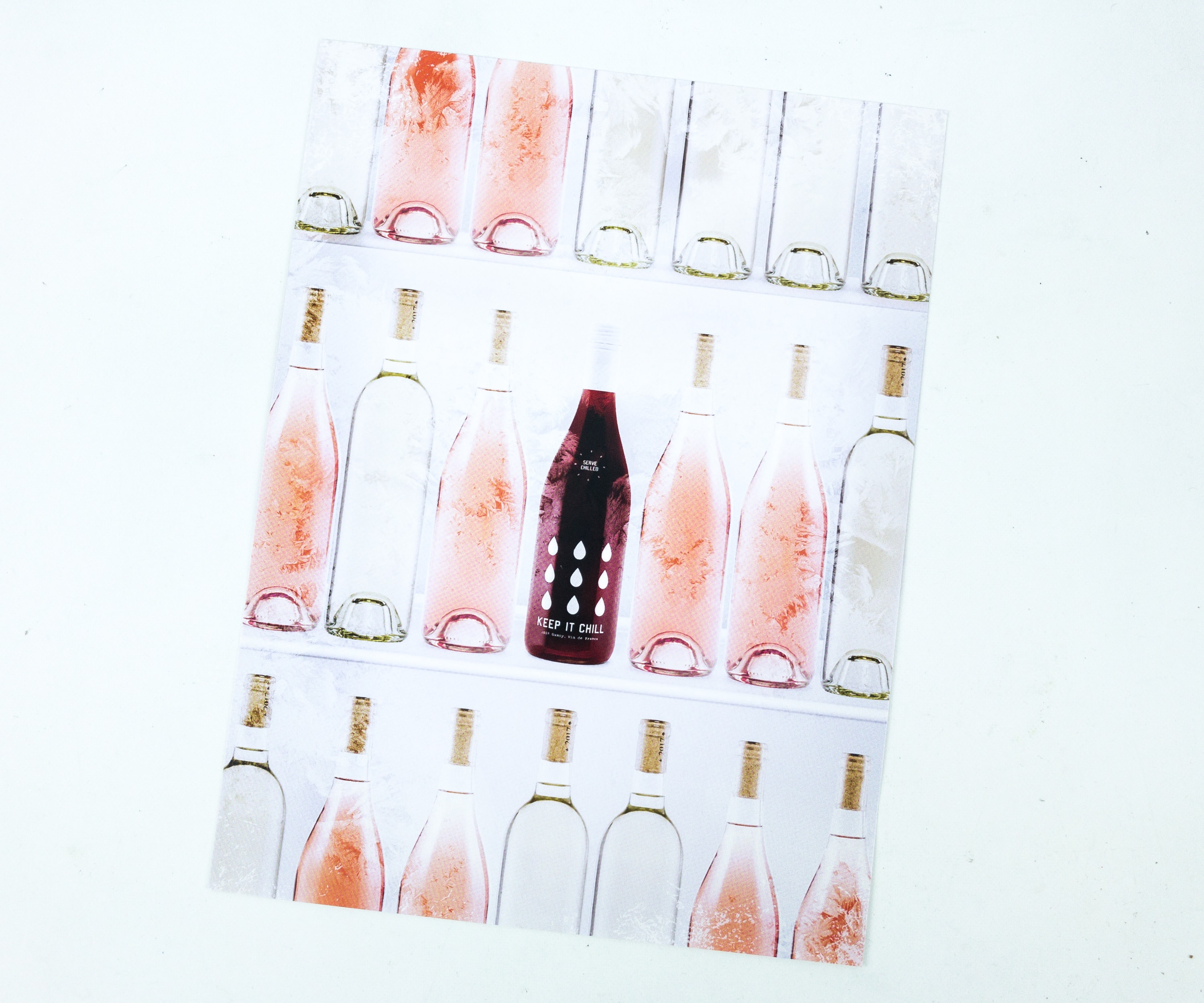 This month's box includes a brochure from Winc.
The back of the brochure features a variety of ways to keep your wines chilled.
Aside from the brochure, we also got an exclusive invitation card from Winc!
Drink it. Love it. Own it.
This card informs us about the Winc's plan of expansion by letting their avid subscribers invest. It also states the different benefits you'll be getting once you invest in them.
Everything in my August 2019 Winc box!
We got 2 bottles of white wine, 1 bottle of red wine, and 4 cans of rosé wine!
We're starting with the white wines, which are both from California: the 2018 Pacificana Chardonnay and the 2018 Restless Earth Grenache.
2018 Pacificana California White Chardonnay ($15.99; $13.99 if member) This classic Californian style wine features a bold, rich flavor that resulted from the oak barrel fermentation.
This wine is mostly oaky, enhanced by fruity notes including apple and honeysuckle. It makes a great pair with cream sauce, cheeses, and cured meats.
Restless Earth 2018 Grenache ($17.99; $15.99 if member) This luscious wine is from the elevated place of Santa Barbara Highlands Vineyards, a unique location that features daily temperature swings.
It's a delectable wine with a pleasing aroma. It has notes of tasty pomegranate, raspberry, red cherry, and white pepper, making it perfect to pair with cured meats, cheeses, and veggies.
Here's our reds: 2016 Idée Fixe Red Wine from France and 2018 Ruza Rosé Wine.
2016 Idée Fixe Red Wine ($16.99; $14.99 if member) This wine is generally a grenache with 15% Syrah, fermented and aged in concrete, resulting to a delicious drink with dark cherry, dried herbs, plum, and violet notes. 
It's a medium-bodied red wine with a distinct texture and strong earthy taste. It's the ideal drink to pair with lamb, cured meats, and stew dishes.
2018 Ruza Rosé Wine California ($17.99; $15.99 if member) Instead of another bottle, we got 4 cans of rosé! They feature a hint of spritz and a dry finish. Each can also contains a refreshing taste of red berries and citrusy notes.
The can itself is made from premium quality, lightweight and recyclable materials, making it the perfect container to bring on-the-go!
Ruza is a unique, light-bodied wine with dominating fruity taste coming from lime zest, raspberry, rhubarb, and strawberry.
A great everyday wine, this one is ideal with sushi, fruits, and fries. ???
As someone who loves wines, I get excited whenever a Winc box arrives. They never disappoint with the wine quality, whether it's red or white. I'm also happy to get wine in cans this month, they're awesome for outdoor parties, picnics, or for that last outing before summer officially ends.  Also, I really appreciate how they pack each box. They really make sure that all the wines arrive in great condition. I'm certainly looking forward to more exciting and delightful wines to satisfy my palate!
Do you subscribe to Winc? Which wines are your favorites? Tell us in the comments below!