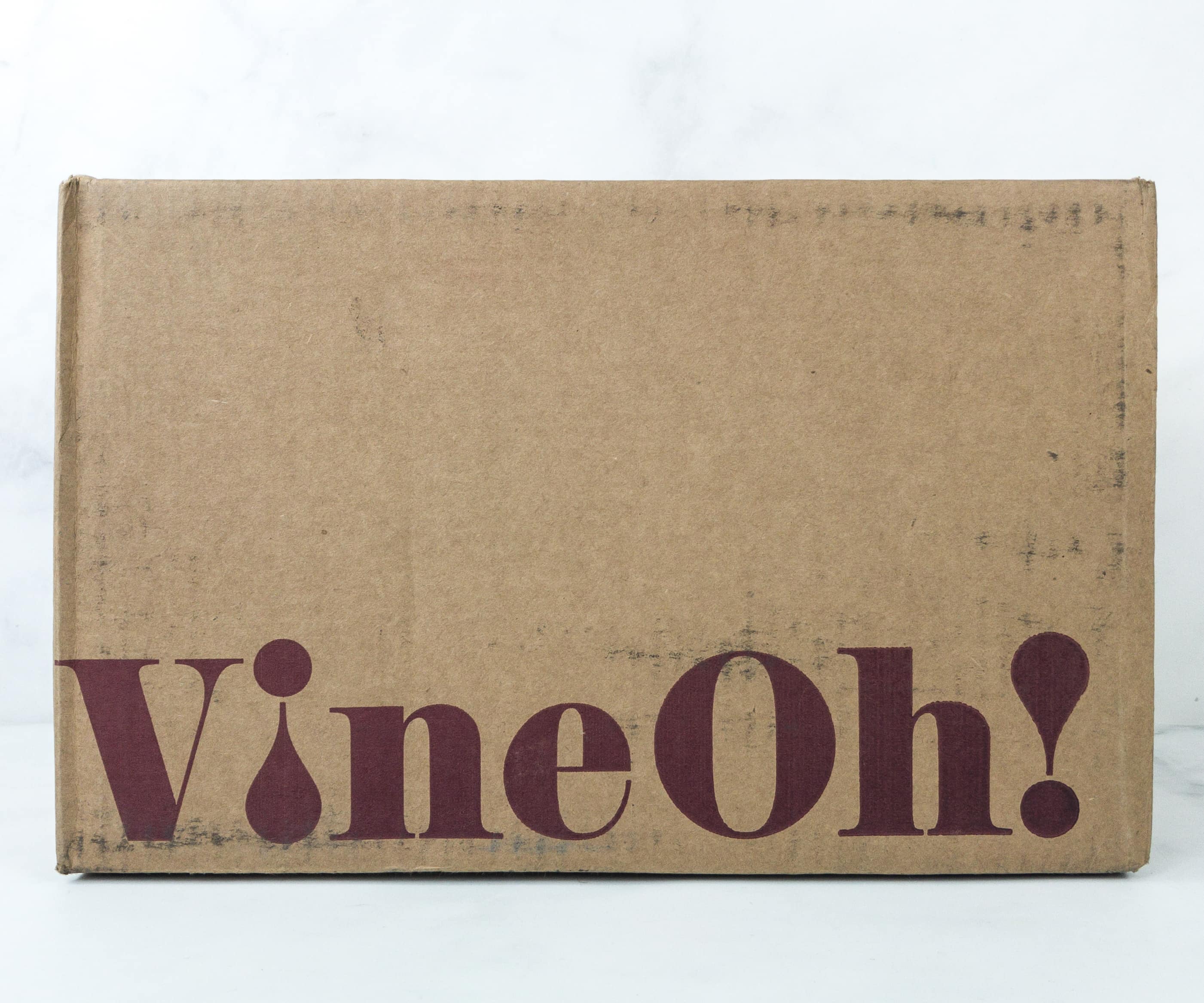 Vine Oh! is a quarterly subscription box and one of the first wine subscription boxes to include lifestyle items for women. Each seasonal box will include 2 bottles of wine (either whites, reds or both), plus full-size items that are fun, rejuvenating and delicious. Every box will have a retail value of $120 or more!
DEAL: Save $10 off + FREE extra bottle of wine + free Shipping on your first box with coupon code HELLOWINE.
Inside is a deck of info cards tucked in a cardboard sleeve.
Of course, we got a list of all the items included in the box. This box's theme is Oh! For Me!
Everything in my box!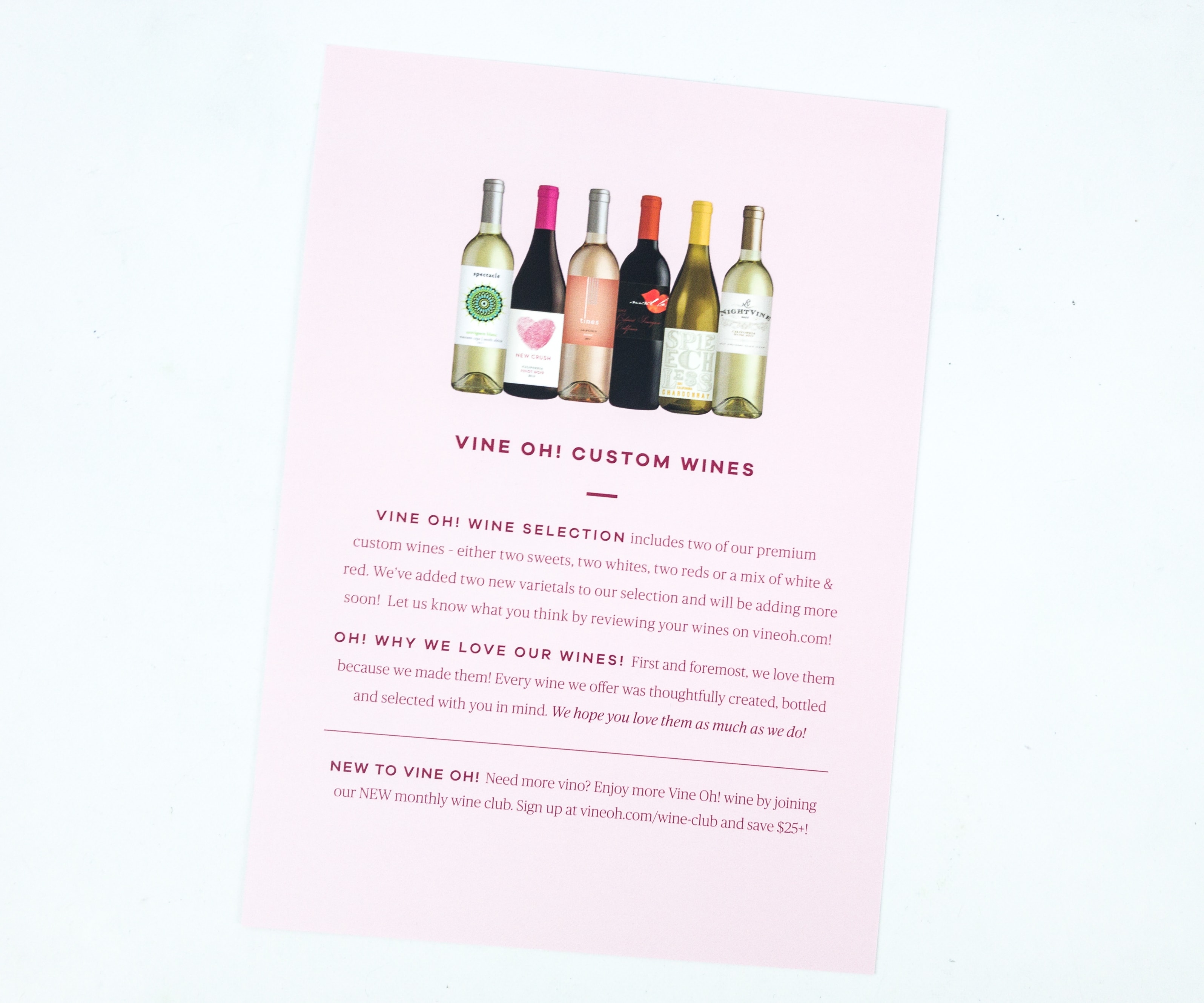 There's an information card from Vine Oh!, which explains about their wine selection and why they love their wines.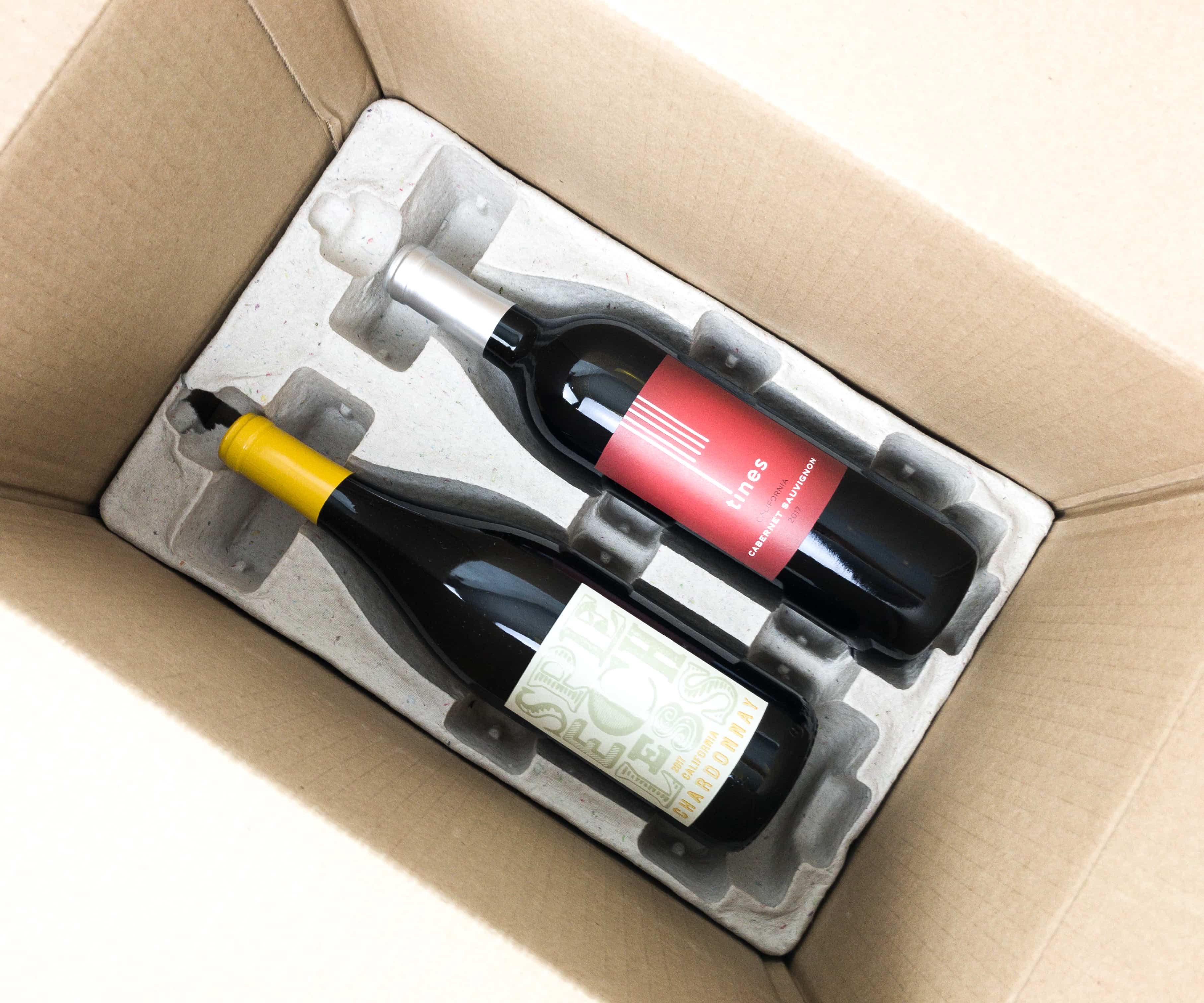 At the bottom of the box, you will find two bottles of wine carefully stored in a cardboard wine shipper to prevent breakage during transport.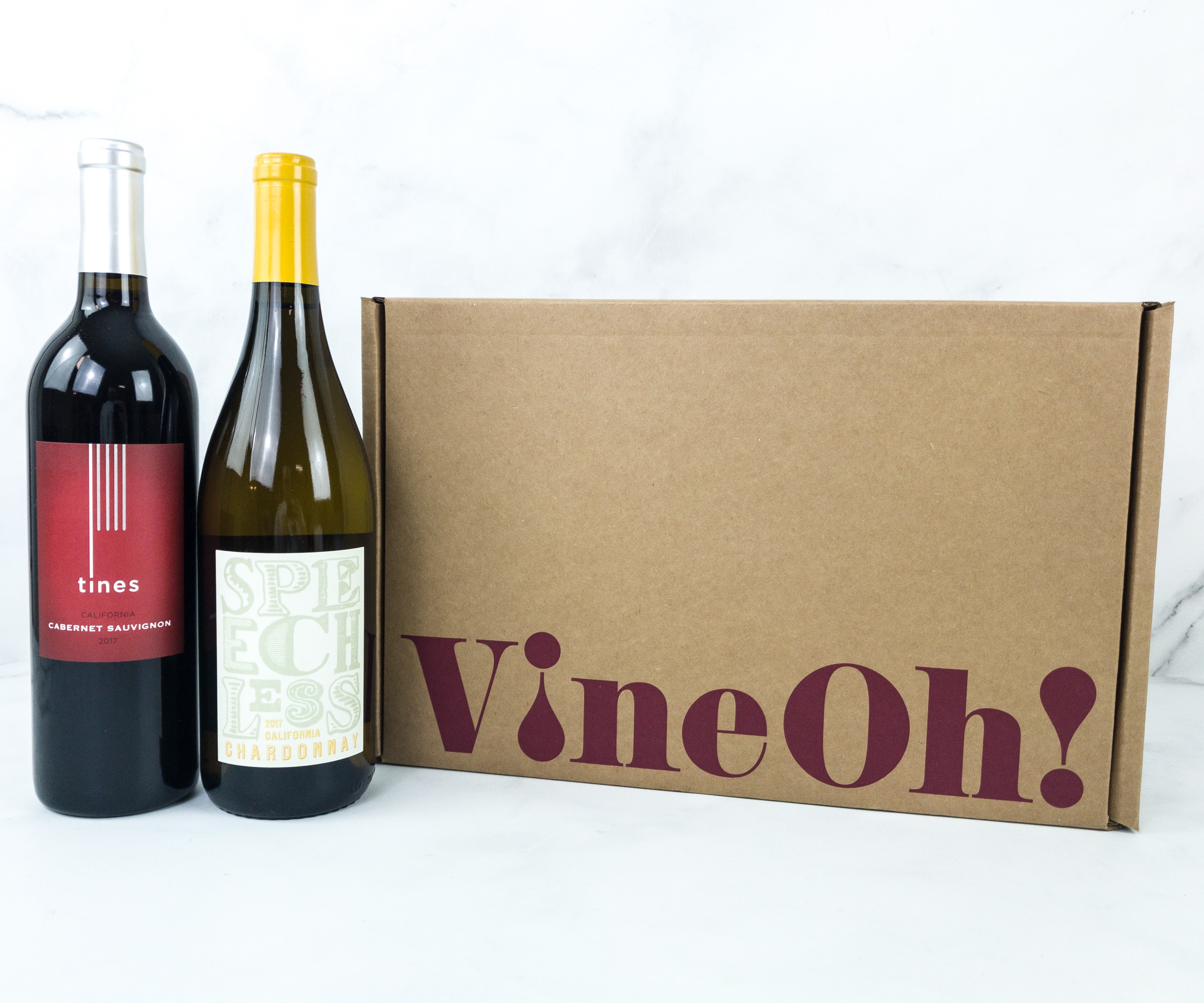 All the wines this quarter!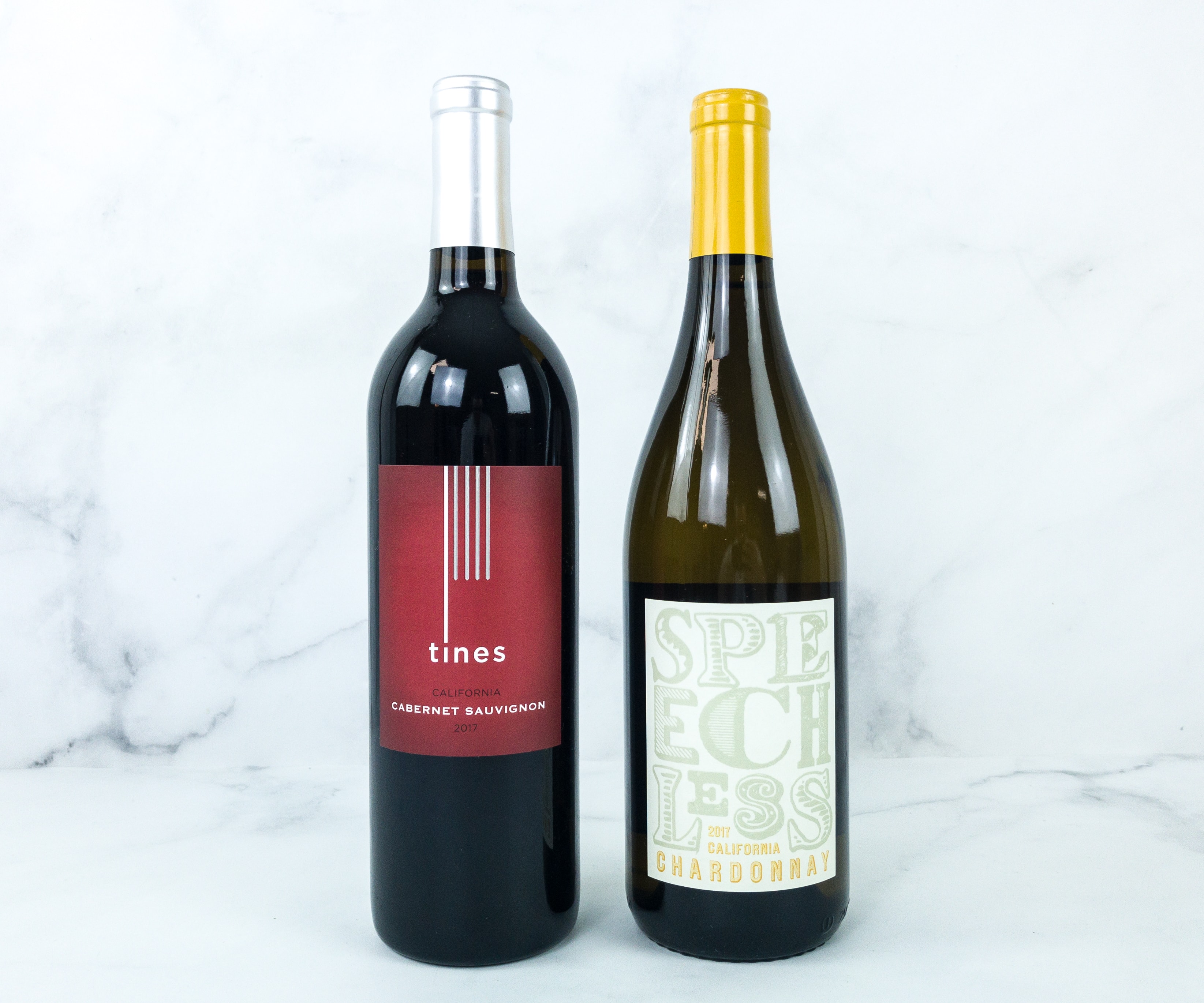 I got one bottle of red wine and one bottle of white wine!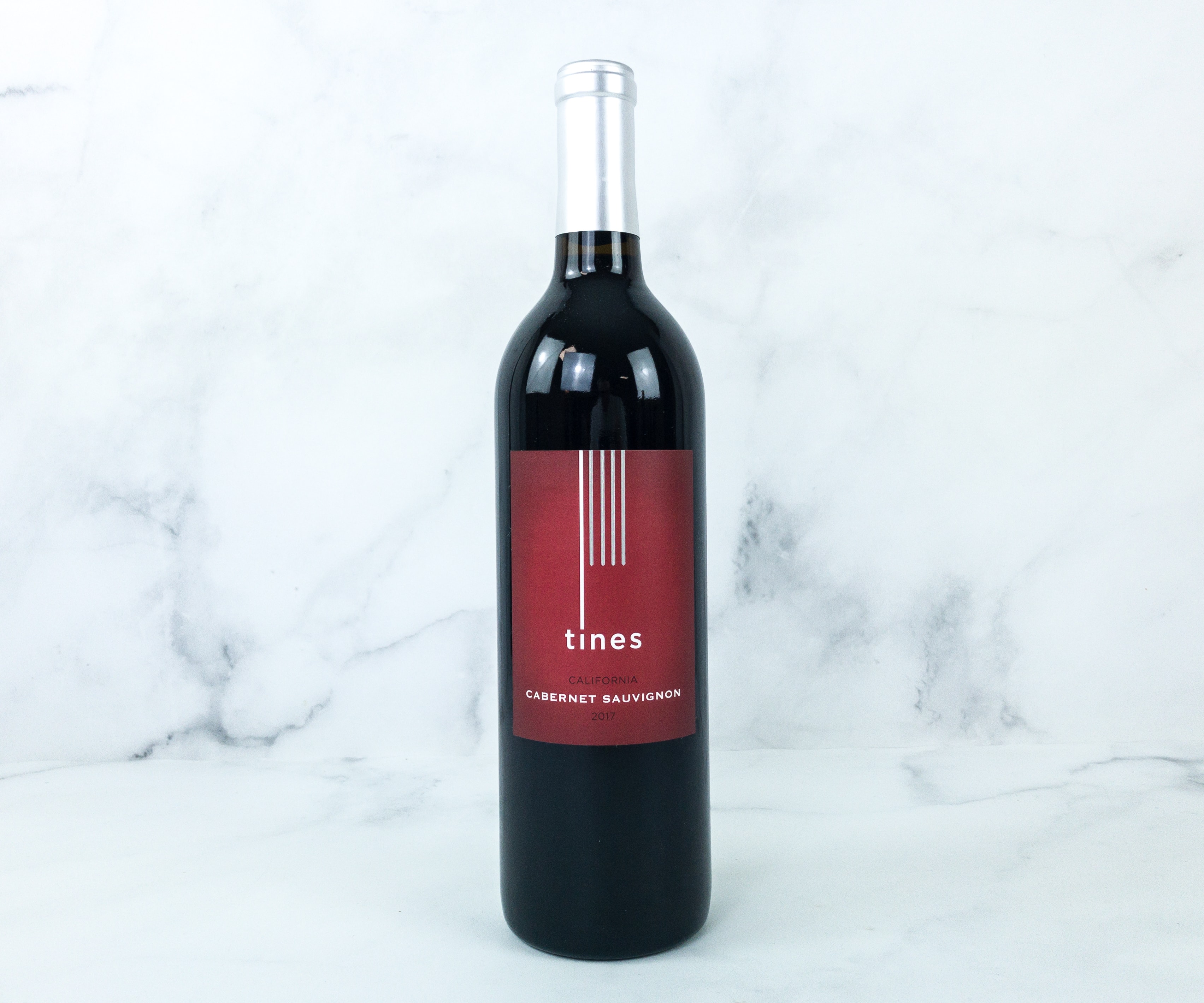 2017 Tines California Cabernet Sauvignon ($24) This wine from California is a real treat for red wine lovers. It's aromatic, with a rich and juicy mouthfeel.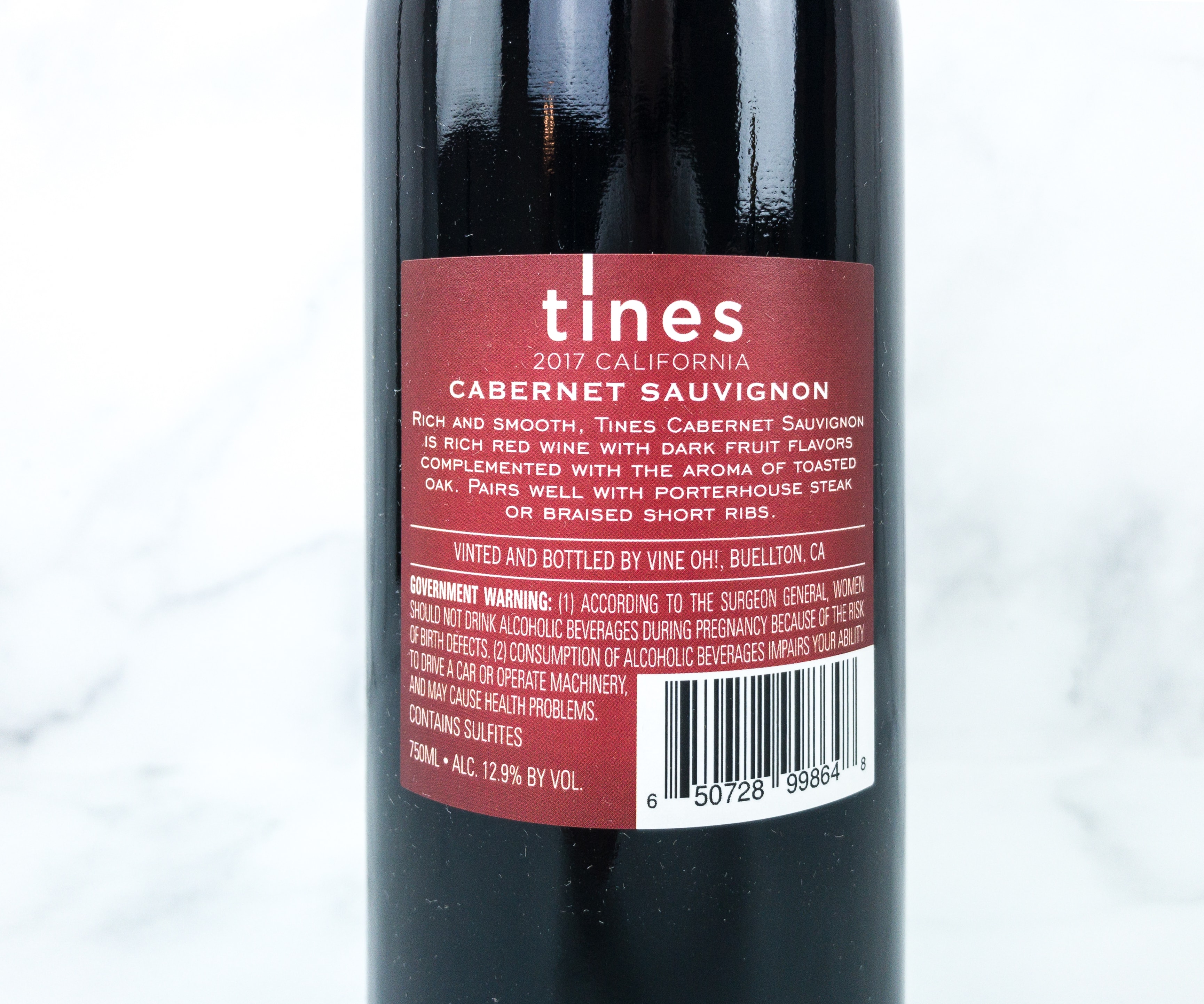 This superbly crafted wine boasts aromas and flavors of dark fruits and toasted oak. It also makes a great companion to the dinner table, especially for steak lovers!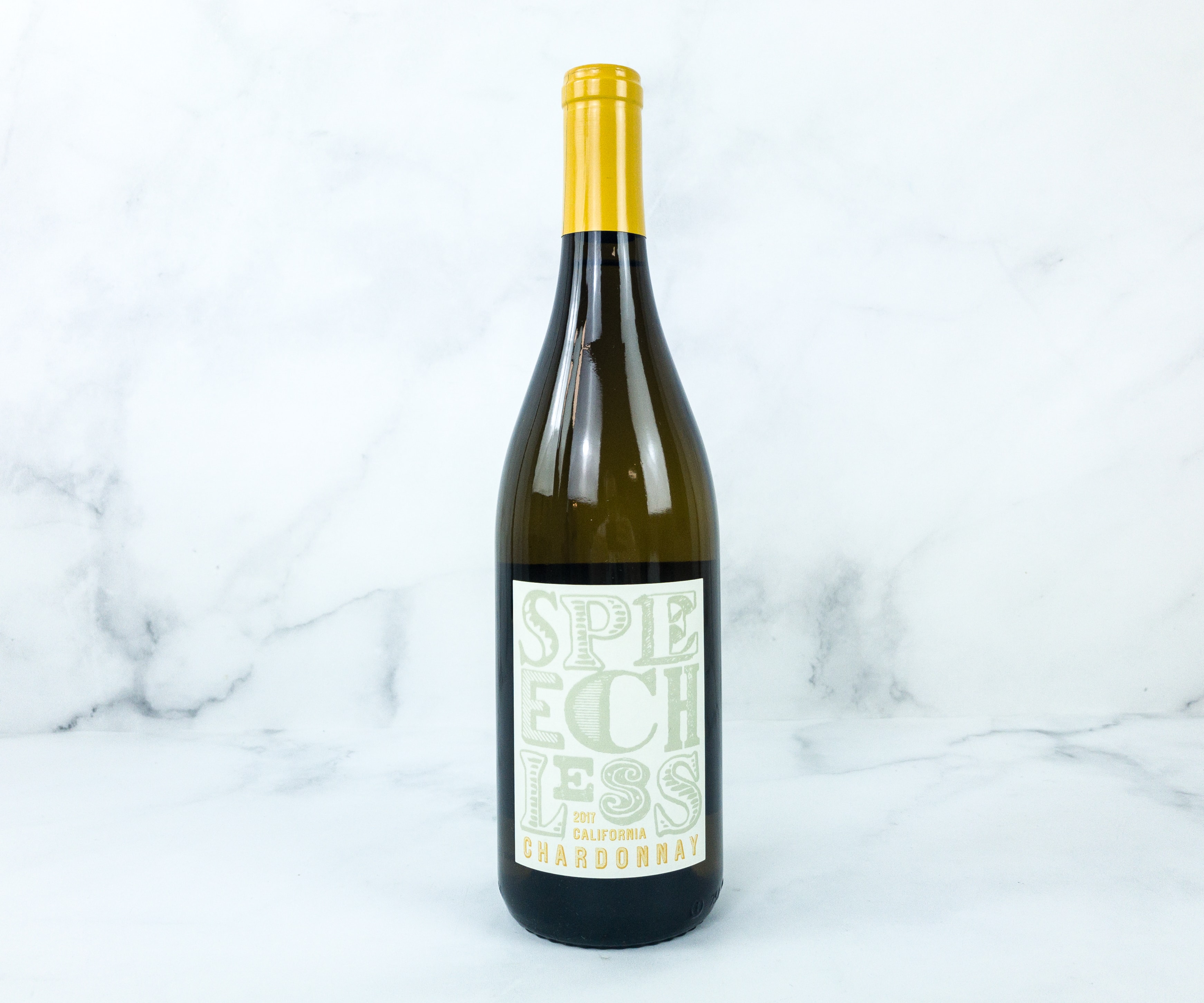 2017 Speechless California Chardonnay ($26) Here's a crisp and luscious white wine, exhibiting vibrant apple, lemon zest, and pineapple flavors layered with vanilla, crème brûlée, brioche, and honey.
This white wine is beautifully balanced with a smooth and lingering finish, making it a great everyday wine. It pairs well with salmon, as well as chicken, pork or pasta in a creamy sauce!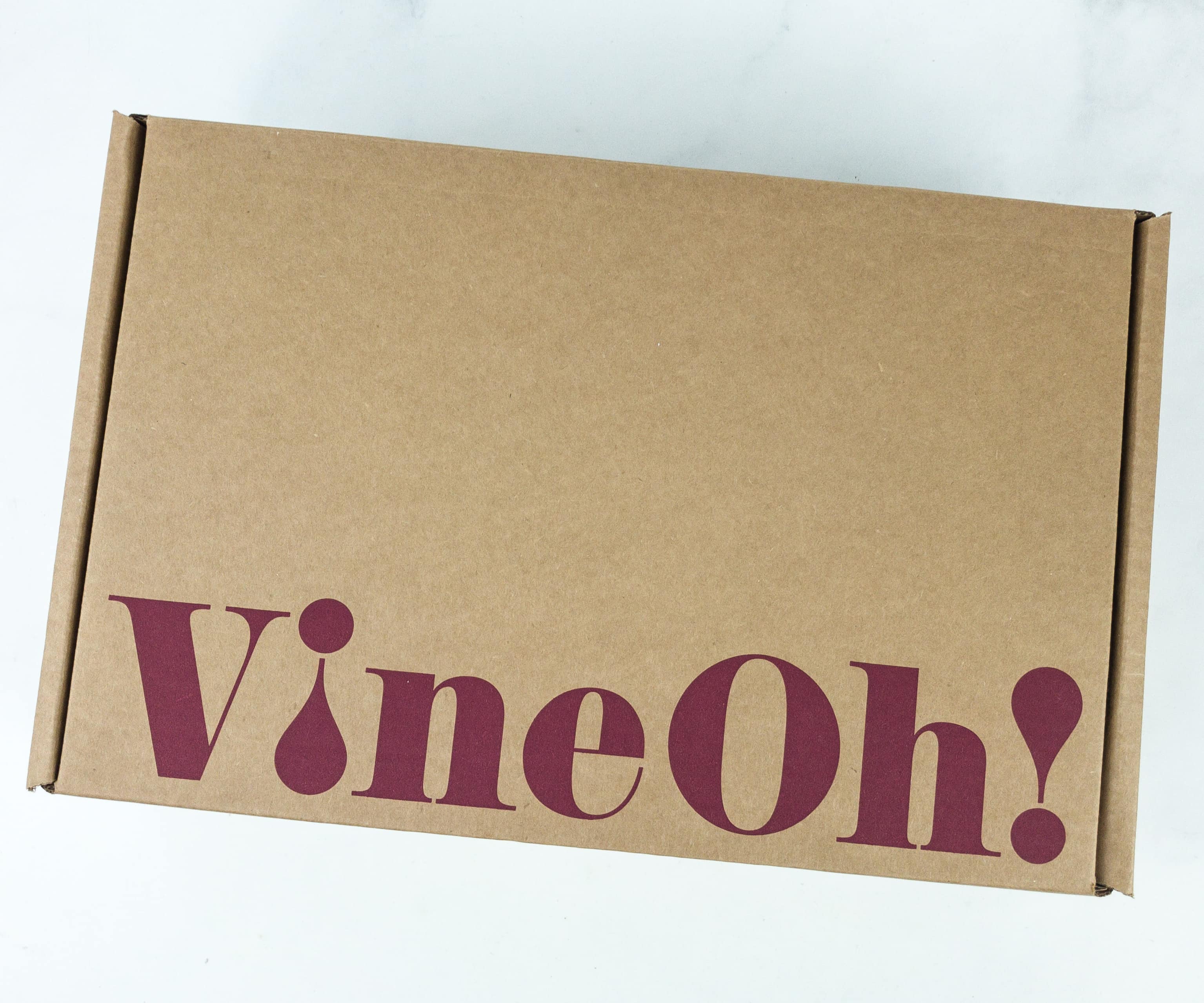 On to the lifestyle items!
The other special items were packed in a customized cardboard box.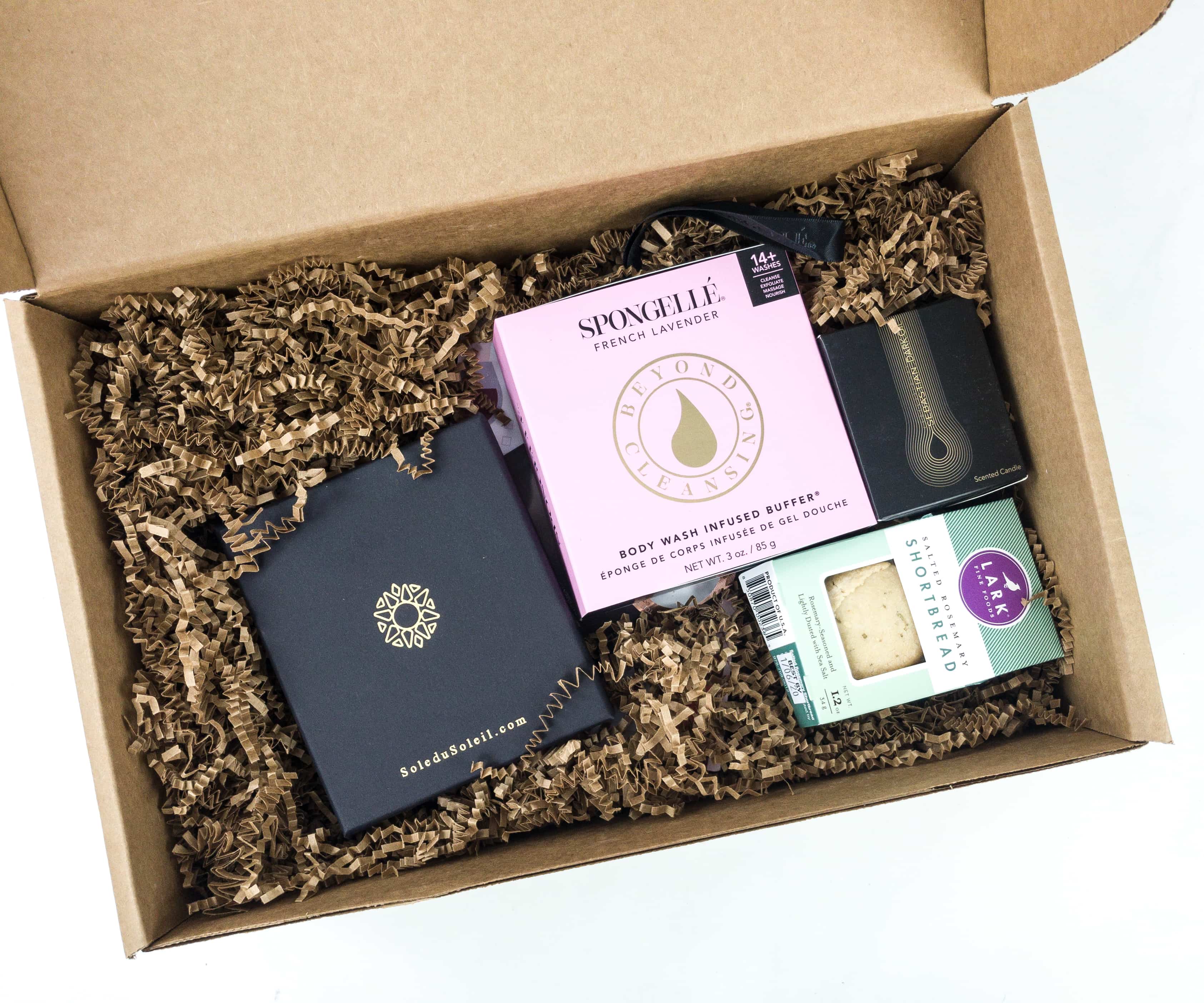 They are neatly stuffed on top of brown squiggles.
There's another sleeve holding a deck of info cards.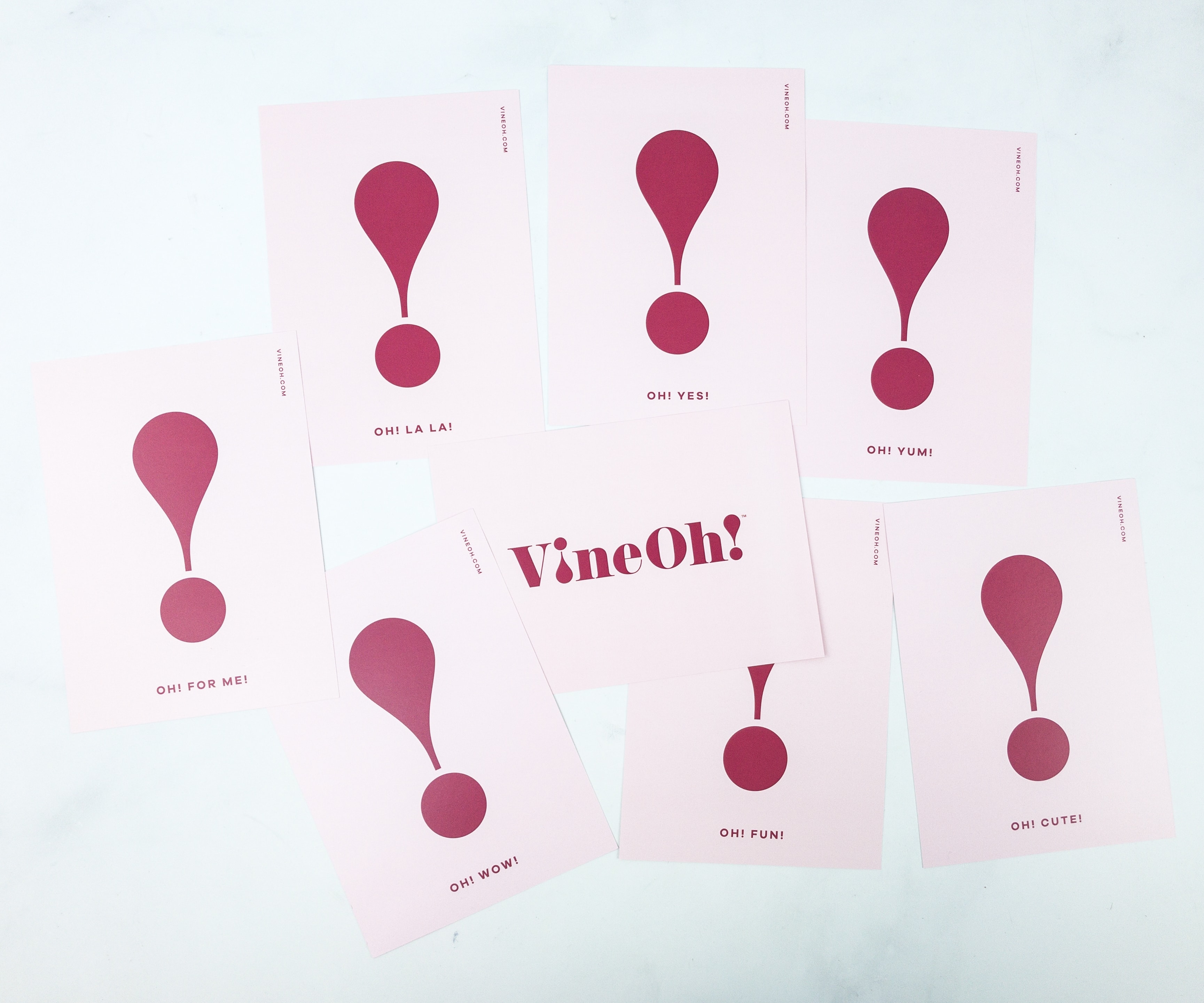 The cards look so appealing with the loud pink exclamation point as the brand signature.
Sole Du Soleil Marigold Double Circle Necklace ($49) An open-neckline top calls for a dainty necklace. I got one in this box and it's a rose gold plated piece.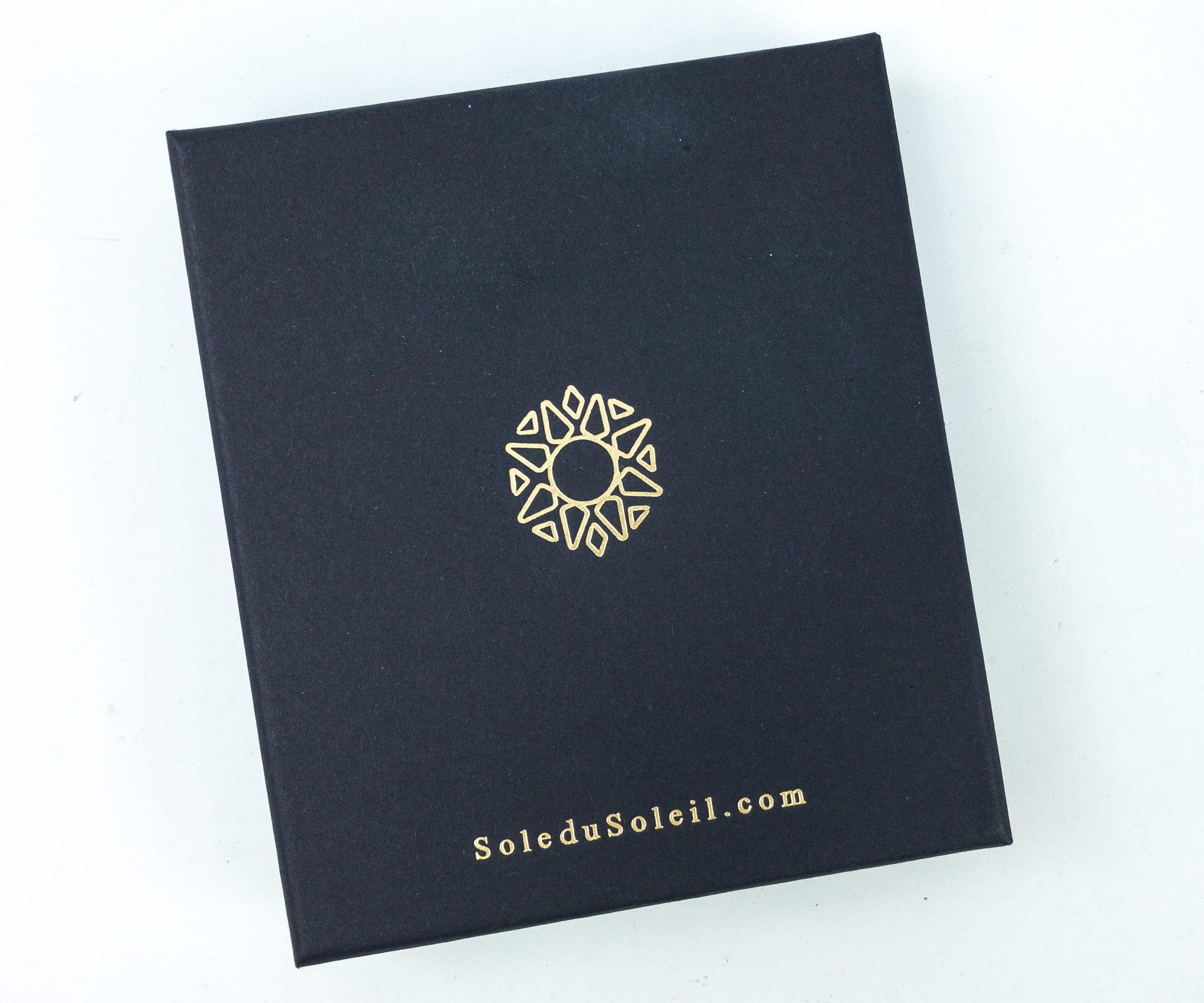 The necklace arrived in a giftable black box with a gold foiled design.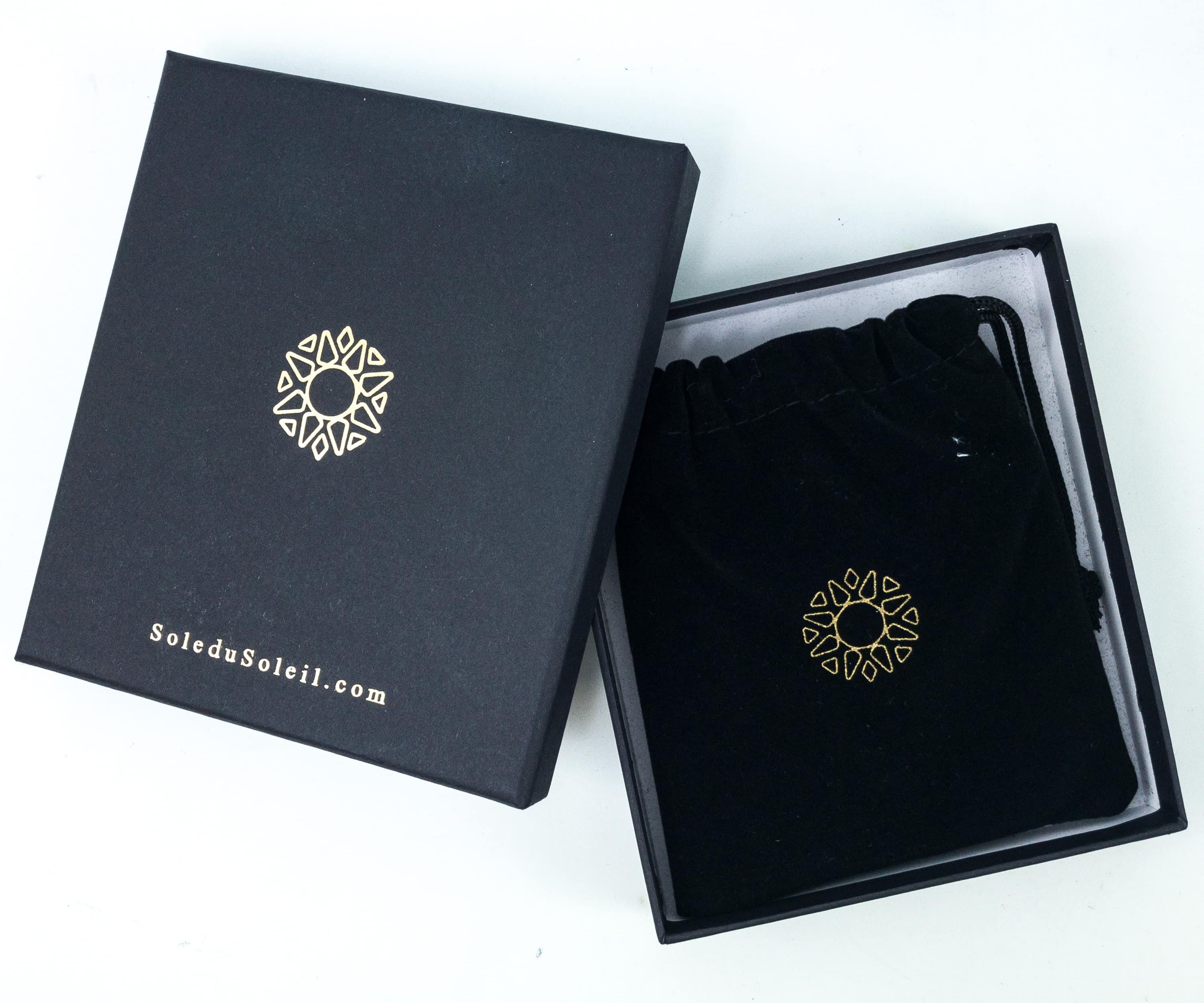 For extra protection, they even packed the necklace inside a drawstring pouch.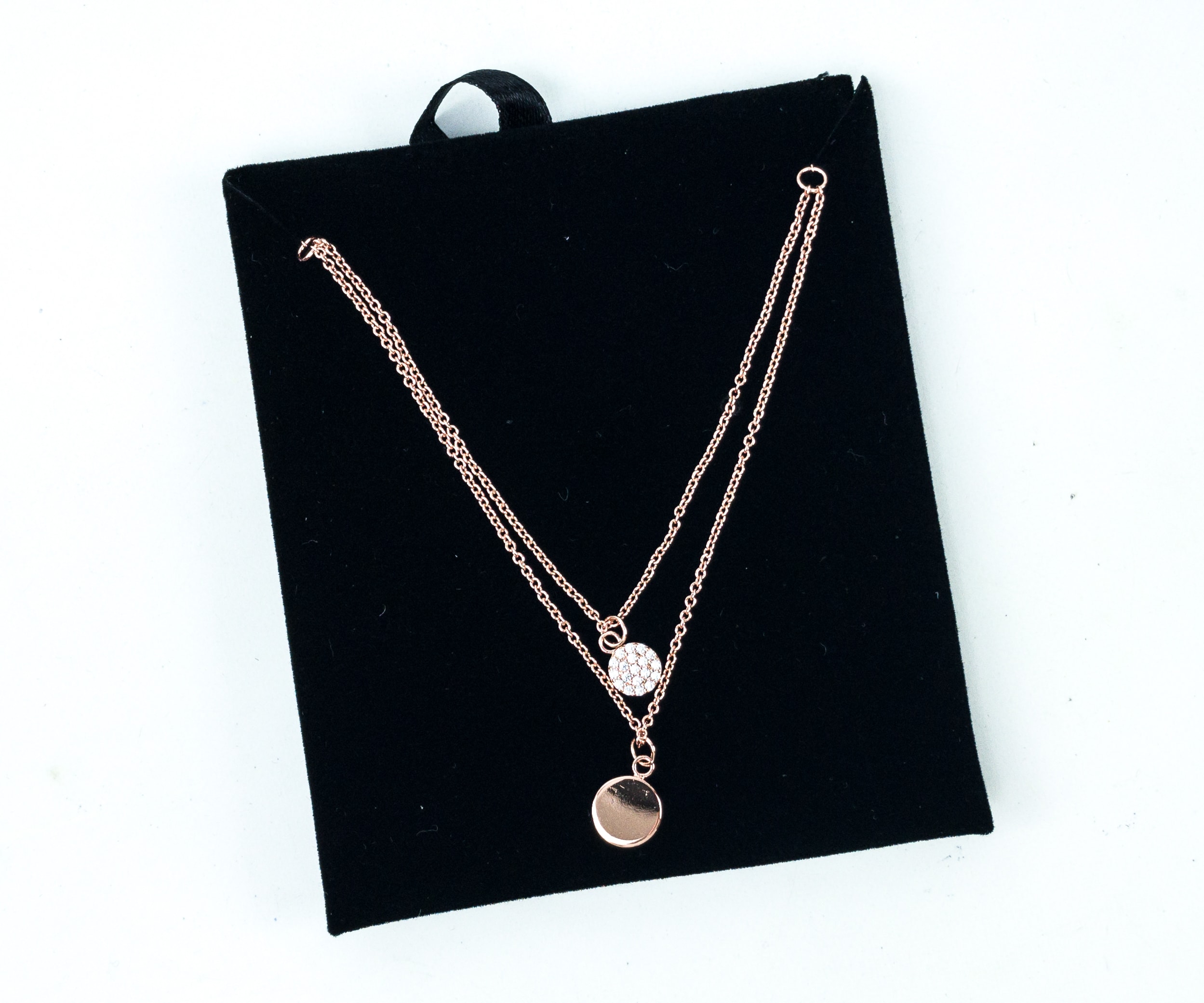 It's so pretty in rose gold! This necklace can be worn alone or layered with other pieces.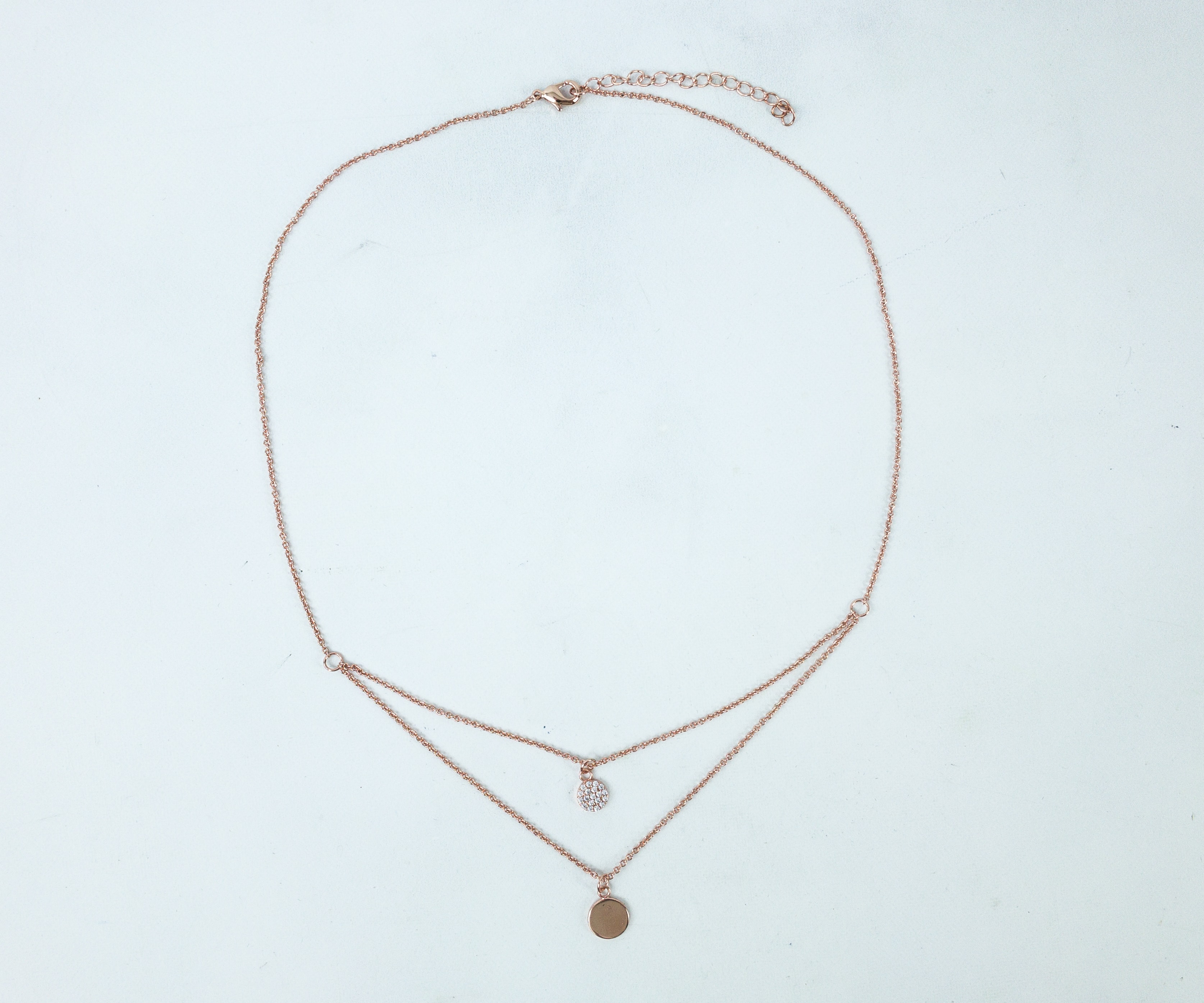 The chain measures 18″, which is just right for me as the pendants hang nicely below my clavicles. It also comes with a lobster clasp to keep it in place.
The two pendants are equally beautiful. One is a simple coin-shaped pendant, while the other one boasts of pavé set clear stones.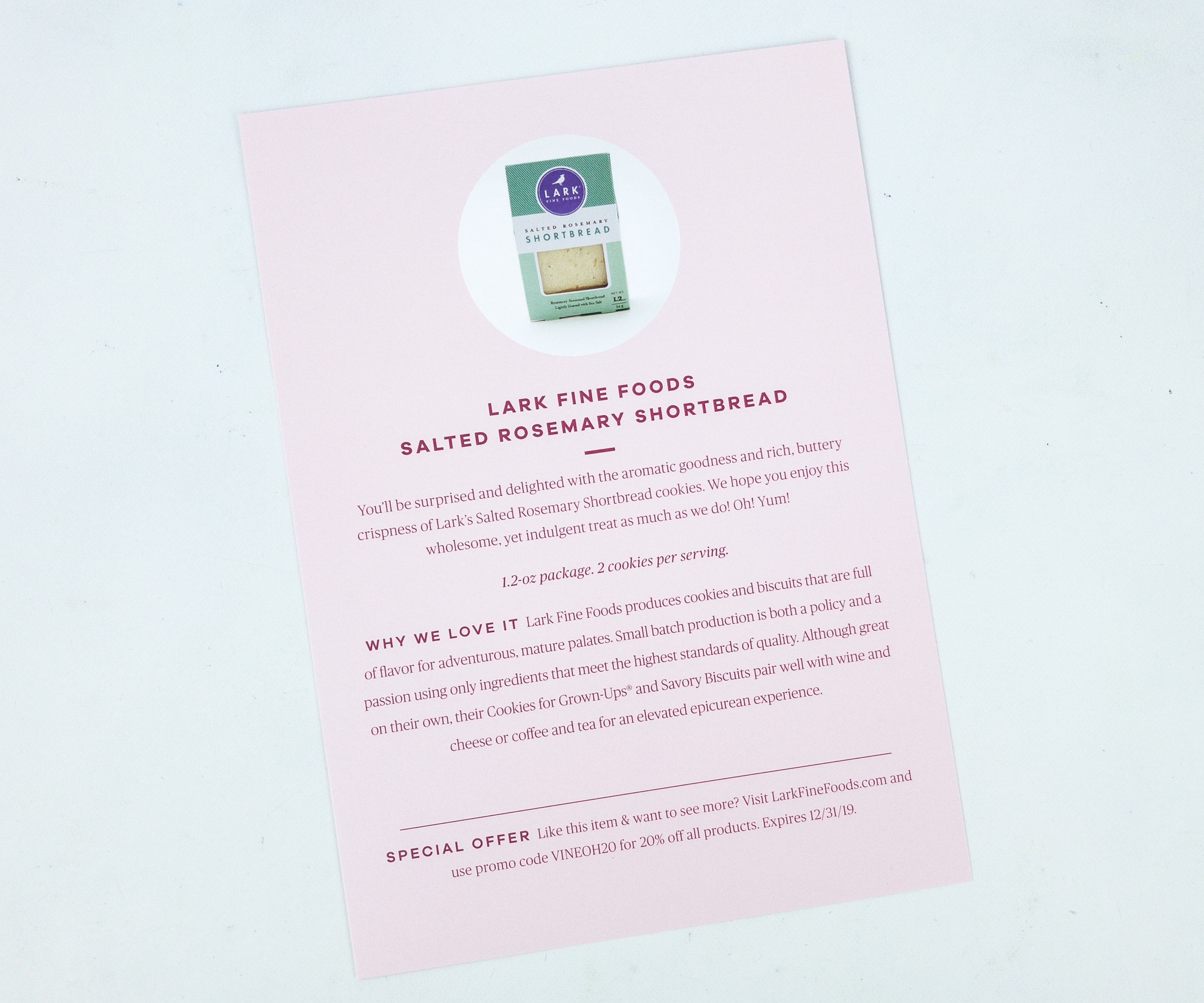 Lark Fine Foods Salted Rosemary Shortbread ($3) These shortbread cookies are one of the tastiest ones we've ever tried! They're rich and oh-so-buttery!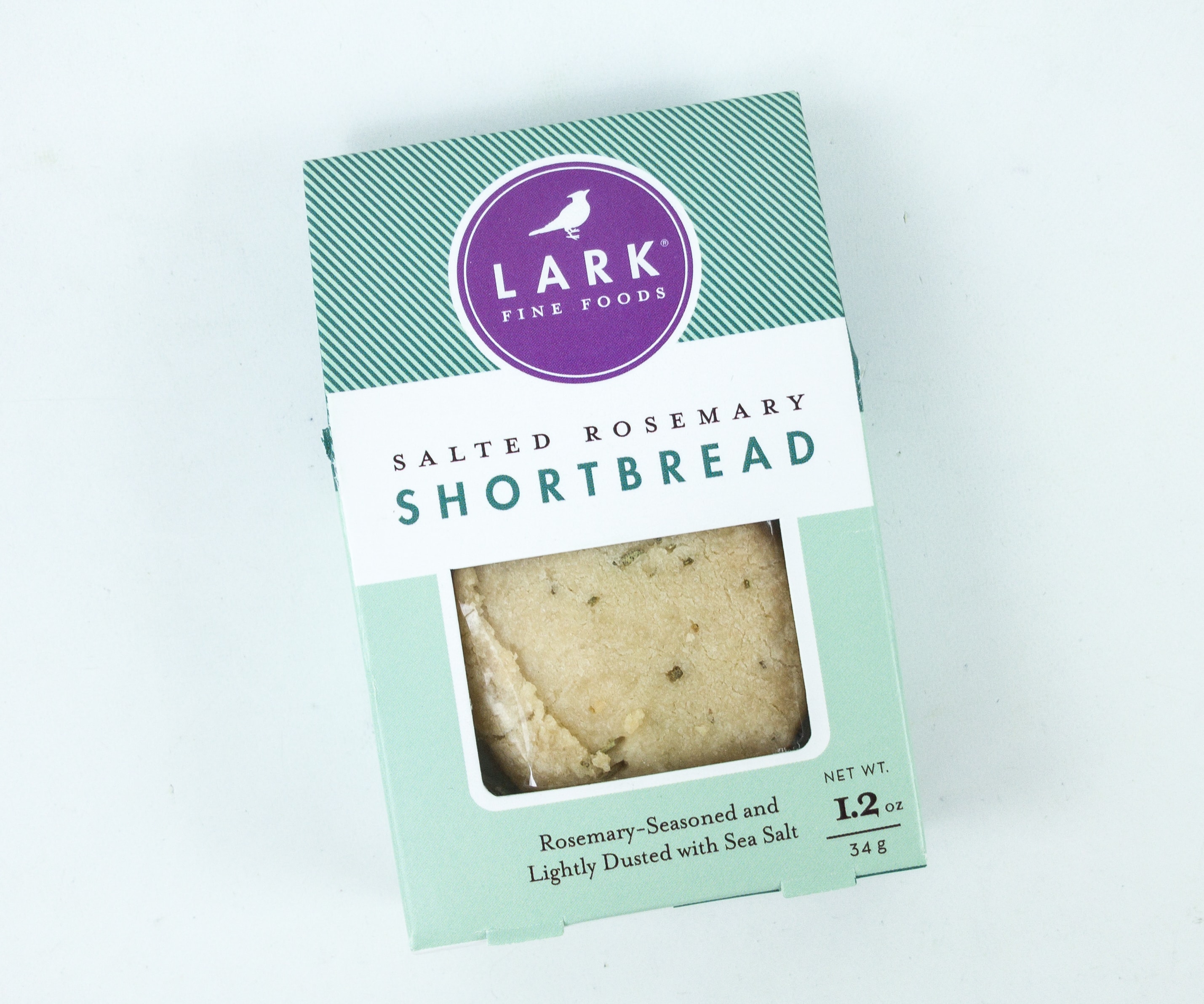 The cookies arrived in a window-type packaging so you can already take a peek at that mouthwatering treat.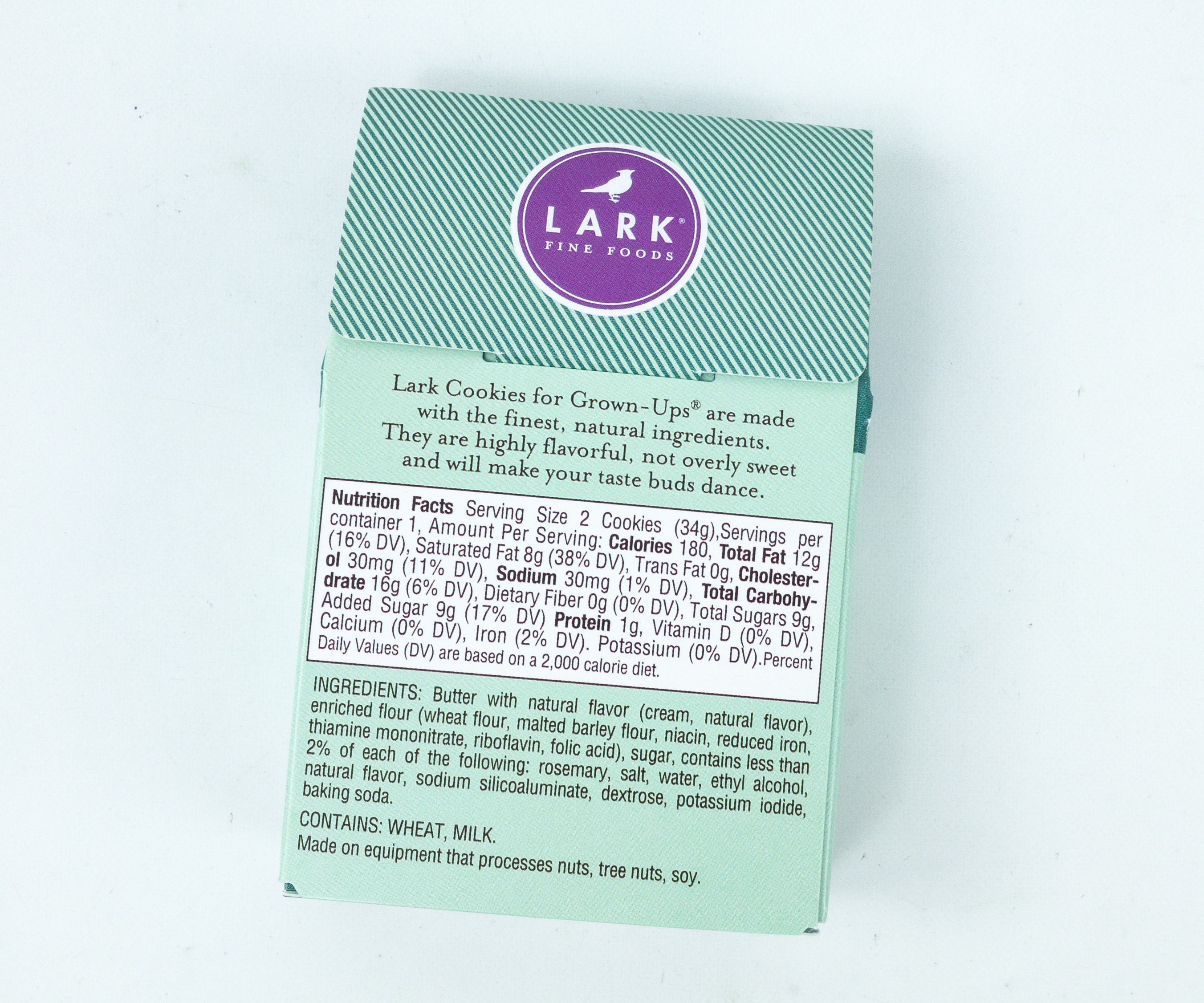 These cookies are seasoned with rosemary and dusted with sea salt, which tastes like heaven, by the way.
There are two cookies in the box but we wish there's more. They definitely taste wonderful with wine, and they're not overly sweet like regular shortbread cookies.
Spongellé French Lavender Body Buff ($16) Infused with body wash, this buff makes it easier for us to cleanse, exfoliate, massage and nourish our skin. It smells so soothing because of lavender!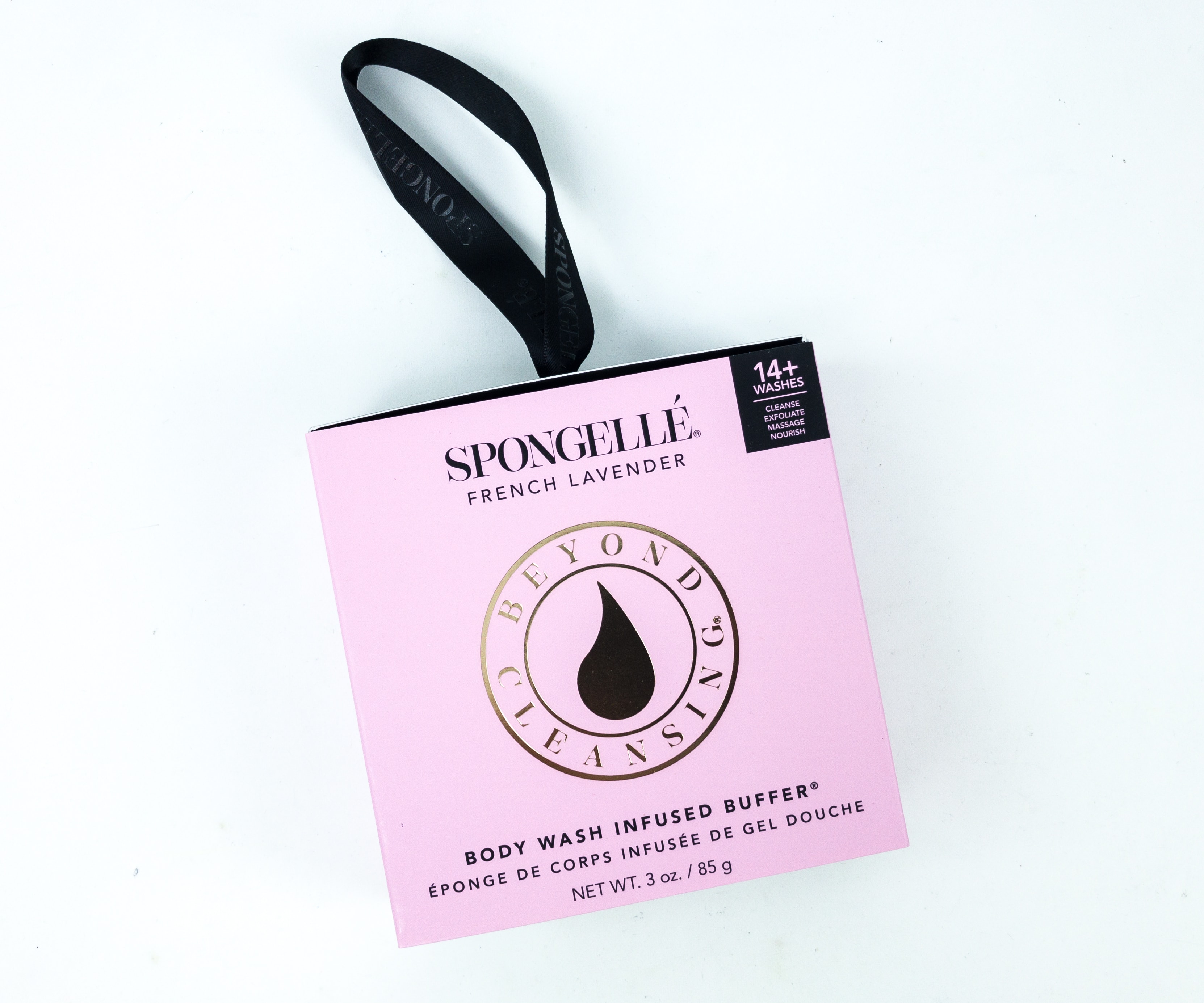 According to the label, this buffer can last up to 14+ washes!
Aside from lavender, it also contains yuzu, edelweiss, and vetiver. They work together to cleanse the skin and leave it nourished.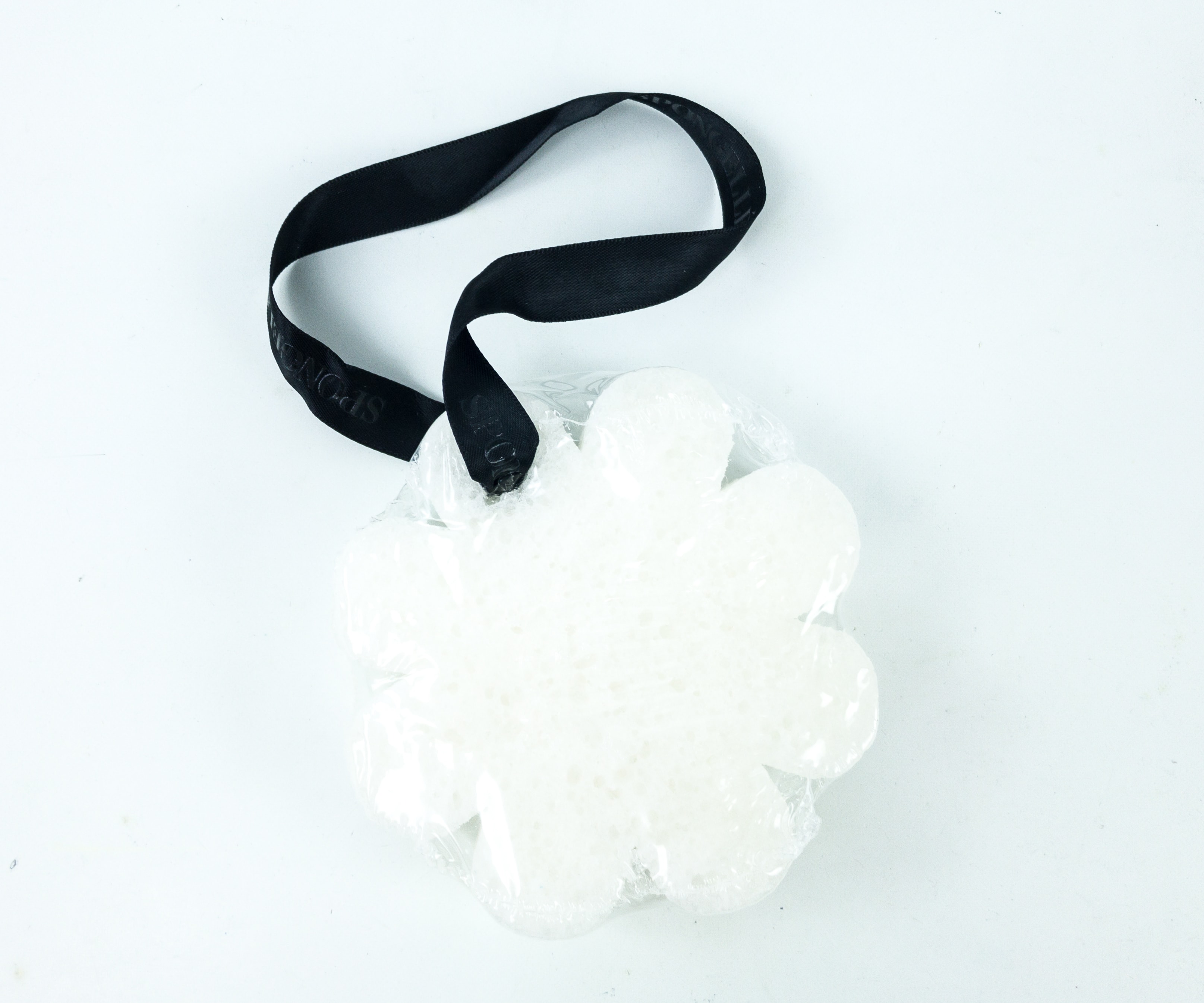 The body buff is shaped like a flower. It's attached to a strap so you can hang it when not in use.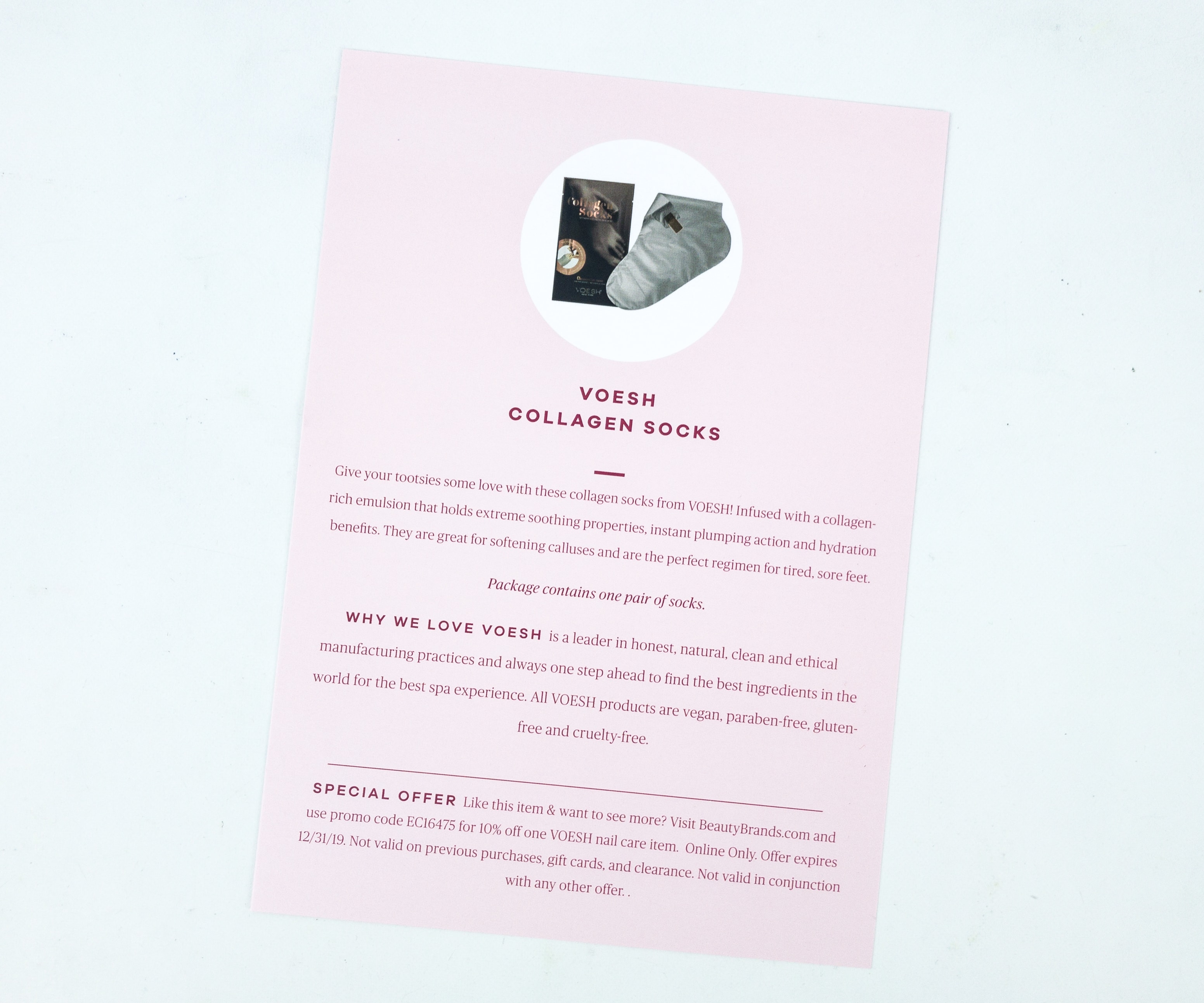 VOESH Collagen Socks ($5) These collagen socks provide a spa-like treatment for our feet in the comforts of our own home. Definitely a me-time must have!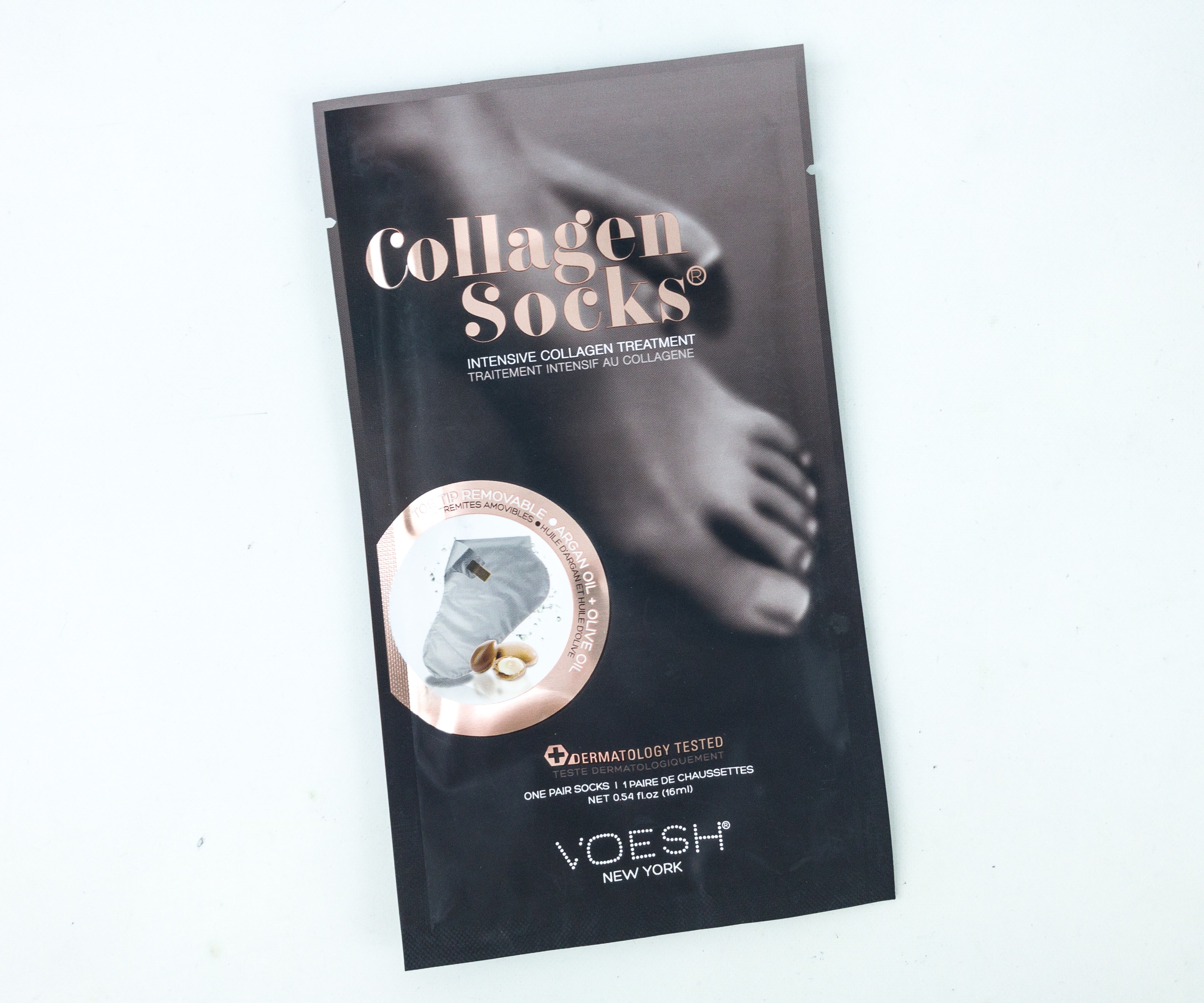 Each pack contains a pair of collagen socks. The socks are infused with argan oil and collagen-rich emulsion which delivers intense moisturize to the skin.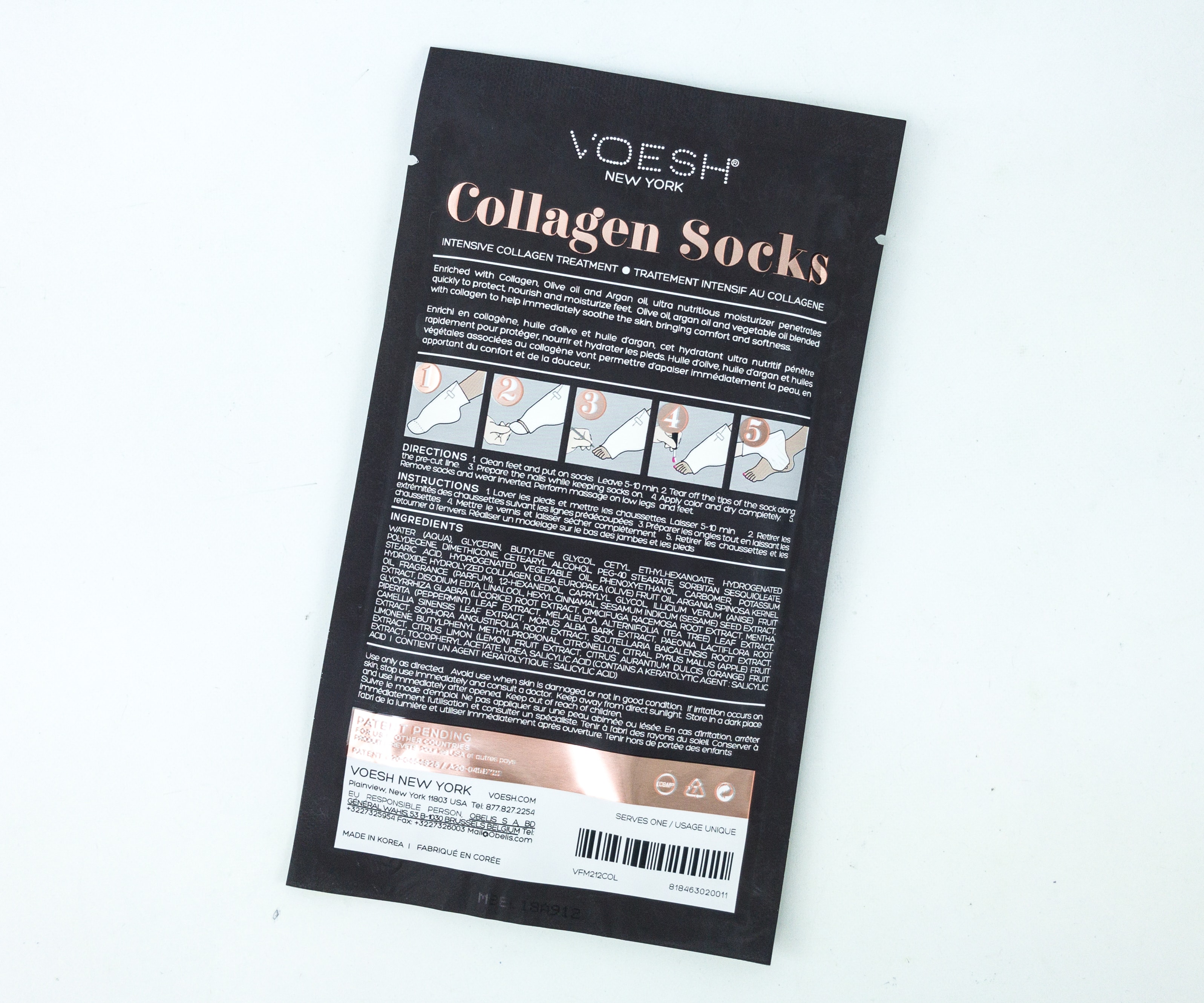 You can use it while having a pedicure as well, just remove the tips of the sock along the perforated lines.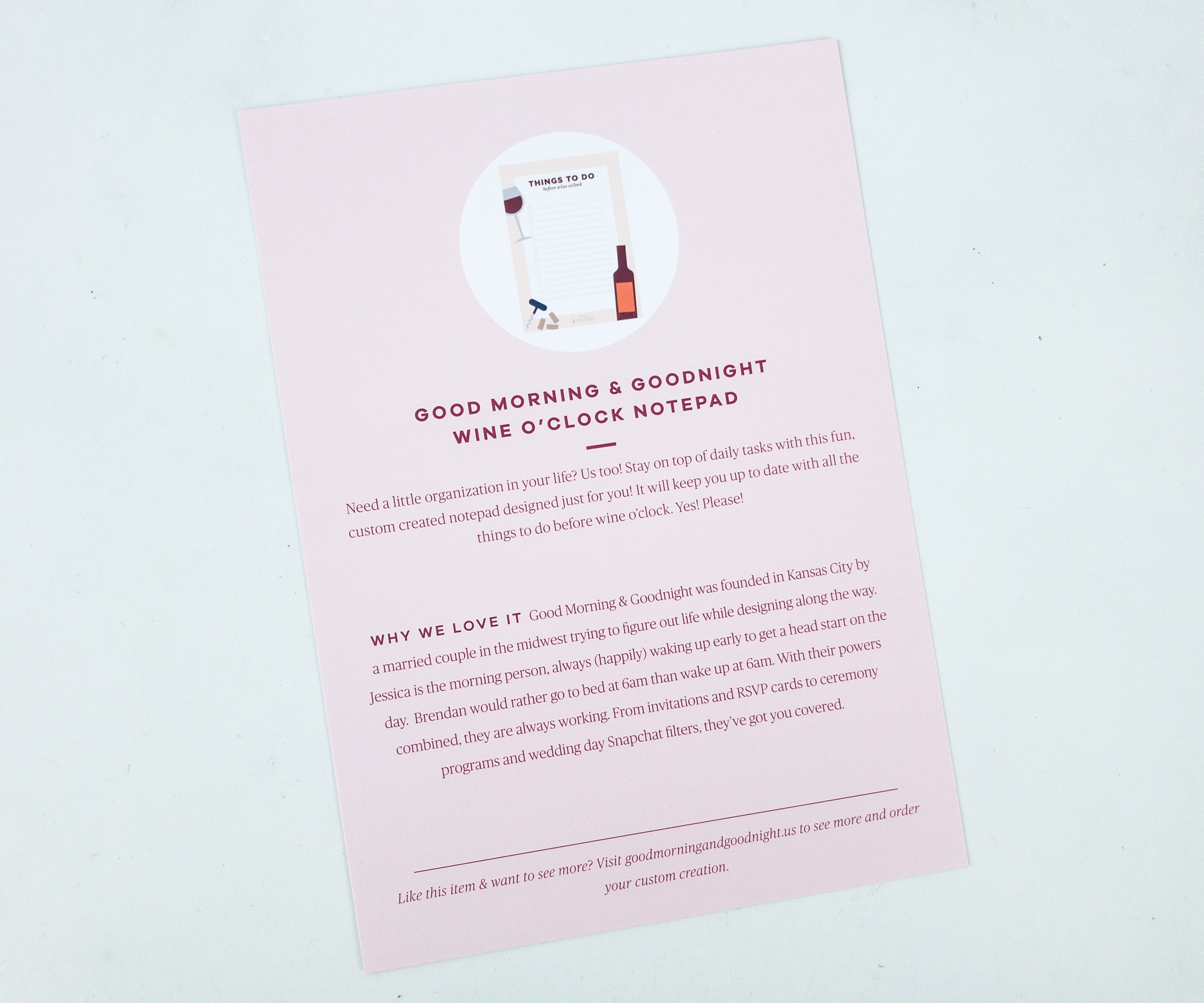 Good Morning and Goodnight Wine O'Clock Notepad ($15) Notepads will be forever useful for busy people and for those who love making lists like me. Here's a wine-themed one to help us keep track of the things we need to accomplish for the day and to keep us excited for wine o'clock!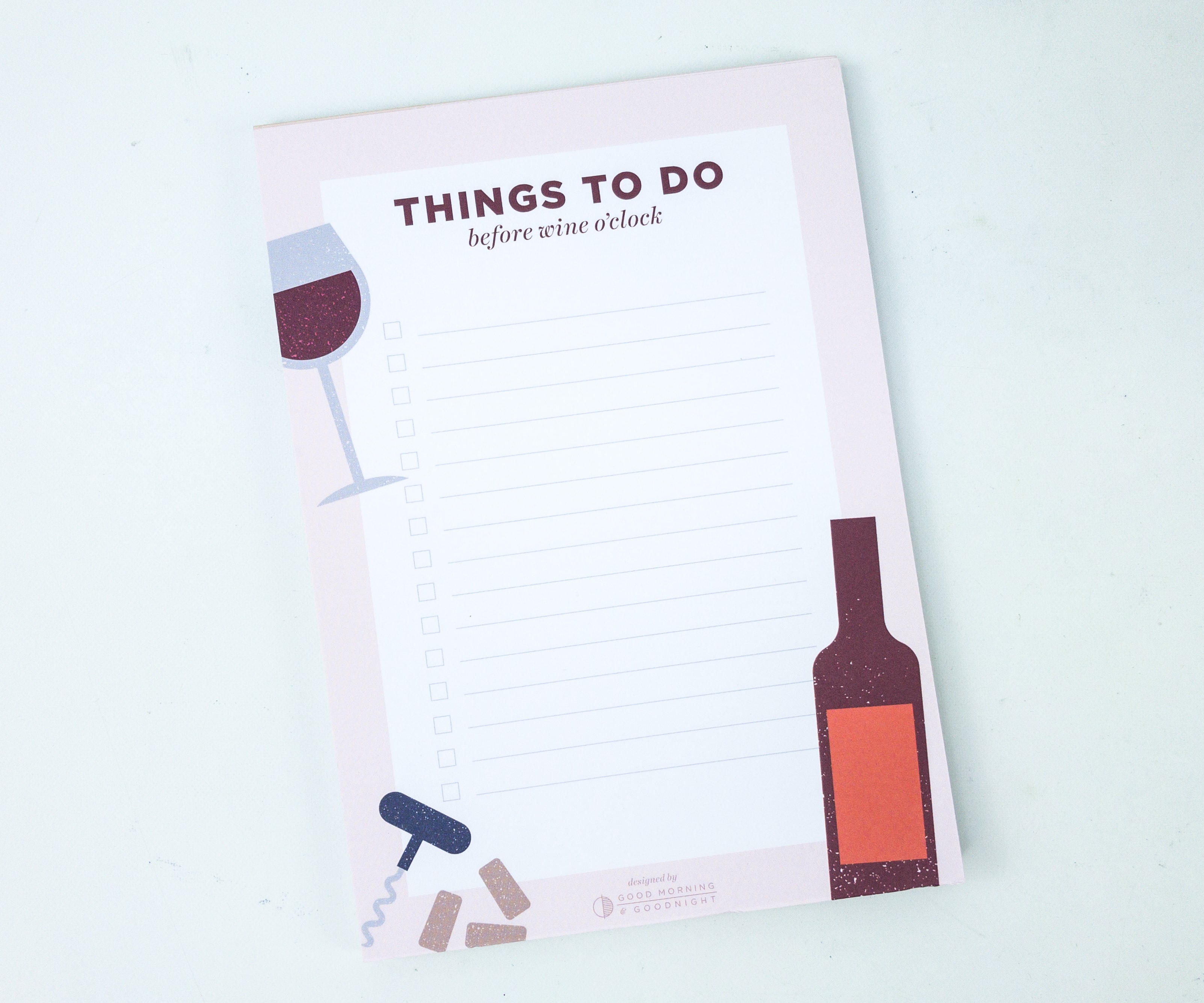 I love the clean and fun design! There's ample space to write things and there are even tick boxes on the sides. Of course, there are also some wine-related stuff like a wine bottle and glass!
Sebastian Professional Dark Oil Candle ($12) This brand is known for their amazing dark oil hair products, and now they've produced a candle inspired by its scent!
The scented candle is packed in a nice black box.
One side of the box included a promotion for Sebastian Professional Dark Oil.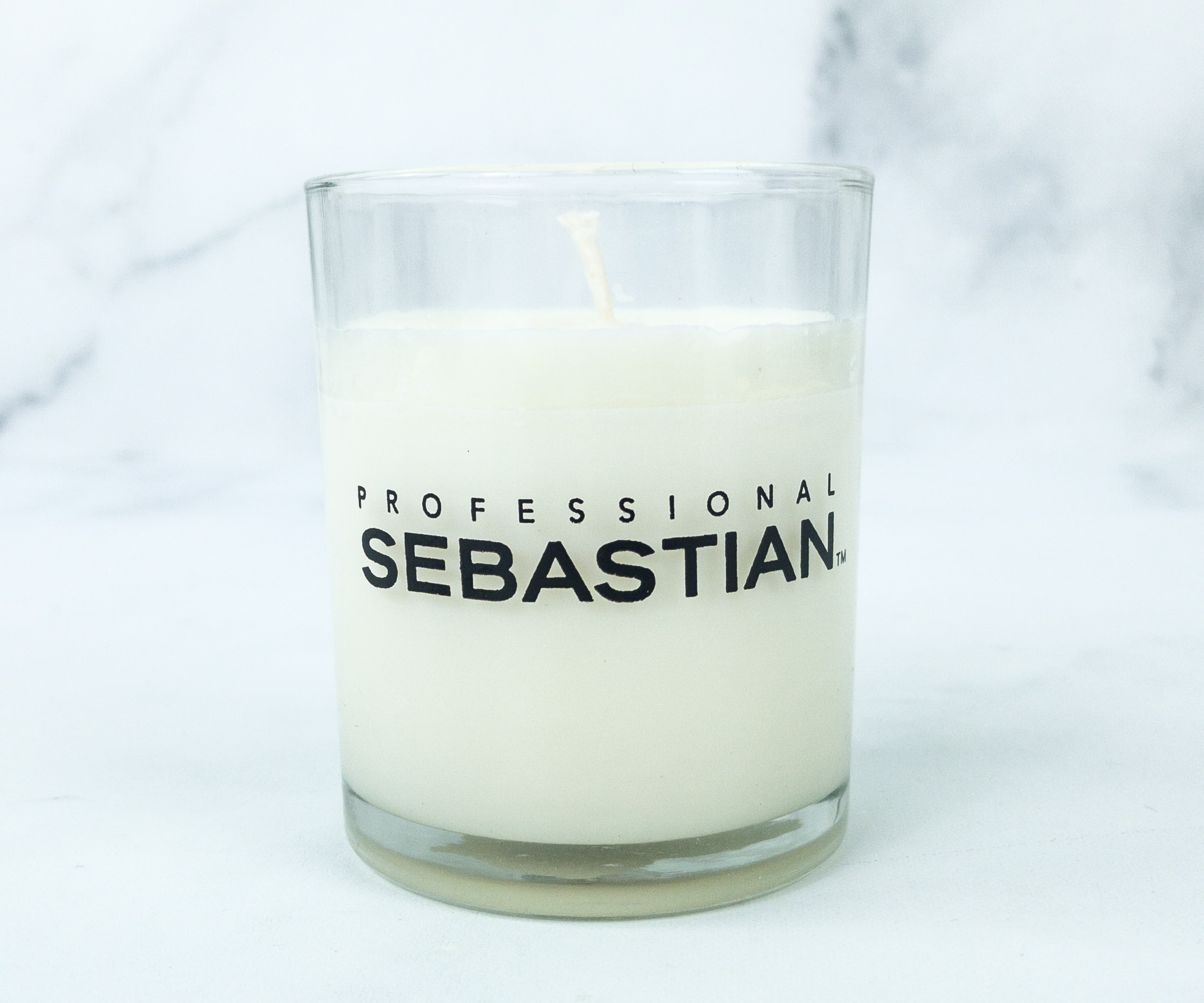 Here's the lovely candle inside a glass holder which also features the brand's logo.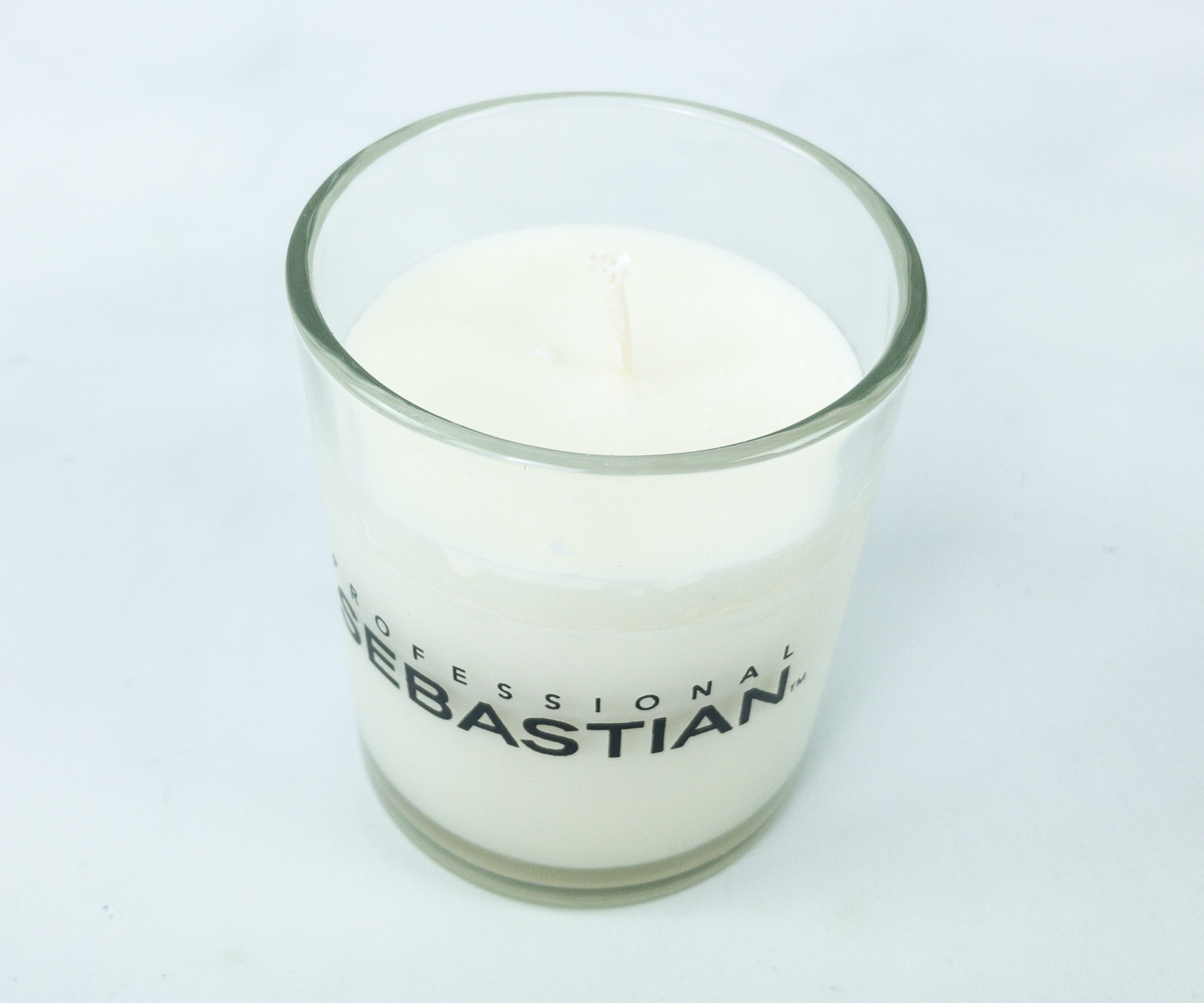 It has intoxicating notes of sandalwood and cedarwood. The scent quickly spreads in the room and makes me feel cozier.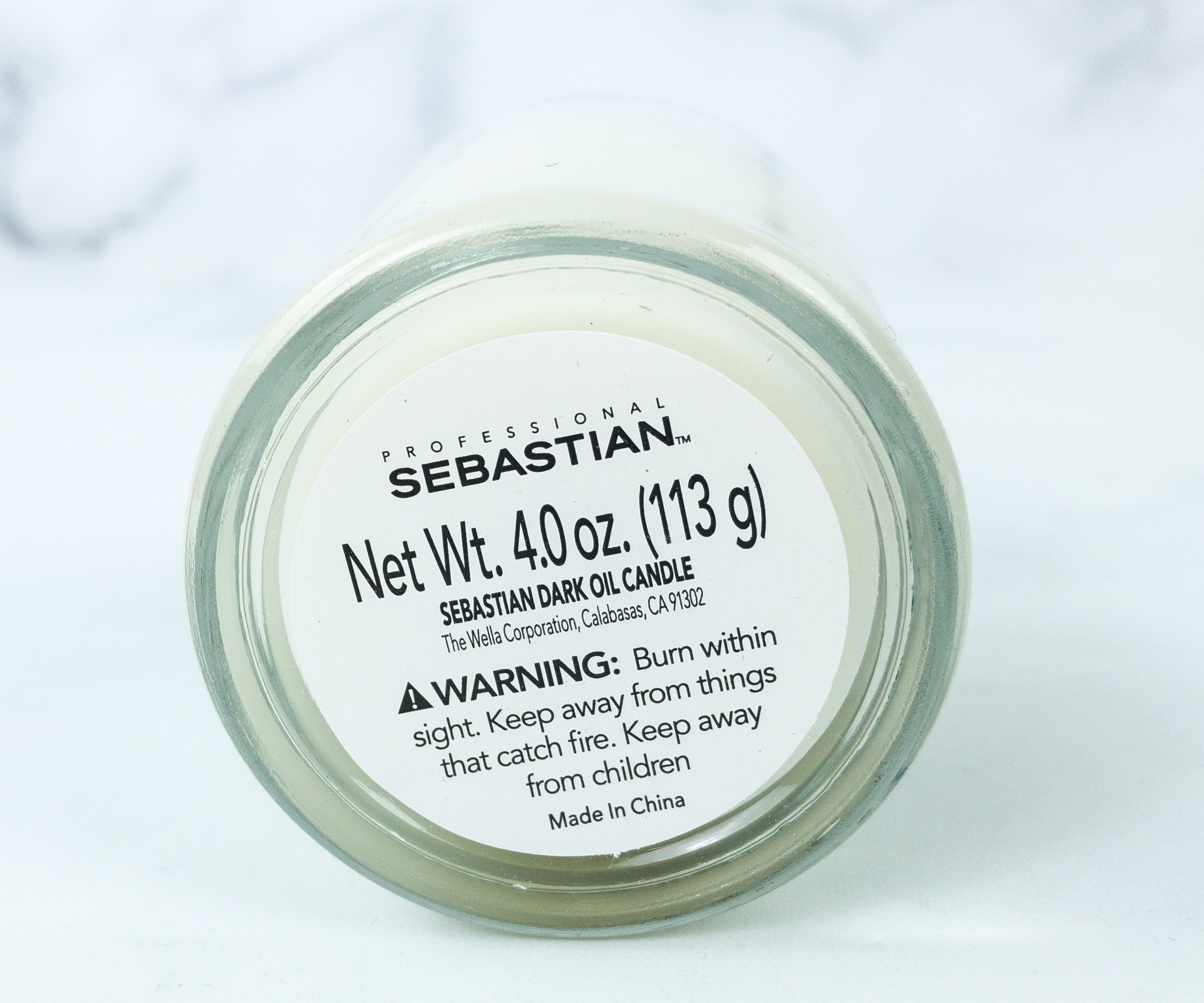 It's a 4.0 oz candle which can last up to 40-45 hours, just perfect to use whether in the living room or the bedroom.
The bottom of each card has a special offer from the featured brand, and most of them can be used until the end of the year.
Wine is always a good idea, and getting a box with wine and awesome lifestyle items is even better! Vine Oh never fails me with their wine picks, like this month's Cabernet Sauvignon and California Chardonnay. They're top quality and they're easy to pair with various kinds of food as well. As for the lifestyle items, there was a bunch that helped me have a relaxing me-time, like the collagen-infused socks and scented candle. I even got delicious cookies to pair with wine, plus a wine-themed notepad to help me get through until the next wine night. I love the necklace as well, it's such a dainty and versatile piece that I can wear this season and even on the next. All in all, this was such a jampacked box that pleased the wine-lover in me and even reminded me to slow down! Can't wait for the next!
What did you think of Vine Oh?