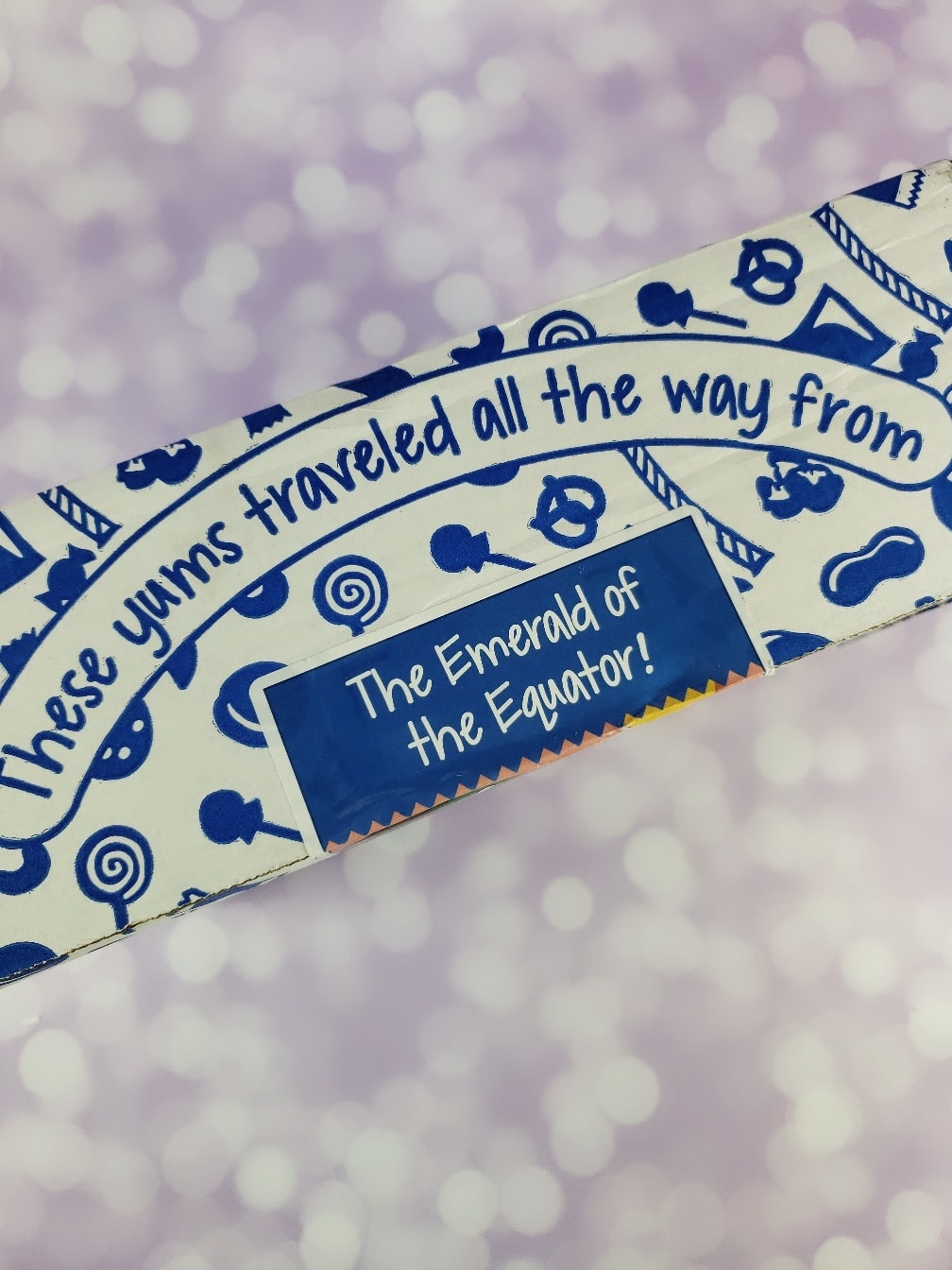 Universal Yums is a monthly international snack subscription box. Every month, you'll take a trip to a new country and munch on brand new exciting snacks. There are three sizes of box, the Yum ($14), the Yum Yum ($25), and the Super Yum Box($39). This is the Yum Yum box, and it's a fun subscription that we get a kick out of each and every month.
DEAL: Get $5 off your first month or a FREE box with an annual plan when you sign up for a Super Yum Box subscription! No coupon code needed, just use this link to sign up!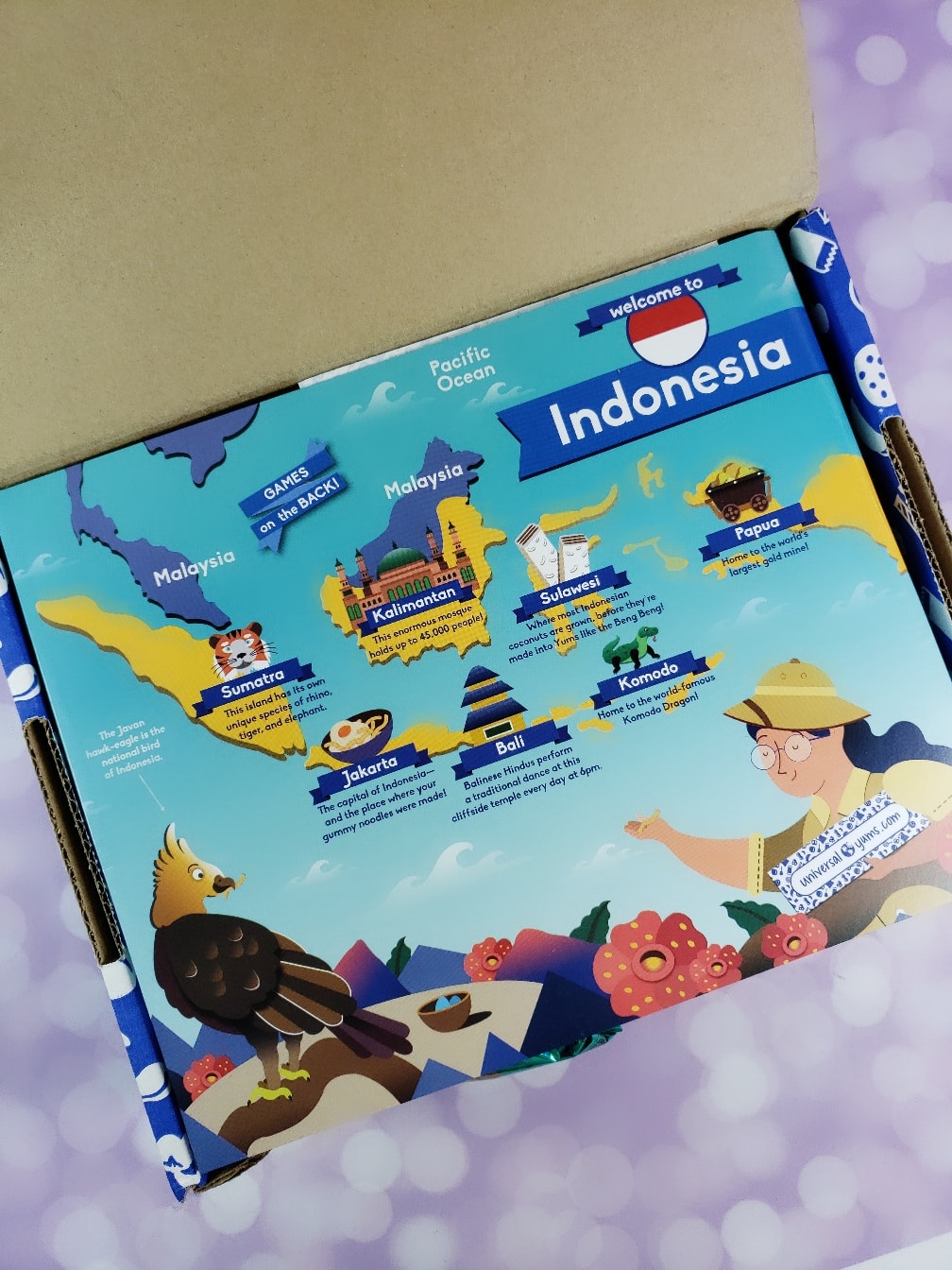 This month, the yums we received are from Indonesia!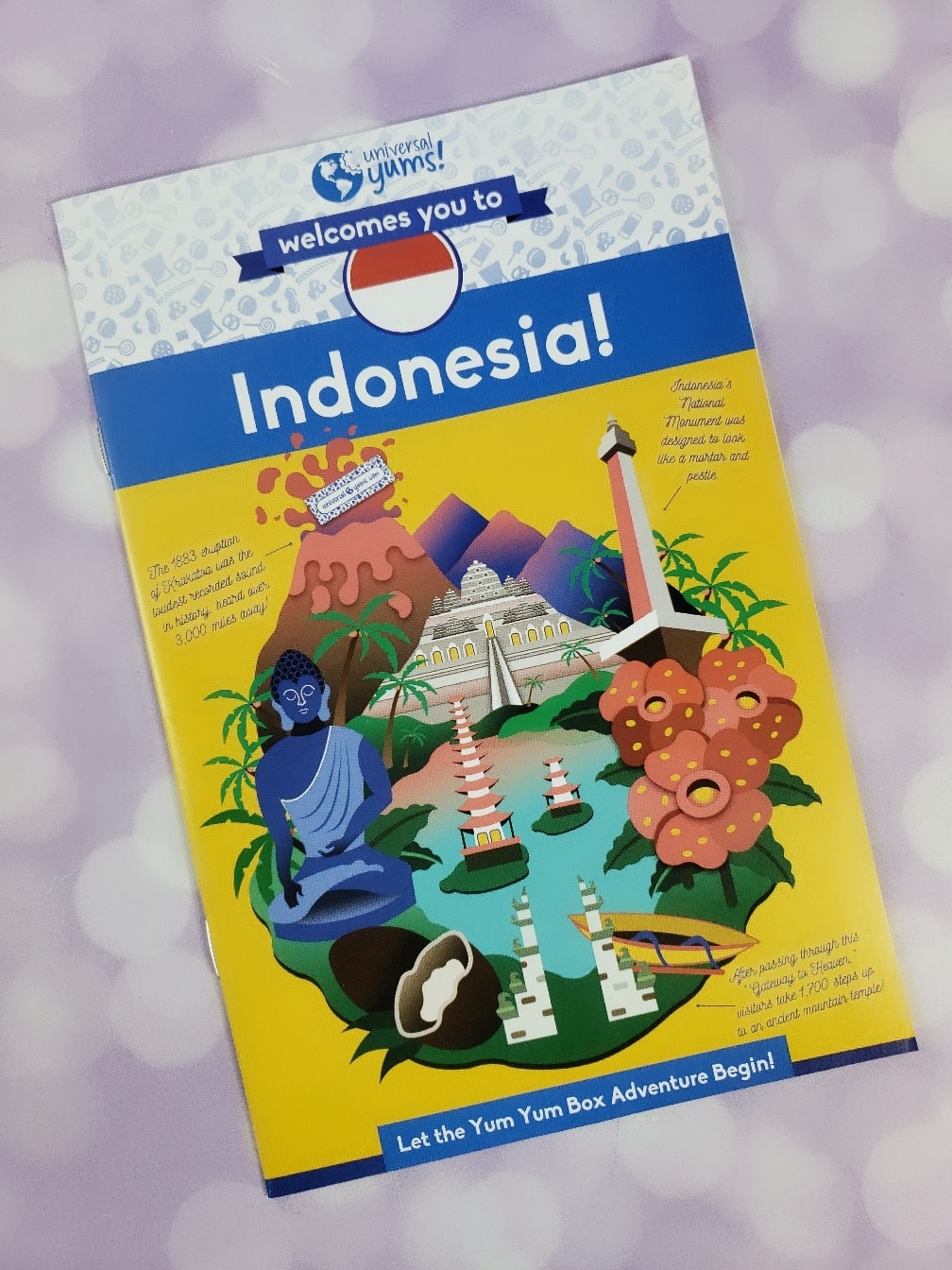 Inside the box is a booklet with a brief history about the featured country and the snacks inside the box.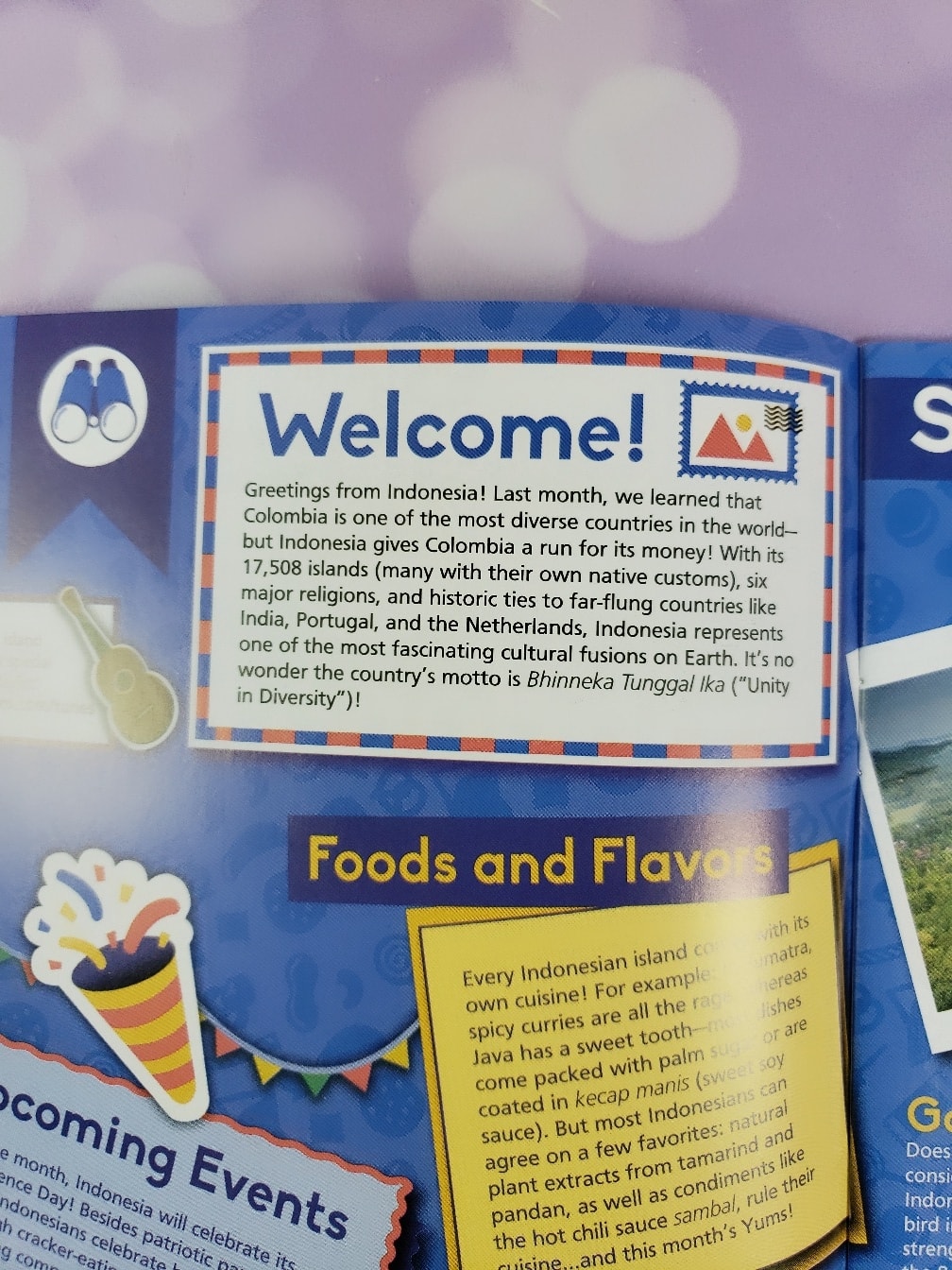 According to the booklet, India is one of the most diverse countries in the world with its 17,508 islands and 6 major religions. They also have this motto "Bhinneka Tunggal Ika," which means Unity in Diversity!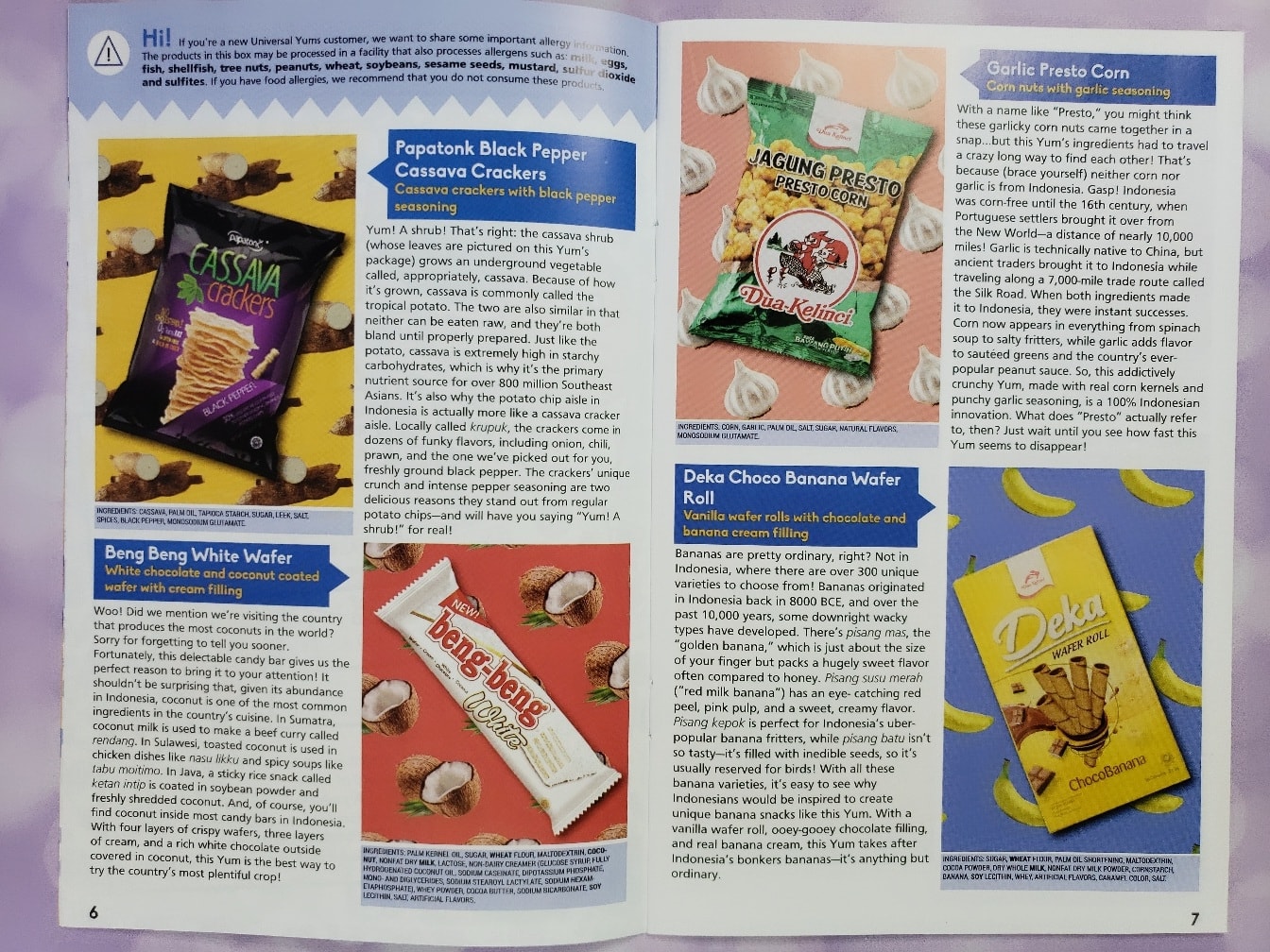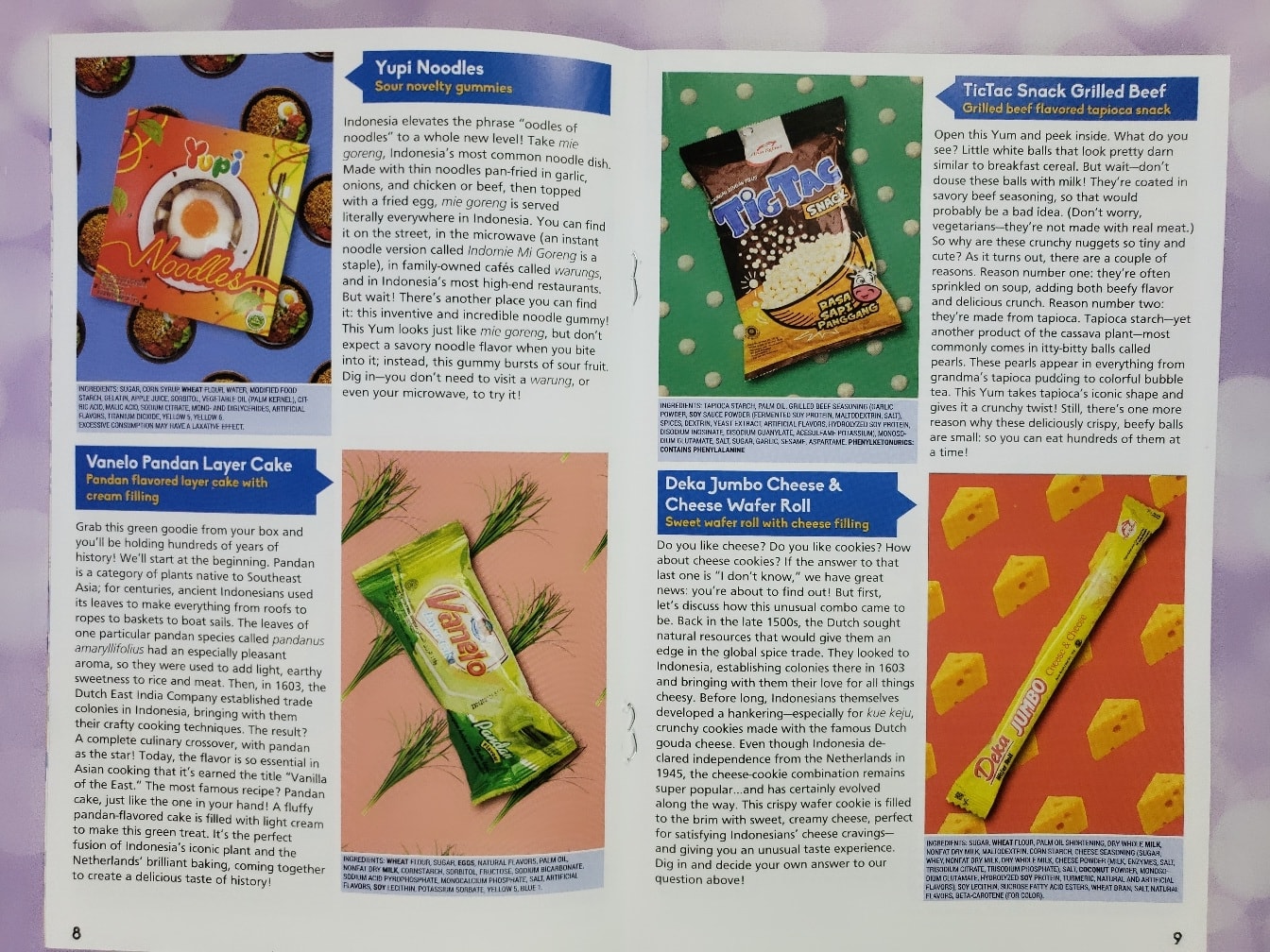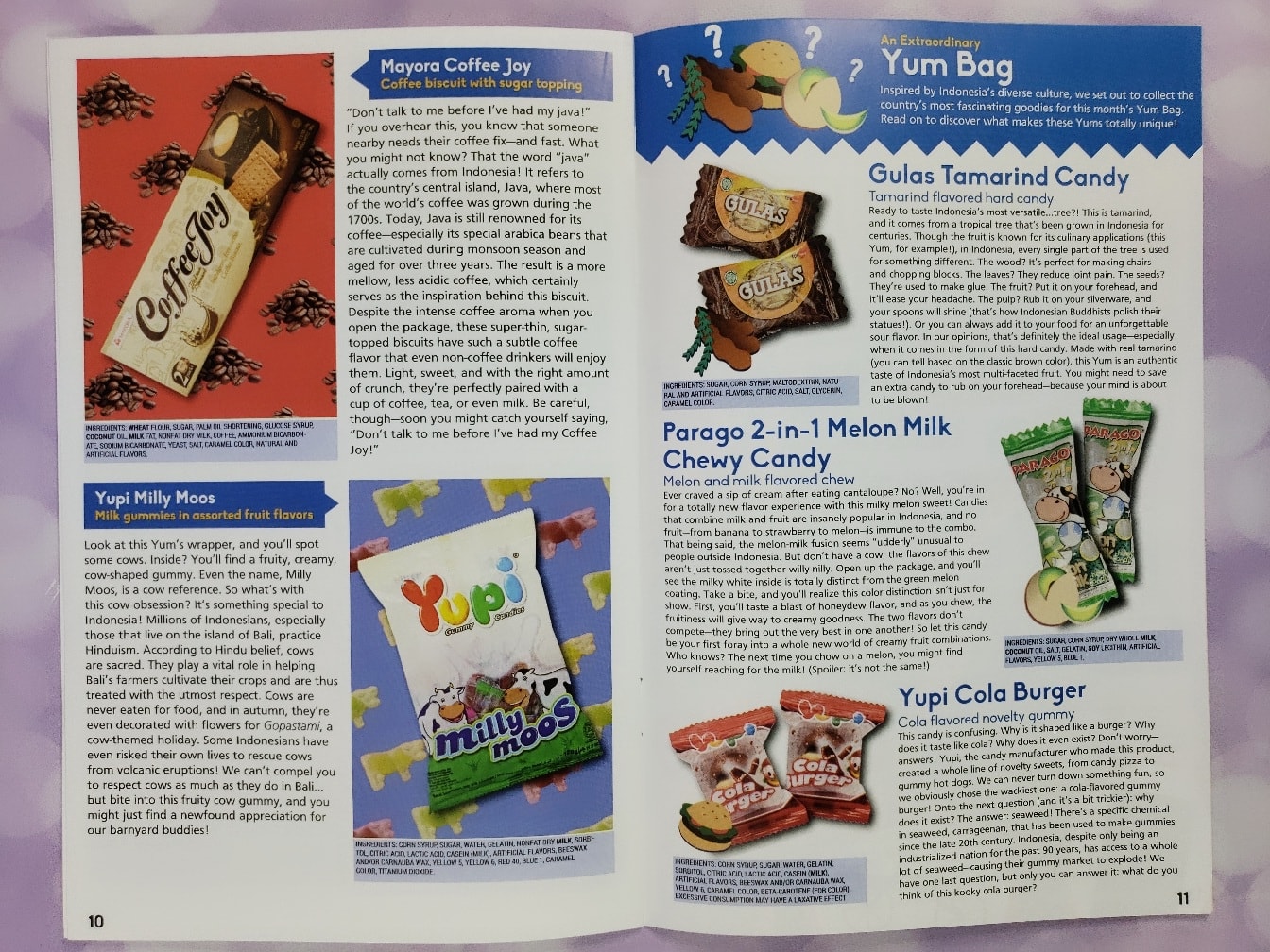 The booklet has notes about all of the items and their respective ingredients. They even included some trivia or history about the snack and how it might taste!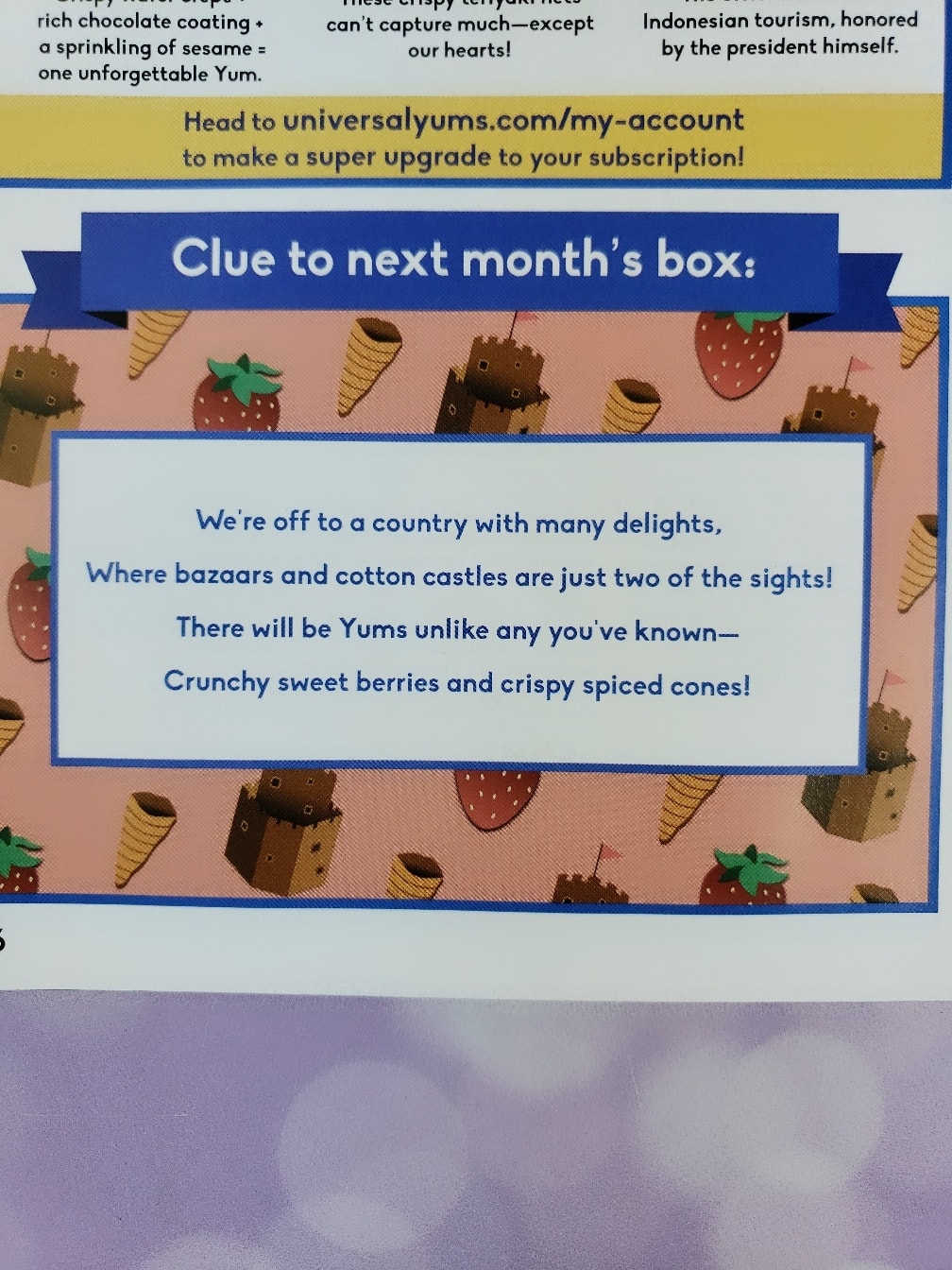 This booklet even provides a clue about the next box!
Everything in my box!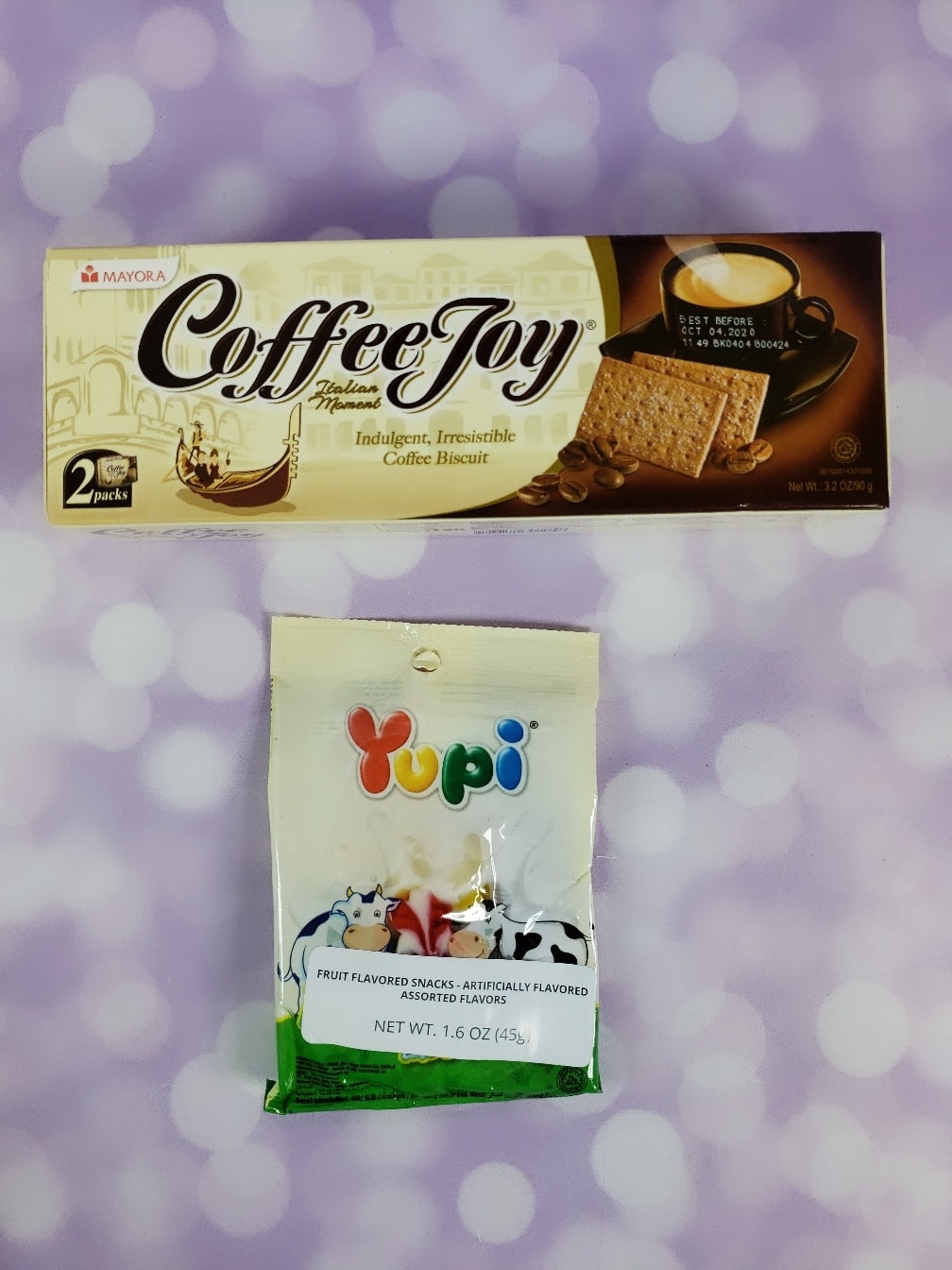 Mayora Coffee Joy. These biscuits are perfect when I need to stay awake but don't have coffee on hand. Each piece was crunchy and aromatic!
Yupi Milly Moos. I got a pack of artificially-flavored fruit gummies. They're cow-shaped, plus they're soft and chewy!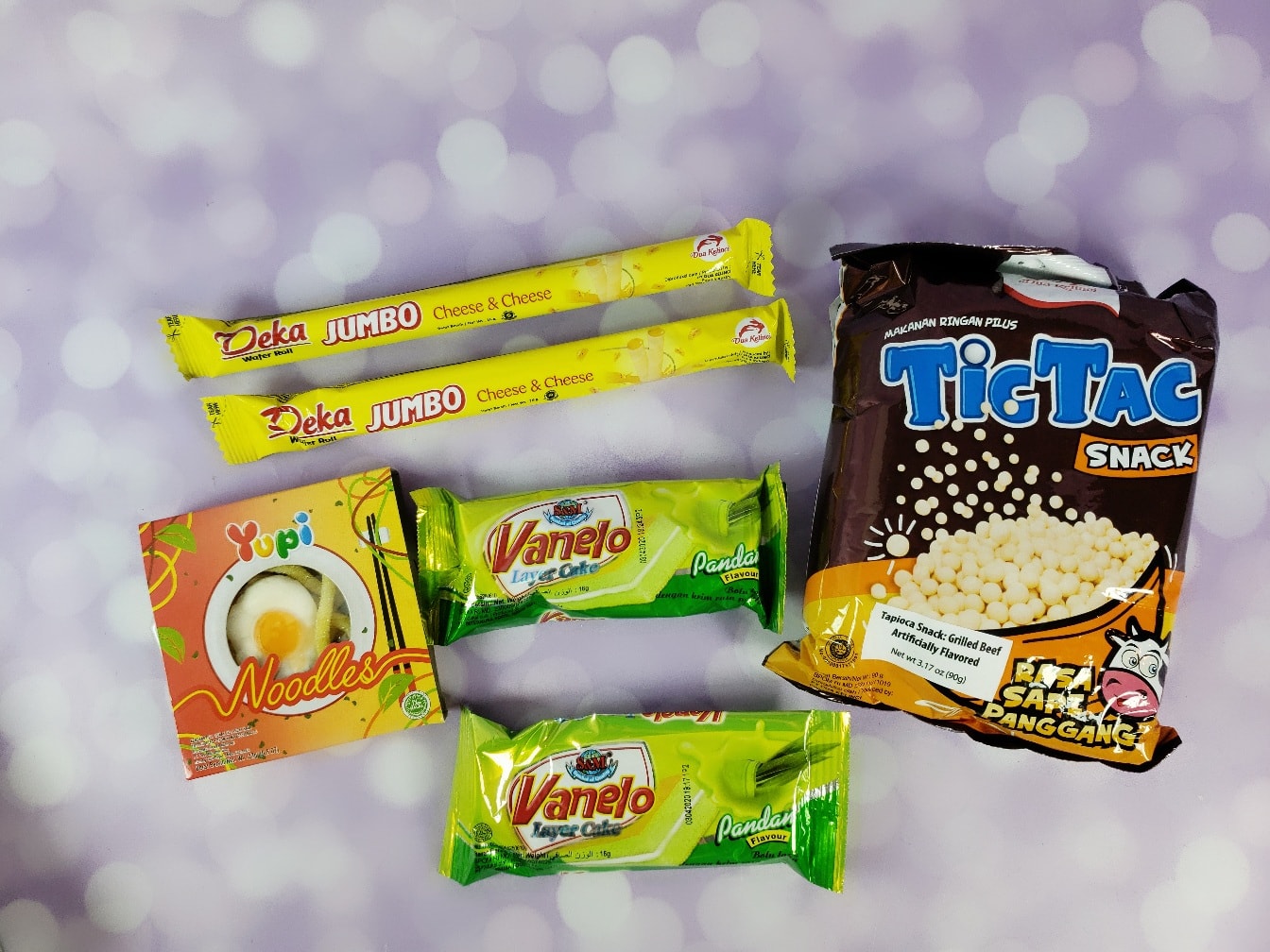 Deka Jumbo & Cheese Wafer Roll. These wafer rolls are just perfect for afternoon snacking. They are so crispy and cheesy. Every bite is oozing with a delectable cheese filling that bursts in the mouth.
Yupi Noodles. Nope, this is not a noodle dish, but a sour gummy that looks like Mie Goreng, an Indonesian noodle dish pan-fried in garlic, onions, and chicken or beef, and topped with a fried egg. It tastes really good!
Vanelo Pandan Layer Cake. Soft layers of bread with creamy pandan fillings make up this delicious snack. They were satisfying and the scent is quite inviting as well!
TicTac Snack Grilled Beef. This snack is a luscious tapioca treat blended with cassava and coated with a savory beef seasoning. This yum takes tapioca's iconic shape while providing you a crunchy little twist!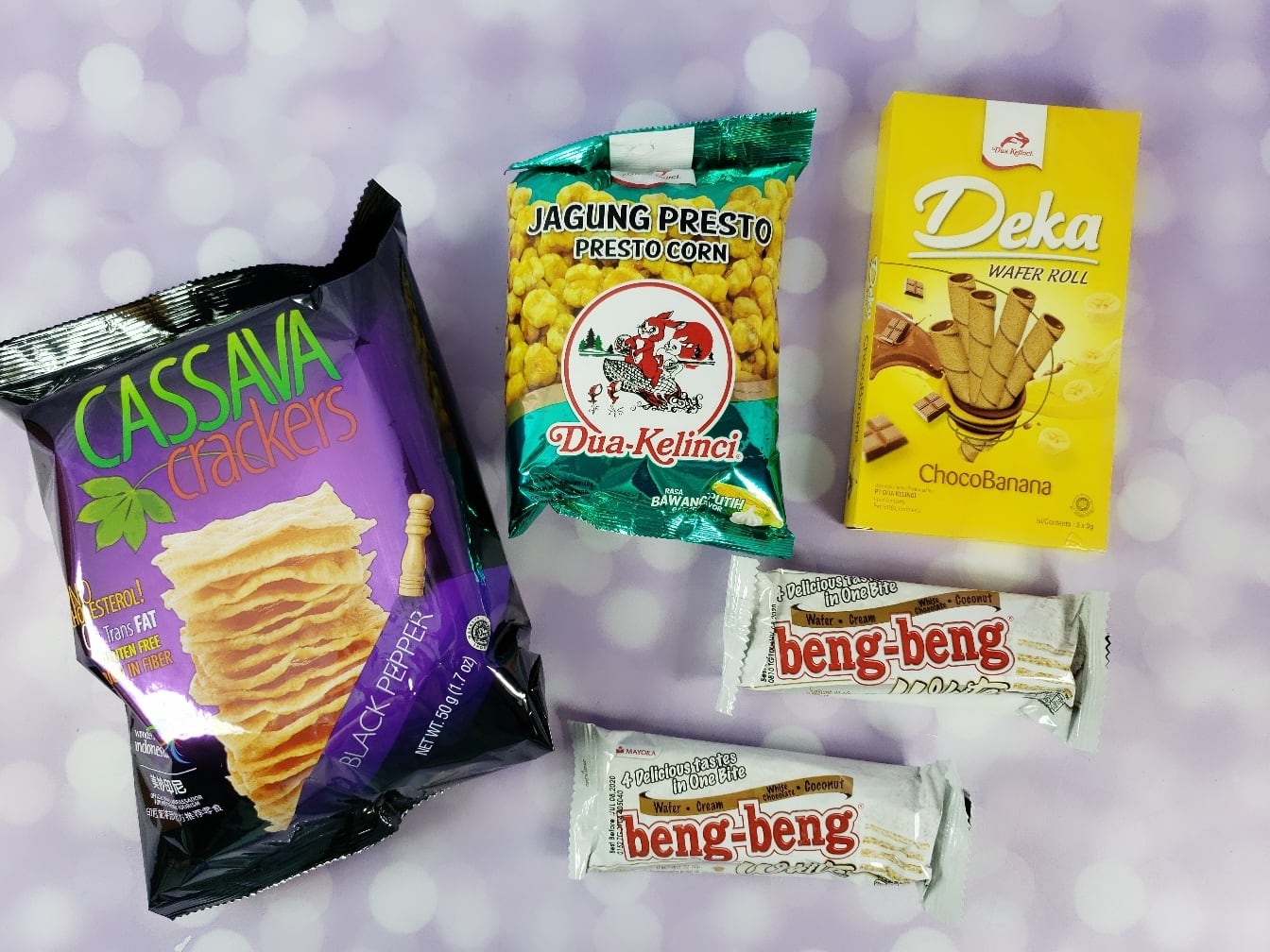 Papatonk Black Pepper Cassava Crackers. Compared to potato chips, these cassava crackers are way more fibrous and nutritious. They come with black pepper seasonings and they're perfect as is, but you can pair them with your favorite dips as well.
Deka Choco Banana Wafer Roll. We have another wafer roll in our box, and this time it comes in banana flavor plus a creamy chocolate filling.
Garlic Presto Corn. These are one of the most popular snacks in the Indonesia. Cornick is made from real corn kernels and punchy garlic seasonings. Its taste and crunchiness are absolutely addicting!
Beng Beng White Wafer. A sweet, white chocolate-coated wafer bar with four layers of creamy vanilla and shredded coconut filling. So sweet and tasty!
Yupi Cola Burger. These yummy gummies are stacked like burgers, and they are even colored like its components but the buns are a little darker since they are cola-flavored. They're soft, chewy, and delicious!
Gulas Tamarind Candy. We got another bunch of sweets for sharing. They are hard-shelled sweet candies with a sour tamarind flavor in the middle.
Parago 2-in-1 Melon Milk Chew. Here's an additional milky treat, this time it is combined with the sweet and refreshing flavor of melon. It's also a fat-free candy, and it's so chewy but not that sticky.
This month's Universal Yums introduced us to another wonderful country, Indonesia! I know this country has a lot of tasty snacks, but I never expected it to be this yummy!!! All the snacks we got were really awesome, most especially the cassava crackers. It's so flavorful and a great alternative to potato chips. I also appreciate the inclusion of the treats for sharing. If you also have an adventurous palate and you don't mind trying a variety of snacks from different countries every month, this subscription is definitely the box to try!
Have you tried Universal Yums? What do you think?