Treats is a monthly snack subscription of snacks from a featured foreign country. You can expect to receive eclectic and interesting snacks that you've probably never sampled before. Snacks may include items like cookies, candy, and chips. The Standard Pack offers 5+ snacks, while the Premium box offers 10+. It's quick to enroll, and you'll get your first box within a few days of when you subscribe.
This is a review of the Premium pack – $25.95 per month.
DEAL: You can save 15% on your first month with coupon code HELLO15.
I recognized the flag sticker holding the tissue paper closed – it's the flag of South Korea!
This is going to be a fun month!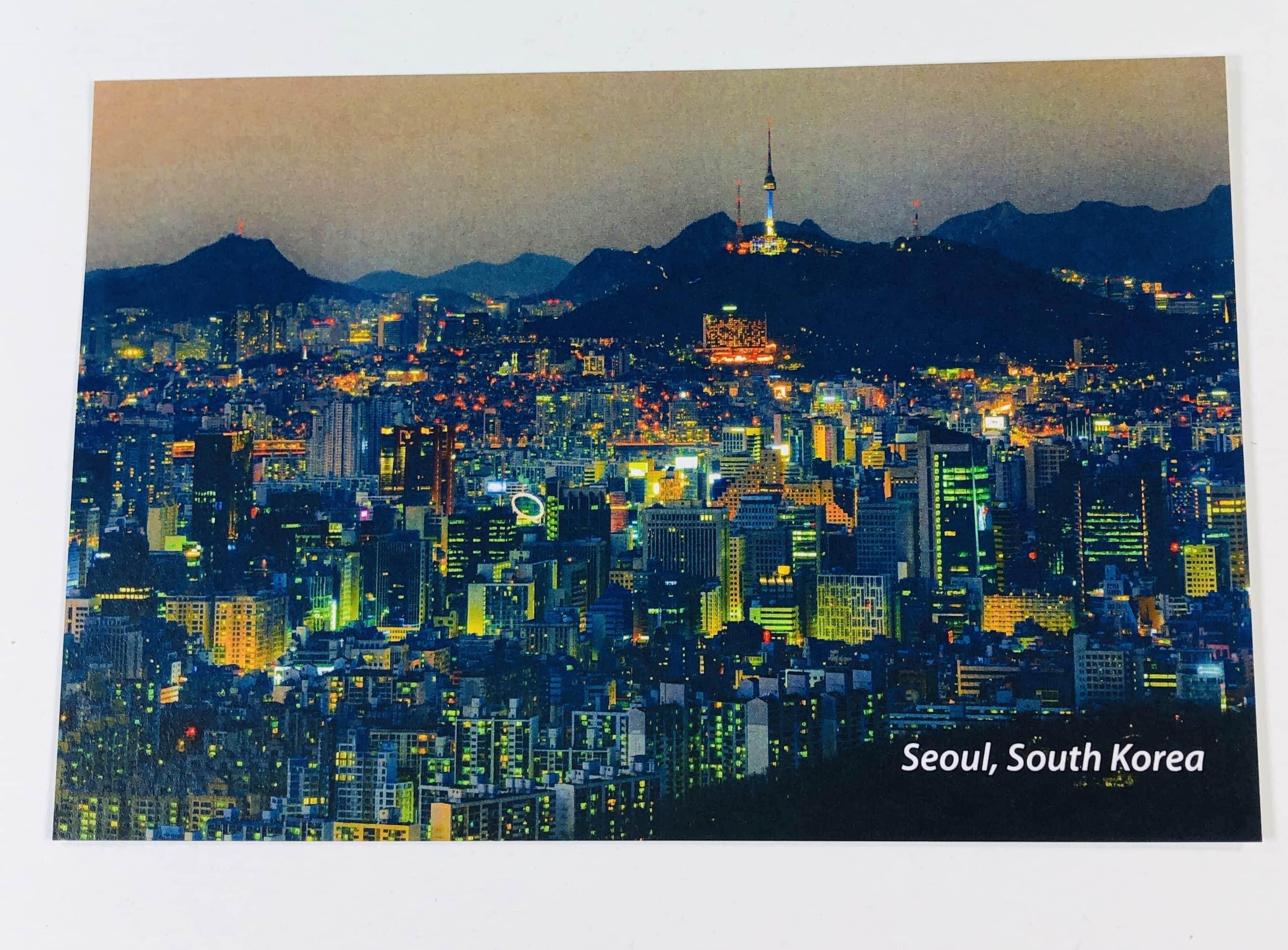 I found a card with a picture of Seoul.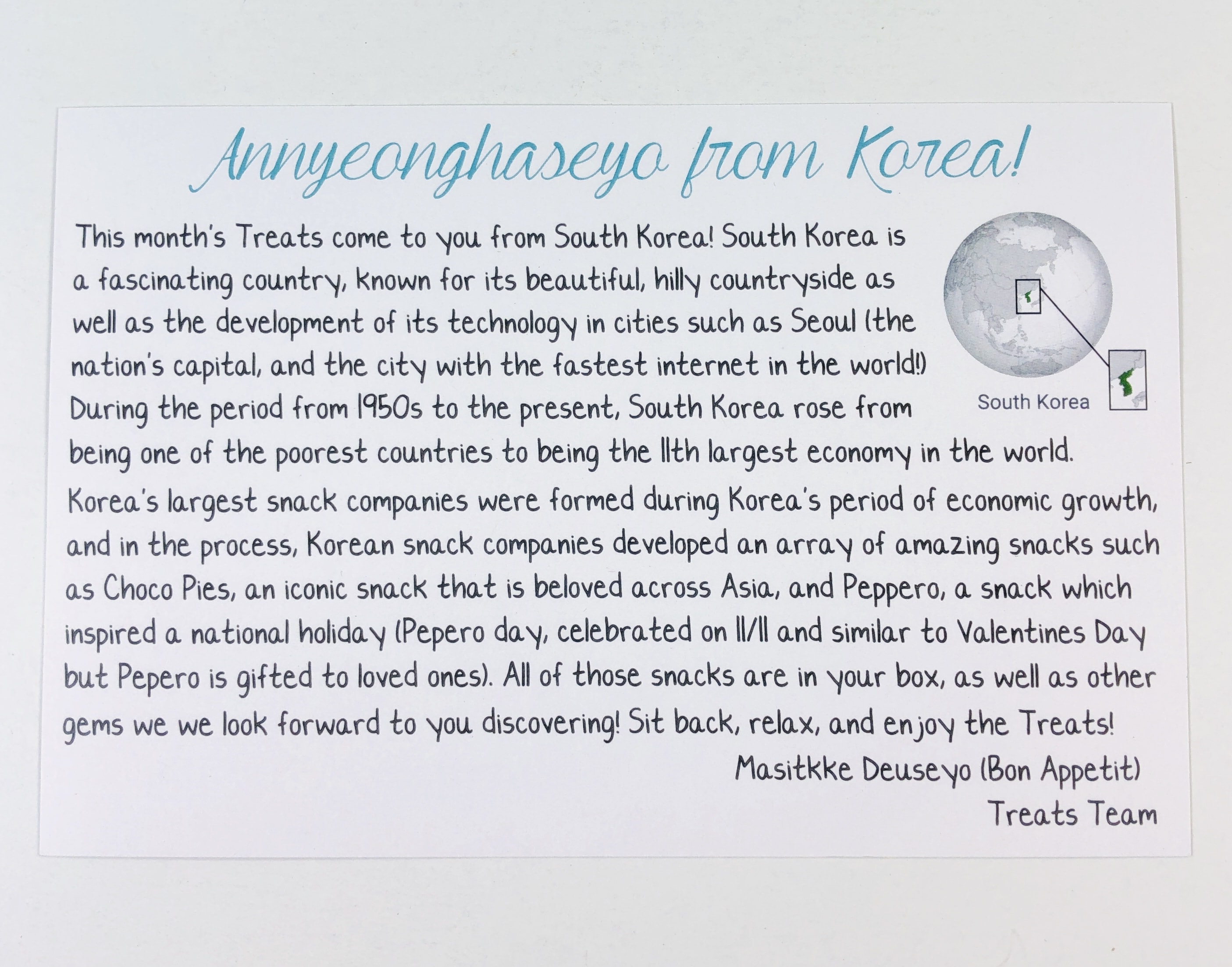 The back of the card mentioned that the treats are indeed from South Korea.
There was another card with info on South Korea. It also gave a clue for next month's box. Possibly the items will be from Poland?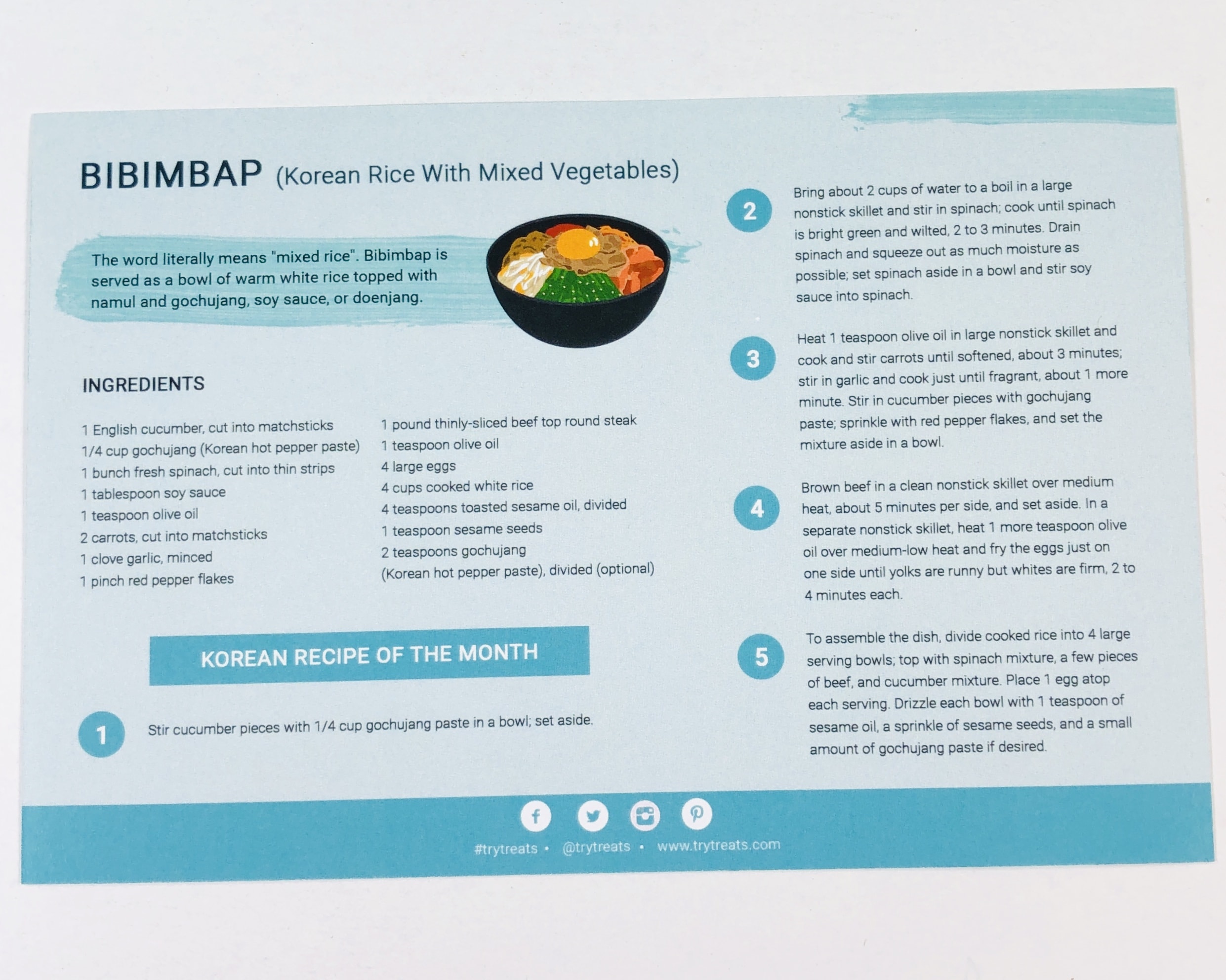 The back of the card had a recipe for a very popular dish, bibimbap.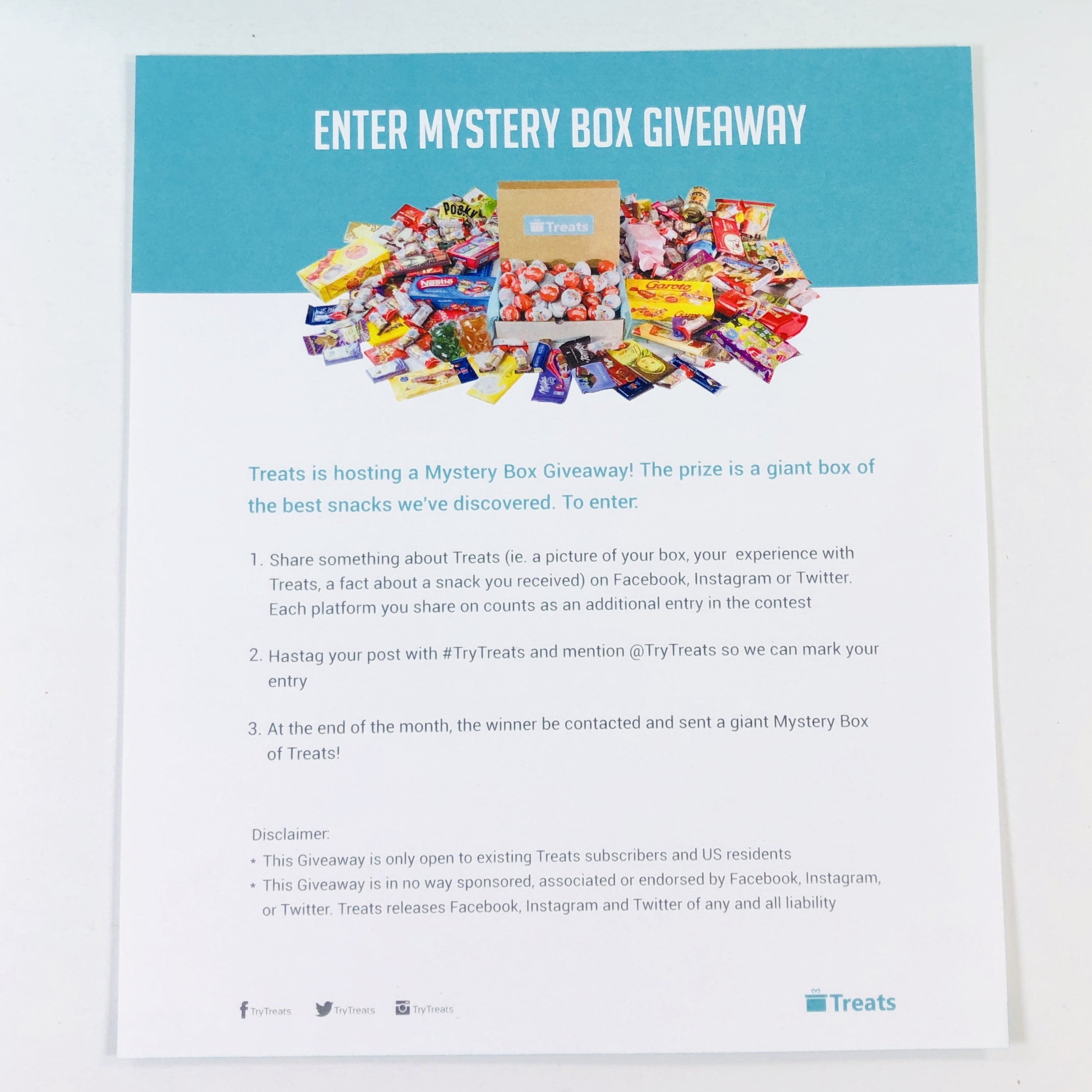 A final card had info on how you could win a free box of snacks by posting your box photos on social media.
The back of that card listed all of this month's treats!
Everything in my box!
Lotte Binch ($5.75) are European-style cookies that have a mildly sweet cookie on one side and chocolate on the other. The cookies are individually wrapped and each one is embossed on the chocolate side.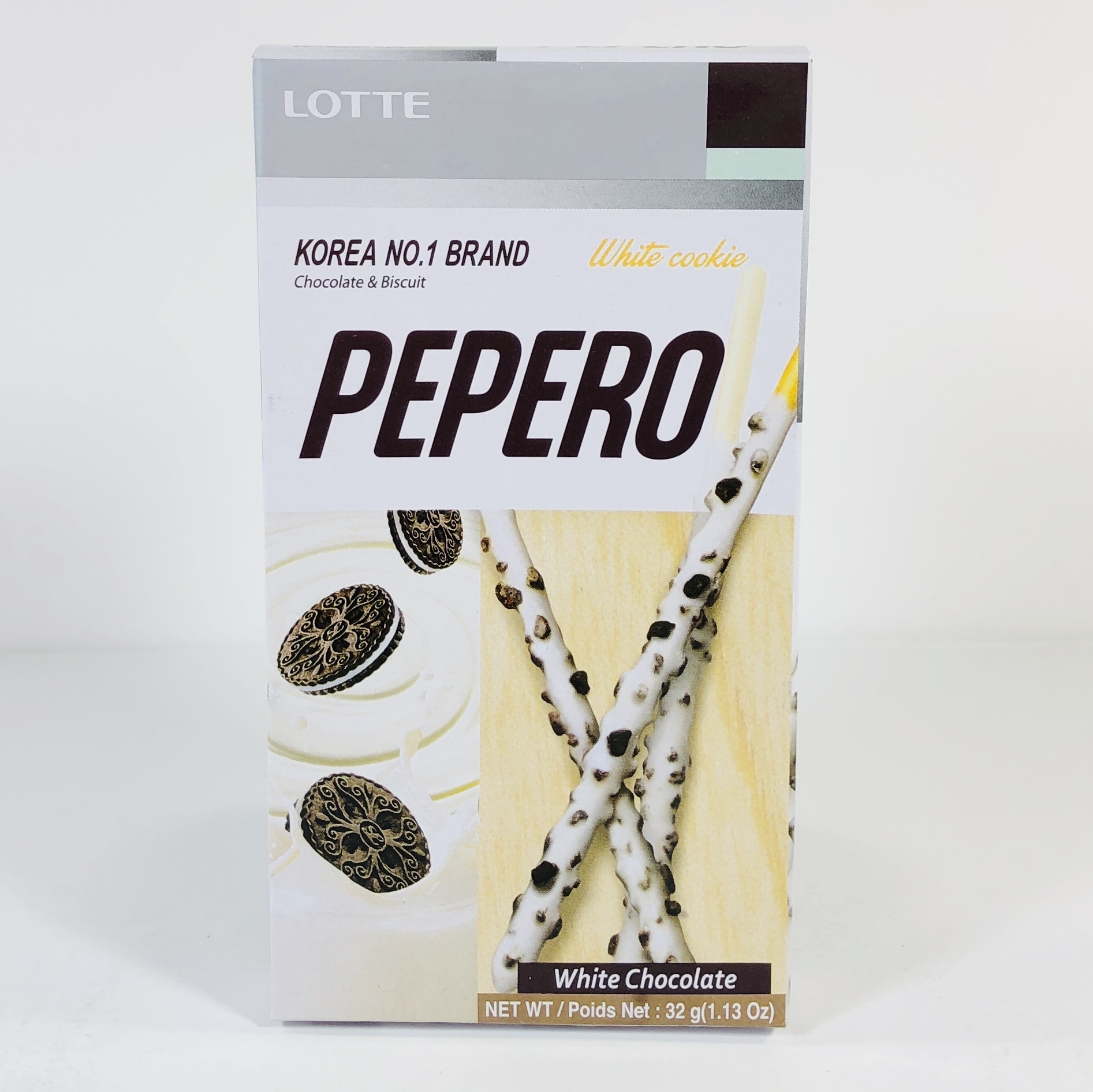 Pepero White Chocolate are one of my favorites! A cookie similar to an animal cracker is dipped in white candy coating and then sprinkled with chocolate cookie bits. Classic cookies and cream.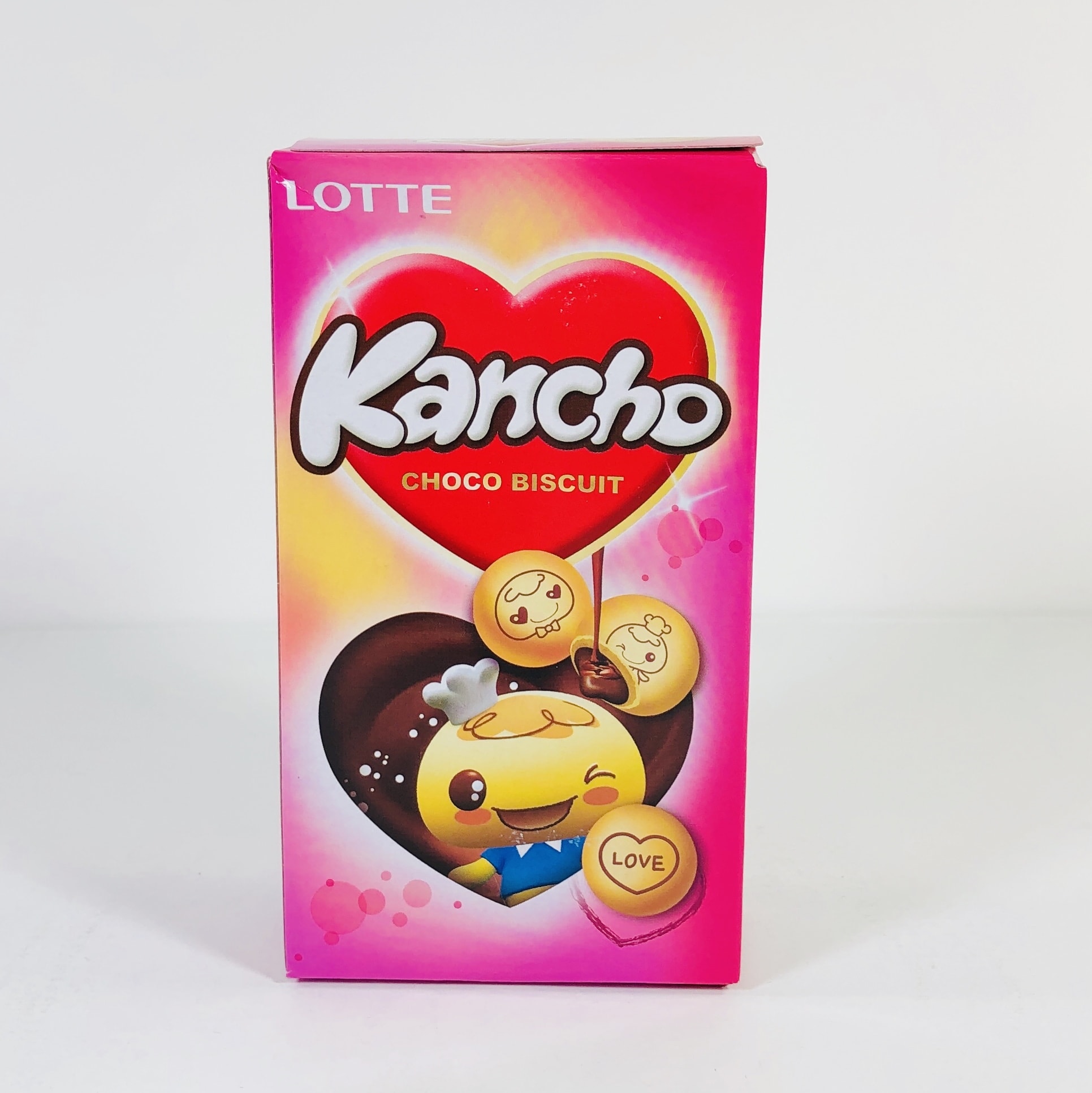 Kancho Choco Biscuit are cute little cookies with a chocolate filling.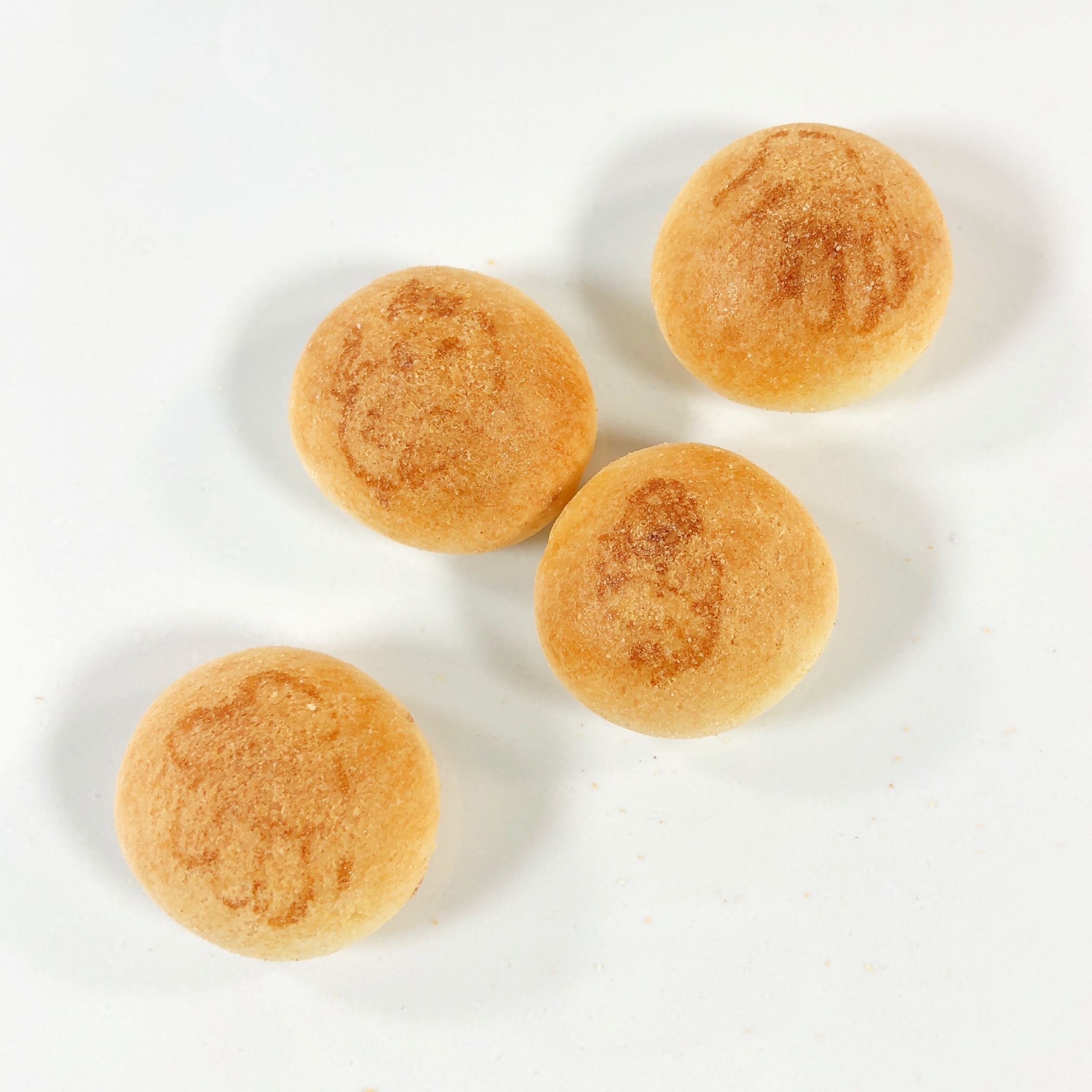 The pictures on the cookie are kind of low-key but the filling was good!
Cosmos Twist were surprising to me. I think I was expecting them to taste savory based on the color but they turned out to be sweet! I don't really know what to compare them too but I guess they are similar to a sweetened breakfast cereal.
Orion Choco Pie I'm not a marshmallow fan but I think this might be similar to a Moon Pie? Two cookies with a marshmallow filling and covered in chocolate.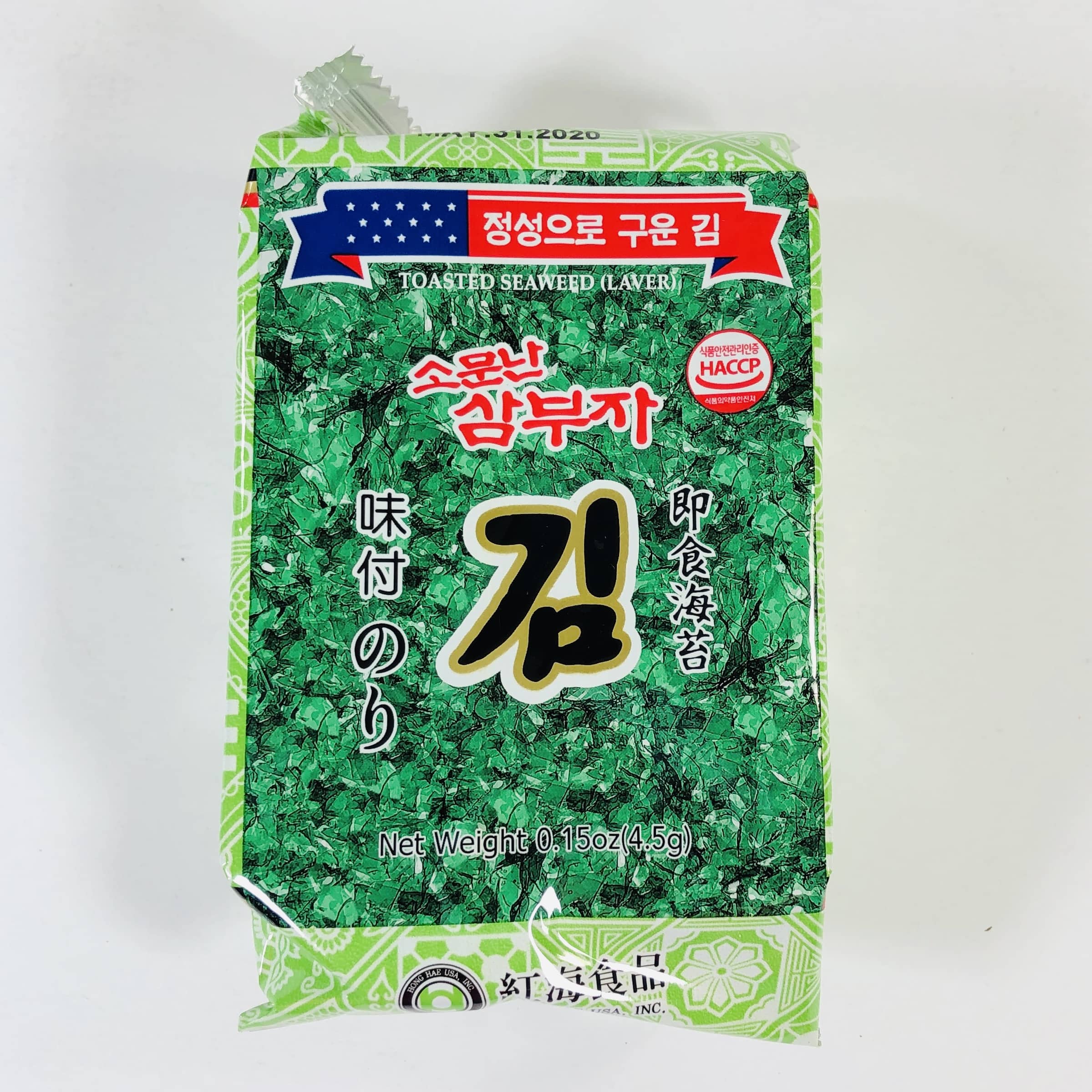 Samjuga Gim Toasted Seaweed I haven't tried this one yet. I'm not sure that I'm a fan of seaweed unless it's wrapping my California roll. My daughter might eat it and although it's not my jam I do like that it is something out of my comfort zone and that's what I love about subscription boxes like Treats!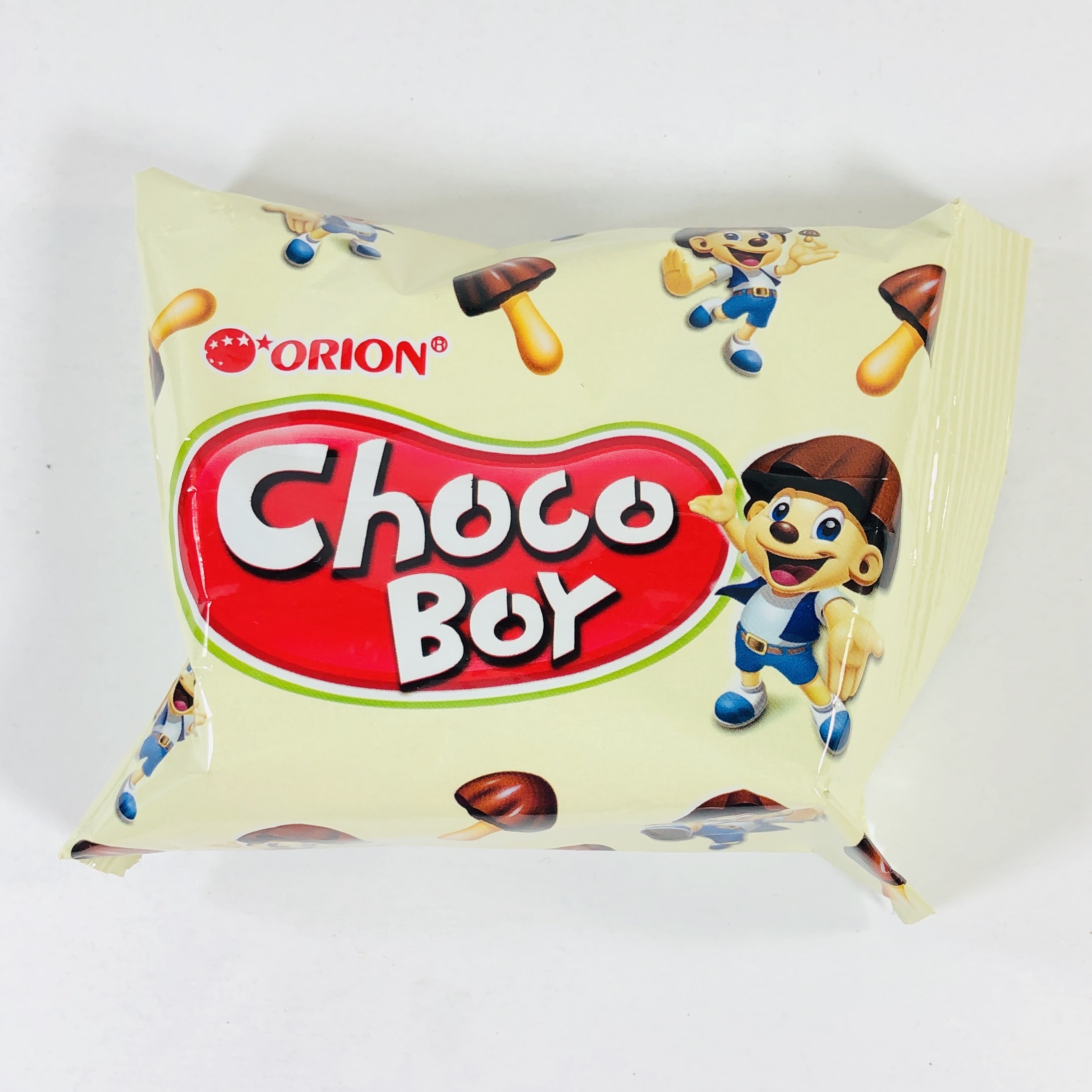 Orion Choco Boy My daughter chose these treats first!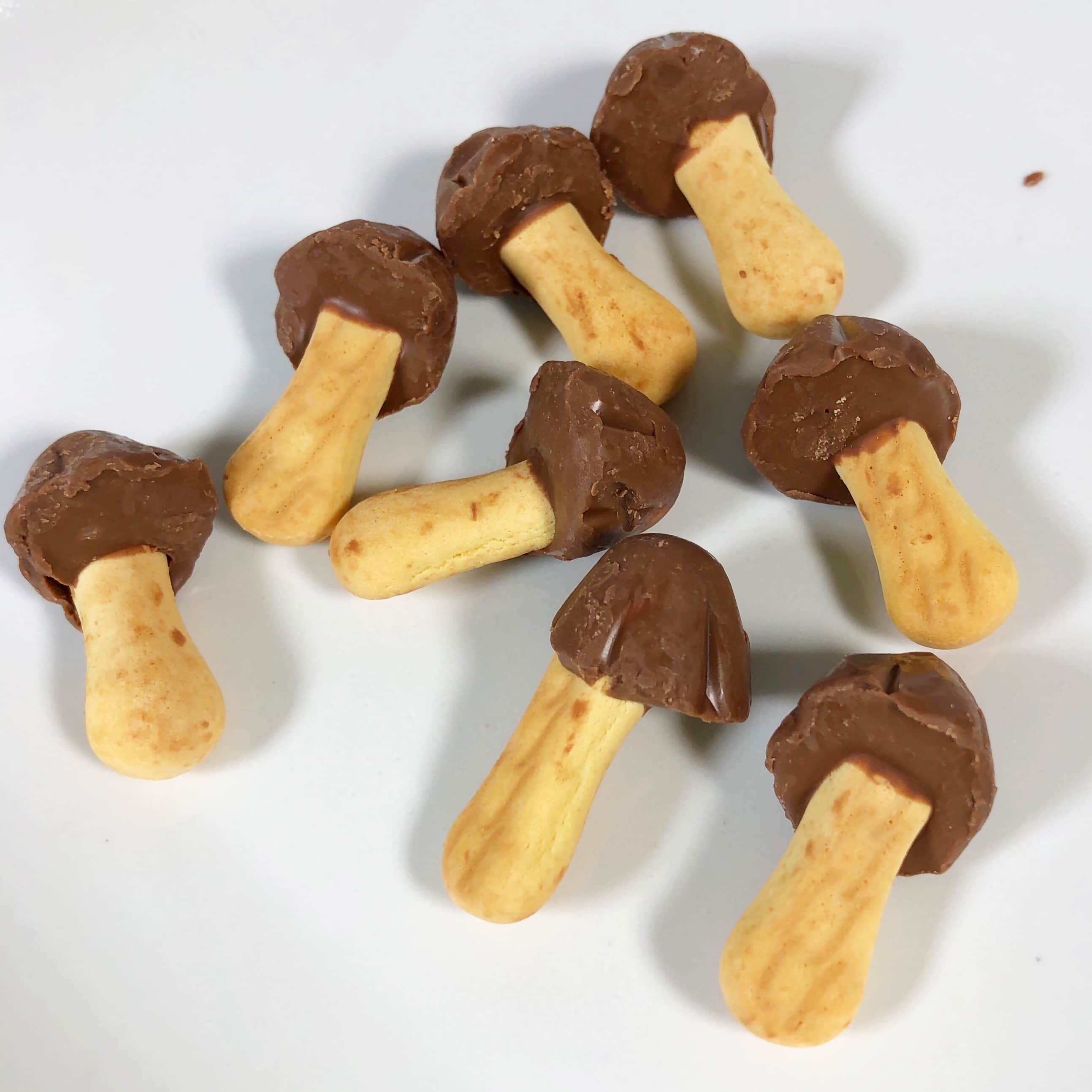 Look at how cute, they look like mushrooms! They are pretty much a cookie (similar to an animal cracker) with a knob of chocolate on top. So adorable!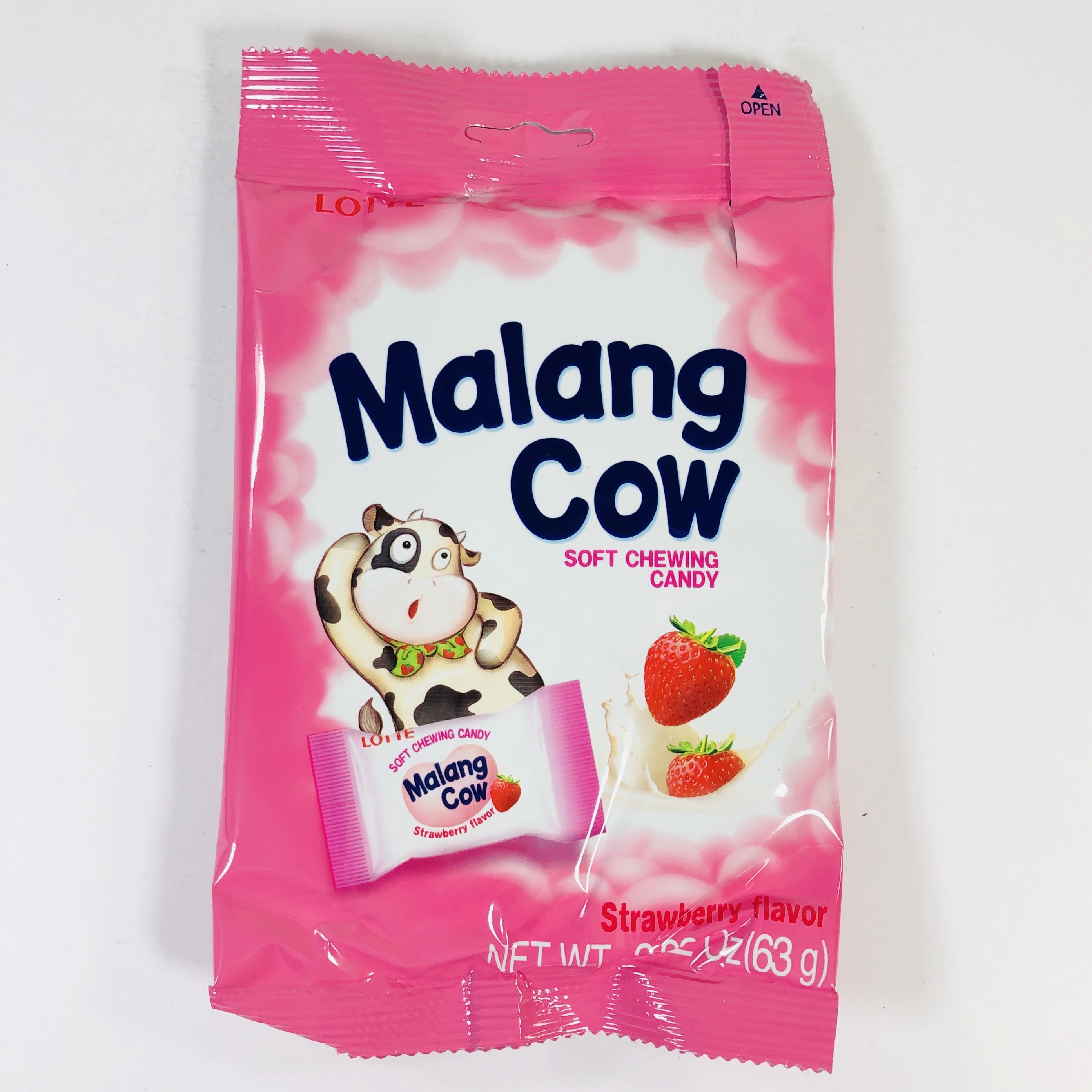 Lotte Malang Cow Strawberry Flavor is a sweet treat and my daughter really likes them. They are individually wrapped and look similar to a pastel after dinner mint. It's sort of chewy but I just let it melt in my mouth and it tastes like a strawberry milkshake!
Chocolate Corns look like puffy Cheetos and have the same consistency but according to my daughter it tastes like Krave cereal and my husband says they taste like Cocoa Puffs.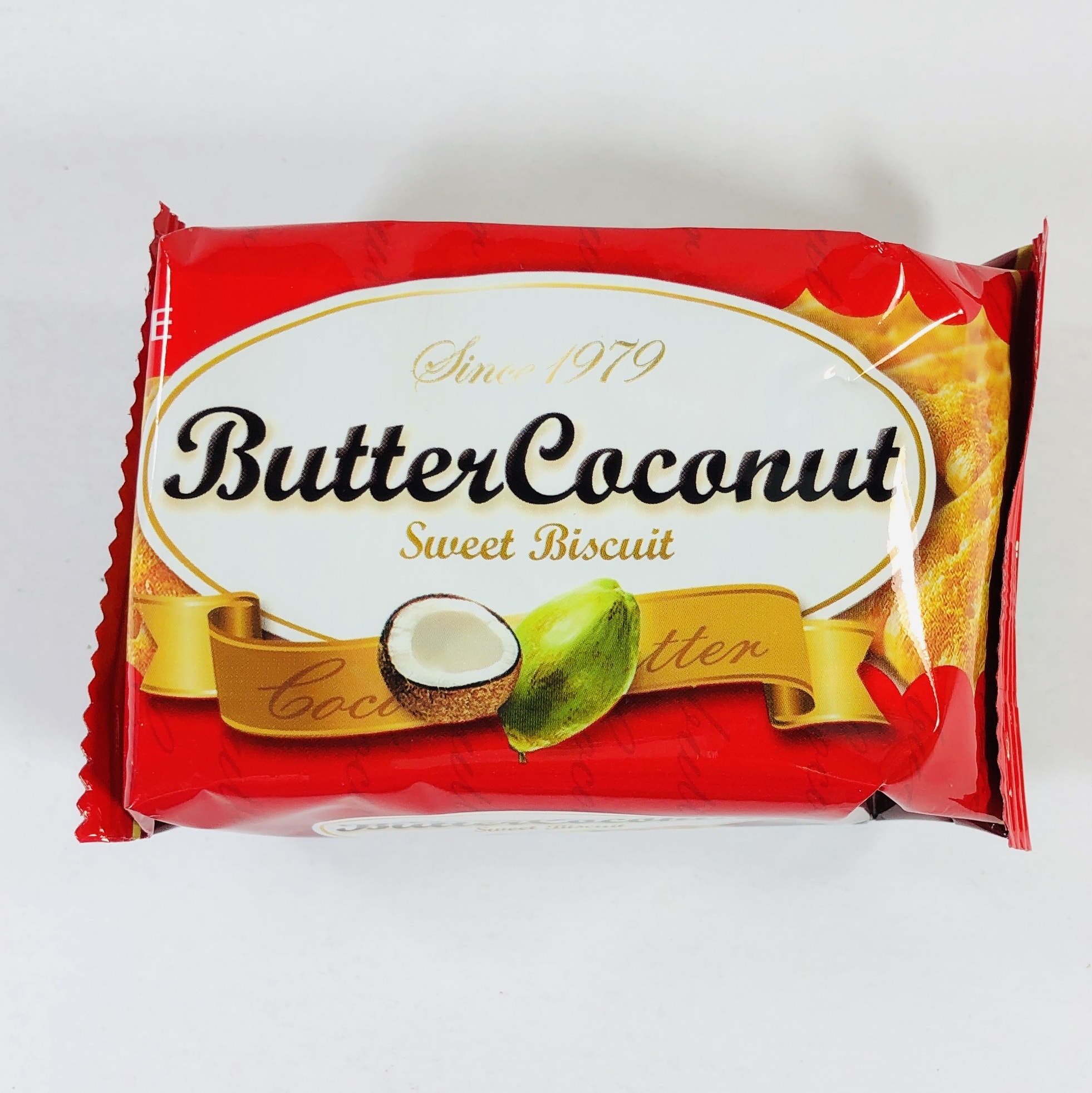 Butter Coconut Sweet Biscuit My daughter loved these not too sweet cookies that would go well with coffee or tea. I thought they had a mild flavor and couldn't really taste the coconut but she insisted it was there.
Treats is a fun way to discover snacks from across the world. I loved learning a little about South Korea and if you are looking for a tasty way to teach world geography to your children then this is a cool way to go about it. The snacks were fresh and I liked the assortment and even a couple of them came with several individually wrapped pieces so they could easily go into a lunchbox.
Have you tried Treats yet? What did you think of the box?