Toddler Play Kits by Lovevery feature the best play products designed by child development experts. The toys are customized by stage and thoughtfully crafted using sustainably forested wood, organic cotton, and baby-safe plastics.
Head's up – this is a BIG box, with lots of photos! There is SO much in this box, along with guidance for parents, and just a ton of developmentally appropriate toys, that we couldn't really get rid of anything. We think this box is worth it, and this review will show you how the parent guide and all the items really work together. Every toddler (and preschooler, and big kid!) who has played with the toys in this box has found them absolutely fascinating, and we couldn't be happier with the Lovevery kits.
DEAL: Save up to $48 when you pay upfront for longer length plans! No coupon code is needed – the deal applies automatically, just use this link to join!
This play kit is especially designed for babies 13 to 15 months old. It's called "The Babbler"!
The box is quite full and heavy!
There is a card on top of all the items.
The toys came neatly packaged. They fit the box perfectly, so there's no chance they'll move around and get broken.
There are lots of colorful things inside! We're really excited!
The information sheet gave us a rundown of all the items in the box!
To make this a fun and safe experience for all, they included a material and care manual.
There's a list of safety tips and warnings!
They even listed how to care for each item. Some toys can be simply wiped clean using a cloth, while others are needed to be hand-washed. There are corresponding photos for each number, so it's easier for you to determine which is which.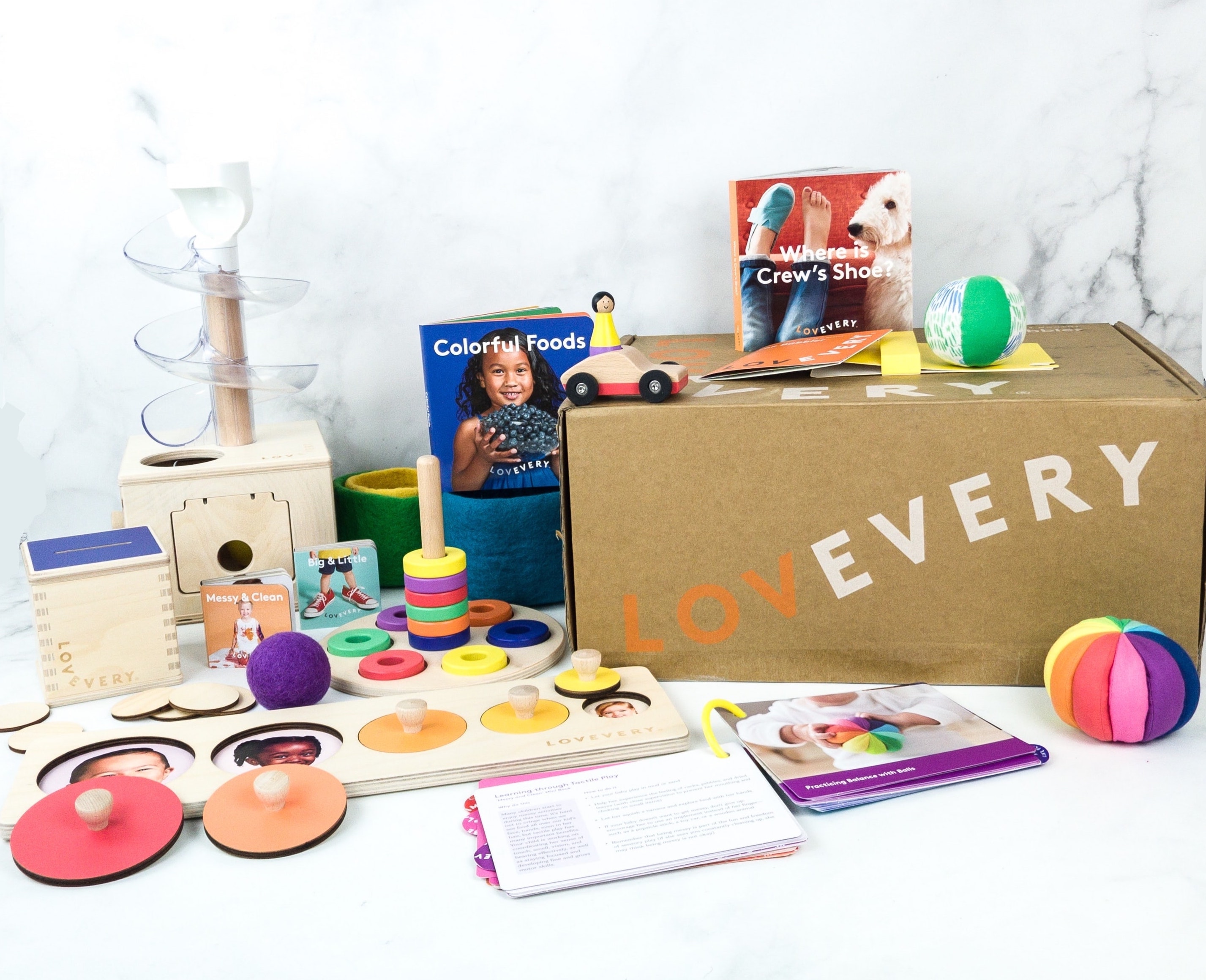 Everything in my box!
First up is the Play Guide!
Like the information sheet, it gave us a rundown of all the toys in the box.
This guide is divided into different sections, so it's easier to flip through them and find what you're looking for. The first section is entitled The Real Deal.
There's a welcome note!
The text is quite lengthy, giving us a lecture about playing with our kids and the toys we give to them.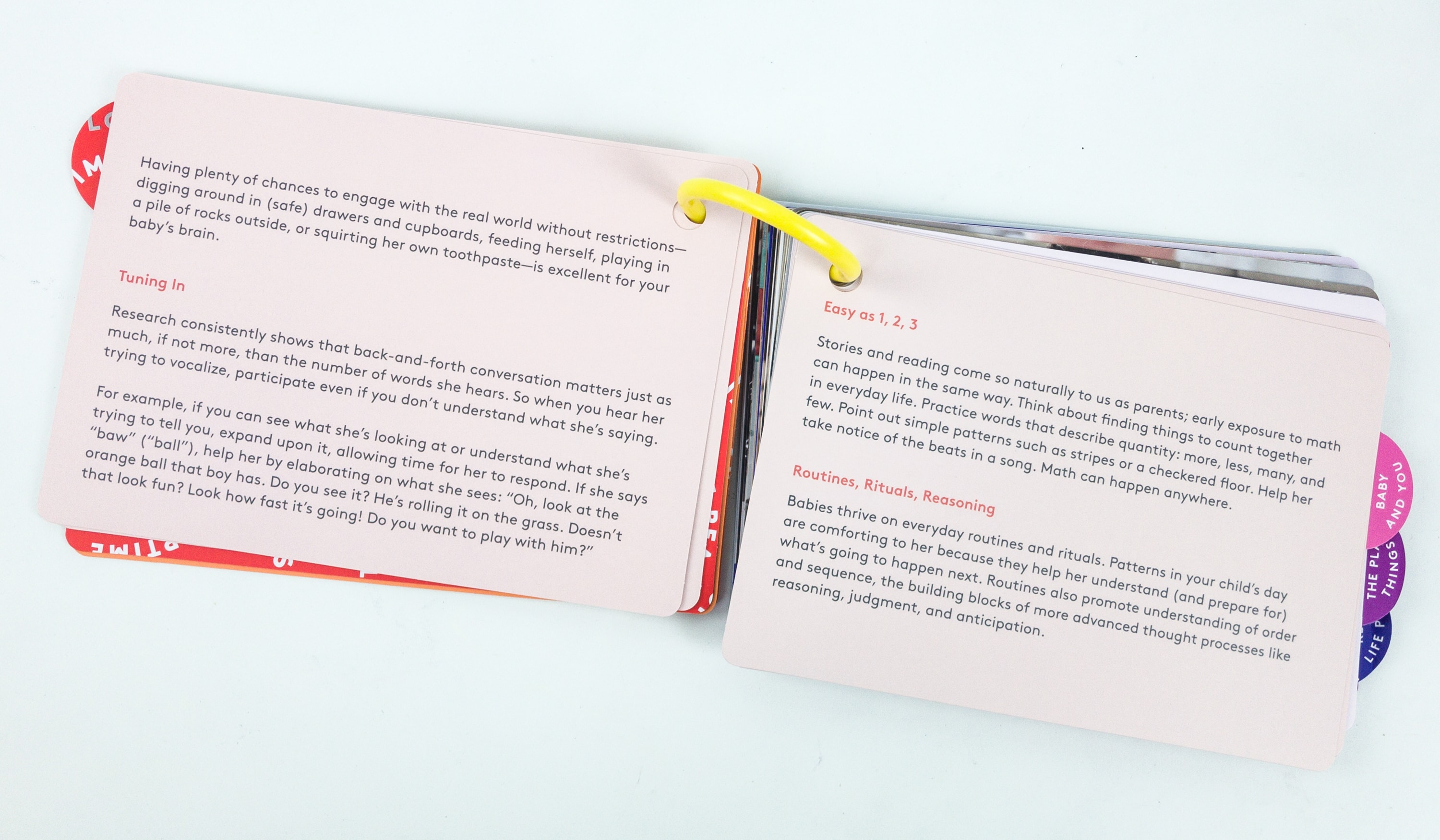 Although quite long, it's a great read for parents. There are lots of insights already!
Next section is Baby and You!
This section is all about a baby's development.
Here, they listed what 13 to 15-month-old kids are already capable of.
It's also really helpful that they listed down what babies of this age like to do! Not everything would apply to your baby, but at least you'd get a general idea.
Lastly, there's a list of the appropriate things we should give our baby at this stage.
Next section is The Playthings! We're getting on to the toys and activities!
The first activity is entitled Tear It Open!
Who doesn't like to open presents?! Your baby just turned one. Opening loosely wrapped gifts allows her to practice using both hands at once as well as her fine motor skills.
For this activity, we need the colorful packages. One is a box, while the other one is flat.
My baby did a great job of tearing up the packaging!
She's also curious about what's inside!
We're on to the second activity: Your Baby's Brain is a Growing Encyclopedia!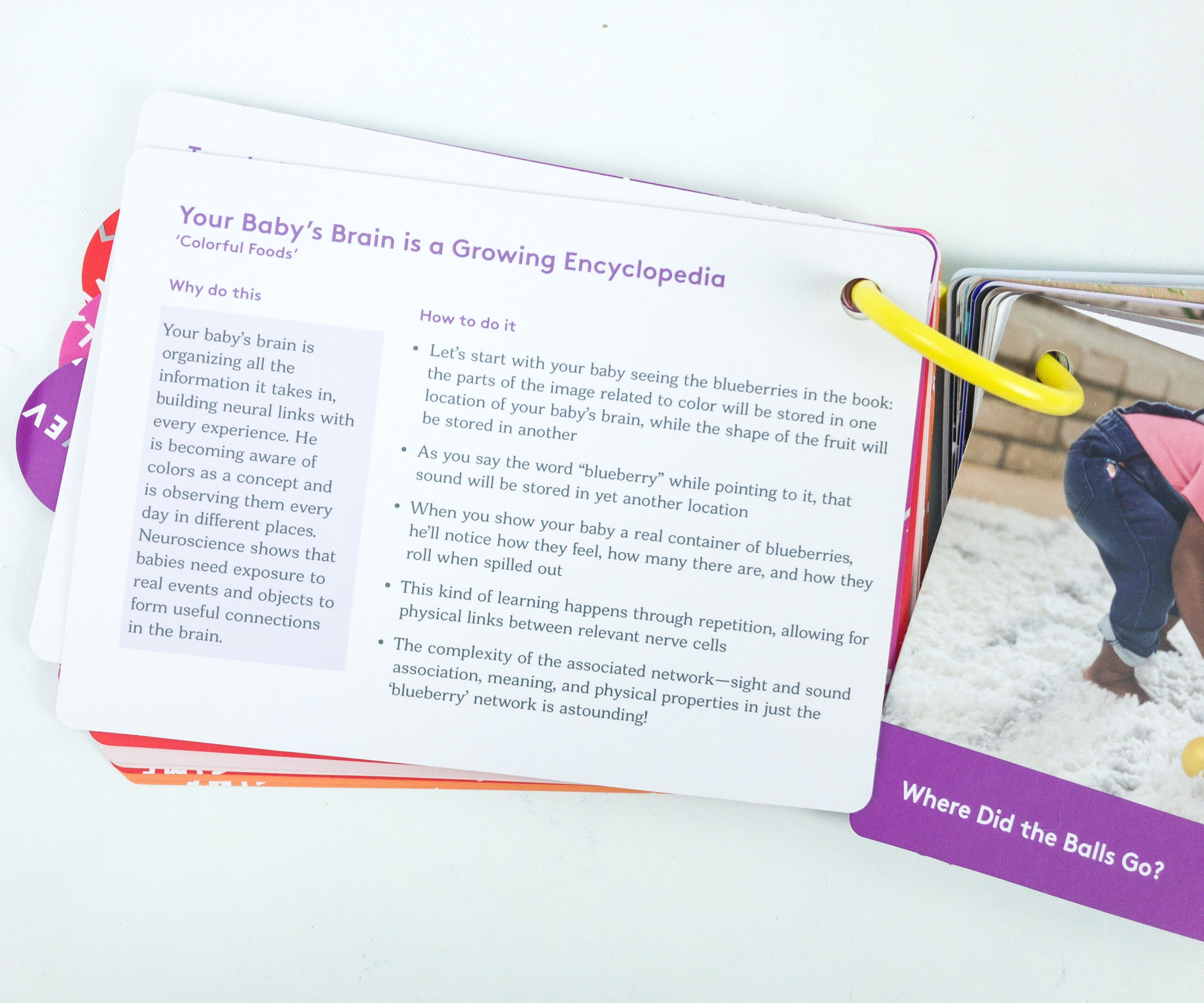 Your baby's brain is organizing all the information it takes in, building neural links with every experience. He is becoming aware of colors as a concept and is observing them every day in different places. Neuroscience shows that babies need exposure to real events and objects to form useful conections in the brain.
For this activity, we got a book that teaches kids about colors and fruits.
The pages are glossy and the colors are vivid. They're really eye-catching!
As the booklet suggested, we started by showing each photo to our baby and then say the word of the featured fruit and color.
My baby enjoyed this one a lot! Repetition is the key to this kind of learning, so I think we'll be using this book more in the next few weeks.
Here's the third activity: Where Did the Balls Go?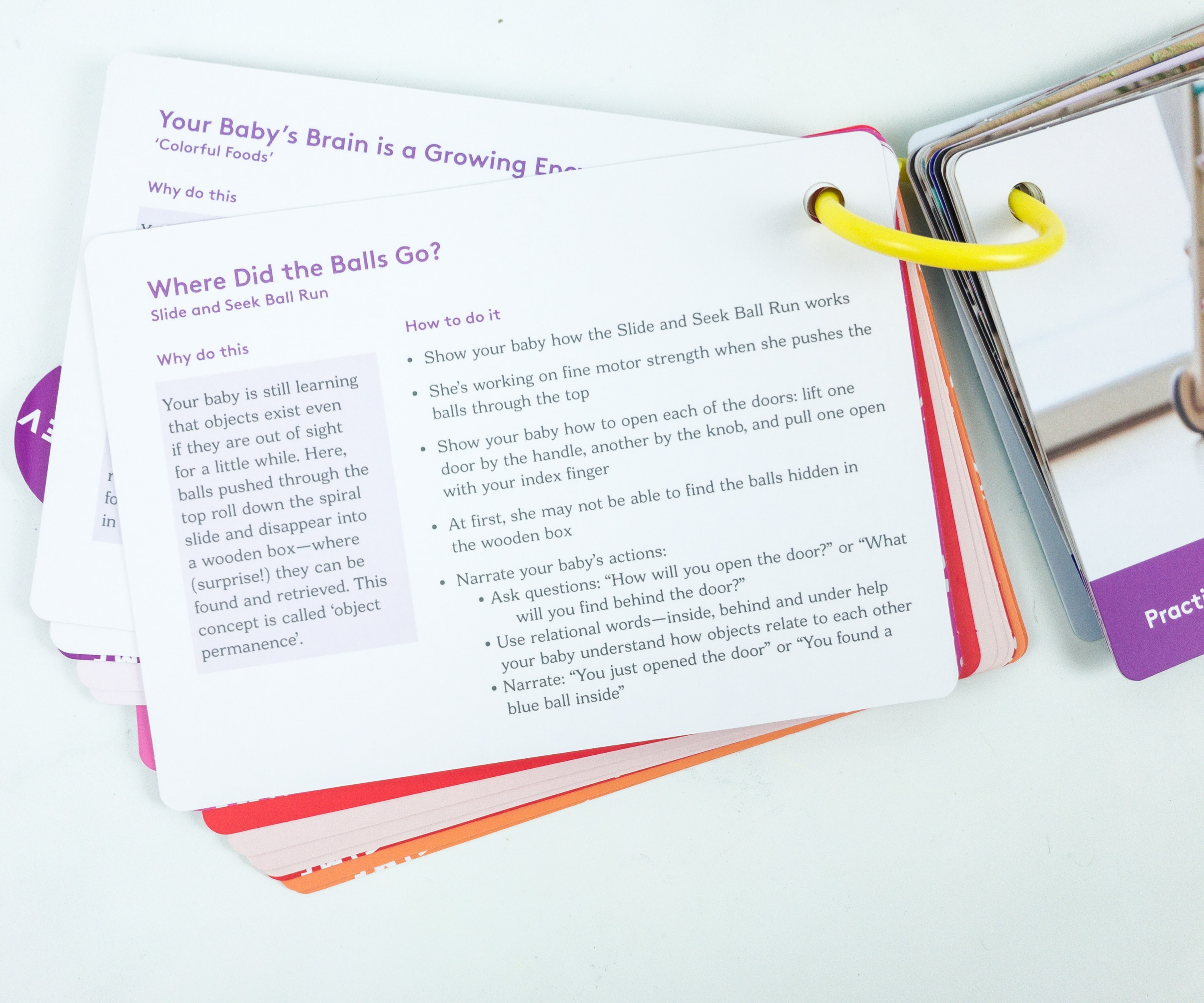 Your baby is still learning that objects exist even if they are out of sight for a little while. Here, balls pushed through the top roll down the spiral slide and disappear into a wooden box—where (surprise!) they can be found and retrieved. This concept is called 'object permanence'.
This is the biggest toy we got in this box, the Slide and Seek Ball Run! Aside from the spiral slide and the wooden box beneath, we got three colorful balls as well.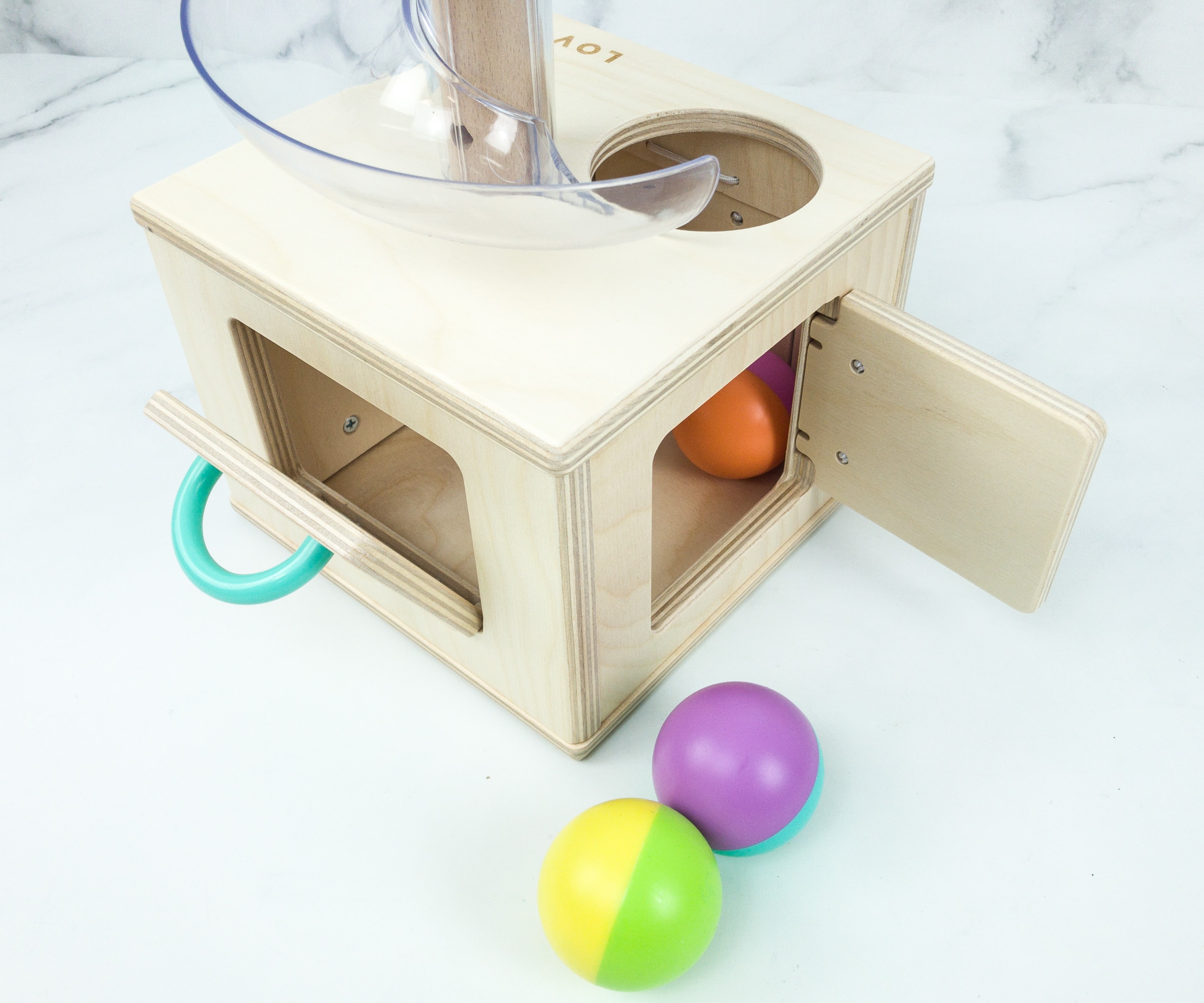 The balls can all fit inside the wooden box.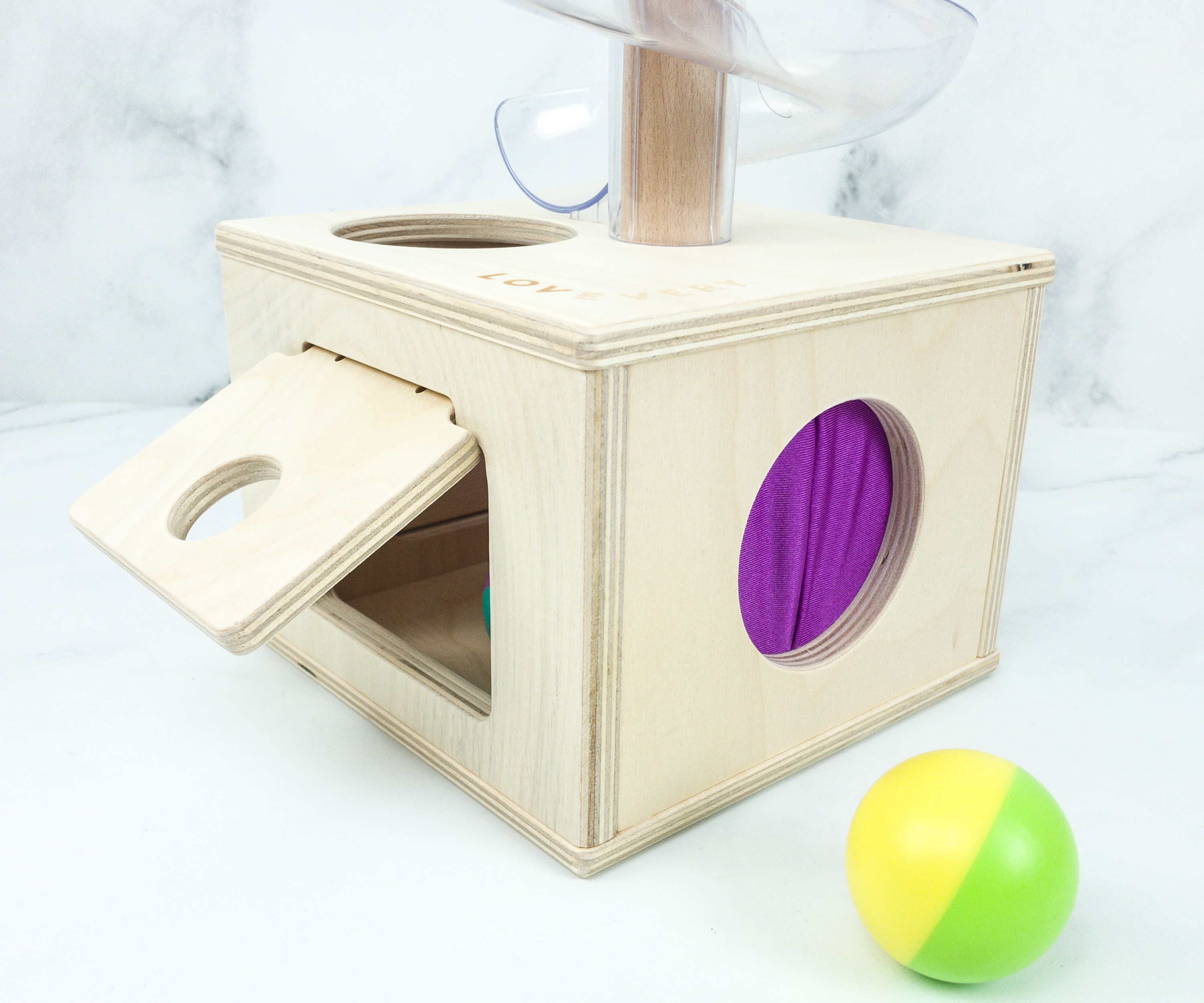 There's a unique door on each side of the box and they made it that way so we can teach our babies how to open each one of them.
Now that we've studied the parts, it's time to put the balls into motion!
My daughter started by pushing the ball through the top! This activity is a great practice for her fine motor strength.
The ball spirals down really fast! My baby enjoyed doing it over and over.
Next up is Practice With Relative Concepts!
Introducing concepts like big and small is important for brain development, though it takes a long time to master. Understanding opposites is complex, and babies will need lots of exposure to the concept in order to comprehend it.
We got a mini-book of opposites for this activity!
There are no text, just photos that clearly depict opposites.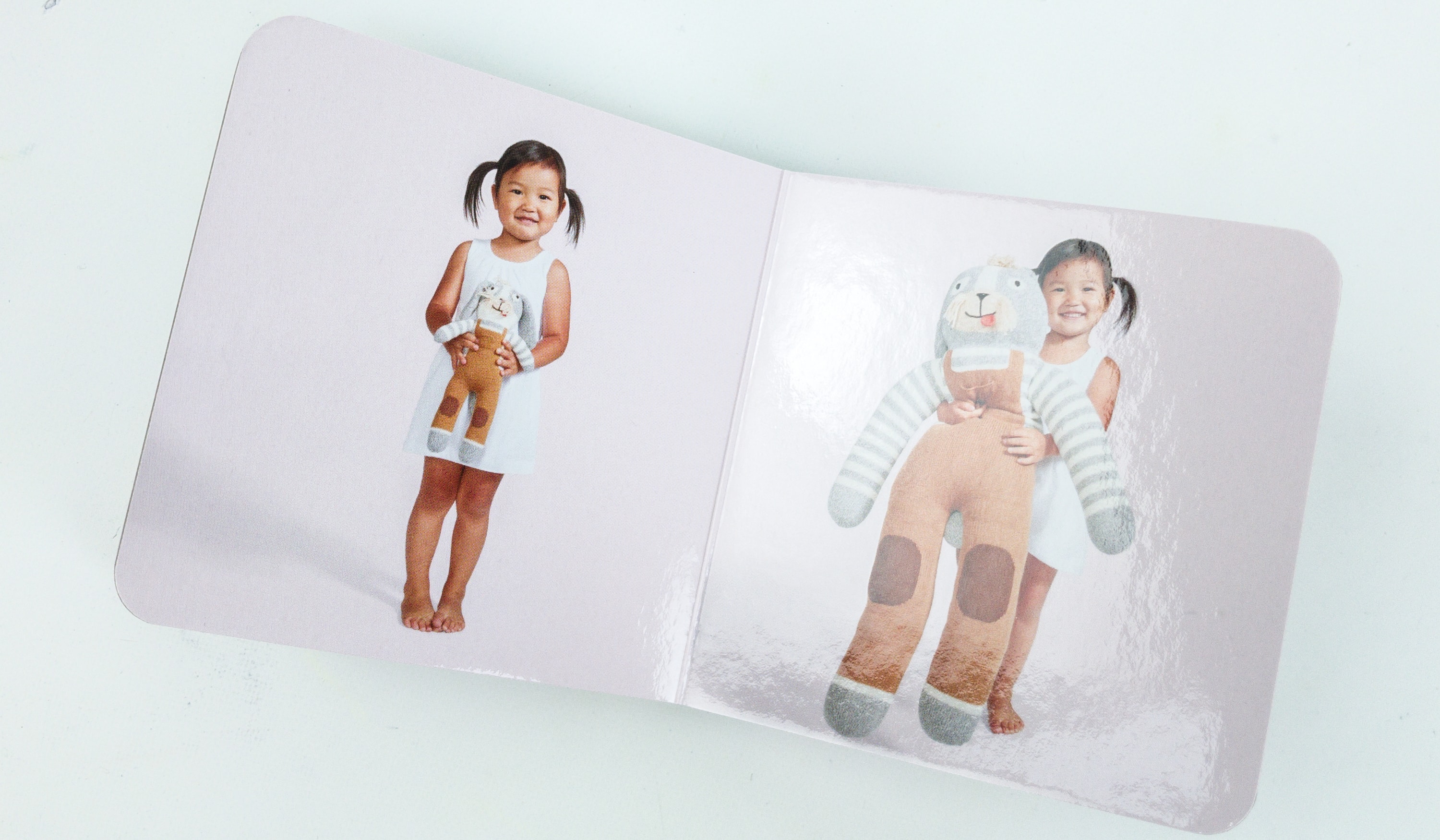 It's a great visual aid to teach babies the difference between big and small.
Now, we're onto the next activity: Learning Through Tactile Play!
Many children start to enjoy messy activities during this time. It's hard not to cringe when we see food all over our kid's face, hands, even in her hair, but tactile play has many important benefits. Your child is working on coordinating her sense of touch, smell, vision, and hearing effectively, as well as staying focused and developing fine and gross motor skills.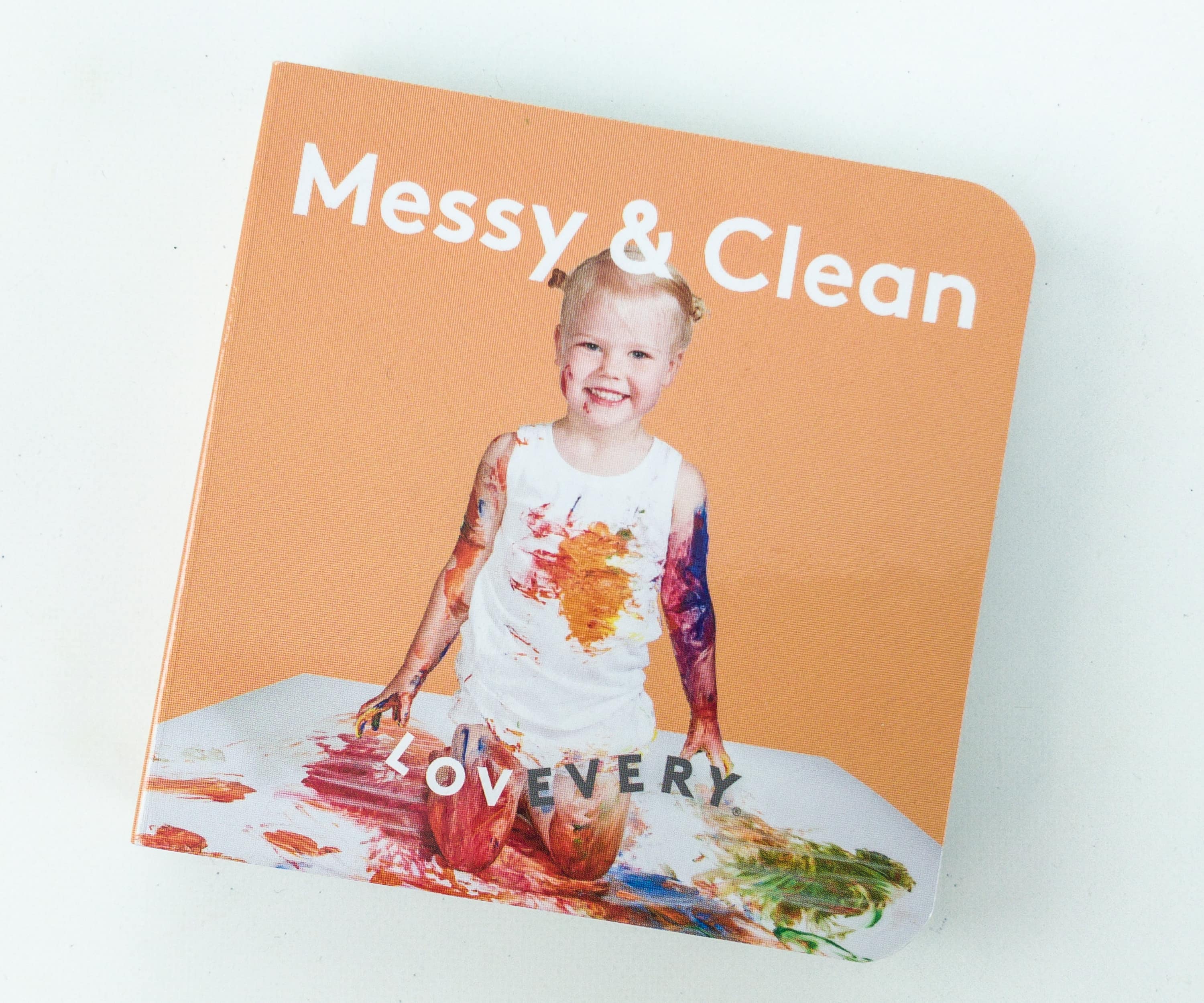 We got another book related to the topic! It's entitled Messy & Clean!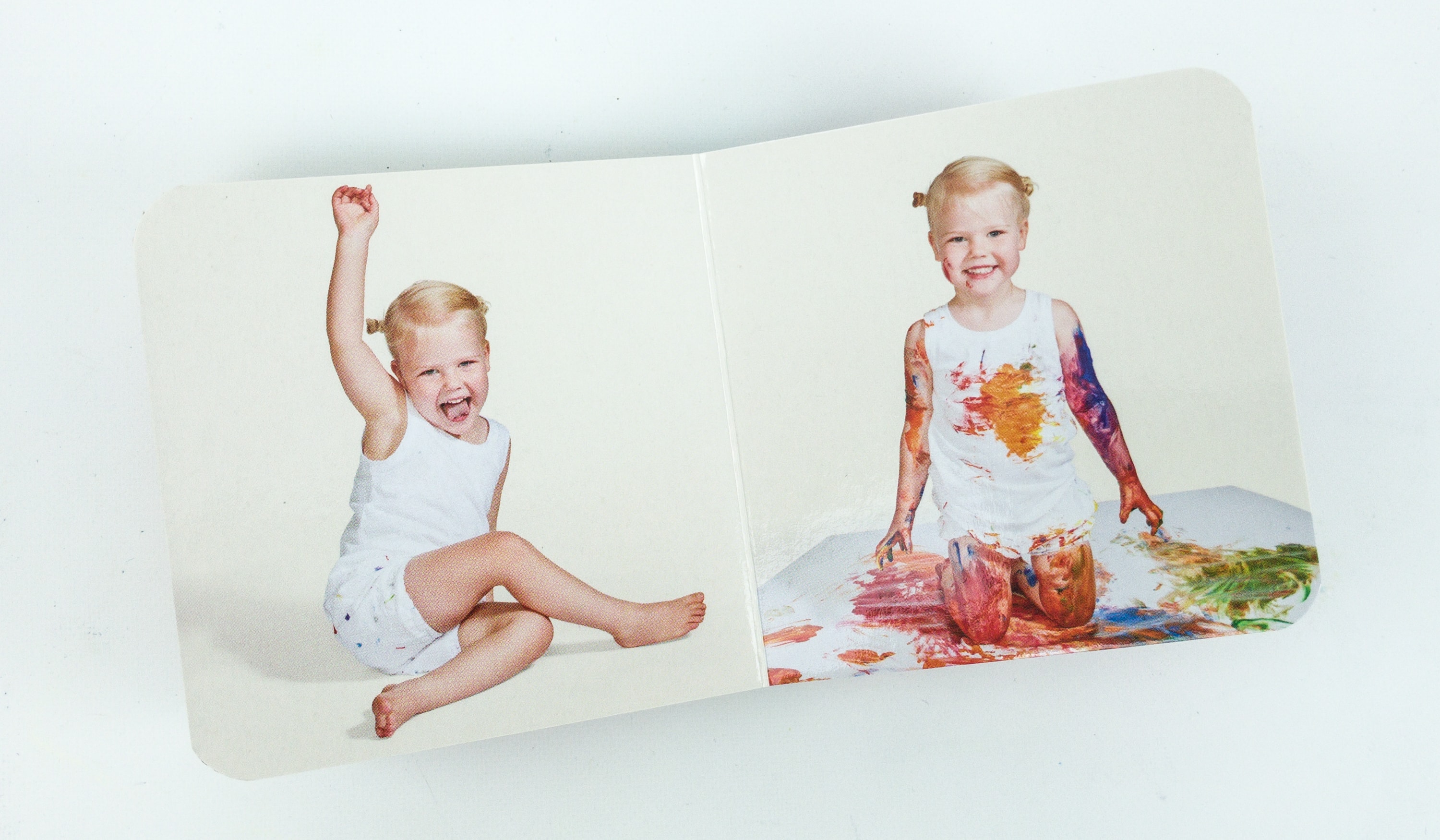 Being messy is a part of fun and learning, but it's good that kids know the difference between messy and clean.
It's another fun picture-only book that my baby loved!
Next activity is Practicing Balance with Balls!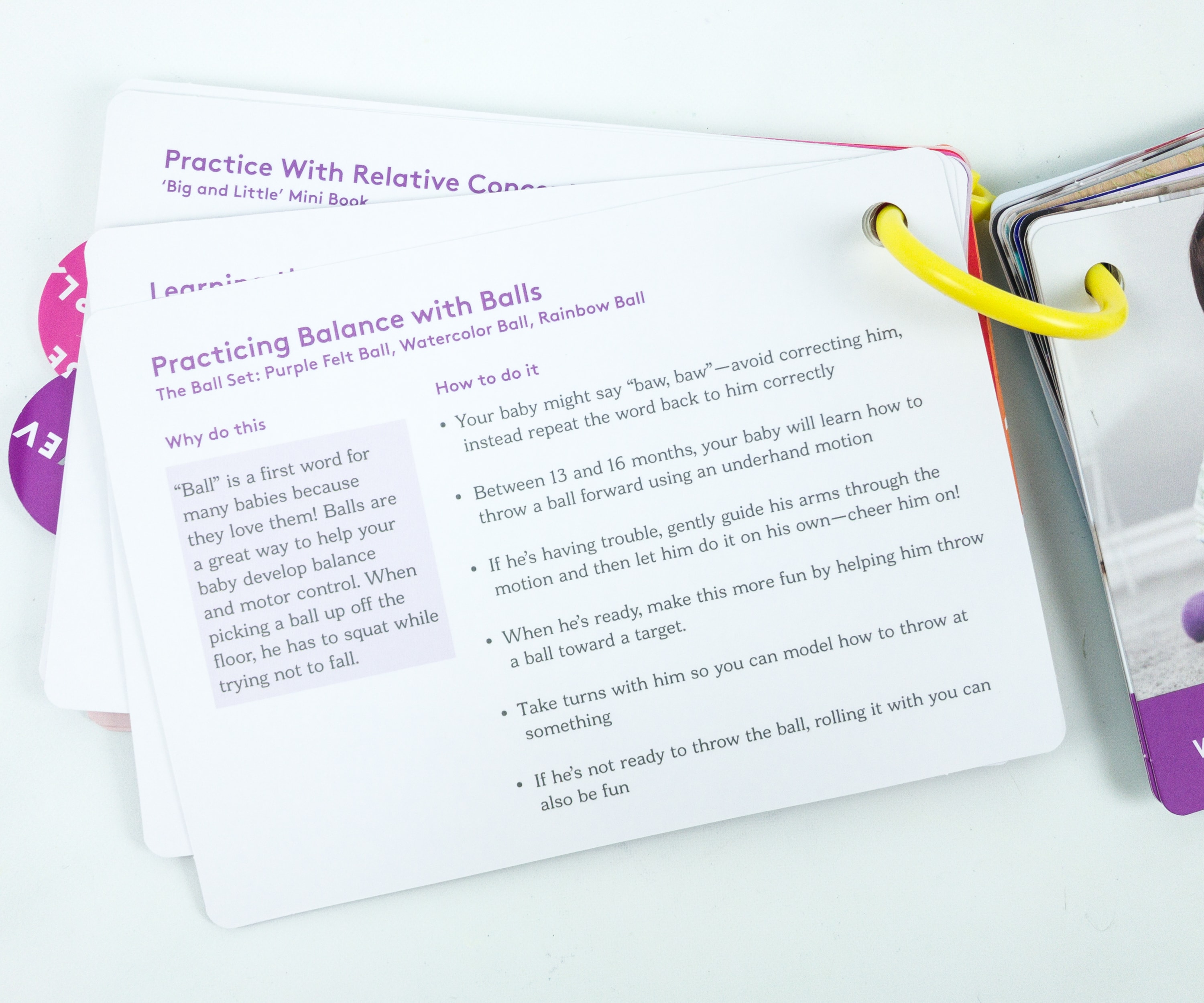 "Ball" is a first word for many babies because they love them! Balls are a great way to help your baby develop balance and motor control. When picking a ball up off the floor, he has to squat while trying not to fall.
We got a set of 3 balls in relation to the activity! They're made with cloth instead of the usual plastic or rubber ones that you can find in stores. The first one is really colorful!
The second ball has alternating designs: a plain green cloth and a patterned one.
The balls we received have different textures as well. The third ball is fuzzier than the others!
Here's another activity: Working on Spatial and Size Relationships!
Your baby is interested in learning that similar objects come in different sizes and fit nicely into each other. At this stage, round containers are easier to nest than boxes because they require less rotation to fit. Your baby will learn to nest the baskets herself by about 24 months through trial and error. She'll exercise fine motor and problem-solving skills by building a tower with the baskets.
For this activity, we got three baskets in different colors and sizes!
She's still learning how to stack the baskets properly, but she's getting there! Most importantly, we're seeing her having fun with this!
Next activity is entitled Mini Motoring is an Early Lesson in Propulsion.
Taking Stella in and out of the wooden car is great exercise for fine motor skills and problem-solving, similar to a puzzle. Your baby uses both his gross and fine motor skills to move the wooden car around. He'll experiment with how quickly or slowly the car rolls and see that it depends on the amount of force he applies. These are all early lessons in physics!
For this activity, we also received new toys packed in a cute pink box.
There's a wooden car and a figure whose name is apparently Stella.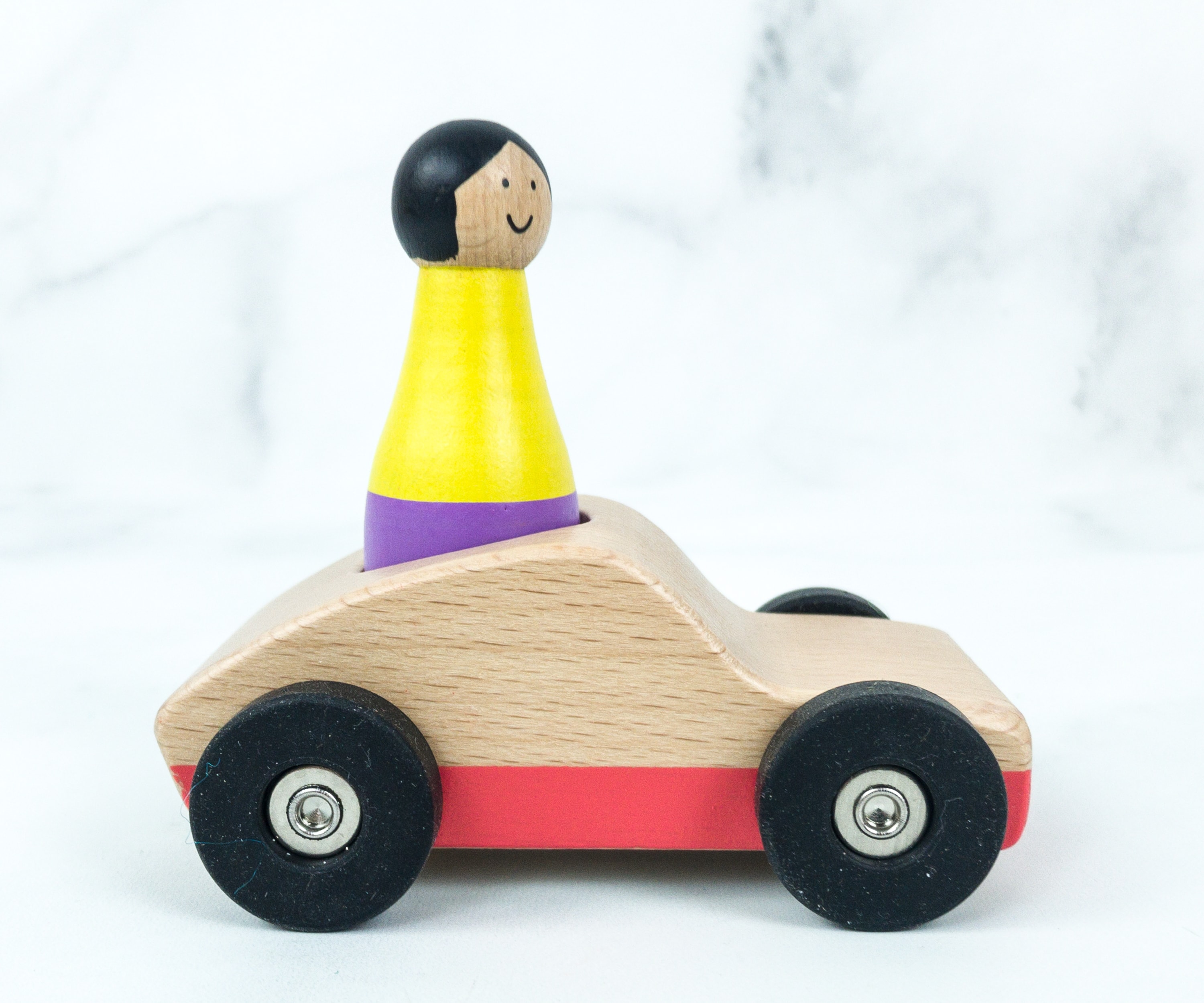 As a fine motor skill exercise, my baby repeatedly put Stella in and out of the wooden car. The booklet also suggested using these toys for pretend play.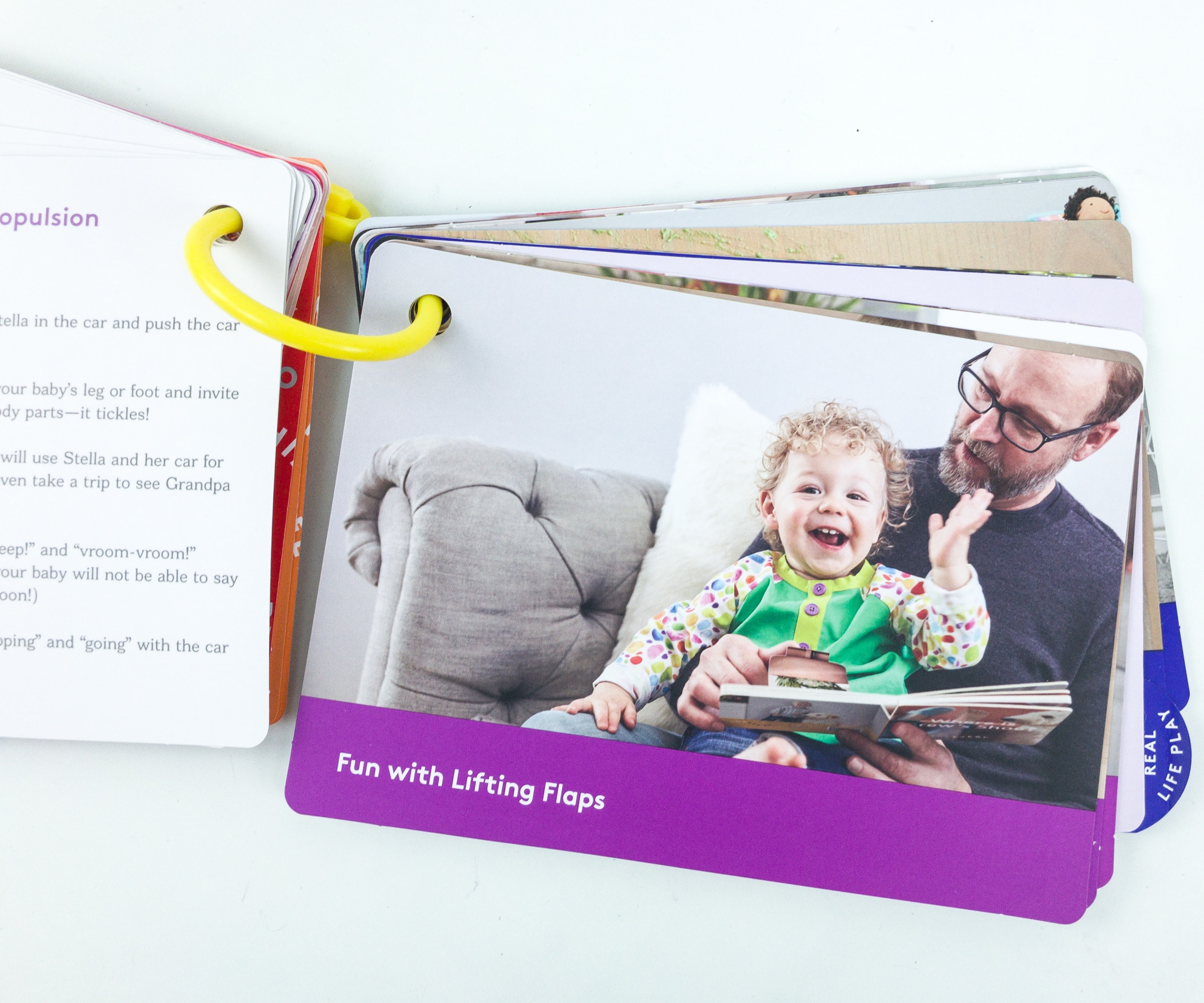 We're moving on to the next activity and it's entitled Fun with Lifting Flaps!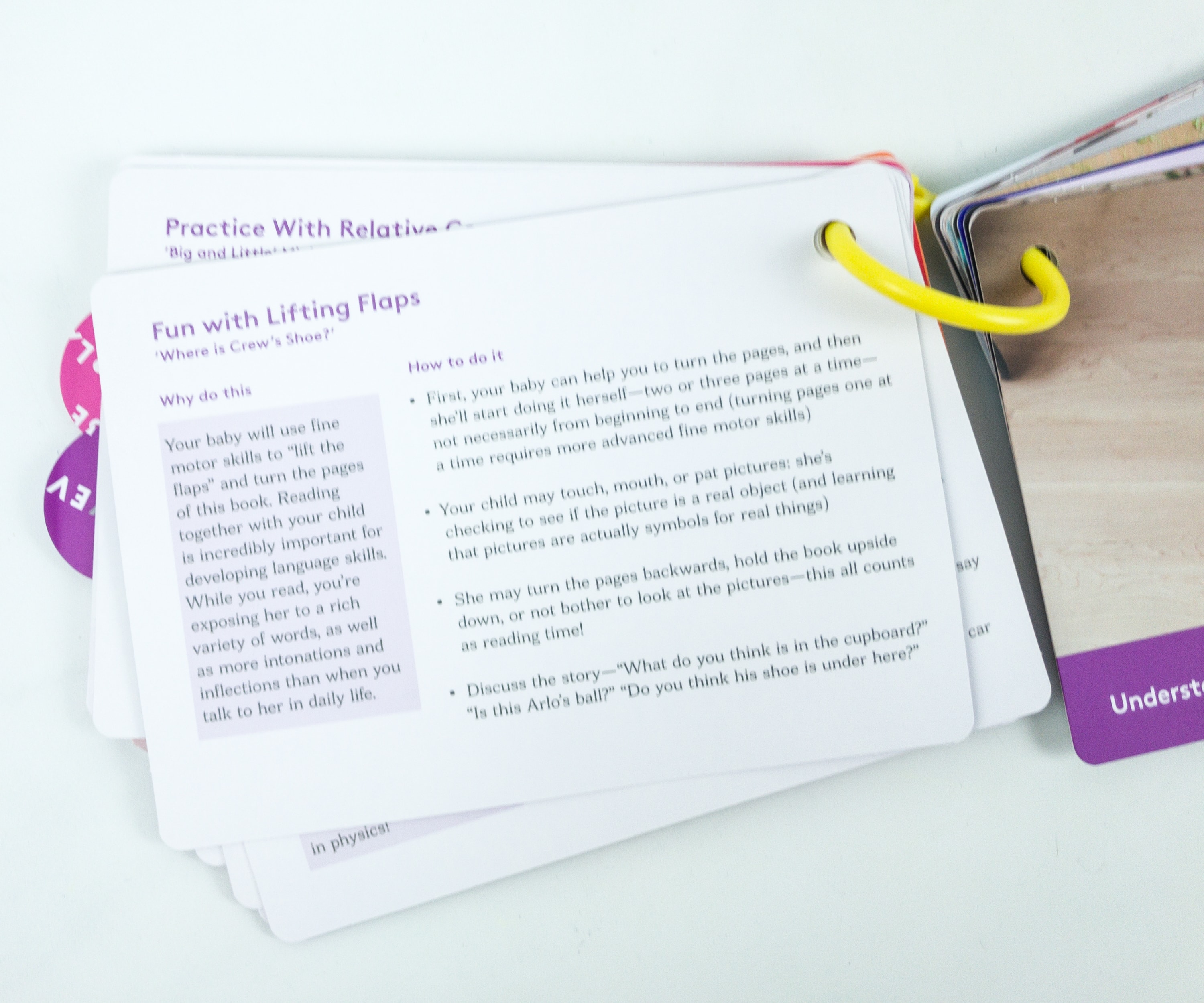 Your baby will used fine motor skills to "lift the flaps" and turn the pages of this book. Reading together with your child is incredibly important for developing language skills. While you read, you're exposing her to a rich variety of words, as well as more intonations and inflections than when you talk to her in daily life.
What better way to exercise lifting flaps than going through books? We got another book in the box, and it's entitled "Where is Crew's Shoe?"
This activity is like hitting two birds with one stone because lifting helps improve fine motor skills while reading the book and discussing the story builds their vocabulary skills and enhances their memory and listening skills.
Crew is the boy and Arlo is the dog, and both of them are looking for the boy's missing shoe.
Your baby can take part too! See the highlighted word in blue? That means the mentioned object can be lifted!
This is really a great idea! The liftable parts make the book fun and interactive.
It definitely felt like my baby is part of Crew and Arlo's search, and she loved it so much!
Here's another activity, Understanding How Things Fit Together!
Puzzles are great for developing spatial skills. A circle is the easiest shape for your baby to match because it has no corners. Starting out with a simple, two-dimensional object like a flat circle helps your baby build awareness of how shapes fit together—a foundation for more complex three-dimensional puzzles later.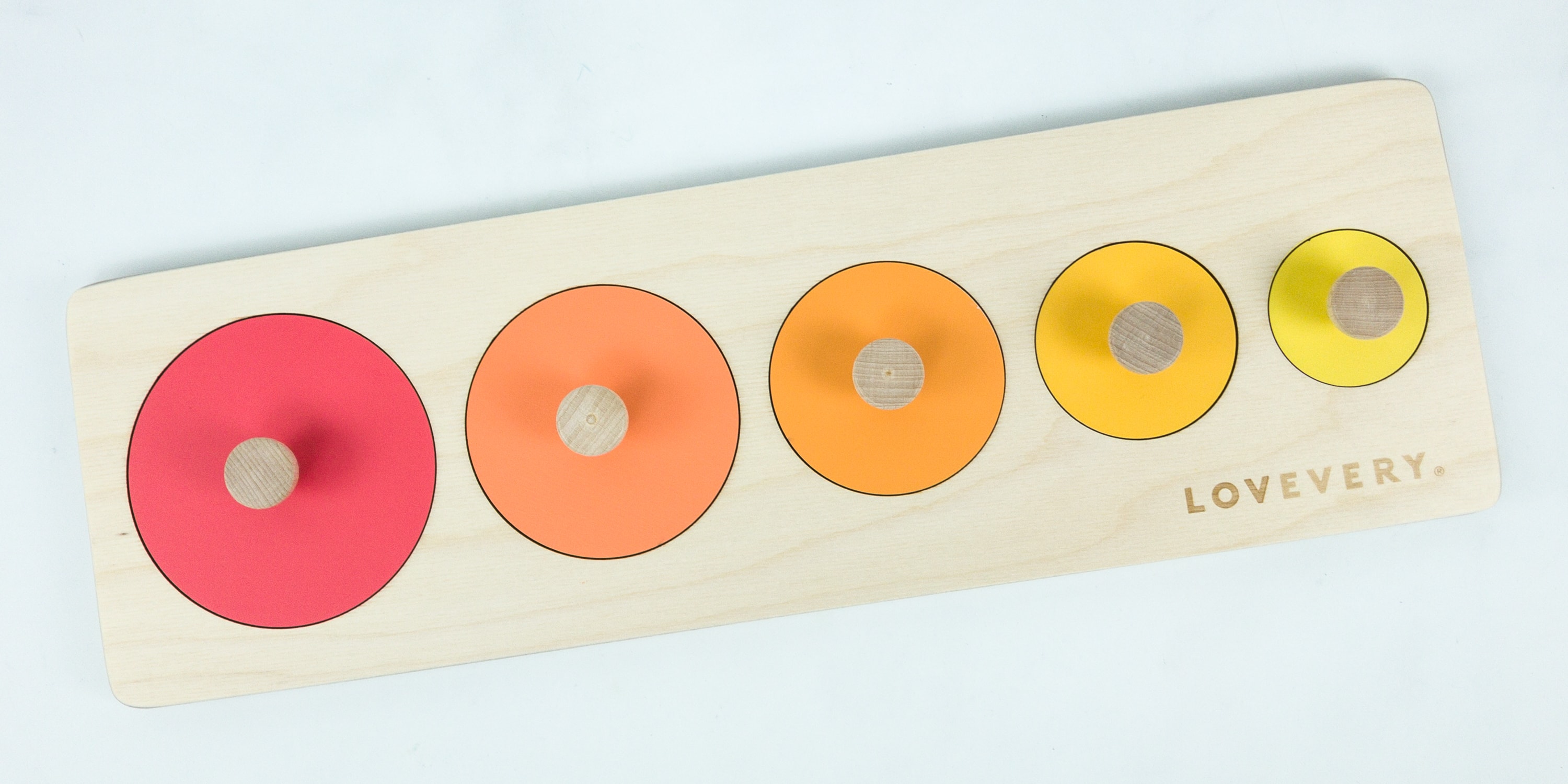 For this activity, we got the Circle of Friends Puzzle. The circles are arranged from big to small. They also came in different colors.
Each circle comes with a handle that even small children can easily lift up, and beneath it is a photo. You can cut out photos of your family members that match the size of the circles if you want to customize the puzzle.
My baby enjoyed this one! She enjoyed removing the circles and although it was a challenge to put them back, she still did it. This activity even helped her recognize circles and colors.
Next activity is Rotation and Spatial Relations!
Manipulating coins is a fine motor and problem-solving activity for your baby. She's working hard to pick up each coin and turn it in the proper position to drop it into the slot. This three-dimensional puzzle may be a little challenging at first, but over time, she'll learn that simply rotating an object's direction can change how it fits with or into another object.
This time, we got a wooden coin bank with a detachable bottom and wooden coins!
We're dealing with circles again, but this time my baby will be putting "coins" in a coin bank and then, with our help, she will be figuring out how she can retrieve the coins. It's a fun activity that enhances a baby's problem-solving skills!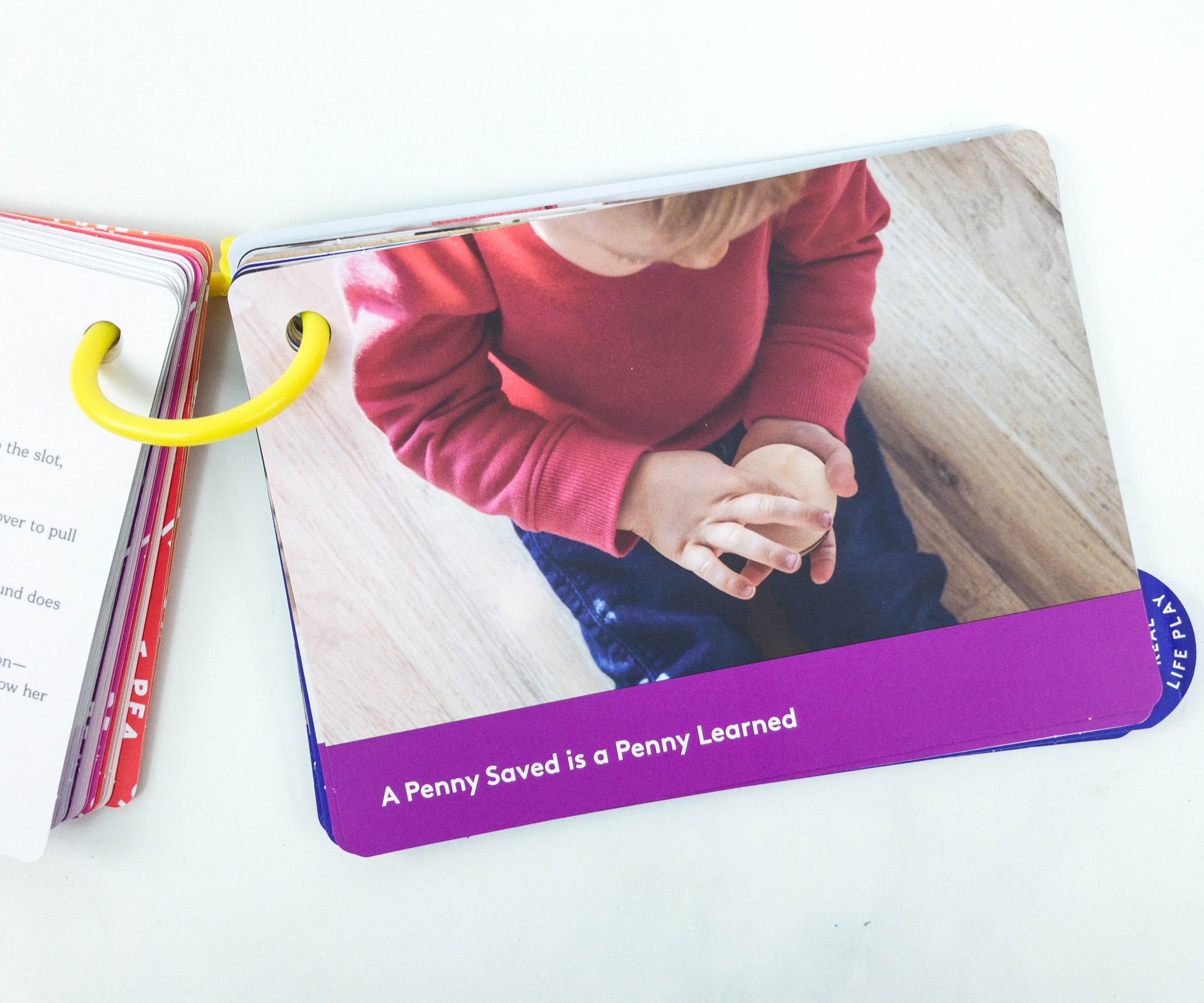 Here's another fun activity: A Penny Saved is a Penny Learned!
Basic number skills learned early on are a strong predictor of later success in school. Just as babies learn language by hearing you talk before they can talk themselves, they learn the concept of numbers and how to recite numbers before they can count specific objects,
Next activity is Spatial Relationships and Parts of a Whole!
Ring stack toys help your baby learn about "parts of a whole" and spatial relationships as she explores how things fit together. The fine motor skils she will be practicing while manipulating the rings are an added bonus.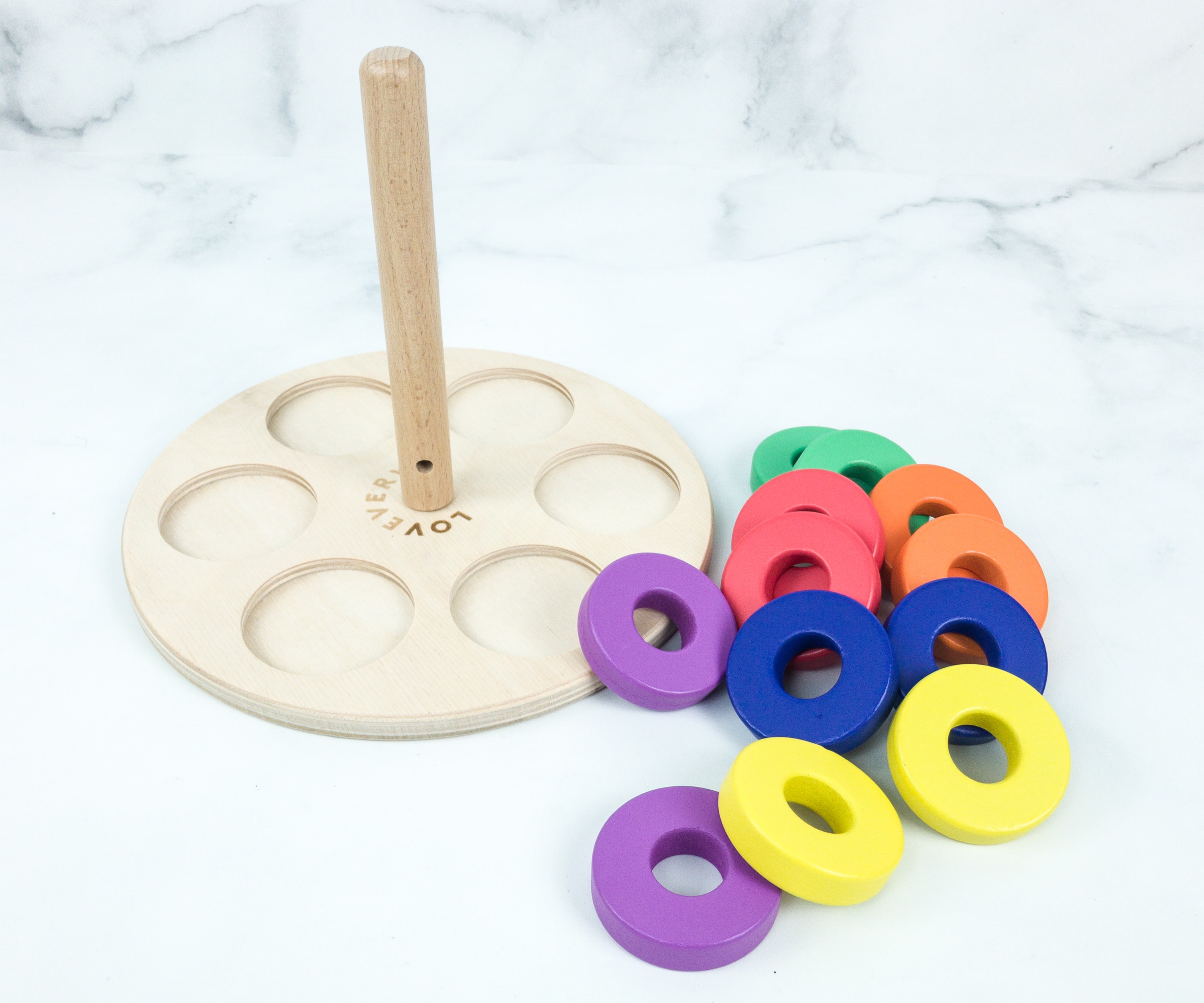 For this activity, we received a stacker set. Both the stand and the colorful rings are made with wood.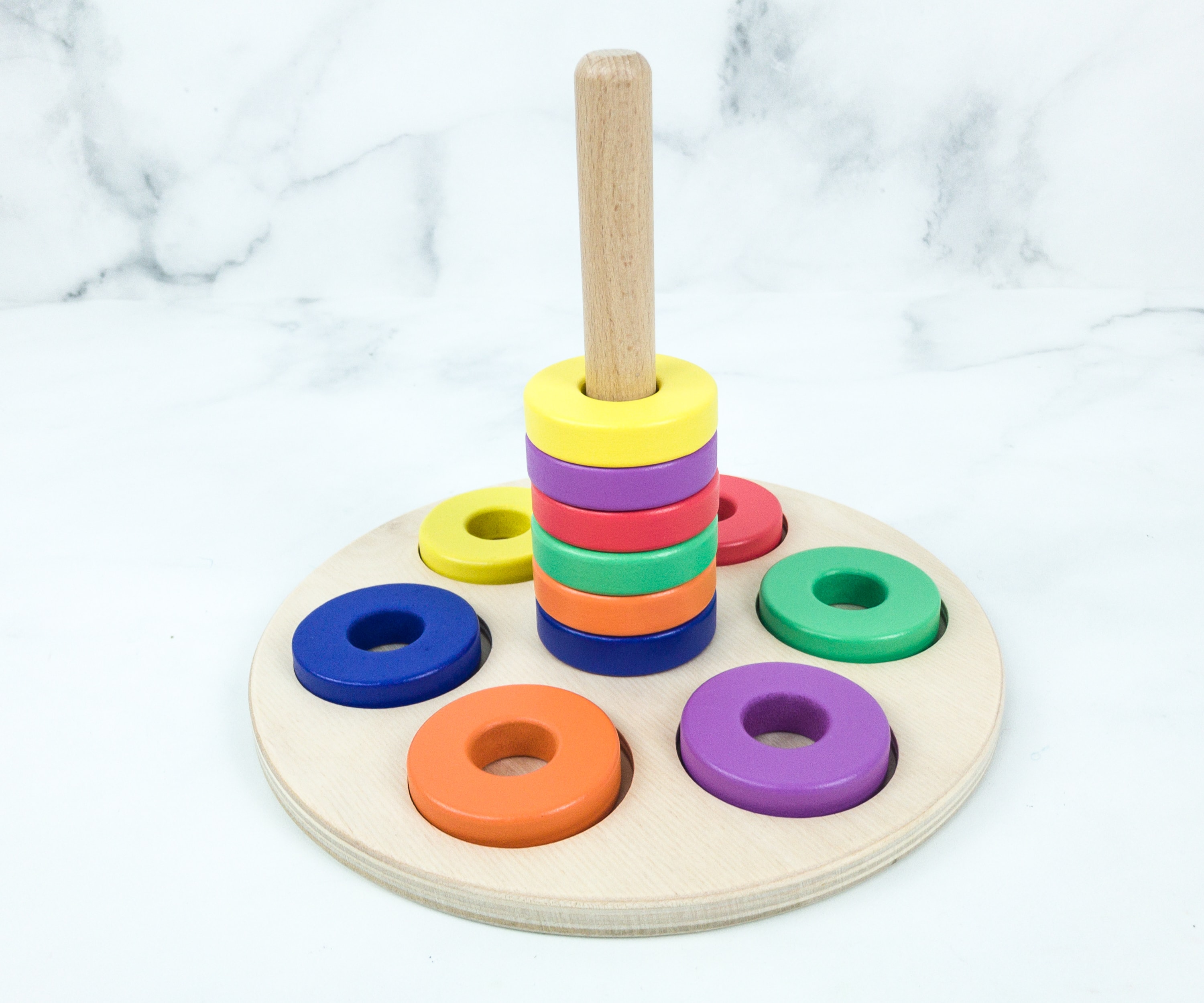 Kids can do a lot of things with these. They can fit the rings on the slots, stack them all up, and even learn about colors!
My baby did so well in putting the rings on the post and then removing them as well.
Additional care instructions are listed in the booklet.
We're onto the last part of the booklet! It's called Real Life Play, which suggests more play ideas using materials we can find from home.
First suggested activity is Ice Cube on a Tray! For this, we only need ice cubs and a cookie sheet or tray.
Your baby is starting to explore the physical features of things⁠—such as the sensation of cold that ice goves off. He's also learning about physical properties: some things stay the same, some things appear to change but are actually still the same (you look different while wearing sunglasses, for exapmple) and some things actually transform⁠—like ice melting to water.
Next up is Finger Painting! You can use child-safe paint, but if that's not available, you can also use shaving cream, foaming soap, or yogurt.
Finger painting is a classic first art project with many experiential benefits. Your baby will learn that colors change when mixed together and what it feels like to squish paint between her fingers. Finger painting also strengthens her finger and hand muscles.
Another suggested activity: Squishing an Avocado! For this, we need to cut an avocado in half. It will surely be messy but there's a lot of things to learn, especially when it comes to sensory association.
At this age, your baby is exploring the world with his hands. Tactile play gives babies the chance to build sensory associations and strengthen cognitive skills. The hands are connected to many areas of the developing brain—sometimes referred to as the 'hand-brain connection'. Breathe deeply, embrace the mess, and remind yourself that this is healthy for your baby.
The next activity is all about Practicing with Tubes! For this, we need a paper tower roll from home. All your kid has to do is to put different items into the tube. You can try various items, from balls to sticks and more!
Your baby is beginning to understand that things fall out of a tube and stay put in a container—a concept she'll be increasingly interested in over the coming months.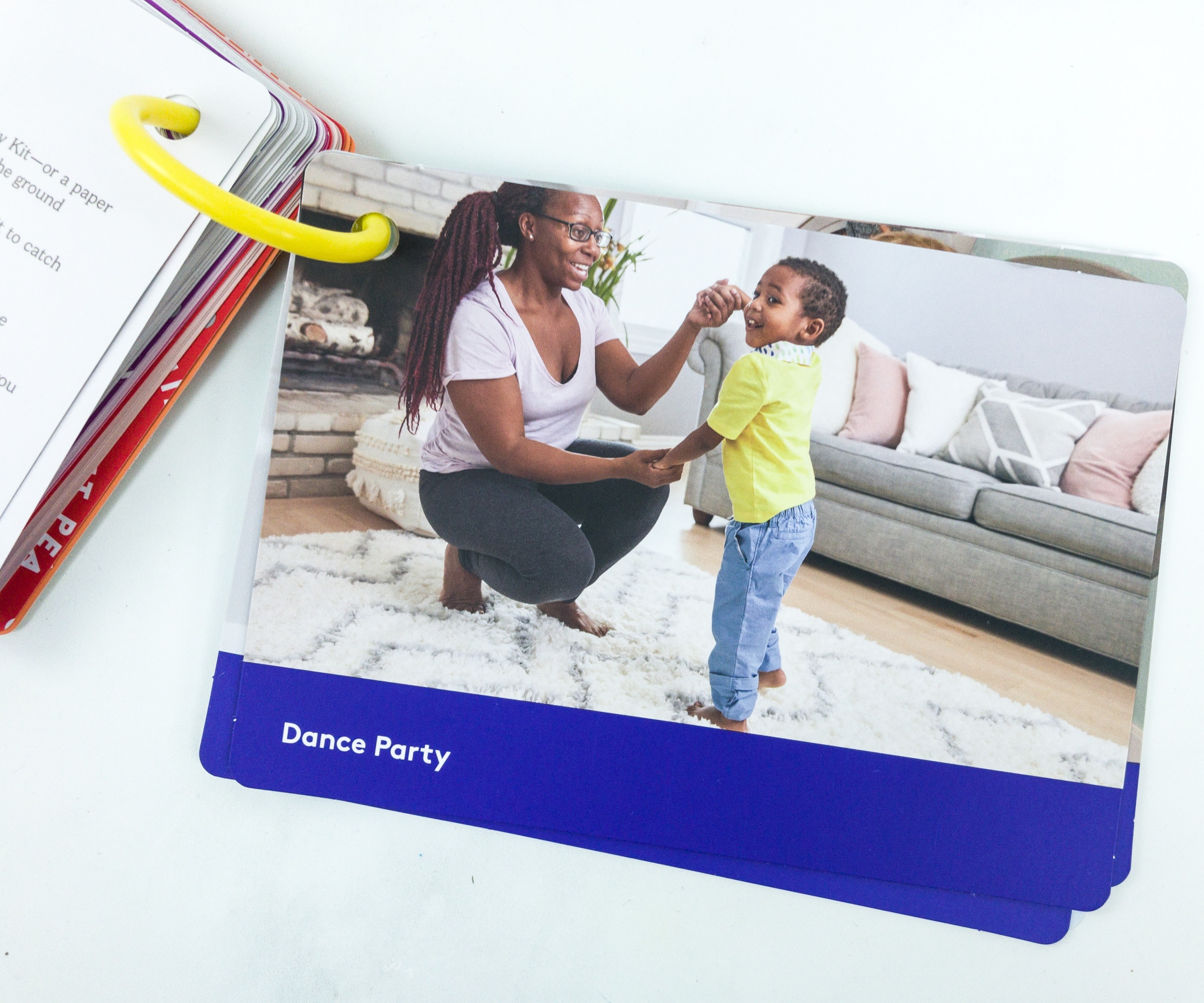 Next, we're going to have a Dance Party! At her age, my baby has already started to move to rhythms and it's so fun to watch her do it. Aside from dancing to the music, this activity also encourages parents to sing songs with repetitive verses, so the kids can learn from imitating you.
The beats and rhythm of music are related to math concepts. Listening to and learning lyrics is an important part of language and reading development. Dancing is also fun and active!
Next up: Loading the Washing Machine! Kids can help through simple steps such as pouring detergent, pushing buttons and opening the machine's doors.
Your baby may already be imitating housework and other real-life activities with you. She learns a great deal through these experiences! Take doing laundry, for example: she learns how the washer door opens and closes, what the soap smells like and how it pours, and how clothes start out dry then get wet—and then dry again.
Here's another activity: Smelling Scents in Jars! It's super simple, just check your home if you have items with scents, like spices, tea, fruits, coffee, and even flowers. You can start by demonstrating how to sniff and then encourage your baby to do it as well!
Exposing babies to different scents is often overlooked. As you take your child around the house, expose him to the smells that spices, flowers, fabrics, and perfumes have.
Lastly, we're tackling Routines! From morning routines to bedtime routines, this is the time to explain the steps to kids and let them get involved.
Babies thrive on routines and rituals. Patterns in her day are comforting and help her brain to develop understanding of what's the same, what's different, and how to predict and plan. These components help her gain a sense of time and higher-order thinking that leads to developing reasoning and judgement.
There's a thank you note on the last page, as well as a reminder:
A reminder to please supervise your baby while doing the enclosed activities and do not leave your baby unattended.
This box gave my baby a great time!!! The toys are all sturdy, so we can use them over and over until whenever. To maximize the toys, the lengthy booklet provided lots of useful information for parents, starting from concepts to detailed steps on how to play and learn with their baby. The booklet is also parted in sections, making it easier to access. What's great about this play kit is that you don't have to do everything all at once, because that would be too overwhelming. The contents are meant to be enjoyed one step at a time, or whenever you see fit as a parent! We totally love this box, content-wise to quality-wise! My baby will not stop playing with these toys, and I can say this is the biggest baby box I have ever received. We've actually received a few more, and we'll be posting all the reviews of each and every box – I can guarantee you that toddlers will love every single item – mine won't stop playing with them – and the next box is even better!
What do you think about the Toddler Play Kits by Lovevery?
Visit Toddler Play Kits by Lovevery to subscribe or find out more!