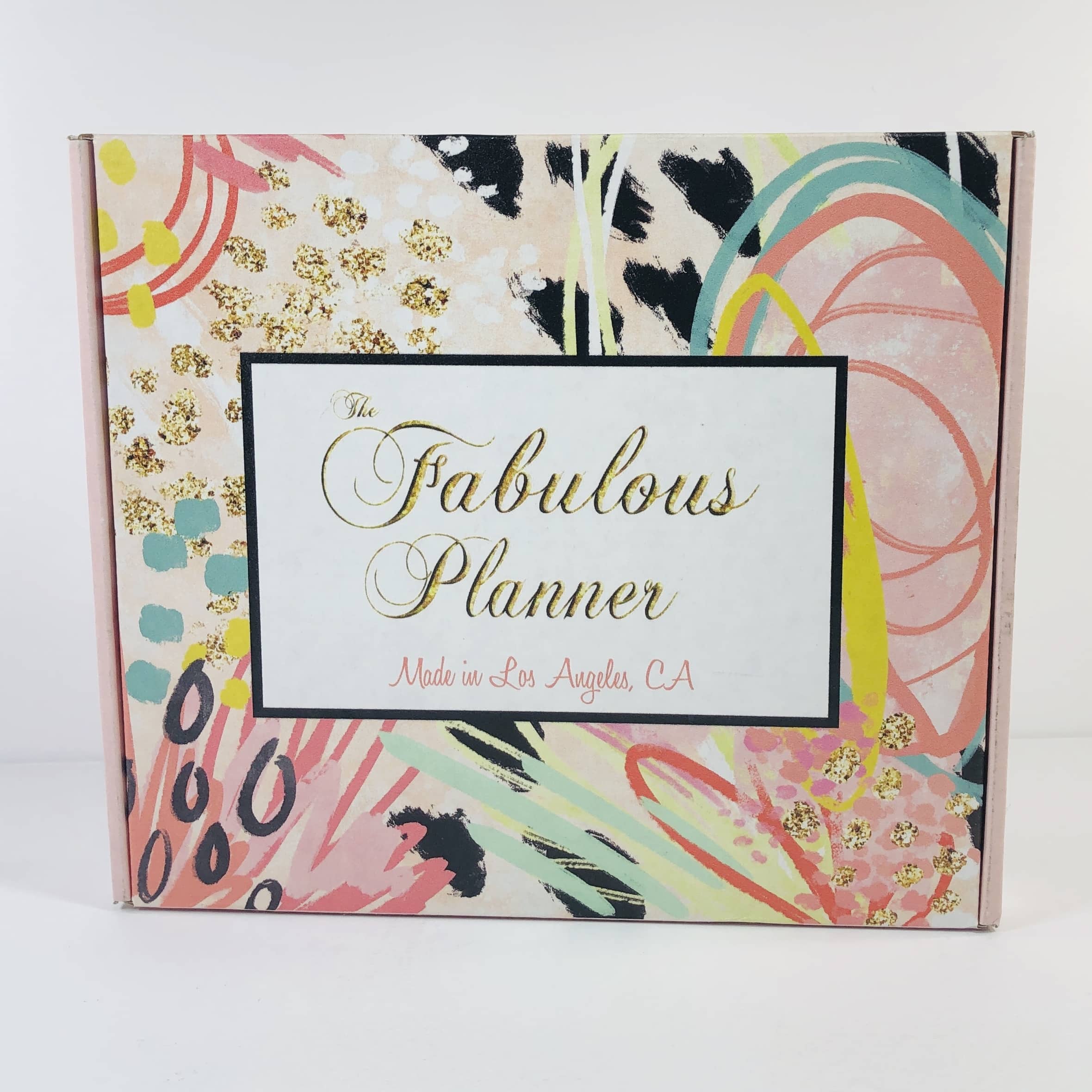 The Fabulous Planner is a themed monthly subscription box of items to help you organize your planner (and hopefully your life!) in a fun and stylish manor. Don't have time to shop around for new items to decorate your planner? The Fabulous Planner has you covered and will send all kinds of lovely, stylish, and functional items that will make your planning time creative and practical and will definitely help you get more organized in style. You can choose from two levels: The Luxury Box is $26.99 and has 10-12 products and comes in several sizes to fit your planner; The Classic Box is $14.99 and has 5-7 items that fit a variety of planner sizes. Shipping is extra for both levels.
Feeling uninspired by your current planner and don't have the time to search for some new, fabulous accessories?

Babe, I got you covered!

Introducing: The Fabulous Planner Subscription Box – the key to keeping your planner functional and fabulous.
I am reviewing The Luxury Box, which comes with items that may include dashboards, inserts for the month, journal cards, bookmarks, stickers, pens, washi tape, notepads, stamps, page flags, notebooks, enamel pins, and other lifestyle Items.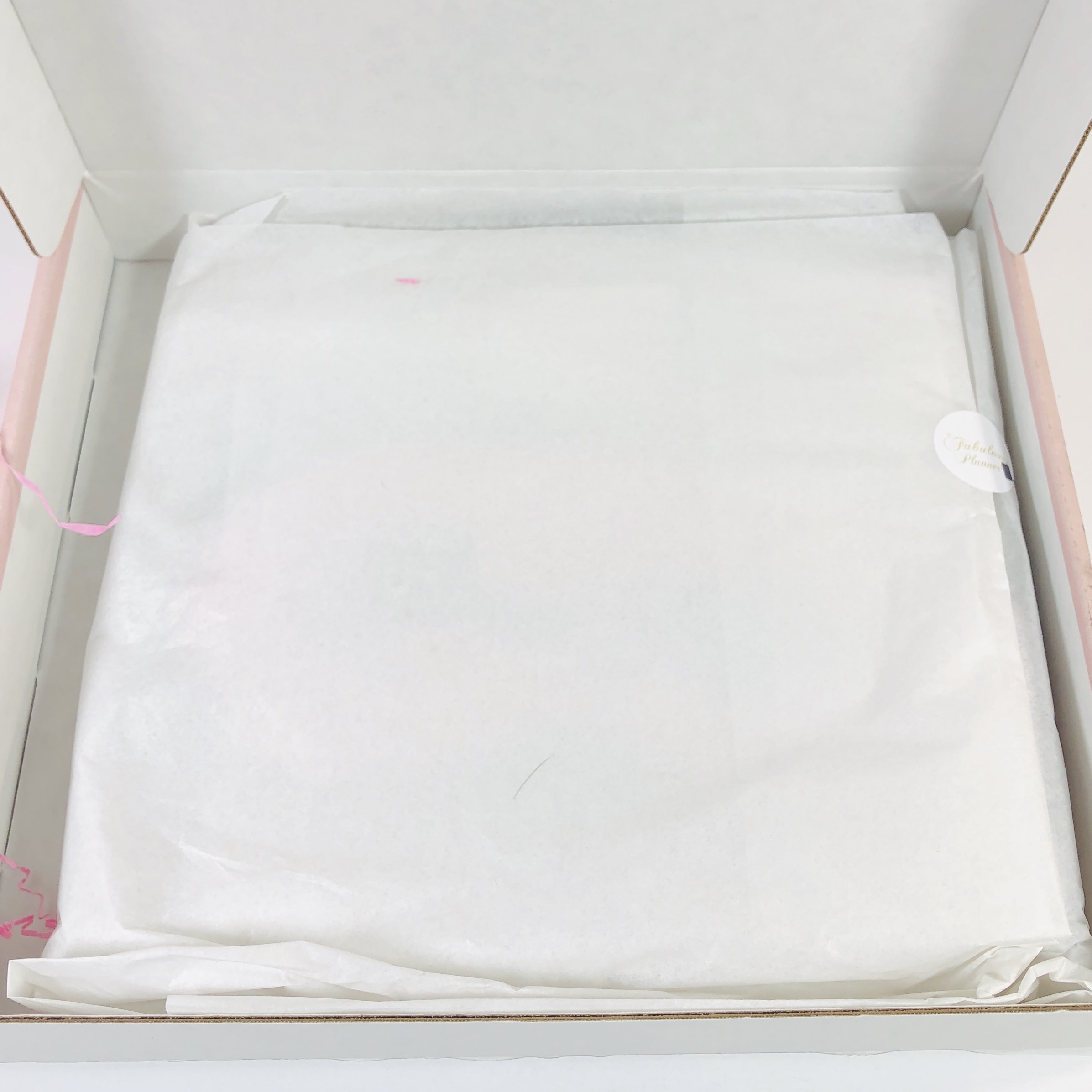 This is my first box and I found it to have a simple presentation, with my items wrapped in tissue paper and sealed with a sticker, plus shredded paper to keep the items from shifting a lot during shipping.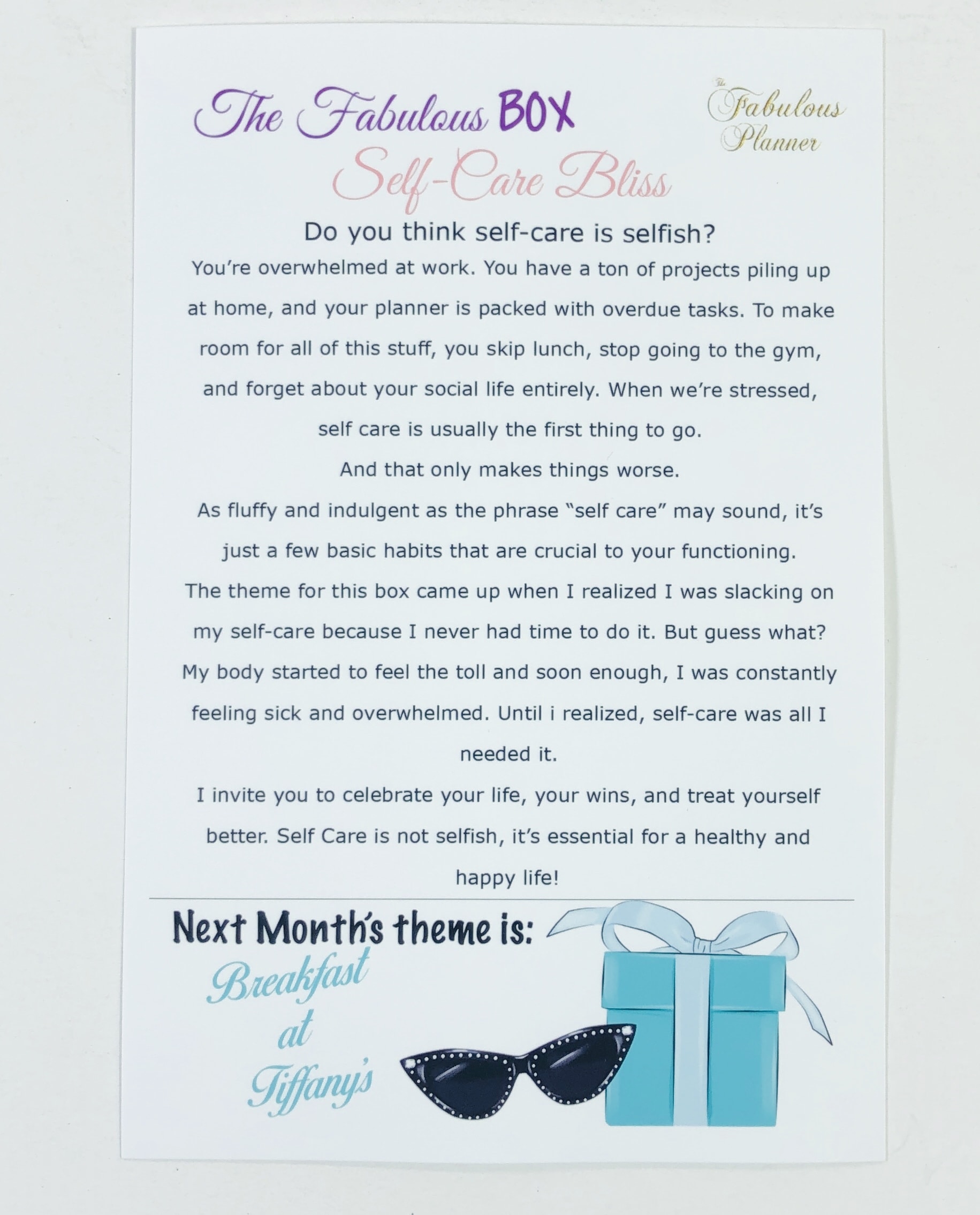 I found a card with a little background info behind the theme for July. It also announced the next month's theme.
All of the items for both levels were listed on another paper. Some of the items in the Luxury level are specific to a certain planner size that you can indicate when signing up. No planner? Then you can order one from their online shop! You can find even more items on their Etsy site. Have a planner similar to the type offered by Erin Condren? Go ahead and order the Classic Box since the stickers and other items will fit a variety of planner sizes.
Most of my items were wrapped in plastic and I was excited to see what all was in the box!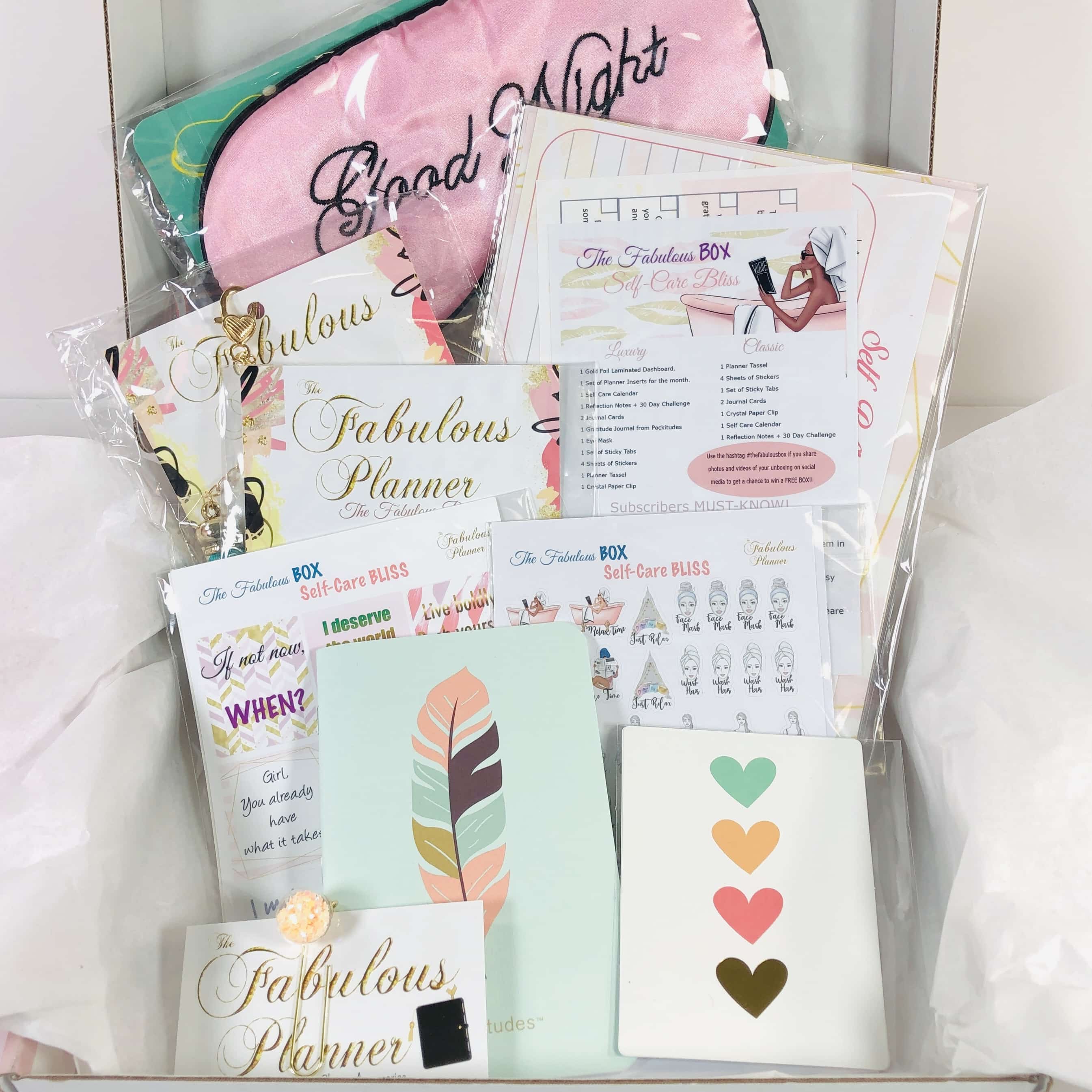 Everything in my box!
Crystal Paper Clip ($2 for similar item found here) can be used in your planner to mark pages you want to access in a hurry. It has peachy glittery stars in a clear globe and is attached to a gold paperclip. I found it on this business card with contact details for the box owner.
Self Care Calendar has 28 self-care activities that you can indulge in no matter what month it happens to be.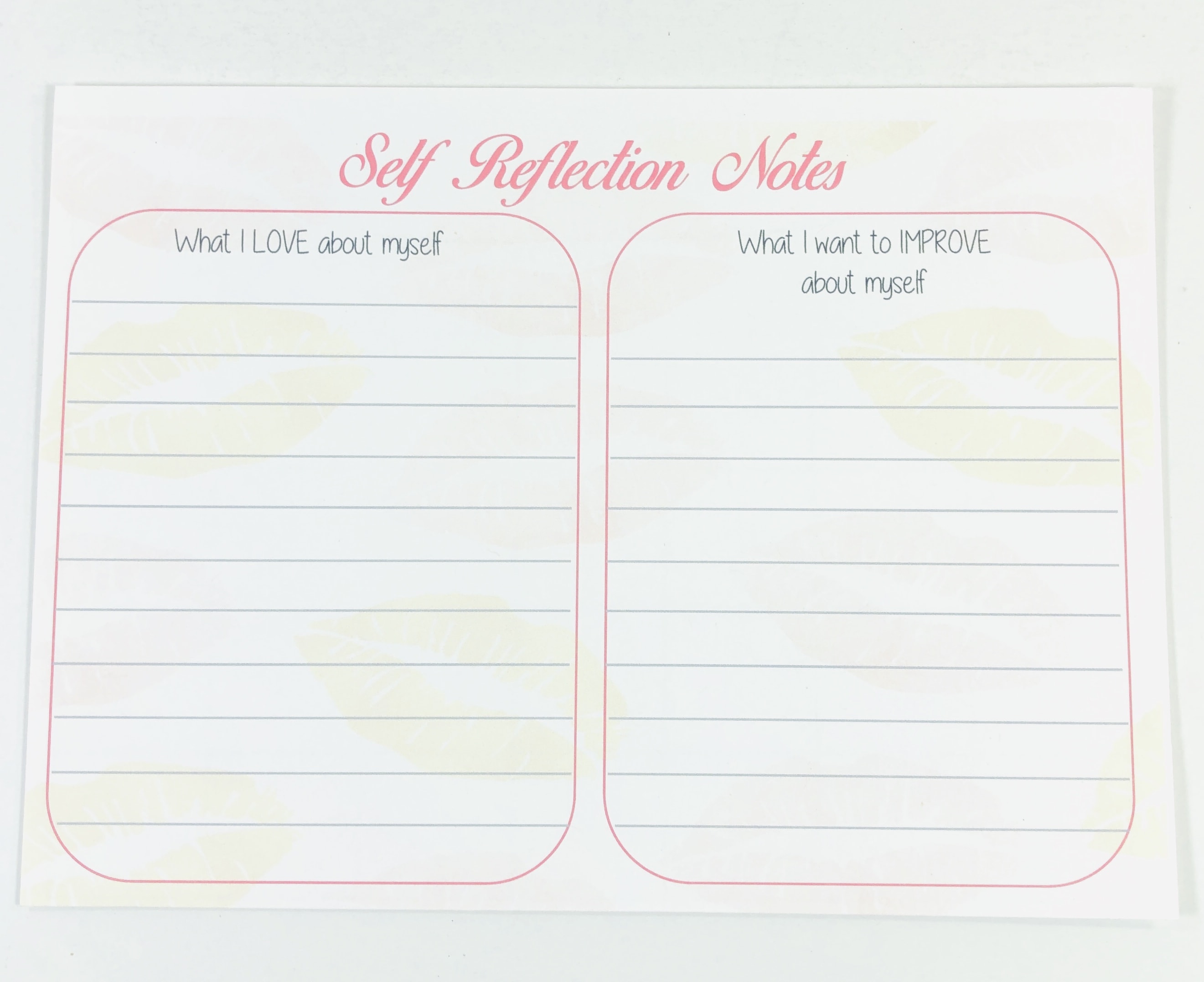 Reflection Notes + 30-day Challenge One side of this card has room for you to jot down notes on what you love about yourself as well as what you might want to focus on improving.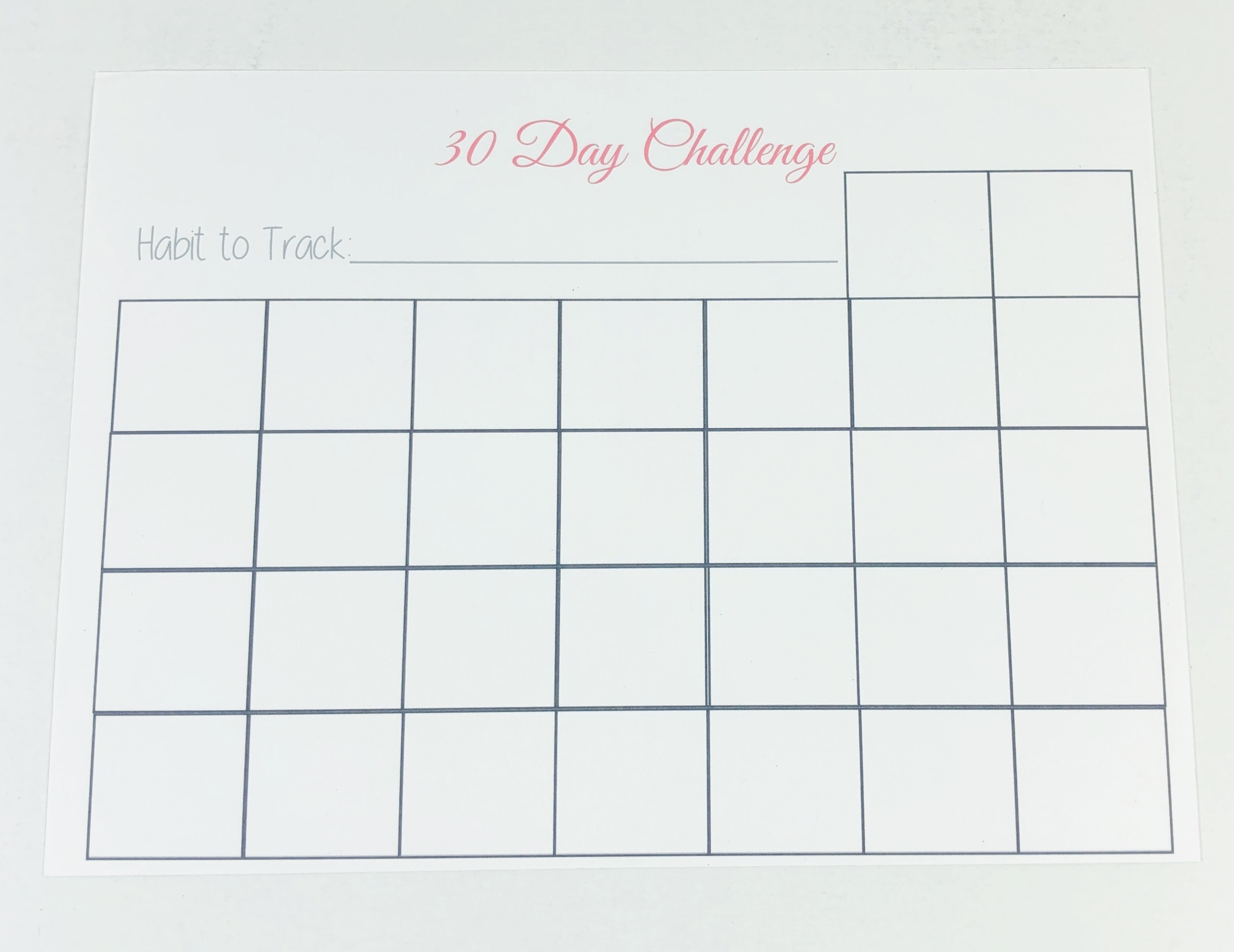 On the back of the card you can jot down a habit you hope to keep, and maybe place a check mark or, even better, a cute sticker every time you accomplish your goal.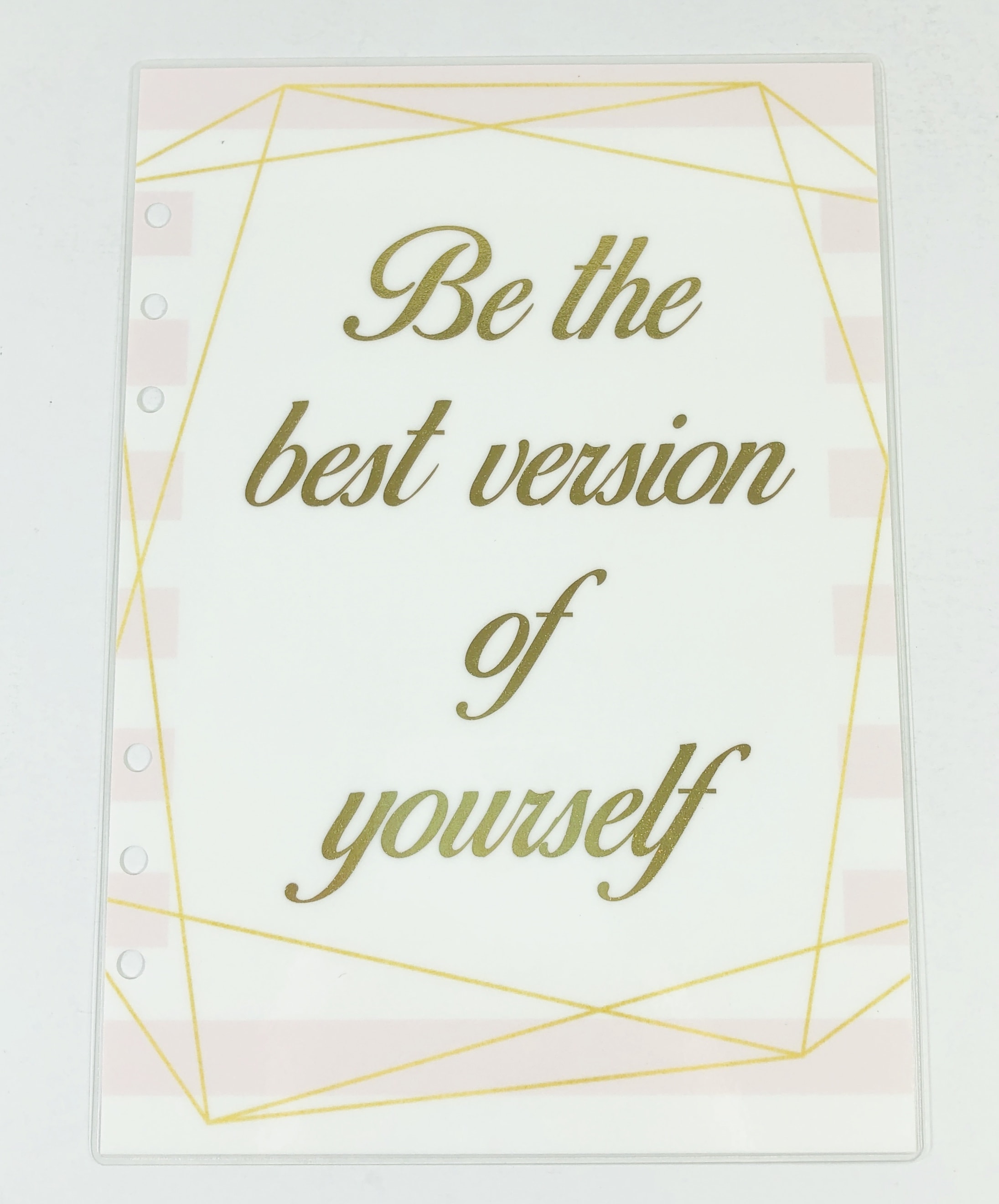 Gold Foil Laminated Dashboard I ordered a box that would fit an A5 size planner, which I don't happen to own but it was the largest option available. The dashboard is 8.5″ x 6″ and is laminated. The wording is in gold foil.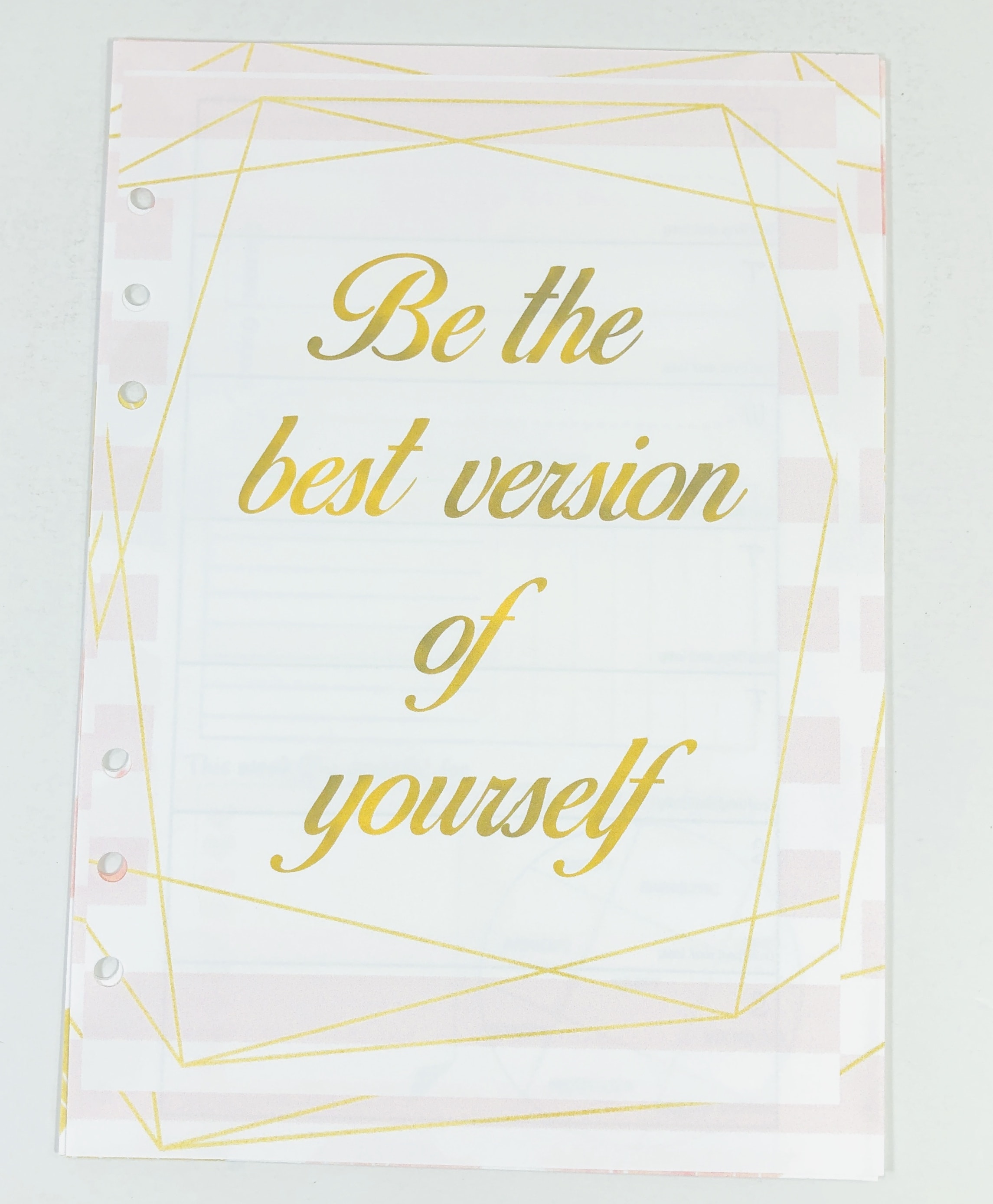 Set Of Planner Inserts For The Month I received a set of 5 paper sheets for the inserts. The front of the set has the same words as the dashboard.
One side of each sheet has a place to write the month and has a section for each day of the week. You can note something good that happens each day if you like. The other page has room for you to note your self-care routine, things you are grateful for, how you are feeling, and a habit tracker.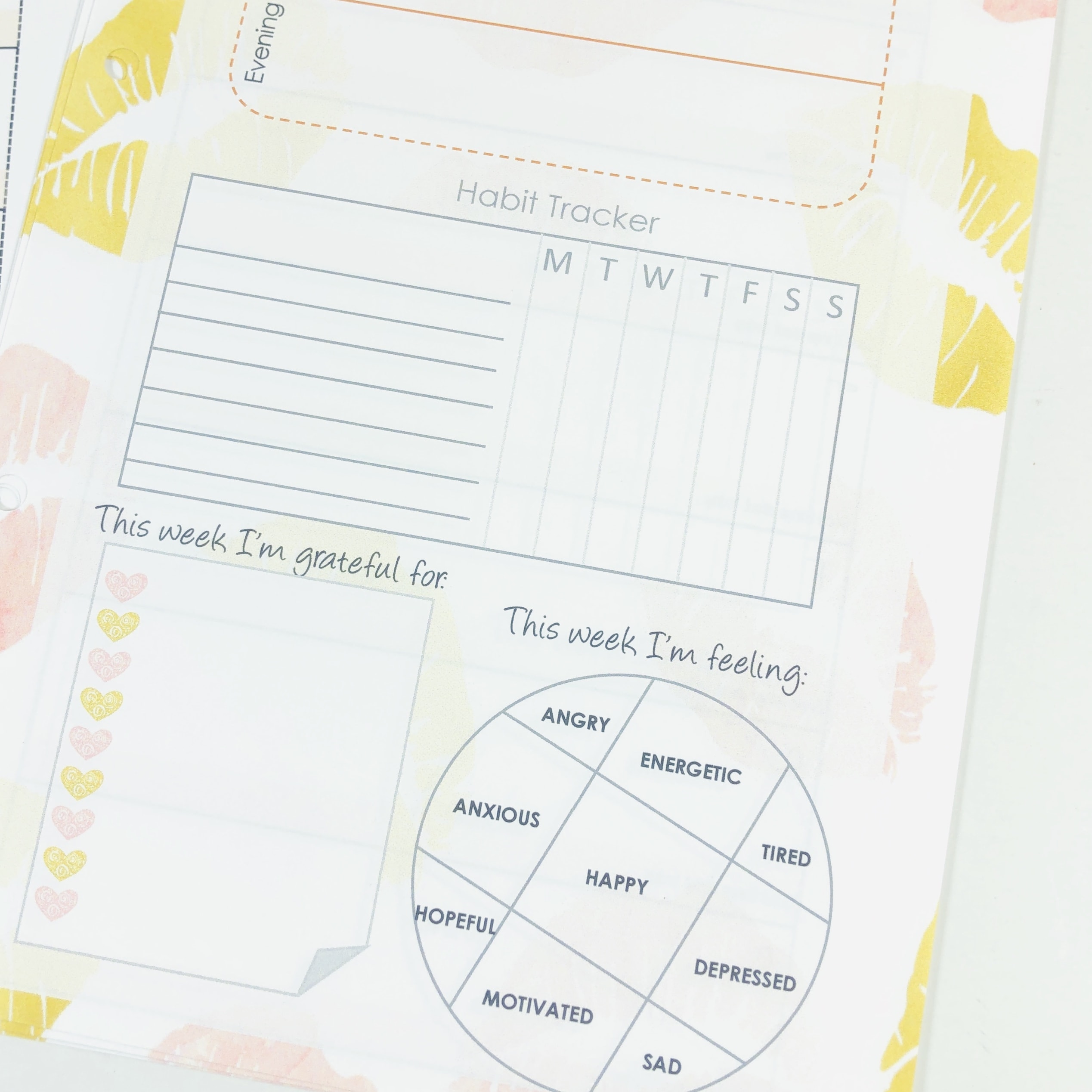 You can track several habits at once! I have about 5 habits I am working on right now so I can track all of them on this one sheet.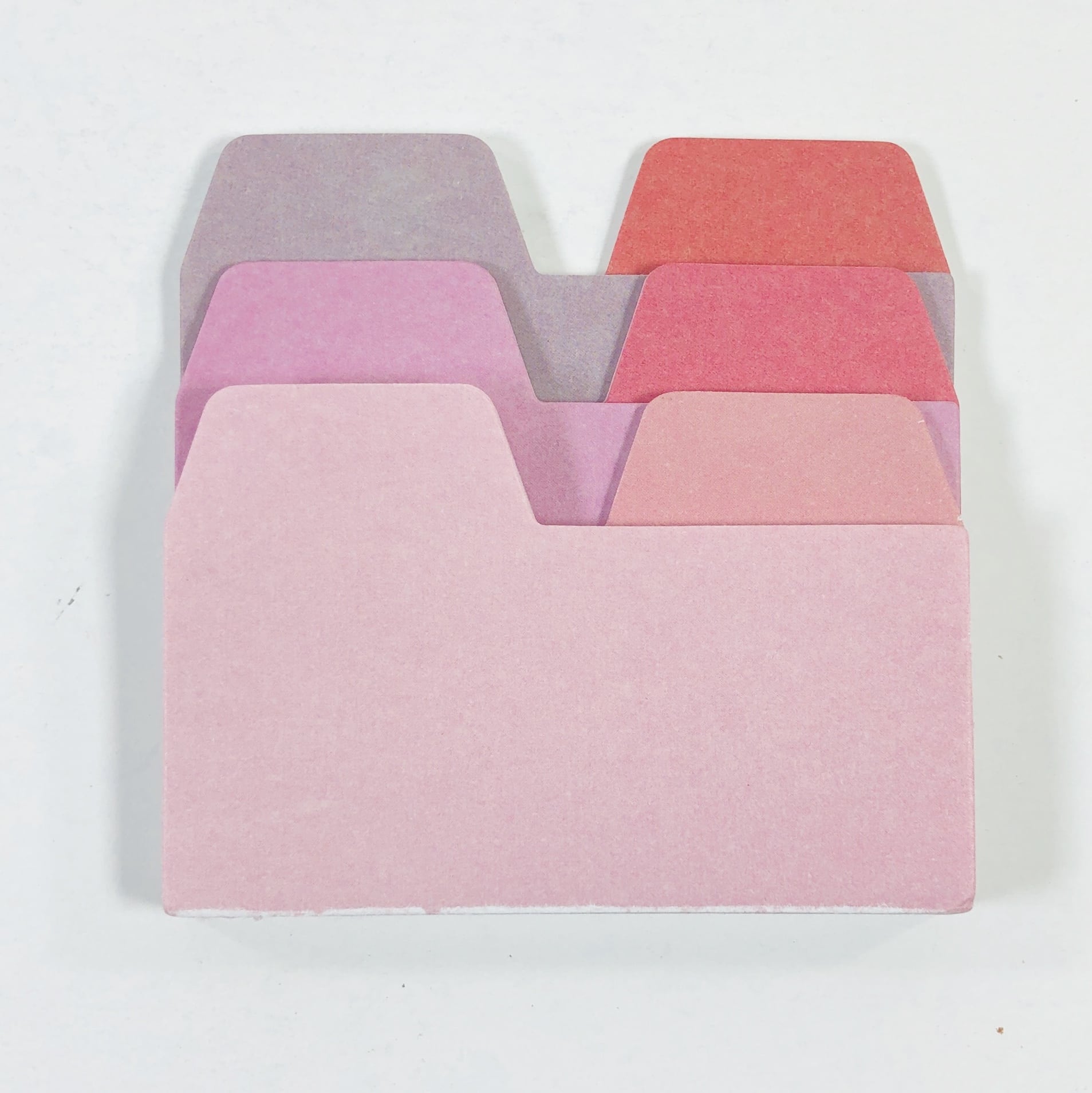 Sticky Tabs come in 6 different colors and can be used however you wish.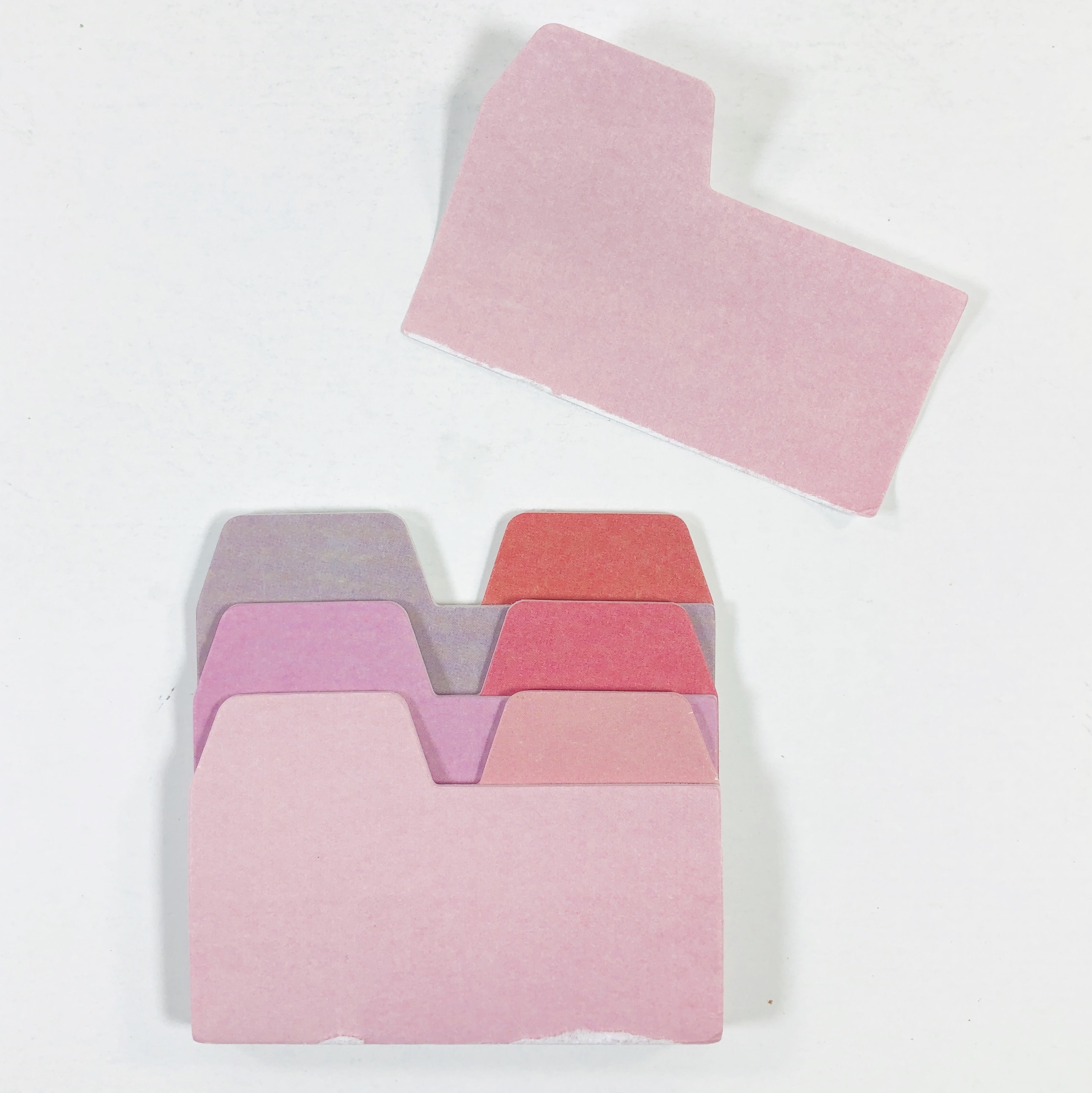 You can fold down a section to access the color you want to use and stick them all over your planner or work papers.
Planner Tassel ($17.12) I had no idea planner tassels were a thing but look at this snazzy way to jazz up a planner!
Look at these cute charms!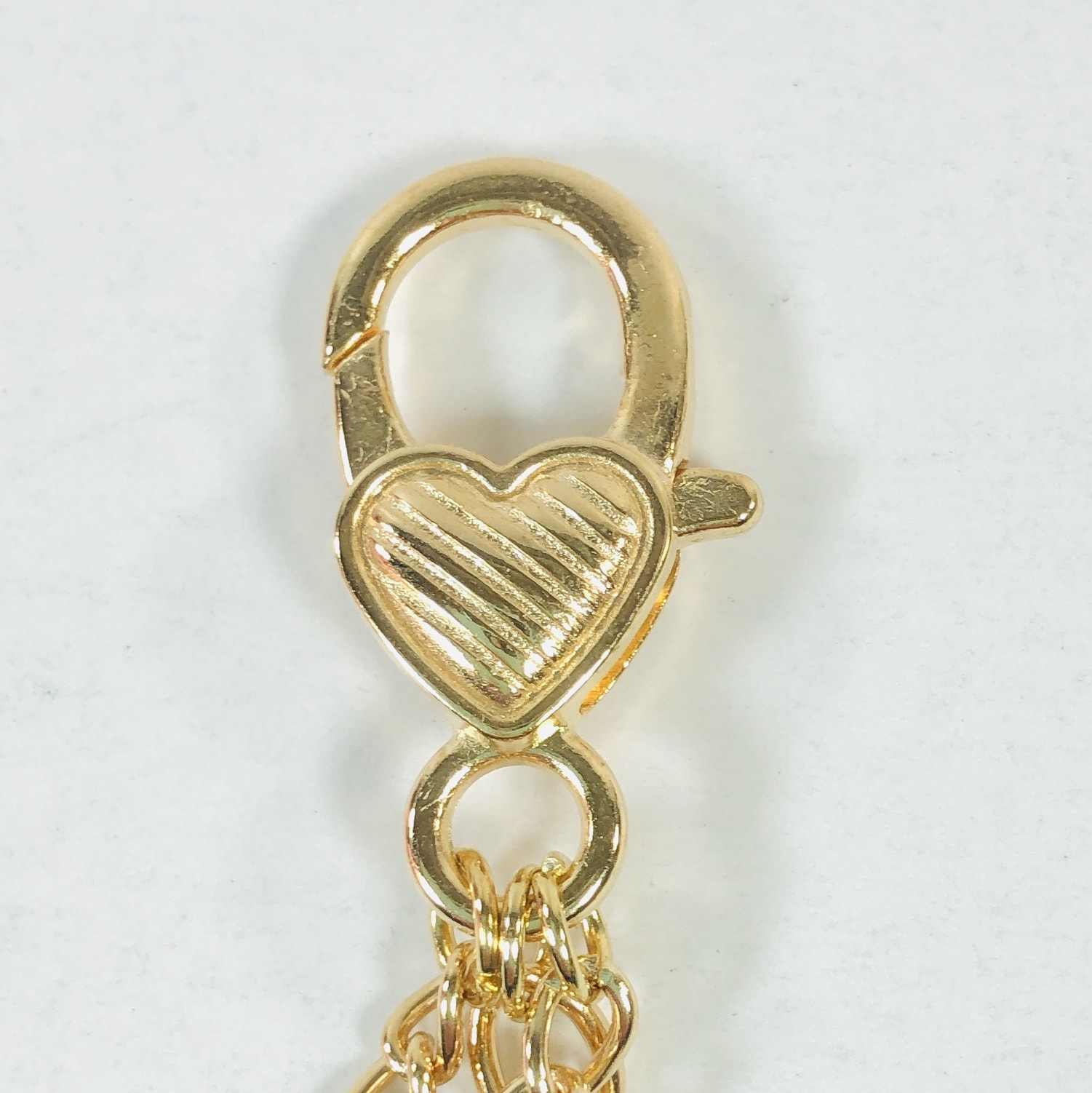 You can clip this onto your planner if it has rings, or attach it to a purse or bag.
Journal Cards I am not 100% sure how to use mini cards like these. I suppose you can glue them into a journal and write next to them or maybe write something on the back of the card and carry it with you. Both of these cards have metallic gold foil details.
Pocktitudes Gratitude Journal ($5) is a pocket-sized notebook with dot grid pages and writing prompts.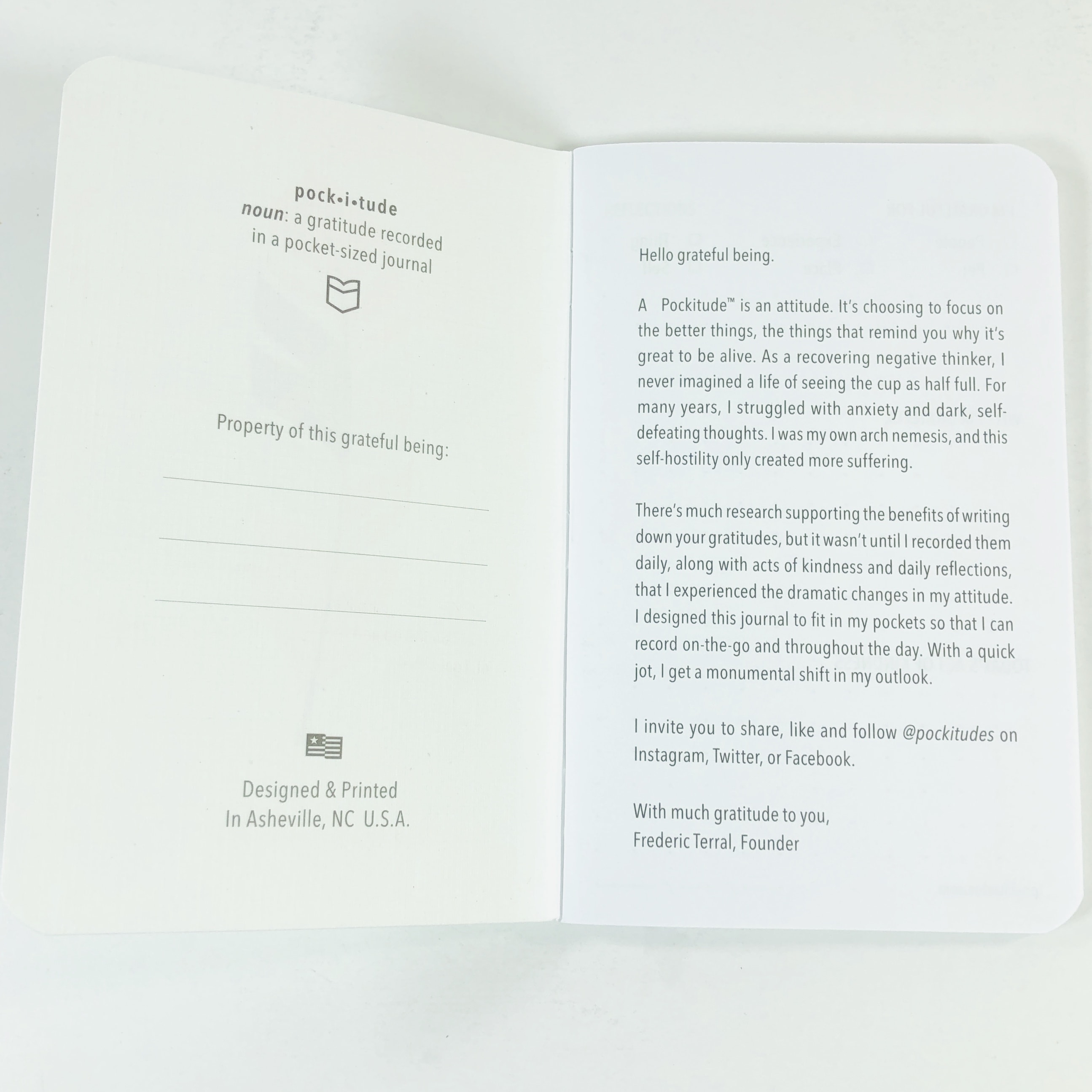 The inside cover has a place to write your name and there was a little background info on the planner.
Each "page" has prompts on the left and a blank grid on the right. There are 18 "pages" in all.
Need some self-care tips? Check out the inside back cover for some hints.
Sticker Sheets I found 4 pages of sticker sheets. I couldn't find this one online but the next three sheets came in a set for $6.60. Find that set here. For all of these stickers, the paper is matte and each sheet is around 7″ x 4.5″.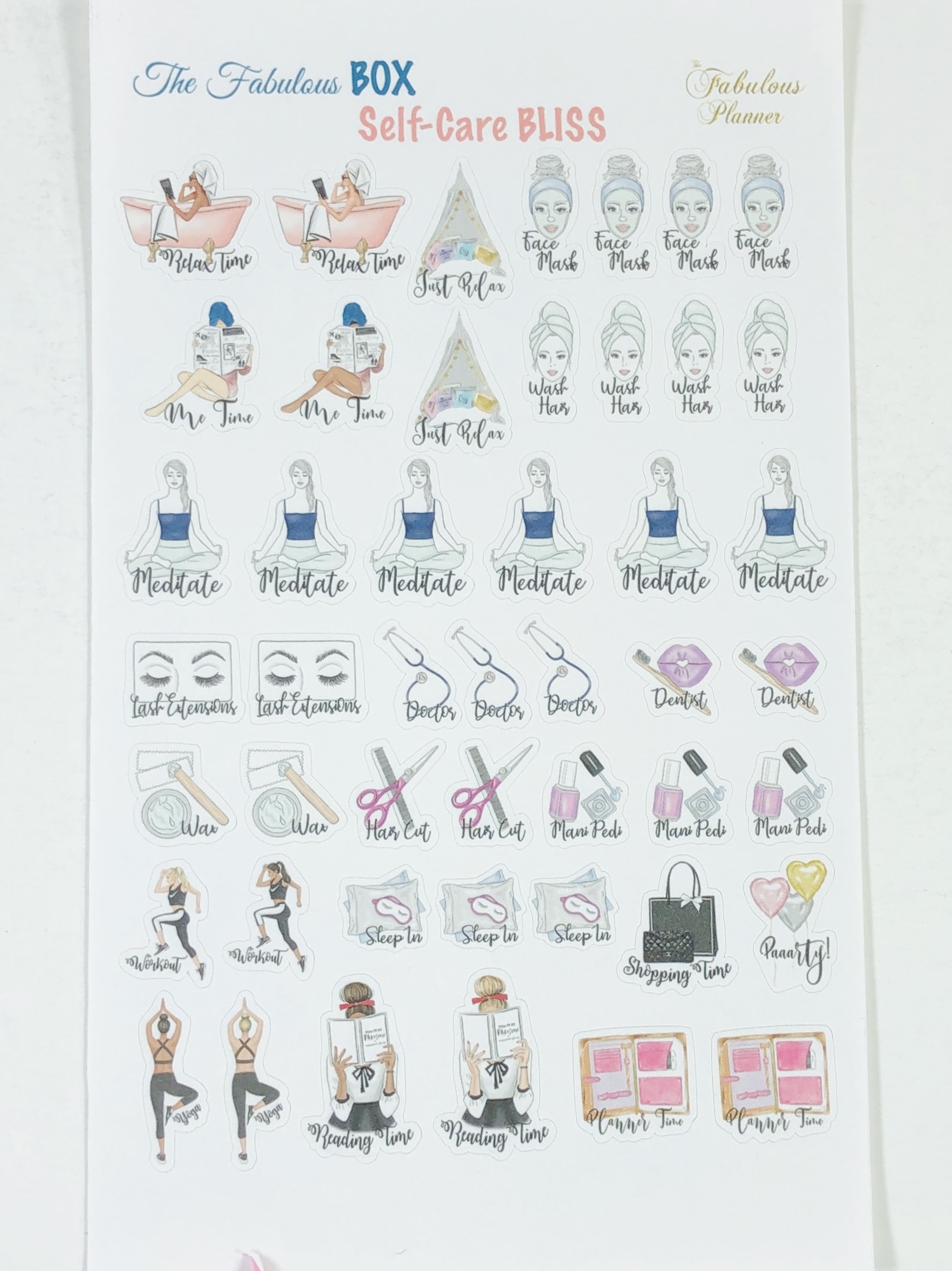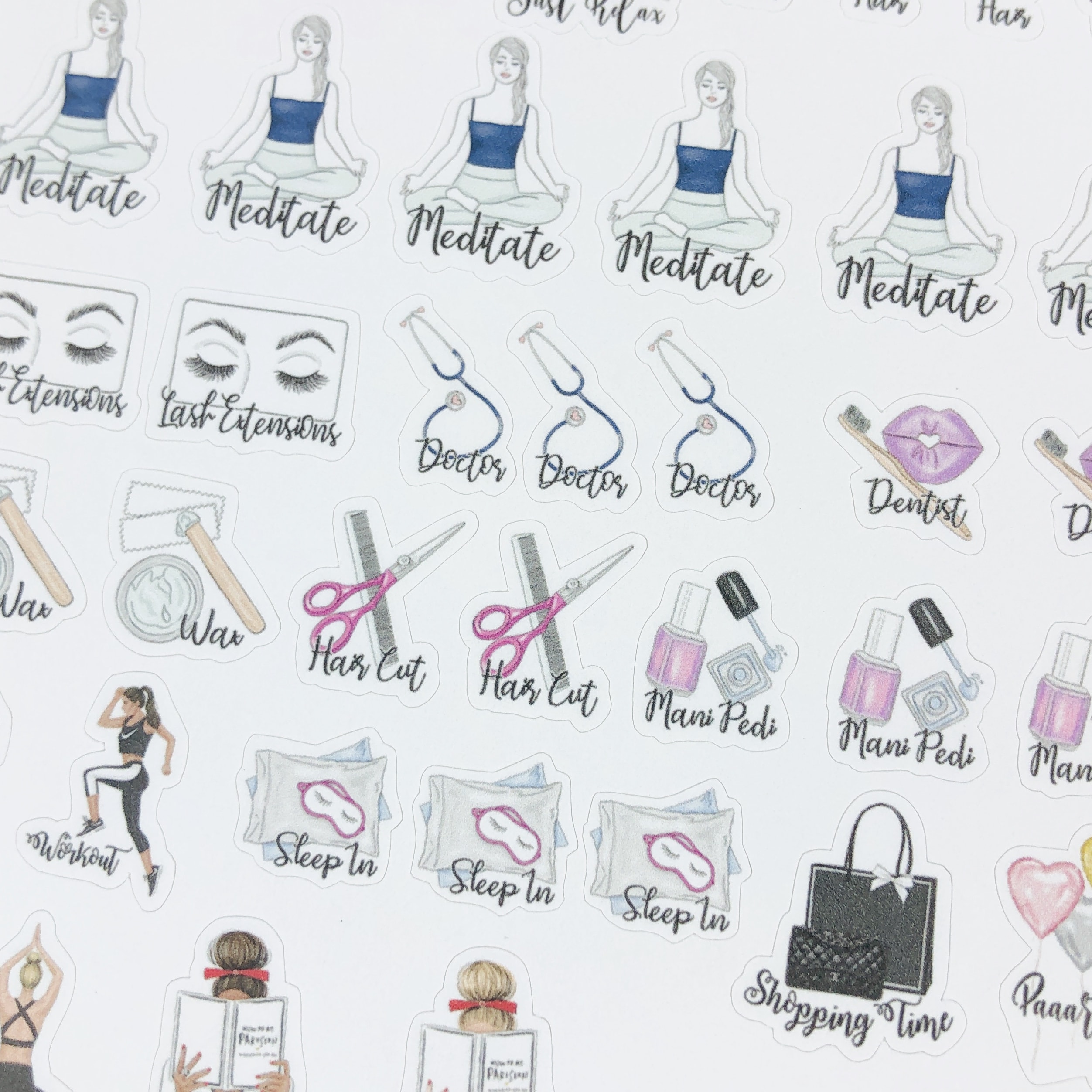 Use the stickers as a reminder of what me-time activity you plan on pursuing. I want to point out that some of the ladies on these stickers have a darker skin tone and dark hair – I love that!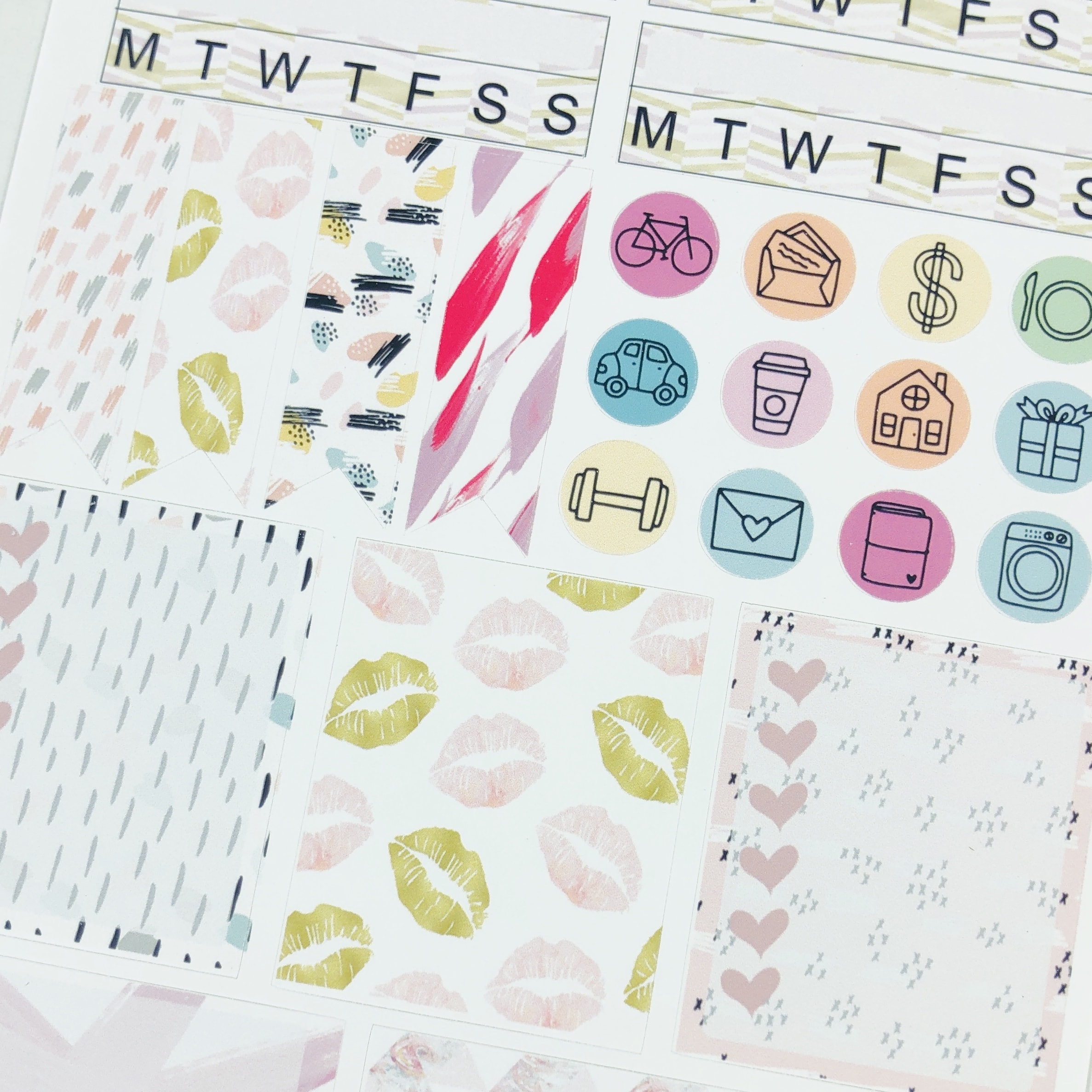 Some of these stickers are purely for decoration while others are functional.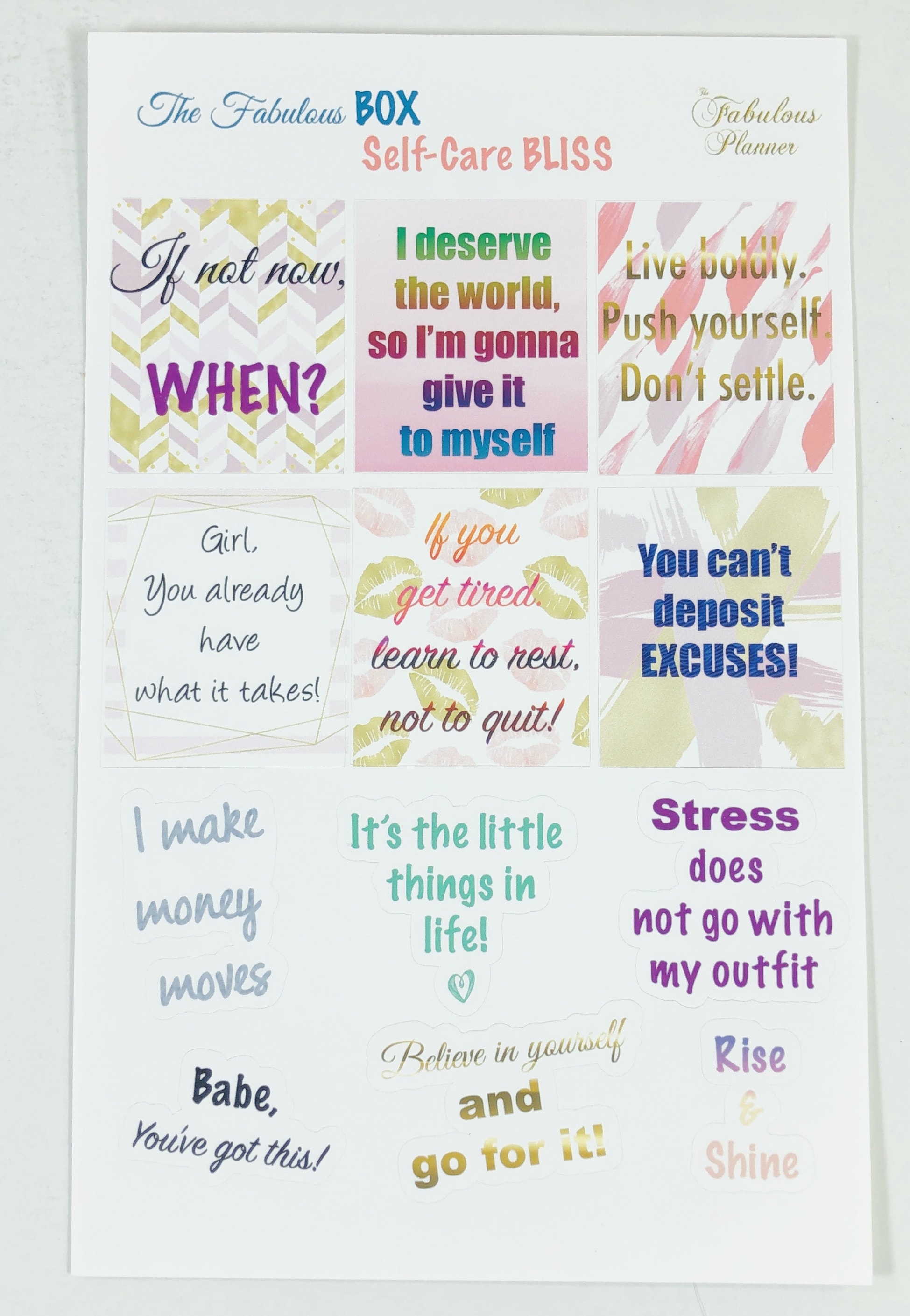 The last page has motivational sayings.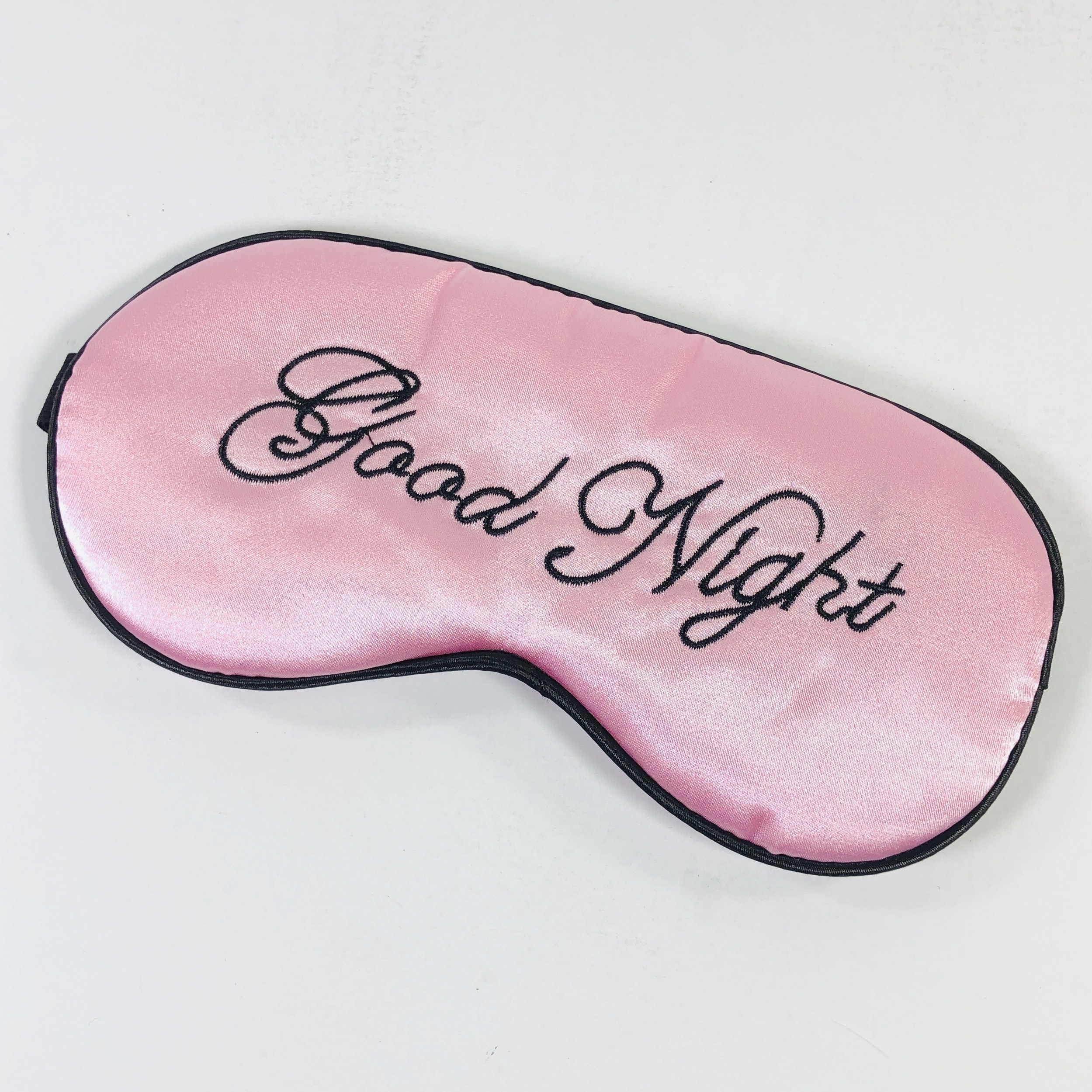 Eye Mask (Find similar item here for $6.99) If there is one thing that should be on everyone's list for self-care it would have to be getting a good night's sleep. This mask might help you accomplish that goal, especially if your room has bothersome lights disturbing you at night (from a cell phone, clock, nightlight, etc.).
It's covered in a silky fabric and has an adjustable strap to help it fit comfortably.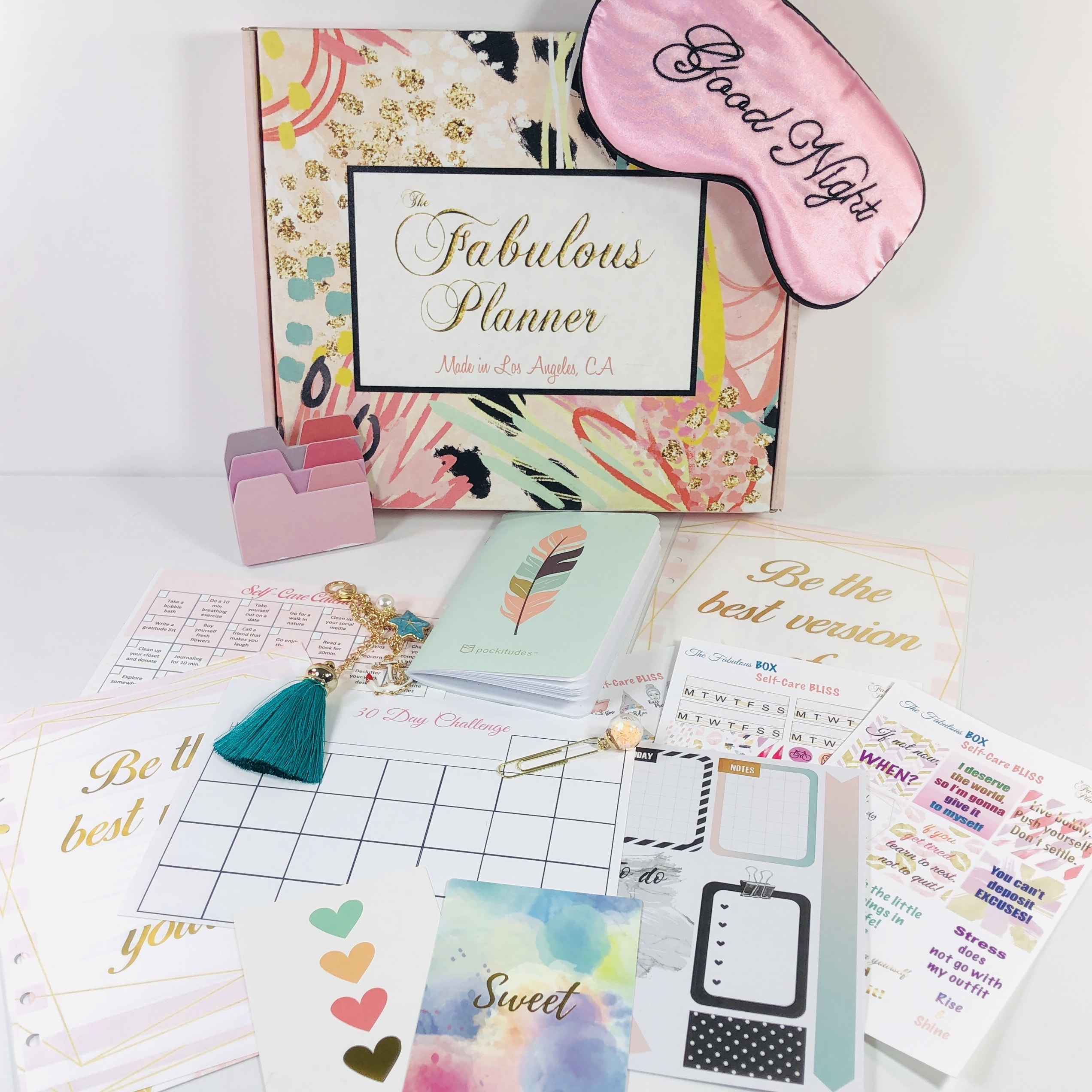 I thought The Fabulous Planner sent a delightful assortment of planner goodies and enjoyed putting these pieces to use. My planner looks much more stylish and everything coordinated well together. The quality was to my liking and I thought the colors went well together. I liked the theme of self-care and have some ideas I plan to put to use as the days turn busy and I find myself needing a break.
What do you think of The Fabulous Planner box?