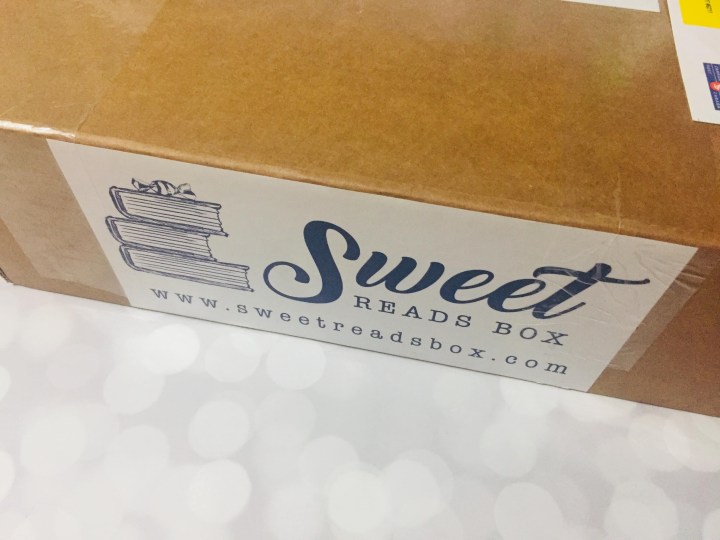 Sweet Reads Box is a Canadian subscription box bringing a curated selection of a bestselling book along with complimentary items to enhance the experience. The box is $54.99 CAD ($42 USD) for one month, and drops slightly when you purchase a 3 or 6 month subscription as well.
DEAL: Get 10% off your first box! Use coupon code LOVEBOOKS.
On top is the information card.
The back of the card has information about the month's book selection as well as the other items included, and how they all tie into the theme.
The box is packed!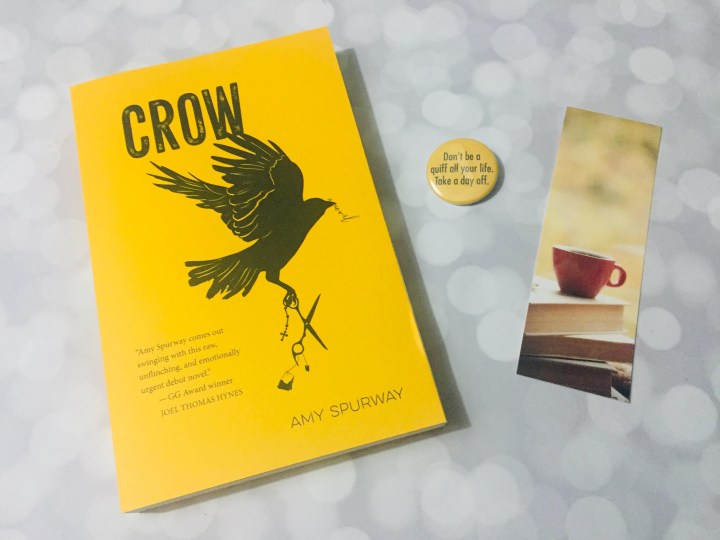 Crow by Amy Spurway ($22.95)
When Stacey Fortune is diagnosed with three highly unpredictable — and inoperable — brain tumours, she abandons the crumbling glamour of her life in Toronto for her mother Effie's scruffy trailer in rural Cape Breton. Back home, she's known as Crow, and everybody suspects that her family is cursed.

With her future all but sealed, Crow decides to go down in a blaze of unforgettable glory by writing a memoir that will raise eyebrows and drop jaws. She'll dig up "the dirt" on her family tree, including the supposed curse, and uncover the truth about her mysterious father, who disappeared a month before she was born.

But first, Crow must contend with an eclectic assortment of characters, including her gossipy Aunt Peggy, hedonistic party-pal Char, homebound best friend Allie, and high-school flame Willy. She'll also have to figure out how to live with her mother and how to muddle through the unsettling visual disturbances that are becoming more and more vivid each day.

Witty, energetic, and crackling with sharp Cape Breton humour, Crow is a story of big twists, big personalities, big drama, and even bigger heart.
I'm looking forward to this book, although the Cape Breton accent and slang is thick and definitely takes some getting used to!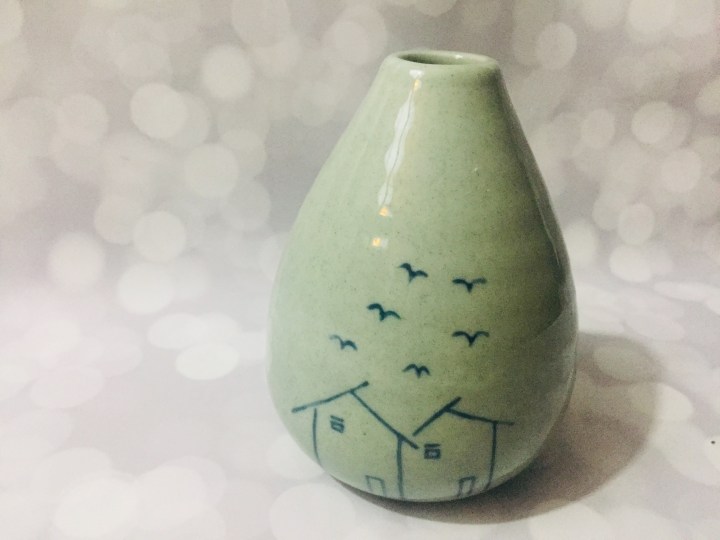 Vase — This adorable vase has a house and birds painted on it. It's big enough to house a stem or two of some colourful flower. I love it.
Onion Bag — A colourful nylon bag to store onions in. This keeps them from drying out.
It's so cute, and ties shut with a drawstring.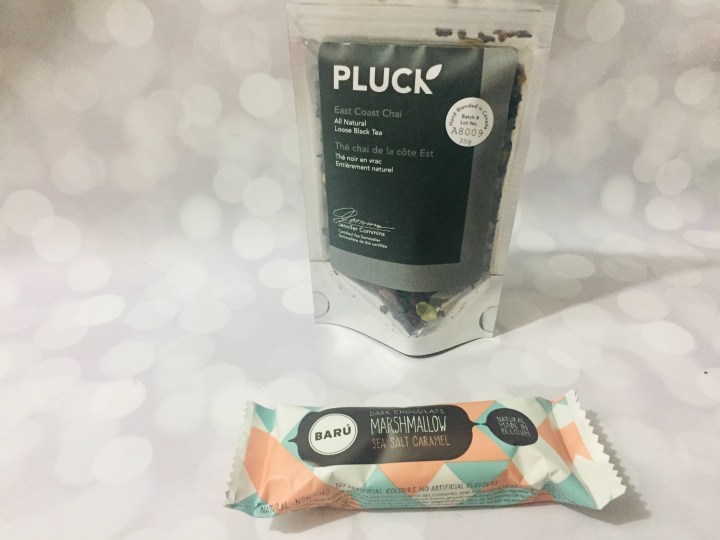 Sweet Reads Box always sends something to sip on and something to snack on.
Pluck East Coast Chai — Looseleaf tea is the best tea around, as the full leaves give you so much more flavour than a traditional teabag. Pluck's teas have a Canadian spin on them, and this East Coast Chai is a traditional chai with added Canadian cranberries. It's a great tea to finish off summer as we head into chillier weather.
Baru Marshmallow Sea Salt Caramel Bar — A gooey marshmallow with caramel, all wrapped up in chocolate and sprinkled with sea salt. This was amazing!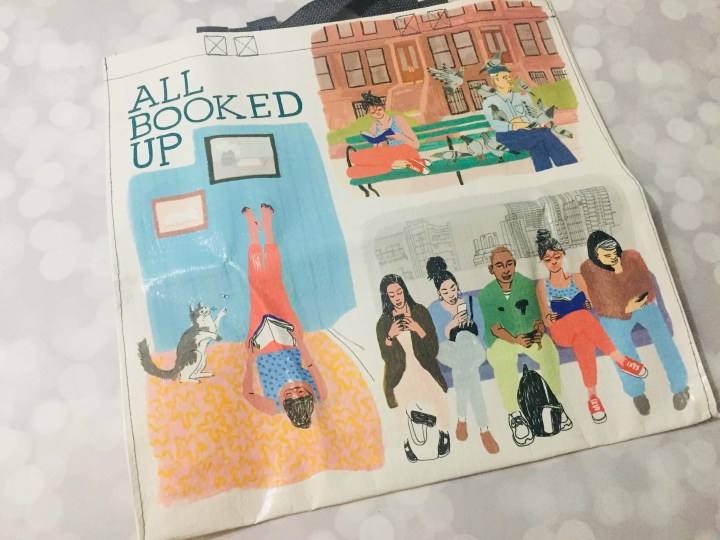 Blue-Q Tote — This tote is HUGE! It has a generous sized shape and will be great for grocery shopping.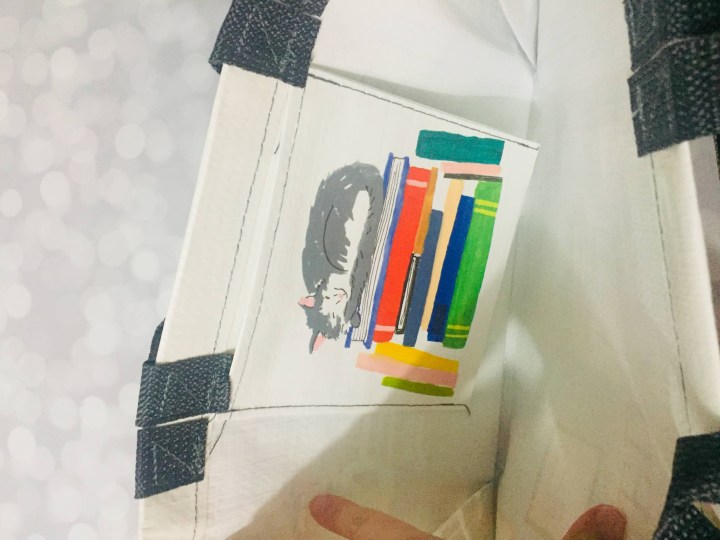 It has a pocket inside for your phone, keys, or wallet! It's essential given the large size!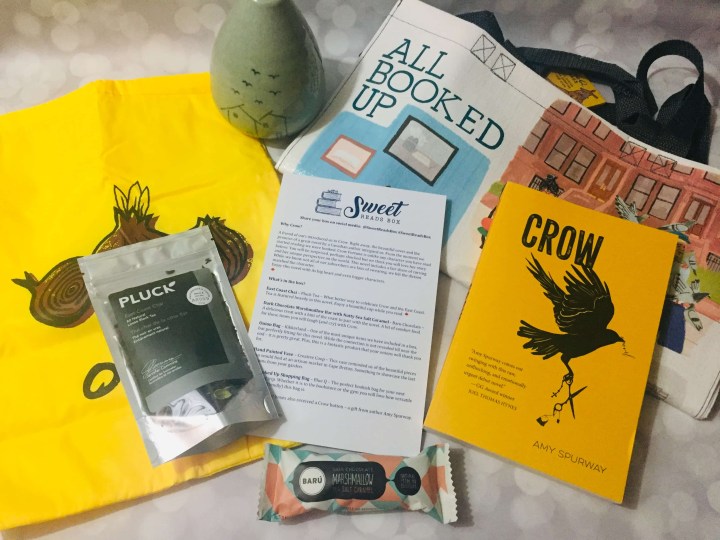 This was one of my favourite Sweet Reads boxes! The book is definitely going to keep me busy, and I'm obsessed with the colourful tote and adorable vase to cheer up my home. This box is a must-have for fellow bookworms.
What did you think of this month's book selection?