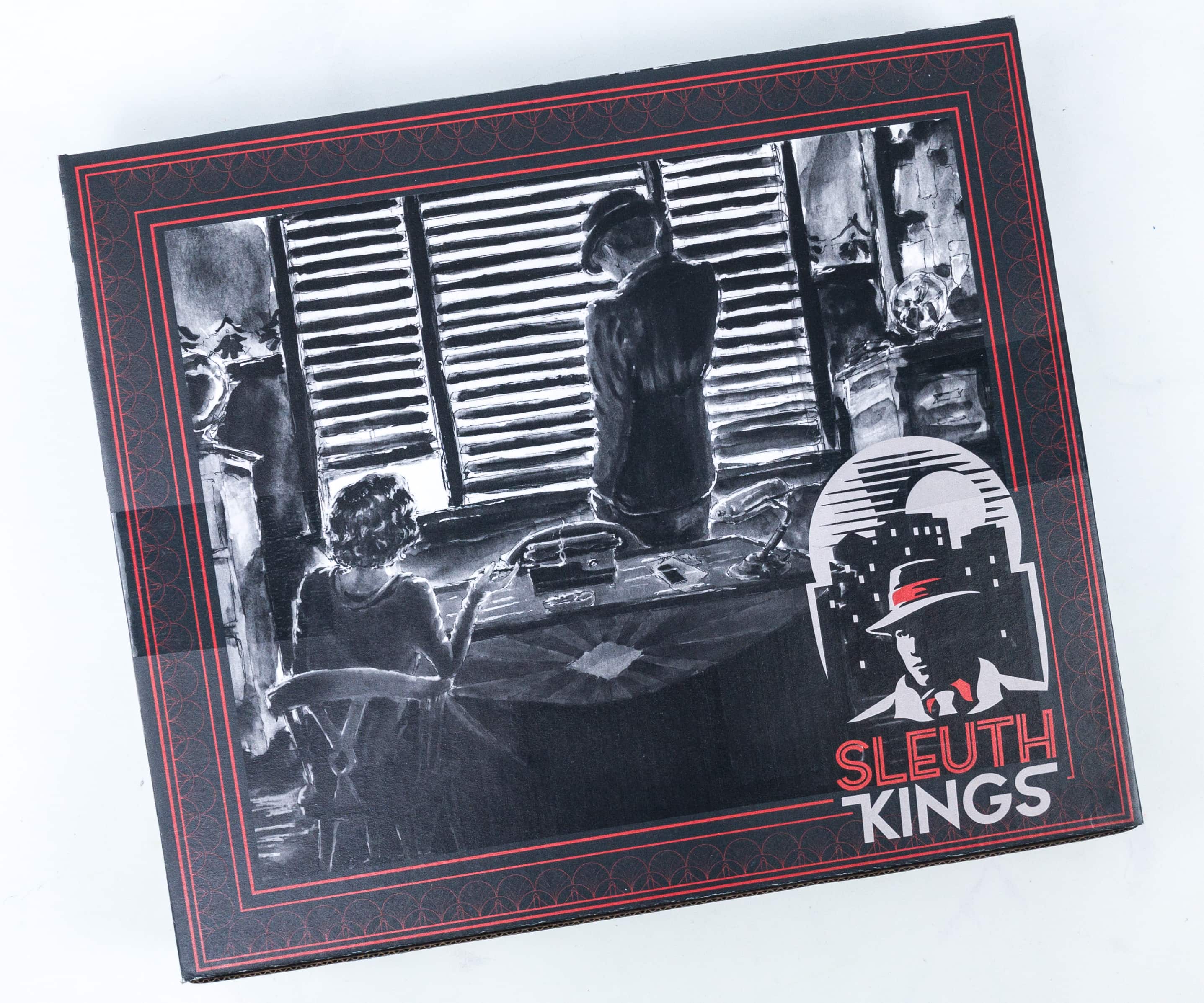 Sleuth Kings is an interactive monthly mystery box. Every month, a physical case file arrives full of evidence, puzzles, ciphers, and more. Plans start at $29.95 per month and they also have 3-month and 6-months prepay options. You will work hand-in-hand with Sullivan King, the lead detective, via email as you solve the case.
Each month's case is a new, stand-alone mystery that takes approximately 2-3 hours to complete. Each case includes an epilogue -a  follow-up letter from the client as well as a small gift. For every 4 cases you solve, you'll be rewarded with a FREE bonus case that revolves around the hunt for Sullivan's father.
DEALS:
Get $8 off first purchase Use coupon code HELLOSK .
Get 10% off of your order! Use coupon code HELLO10.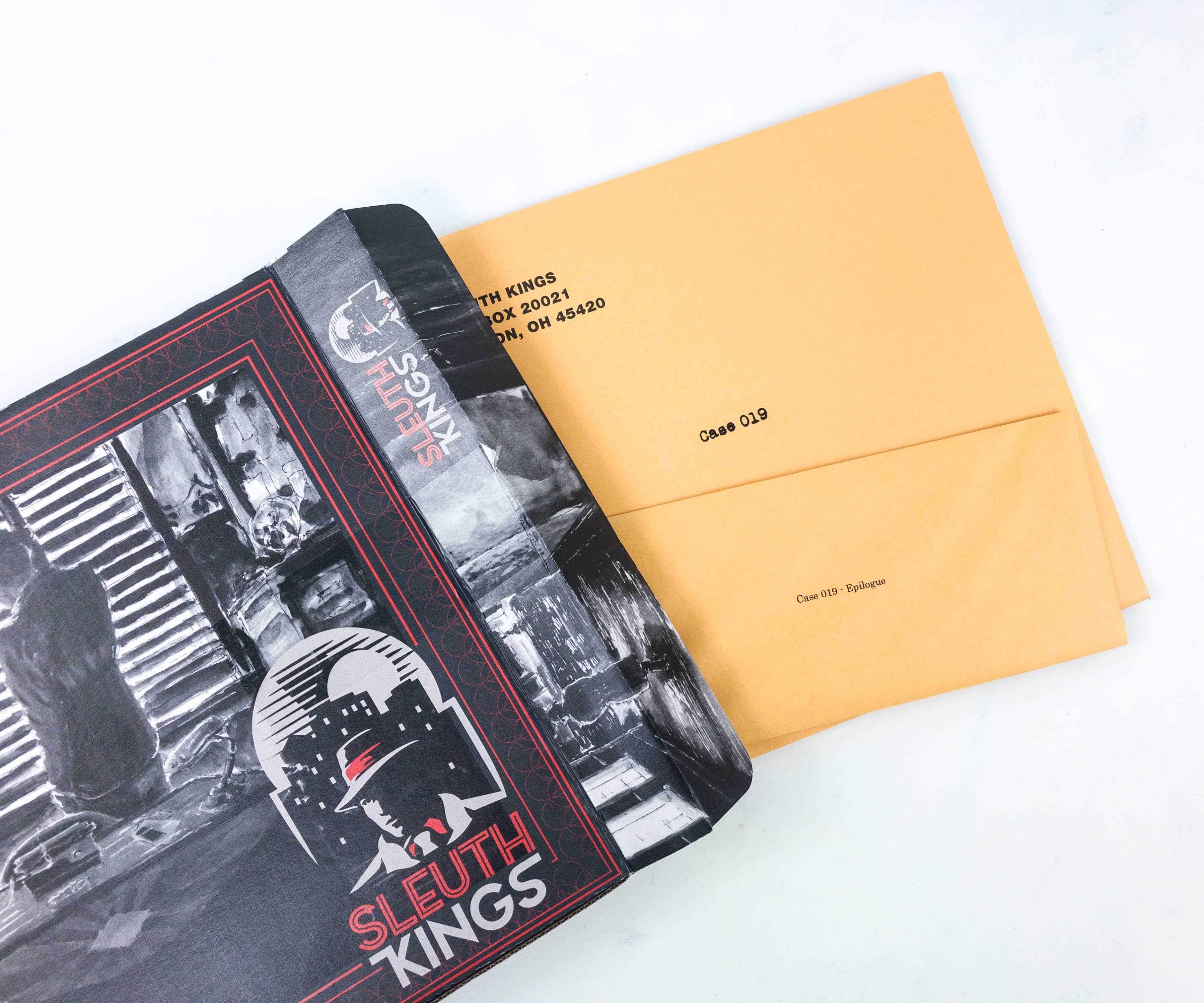 This the review of Mystery Box Case 019 – My Brother's Reaper.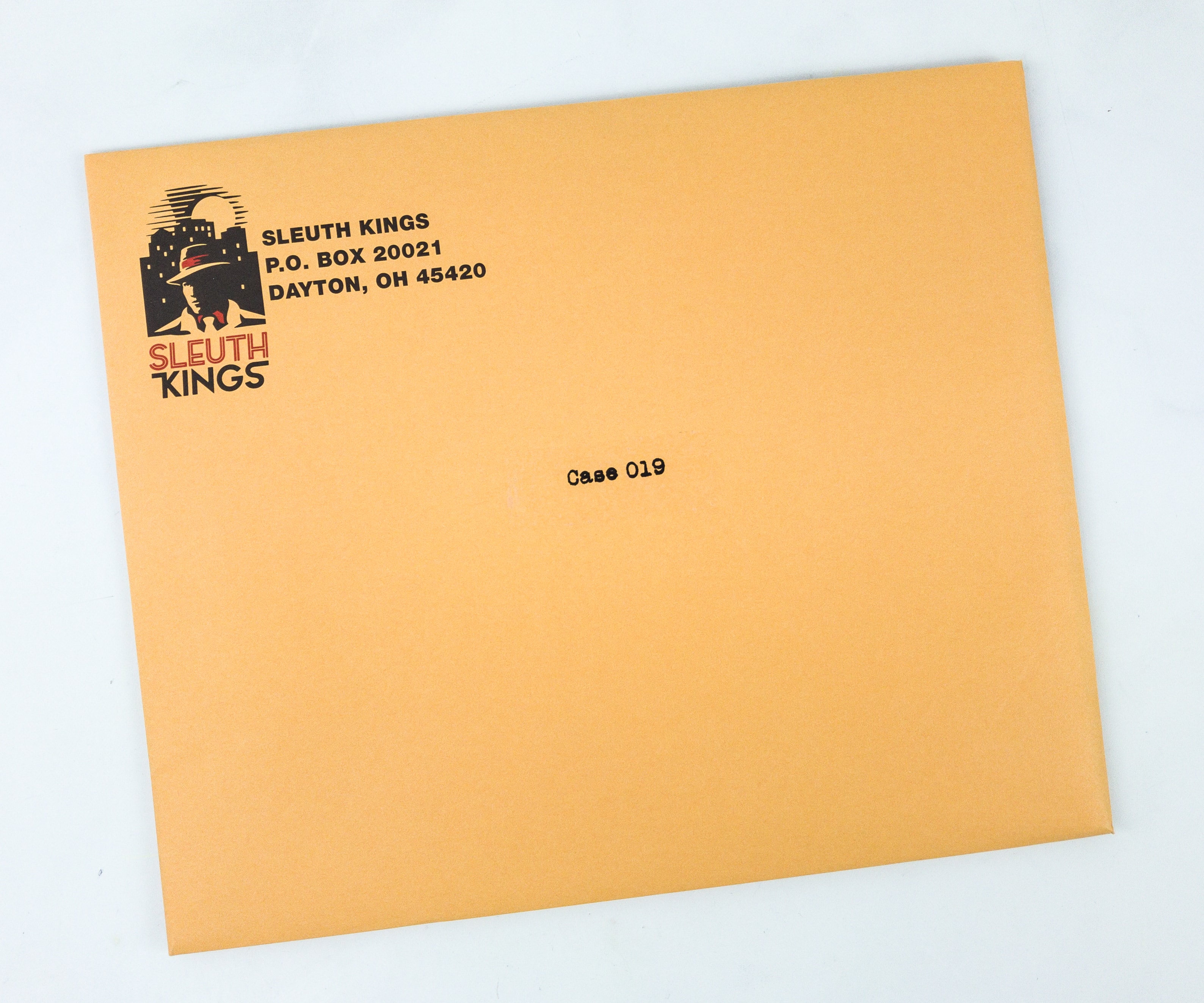 The mystery comes in an envelope. The only things written on it are the Sleuth Kings P.O. box address and the case that you will be working on.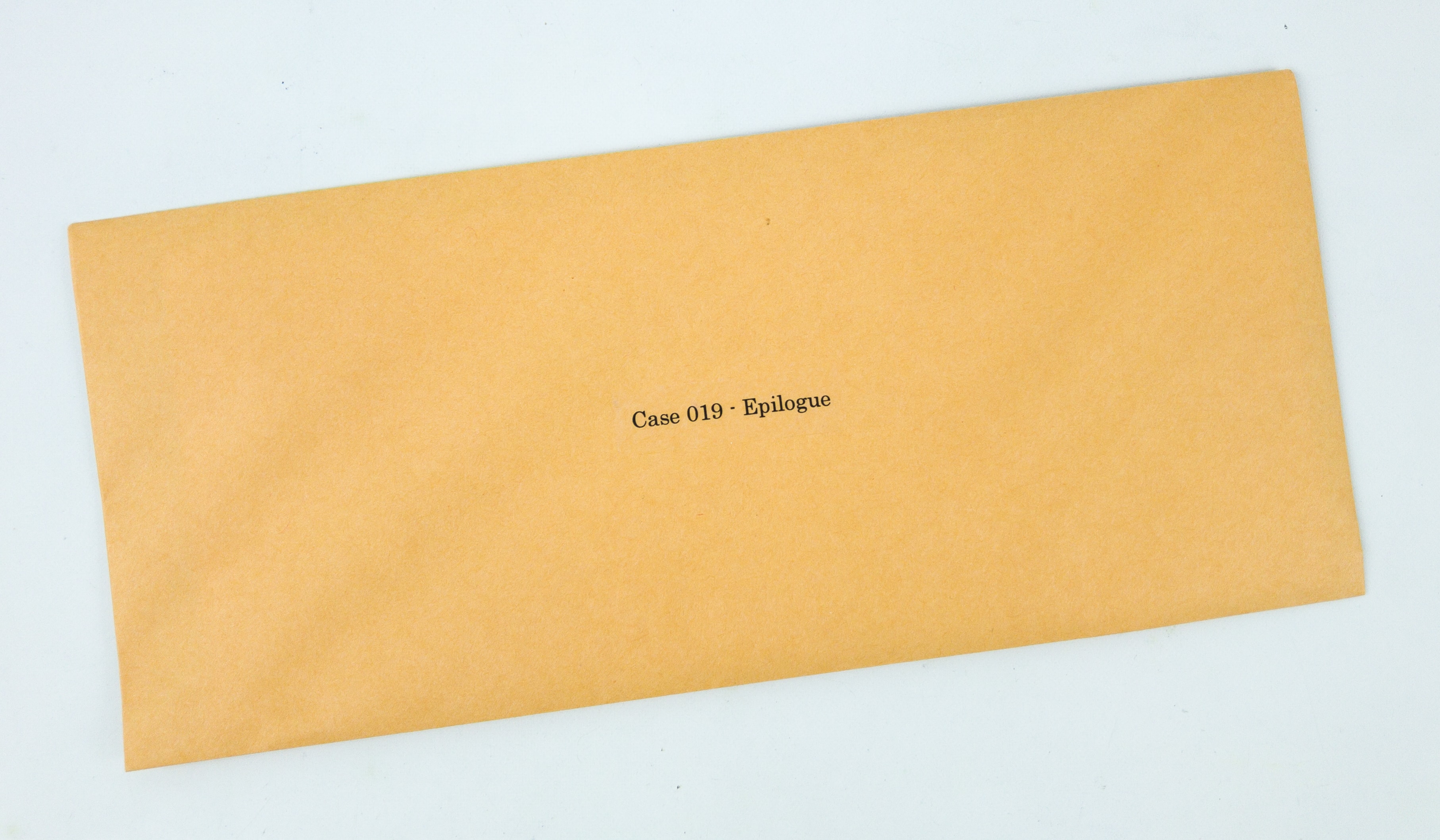 The epilogue is included and separated in another envelope.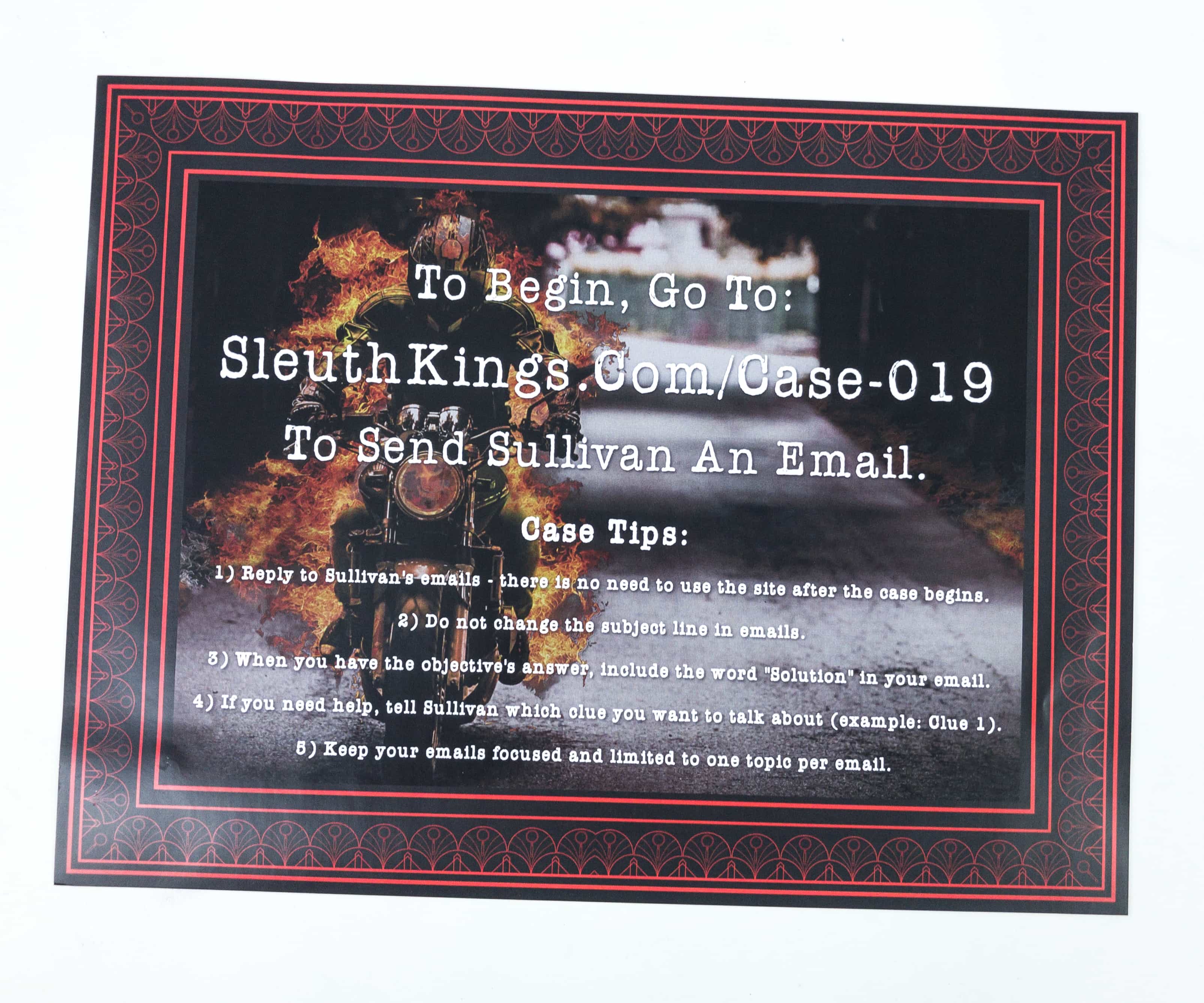 To begin with your adventure, you need to login to their website and send Sullivan an email.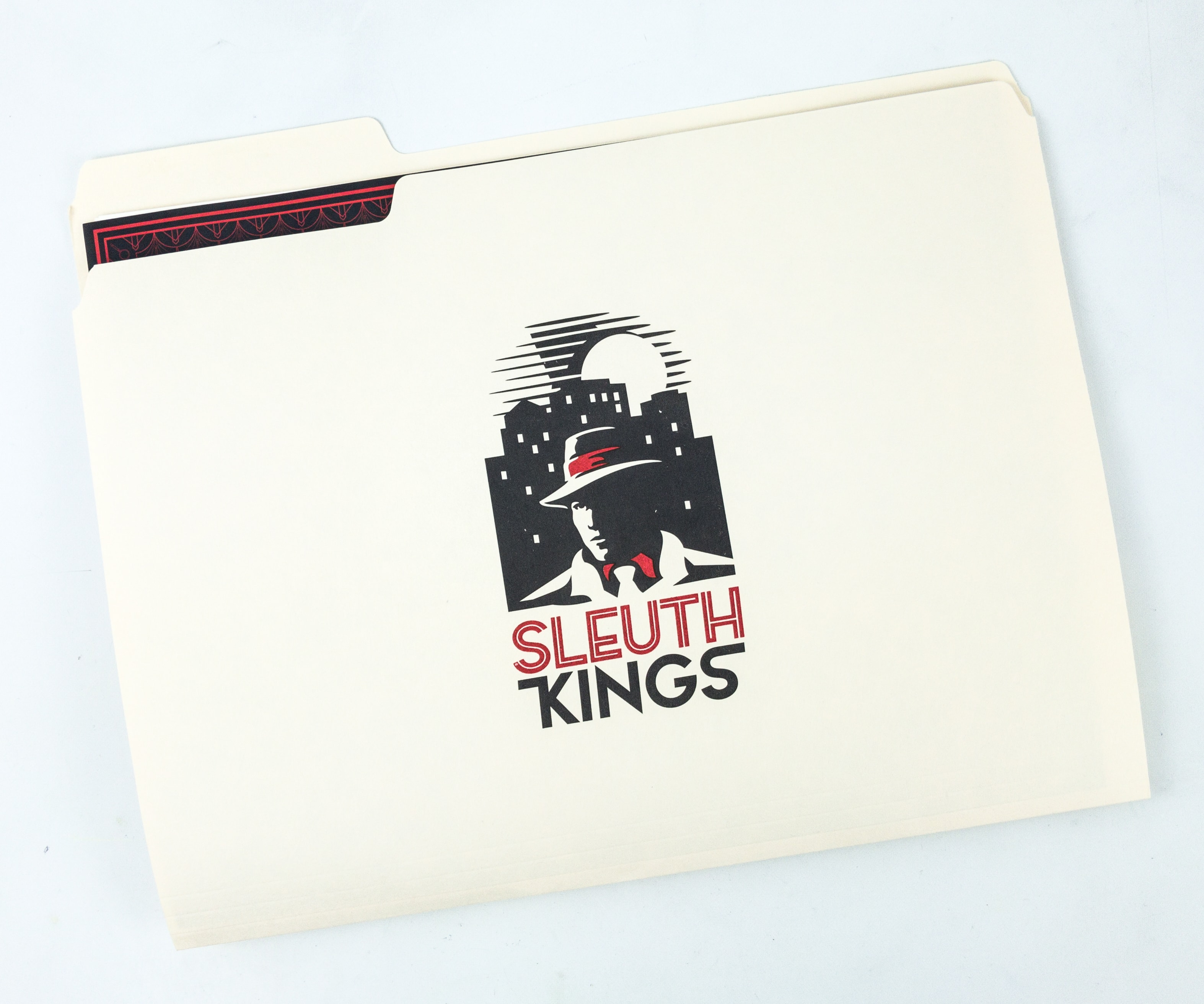 The files are neatly arranged in a white folder, with Sleuth Kings branding in front.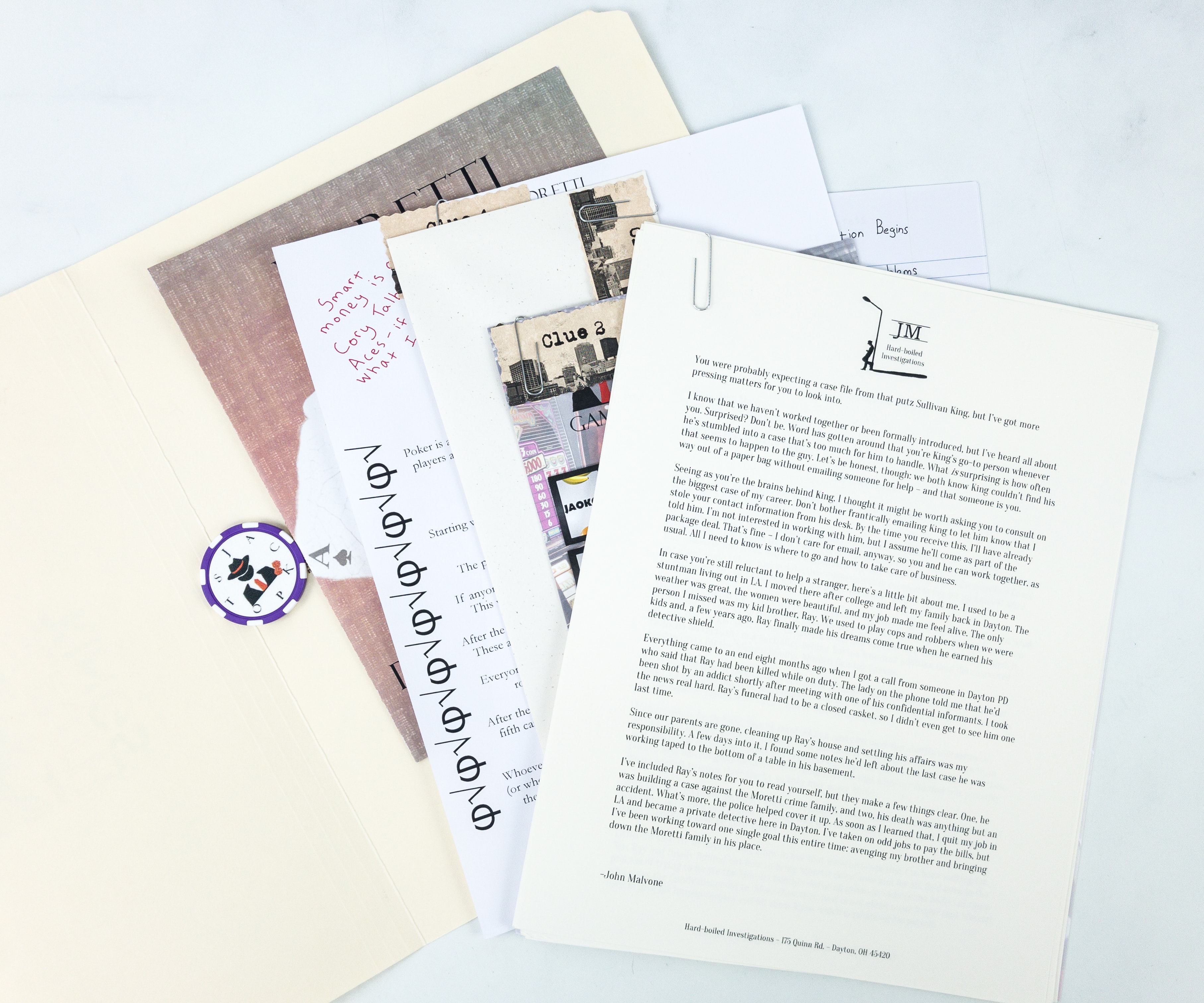 All the files are organized inside the folder, they are even separated by paper clips.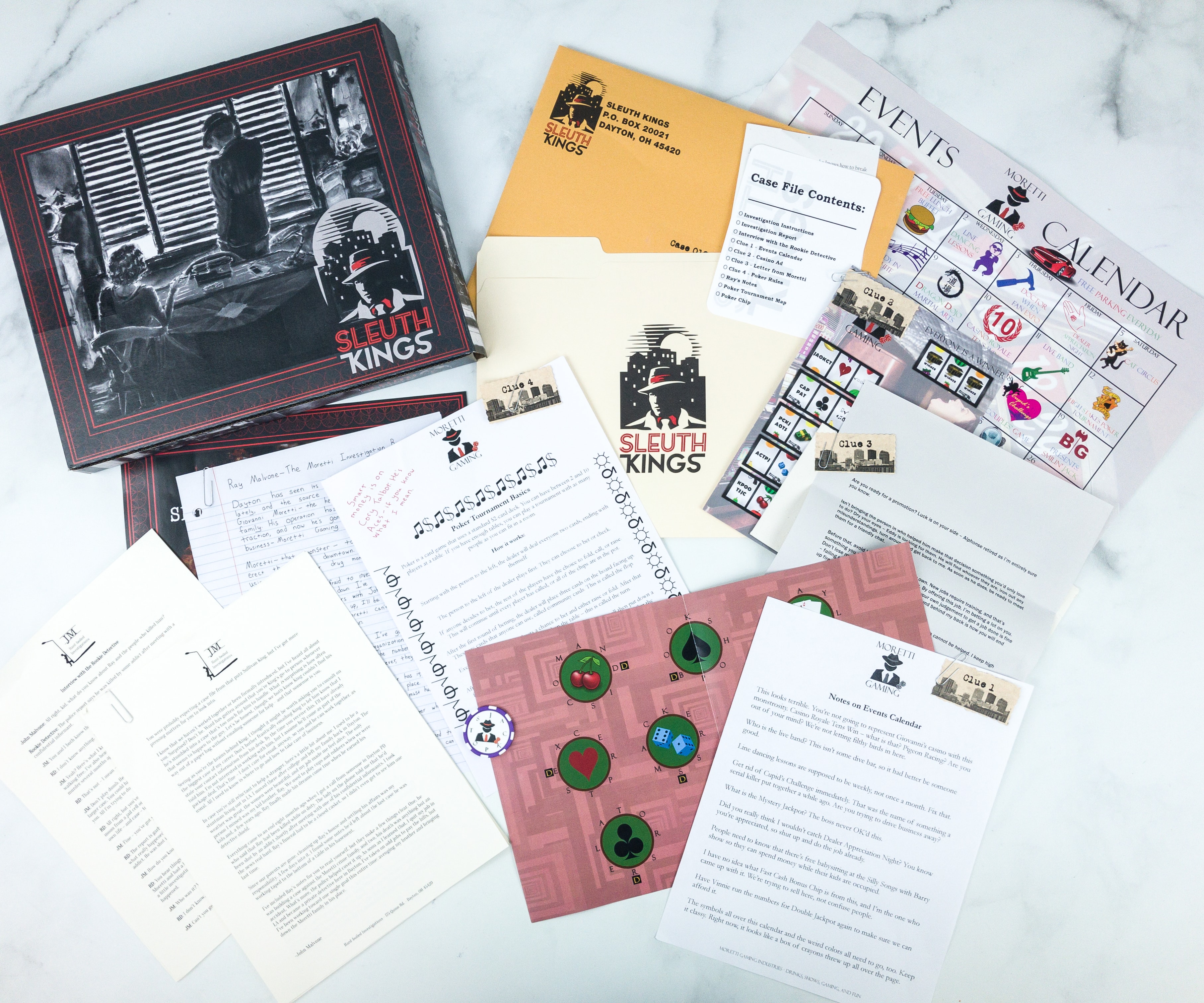 Everything in my box!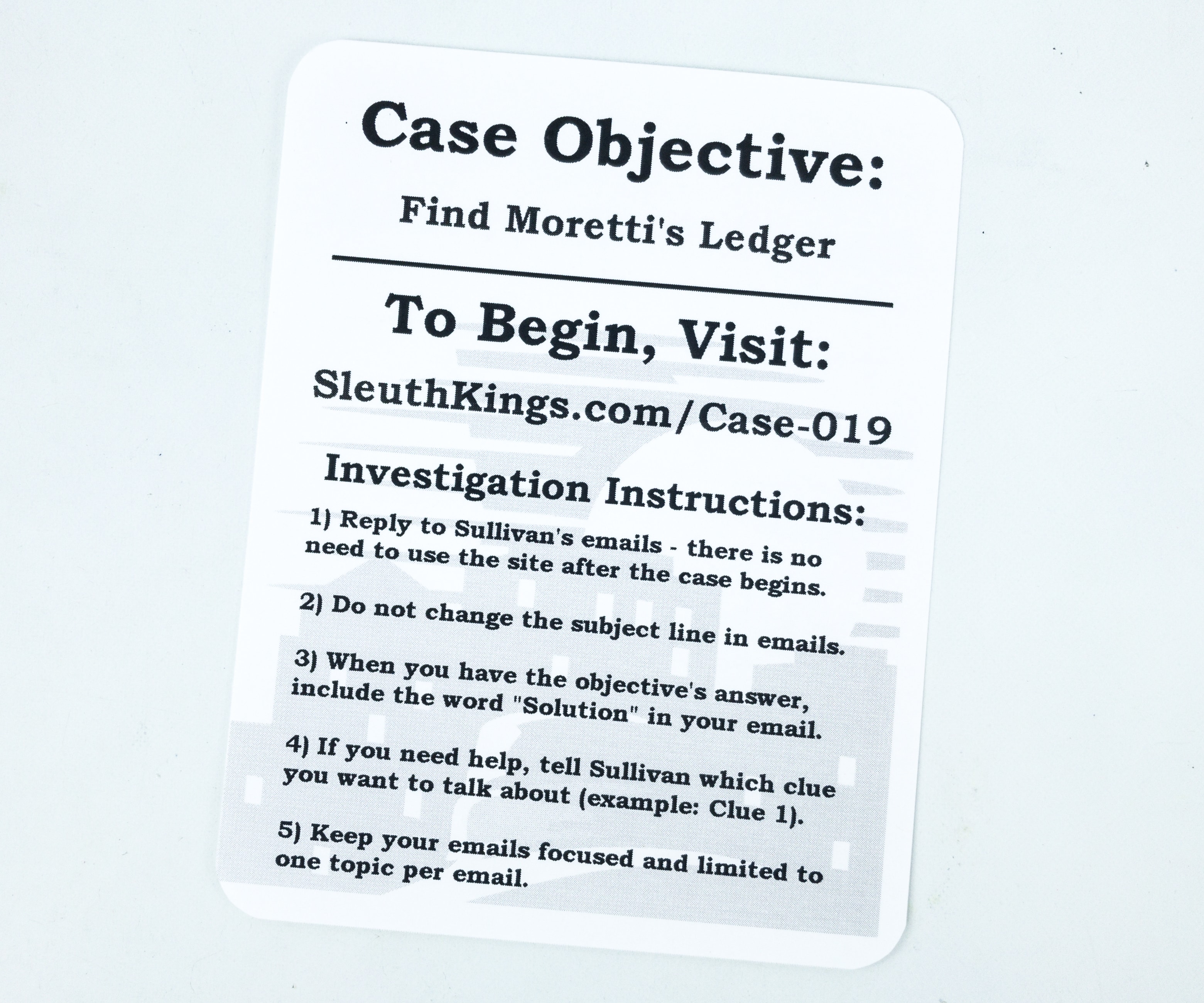 The case objective is written in a card, and we will be working to find Moretti's ledger!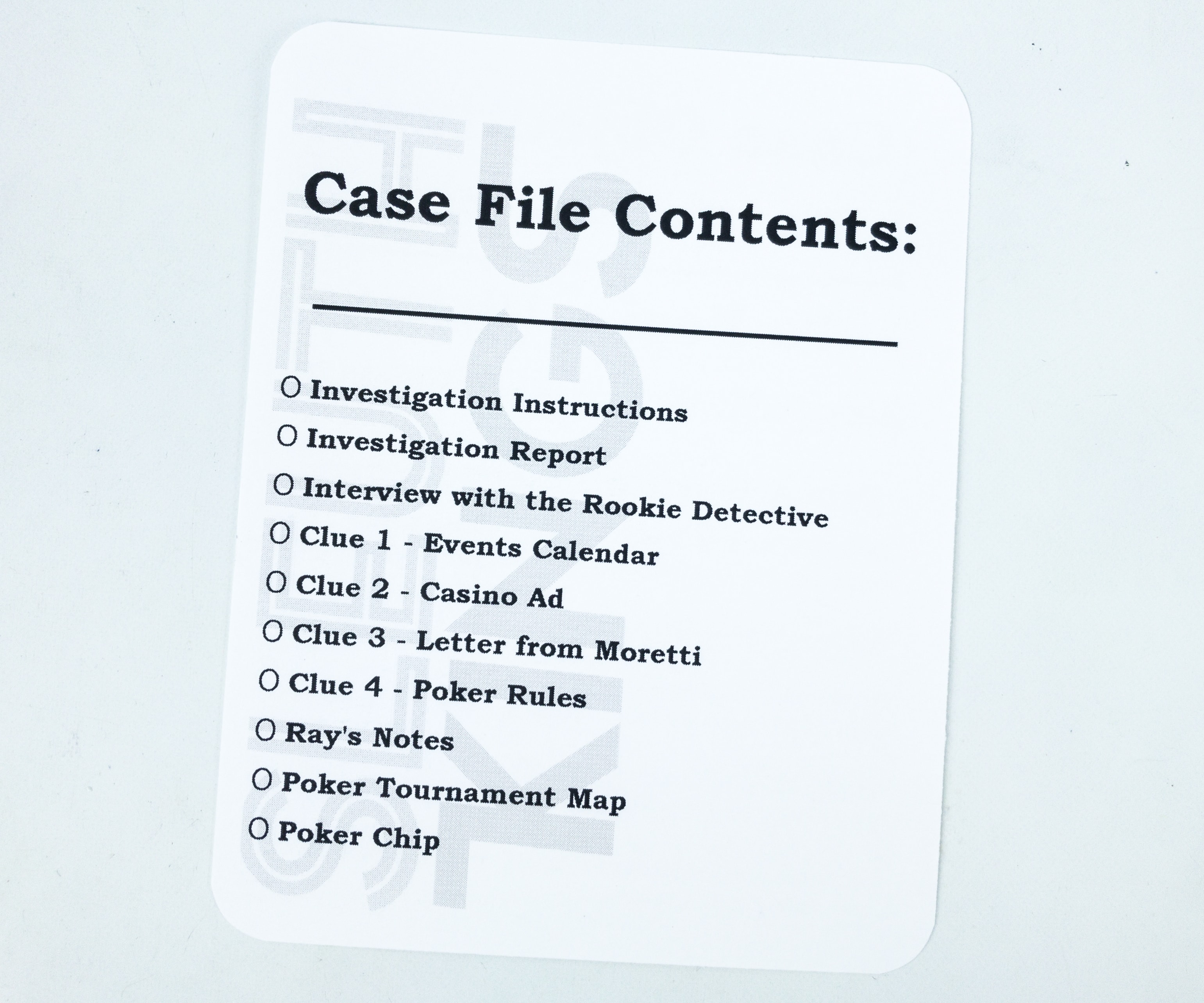 It also lists the contents of the case file: investigation instructions, investigation report, clues, and more.
We also got a snuck-out letter from Celest St. Claire, telling us that we can also use her help.
After looking at all the materials, I sent Sullivan a letter to finally start the case.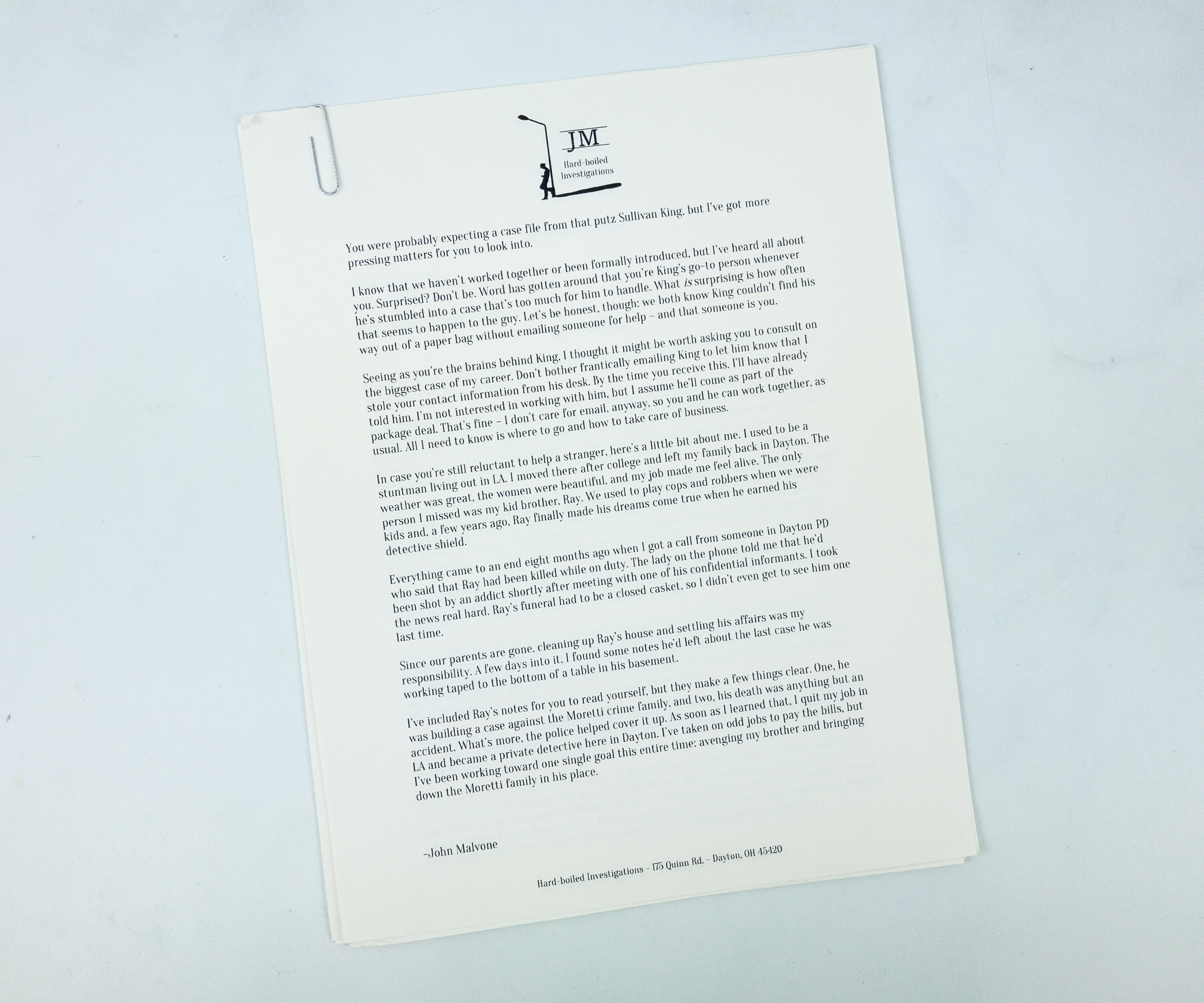 The investigation instruction sheet names the client, the case you will be working on, and the whole situation. However, instead of the usual Sleuth Kings investigation report, the report is from JM Hard Boiled Investigations.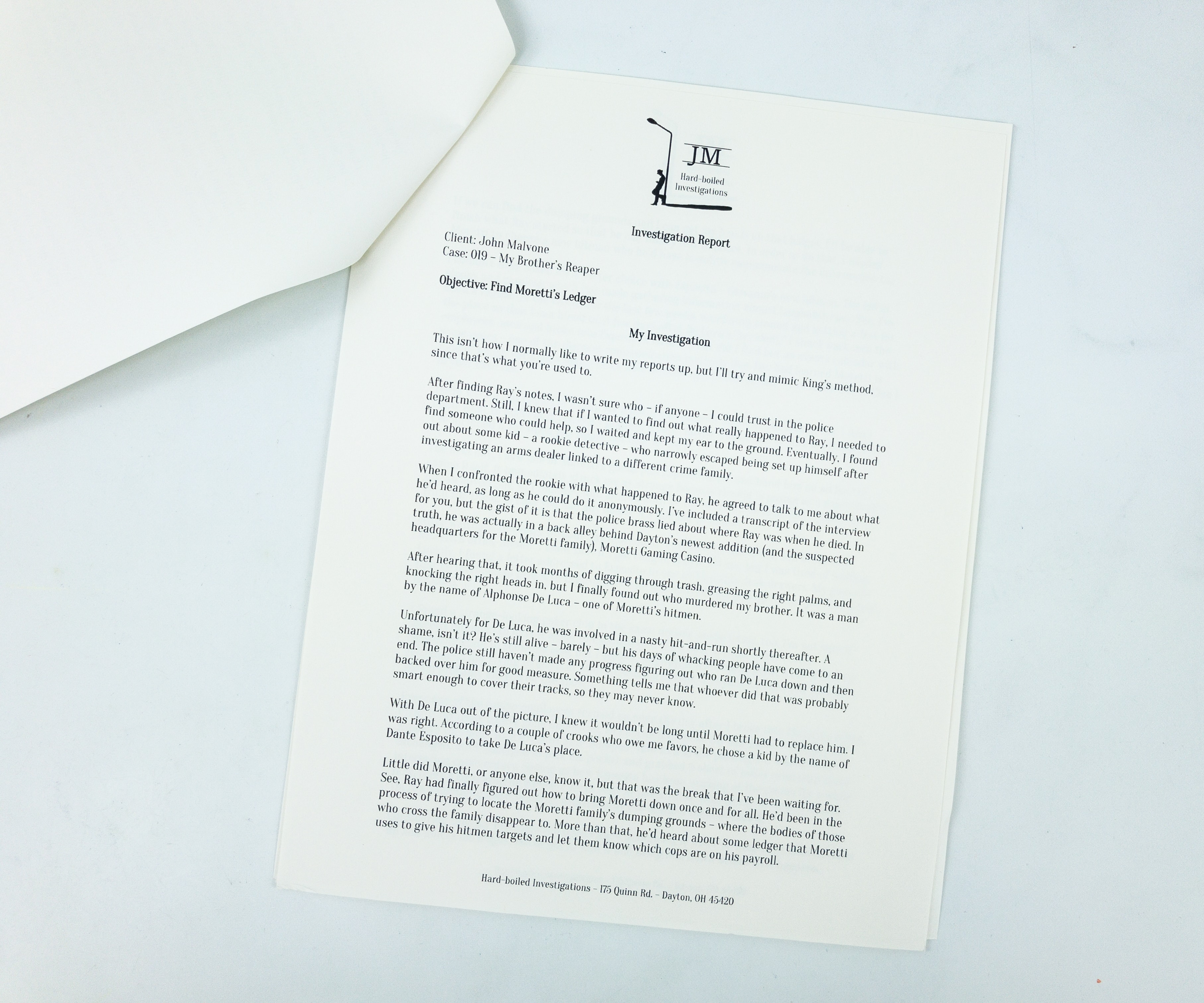 I suggest you read them thoroughly to fully understand the case and also to know where to start the whole investigation.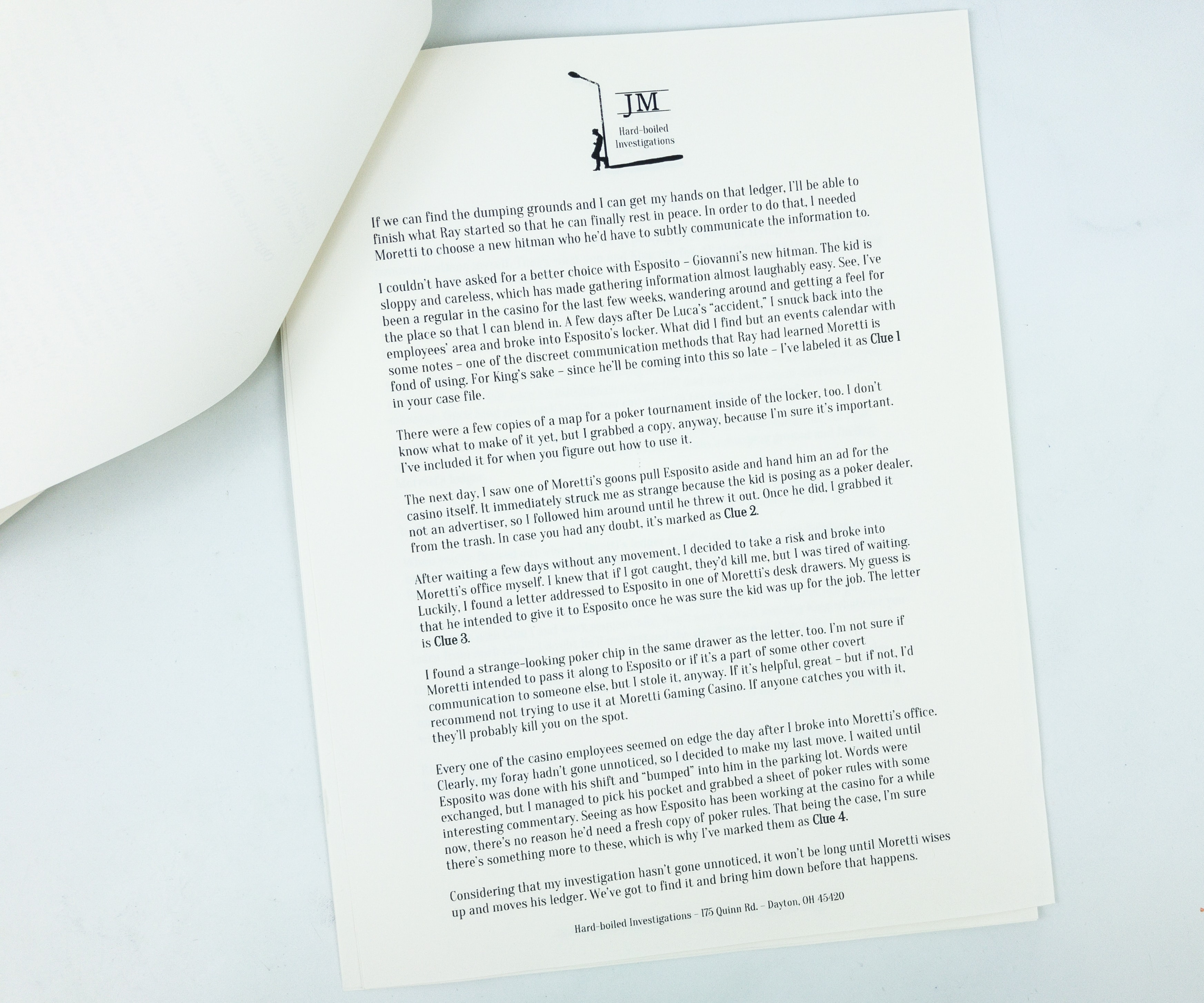 In this case, we just need to find the location of the Moretti Family's dumping ground and Moretti's ledger and bring him down before he finds out about the investigation, or somebody's investigating him.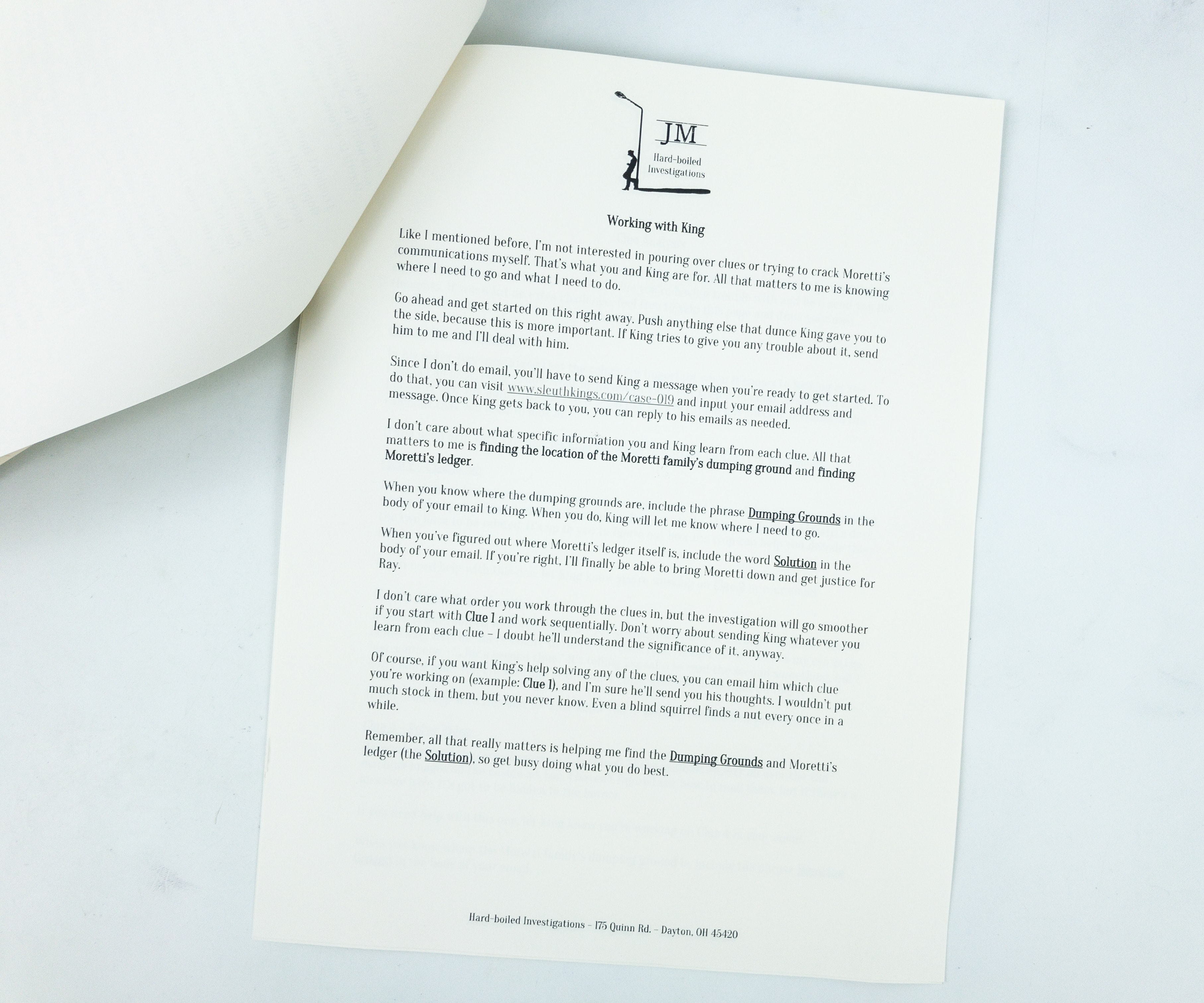 As compared to the Sleuth Kings investigation report, this contains more information and pages!
There are also clue analysis, where each clue item's use is being hinted or explained.
There's also an interview between John Malvone and the Rookie Detective.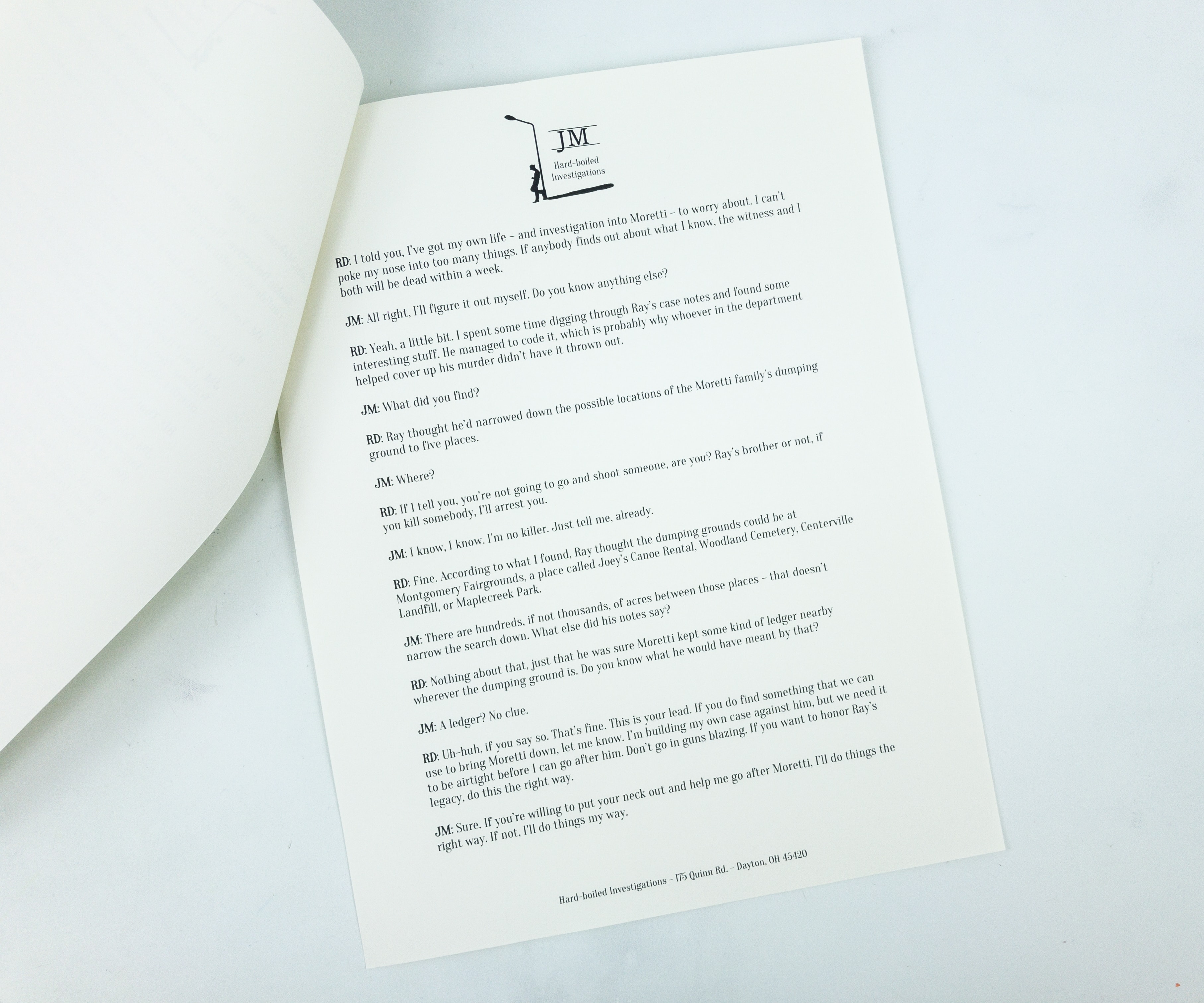 It seems like the Rookie Detective has something to do with the Moretti's. Looking at how the interview went, it looks like RD was almost framed for murder by the family, because of getting too close on their operations.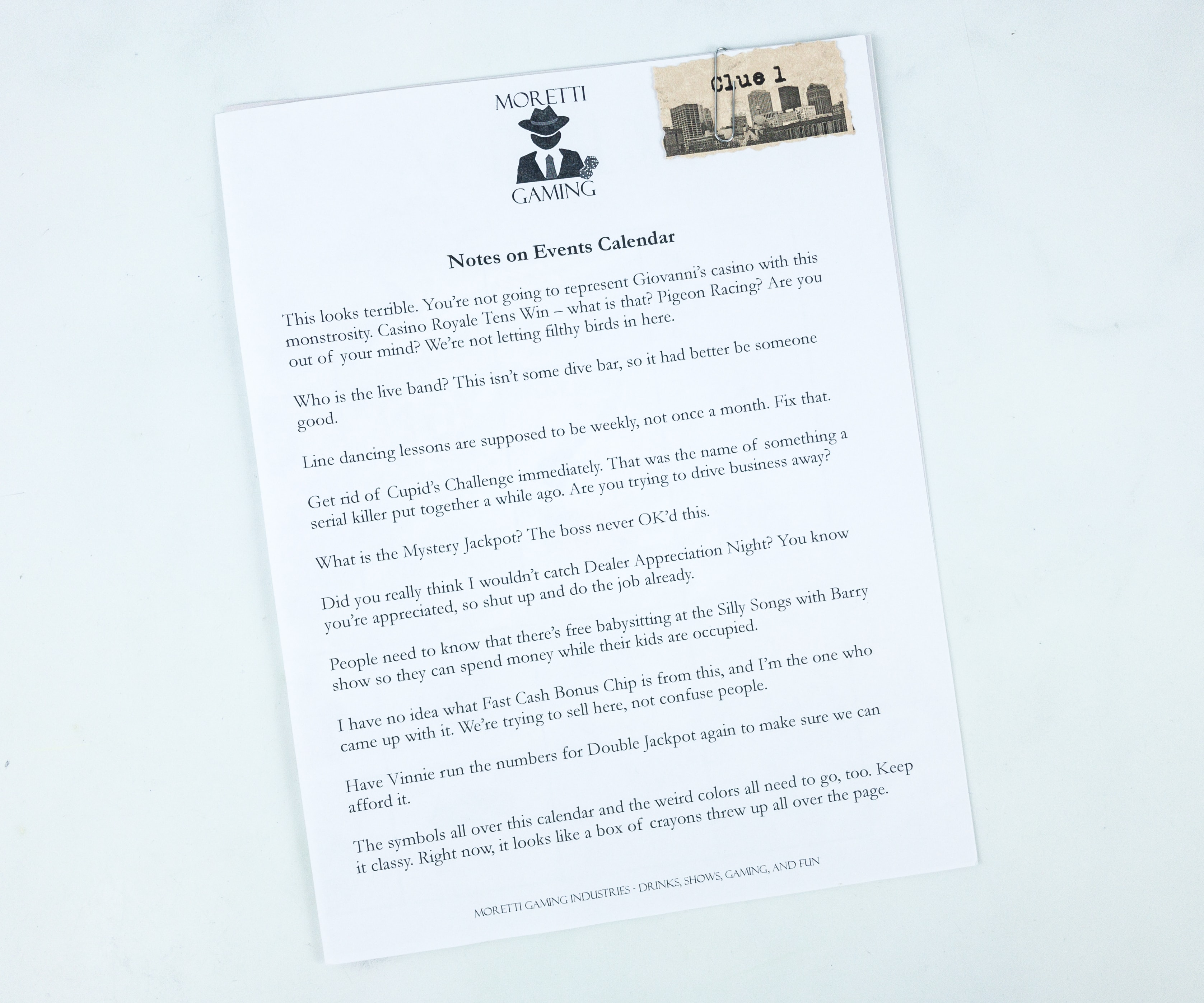 The first clue is an events calendar for Moretti Gaming. It is said that it's one of the most important clues in this case.
You should also take note the colors are important when looking at the calendar.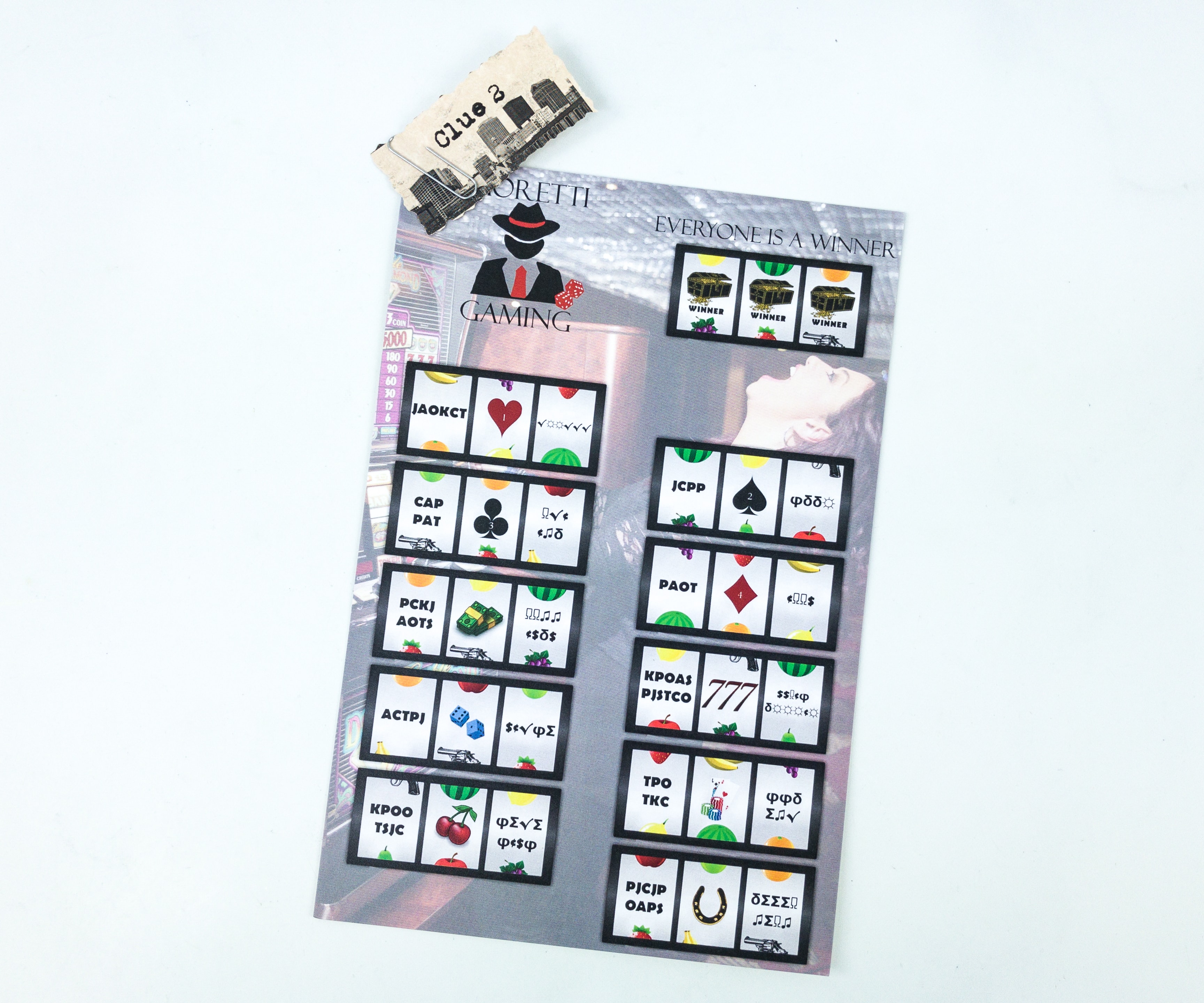 For clue no. 2, here's a casino ad from Moretti Gaming. You can also see that most of the common letters spell the word "Jackpot".
At the back is the list of games you can find in the casino like Slots, Blackjack, Craps, Poker, Roulette, Baccarat, Keno, Bingo, and there are even live shows and daily events!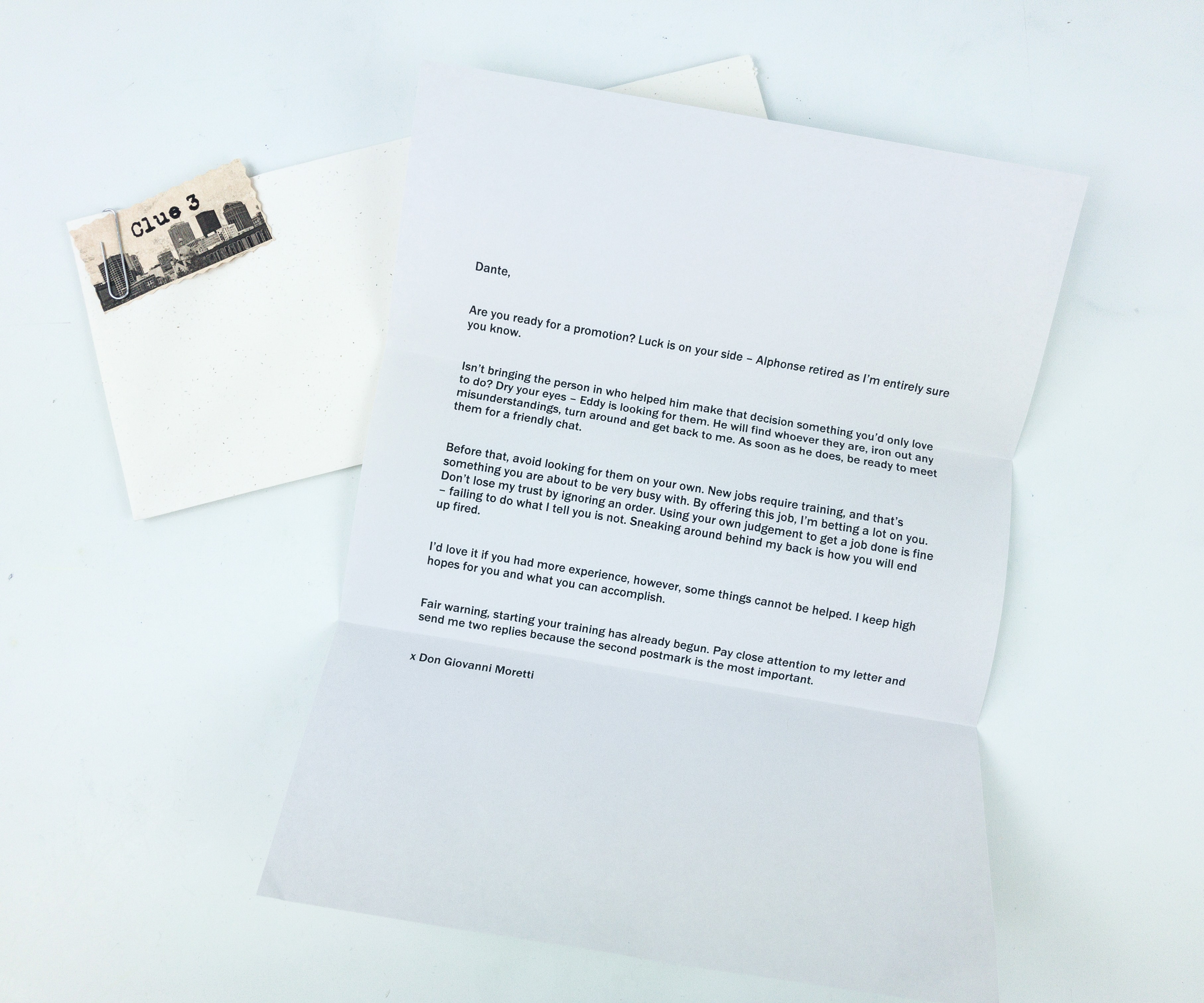 For the third clue, we got Moretti's letter. He's thanking a certain Dante for making Alphonse retire. We bet this has an underlying message to it, and some clues will help in making everything clear.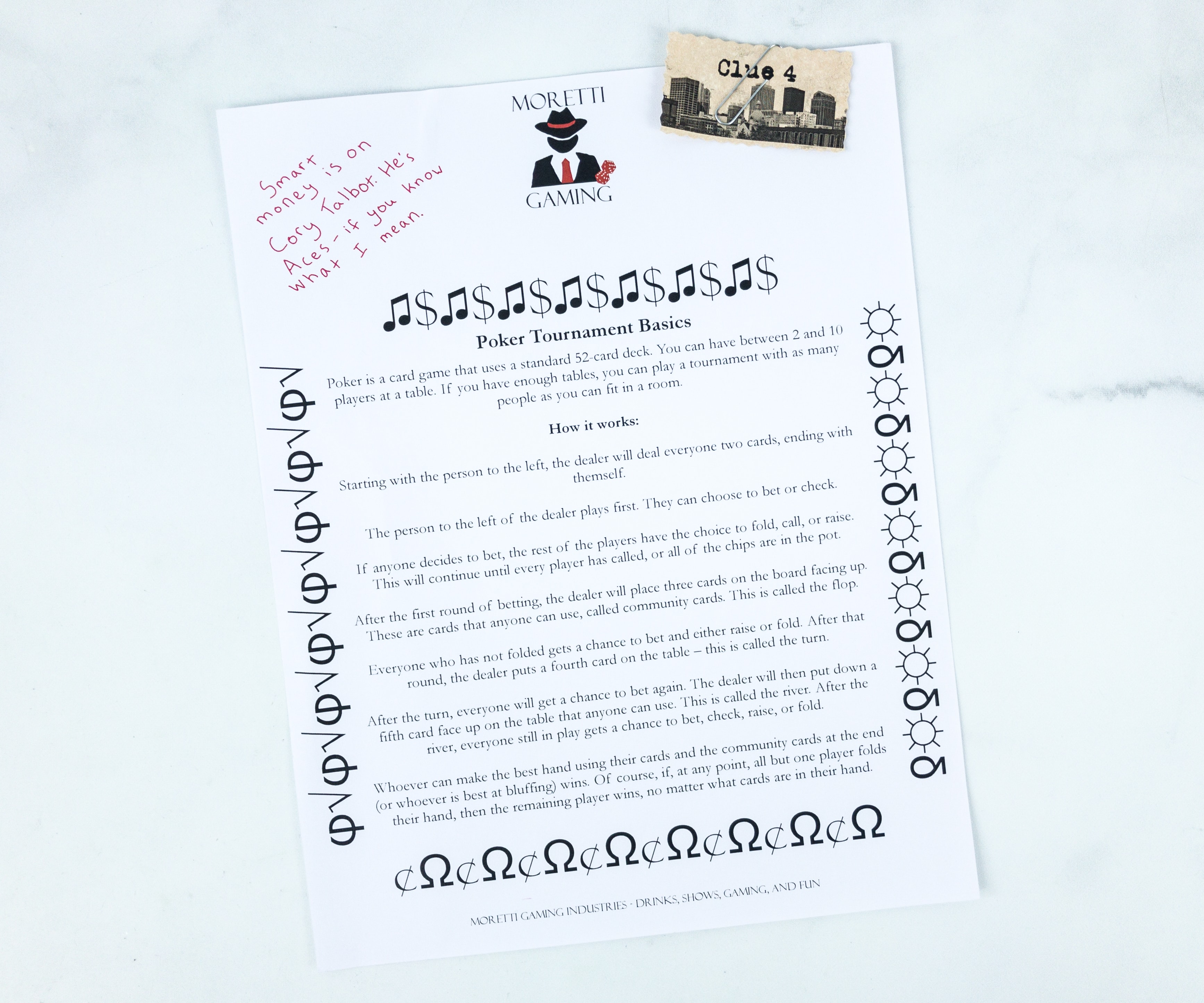 The last clue is the Poker Rules. At first glance, there's nothing unusual with this list of basics but as we're looking at the border, we have this feeling that it means something. That is what we really need to find out!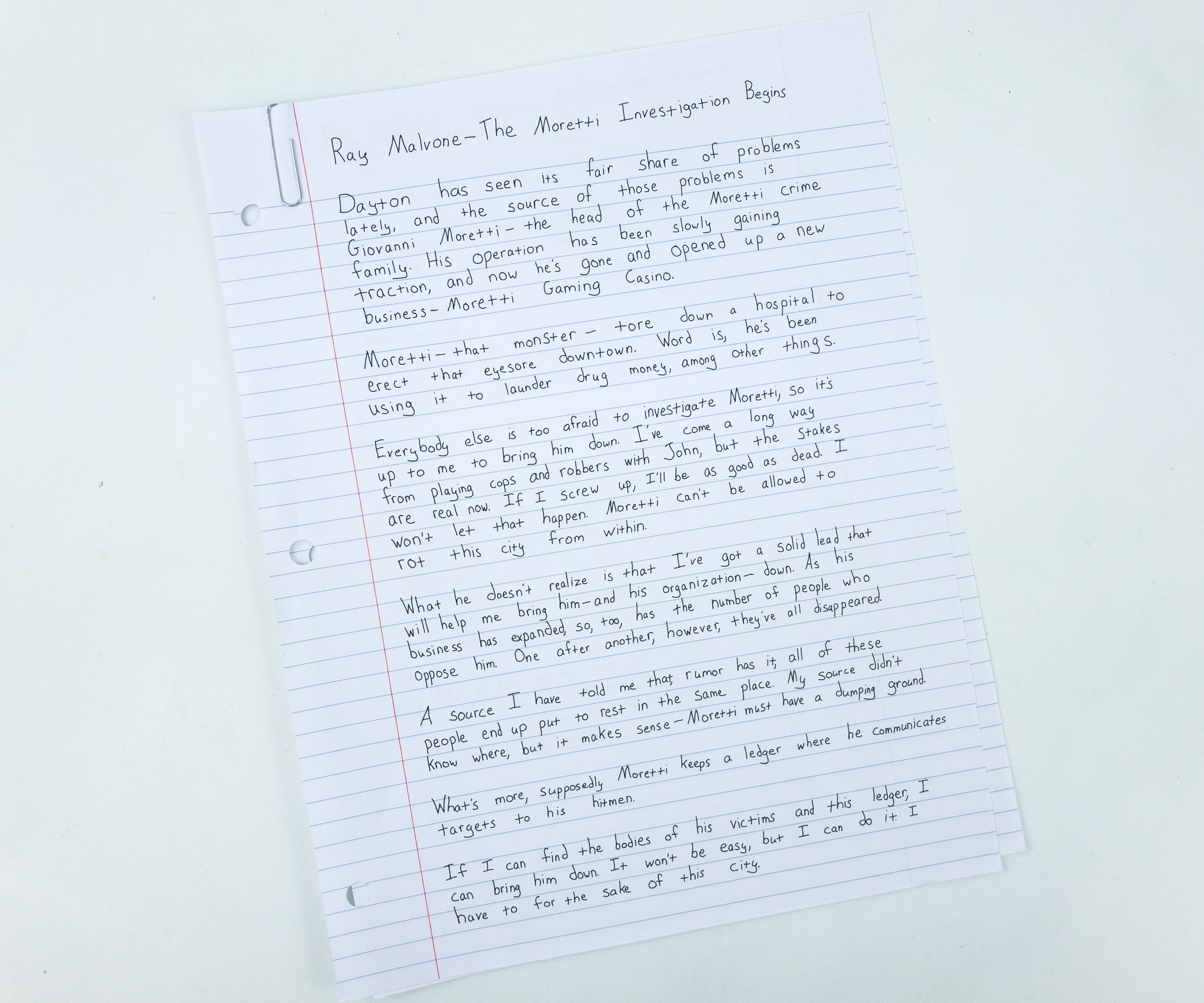 There's also a handwritten report from Ray Malvone, and everything is about the Moretti Investigation.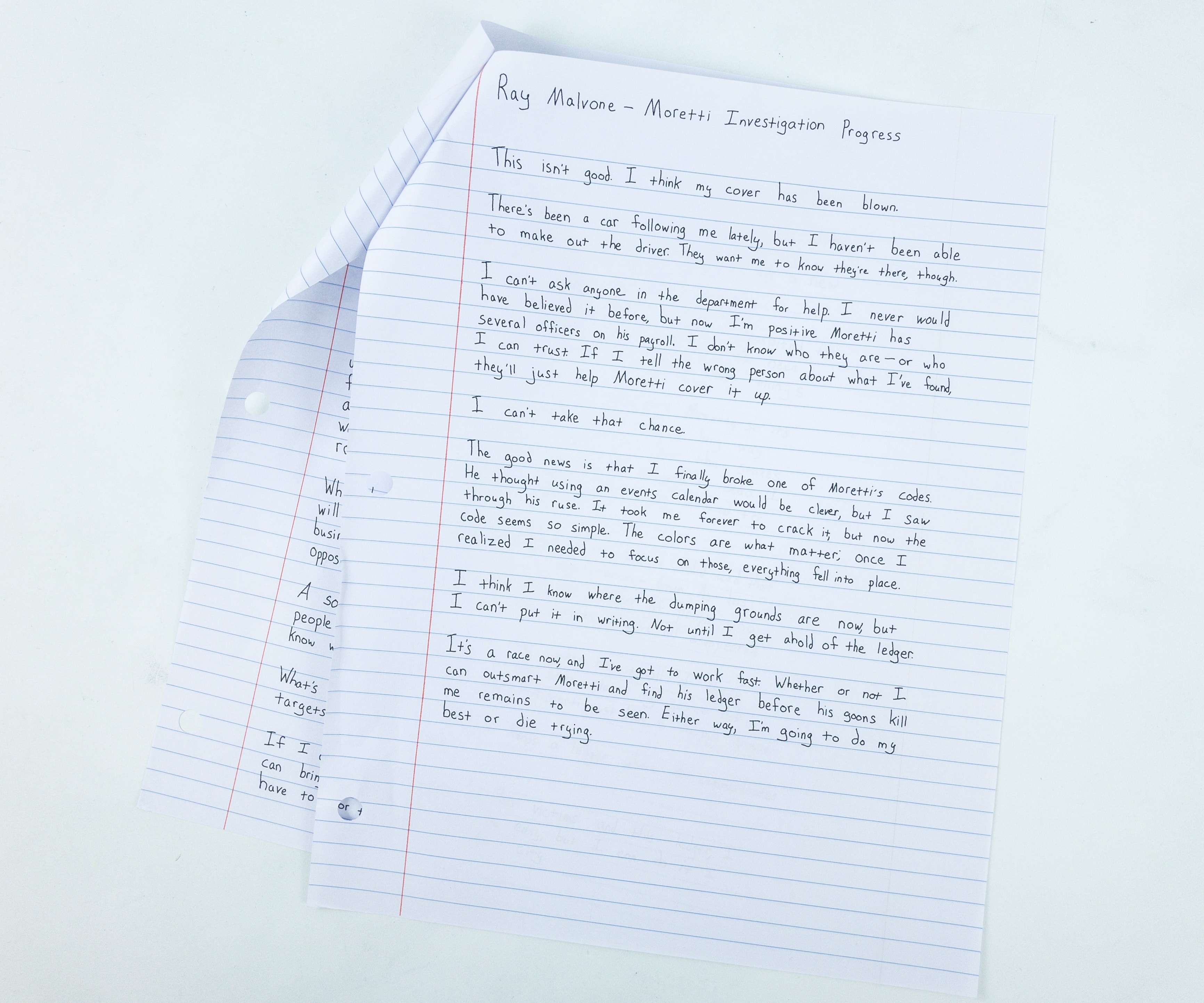 He has a complete account of the cause, from when it begins up to the progress of the case.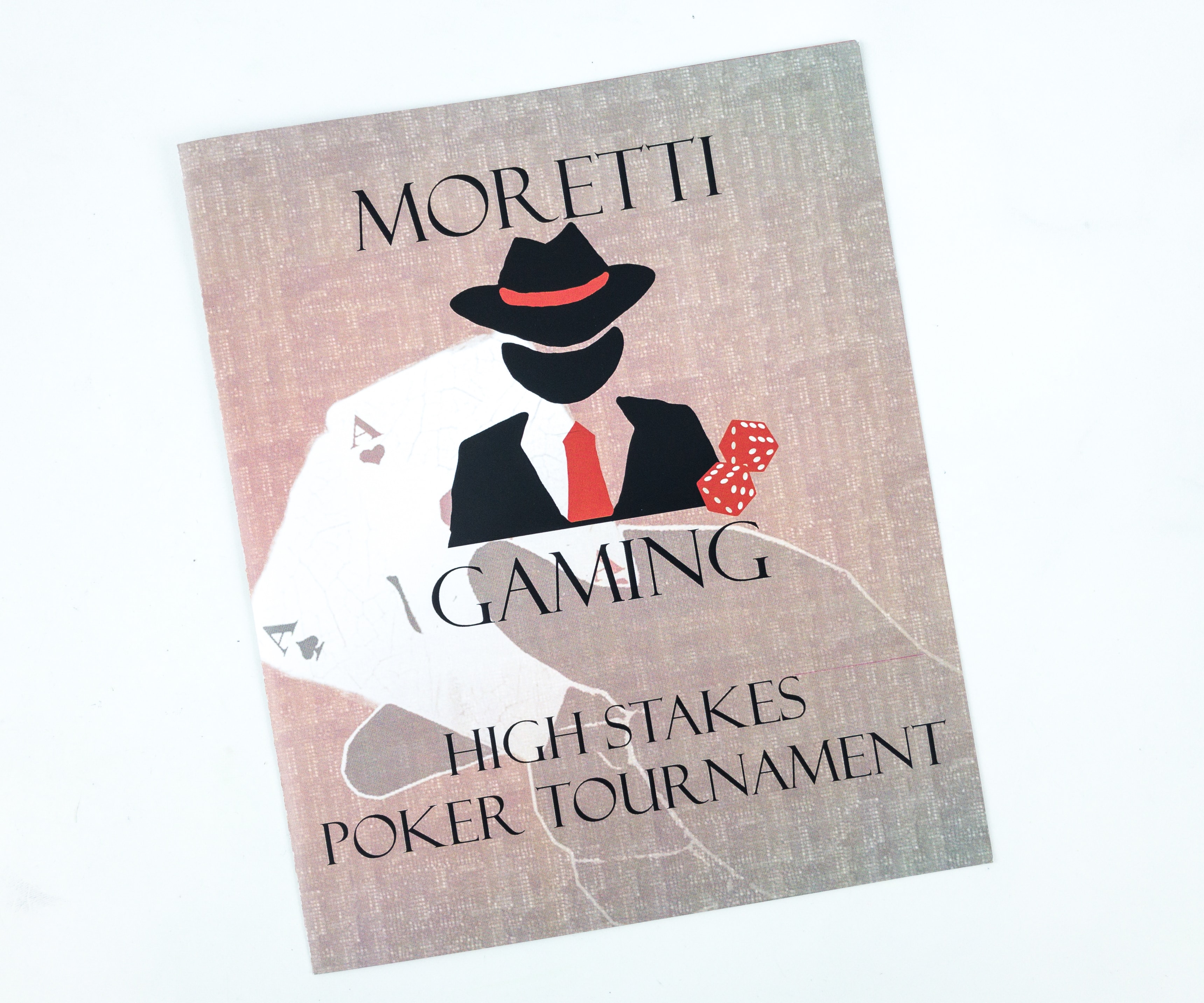 There's also an included Moretti Gaming ad for the High Stakes Poker Tournament.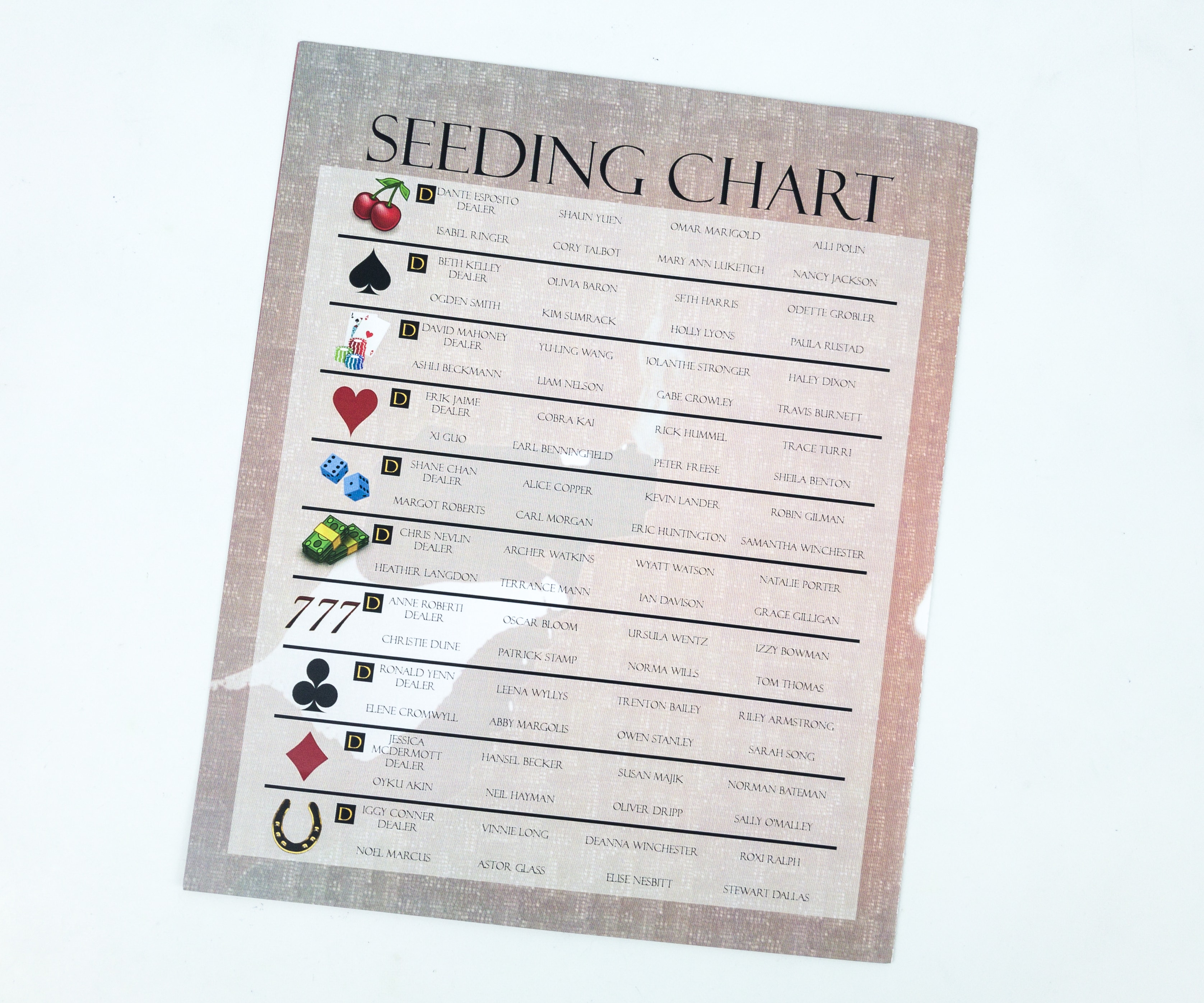 The back includes a seeding chart.
The spread shows different symbols and items in playing poker. Each symbol is surrounded by letters too. You can also see that some letters have a letter 'D' beside them in yellow and black background, which may mean something.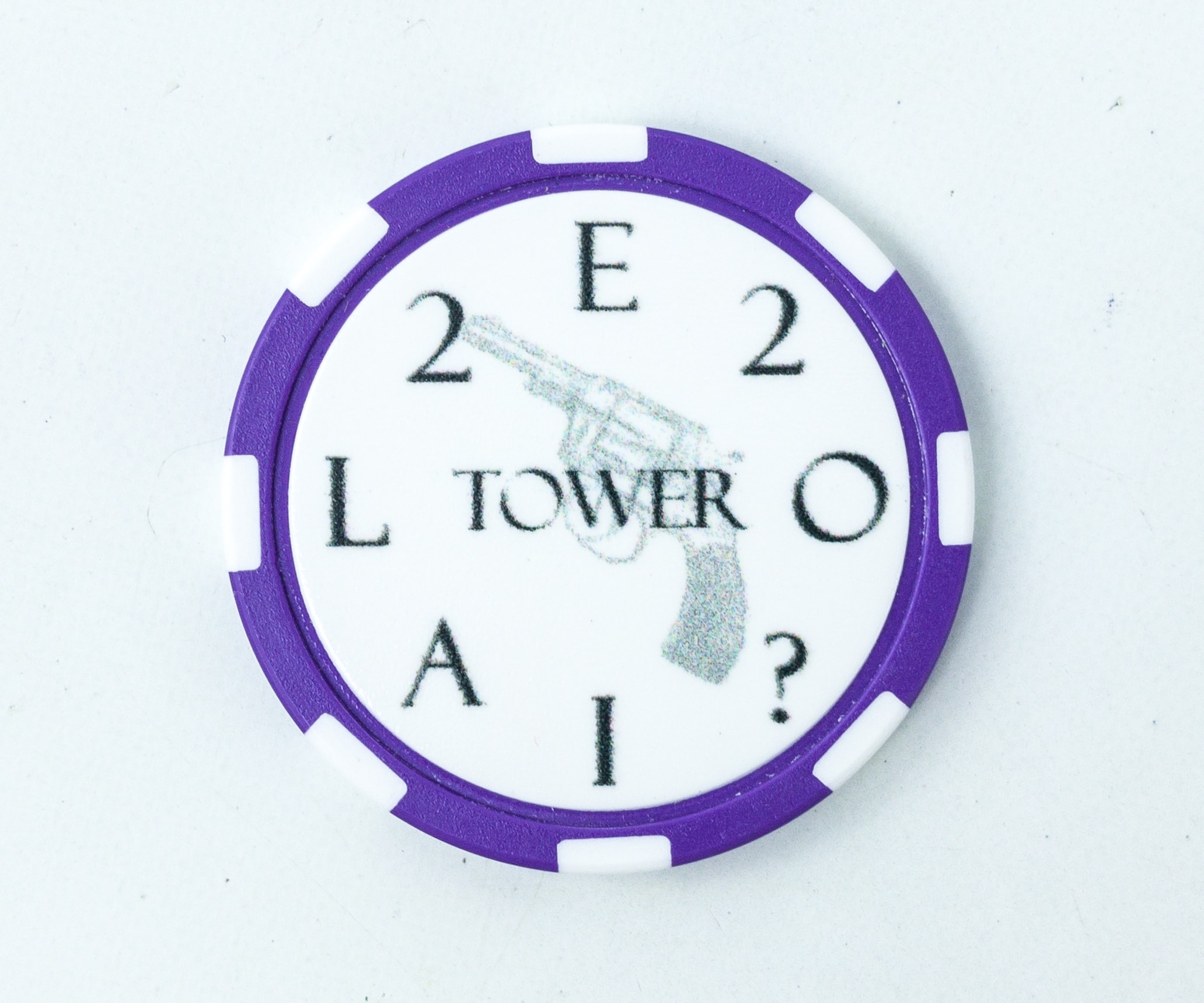 Here's also the poker chip that Malvone got from Moretti's desk, and it may be related to the second clue.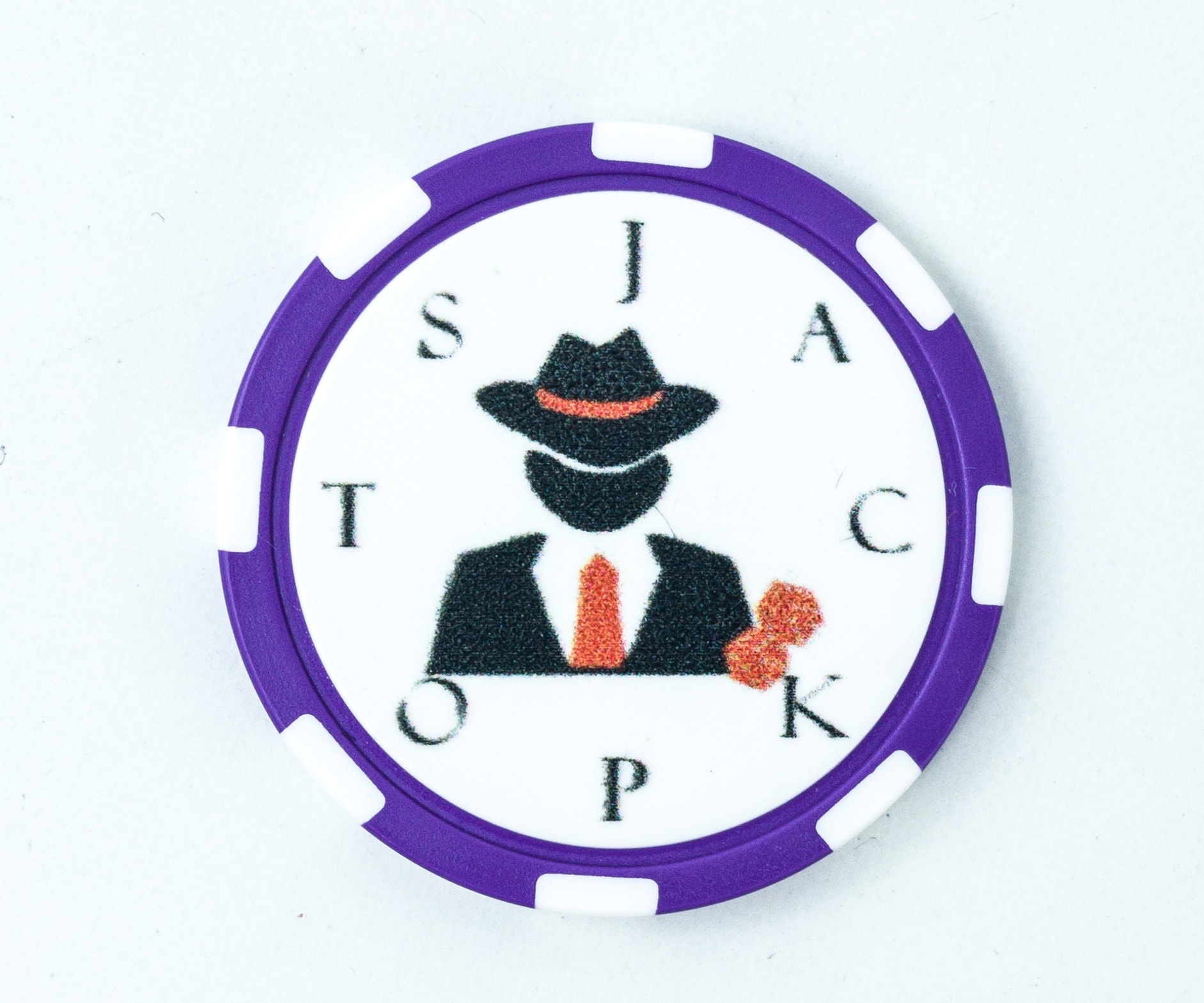 The other side spells the word "JACKPOTS" that's why we have a hunch that it has something to do with the casino ad.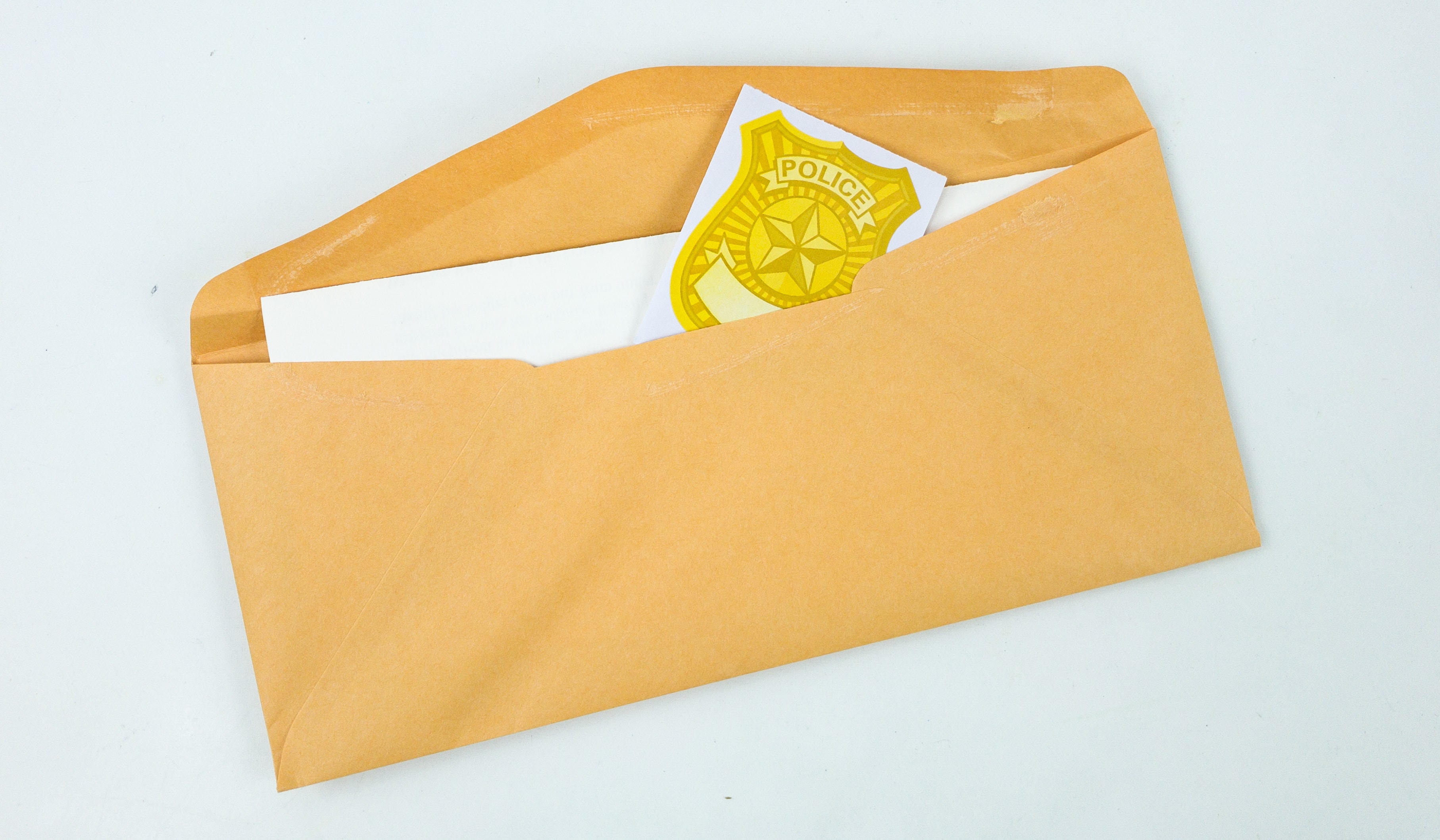 Upon opening the Epilogue envelope, it reveals a police badge sticker!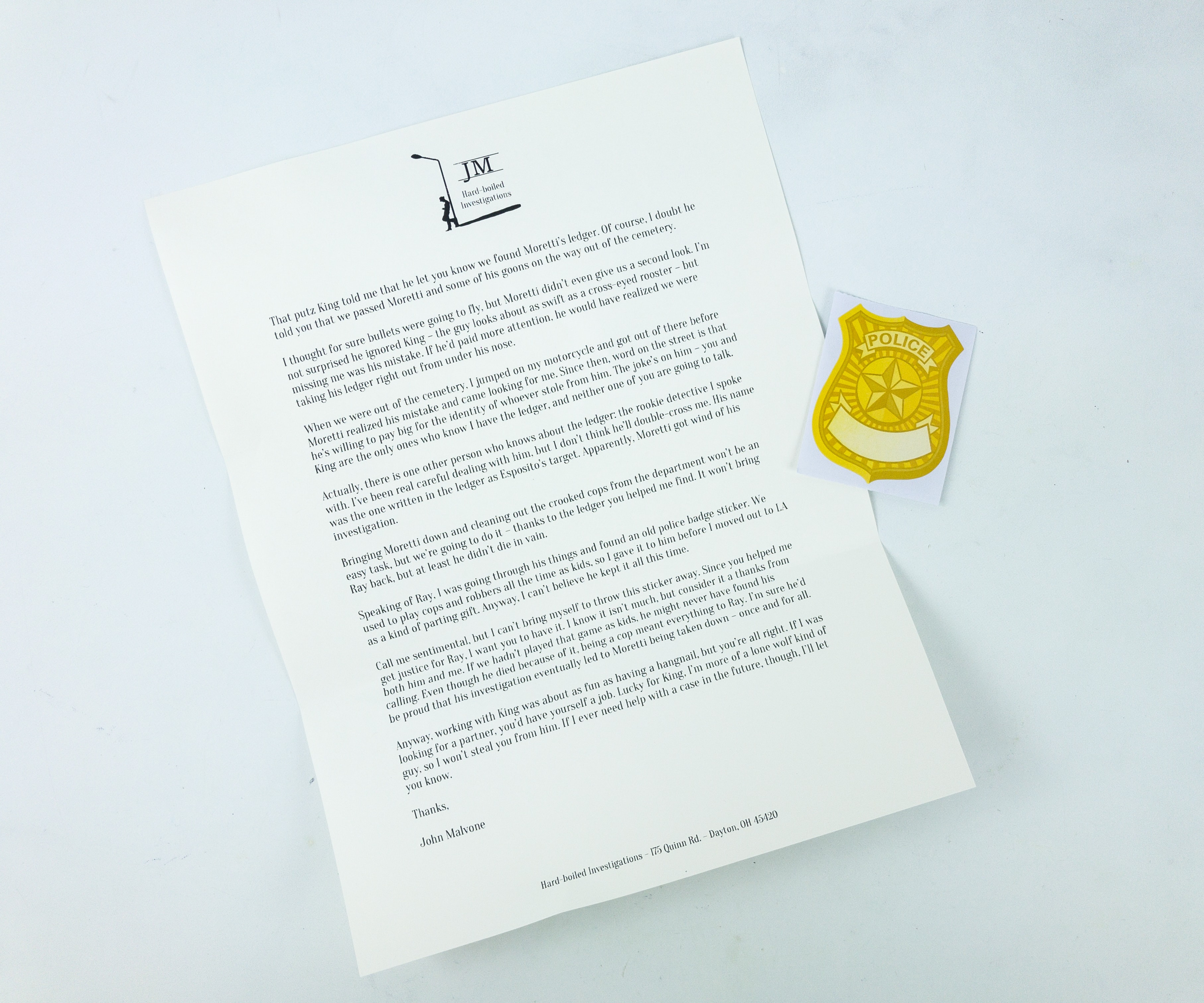 It contains the letter from John Malvone thanking us for solving the case. And that Malvone finally got the ledger and Moretti is hunting the person who stole his prized possession. Also, the letter gave us a feeling that we'll see more of John Malvone in upcoming cases!
Sleuth Kings is really giving us the "escape room" feel. It's always fun to solve cases, and we also find it great that they are introducing new characters, like John Malvone! I love how the clues are really useful in solving every puzzle. We also have this feeling that we'll see more of JM or even the Moretti's as the case appeared to be open-ended. It may take some time so don't start with the box if you don't really have time to spare as it is addicting, fun, and mind-boggling! Our family loves challenges, discovering new things, solving puzzles, and feeling like winners once we're done! This is a perfect box for a great family bonding time!
What do you think of the Sleuth Kings box?