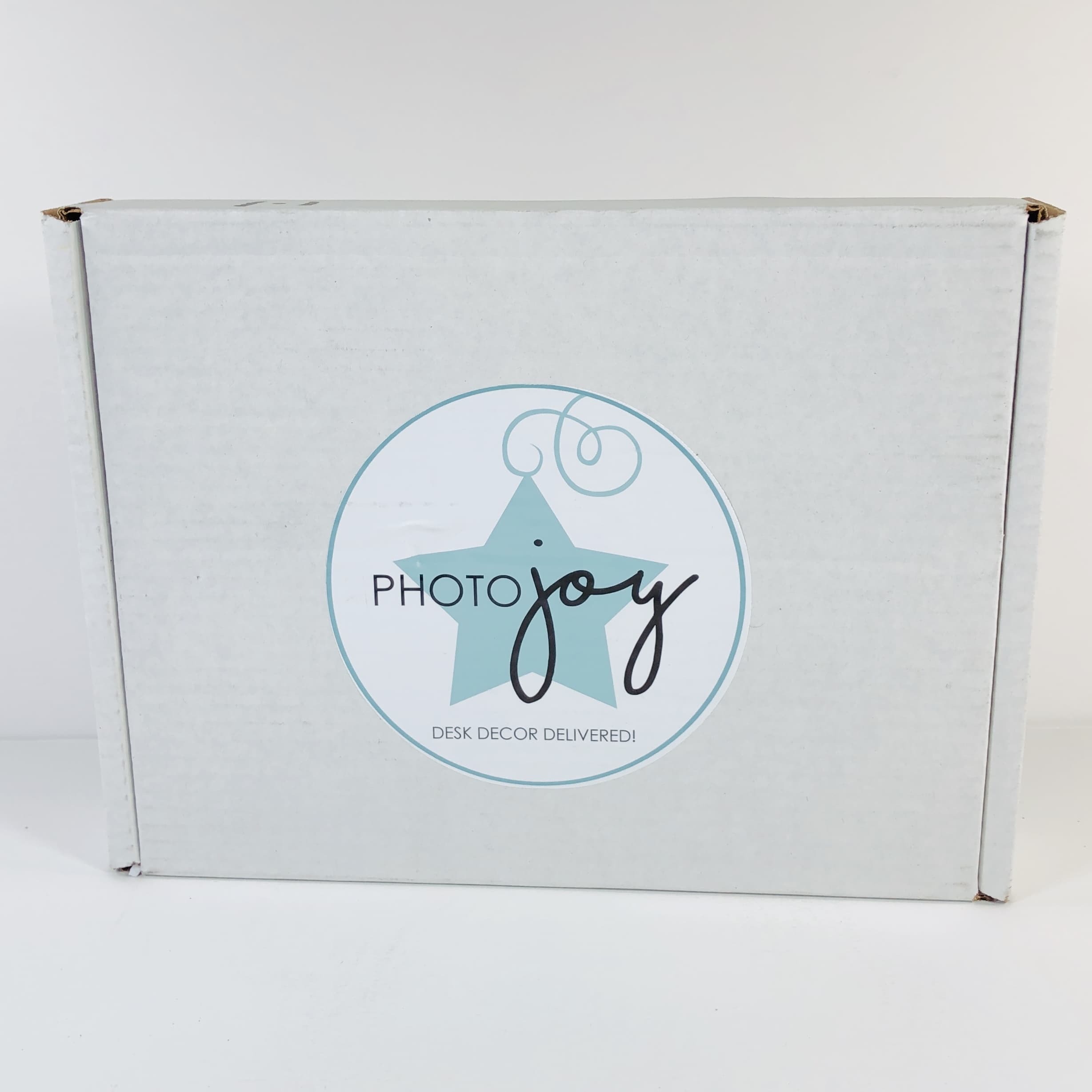 Photo Joy Box is a monthly subscription box that helps you decorate your office (or bedroom, or wherever!) by delivering artistic, ready-to-frame, high-quality photography prints every month. You will also receive coordinating cards, postcards, stickers, magnets, and other items to match! The main product will be a matted photography print (either 5×7 matted to 8×10, or 8×10 matted to 11×14, depending on the level you choose) and shipping is free to the US. Subscriptions are $29.95 (for 5×7) or $39.95 (for 8×10). Prices drop for longer subscriptions!
Each month we create a unique subscription box focusing on a photography print and coordinating themed accessories.

It can be hard to find the time to freshen up your space – whether it's a home office, cubicle, or bill-paying nook.

It's also easy to get overwhelmed with choices for sprucing up your decor.

THE PHOTO JOY BOX makes it easy to keep your office – or any space! – inviting and inspiring, by delivering artistic, ready-to-frame high-quality photography prints every month.
DEALS:
Get 20% off your first box! Use coupon code FIRSTMONTH20.
Get $5 off your subscription! Use coupon code PHOTOJOY5.
I found a card on the inside of my box. Make sure to remove it – there's more info on the back!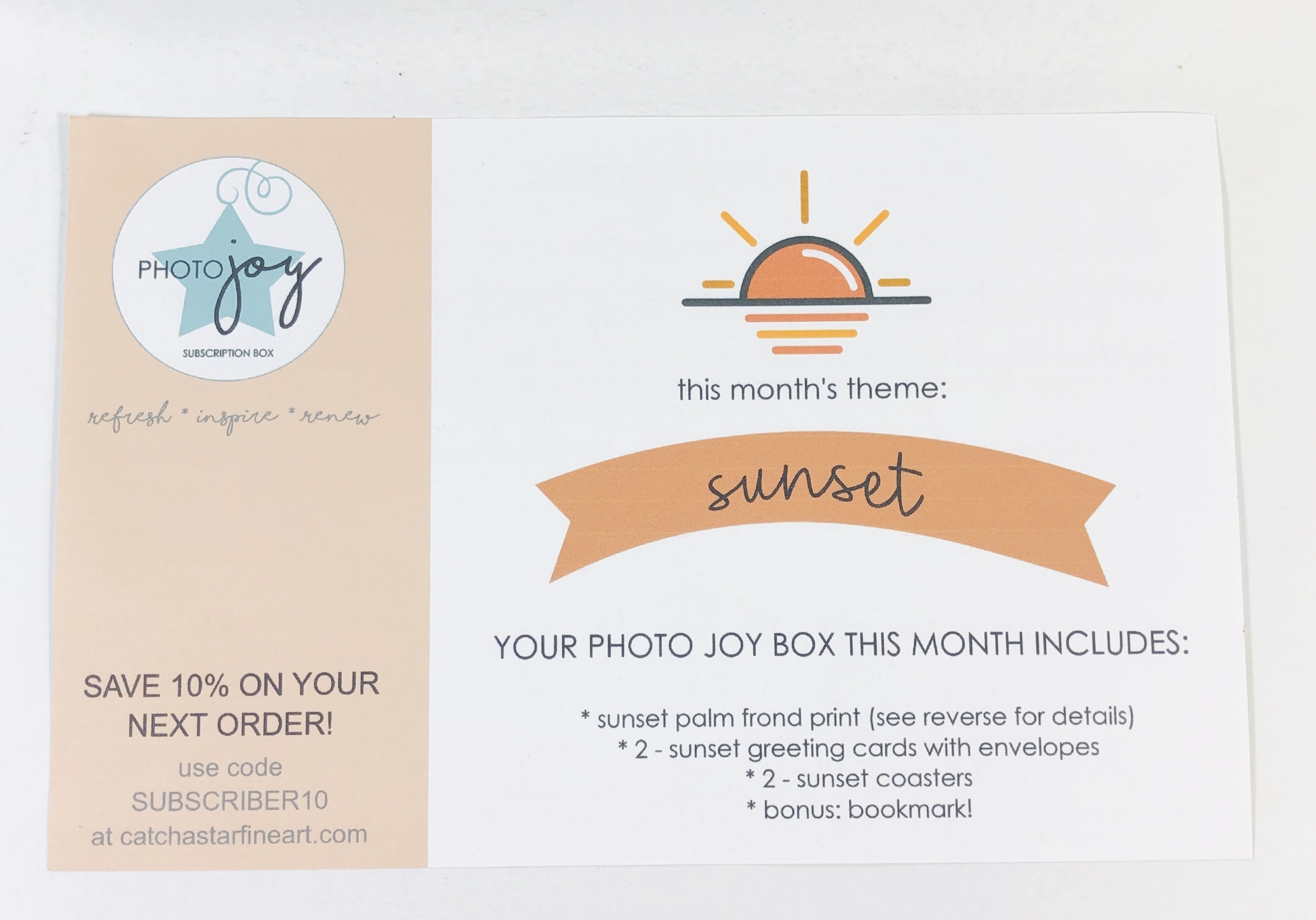 The card had info on the items in my box. I also found a discount code for a shop purchase.
The back of the card had info on the included print.
My items were tucked into tissue paper and shredded paper squiggles.
Some of the items were wrapped in plastic to keep them from getting marred during shipping.
I kept unwrapping layers, it was like my birthday came early this year!
Three layers in all!
Everything in my box!
Sunset Palm Frond Print ($24 value based on similar items on website) Last month I found the monthly print available in a variety of sizes but I guess this one is either exclusive to the subscription or just hasn't been added yet. Isn't it beautiful? It is still giving me beachy vibes, however, the color scheme has shifted to warmer shades and reminds me that summer is almost over and fall is just around the corner.
I received the 5″ x 7″ matted to an 8″ x 10″ card and it is ready to either pop in a frame of prop on a holder, like the one I received in last month's box! I'm not sure that I'm ready to stop looking at last month's picture, so I guess I'll just need to get some more holders and place them on opposite bookshelves. If I manage to collect several of them then I will hang them on my wall in a grouping.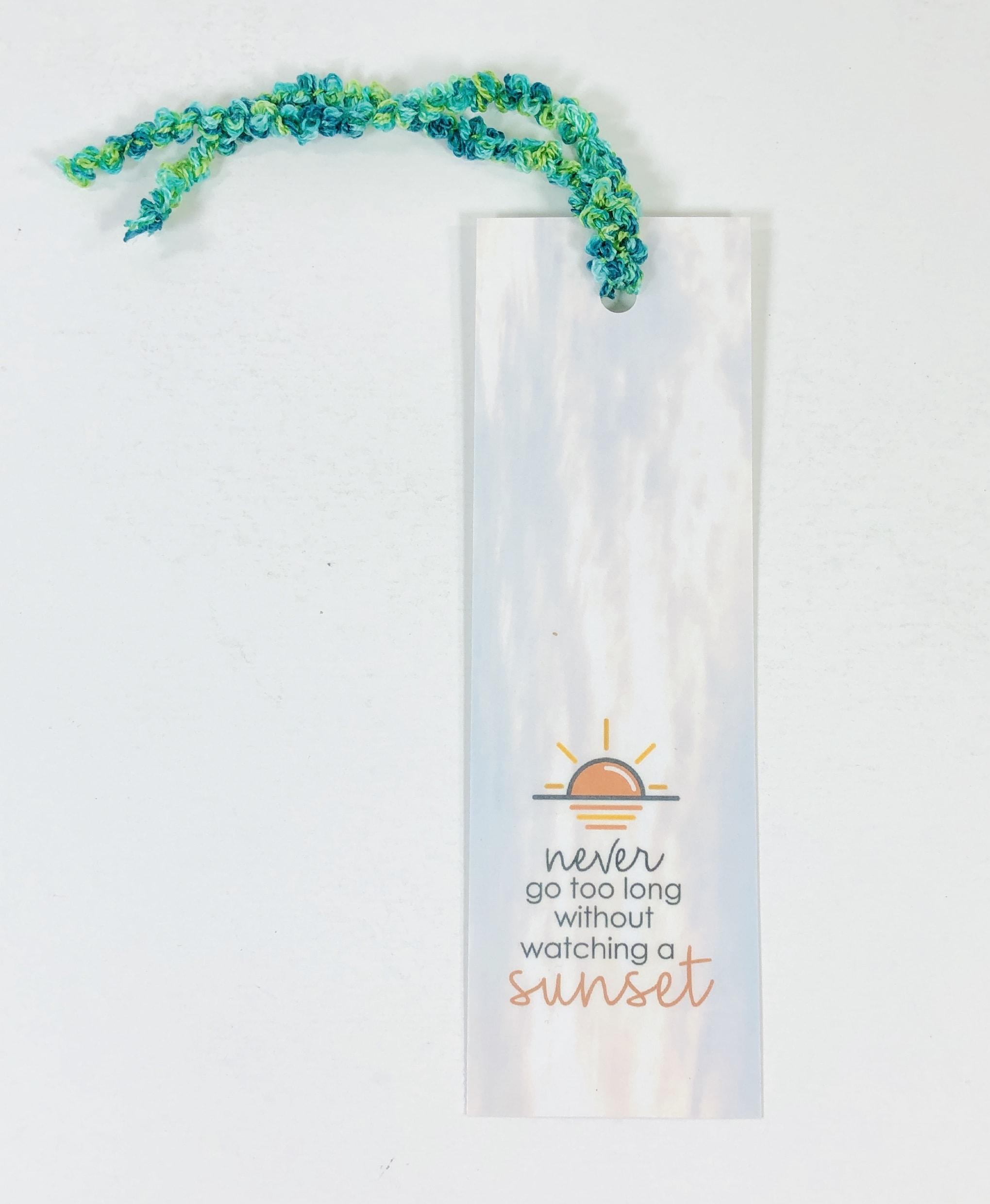 Bonus Bookmark I read all the time and can never have too many bookmarks.
This one has an inspirational saying on one side, sunsets on the other.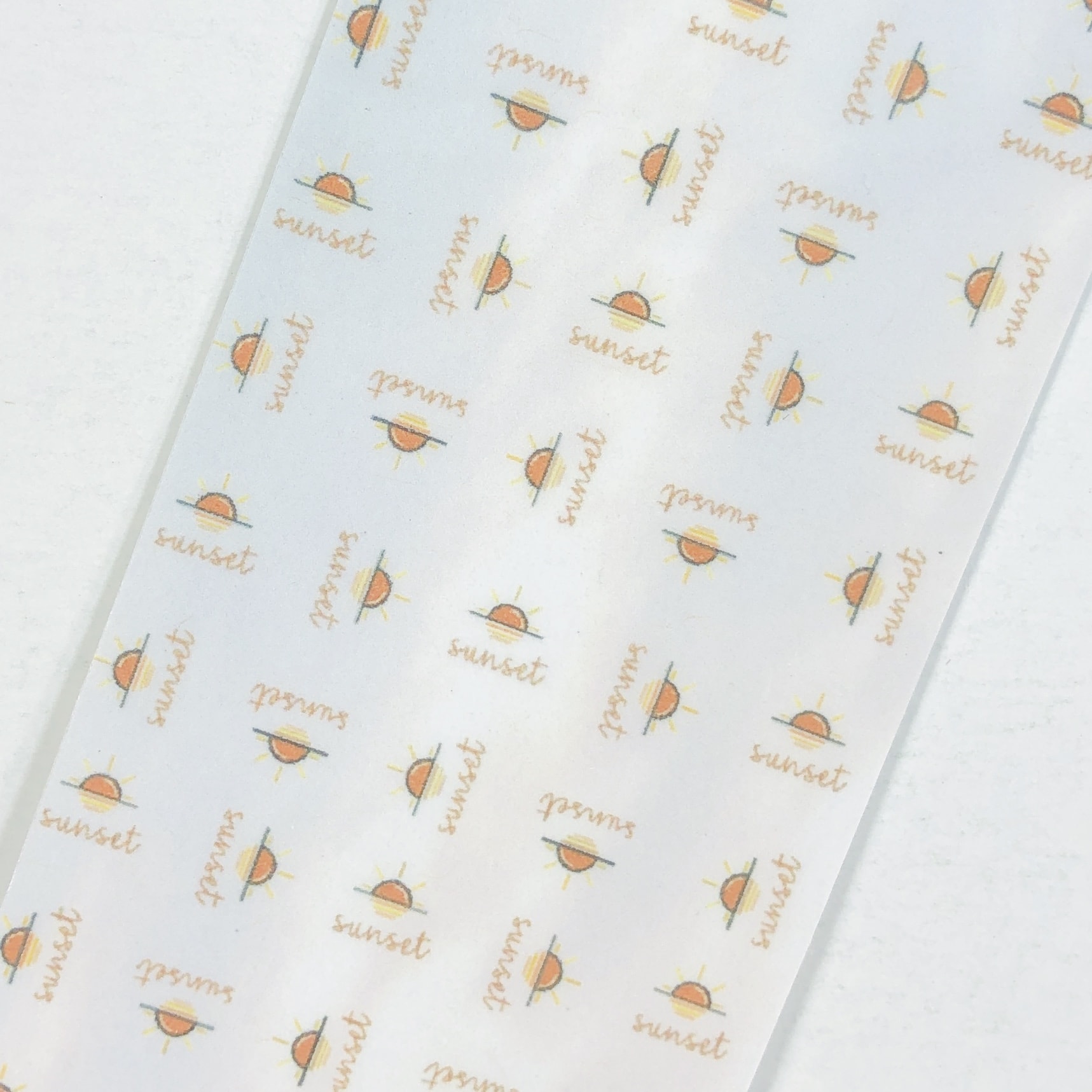 Here's a close up of the back. The bookmark is laminated and comes with colorful yarn to hang out of the book.

Sunset Coasters Coasters are usually kind of an afterthought, but these are more like mini works of art. Place your summery drink of choice (piña colada, iced tea) on one and drift off into the sunset in your mind.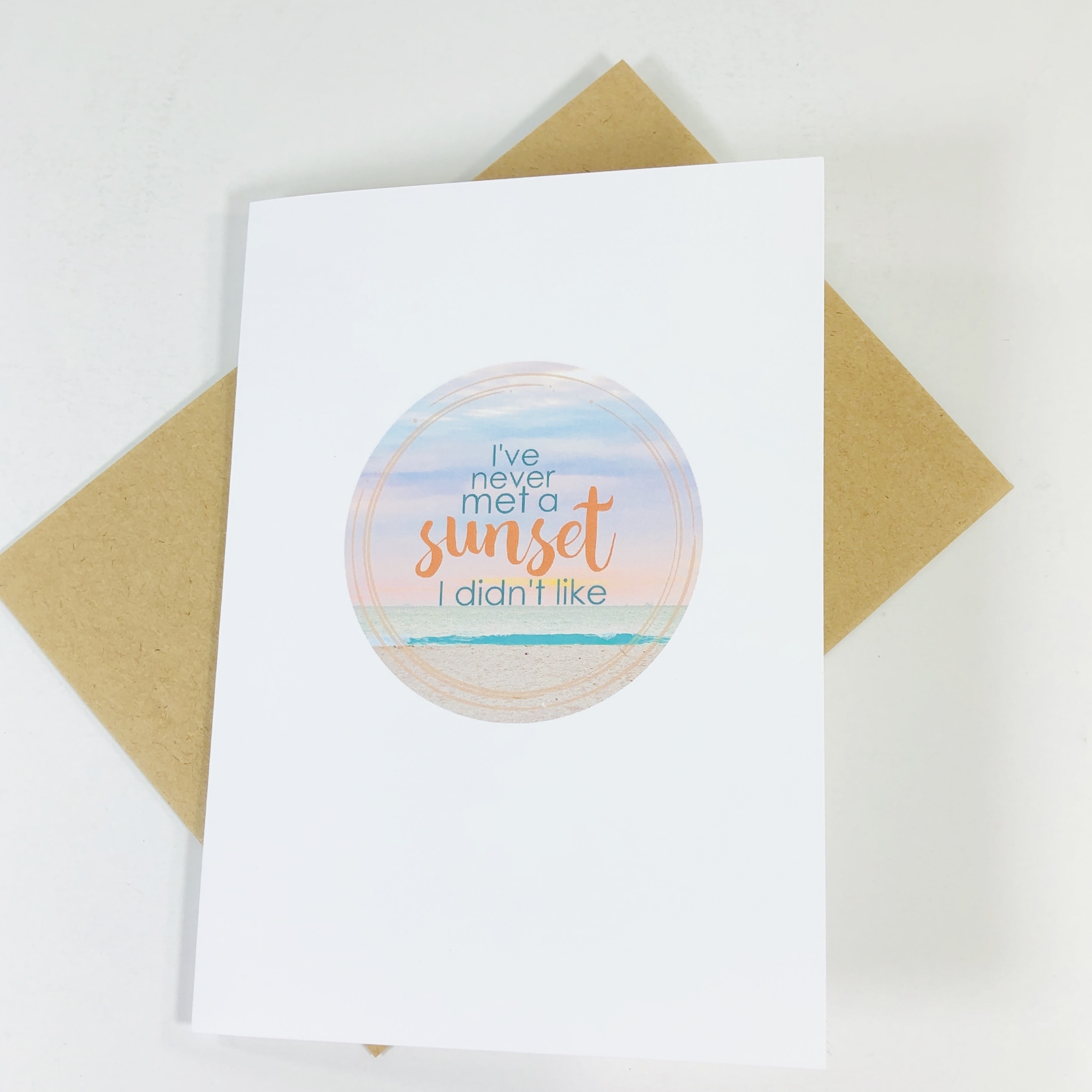 Sunset Greeting Cards ($5 each?) We also received two greeting cards and the prints matched the ones on the bookmark and coasters. Each card is 5″ x 7″ and comes with a kraft paper envelope. Blank on the inside and made of sturdy cardstock paper.
Once again I found the products in my Photo Joy Box to be just my style! I love anything tropical or beachy and I think it's cool that I don't really have to do much with the monthly print, it is ready to be placed on a holder and voila, my desk or bookcase is decorated! The cards, coasters, and bookmark rounded out the box nicely and I relax just a bit more any time I see them around the house.
What do you think of the Photo Joy Box?