Peaches and Petals is a monthly women's subscription box that centers on trying new experiences for only $20 plus free shipping and handling. This is a lifestyle box so it is ever-changing to reflect what is going on in fashion and fun.
DEAL: Use coupon code PEACH10% to save 10% off your first month!
There's an information card on top of all the items.
The items were packed with green squiggles.
August theme is Happiness Happens Month!
At the back, there's a promotion for Snack With Me.
Everything in my box!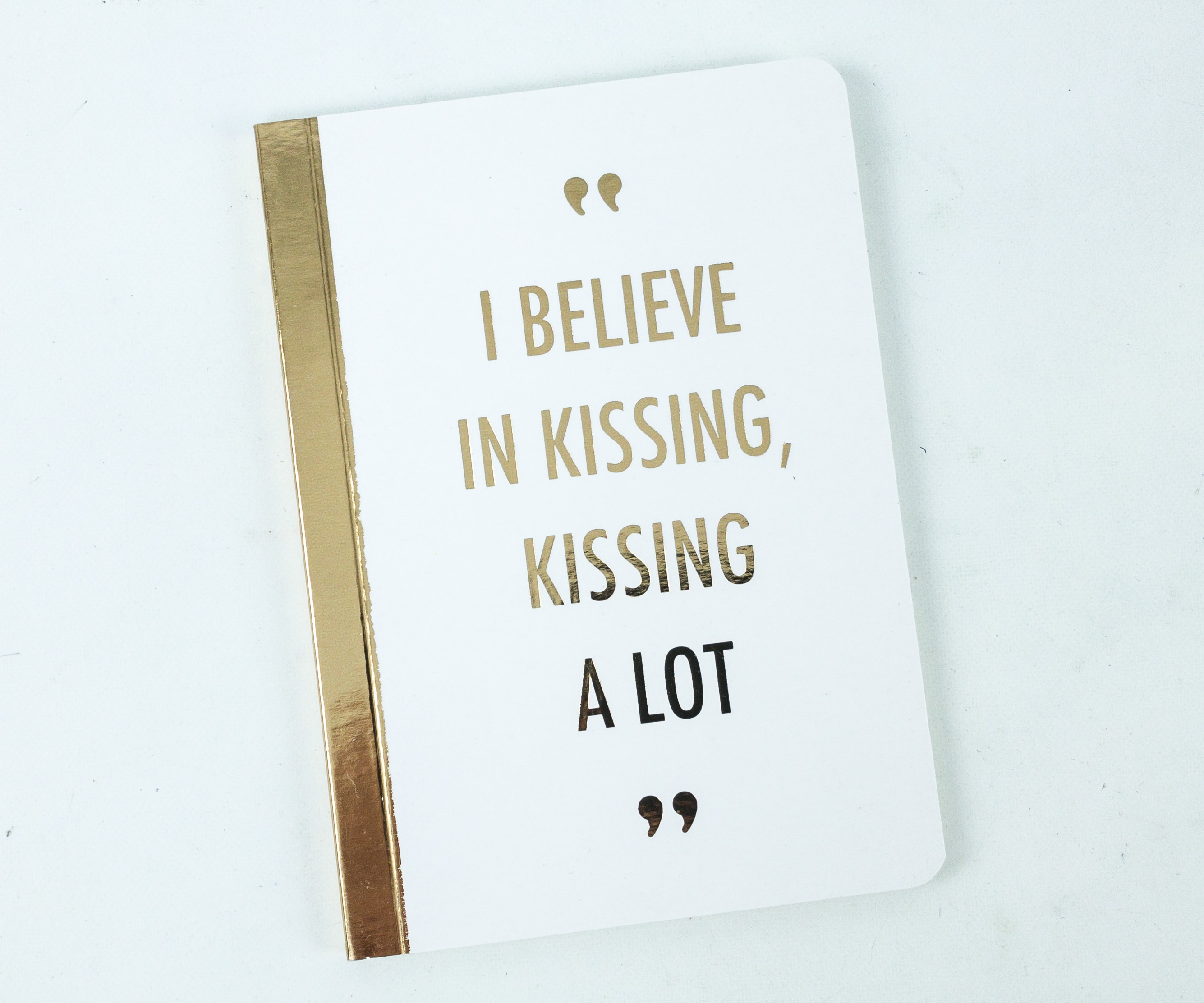 Notebook. The cover of this notebook features a gold foiled design, and the text is actually an Audrey Hepburn quote!
I believe in kissing, kissing a lot.
At the back, there's a small design that says "love is in the air"!
The inside of the cover features a photo with a beautiful bokeh effect. Also, the pages are blank so you can freely doodle and write!
Polaroid Photo Shadowbox. We could now showcase our Polaroid photos using this frame! It's packed in a giftable black box featuring the Polaroid Fotobar branding.
We got the shadowbox in hot pink. It also comes with a magnet that you can stick on the back of your Polaroid picture.
Once you've placed the magnet on the photo, you can now put it on the slot inside the shadowbox.
The frame can stand alone, so you can put it on any flat surface such as your bedside table, on top of a shelf, or on your desk.
You can also hang it vertically or horizontally using the holes at the back.
Fruit Fix Fruit Infusion Bath Salts ($8.58) These are packaged like tea, but they're actually bath salts. One pack includes 5 "teabags".
Each pack features a different fruit! There's Pomegranate Passion, Invigorating Ginger, Refreshing Orange, Pick Me Up Peppermint, and Zingy Grapefruit. They all smell so good, making my bath time more invigorating!
NPW Sketch Safari Flocked Pencils ($8) The safari-themed pencils arrived in a tin pencil case! They're so cute!
The pencils already sharpened, so you can just grab one and doodle or write away.
There are 8 pencils and each of them features a distinct print like a peacock print, a tiger print, and a giraffe print.
I love the texture of these pencils. Also, I'm more impressed at the details of the prints the more I look closer.
Heidi Swapp Marquee Love Marquee Light Kit. Here's another home decor item, an arrow-shaped vintage-inspired marquee light!
This kit also appeals to the crafty ones because you can customize your own marquee light!
The kit includes 1 marquee shape, 1 LED light strand, 1 tracing template, 2 decorative tape rolls, and 9 clear bulb caps. Batteries are not included.
There's no instruction sheet, but it was quite easy and fast to assemble.
There are so many possibilities with marquee lights! You can add these washi tapes to give it a more festive look.
Peaches & Petals is a fun lifestyle subscription with lots of surprises! From journaling to home decor, they covered many of my interests this month and I couldn't be happier. They even included a pack of bath salts, which reminded me to relax and have some time off as well. My favorites this month are the shadowbox and the marquee lights but the other inclusions are also awesome and usable. If you want to give your self a pat on the back with fun goodies every month, this subscription is for you!
What did you think of Peaches & Petals this month?