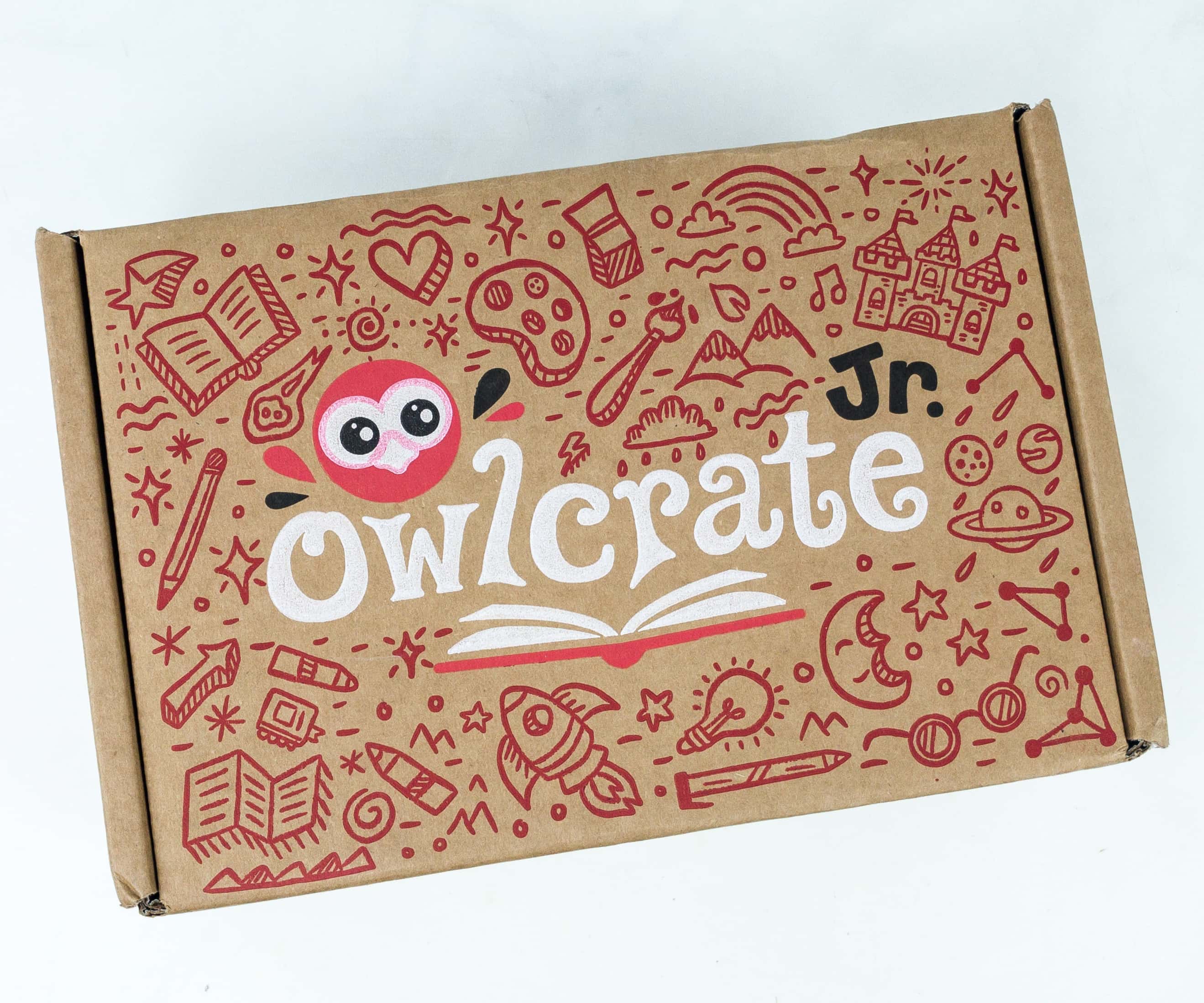 OwlCrate Jr. is a monthly book subscription box for young readers ages 8-12 with a middle-grade book plus fun gender-neutral bookish items designed to enhance your little reader's experience. It's from OwlCrate, a super popular YA (young adult) fiction subscription.
This is also OwlCrate Jr.  first-ever Limited Edition Box – The 'Tunnel of Bones' by Victoria "V.E." Schwab!
DEAL: Save 15% on your first subscription with the coupon code HELLO15 at checkout.
The inner flap has a guide to unboxing your crate!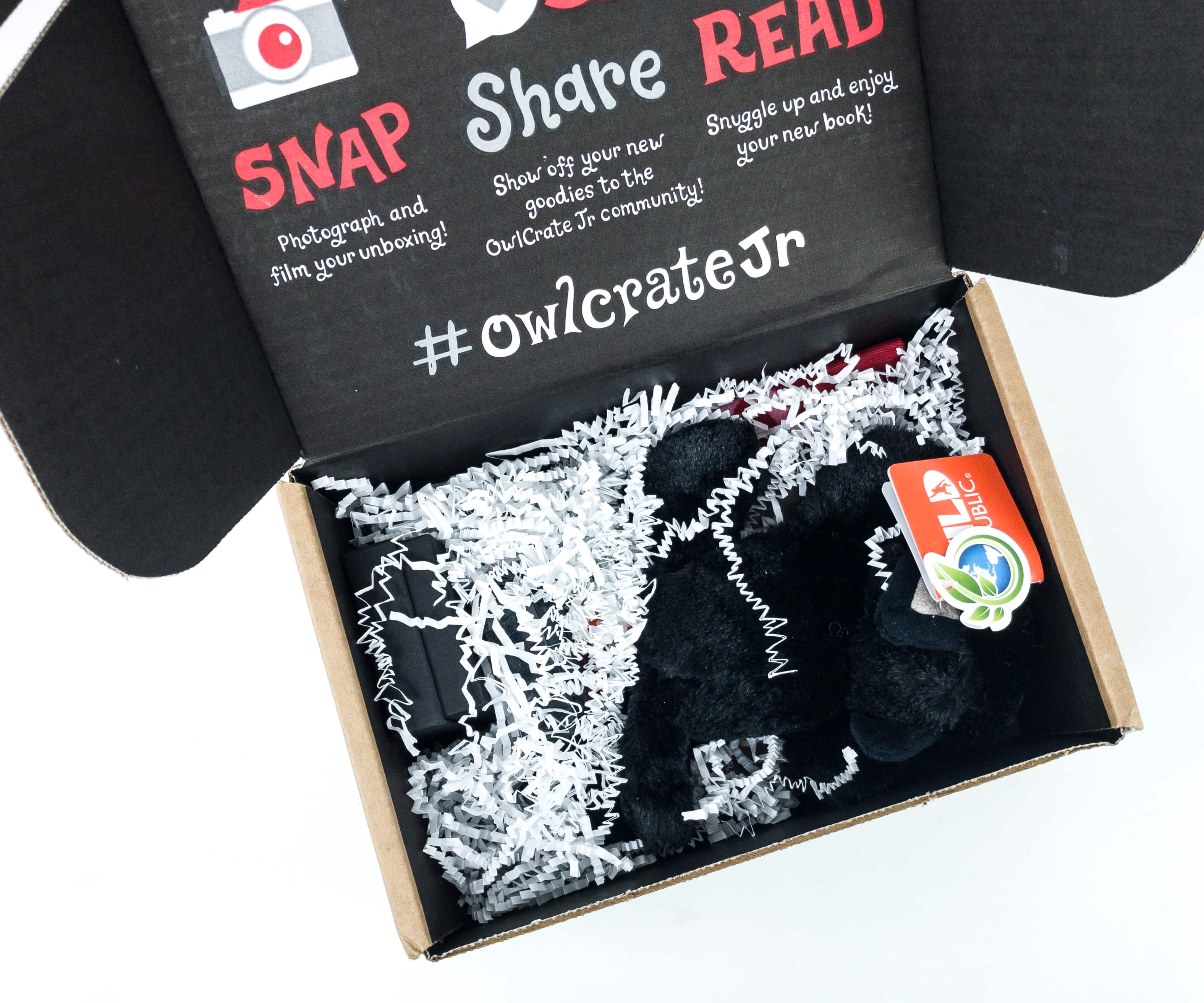 The items were surrounded with white squiggles.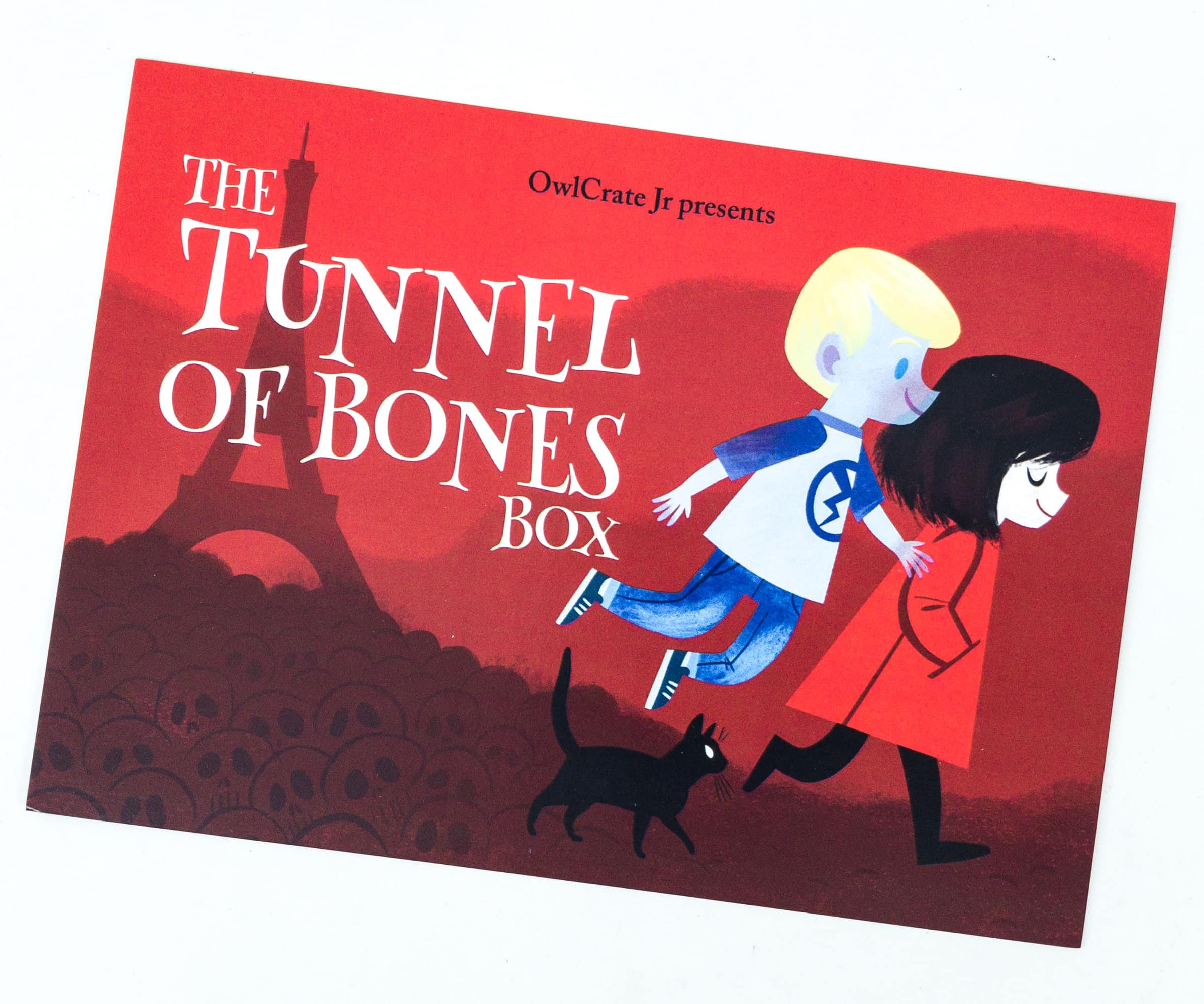 Included in the box is an information card.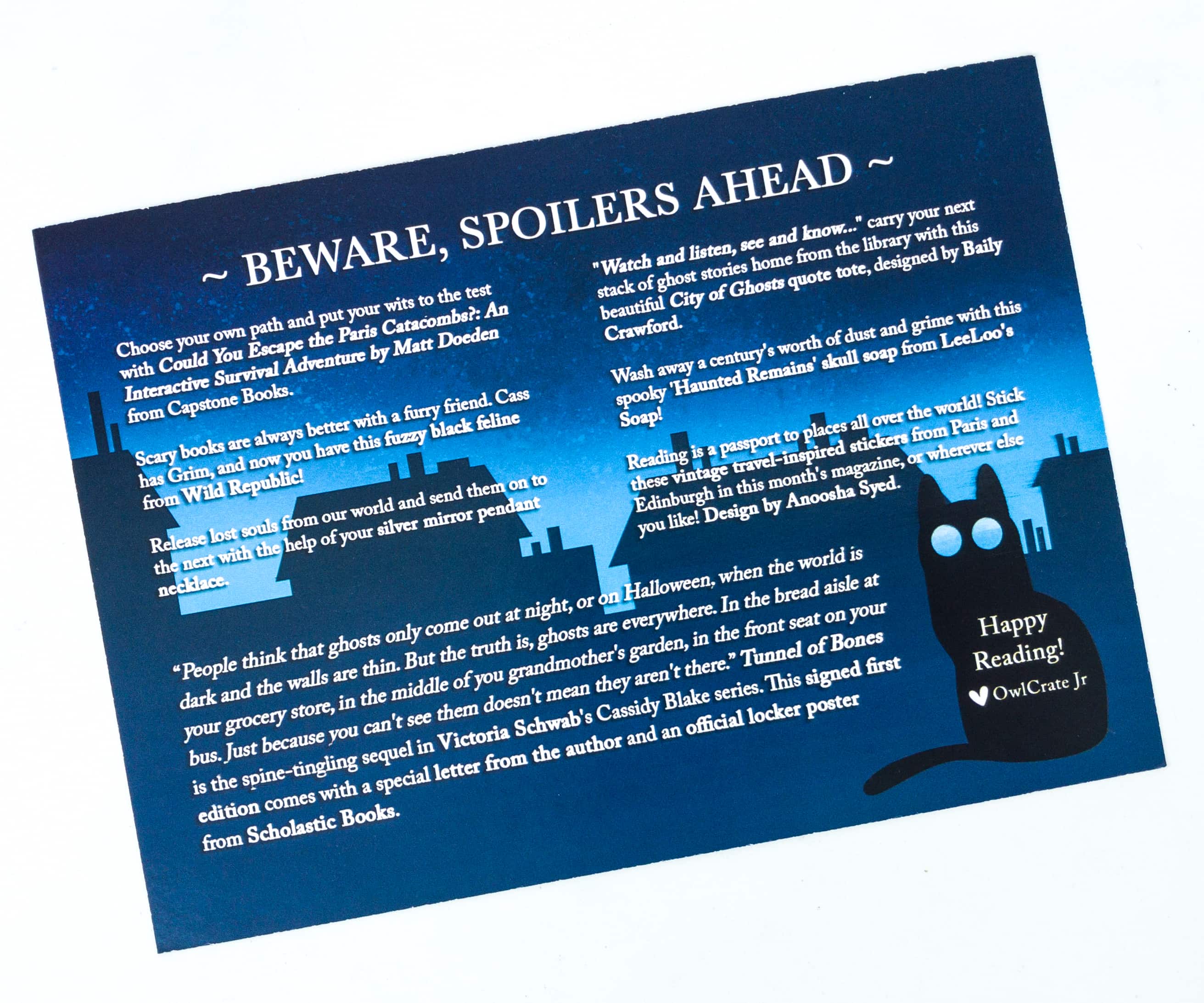 The theme for the August 2019 OwlCrate Jr. box is THE TUNNEL OF BONES!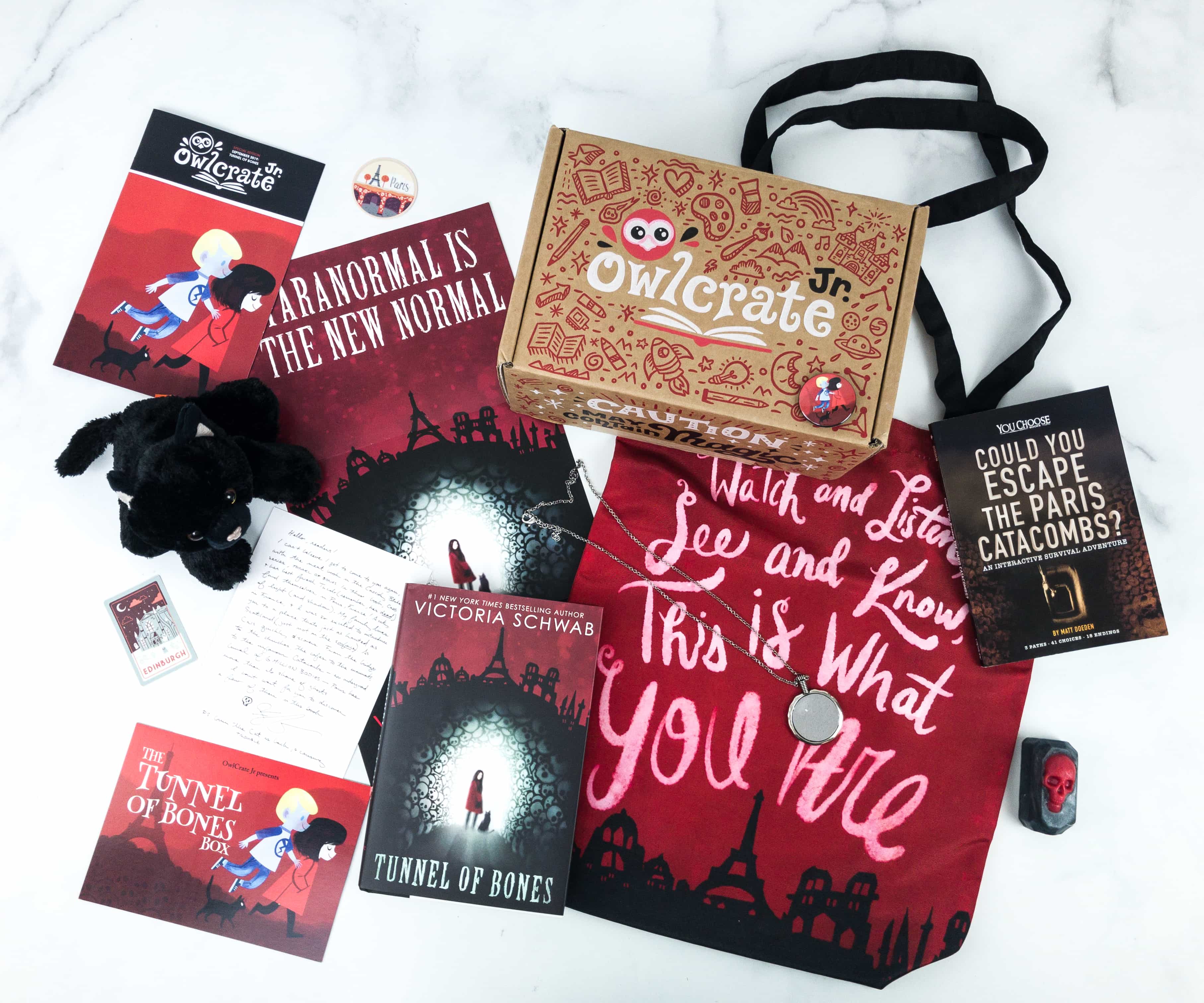 Everything in my box!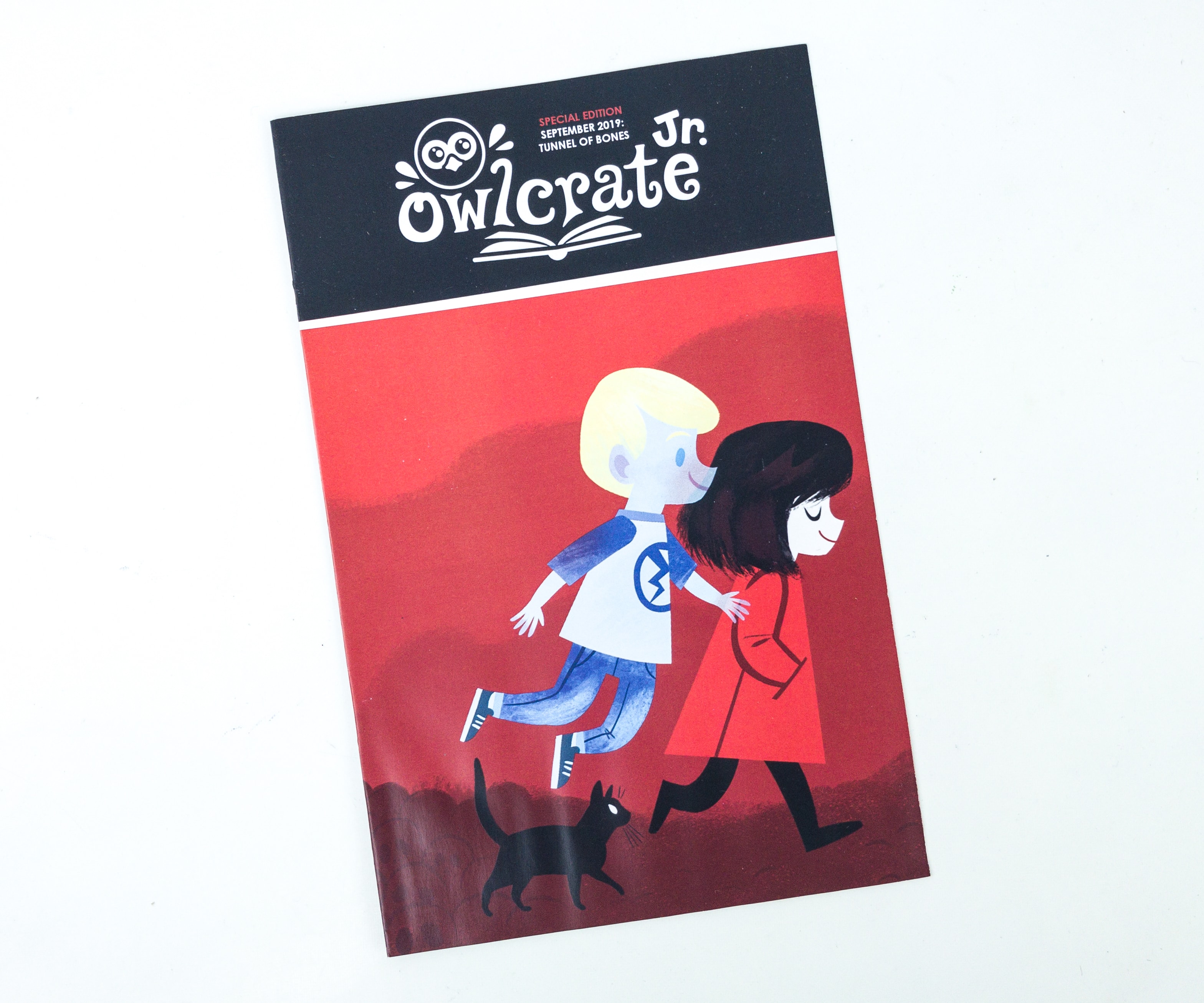 They also included an adorable mini magazine!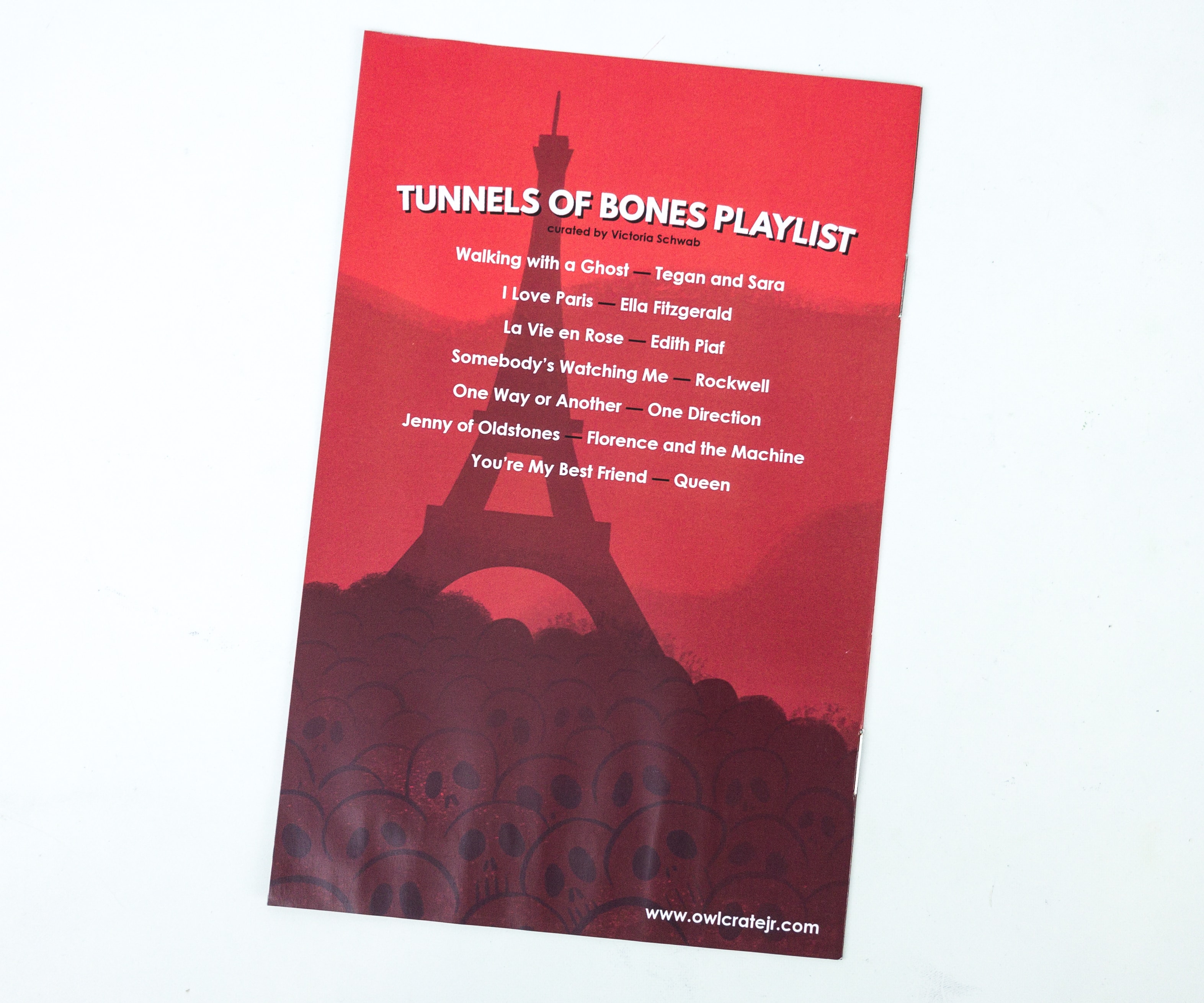 There's even a suggested playlist curated by Victoria Schwab that includes hits from One Direction and Queen!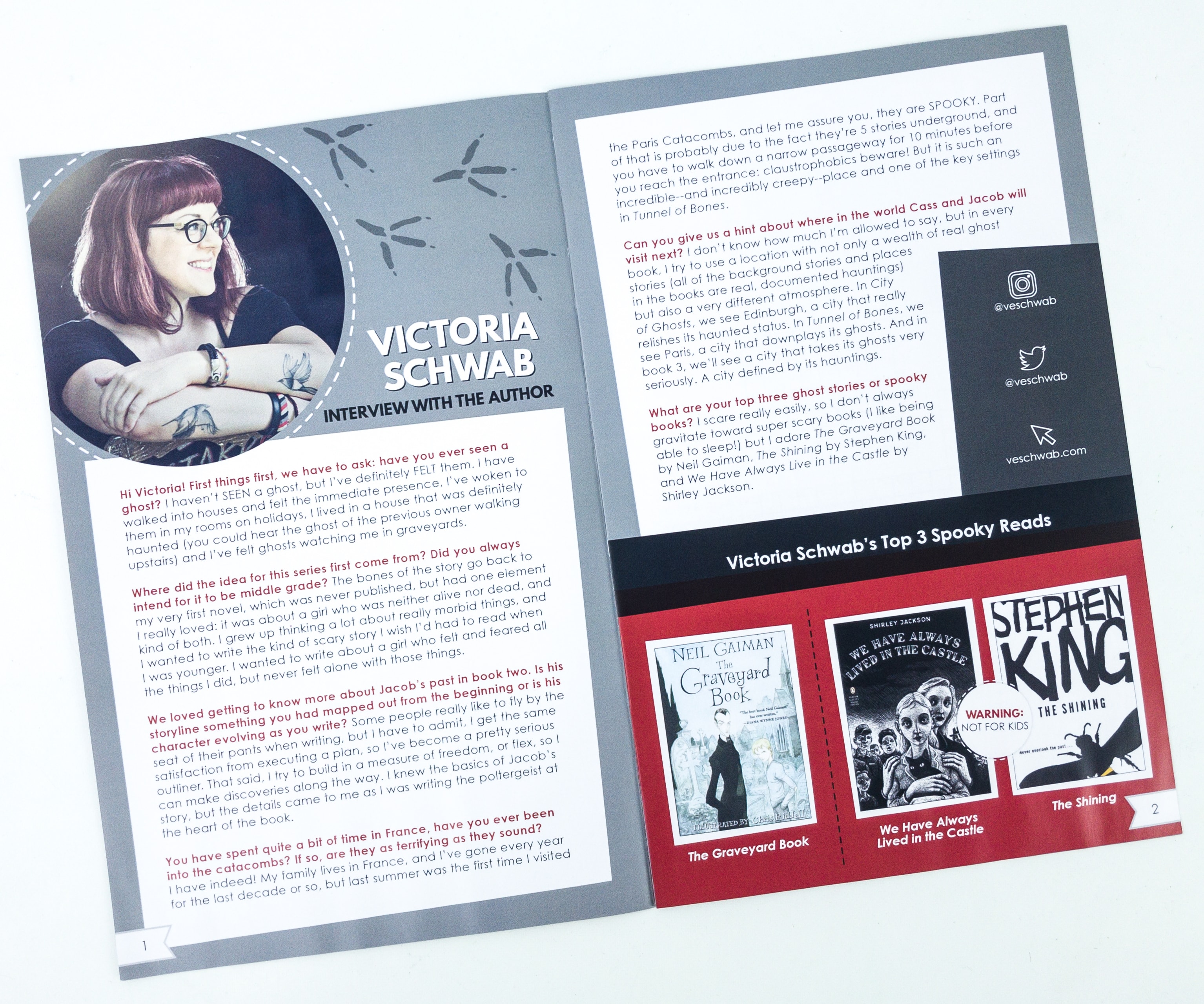 Of course, the mini-magazine includes an author interview! This month's featured author is Victoria Schwab. Knowing what inspired the author to pen a story can help children understand the book better.
They also suggested some titles for further reading, especially if you love this month's book:
The Graveyard Book by Neil Gaiman ($10.67)
We Have Always Lived in the Castle by Shirley Jackson ($14.55)
The Shining by Stephen King ($12.71)
There are a crossword puzzle and another interview with an artist, Baily Crawford.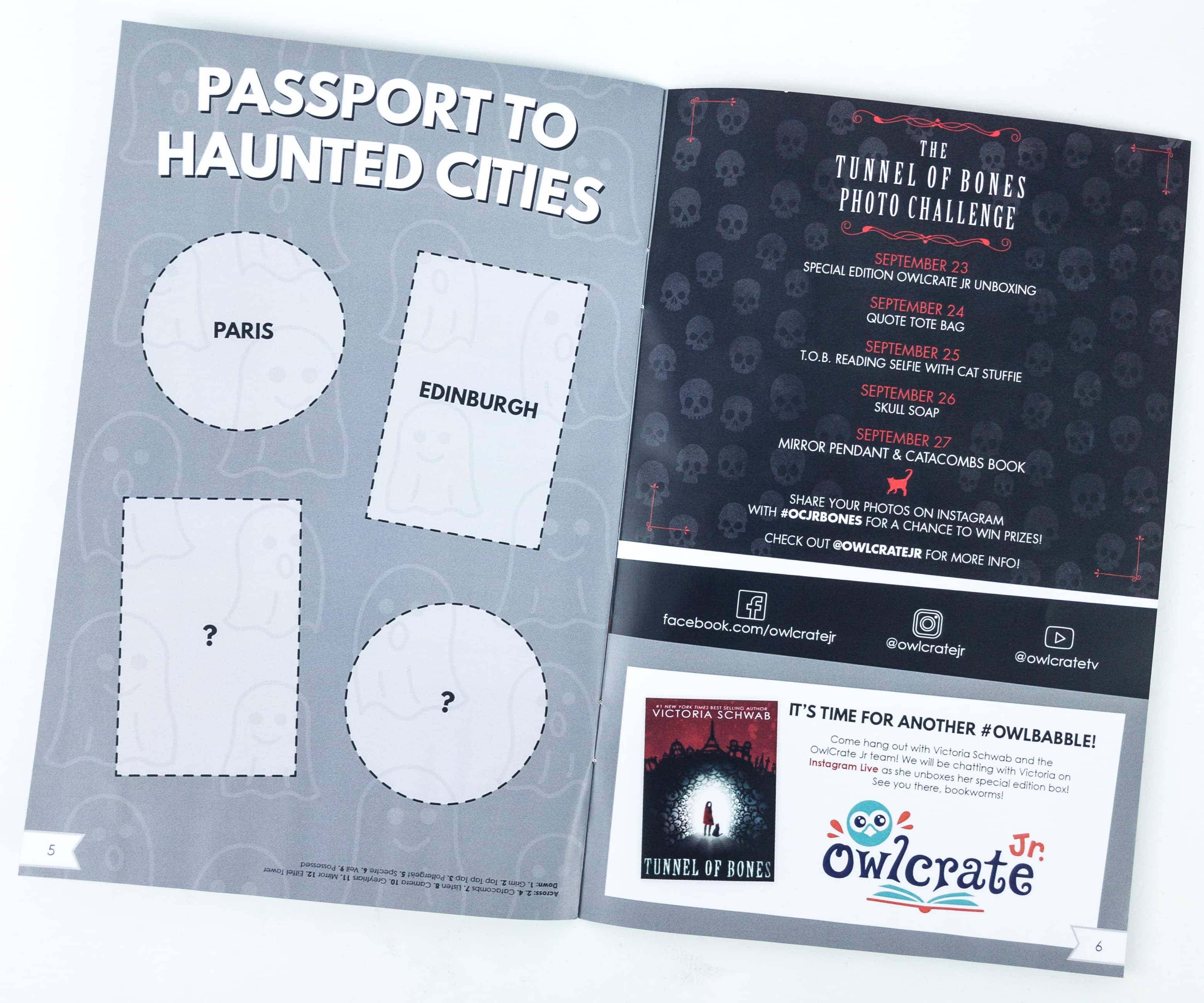 There are more fun activities for kids and interesting features! Also, there's a Tunnel of Bones Photo Challenge!
Pin. This month's pin features the same design with the mini-magazine! There's a ghostly boy, a girl in a red coat, and a black cat.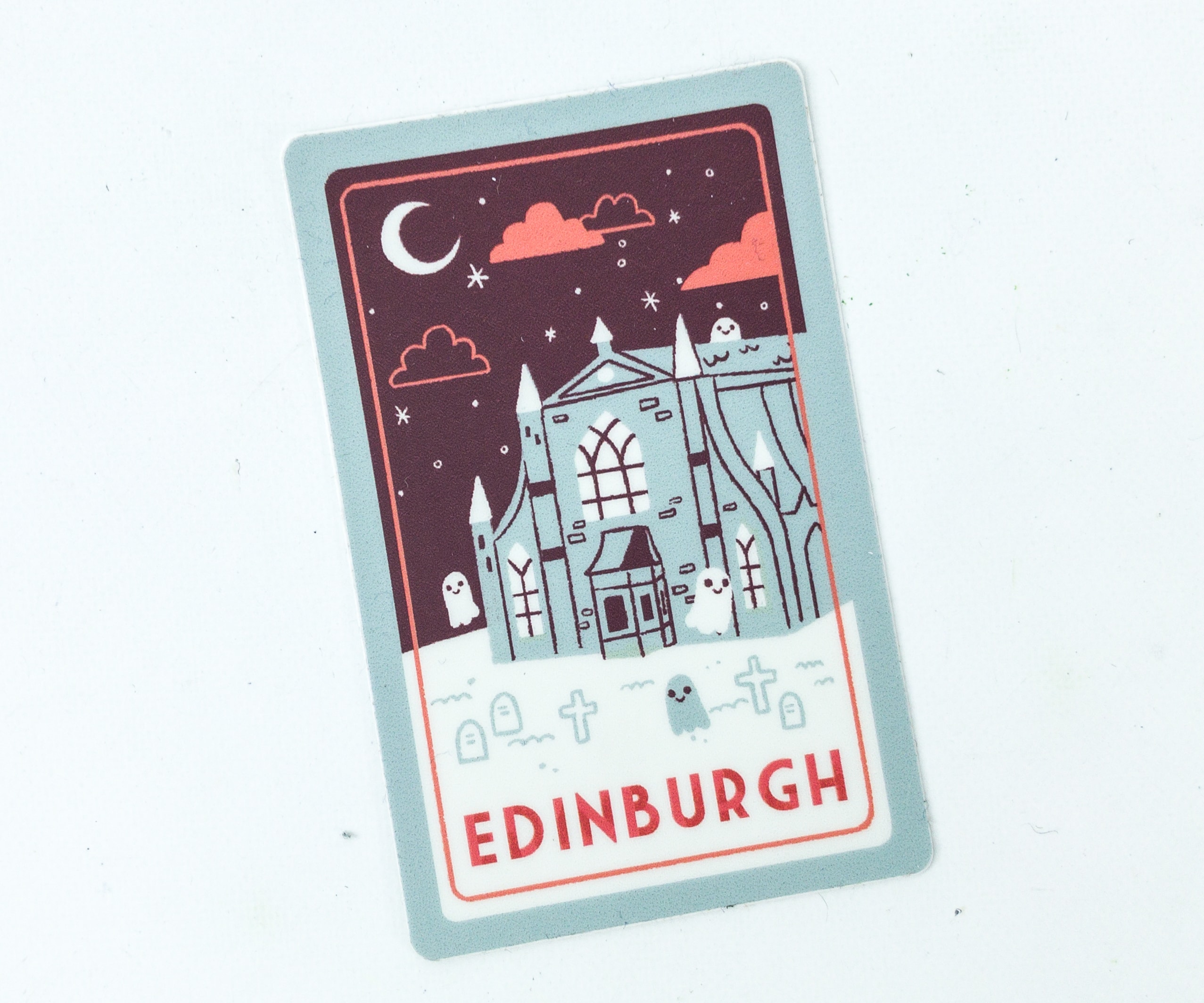 Vintage Travel-Inspired Stickers: Edinburgh and Paris. Edinburgh in Scotland is famous for their ghost tours, while the Catacombs in Paris is another creepy destination that you can visit!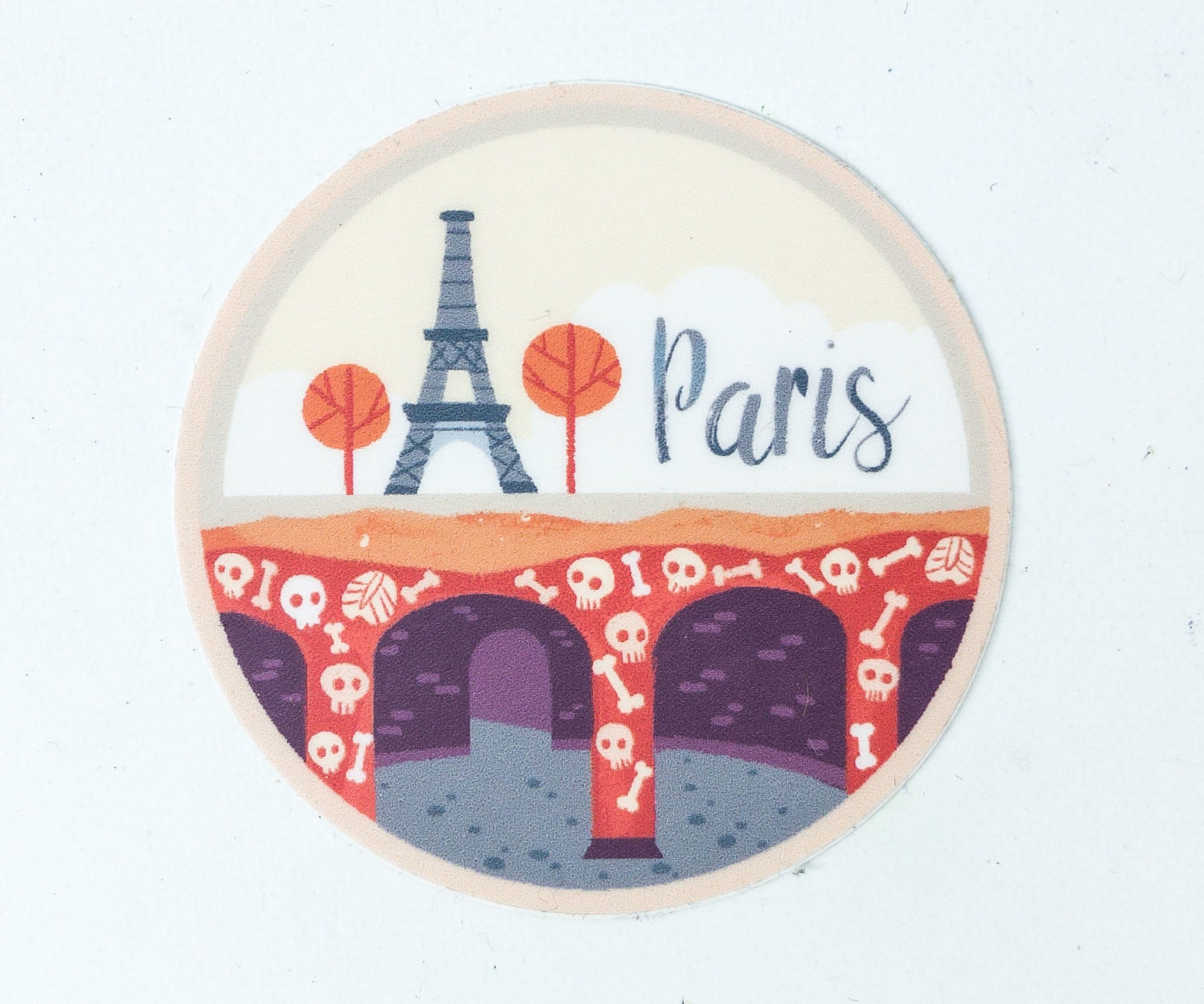 The stickers are adorable than creepy! The vintage-look is nice as well!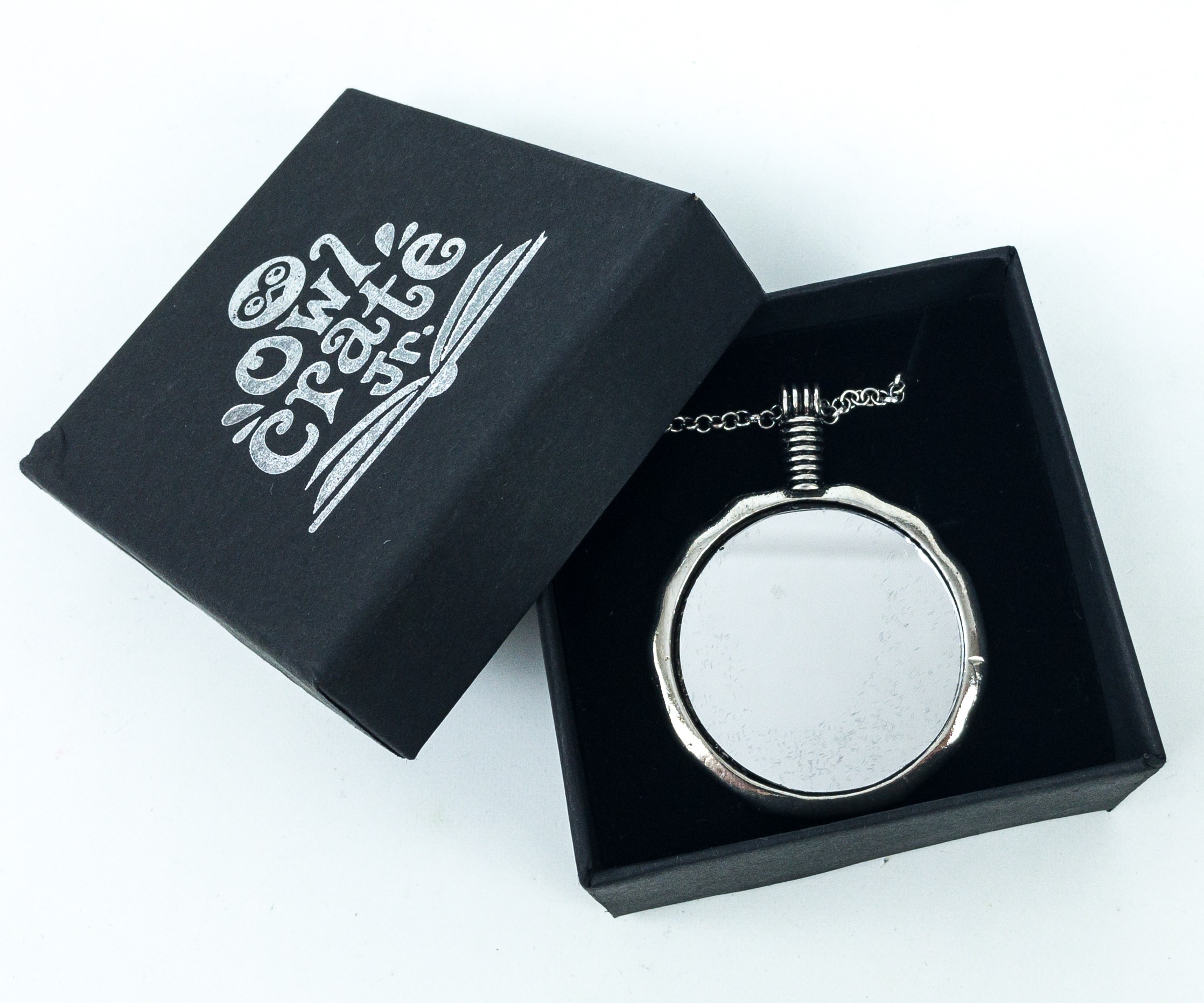 Silver Mirror Pendant Necklace. Mirrors are known to release ghosts from our world on to the next, and this necklace is perfect to aid those lost souls.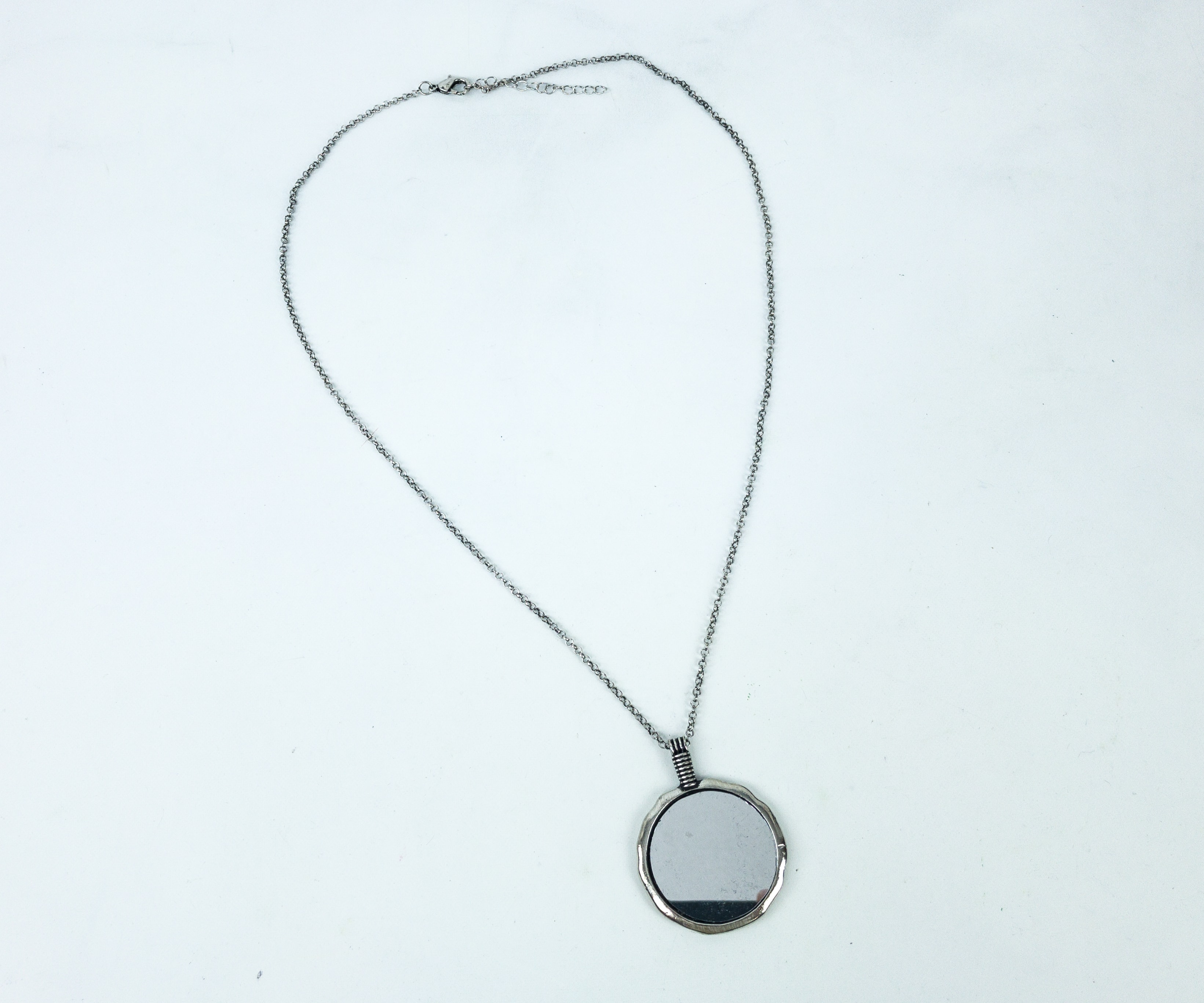 The pendant is a nice mirror, you can check your face with it too!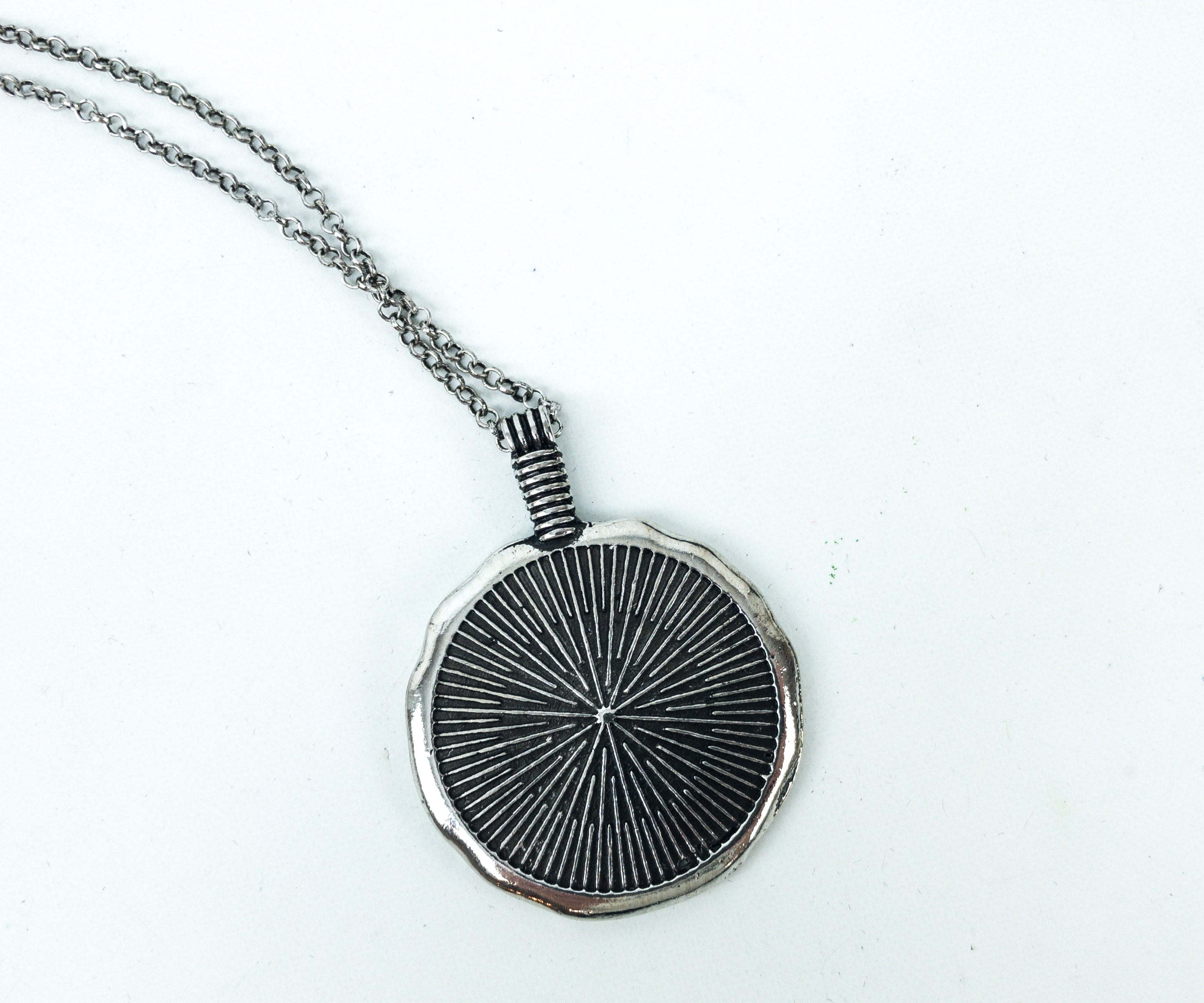 The back has a vintage pattern design, making it look like it came from centuries ago!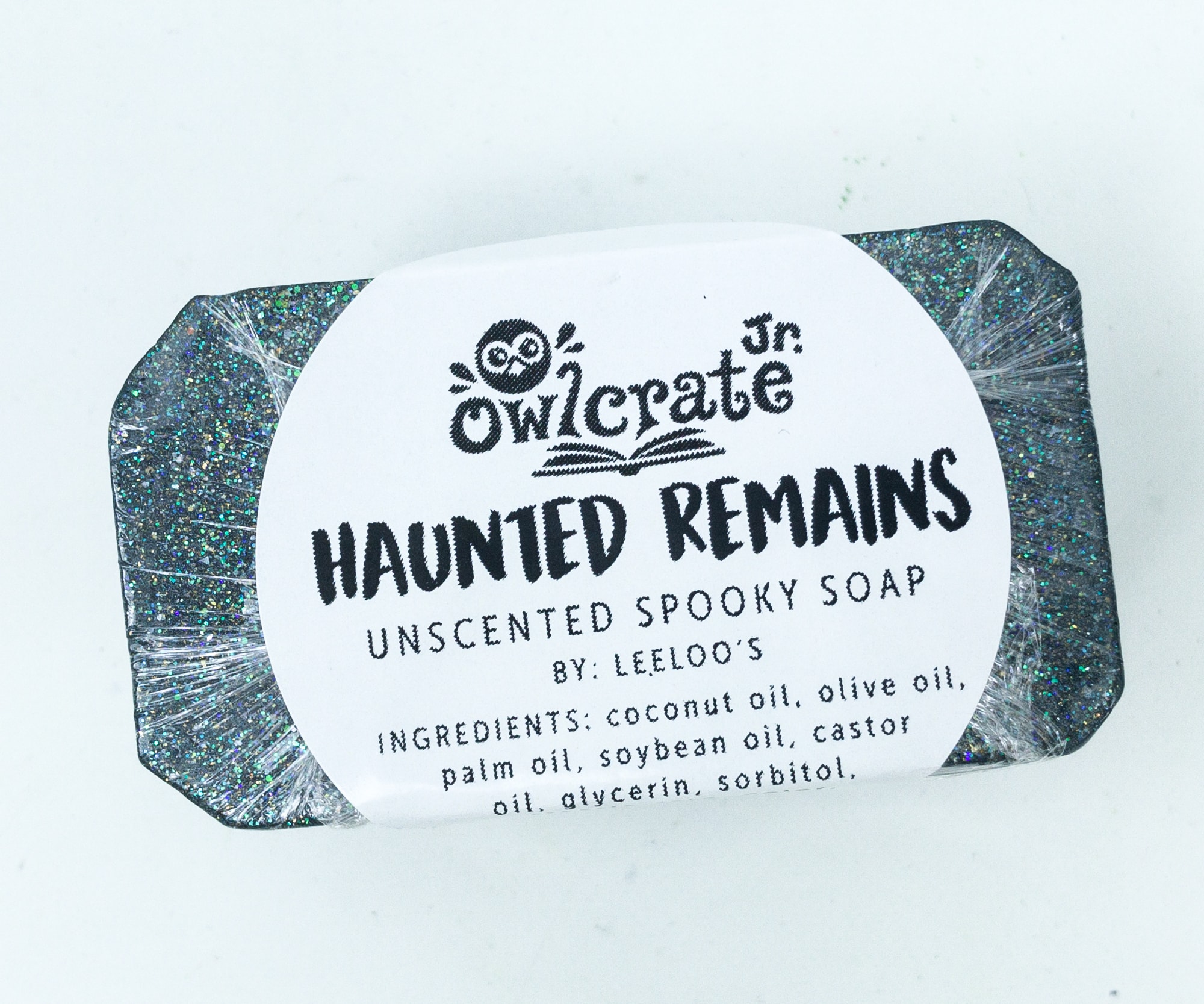 Haunted Remains Skull Soap. The spooky soap is made from coconut, olive, palm, soybean, and castor oil!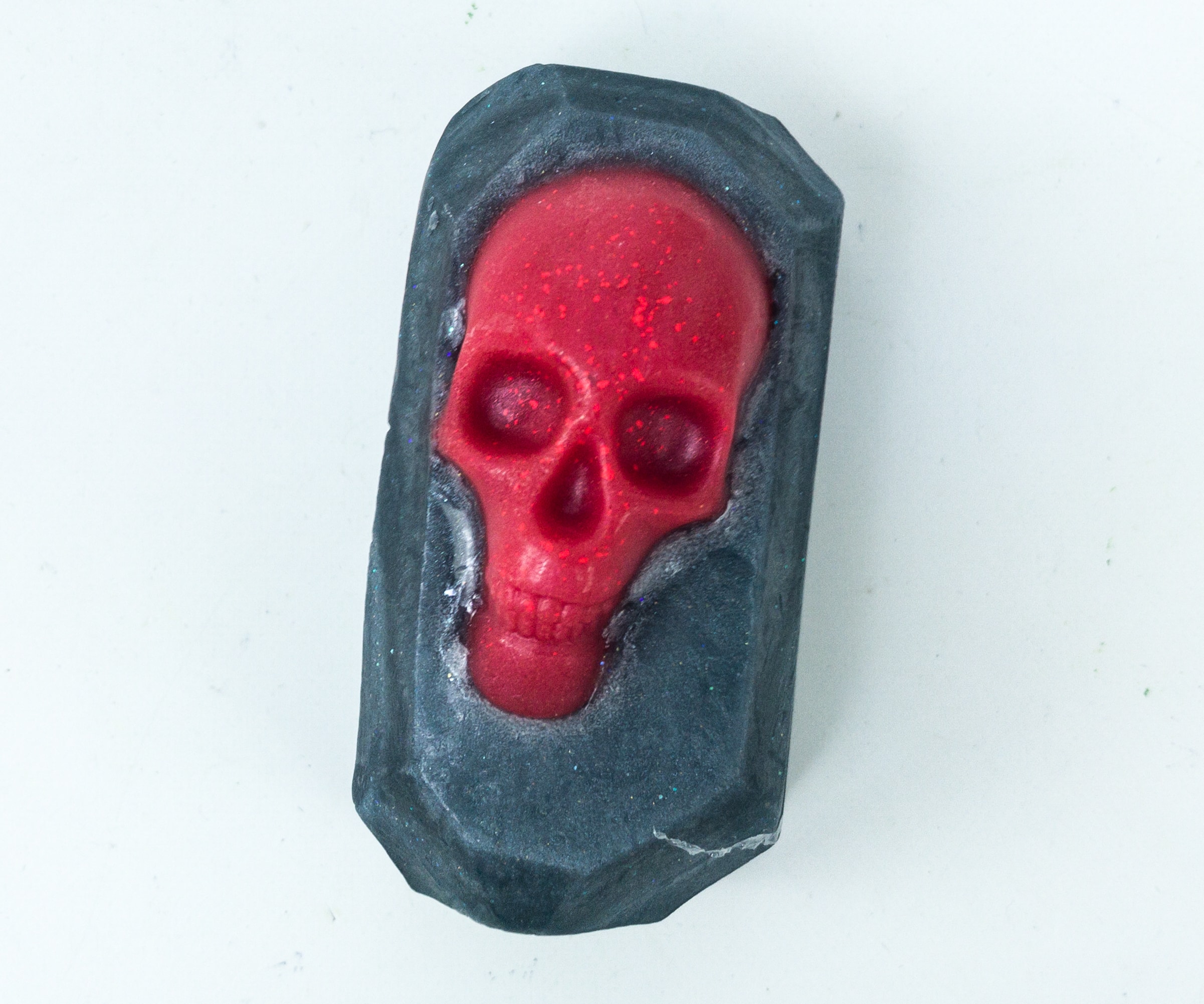 It's a skull-shaped soap in red, making a nice Halloween decor before you use it for cleaning up after the party!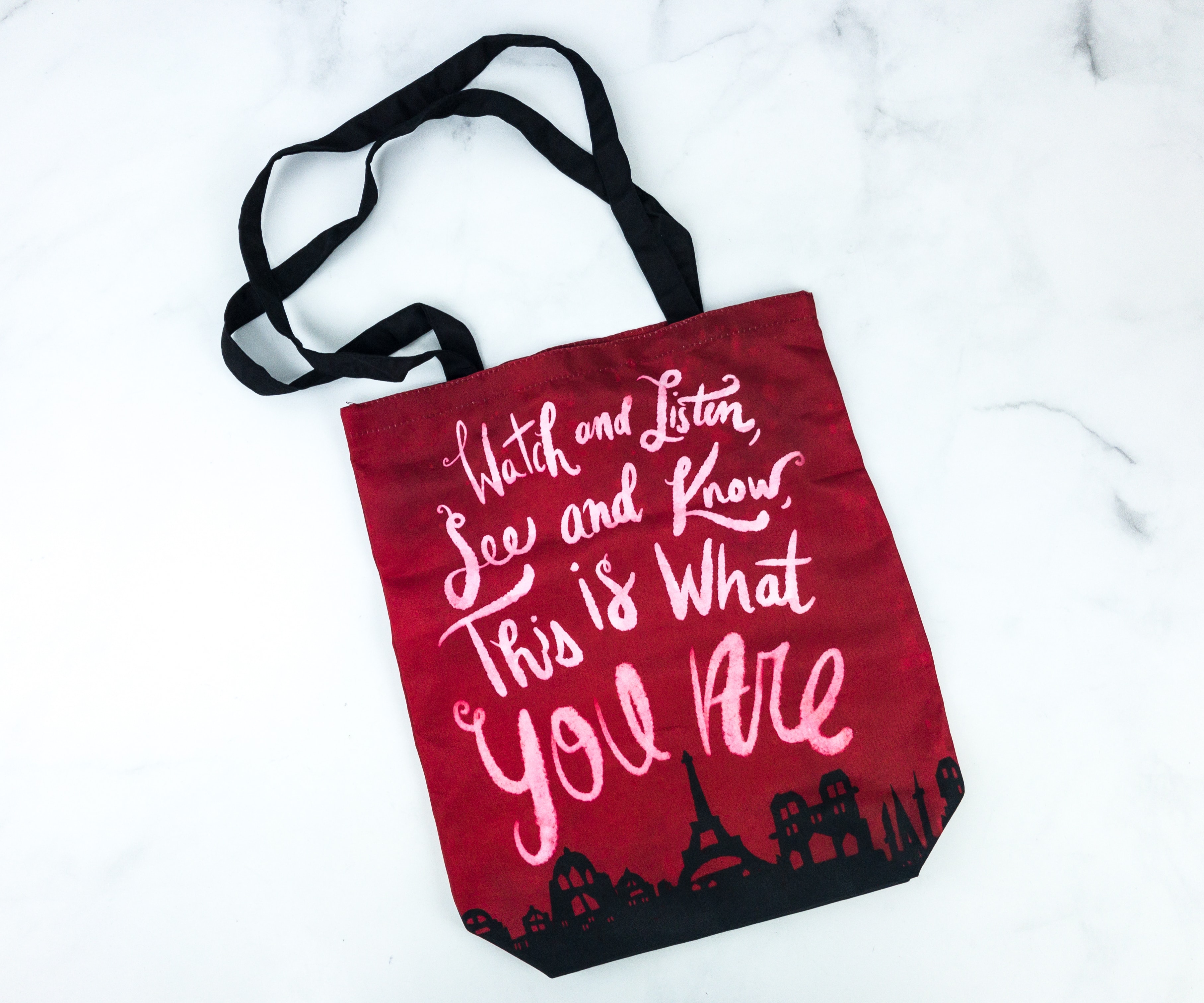 City of Ghosts Quote Tote. The tote can fit more books! Or you can bring it any day and fill it with other stuff!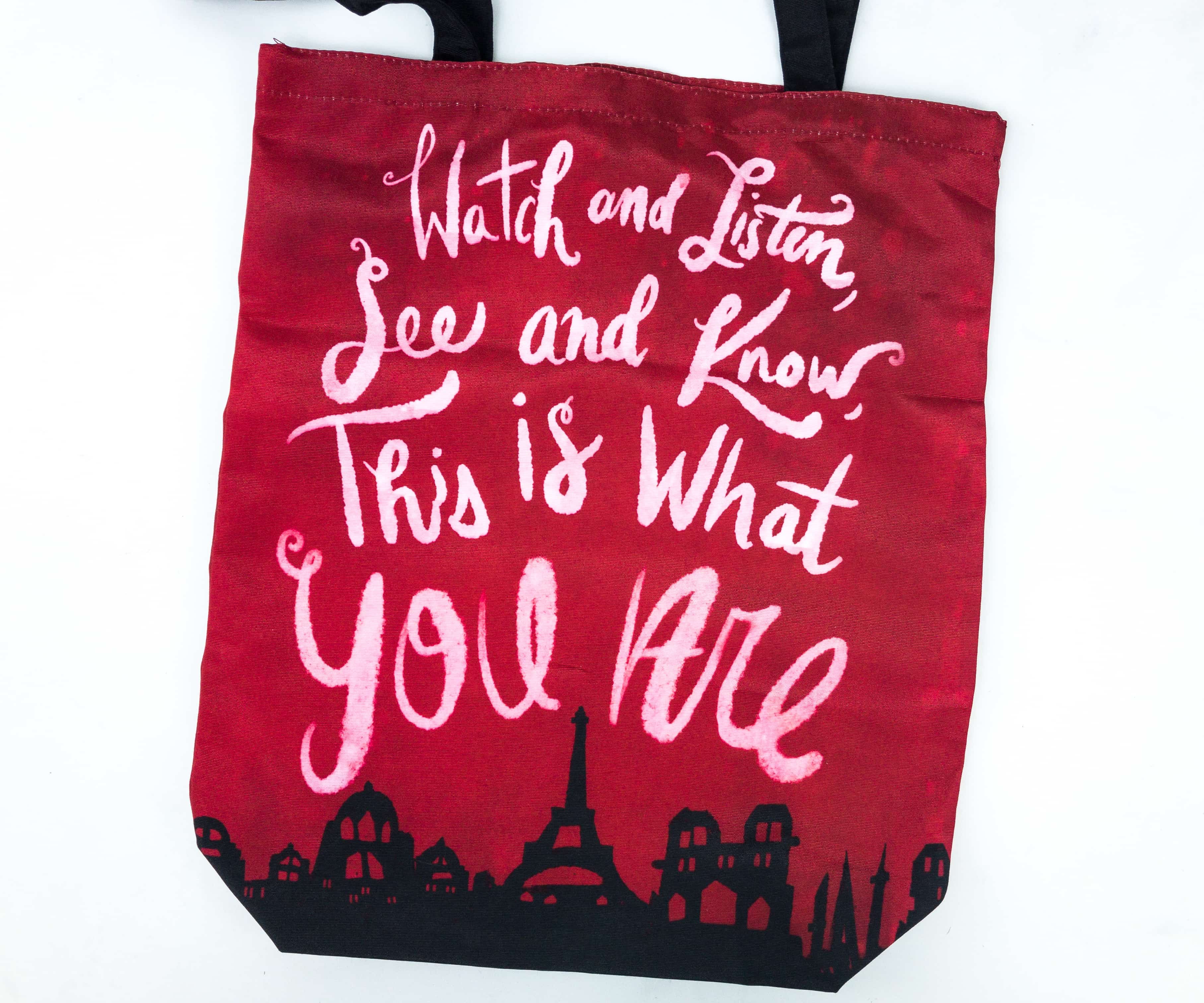 The design is by the featured artist Bailey Crawford! I like the blood-red color of the bag with all the writings looking like they're written with chalk. The black, shadowy designs at the bottom are also nice and it even includes the Eiffel Tower!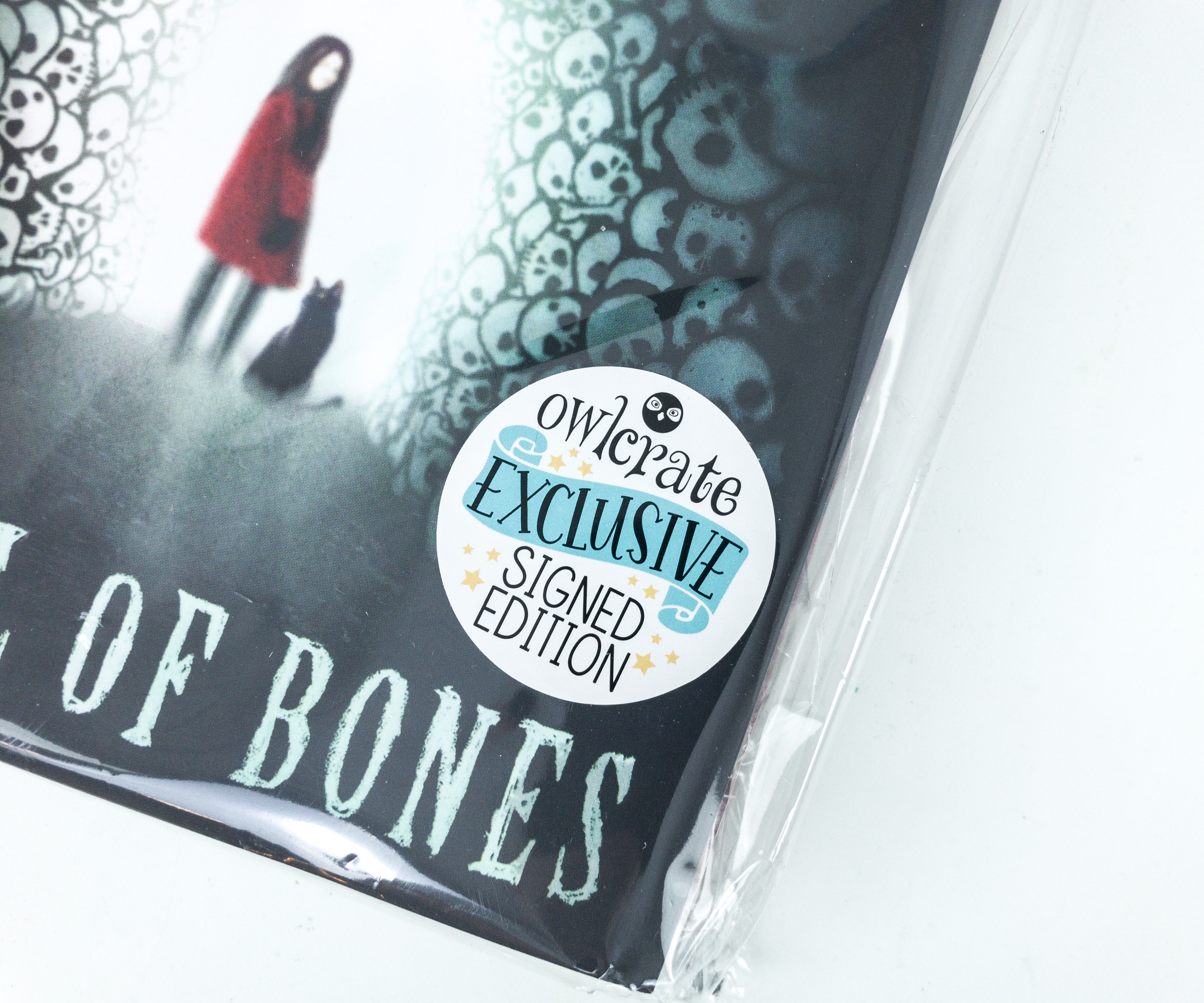 The book this month has a sticker that indicates it's an OwlCrate Exclusive Signed Edition!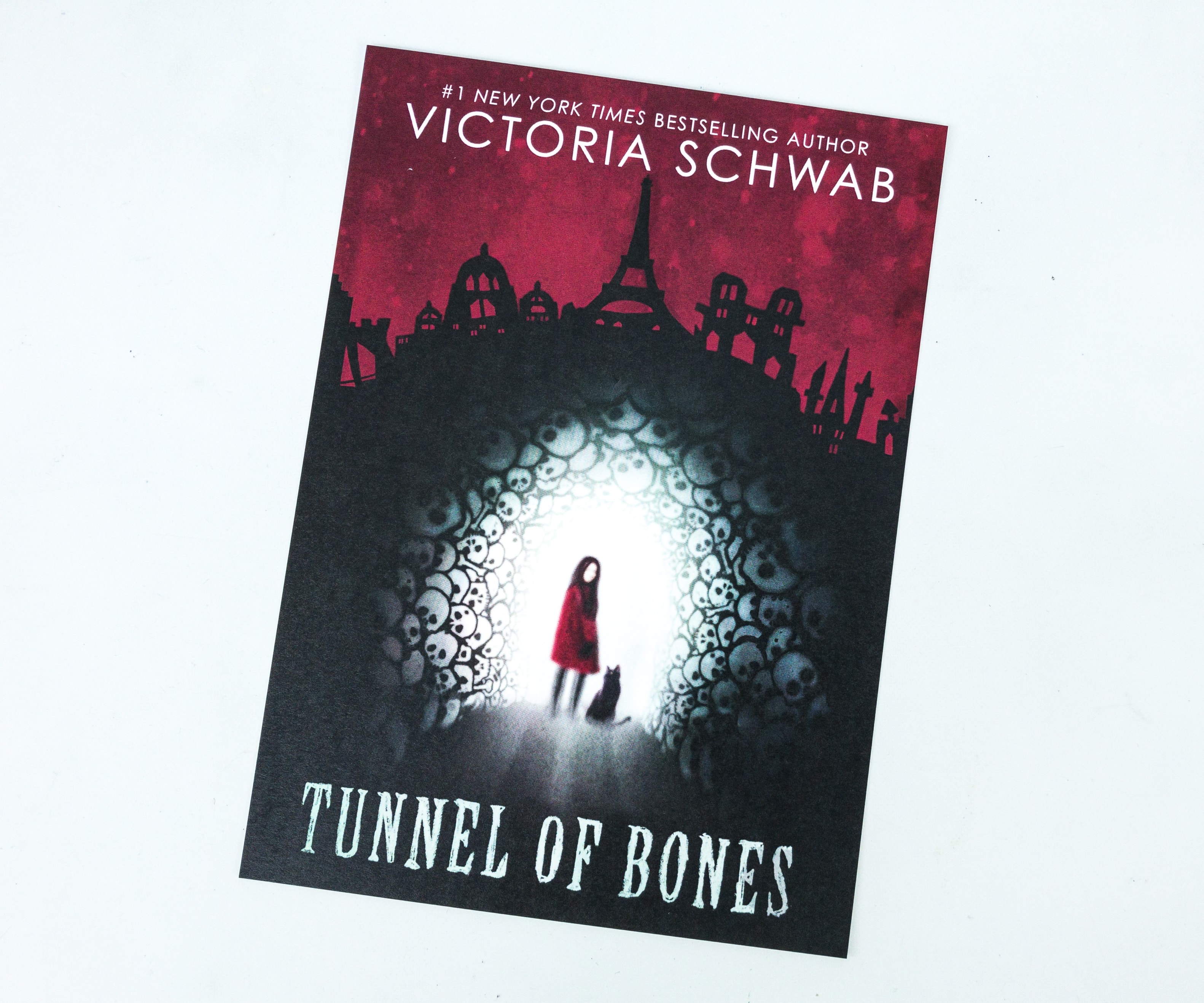 There's a card that features the same design as the book's cover which I really like because it is spine-chilling and promises great and spooky adventure!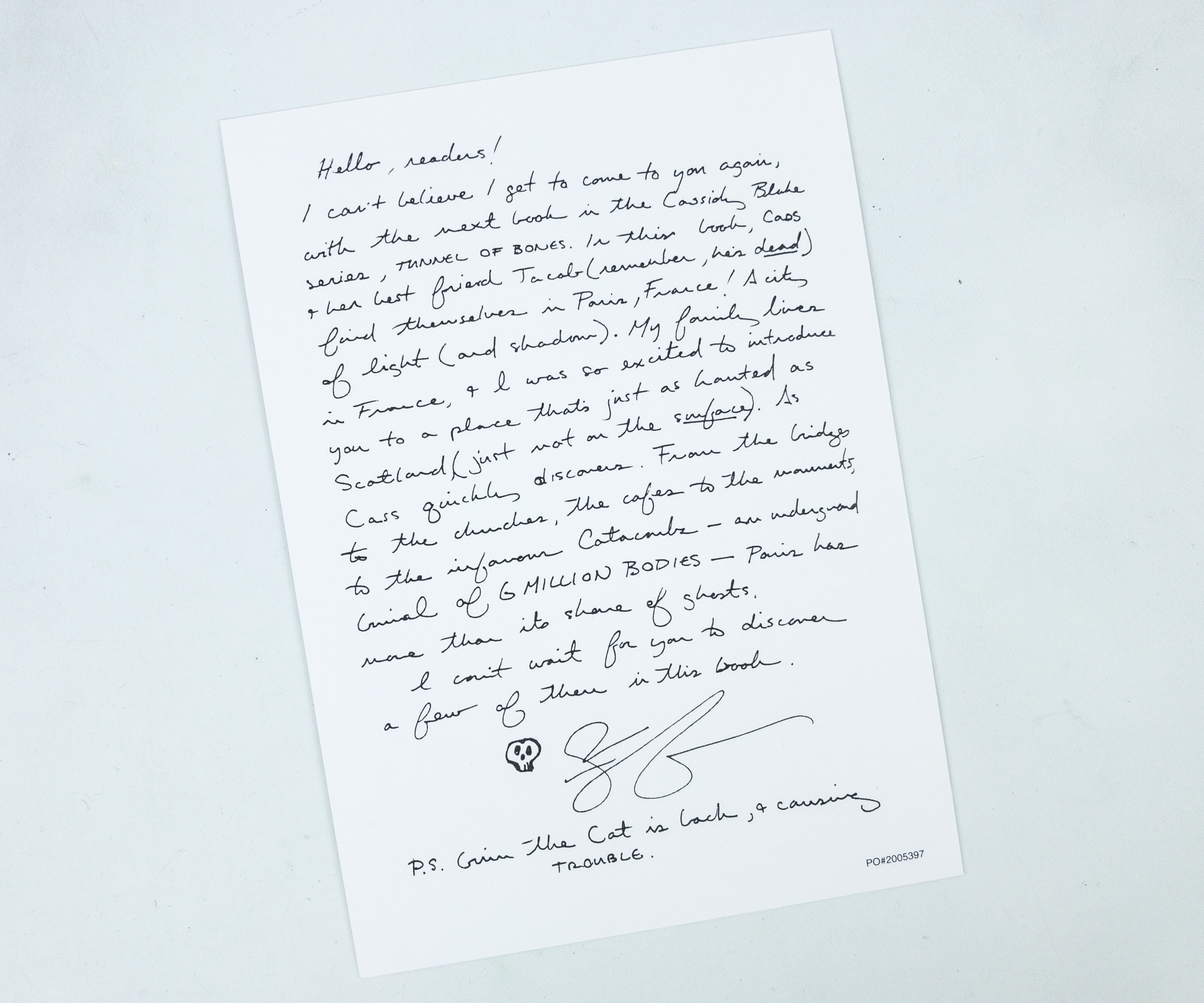 The flip side has a note from the author, Victoria Schwab!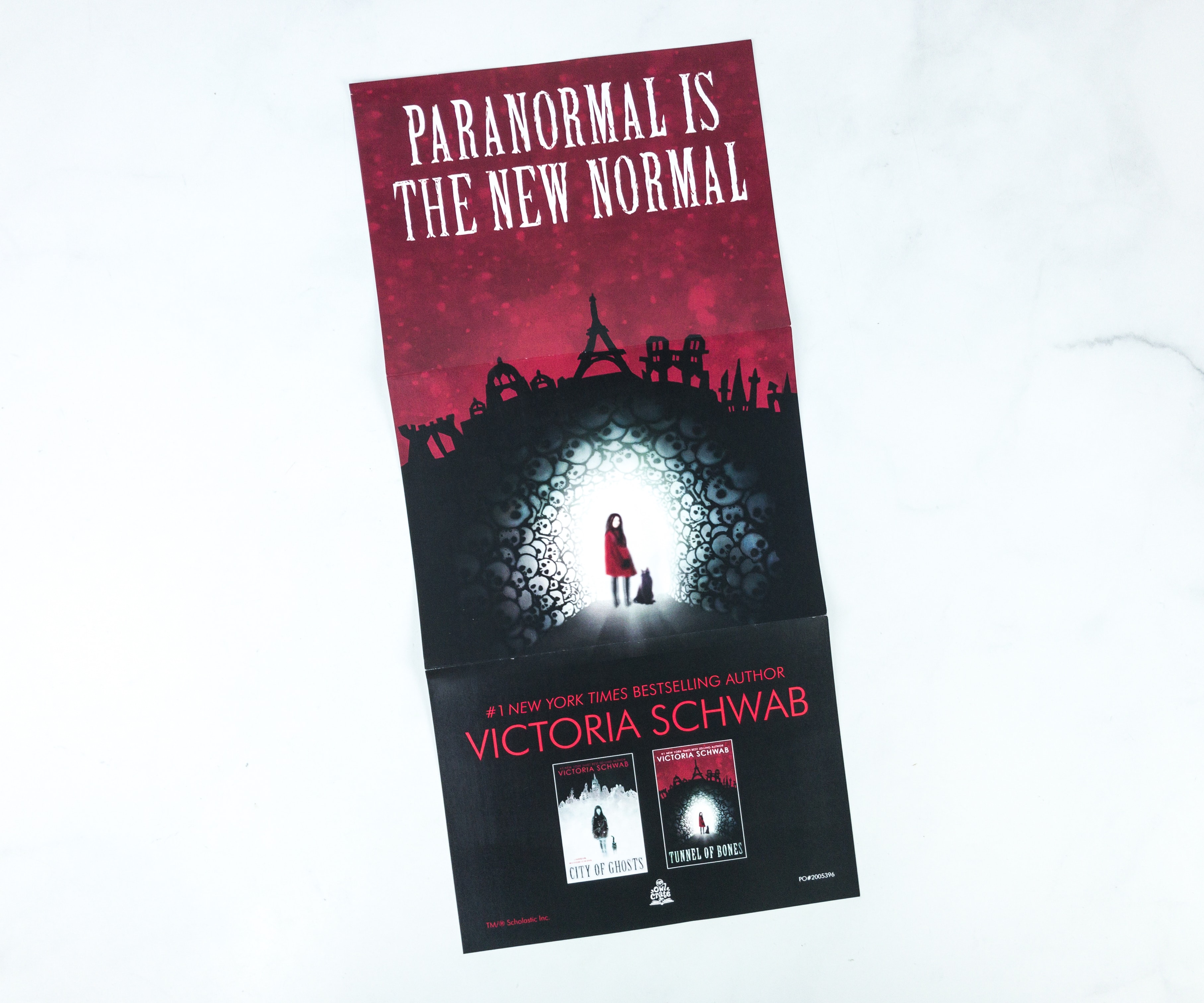 It also comes with a bookmark that features other titles from the author, like City of Ghosts!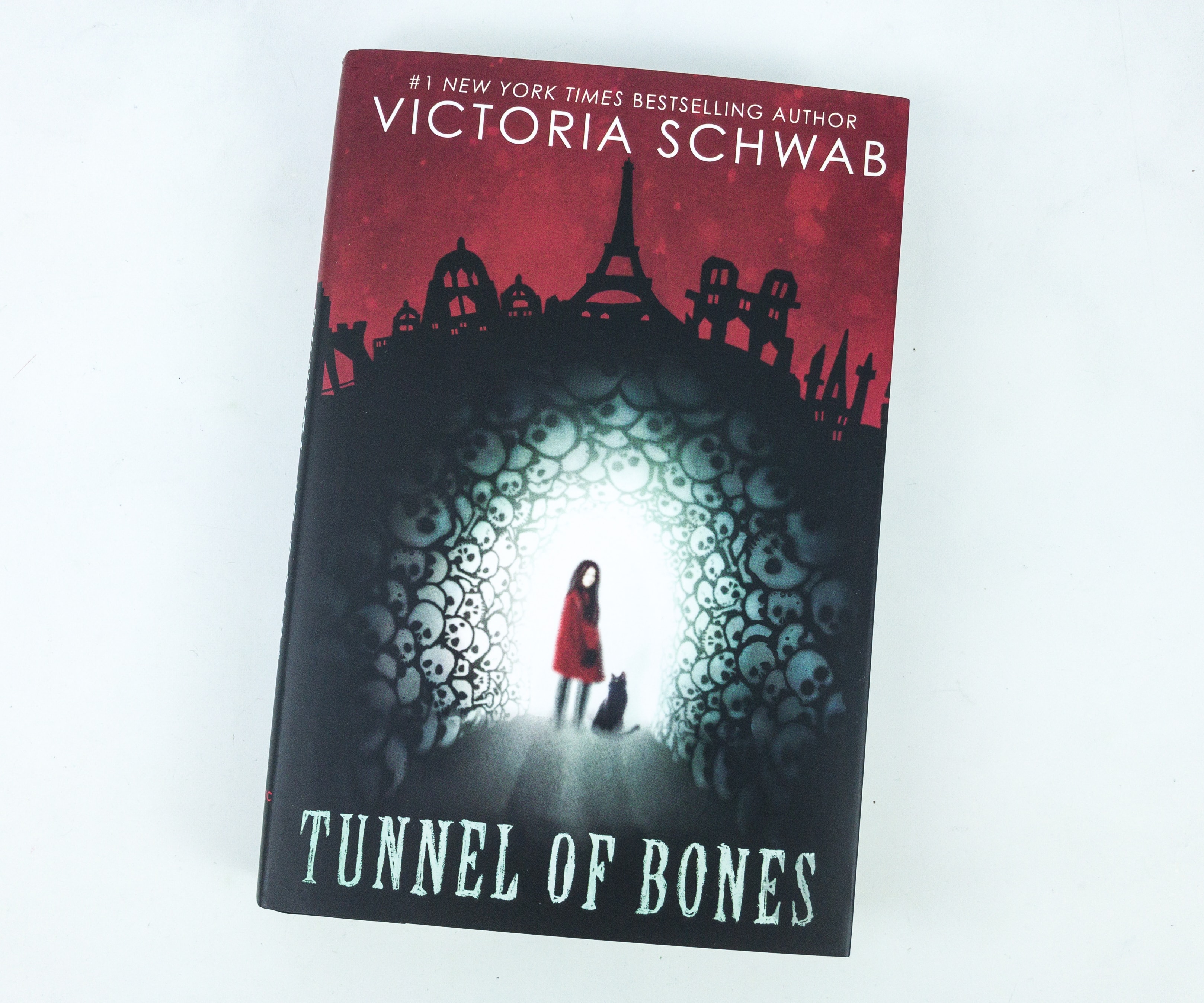 Tunnel Of Bones by Victoria Schwab ($12.59)
The thrilling sequel to Victoria Schwab's New York Times bestselling City of Ghosts!

Trouble is haunting Cassidy Blake . . . even more than usual.

She (plus her ghost best friend, Jacob, of course) are in Paris, where Cass's parents are filming their TV show about the world's most haunted cities. Sure, it's fun eating croissants and seeing the Eiffel Tower, but there's true ghostly danger lurking beneath Paris, in the creepy underground Catacombs.

When Cass accidentally awakens a frighteningly strong spirit, she must rely on her still-growing skills as a ghosthunter — and turn to friends both old and new to help her unravel a mystery. But time is running out, and the spirit is only growing stronger.

And if Cass fails, the force she's unleashed could haunt the city forever.

#1 New York Times bestselling author Victoria Schwab returns to the spooky and heart-pounding world of City of Ghosts, delivering thrilling new adventures and an unforgettable spin on friendship. (Because sometimes, even psychic ghost best friends have secrets. . .)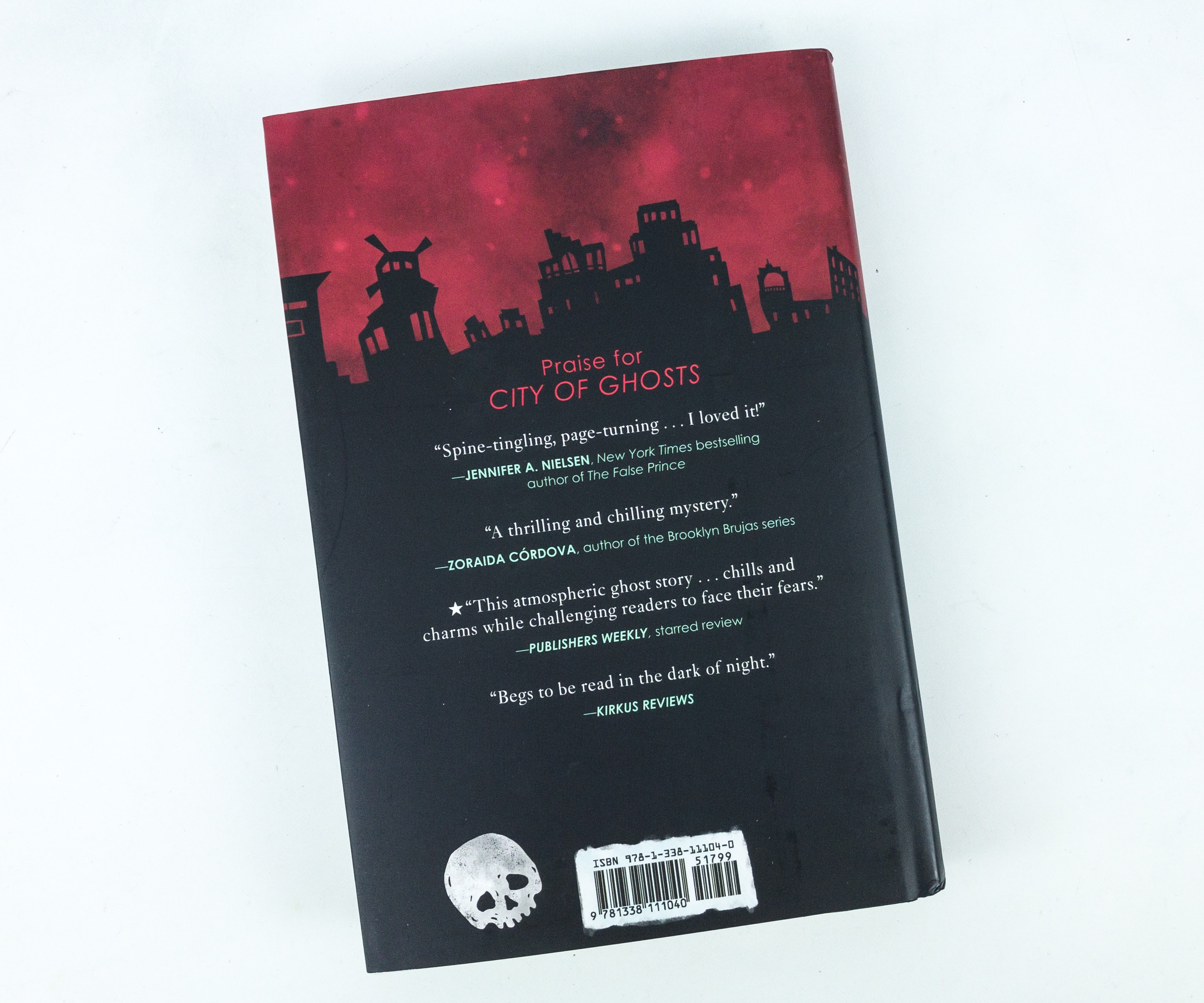 The back of the book shows some good words from other authors and book reviewers.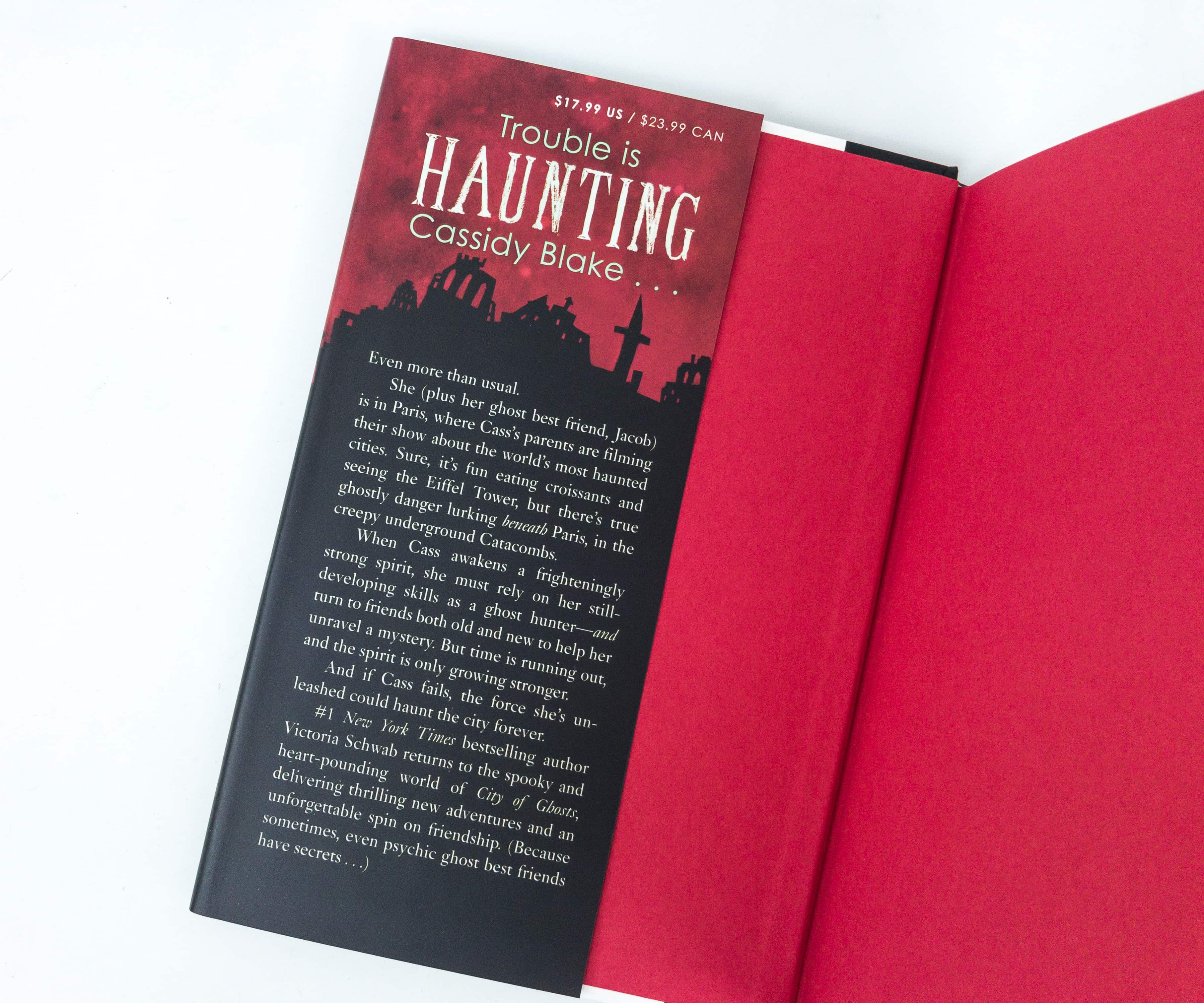 The inside flap of the dust jacket introduces us to Cass and Jacob, and how they ended up in Paris' creepy Catacombs!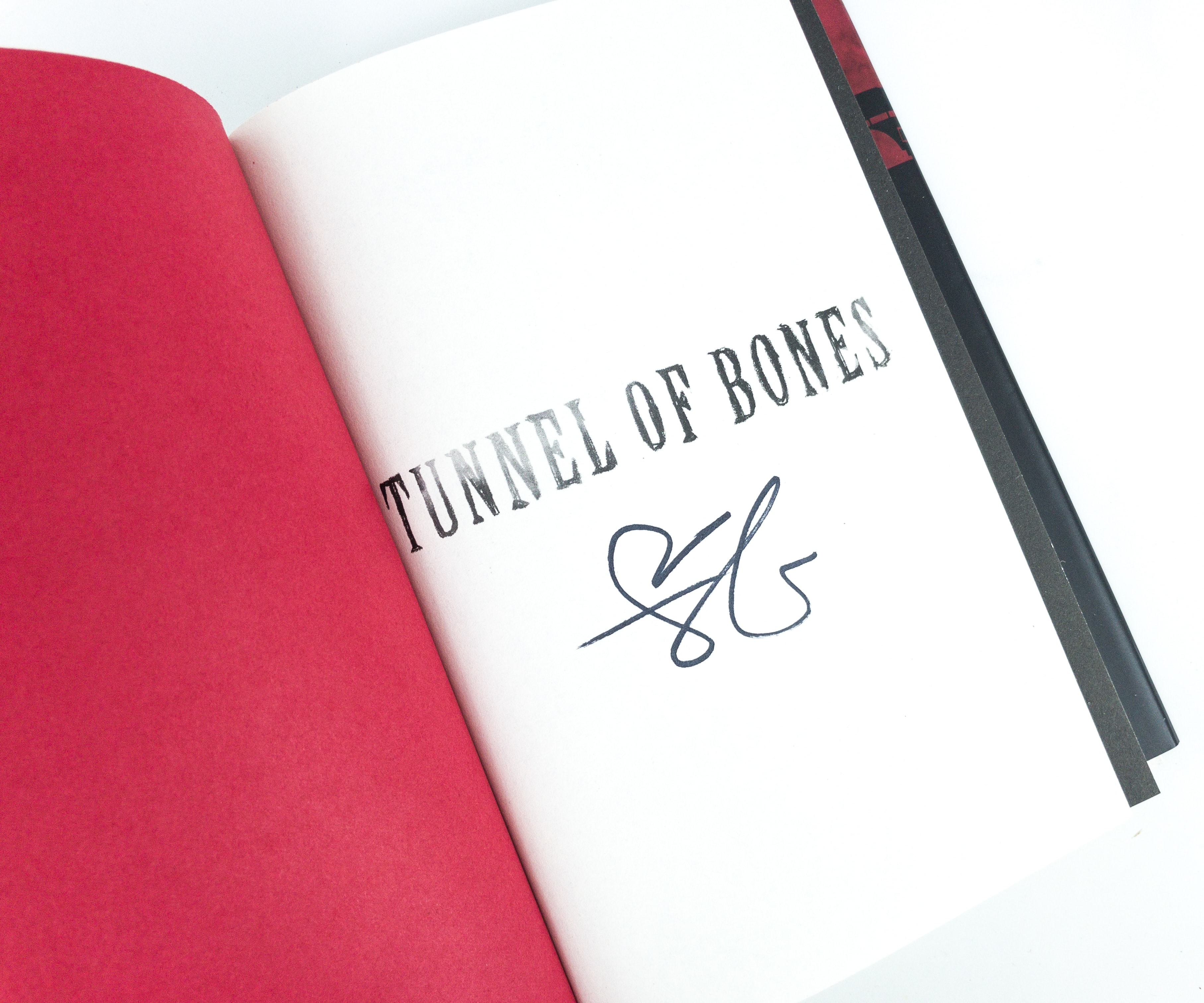 The author's signature can be found at the title page, just below the book's title!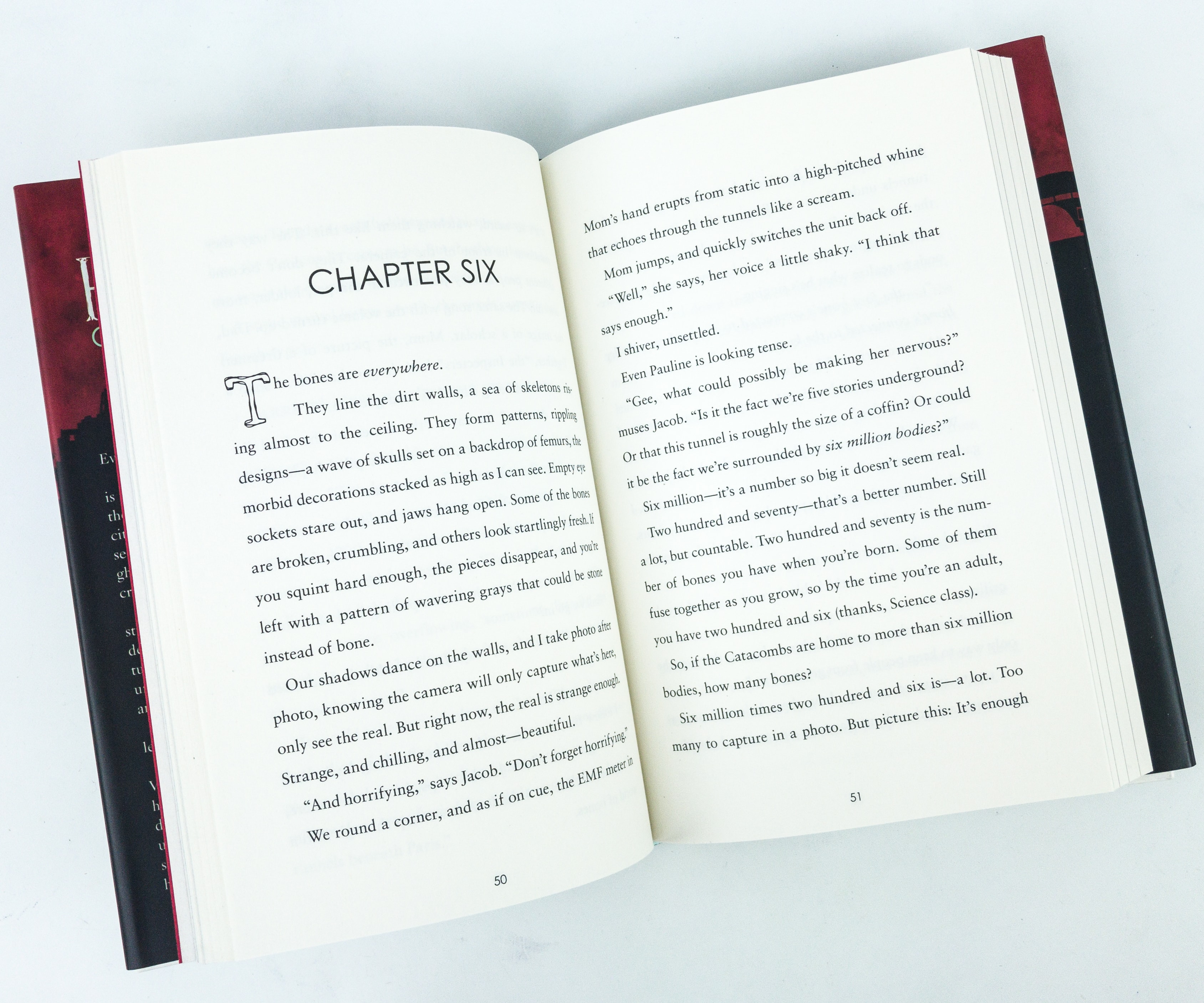 This chapter shows us a glimpse of what it's like inside the famous Catacombs of Paris!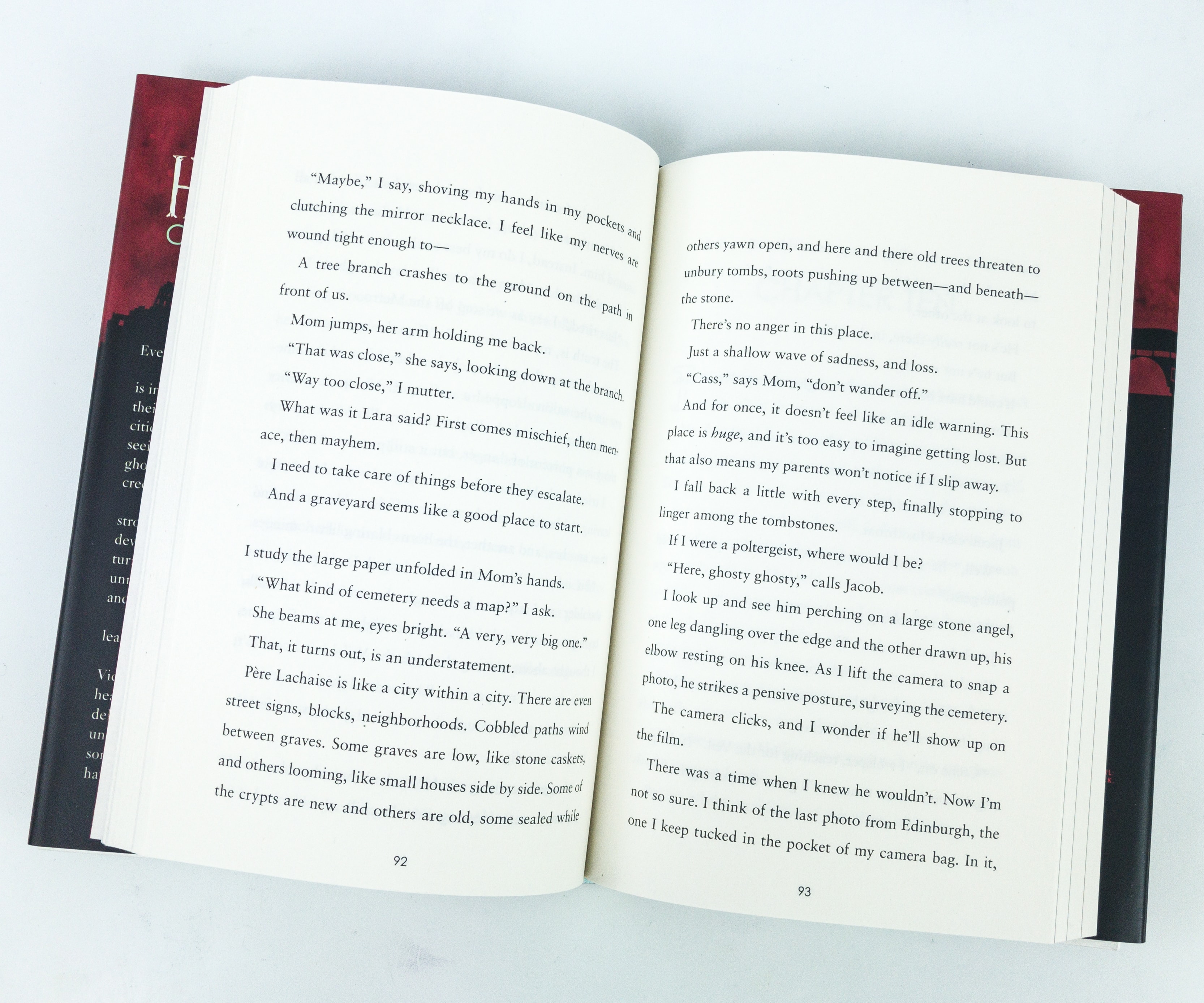 It's really a nice ride with this haunting tale, making us hold on to our seats as the strong spirit gets stronger.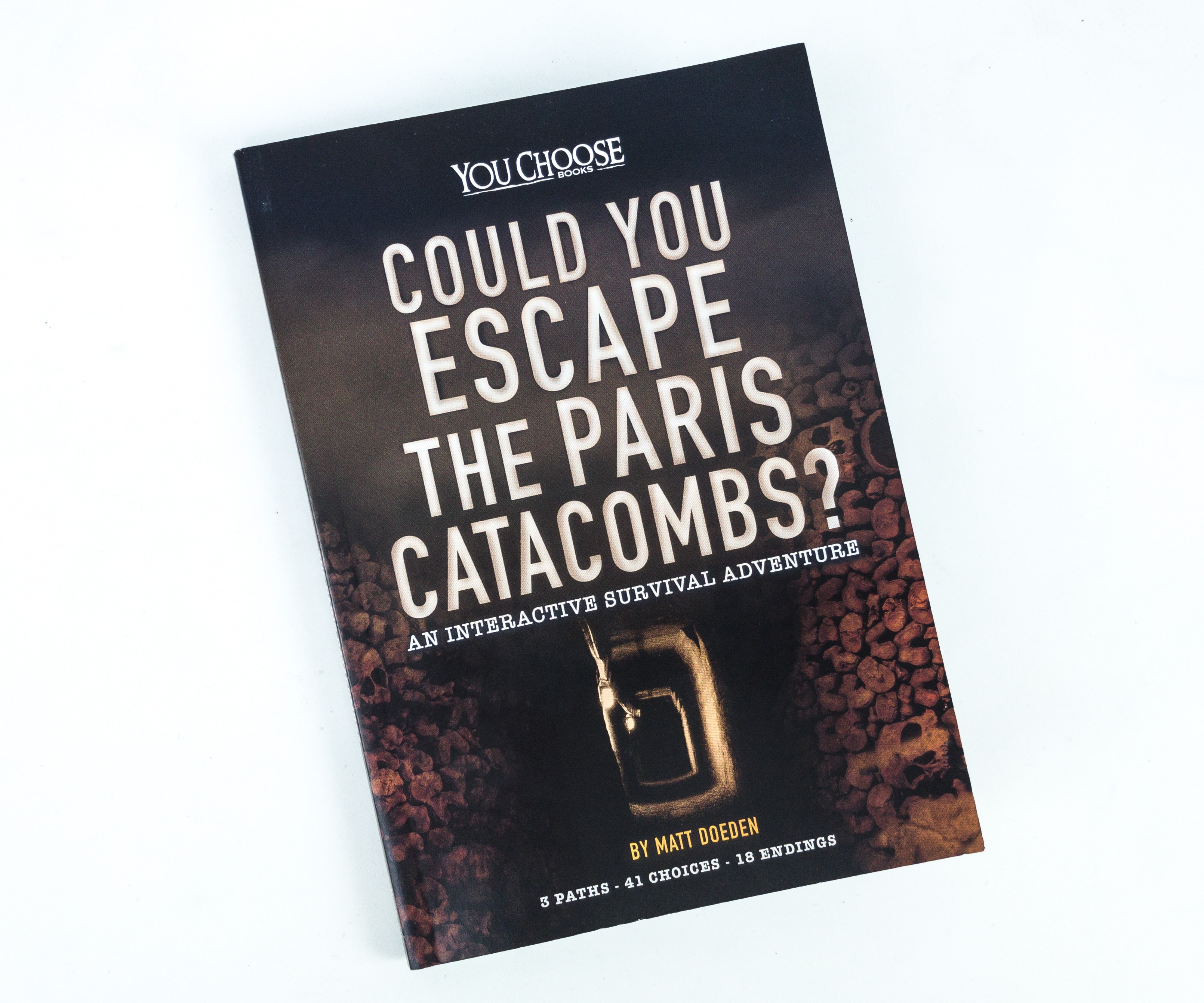 Could You Escape The Paris Catacomb? by Matt Doeden ($6.95)
Could you escape the Paris Catacombs? You became the hero of your own adventure the moment you stepped underground. Will you escape the skeletal maze, or be trapped with the ghosts of France forever?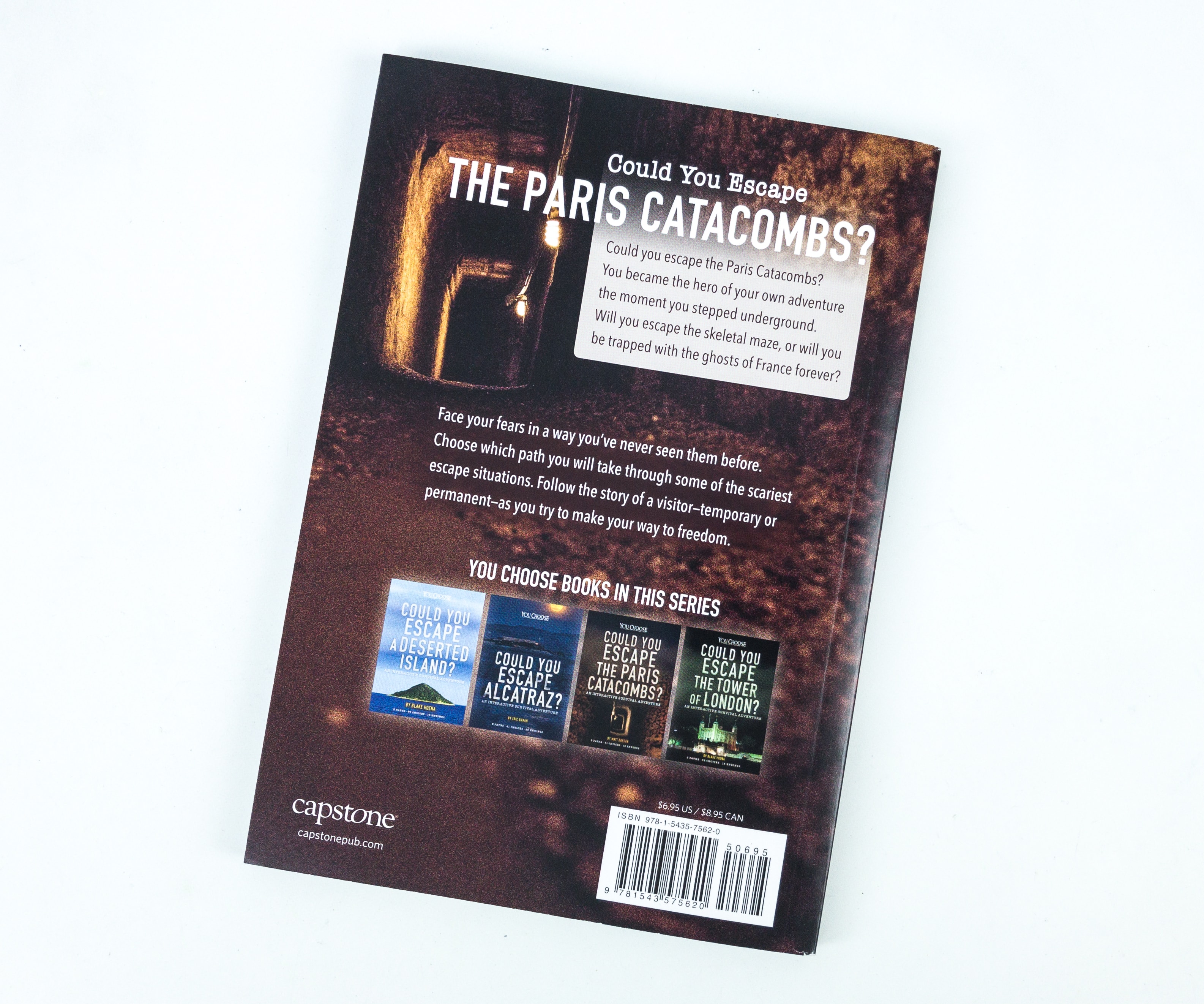 We got an interactive book, and it's also about the Catacombs!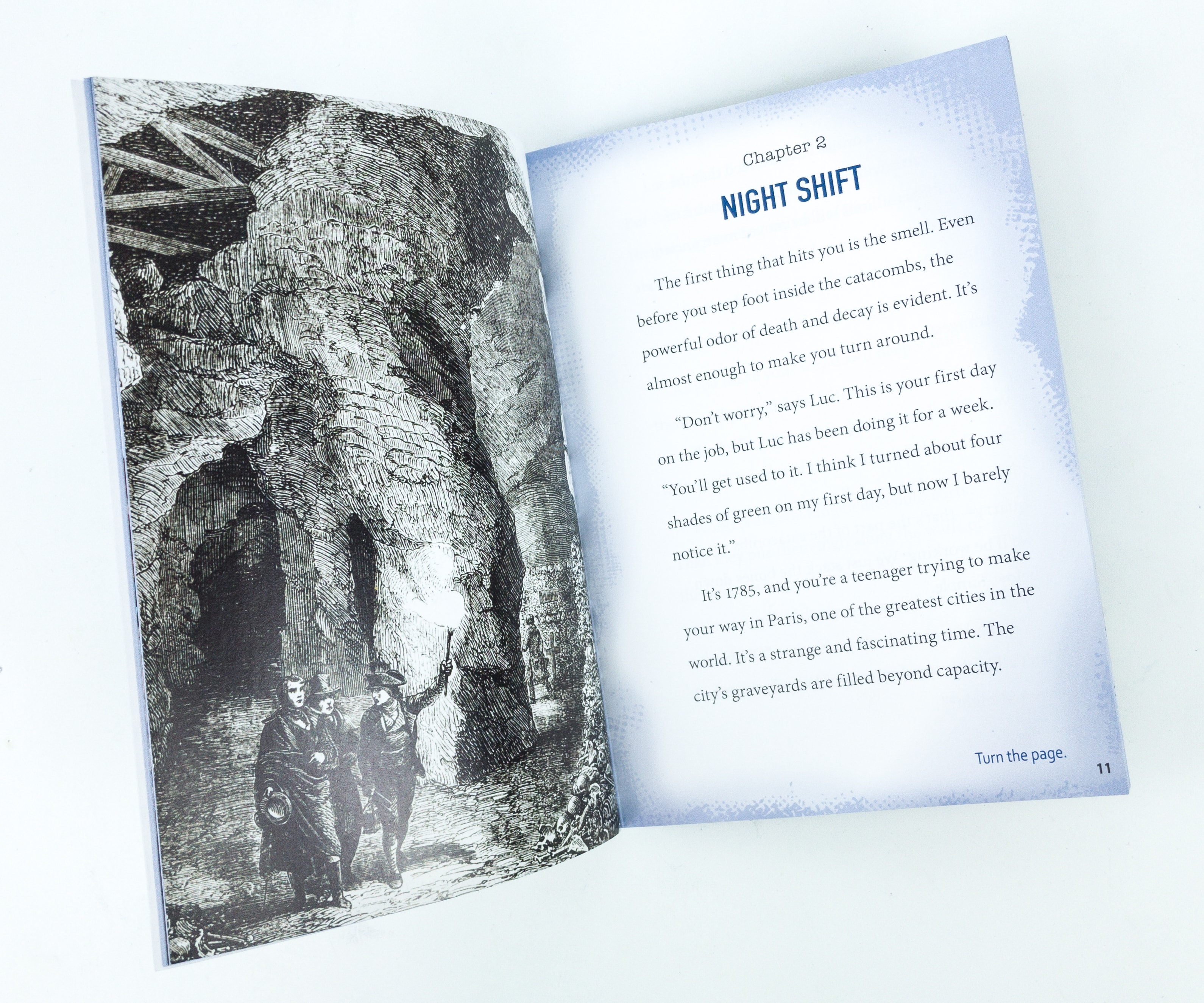 The illustrations are nicely done and haunting too!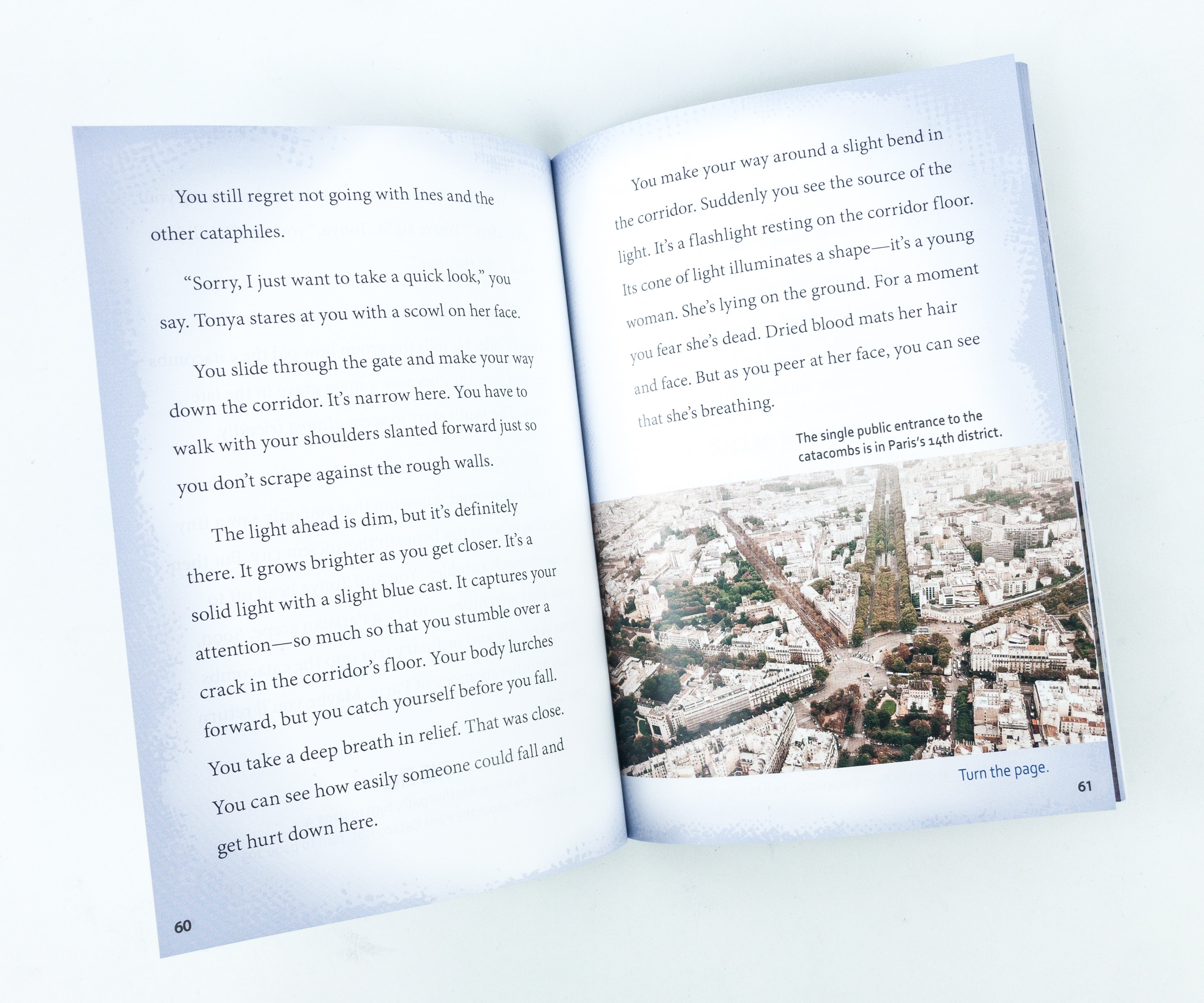 It features real images that make the adventure more fun!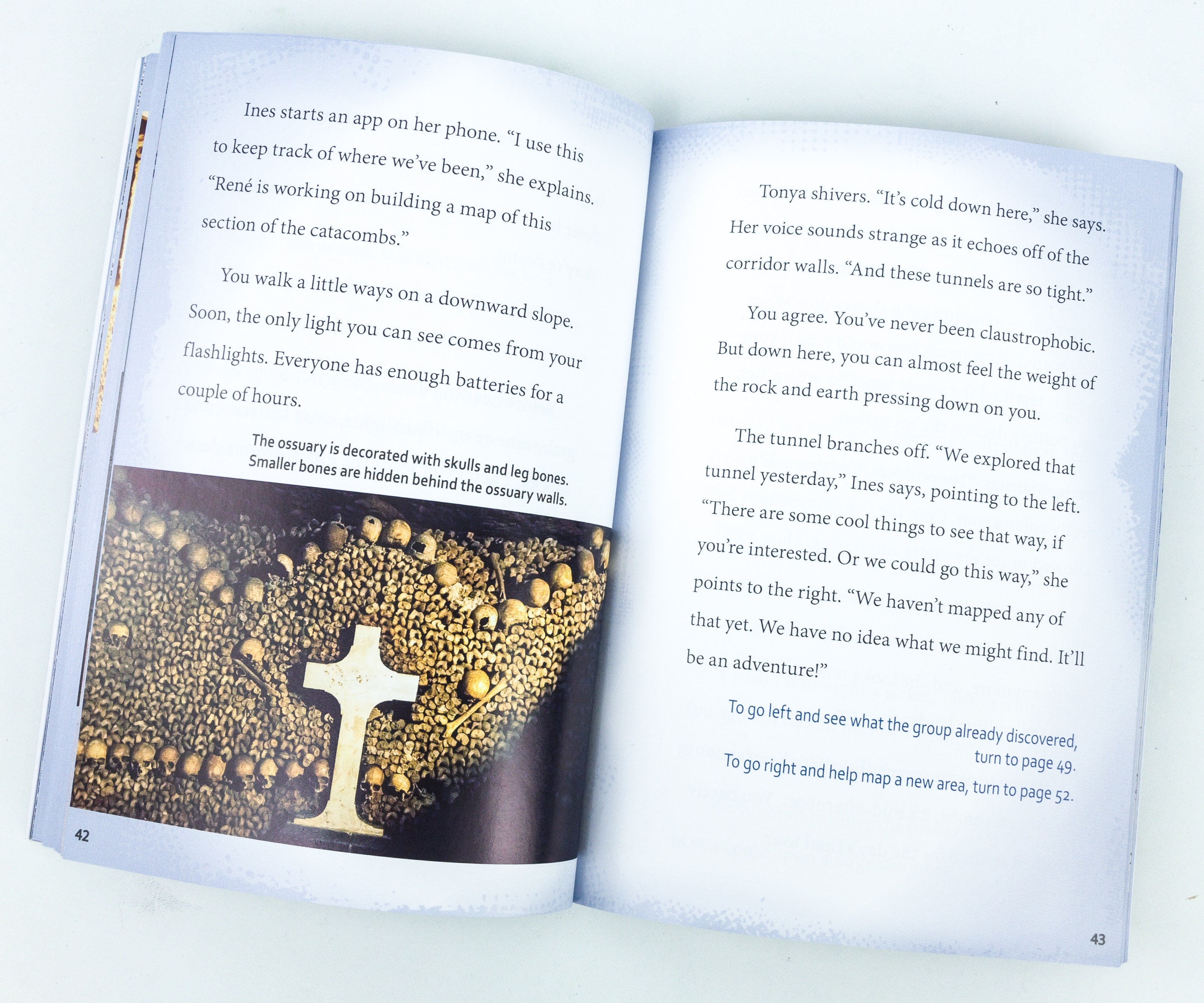 This image of the Ossuary here is really creepy, but the adventure is really fun. As you choose what will you do, the book will ask you to turn to other pages and find out what will happen with your choice! Well, you can always start over and choose the other one!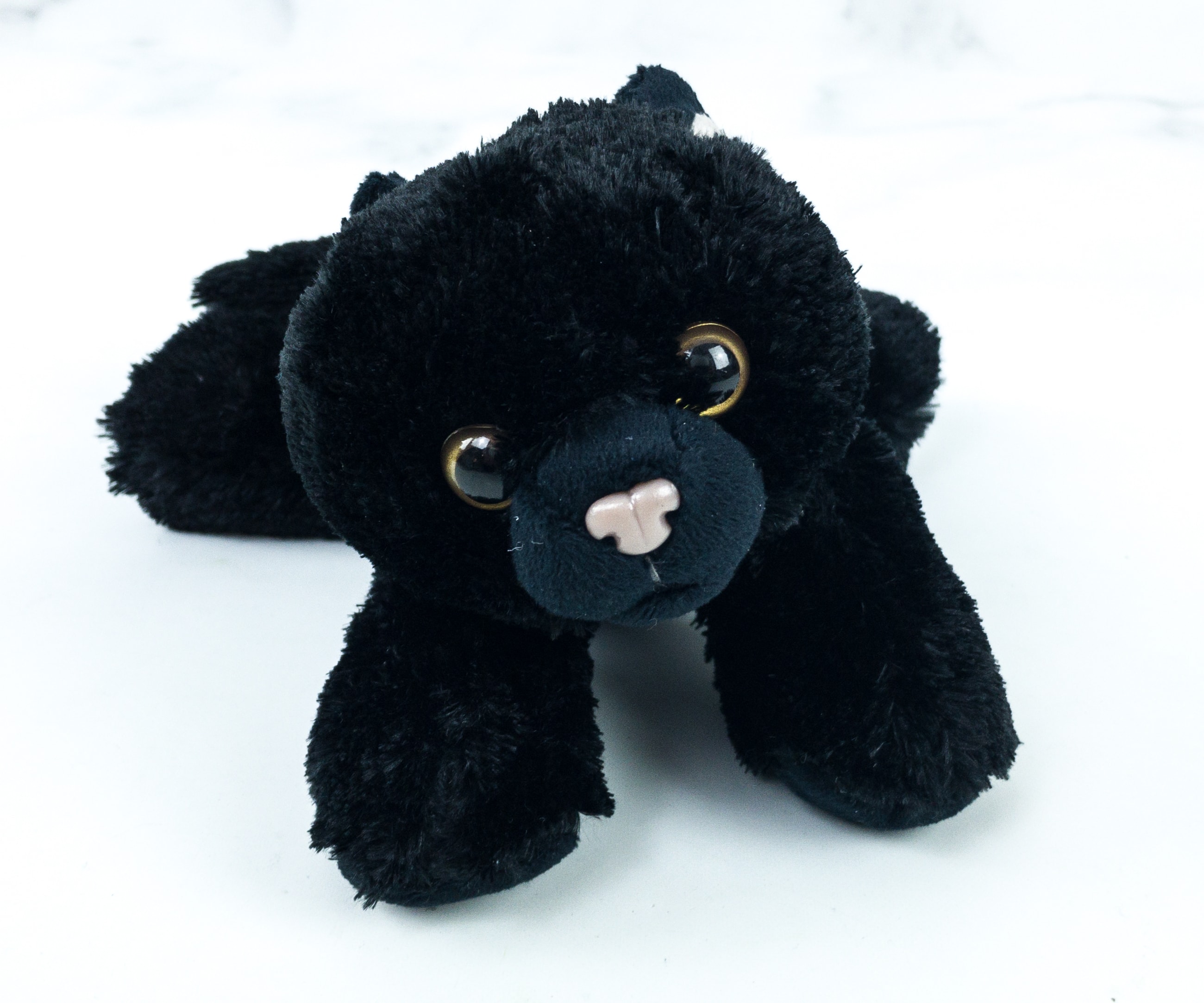 Fuzzy Black Feline. Like Cass, you can also have a cute companion during your adventure!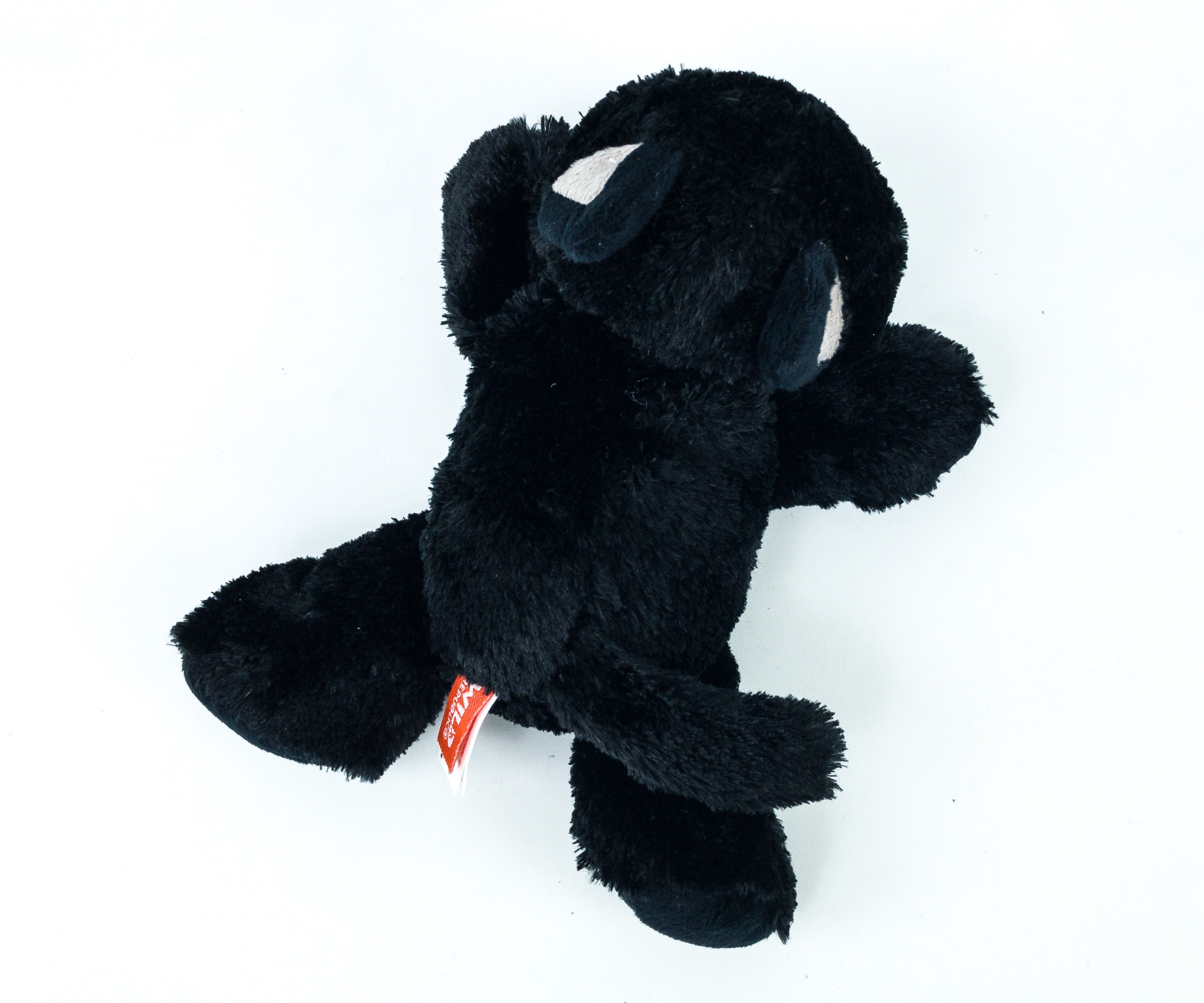 The huggable fuzzy friend is really adorable, we can't help but squish it! My daughter has carried it everywhere!
Like what this box is saying, "Paranormal is the new normal!" and I have to agree with this statement as we truly enjoyed this month's spooky adventure! Aside from the cool and creepy story from the deep part of the Parisian streets, we also enjoyed every inclusion like the fuzzy feline friend, the nice and spacious tote, and the vintage stickers of two of the most haunted places on Earth! Sometimes, we love scary stuff, and we all know that Halloween is also near so these items can be put to good use, especially the skull soap! OwlCrate Jr. nailed the scary genre for it's first limited edition box, and we're truly excited for the next one!
Are you getting OwlCrate Jr.?