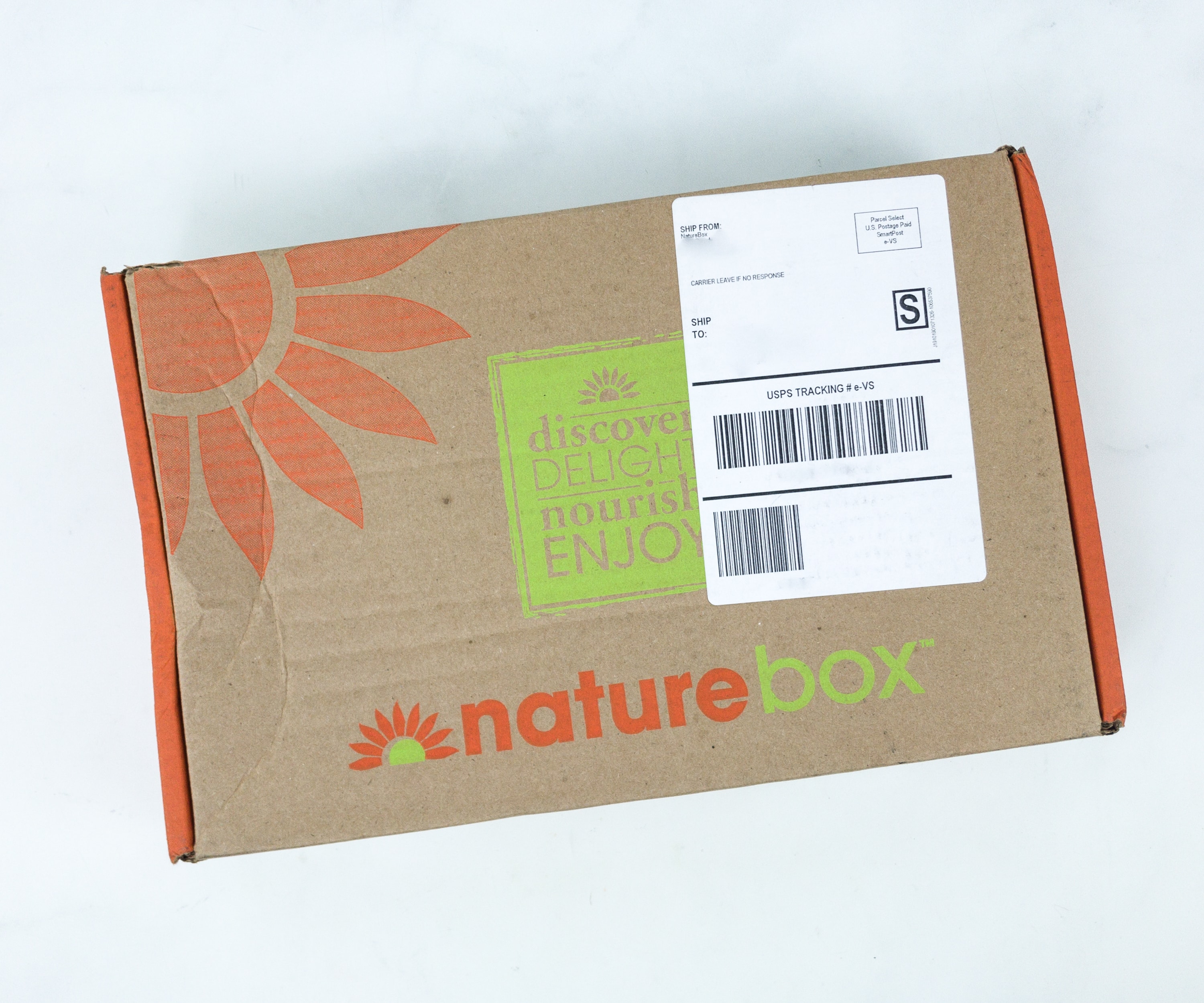 NatureBox is a monthly snack delivery box. While they previously had a subscription, they now offer a membership option instead of the monthly subscription. In this new scheme, your first 14 days of membership is FREE and after that, NatureBox is $5 per month and $5 will be credited towards your purchases. The credit expires monthly.
DEAL: Get 25% off your first order! Use this link to sign up and coupon code NATUREBOX25

This month we're reviewing the Naturebox CBD Chews! Are you curious? We were!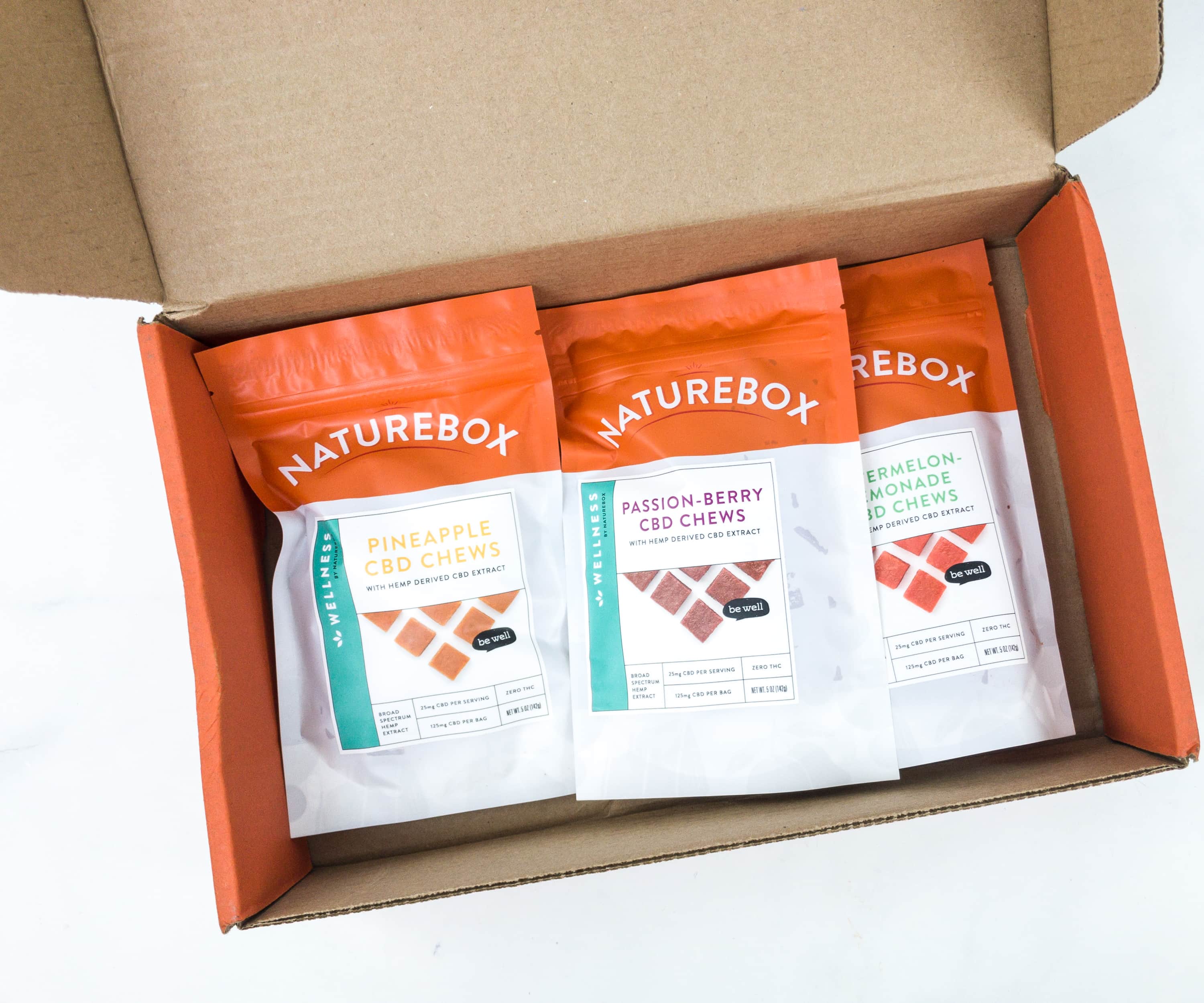 All NatureBox snack meet these criteria, many are vegan, non-GMO, and gluten-free.
Simple ingredients
No artificial junk (colors, flavors or sweeteners)
No high fructose corn syrup
No hydrogenated oils
No MSG
Less than 200 calories per serving
The box is big and there's no extra packaging or fillers.
Everything in our box – we selected all the items for our delivery.
This month's box includes Watermelon – Lemonade CBD Chews, Passion – Berry CBD Chews, and Pineapple CBD Chews. NatureBox ensures that these snacks don't have psychoactive ingredients in them. Here's their explanation:
Our broad spectrum hemp extract contains zero THC, which is the psychoactive ingredient in marijuana. The THC is removed from the hemp extract by a patented process using chromatography. The CBD we use is extracted using a supercritical CO2 method.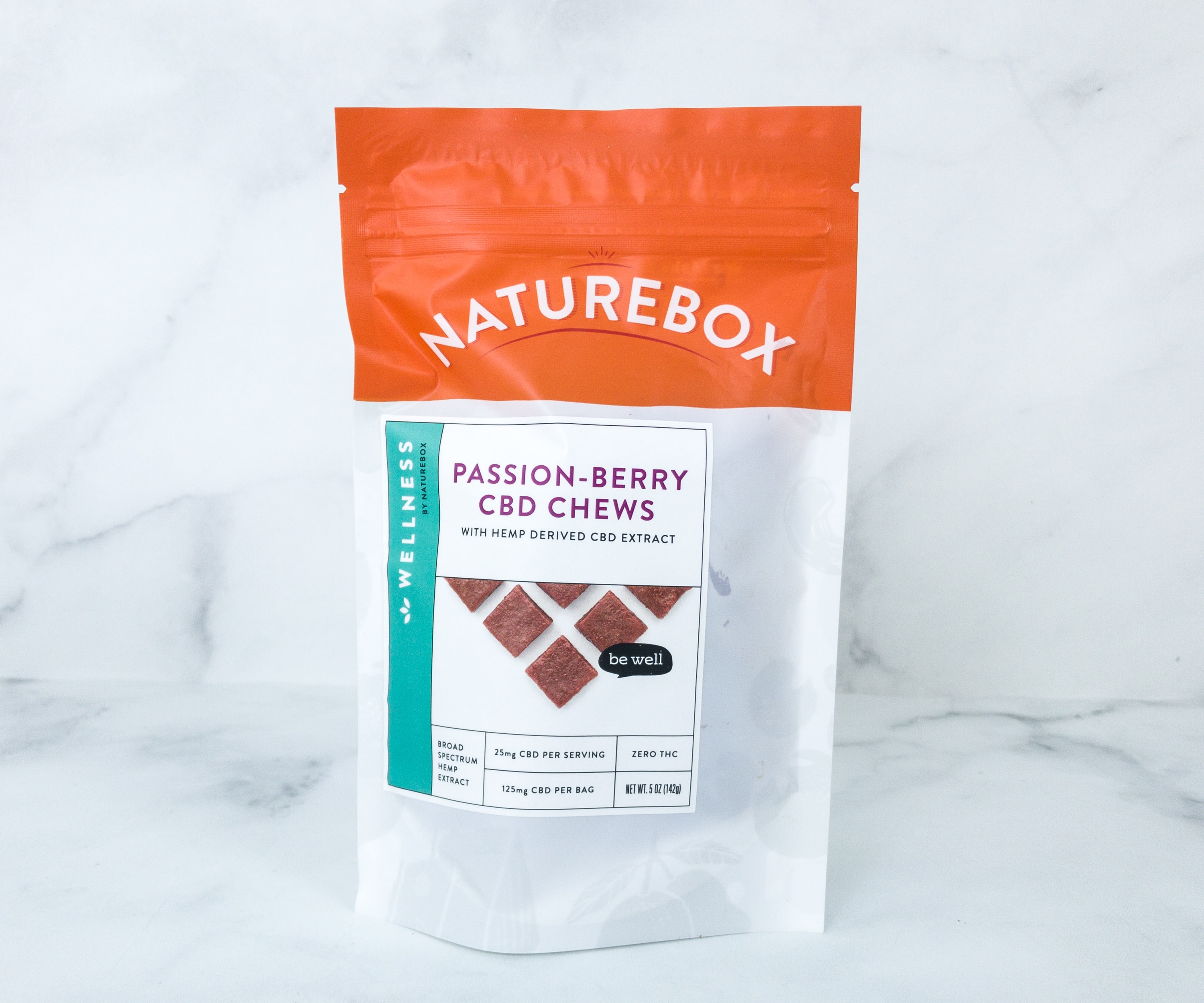 Naturebox Passion-Berry CBD Chews ($29.99; $19.99 with member discount) These chewy treats are made with a delicious blend of fruits that includes apple, passion fruit, raspberries, and baobab. They also contain red beets and curcumin extract for color, vitamin C, and broad spectrum hemp extract.
The back of the resealable pack contains all the essential information you need to know about this snack. Including that it's not for children! You can tell that it was relabeled – we looked closely, and it looked like the wrong flavor's label had originally been applied.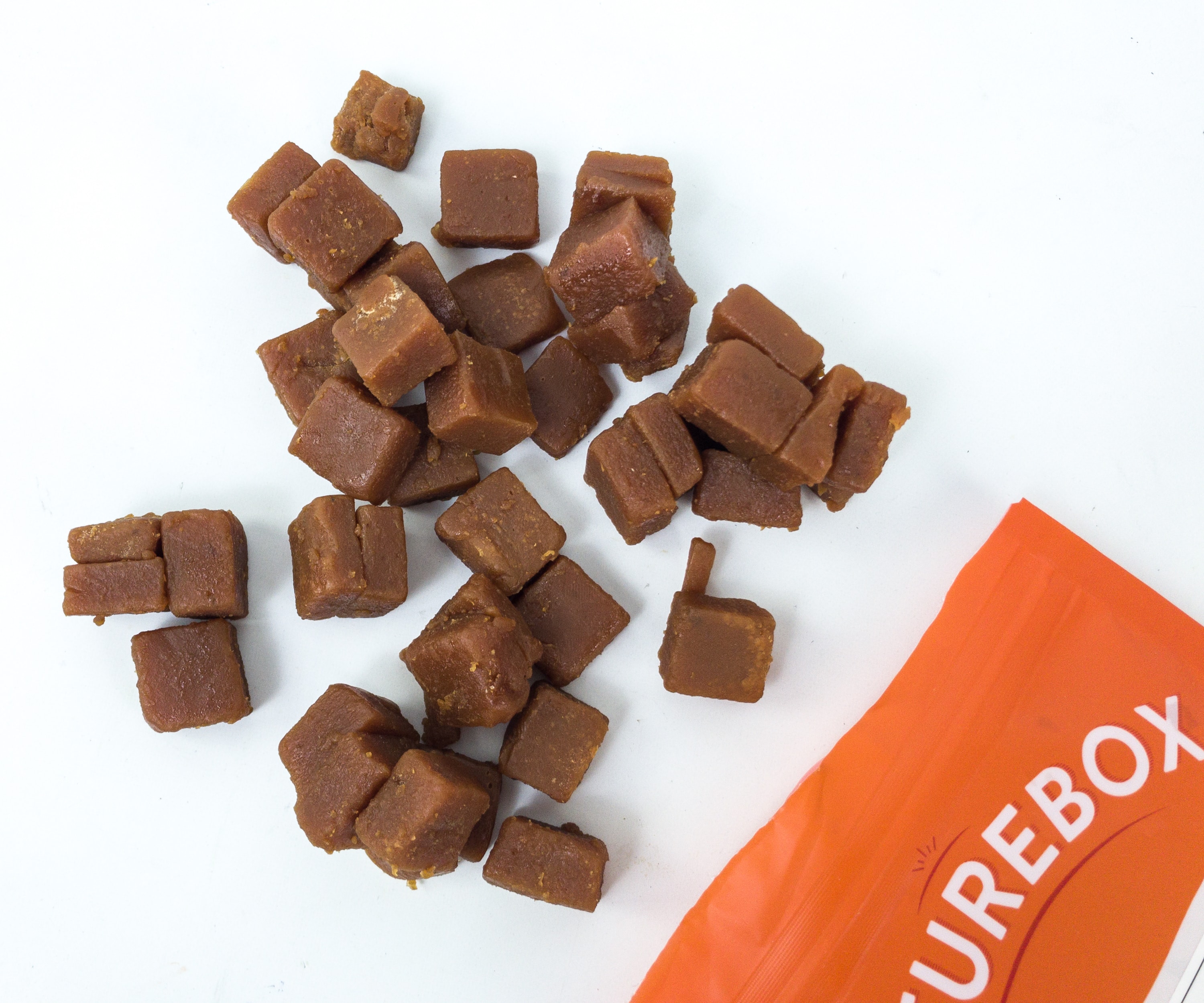 Each cube is soft and chewy. They're refreshing and fruity as well, a taste that's hard to get tired of – but don't eat too many!  As the label says, if you haven't used CBD before, start with just one.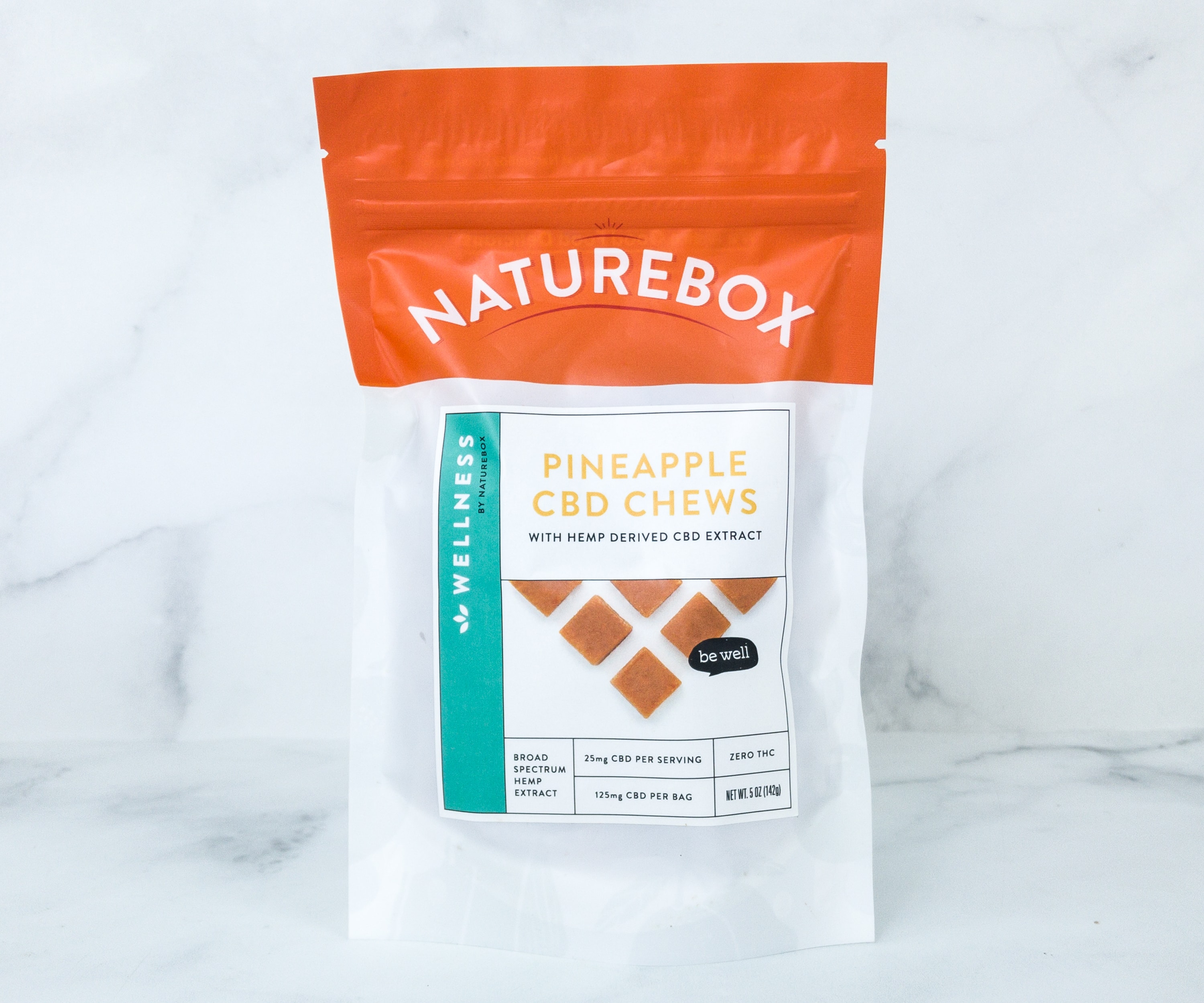 Naturebox Pineapple CBD Chews ($29.99; $19.99 with member discount) We got another pack of delicious chews and this time its main ingredient is pineapple, making it a great source of fiber. Other ingredients are apple, apple pectin, baobab with sunflower oil, and broad spectrum hemp extract.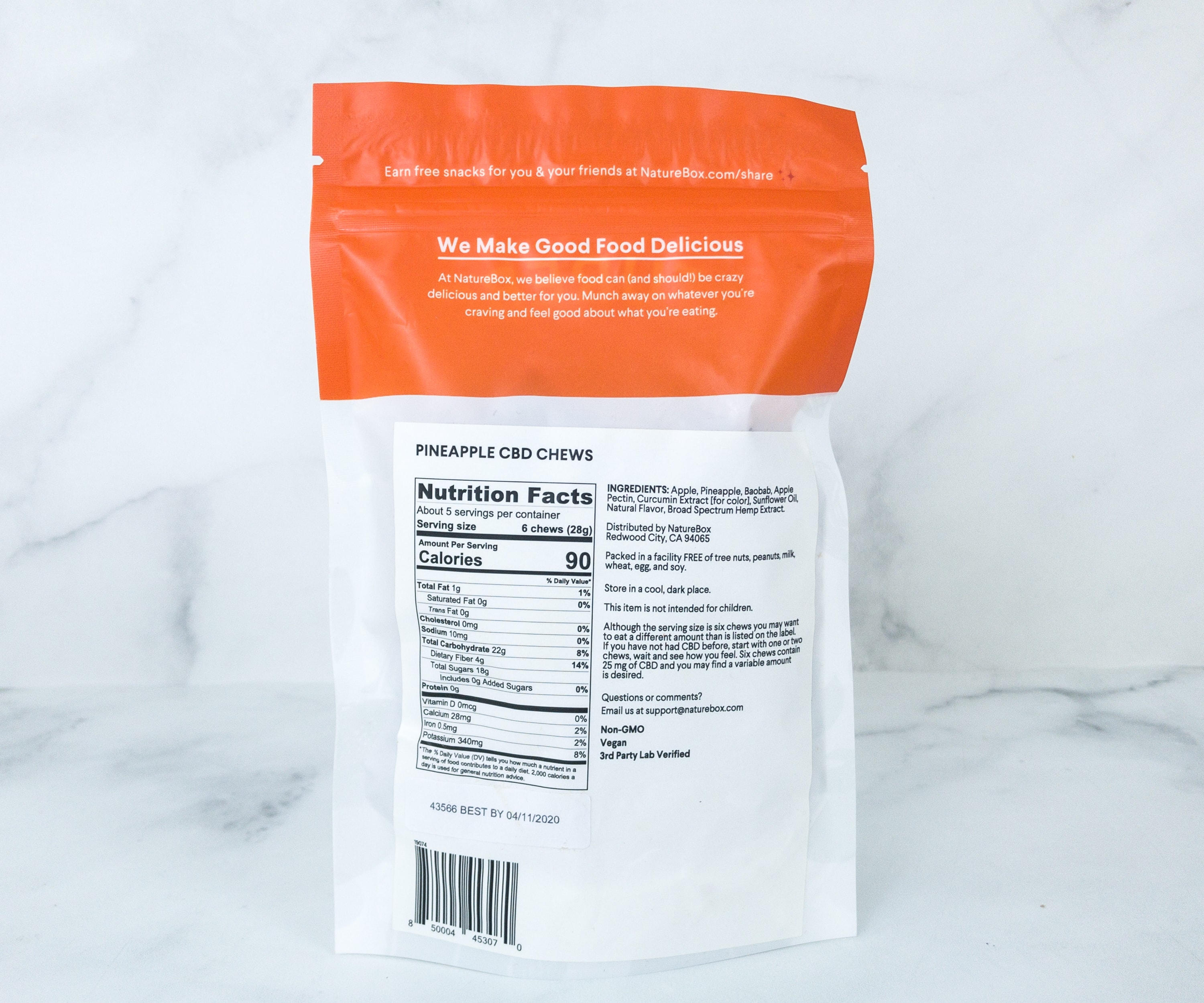 This treat is also gluten-free, non-GMO, vegan, and party lab verified with no sugar added.
Like the first bag of treats, these chews are also cut into bite-sized cubes. Each piece is also soft, it melts quickly inside my mouth. The only difference is that these are lighter in color.
Naturebox Watermelon-Lemonade CBD Chews ($29.99; $19.99 with member discount) The last bag of chews is made with a unique blend of watermelon and lemon. Other ingredients include broad spectrum hemp extract, apple, and sunflower oil.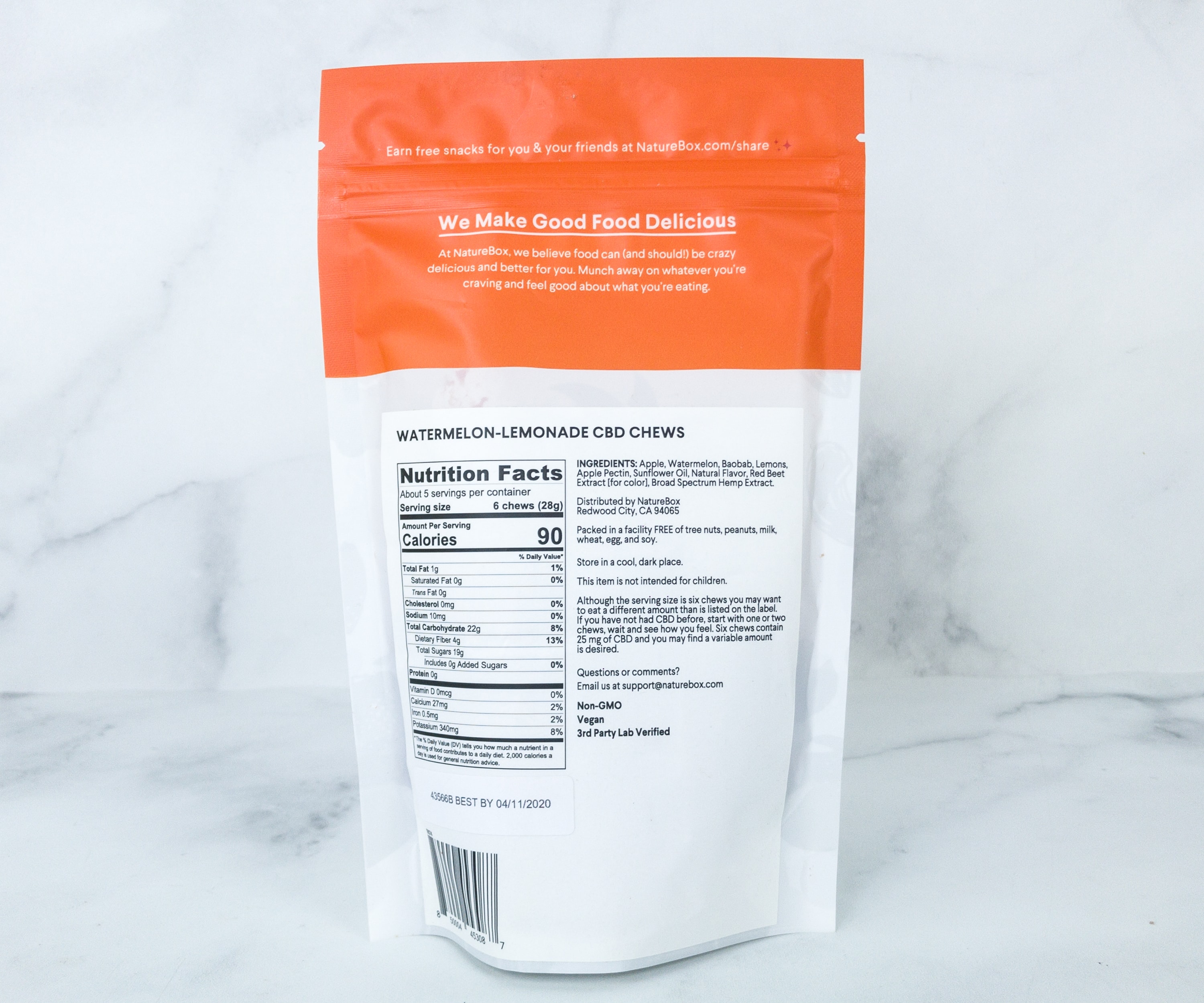 They're also gluten-free and non-GMO treats packed with vitamins and minerals to help your digestion while providing you a stronger immune system.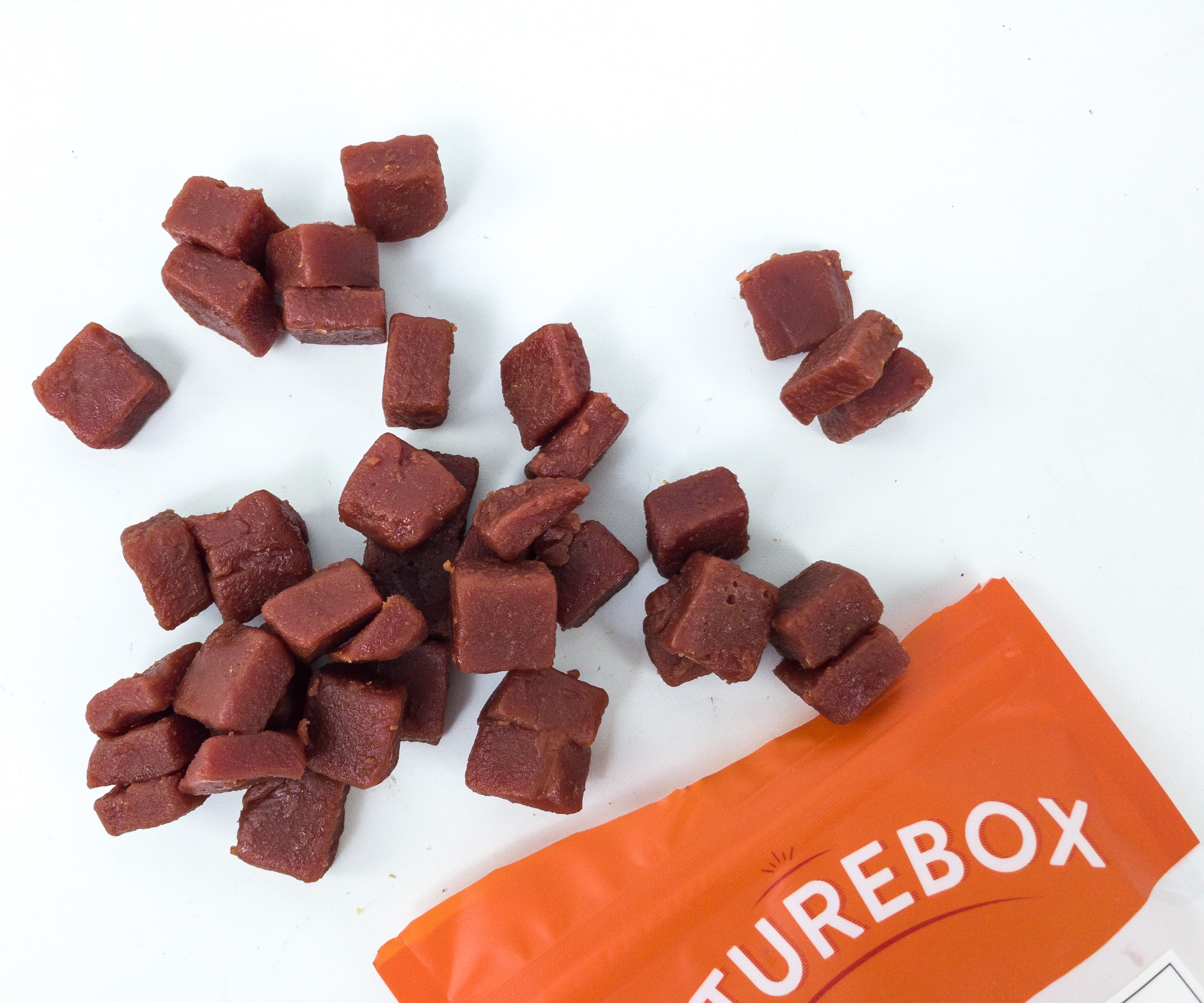 They're flavorful! The refreshing taste from watermelon and lemon dominates each and every bite-sized chunk. They're tasty but not too sweet. Naturebox Club has a wide selection of snacks and the quality of their products never disappoints. Our choices this month are 3 bags of chews, each boasting of a delicious flavor. It easily satisfies our cravings as well! We love this subscription because we get to choose which snacks we like to receive, so there are no disappointing surprises, and the snacky items come in a big, multi-serving bag. It's great that NatureBox provided lengthy information on their website about their CBD snacks, especially for those who are not yet familiar or those who are skeptical to try these. The snacks have no psychoactive ingredients, so no worries because you won't get "high" by eating the chews. Still, they recommend watching your intake and to start with only 1 or 2 pieces, just to see how you feel. If you want more assurance, NatureBox says that these snacks are lab-tested to assure the quality and the CBD concentration. The only downside is that they aren't quite standardized in size. What do you think of the NatureBox CBD chews?  Visit NatureBox to subscribe or find out more!