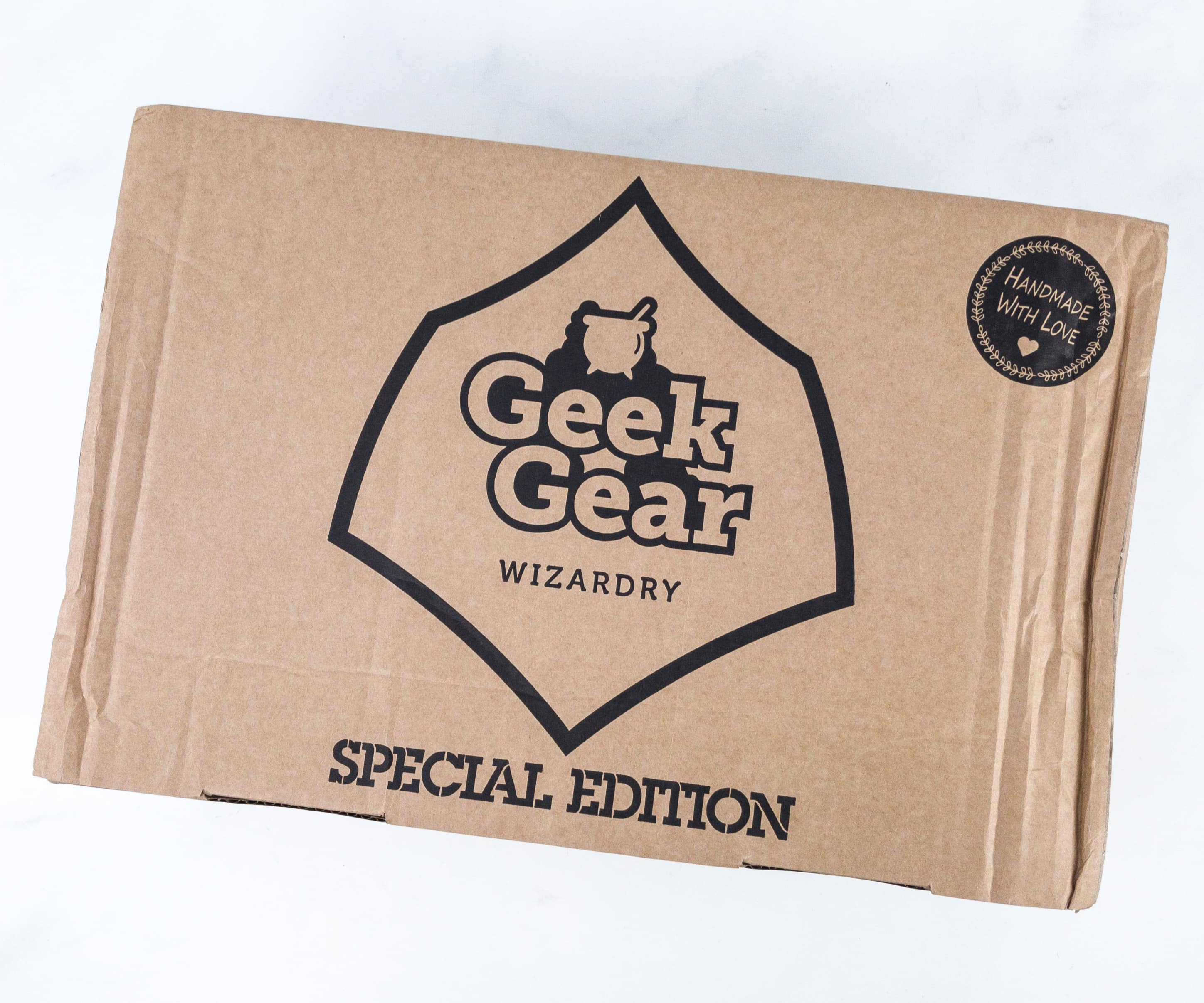 GeekGear WIZARDRY Special Edition is a bimonthly premium subscription box from GeekGear filled with awesome licensed and exclusive PREMIUM Harry Potter & Fantastic Beasts merchandise! Boxes are £44.99 +S/H with a £90+ value! (That's £50.98 shipped to US, about $68). In every box expect an exclusive t-shirt, an exclusive jumper/hoodie/long sleeve t-shirt, an exclusive premium artwork, and 3+ other premium products.
Although they're called special edition, don't be fooled – these are now a regular subscription, similar to Loot Crate DX! 
This is a review of the August 2019 Special Edition box.
DEAL: Save 10% on your first month! Use coupon code NEWSUB10. Or try SPECIAL15 to save 15%!
The items came in a simple brown box.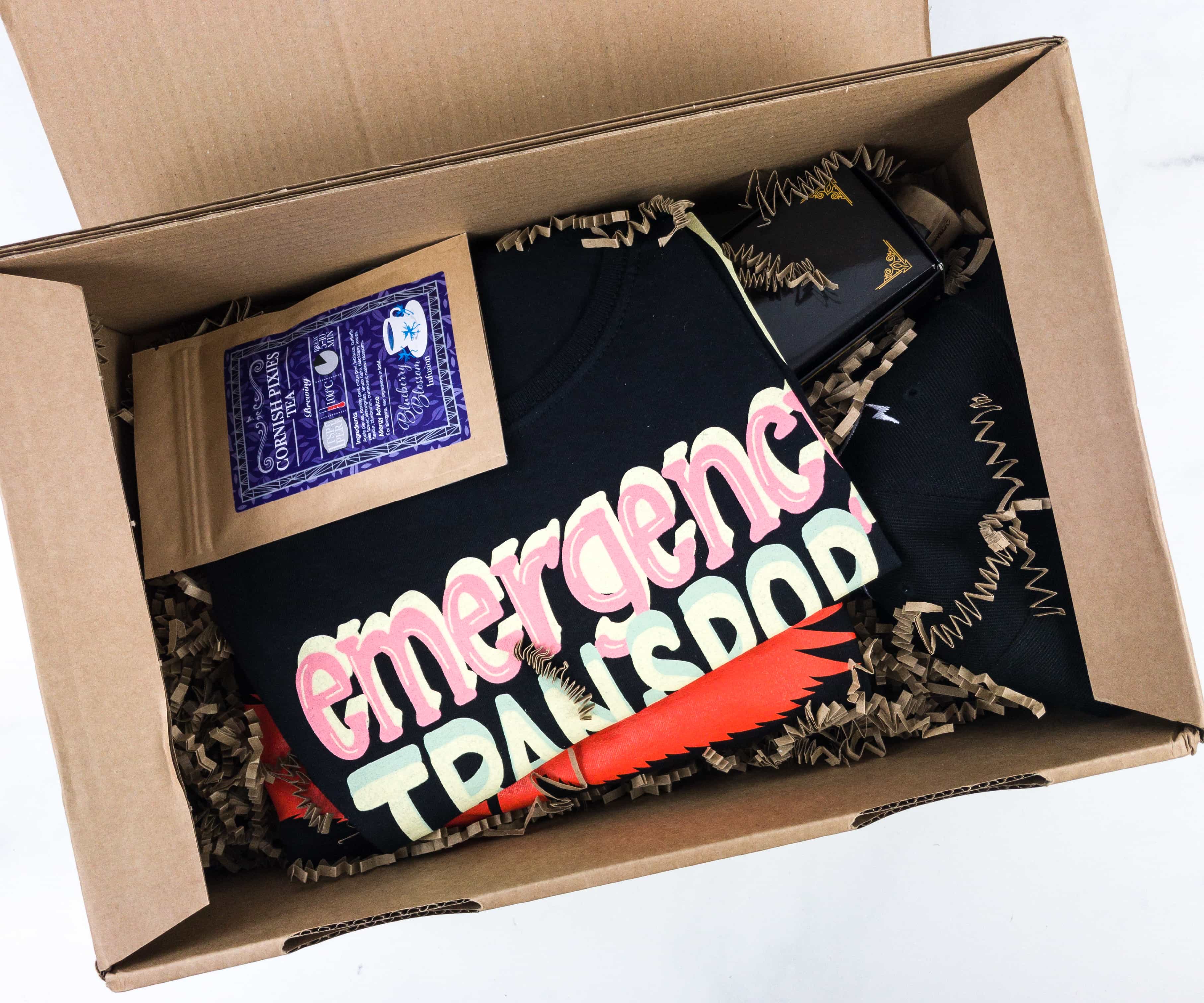 The box is filled with brown squiggles.
We also got a Geek Gear Scratch Card.
There's a letter sealed with the Geek Gear branding which looks like wax but it's actually printed.
It lists all the items in the box.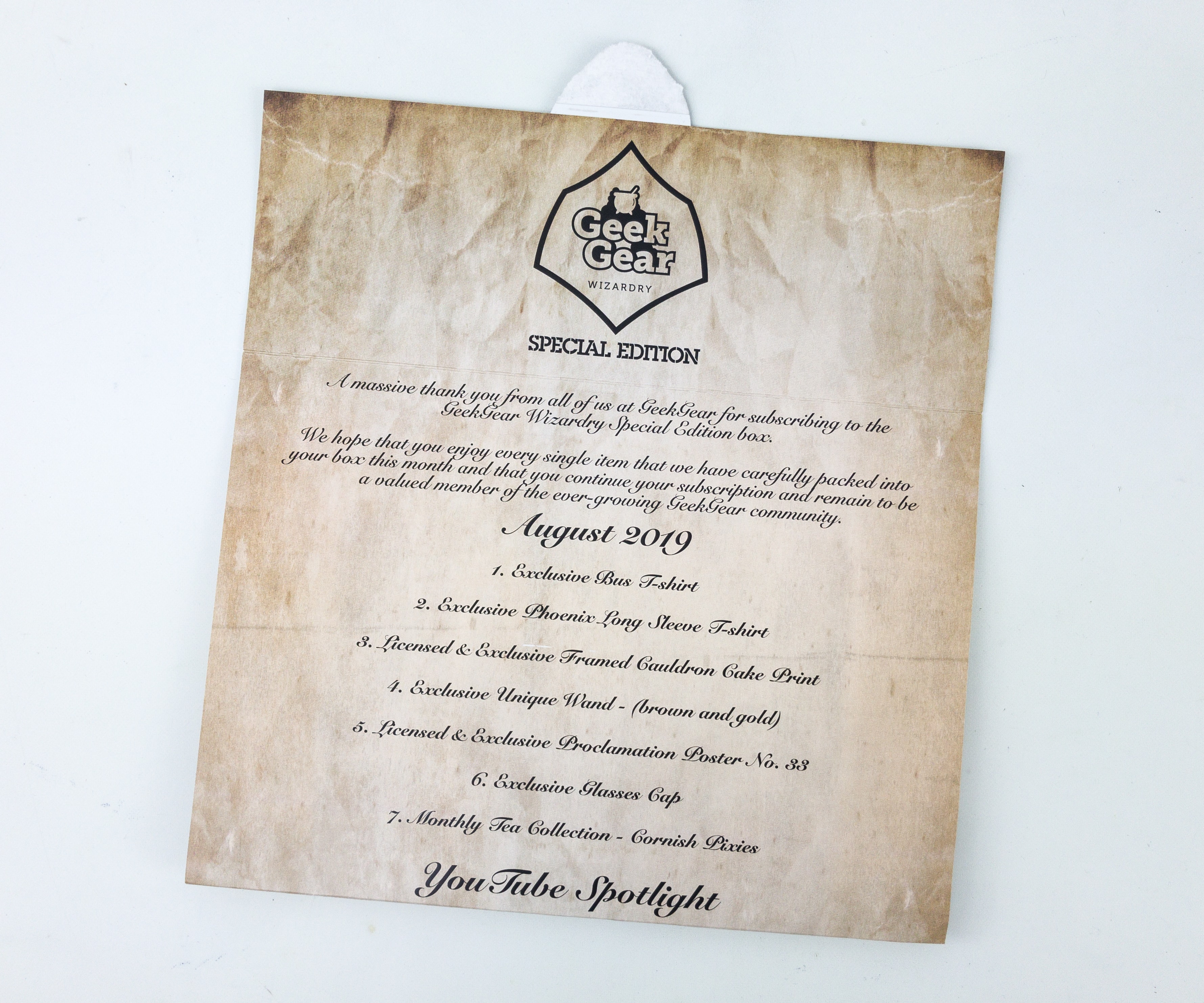 The box is jampacked with special items!
Everything in the August 2019 Special Edition World of Wizardry box!
Licensed and Exclusive Cauldron Cake Print. The licensed exclusive print is a promotional poster for Qizilbash Quality Confectionary's Cauldron Cakes!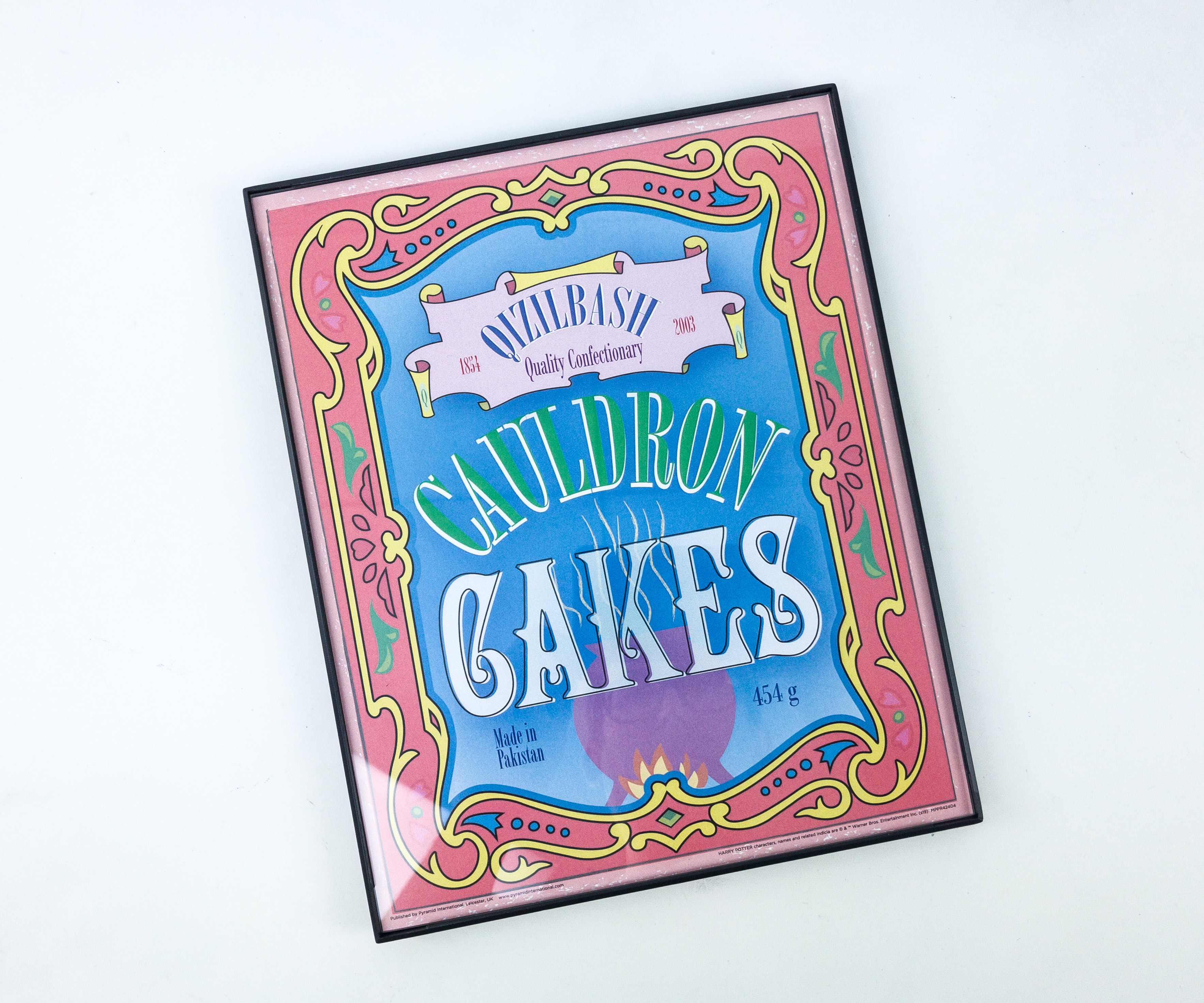 Qizilbash Quality Confectionary is a wizarding company from Pakistan. They are known for their delightful Cauldron Cakes which started way back in 1854.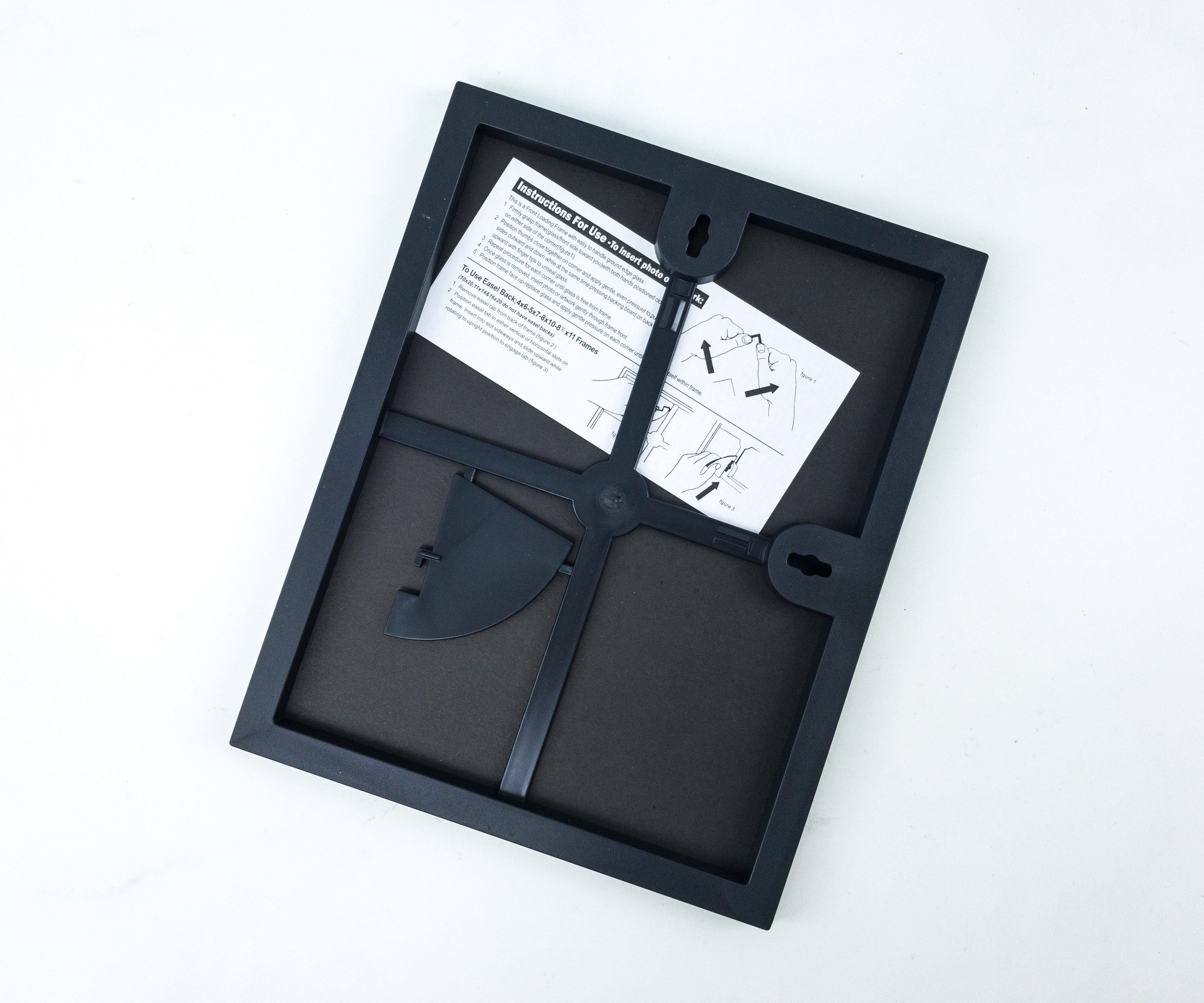 The poster arrived framed and even included an inset that contains all the instructions for use.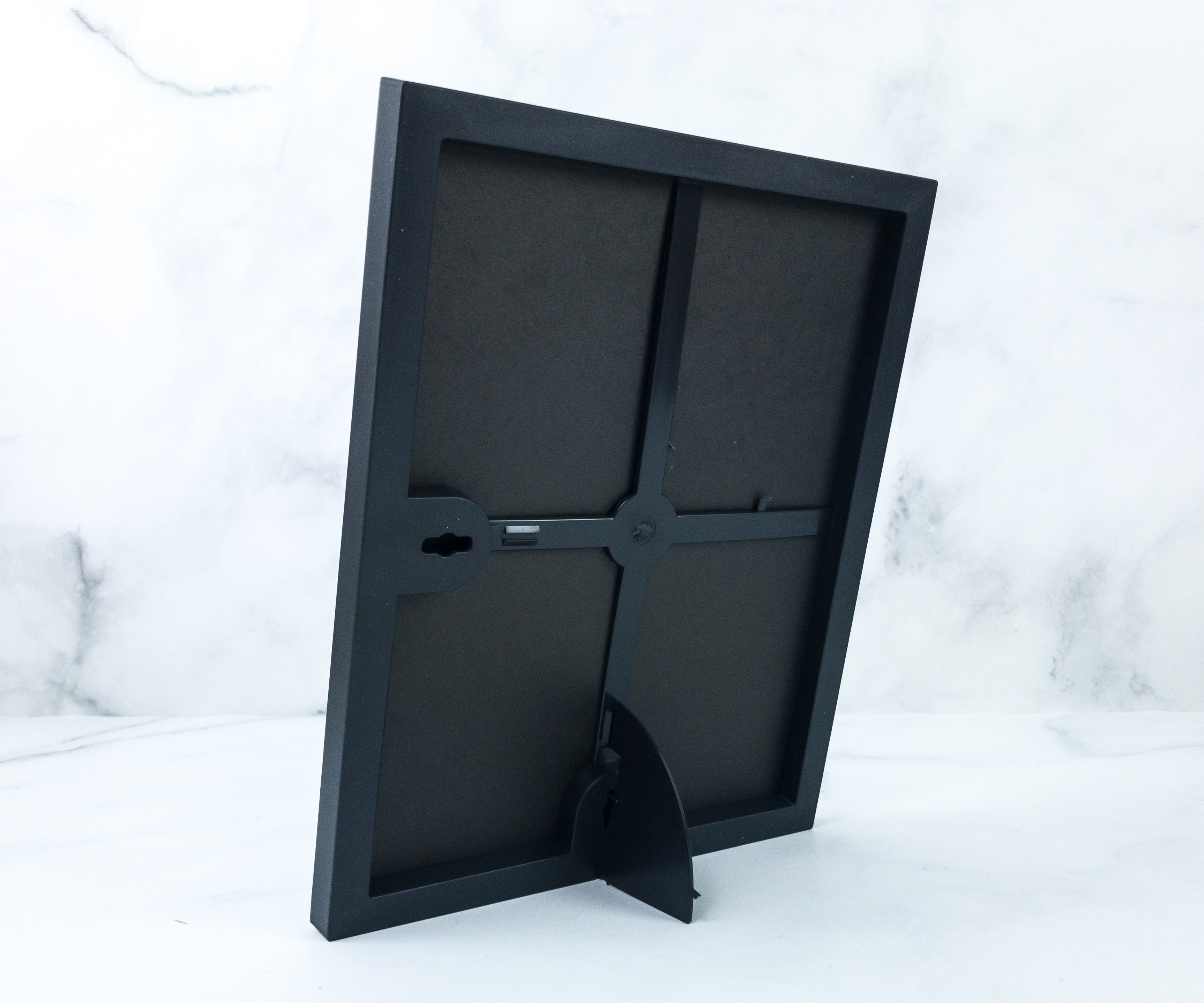 Aside from hanging the art print on the wall, you can also make it stand on a desk!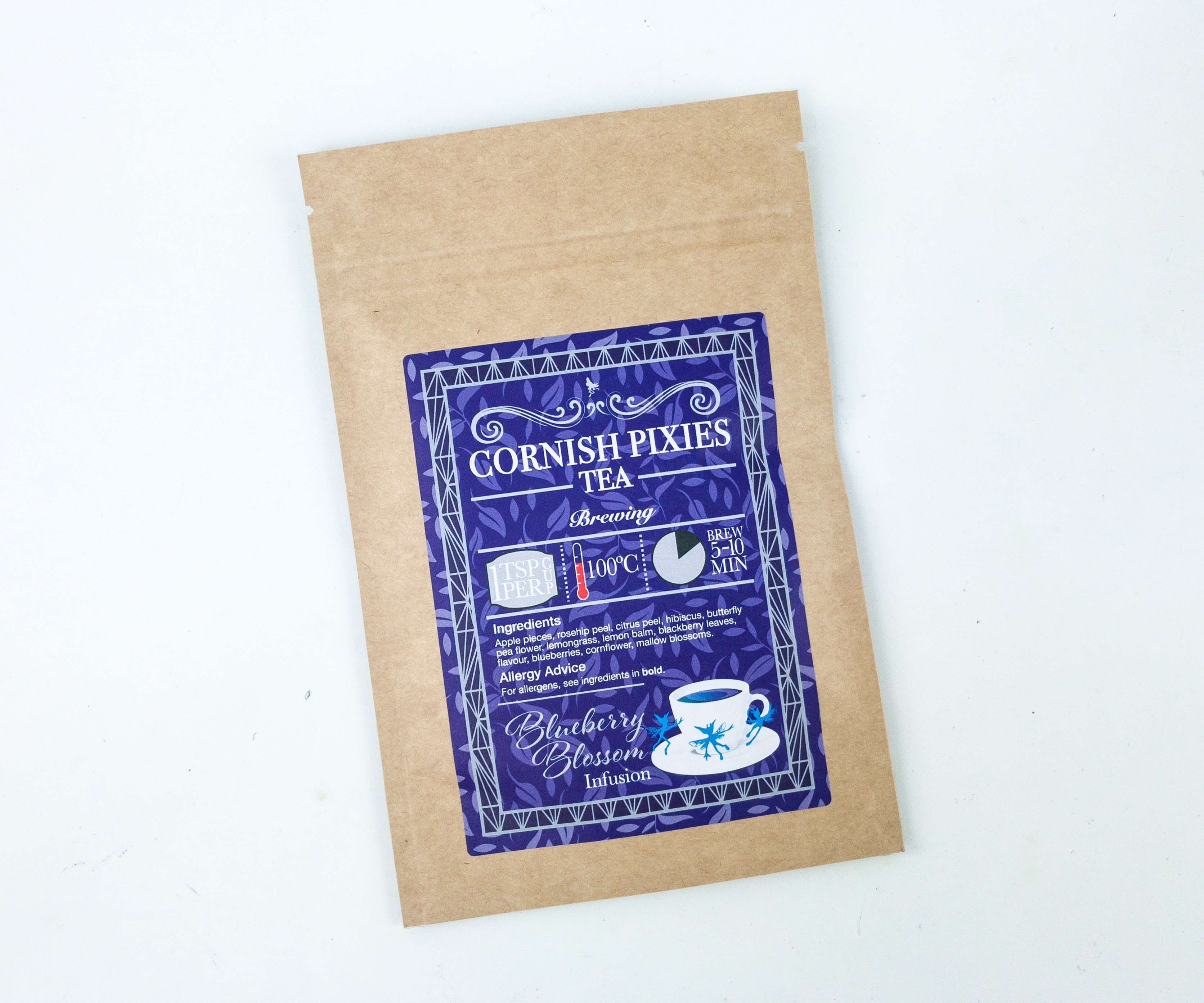 Cornish Pixies Tea Collection. For this month, the featured tea contains apples, rosehip and citrus peels, hibiscus, butterfly pea flower, lemongrass, lemon balm, blackberry leaves, blueberries, cornflower, and mallow blossoms. To prepare the tea, brew a teaspoon per cup for 5-10 minutes at 100°C.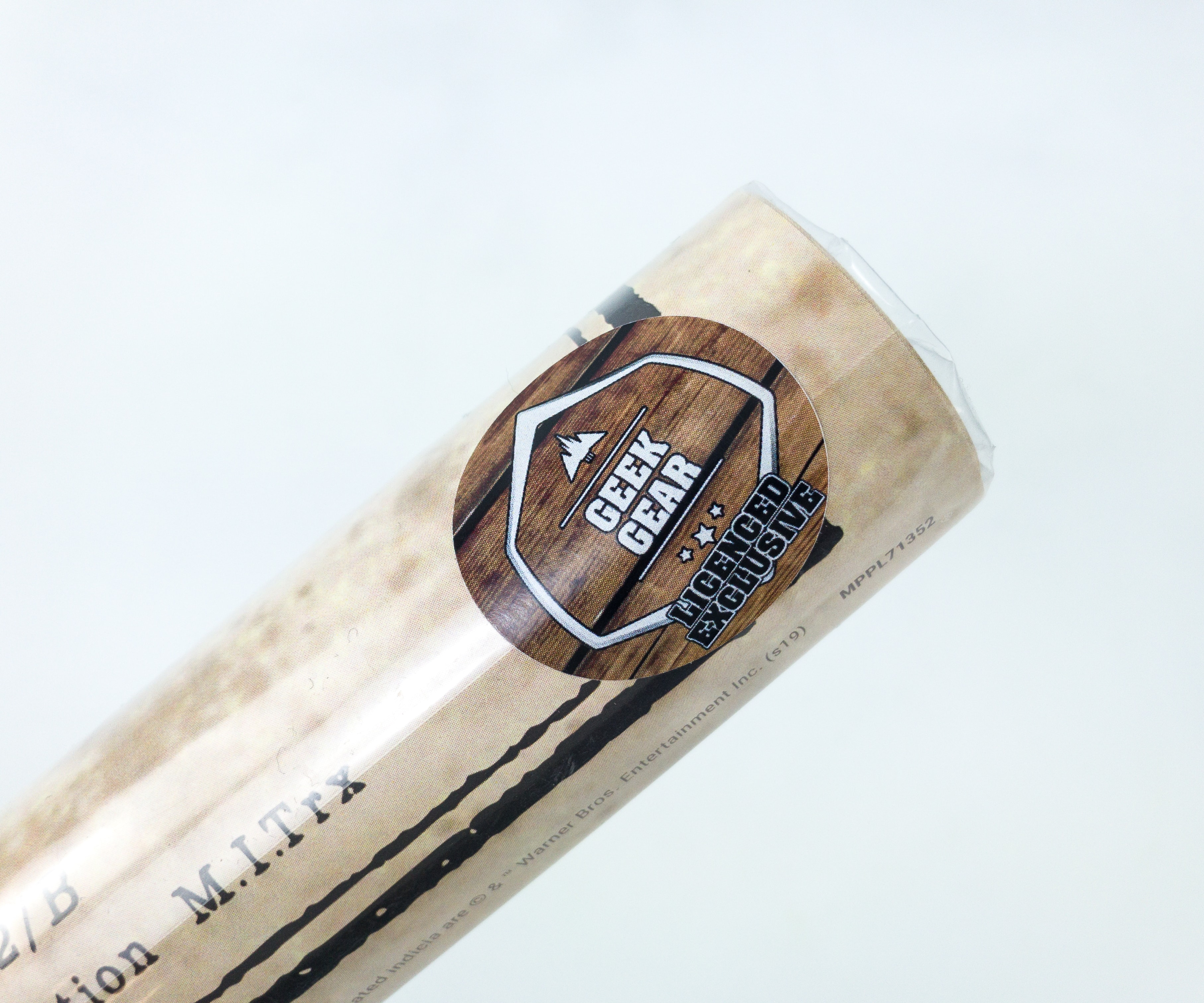 Licensed & Exclusive Proclamation Poster No. 98. This month's exclusive large print was rolled and packaged nicely!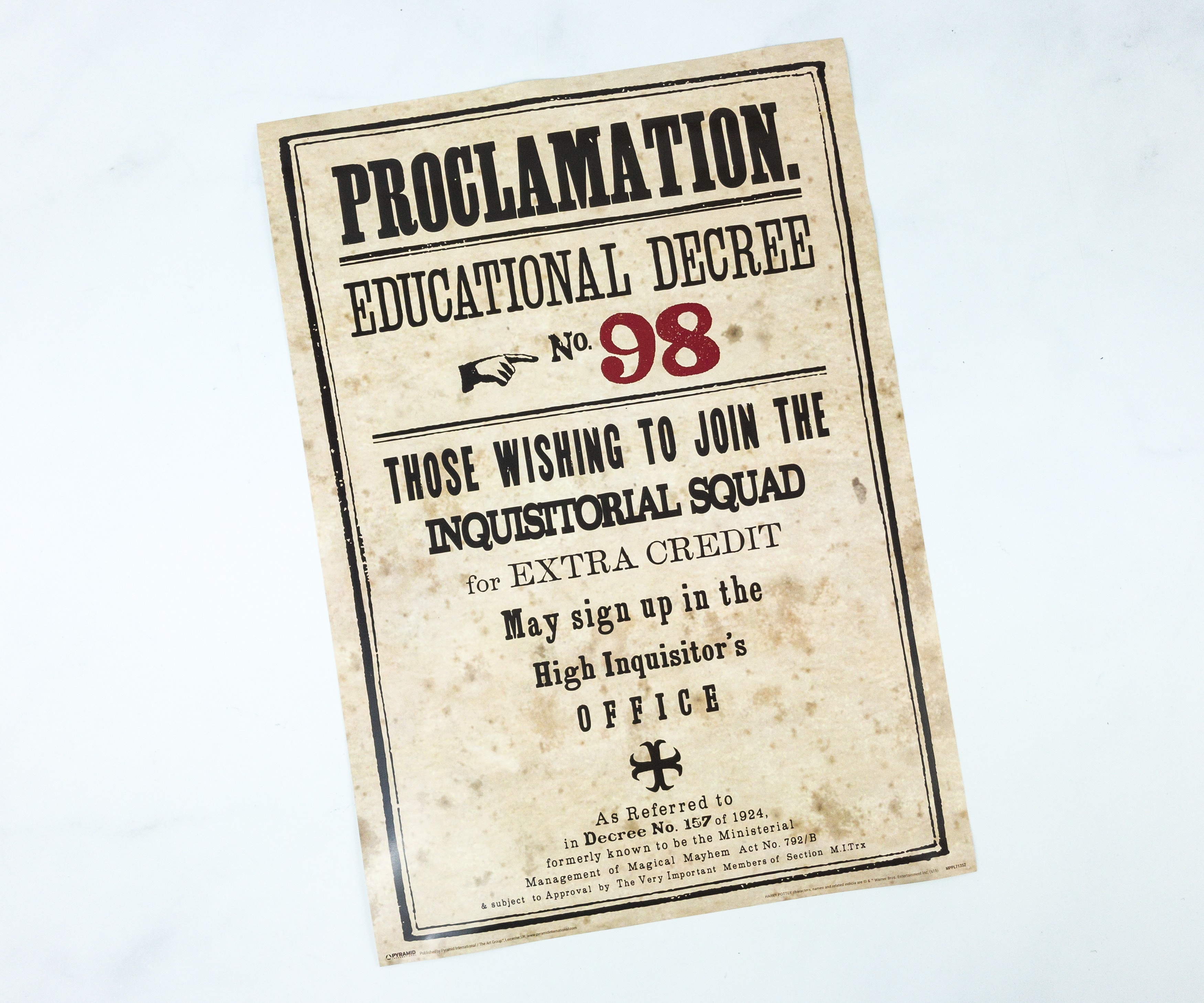 It is Educational Decree No. 30, which says that those who wish to join the Inquisitorial Squad for extra credit may sign up in the High Inquisitor's office. It is the 98th Educational Decree made by Dolores Umbridge and these decrees were made or passed by the Ministry of Magic to take control of Hogwarts.
Glasses Cap. The black cap has Harry's eyeglasses and scar as design. Inside the lenses are Hogwarts and the Quidditch pitch!
The hat has snaps that can be easily adjusted to fit your head.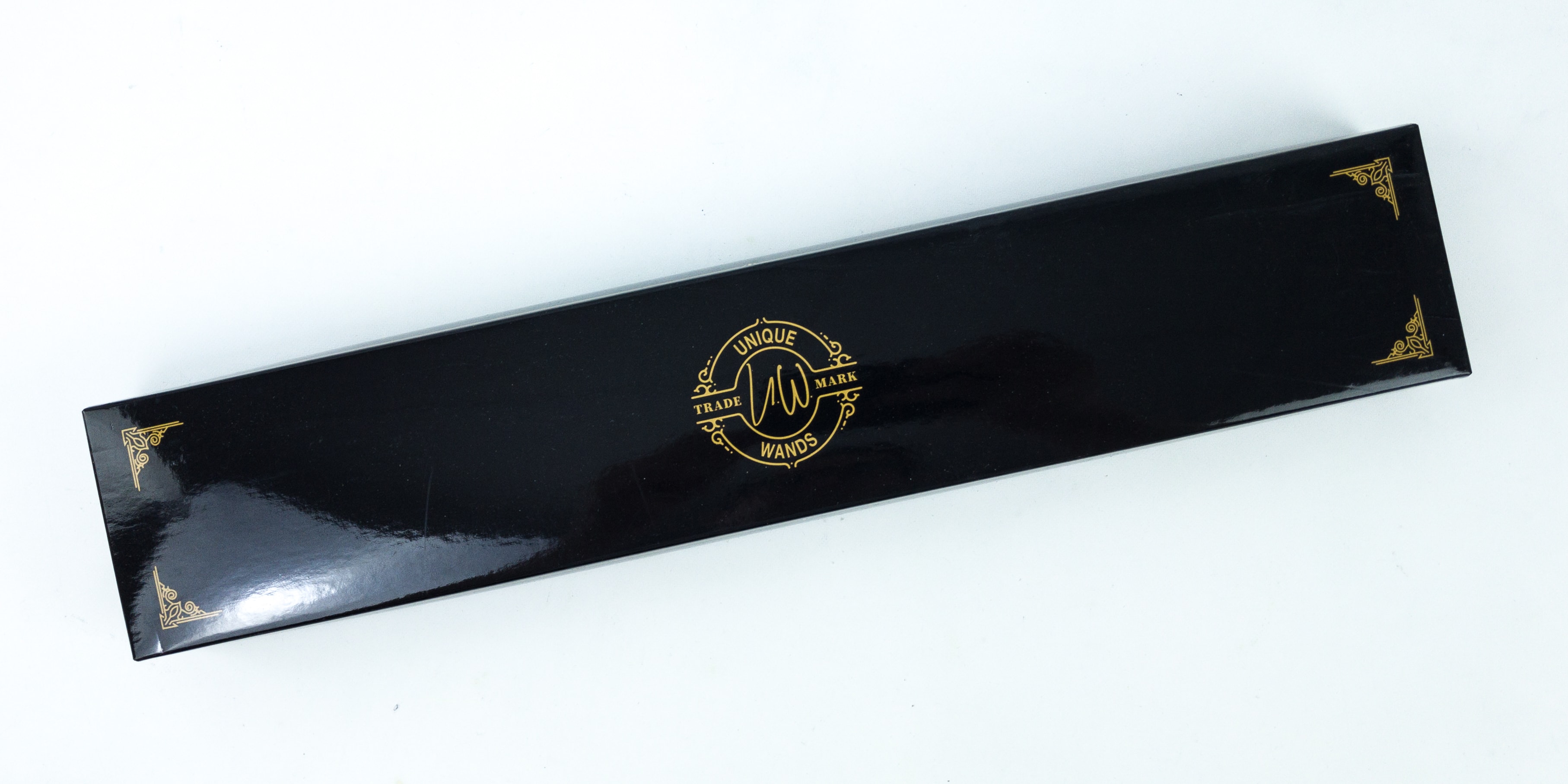 Unique Wand. Here's the familiar elegant black box that contains a uniquely modeled wand from Unique Wands!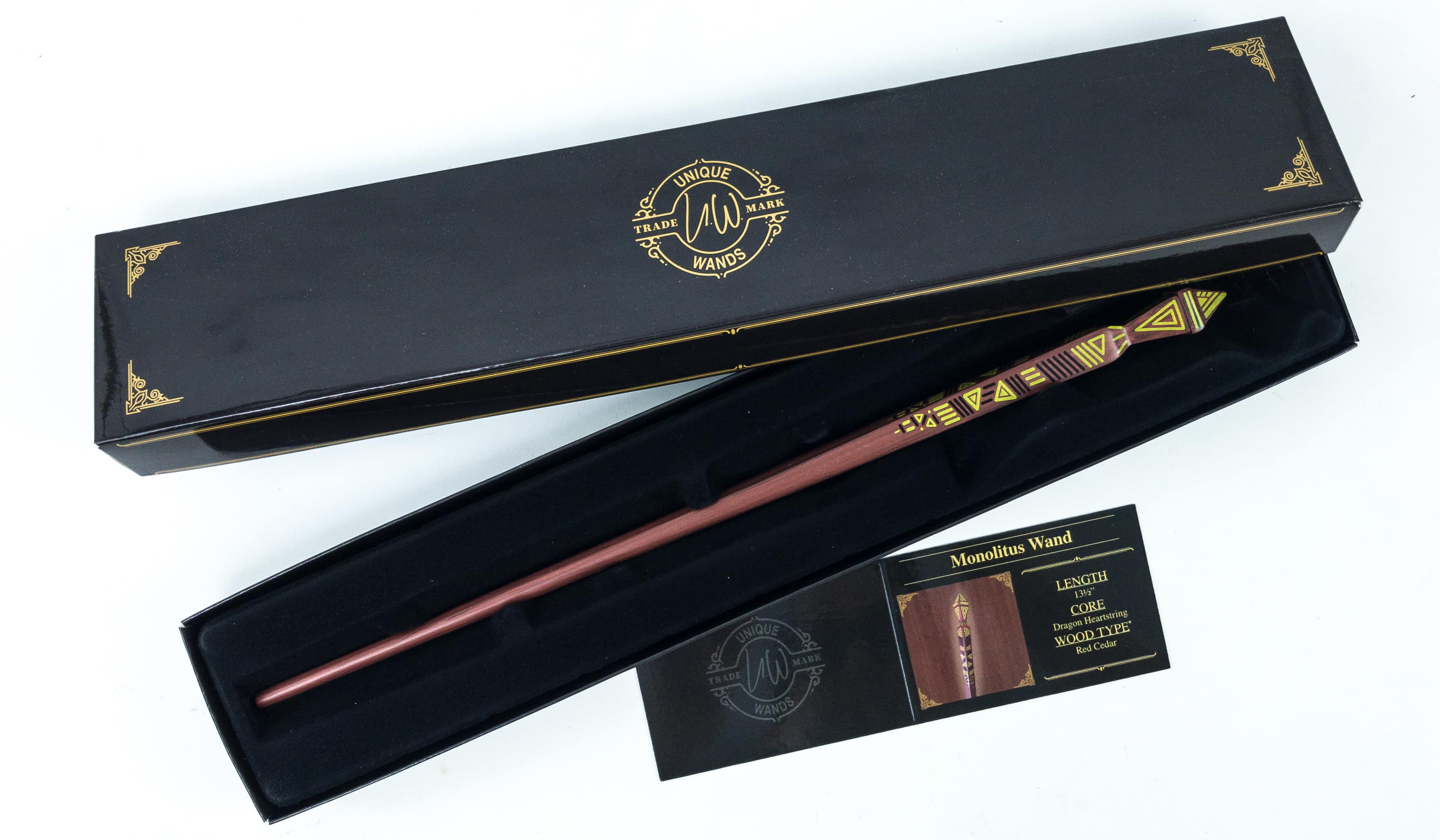 I am so excited about this new addition to my wands collection!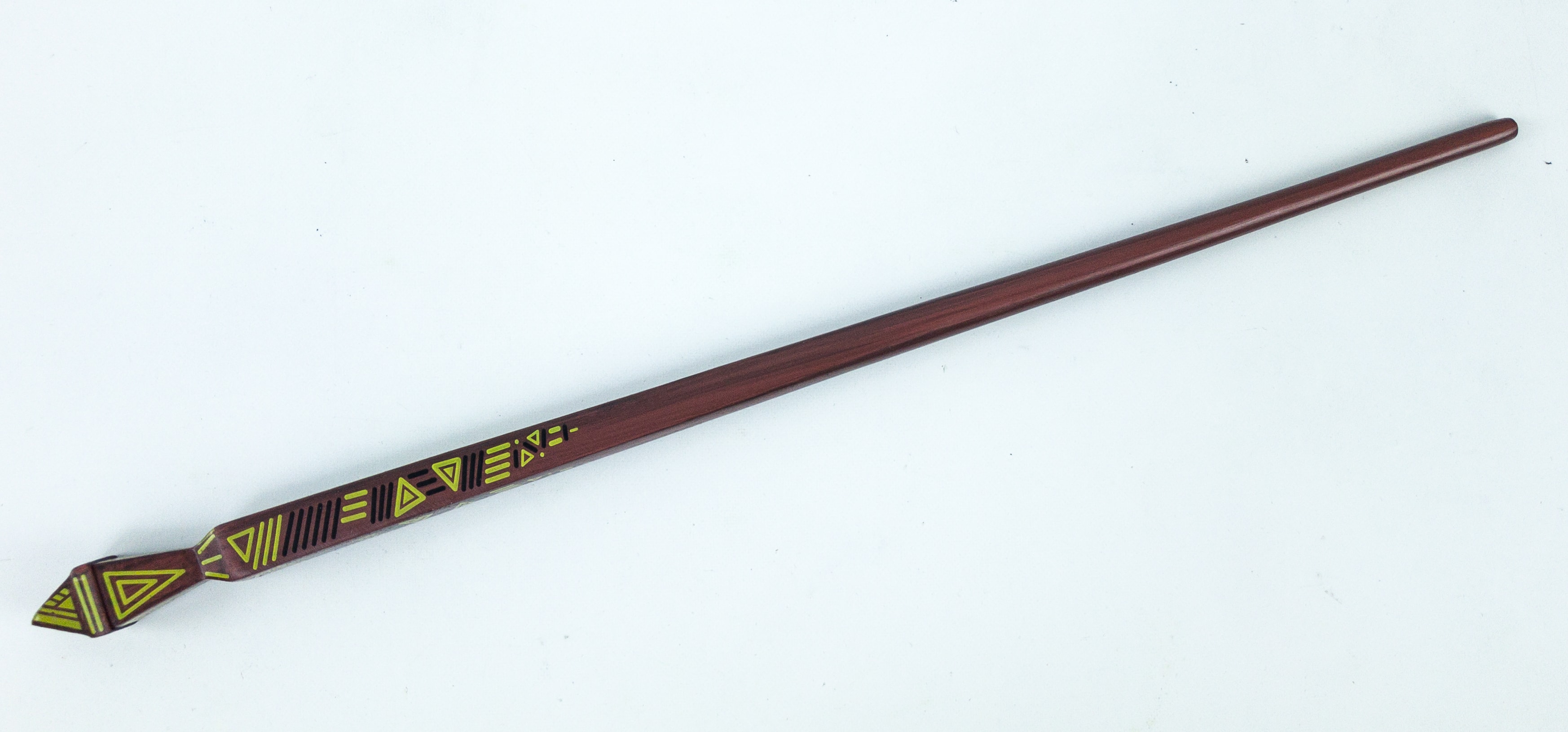 The 13 1/2″ wand is made with Red Cedar and has a core of Dragon Heartstring.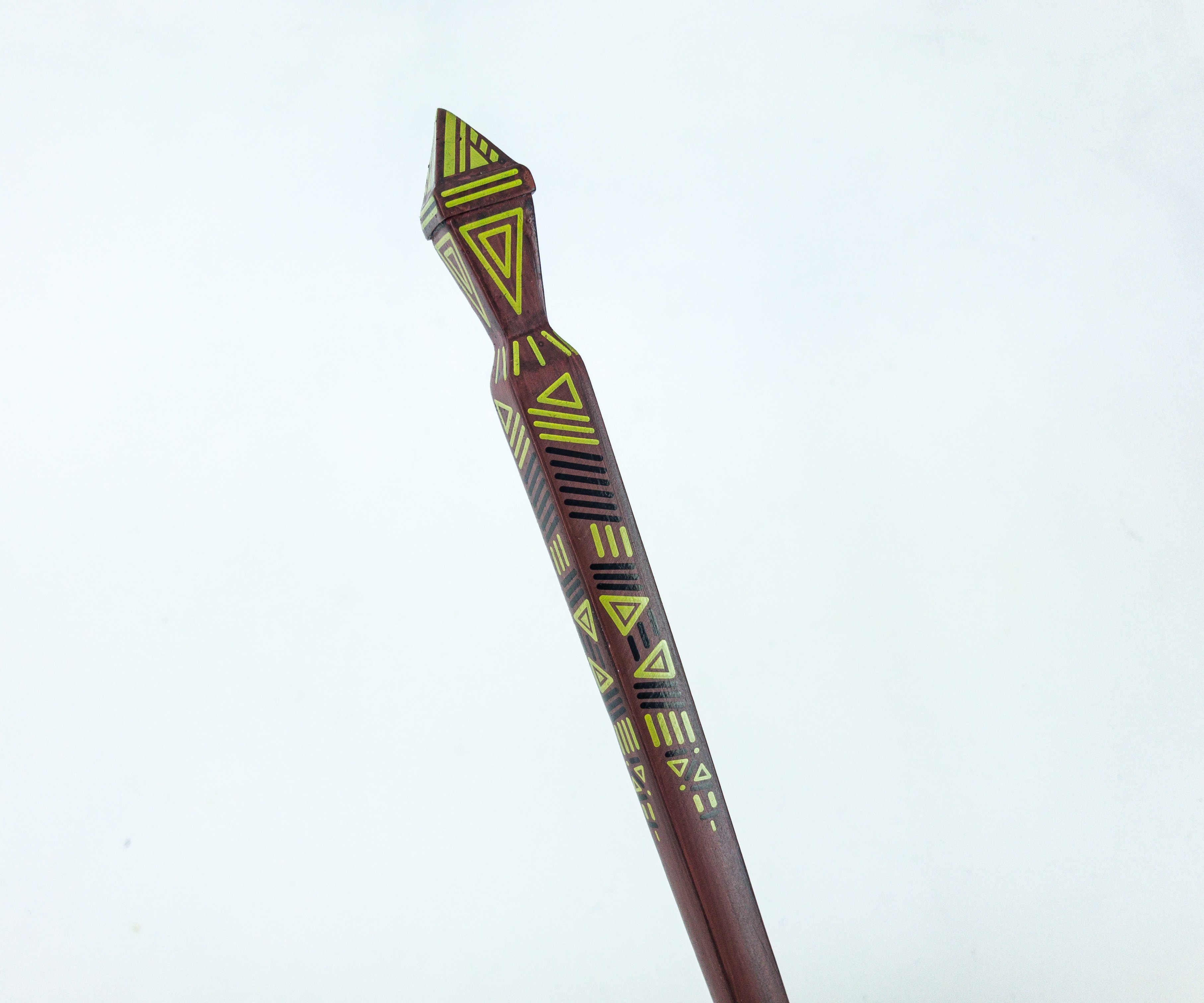 The Monolitus Wand has a handle that has these tribal-looking patterns or symbols. It's lovely!
Bus T-Shirt. Do you remember the Knight Bus ride? This triple-decker assists stranded individuals in the Wizarding World, and it's really fast that even obstacles jump out of its way! It's featured in this month's shirt!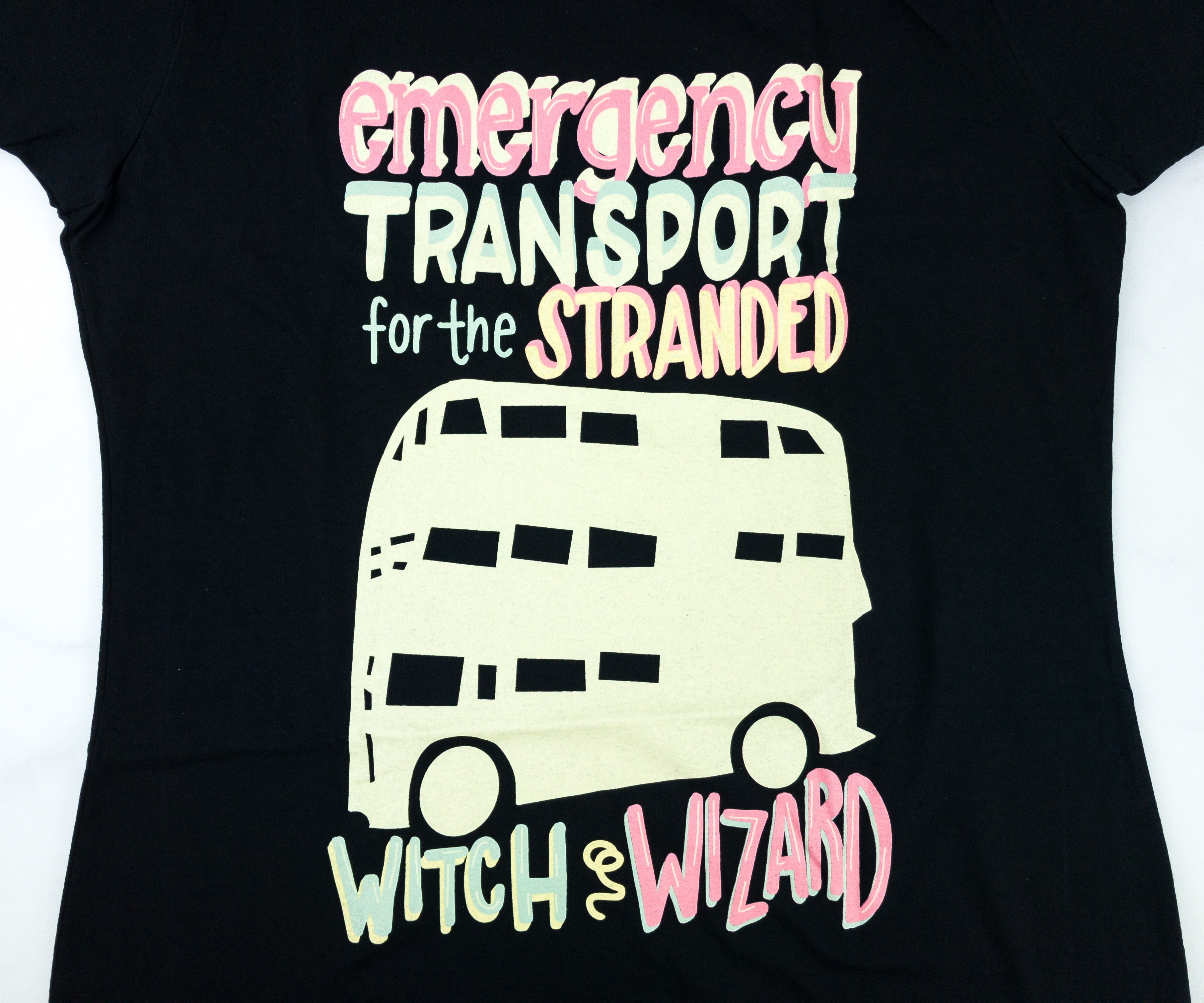 I really like the fonts and the different colors on the print, it's a nice play.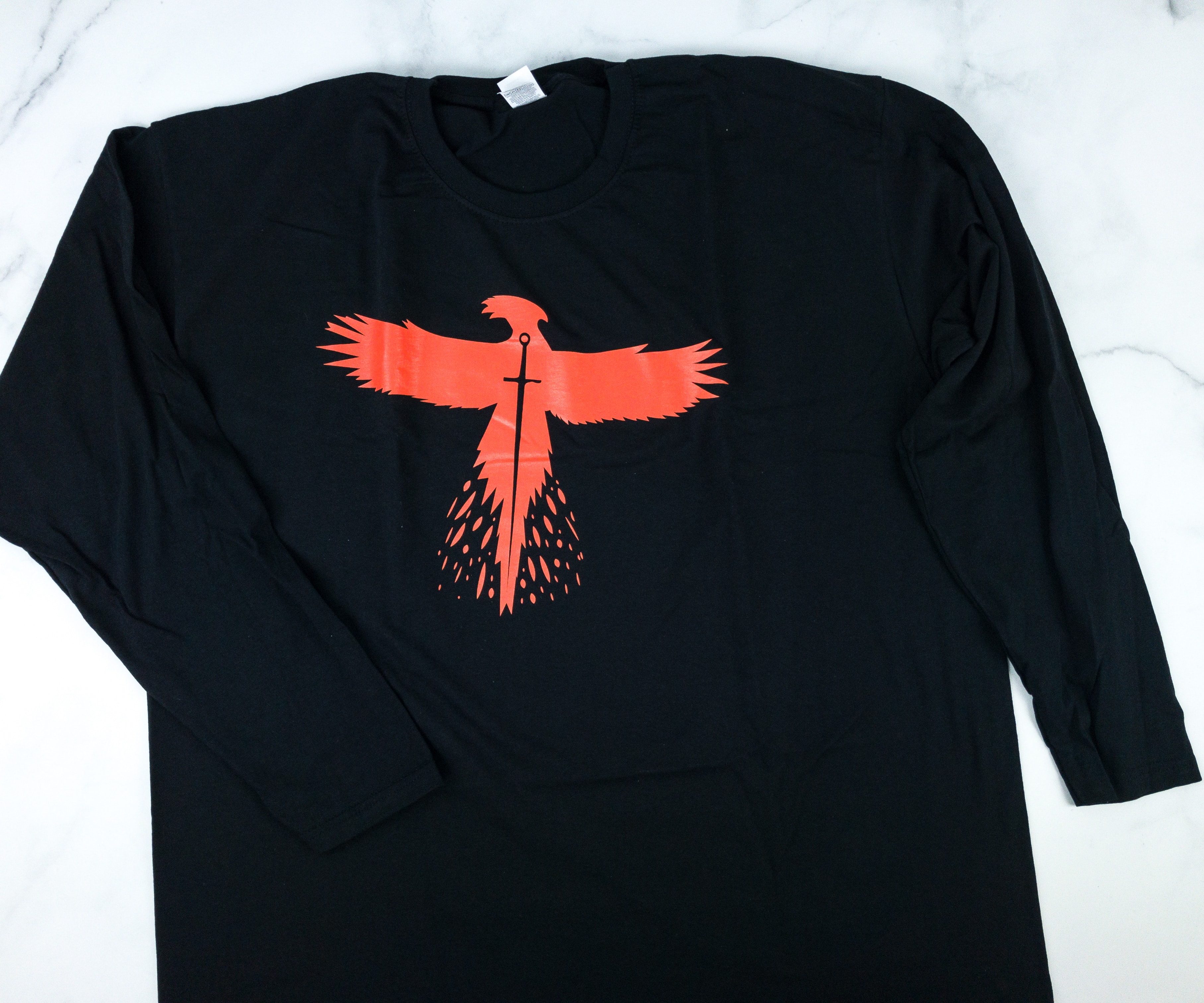 Phoenix Long Sleeve T-Shirt. Fawkes once again made his strong presence felt on this month's long sleeve tee!
This is another fantastic addition to my wardrobe, as chilly days are coming!
It shows Fawkes' fiery character, and it even shows, I believe so, Gryffindor's sword in the center. It also looks like the Phoenix had just resurrected from the ashes. It's really great to have a strong character featured in one of the wearables.
These Special Edition boxes keep on making me happy! They contain lots of items including rare finds, and while some are eccentric and weird, they fit the Wizarding World and I know Potterheads can tell that they belong. I love the wearables this month, especially the Phoenix long sleeve shirt. I am truly inspired by a Phoenix's life, how it rises from the ashes. I also like the Unique Wands, it's another special wand for my collection.
What did you think of the special edition World of Wizardry Geek Gear box?
Visit Geek Gear World of Wizardry Special Edition to subscribe or find out more!