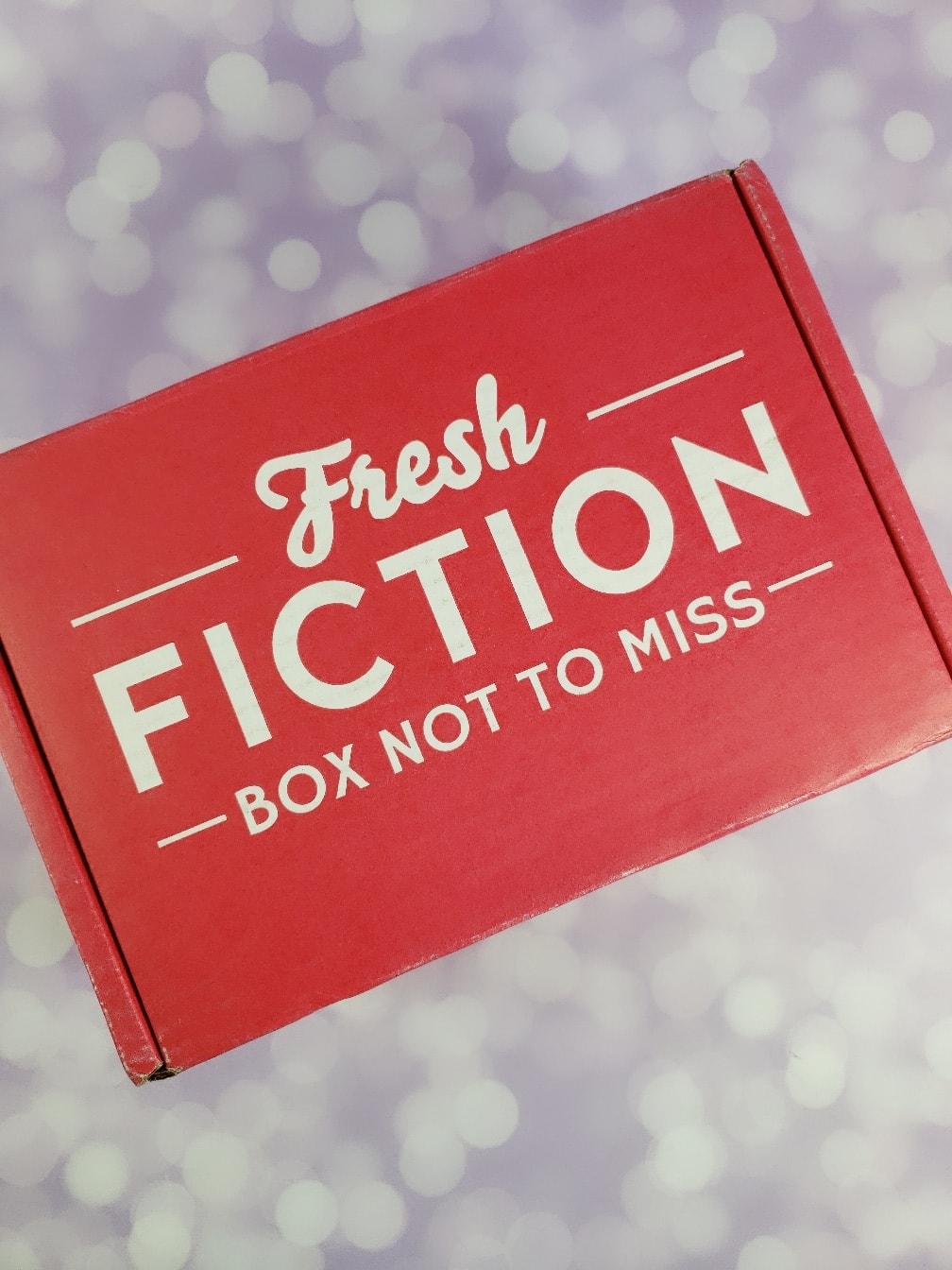 Fresh Fiction Box Not To Miss is a monthly book subscription that sends 4-7 new release books for $25.95. Shipping is free to the U.S. but they also ship worldwide. You can choose from a 1 or 3-month plan and both plans auto renew. Alternatively, you can also buy a one-time box from their online shop. They send 3-5 new release print books and codes for some downloadable ebooks! Most of the books will be from the romance genre but they may occasionally send mystery, erotica, YA, and paranormal books too.
DEAL: Save $3 on your first Fresh Fiction Not To Miss box with coupon code HELLO.
Everything in my June 2019 box! I received 4 paperbacks and 1 ebook. Fresh Fiction sends different box variations each month so keep in mind that your box may vary from mine!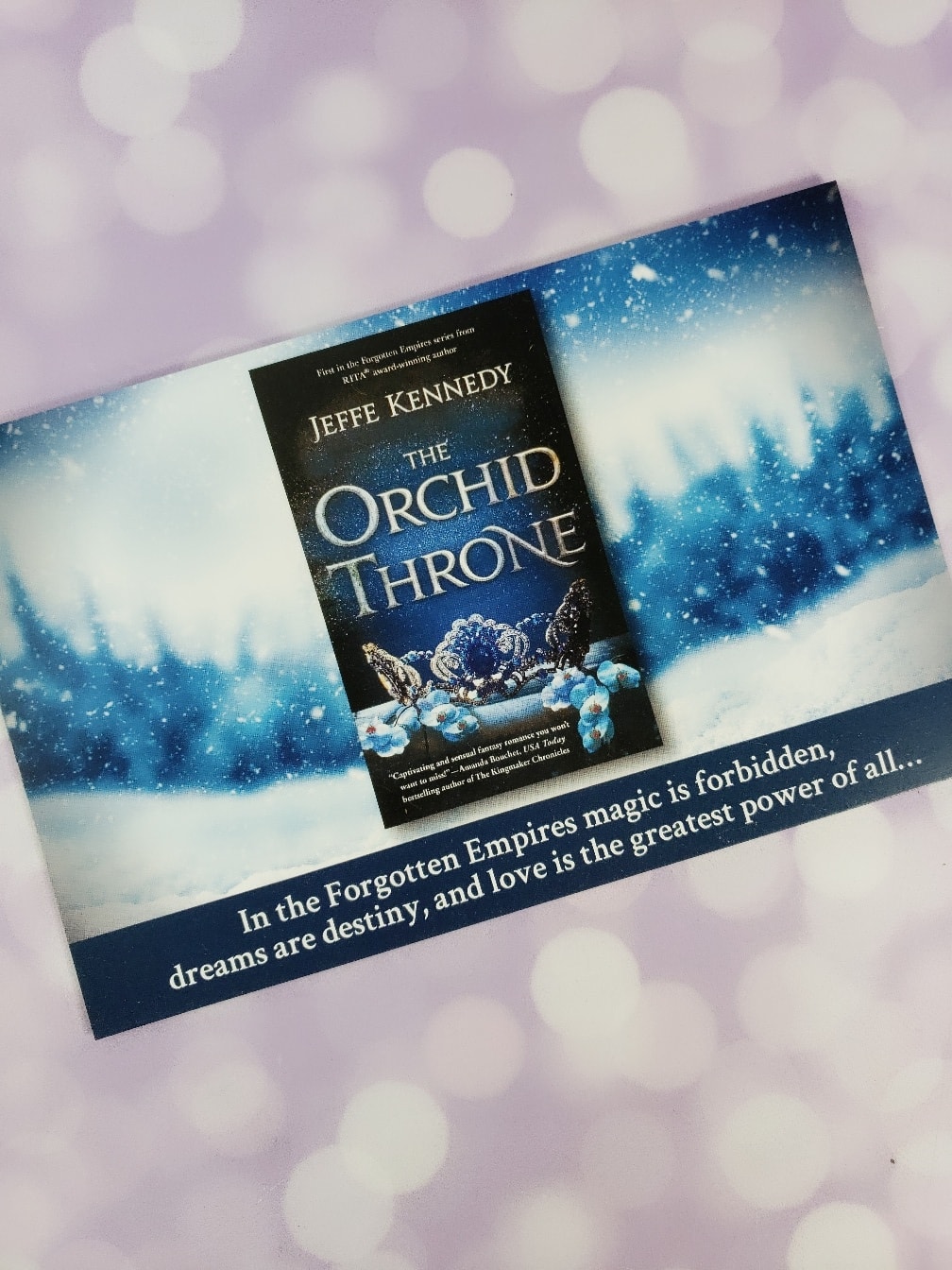 In the Forgotten Empires magic is forbidden, dreams are destiny, and love is the greatest power of all…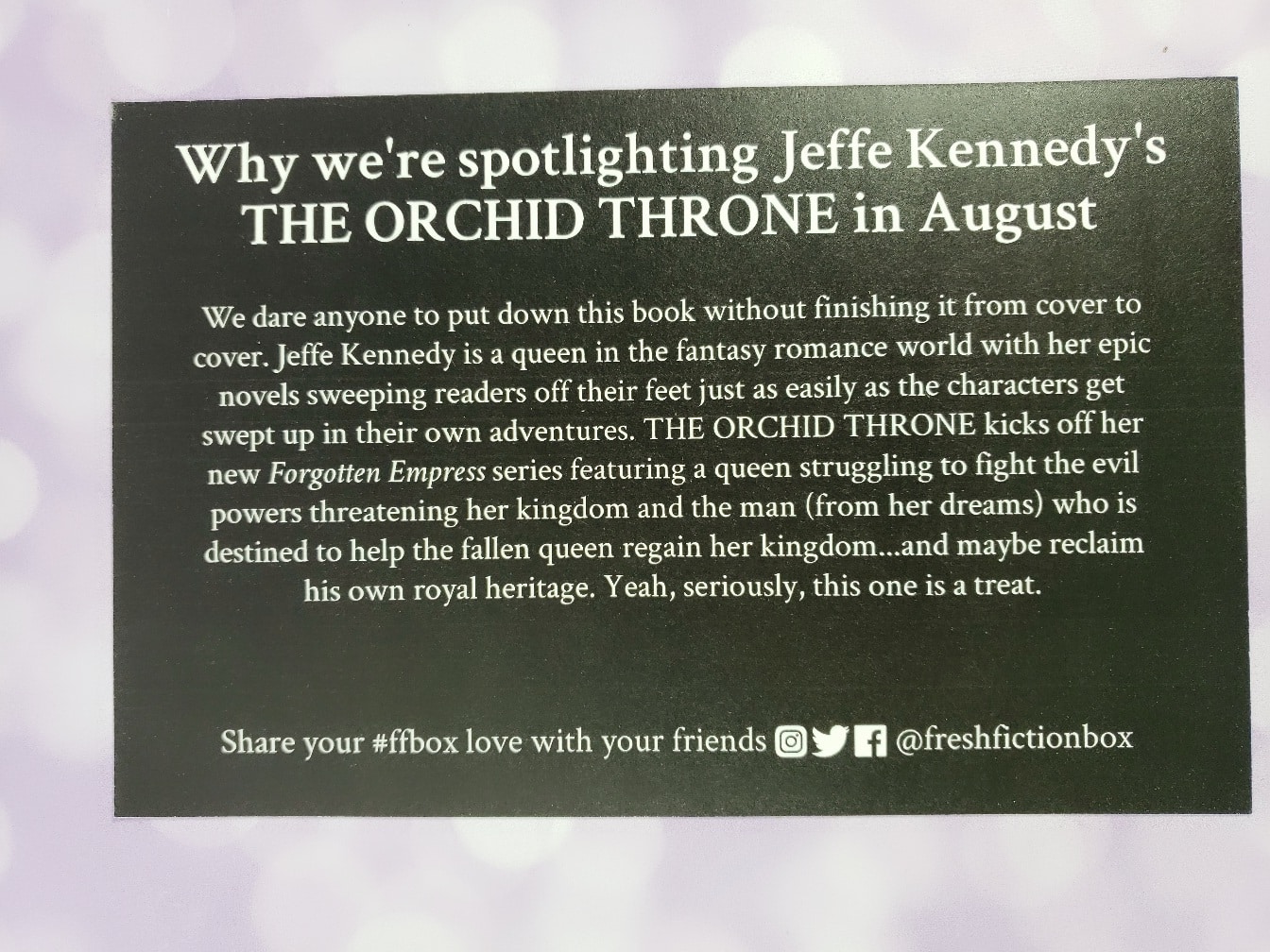 This month's highlighted book is The Orchid Throne by Jeff Kennedy!
The Orchid Throne by Jeff Kennedy ($7.99) It's a fantasy romance novel that totally captured my attention. We were provided enough information about the characters in order to understand and sympathize with them, and the main characters are just so fun and lovable! Would love to read more from this author!
A PRISONER OF FATE
As Queen of the island kingdom of Calanthe, Lia will do anything to keep her people free―and her secrets safe―from the mad tyrant who rules the mainland. Guided by a magic ring of her father's, Lia plays the political game with the cronies the emperor sends to her island. In her heart, she knows that it's up to her to save herself from her fate as the emperor's bride. But in her dreams, she sees a man, one with the power to build a better world―a man whose spirit is as strong, and whose passion is as fierce as her own…

A PRINCE AMONG MEN
Conrí, former Crown Prince of Oriel, has built an army to overthrow the emperor. But he needs the fabled Abiding Ring to succeed. The ring that Lia holds so dear to her heart. When the two banished rulers meet face to face, neither can deny the flames of rebellion that flicker in their eyes―nor the fires of desire that draw them together. But in this broken world of shattered kingdoms, can they ever really trust each other? Can their fiery alliance defeat the shadows of evil that threaten to engulf their hearts and souls?


"A lush… perilous and passionate world."―New York Times bestselling author Jennifer Estep
The Stationery Shop by Marjan Kamali ($12.21) This one's a nice mix of historical fiction and romance. There's even a bit of family drama, plus it's set in Iran so we also get to learn about their rich culture and sumptuous food! The storytelling is impeccable, so I was glued on every page. I love heartwarming reads like this!
From the award-winning author of Together Tea—a debut novel hailed as "compassionate, funny, and wise" by Jill Davis, bestselling author of Girls' Poker Night—comes a powerful love story exploring loss, reconciliation, and the quirks of fate. 

Roya is a dreamy, idealistic teenager living in 1953 Tehran who, amidst the political upheaval of the time, finds a literary oasis in kindly Mr. Fakhri's neighborhood book and stationery shop. She always feels safe in his dusty store, overflowing with fountain pens, shiny ink bottles, and thick pads of soft writing paper.

When Mr. Fakhri, with a keen instinct for a budding romance, introduces Roya to his other favorite customer—handsome Bahman, who has a burning passion for justice and a love for Rumi's poetry—she loses her heart at once. And, as their romance blossoms, the modest little stationery shop remains their favorite place in all of Tehran.

A few short months later, on the eve of their marriage, Roya agrees to meet Bahman at the town square, but suddenly, violence erupts—a result of the coup d'etat that forever changes their country's future. In the chaos, Bahman never shows. For weeks, Roya tries desperately to contact him, but her efforts are fruitless. With a sorrowful heart, she resigns herself to never seeing him again.

Until, more than sixty years later, an accident of fate leads her back to Bahman and offers her a chance to ask him the questions that have haunted her for more than half a century: Why did he leave? Where did he go? How was he able to forget her?

The Stationery Shop is a beautiful and timely exploration of devastating loss, unbreakable family bonds, and the overwhelming power of love.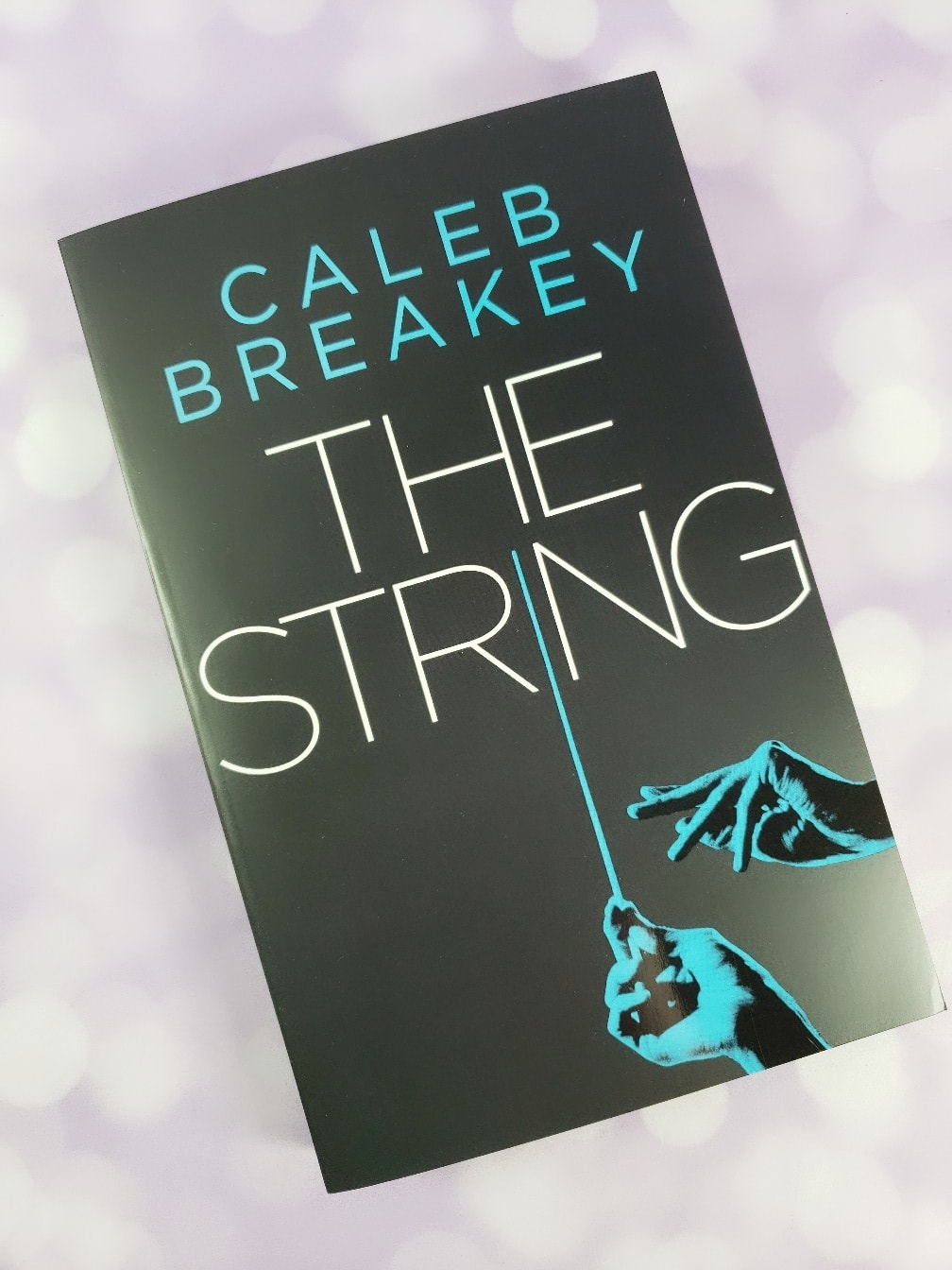 The String by Caleb Breakey ($14.99) This Christian fiction is the debut novel of the author and I'm totally impressed. The writing style is engaging, plus the characters are all convincing. I recommend this to anyone in need of some action and suspense in their reading list!
Welcome to the string, a game of impossible decisions and deadly consequences. Let's go over the ground rules.

Rule #1: Participation is mandatory.
Rule #2: If anyone refuses to play, all threats will come to pass.
Game on.

Get ready for a deadly social experiment as a sociopath known as The Conductor delivers disturbing threats and twisted moral dilemmas to unsuspecting students and staff.

As a powerful instinct for self-preservation sweeps through the campus, one man has a grave decision to make. Will university cop Markus Haas play the game to protect those he loves? Or will he break the string and incite massive chaos–and even death?

In the great suspense tradition of Ted Dekker and Steven James, Caleb Breakey's explosive debut novel will have you turning pages into the night.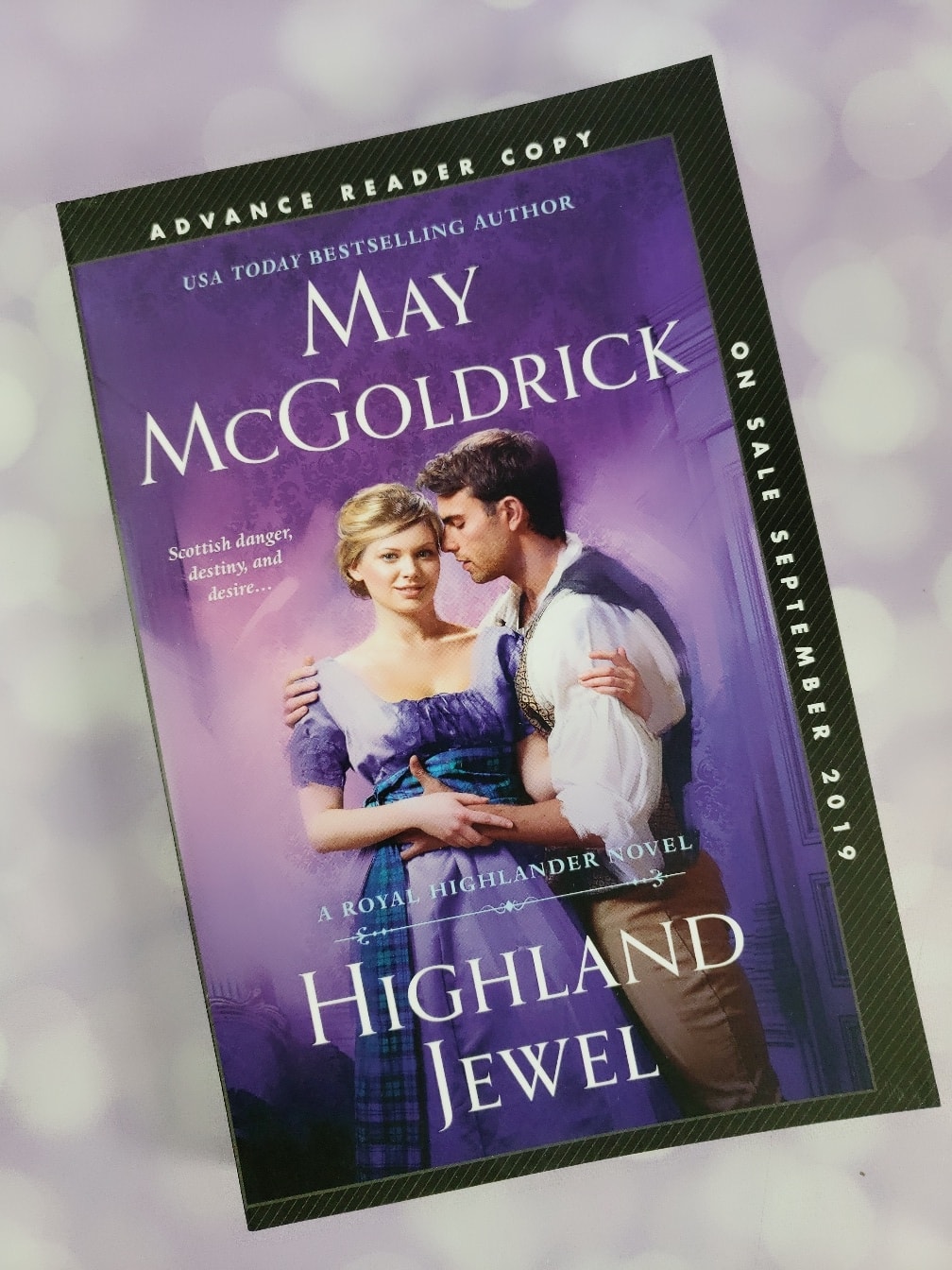 Highland Jewel by May McGoldrick ($7.99) Here's another historical romance that swept me off my feet! It's the second book from the Royal Highlander series, and I believe it would have been better if I was able to read the first book. Still, the worldbuilding is great and the author is commendable for making it so immersive!
The next book in the new lush Scottish historical series from USA Today bestselling author, May McGoldrick. 

A REBEL AT HEART
Maisie Murray's sweet, docile exterior masks the courageous spirit of a firebrand determined to champion women's suffrage with like-minded friends. But fighting for her principles has swept her directly into harm's way―and into the arms of a man she cannot resist.

A WARRIOR BY BLOOD
A trained officer with the Royal Highland Regiment, Niall Campbell has spent his life serving the Crown. Battle-weary and searching for peace, he nothing to do with trouble―until he meets Maisie. But unless Niall and Maisie can find a way to stand up to the destructive forces that threaten to divide them, long-buried secrets and political schemes are destined to stand in the way of the glorious love they've found…
Flash Point by Diane Benefiel ($3.99, ebook) This is the first book of the High Sierras series! It's a romance-mystery and if you love stories set in small towns, this is for you. The small-town setting is so charming, plus the characters are well-developed and relatable. It's like I know them in real life, that's how it felt like while reading it. Can't wait to read the rest of the books in the series!
For Emmaline Kincaid, Police Chief Bradley Gallagher makes hating cops…problematic.

Reconsidering Her Options

Stalwart, honest, a stand-up guy – high praise, right? Wears his jeans just right, single, a catch – pretty much everyone in Hangman's Loss, a quirky little town in the Eastern Sierras, adores the hell out of Police Chief Bradley Gallagher. Yet, new resident Emma Kincaid is determined to keep him at arm's length, and with good reason. But vandalism, arson, and a violent attack have her rethinking her stance. Has someone from her past caught up with her, or is the escalating threat coming from within her newfound community? Sparks fly as Brad races against time to keep her safe, and passions combust when they join forces to combat the danger.
I'm never not in the search for new reads, and that's why I love this subscription so much. They always have a great selection of books romance books and they also feature up-and-coming authors. I love everything in my box this month, including the ebook! Since there are 4-5 books in each box, this is recommended for fellow heavy readers!
What did you think of this month's book selection?
Visit Fresh Fiction Not To Miss to subscribe or find out more!