The FCS of the Month Club is a monthly subscription from Fortune Cookie Soap that features goodies from FCS. The box is now $16.95 a month with free shipping. You can also subscribe just quarterly.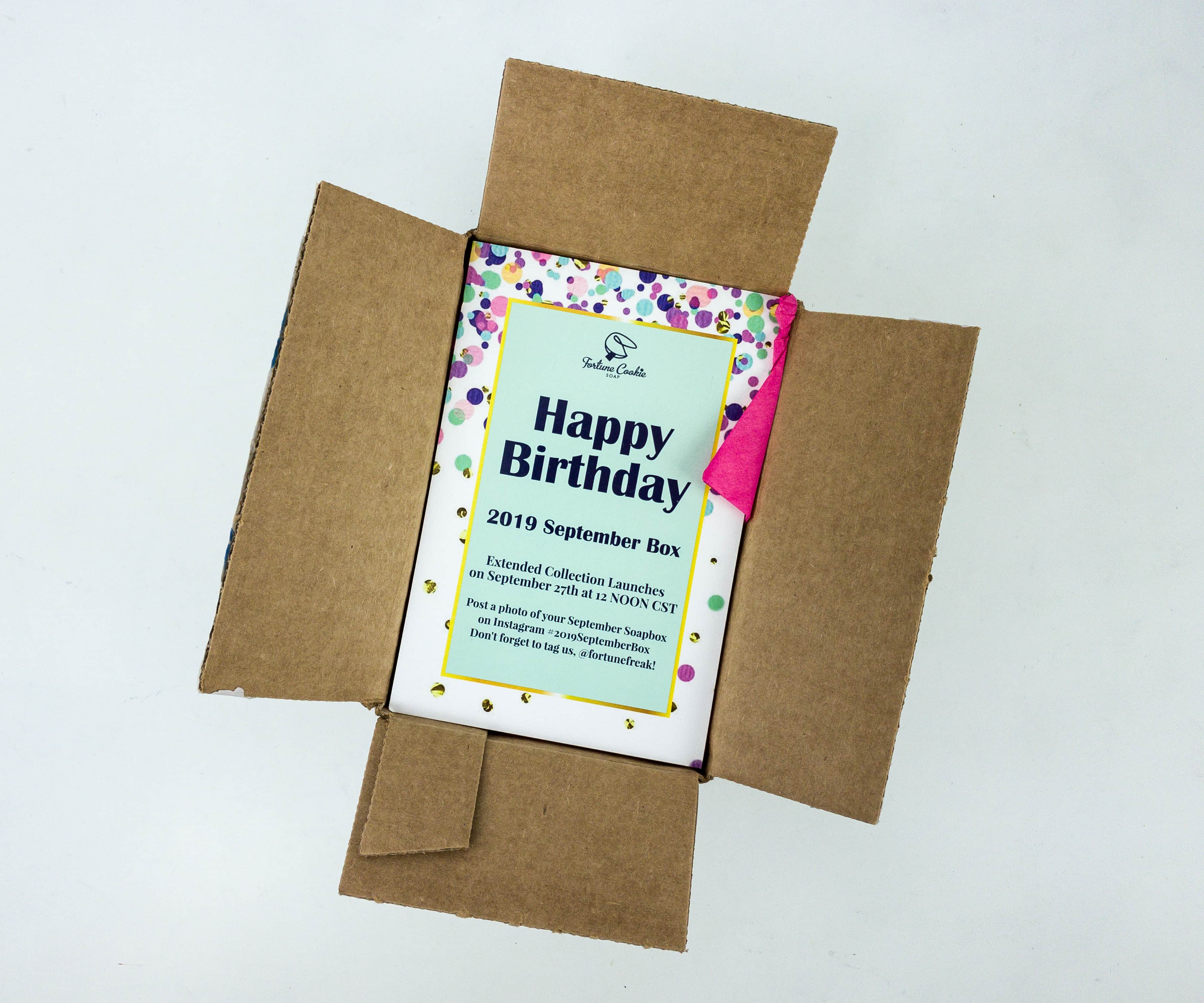 The 2019 version of FCS of the month features $40 in value every month, with 1 full-size product and 3 deluxe samples. See all the details here. There will be a $10 discount code off $25 purchase that expires in 30 days emailed to you with your subscription.
The items were wrapped with pink tissue paper.
There's a small card that says "Let them eat cake."
A peek inside the box!
September 2019's theme is HAPPY BIRTHDAY!
Information about the individual items is listed on the card.
Everything in this month's box!
The included a cute pin as a bonus item!
Sprinkles Party Bath Salts. This pack of bath salts is made with a combination of Dead Sea salt and Mediterranean Sea salt. It makes bath time more fun and exciting, with notes of orange and vanilla. It's even infused with cocoa seed butter, which helps your skin become smoother, softer, and well hydrated.
It seriously smells like a cake with buttercream! To use, just put 1/4 to 1/2 cup under running water in a regular tub. At least 1/8 cup is needed for jetted tubs.
Watermelon Cake Lip Shine. Creamy and fruity, this watermelon-cake inspired lip shine offers subtle shimmer and long-lasting hydration.
The texture is similar to a gel. It's light and the scent is so yummy, you might get tempted to eat it!
Frosting Creamy Facial Wash. Notes of raw sugar cane and crushed vanilla orchids are combined in this facial wash. I like the scent, it wasn't too overpowering. The formula was also gentle and made my skin feel refreshed!
Look at those beautiful colors! True to its name, this facial wash had a creamy texture and a smell similar to a sweet frosting.
Sweet Fix Whipped Soap. It's a whipped soap that works as a body wash and a shaving cream, keeping your skin cleansed, hydrated, and smelling oh-so-good!
I could smell vanilla frosting and bubblegum in there! So addicting! The whipped soap is lighter than expected and it doesn't leave a sticky feeling either.
Mint Chip OCD Hand Sanitizer. I like having hand sanitizers in handy, especially if it smells as refreshing as this one! Plus points because it's gentle and non-drying, unlike other sanitizers.
Let's Get Caked Shimmer Perfume Oil. They weren't kidding when they said this one "smells like a slice of heaven." It does! Caramel and deep vanilla notes dominate the scent, which also stays on all day.
It's packed in a roll-on bottle, so you can easily apply it on your pulse points.
Birthday Wishes Fine Fragrance Mist. For those who prefer mists than roll-on perfume, this one's for you! It smells deliciously good, with notes of cream and fresh strawberries mixed with a sour rhubarb marmalade.
It's another wonderful curation of bath products, skincare products, and other scented items from FCS! I love pretty much everything in the box, from the bath salts to fragrance mist. They're all gentle on my skin and delivered exactly what they promised. Nothing too over the top, just the right scents to please you and your senses. If you enjoy trying out various scented products, this box is worthy of a try!
What do you think of this month's FCS The Soap Box?
Visit Fortune Cookie Soaps – The Soap Box to subscribe or find out more!