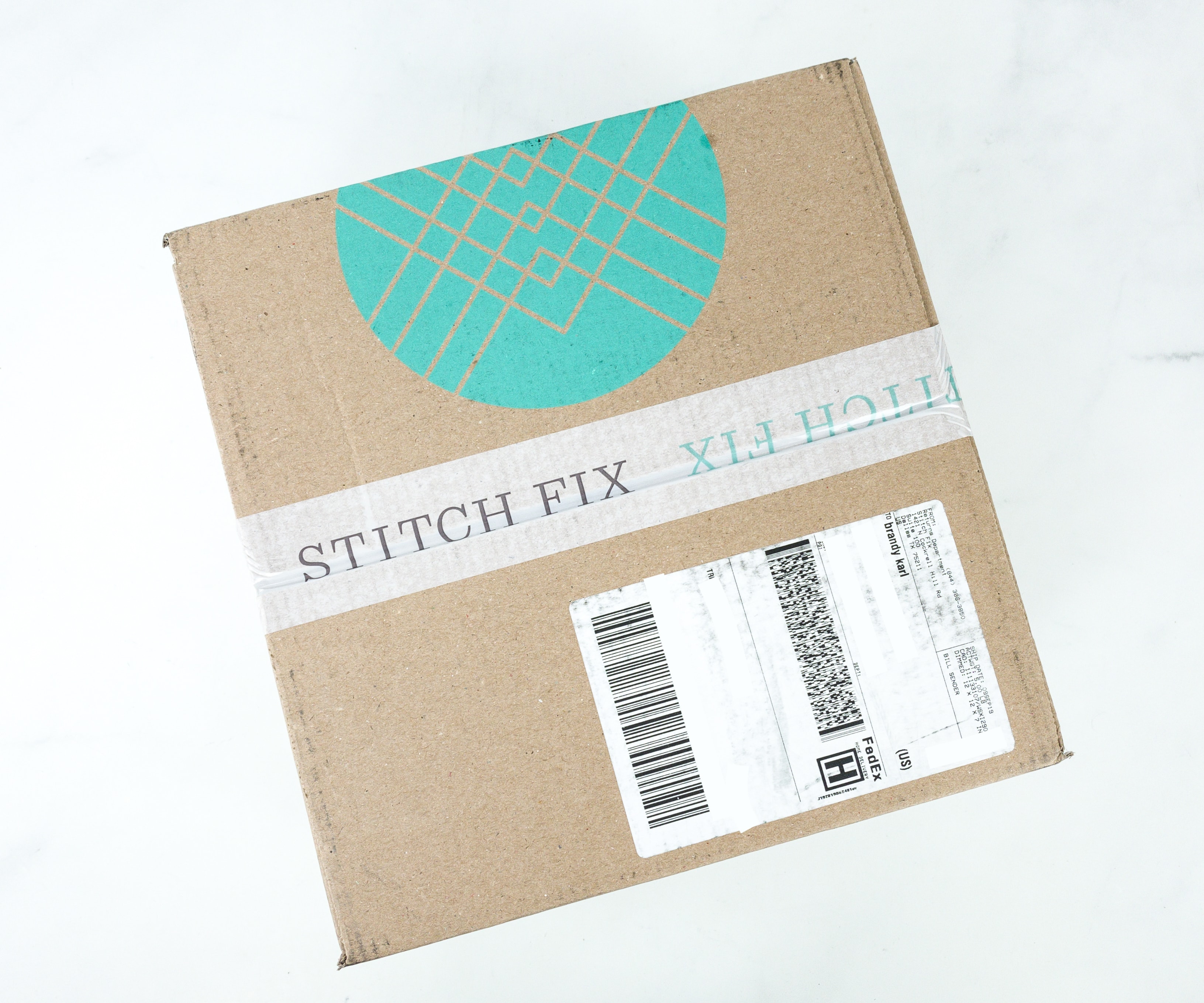 Stitch Fix is a personal styling service. Your stylist will send you 5 pieces based on your profile for you to try on at home and hopefully fall in love with. There are no coupons for Stitch Fix but if you hit the jackpot and keep everything, you save 25% on your whole fix (read below for details).
As another season is coming, I am also excited about my next set of outfits from this box!
Here's how Stitch Fix works: fill out your style profile! This includes style, budget, what you're looking for, and you can get as detailed as you want with the notes to your stylist. It really really does help to provide notes to what you're seeking, and a Pinterest board if you have one!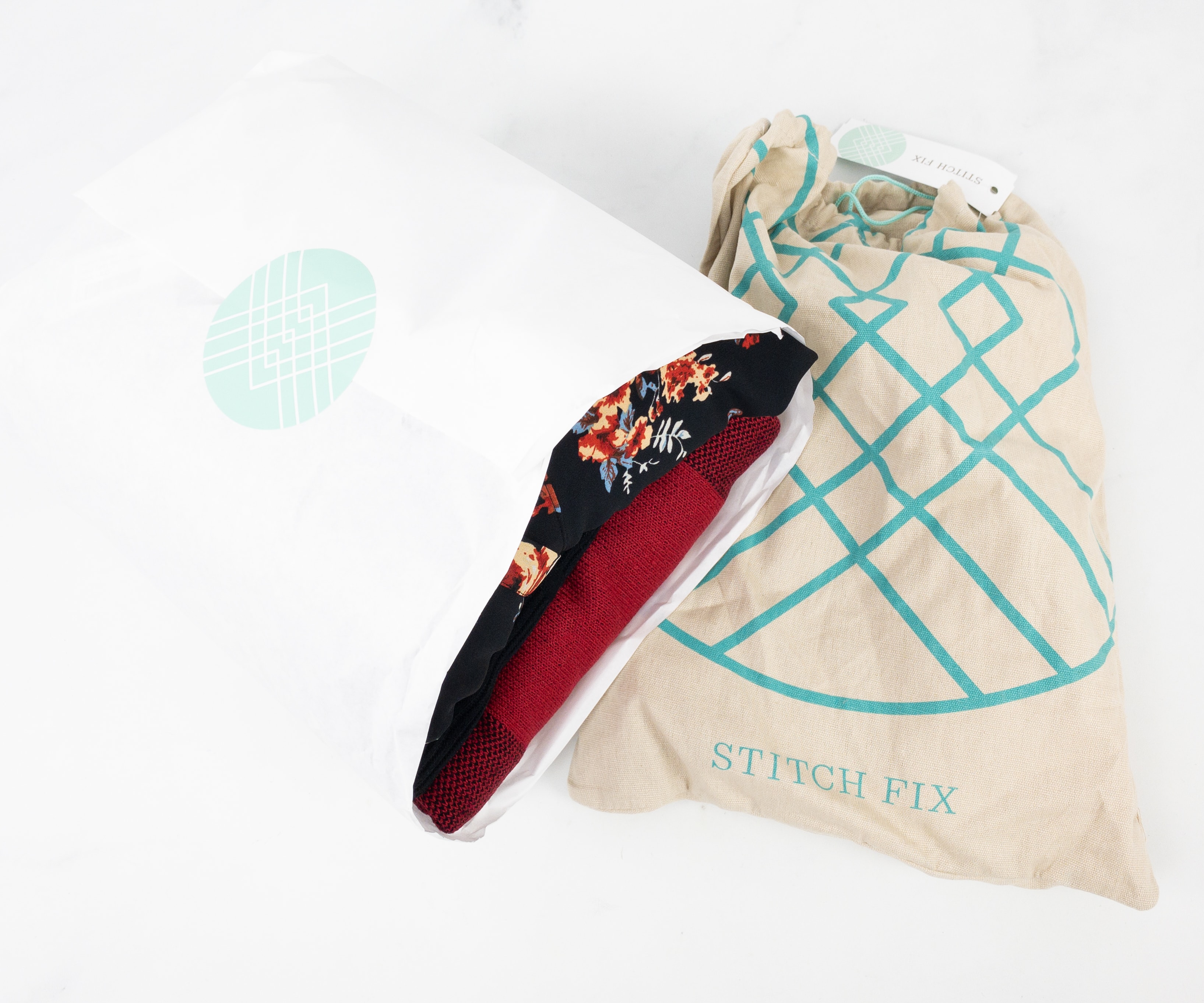 The styling fee is so worth it – I never go clothes shopping anymore. I just wait for my fix! If you keep everything you get a 25% discount, so it pays off to be specific on your style profile. You will check out and get charged to your Stitch Fix account. Return the pieces you don't want in the prepaid mailer (free shipping!).

Your return mailer is tucked right into the box. The styling fee for each box is $20, and shipping is free both ways. I put my return items out with the rest of my outgoing mail – couldn't be easier.
Stitch Fix also included an envelope.
It contains suggestions from a stylist.
You will also receive a separate paper with a list of your items. You'll be charged a $20 styling fee and shipped five items to try on at home. If you keep anything your styling fee will be applied to your order, but if you don't, you will pay the $20 fee.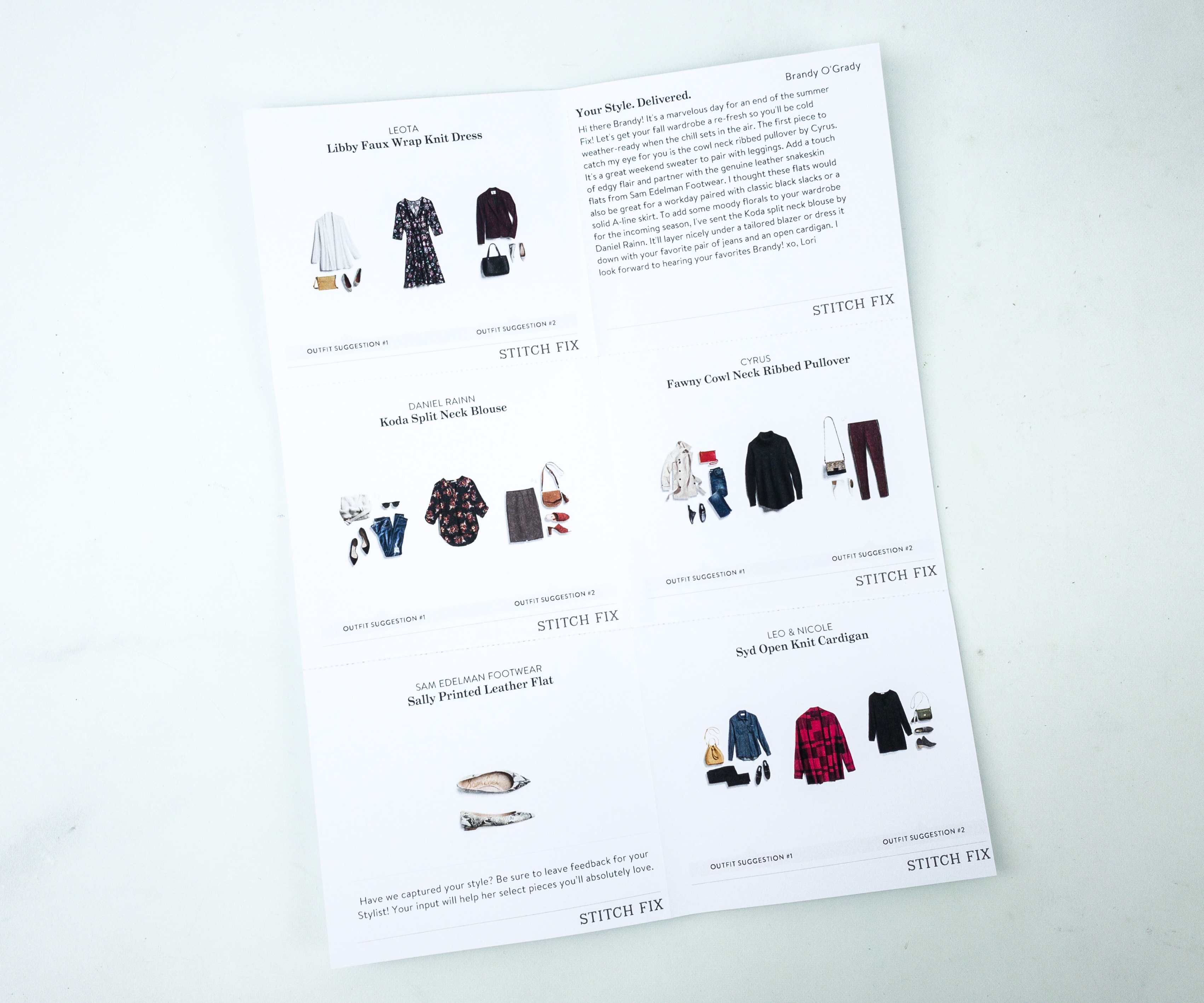 The set of styling cards has suggestions on how to wear a particular item. The styling cards have changed a bit – before they showed a dressier and less dressy version, now they're featuring multiple sets of accessories to pair with the garment, or 2 entirely different looks, but not necessarily dressed up and dressed down.
I find the styling cards very helpful. I am not a naturally good-at-fashion person and these help a LOT. Even if I don't keep the pieces I use them as inspiration – like my own personal fashion editor!
Everything in my August 2019 fix.

Sam Edelman Footwear Sally Printed Leather Flat ($120) To start this month's outfit selection, I got a pair of printed leather flats!

It's got that popular snakeskin leather design, which will definitely look good on casual attire, or even for an office ensemble.
I like how pointy the shoes are, they'll look gorgeous with an A-line skirt!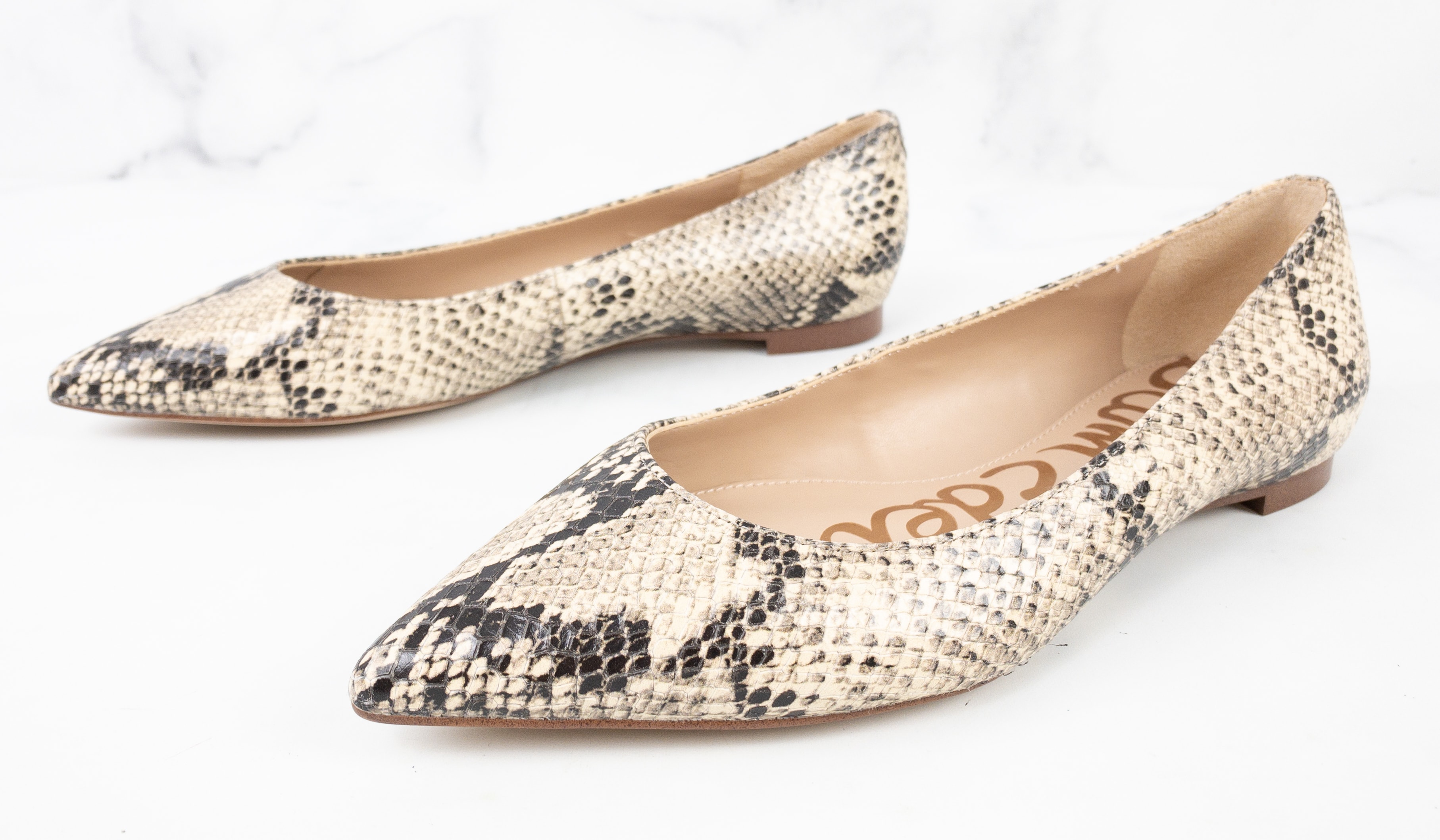 I also like how pointed shoes make my feet look slimmer and sexy!
Aside from the large branding inside the shoe, the outsole also had the same nice, cursive branding of Sam Edelman.
Leota Libby Faux Wrap Knit Dress ($88) As we are approaching fall, I will be needing more clothes that can stand the chilly days, and I believe this beautifully printed wrap knit dress is one of them!
The dress is quite long, and I love the floral patterns and the colors that really goes well with the black base.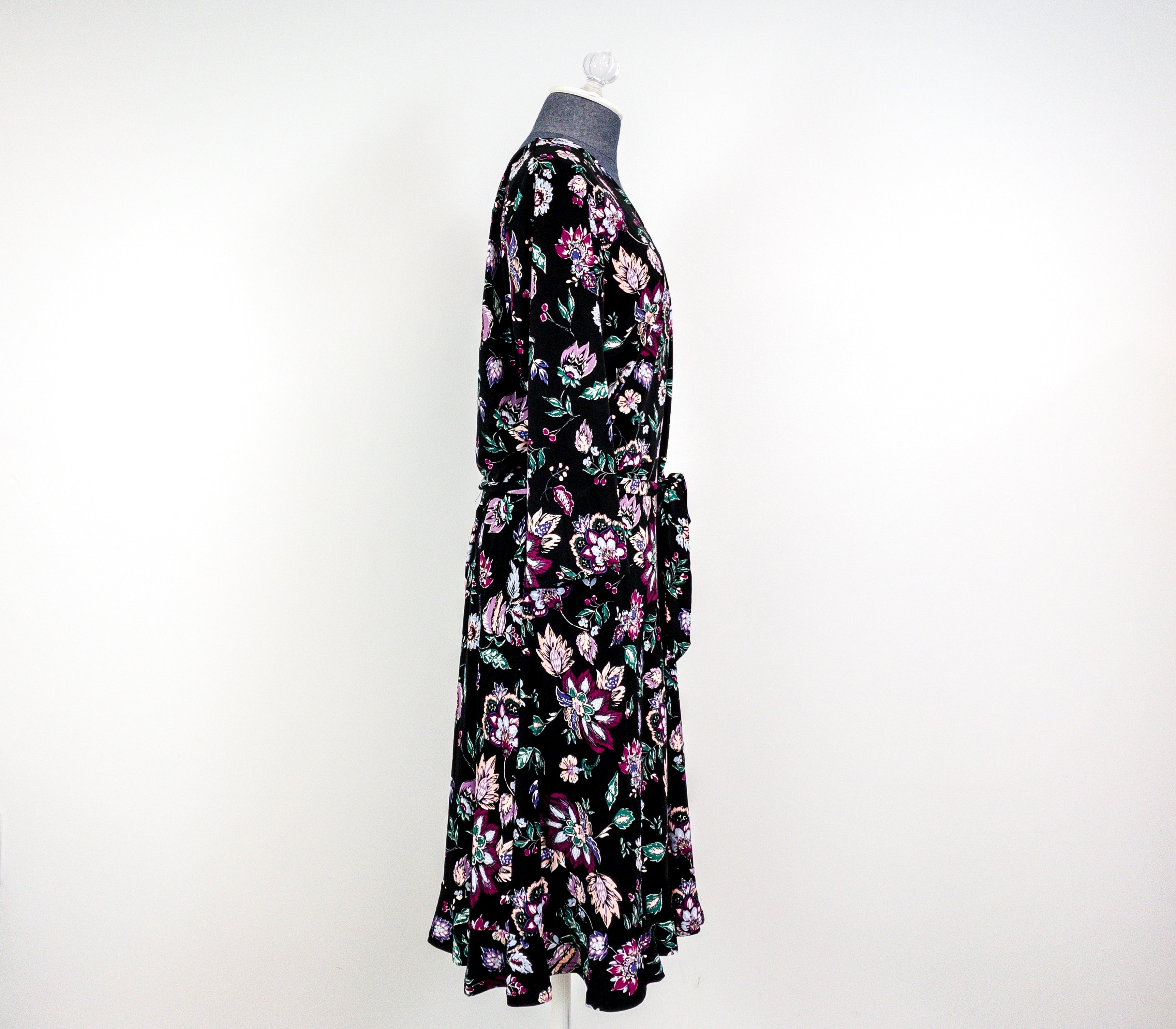 The long sleeves will definitely protect me from the cold wind. I also like that the waist has a ribbon that will definitely accentuate my body in the right areas!
Cyrus Fawny Cowl Neck Ribbed Pullover ($68) This is one comfy piece and I love it! It's a nice sweater for a weekend getaway!
Unlike most sweaters where the bottom hem is made to fit, this one has a loose end, which makes it look good with a pair of leggings or skinny jeans!
I also like that the sleeves are long, just the right length to keep my arms warm on a cold day.

Leo & Nicole Syd Open Knit Cardigan ($64) Cardigans are definitely a must-have for chilly days. This one arrived just right in time. It's not in my fave color but it's still a good one.

The design actually reminds me of comfy nights in a cabin, wrapped around a blanket beside the fireplace.

I think this will also look great over the black cowl neck ribbed pullover!
Daniel Rainn Koda Split Neck Blouse ($74) This top is so pretty! I love how the flowers in this black blouse look perfect for fall.
It also has long sleeves with a ribboned cuff.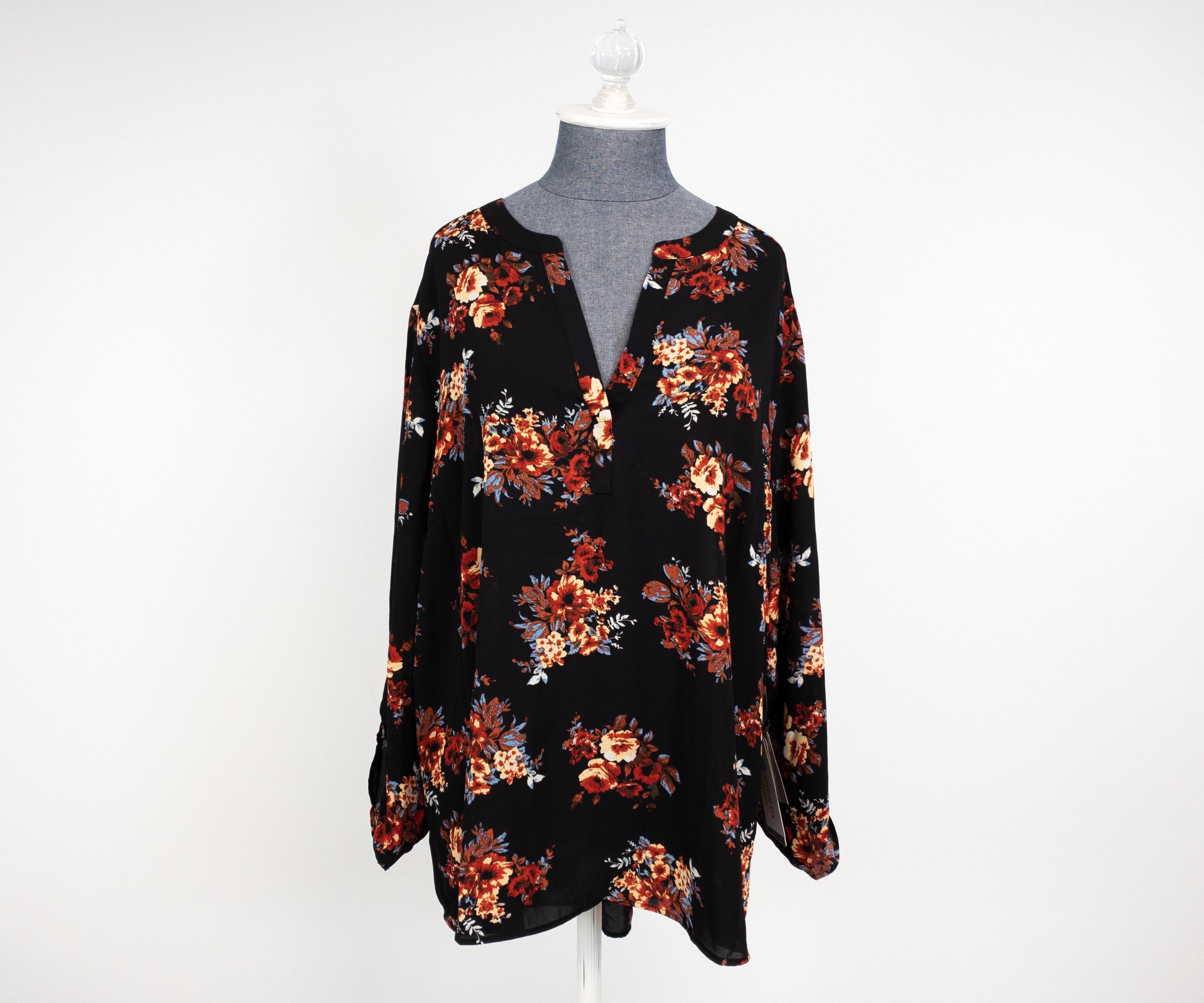 It's a nice piece for layering, as you can wear it with the open cardigan, or use it as an office attire under a nice blazer.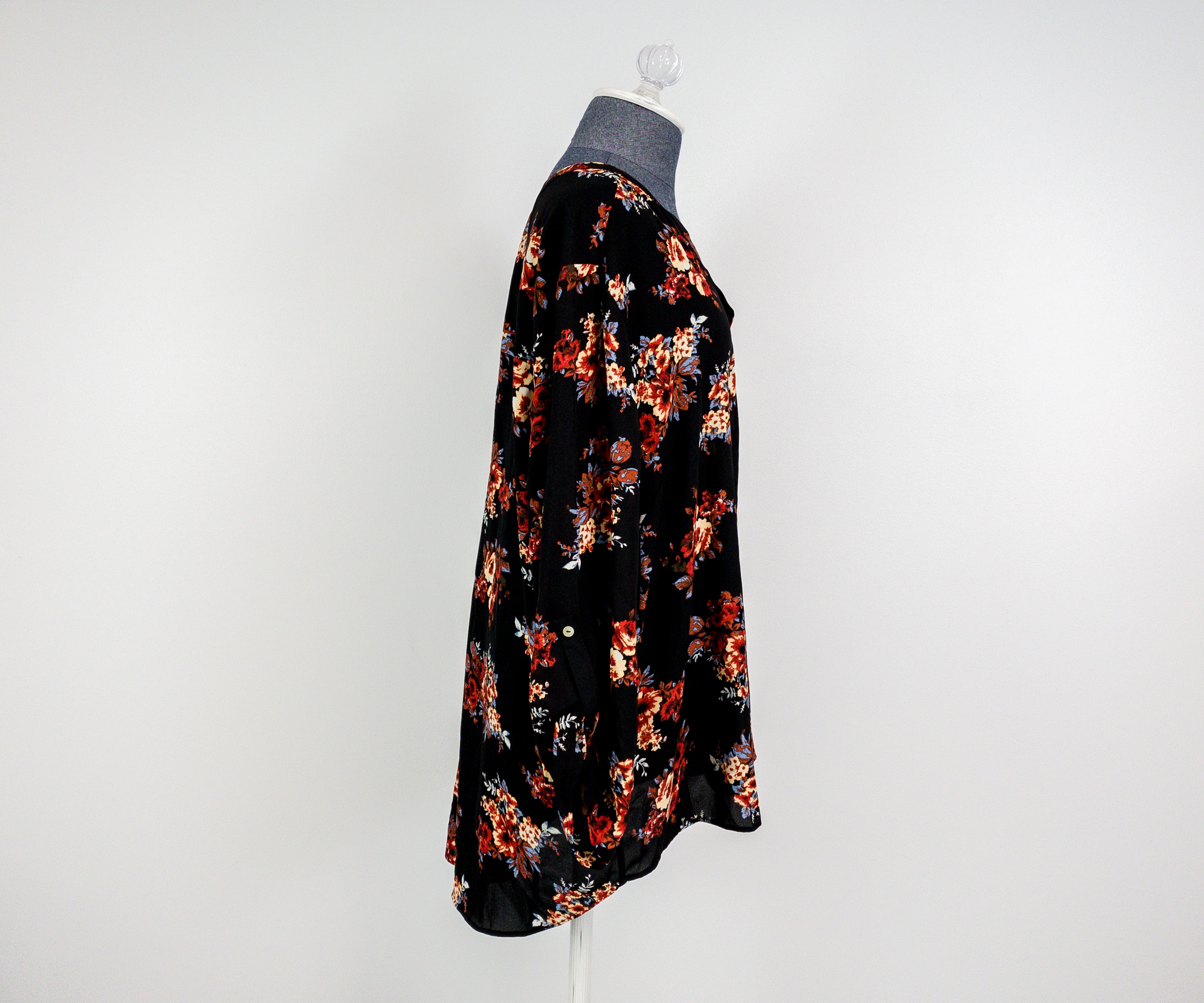 Again, the loose bottom hem makes it look good with a pair of leggings or fitted jeans as well, or you can tuck it in a pencil cut skirt. Any way you wear it, it will definitely look good and in-season!
The colder days are almost here and I am happy with the pieces of clothing that I got this month! I love the floral designs of the tops, and even the colors, which are all in-season. As for my favorite, it's definitely the snakeskin leather flats! These pointed shoes make my feet look slimmer, and I love the fact that I can use them, may it be for casual outfits, or even at the office. The beautiful design is amazingly versatile. This month's fix is another awesome one, and as we approach cooler days, I am expecting more comfy and warm, yet really attractive pieces for the next boxes!
What did you get in your Stitch Fix this past month?