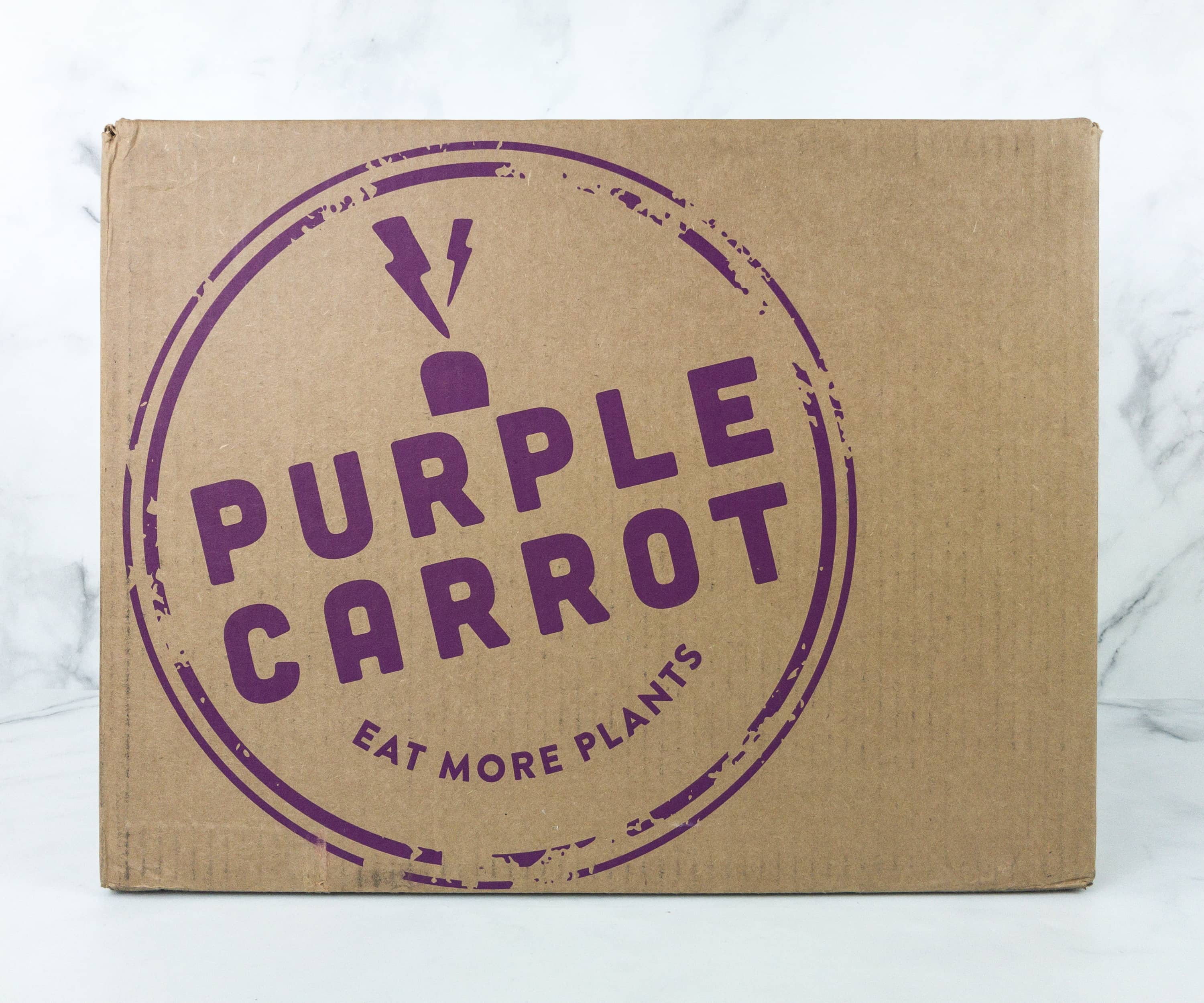 The Purple Carrot is a healthy dinner meal subscription box that delivers raw, pre-measured ingredients and recipes to cook healthy, delicious vegan meals. A 2 Serving Plan costs $11.99 per serving and includes 3 meals of your choice, while a 6 Serving Plan costs $7.99 per serving with 2 meals chosen by them. Offerings include High-Protein, Gluten-Free, Quick & Easy, and Chef's Choice meals. There's also an option to add extras like easy-to-prepare breakfasts and lunches.
DEAL: Get $30 off your first order! Use this link and coupon code CARROT30.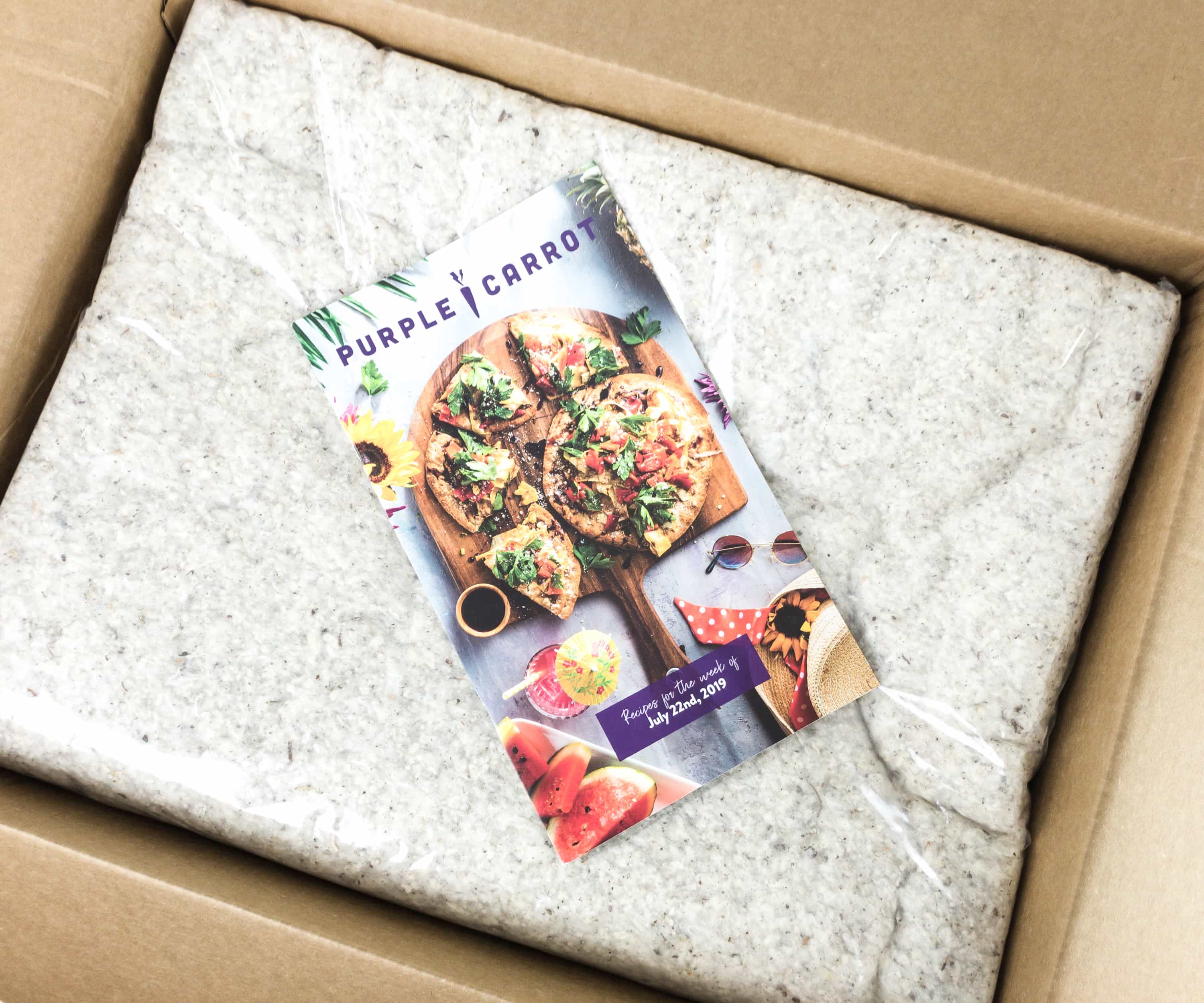 Though this subscription is designed with vegan dietary guidelines in mind, it is ideal for anyone looking to improve their diet by lowering their intake of cholesterol, eliminating animal fats, or boosting their veggie intake!

The Purple Carrot insulates the food with ecologically-sound padding. A few huge icepacks sit below the food, separated from it by cardboard. The veggies are generally in fantastic condition.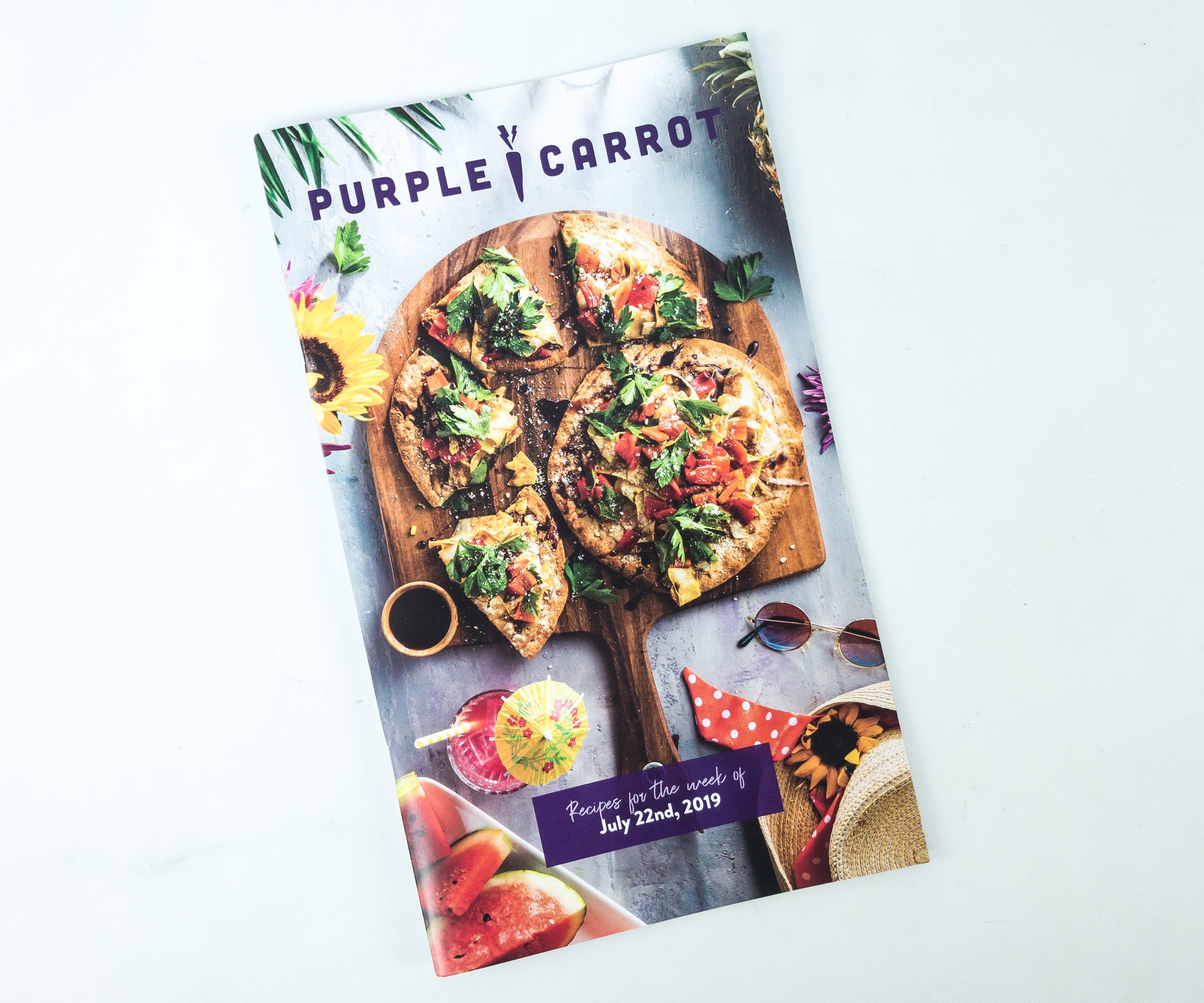 This month's box includes a recipe booklet from Purple Carrot!
Featured on this part of the booklet is a message from the Purple Carrot Team. It also has a suggested menu for the week.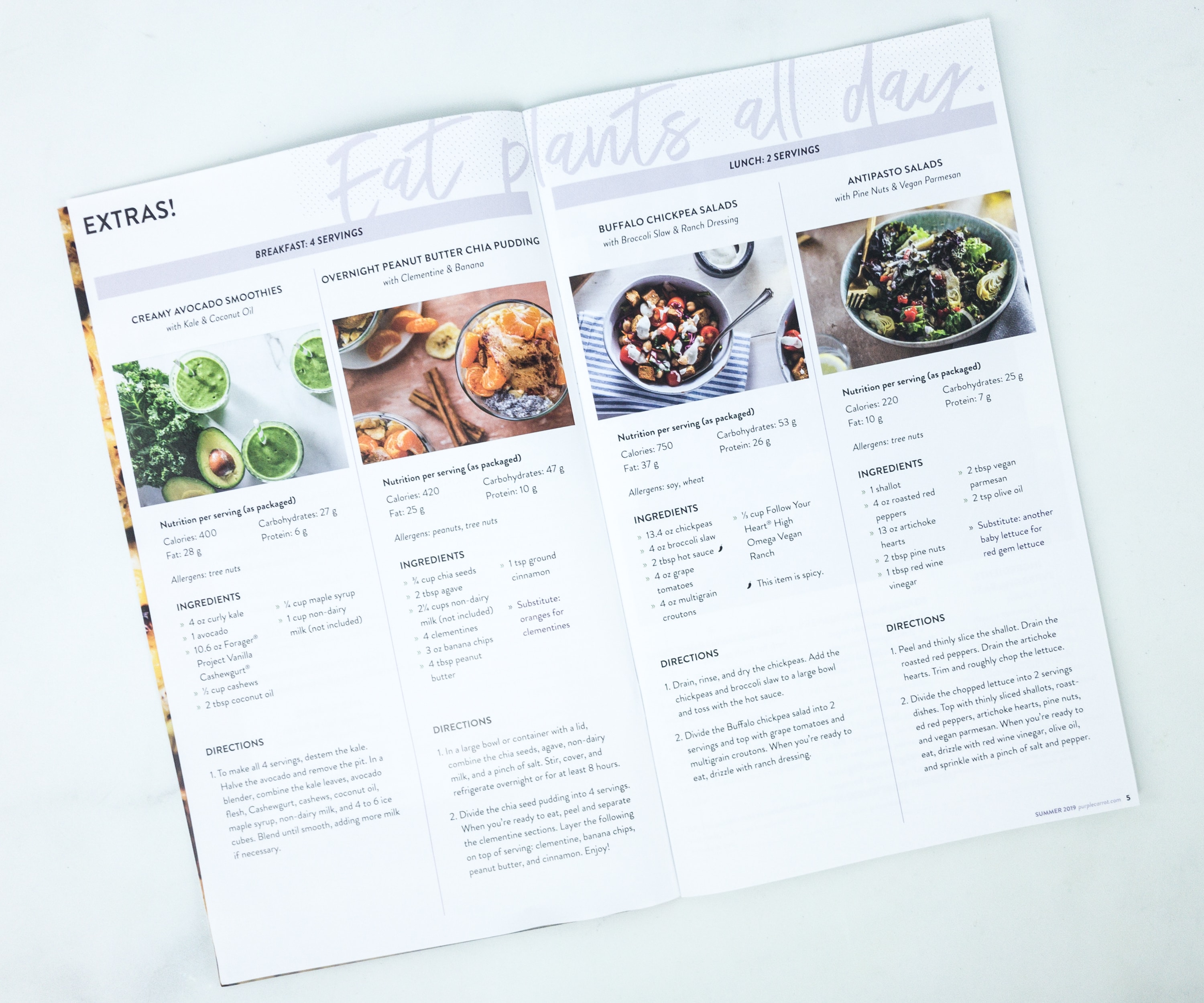 We even got extra recipes, like Creamy Avocado Smoothies, Overnight Peanut Butter Chia Pudding, Buffalo Chickpea Salads, and Antipasto Salads.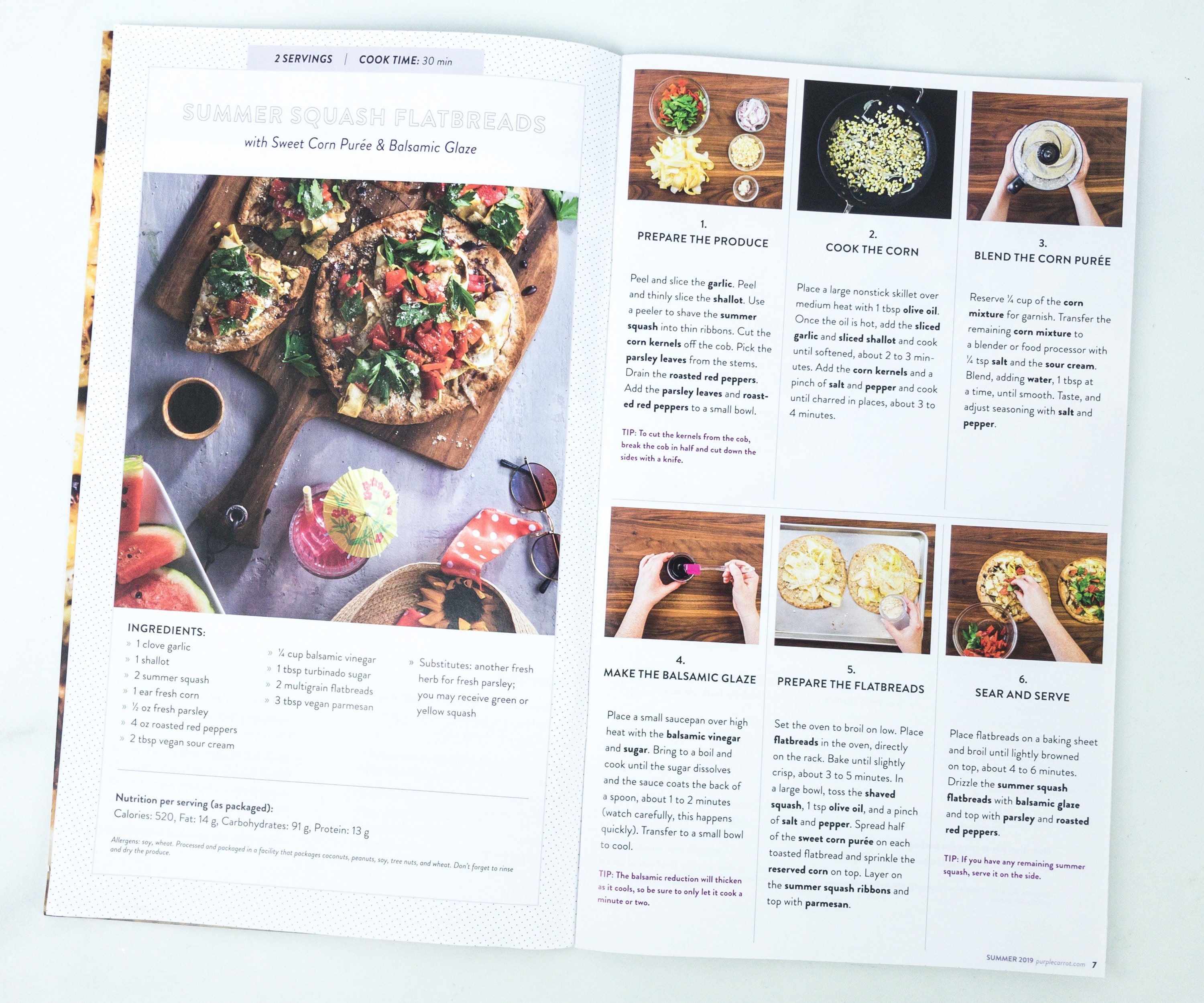 Every recipe comes with the breakdown of all the ingredients used and a detailed step-by-step procedure.
Each recipe also comes with the nutrition content per serving. It's useful especially for those who are on a strict diet program.
Some dishes feature a brief history of some of their ingredients and their impact on various dishes.
The instruction is so easy to follow since they also incorporate some clear photos for every step along the way!
This part of the booklet also provides some trivia or essential information about the featured dish and their ingredients.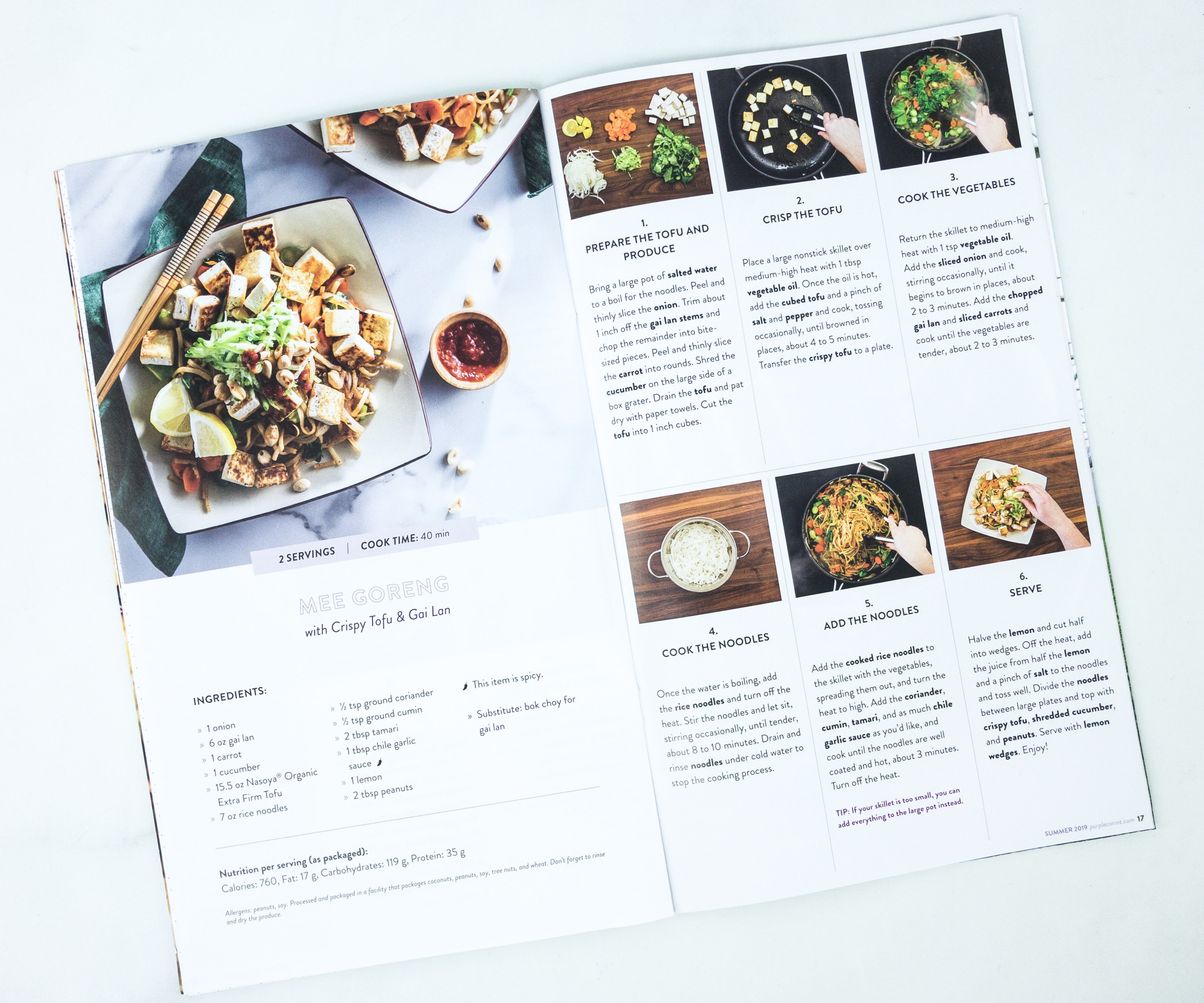 Some of the words are printed in bold, meaning they have an important role in either preparation of the ingredients or cooking the dish.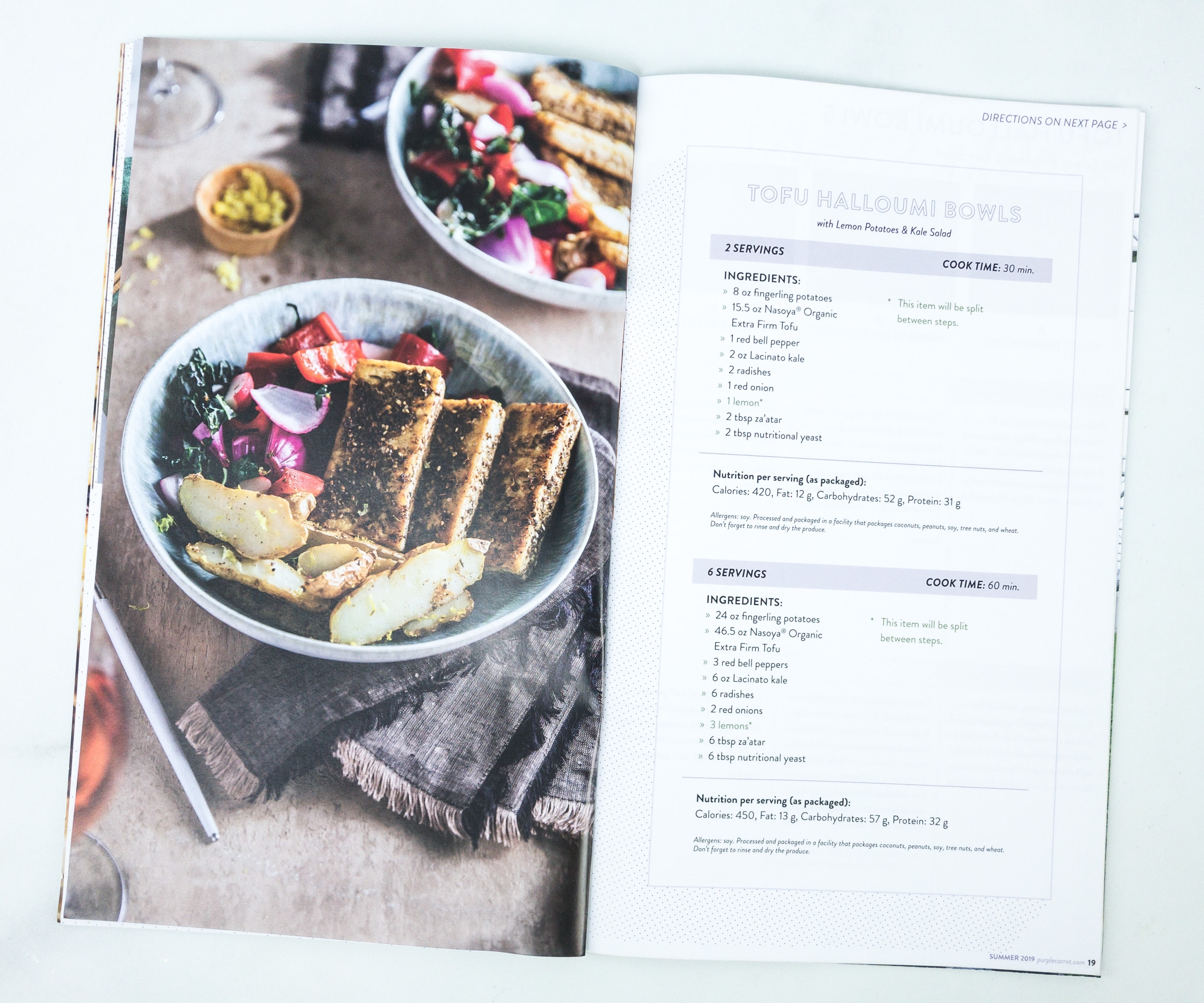 They also have the available number of servings per dishes, and the cooking time for each.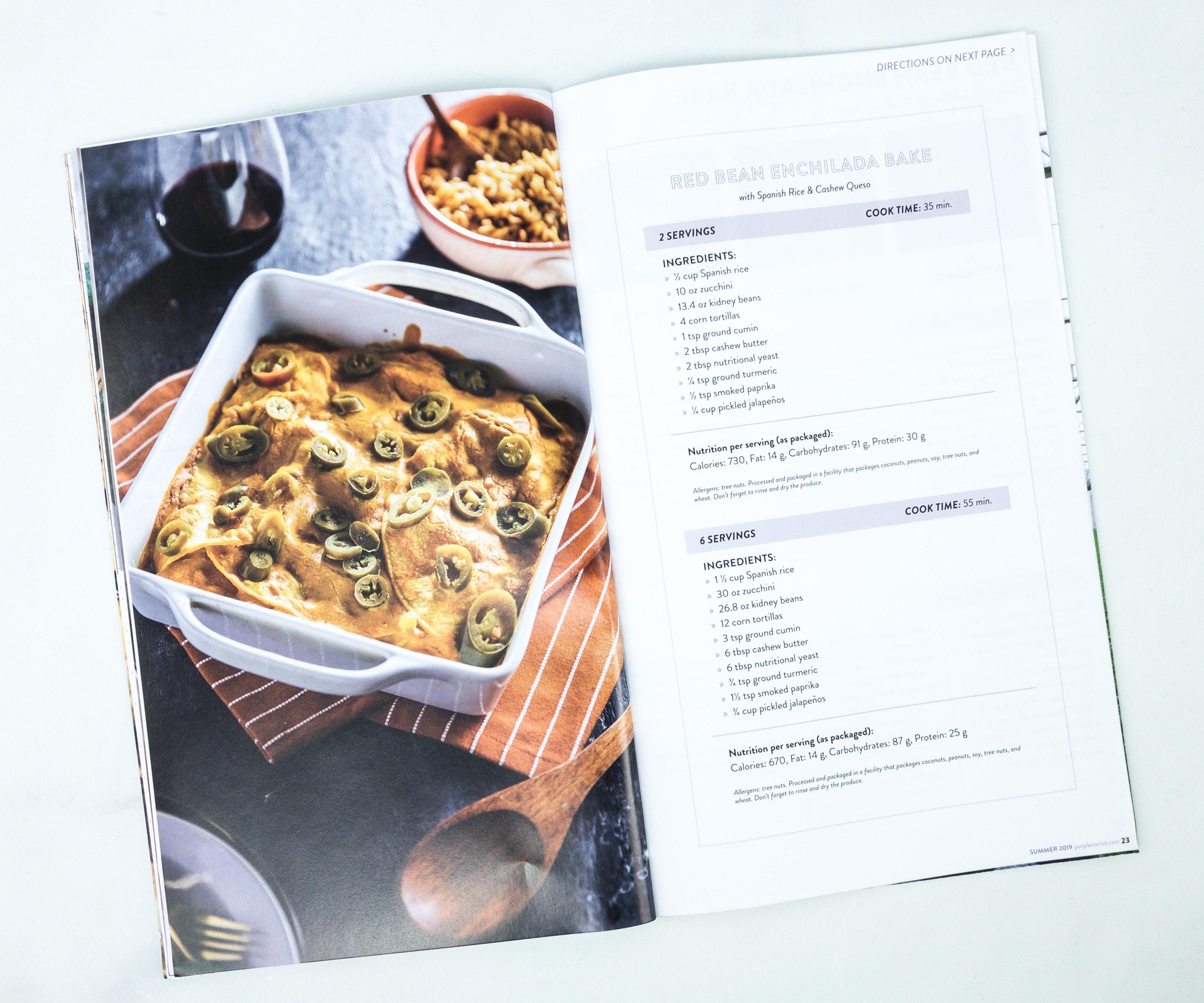 The full-color photos look mouthwatering!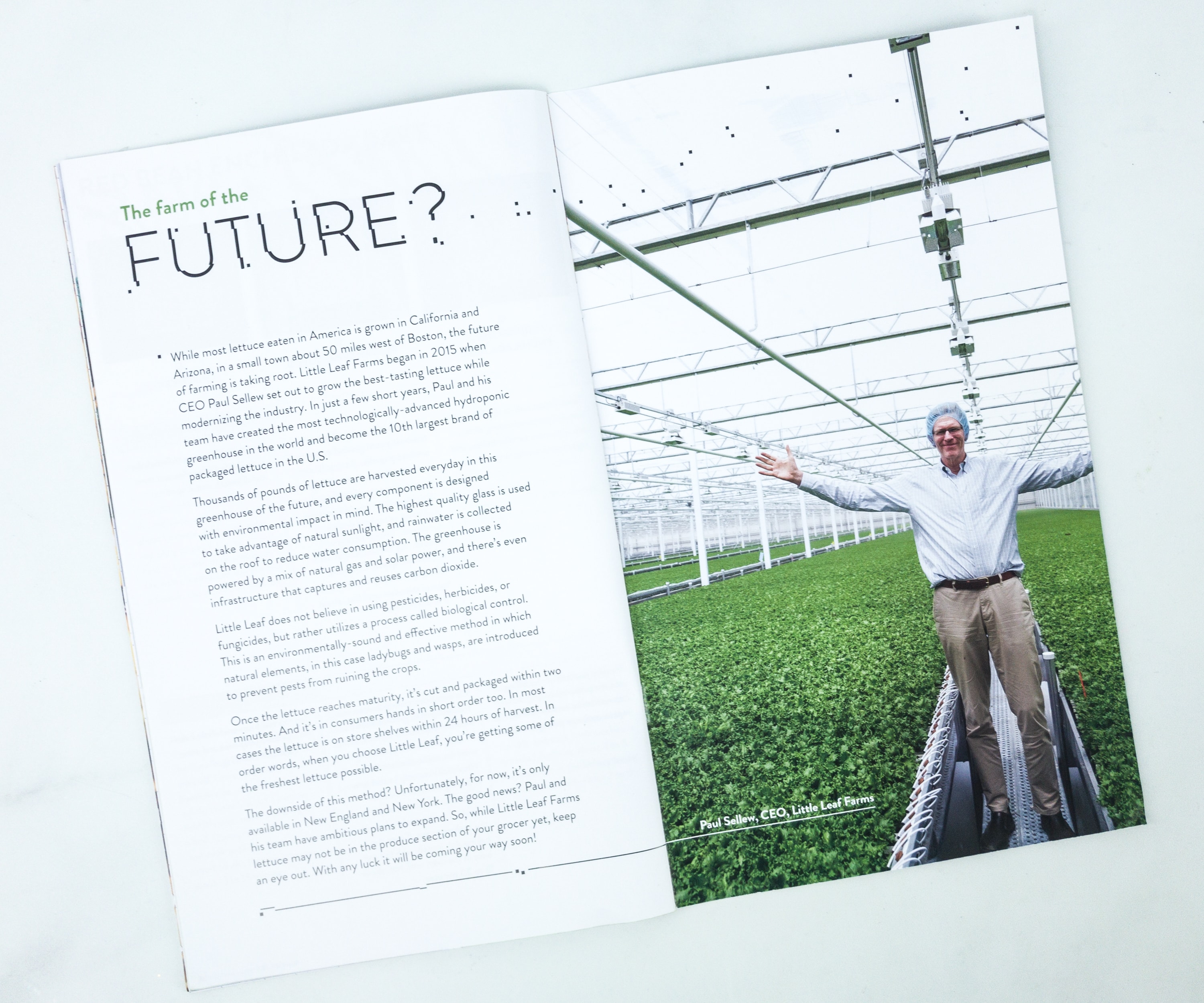 The booklet even has a feature about the future of the farming industry. It's written by Mr. Paul Sellew, the CEO of Little Leaf Farms.
The meals are bagged separately, with some large or delicate items labeled in individual packages. The labels don't indicate which recipe the items go with, so you have to check the cards carefully when corralling your ingredients.
Everything in my box!
This month's box includes a huge bulb of garlic to use in any recipes for which it may be needed.
Overnight Peanut Butter Chia Pudding with Clementine & Banana. 5 minutes, 420 calories per serving.
The hunt for the perfect pudding is over! Who knew we could make them right in the comforts of our own kitchen? This dessert snack is even easy to make. First, you just have to combine the chia seeds, agave, non-dairy milk, and a pinch of salt on a large bowl or container with lid and refrigerate it overnight or for at least 8 full hours.
Once chilled, divide the chia seed pudding and top it with the layer clementine, banana, peanut butter, and yummy cinnamon powder. We put them in ramekin bowls so they're ready to be served right away. They turned out flavorful and really filling! We thought the flavor combo would be weird – but we all loved it!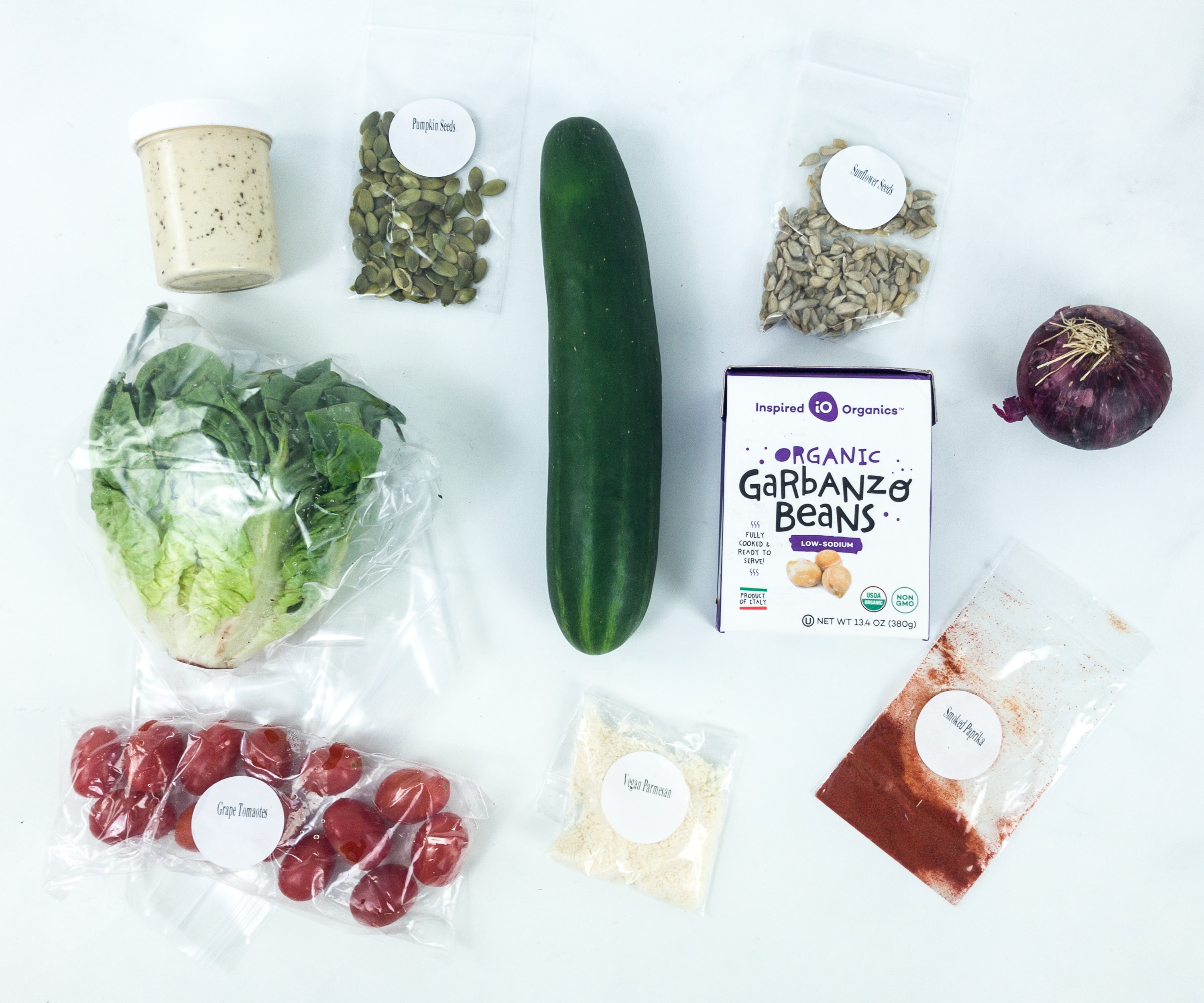 Italian Chopped Salads with Roasted Chickpeas & Creamy Parmesan Dressing. 25 minutes, 550 calories per serving.
We love vegetable salads! This one includes red onion, cucumber, tomatoes, and lettuce, topped with crunchy roasted chickpeas and toasted seeds. The combination of textures definitely made us swoon. It even comes with a creamy Parmesan dressing, which is just plain good!
Taco Stuffed Sweet Potatoes with Seitan & Citrus Avocado Salsa. 35 minutes, 710 calories per serving.
Roasted sweet potato is another delicious comfort food. This time, we got to try it with a salsa composed of diced avocado, orange, tomato, and cilantro stems and leaves. The healthy pile of ingredients under a perfectly cooked sweet potato makes such a toothsome meal!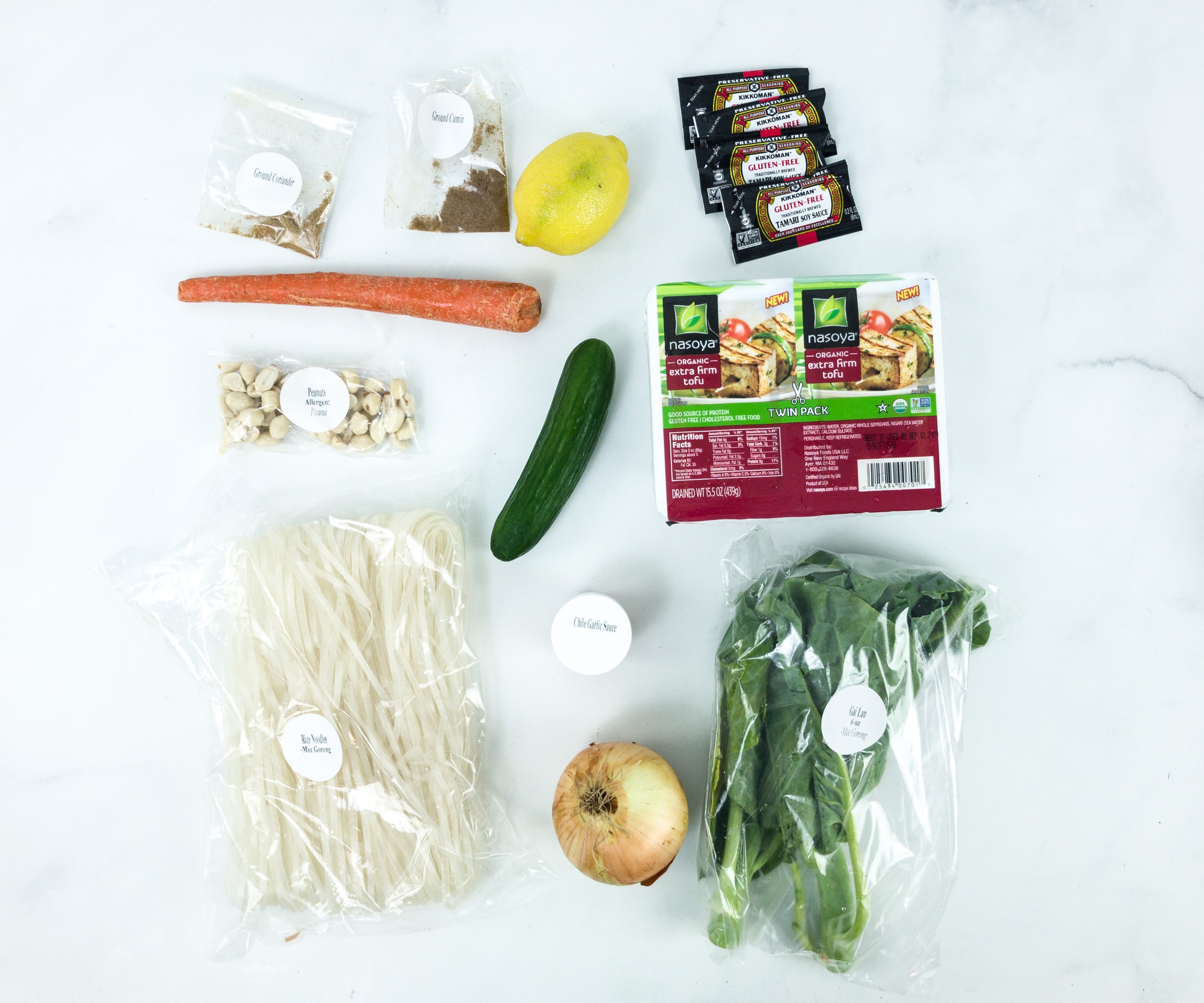 Mee Goreng with Crispy Tofu & Gai Lan. 40 minutes, 760 calories per serving.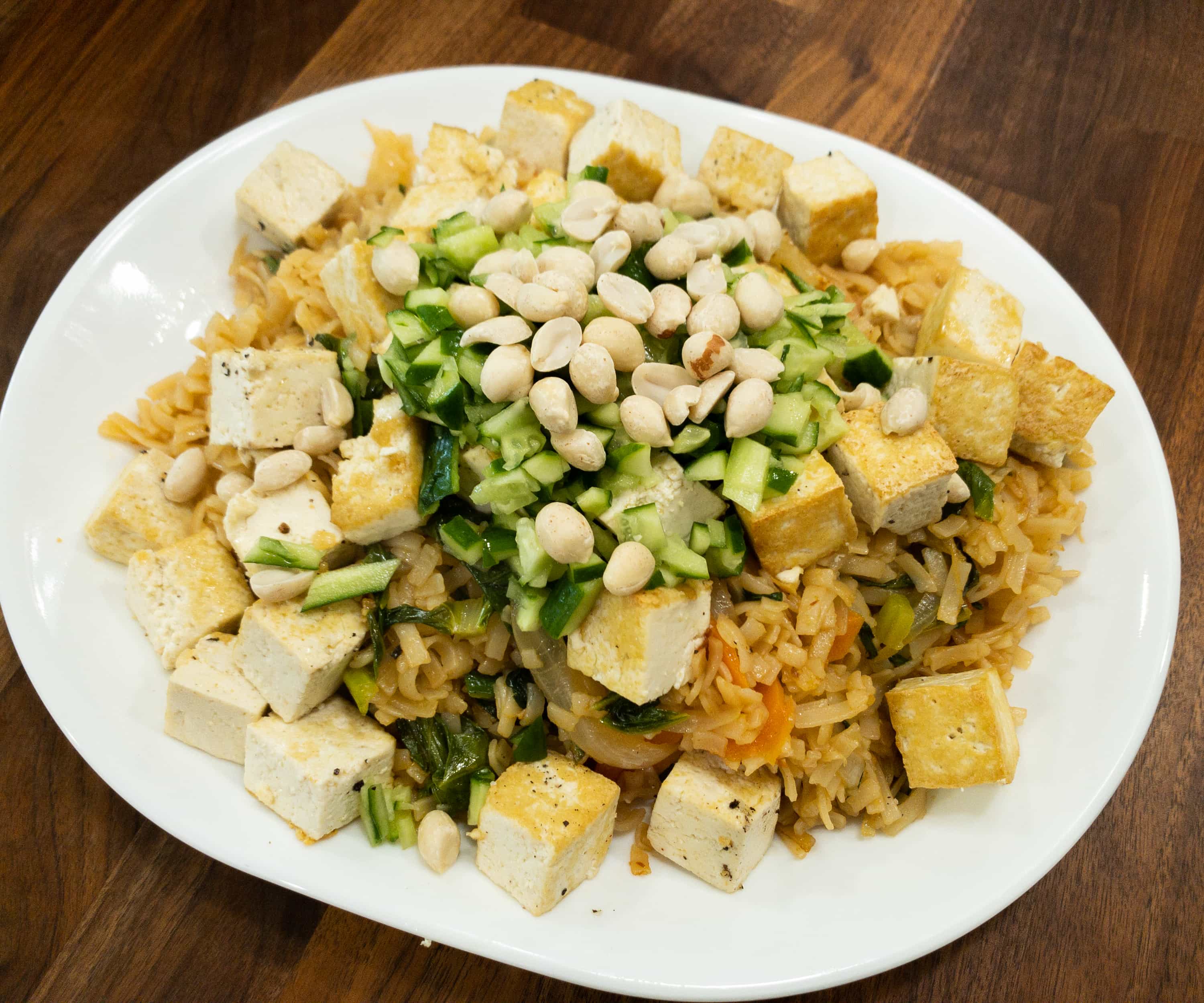 Lastly, we tried out Mee Goreng, a well-known recipe from Southeast Asia. It's a noodle-based dish with juicy tofu and crispy vegetables, including carrot, cucumber, and Chinese broccoli which is also known as gai lan. It also has crunchy peanut toppings that wrapped up the dish well. You can also opt to add some spices to provide a kick of heat to the dish!
It's been a while since our last Purple Carrot box, and I'm glad to finally have it again. This box is really amazing, as the dishes are not just delectable but healthy as well. Most of the dishes featured in our box offer a well-balanced combination of flavors and textures, and I'm very much pleased. I also find the booklet useful since it includes awesome tips and trivia! If you are a vegetarian, or still trying to be one, this is the perfect way to start! They'll definitely change the way you look about vegetable dishes!
What do you think of this month's box?