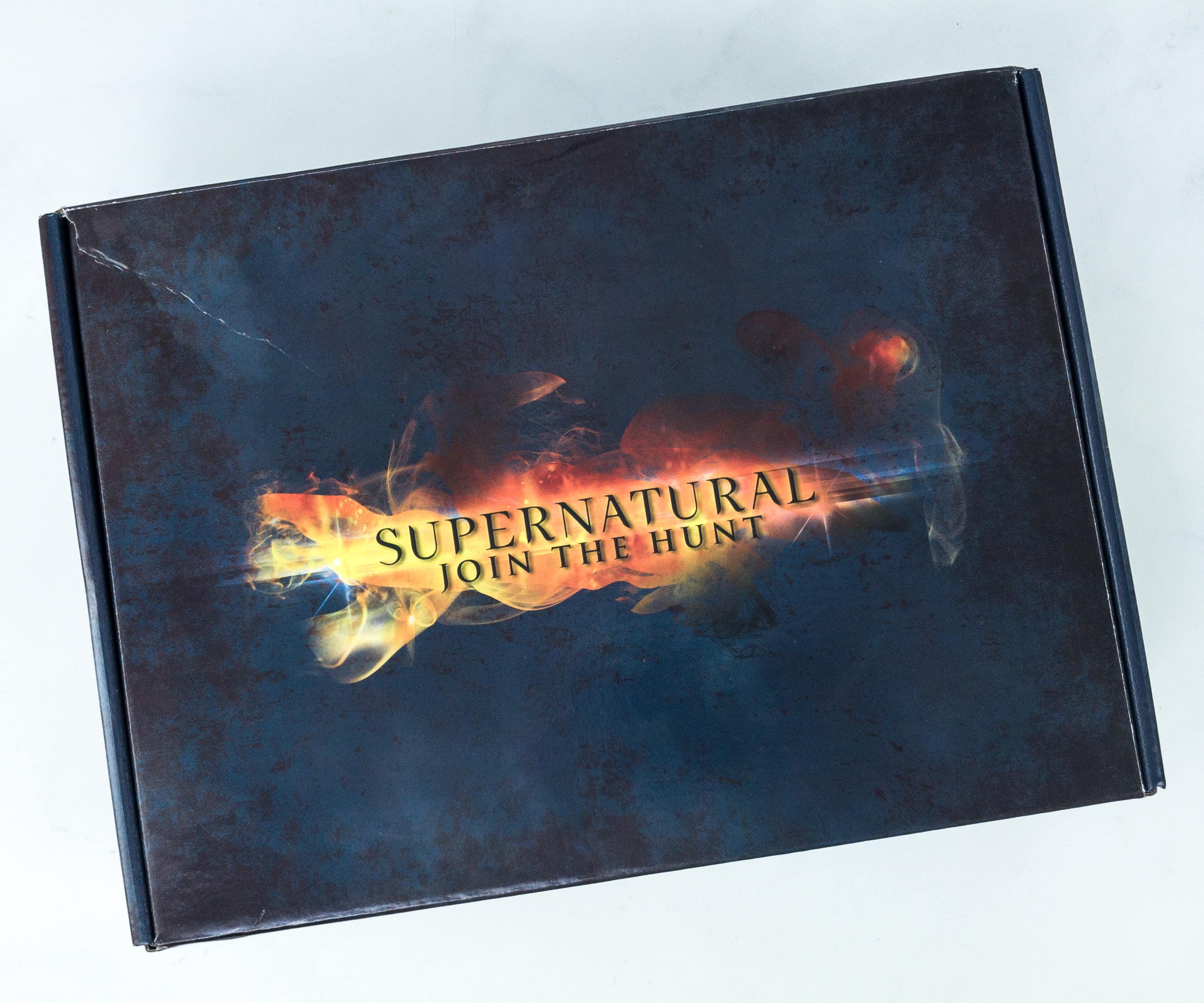 The Supernatural Box is a quarterly subscription box filled to the brim(stone) with exclusive gear featuring characters and moments from the Supernatural TV series. Each premium box delivers over $100 worth of collectibles, apparel, accessories, and more. The box costs $49.99 per quarter, or $44.99 a quarter when an annual subscription is purchased in advance. This box is produced by Culturefly and contains items licensed and produced exclusively for this box – you can check out all of Culturefly's other fandom boxes here!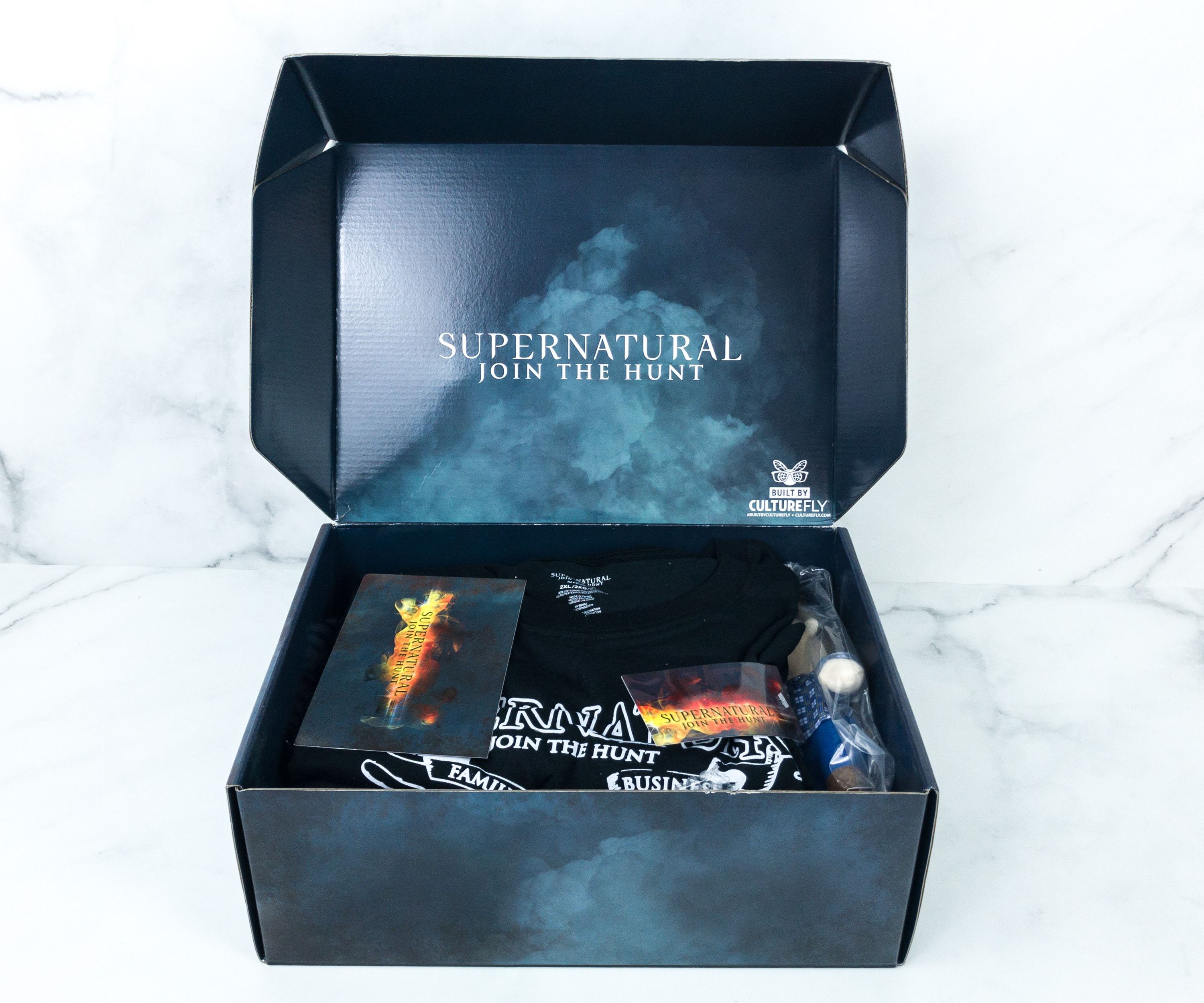 Join the Winchester brothers and feel like one of the family with this amazing assortment of premium collectibles, apparel and artifacts from Supernatural, delivered four times a year, right to your doorstep. You won't get these exclusive items anywhere else, not even in a  deal with a Crossroads Demon.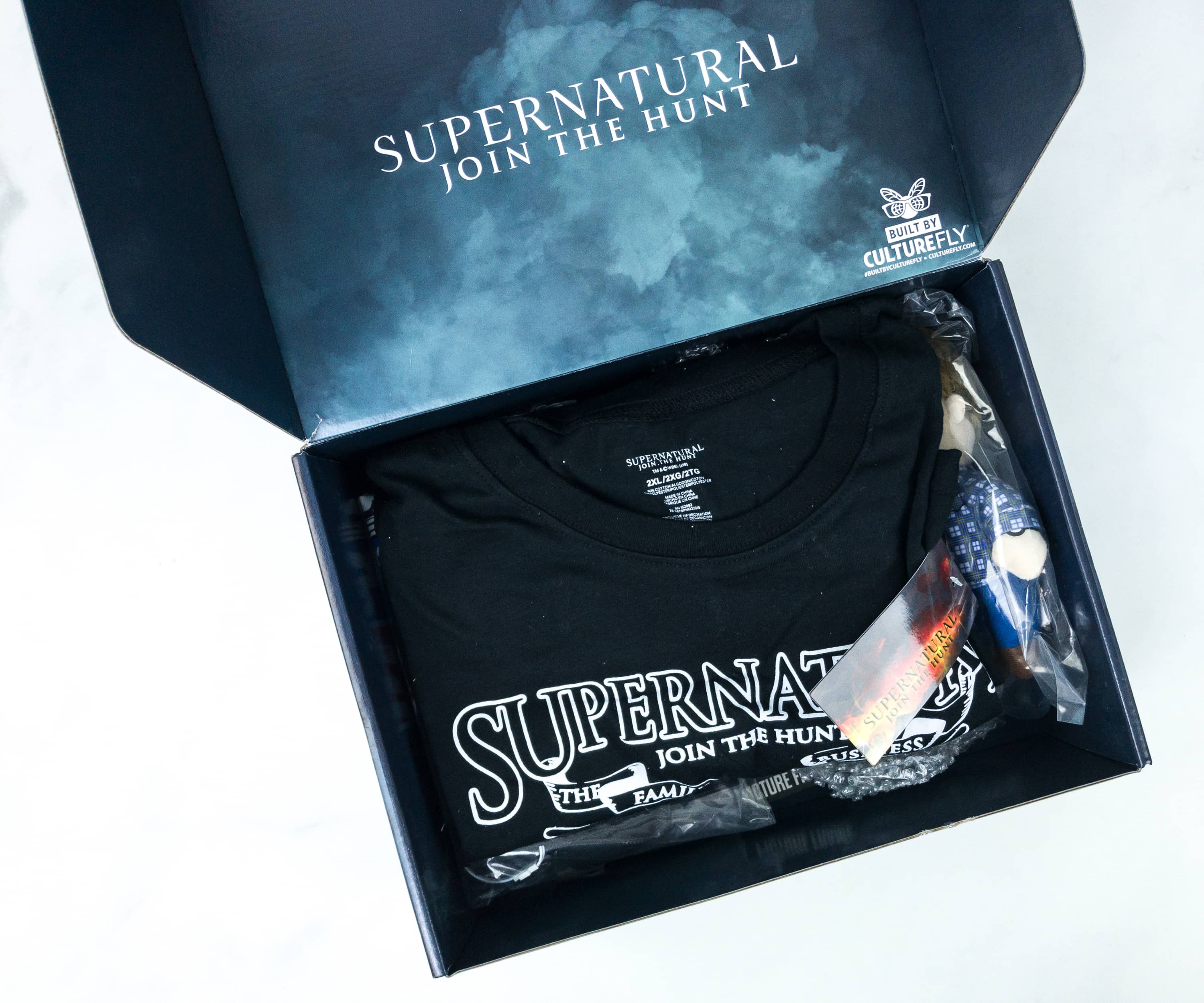 It's the ultimate score for a Supernatural fanatic!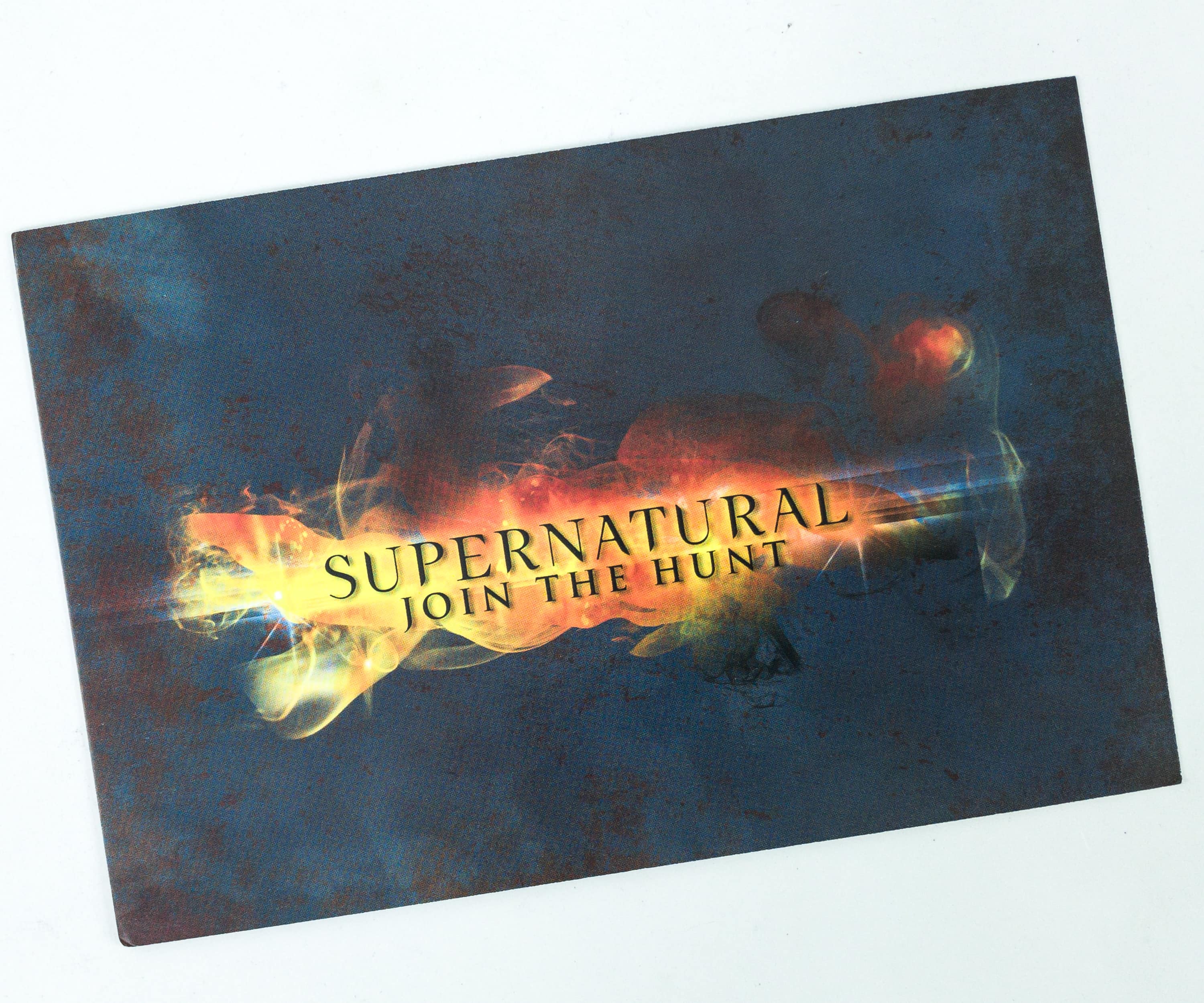 The box has a very polished feel, from the decorative shipping box, to the stylized info card.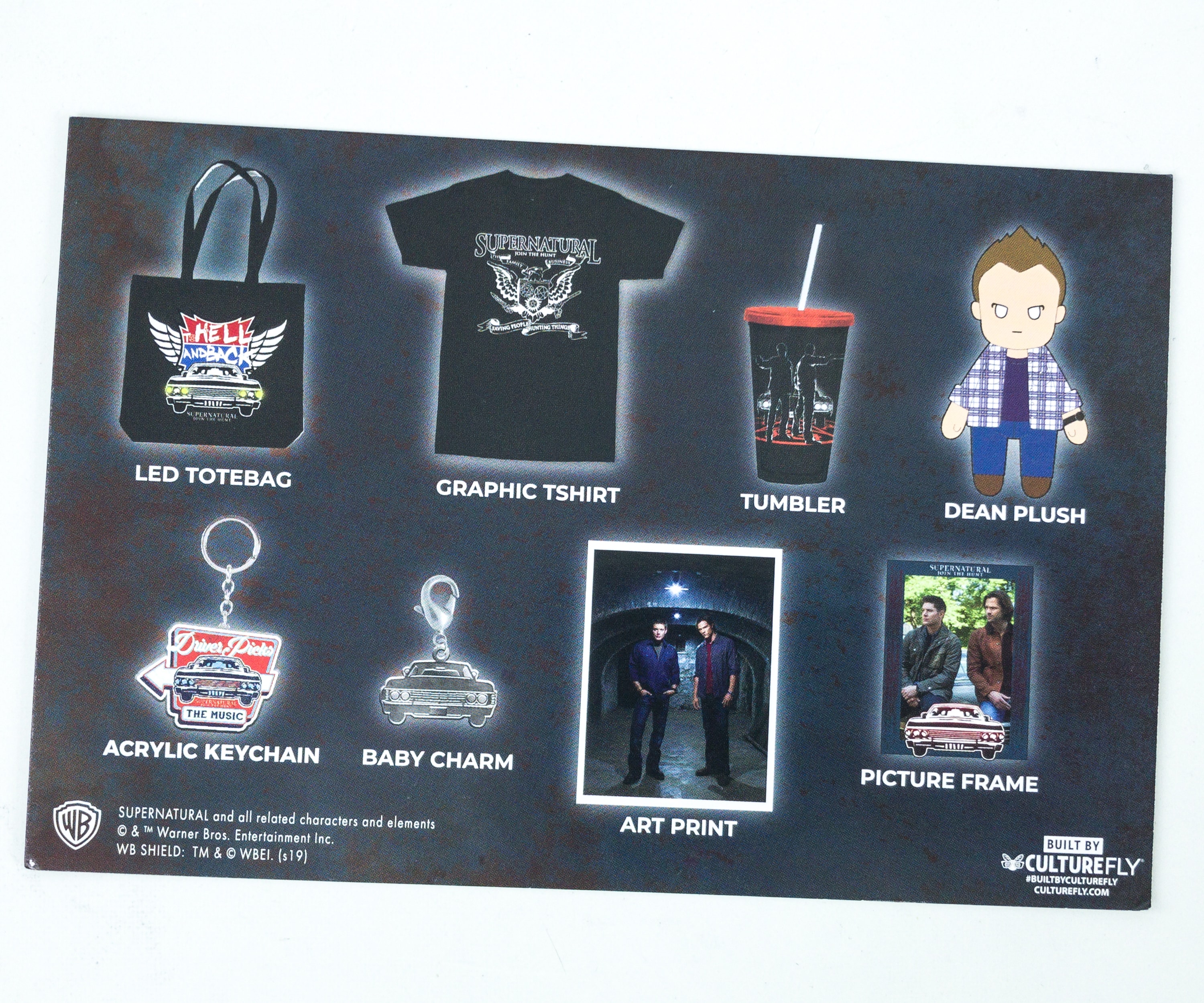 The card presents a photo inventory of everything in the box. The value is promised at over $100 a quarter, and this box has $120 value!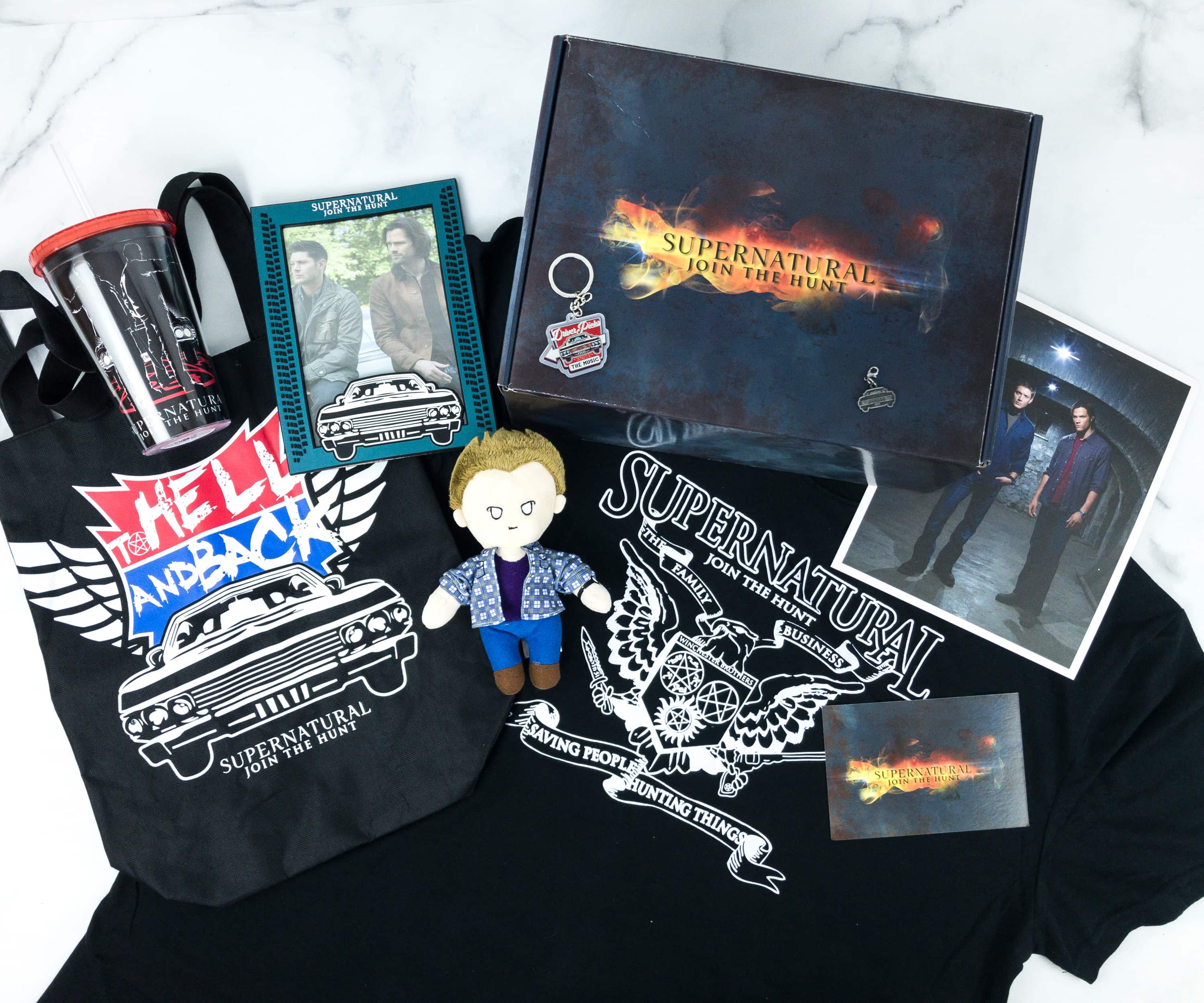 Everything inside the Summer 2019 box!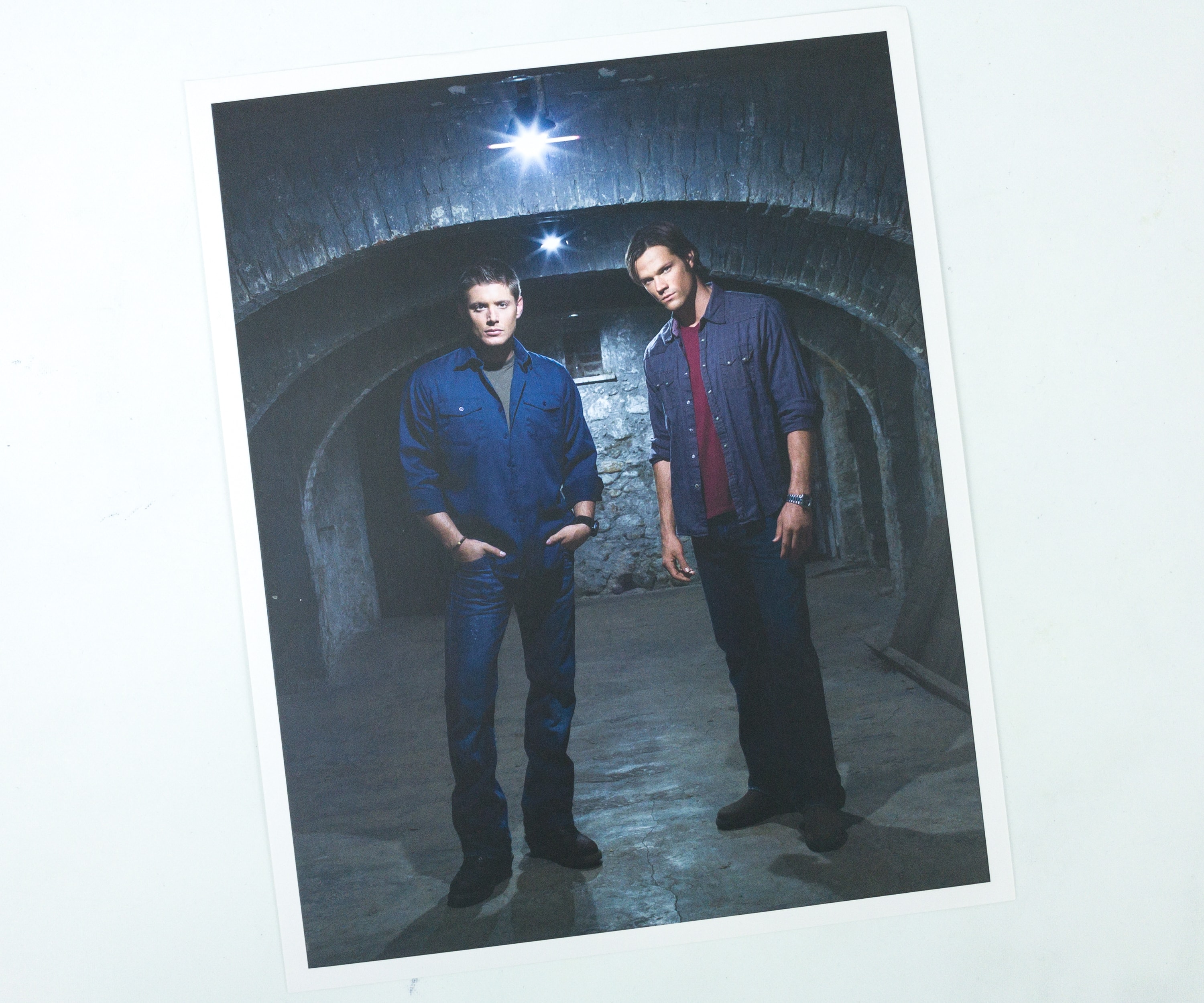 Art Print. The art print features a model-like stature of the brothers Dean and Sam Winchester. These two brothers face a deadly adventure as they hunt monsters.
This art print is an officially licensed Supernatural merchandise, distributed by CultureFly.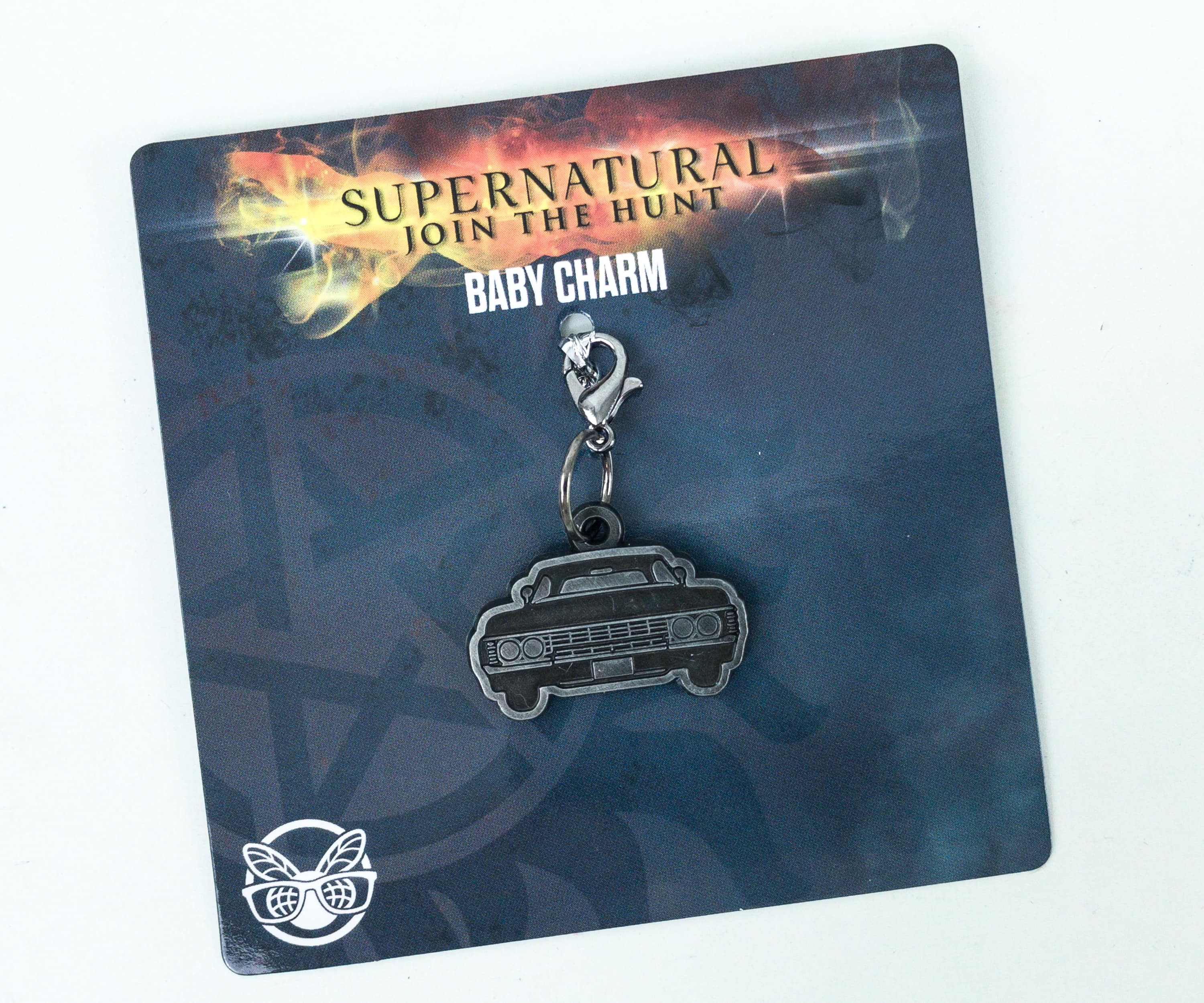 Baby Charm. Baby is a black 1967 Chevrolet Impala passed down to Dean by his father. The car has 327 engine and a four-barrel carburetor.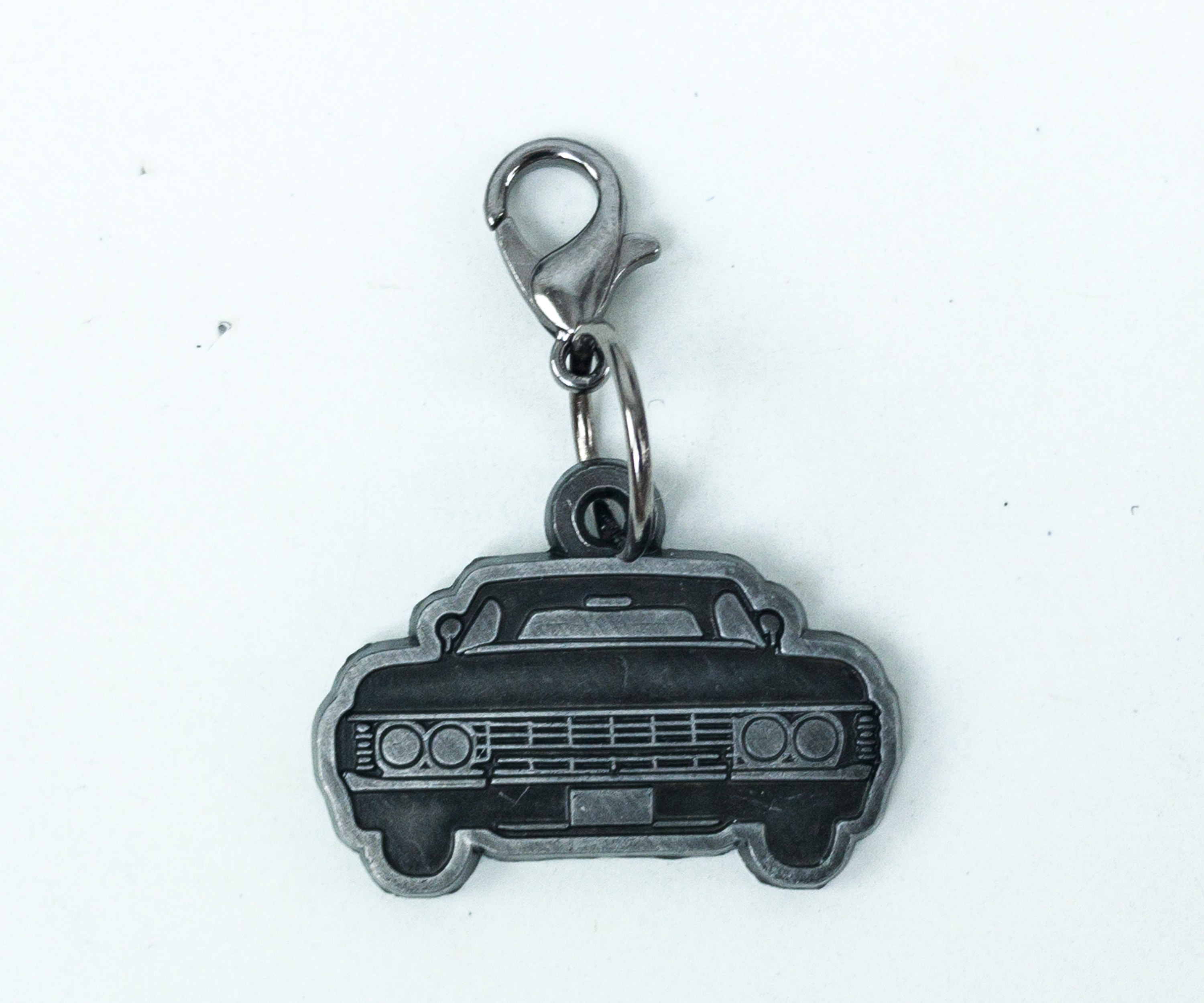 The chevy charm comes with a trigger snap so that it can be easily attached to a chain, used as an accessory, or a decoration.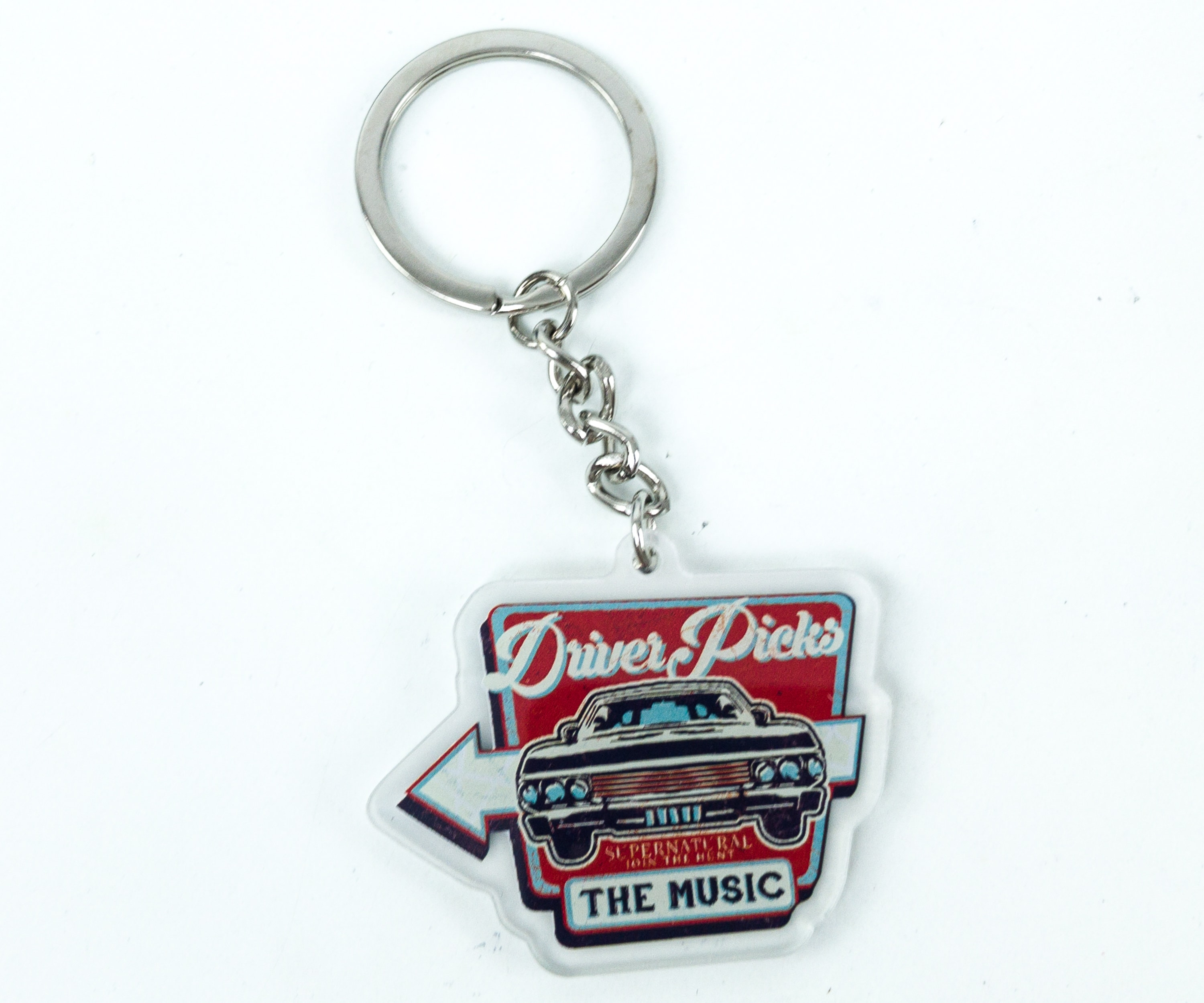 Acrylic Keychain. Another item in the box that features Baby the Impala is this acrylic keychain!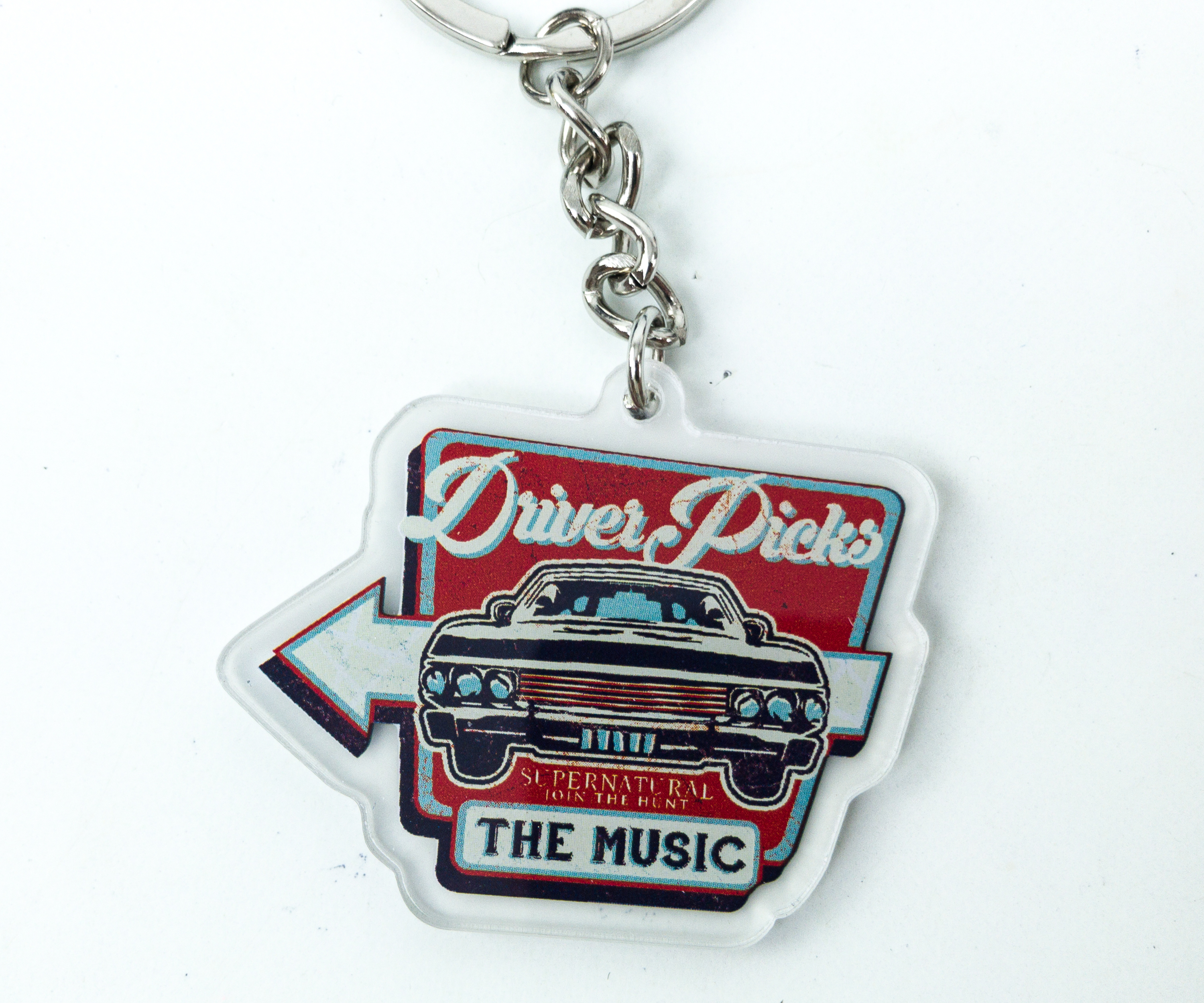 It looks like an old road sign that you can see on highways when you're looking for a place to stop over or even stay. I love the retro vibes it's giving me!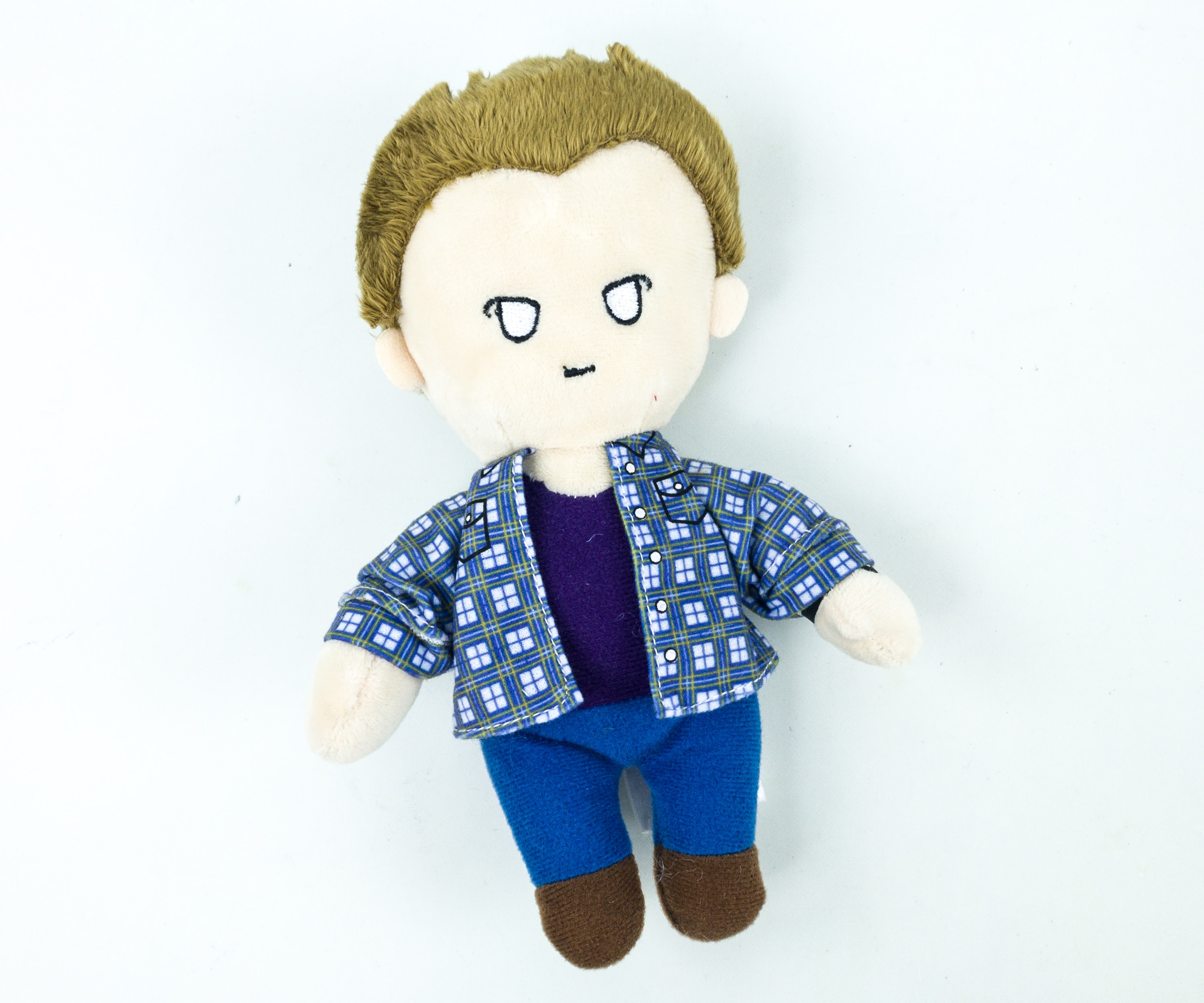 Dean Plush. Last time, we got a Castiel plush, and this time, it's time for Dean to become a cuddly plushie!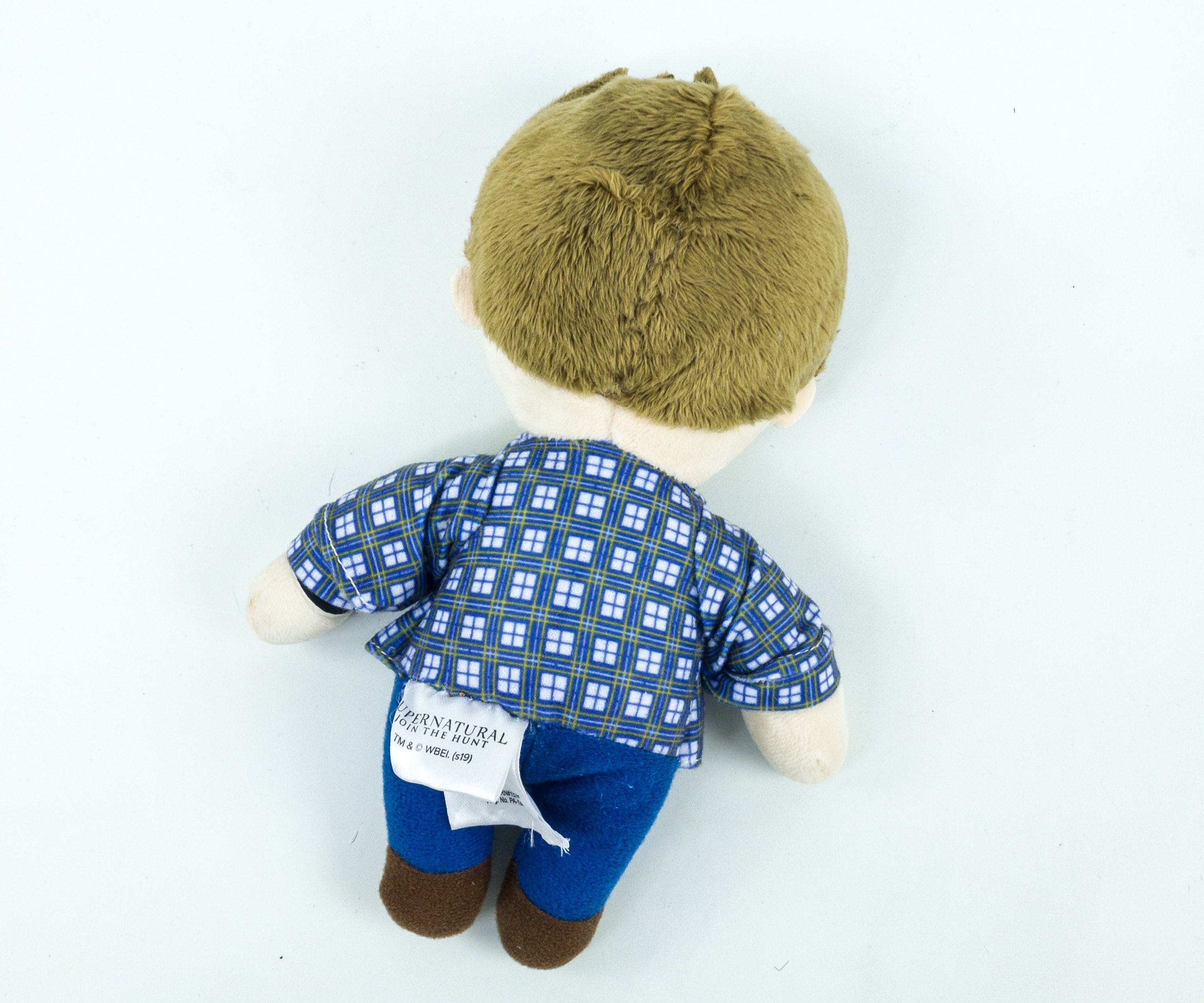 Dean, in his cuddly form, is wearing a blue flannel shirt with a blue undershirt, paired with blue jeans.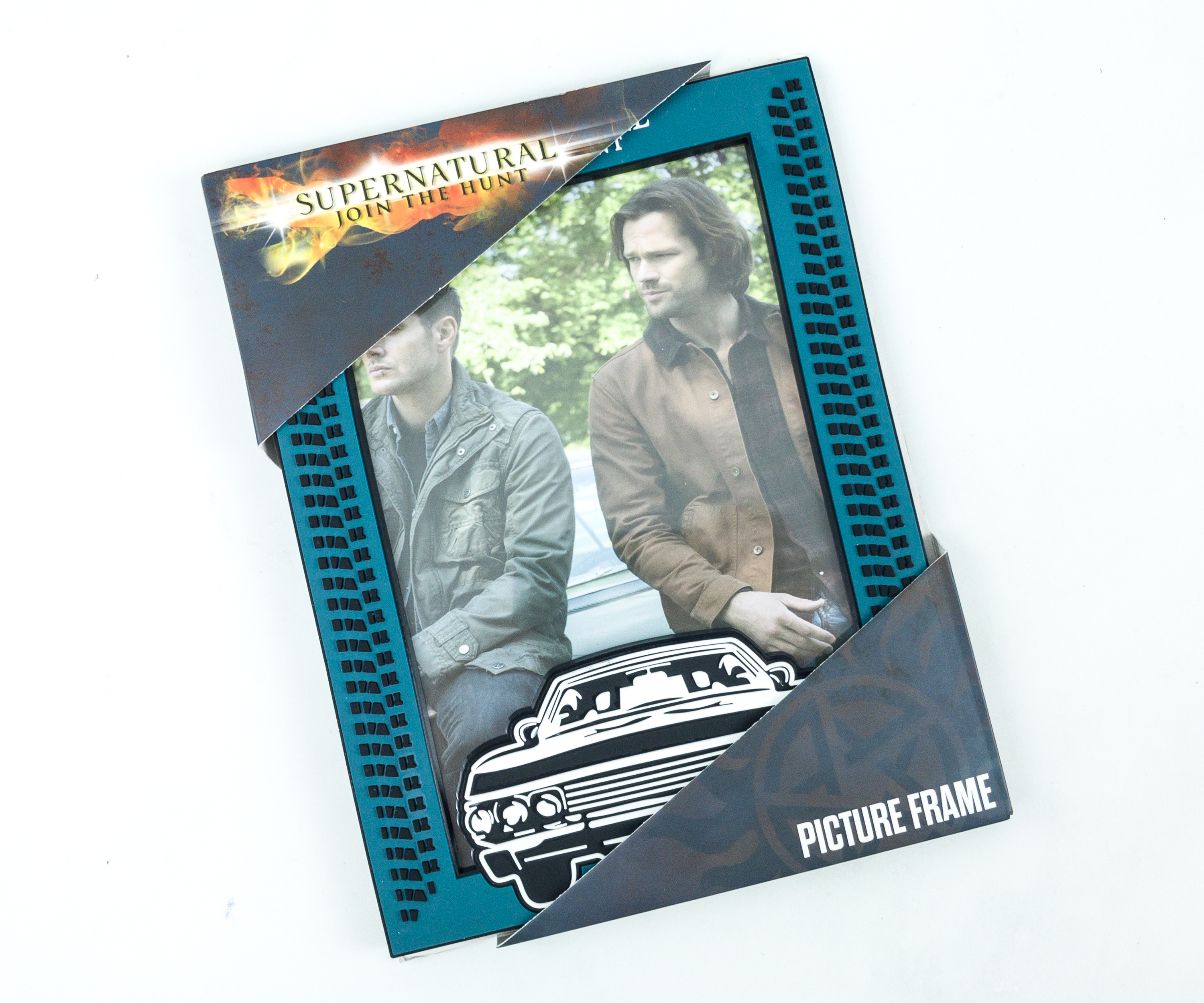 Picture Frame. The picture frame features the brothers' photo inside, which you may opt to leave or change with your own!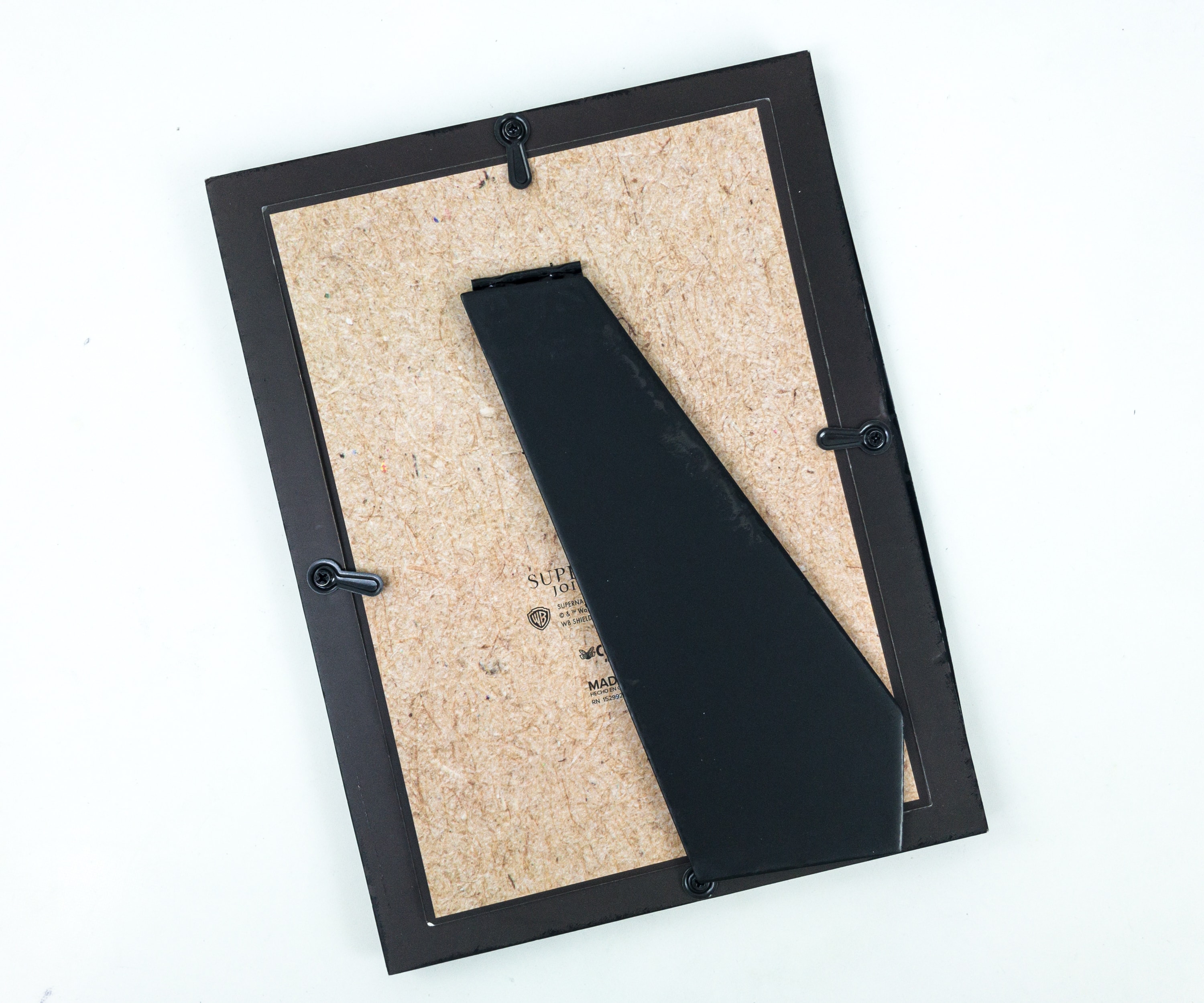 The frame came with a stand. It doesn't come with hardware if you want to hang it on the wall, so I guess you can just add one if you like.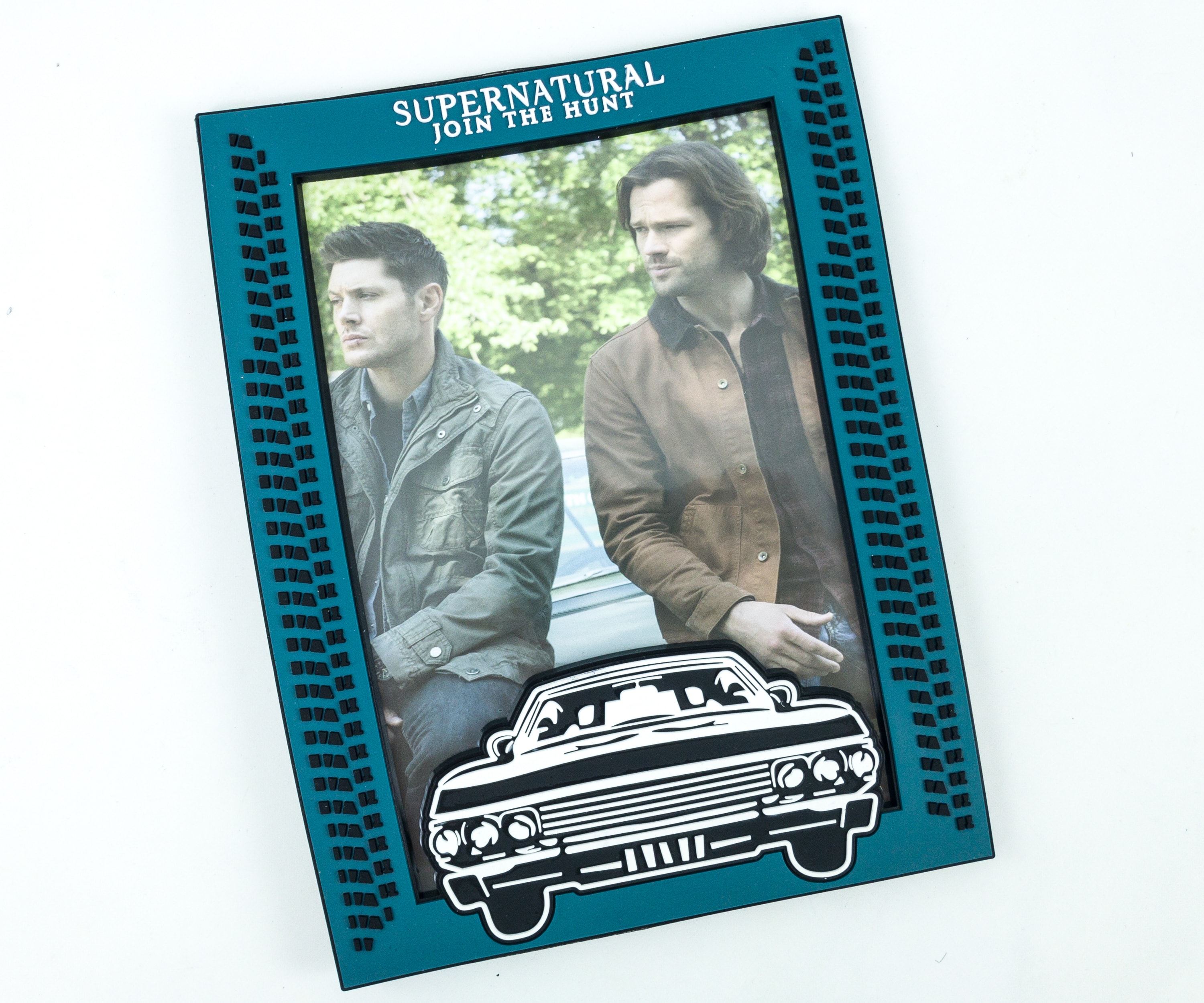 Any portrait picture will look good on this. Just consider the design on the lower part, that it won't cover the rest of your photo.
The design I'm talking about is Dean's Baby!
Here's the frame standing upright.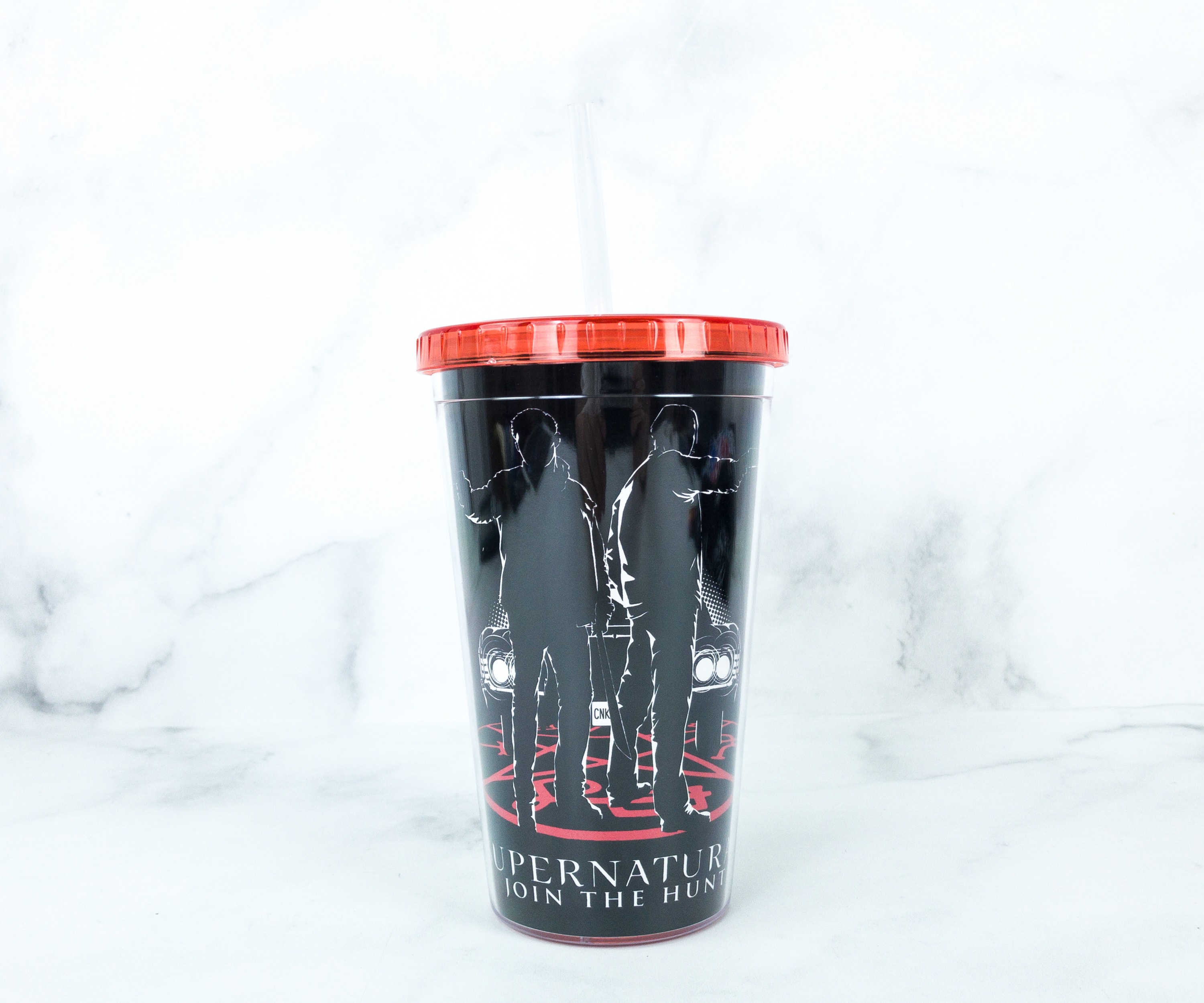 Tumbler. I like getting usable items from fan boxes, and I can add another Supernatural-themed one to my collection!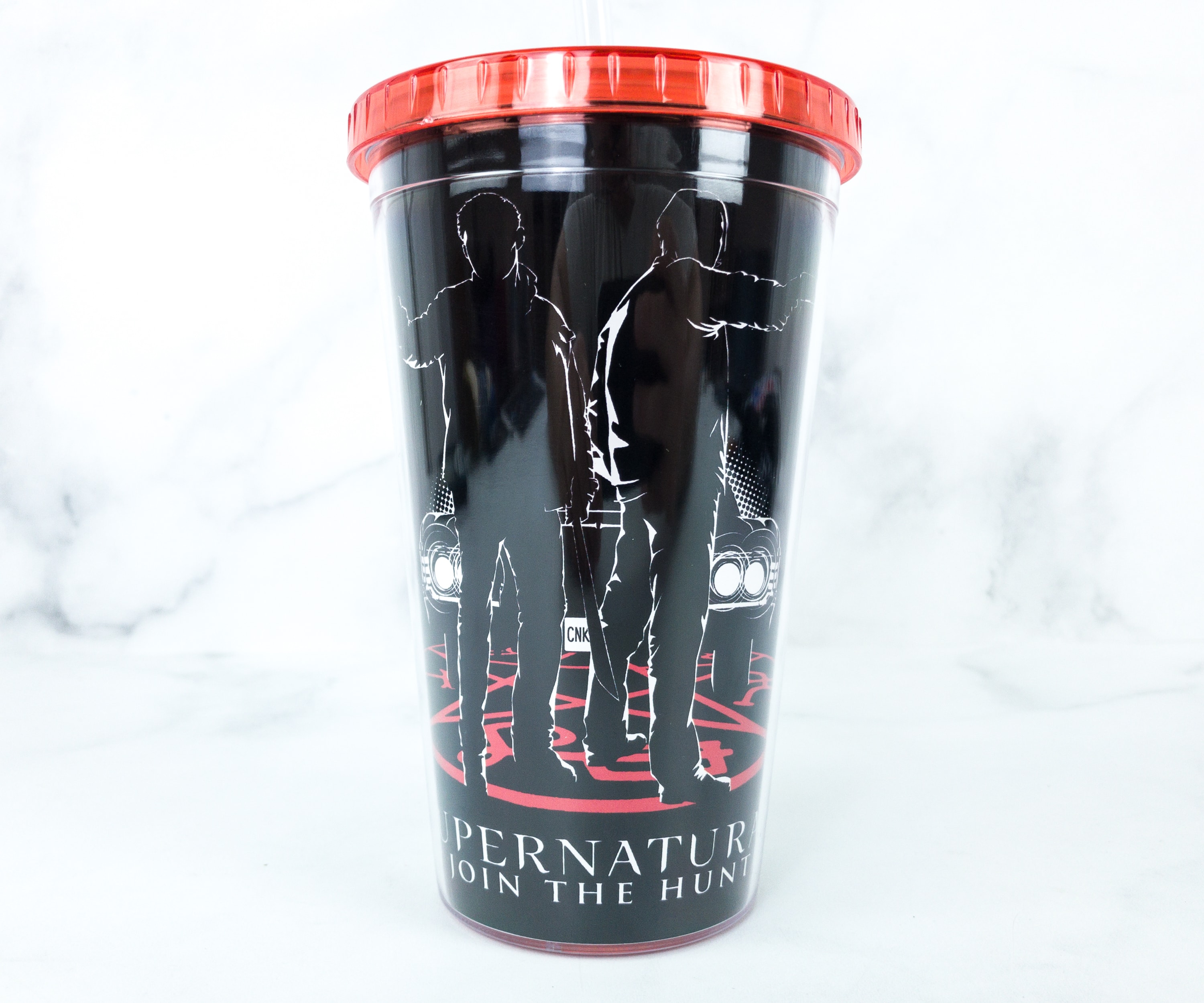 The tumbler features the shadows of the Winchester brothers! I also like that some of the prints and designs on the tumbler are in red and white, which looks perfect on its black base color. Tumblers are my favorite subscription box item, and Supernatural is my favorite fandom, so this one's full of winning.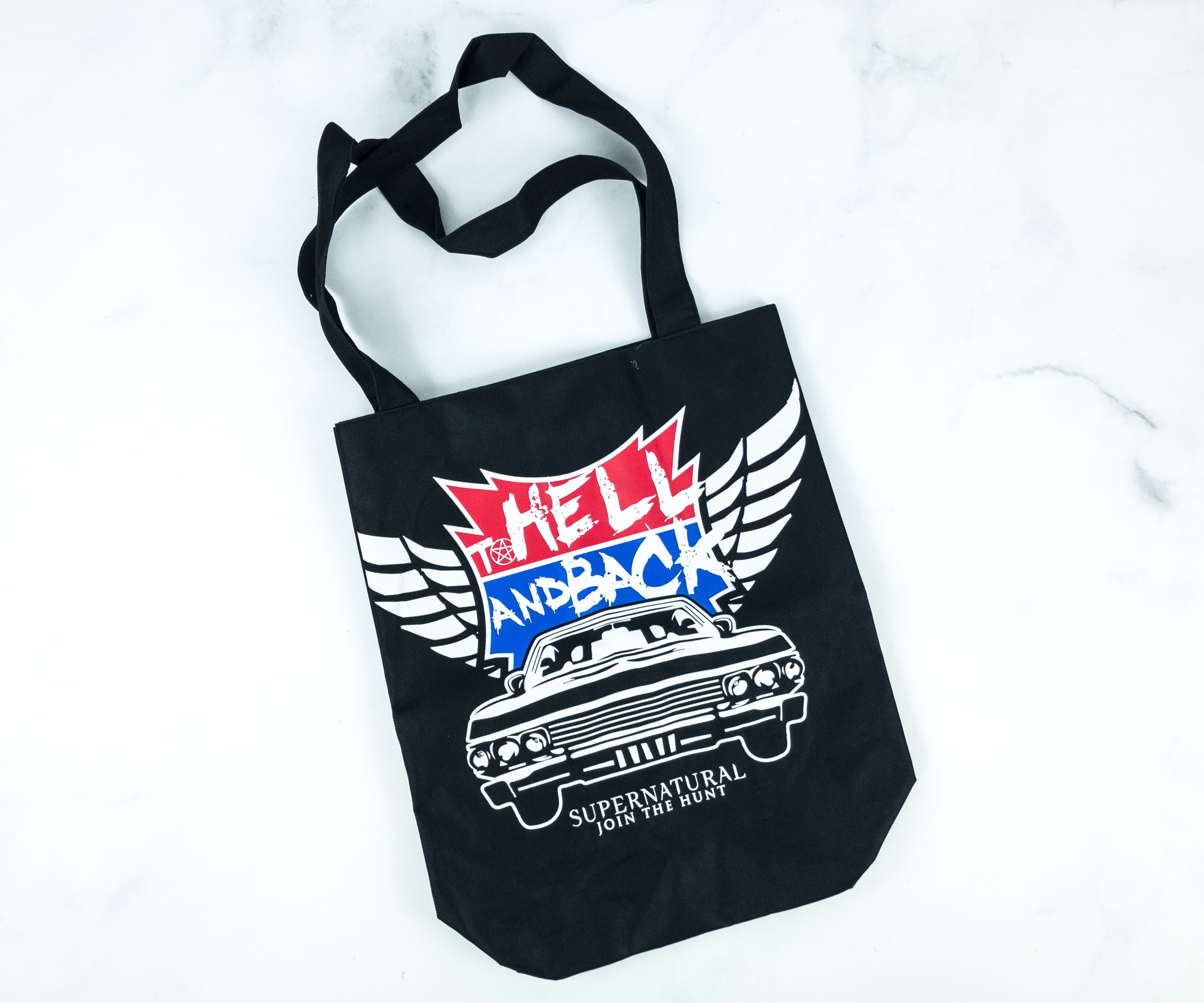 LED Totebag. Another useful item that you can bring anywhere and use anytime is this really spacious tote!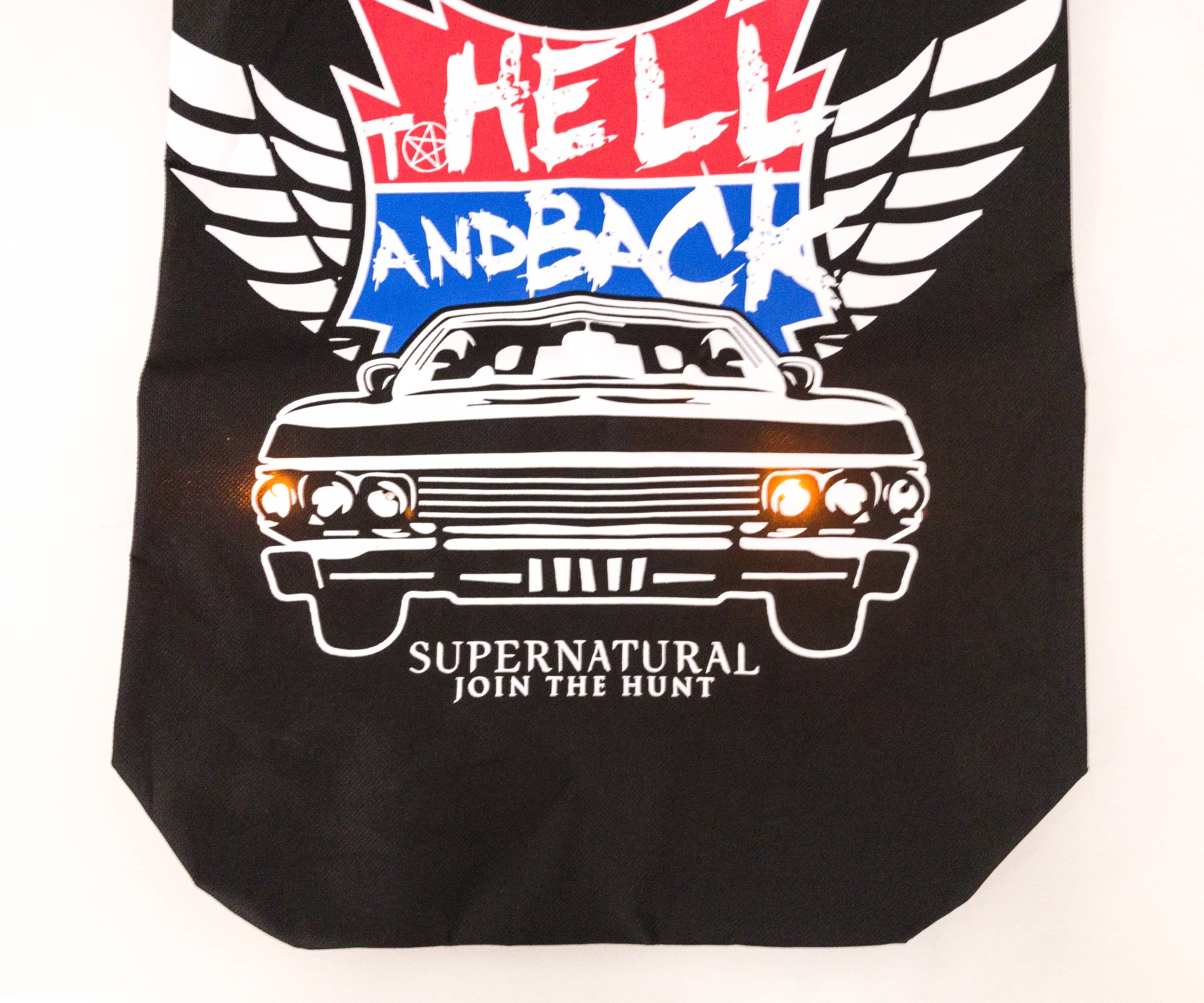 Again, it features Baby, Dean's Chevrolet Impala. The car may seem old but it proved its use! And now, it's a good design for Supernatural merch!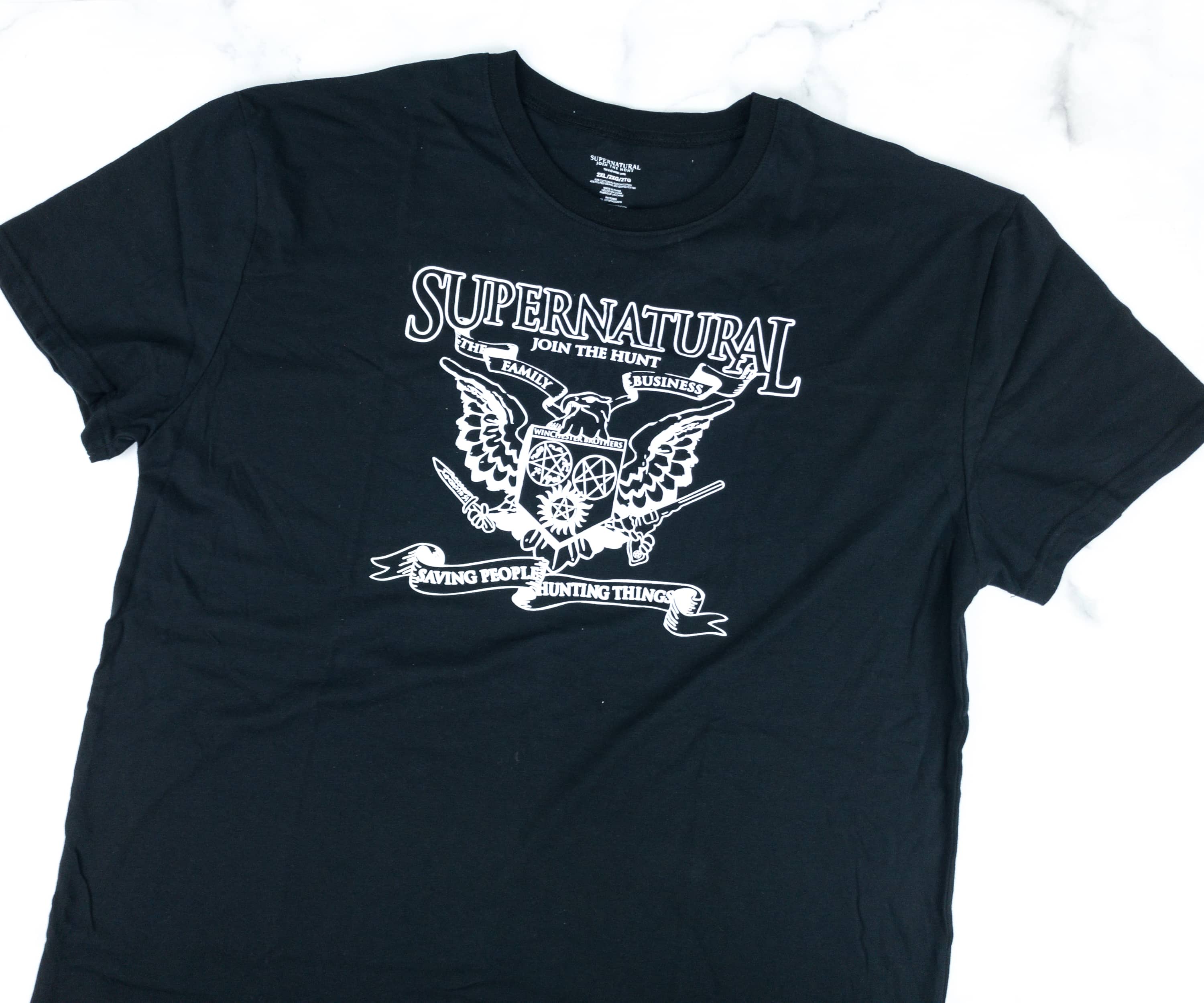 Graphic T-Shirt. Lastly, I got a nice black shirt featuring an awesome design. The fit is impeccable as well!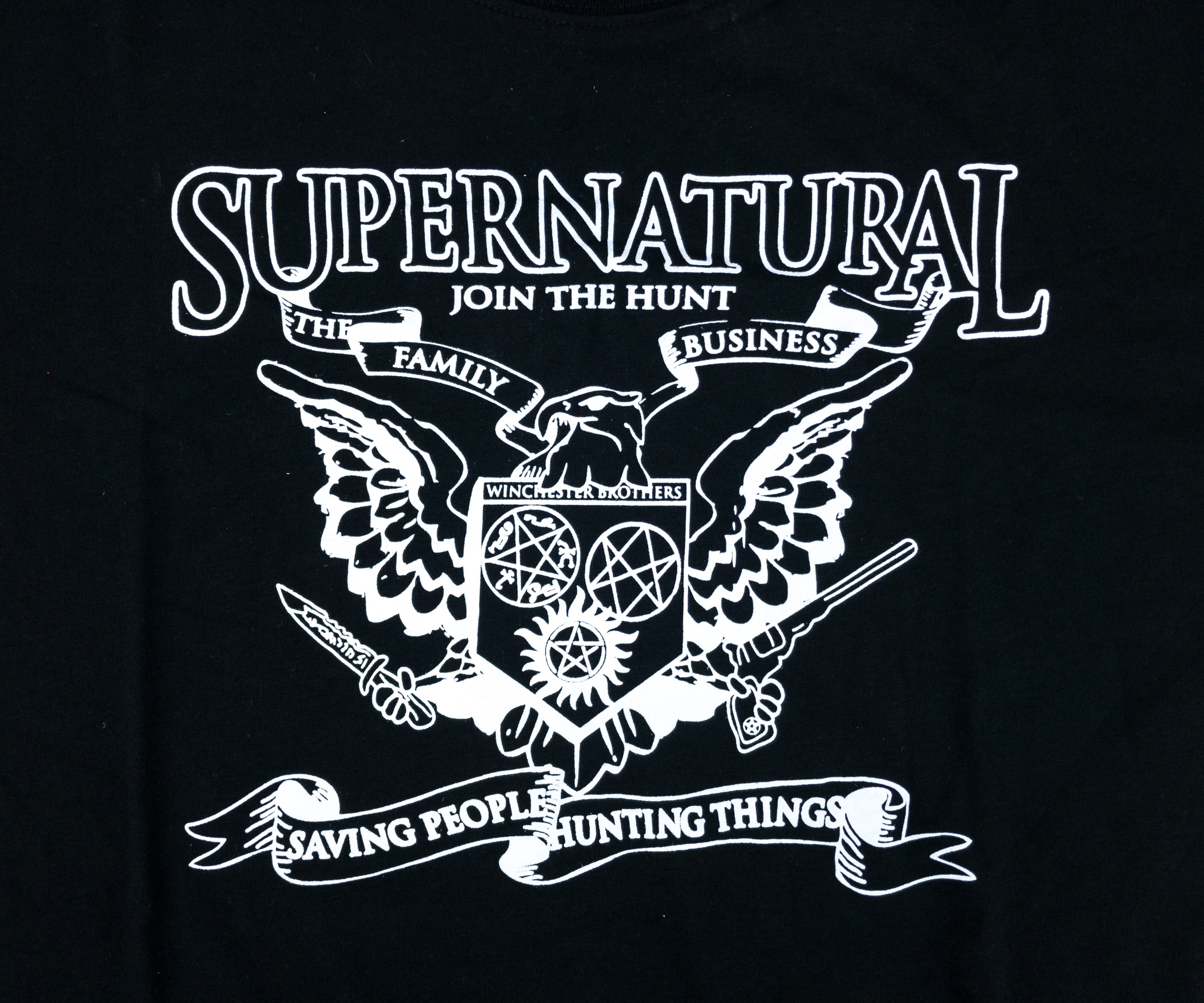 Of course, white print goes perfectly with black. It features the Winchester brother's sigil, and the tagline "Saving People, Hunting Things," which is what they exactly do!
If you're a big Supernatural fan you should get your hands on this box as they send exclusive and premium Supernatural stuff! For this edition, the Winchester brothers are featured on most items, and Baby is also on most of them like the tote, charm, keychain, and picture frame! The Chevy plays a big role in the show! The show may be seeing its end but boxes like this will make sure that the series will live in our hearts forever.
What do you think of the Supernatural Box?