Spiritual Guru box is a new monthly subscription box of spiritually inspired items specifically picked to enhance your spiritual experience. Each box will contain a mix of 5-7 items that can include: spiritual or growth tools, a high vibration crystal or stone, essential oil spray or roll on, scented candle, boho jewelry, mala beads or other adornments, figurine or other mystical items. Many of the products are made by skilled artisans, natural or organic, cruelty-free, and eco-friendly. The box is 100% vegan and cruelty-free.
Every new subscriber will receive the initial "Raise Your Vibration" themed box. Previous boxes are also available as one-time purchase in their store.
Everything is wrapped with a "Sending Good Vibes" sticker. It smells really good, but one of the item (bath bomb) leaked and there was a fine powder on all the items!

This month's theme is Aura Clearing.
Every month, we receive our personalized oracle card and if you feel attracted to the deck, the introduction card tells us what deck it is from. This month is from the Angels and Ancestors Oracle Cards.

My card is the High Priestess that reminds me to Harness Mystic Power.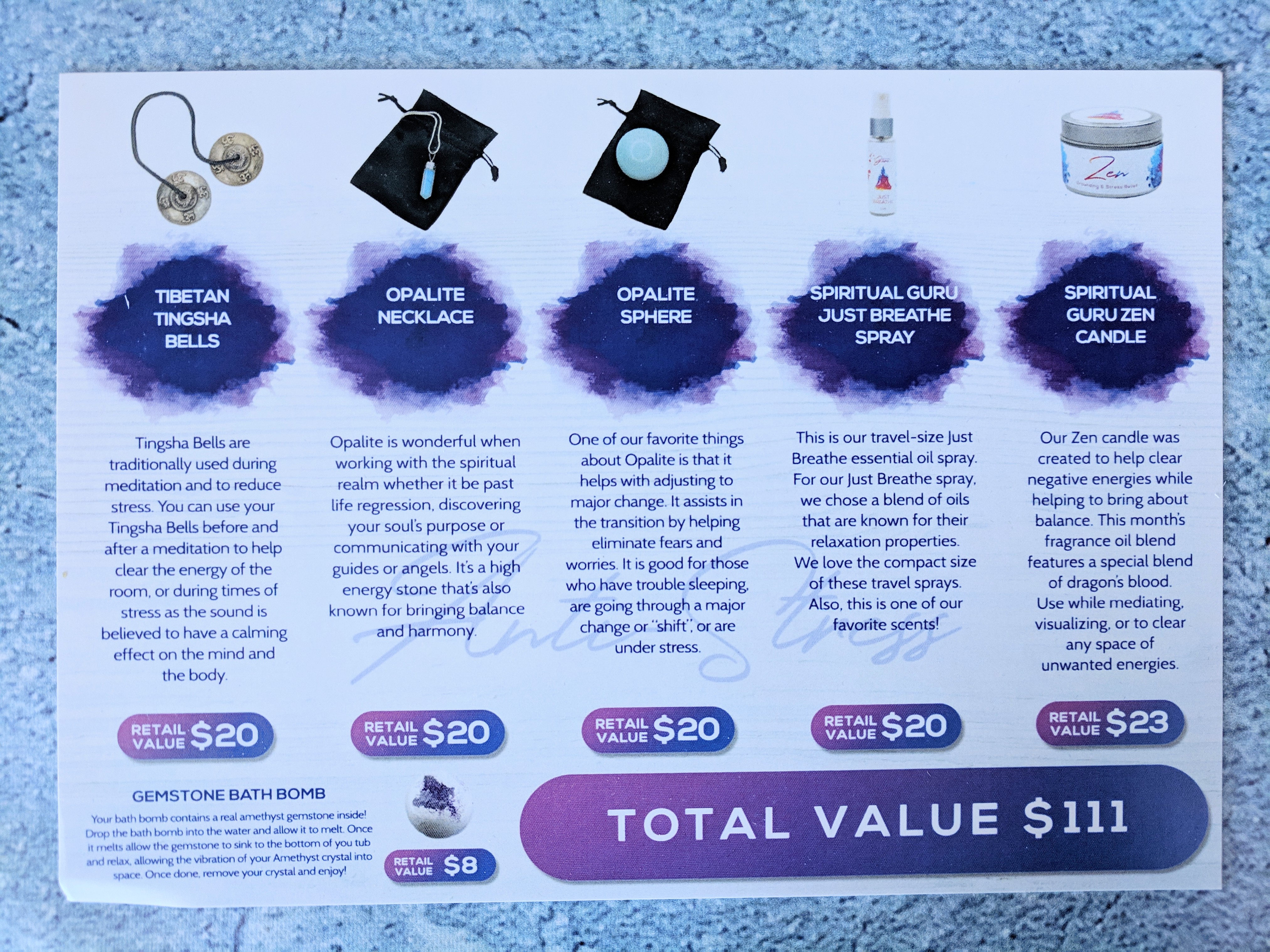 The information card details everything about this month's items.
Selenite Tower. This lovely selenite tower is like a sponge to clear your aura. You can move the crystal up and down over your body while visualizing all the negativity leaving your body.

It's almost 6″ high with a 1.75″ base. It's the biggest crystal I've received in a subscription box. It looks amazing on my night stand for those nights I'm too stressed out to fall asleep. I'm in love with this crystal!
Selenite Necklace. I love being able to carry my crystal with me, and necklaces are the perfect way to not end up with a whole crystal collection in your pockets or purse! I'm really happy that we received a smaller version of the selenite tower as well.

It's 2″ high, and will look amazing with fall sweaters!

Crystal Quartz Skull. Crystal Quartz is a very strong crystal that will enhance everything you are throwing at it, negative or positive.
Pairing it with the selenite tower is a good way to surround yourself with positive energy.
Clearing Scrub. I'm not sure what are the essential oil used in this body scrub, but to me it smells like sweet coconut.

Gemstone Bath Bomb. Once again, I'm really bad at guessing a scent from bath bomb, candles, and the like, but this bath bomb as a nice earthy scent. It's not too strong either. Sadly, the little bag was ripped open in transit, and the bomb was smashed somehow so it doesn't really hold its shape. I don't mind as I'll throw it in my bath anyway and get the Blue Calcite that is hiding inside! Blue calcite is said to provide a barrier of spiritual light around the auric field, and is also helpful for relaxation.
Spiritual Guru Box is one of my favorite subscription box as each month we get to gather tools from different spiritual background or theme. They always manage to surprise me with items that I would have picked up for myself, such as the selenite tower and the crystal skull, as well as items self care and feel good items. I love that we always receive a piece of jewelry so we can really dive in and focus on the theme of the box.
What do you think of this subscription? Let us know in the comments!