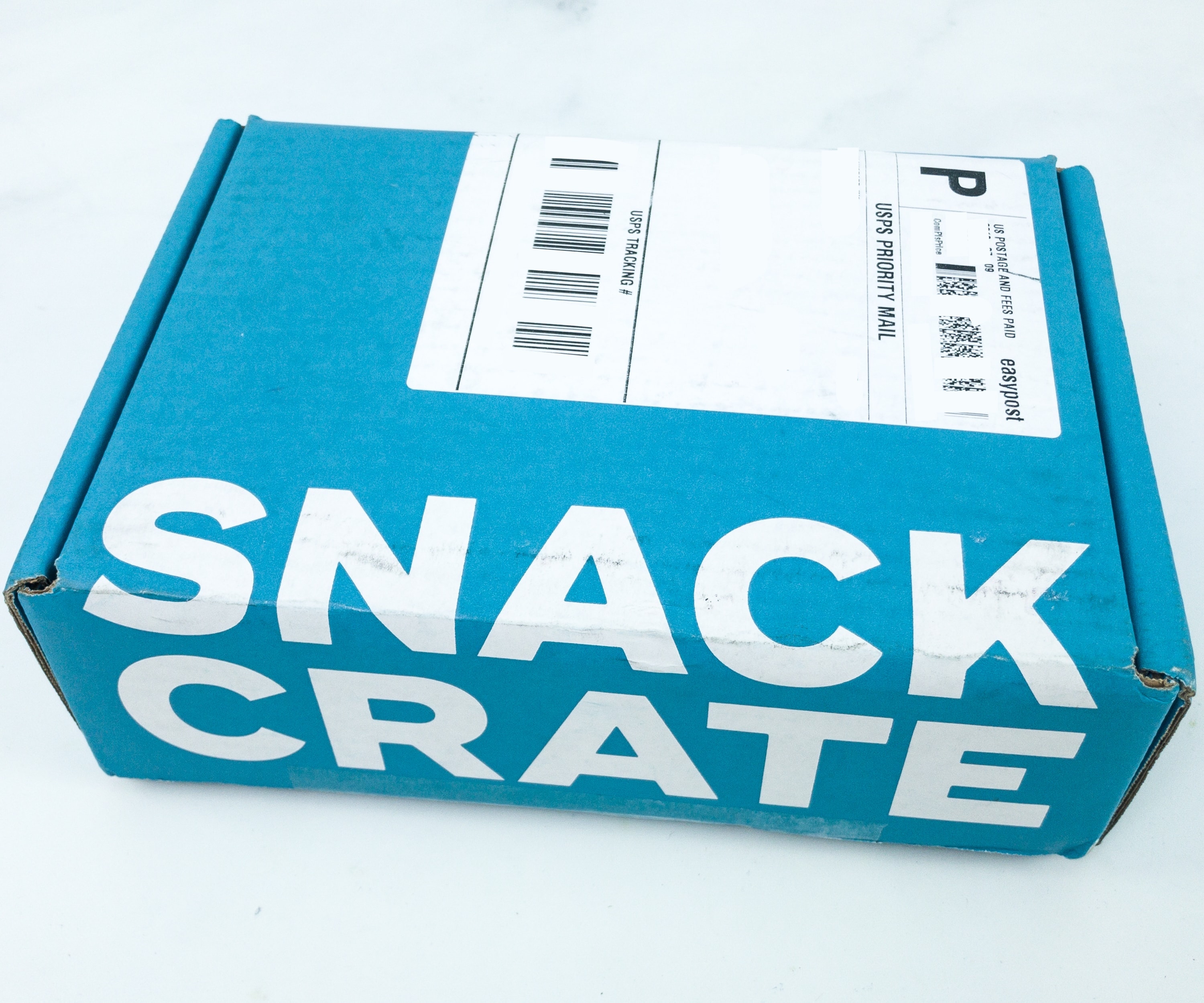 Snack Crate is a monthly subscription that provides the most interesting snacks and features new and exciting places from around the globe. They offer three sizes of the box: the $14 mini with 5 snacks, the $26 original box with 10-12 snacks, and the $49 premium box with 18-20 snacks.
DEAL: Save up to $14 on your first box. USE THIS LINK to get the deal. You'll save $2 on the mini, $6 on the regular box, and $14 on the premium box!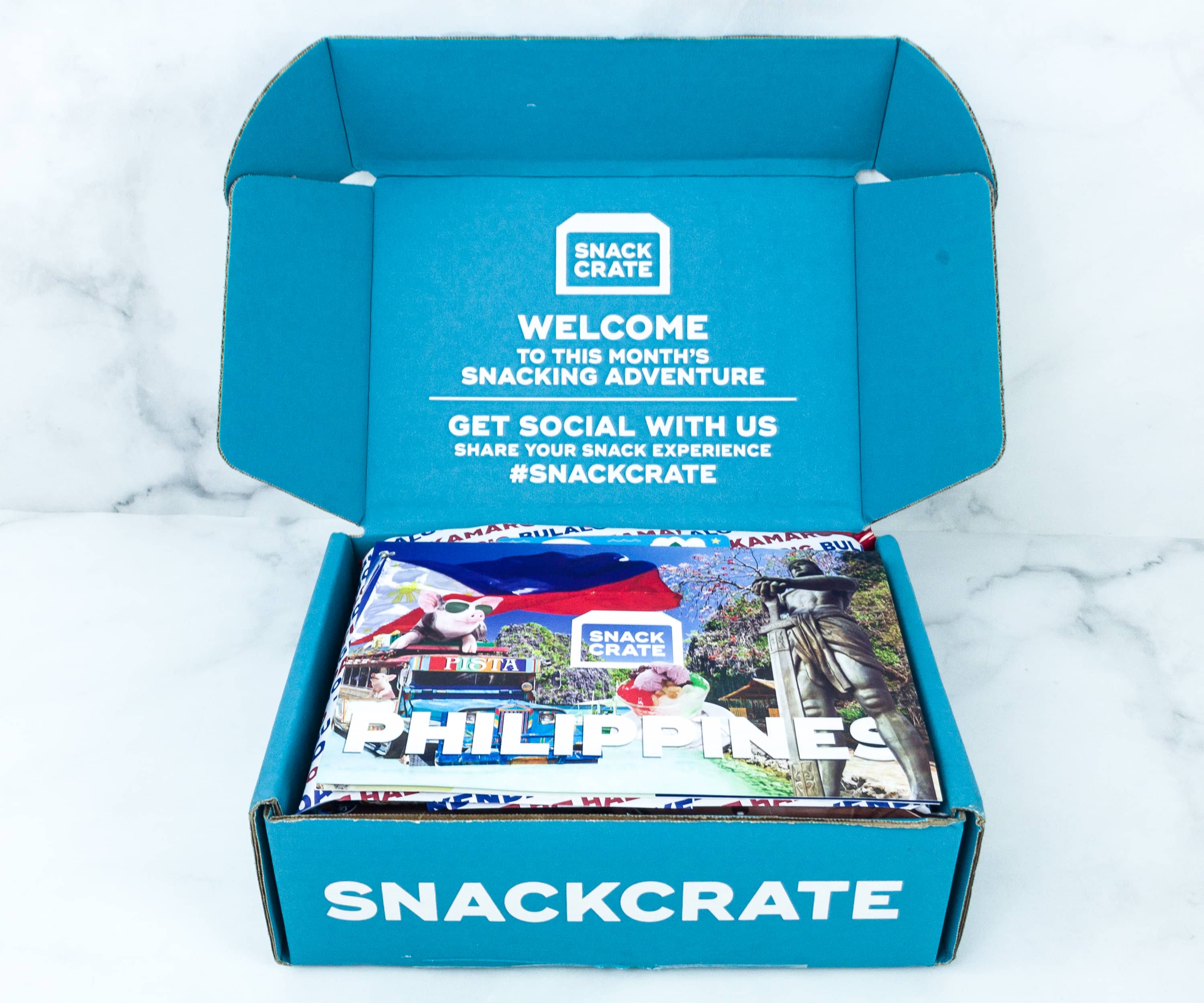 There's a card on top of the snacks.
When you sign up, your first box will be from a country of your choice. You have the option of adding a drink for $6, which I think is a pretty pricey option, and I passed.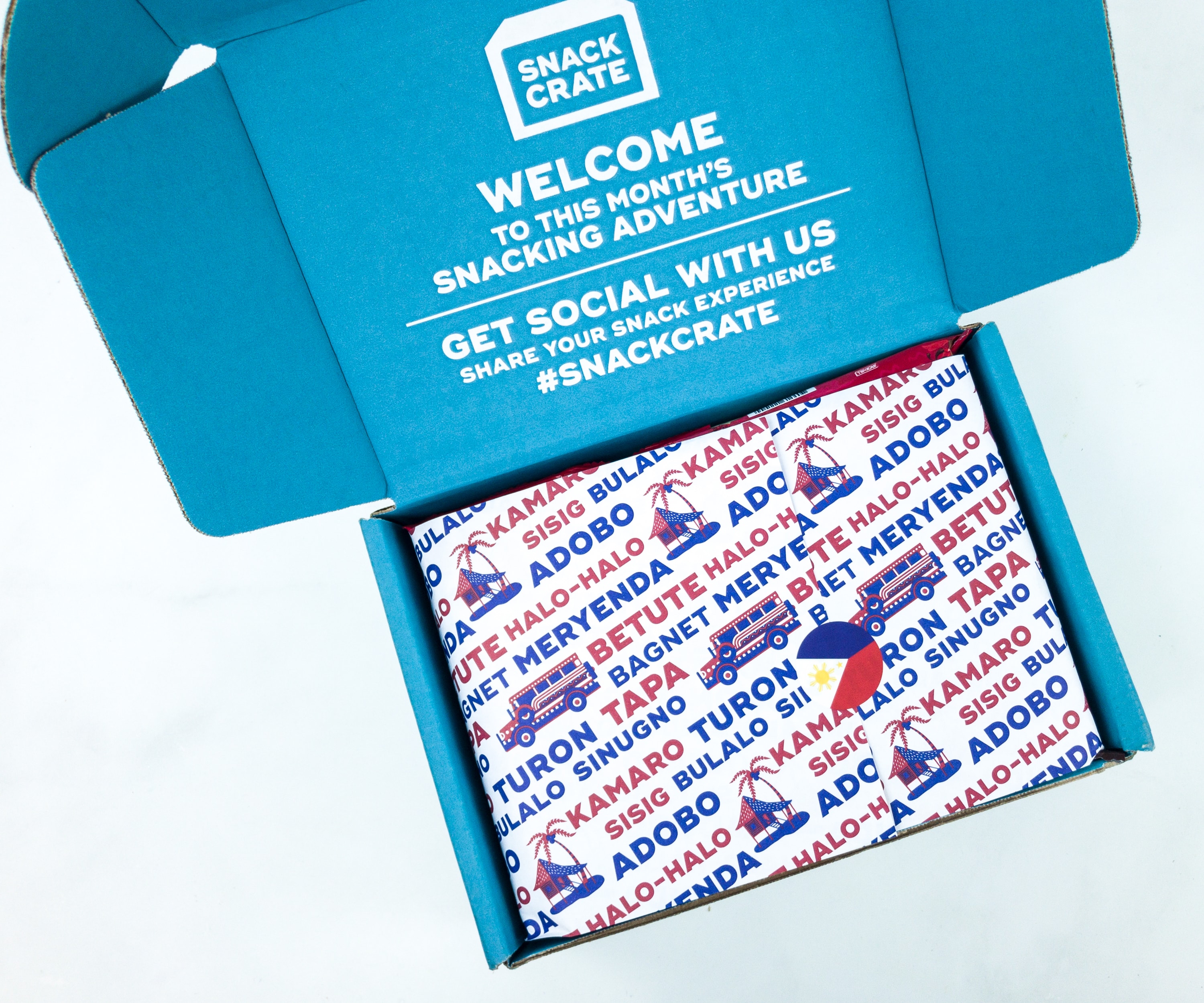 All the treats are covered by a printed paper sealed with a sticker.
As usual, the box is filled to the brim. The bigger snacks are normally placed on top.
The box includes a promotional card.
According to the back of the card, you can upgrade your box to cold pack shipping to avoid the melting and softening of some snacks during transit.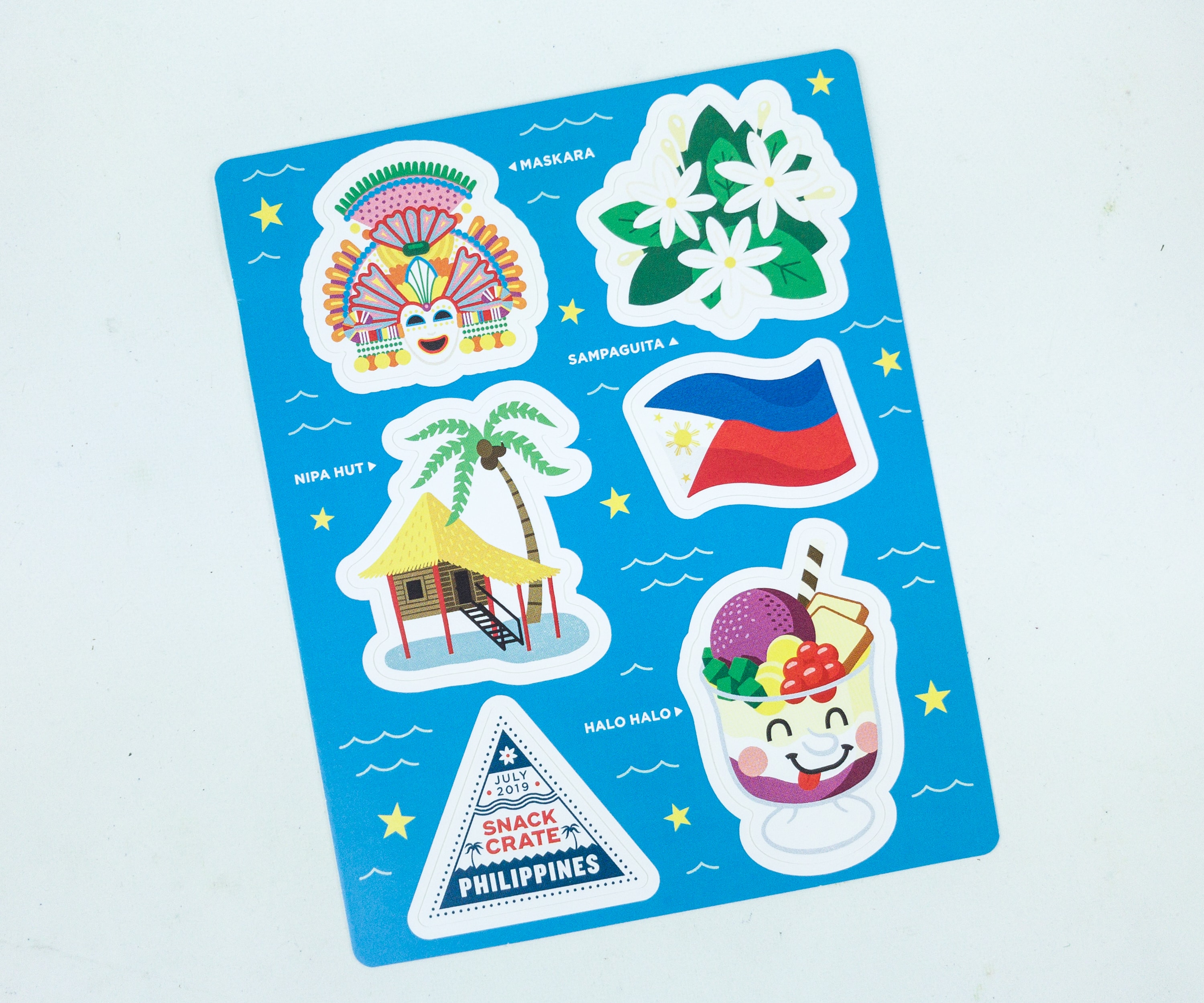 There are also cute stickers which are related to the featured country.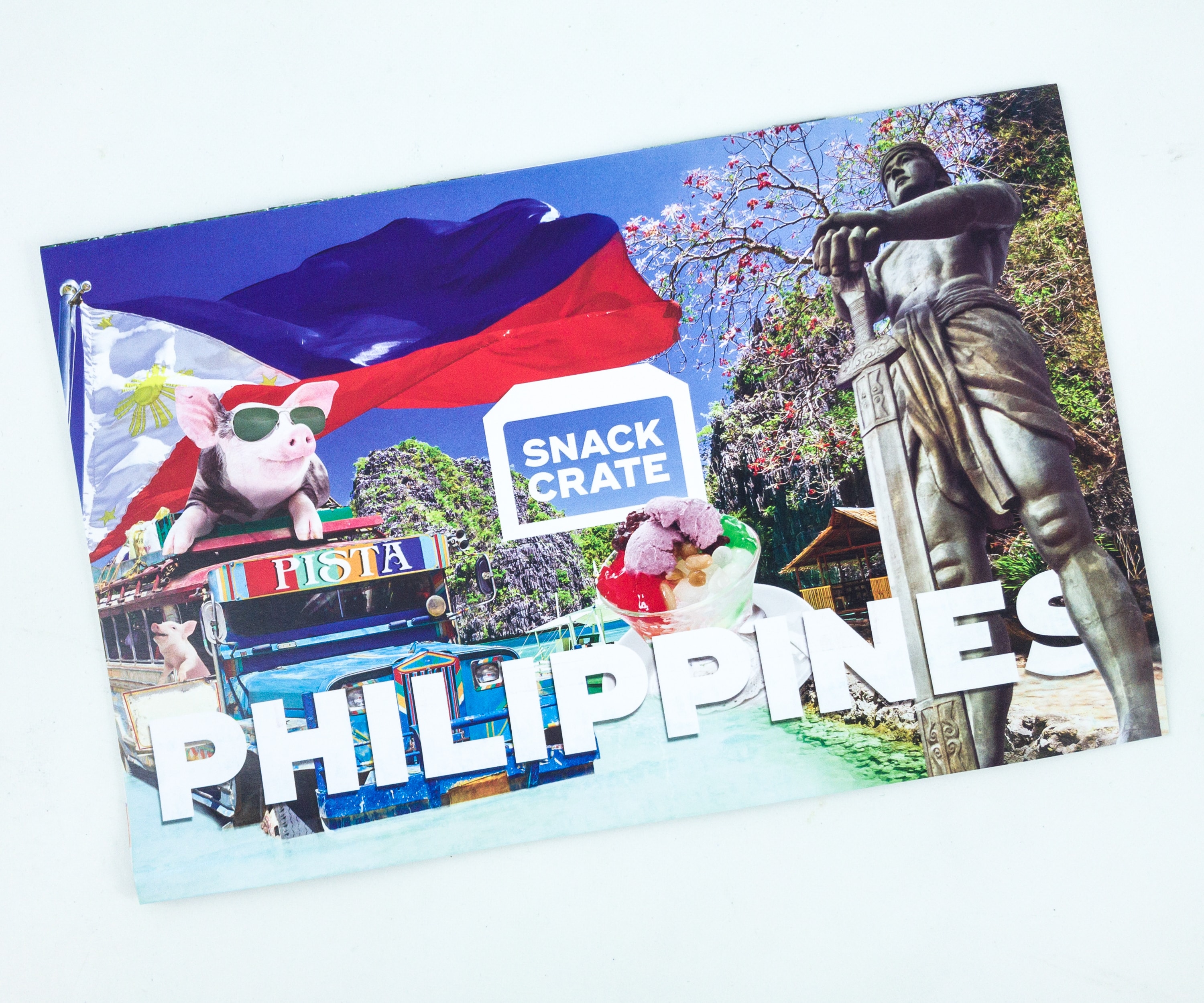 For July 2019, we got snacks from the Philippines!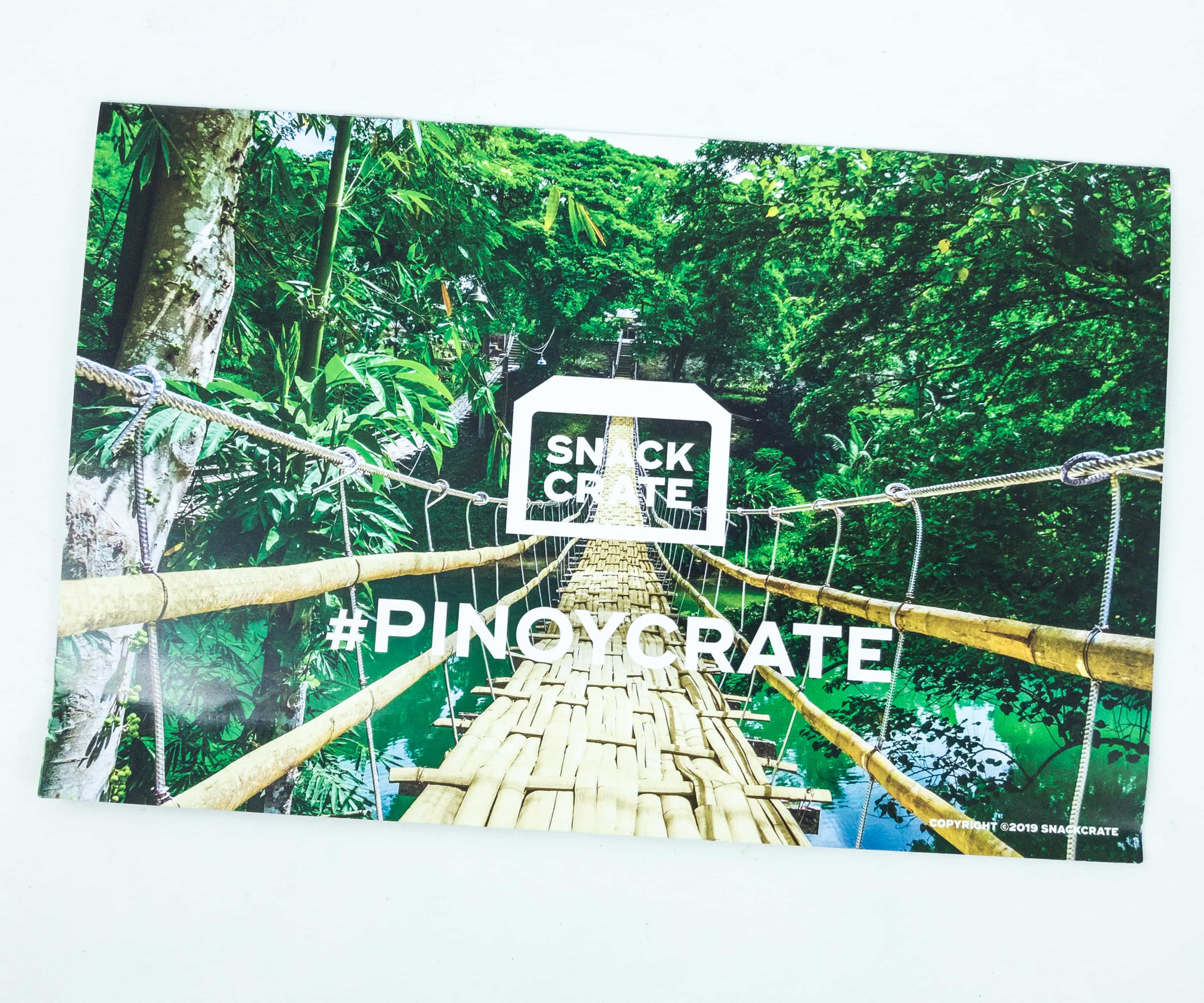 At the back of the booklet, there is a beautiful countryside scenery with #PINOYCRATE.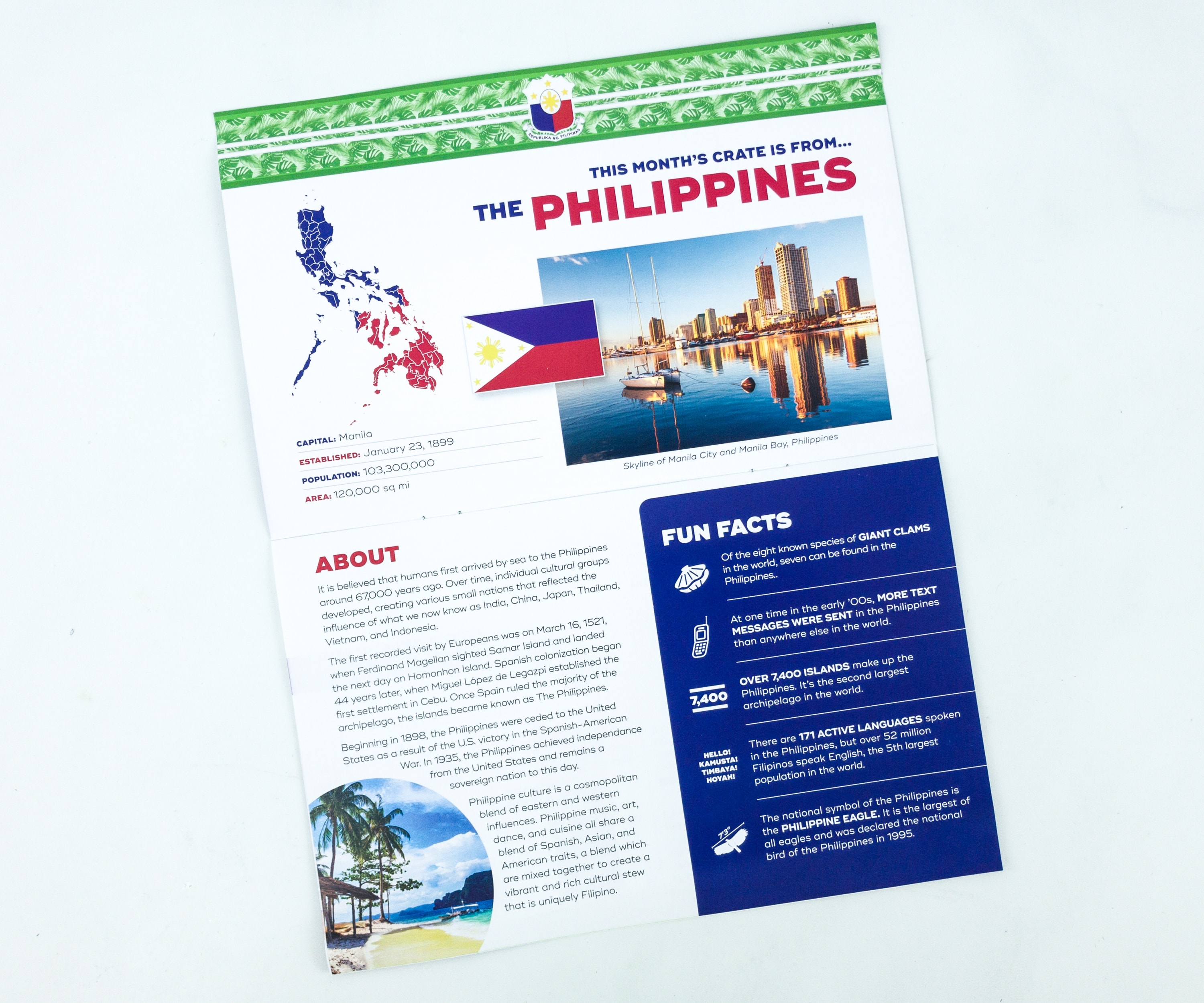 The booklet also provided us with some fun facts and trivia about the Philippines.
It also lists all the snack items inside the box, which are grouped into different box levels: Mini, Original, and Premium.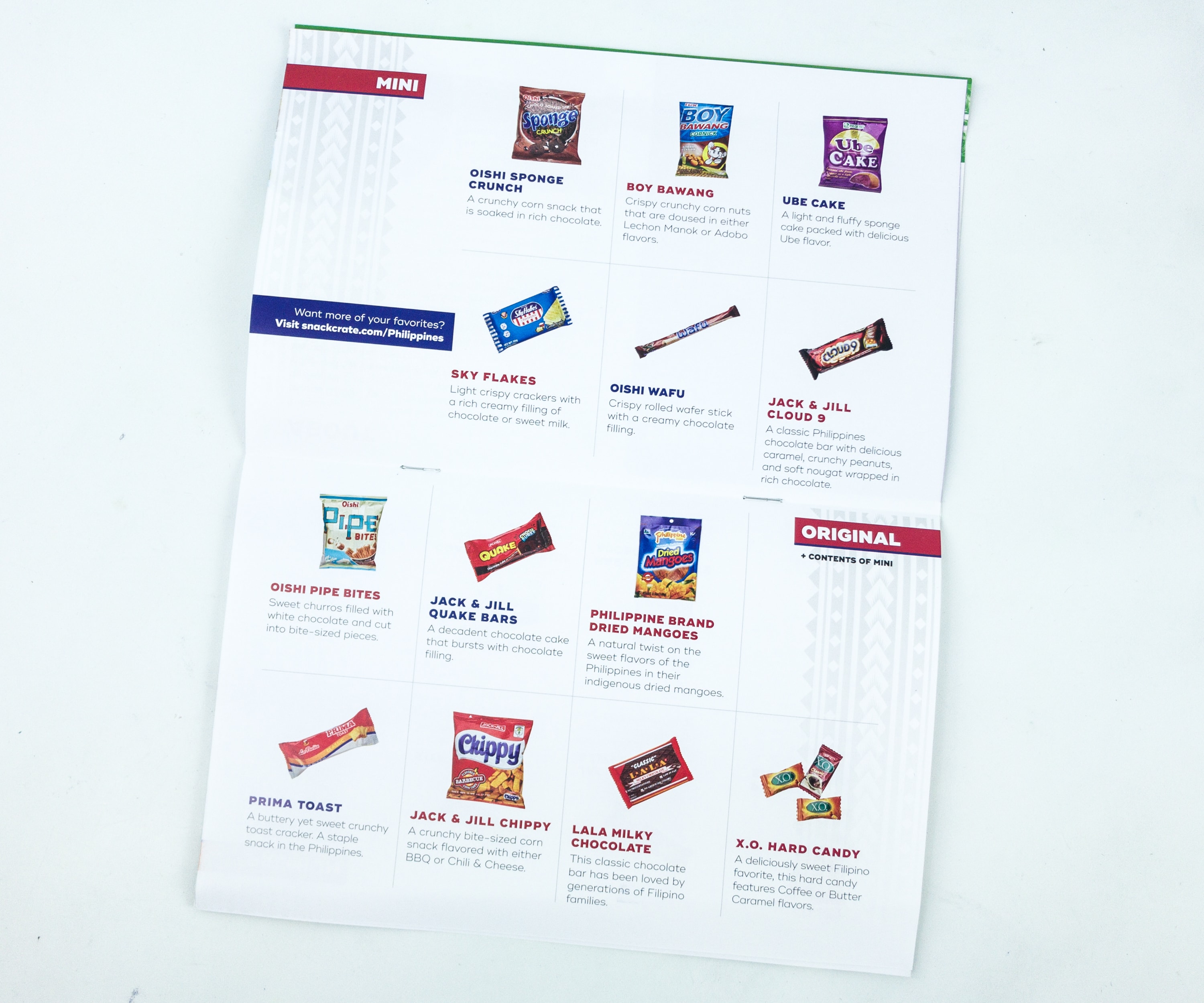 Aside from Premium, you'll also see the drink upgrade!
All the nutritional content of each item is shown on a separate insert.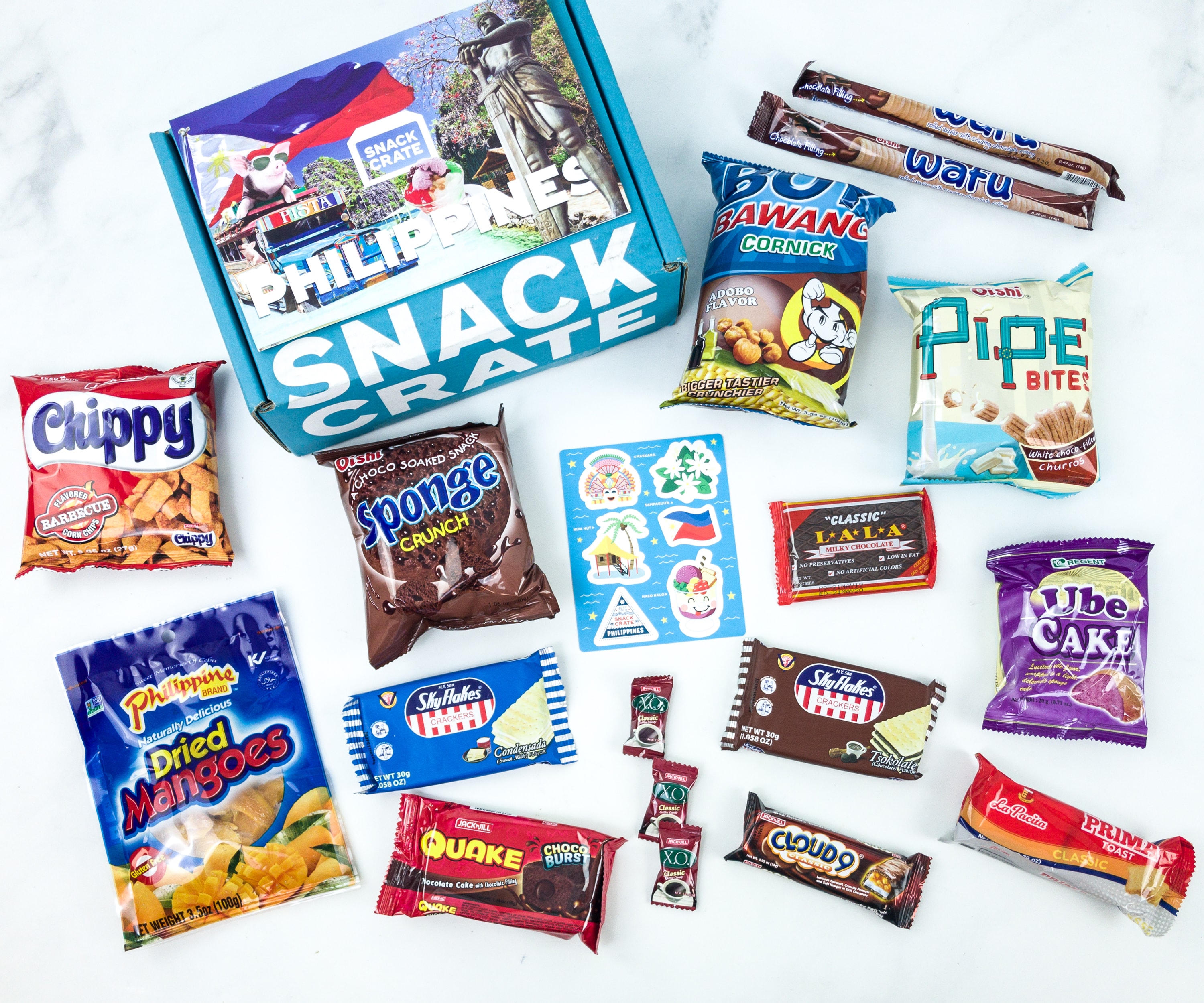 Everything in this month's box!
Oishi Sponge Crunch. These chocolatey snacks look like little sponge rings! Each piece is crunchy but melts easily once inside the mouth. They're quite sweet and addicting.
Boy Bawang. Cornick is made from corn nuts. They're usually infused with savory flavors, like this one inspired by the popular Filipino dish named adobo. It's mostly garlicky with a little hint of sweetness, but its scent kind of stays in your mouth. These are not as hard as the usual corn nuts, and that's why we like them. It makes a perfect pair with soda or ice-cold beer. This snack is also gluten-free, low-calorie, and absolutely addicting.
Ube Cake. Purple yam, more popularly known in the Philippines as ube, is a tuberous root vegetable. It naturally makes any food turn purple. This is our second time trying this purple-yam flavored sponge cake and it's still so soft and yummy. It's brown on the outside and a bit dry. The snack is also low in calories and sugar.
Sky Flakes. This saltine cracker is another staple snack item in the Philippines. It can be bought almost everywhere around the country. This time, they put a twist to the usual crackers and added sweet fillings! We got two of them in the box, one is sweet milk and the other is chocolate. Both are delicious and satisfying!
Oishi Wafu. A nice on-the-go snack, this rolled wafer contains creamy chocolate fillings. Every bite is oozing with sweetness. We got two individually-wrapped rolls in the box.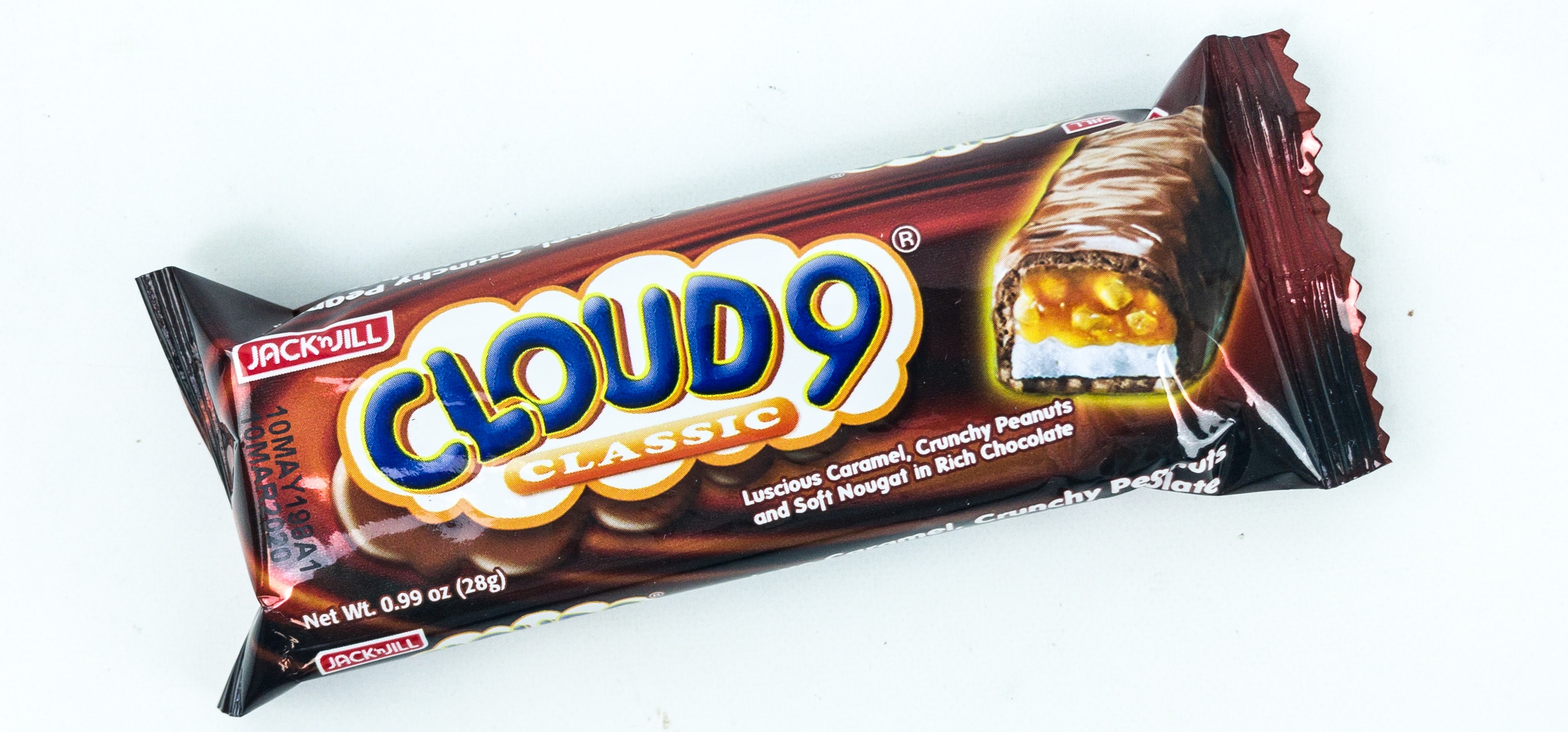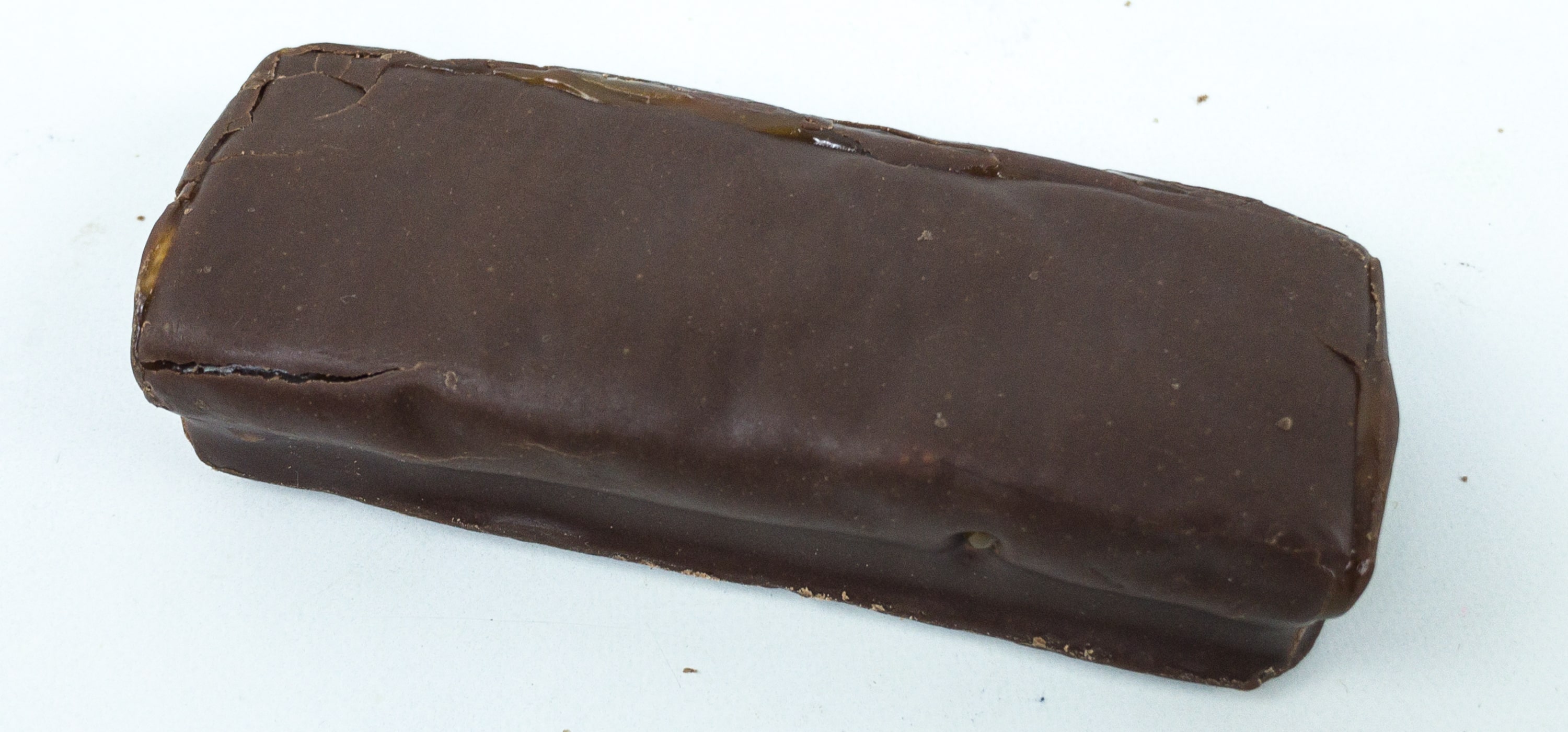 Jack N' Jill Cloud 9. It's a classic chocolate bar made with luscious caramel, crunchy roasted peanuts, and soft nougats. The chewy and creamy texture plus the sweetness will definitely bring you to cloud 9. It's a nice snack to munch on when you need to be energized and awake!
Oishi Pipe Bites. This snack tastes exactly like churros, a fried dough pastry. They're cut into bite-sized pieces and filled with white chocolate to make them even more delicious!
Jack N' Jill Quake Bars. Filipinos never run out of chocolatey snacks! This time, we got a chocolate cupcake with sweet chocolate fillings. We love how soft and moist the cake is. It's also rich and satisfying, perfect for anyone with a sweet tooth.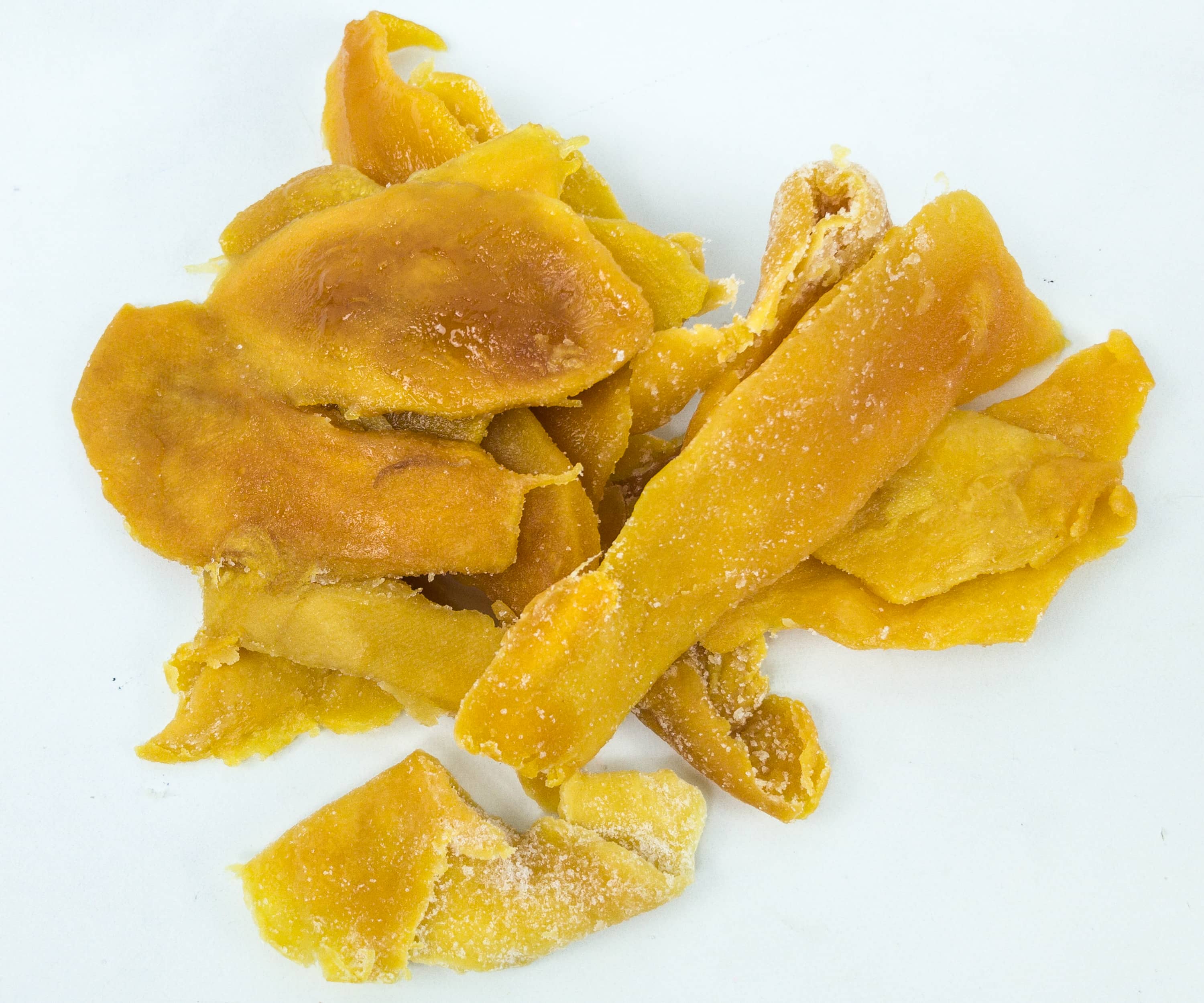 Philippine Brand Dried Mangoes. Philippine mangoes are popular for their sweet taste and fragrant scent. We got dried ones in the box, and their quality still gives justice to the fresh ones! Each piece is chewy and not dry, with a balanced combination of sweet and tangy.
Prima Toast. We also got these toasts the last time, and I loved it! Each piece of toasted bread is smothered with margarine and rolled in a generous amount of sugar. These can also be alternatives to freshly toasted bread for breakfast, if you don't have the time to toast.
Jack N' Jill Chippy. Chippy is one of the most popular corn chips in the Philippines and this barbecue flavor is one of their flag bearers. These crunchy chips are salty, peppery and a little spicy, just like how Filipinos make their barbecues.
Lala Milky Chocolate. This milk chocolate bar is made with sugar, whole milk powder, cocoa powder, corn syrup, and vanilla. It has no preservatives and no artificial colors, plus it's low in fat. The bar can be easily broken down it rectangular slices. They also feature diagonal lining.
X.O. Hard Candy. There are 3 pieces of this coffee candy in the box. They boast of the strong scent and taste of coffee, but just like any other candy it also comes with a bit of sweetness.
It's another jampacked box from Snack Crate! I'm always impressed by how they ensure that you'll get the true taste of a certain country through snacks, whether it's sweet, sour, savory, or salty. It really is amazing how many treats they pack in one box! This month is all about the Philippines and their snacks. I know that their snacks are good but never thought that their local snacks would be such a great way of getting to know a country and its culture. So far, our favorites are the dried mangoes and the toasted bread! It's always interesting to see a variety of snacks in one box!
What do you think about this month's Snack Crate?