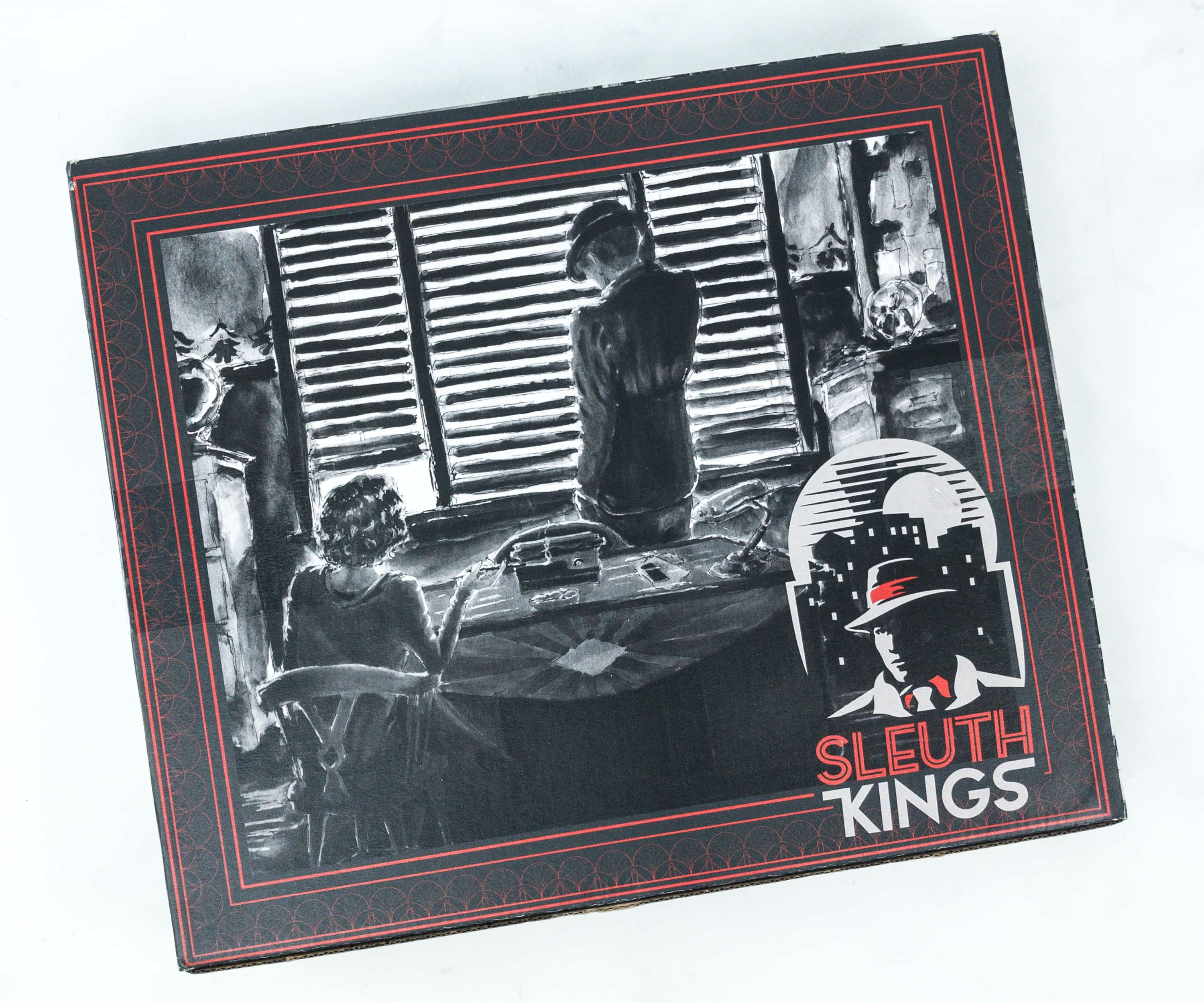 Sleuth Kings is an interactive monthly mystery box. Every month, a physical case file arrives full of evidence, puzzles, ciphers, and more. Plans start at $29.95 per month and they also have 3-month and 6-months prepay options. You will work hand-in-hand with Sullivan King, the lead detective, via email as you solve the case.
Each month's case is a new, stand-alone mystery that takes approximately 2-3 hours to complete. Each case includes an epilogue -a  follow-up letter from the client as well as a small gift. For every 4 cases you solve, you'll be rewarded with a FREE bonus case that revolves around the hunt for Sullivan's father.
DEALS:
Get $8 off first purchase Use coupon code HELLOSK .
Get 10% off of your order! Use coupon code HELLO10.
This the review of Mystery Box Case 018 – The Stolen Scrolls.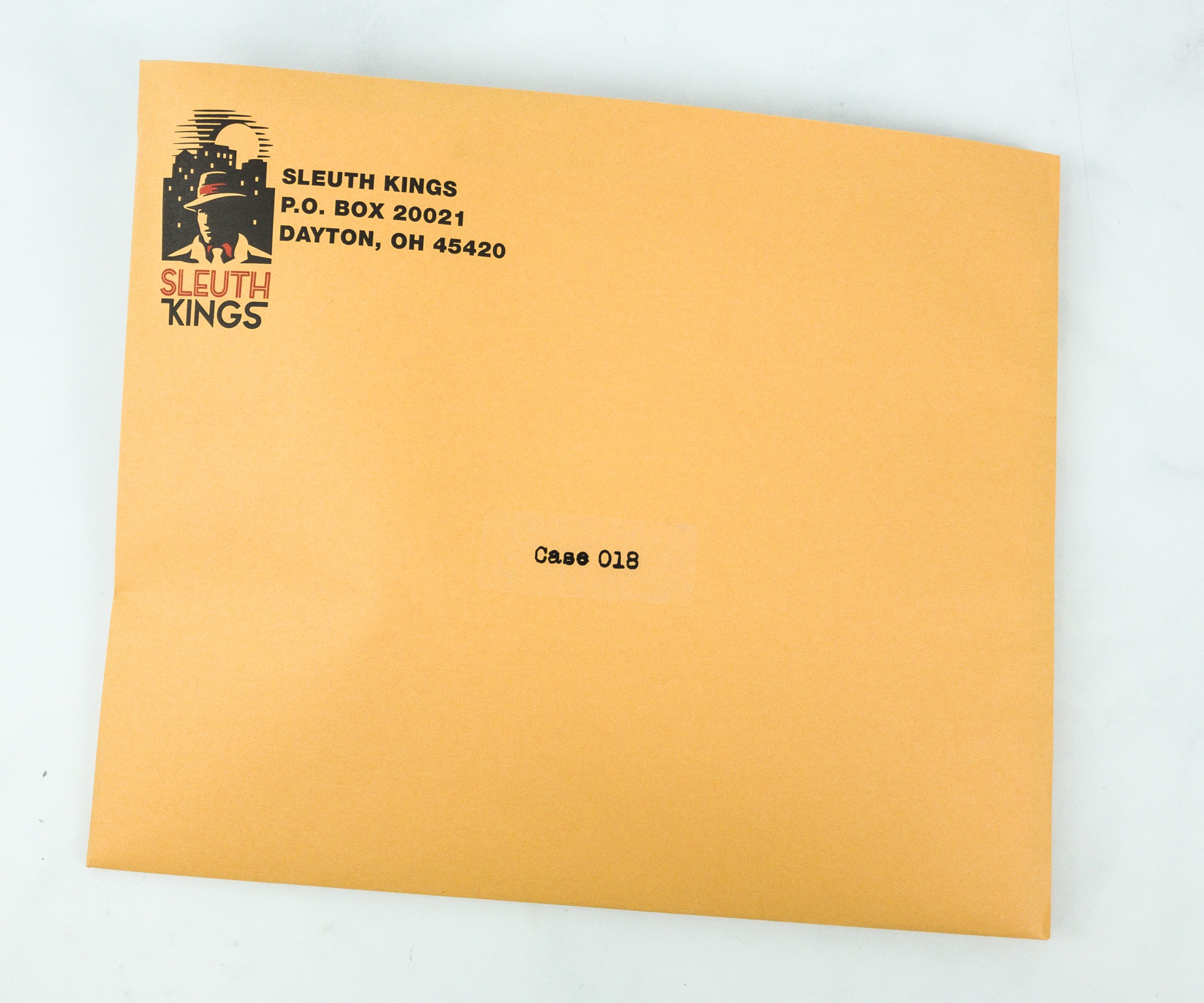 The mystery comes in an envelope. The only things written on it are the Sleuth Kings P.O. box address and the case that you will be working on.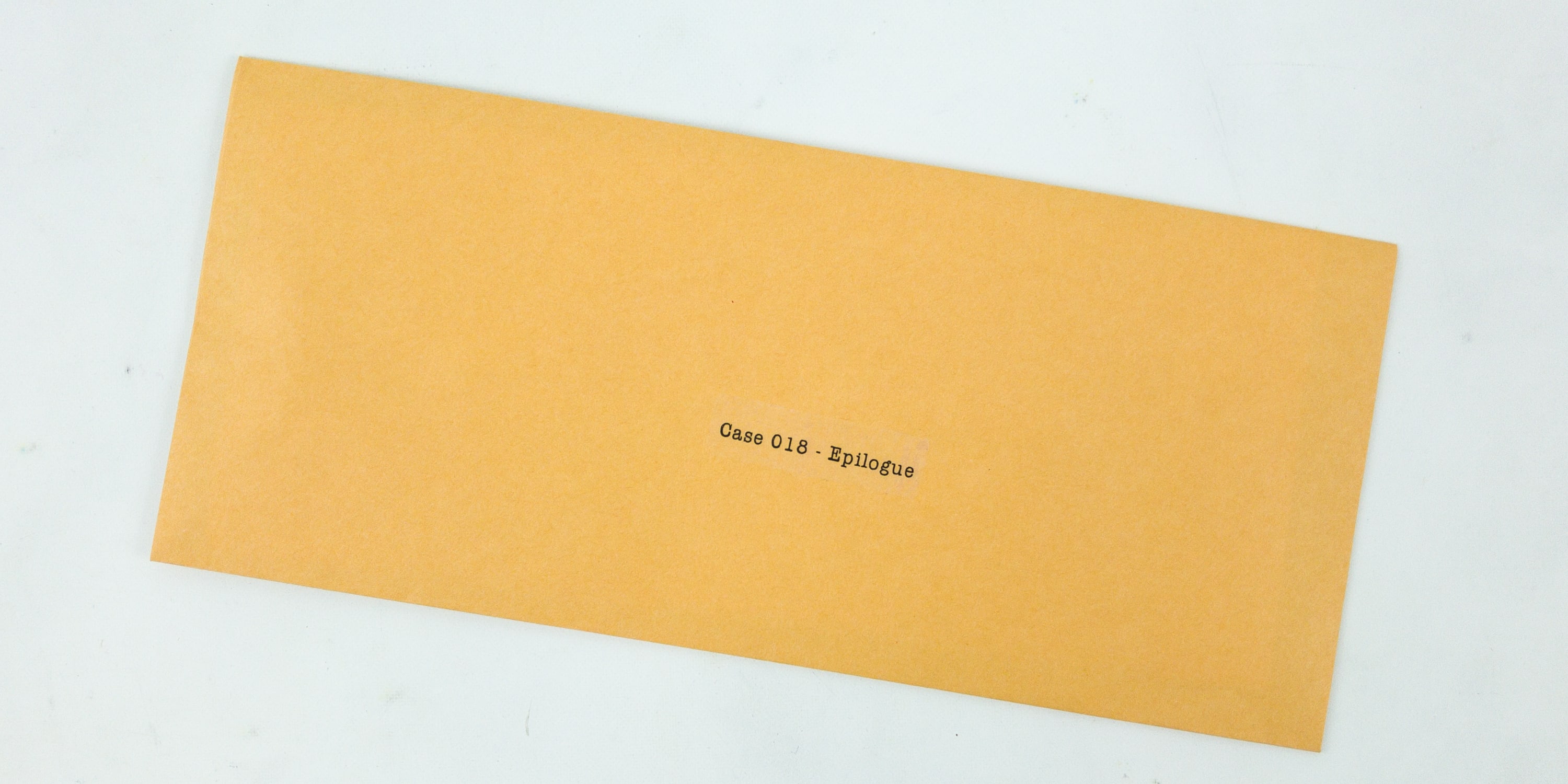 The epilogue is included and separated in another envelope.
To begin with your adventure, you need to login to their website and send Sullivan an email.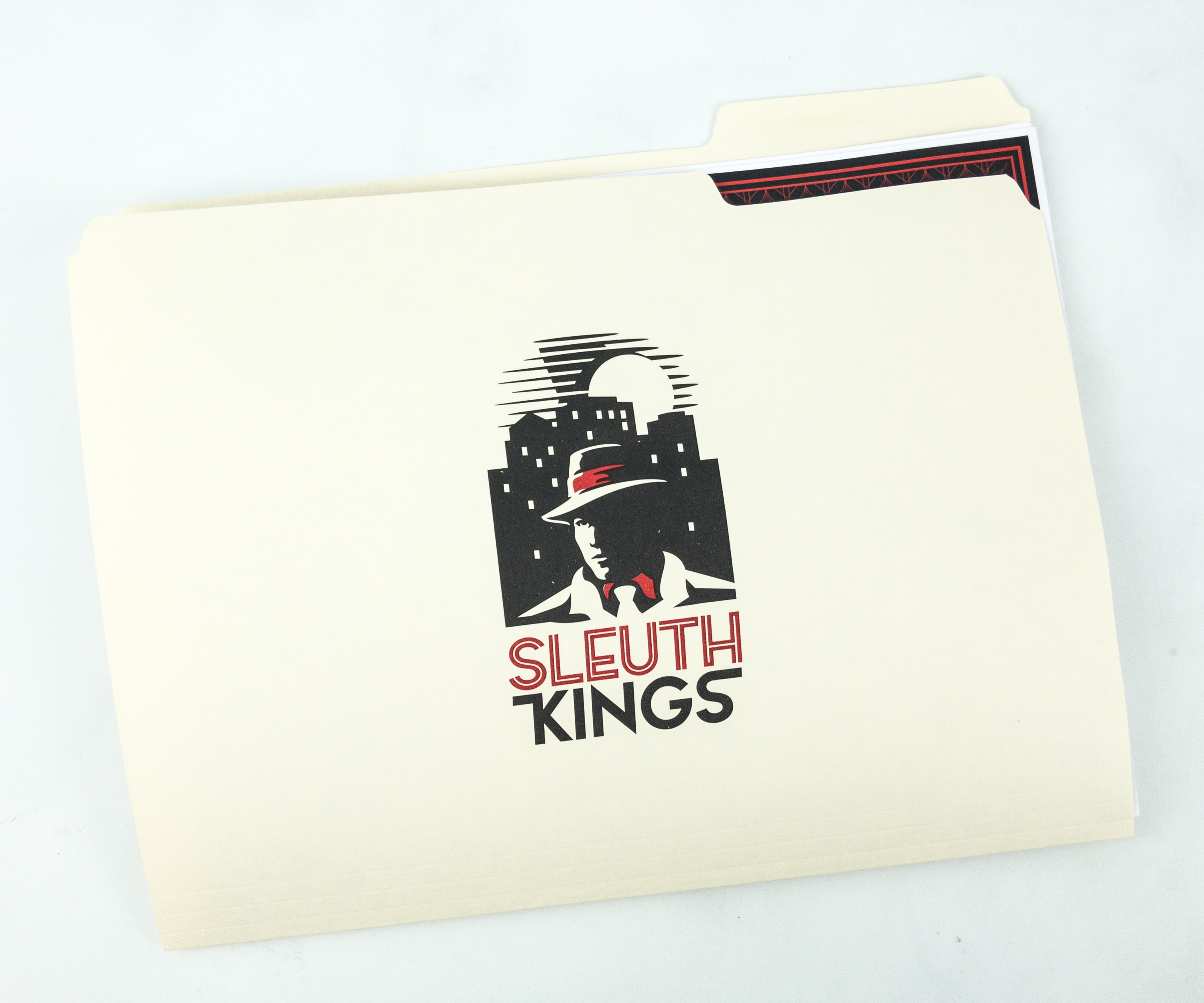 The files are neatly arranged in a white folder, with Sleuth Kings branding in front.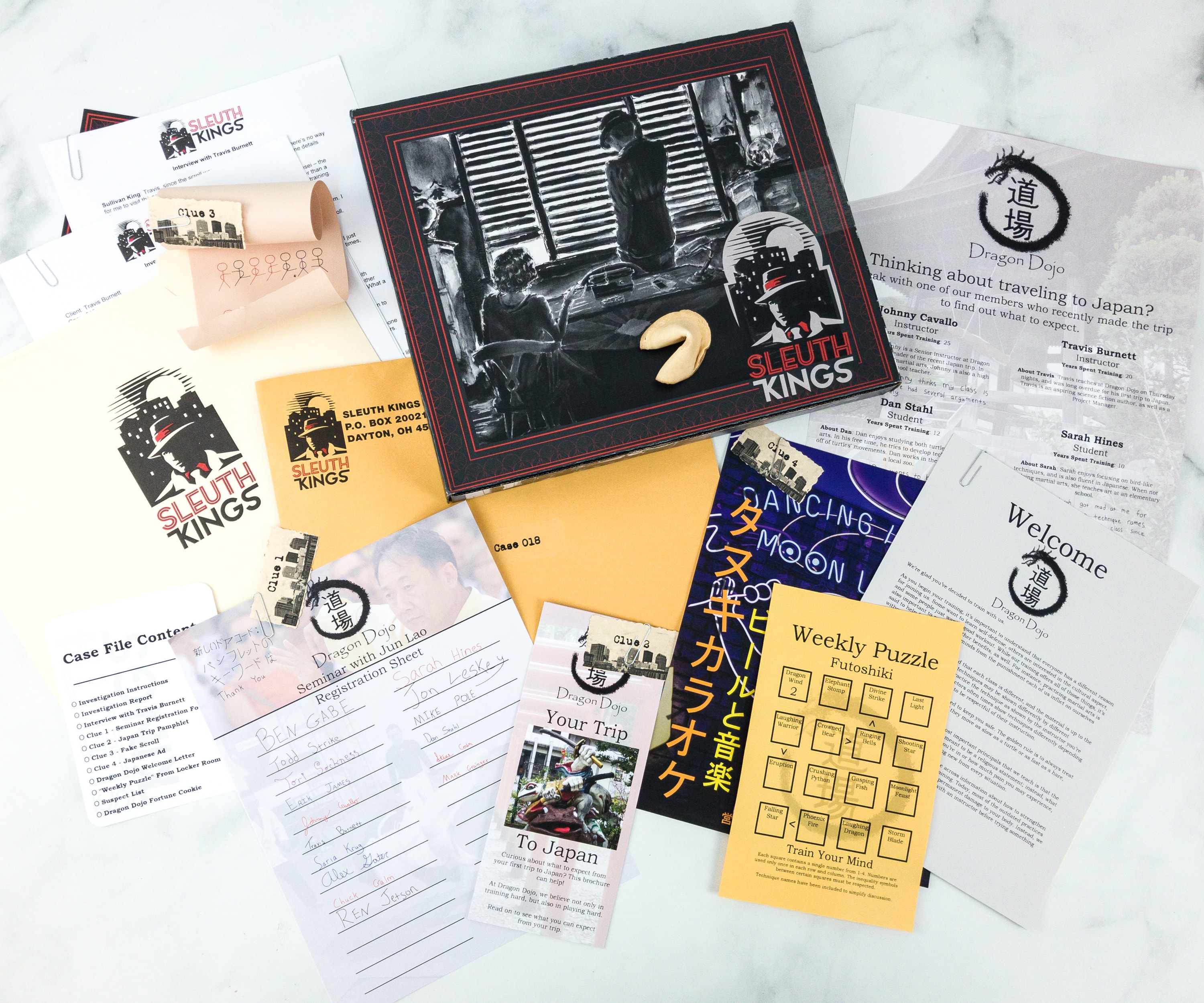 Everything in my box!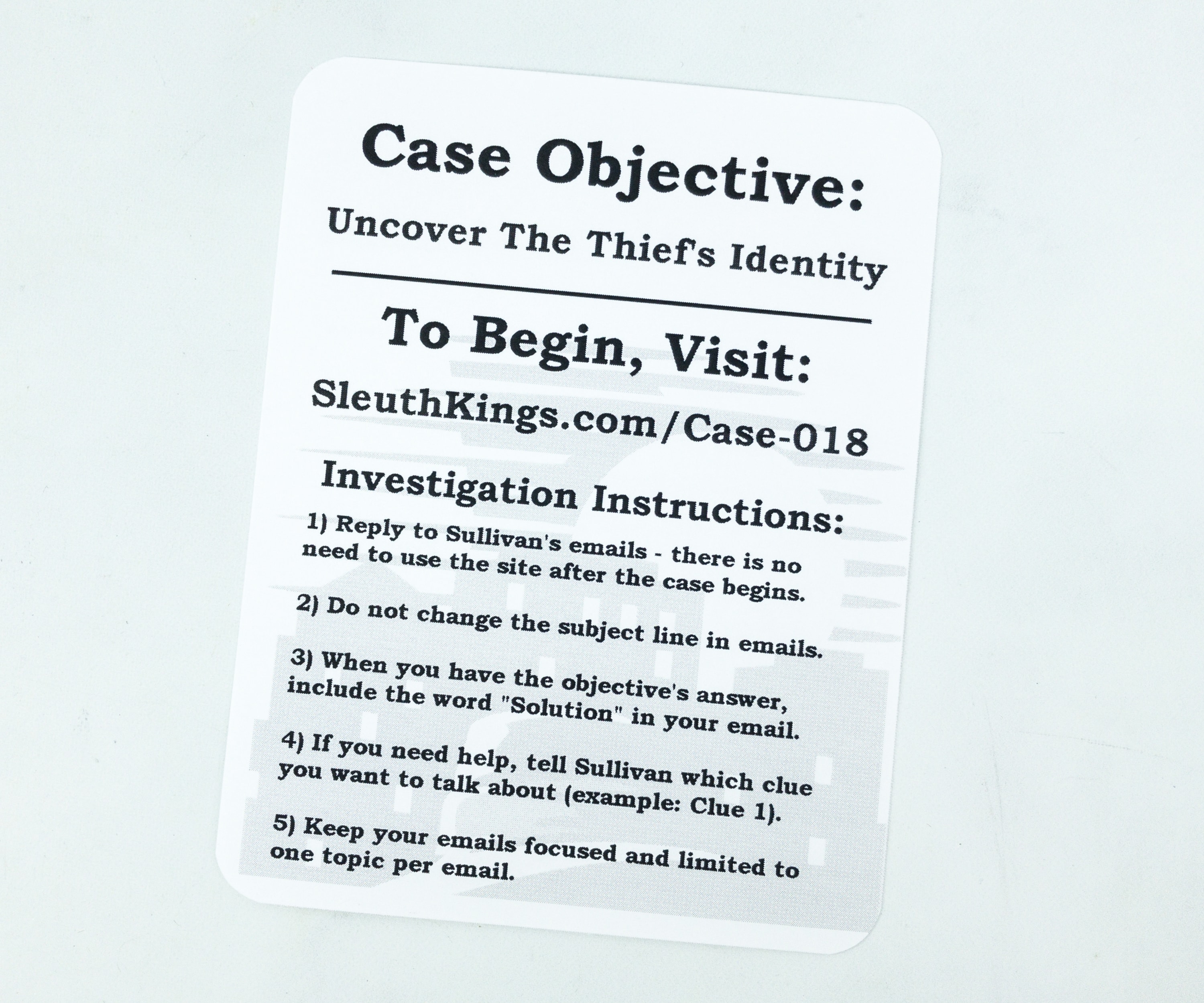 The case objective is written in a card, and we will be working uncovering the identity of the scroll's thief!
It also lists the contents of the case file: investigation instructions, investigation report, clues, and more.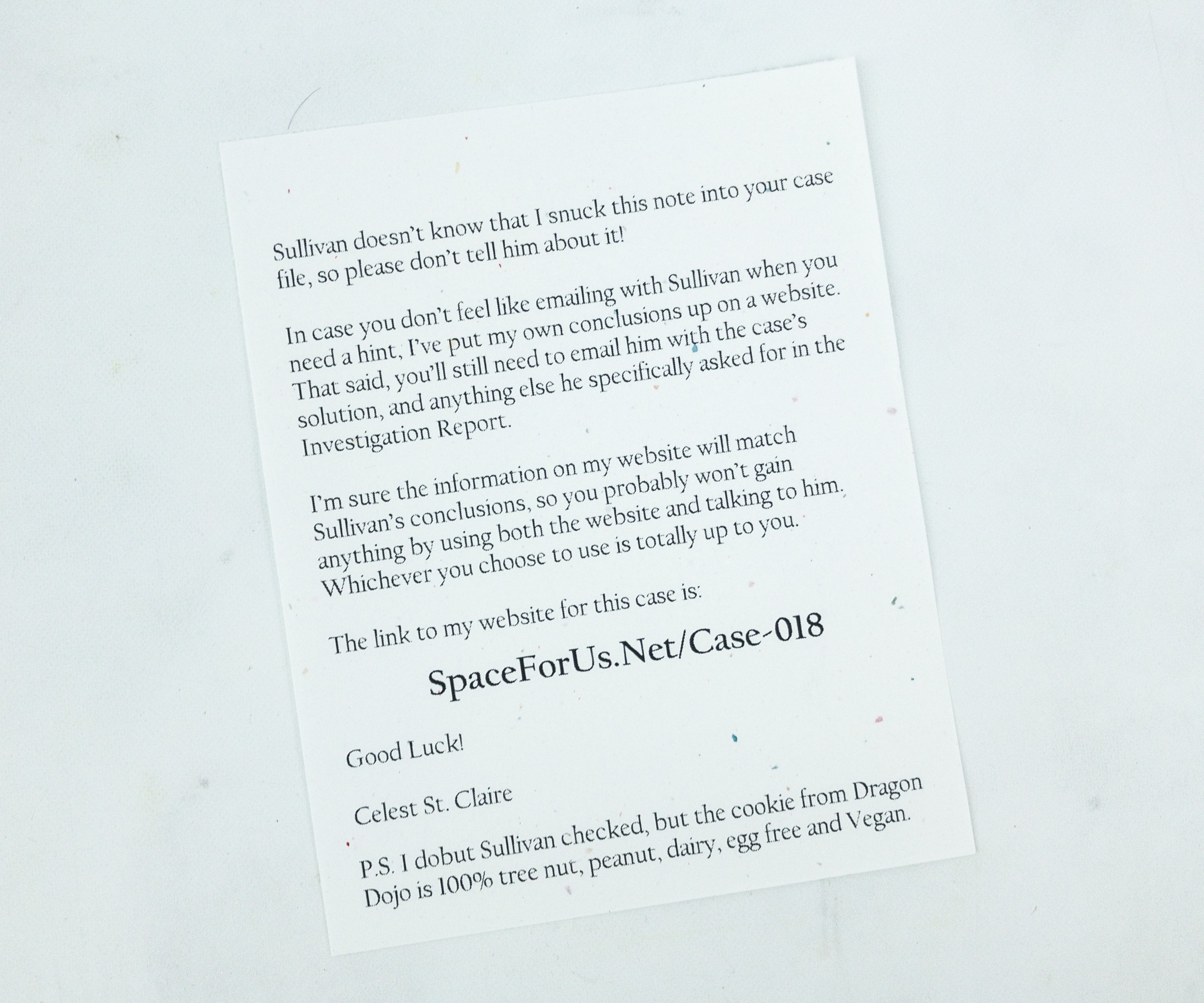 We also got a snuck-out letter from Celest St. Claire, telling us that we can also use her help.
After looking at all the materials, I sent Sullivan a letter to finally start the case.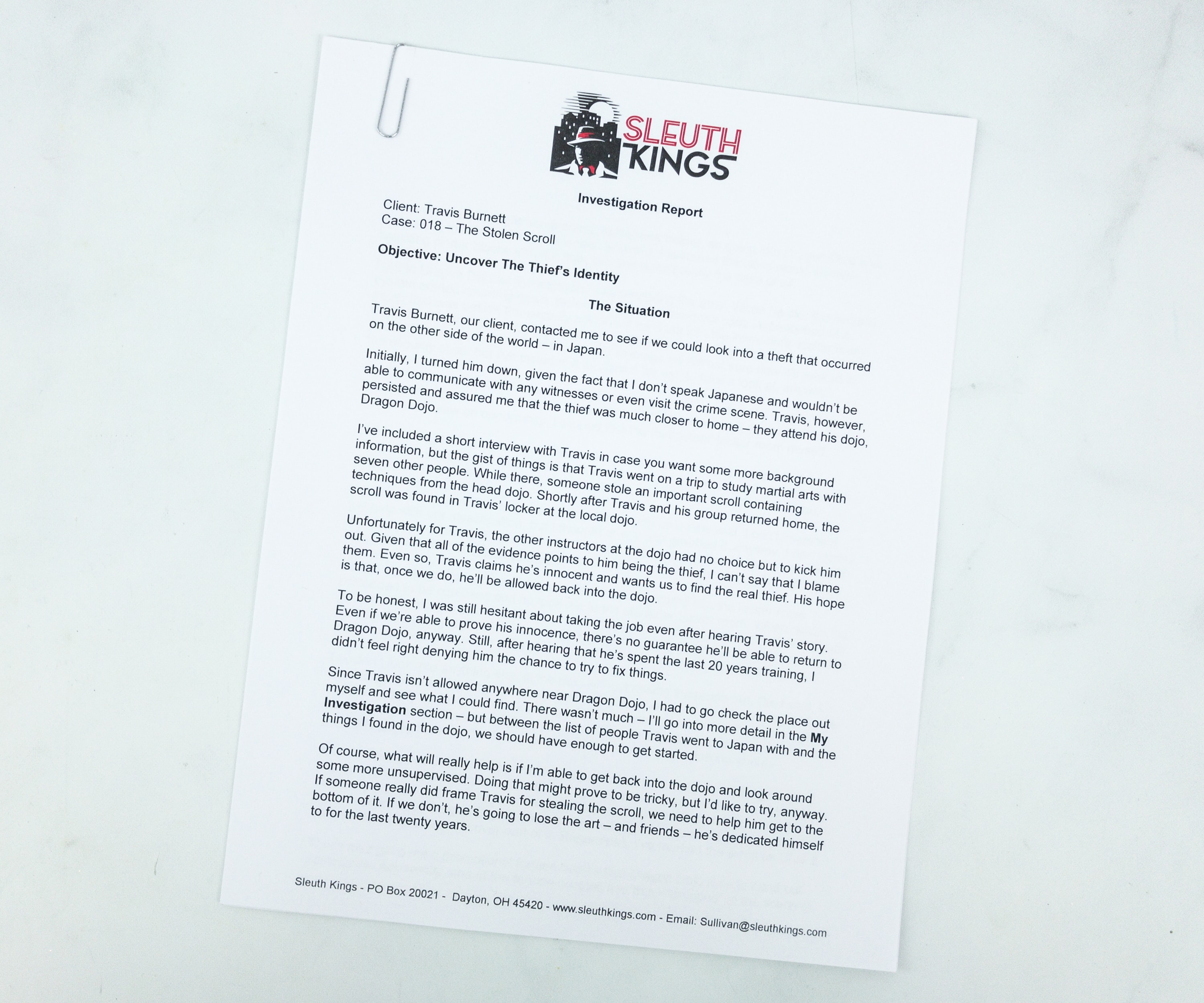 The investigation instruction sheet names the client, the case you will be working on, and the whole situation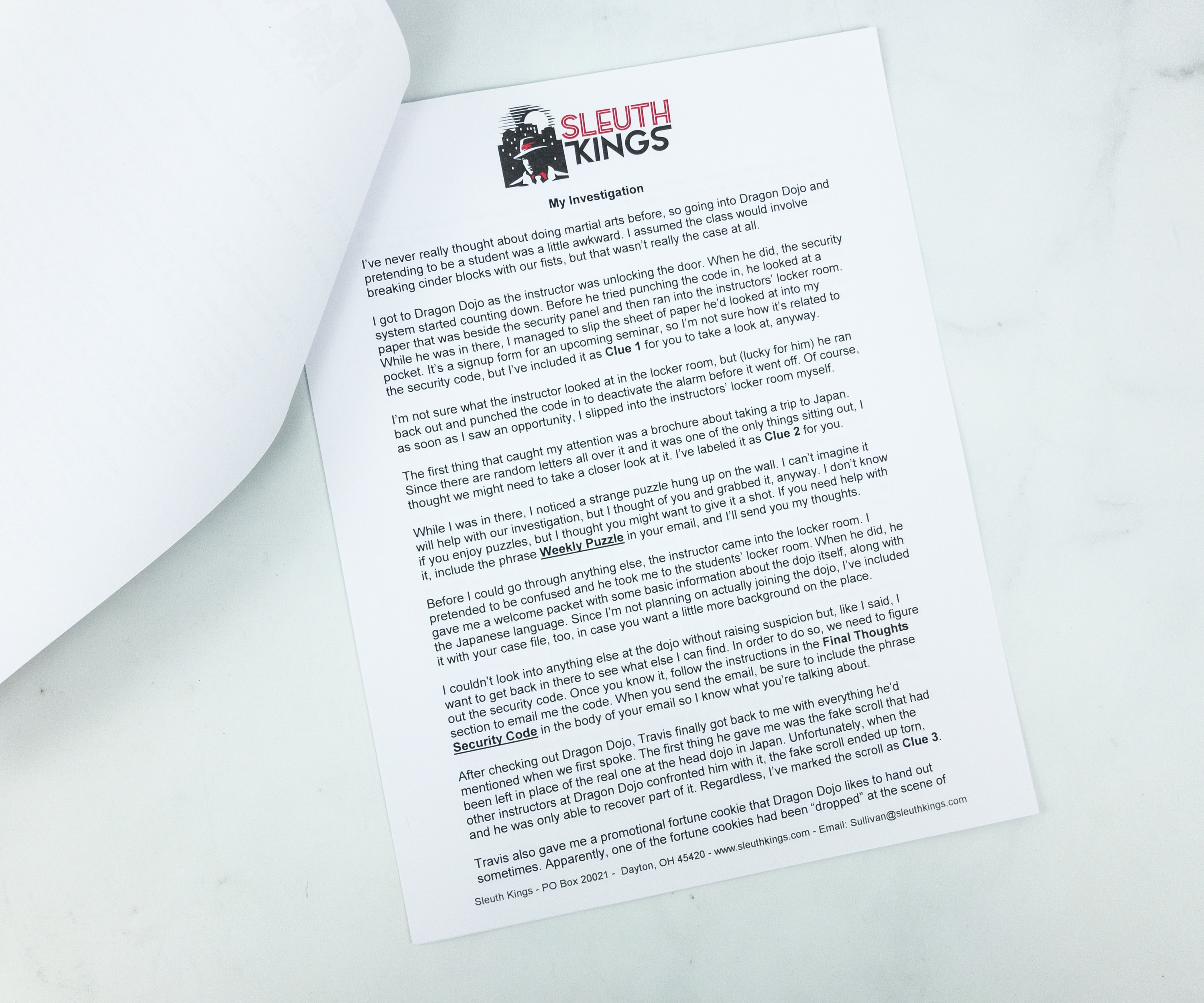 I suggest you read them thoroughly to fully understand the case and also to know where to start the whole investigation.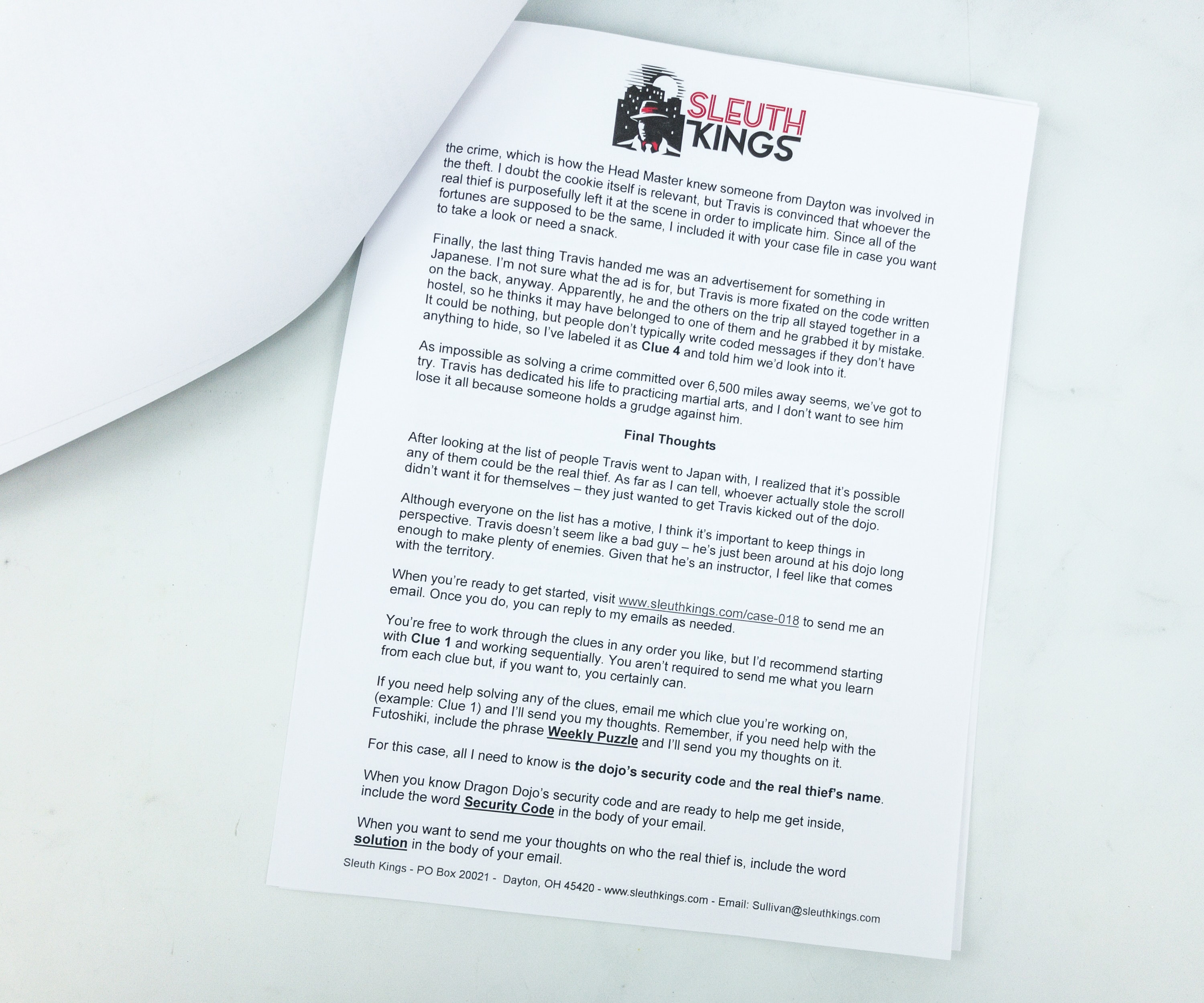 For this case, we just need to find out the name of the thief who stole the scrolls, and to find out the dojo's security code!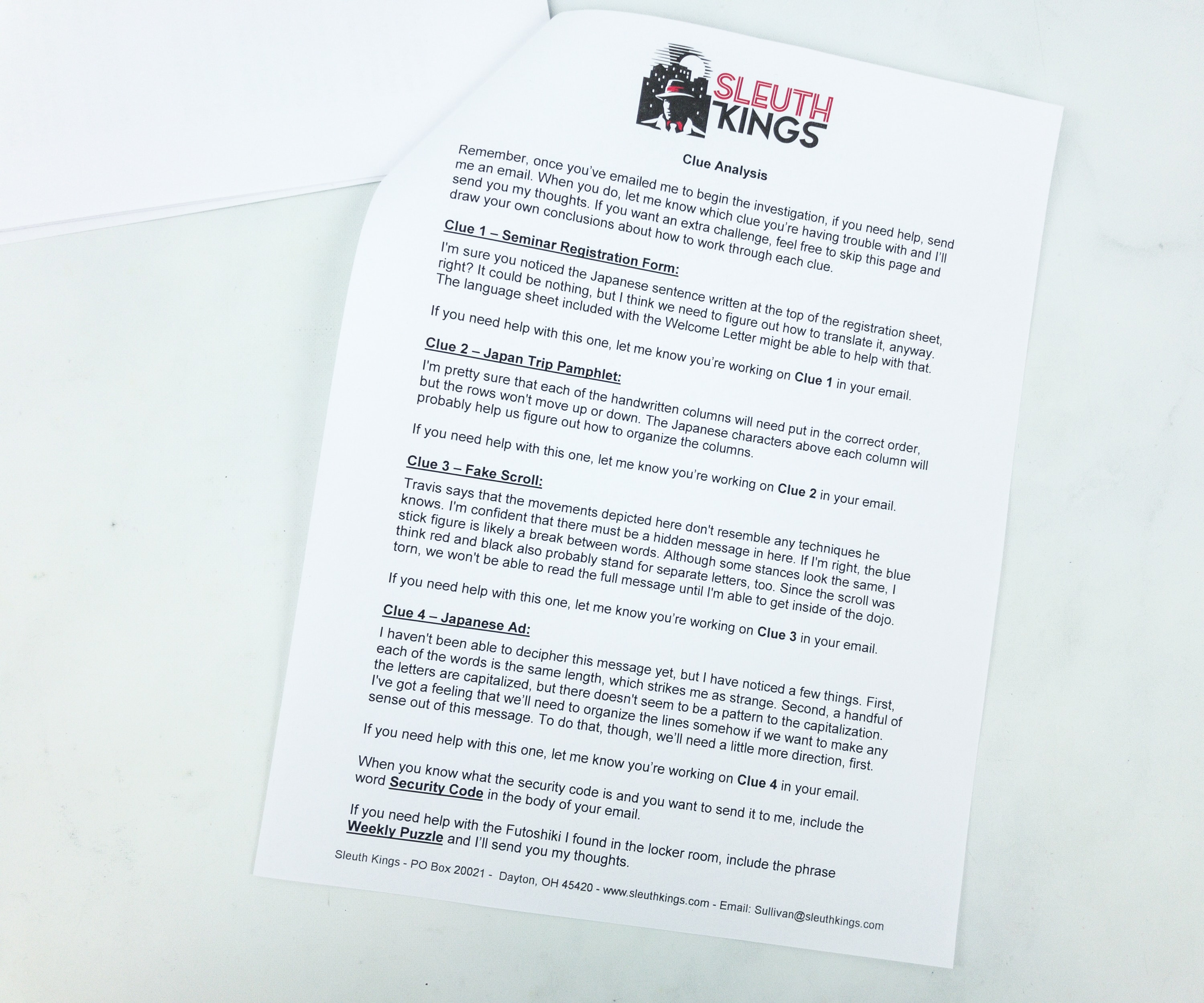 There are also clue analysis, where each clue item's use is being hinted or explained.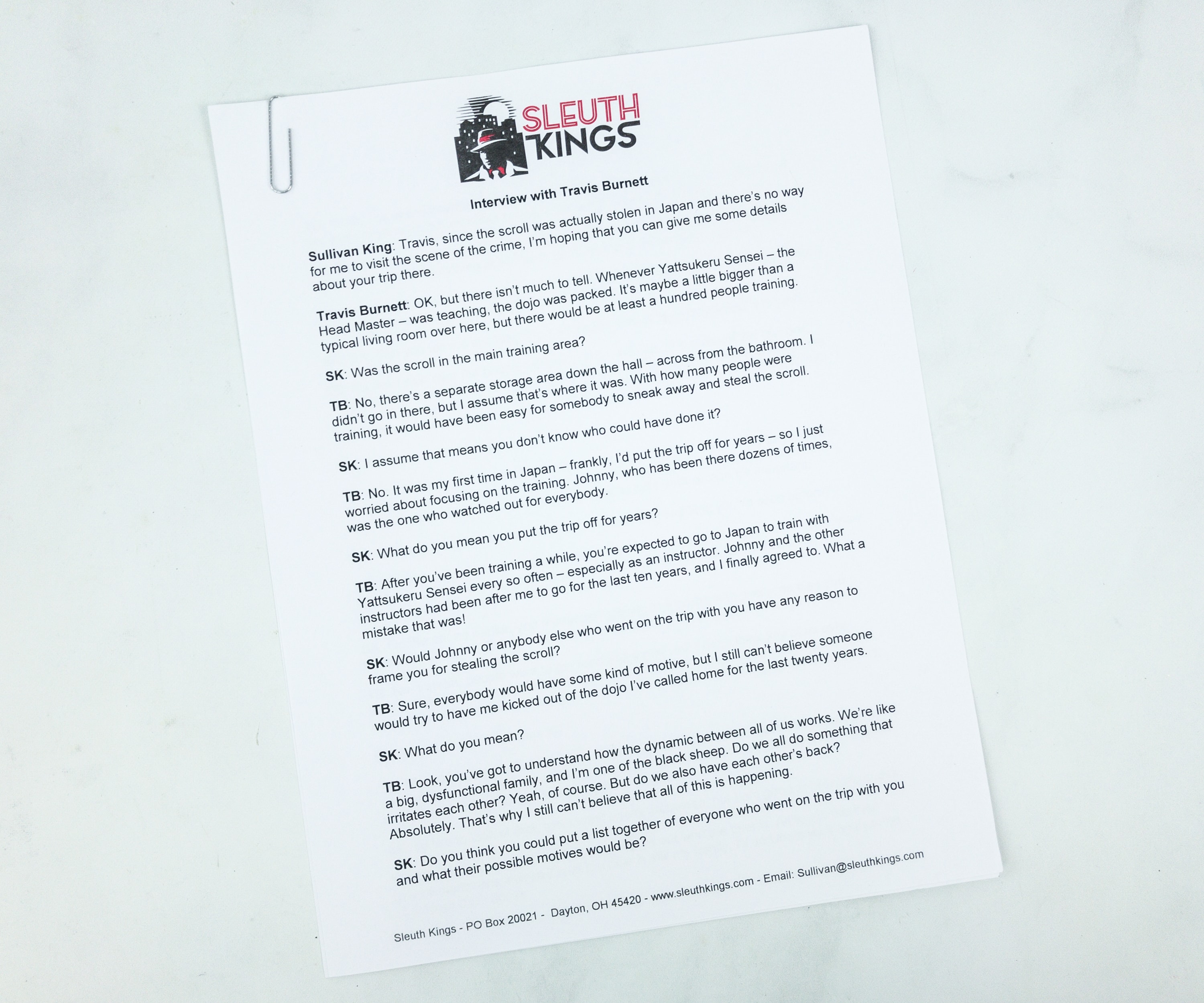 There's also an interview with Travis Burnett!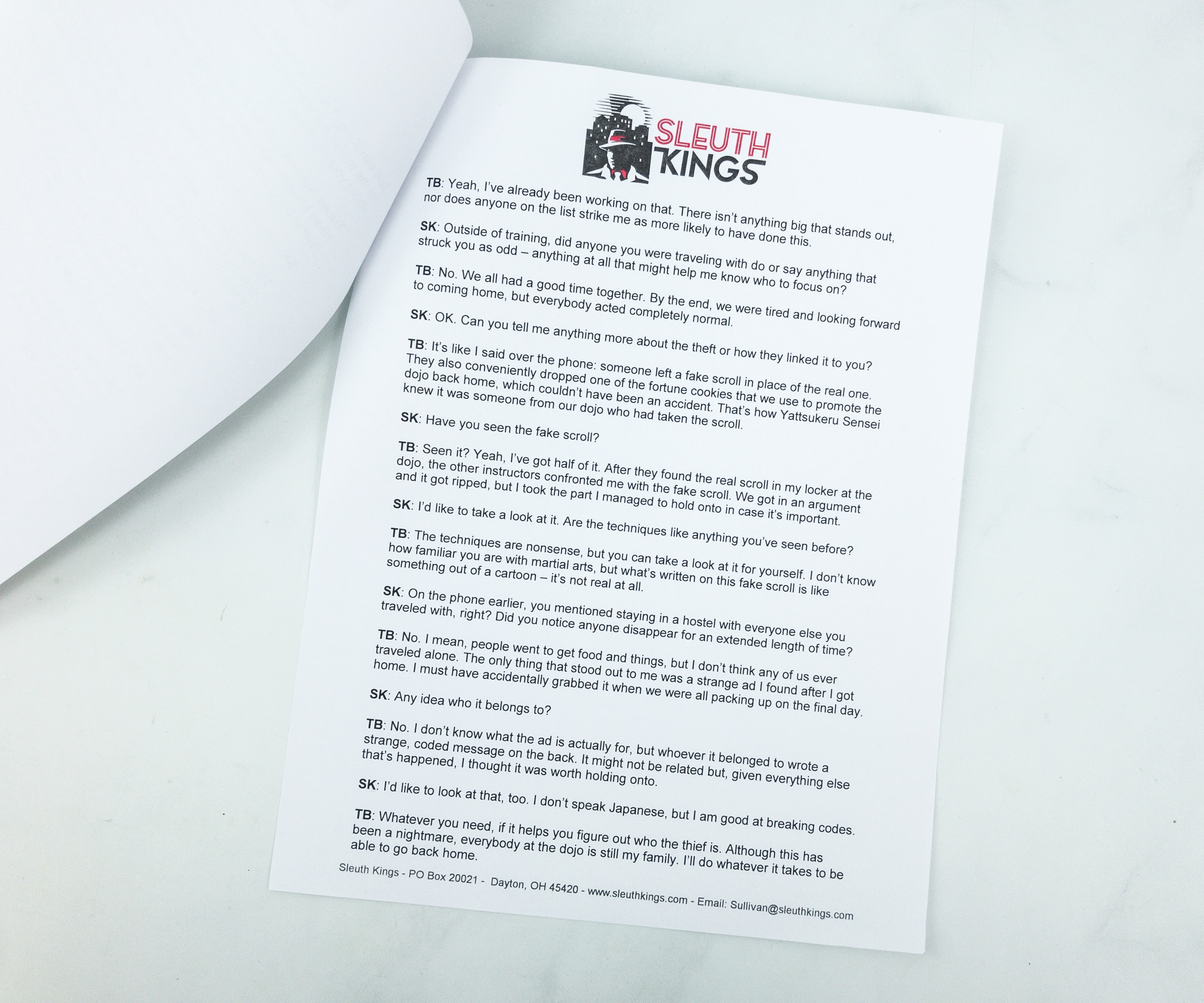 Travis is one of the guys who went to Japan to attend the Dragon Dojo's Seminar with Jun Lao.
The first clue is the registration sheet of the people who attended the seminar conducted by Dragon Dojo with Jun Lao. The list may contain the name of the real culprit. There are writings in Japanese on top of the page that we need to decipher as it may mean something.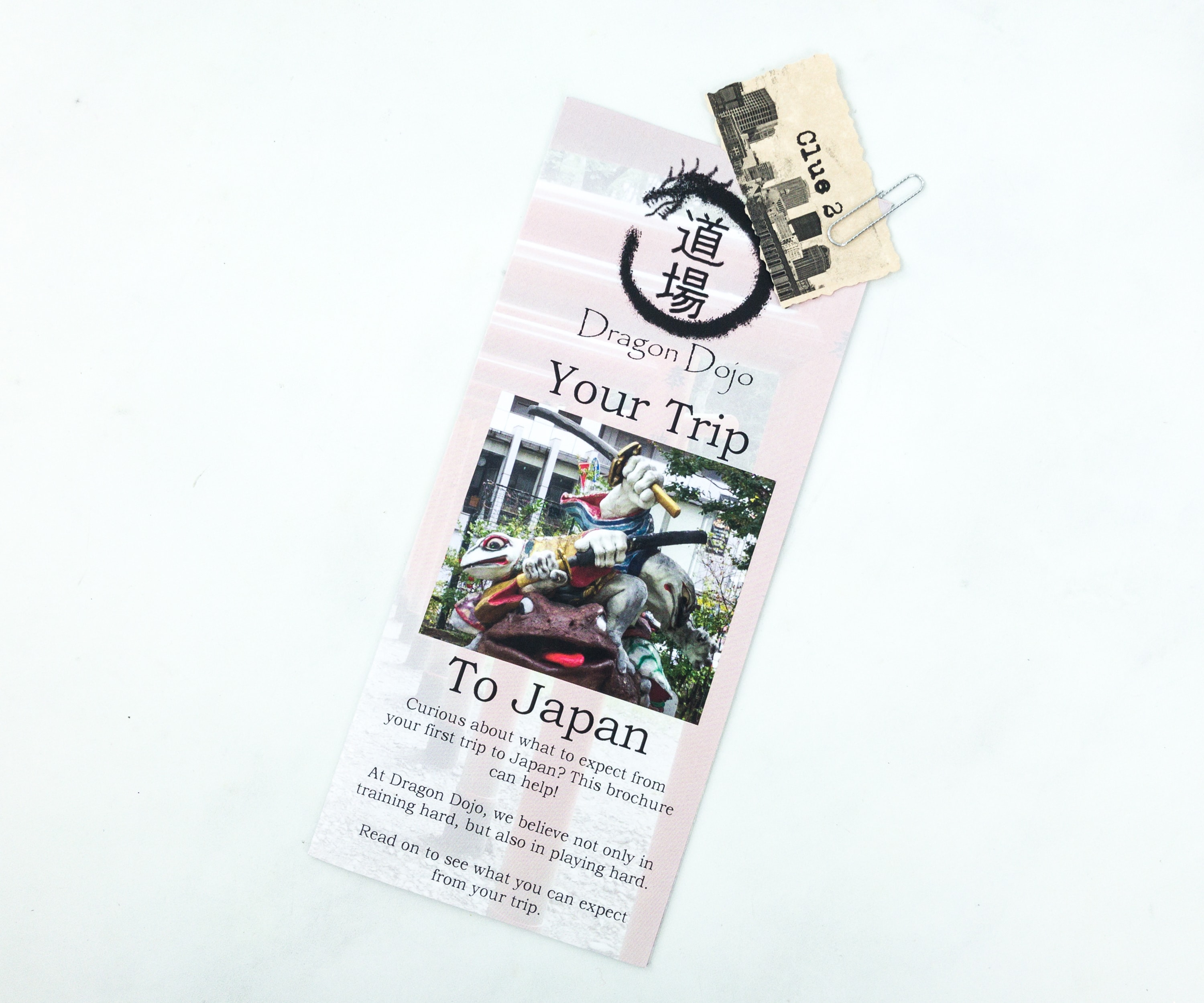 The second clue is the Japan Trip pamphlet.
As we unfold the pamphlet, it has some Japanese characters and English letters on it written in columns.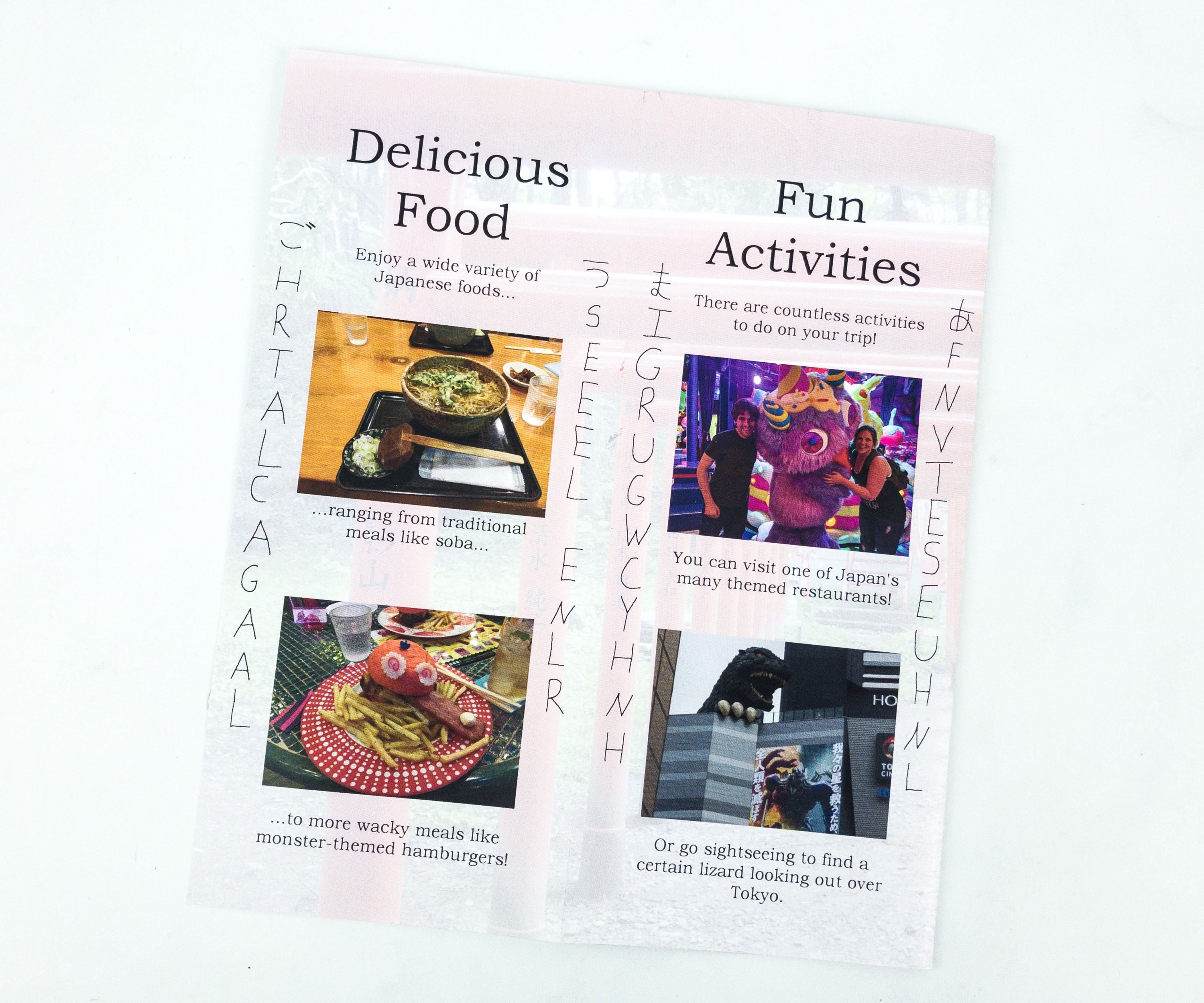 At first look, the letters look like some scribbles on the pages, but we all know that each has got to do with the Japanese characters written on each column. We just need to find out how to arrange them so they can make sense.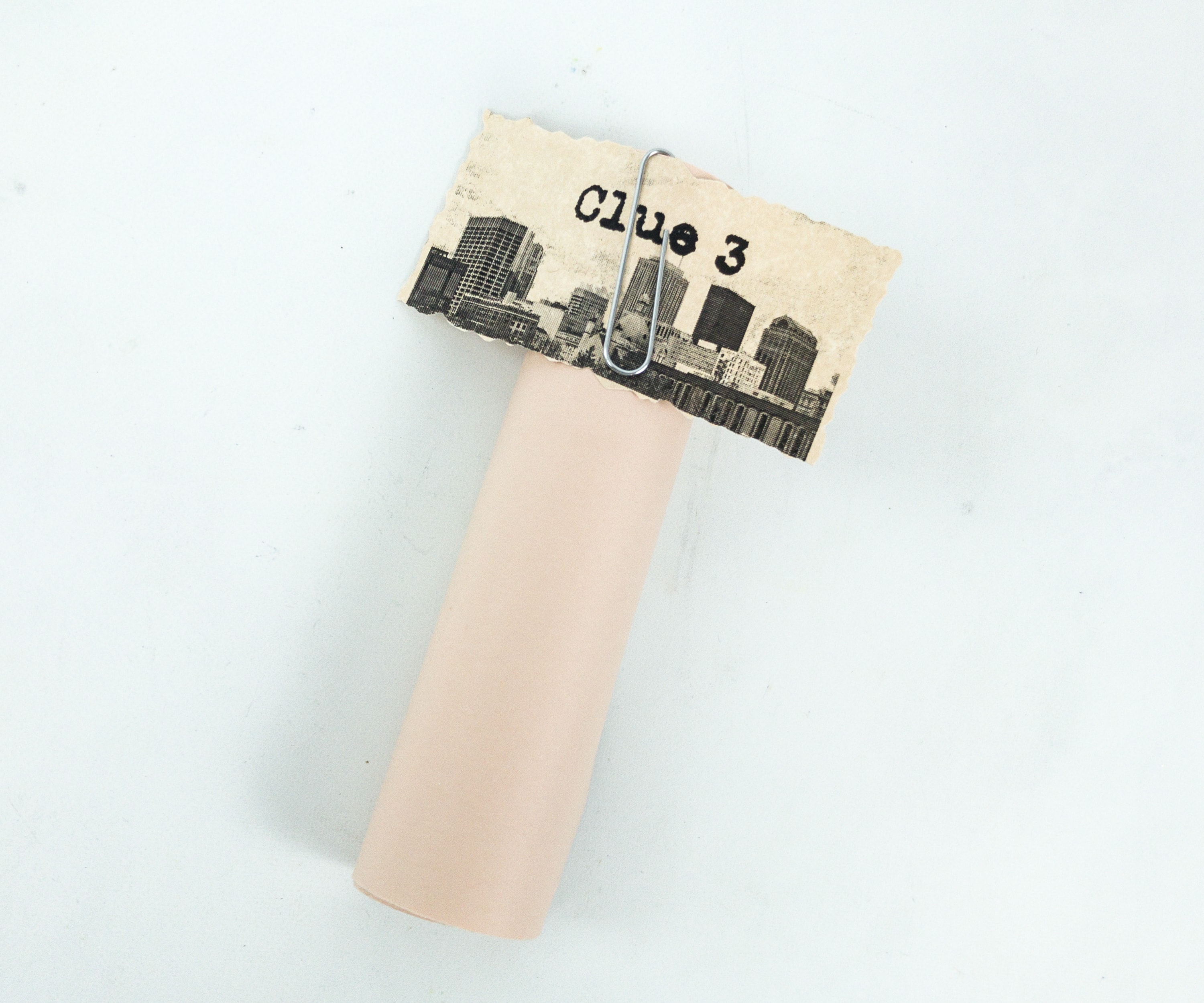 The third clue is a rolled-up sheet, which appears to be a fake scroll.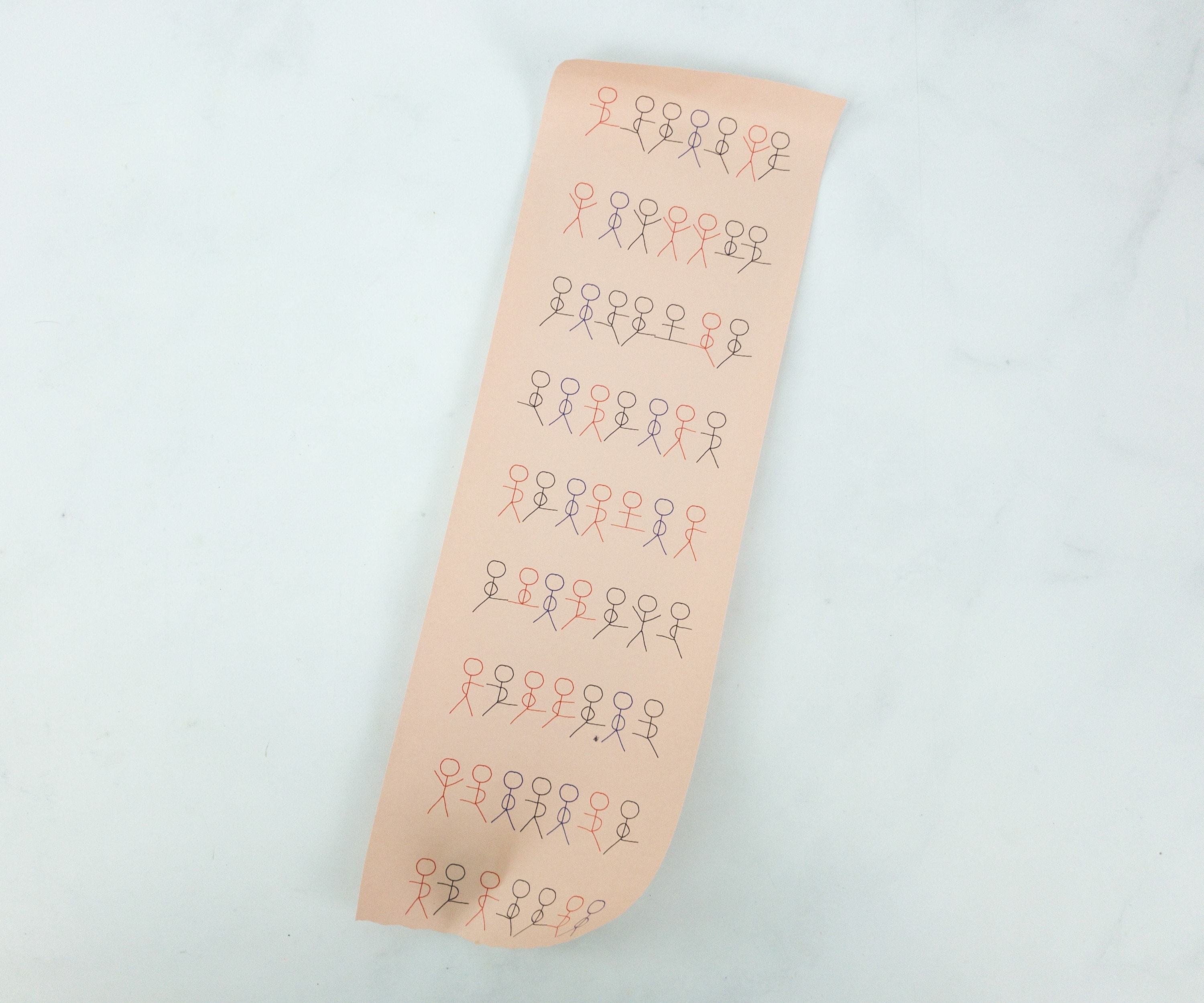 As we unfold this fake scroll, it shows different techniques drawn with stick figures. Also, the stick figures came in different colors: red, blue and black, which we all think is saying something as well. There may be a hidden message but the scroll appears to be torn.
Here's a Japanese ad that serves as the fourth clue.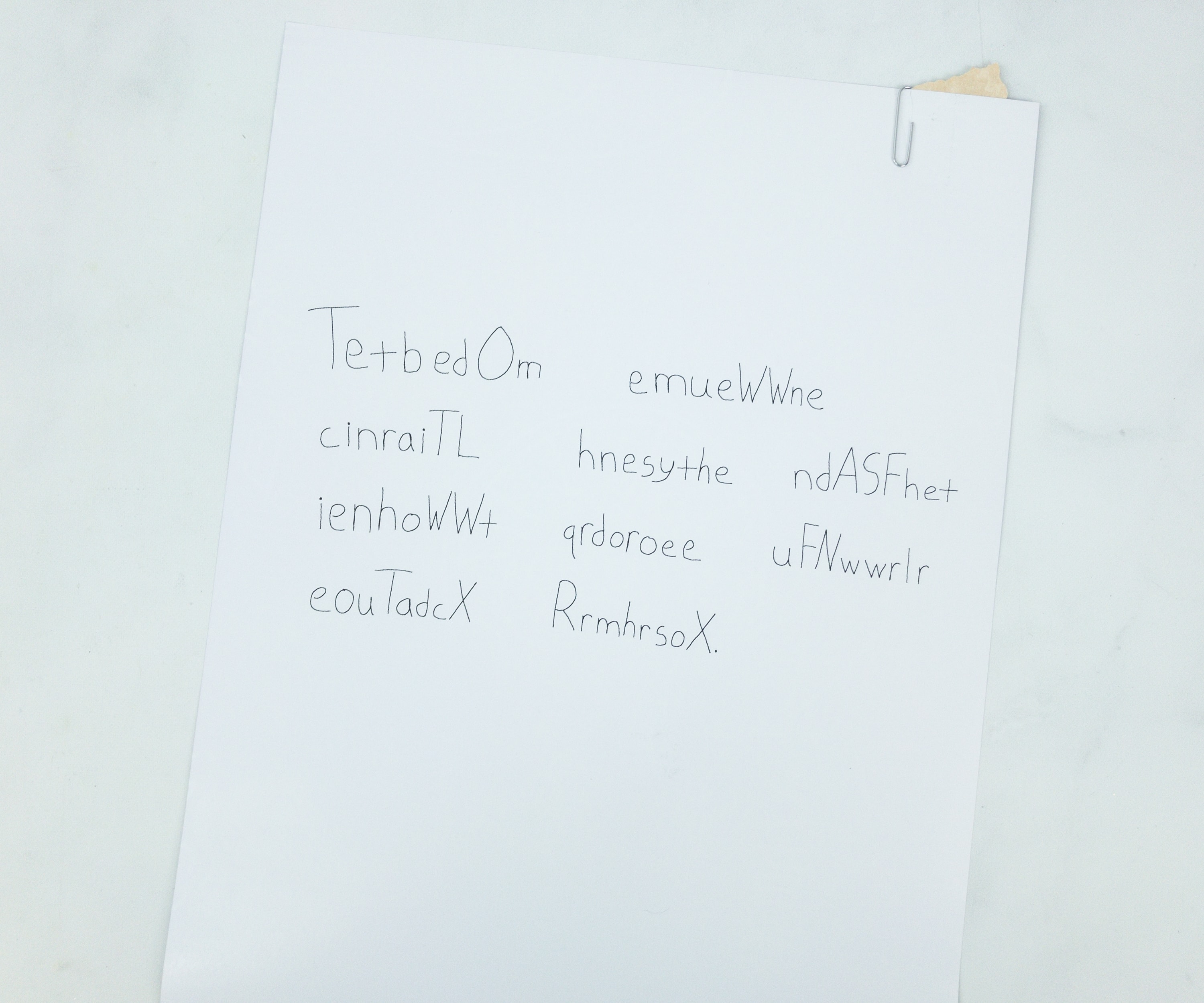 The back has some scribbles on it, and they actually don't make sense or even make up clear words. I think those capitalized letters will make up something if rightly arranged, but first, a direction is needed.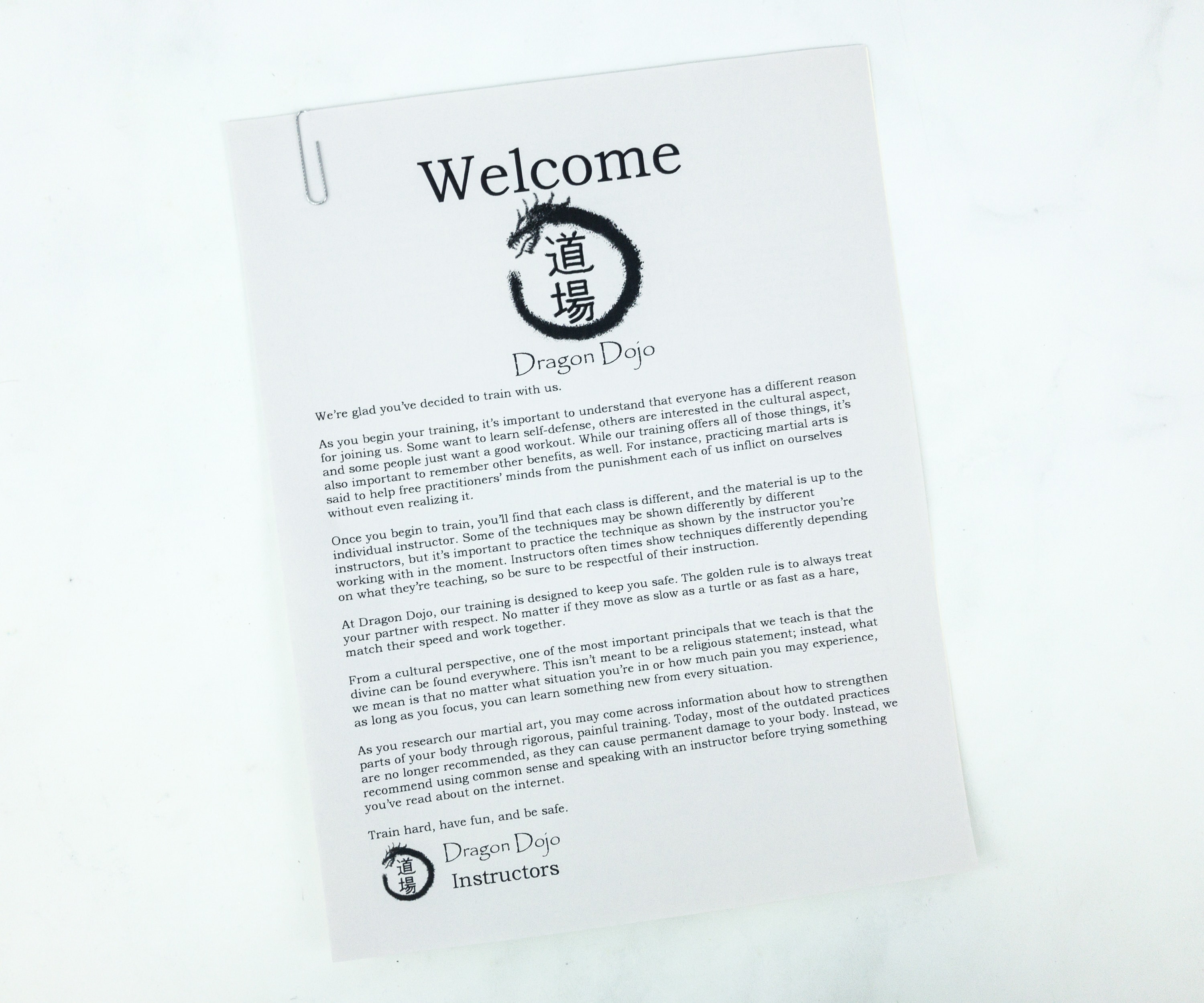 There's also an included Welcome Letter from the instructors of Dragon Dojo.
Aside from the warm welcome, there's also a Japanese Language basic sheet included, which will definitely help us decipher some of the characters in Japanese that we can find on the clues.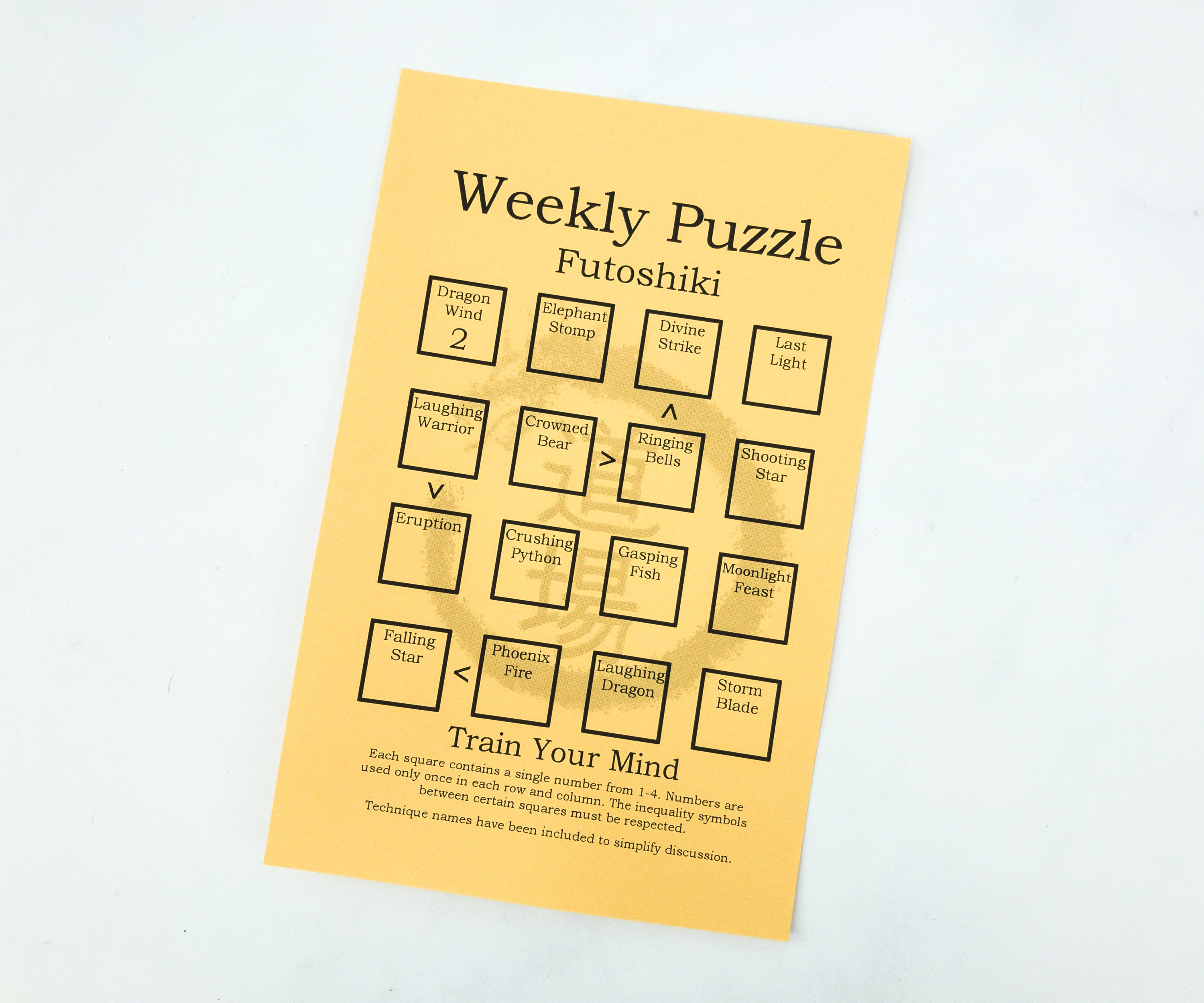 There's also an included Futoshiki, a Weekly Puzzle that helps to train the mind. My daughter is so excited about this one!
There's also a list of the instructors and students of the Dojo, which can also be tagged as the suspect list!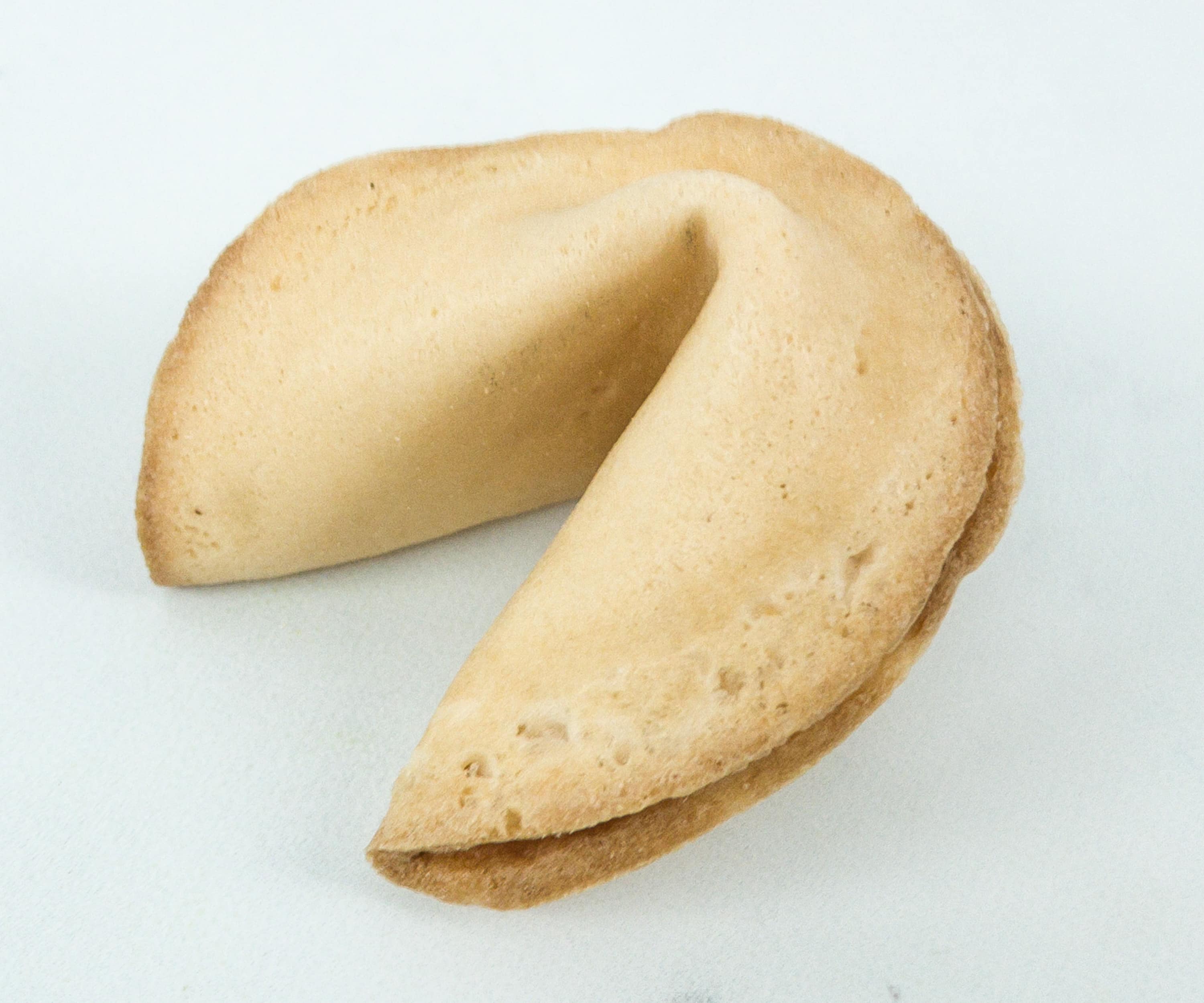 Here's one thing that also made us excited, a fortune cookie!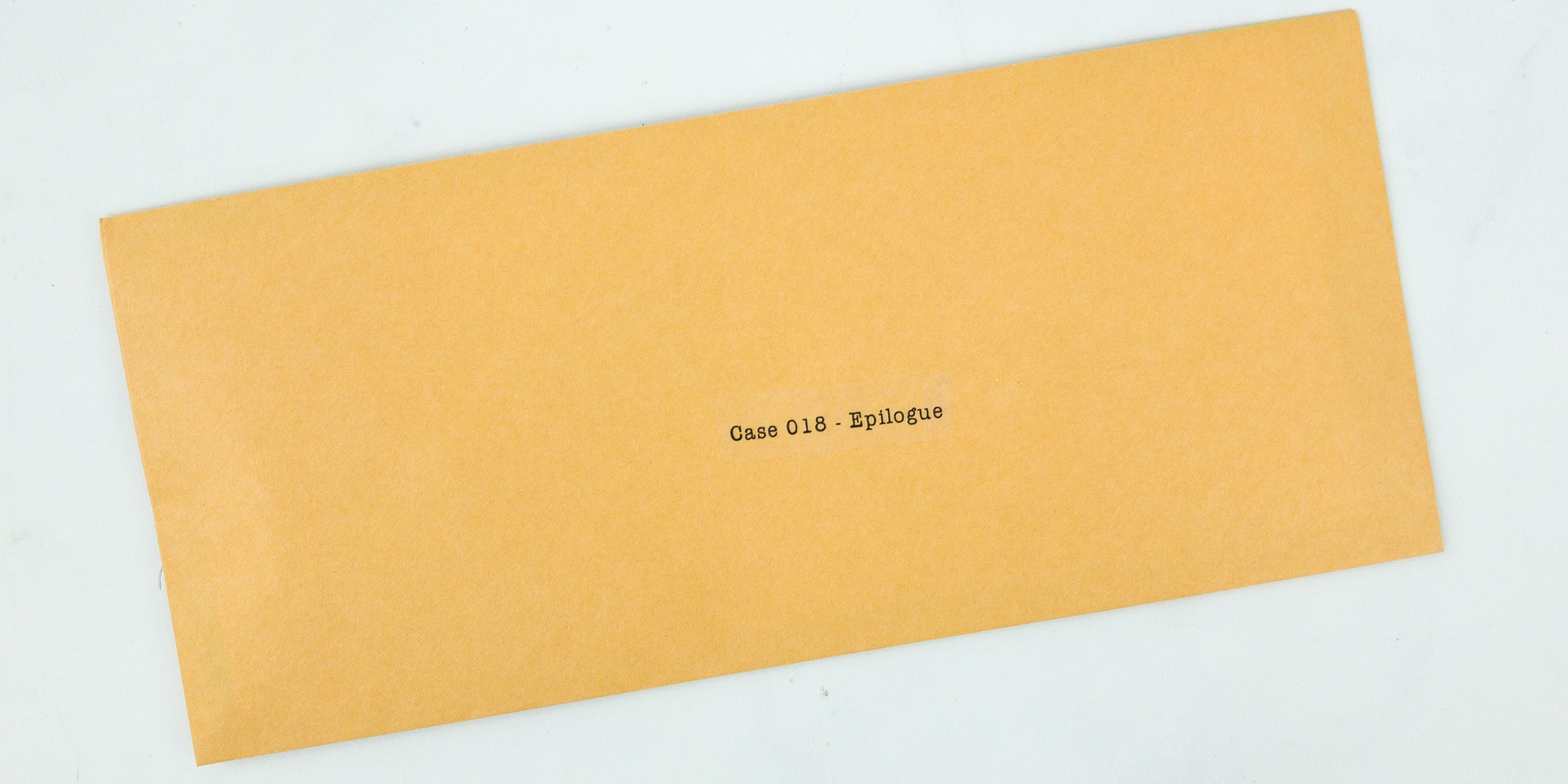 The Epilogue is in a separate envelope, open it when you're done!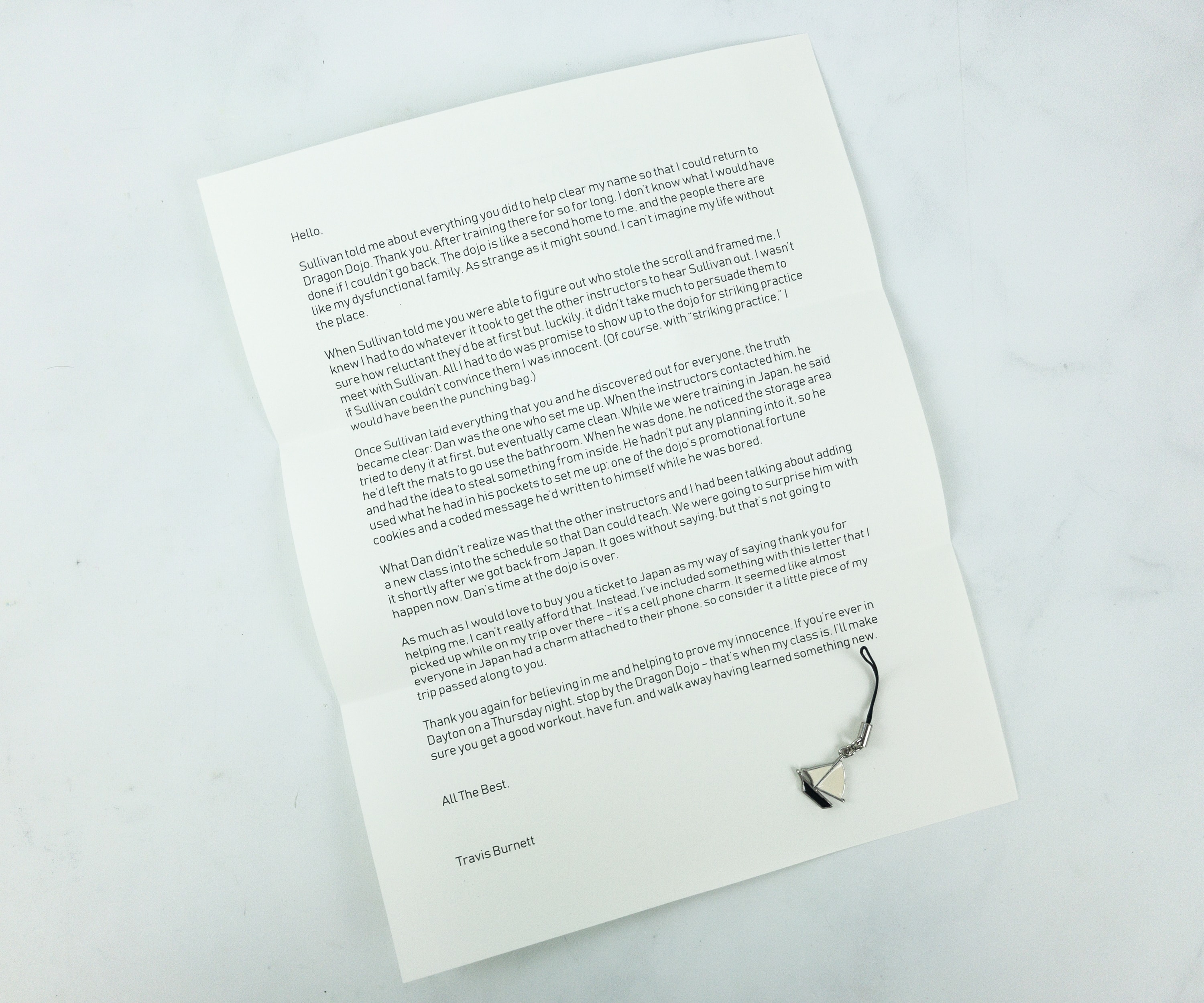 It's a letter of appreciation from Travis Burnett, and included is a cute sailboat cellphone charm.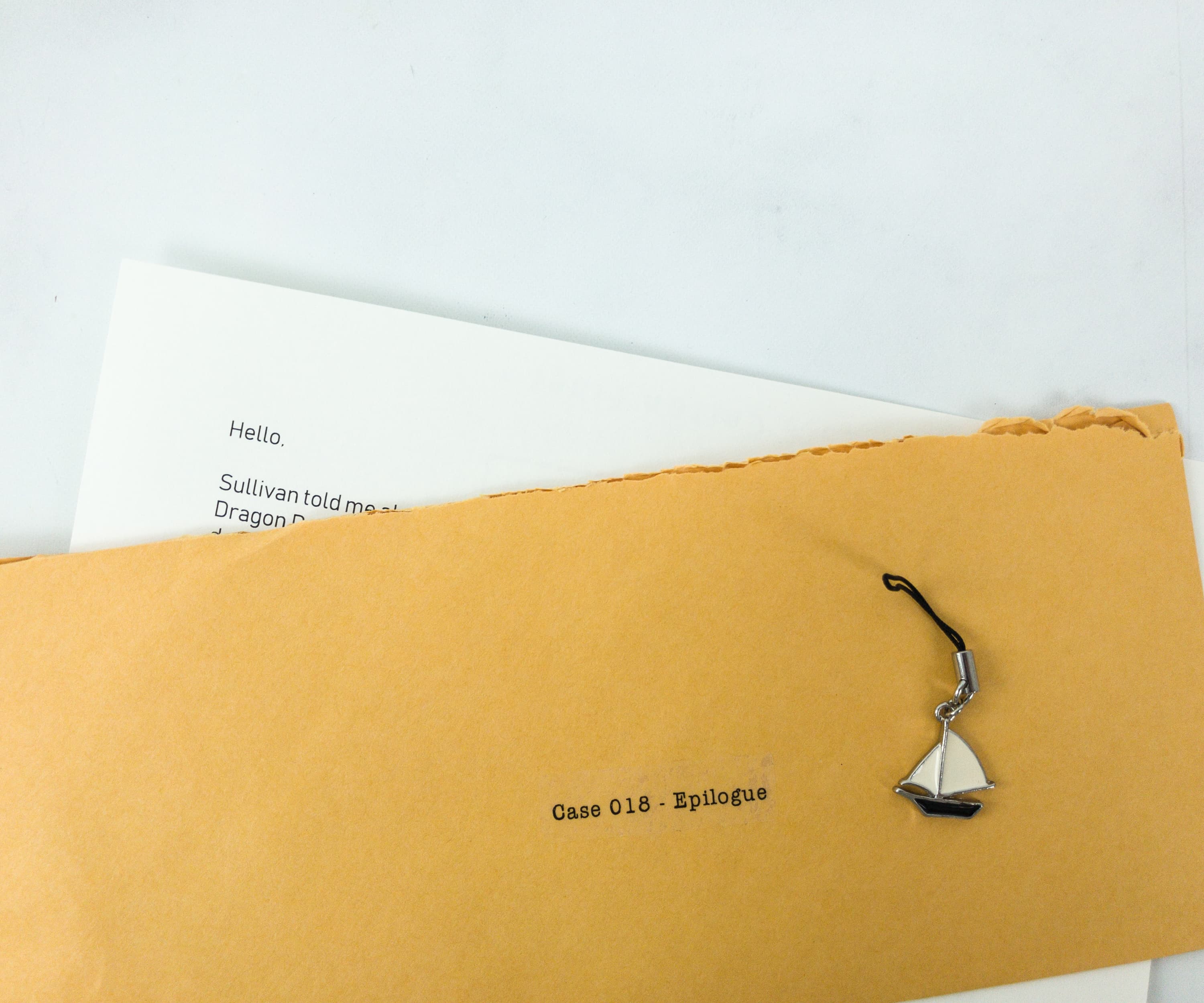 It was really nice to get a little token of appreciation!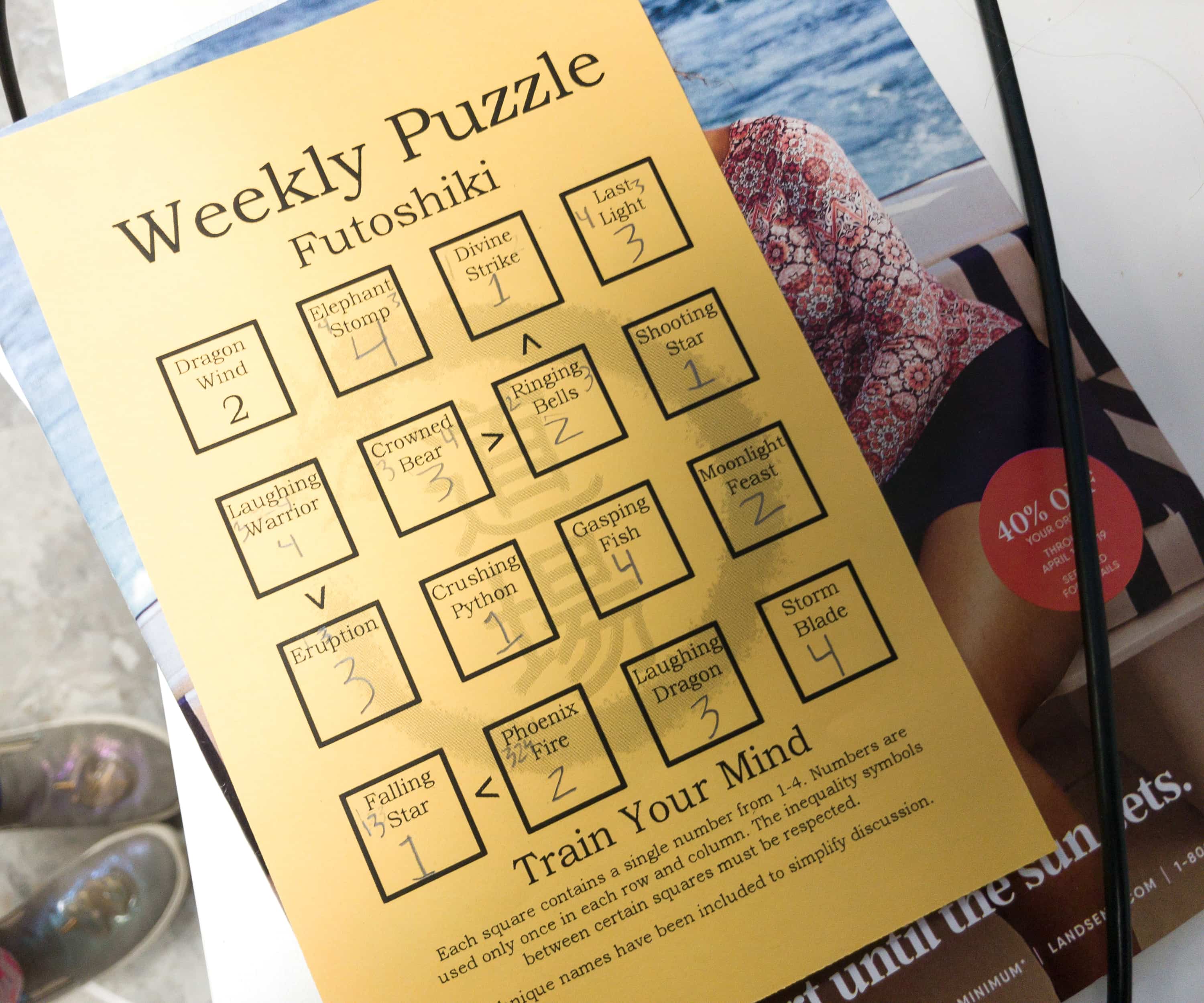 Futoshiki is really fun! It's mind-boggling but then, my bright and smart daughter was able to solve it!
Sleuth Kings proved that it's really a mind-boggling and really engaging mystery box that will make us stop with what we're doing to just focus on solving it! It's thrilling and all the contents in the pack can be used to solve the puzzle. It's also nice to have Sullivan around to help us with the clues, and we're impressed on how he easily and immediately answers our queries to keep us going. There's also Celest that we can turn to. One great bonding activity with the whole family is definitely solving mystery cases inside the comforts of our home, and who says that you can't explore other places without leaving your place? This subscription definitely took us to many different places!
What do you think of the Sleuth Kings box?