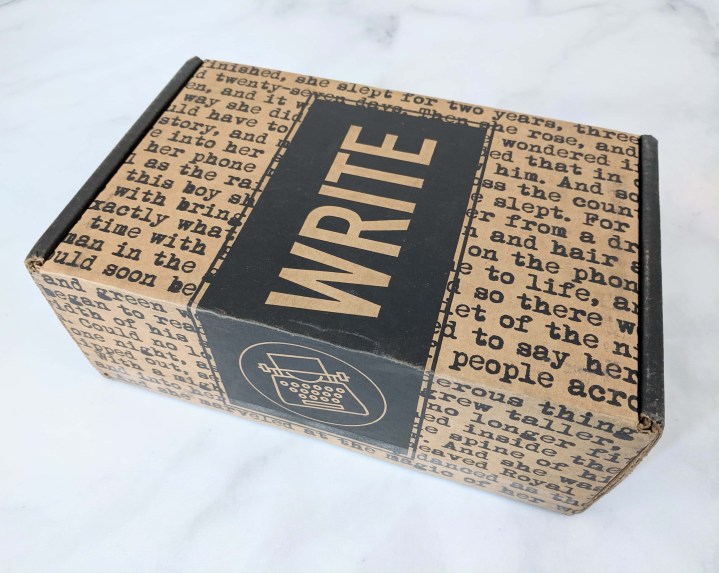 Scribbler is a monthly subscription box for novelists, created by authors, for authors. Scribbler is committed to helping writers improve their craft and reach their publishing goals, month after month.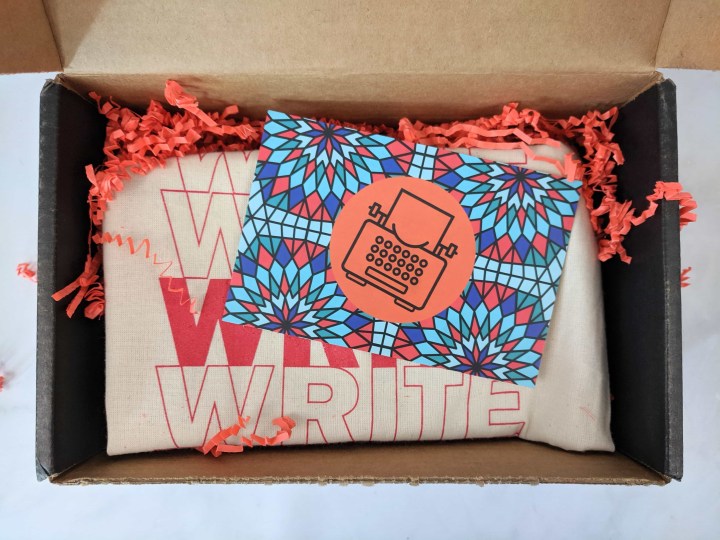 For $29.99 a month, you'll get a newly released fiction, a "Writing Passport" from the featured author to help you master the monthly theme, curated writerly gifts, and an invitation to communicate with a publishing professional.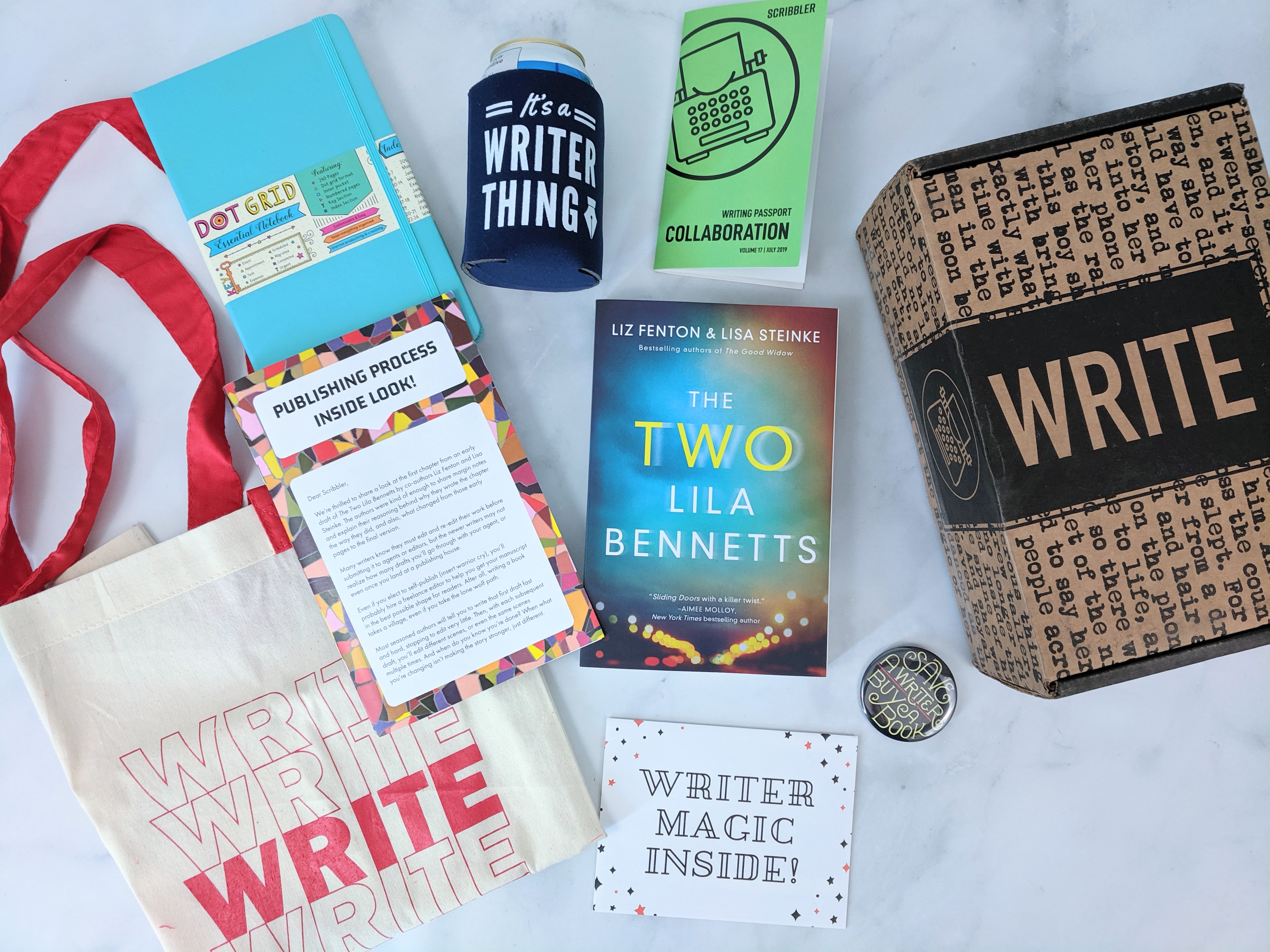 Everything in the box!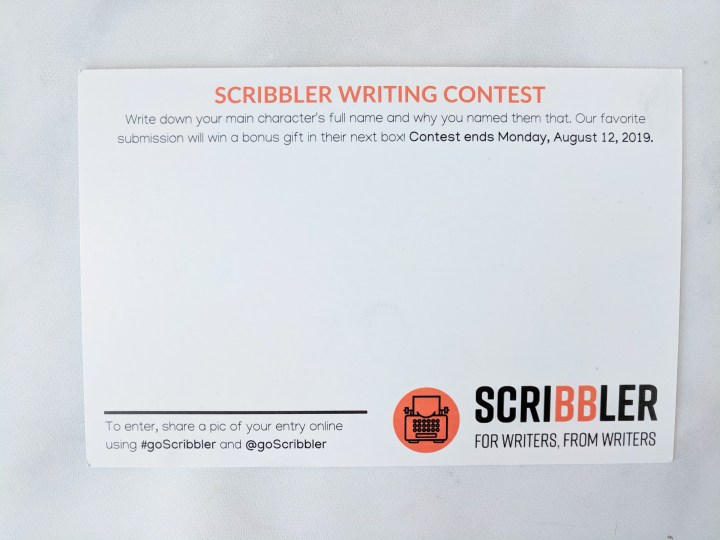 Every month, we are welcomed with a postcard from Scribbler with a writing context on the back. If you share your entry on their Instagram, you could get an extra gift in your next box!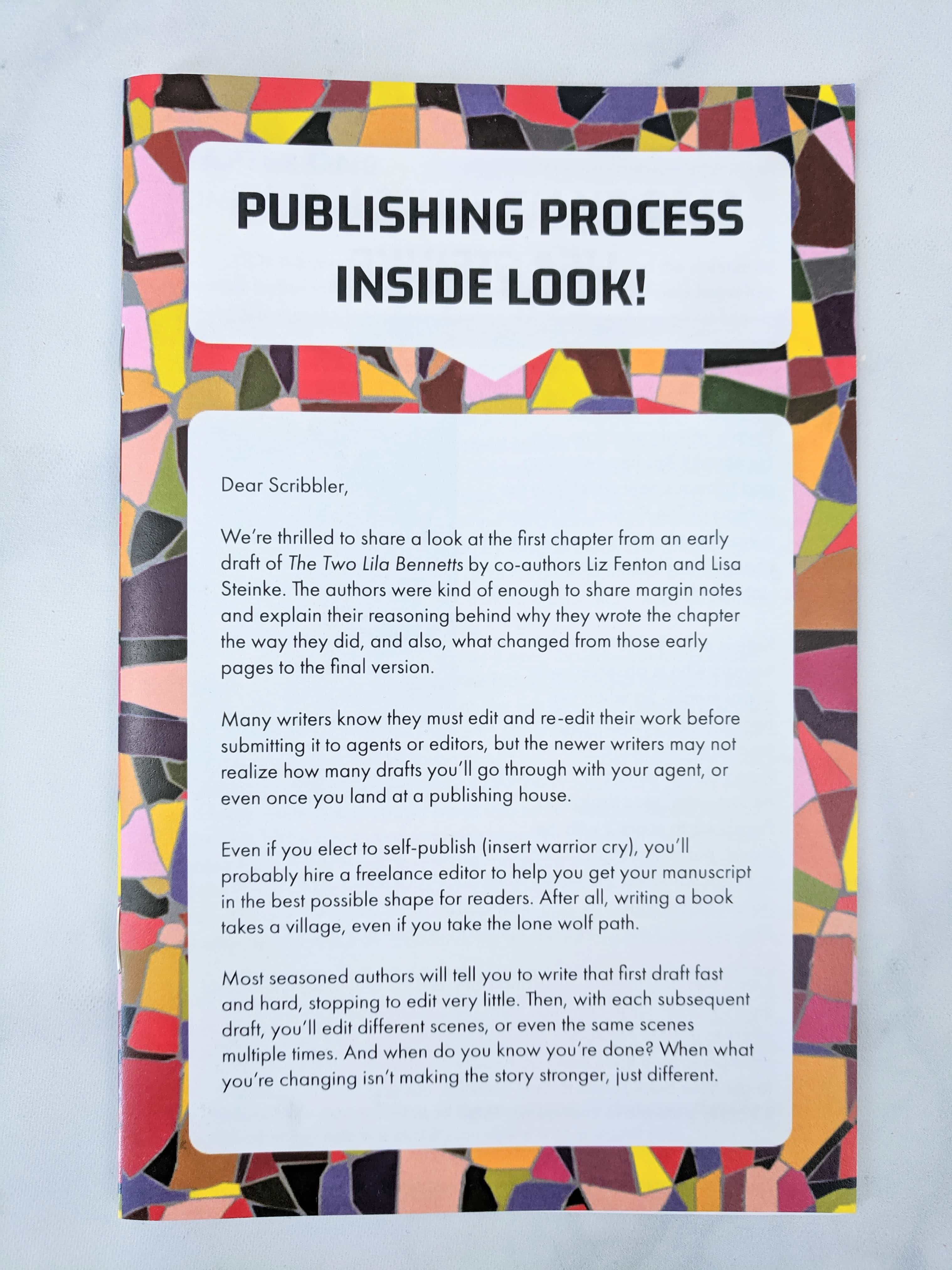 Every month, we are welcomed with a Publishing Process Inside Look.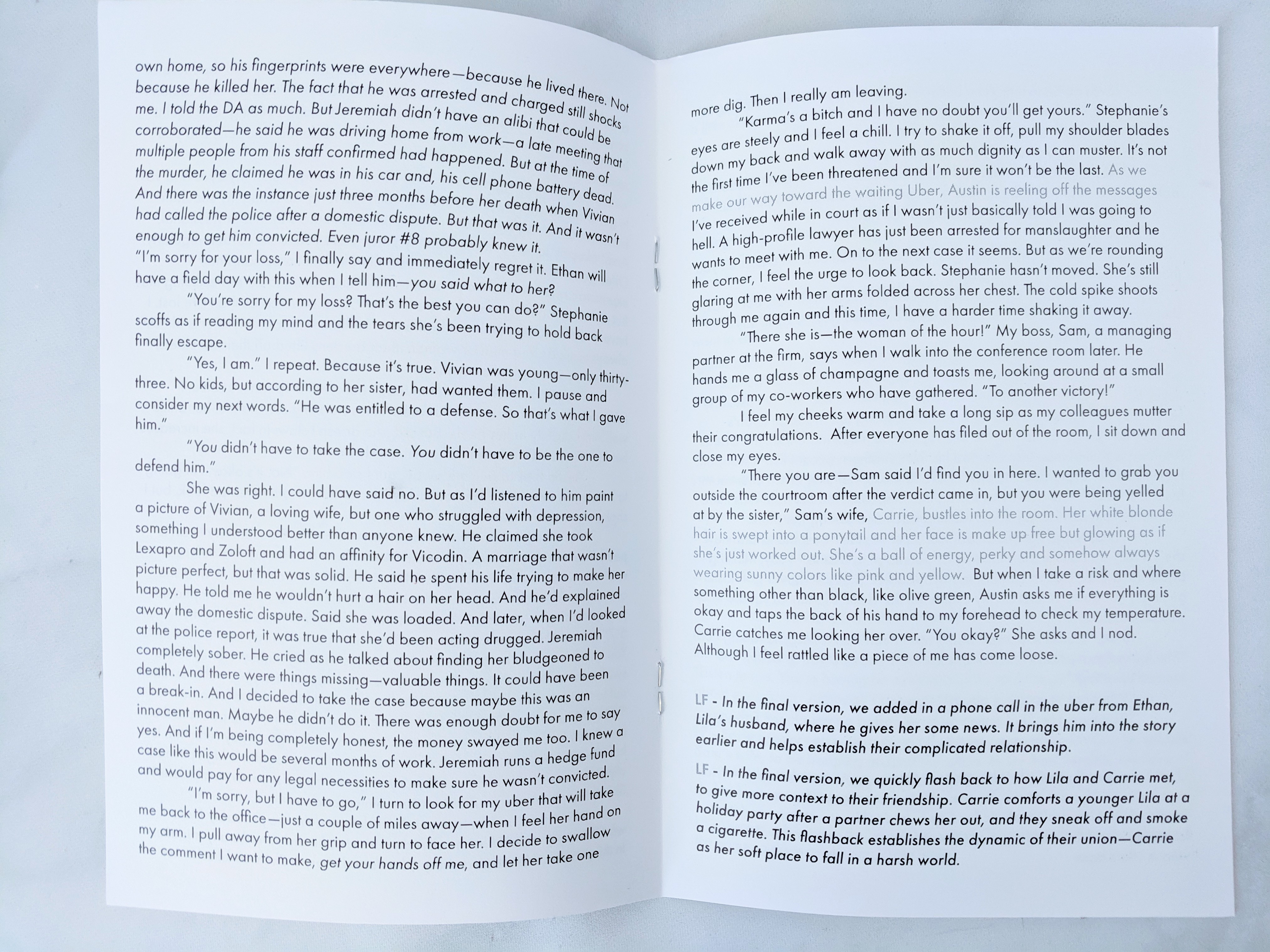 For July, Scribbler is sharing with us the first chapter from an early draft the collaborative book The Two Lila Bennetts by co-authors Liz Fenton and Lisa Steinke. I love the addition of comments by the other as to why some things were added in the final version.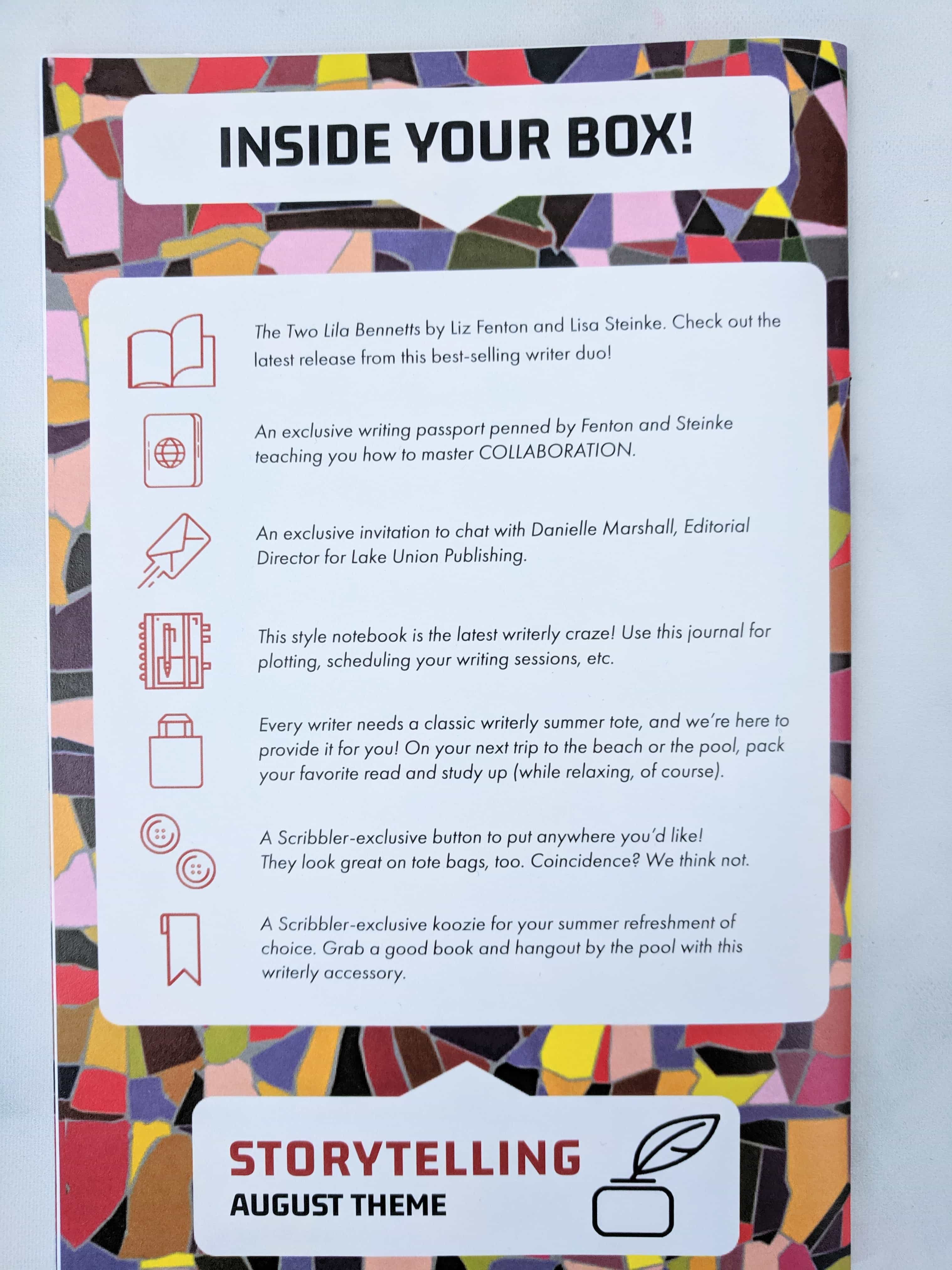 At the back of the booklet, we have a list of the items in the box.
This month's theme is Collaboration.
There's a quick introduction in the booklet about why the featured book was chosen.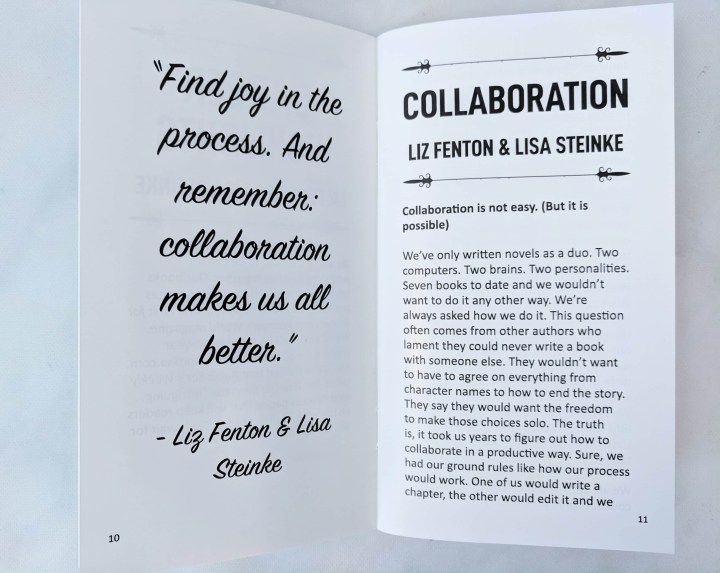 There are no exercises in the booklet to improve our skills, but we have an insight about Collaboration and how this month's authors, Liz Fenton and Lisa Steinke, tackled this problem.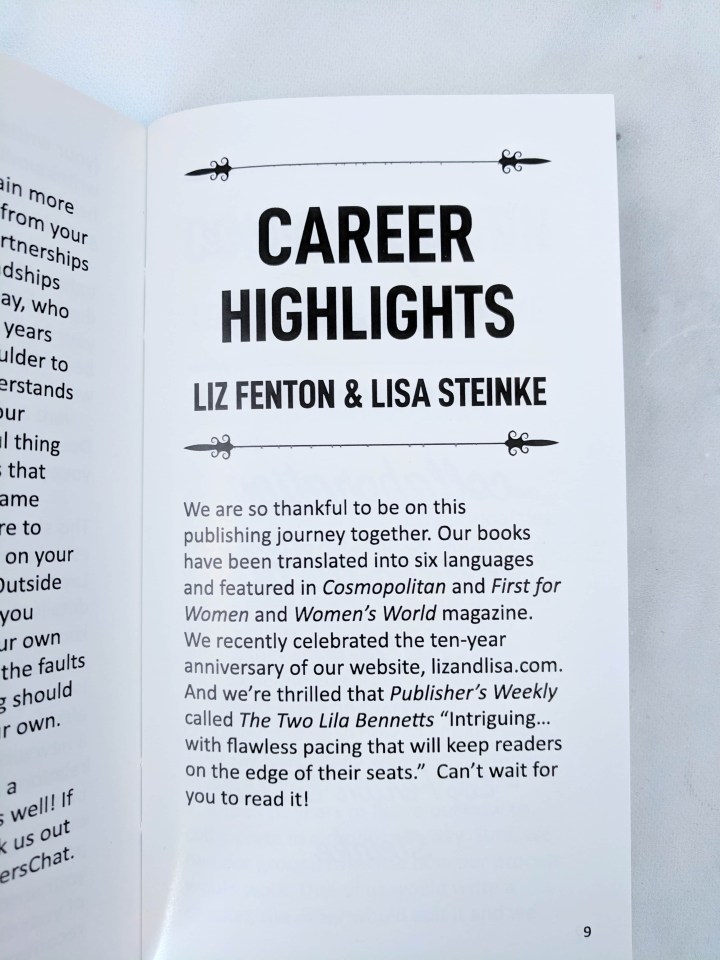 We also have the career highlights of the authors.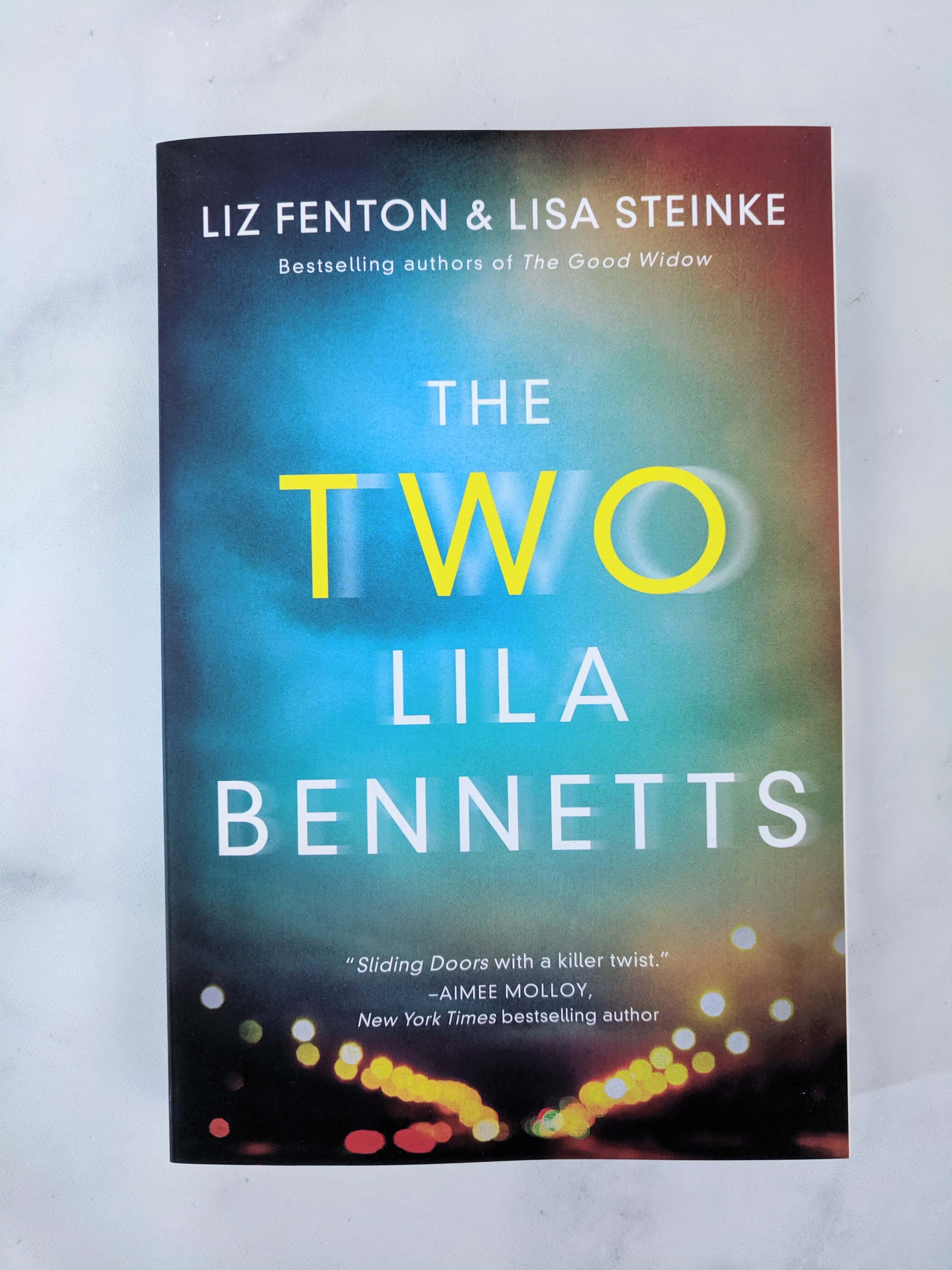 The book this month is a paper copy of The Two Lila Bennetts by Liz Fenton and Lisa Steinke.  From Amazon:
Lila Bennett's bad choices have finally caught up with her. And one of those decisions has split her life in two. Literally.

In one life, she's taken hostage by someone who appears to be a stranger but knows too much. As she's trapped in a concrete cell, her kidnapper forces her to face what she's done or be killed. In an alternate life, she eludes her captor but is hunted by someone who is dismantling her happiness, exposing one secret at a time.

Lila's decorated career as a criminal defense attorney, her marriage, and her life are on the line. She must make a list of those she's wronged—both in and out of the courtroom—to determine who is out to get her before it's too late. But even if she can pinpoint her assailant, will she survive? And if she does, which parts of her life are worth saving, and which parts must die? Because one thing's for certain—life as Lila Bennett knew it is over.
This looks like an amazing summer thriller read!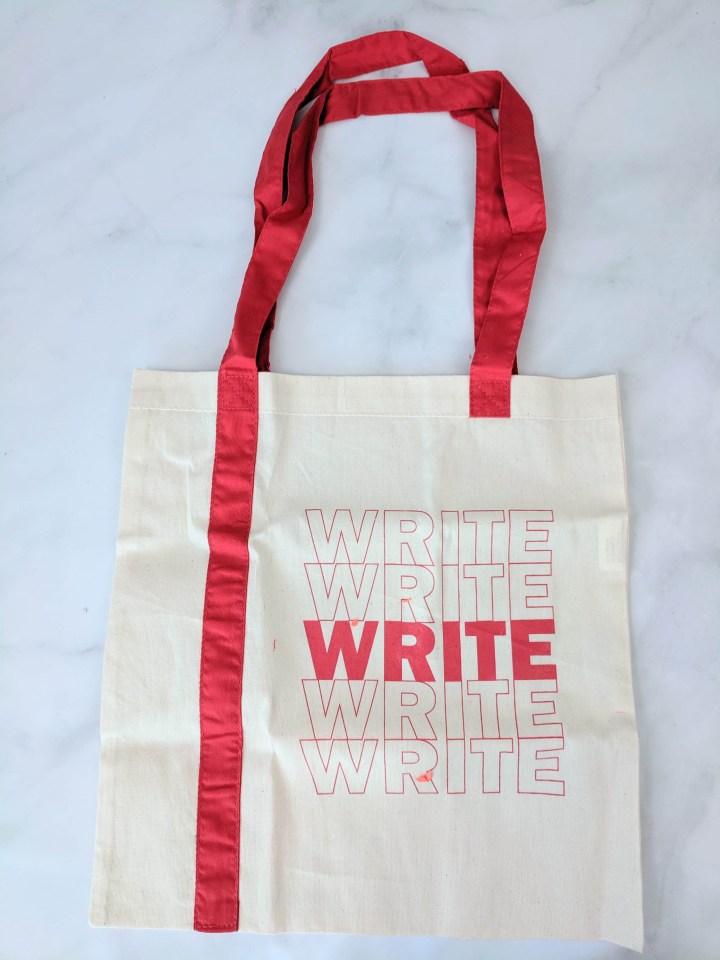 Writerly Summer Tote. With a summer read, you need a tote! This canvas tote is the perfect accessory for the beach. You can easily carry a reading book, a notebook, a pen, a snack, your sunscreen, a water bottle, a small towel, all in style!
And it's a fun reminder that you should be writing!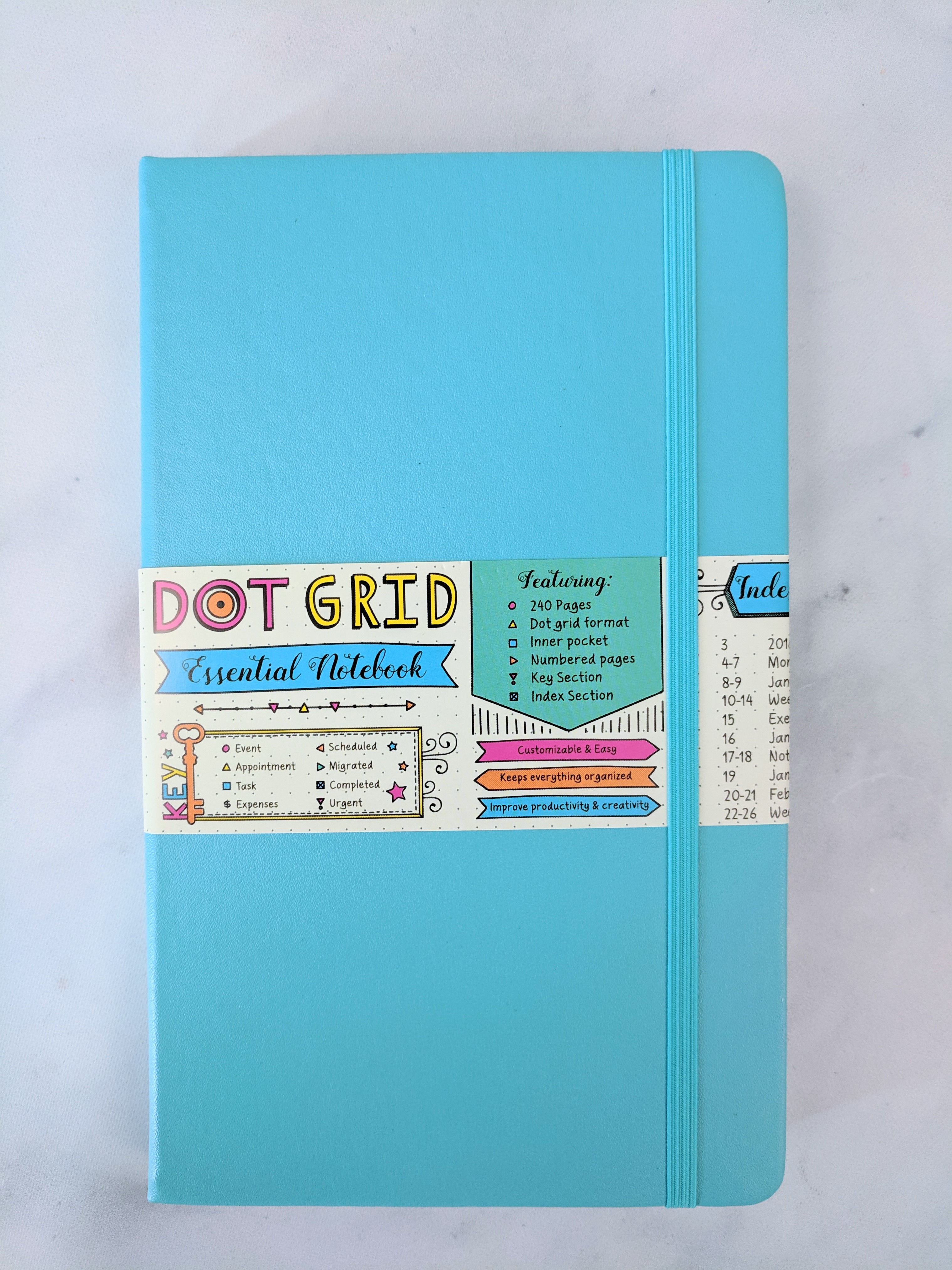 Piccadilly Dot Grid essential Notebook in Teal. To go on the beach, or for a picnic in the park, you really need a sturdy notebook, and this is my first bullet journal!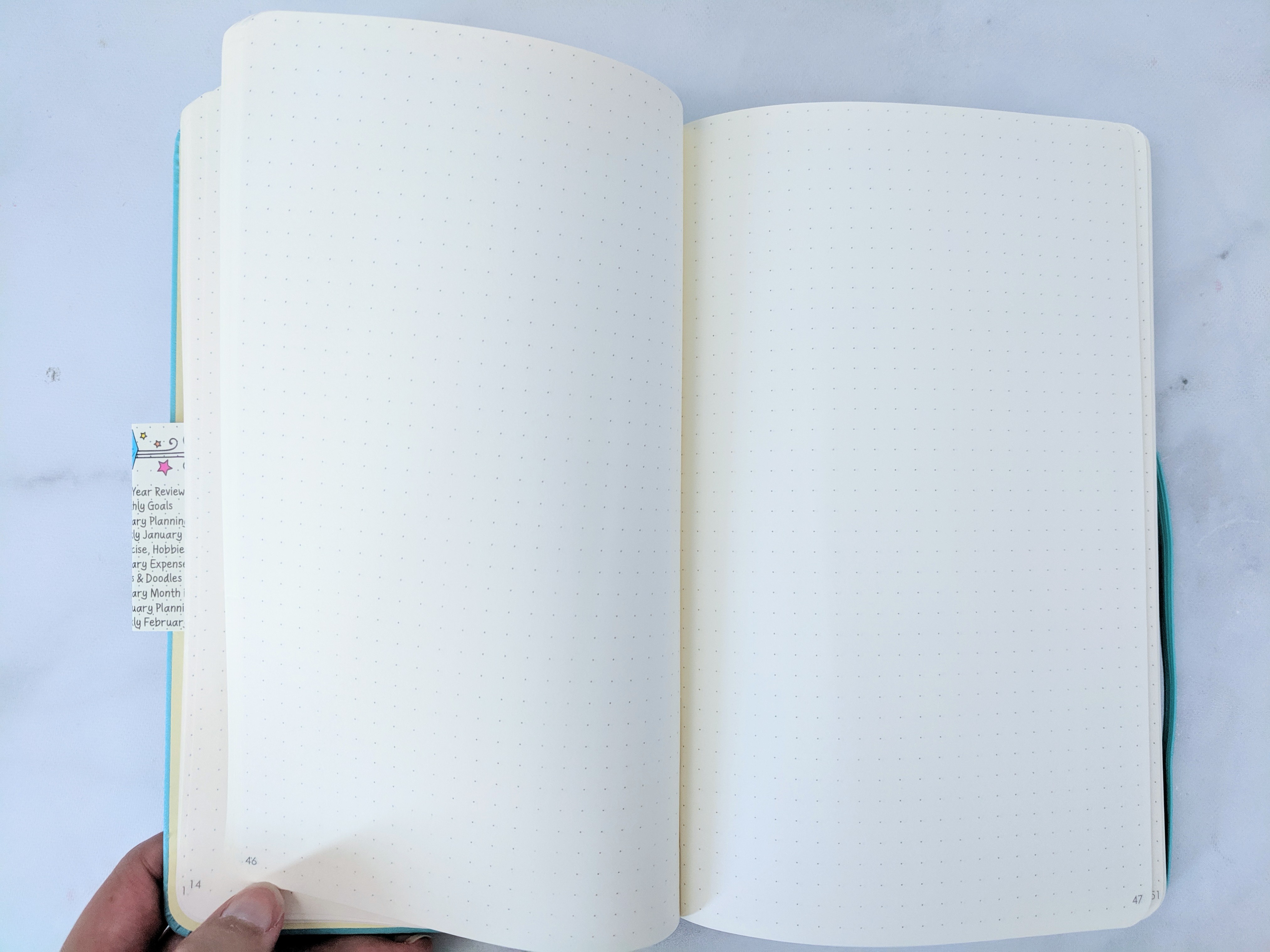 It's a mix of lined and gridded notebook, and it's so versatile. You can make lists, write whole scenes, draw a calendar, make weekly spreads, the sky is the limit! It stays closed with an elastic band, the pages are numbered and it has a teal ribbon notebook.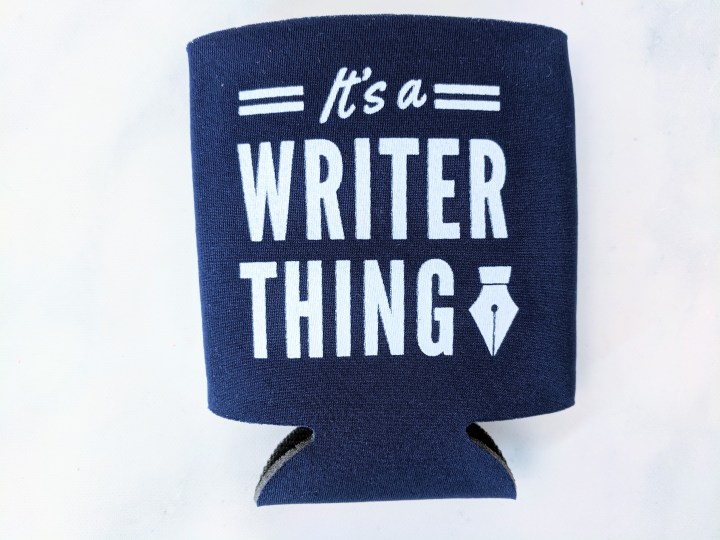 A writer Koozie. Another summer item from this box is this fun "It's a Writer Thing" koozie for your favorite summer beverage.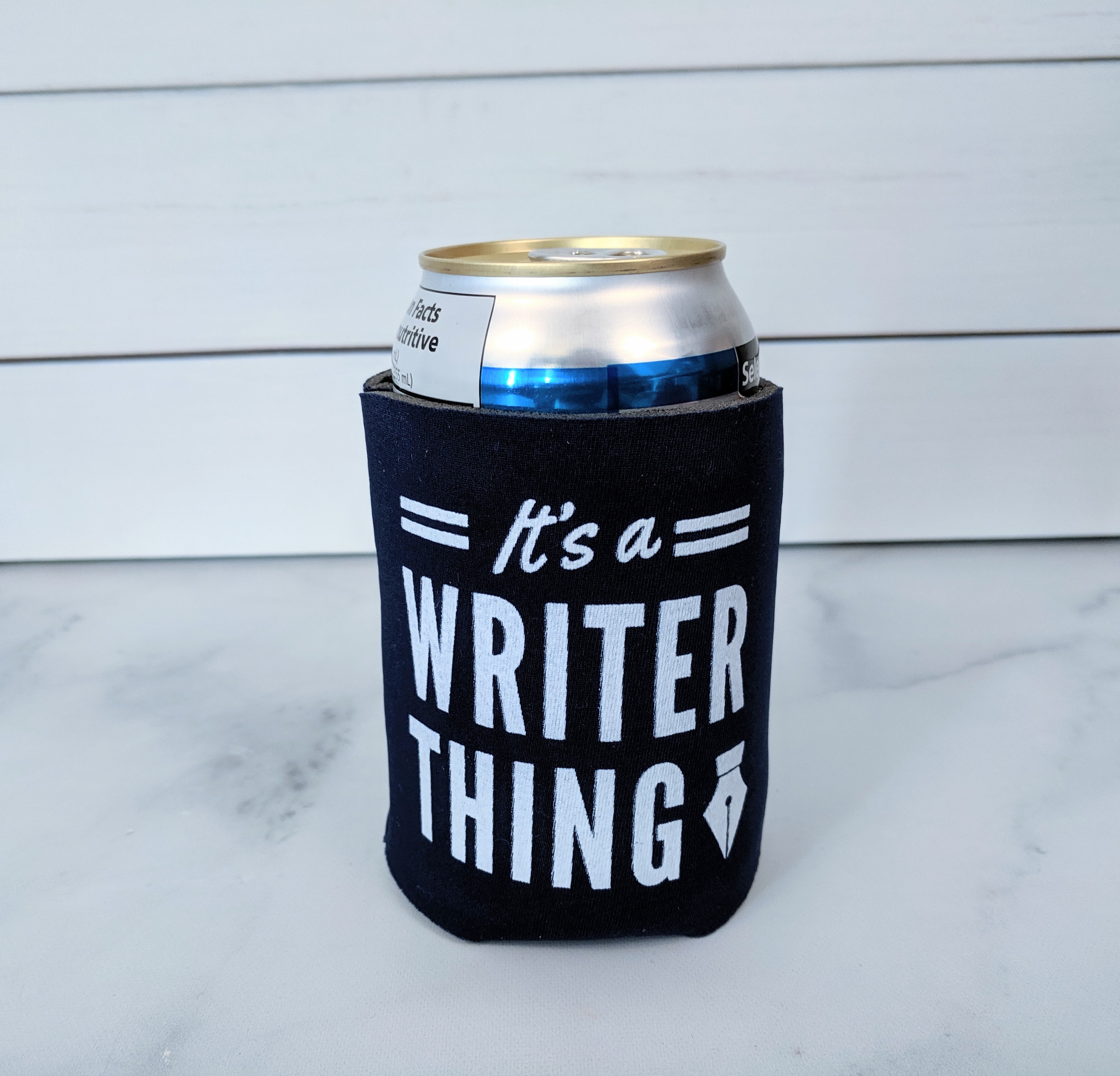 It's perfect!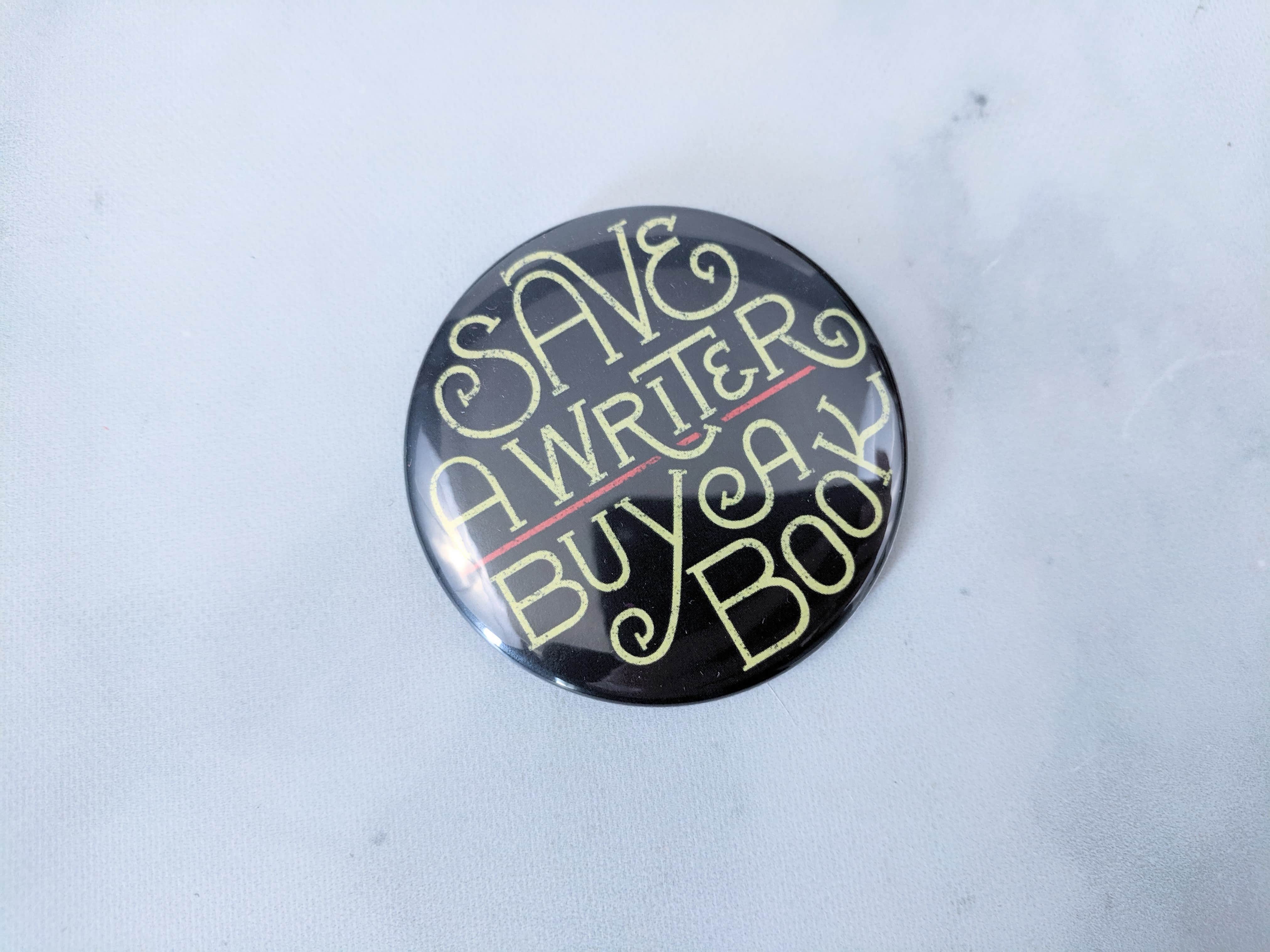 Scribbler-exclusive button. This cute little button can be attached to anything, like the tote bag. It's a great reminder to people around us that there's a writer behind a book, and the best way to encourage them is to buy their book.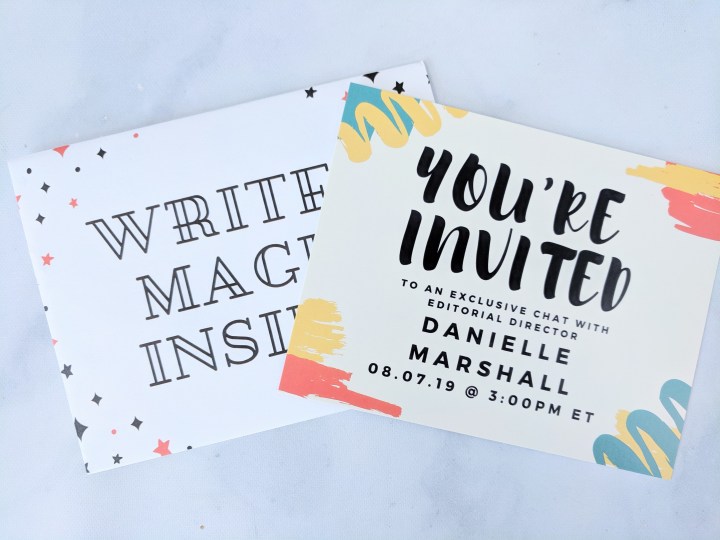 Invitation. This month's invitation is for a chat with Danielle Marshall, Editorial Director at Lake Union Publishing.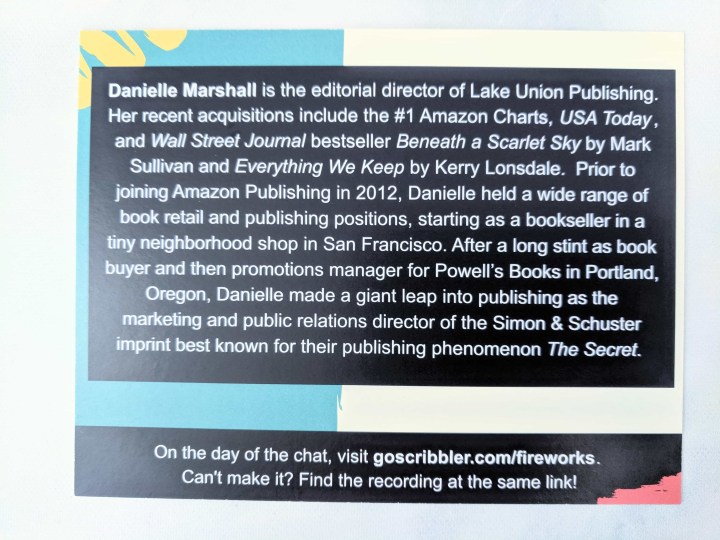 The invitation is for August 7th. I really appreciate that these events happen a couple of weeks after we receive the box, as it gives plenty of time to get ready for it, even for subscribers from outside the USA. But if you miss it, don't worry as the recording will still be available on Scribbler's website.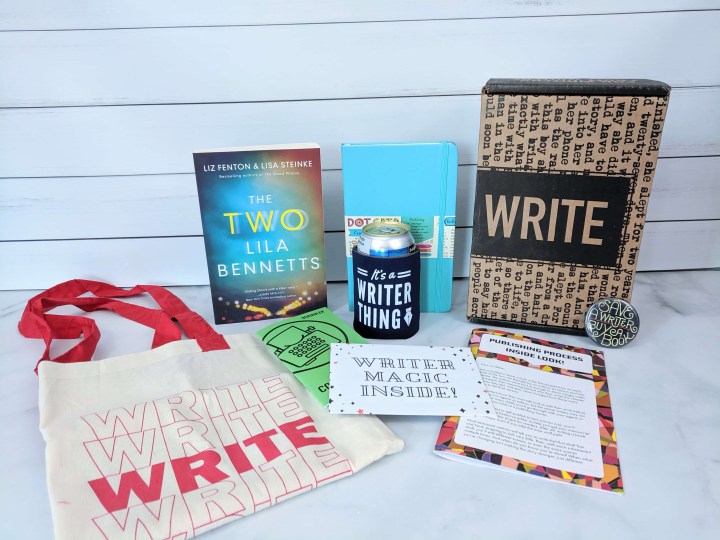 I really enjoyed this month's Scribbler's Box. The book and all the goodies created a nice summer vibe box that you can enjoy outside, at the beach, the park or while camping. I'm really looking forward to reading the book, and the Writing Passport gives us nice insights into the world of collaboration. It's also amazing to have the opportunity to connect with people in the industry and have insights from published authors!
What do you think of this month's box?