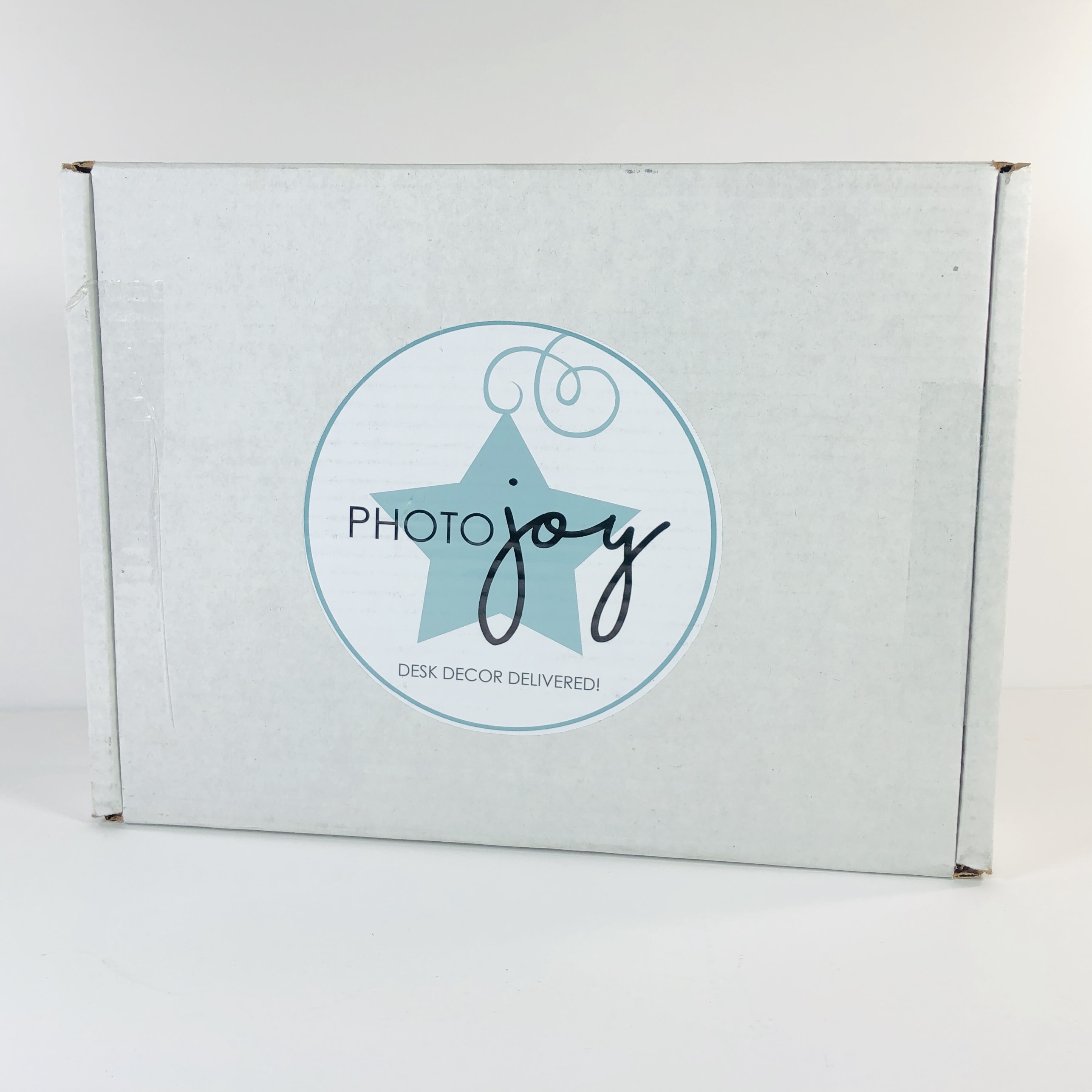 Photo Joy Box is a monthly subscription box that helps you decorate your office (or bedroom, or wherever!) by delivering artistic, ready-to-frame, high-quality photography prints every month. You will also receive coordinating cards, postcards, stickers, magnets, and other items to match! The main product will be a matted photography print (either 5×7 matted to 8×10, or 8×10 matted to 11×14, depending on the level you choose) and shipping is free to the US. Subscriptions are $29.95 (for 5×7) or $39.95 (for 8×10). Prices drop for longer subscriptions!
Each month we create a unique subscription box focusing on a photography print and coordinating themed accessories.

It can be hard to find the time to freshen up your space – whether it's a home office, cubicle, or bill-paying nook.

It's also easy to get overwhelmed with choices for sprucing up your decor.

THE PHOTO JOY BOX makes it easy to keep your office – or any space! – inviting and inspiring, by delivering artistic, ready-to-frame high-quality photography prints every month.
DEALS:
Get 20% off your first box! Use coupon code FIRSTMONTH20.
Get $5 off your subscription! Use coupon code PHOTOJOY5.
This is my very first Photo Joy Box!
The inside of the box lid had a card with info on the items in my box. I also found a discount code for a shop purchase.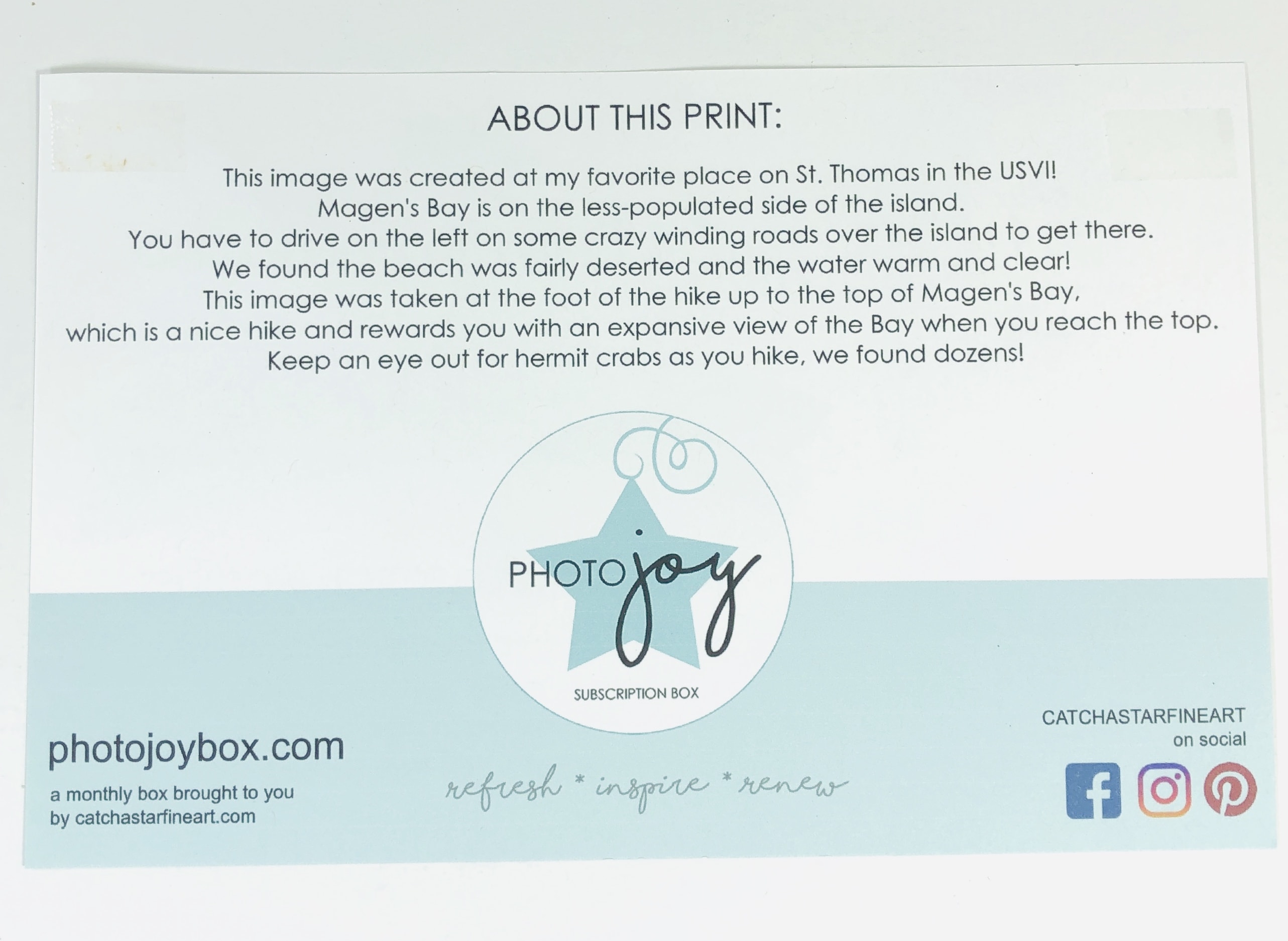 The back of the card had info on the included print.
My items were tucked into tissue paper and shredded paper squiggles.
Some of the items were wrapped in plastic to keep them from getting marred during shipping.
Everything in my box!
I found a Mini Print Stand. You may use it to hold up the featured print, but I also used it to hold up one of the postcards for a change of scenery.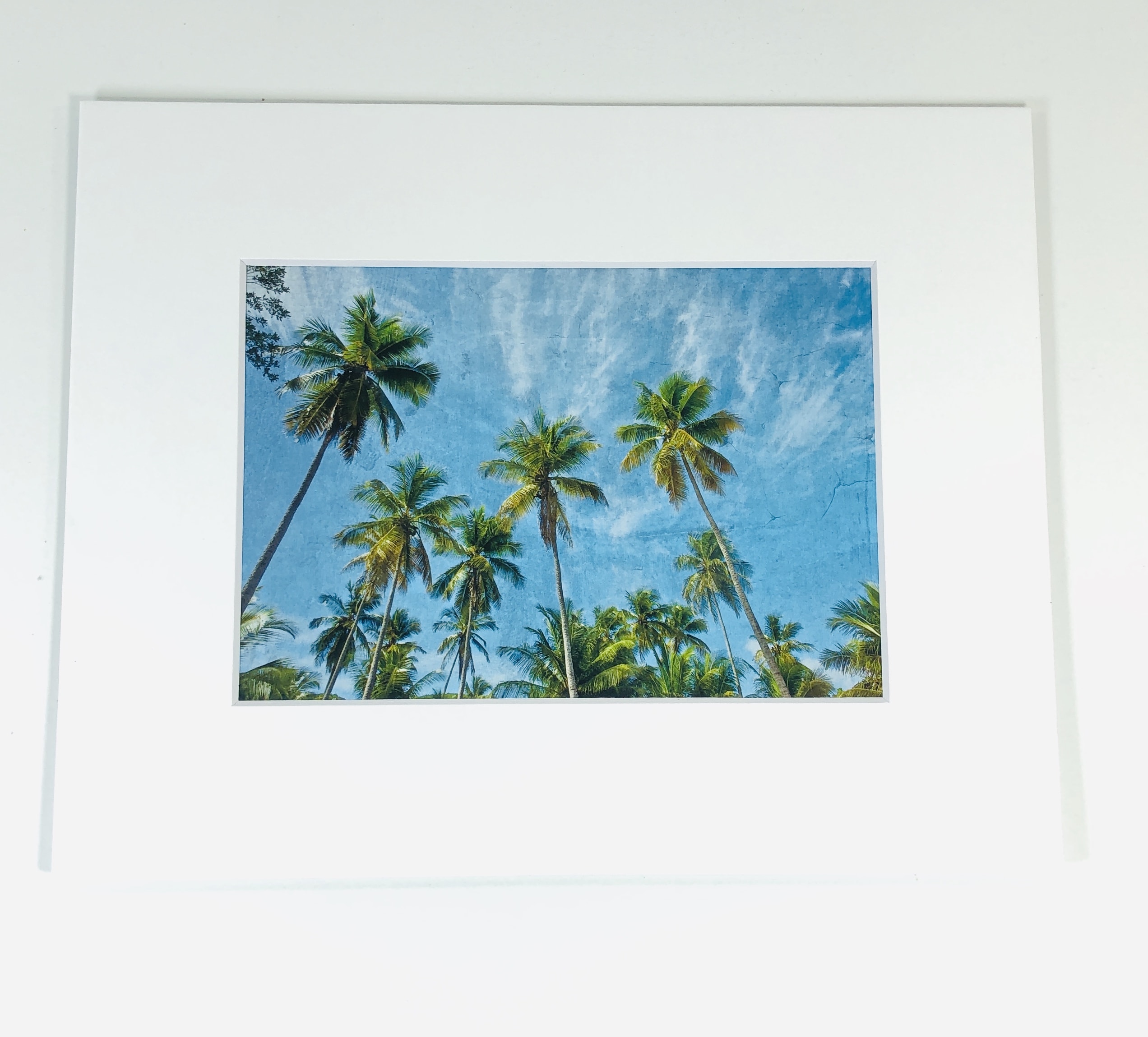 Magens Bay Palm Tree Print ($18) I discovered that you can order prints from Catch A Star Fine Art (the people who bring us this box) and not only that, you can order the pictures in black and white and up to a 30″ x 40″ print on paper board or canvas, so it you love this print, you can own it for your wall!
My print is 5″ x 7″ and came matted and ready to place in an 8″ x 10″ frame.
I think this one looks like it has an artistic filter on it and I just love it, I love palm trees in general!
Palm Tree Stickers Look, more palm trees! I grew up in Southern California and was surrounded by palm trees and they still make me happy. I recently visited Hawaii and it was the first time I've ever seen a coconut growing on a palm tree!
The largest of the three stickers is 5″ x 4″.
The two smaller stickers are 3″ x 2.5″.
Beach Quotes Photography Postcard Set ($12) There was a set of postcards wrapped like a gift.
Look at this cute charm that was on the parcel!
So pretty!
There were 4 postcards in the set.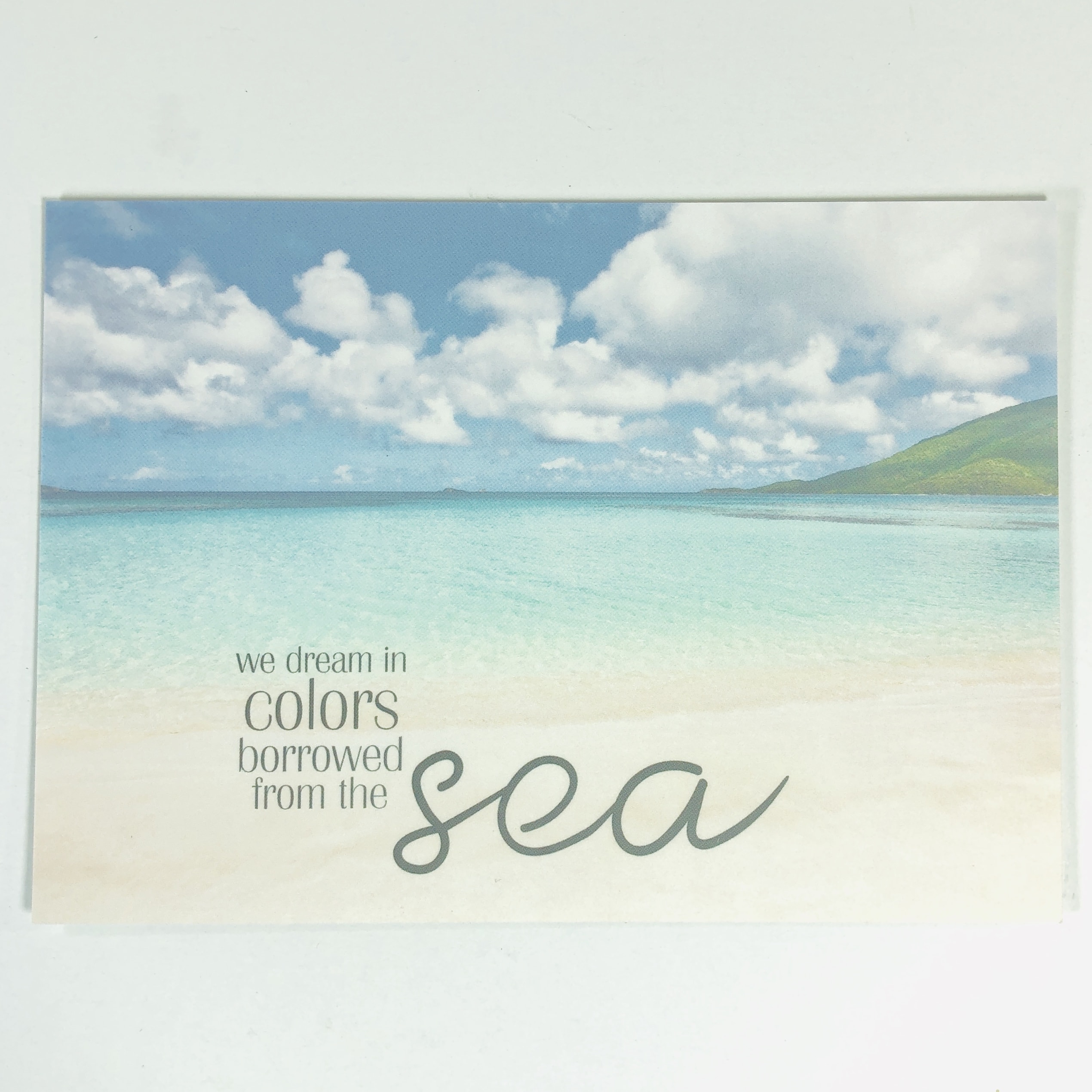 Each card is about 4″ x 6″ and they feature beach-inspired quotes. One even has the same design as the main print for the month.
The back of each card has room for addressing and adding a quick note.
You may also frame the prints or display on the mini easel.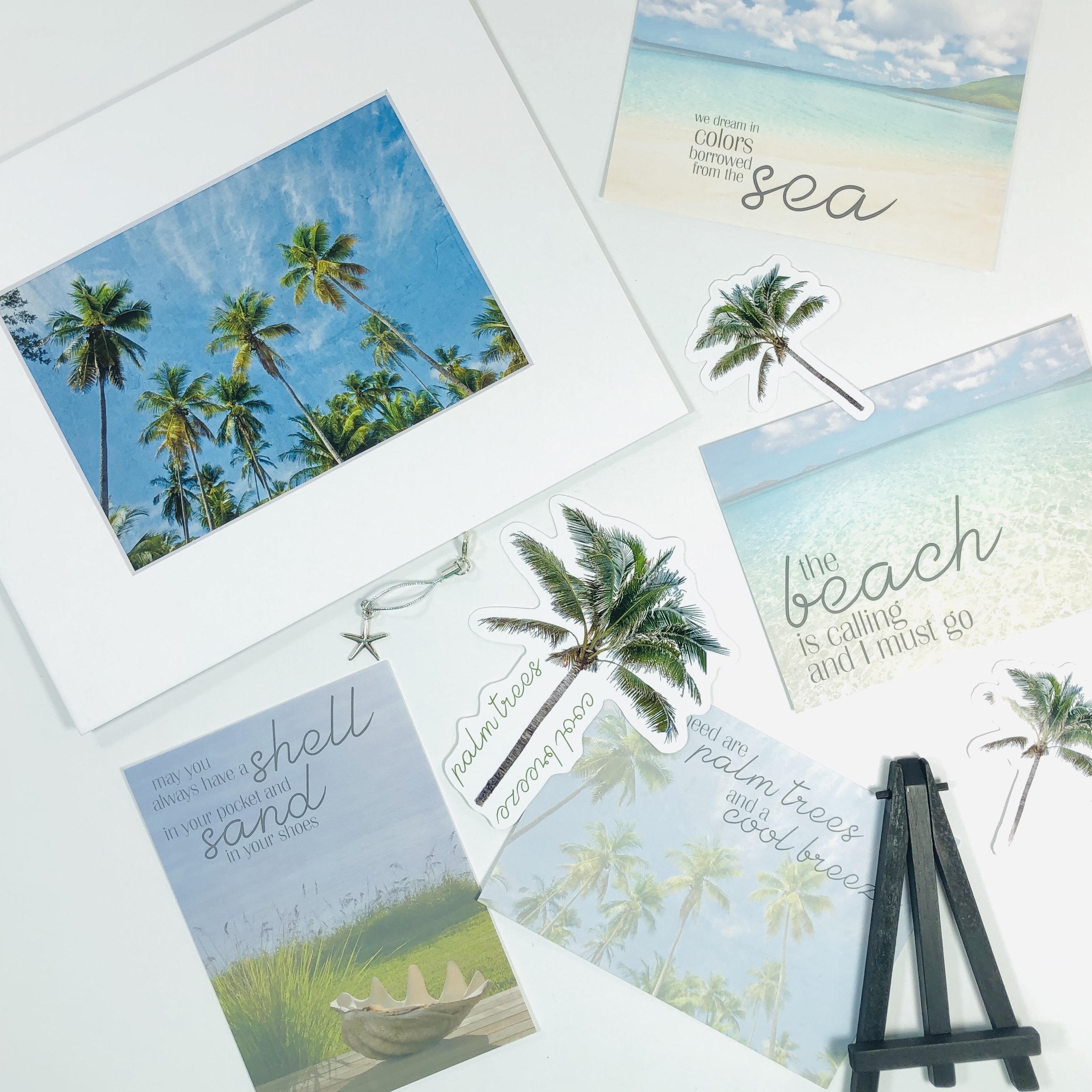 I was completely enchanted with my very first Photo Joy Box! It helps that I love palm trees and they are perfect for a summer-themed box. Even so, the quality of the items was also outstanding . The print is matted on sturdy board and the postcards are not flimsy at all. The finishes are matte and the colors are amazing, with the postcards more subdued than the main print. The stickers were perfect too and the starfish charm is just adorable. I found a couple of these items on the Catch A Star website and those two items (the print and the postcards) add up to $30, while the stickers, charm, and easel round out the box. I think this is the kind of box where you are in it for the quality and not the quantity but the quality is amazing and I appreciate the fact that I can remove the items from the box and use them right away to zhuzh up my desk area! If you get a chance, check out the bags and other items on their website, and peruse some of their other amazing prints.
What do you think of the Photo Joy Box?