Petit Vour is a monthly vegan beauty subscription box sending the "crème de la cruelty-free." Petit Vour is $18 a month for 4-5 cruelty-free and non-toxic beauty products, mostly deluxe sample sized but with the occasional full-sized item. Prepay for 12 boxes and the price drops to $15 a box! Each box will have a value of between $45-$60. Petit Vour has around 30 ingredients that they pledge NOT to put in boxes and of course, each item must be vegan and cruelty-free. You can find that list of banned ingredients here.
The Petit Vour Beauty Box is made for the beauty devotee whose lifestyle leans toward compassion.
Each month we'll share the best in plant-based beauty, culled from beauty's kindest. Inside you'll find generously-sized products (personalized to your beauty profile) for you to apply, blend, buff, lather, soak, and spray.
DEAL: Save 25% on your first box with coupon code FIRSTBOX!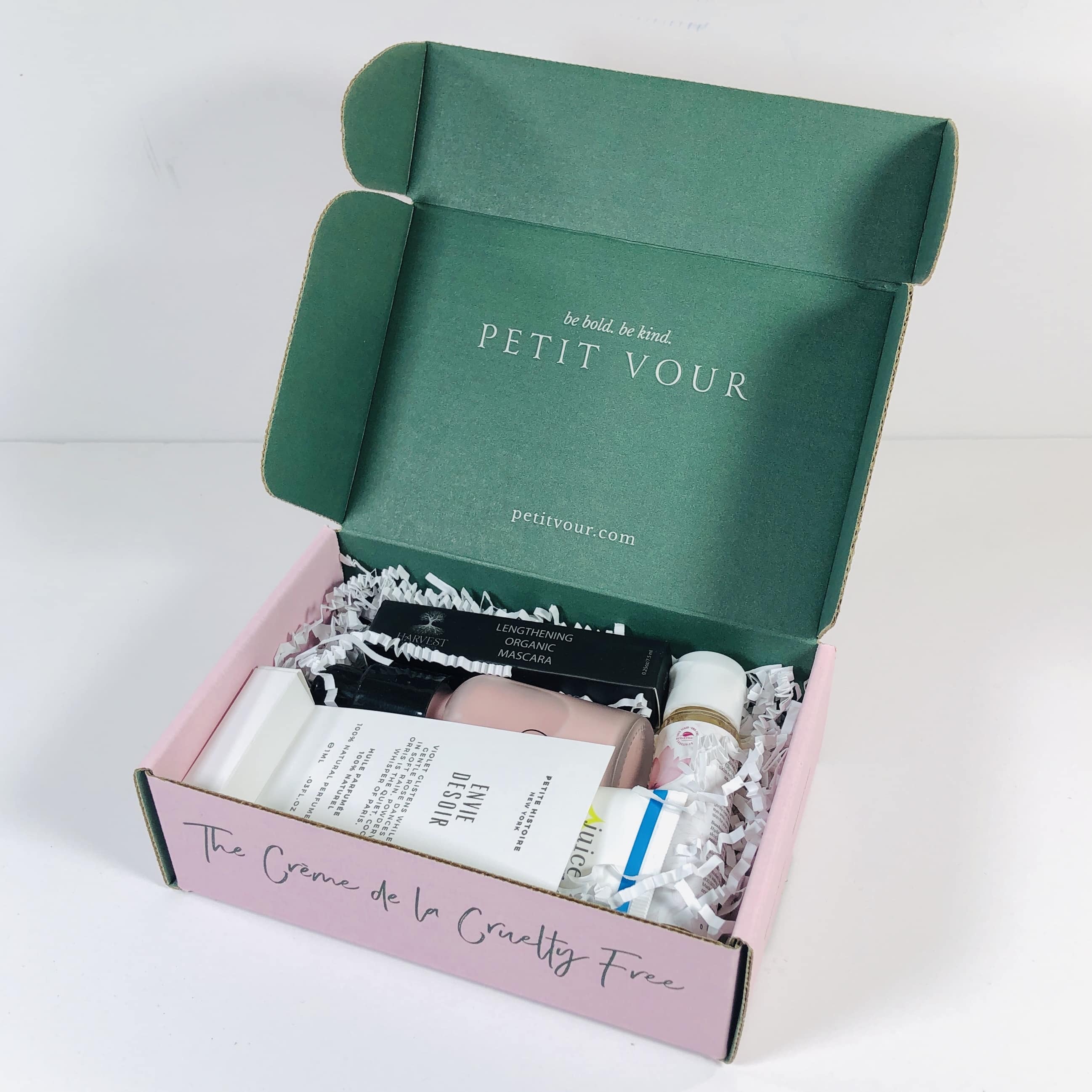 The items were packed in white paper squiggles. I think Petit Vour does a great job at presenting a pretty box.
Petit Vour sends a lovely product information card.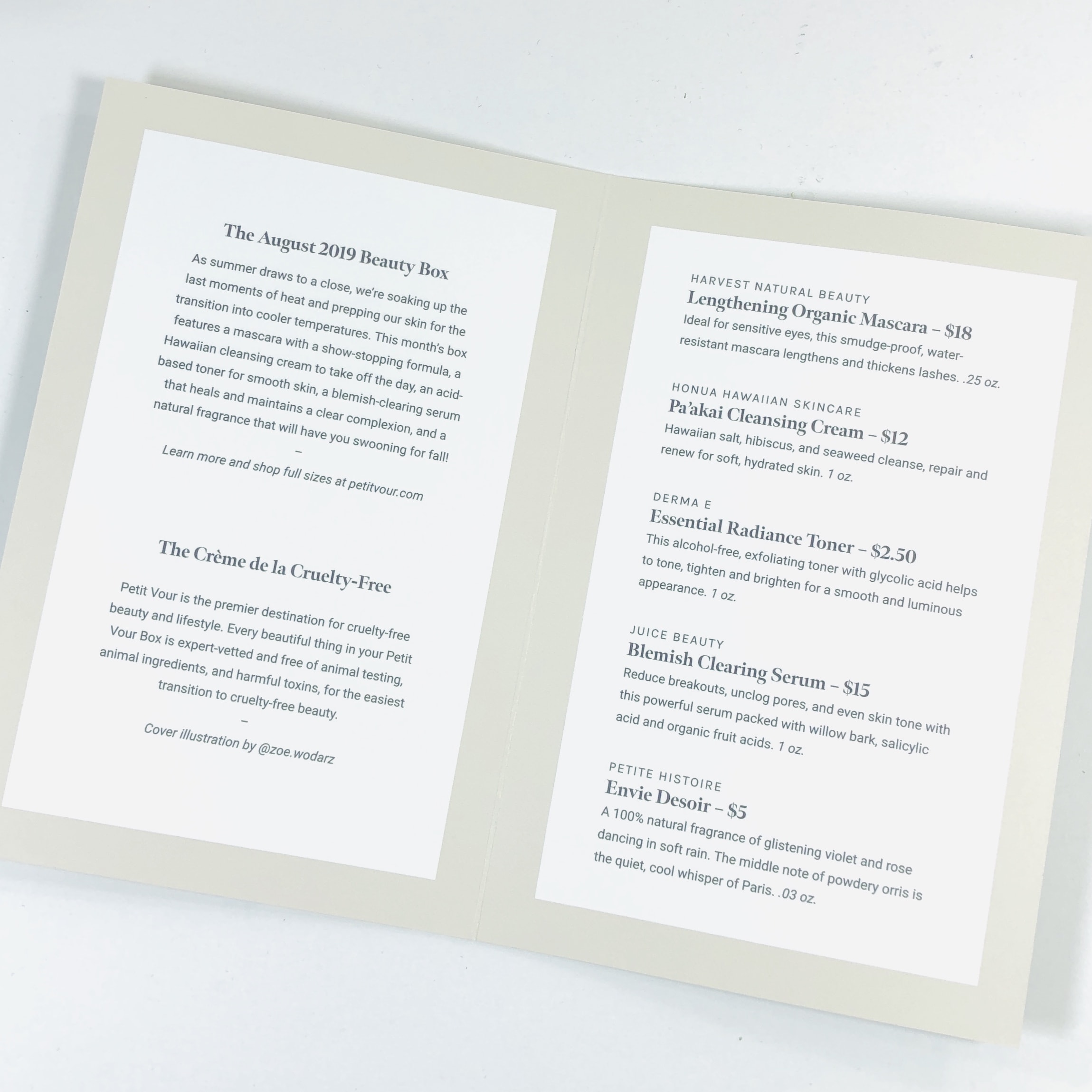 The inside of the card listed each item, some info about the item, and the value.
The back of the card gave info on how to earn reward points, plus if you share a photo of your box on social media your picture may be featured!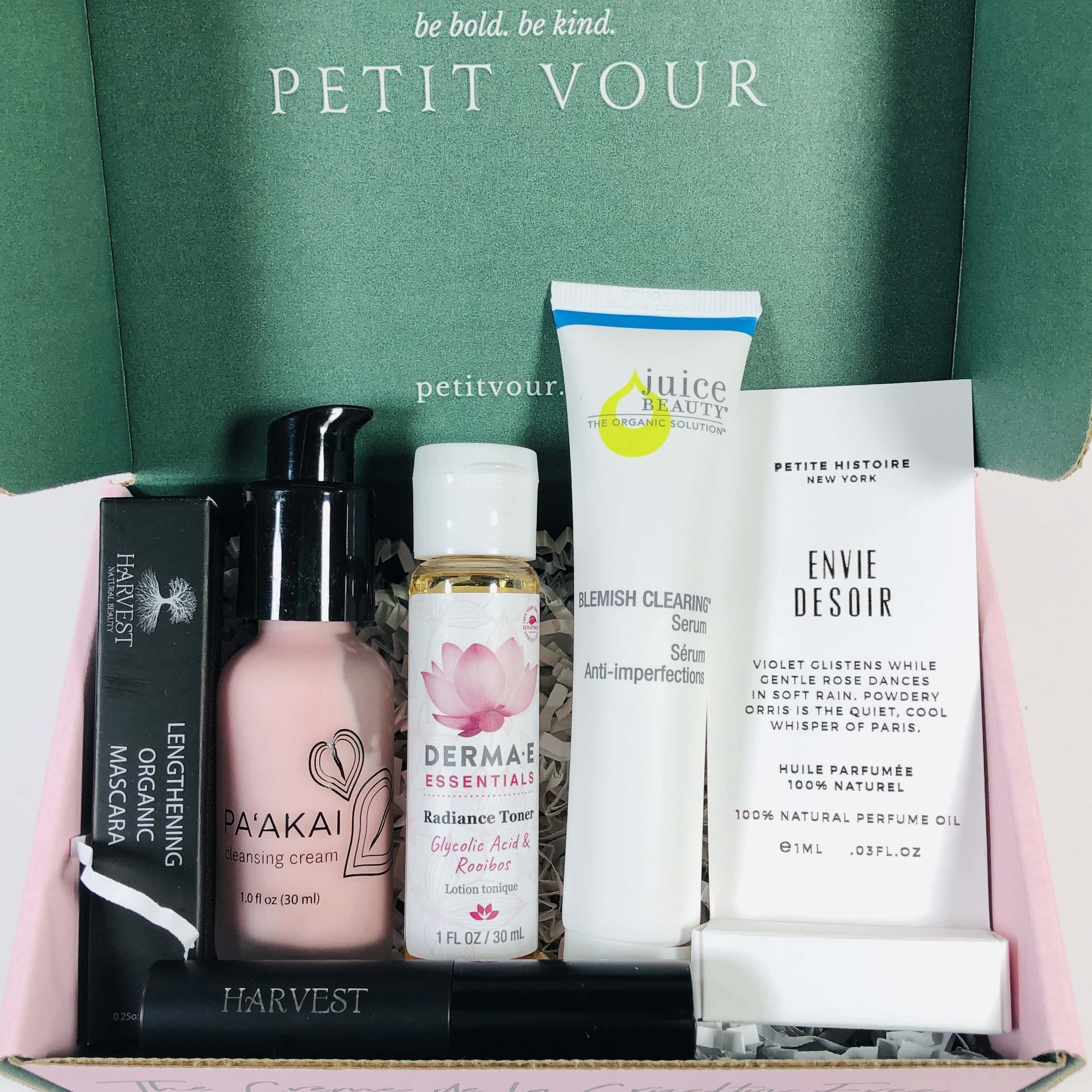 Everything in my box! The products were tucked into shredded paper squiggles.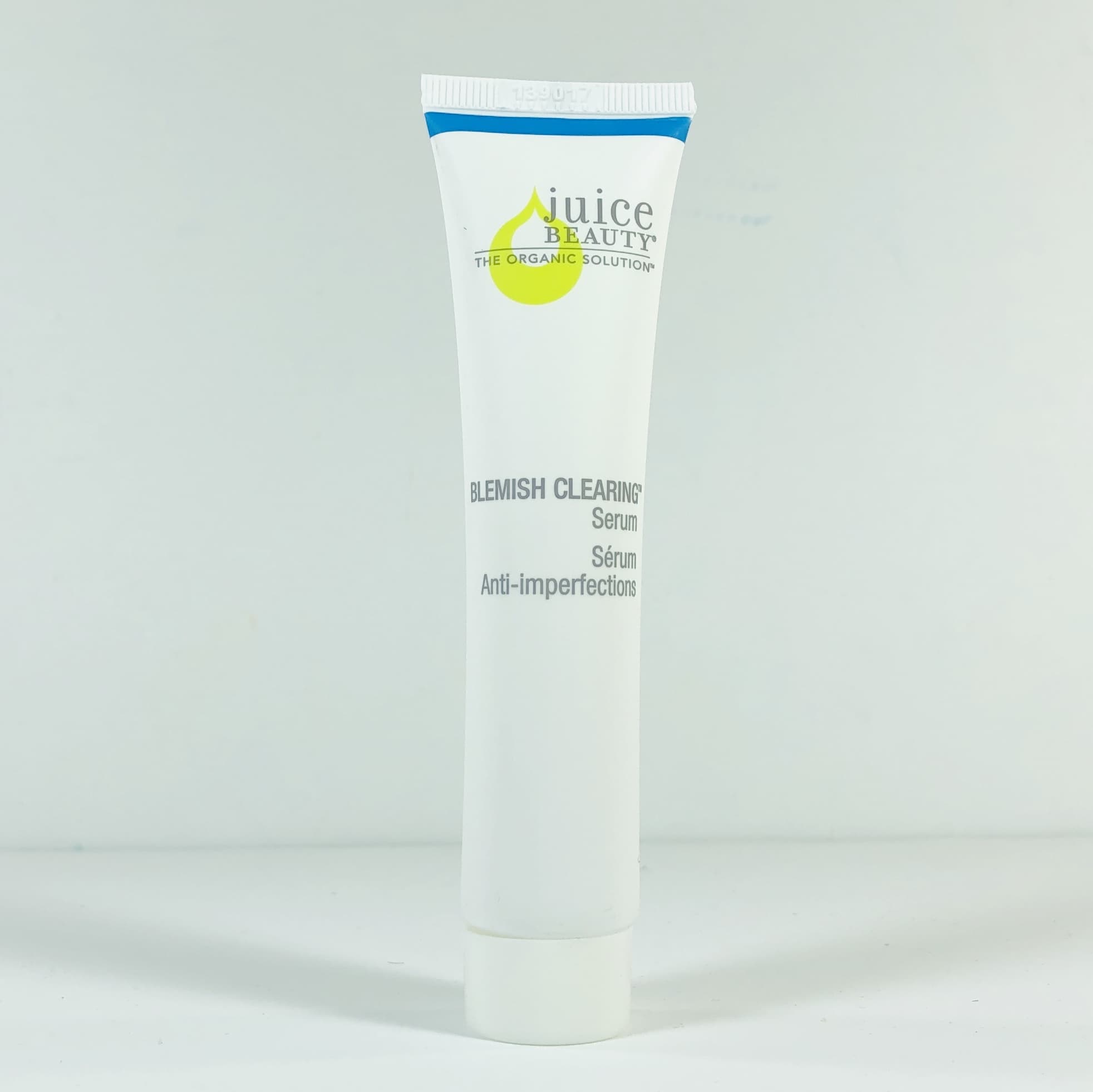 Juice Beauty Blemish Clearing Serum ($15) I'm at an age where I'm fighting wrinkles and not acne so I will pass this along to one of my daughters.
The serum contains salicylic acid to help clear pores while fruit acids help skin shed dead cells. Apply all over the face or just use as a spot treatment on, well, spots! It is a runny gel and doesn't have much scent.
Derma-E Essentials Radiance Toner ($1.58) I like to use toner occasionally to make sure every bit of makeup is removed after cleansing and it can also be used before applying a sheet mask.
Hyaluronic acid is one of the first ingredients and helps draw moisture to the skin. Plant extracts provide soothing and skin sloughing benefits and the toner has a natural rose scent thanks to essential oils.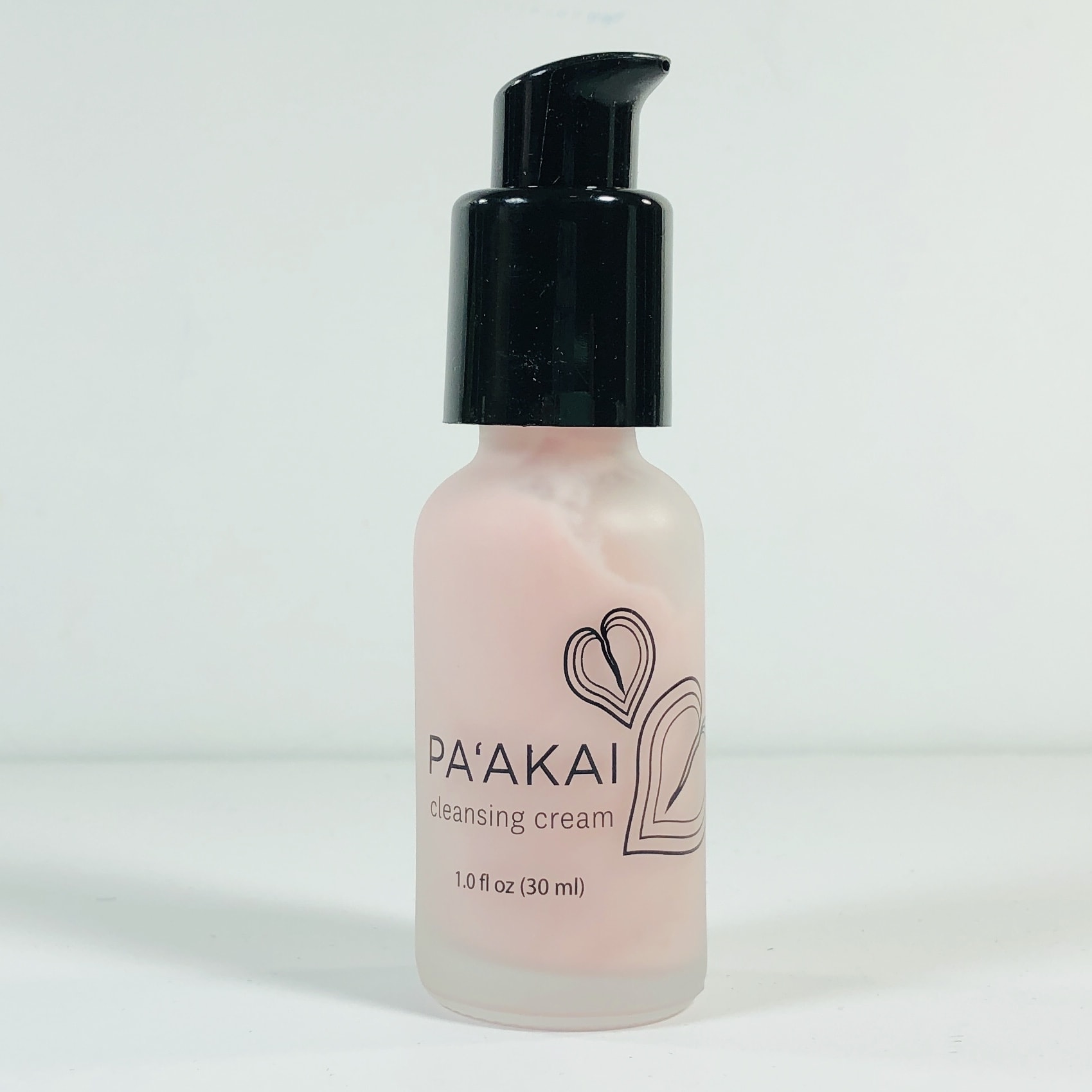 Pa'Akai Cleansing Cream ($12) is a moisturizing cleanser that also smells like roses! It has a rosy hue and lots of plant-based ingredients such as seaweed extract and hibiscus. I massaged it over my face and my skin almost drank it in! I then wet my fingertips and that helped get all of the gunk off my face, but the cleanser was gentle and didn't dry out my skin. I followed with an additional cleanser but if you don't wear makeup then this might be enough to get you clean.
Harvest Natural Beauty Lengthening Organic Mascara ($18) I love to discover natural beauty brands and after trying this mascara I hope to receive other products from this brand in the future!
I wasn't expecting this formula to be water resistant and didn't try it out in the pool or anything. Chamomile hydrosol, corn starch, and other plant based ingredients were listed on the box and website.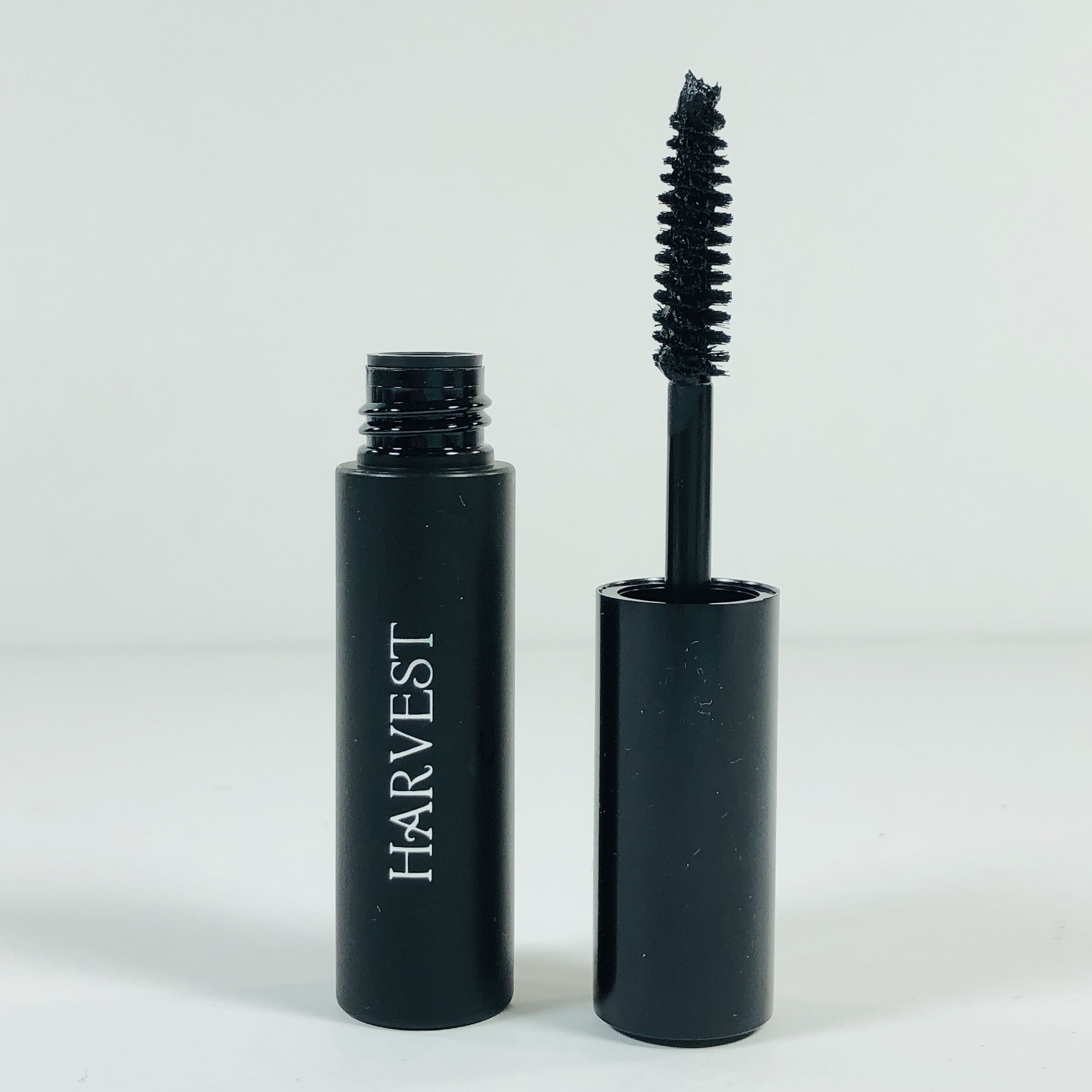 I thought this did a good job of making my lashes show up. I don't know that it lengthened my lashes but then neither does my usual Great Lash. It didn't give me raccoon eyes so I am happy about that. A wonderful all-around mascara.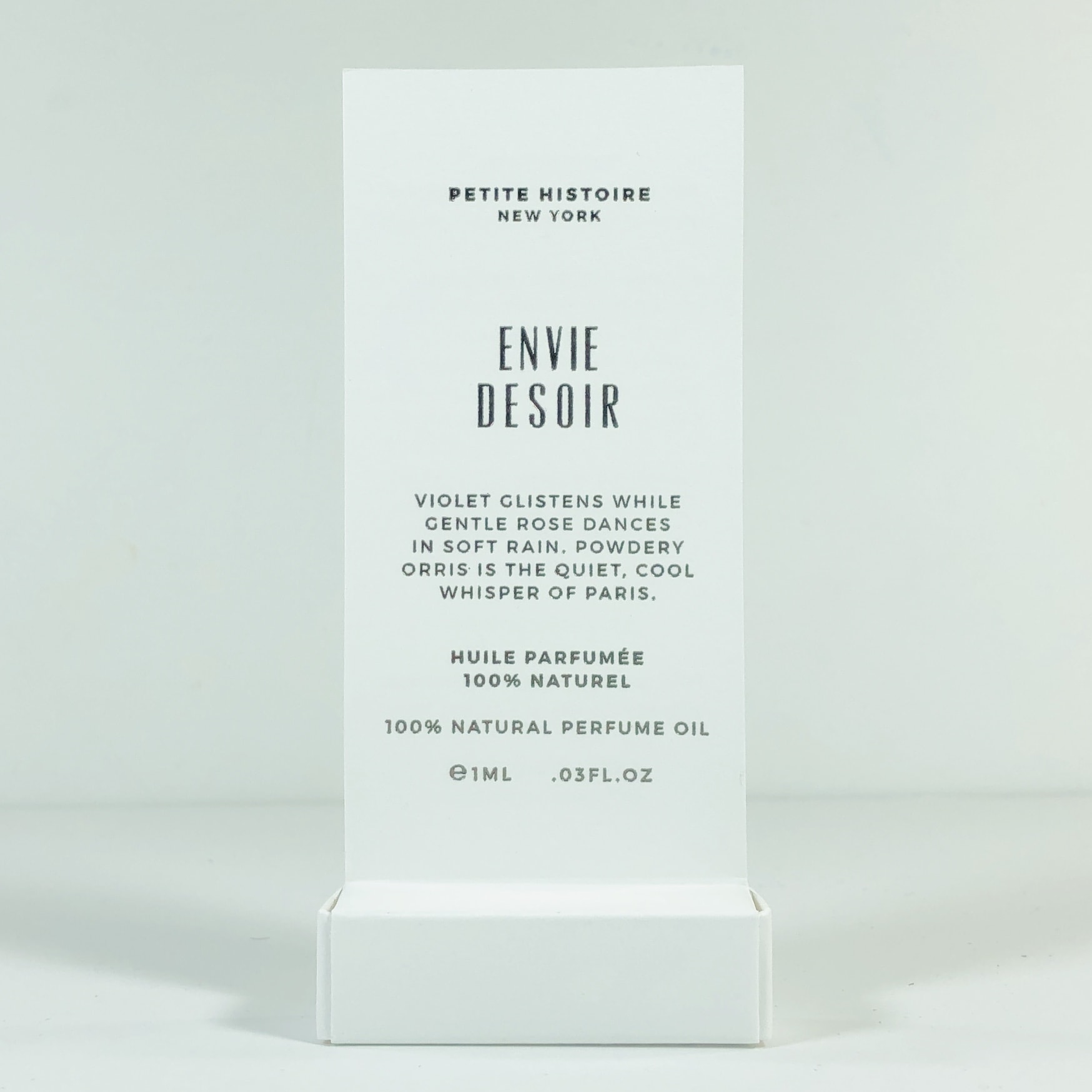 Petite Histoire New York Envie Desoir Perfume Oil ($5.27) I love trying fragrances and this brand was new to me!
Ingredients were listed on the box.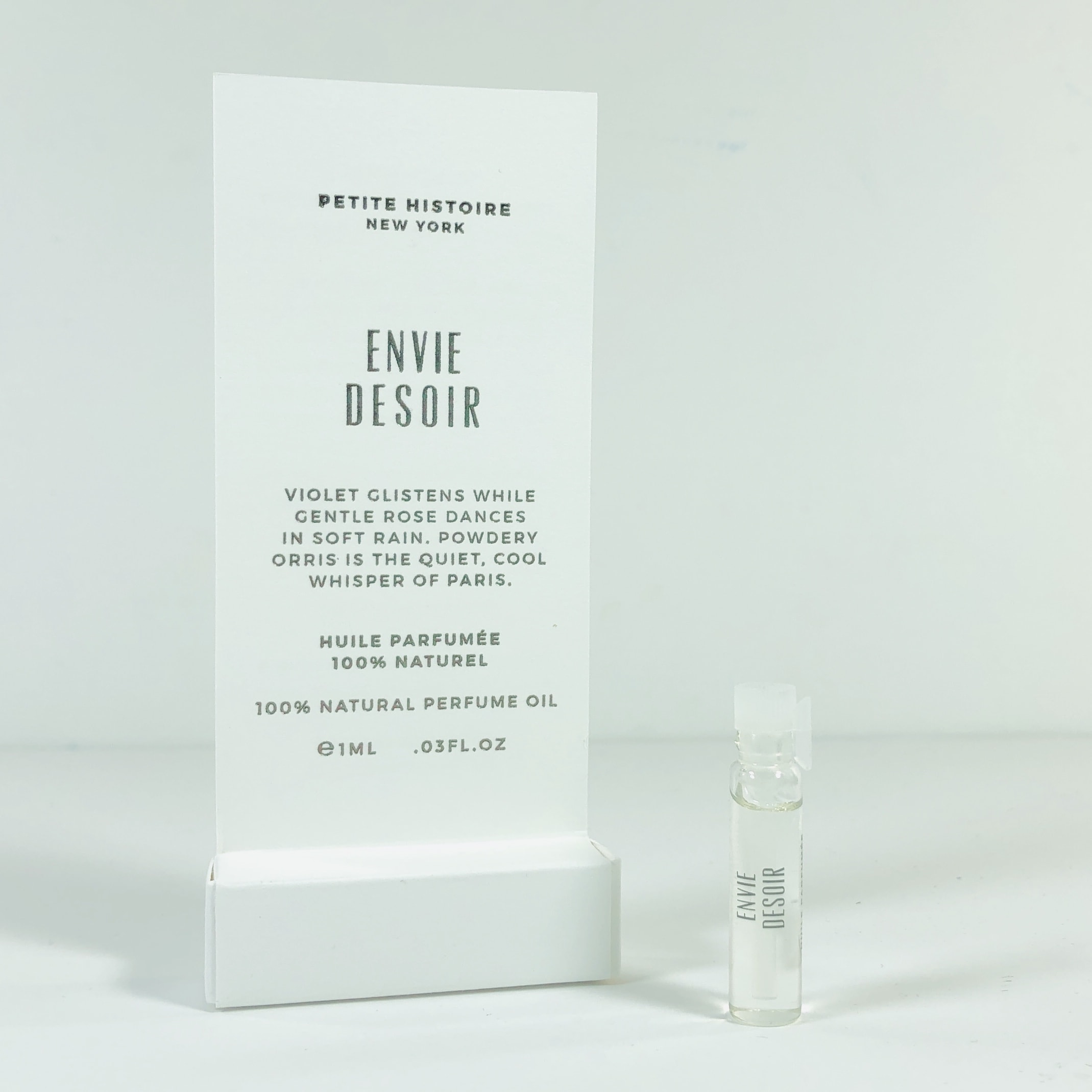 I really disliked the container – the lid was a real pain to get off. As for the scent, it had notes of bergamot, rose, violet, sandalwood, and ambrette. I think this is supposed to give off a Parisian vibe but it wasn't for me, maybe it was too sophisticated? I'm not sure I'm a violet lover and couldn't smell the bergamot or sandalwood. Mainly it smelled floral and powdery with a hint of green notes.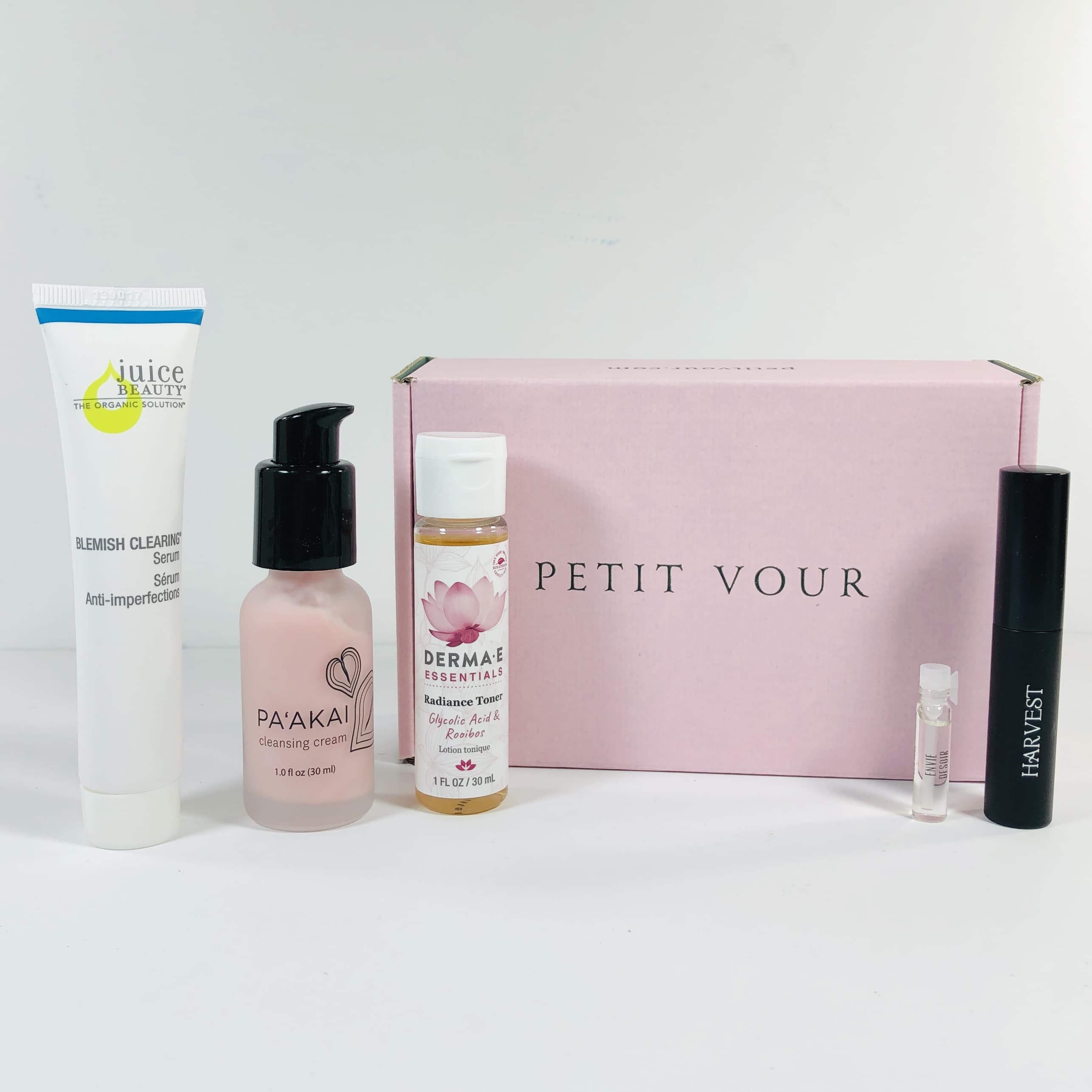 I liked my assortment of beauty items in the August Petit Vour! Only one item wasn't perfect for me and that is because I am not in need of acne products but they rest of the items were good for a variety of skincare types. The toner was gentle to my skin, as was the cleanser. I wish the perfume container was more user friendly. My favorite item was the full-sized mascara and it worked very well for my eyes and I like that it is much cleaner than my usual choice. The value for the August box was around $51.85!
What did you think of the August Petit Vour? I'd love to hear your thoughts on this box in the comments! 
Visit Petit Vour to subscribe or find out more about this vegan beauty subscription box!