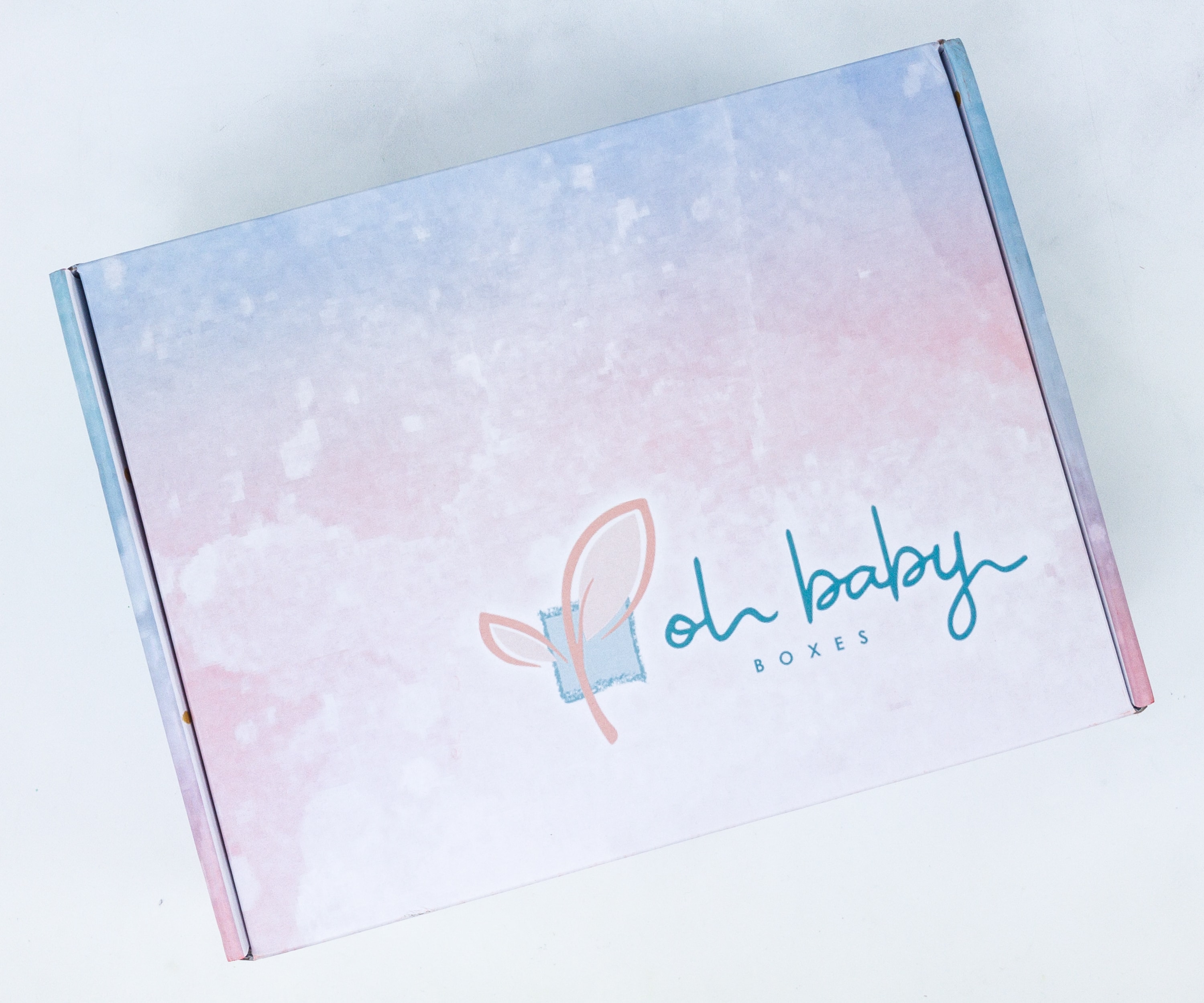 Oh Baby Boxes is a pregnancy and postpartum monthly subscription box that sends healthy and fun products for moms-to-be. The box costs $39.99 + free shipping within the US, and you can save more if you go for longer plans. Each month, receive 6-8 full-size pregnancy-safe products that promote healthy and relaxed conception until the due date, and even after giving birth. The products included are organic, natural, artisan, and holistic that spoils the moms-to-be on her journey, even during postpartum!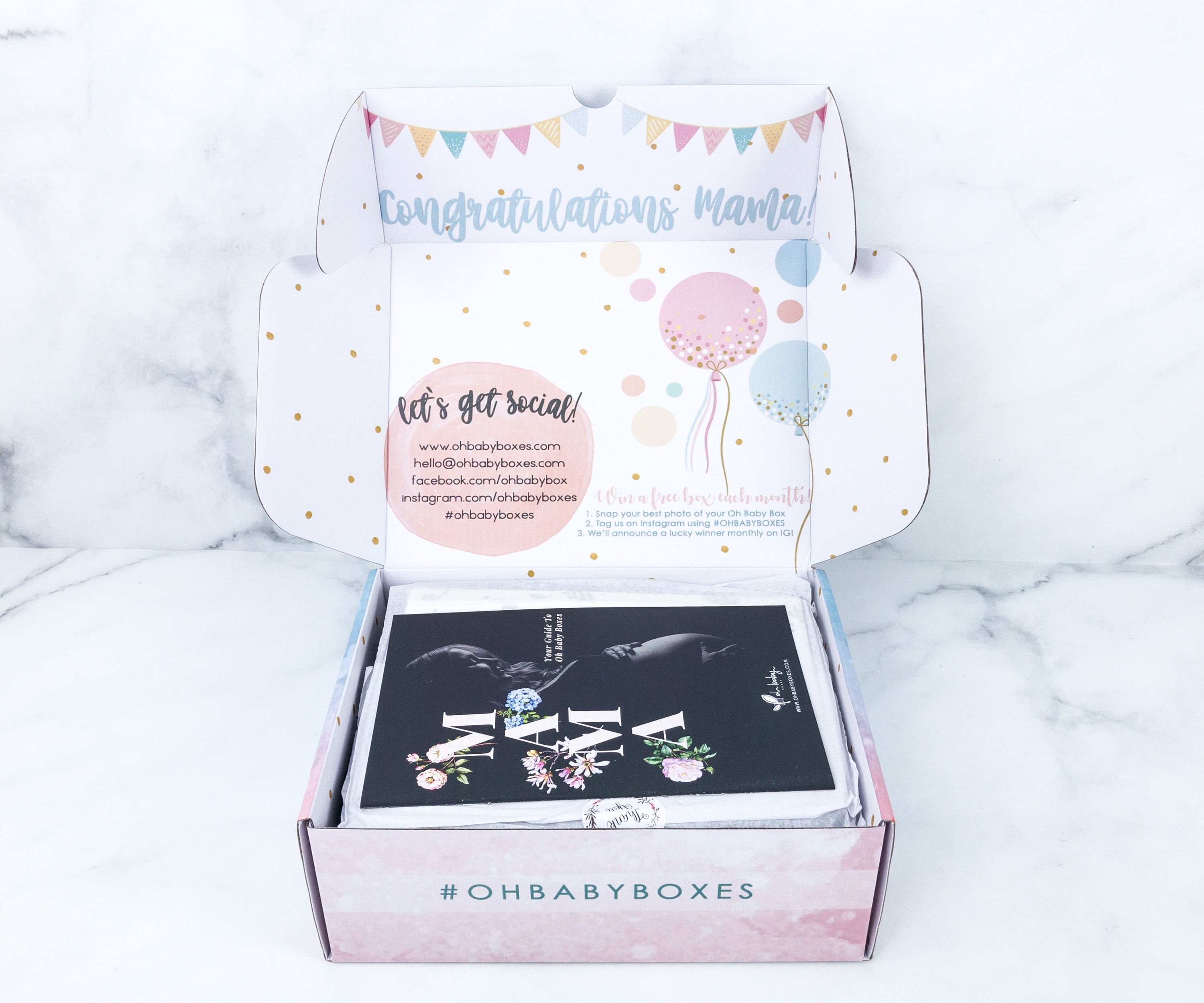 When you open the box, there is a congratulatory message for you, complete with balloons and colorful flags!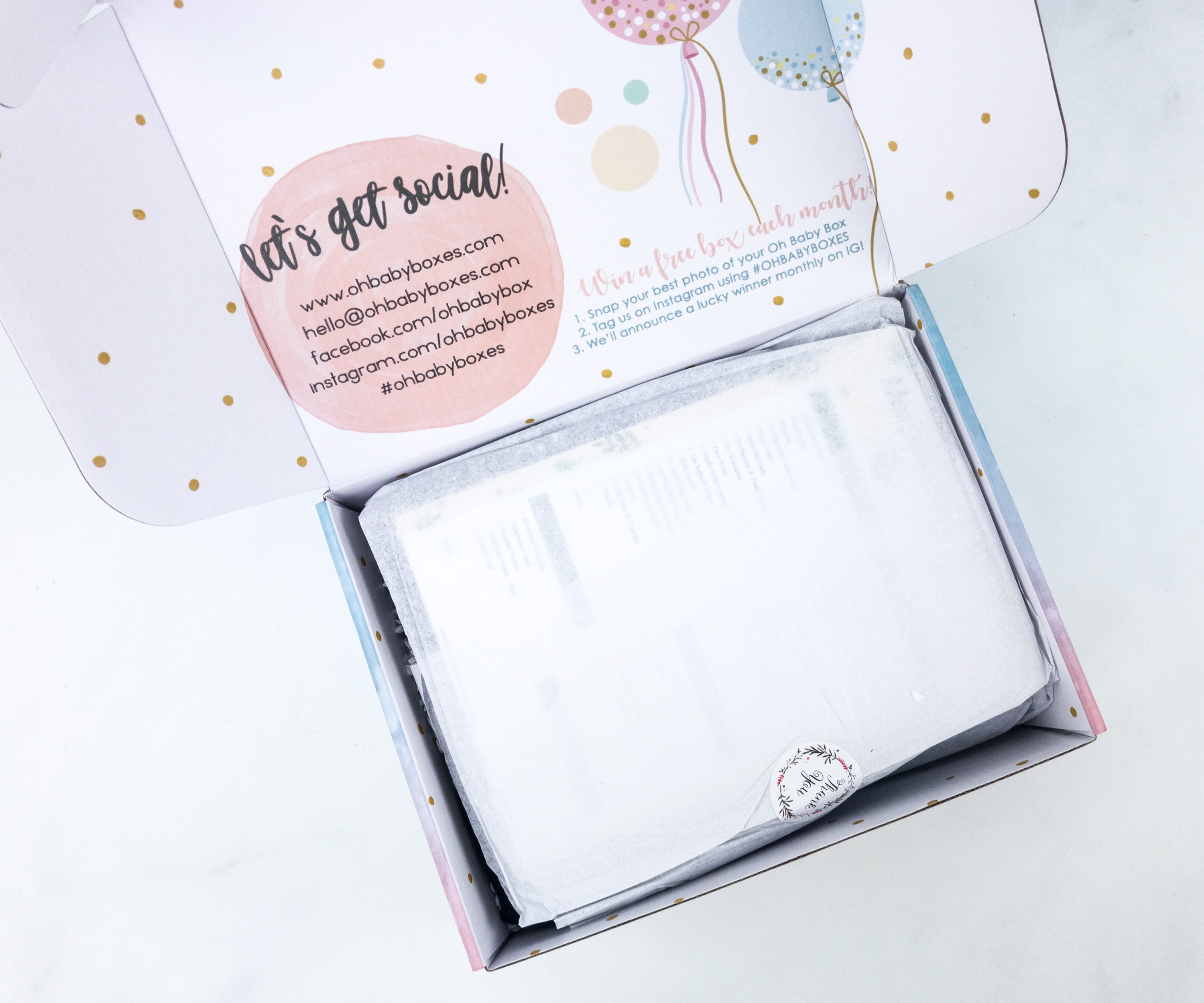 The items are wrapped in a white tissue paper, sealed with "Thank You" sticker.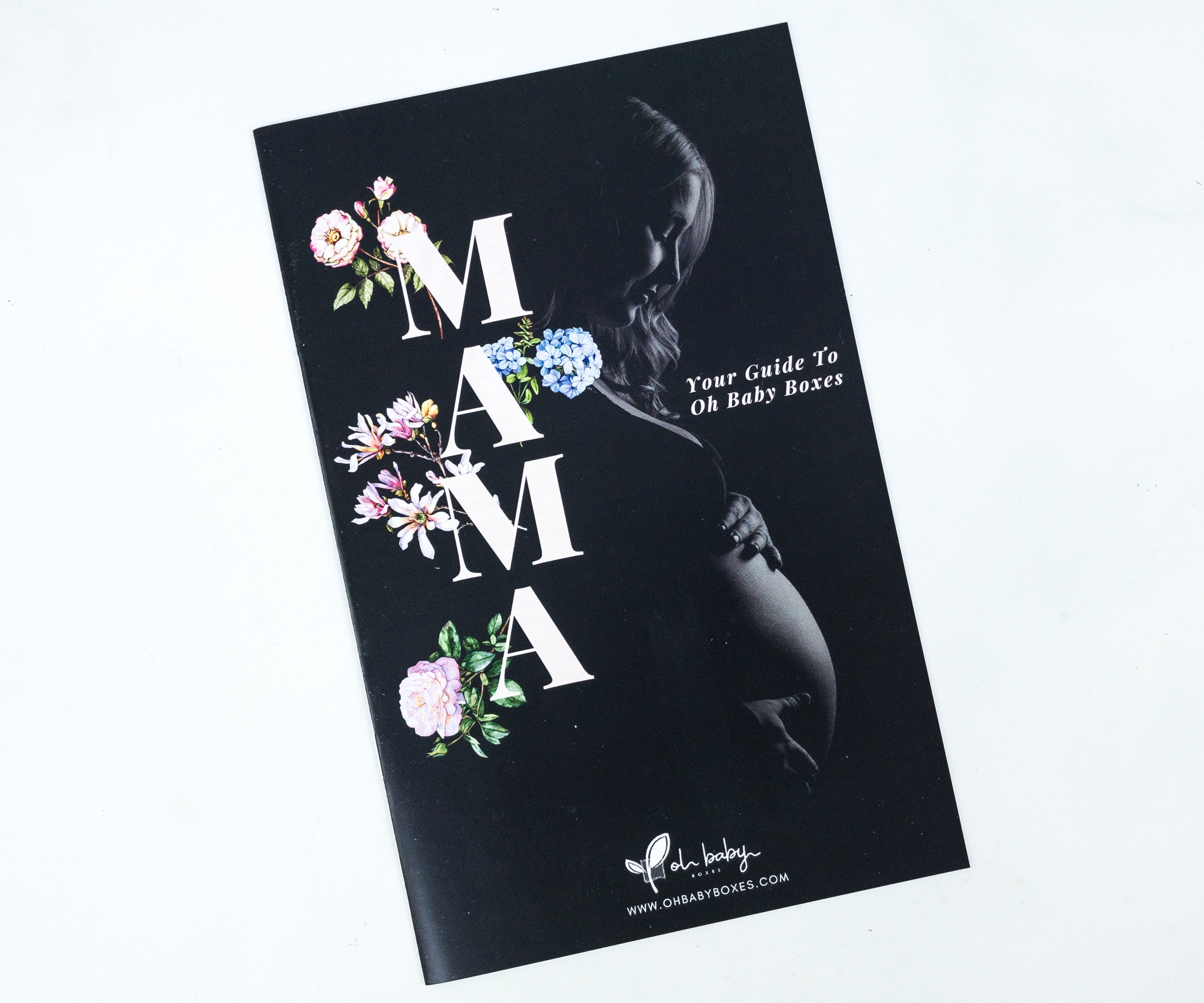 This month's box includes a booklet.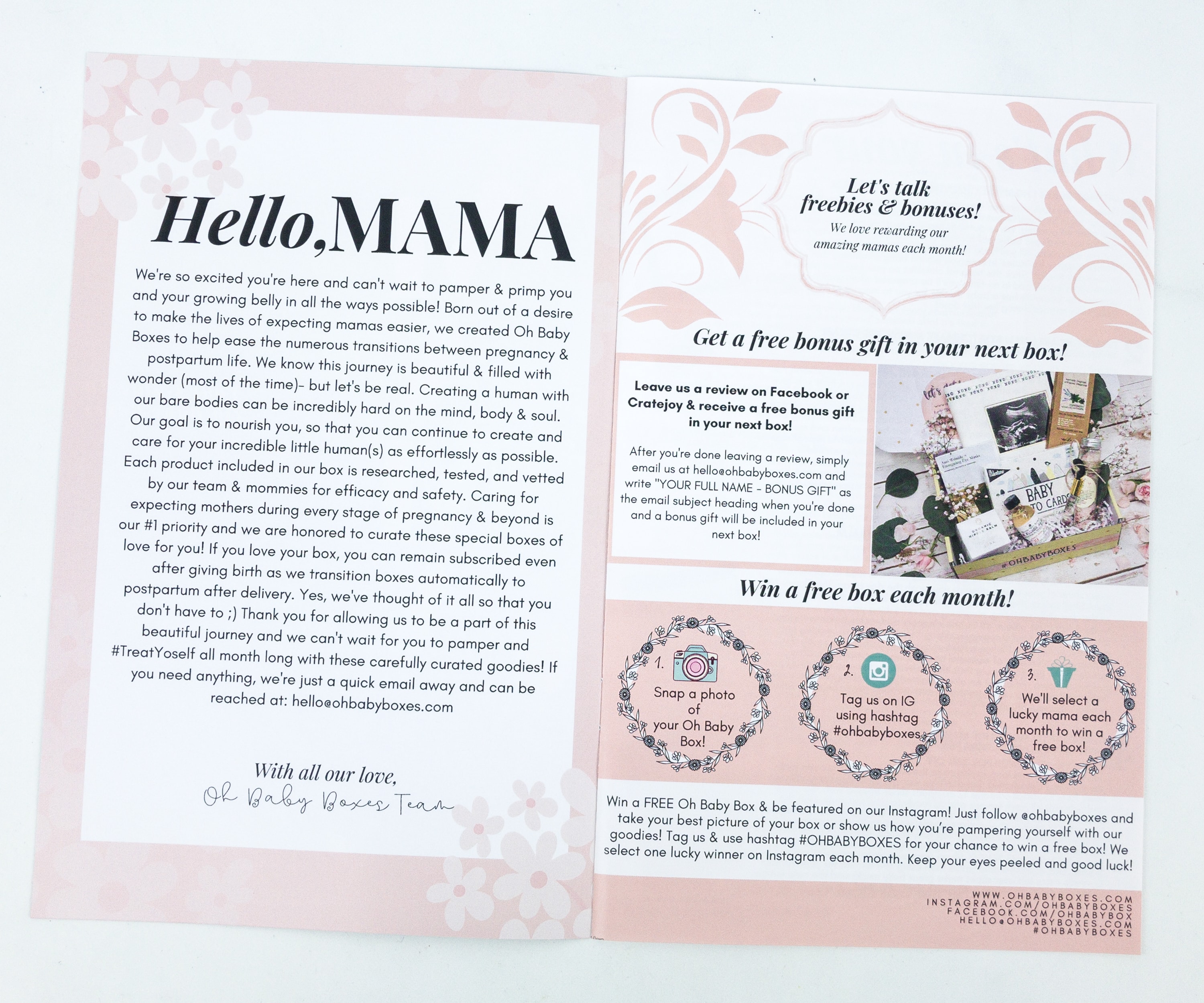 There's a sweet note from Oh Baby Boxes!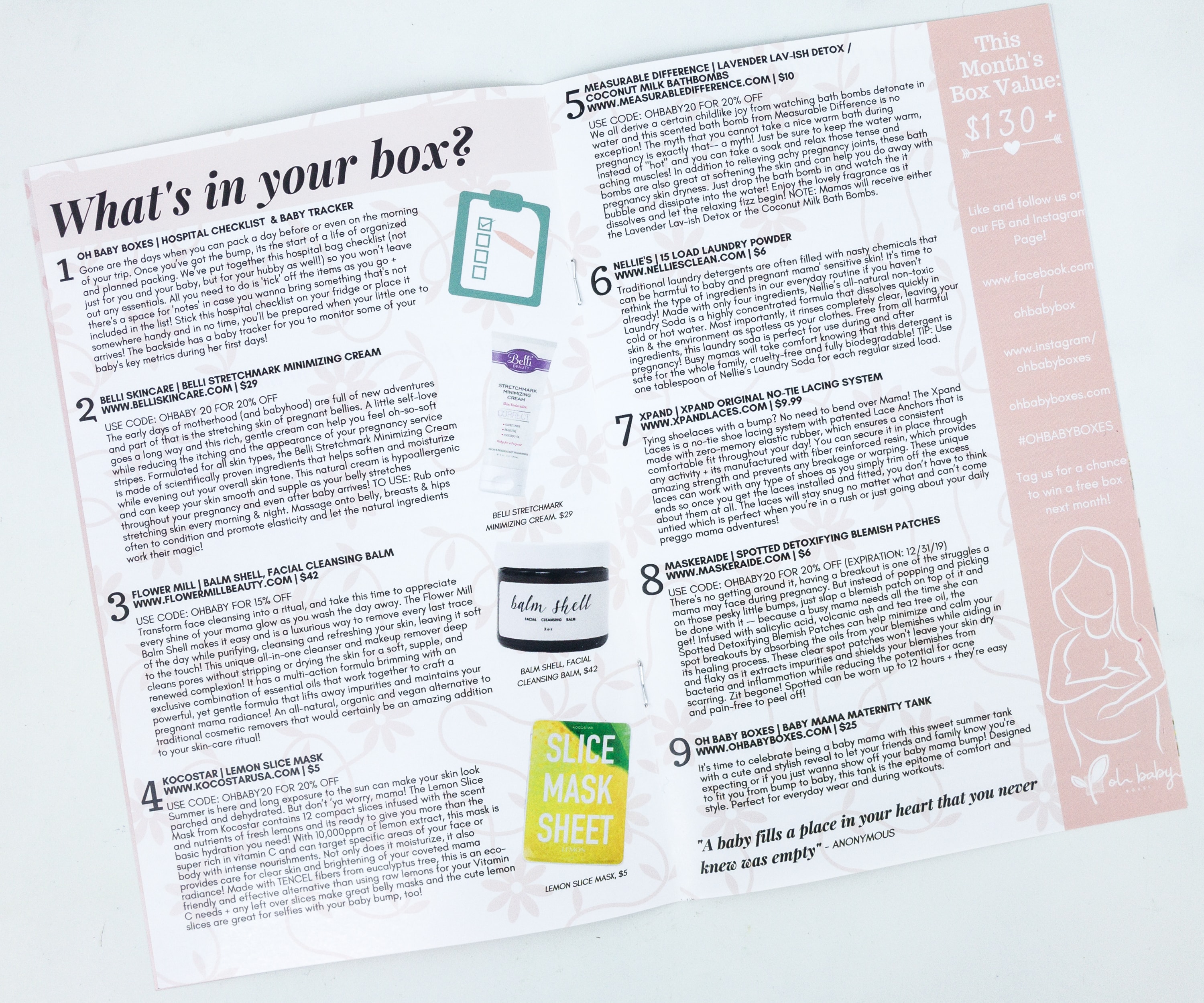 The contents of the box are all listed with brief descriptions about each of them.
They even included a list of natural remedies to prevent heartburn during pregnancy and a list of FAQs about the subscription.
The contents are also protected by white squiggles!
Everything in my box!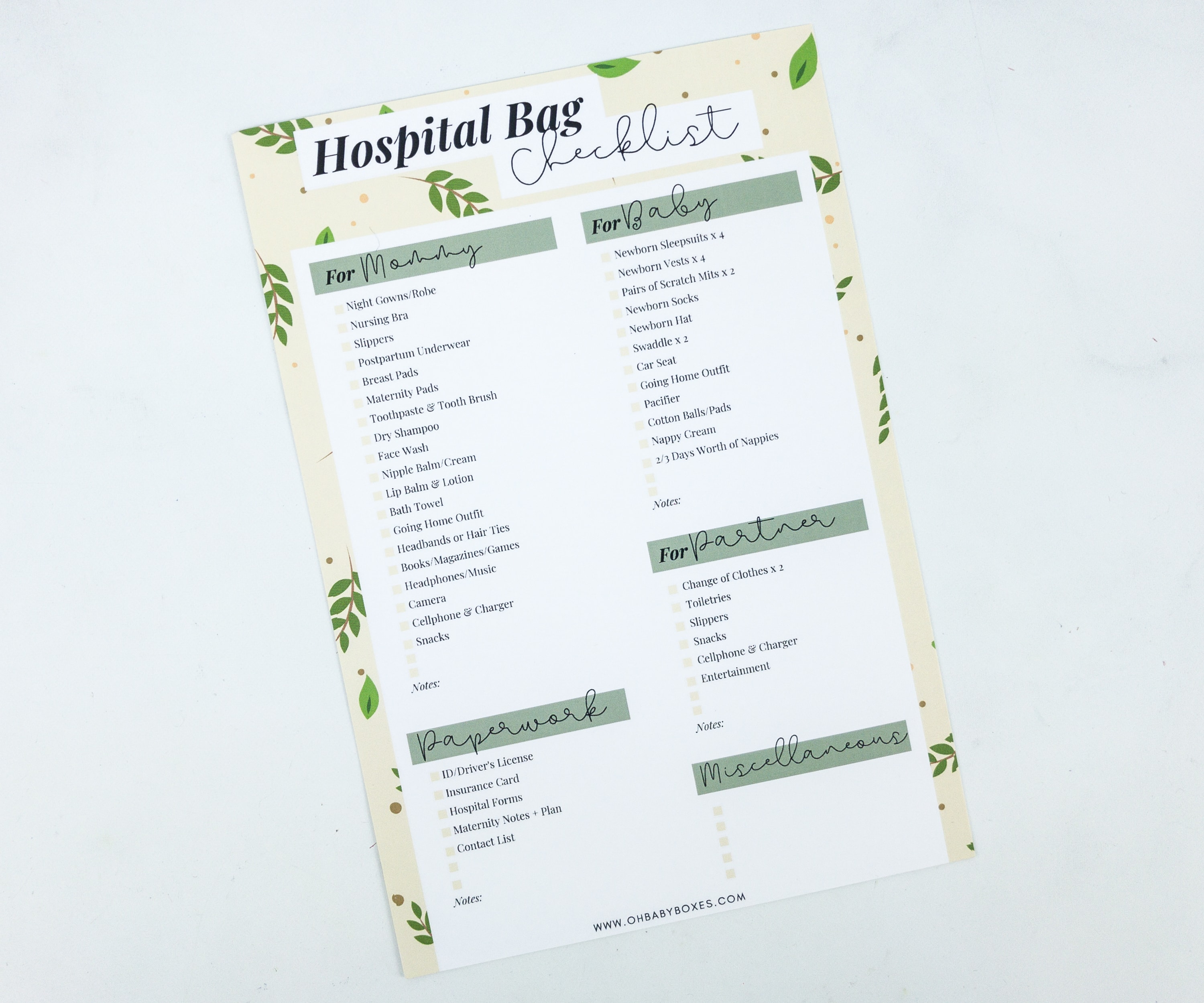 Hospital Bag Checklist and Baby Tracker. This checklist lists everything you need to bring to the hospital, one less task to do for the busy mom. All you need is to tick the corresponding box when the item is packed.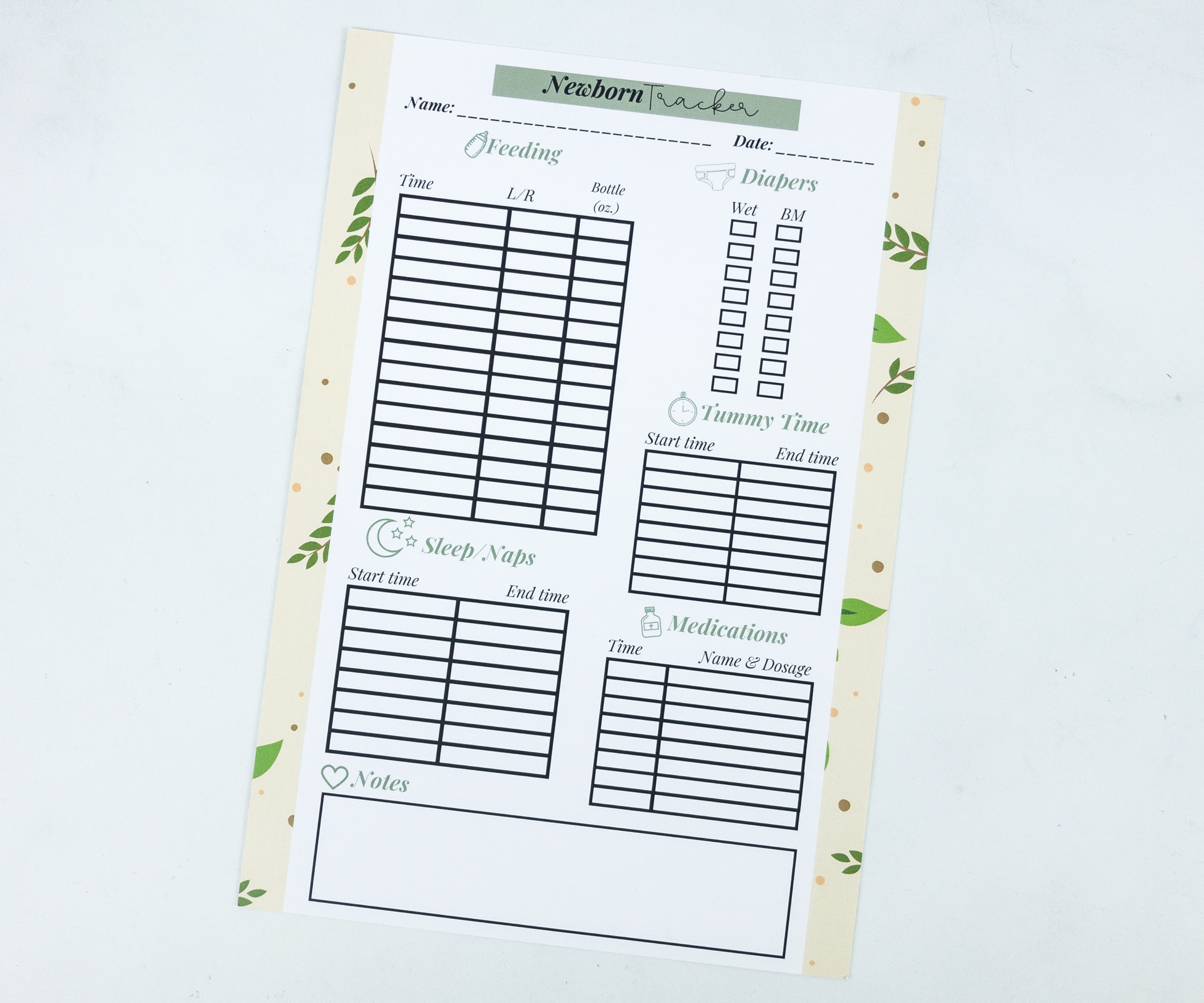 At the back, there's a baby tracker where you can take note and keep track of your baby's feeding time, sleep time, and other important things. There's even a space for your notes.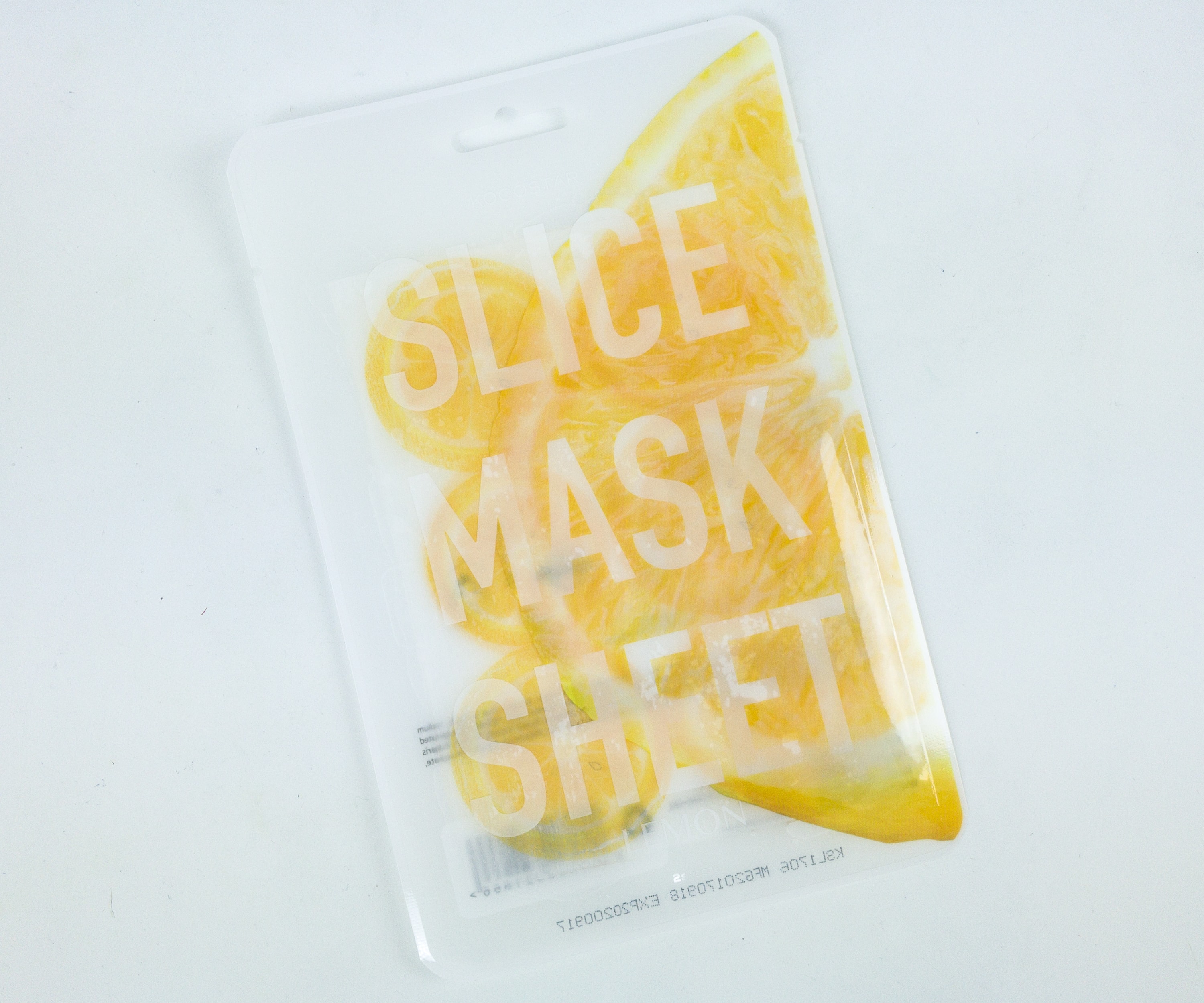 Kocostar Lemon Slice Mask Sheet ($5) It's a pack of lemon-infused sheet masks that allows you to squeeze in a quick pampering session in between mom duties. They're highly moisturizing and smell so refreshing!
There are 12 patches in the pack. Unlike the usual sheet masks that cover the whole face, these are smaller and you can choose to put them on specific areas of your face. Have them on for 15-20 minutes, then you're good to go!
MaskerAide Spotted! ($5.08) It's normal to undergo hormonal changes when you're pregnant or after pregnancy and, for some, this may mean having blemishes on their face. These pimple patches would be a great help in battling that problem, and all you have to do is to put one patch on the affected area after it's cleaned.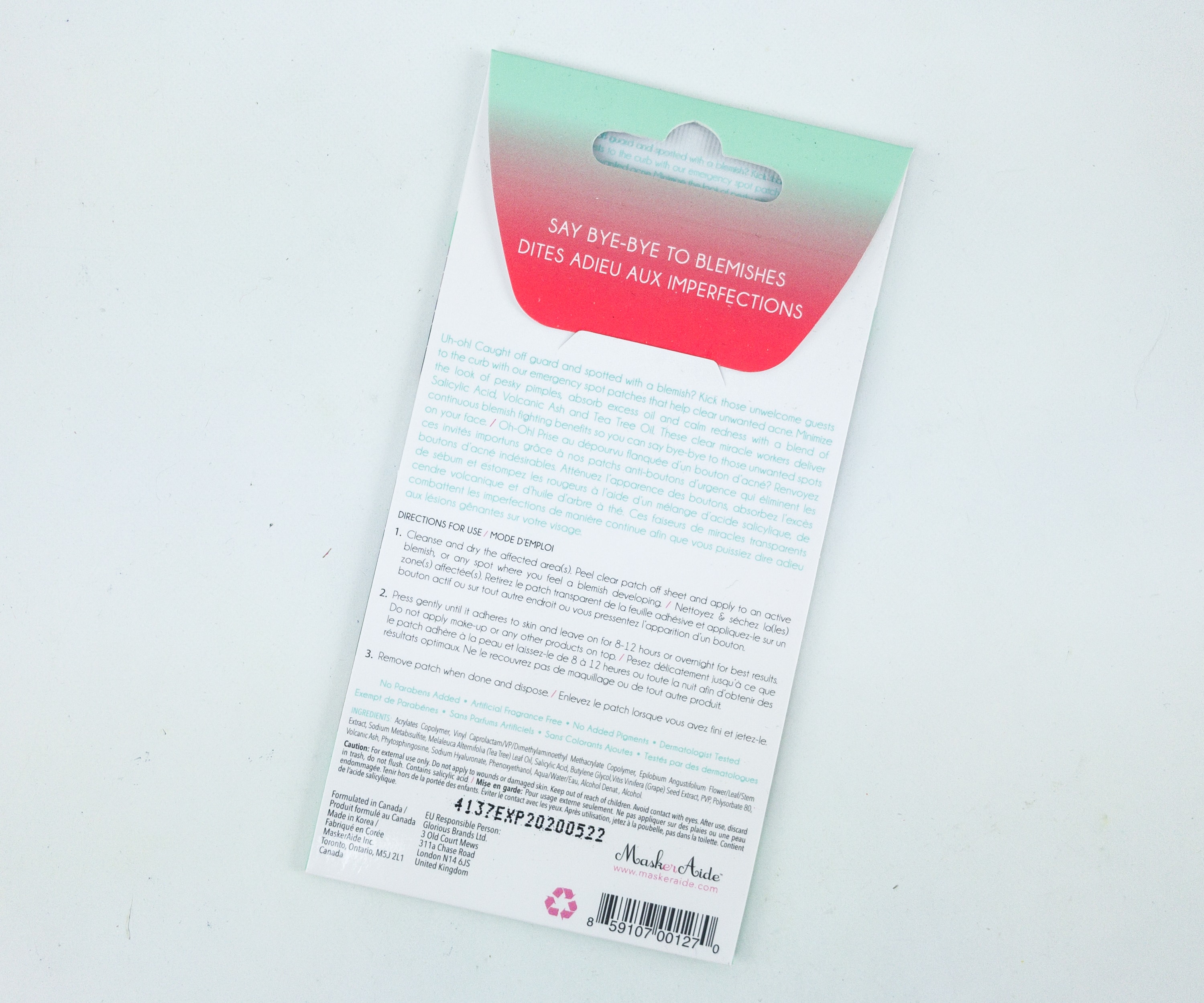 It's free from parabens, artificial fragrance, and added pigments. The clear patches are best to be left on overnight for best results. They diminish redness and prevent dark spots!
There are 2 packs in the box, and each pack contains 12 patches. That's a lot!
Baby Mama Maternity Tank ($25) Summer is the time to wear something breezy and comfortable. There's one included in this box and it's a maternity tank in black.
The print says "baby mama." It's simple, breathable, and comfortable to wear, enough to accommodate your baby bump!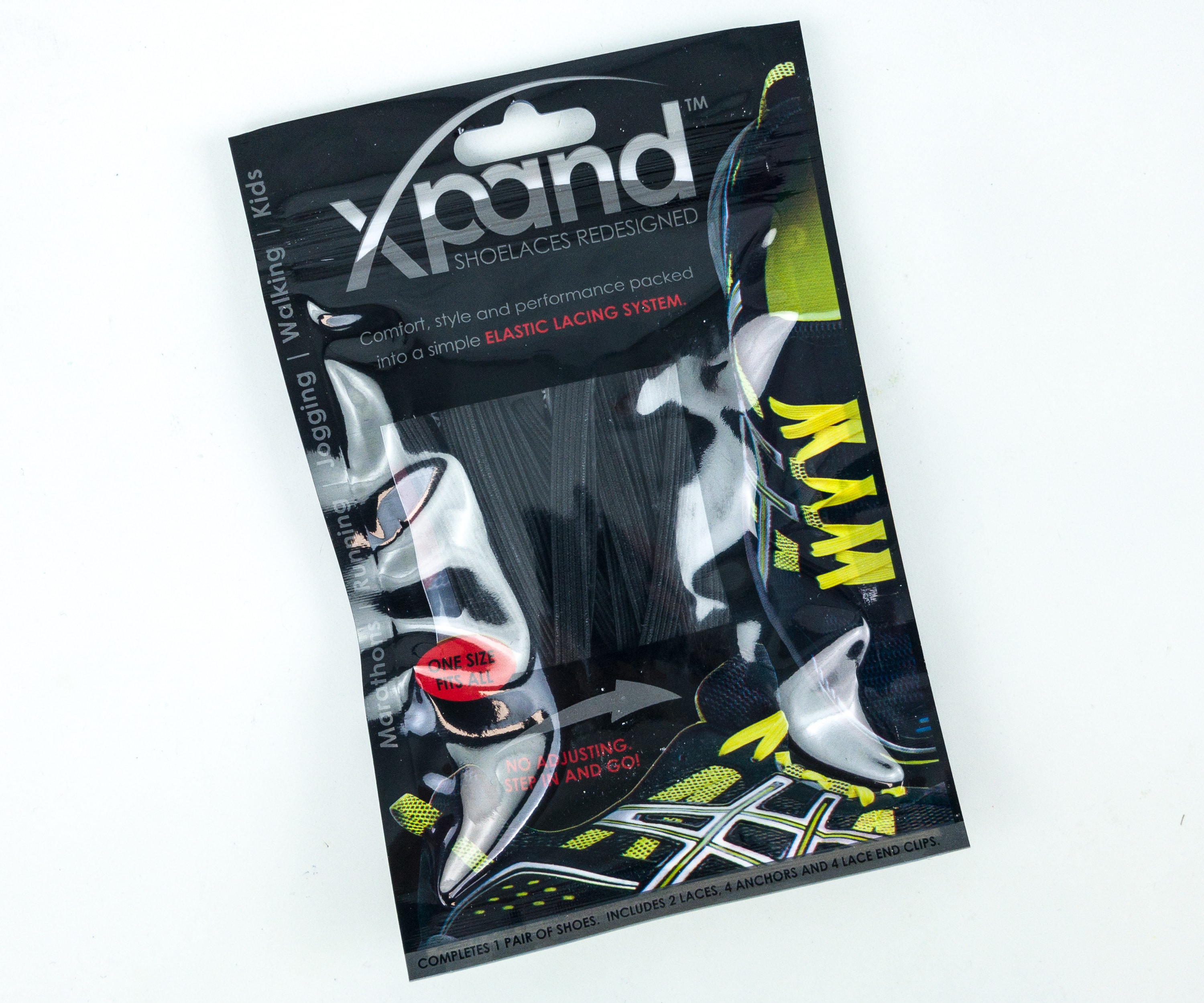 Xpand Shoelaces Redesigned ($9.99) These innovative shoelaces need not be tied, so they're perfect for pregnant women wearing sneakers!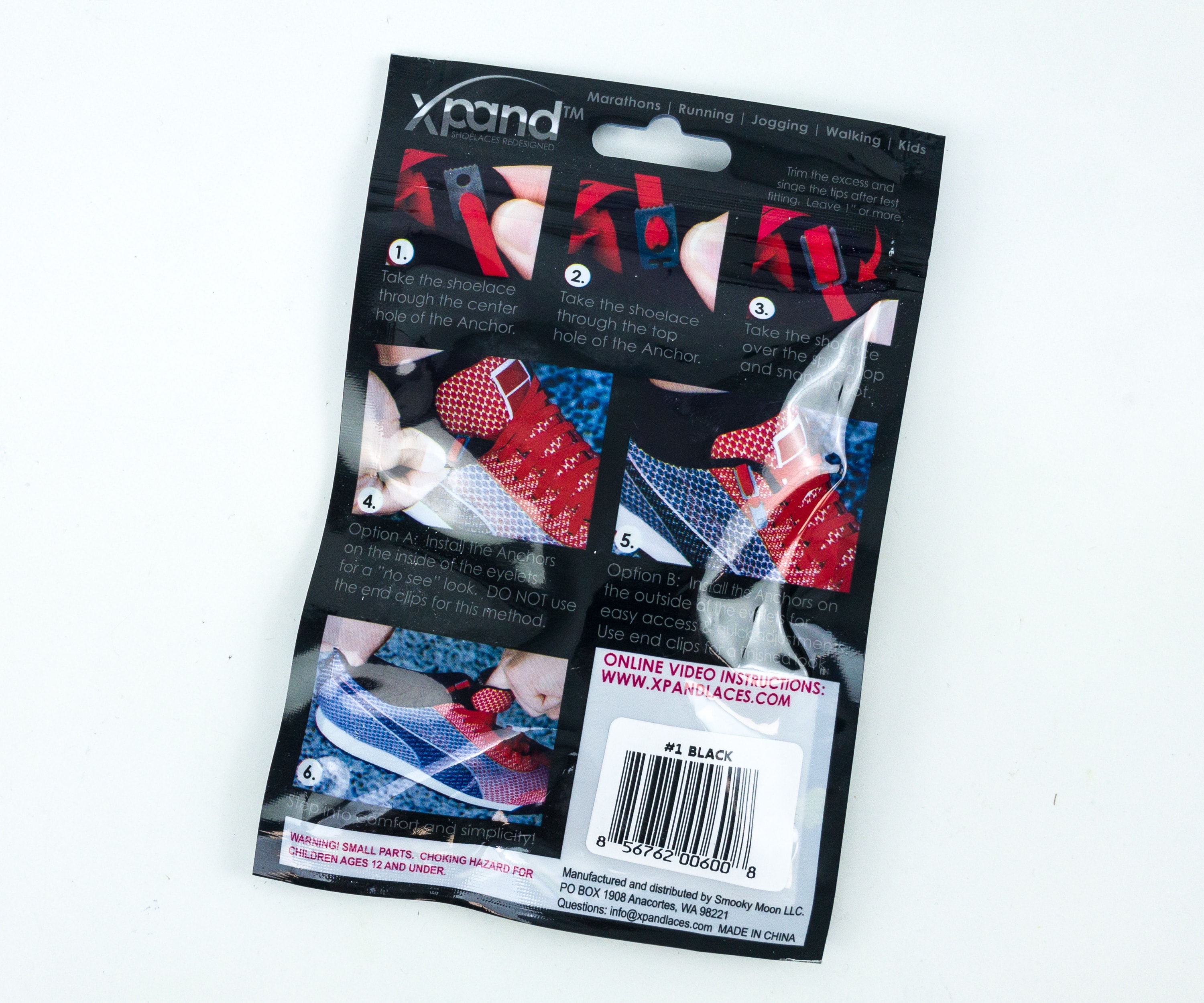 The back of the pack provided instructions for use, accompanied by illustrations. They use the Lace Anchor technology to secure the laces in place.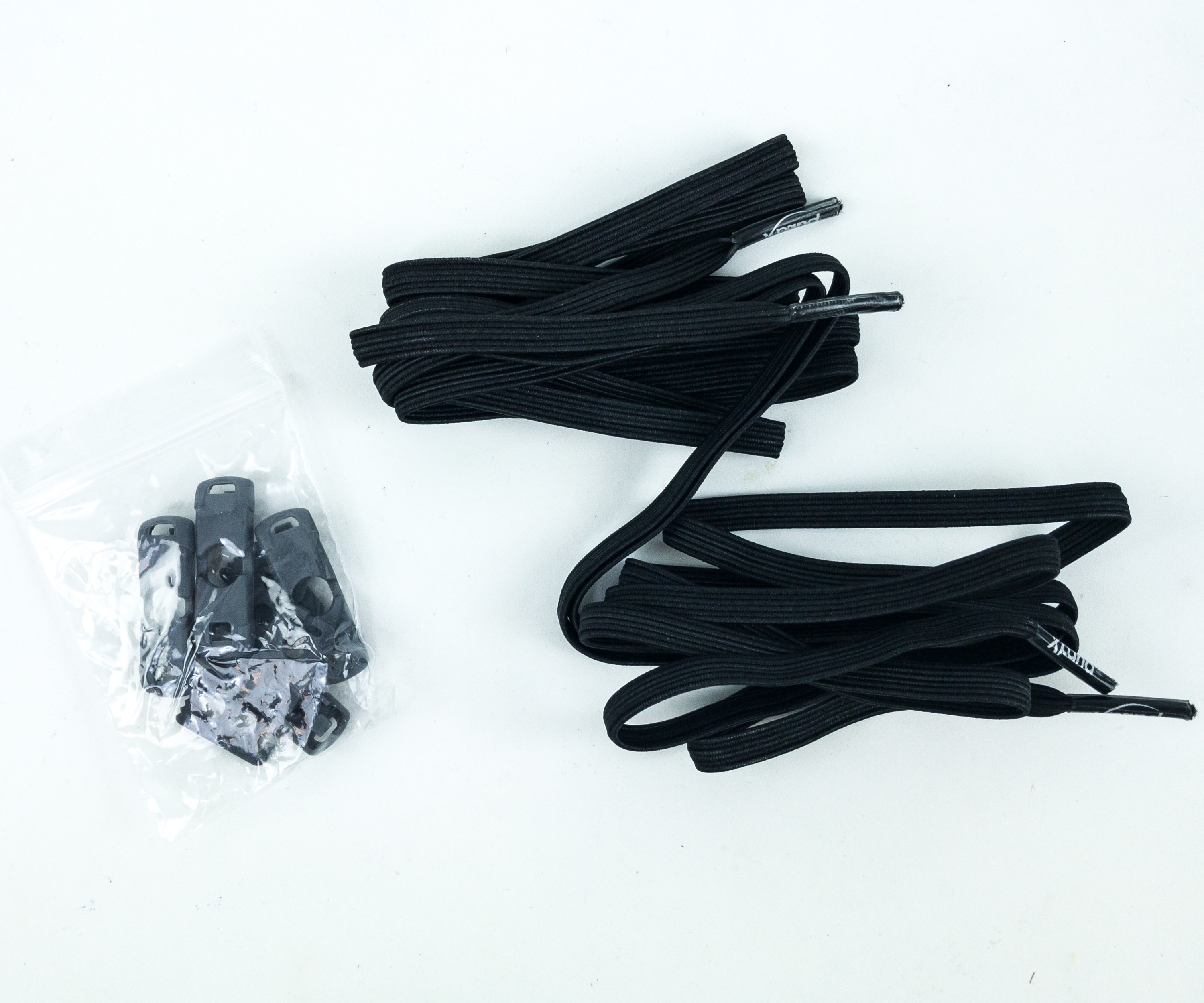 The laces we got are in black, and there's also a pack of clips.
Measurable Difference Lavender Lav-ish Detox Coconut Milk Bath Bomb ($10) For a home-spa experience, they included this bath bomb infused with lavender scent. It helps create such a relaxing mood!
This bath bomb turns your bath into a pretty light lavender color. It can also be used for a foot soak!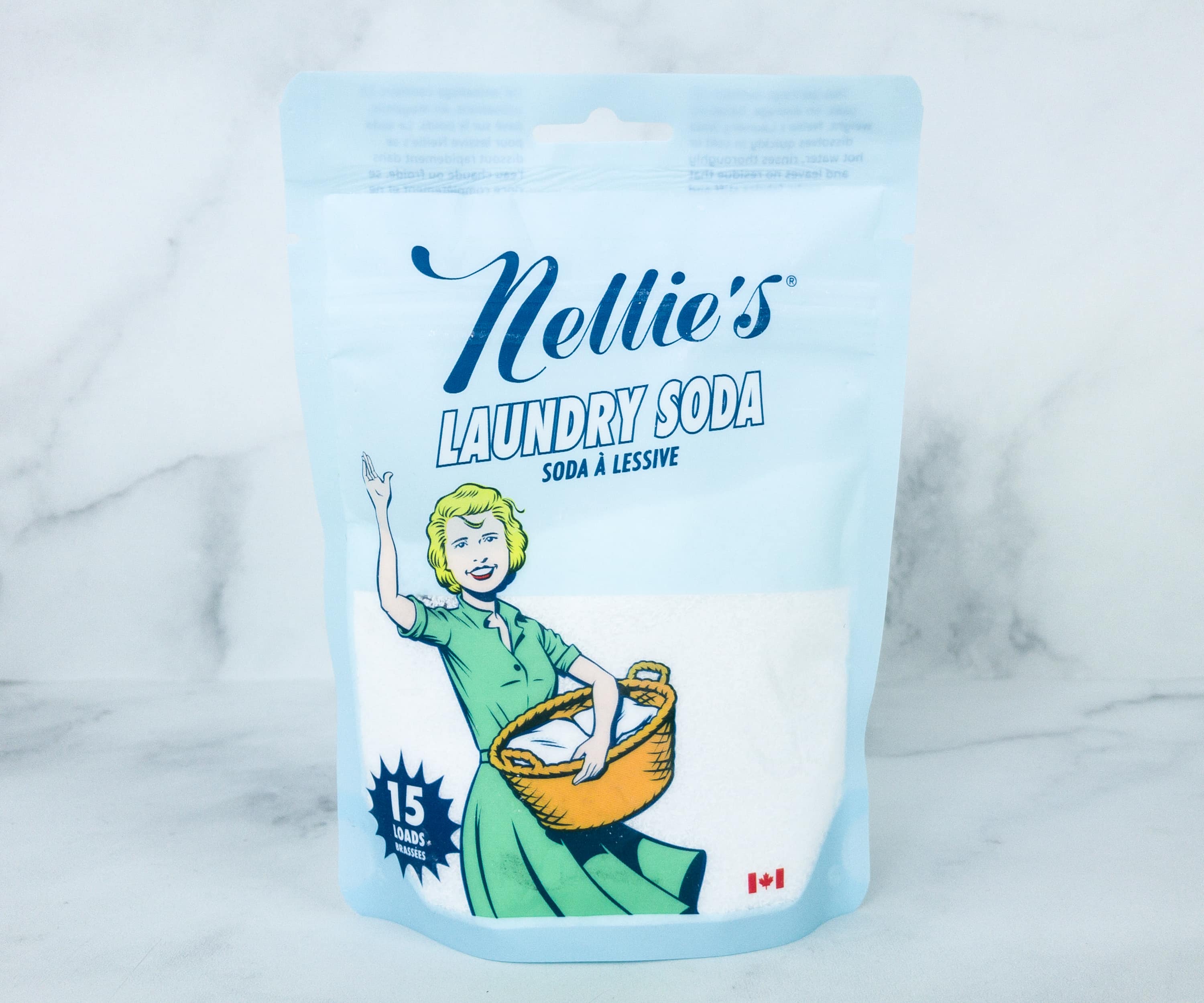 Nellie's Laundry Soda ($3.58) Hypoallergenic and non-toxic laundry products are heaven-sent! These are ideal to use for your baby's clothing and other washable items, to make sure that they're free from irritations usually brought by harsh chemicals while still keeping their clothes clean and soft.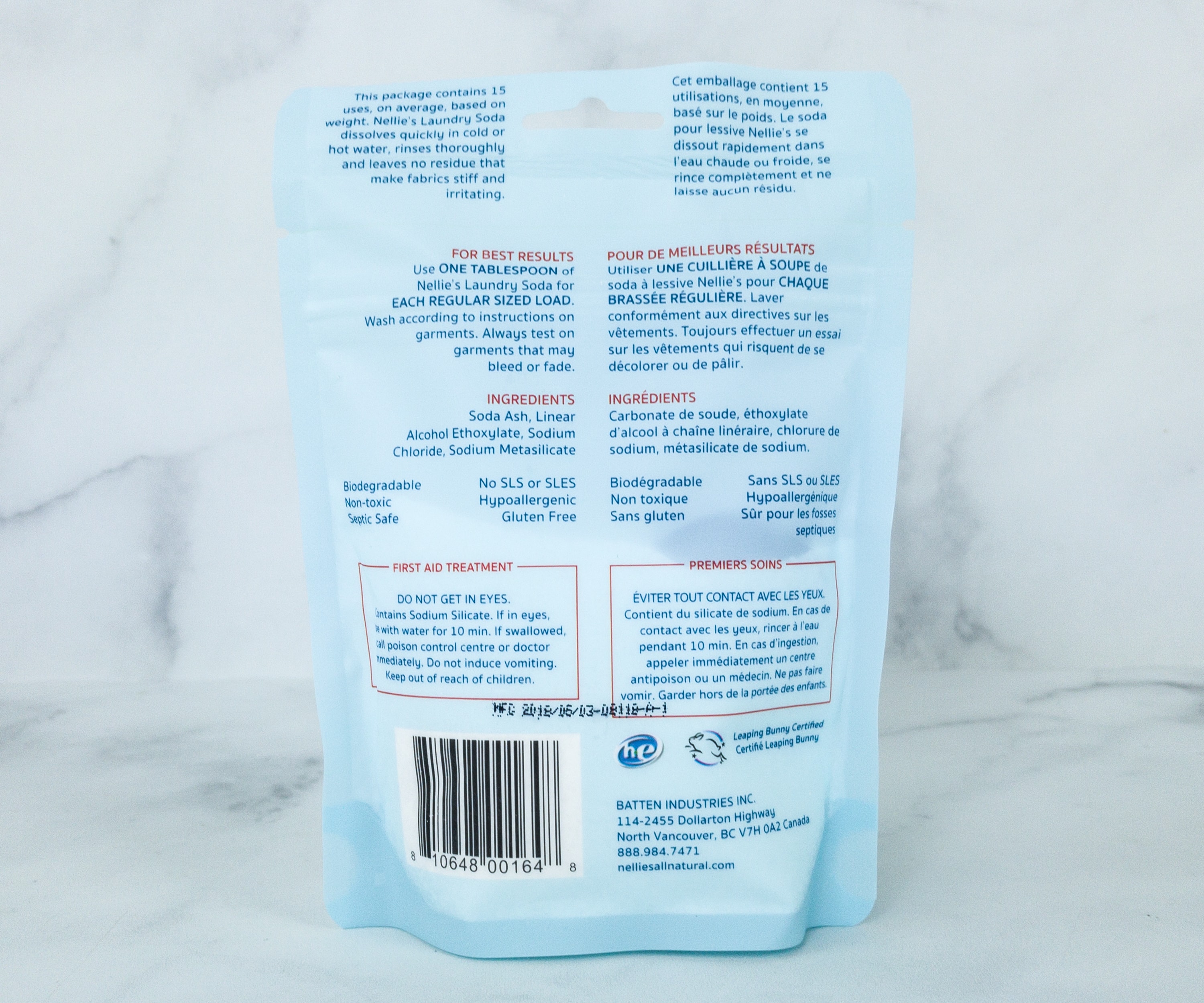 The laundry soda bag we received is good for 15 loads. A tablespoon is enough for a regular load. It's also biodegradable and fragrance-free.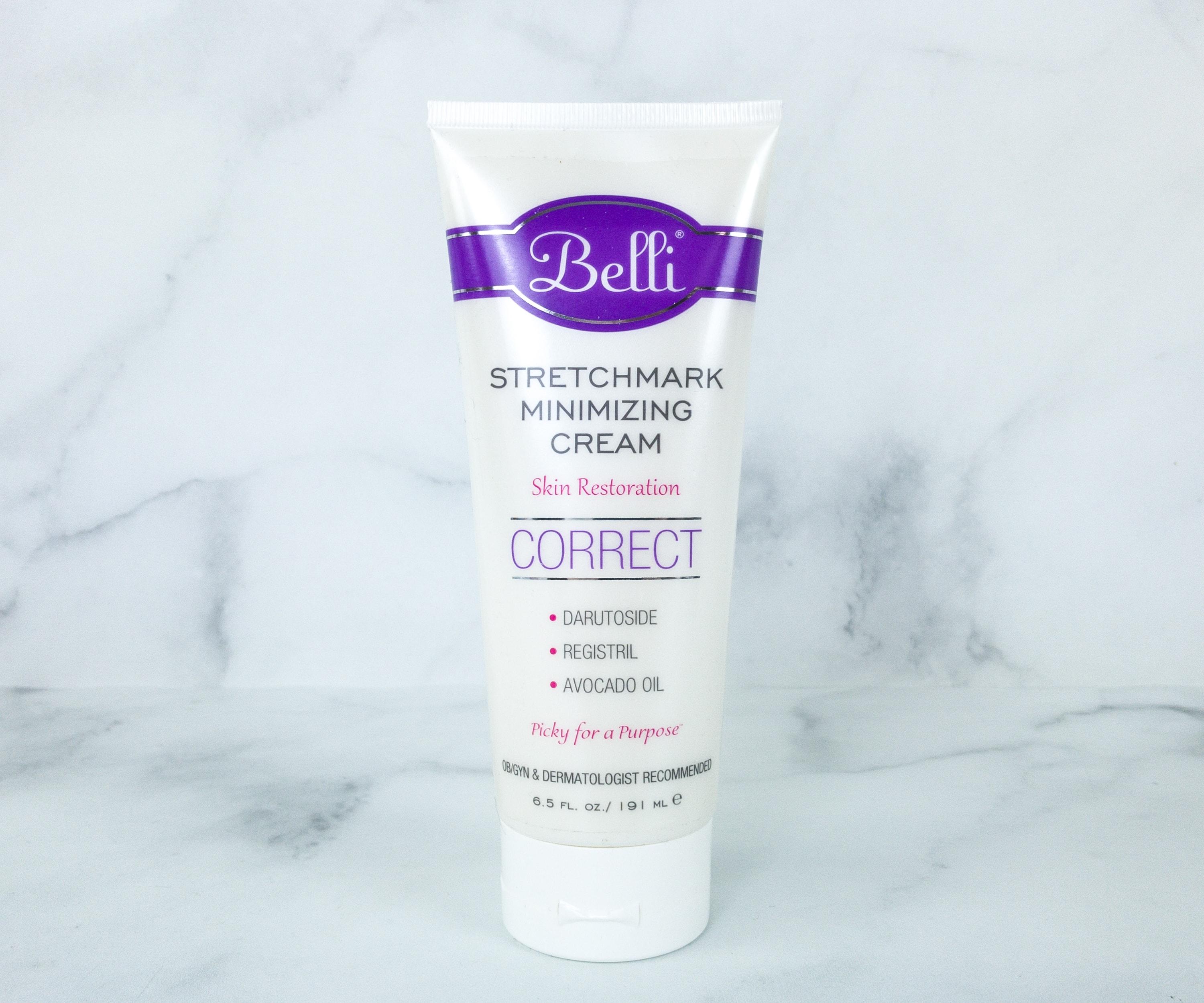 Belli Stretchmark Minimizing Cream ($28.99) Formulated with avocado oil and shea butter, this cream promises to reduce stretch marks while also keeping your skin soft and hydrated.
Light as a feather, the cream sinks fast without any residues. Of course, it takes consistent use to see actual results, but it does feel moisturizing upon first use.
Flower Mill Balm Shell Facial Cleansing Balm ($42) Some makeups just take too long to get removed! This balm was created to help us cleanse and get rid of that stubborn makeup, leaving our skin smooth and refreshed.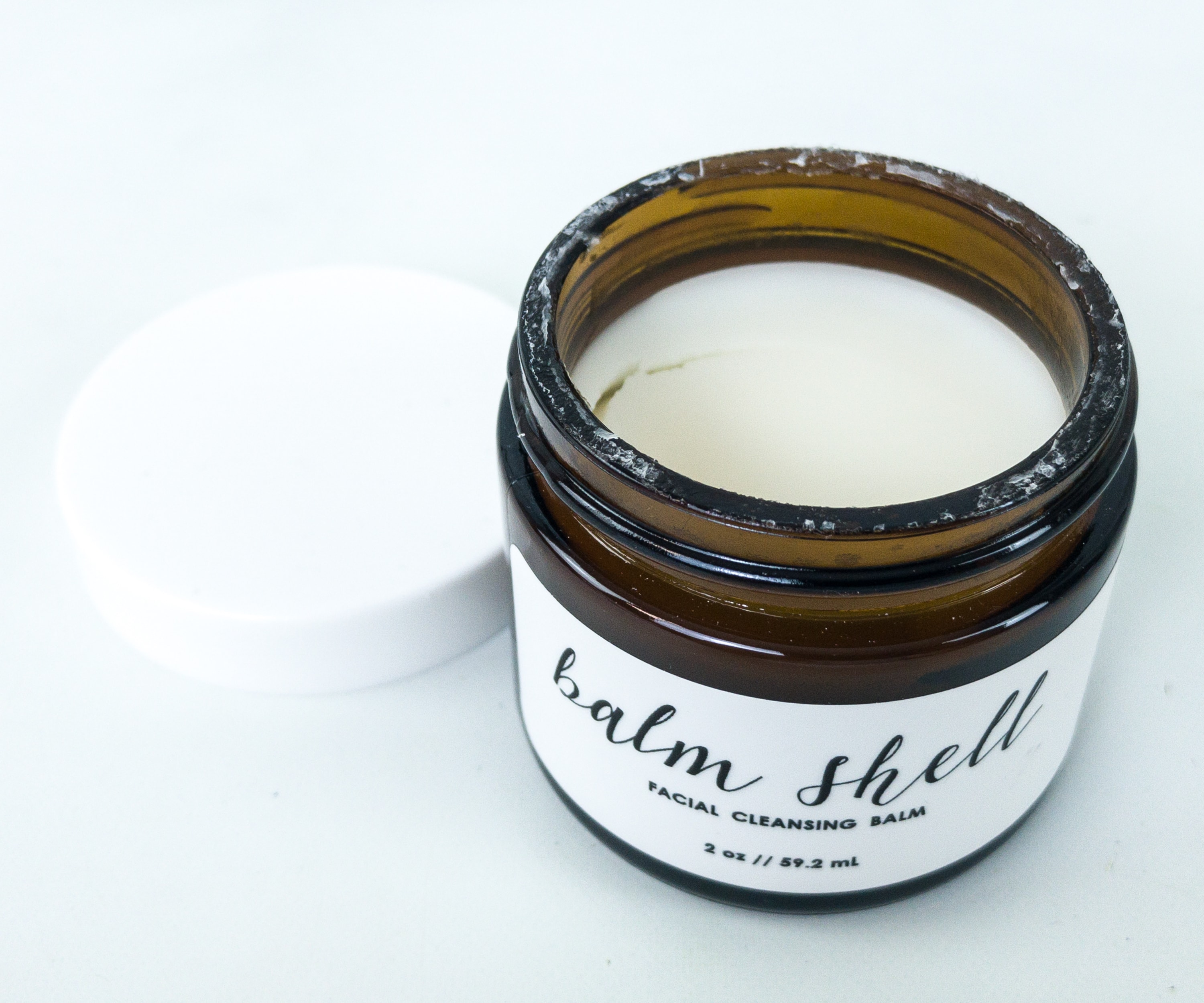 It deeply cleanses minus the adverse effects like drying or oiliness. The formula also harnesses essential oils to help us keep our skin glowing.
Oh Baby Boxes is such a wonderful treat for expecting moms or for moms who just gave birth. Their selection always includes pampering items that busy moms might overlook, like masks, cleansers, and creams. Sometimes, they even throw in wearables like this month's summer-ready tank top. Overall, it was a well thought out curation and we're certainly pleased! The shoelaces? Best product I've seen in a maternity box ever!
What do you think of this month's Oh Baby Boxes?