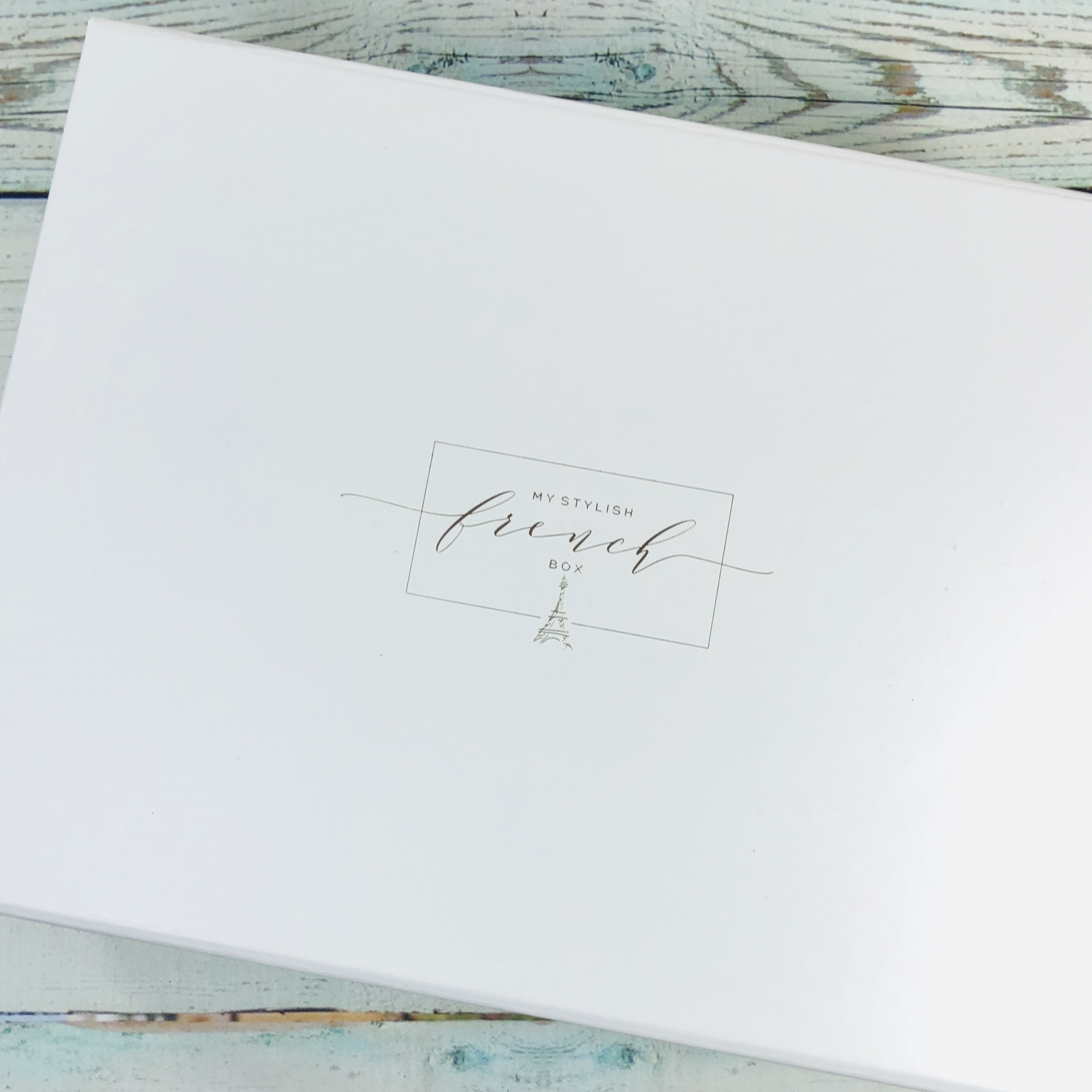 My Stylish French Box is a quarterly lifestyle box that sends authentic and stylish items all the way from France! The box is curated by Sharon Santoni, an author and the blogger behind My French Country Home. This box is based in France and they work directly with highly coveted and timeless French brands to create a box that will help chic up your home.
What Is My Stylish French Box?

A selection of 6-8 French products, curated around a theme, and chosen for you and your home.  All products are full sized and truly French.  Many brands are only available in France.  The price you pay will always be lower than the US retail value, and it includes shipping to your door (small surcharge for shipping to Australia and New Zealand).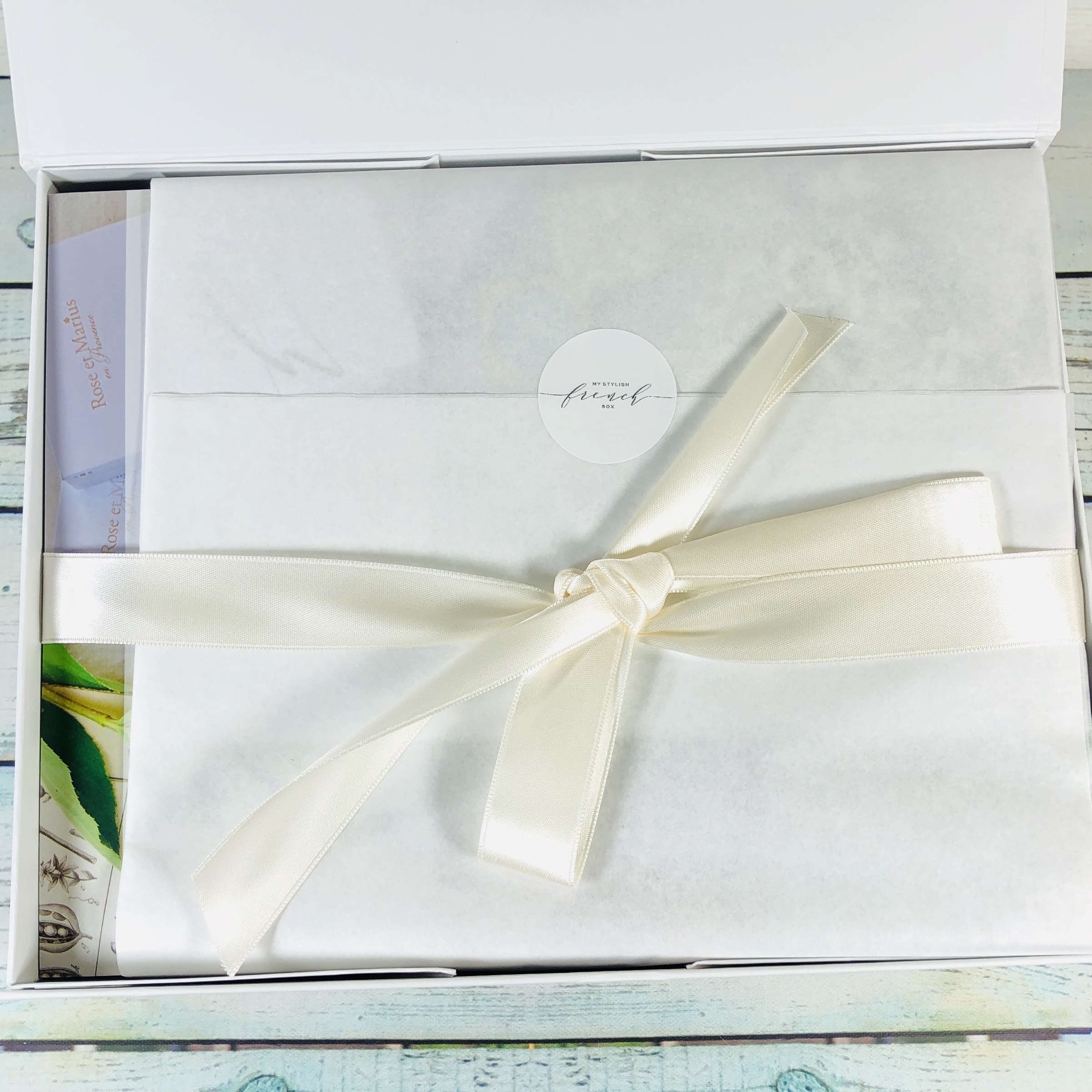 My items were shipped directly from France and came in a reusable white box. The box has a hidden magnetic closure and it makes a good storage box. It's simple and I like that I can reuse it.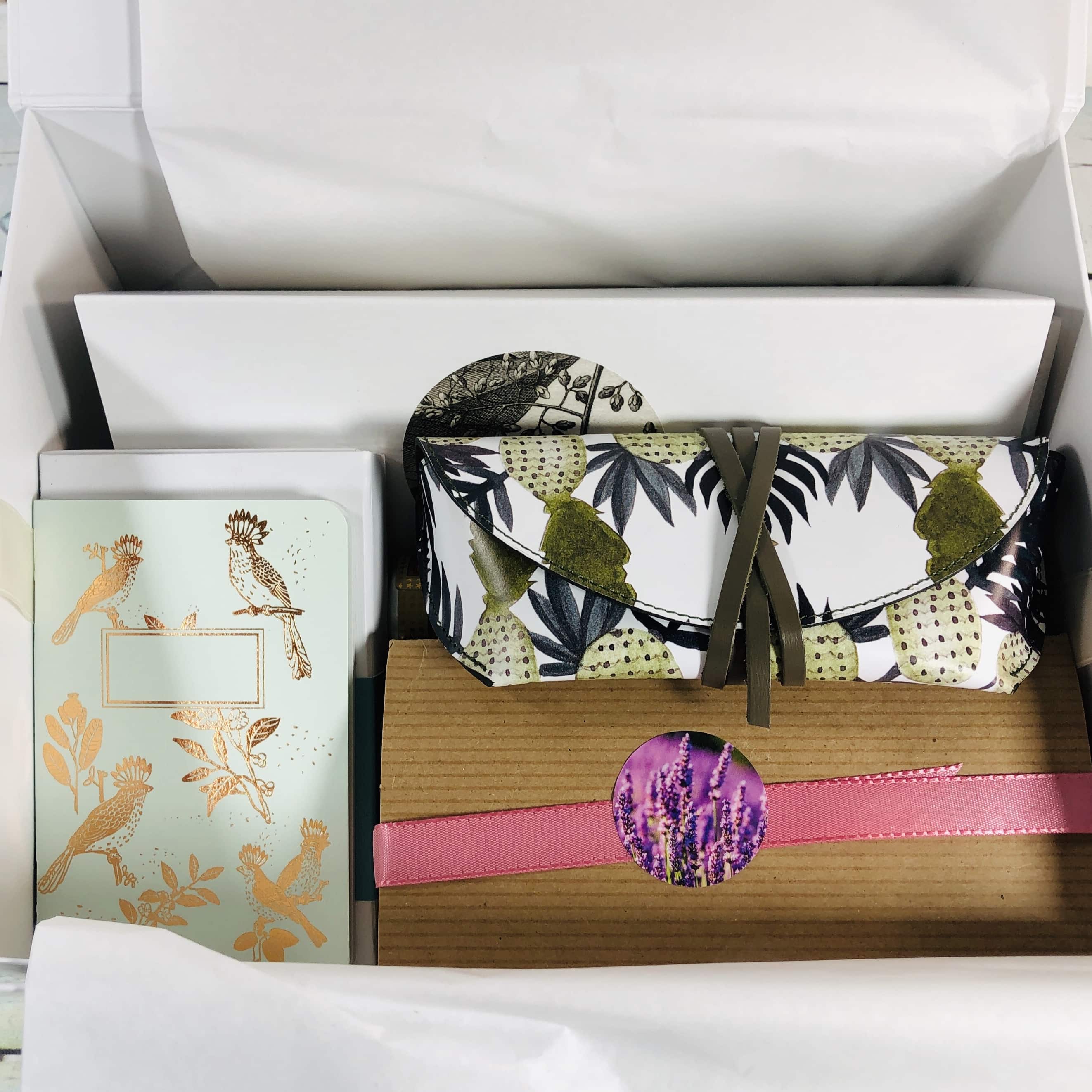 I opened it up to find my products wrapped in tissue paper with a satin ribbon around the parcel. My Stylish French Box is $255 a quarter. A one-time, non-recurring gift box shipment is $265, while a year's prepaid subscription brings the price down to $245 a box. Shipping is free to the USA and other countries, with Australia and New Zealand paying an additional $15. This box is sold out – if you order now, your first box will come in November. There are a couple of exceptional one-time boxes available on the site.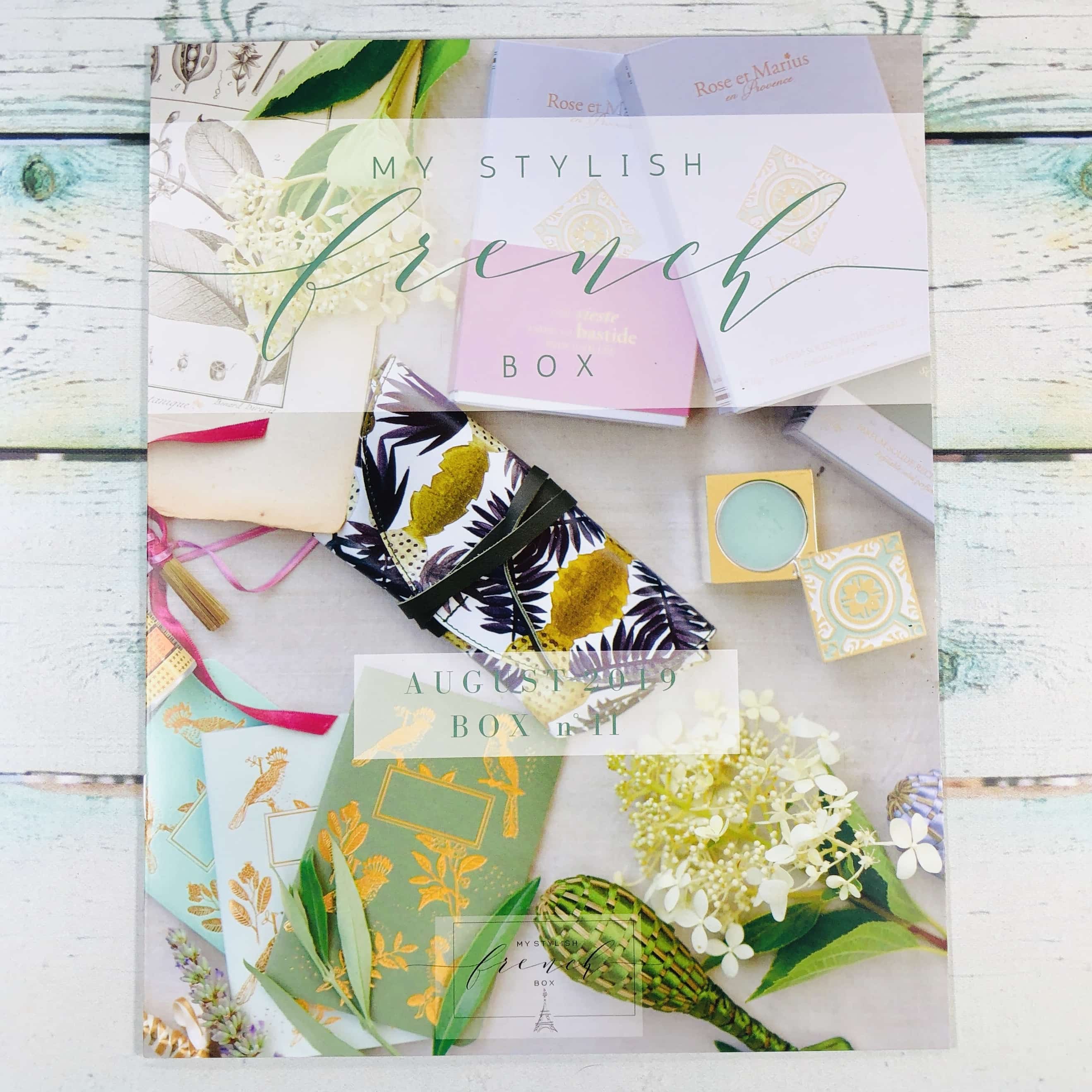 I found a big brochure inside. This was similar to a magazine and it is beautifully done.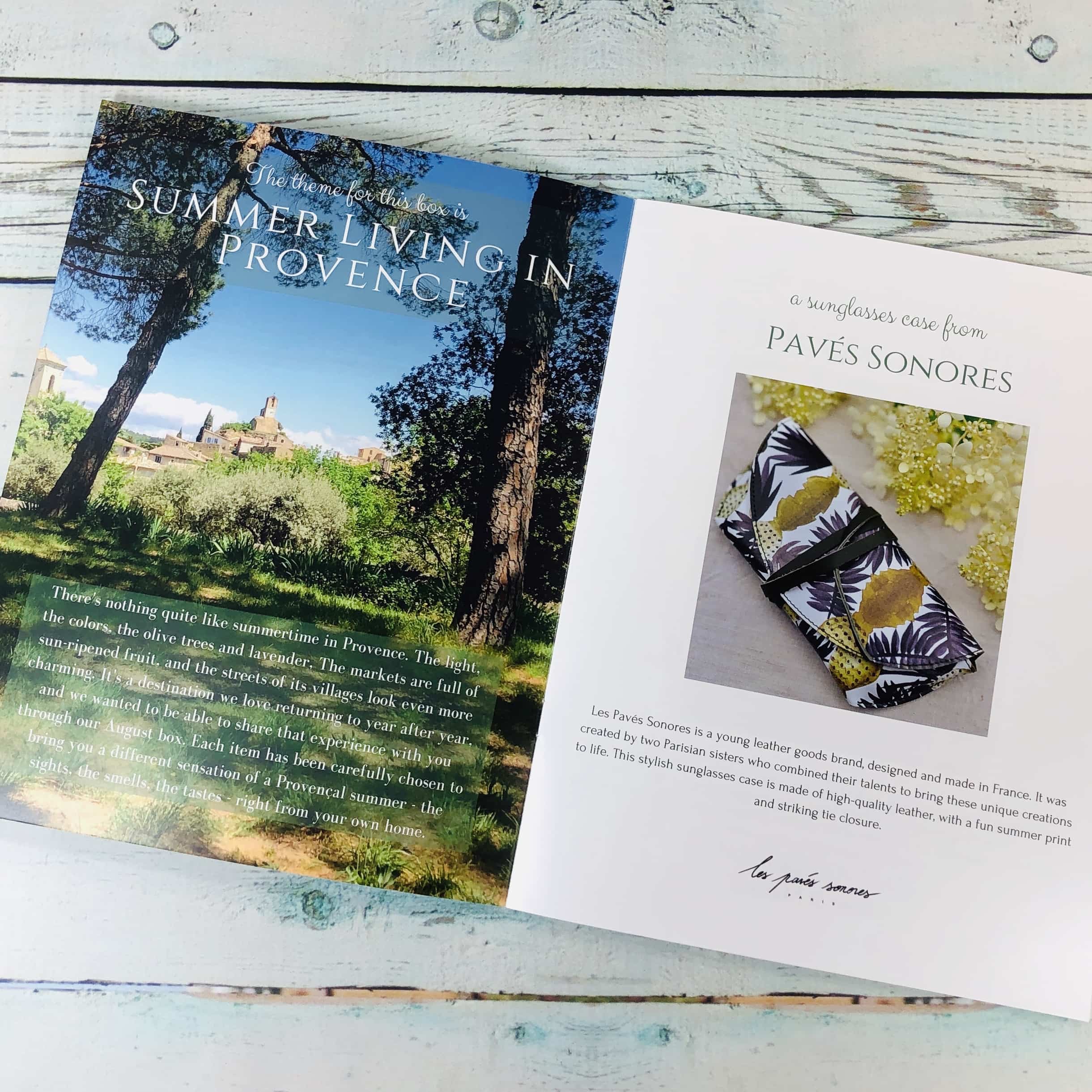 The theme for this quarter's box was Summer Living in Provence! I've never visited that area but would love to someday!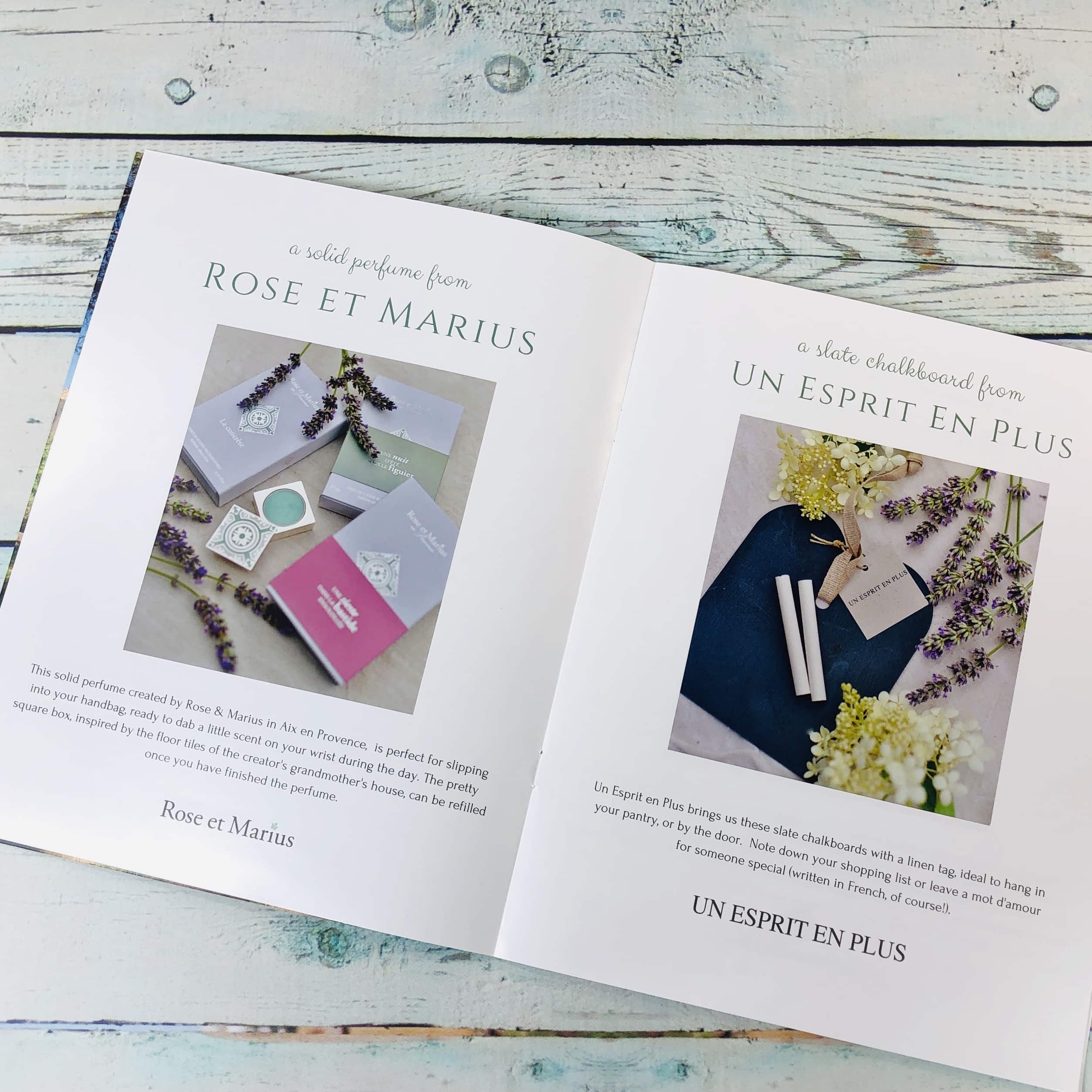 Each product had its own page with a brief description.
There was info on their ambassador program.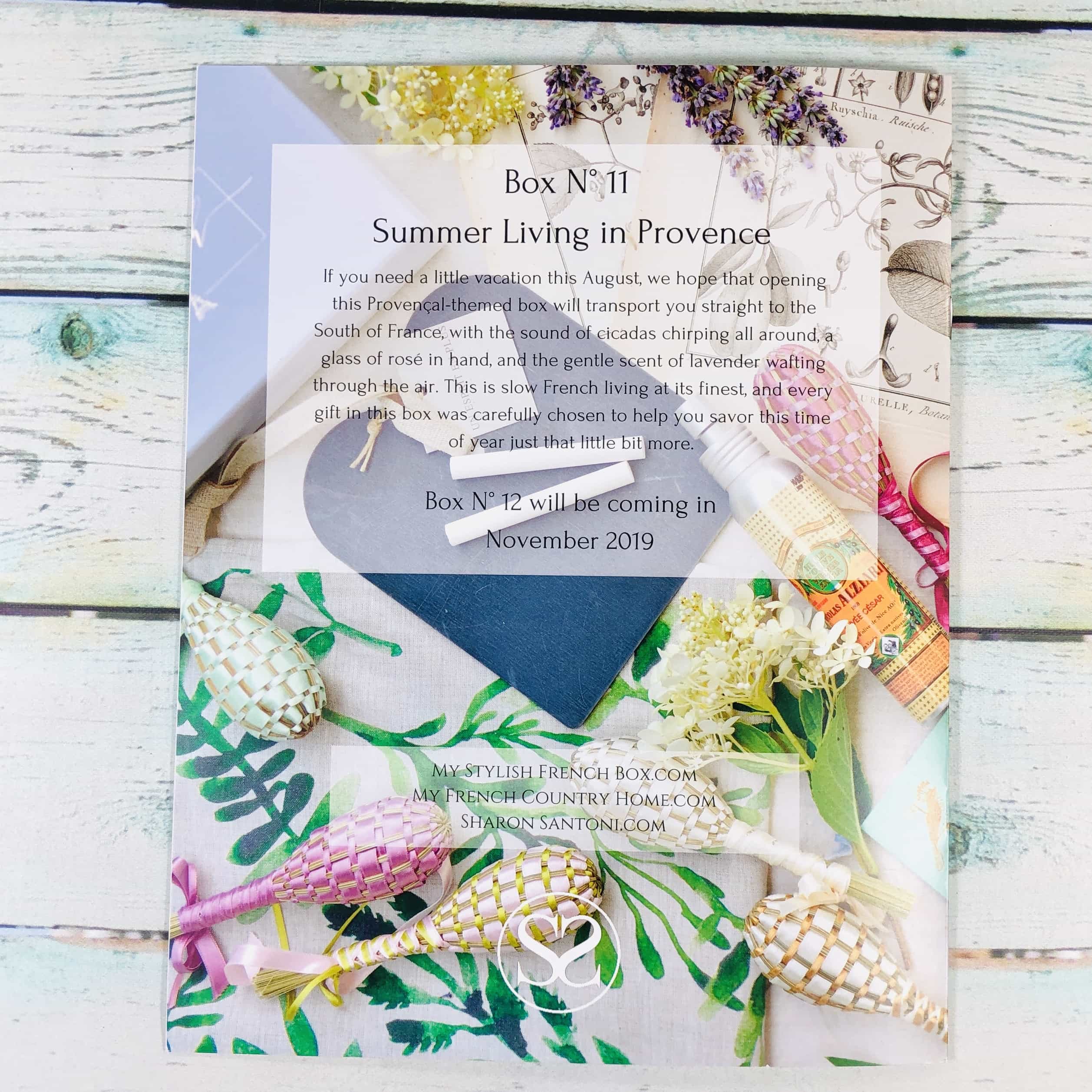 The next box will ship in November 2019!
Everything in my box! I must say the experience of opening this box and learning about each item is magnificent! It is an elegant box.
Paves Sonores Sunglasses Case ($66.67) I am loving the tropical pineapple print on this case!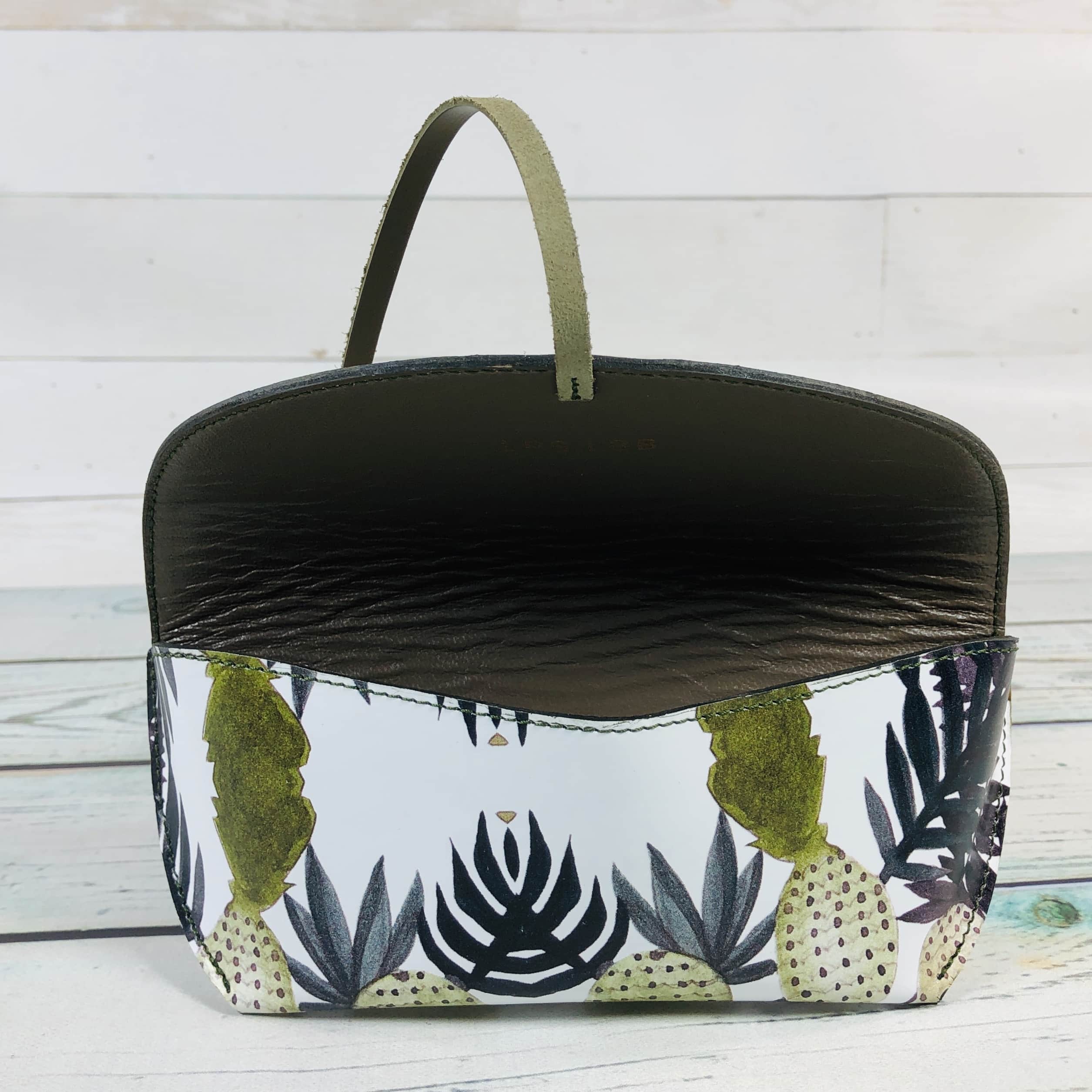 The case is made in France of leather.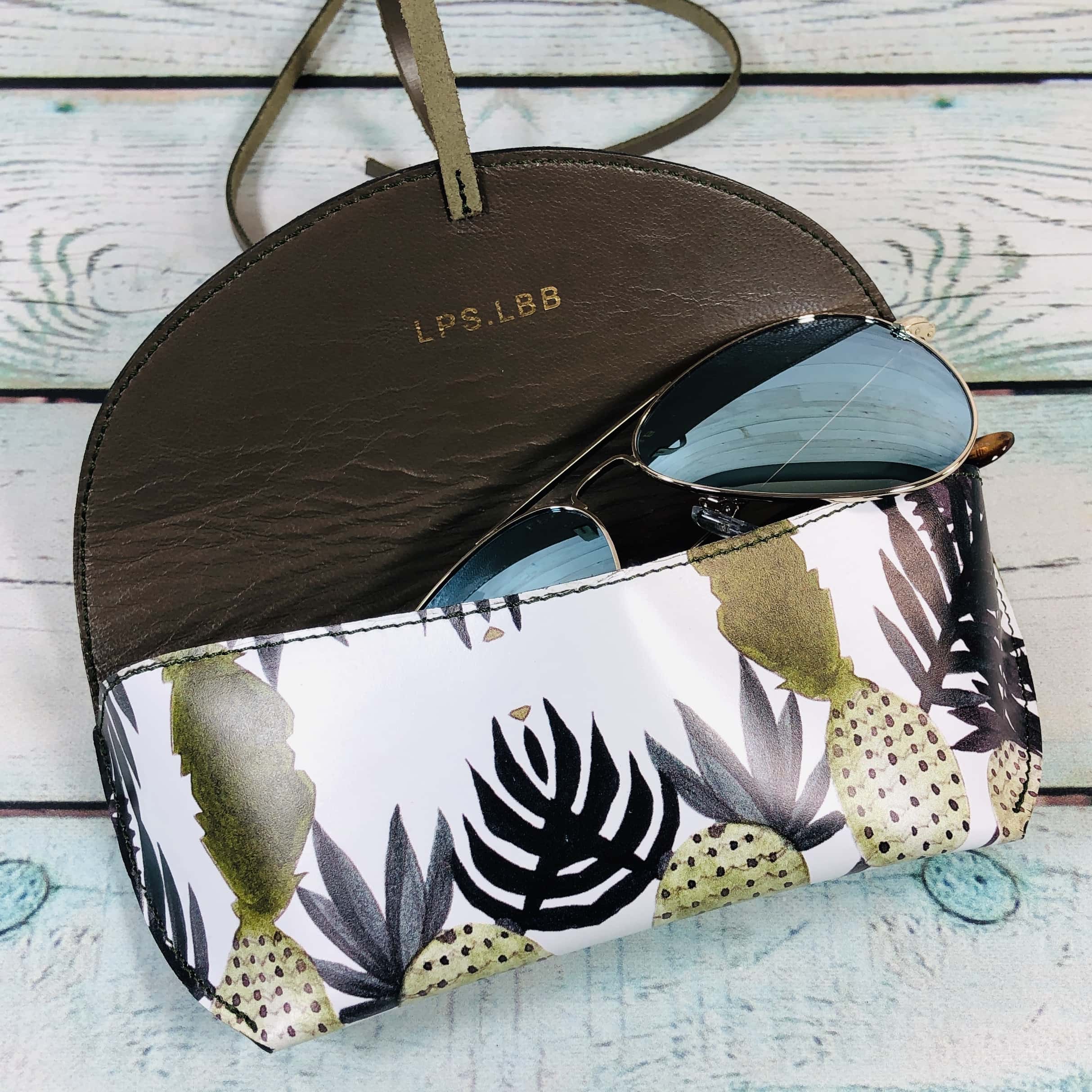 It is hard enough to protect glasses but not heavyweight so it shouldn't weigh down a bag.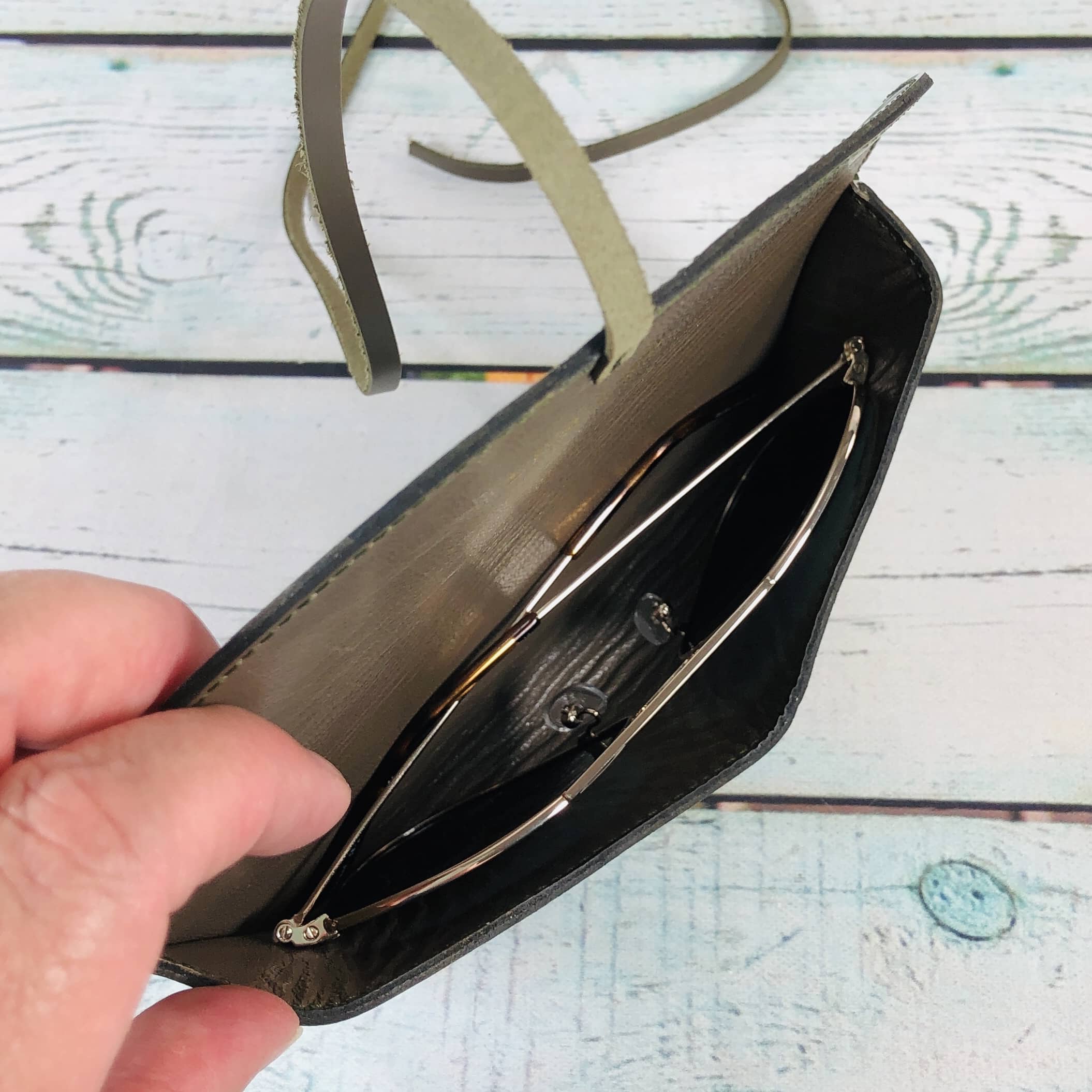 They can hold your shades or reading glasses. Glasses not included – these are from my most recent Shades Club box!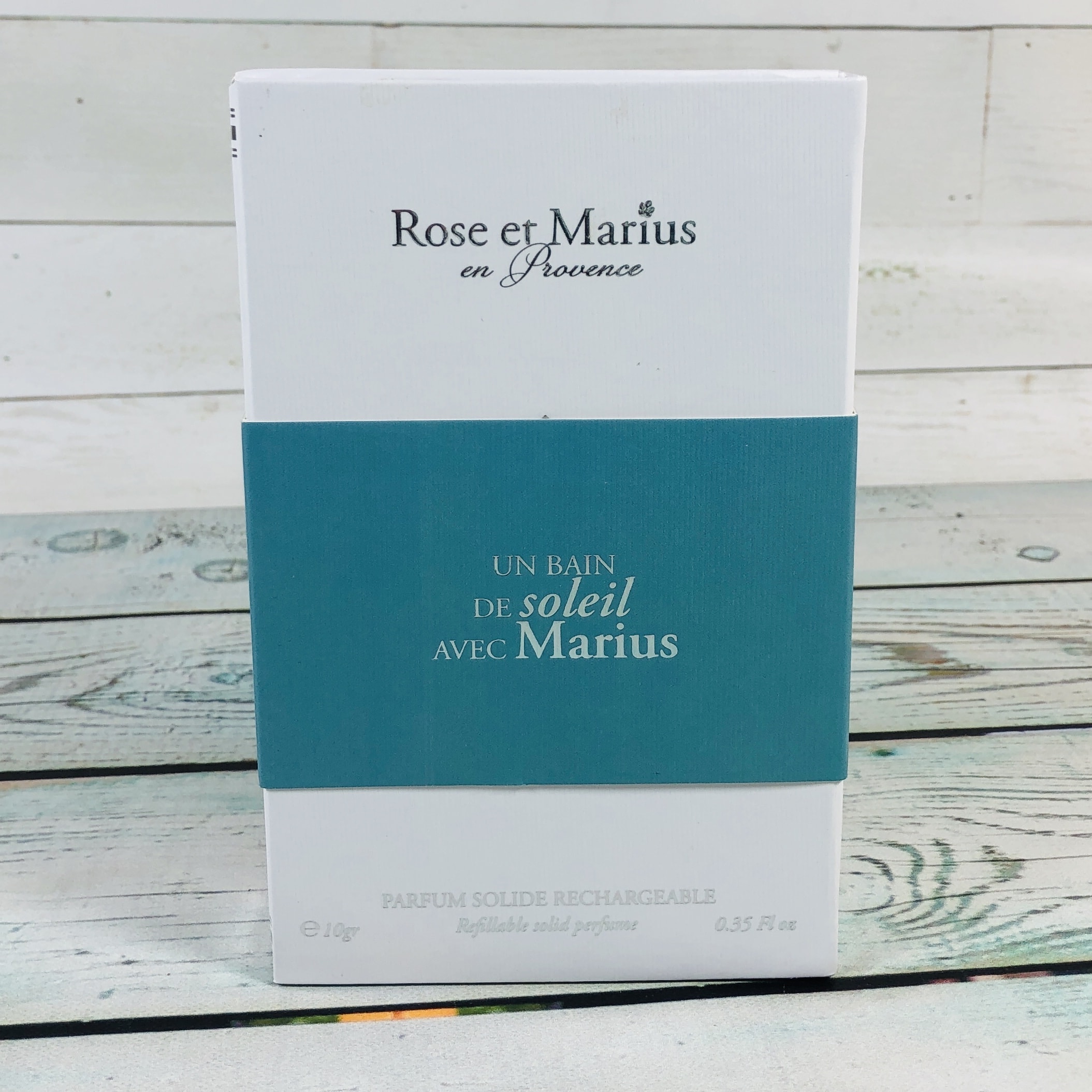 Rose et Marius Solid Perfume in Basking in the Sun With Marius (85 Euros, about $94.37 USD) The French are known for their wonderful fragrances so I was delighted to receive such a cool item in the box!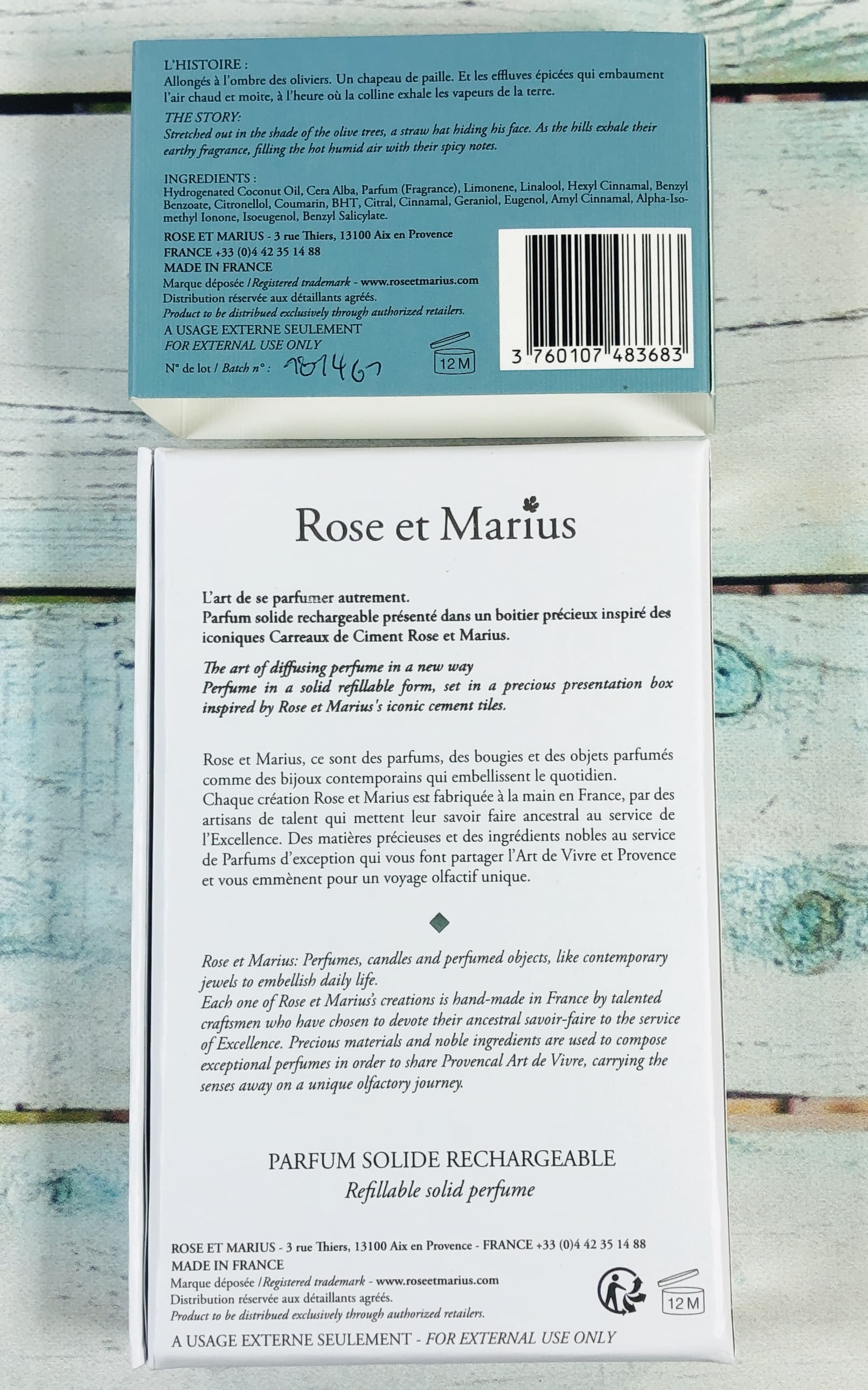 The back of the box listed the ingredients and even gave a little backstory for this scent.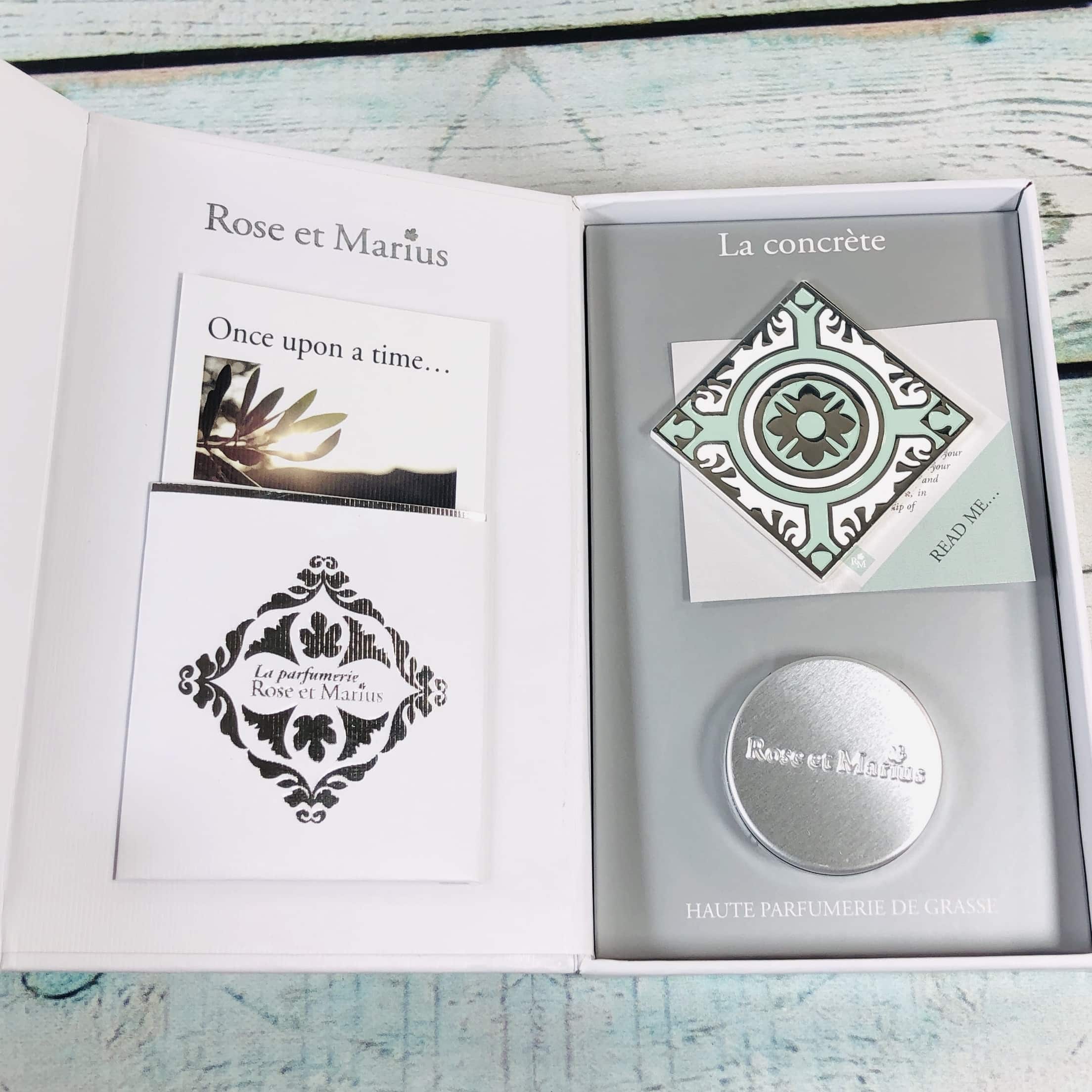 Opening the box itself was an experience.
An insert let me know what feeling this fragrance was trying to impart.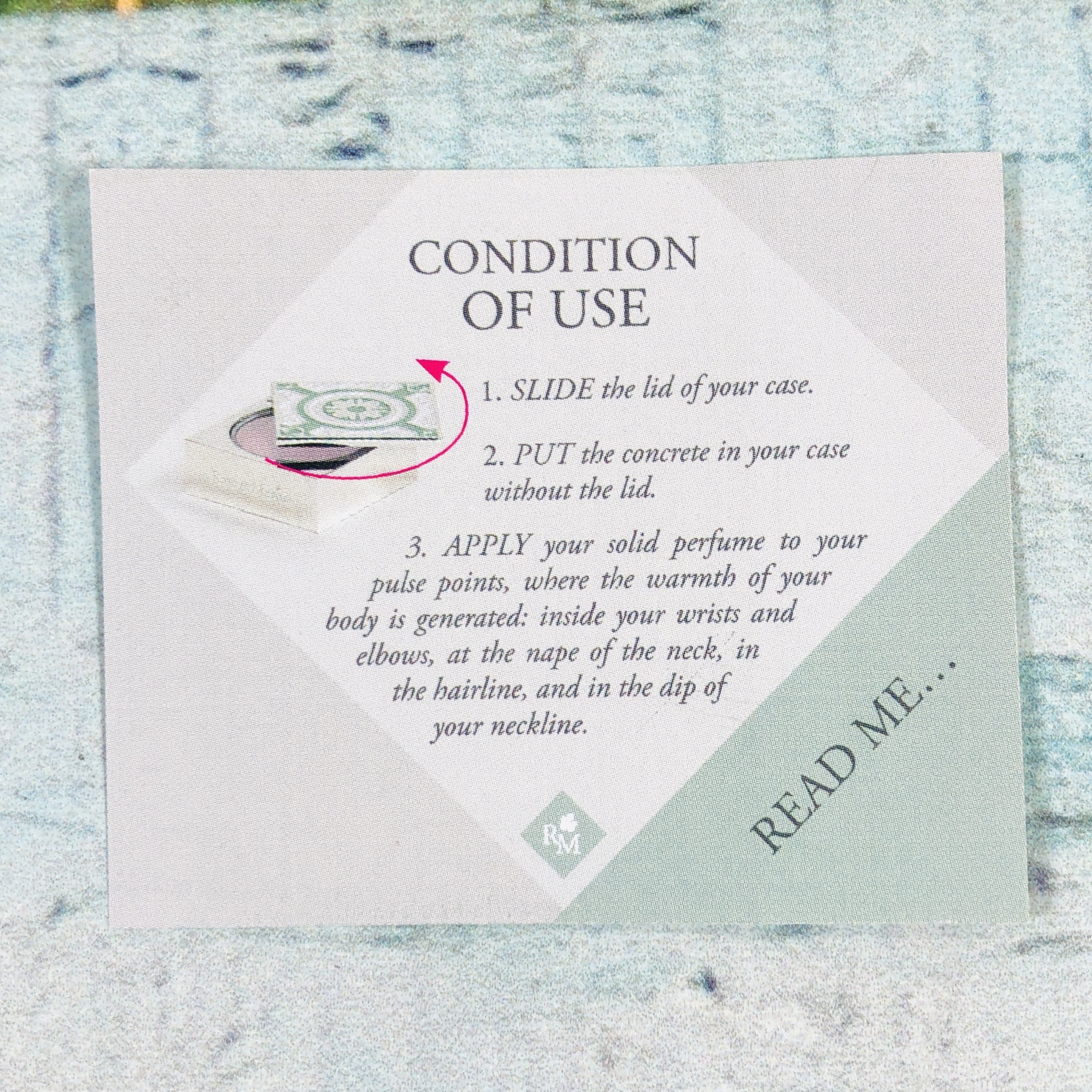 I also found instructions on how to open the case and insert the scent tin.
First remove the lid from the scent tin.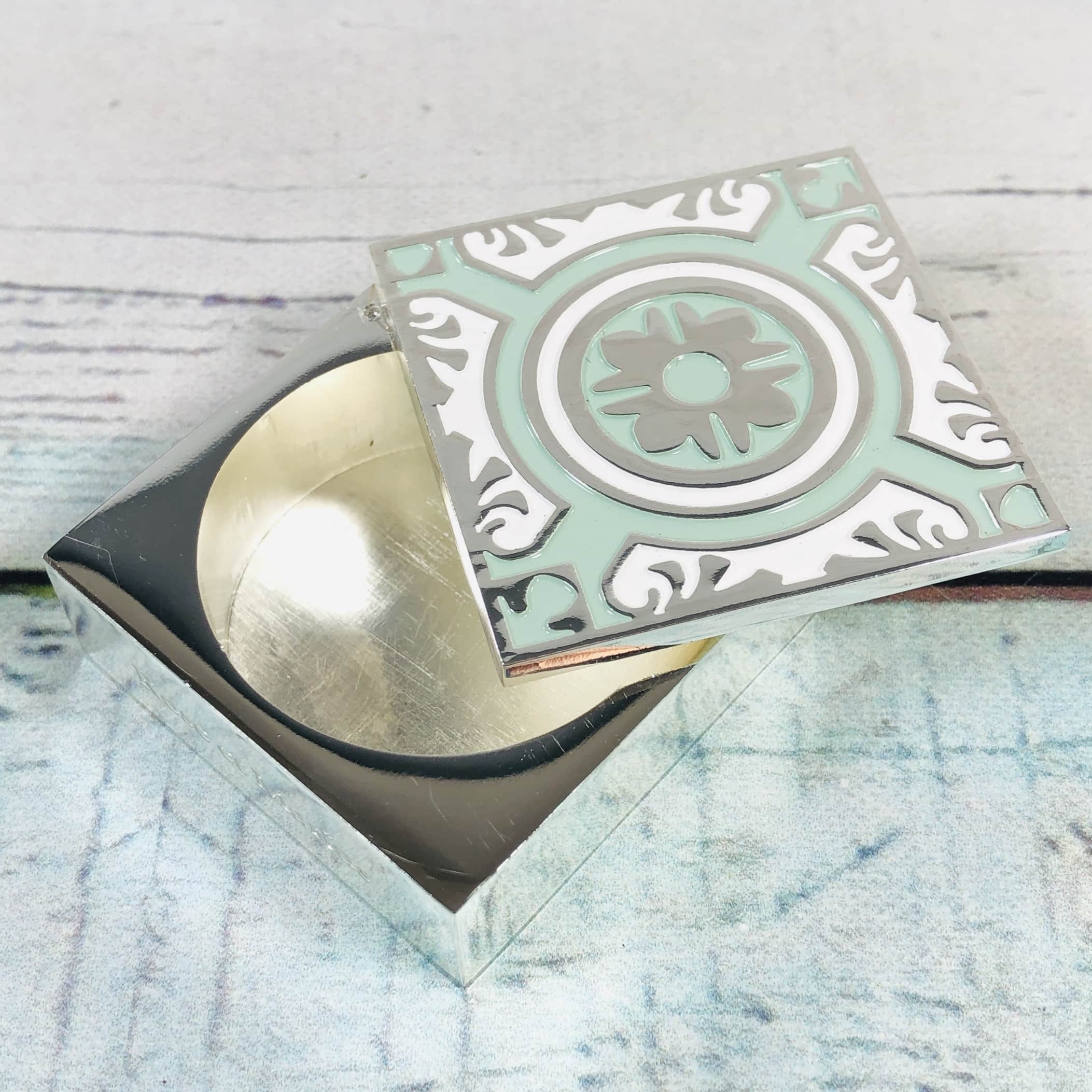 Slide the lid over to reveal the empty pot.
Place the pot inside the holder.
Slide it closed and go! It is refillable so you can order refills or even make your own solid perfume to place in the holder. This is an unusual and sophisticated scent, not what I usually experience when picking my own scents. I am not sure what scent notes this is supposed to offer, but it reminds me of Commodity Leather. Leather or maybe suede is the main thing I am picking up, with a hint of sweetness, a touch of earthy spice. It is definitely warm and unisex. Maybe this would be described as balsamic?
Un Esprit en Plus Slate Chalkboard came with a piece of chalk for jotting down a quick note or reminder. I am loving its country home look.
Write whatever you feel and then erase as needed. Keep a running list of groceries or jot a reminder to a family member.
La Maison Franc Lavender Wand was placed in a box for safekeeping.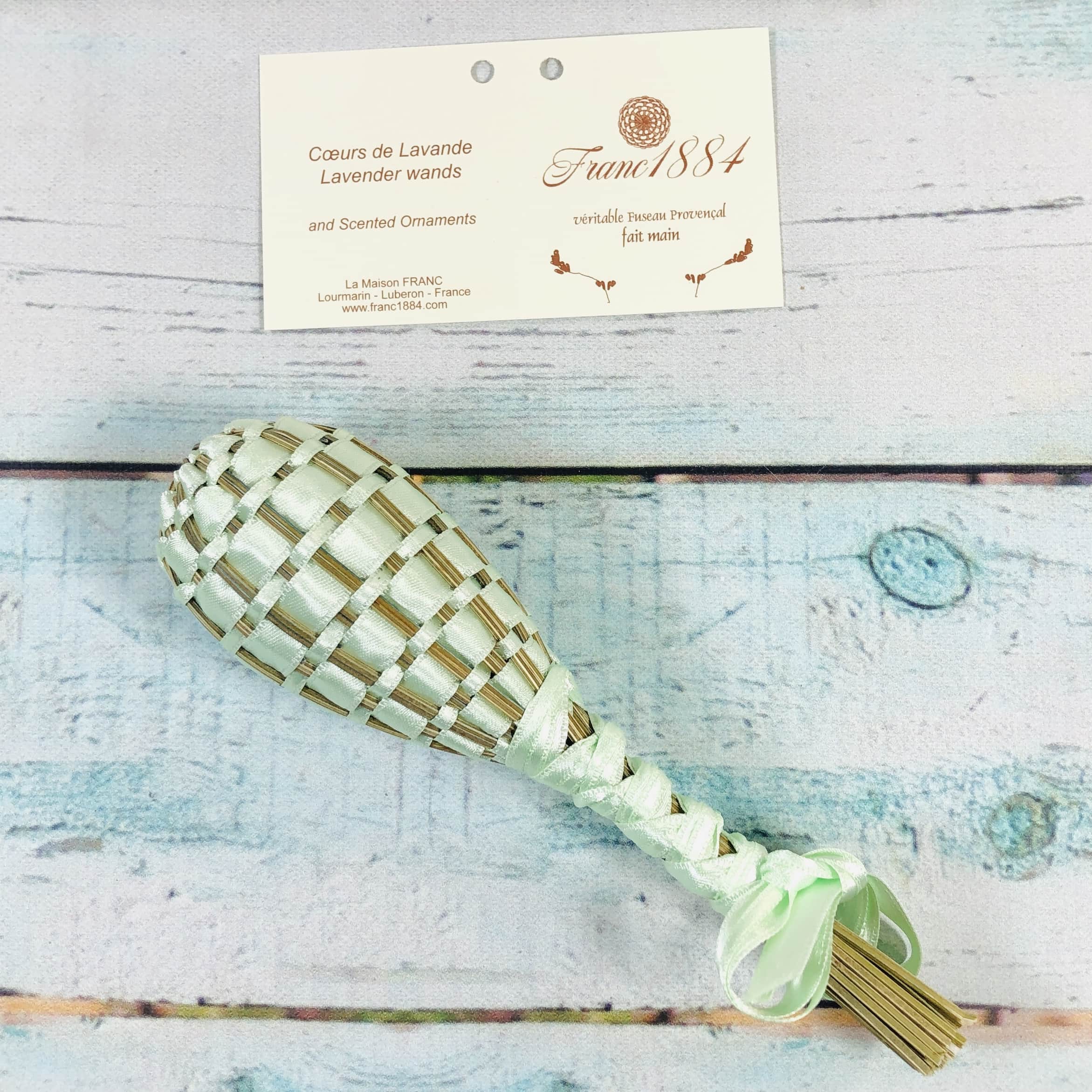 It's a lavender wand!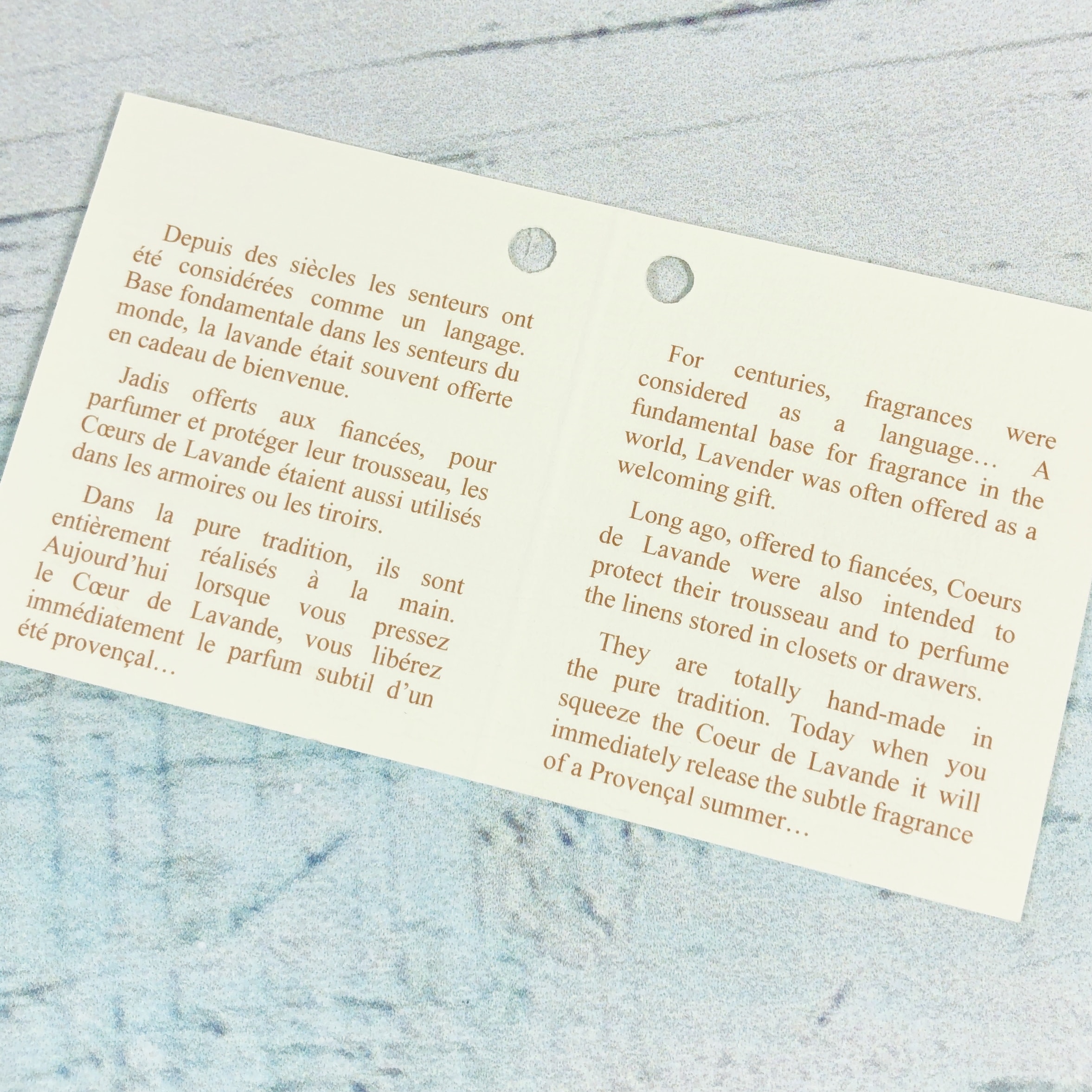 A little info about the tradition of the wand was included.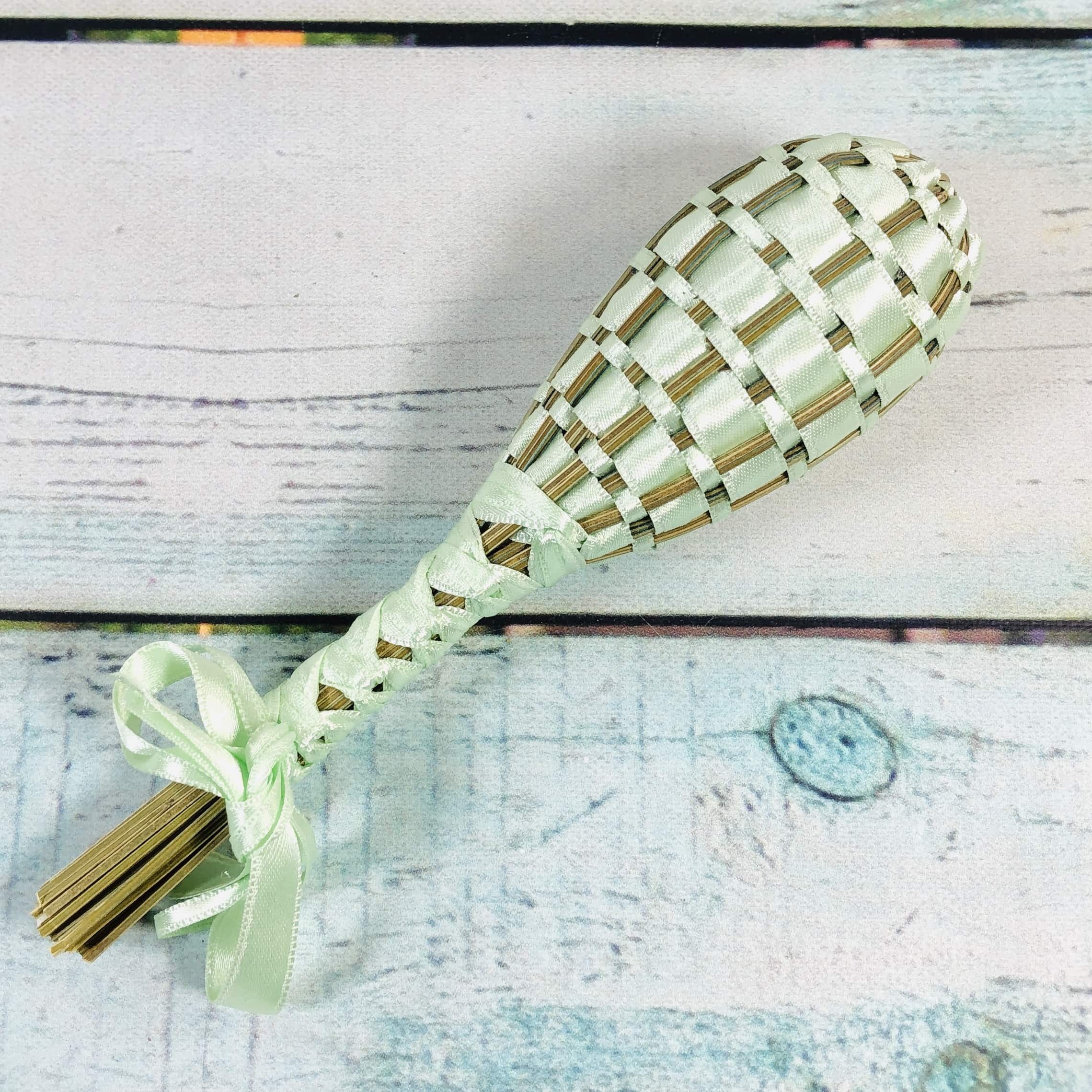 It is made of stems of lavender that are bent and folded in such a way that the lavender flowers are inside the "cage" and can release their scent for months to come.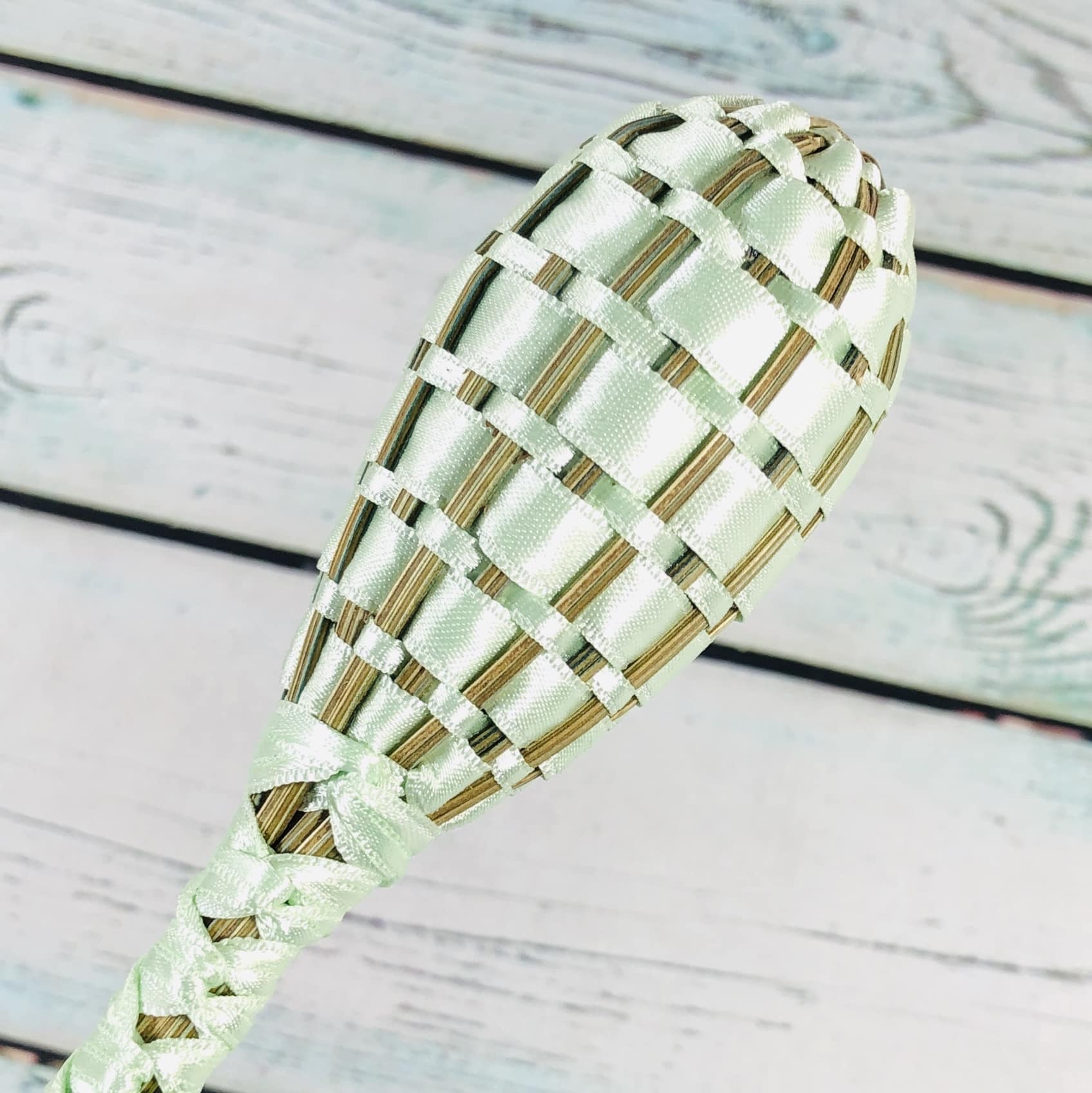 Ribbon is wound around and I'm sure that it took a fair amount of time to prepare. If the scent fades just crush it a bit to release a fresh burst of lavender.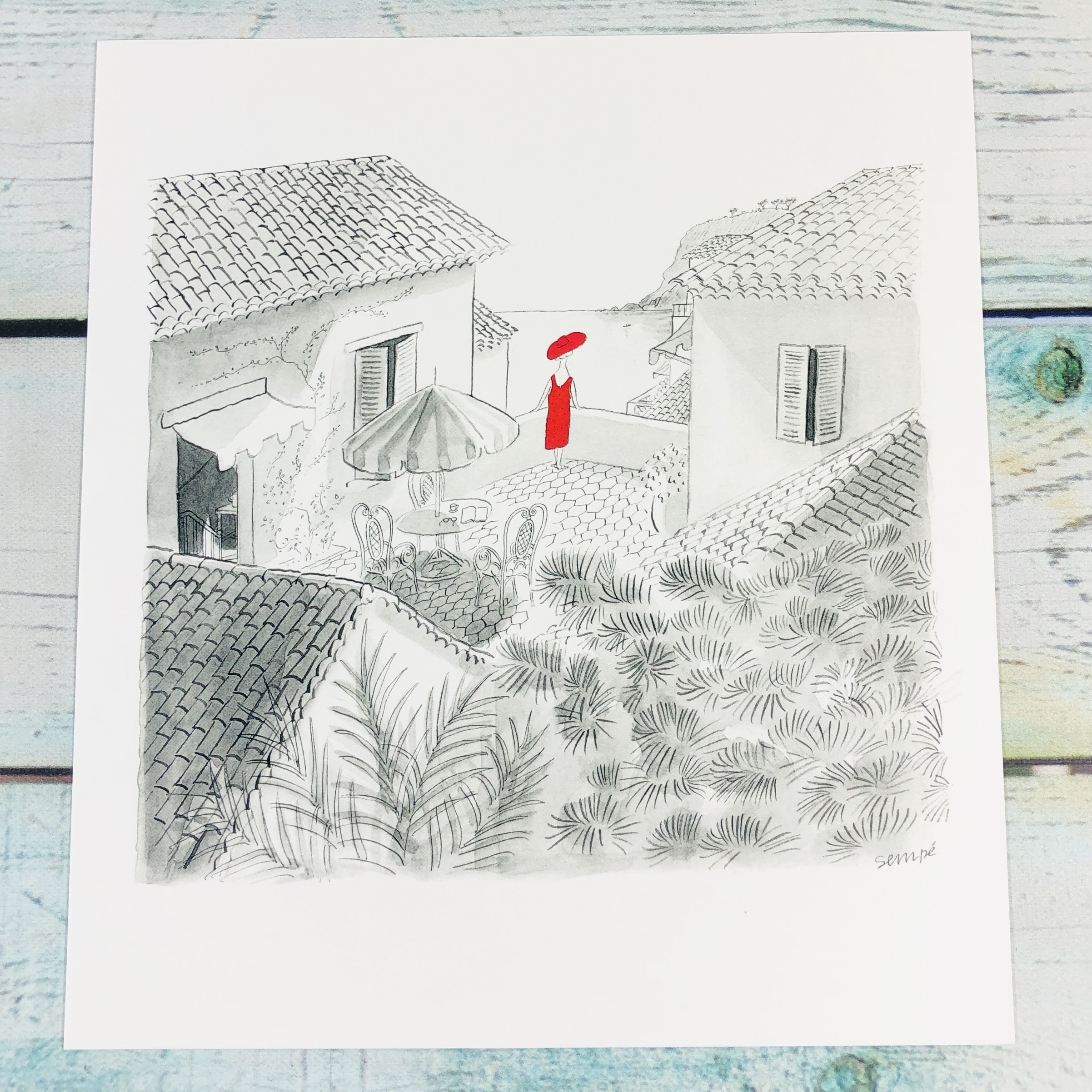 Jean-Jacques Sempé Watercolor Print Our print for this box is of a stylish woman on holiday in the South of France. She is gazing out at the sea – perhaps she would like to dip her foot in the water?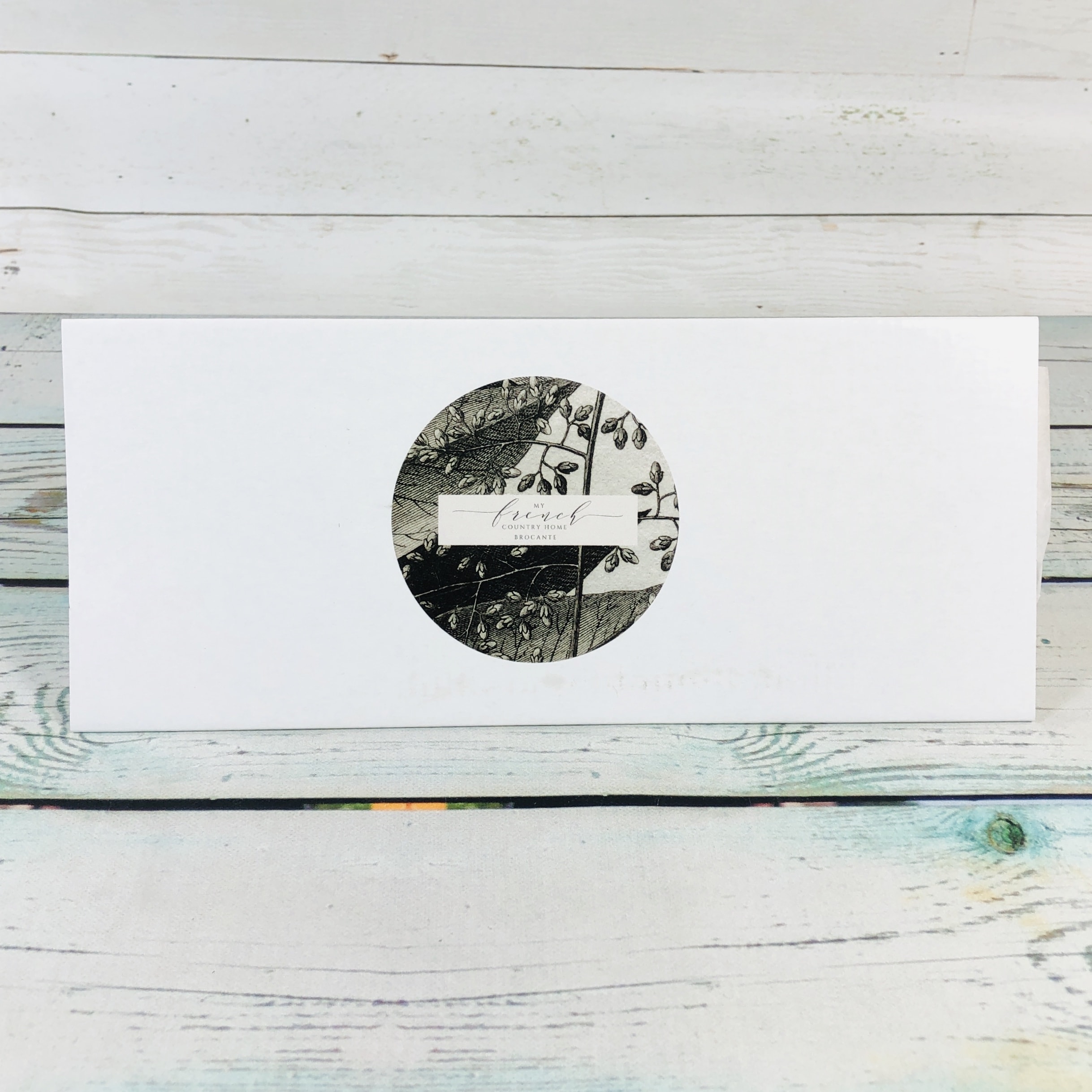 Antique Botanical Print My Stylish French Box always comes with an antique item and this piece was kept safe in a special holder.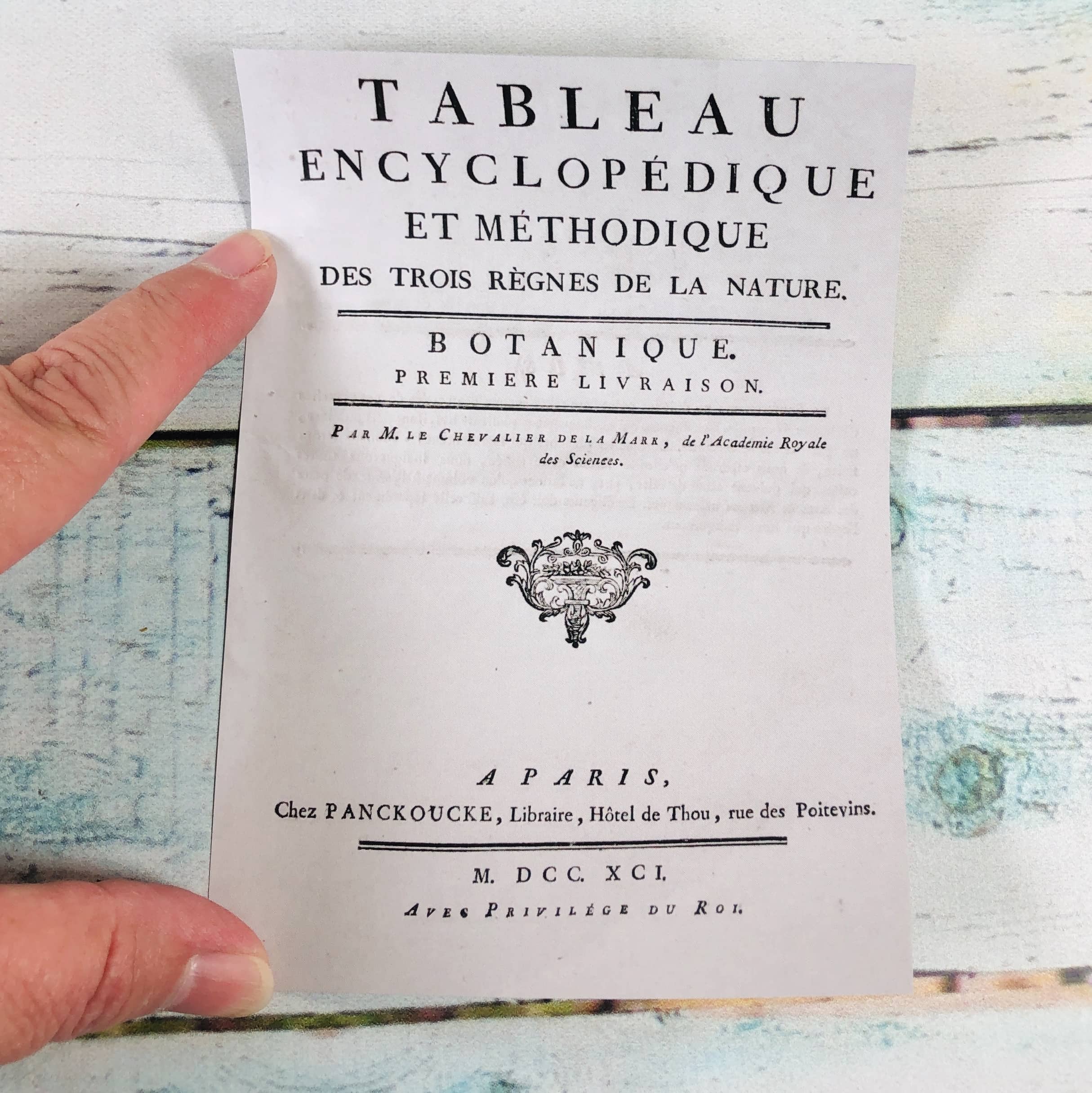 It came with a photocopied paper that I believe is the title page from the book.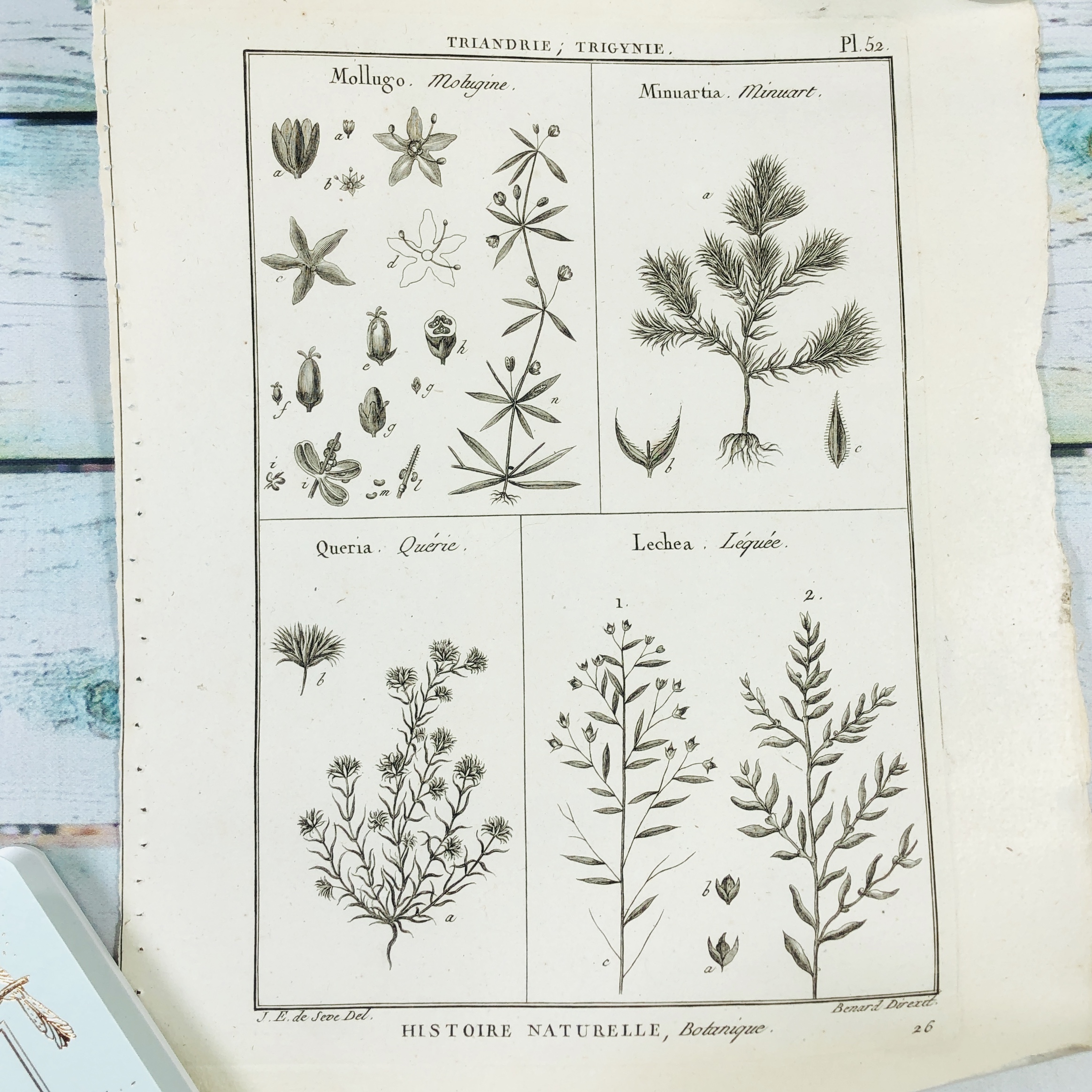 The sheet from the book is very old, since the original was published starting in 1788! The Roman Numerals on the previous picture put this edition at around 1791.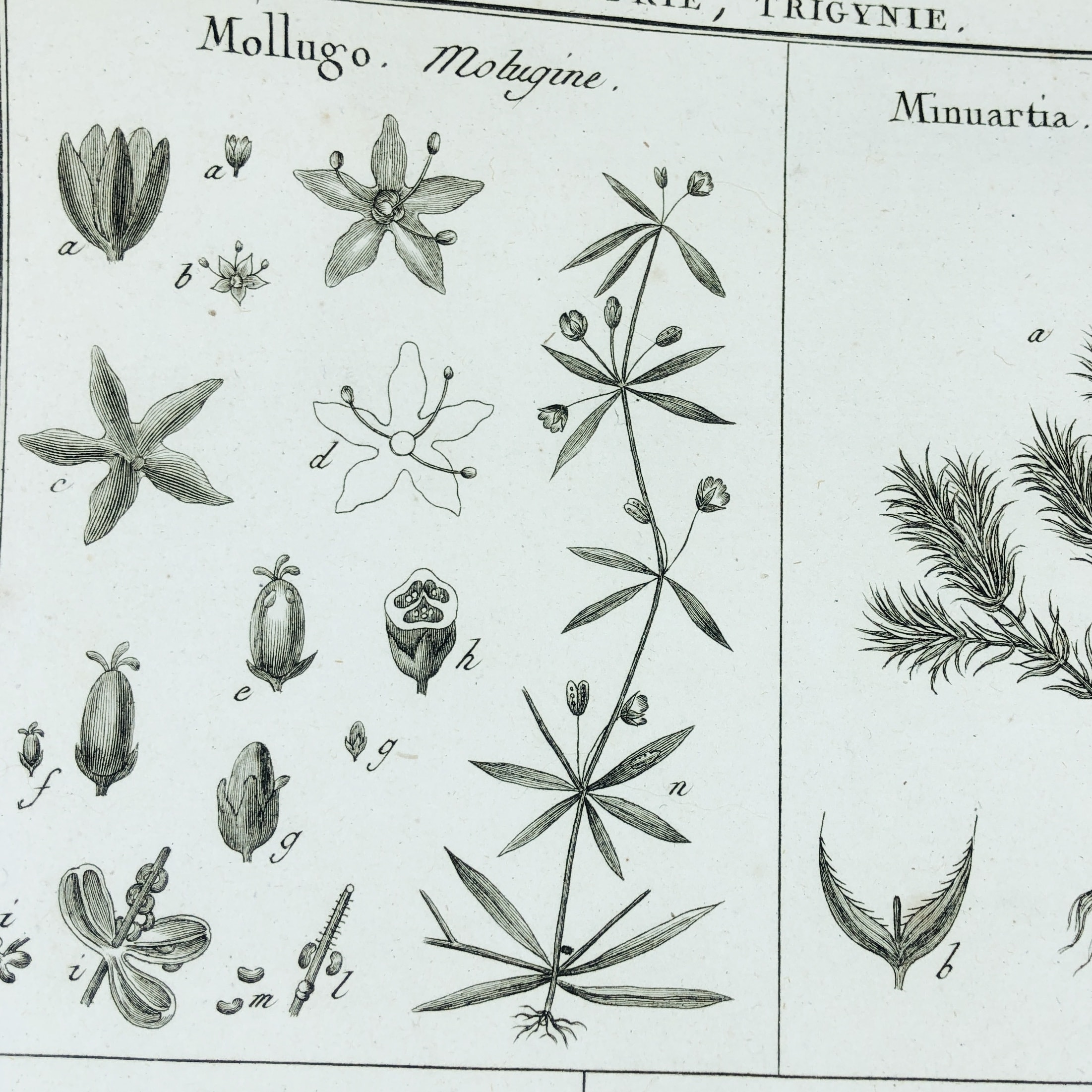 The art work is very detailed. This would look beautiful in a frame. I have a map of the Seine from when I rode a bateaux that I really need to frame and I think that I will frame this piece to go next to it.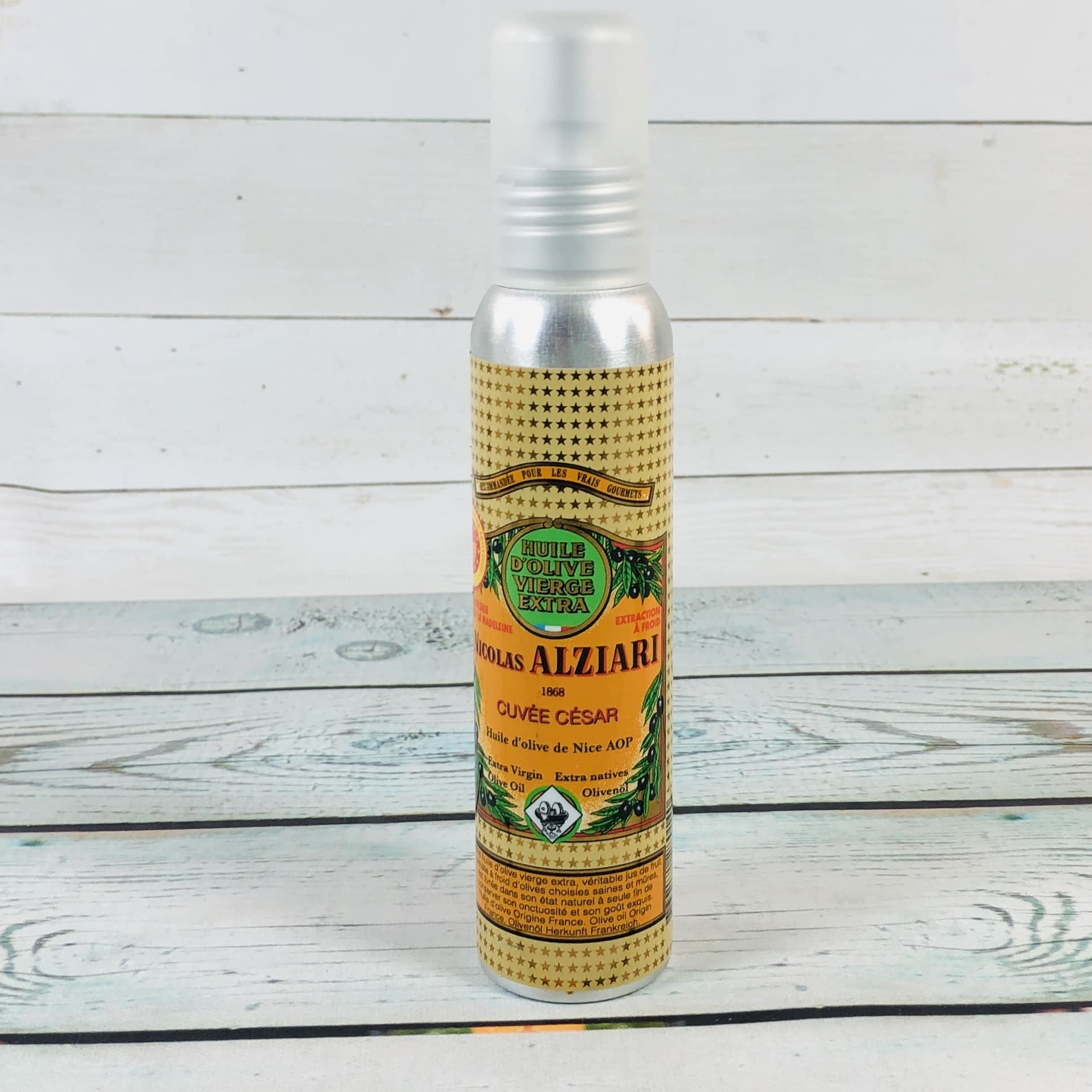 Nicolas Alziari Bottle Of Olive Oil I love olive oil and use it pretty much every single day but to have a superior choice for special touches is a wonderful treat.
Cold pressed olives from France are the only ingredient. The stuff I buy in the store is pretty bland but this one has some bite to it.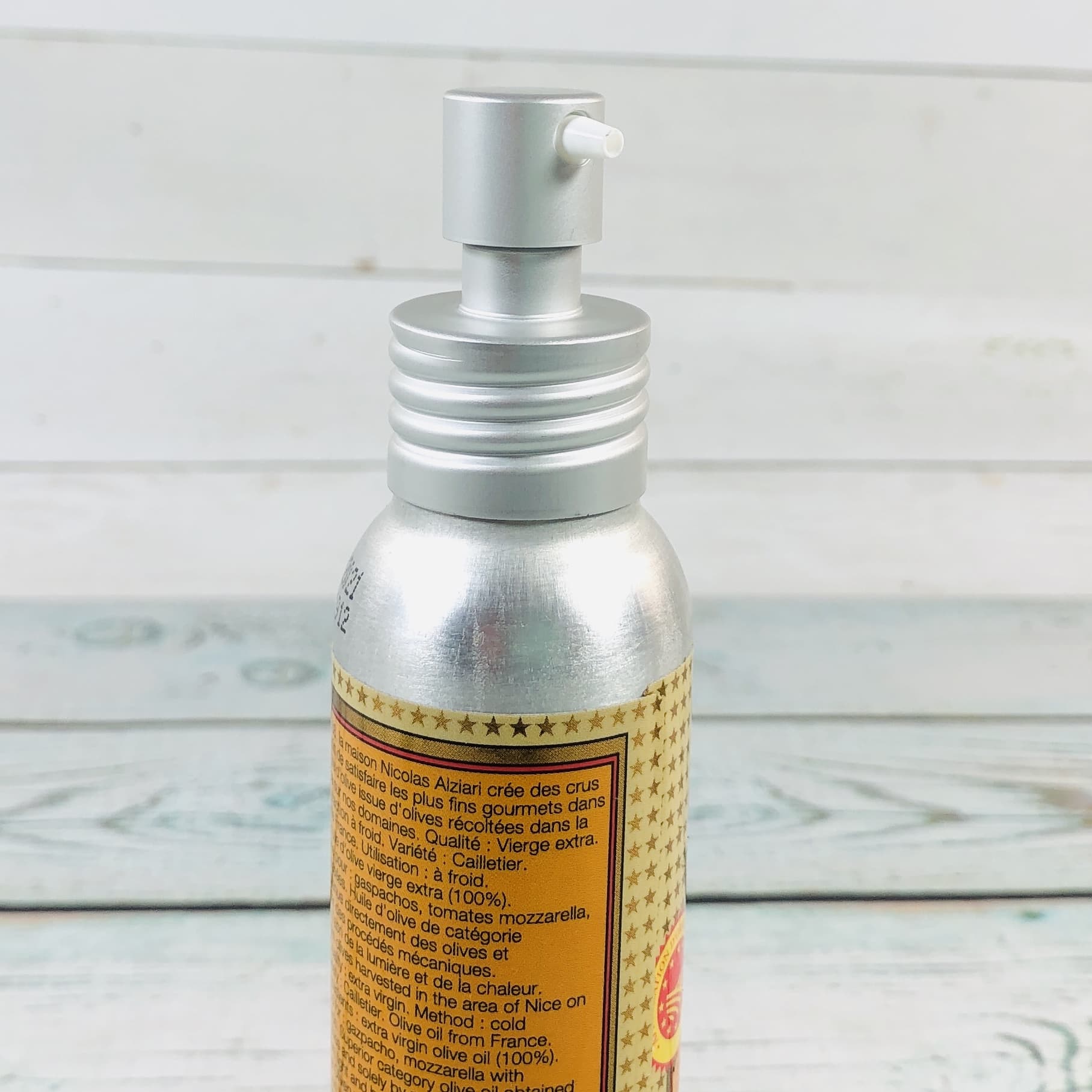 The dispenser lets out only a bit of oil at a time so you can really think about how wonderful your homemade dressing is going to taste on your salad or how amazing this will be when you dip your French bread into a blend of this and herbs.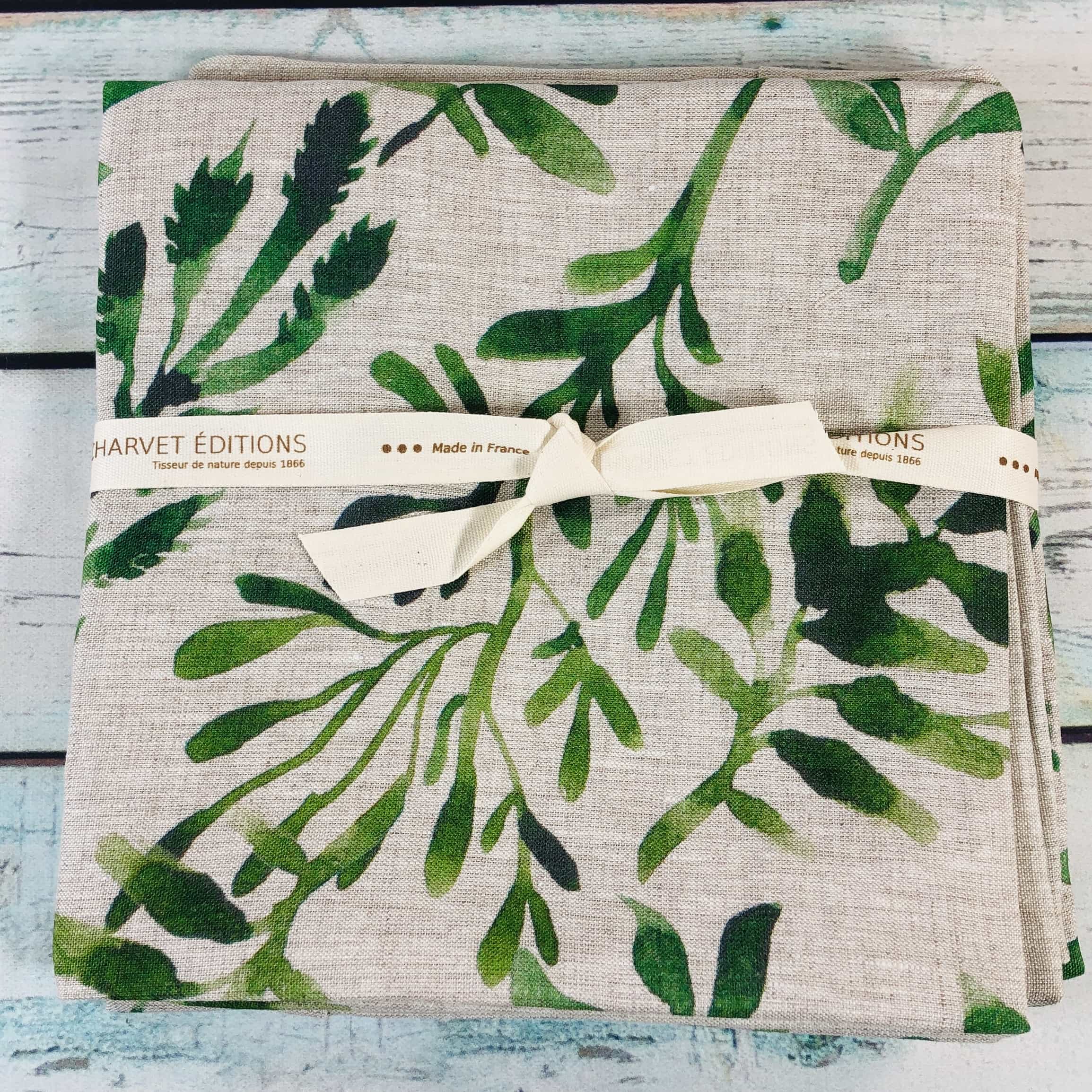 Charvet Editions Linen Pillow Covers were missing from the brochure!
I found a set of two square pillow covers with a botanic print.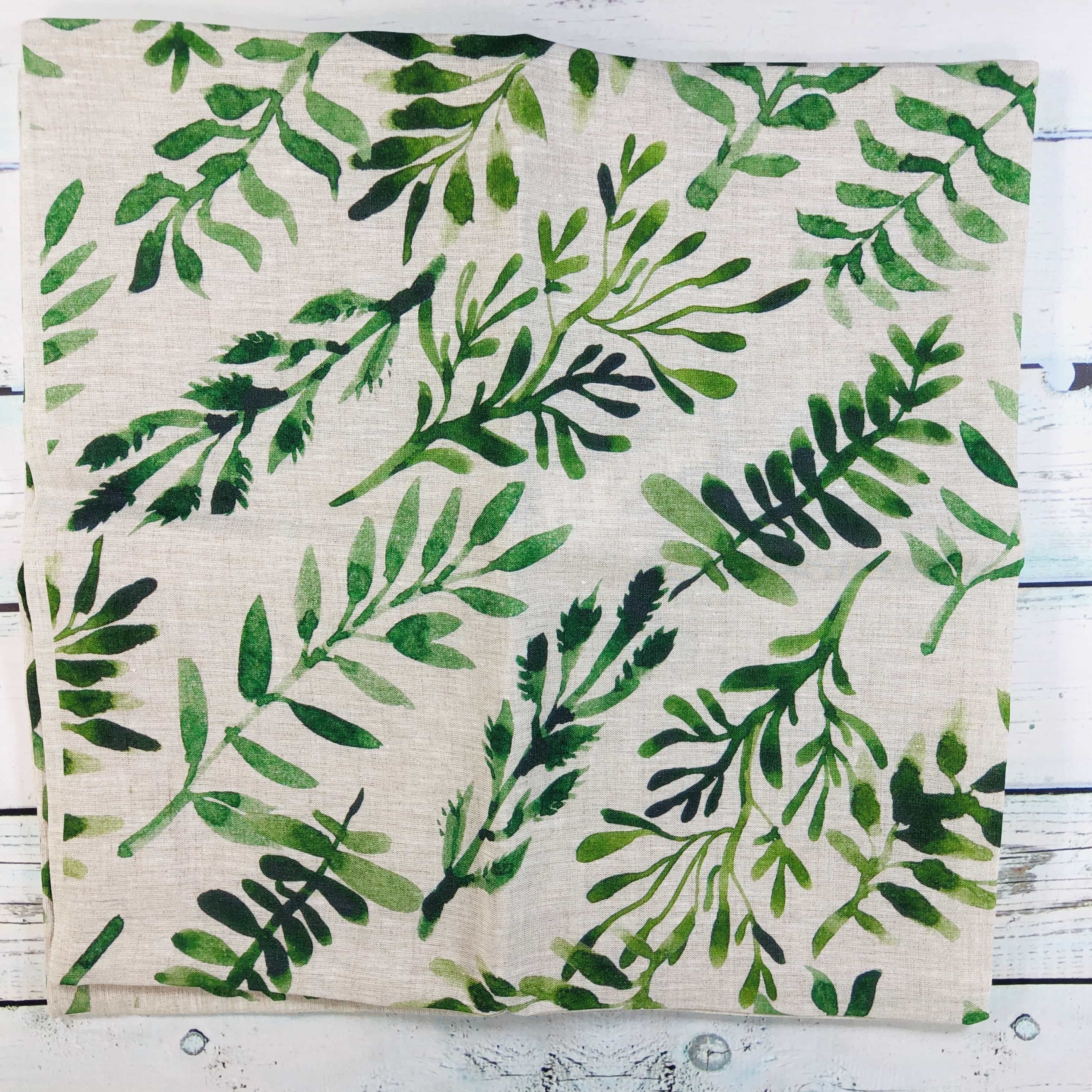 The covers measure about 16″ square. They are made of 100% linen and like the other items in this box, they were made in France.
The back of the covers are not decorated and there is space to slip a pillow inside.
Les Editions Du Paon Slow Life Linebook Our final item is a thank you gift for those with an annual or quarterly subscription. Cover color and design may vary.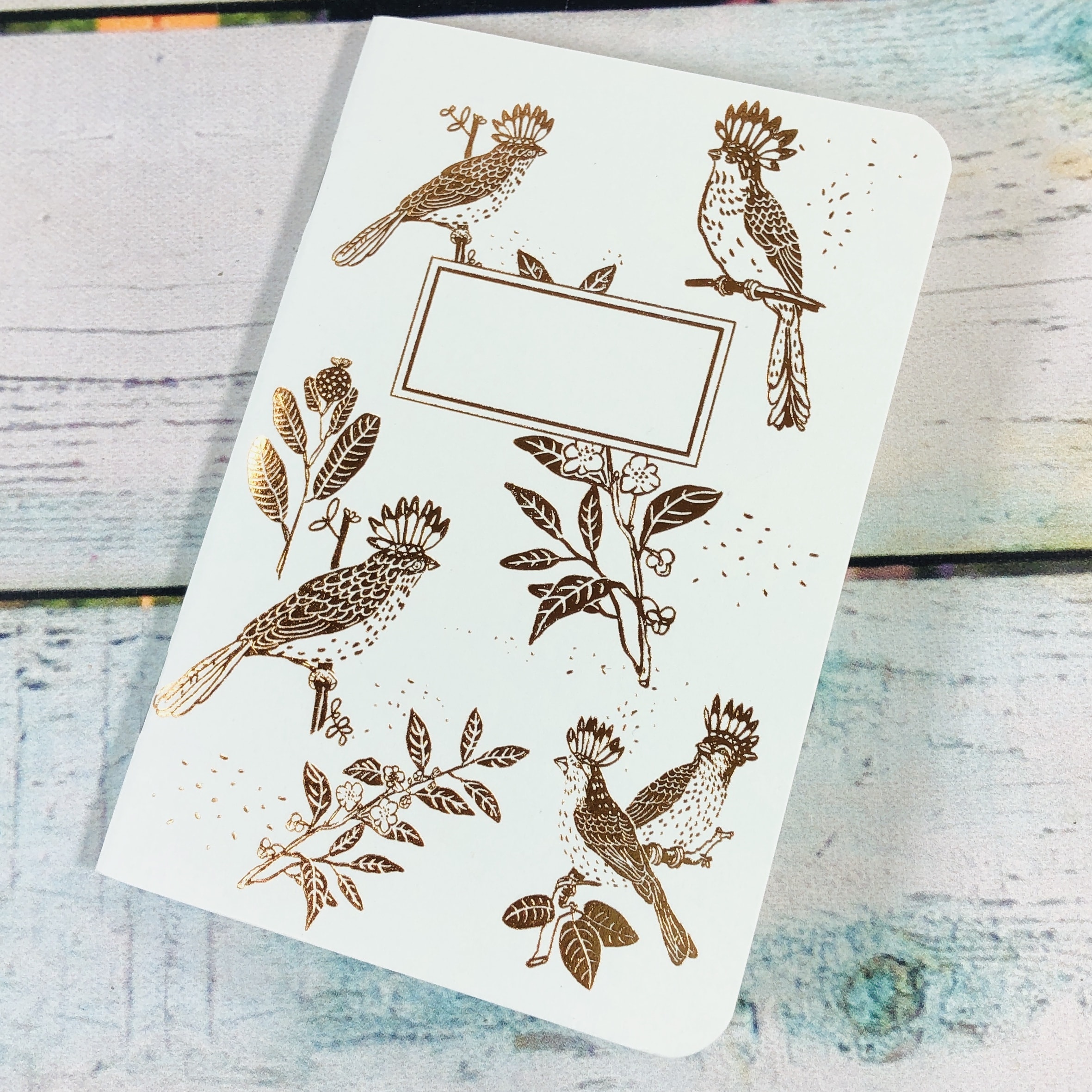 It's hard to tell from the pictures but this little notebook has metallic foil images on the front cover.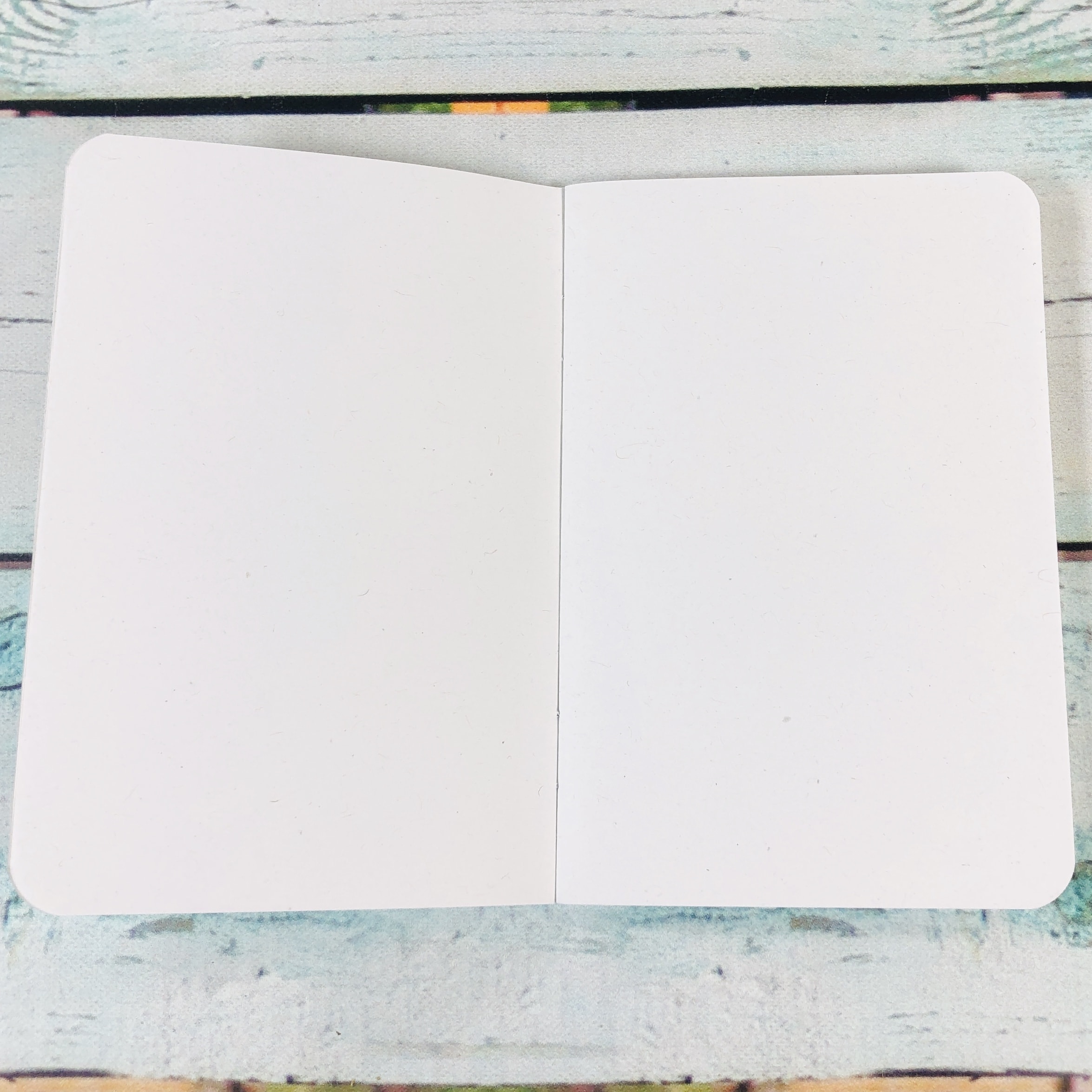 The inside pages are plain and there are 48 pages in all. I needed a little notebook like this for a job assignment and I can't help but feel elegant when this one comes out of my work bag.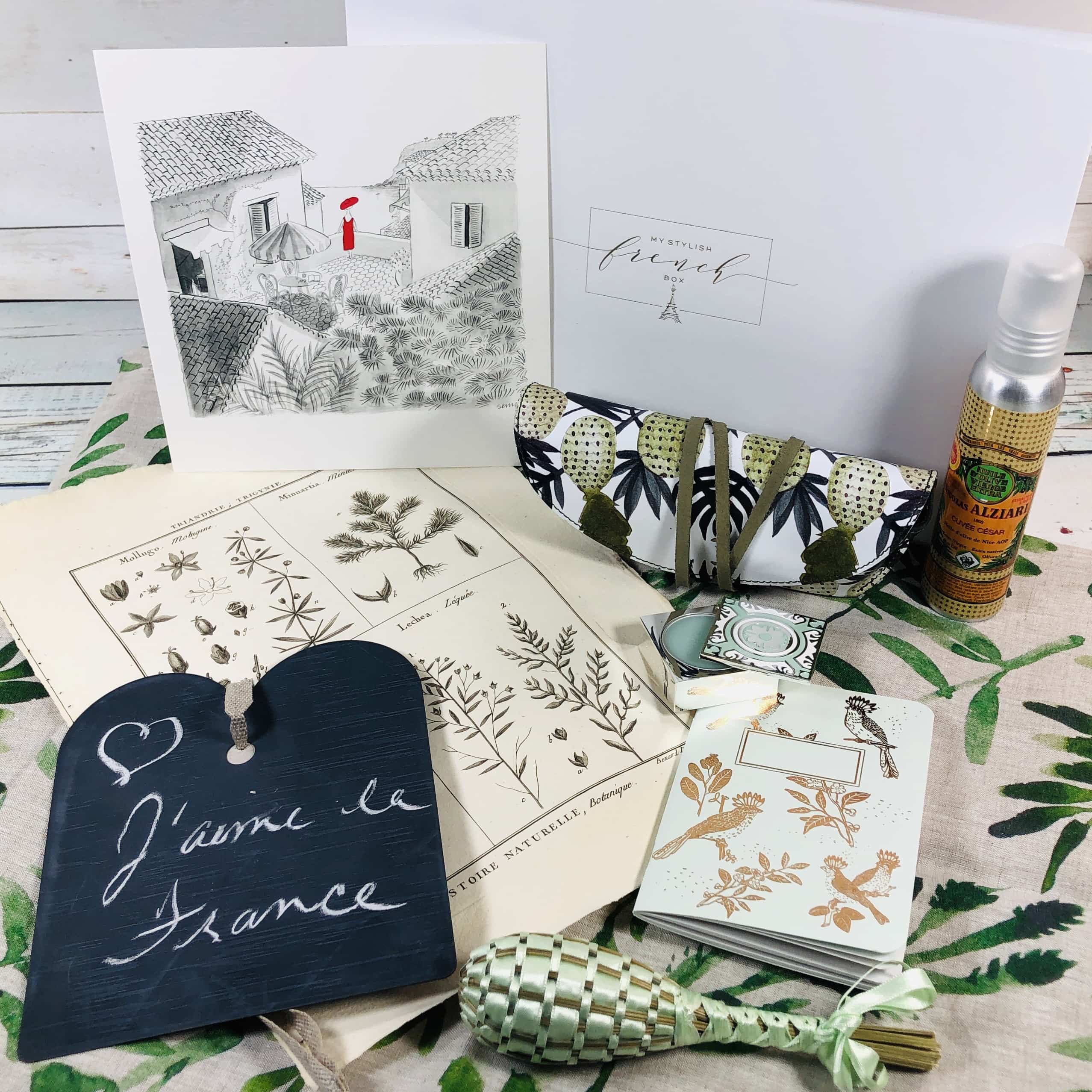 My Stylish French Box never fails to delight me with its charming products and curation. The quality is always astounding and the items are of impeccable taste. I believe a lot of thought goes into this box and you can tell that this isn't just a bunch of random things thrown together, no, they tell a story if you are listening. It is an experience and a special treat and I make sure to take my time discovering each item. It is hard for me to tell you the values of these items but two of them (the glasses case and perfume) are worth at least $161 alone and that's before international shipping is applied! I have no immediate plans to return to France any time soon so I really appreciate the ability to receive authentic items shipped directly from that country to my door.
Any thoughts about My Stylish French Box? Let me know what you think of the Blue & White box! 
Visit My French Country Home Box to subscribe or find out more!