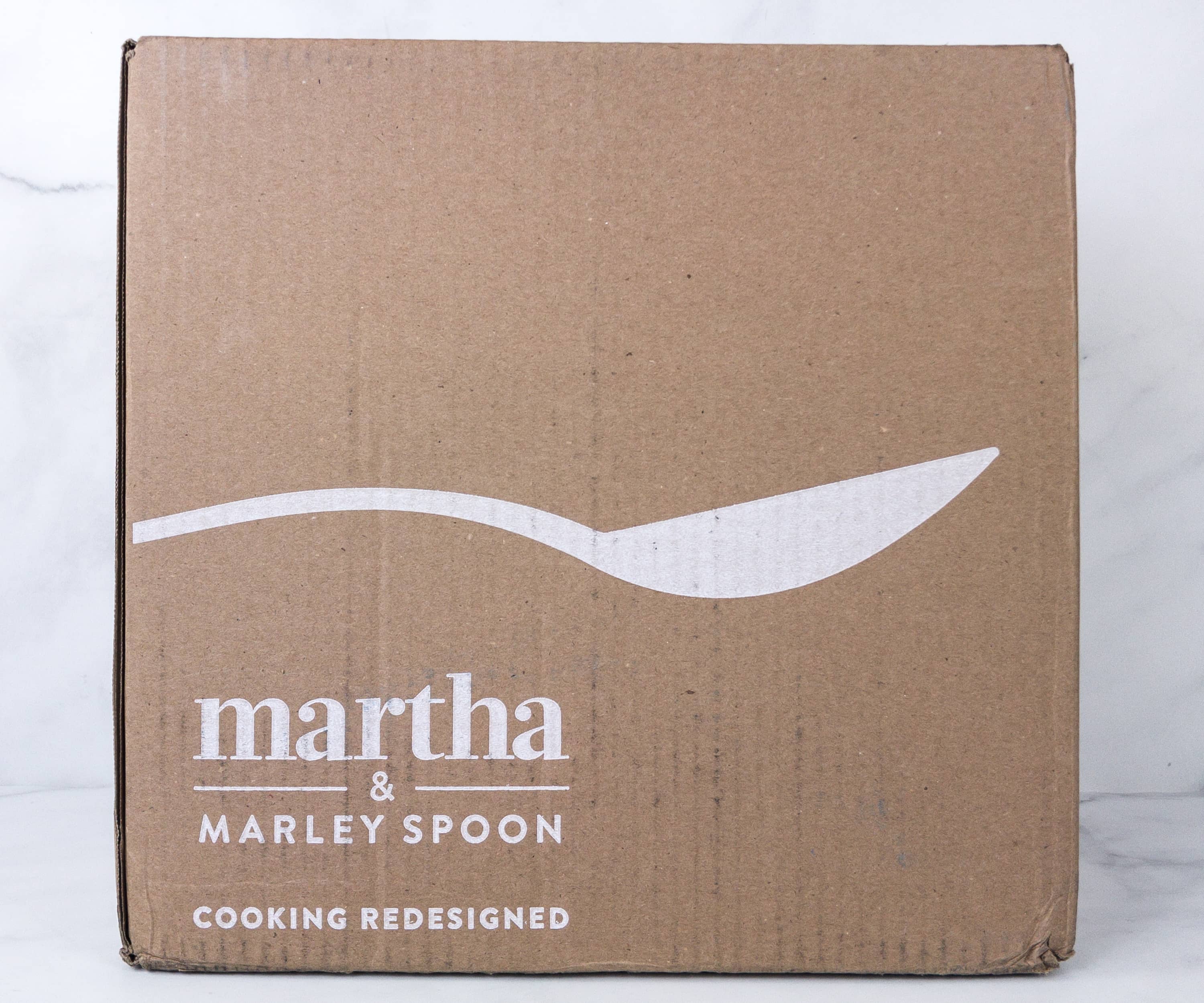 Marley Spoon delivers delicious recipes and fresh, seasonal ingredients straight to your door. You can choose from a weekly menu featuring 10 chef-created recipes, including recurring customer favorites, vegetarian meals, and kid-friendly recipes. Each option is clearly marked to note whether it features meat, fish, or just veggies, plus other characteristics of concern to diners with diets restricted by necessity or preference — they note gluten free, dairy free, kid-friendly, quick to prepare, vegetarian, and spicy meals to help you pick the best meals for you. Each recipe serves two people (there is a minimum four portion requirement per box), and shipping is free!
DEAL: Save $15 on your first box. USE THIS LINK to get the deal. Valid to USA subscribers only.
The ingredients were well-packed. The ingredients for each meal are packed in a paper bag separately, except for the meat and items needing refrigeration — they are tucked between ice packs in the bottom of the box.
There are proper labels for each one so you won't get confused about which ingredient goes where!
Everything in my July 2019 box!
Each Martha & Marley Spoon recipe card includes a full-color picture of the plated dish, prep time and a number of servings. The dishes are elegantly plated in the pics, and you can use them as inspiration for setting out your own food.
Here are the three recipes in my box! I like having the prep time estimate provided, and I often choose the order in which to make my meals based on that and perishability of ingredients. Typically, I'd start with any seafood dish, then do anything with fresh greens next.
The back includes the full recipe (with pictures!) and allergen and nutrition info. The instructions are easy to follow, whether you are a novice or pro. Usually, you start by washing and prepping all the ingredients before cooking. Within the detailed, step-by-step instructions, ingredients are set in bold type for ease of recognition. Info panes in the sidebar list any ingredients and tools you'll need from home (pans, cooking oil, etc).
Martha & Marley Spoon always throws a bulb of garlic to use in any recipes for which it may be needed. We've even gotten one before when none of our recipes called for it! Even when we use lots in the recipe, we always have some leftover for our own dishes.
Chile Rubbed Steak Tacos with Salsa Verde & Creamy Slaw – 30 minutes, Easy, 630 calories per serving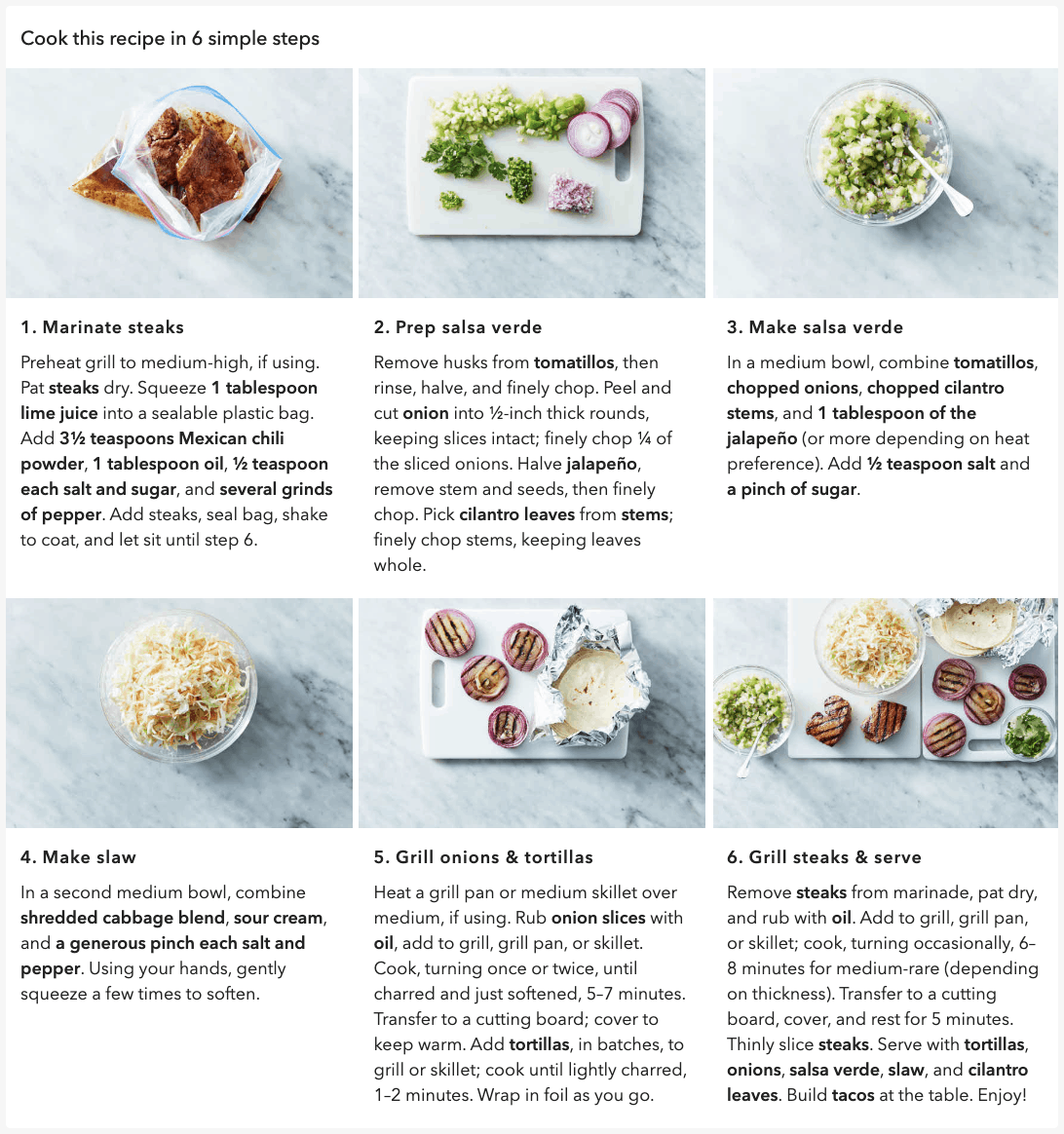 According to them, the thinner the slice of the steak, the better!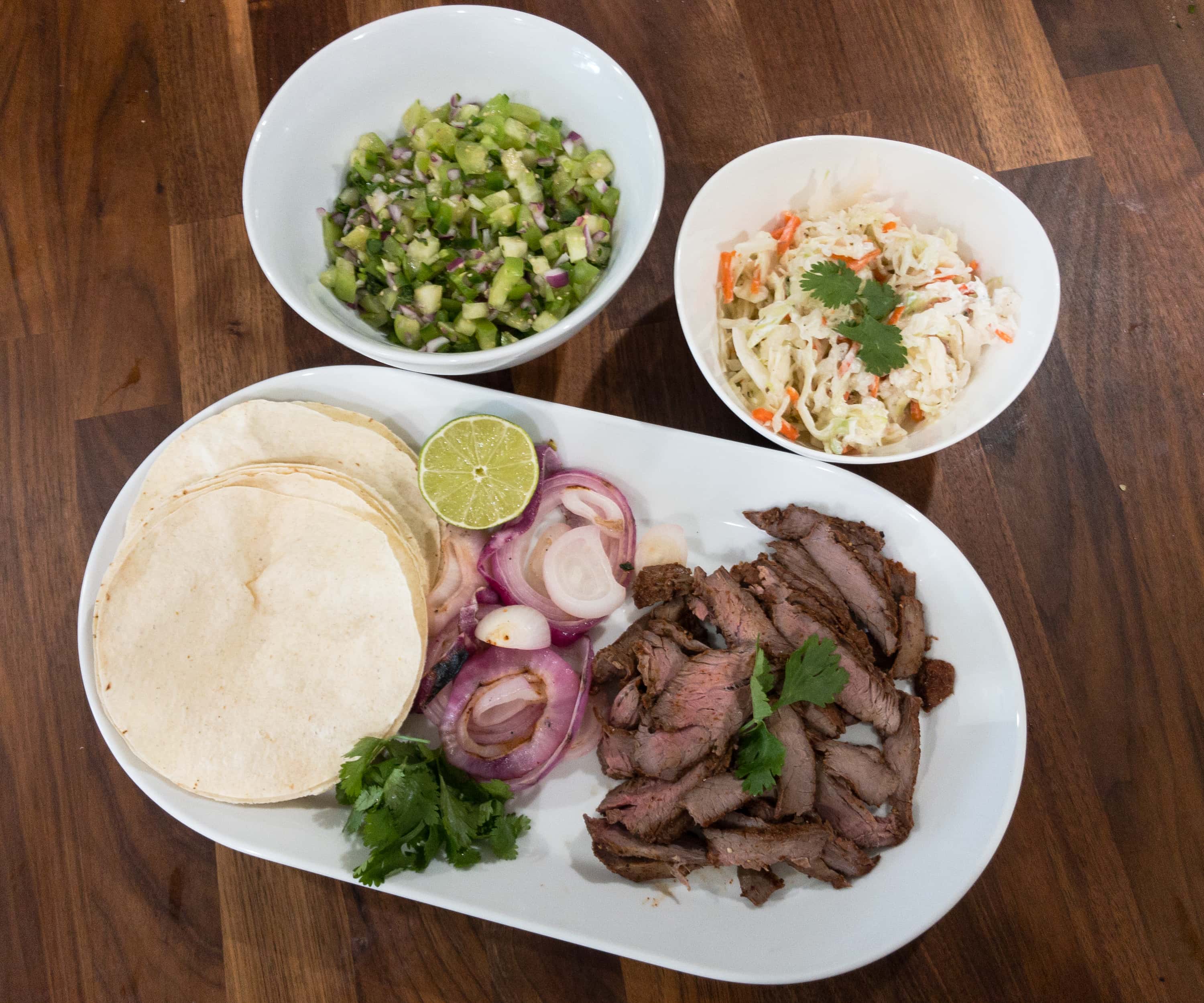 This dish is quite simple to cook. The harder part goes with the chopping and preparing of the salsa verde and slaw ingredients. Once done, you just simply need to combine them together in a small bowl and put some seasonings on top.
I love my steak cooked medium-rare, as it keeps the juiciness and chewiness of the meat. Serving it together with tortillas, onions, salsa verde, slaw, and cilantro makes it a truly satisfying and filling meal!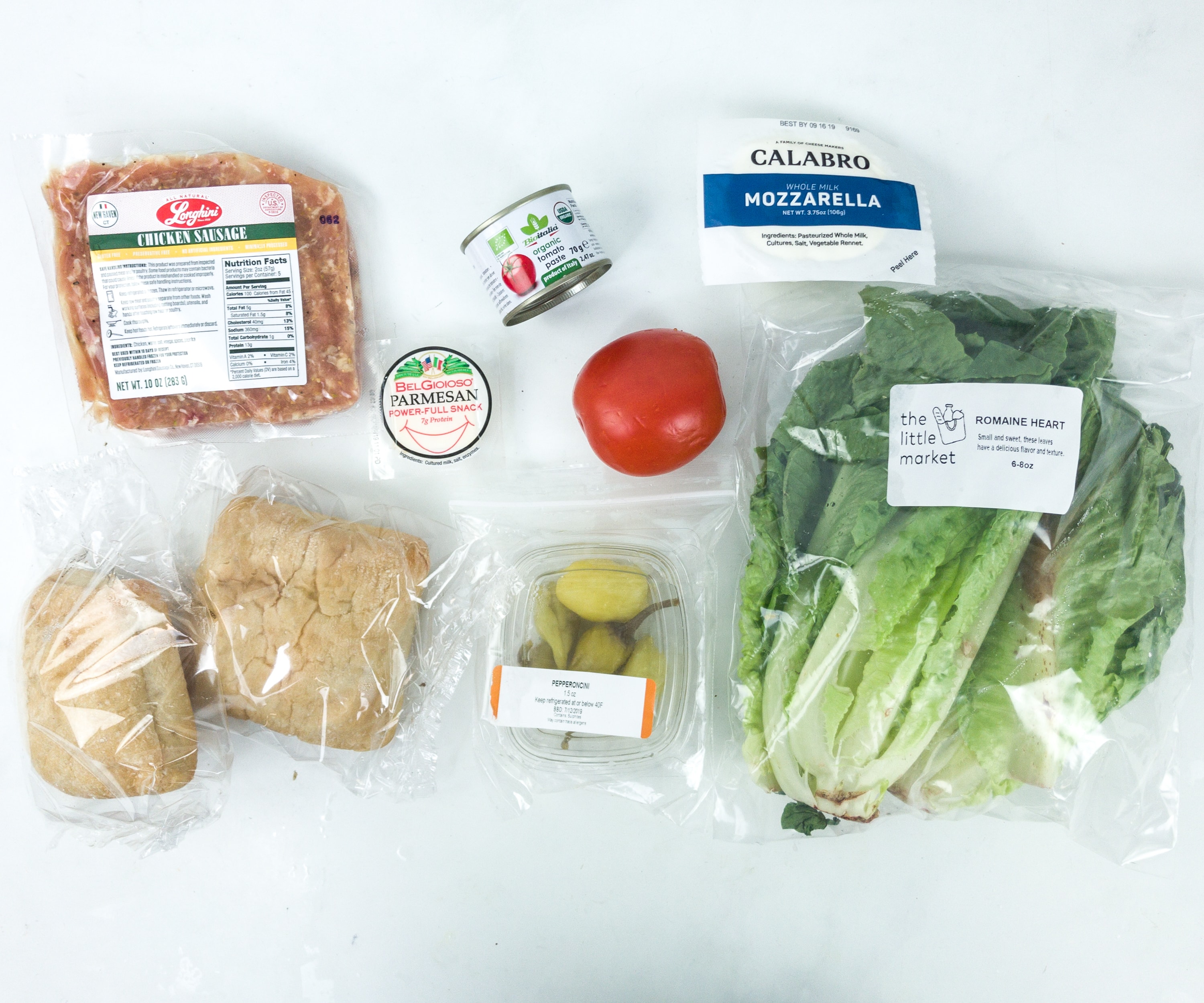 Grilled Chicken Sausage with Chopped Italian Salad – 30 minutes, Easy, 940 calories per serving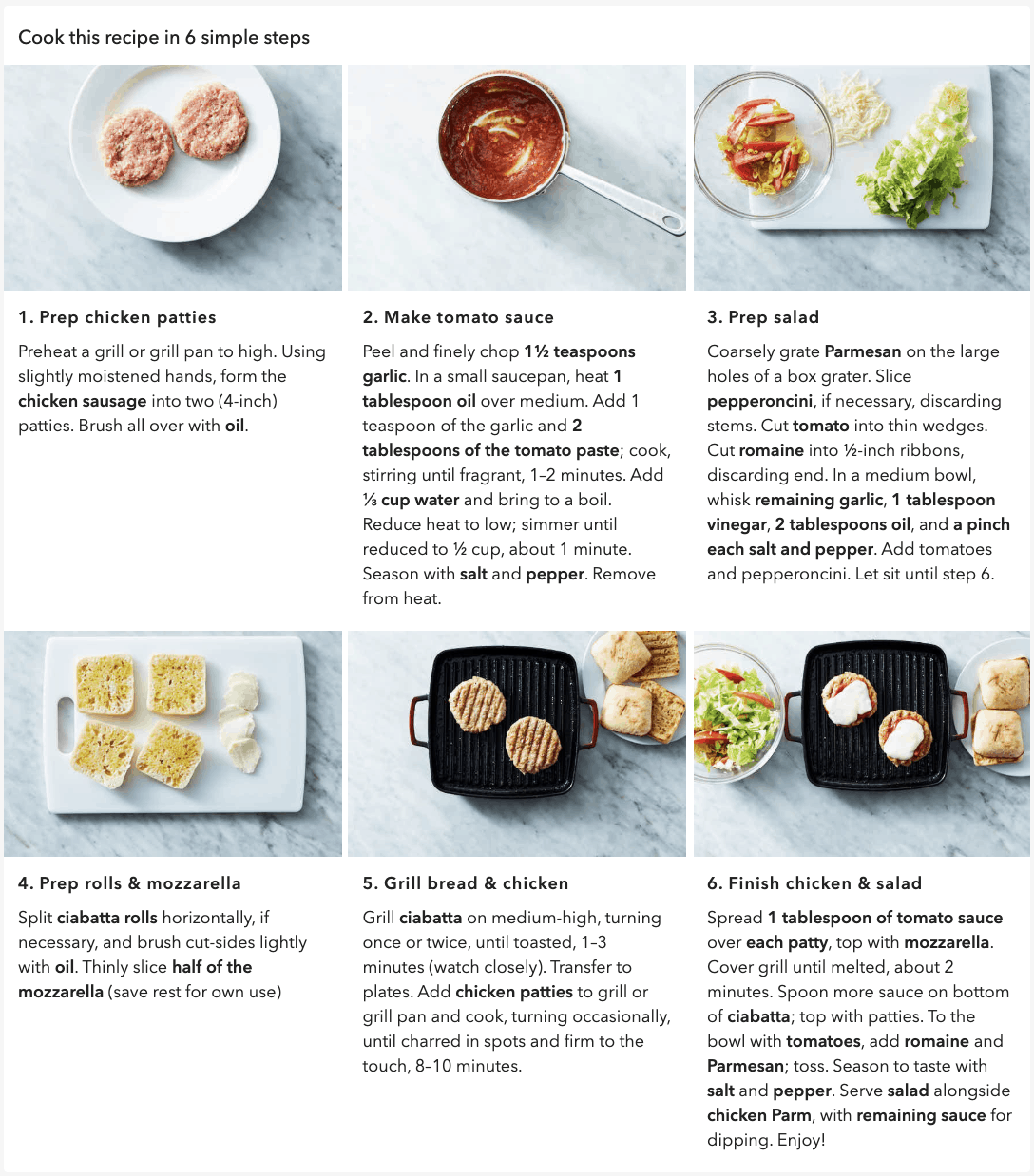 To make the ciabatta crunchy, you must heat them on medium-high fire and turn it once or twice for about 1-3 minutes until toasted.
If you are looking for a quick yet filling meal, this is the perfect recipe for you. Grilled chicken sausage is so easy to do, just grill the chicken sausage on a hot pan until it becomes golden brown and then pair it with toasted ciabatta for extra crunchiness.
This sandwich is best paired with a veggie salad that includes a slice of pepperoni, tomato, garlic, romaine, topped with grated Parmesan cheese, and sprinkled with a pinch of salt and pepper.
The patty is so juicy and meaty, while the melted mozzarella brings unique texture and creaminess that would surely capture your palate!
Taco Spiced Grilled Pork with Buttered Corn & Tomato Salad – 40 minutes, Easy, 770 calories per serving
They recommend spreading the seasoned butter all over the grilled corn for a tastier flavor. You can also squeeze some lime juice on top of the pork for additional taste.
Like the first two dishes, this third recipe is pretty easy to cook. While waiting for my pork to be cooked, I started grilling the corn and preparing the veggie sides. Once they're done, I simply put them on the dish together and drizzled them with lemon juice and butter seasonings for the corn. So delicious!
It's another awesome line up of delicious dishes from Martha & Marley Spoon! All the ingredients arrived fresh and ready to prepare. Almost everything is provided – except for oil, salt, and kitchen staples. It saves me time because all I just need to do is prepare and cook. The recipe card features a detailed cooking guide, along with other helpful information such as calorie content and estimated cooking time. It's a great meal kit choice, even for those who are watching their food intake and those with food restrictions.  This subscription absolutely made our dinners more interesting and hassle-free!
Have you tried Martha & Marley Spoon? What do you think?