Love with Food Tasting Box sends 6+ surprise snacks from various healthy snack brands each month. It's an ideal sampler pack to jumpstart healthy snacking and to help you discover the most innovative food brands. This monthly snack subscription promises to only include snacks made with real ingredients and no added chemicals. The Tasting Box is $9.99 a month. Love with Food also offers other snack boxes such as Gluten-free and Deluxe.
DEAL: Get 40% off your first box with this link!
LIMITED TIME: Get your first classic tasting box FREE and just pay $4.99 shipping! No coupon code needed – just use this link to subscribe.
There's an information card on top of the snacks.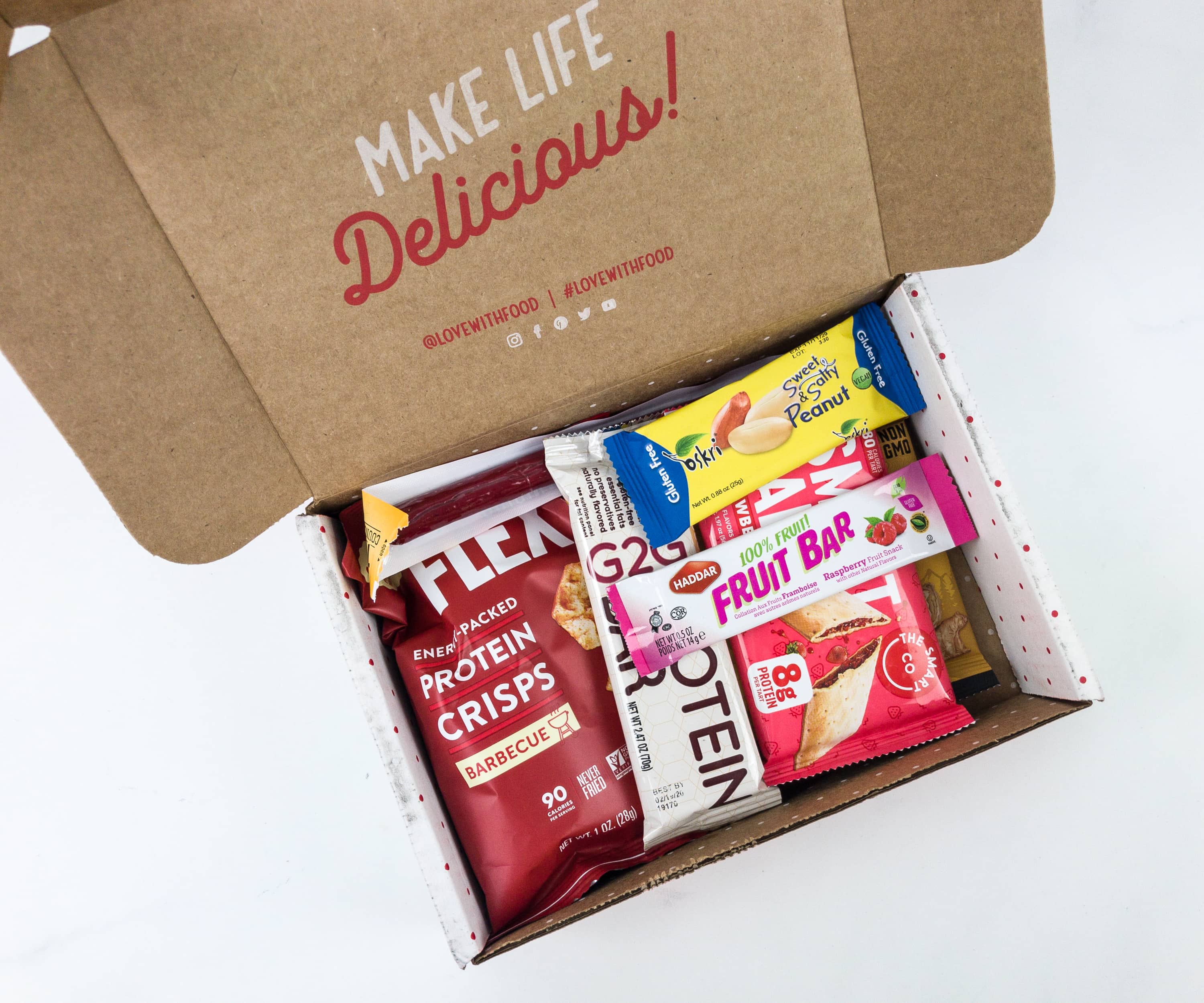 As always, the box is jampacked!
This month's Love with Food theme is Sun. Fun. Yum!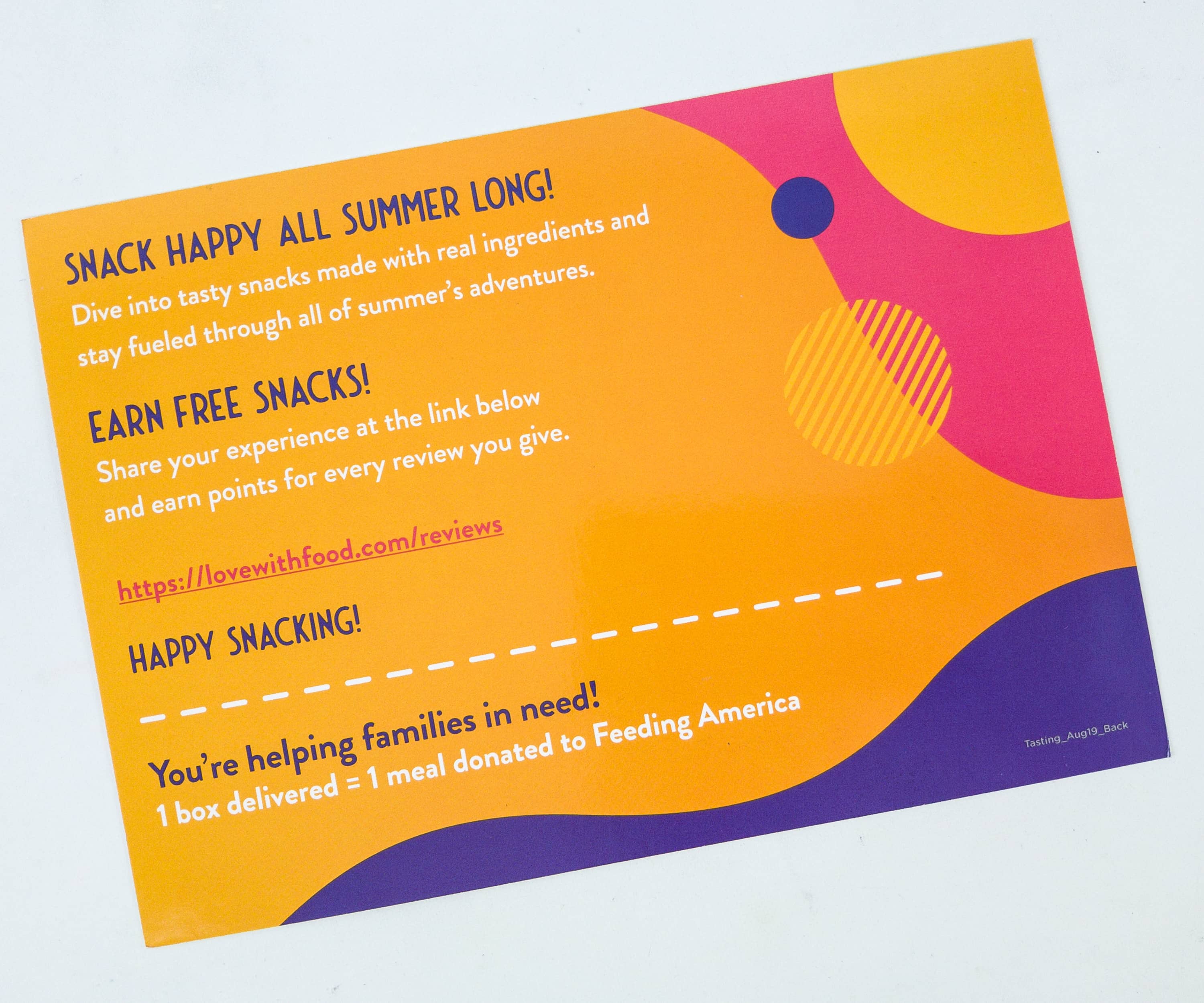 With every snack box delivered to you, Love With Food donates at least one meal to a family in need.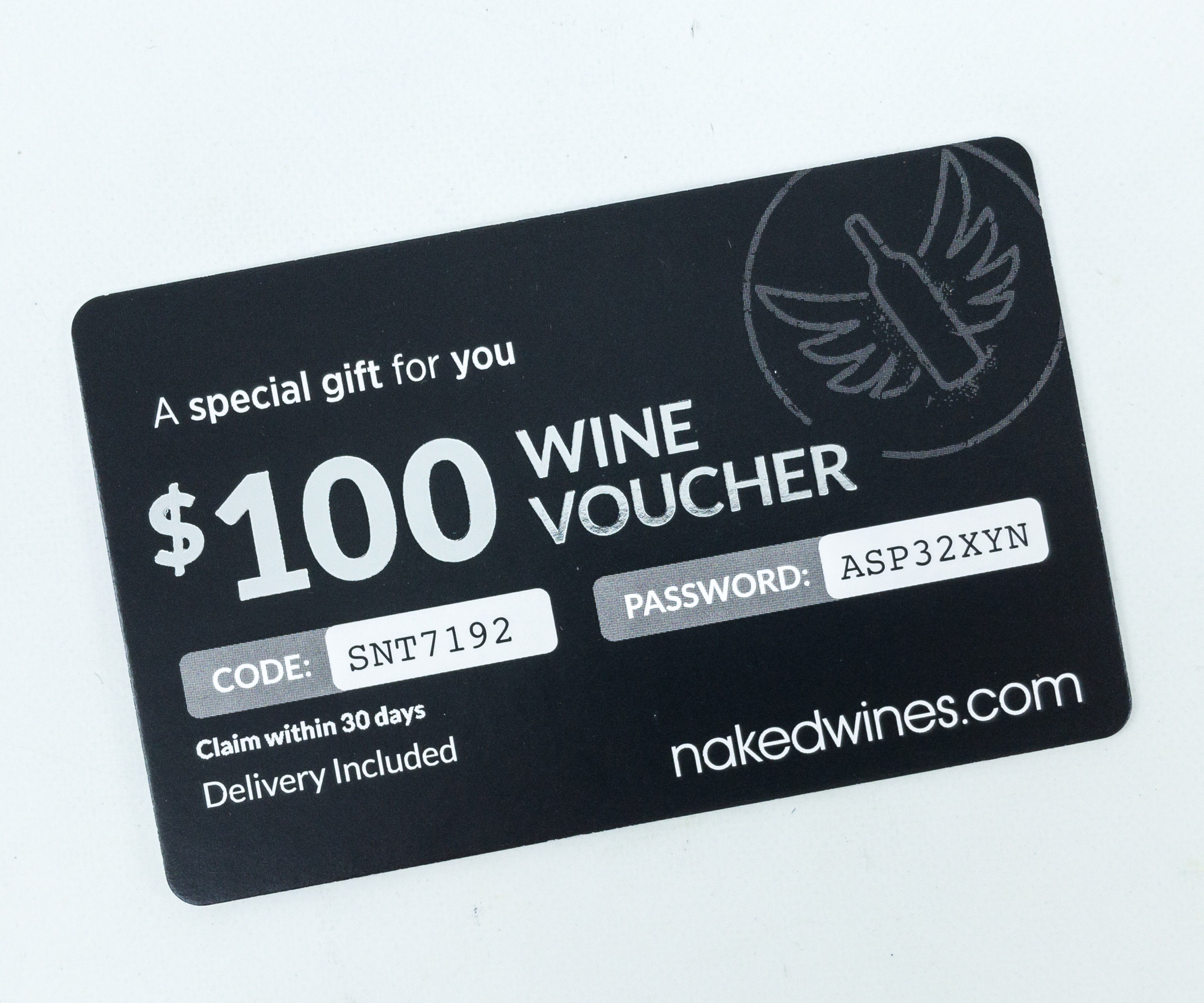 We also got coupon cards! One is from Iconic Protein that offers a free bottle, and the other is a $100 special gift wine voucher card from Nakedwines.com.
Everything in my box!
Simply Straws "Free" Straw" This month's box also includes another coupon card for a free reusable straw. Unfortunately the shipping was about $6 – hard pass! FOR A STRAW!
PopCorners Flex Energy-Packed Protein Crisps in Barbecue ($1.45) This version of PopCorners features their trademark non-GMO, plant-based, gluten-free, and protein-rich popped corn chips with a tasty barbecue flavor. Each piece is crunchy and absolutely delicious.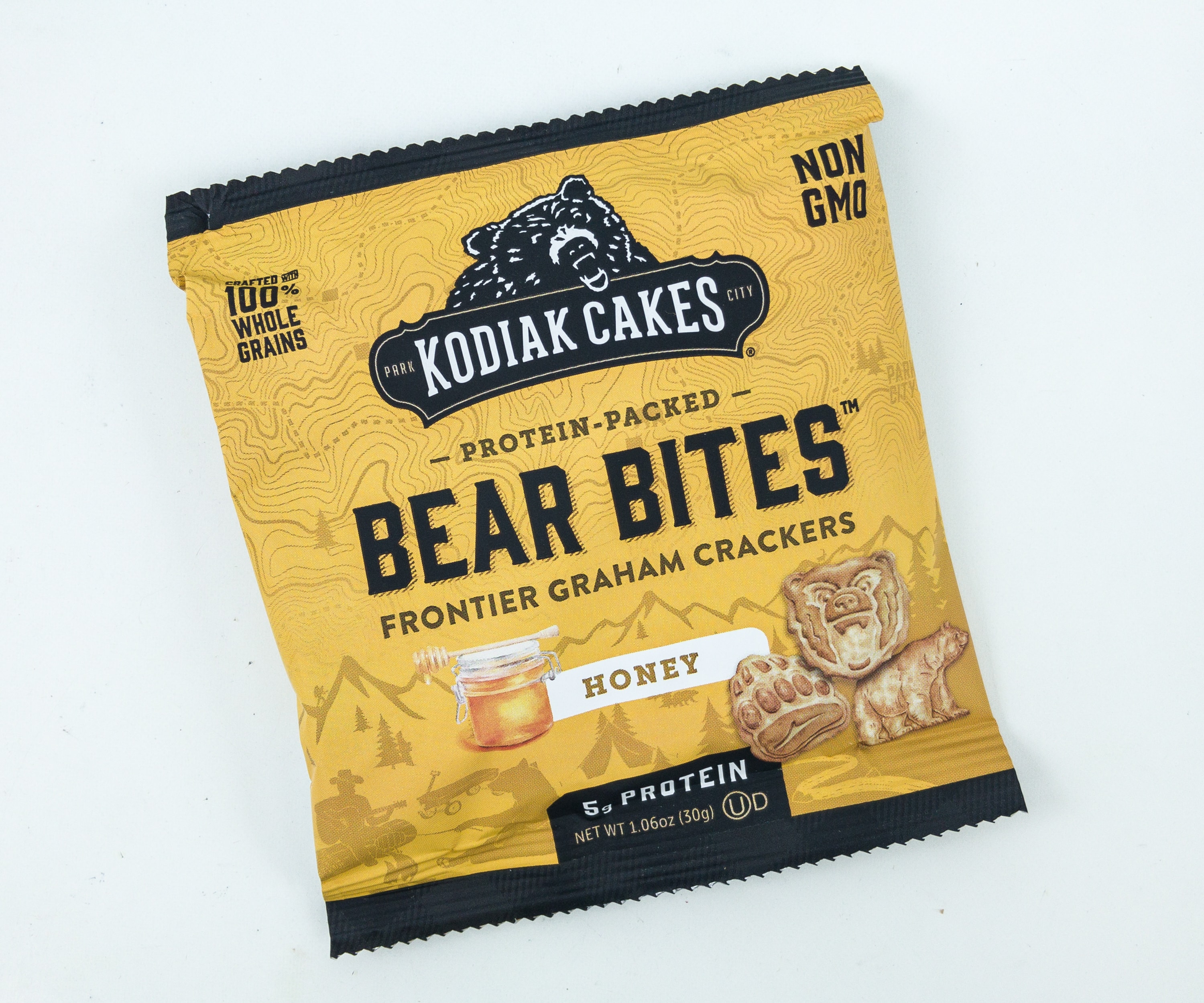 Kodiak Cakes Bear Bites in Honey ($0.69) Whole grain graham crackers plus honey? This snack is pure perfection. They even come in bear shapes, making them more fun and exciting to eat whether as a lunchbox snack or an on-the-go treat. The crackers are also non-GMO and a great source of protein and fiber!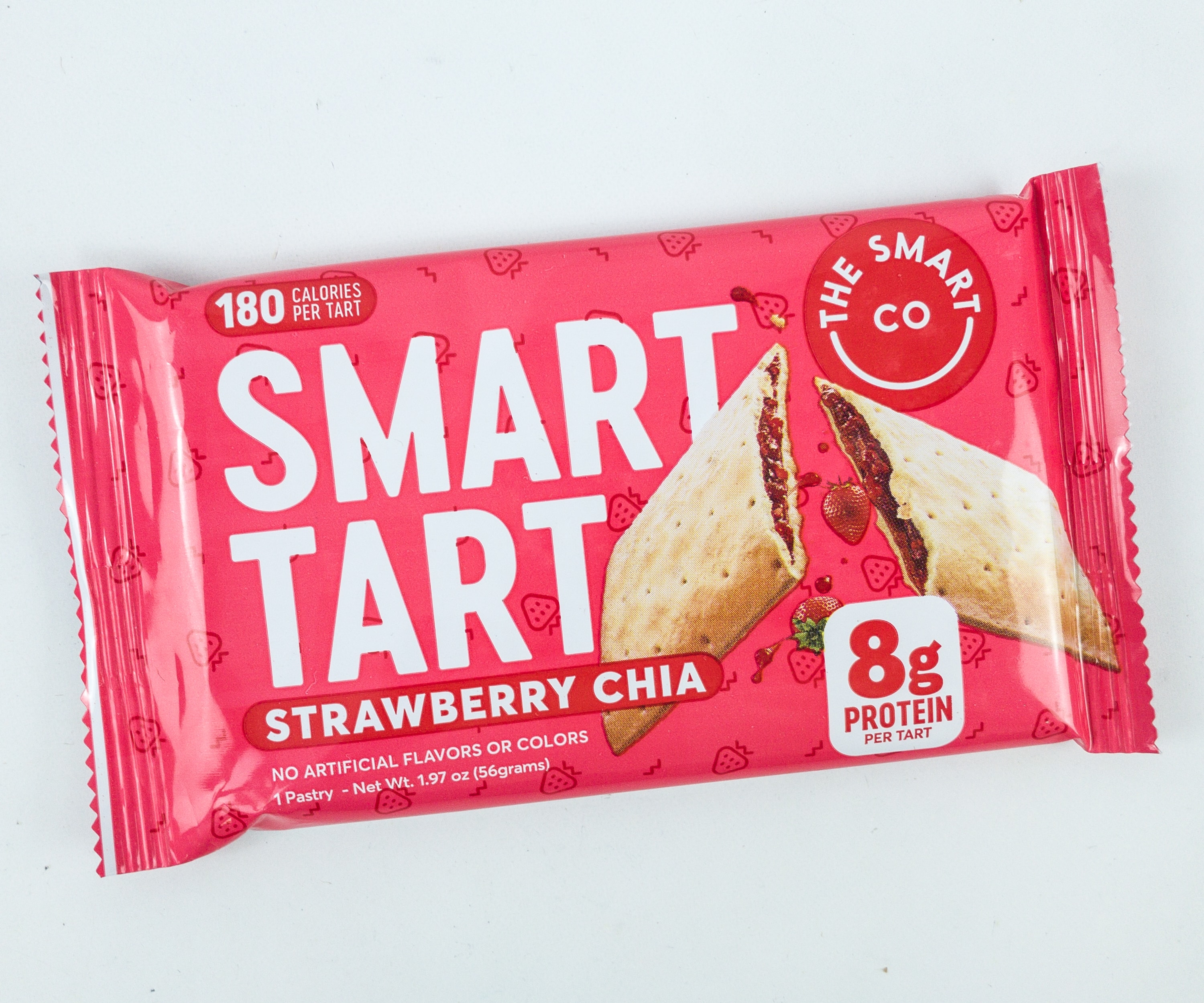 The Smart Co Smart Tart in Strawberry Chia ($2.49) Ideal as a breakfast snack, this tart is made with all-natural ingredients including a vitamin C-rich strawberries and antioxidant-rich chia seeds. I like its texture and its rich strawberry filling!
Tillamook Country Smoker Original Smoked Meat Stick ($0.99) This is definitely one of the tastiest jerky sticks I've tried! It's made from high-quality and USA-sourced beef then cooked in real hardwood smoke, so it's super meaty and tasty. The snack is also gluten-free and protein-rich, making it a great post-workout snack!
Haddar Fruit Bar in Raspberry Fruit Snack ($0.36) It's a scrumptious snack bar made with raspberry! The taste is natural and not overly sweet, plus it contains zero gluten and artificial ingredients. It settled nicely in my stomach, and it kept me full until my next full meal.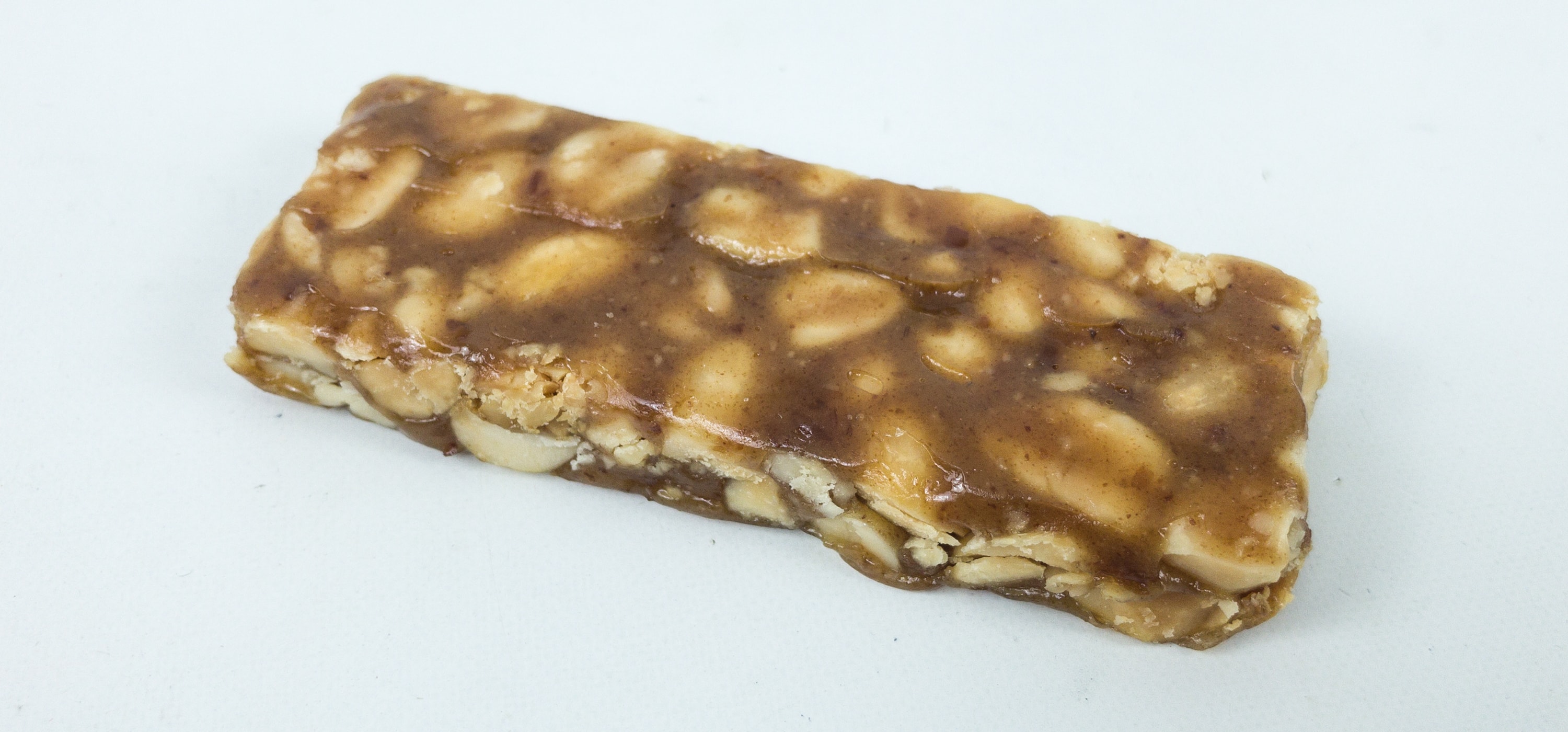 Oskri Sweet & Salty Peanut – We got another tasty snack bar in our box, and this time it's a peanut-based treat! Aside from peanuts, it contains rice syrup, date paste, and sea salt, producing a perfect balance of sweet and salty flavors. The chewiness and the crunch you get in every bite is exceptional. It's energy-boosting as well!
Love with Food sent us another box full of awesome snacks! The goodies are highly-nutritional and delicious, plus there's a great variety to fulfill our cravings whether sweet, salty or savory. We also got a good number of snack bars to grab-and-go on days when we're just too busy. The jerky stick is another ideal snack for active people, and it's definitely one of our favorites this month. We're happy about the snacks overall and we're really excited to discover new and tasty treats in our future boxes! The box was a bit of a disappointment with the free straw coupon though – it was too expensive to redeem, and there's no reason they couldn't have just included the straw in the box.
What's your favorite snack this month from Love with Food Tasting Box?
Visit Love with Food Tasting Box to subscribe or find out more!