SnackFever is a monthly subscription box that delivers all your favorite Korean snacks, as well as other hard-to-find Korean treats. Each month, subscribers will get 5 to 12 Korean snacks and treats, depending on their subscription. Snack Fever is available in three boxes, the mini box, the original box, and the deluxe box, and subscriptions are $12, $22, and $35, respectively, every month.
NOTE: Starting the February 1st, Snack Fever will be having some changes on their subscription, including a Loyalty Rewards Program, new Original and Deluxe boxes, and a new shipping schedule. You can read more about the changes here.
DEAL: Save $3 off your first box (Mini, Original, Deluxe). Use coupon code HELLOSUB3.
SnackFever's social media handles are printed in the box. On the sides, there's even a Korean sentence which means "you're so pretty when you eat"!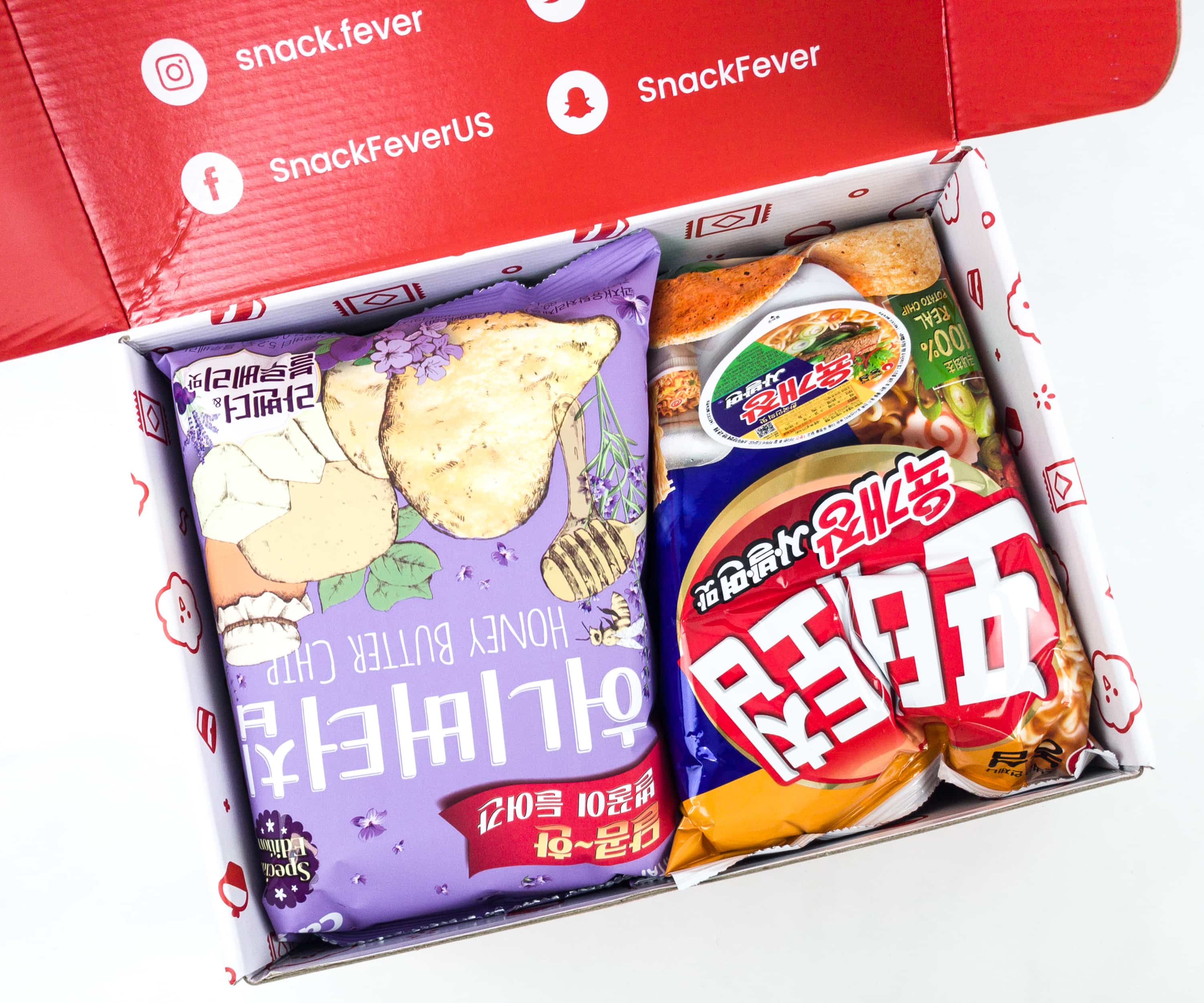 There are no extra packaging, just snacks filling the box to the brim!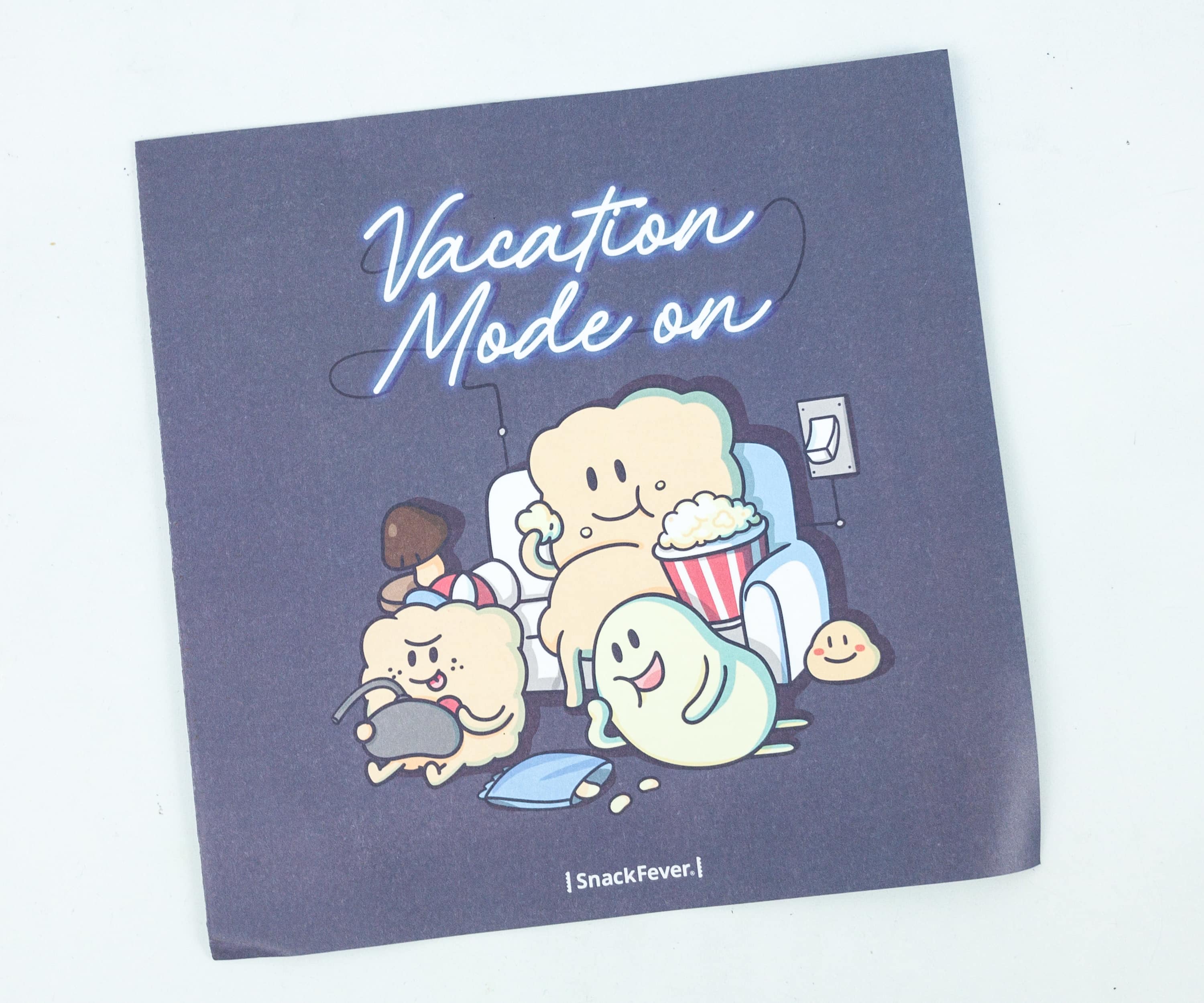 July 2019 theme is VACATION MODE ON!
The booklet features selfies of subscribers with their Snack Fever boxes, as well as some Korean vocabulary words.
Of course, there's also a list of all the items in the Snack Fever Mini Box, Original Box, and Deluxe Box.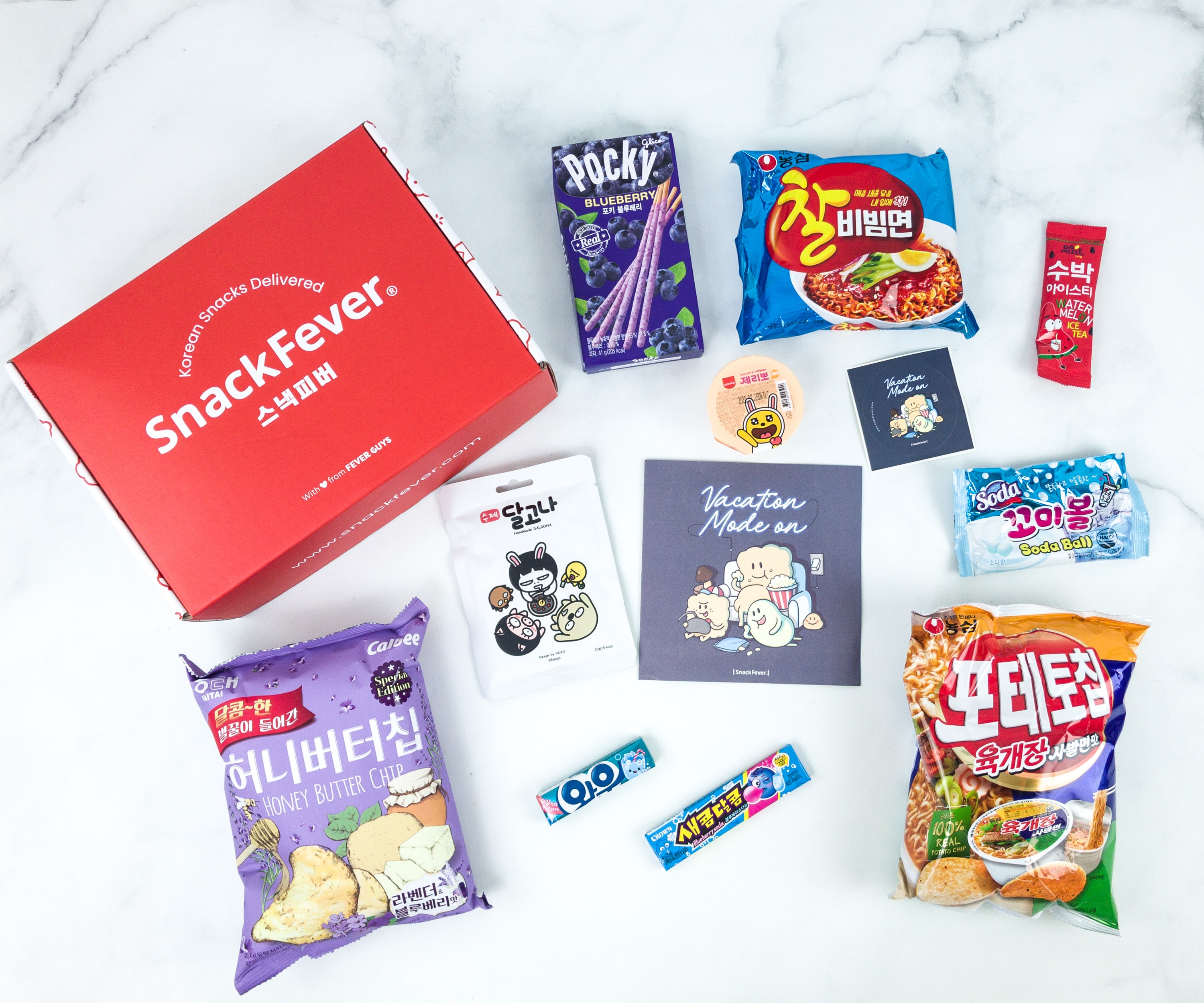 Here are the full contents of the Original box. To see all of our SnackFever reviews including the big box, click here.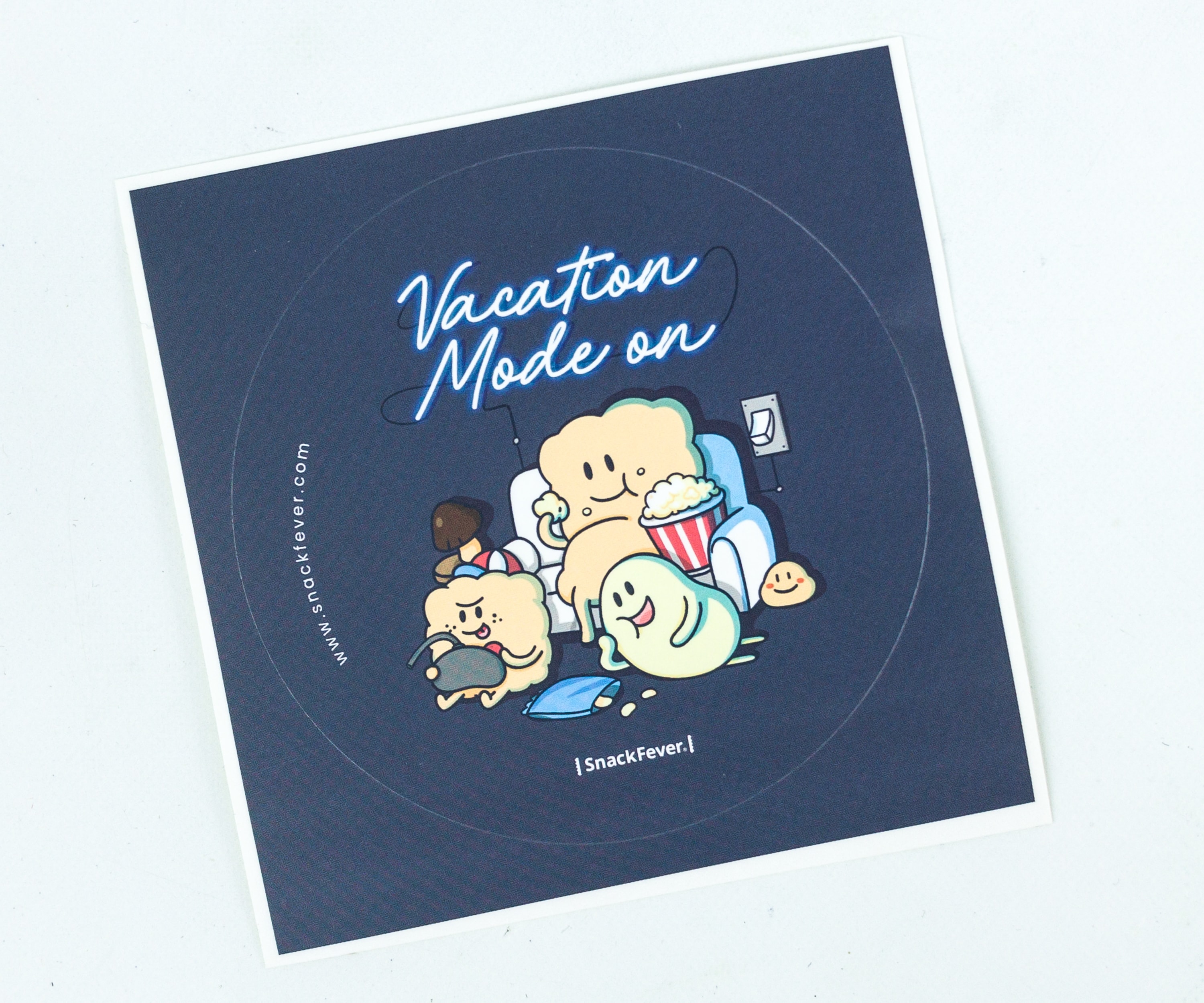 Sticker. Each month, Snack Fever includes an adorable sticker related to the theme.
Haitai Honey Butter Chip in Lavender Blueberry. It's a special edition of the popular Honey Butter chips, as suggested by its purple packaging! The chips are still light, thin, crispy and flavored with sweet honey, but this time there's lavender and blueberry to add to the mix. They're still sweet, but this time there are subtle floral and fruity notes. It tastes quite unique, nothing like other chips I've had before.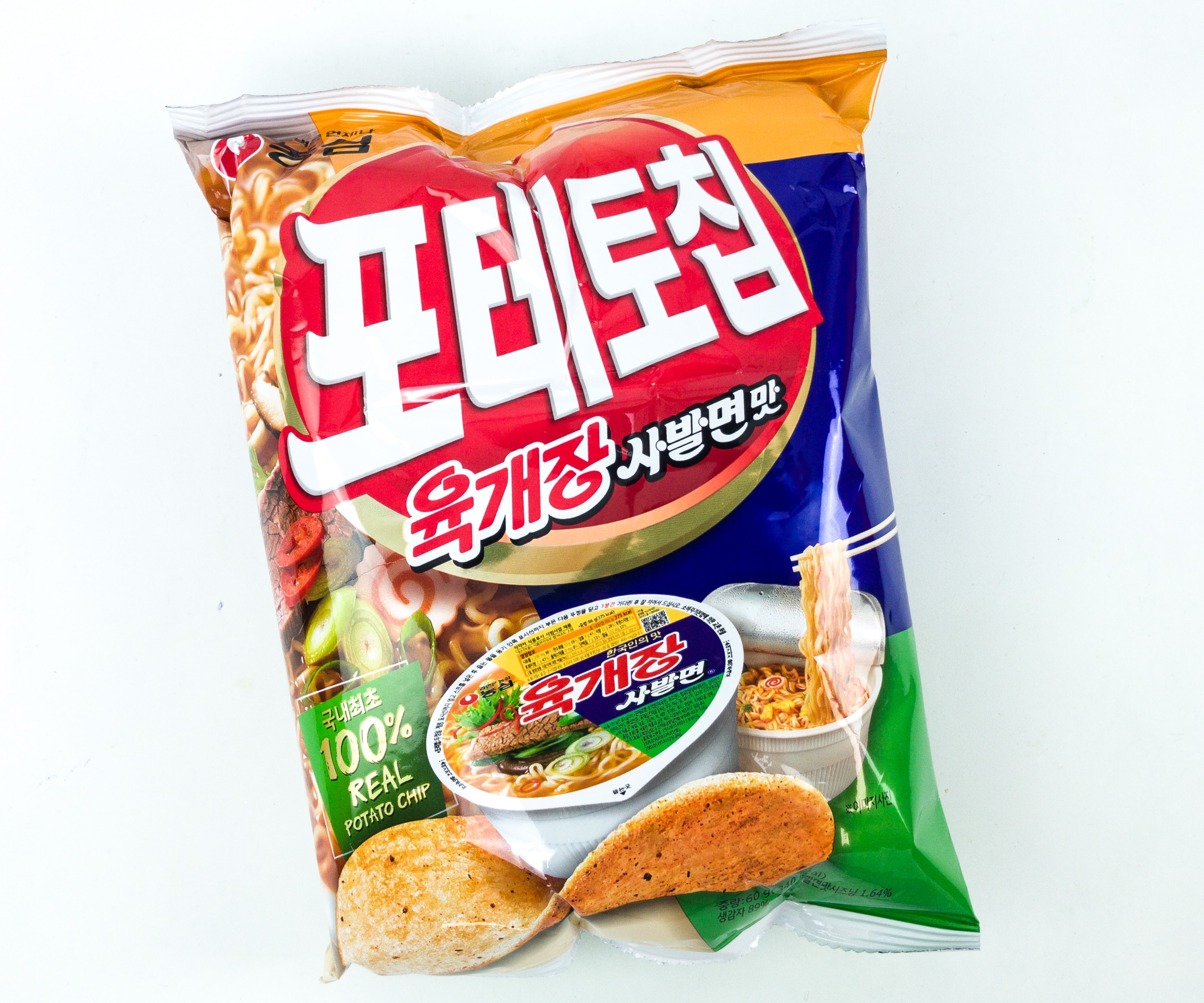 Nongshim Potato Chips Yukgaejang Ramen Flavor. Yukgaejang ramen is quite popular in Korea. Its spicy taste and rich beef flavor are translated to these potato chips that call for a glass of beer or a can of soda. Each piece is crunchy and intensely flavored!
Nongshim Chal Bibimmyum. We're excited to try this instant noodle snack! The sauce boasts of a sweet-and-spicy flavor, which is definitely satisfying when paired with firm noodles.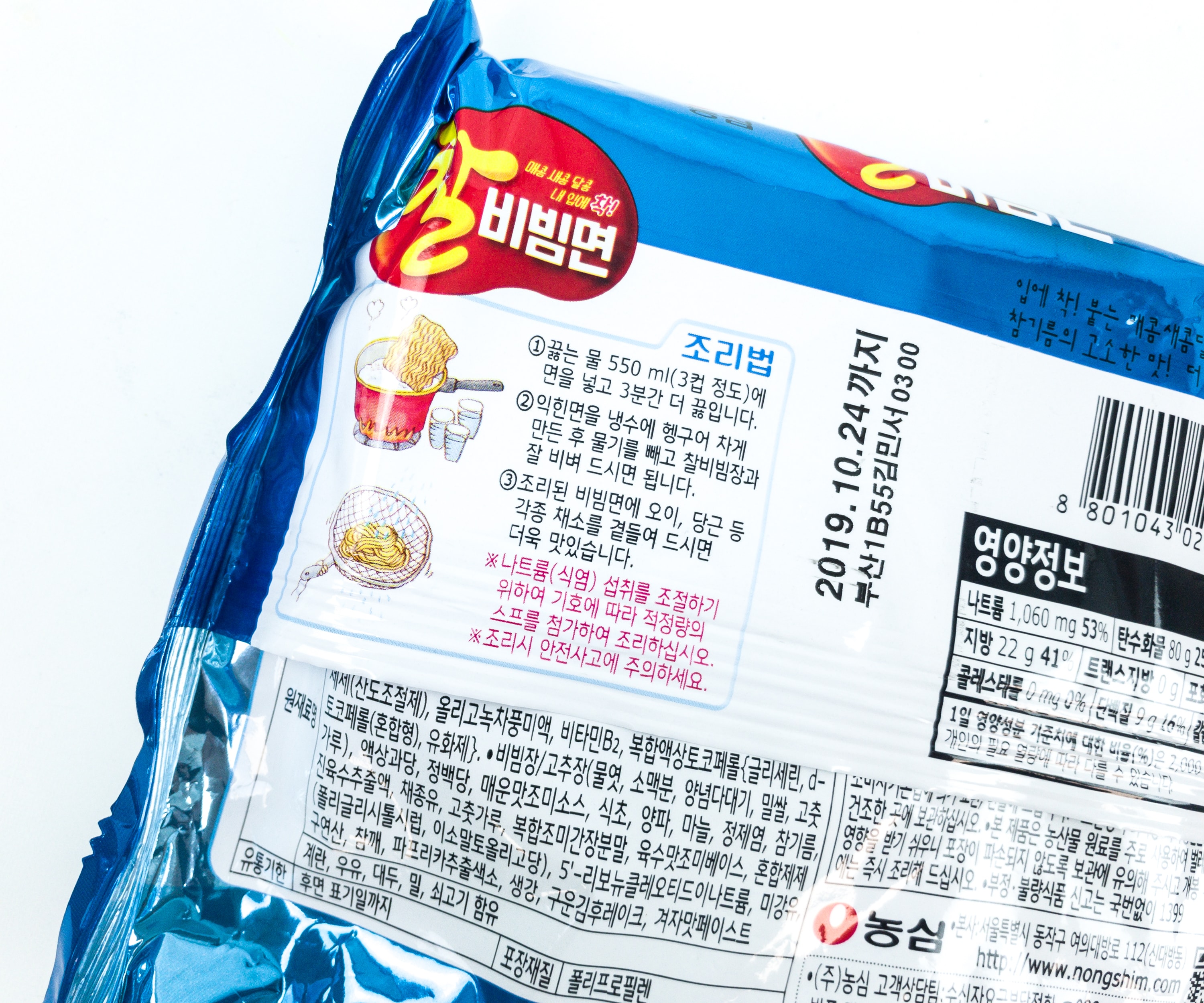 The label and the cooking instructions are in Korean but Nongshim, the maker of this noodle snack, has a US website where you can look it up in English.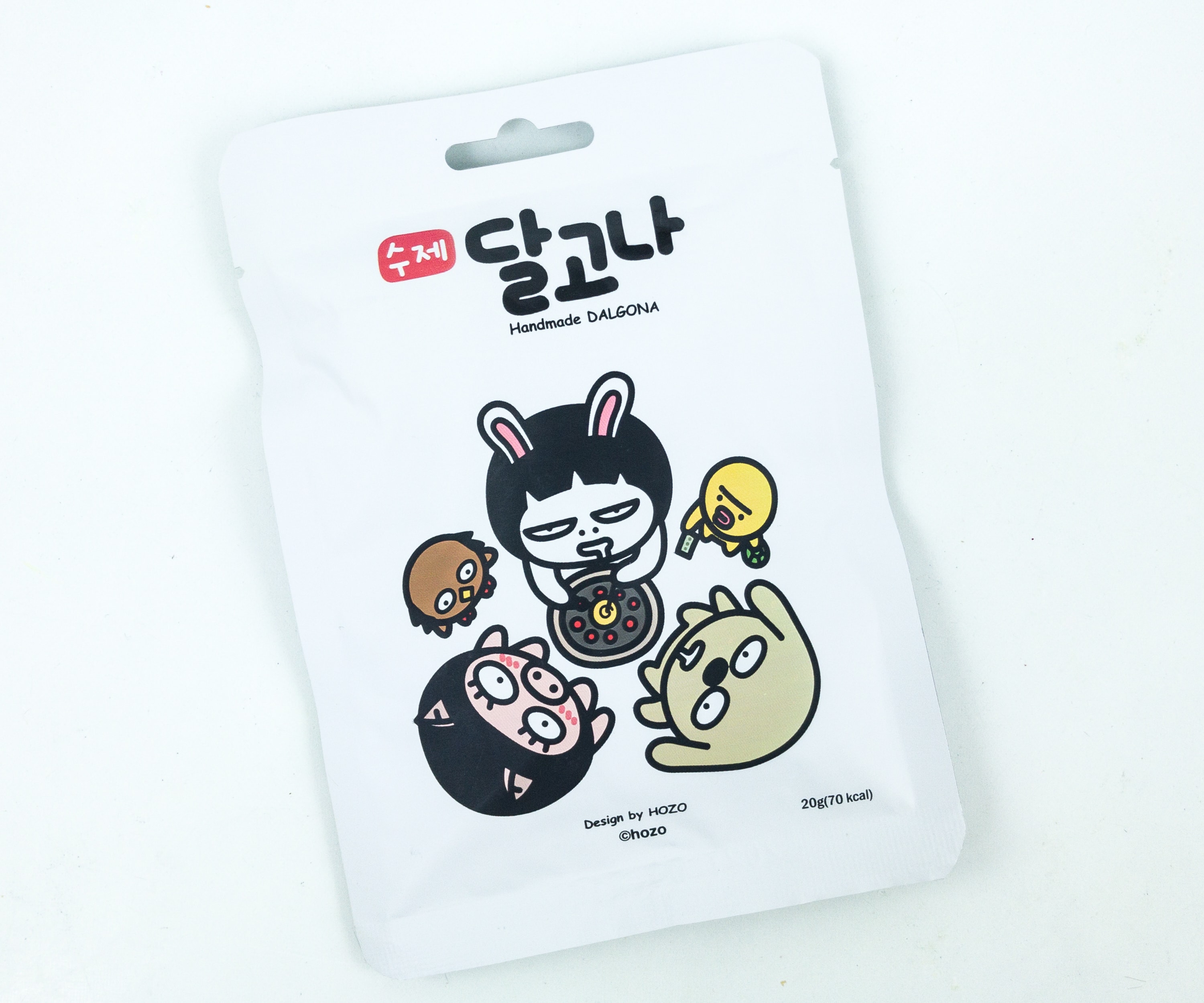 Handmade Dalgona. Dalgona is a traditional Korean candy. These are caramel-flavored, perfect for satisfying your sweet tooth.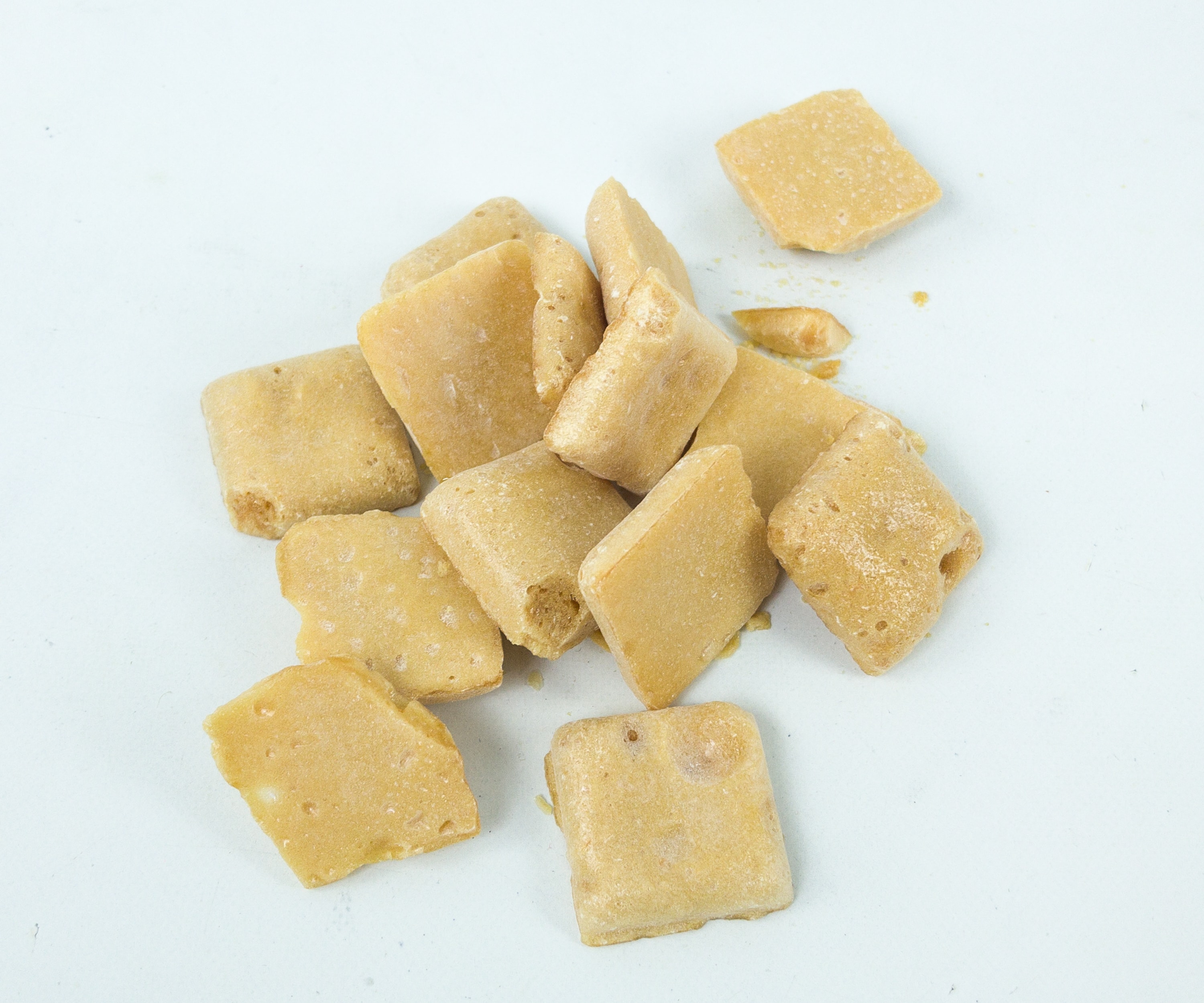 They look like bite-sized biscuits, but they're real candies. Once you pop them in your mouth, it's hard to stop because they're so chewy and satisfyingly sweet.
Pocky Blueberry. We got another limited edition snack! These Pocky sticks are still the crunchy and tasty ones we know, but what makes them unique is the blueberry-flavored coating instead of its usual creamy chocolate flavor. It's the perfect mix of sweet and tart!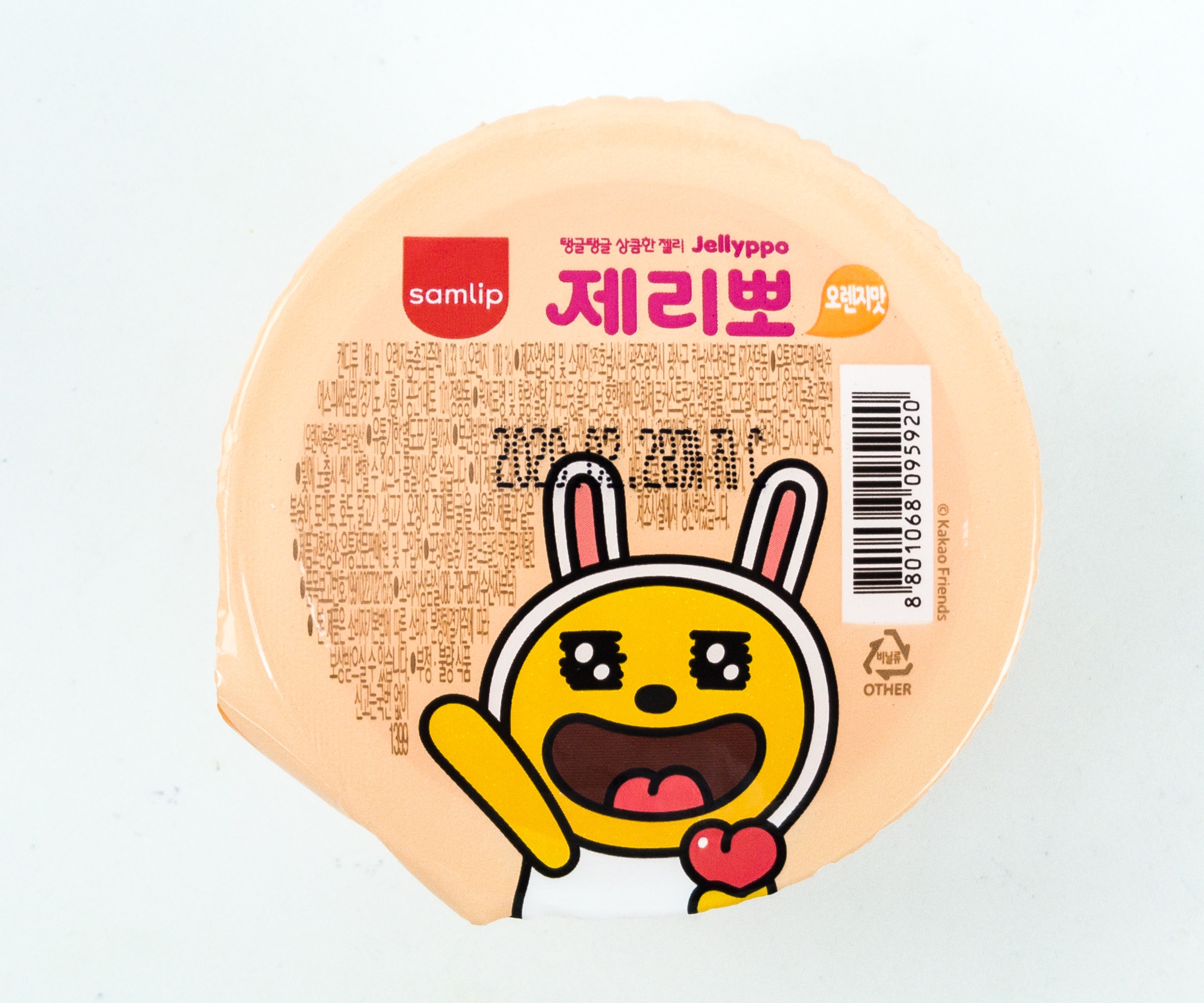 Kakao Friends Jelly Ppo. It's a jelly snack inspired by the characters from Kakao Talk. We got Consmuzi, who is a pickled radish wearing rabbit clothes.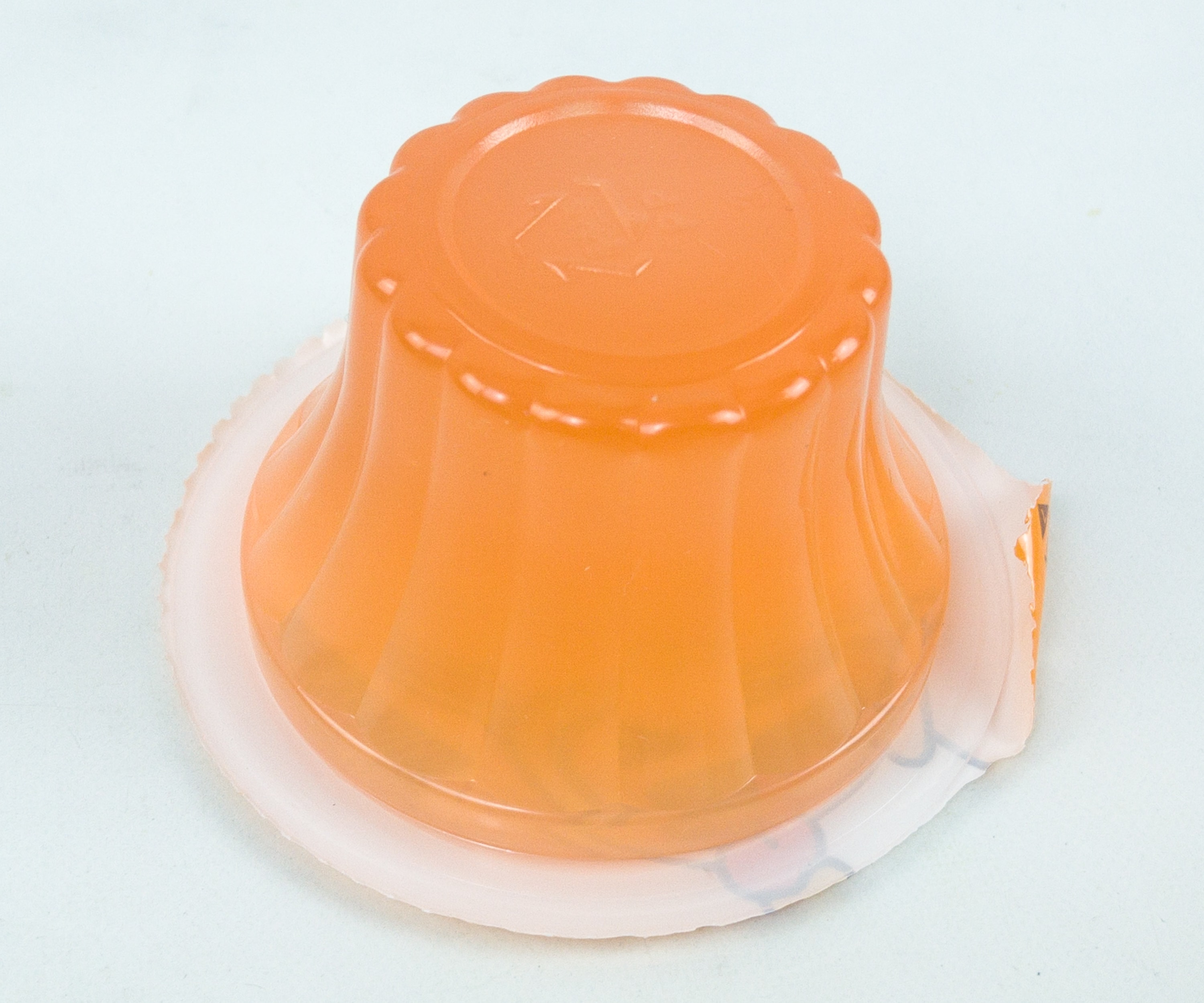 This juicy jelly is orange flavored. It's soft and a bit sweet, which is a hit with the kids!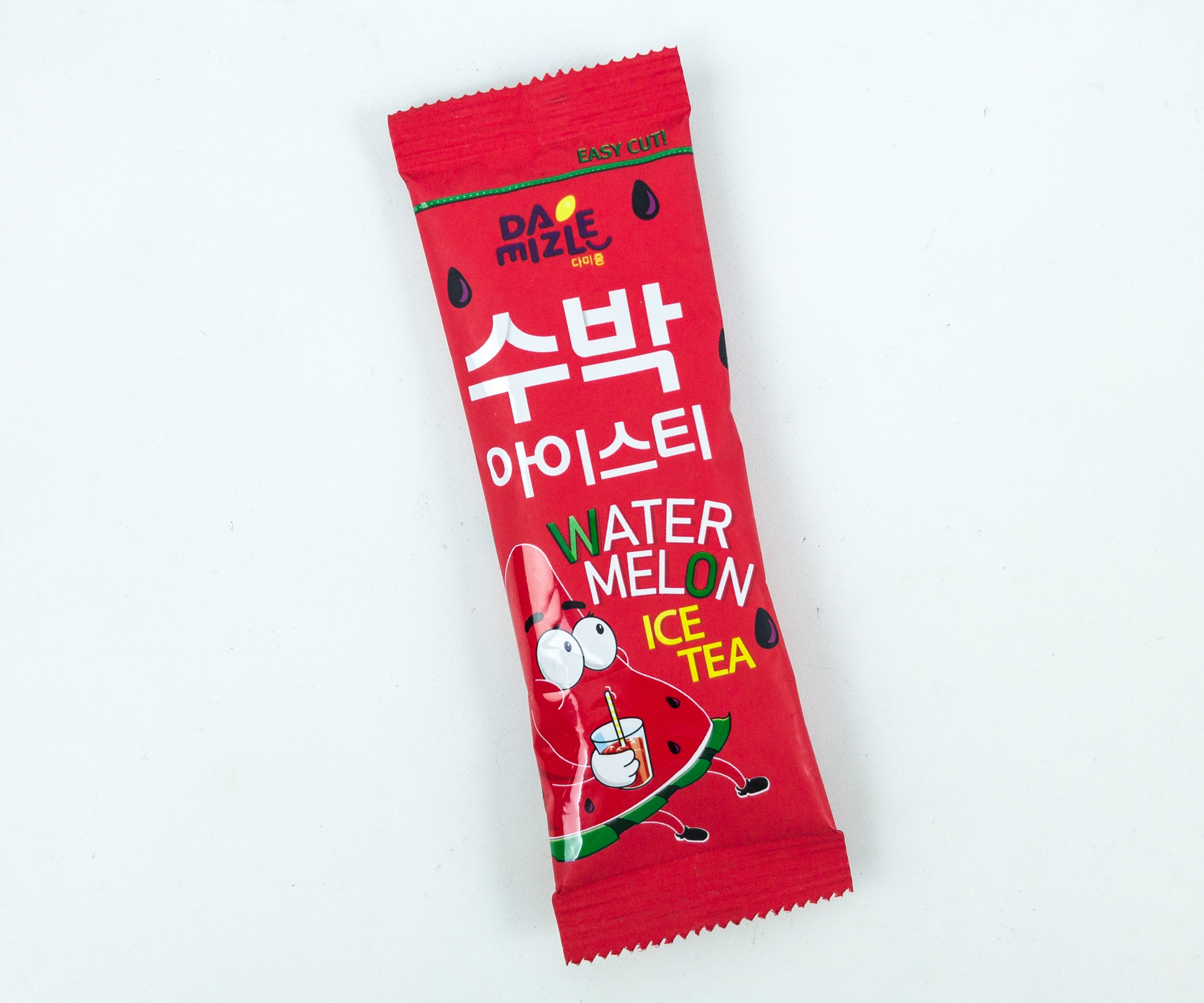 Damizle Watermelon Ice Tea. This sachet of powdered tea is infused with watermelon flavor, perfect as a summer thirst-quencher. It's so easy to prepare, just mix the powder with cold water and add some ice cubes if you want!
Wow Gum. This mint soda-flavored gum tastes like real soda. It also leaves the mouth with a cooling effect.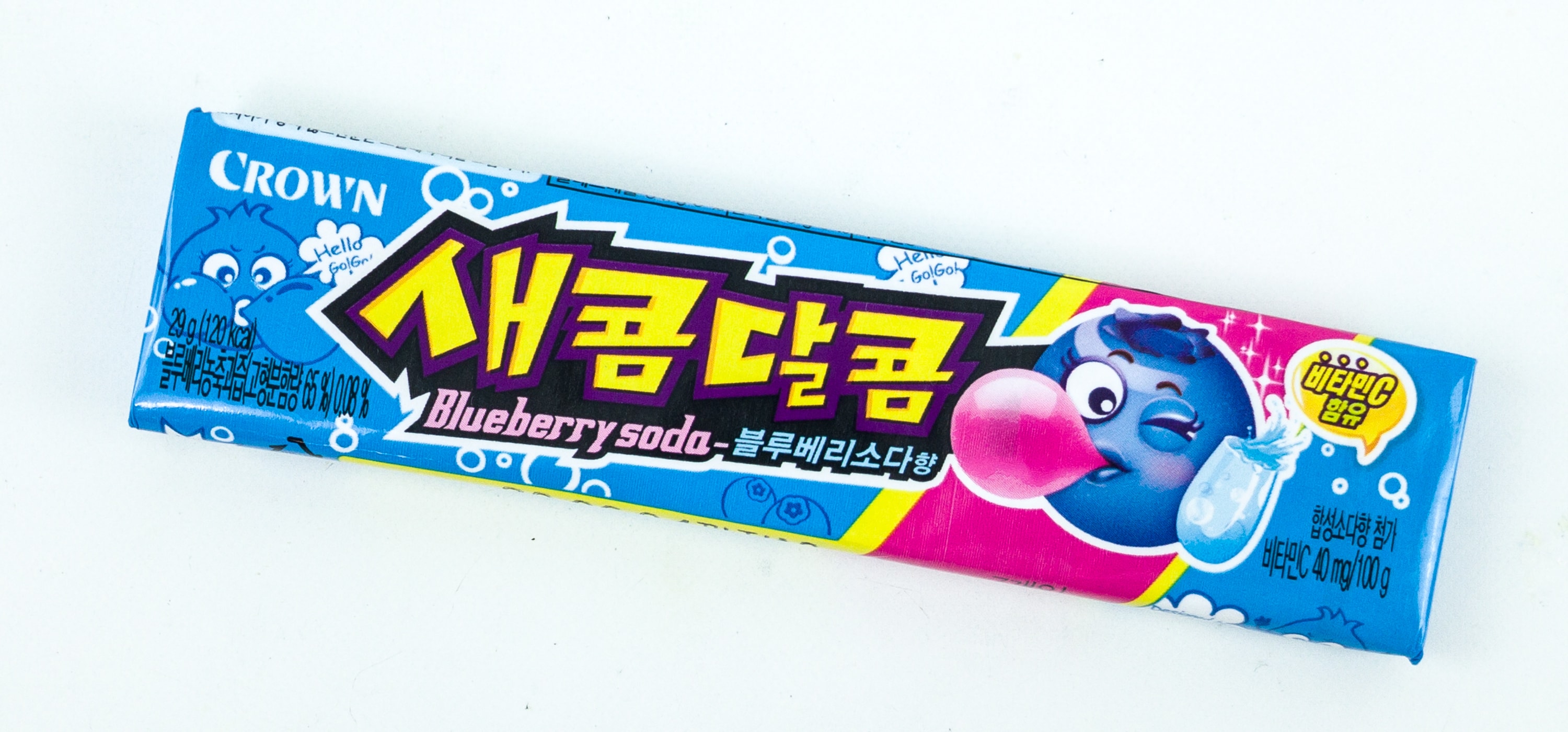 Saekomdalkom. We've got another blueberry-flavored treat! These are chewy candies, bursting with fruity flavor in every bite.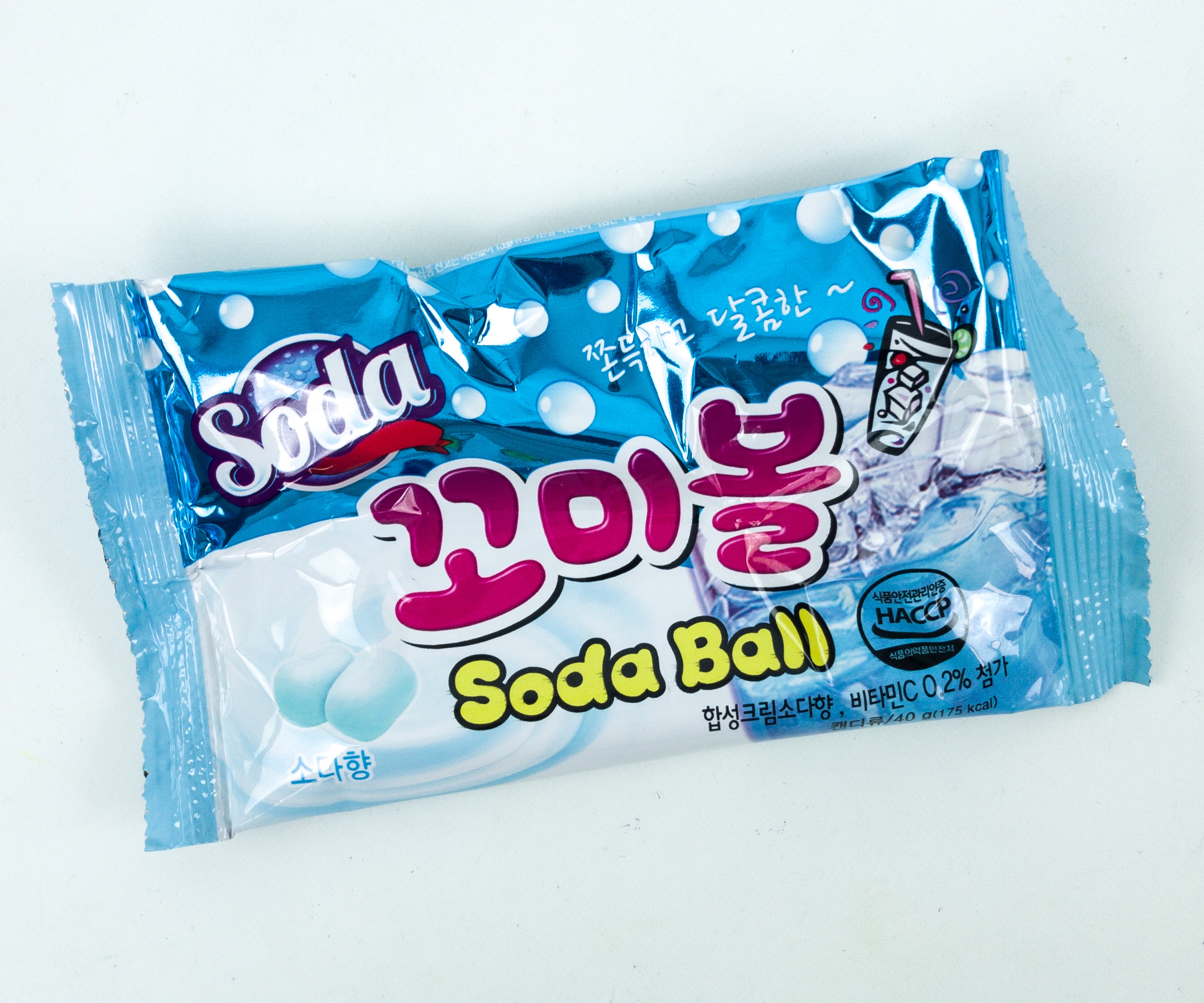 Soda Ball. It's a pack of semi-sphere chewy candies! They taste similar to the previous candies with soda flavor. Still, they're good and they make great on-the-go treats.
Getting a new Snack Fever box means new Korean snacks to love! This month, we got a bunch of limited edition goodies, as well as sweets, fruity treats, cool candies, and spicy munchies. The variety is really good, which is why we love this subscription so much. My favorite this month is the instant noodle snack, it reflects just how much Koreans love noodles and spicy sauces. Most of the snacks from this box are hard to find in our local stores, so the subscription is really worth it. If you want to know more about Korea through their snacks, then this subscription box would be a great way to start!
Have you tried Snack Fever?