Ipsy is a monthly beauty subscription. You get five makeup, beauty, skincare, and hair care items in a cute bag for $10 a month! It's the most popular subscription box and a great way to sample new colors and beauty brands.
There are many bag variations every month for Ipsy – login to your account to check out how-to videos and tips for your products. They've also started emailing out product information and tips from their influencers!
Ipsy August 2019 Glam Bag. This month, I got a textured dark olive green glam bag. It has a black zipper and a pull tab featuring the Ipsy logo.
The inner lining of the pouch is in dark pink. This bag is spacious enough to accommodate all my beauty stash.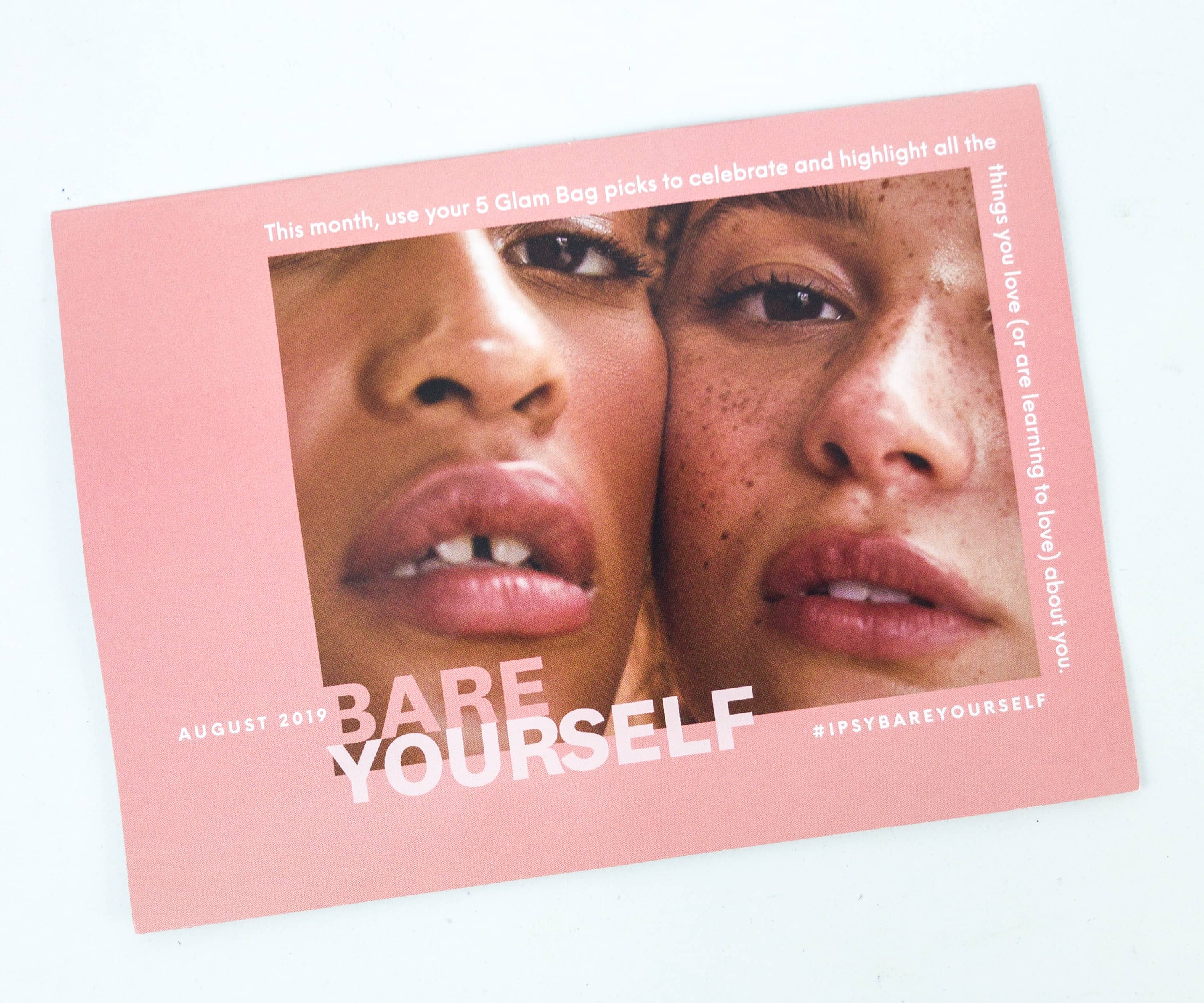 This month's theme is BARE YOURSELF!
Every box includes an information card. This month, it has an announcement from Ipsy.
On September 2nd you can add extra products to your September Glam Bag starting at just $3. But hurry! Supplies are limited and only available for 24 hours or until they sell out.
At the back is a list of all the items in the package, along with a description and a beauty tip.
There are lots of exciting items this month!
Everything in my August 2019 bag!
Estate Cosmetics Dew Me Baked Highlighter in Lit ($10) With a quality that gives high-end brands a run for their money, this highlight powder is easily one of my favorites this month. It's what I exactly need for days when I need that natural-looking glow.
This highlighter can be used on your cheekbones, brow bones, cupid's bow, on the tip of your nose, and other parts of your face that needs glow.
I got it in Lit, which is a pale gold shade. I love that it's light and subtle. If you want a more striking glow, there's no problem because it's also super buildable!
Space Case Cosmetics Eyeshadow in Intense Stargasm ($9) First of all, I love the colorful box packaging of this eyeshadow. The eyeshadow itself lived up to the excitement because it's so sparkly!
This eyeshadow is non-toxic, vegan, and cruelty-free!
I got the eyeshadow in Intense Stargasm, which has a silver-gray shimmer. It's well-pigmented and long-wearing without causing my skin to dry out.
Color Club Nail Polish in Ghosted ($8.50) If you're getting tired of the usual red shades, this one's for you. The shade name is Ghosted, a dusty reddish plum.
I love the color payoff and the coverage, plus the glossy finish. Just two coats and you're good to go!
Wander Beauty Lift Off Purifying And Brightening Peel Off Mask ($5.66) A healthy blend of fruits make up this peel-off mask! It includes anti-oxidant rich acai, rejuvenating mangosteen, vitamin C-rich blueberry, and hydrating goji berry. Another important ingredient is kaolin clay, which gets rid of dirt and absorbs excess oil. It's pretty easy to use, just apply a thin layer on your cleansed face and leave the product on for 10-15 minutes or until it becomes dry. The mask also works as a spot treatment. I love how my skin looked smoother and brighter after use!
Sunday Riley Tidal Brightening Enzyme Water Cream ($11.47) Sunday Riley is one of my trusted skincare brands. It's not the first time I'm trying out this water cream (it's one of my absolute fave products), but I'm happy to get it in my package! It's super hydrating and improves my complexion as well!
The water cream formula gets easily absorbed by the skin. You can even use it on top of makeup to keep your look radiant. Key ingredients include tamarind extract and hyaluronic acid.
Various skincare concerns and makeup needs were covered by this month's Ipsy! I got a brightening mask and a hydrating cream, plus a highlighter and an eyeshadow that complement each other. Also included is a nail polish in a pretty shade. Everything is usable, especially if you have dry skin like me and if you love shimmery makeup looks. It feels satisfying getting all these wonderful items for just $10 a month! Before you delve into bigger beauty subscriptions, this makes a great starting point. It's also ideal if you simply want to discover new brands and outstanding products without breaking the bank.
What did you get in your Ipsy this month?