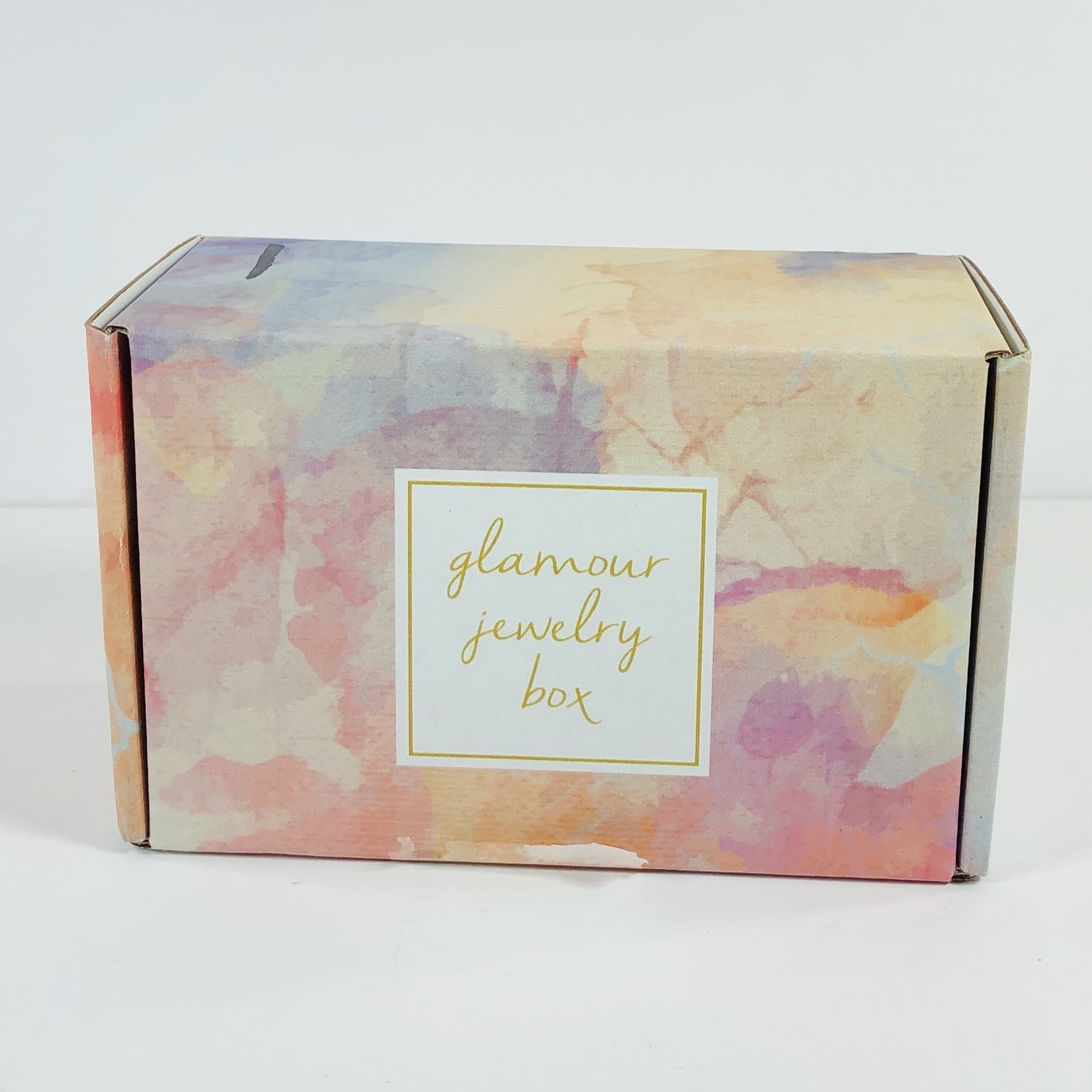 Glamour Jewelry Box is a monthly subscription box that sends 3 trendy jewelry pieces every month. Items sent may include necklaces, rings, bracelets, or earrings, and all for you to keep! Monthly boxes are $29.95 and there will be a slight increase of 50¢ soon thanks to increased shipping prices.
3 trendy boutique jewelry pieces every month
Retail Value $75+ in every Glamour Jewelry Box!!!
Items include necklaces, bracelets, earrings, or rings
The ideal gift for the next birthday, anniversary, graduation, holiday or just because!
DEAL: Get 10% off your first box! Use coupon code CJ10.
My items were placed in a soft fabric pouch that was snuggled on a bed of white paper squiggles.
I received a card that directed me to the Glamour Jewelry Box Instagram page. The card had info describing my box and its contents. Please keep in mind that the values are given by Glamour Jewelry Box and I cannot find them in their online shop, although they do have a few items available there. Also, there is nothing that says what the jewelry is made of but I wouldn't expect real gold or diamonds. It's a costume jewelry box.
The soft bag is a great way to keep the pieces safe, especially if you travel or maybe want to change pieces before going to an after-work event.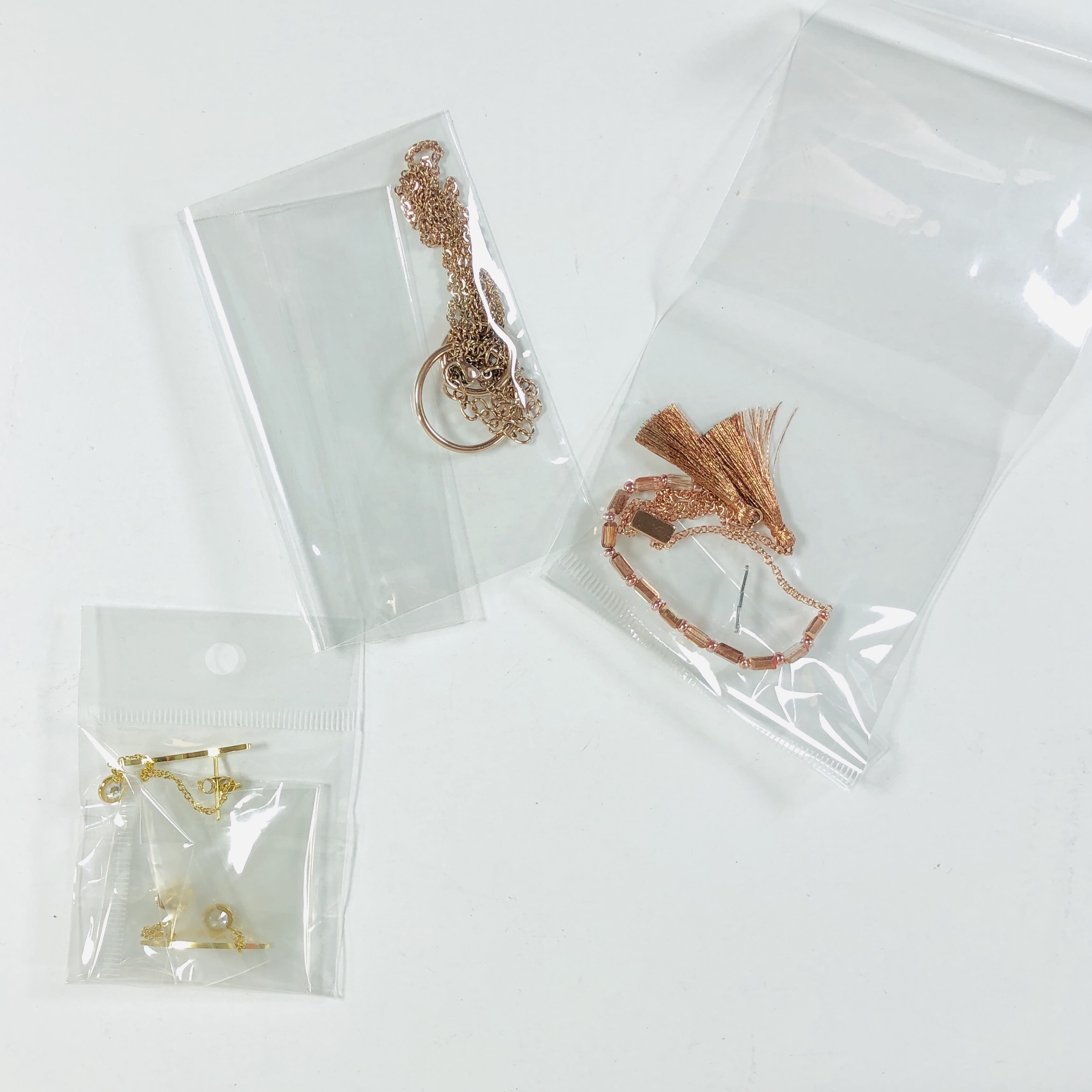 Each piece was in a plastic bag to keep them from tangling in transit.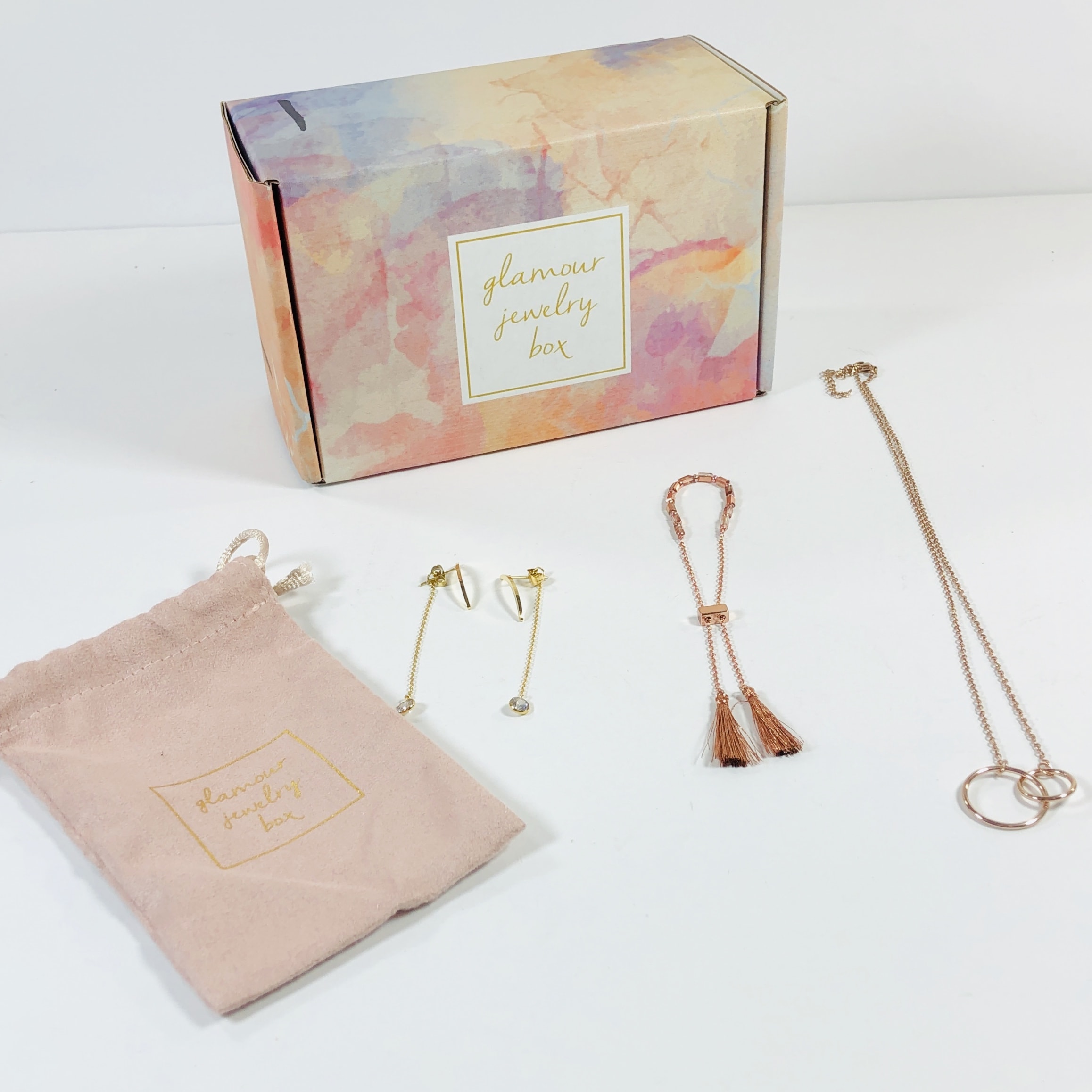 Everything in my box!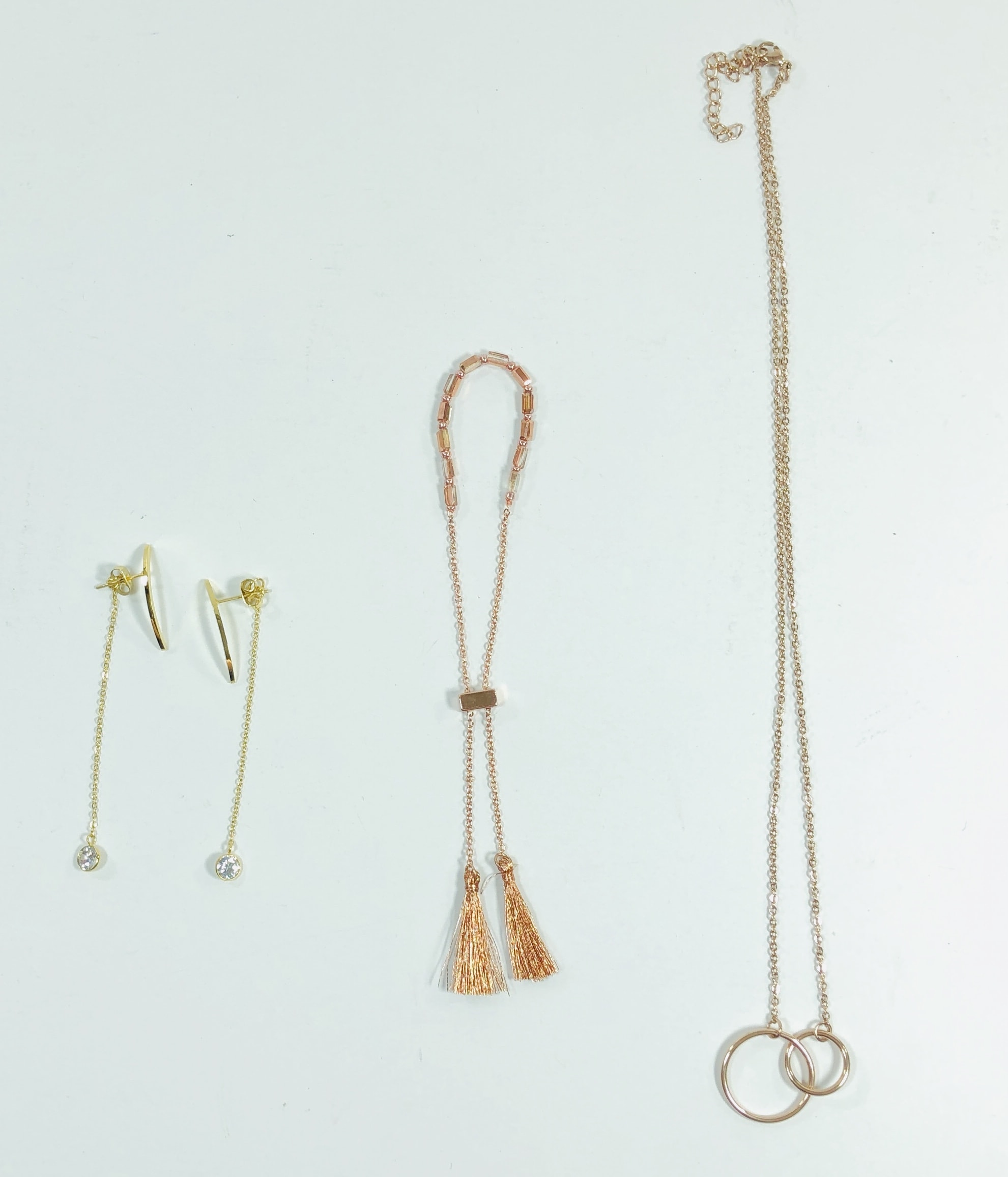 When you sign up you can choose the types of colors you prefer: either rose gold/gold, silver, or a mix. I went with "mix". I was surprised to see three different variations of gold in my July box. Also, your box may differ based on the answers you provide at sign up.
Interlocking Circles Necklace ($28) Glamour Jewelry Box called this necklace an "infinity" necklace on their Instagram page but I think the name given on the card is more accurate.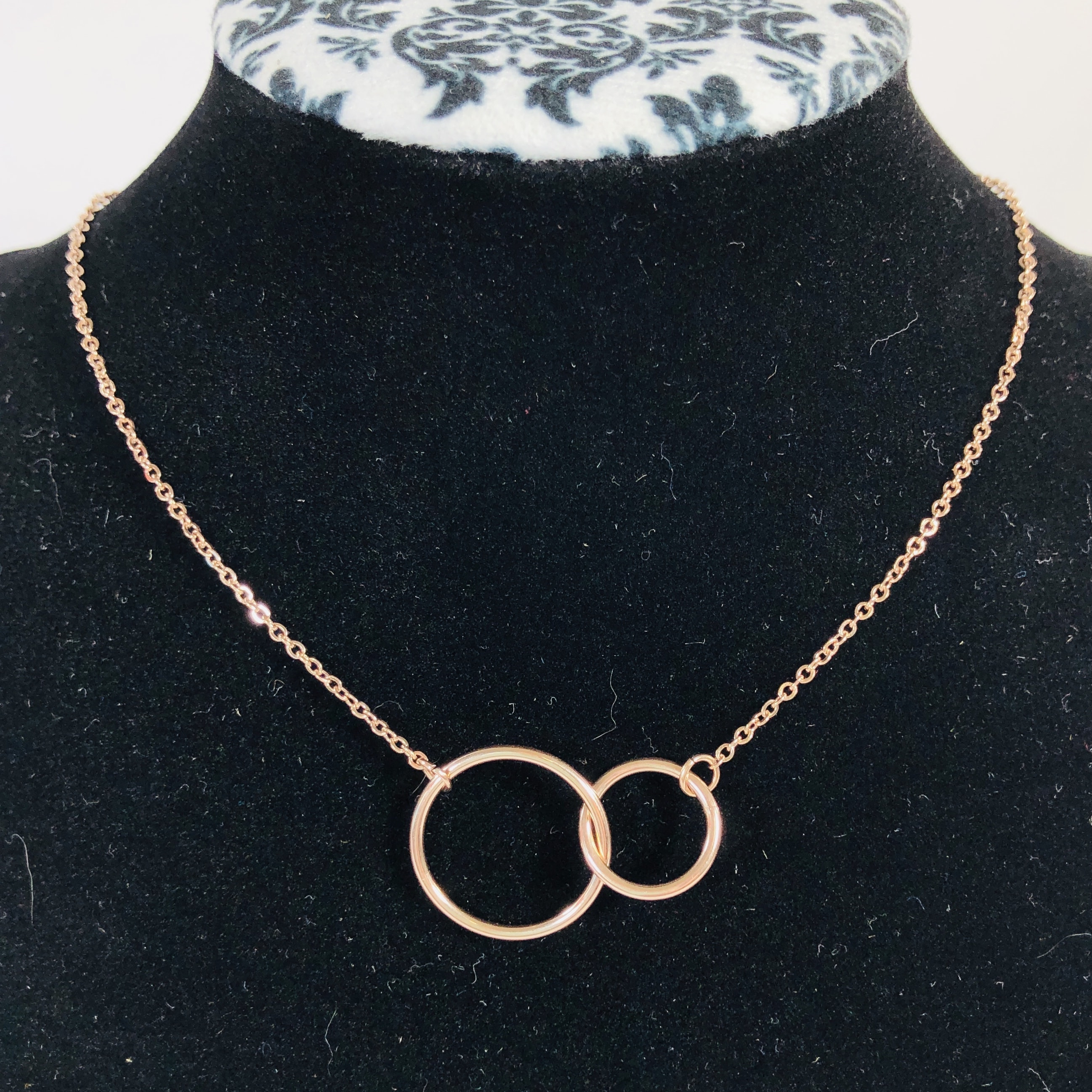 It features two interlocking gold-tone bands and the necklace measures about 19″ from one end to the other and has a 2″ extender. The larger hoop is about 3/4″ wide while the smaller one is about 1/2″ wide. The color is somewhere in between gold and rose gold and I love this style, so simple yet classy.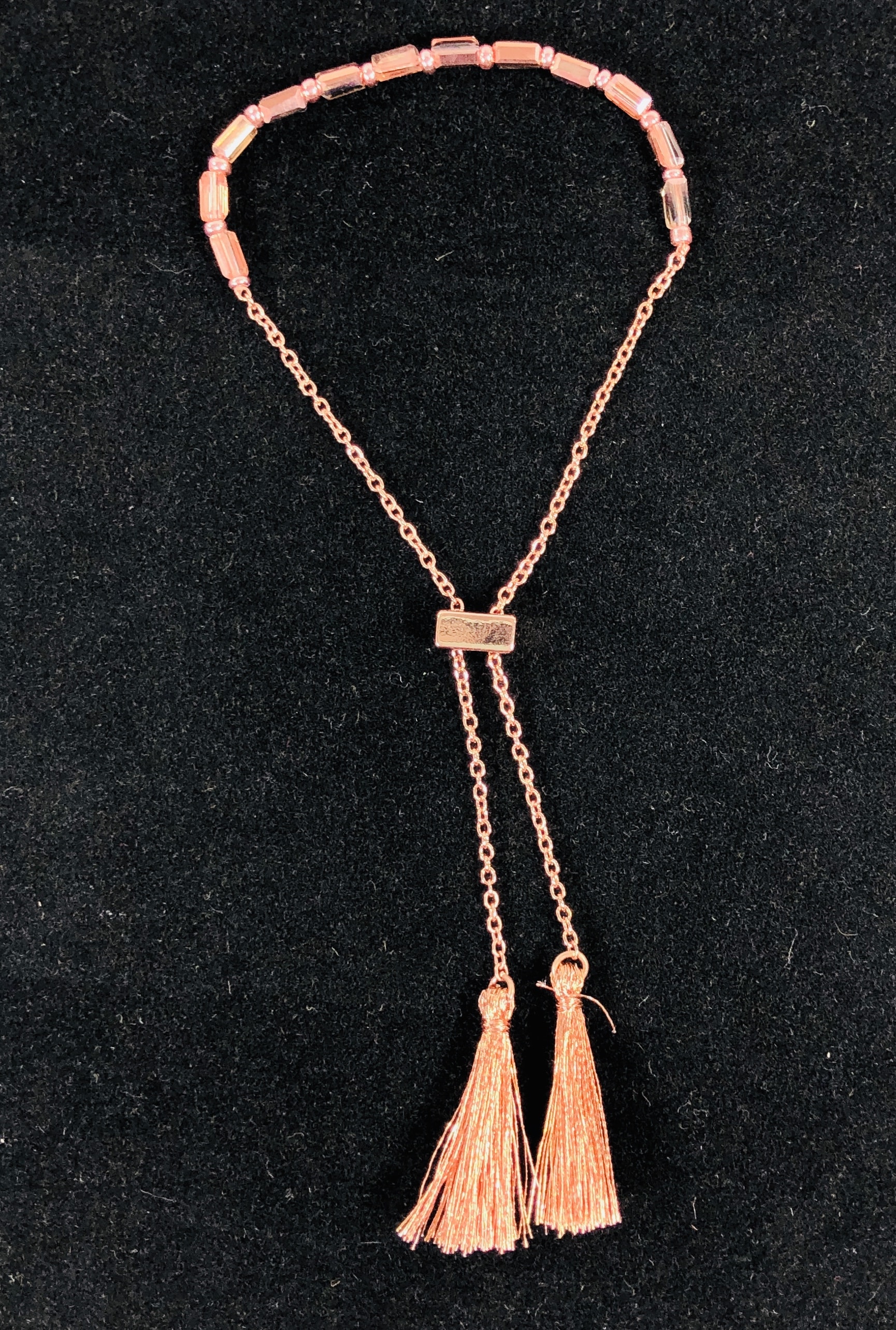 Tassel Beaded Bracelet ($26) is definitely on the pinkish side of rose gold. It has beads and two dangly tassels.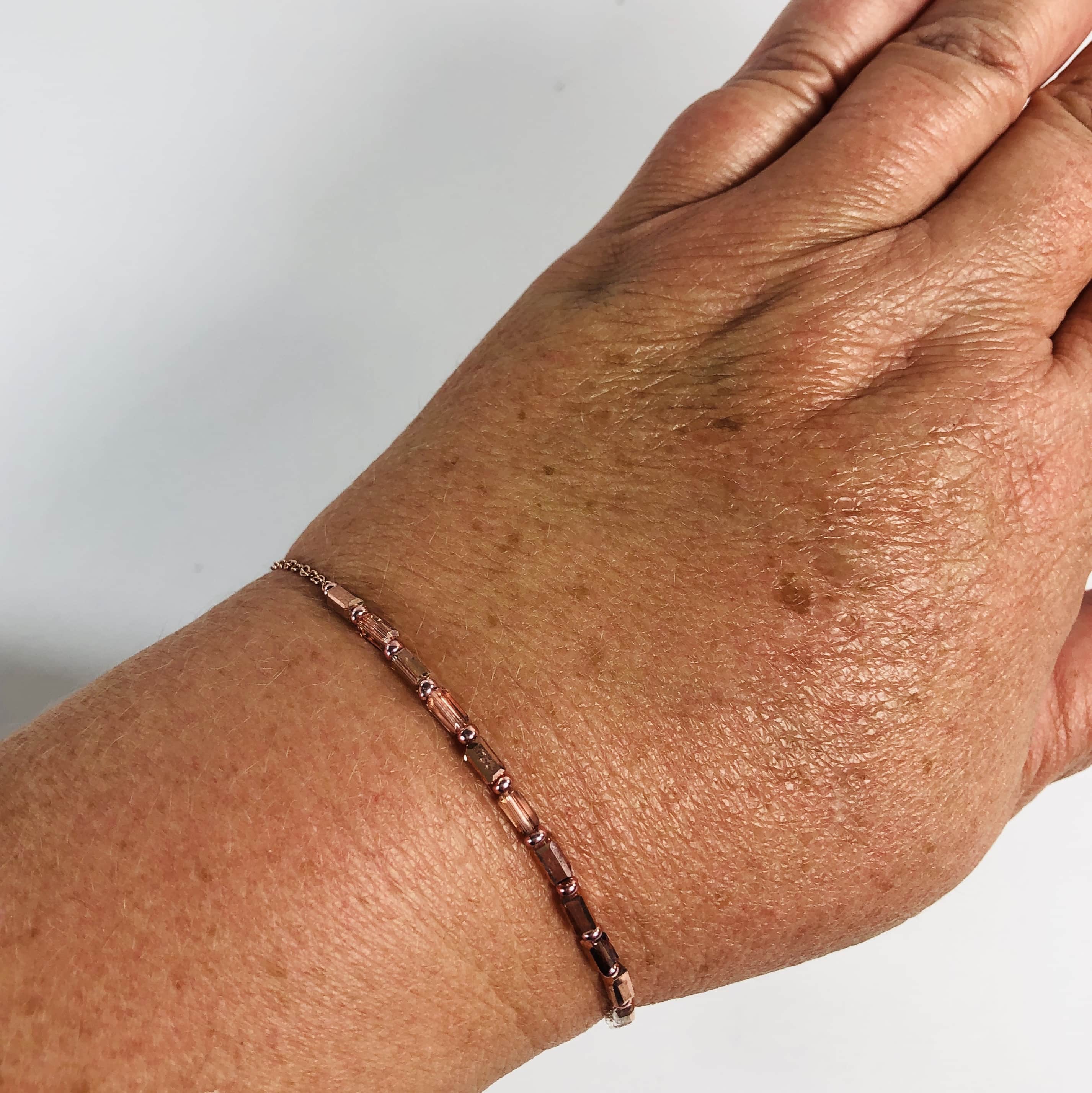 Here are the beads on the front.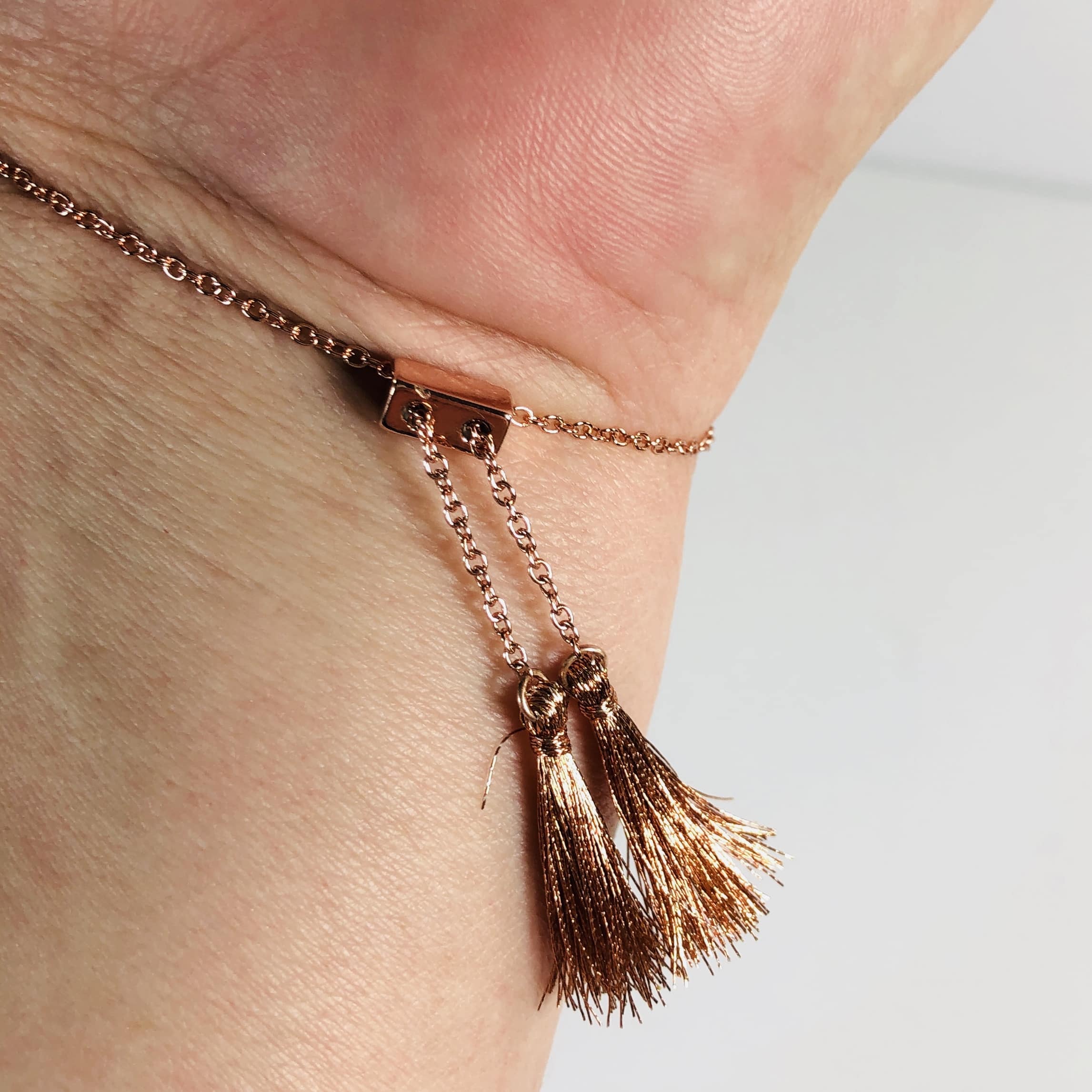 The tassels dangle under the wrist. It almost didn't fit over my hand, even when the adjuster was at its loosest but I made it work. You can adjust it to fit once on your wrist.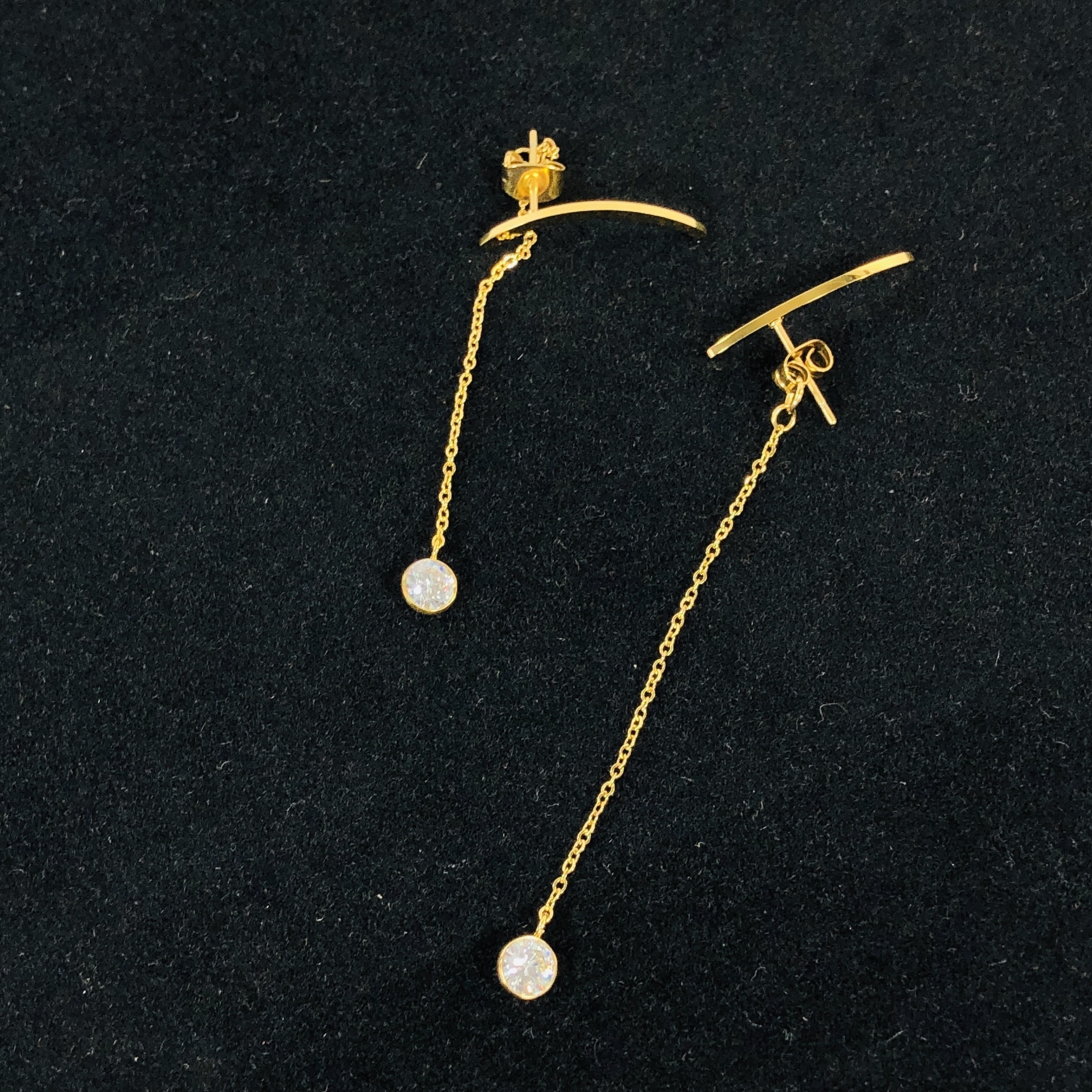 Bar & Drop Earrings ($22) I think these earrings look the most like real gold out of the three items in this month's box. It's hard to tell by my pictures (and my ears aren't pierced so I can't model them) but they have a crescent shape that has the post and the dangly jewels are actually attached to the backing. The dangles are about 2.5″ long.
Although my pieces didn't really coordinate this month, I'm not disappointed about it, it is just different from past boxes and may be how the items will come in the future. Each piece seems well made and they were all lightweight. My favorite item has to be the necklace, I think it will go well with a variety of outfits. I like that Glamour Jewelry Box sends such good-looking items and want to mention that almost every box I have received has been a combo of earrings, necklace, and bracelet. I cannot recall having ever received a ring and FYI the earrings are always for pierced ears, they don't offer a clip on option.
Have you tried Glamour Jewelry Box yet? What do you think of this month's box?