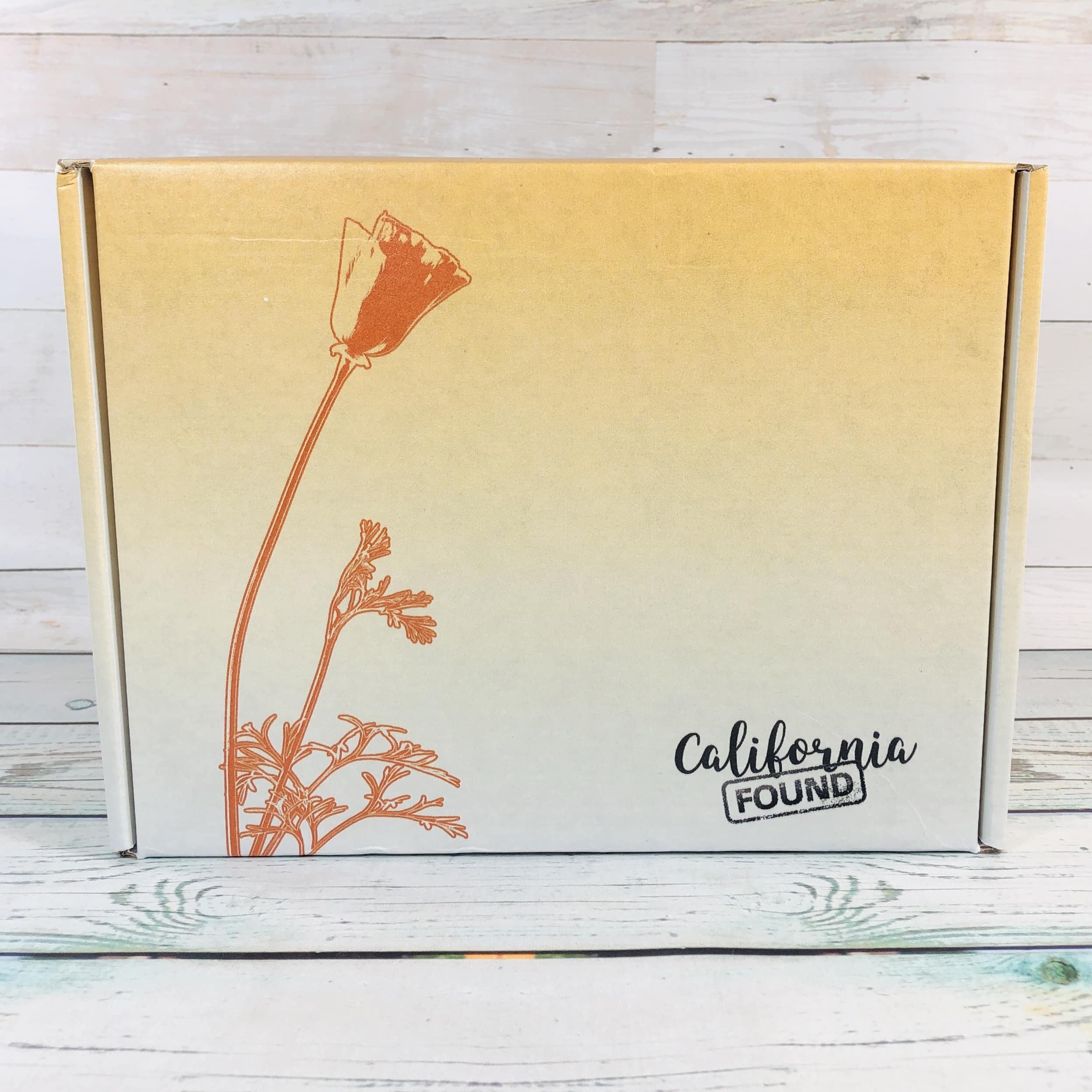 California Found is an awesome monthly subscription box that delivers the best of The Golden State, directly to your mailbox! Each box is $49, but has a value of $90+! What will you find in your box?
Once a month, our subscribers experience the California lifestyle through a box filled to the brim with natural spa & beauty products, locally sourced gourmet treats, beautifully crafted home goods, and infinitely wearable jewelry. Each box tells the story of five to seven California makers through their products and an individual notecard dedicated to each one. Every beautifully packaged delivery reflects the laid back, stylish, uniquely chic attitude that is California.
DEAL: Save 20% off your first box with coupon code HSGET20.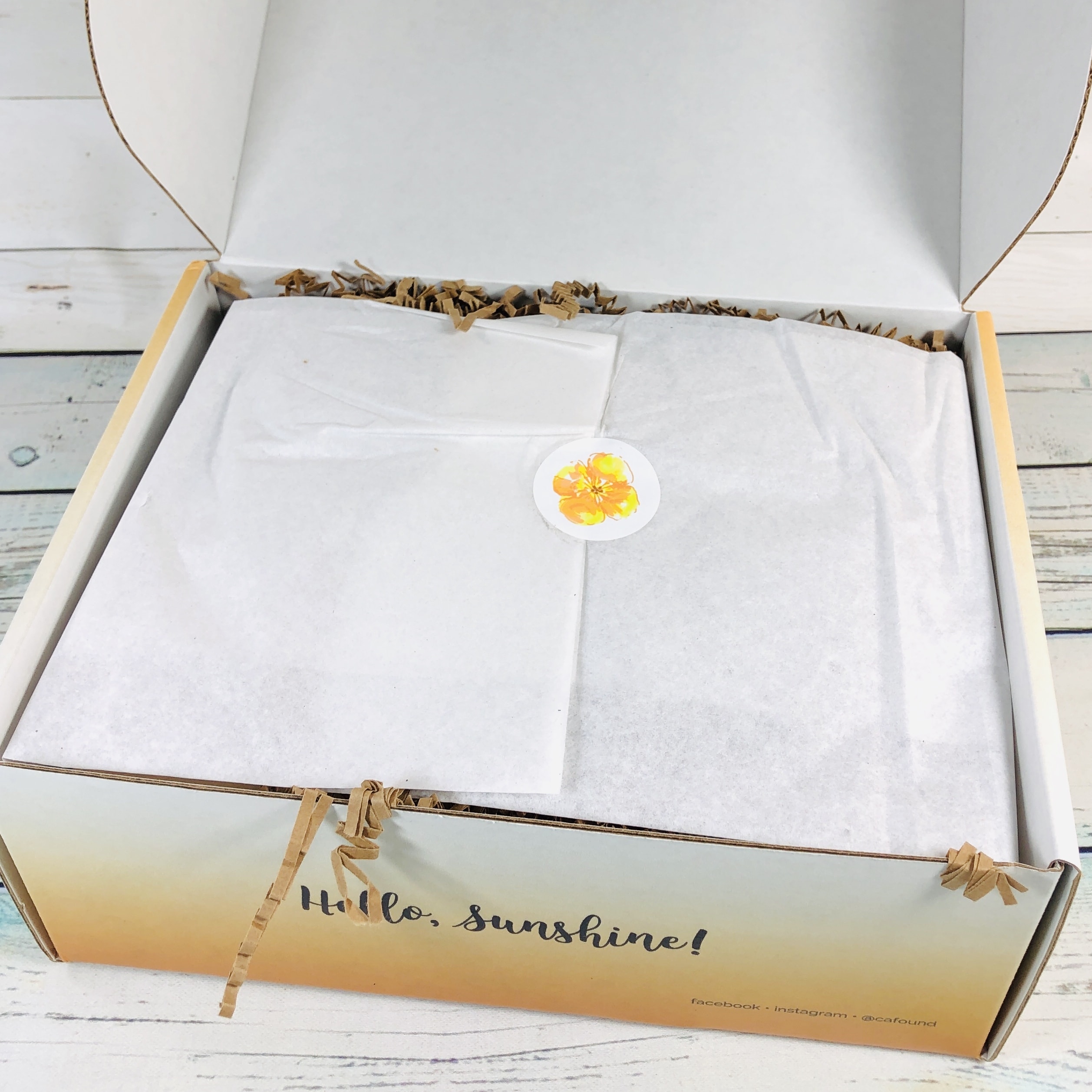 I love opening this box, it always looks so well put together! The box itself got a makeover recently. You can see the state flower, the Golden Poppy, on the outside of the box (see previous picture).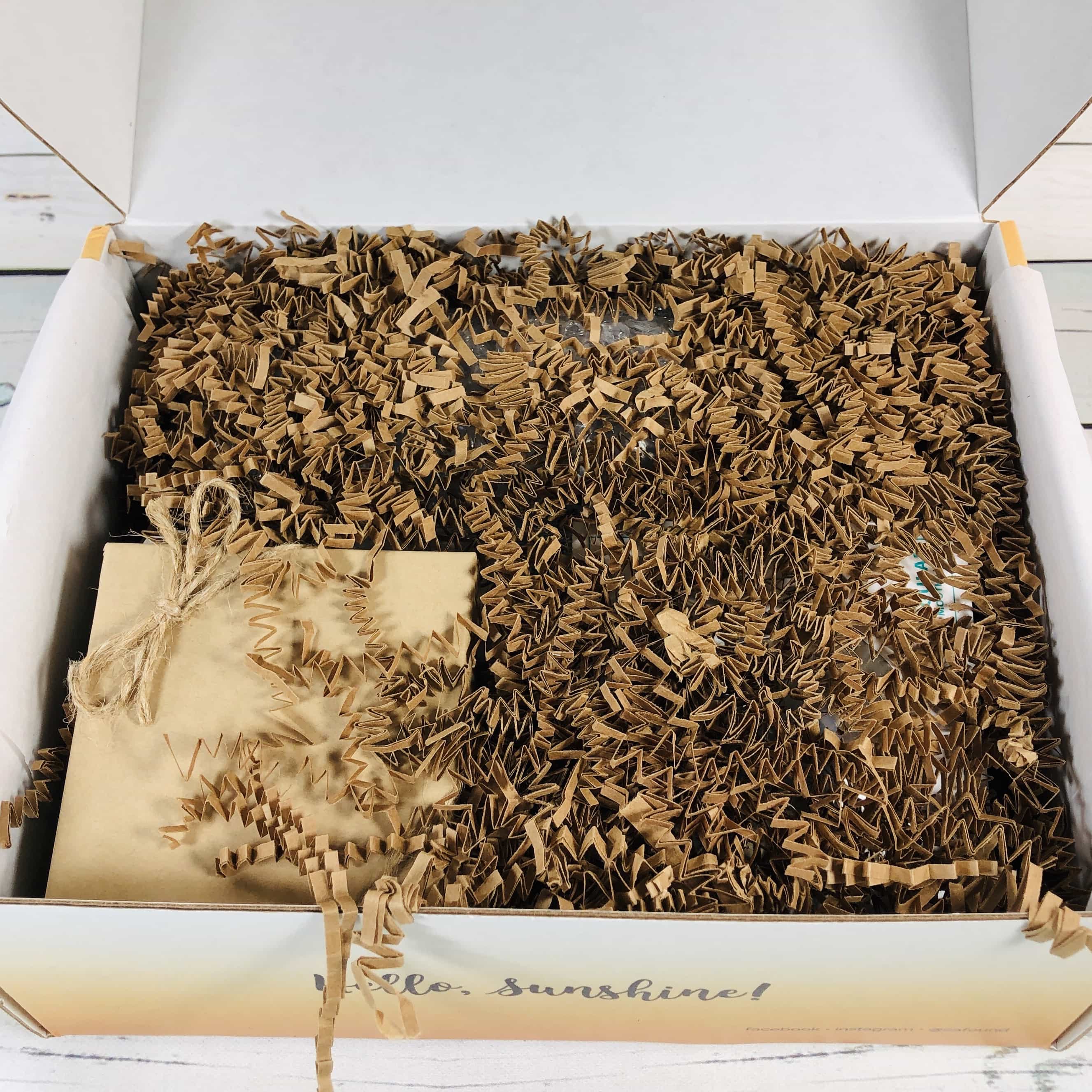 My items were wrapped in tissue paper that was sealed with a sticker and the items were cushioned in shredded paper.
Some of the items had additional packaging to keep them safe during transit.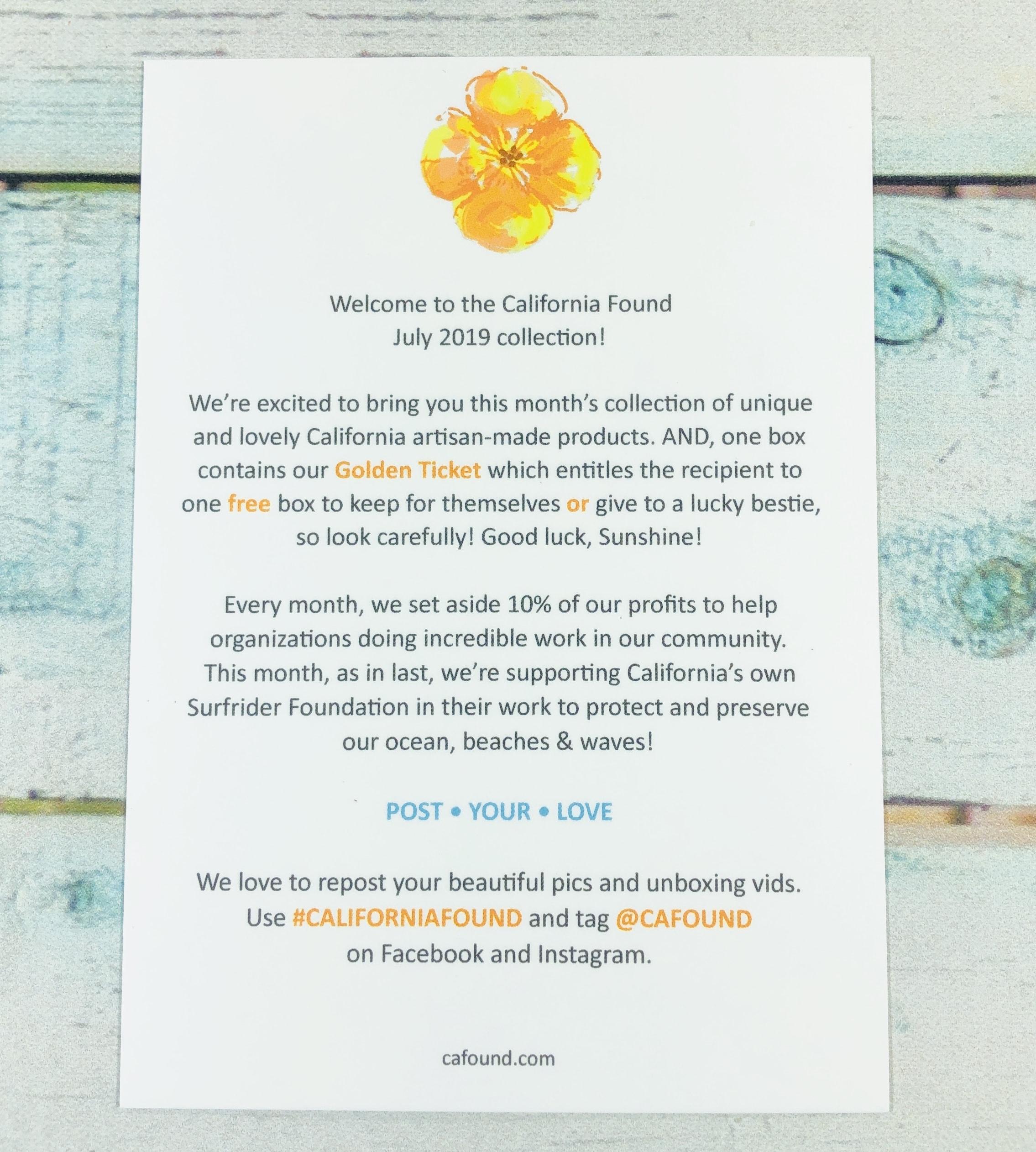 I found a set of cards – one with an introduction to the current box, and one for each of the vendors featured in this month's box. The bundle was secured with seeded paper.
California Found has The Golden Ticket, which is perfect for a box coming from The Golden State! One box each month will contain a special ticket that will entitle the subscriber to a free box for themselves or for a friend. Also, California Found gives 10% of their profits to charitable organizations and this month proceeds will go to the Surfrider Foundation, which works to help preserve the ocean, waves, and beaches of the world. The beach is my happy place so I really appreciate their efforts!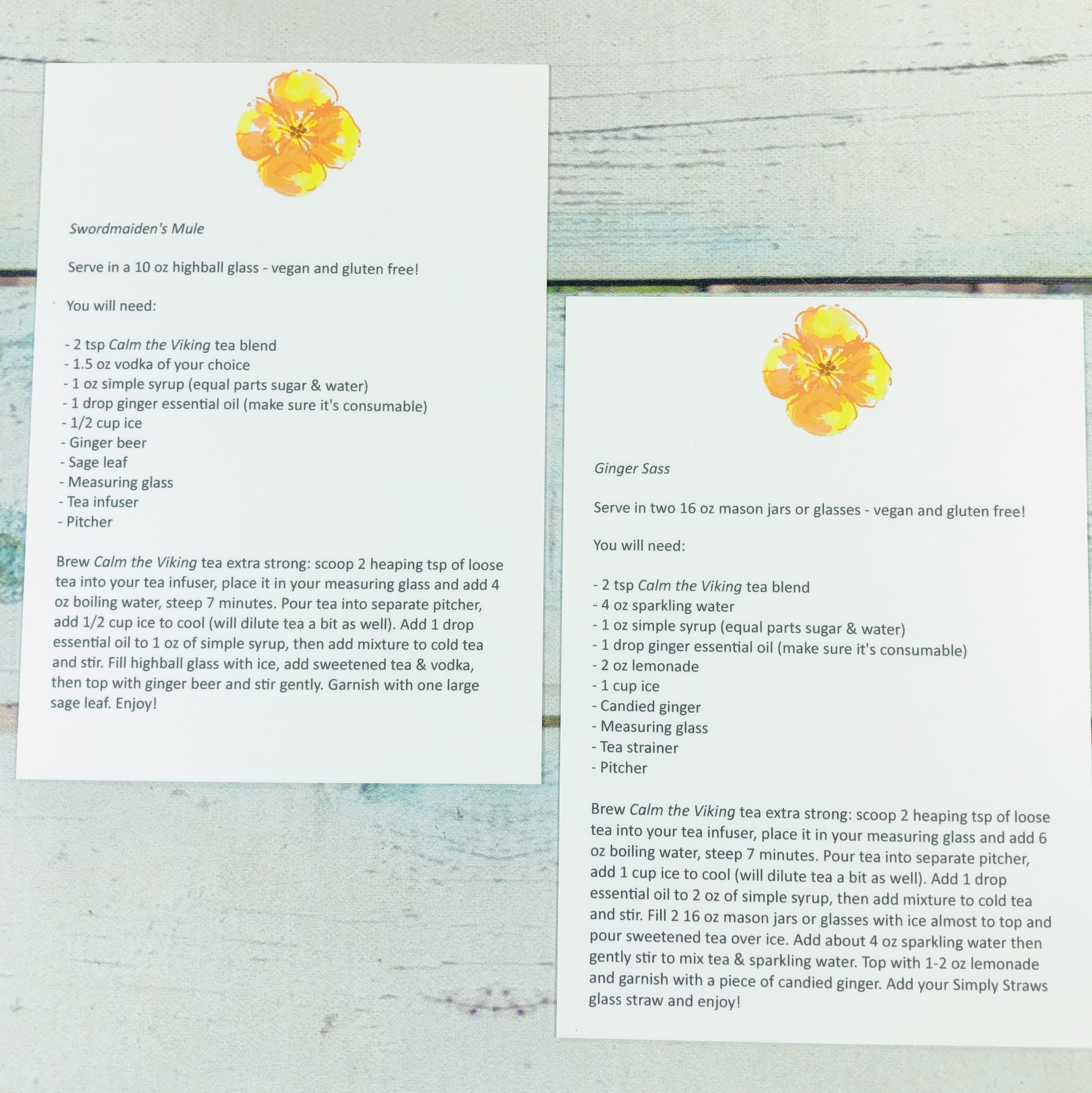 This is the first time I've received bonus cards! These are drink recipes using several of the items from the box!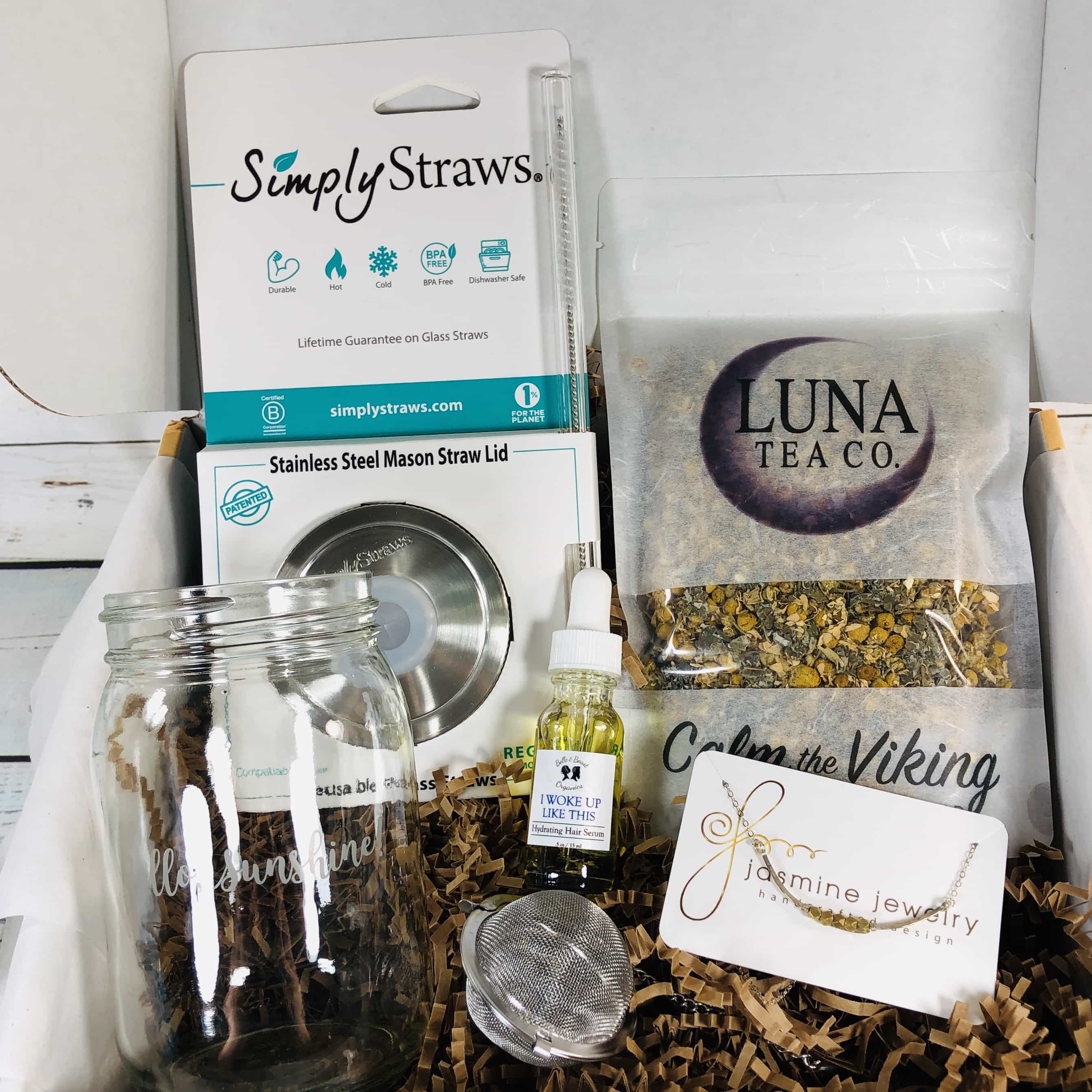 Everything in my July 2019 California Found box!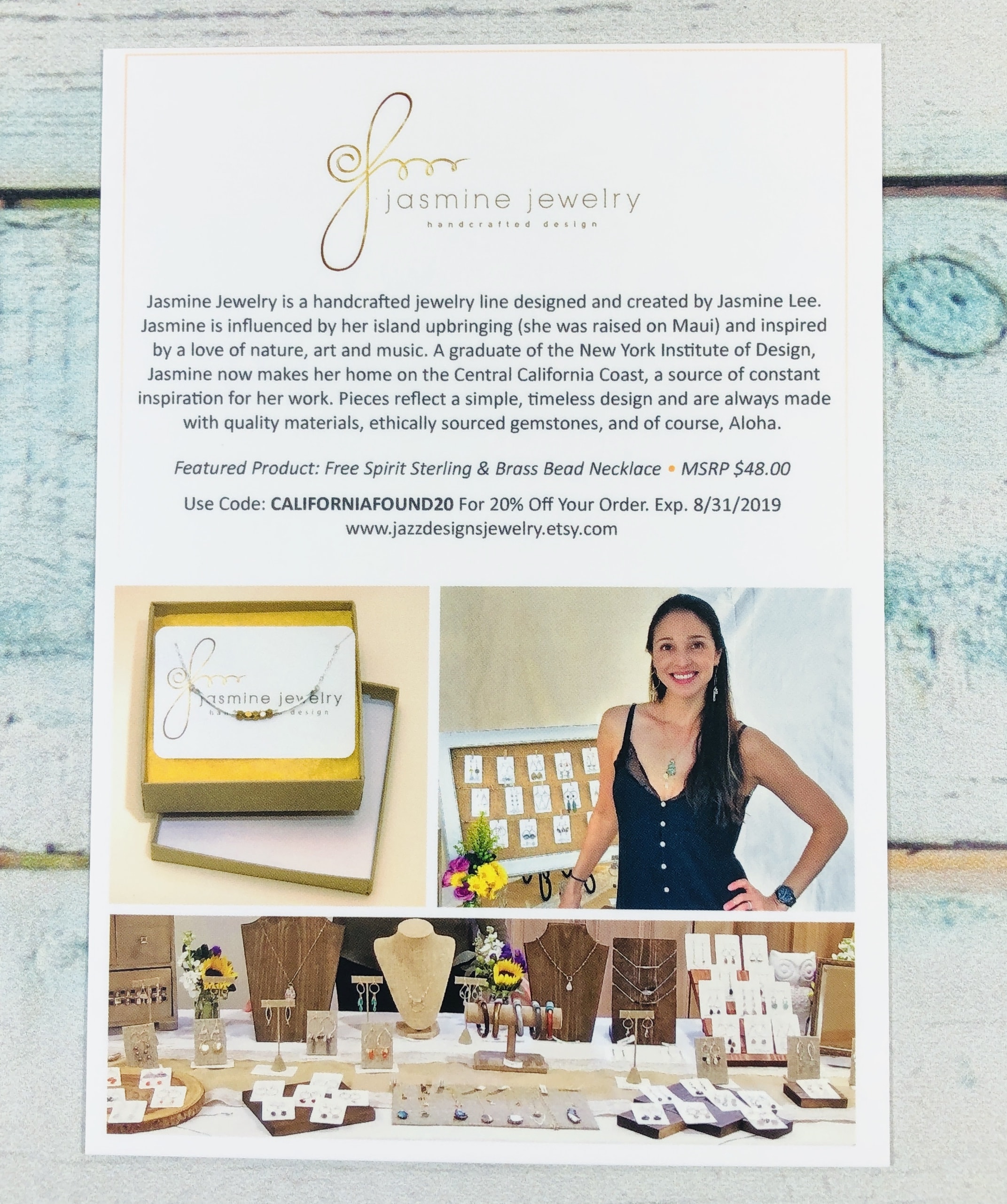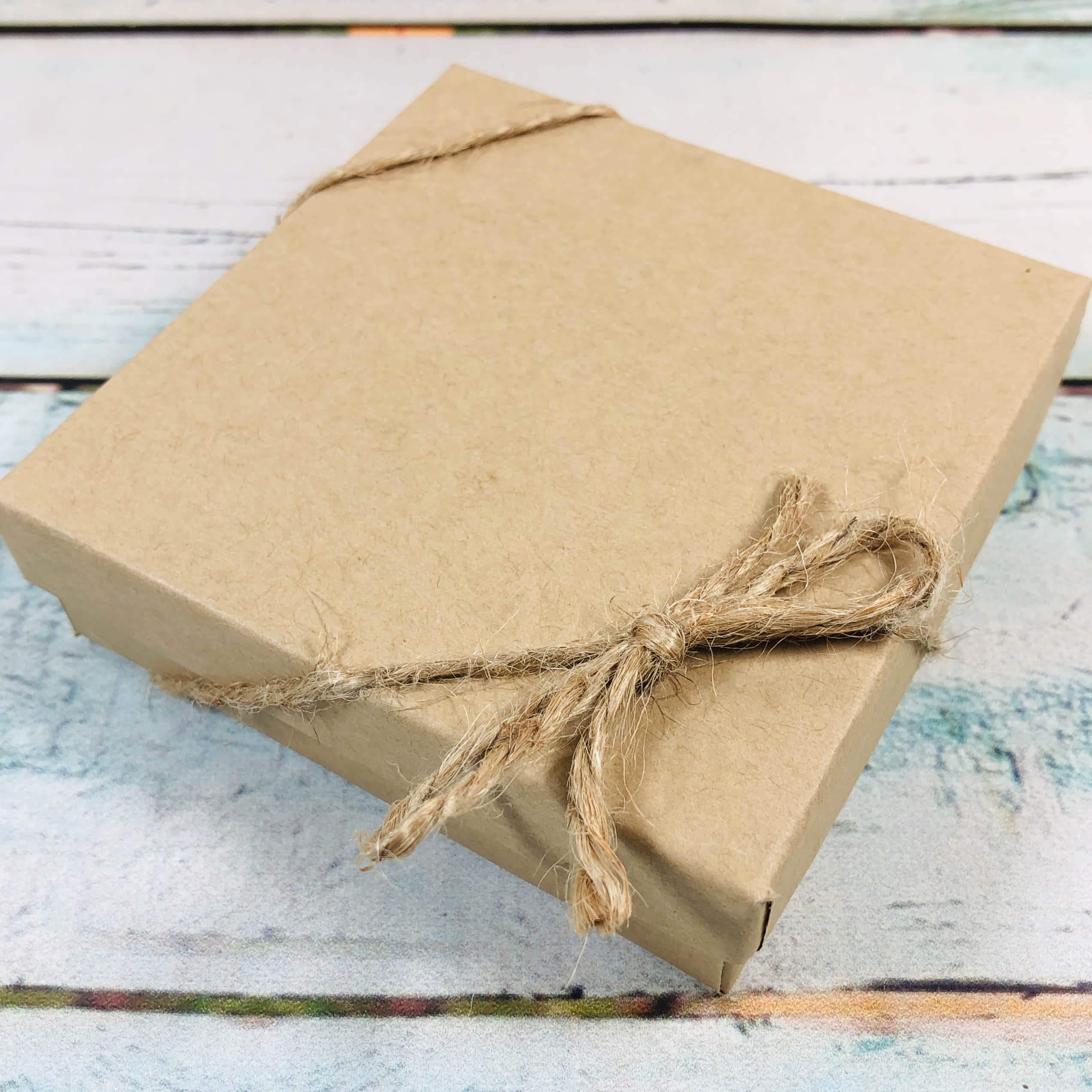 Our first item came in it's own little gift box.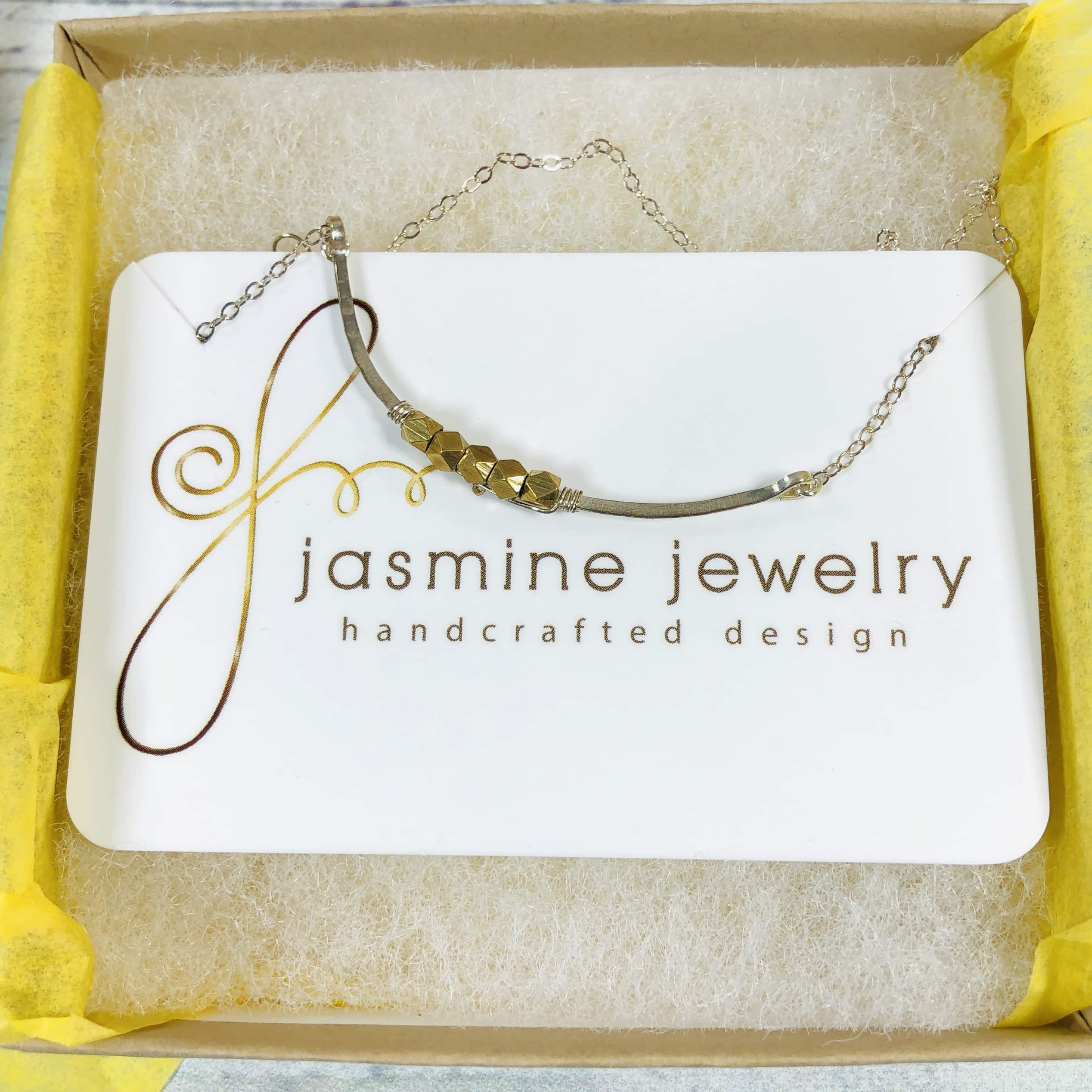 Jasmine Jewelry Free Spirit Sterling & Brass Bead Necklace ($48) If you are looking for laid-back boho jewelry then check out this Etsy vendor! I think all of her designs involve crystals of some sort.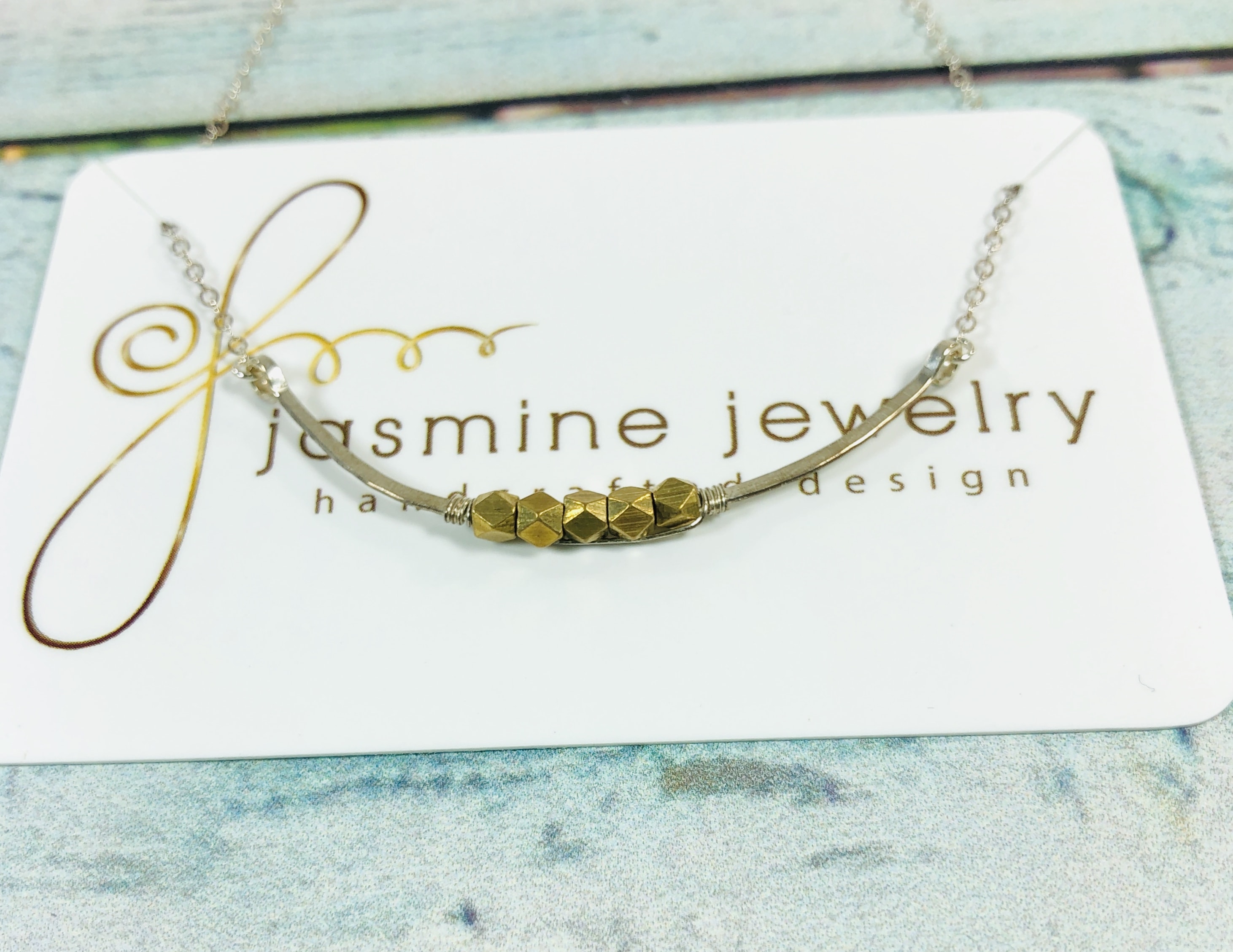 There is a hammered metal bar on a sterling silver chain (which has a super cool magnetic closure). There are faceted brass beads that move very little.
The necklace is about 15″ from one end to the other so it fits me like a choker.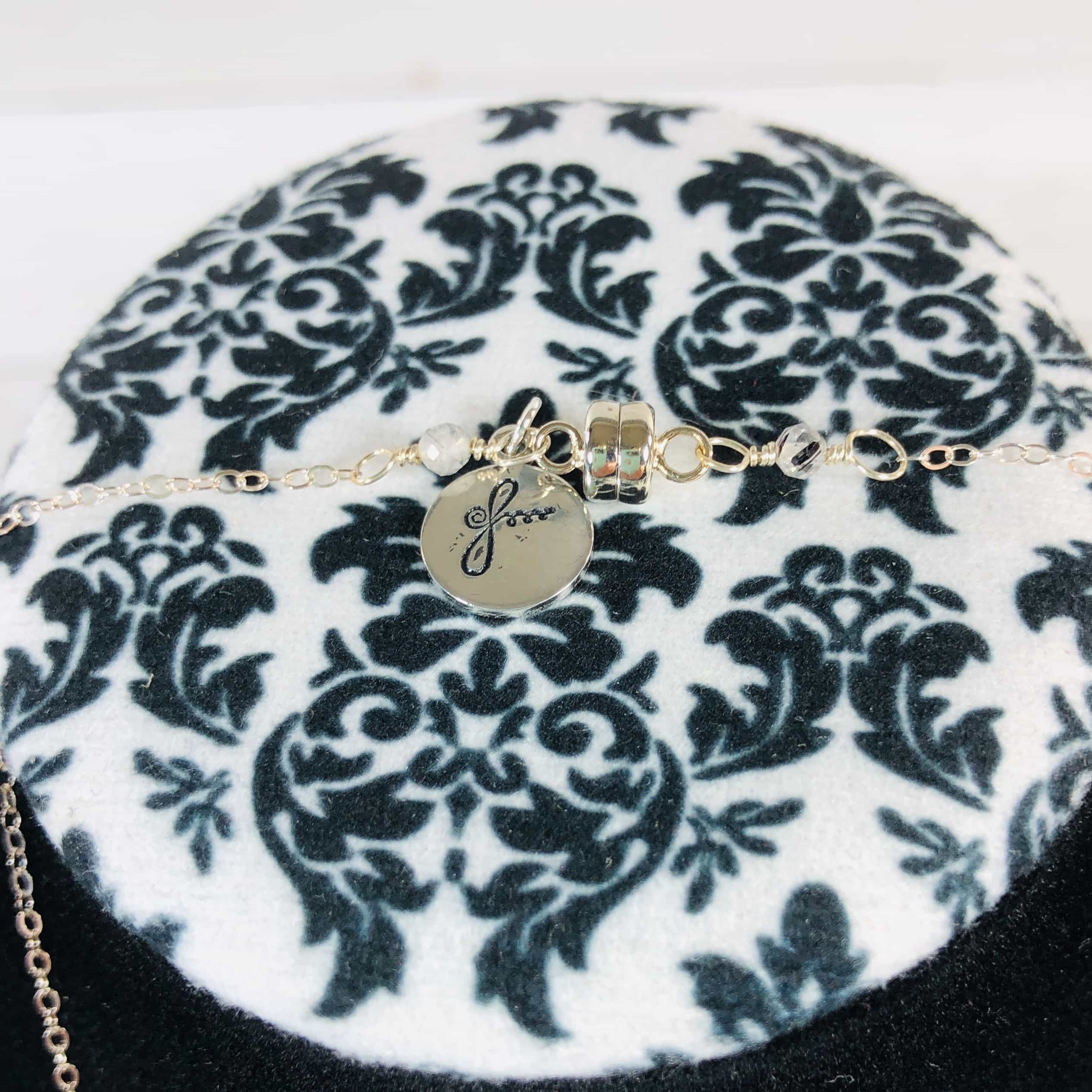 Here you can see the quartz stones and magnetic closure, plus a cute little charm.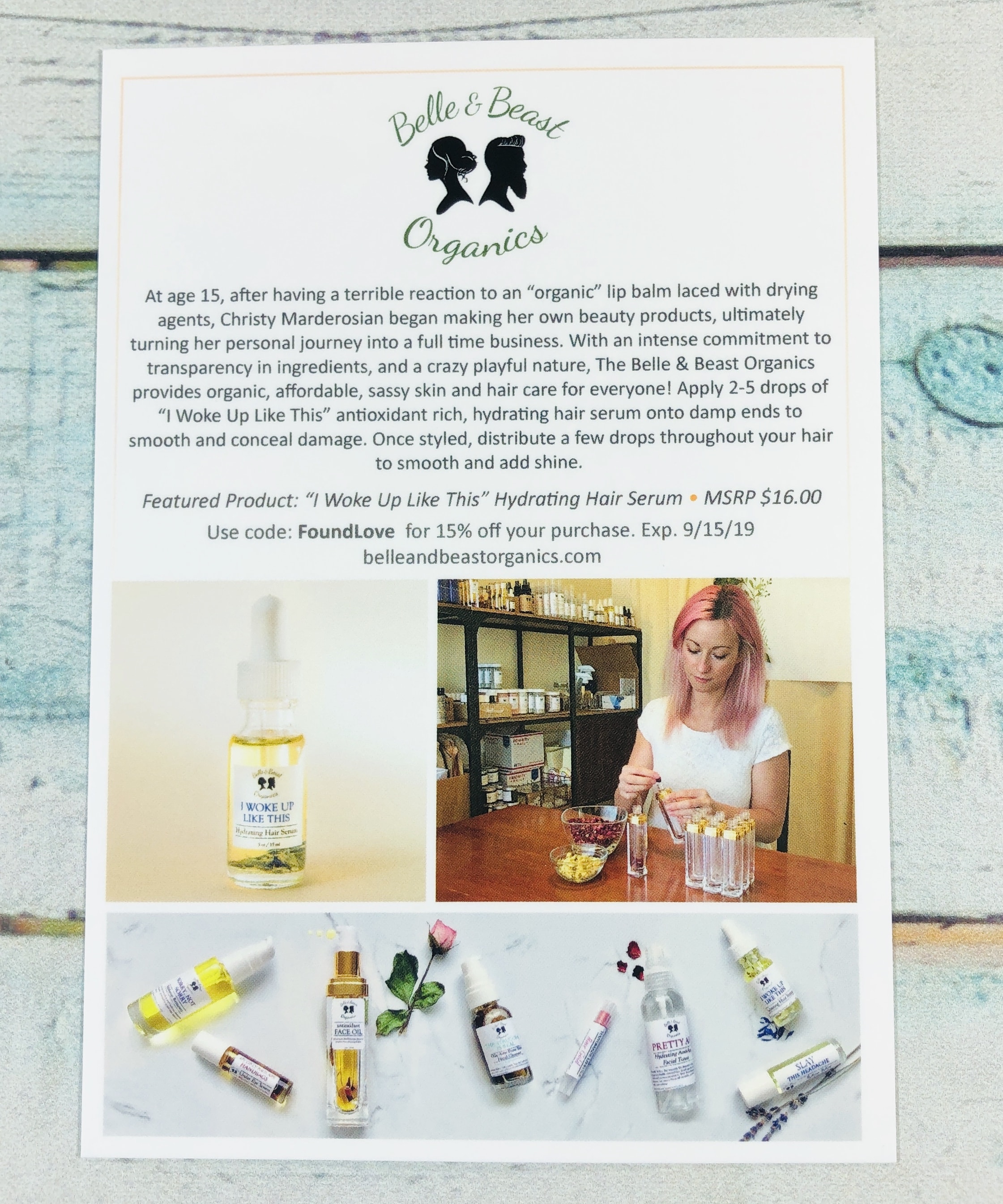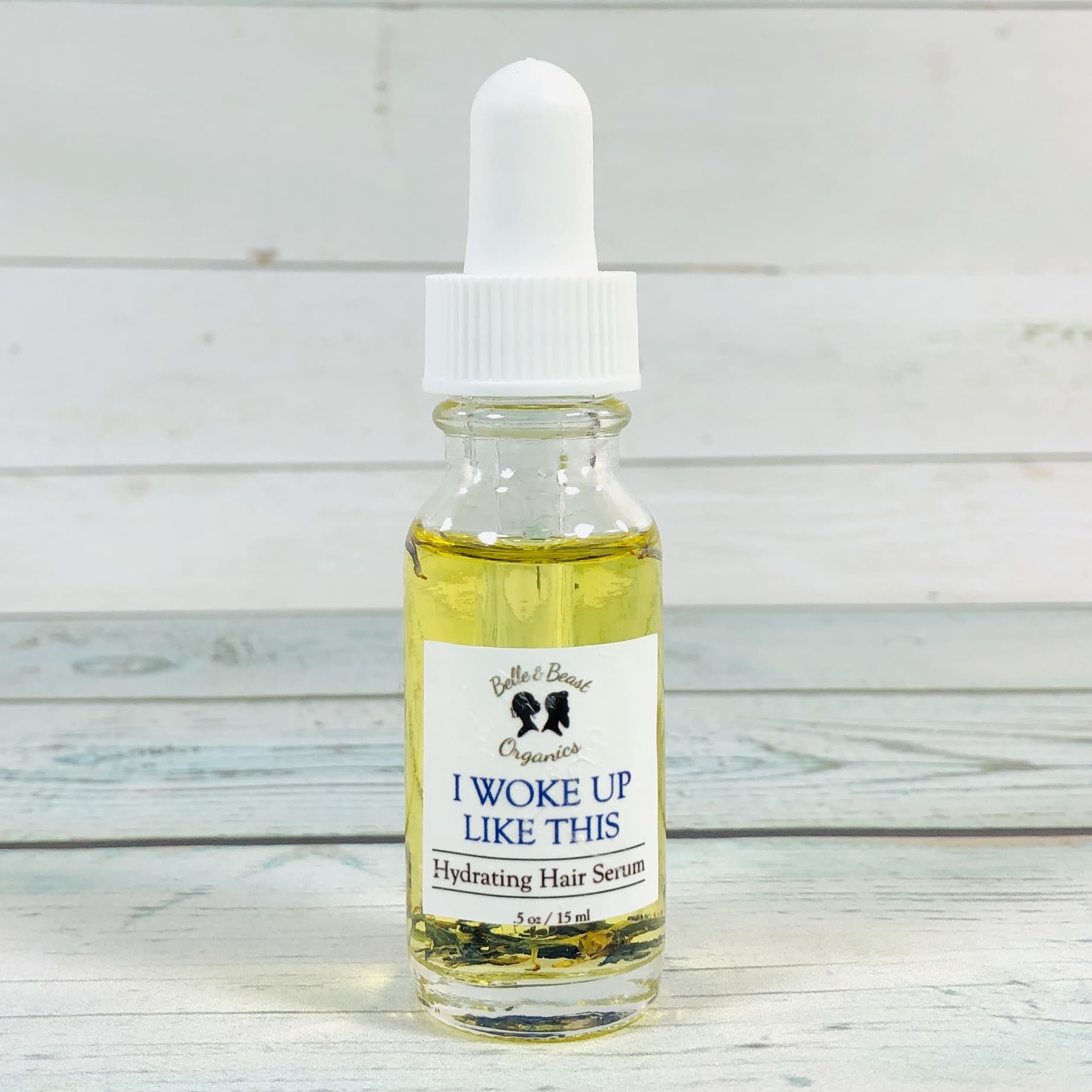 Belle & Beast Organics "I Woke Up Like This" Hydrating Hair Serum ($16) My daughter was so happy to have this hair serum!
The ingredients are natural and include sunflower and jojoba oils plus essential oils. Just rub a few drops between palms and then apply to hair, either before styling to detangle or afterwards to add shine. It has a light citrus and sweet herb scent that most closely resembles lemon to my nose.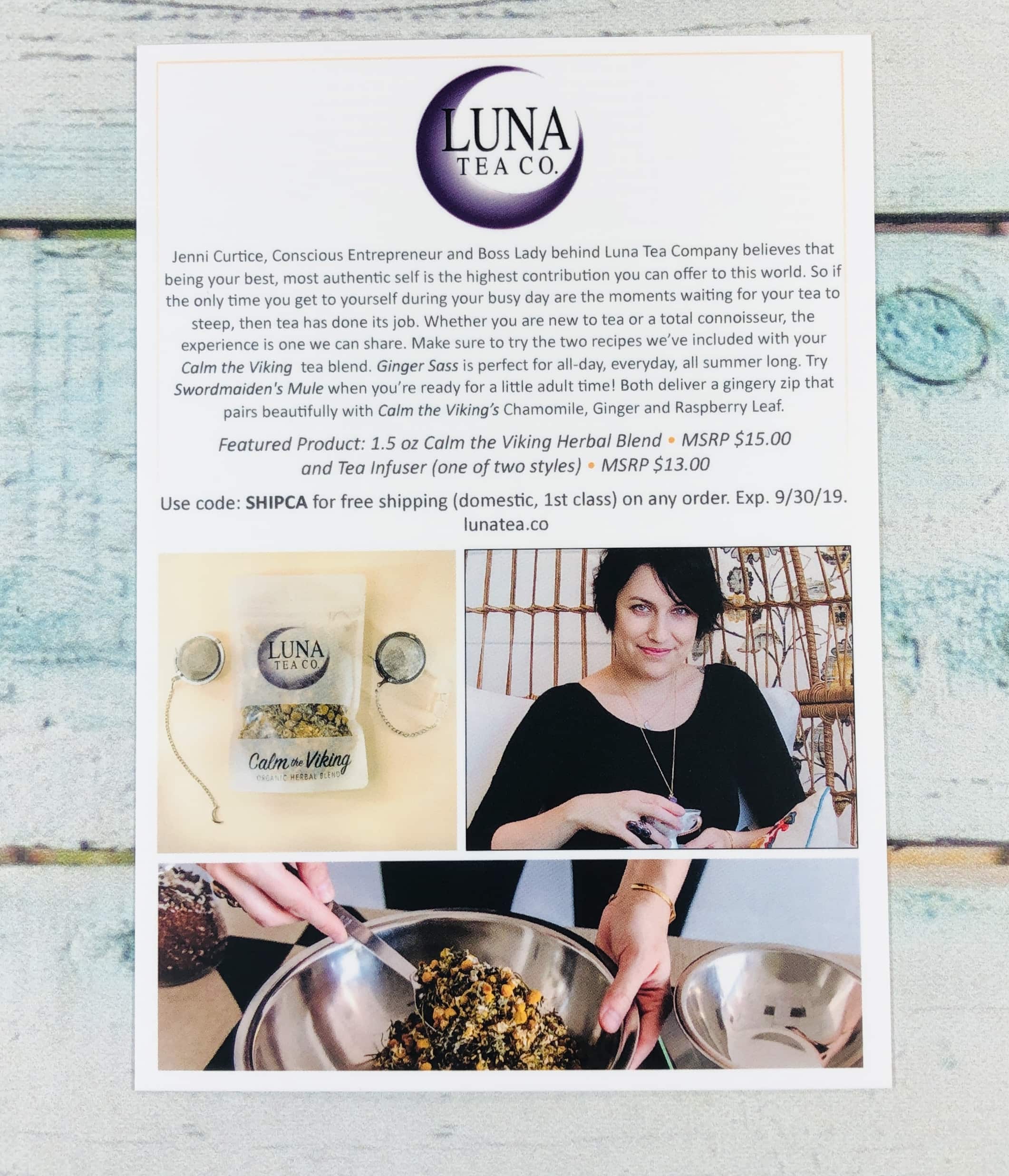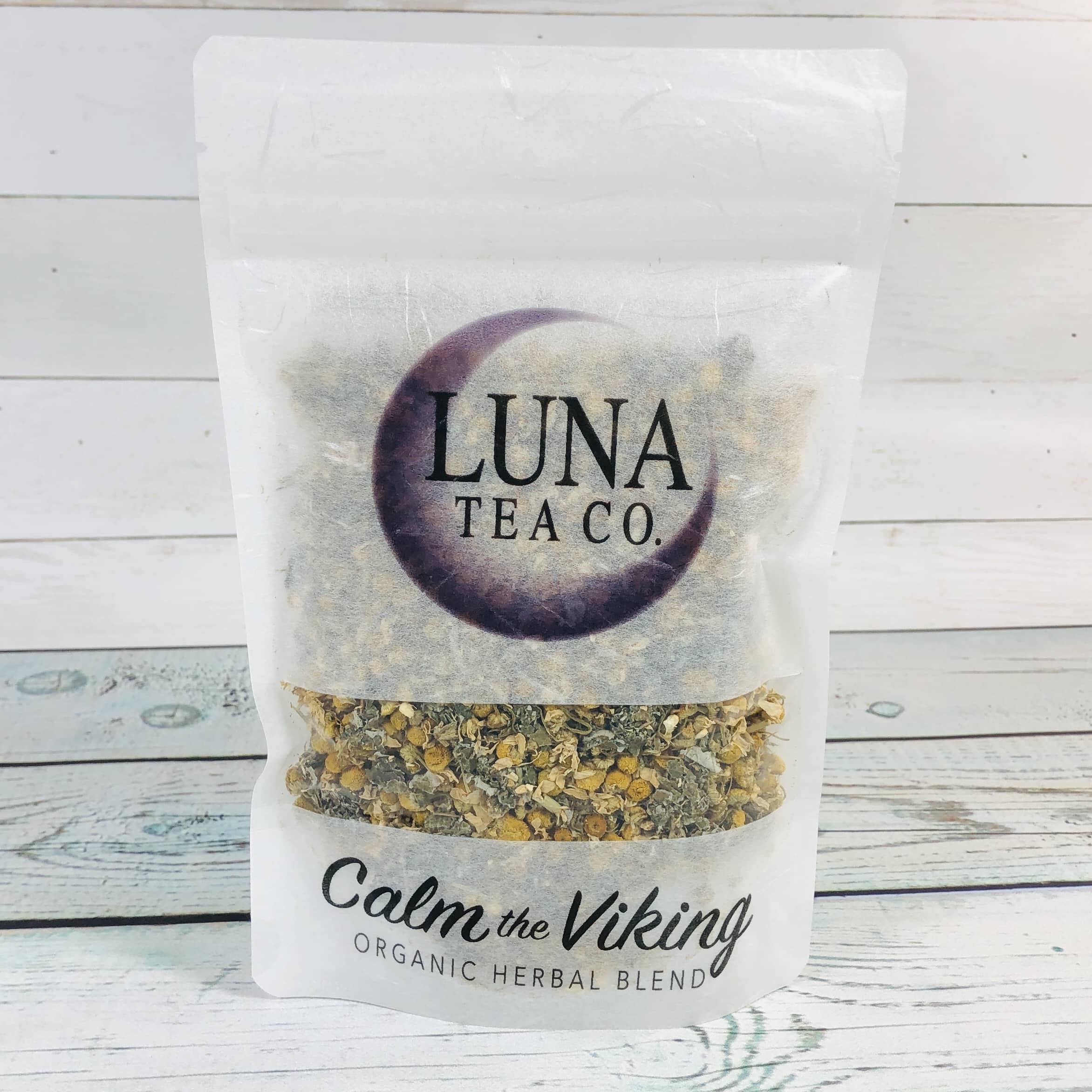 Luna Tea Co. Calm The Viking Herbal Blend ($15) I have tried many teas from Luna Tea Co. over the past few years and when I visited the site for this review I learned that the owner is moving in another direction and has closed her tea business.
This herbal blend is made with chamomile, raspberry leaf, and ginger.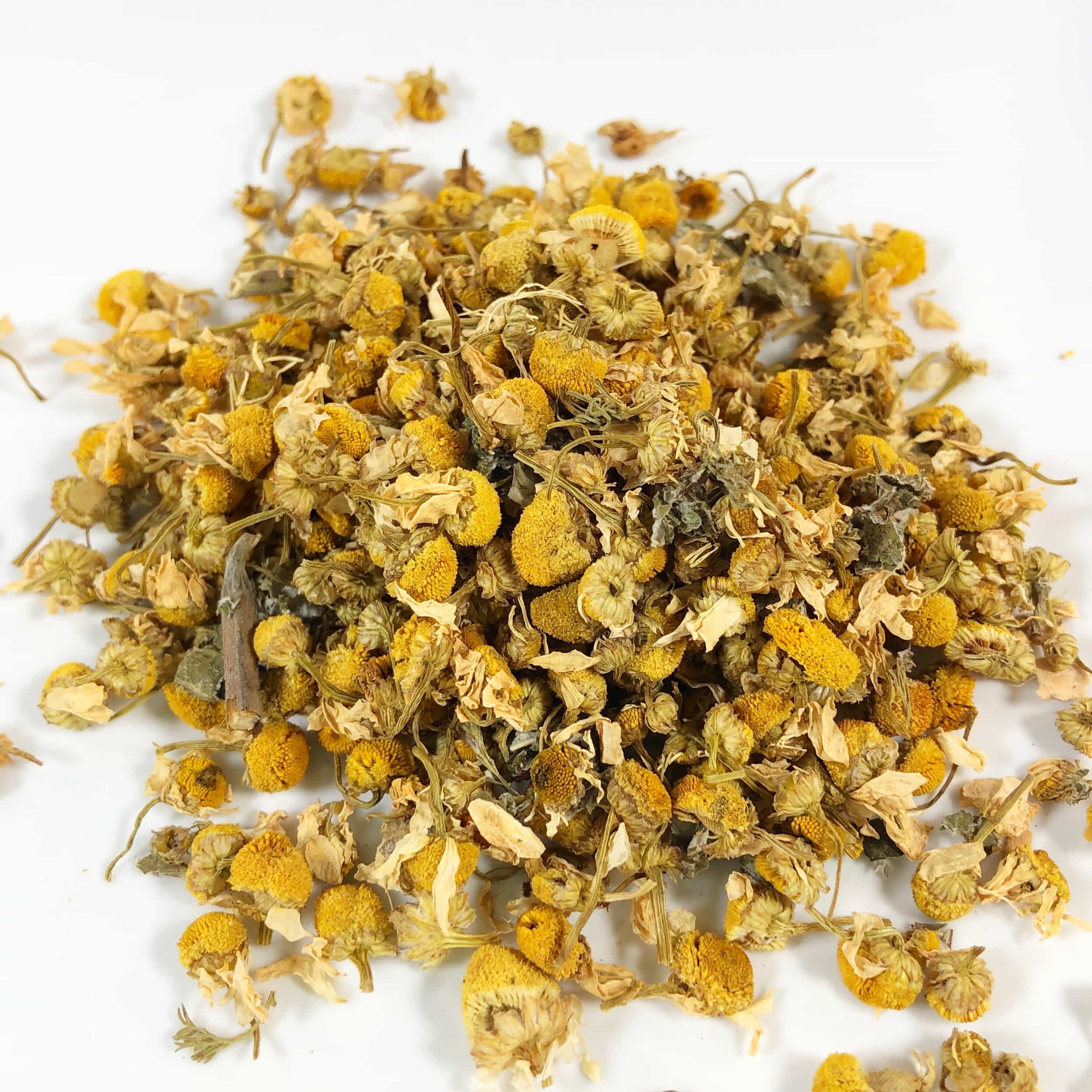 Isn't it pretty? Since this is an all herb blend it is also caffeine-free, and chamomile may help you relax and possibly help you get a good night's sleep. I steeped this with hot water and found chamomile to be the strongest flavor. Ginger usually burns my throat but I didn't experience it with this tea.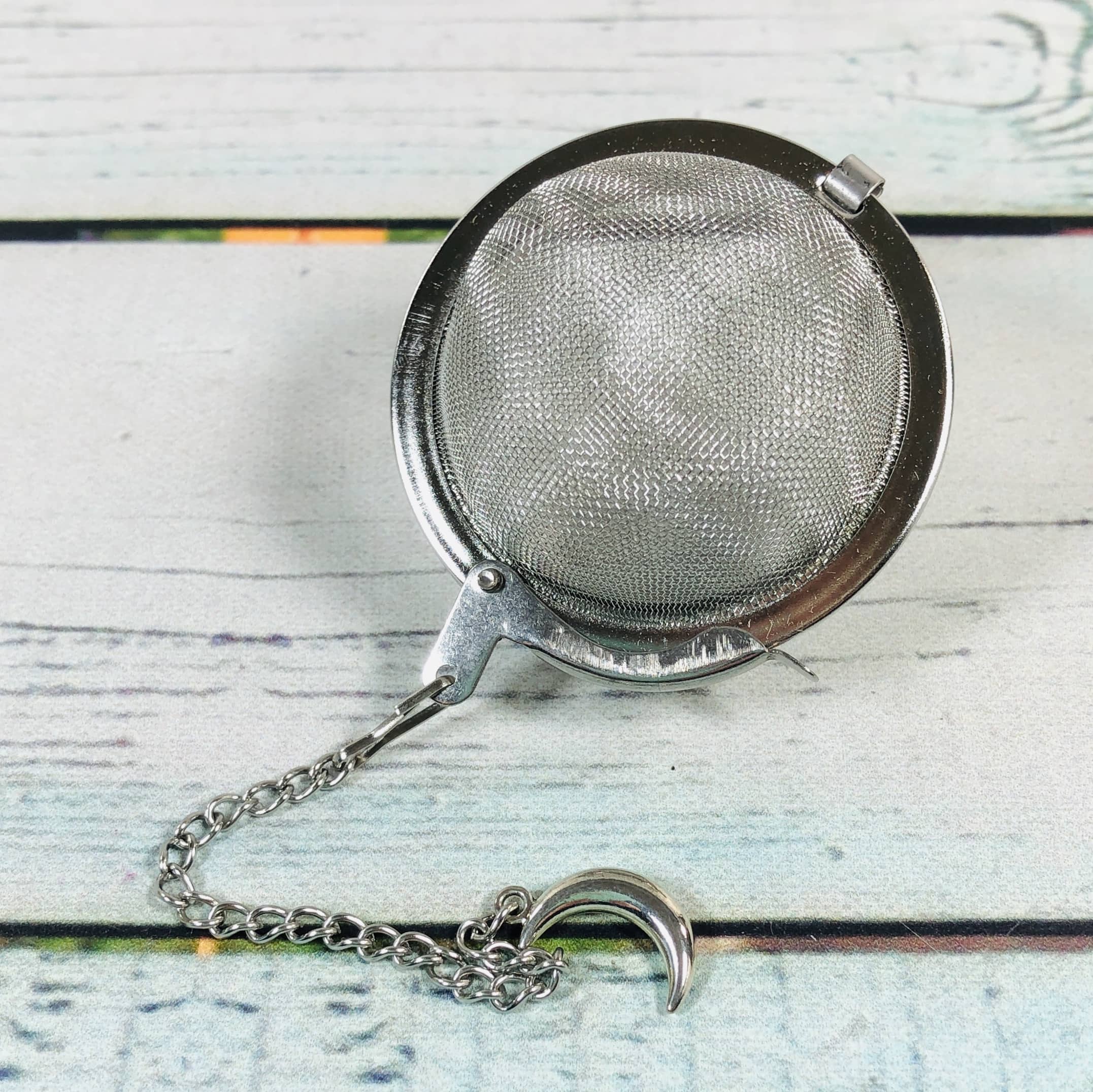 Subscribers received one of two different Mesh Tea Balls and I received one with a crescent moon (I think the other one has a quartz stone). You can find a similar tea ball here.
You place loose leaf tea inside the ball and then close it up, securing the side with the latch. Place in a mug and pour hot water over top, then pull it out after the appropriate steeping time. Discard the used leaves (or resteep them later) and then wash and reuse the infuser!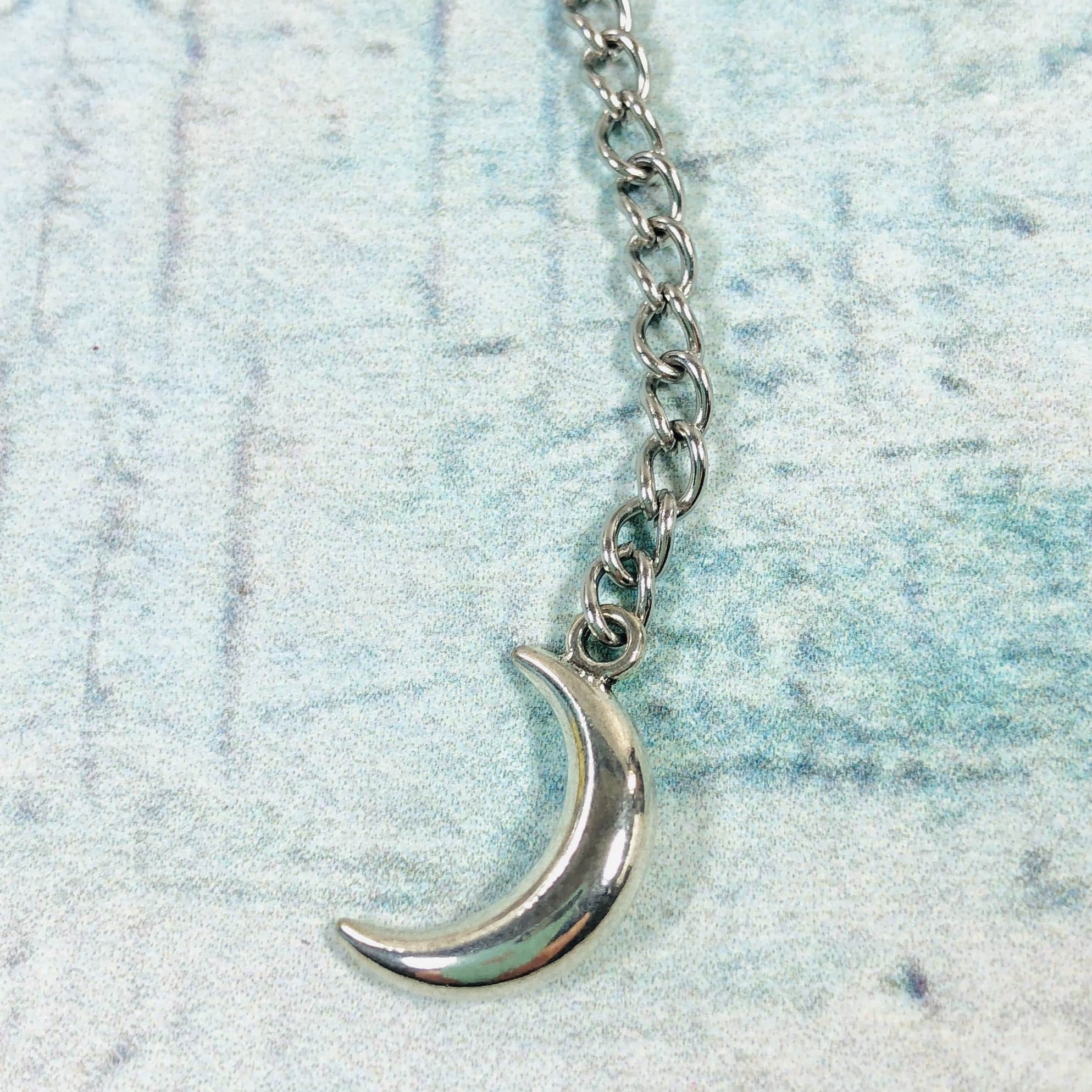 Here's a close up of the moon, which hangs on the outside of the cup while the ball is inside the cup.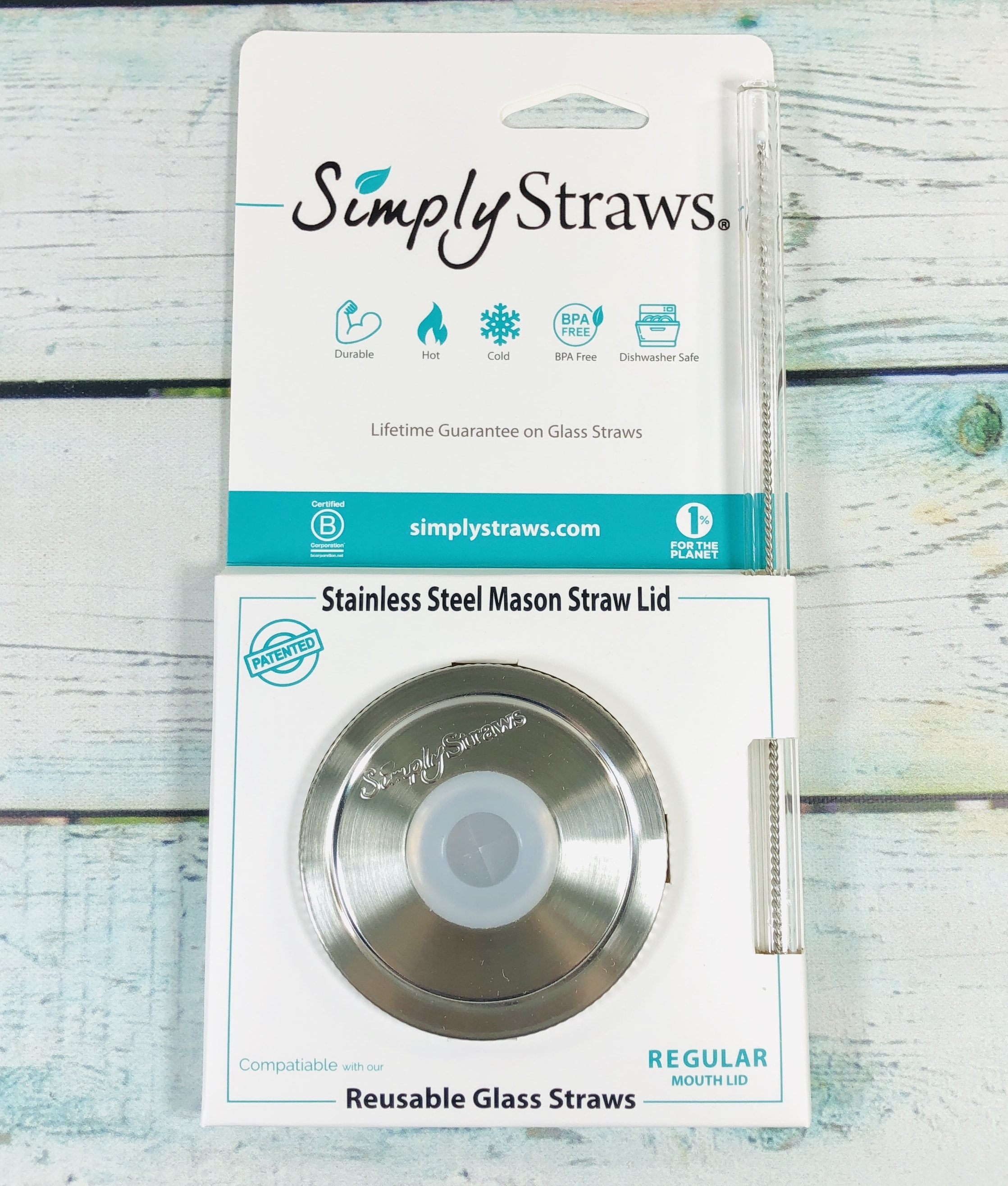 Simply Straws Revive Mason Lid, Glass Straw, & Brush Set ($20) Have you ever drank iced tea out of a mason jar? I sure have and almost always drink out of glass glasses, even mason jars. This lid is meant to fit the jar and turn it into a portable tumbler.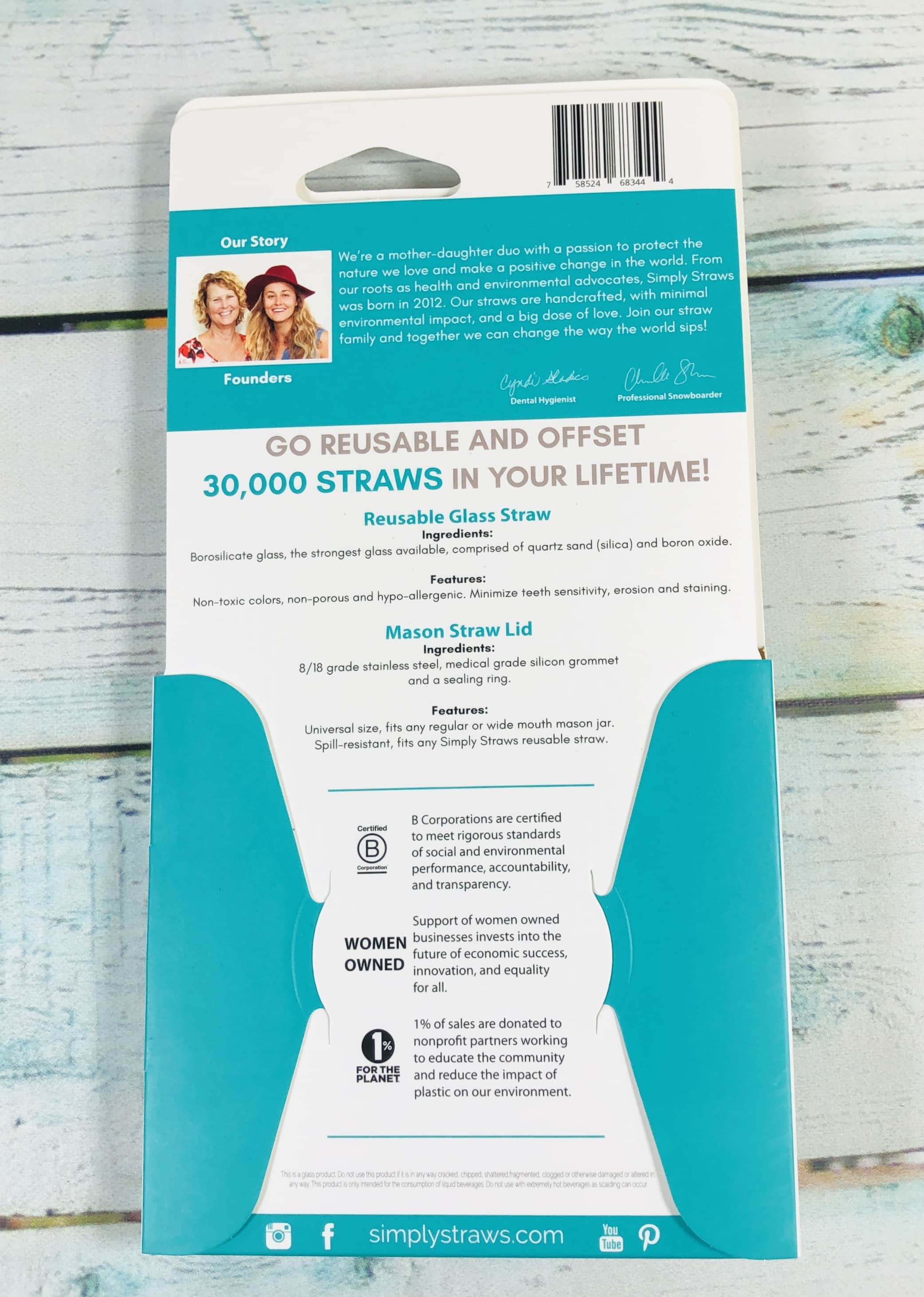 Info on the company and materials used was on the back of the box.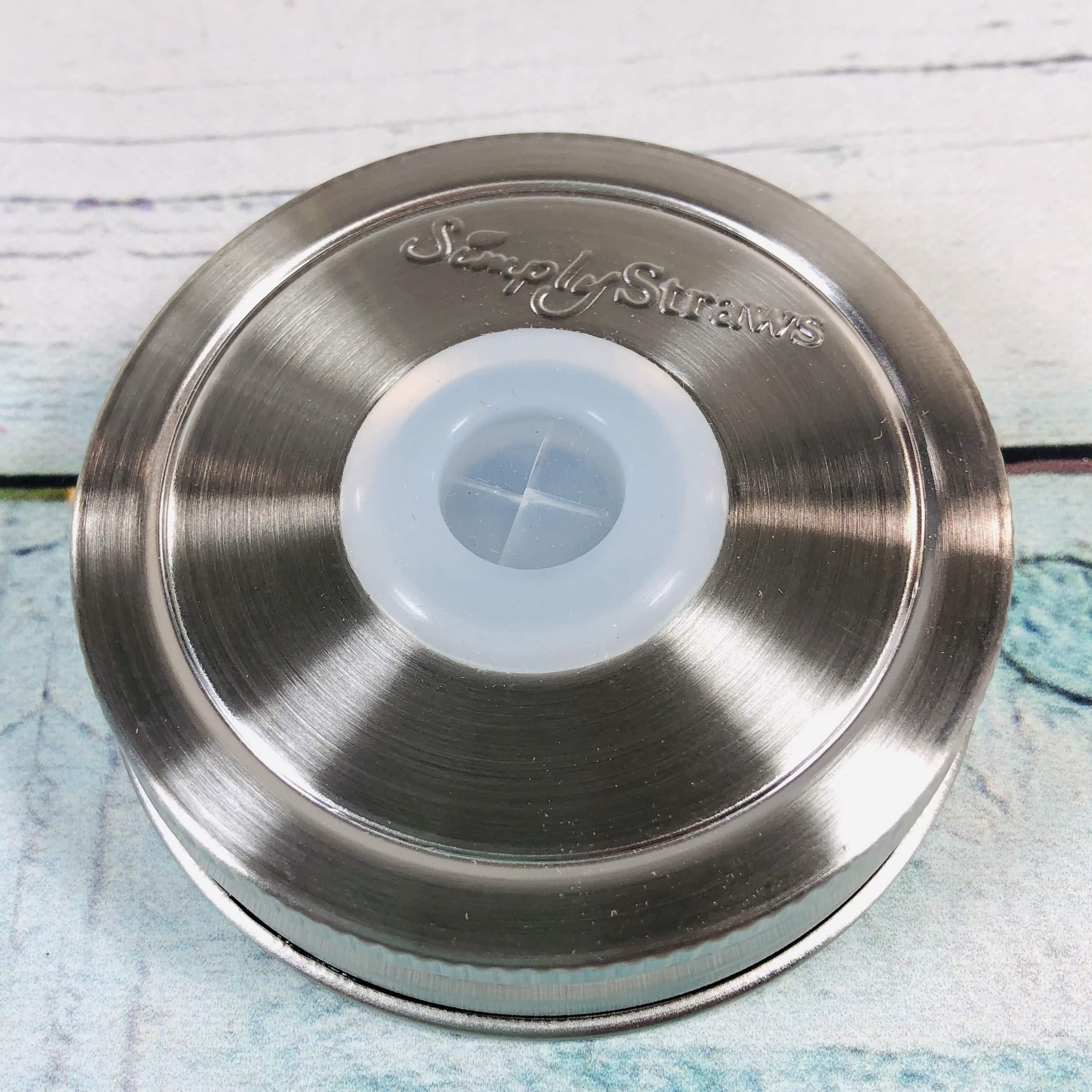 This brushed steel lid fits a jar, just twist to secure.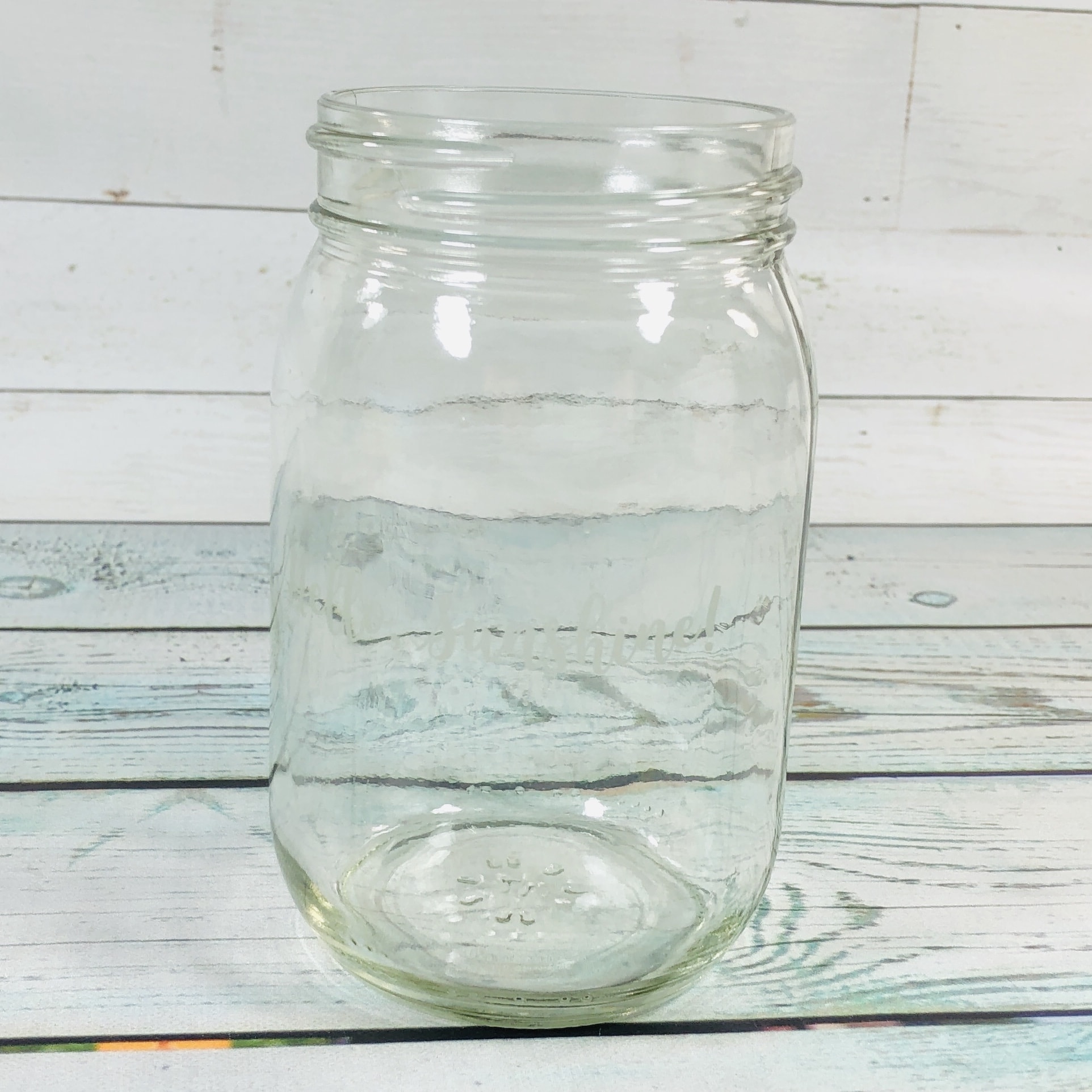 We also received a jar, I think it's pint sized.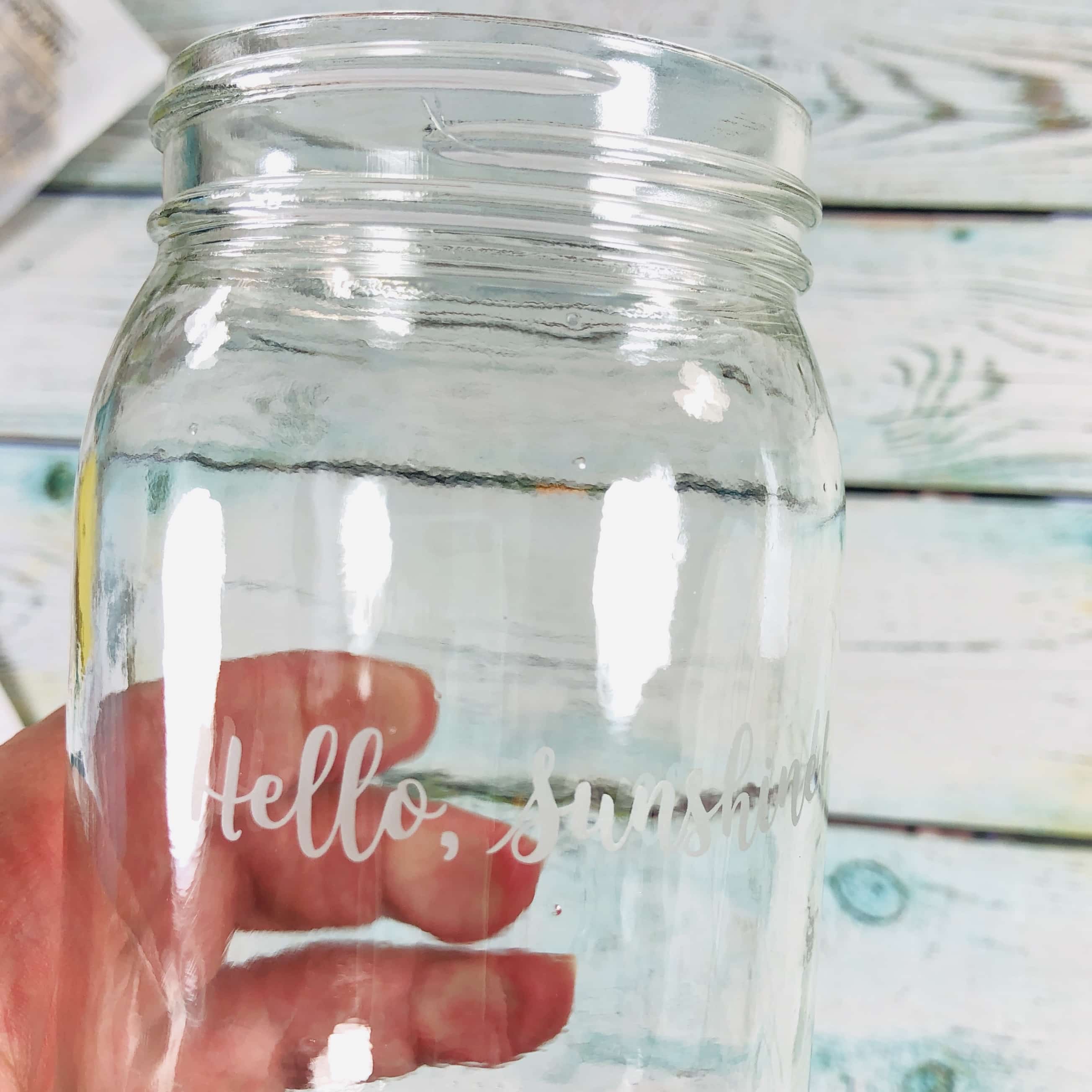 It says "Hello, Sunshine!', which is what the California Found box says too!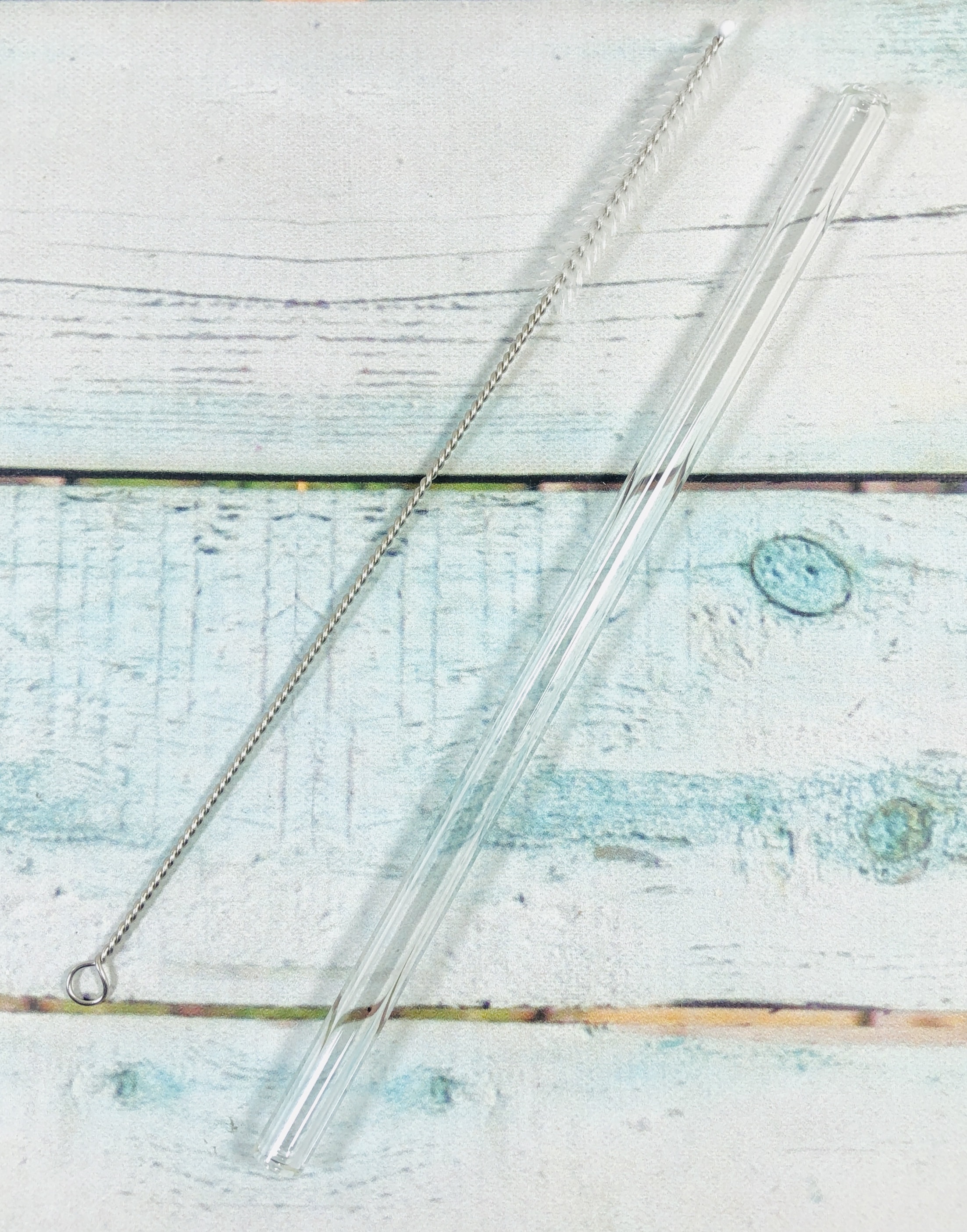 Finishing the ensemble is a glass straw and straw brush (for cleaning).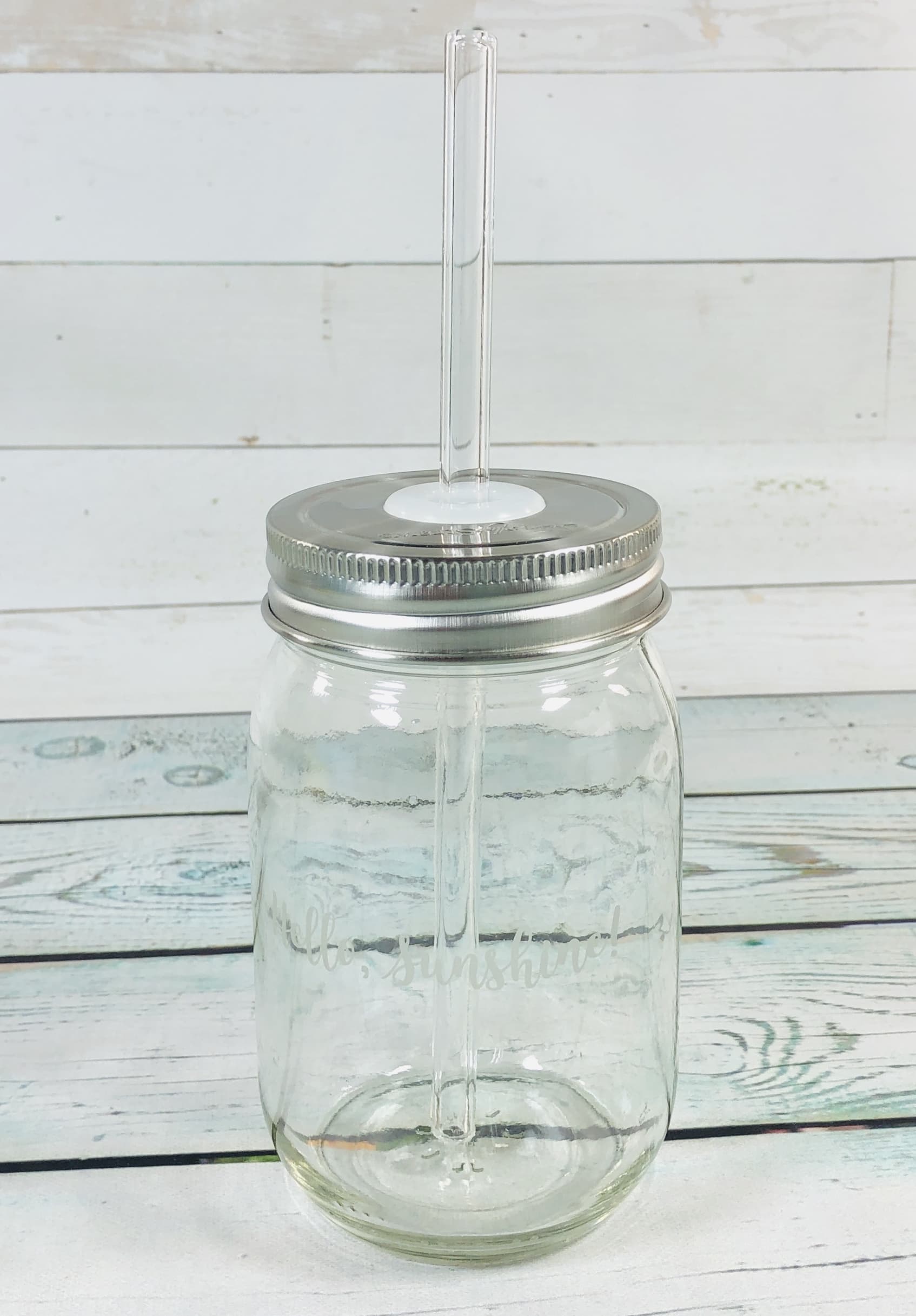 Here is the whole get up ready to go! Why switch to a glass (or stainless steel or silicone) straw? Have you seen what plastic straws do to turtles? It is so sad but also this is an easy way to reduce plastic waste and litter and they are more durable than paper straws.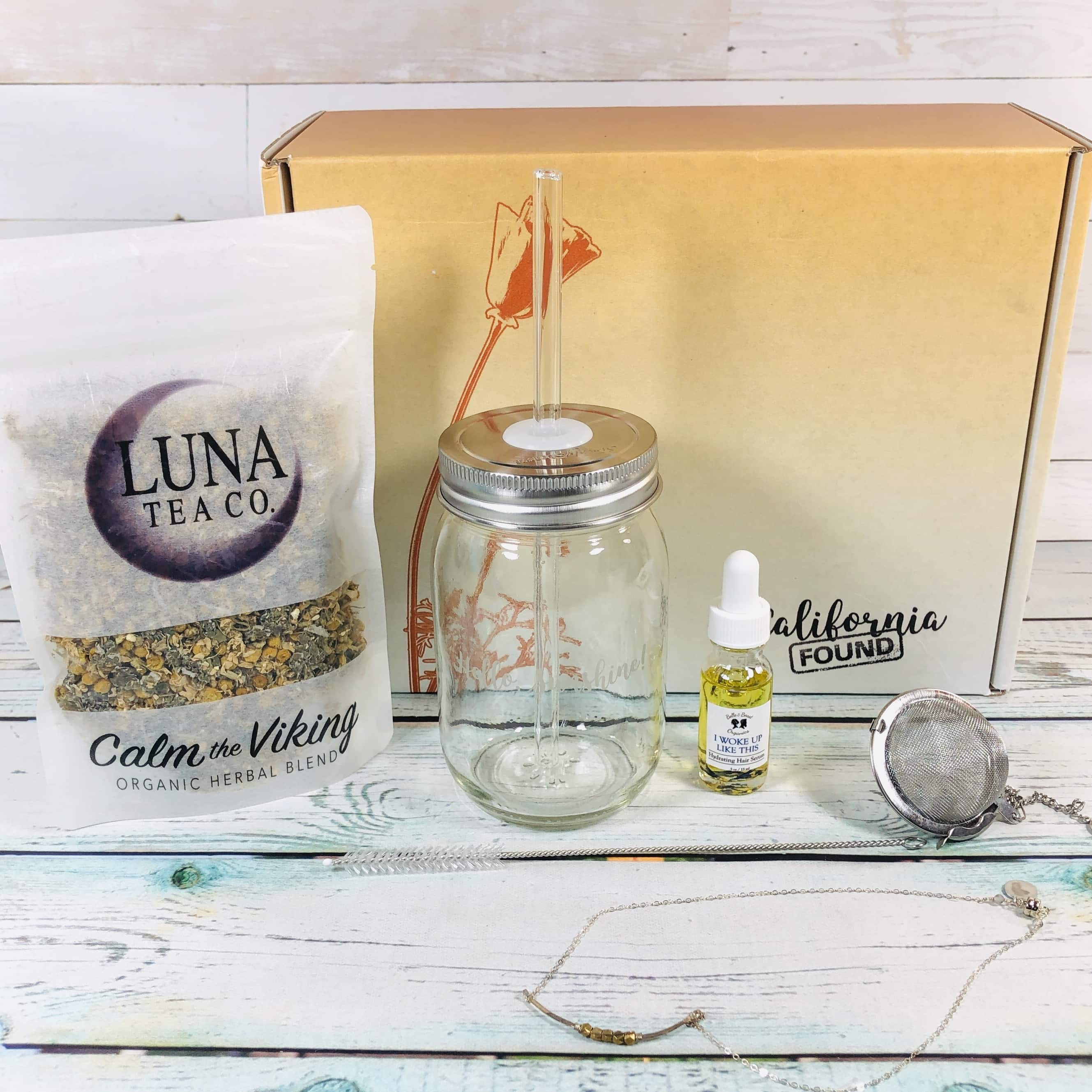 What a cool box from California Found! This one had some ecofriendly items and I liked the way California Found had them working together. The jewelry and hair oil rounded out the box nicely and I was really happy with the quality of both of those items too. The value for the July box was around $112, using the values in most cases from the card and not including the mason jar.
What do you think of California Found? Let me know in the comments!