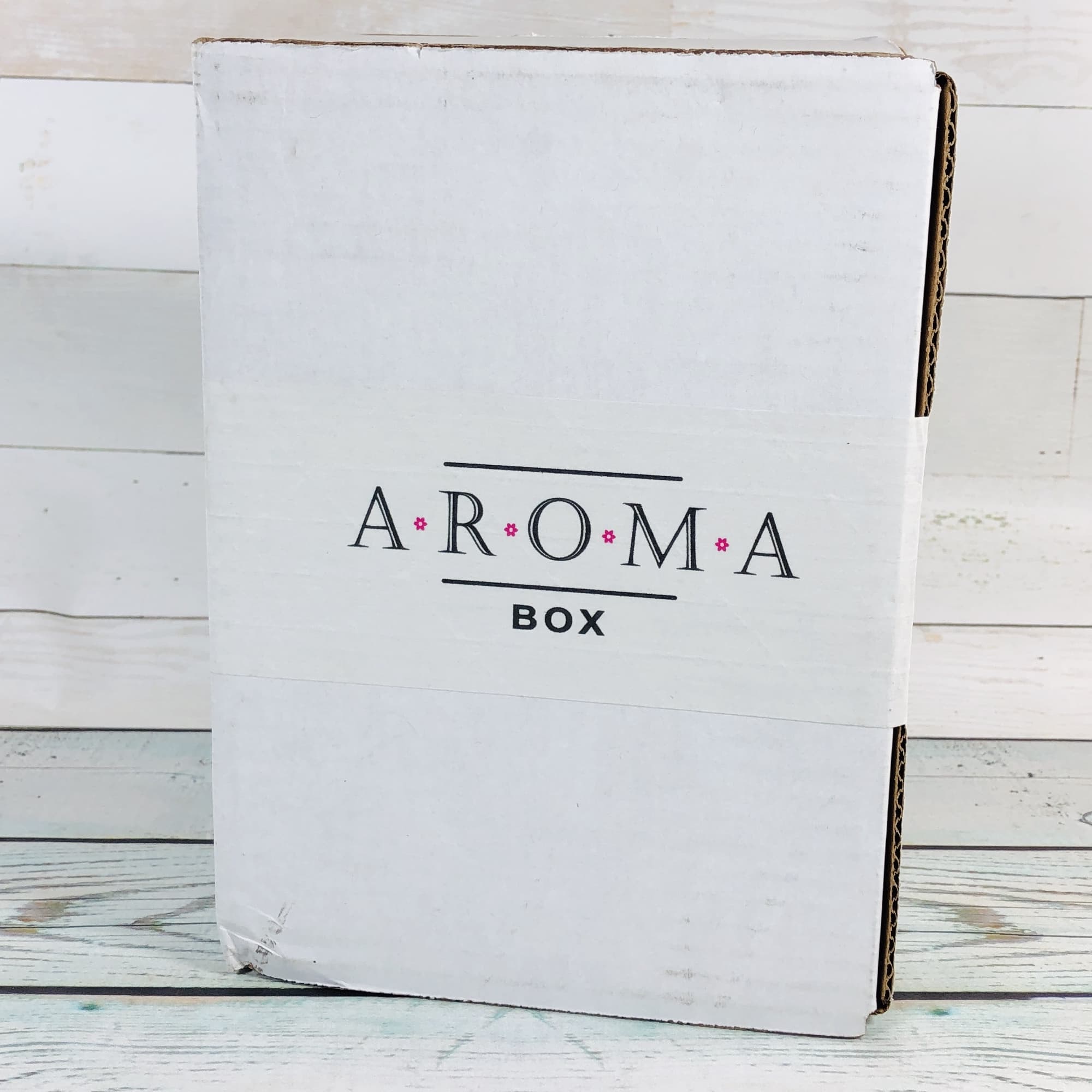 AromaBox is a bimonthly subscription box of of aromatherapy items. Each box will contain 5 full-sized aromatherapy, skin care, wellness and/or lifestyle products and at least 2 quality product samples. Products will come from small business entrepreneurs and artisans and you will also receive a selection of special offers and discount codes. An AromaTips card with a diffuser blend recipe will help you get started right away. AromaBox is $31.97 every two months, and it looks like you can purchase previous boxes (including this one!) in their online shop for $35.
AromaBox™ is an inspired collection of handpicked aromatherapy, skin care, and lifestyle products delivered to your door every eight weeks. For the Aroma lover, the unique focus and functionality of this box is an unparalleled celebration and opportunity to experience new brands.
DEAL: Get $5 off on your first AromaBox! Use coupon code HELLOAROMABOX. Valid to new subscribers only!
My items were tucked into shredded paper squiggles.
PLEASE NOTE: While essential oils are wonderful to explore, they may not be right for everyone in every stage of life. Be careful when using, make sure to dilute properly, and do not use at all without first consulting a doctor if you are pregnant or nursing. If in doubt, check with a doctor.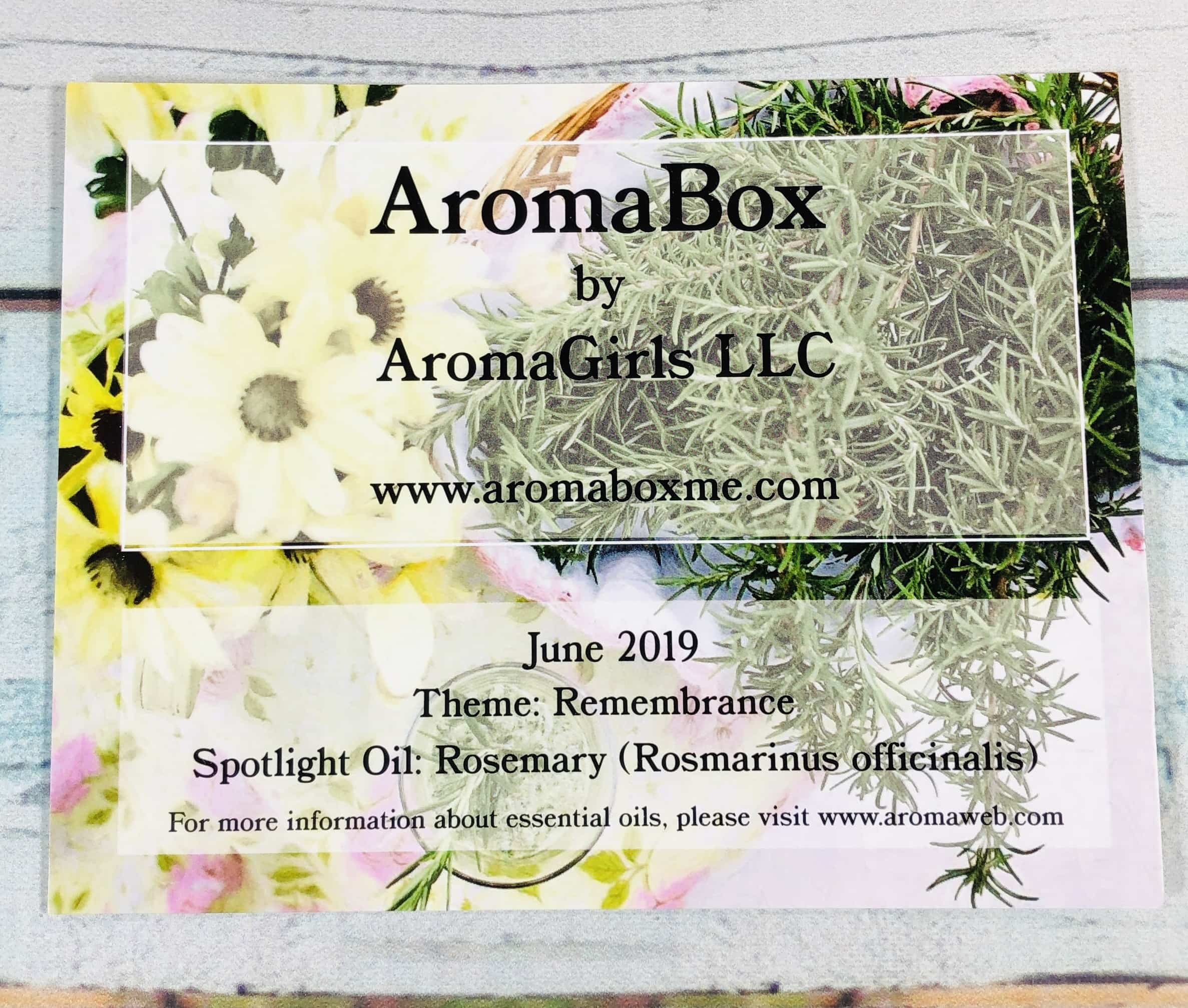 There was a card with the theme and spotlight oil: rosemary!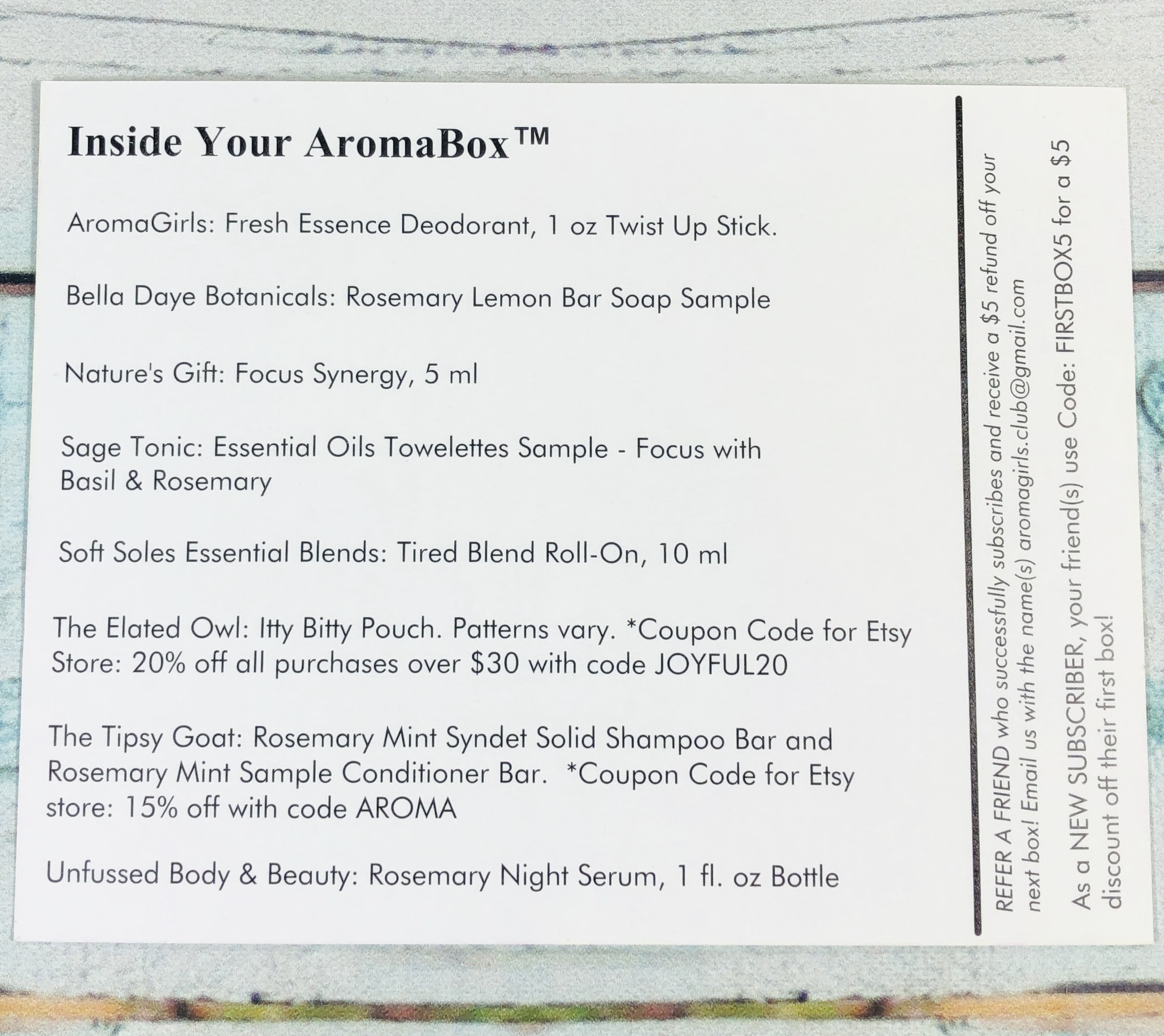 The back of the card had the products listed. I didn't see an AromaTips card.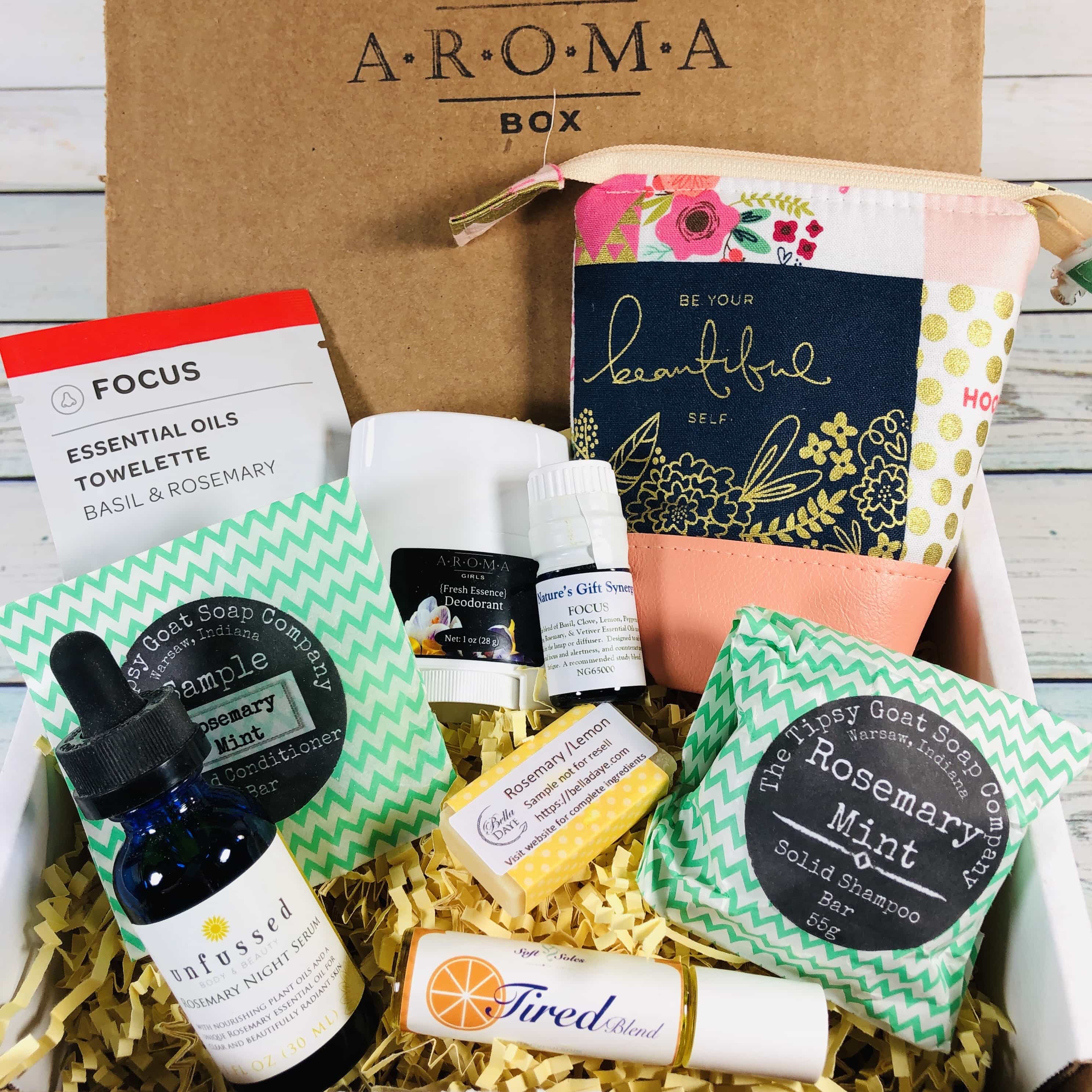 Everything in the box!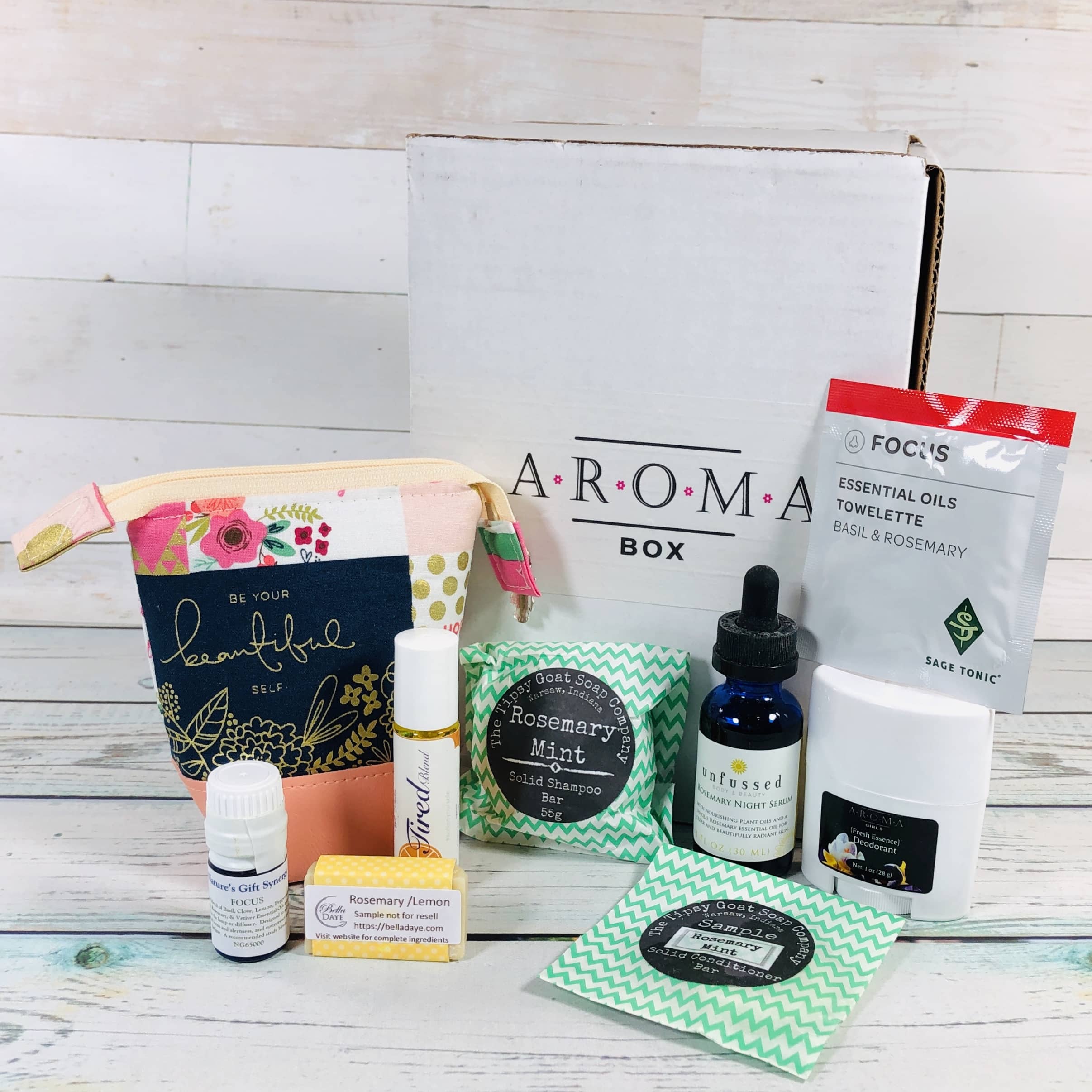 I can't wait to get started using my new goodies!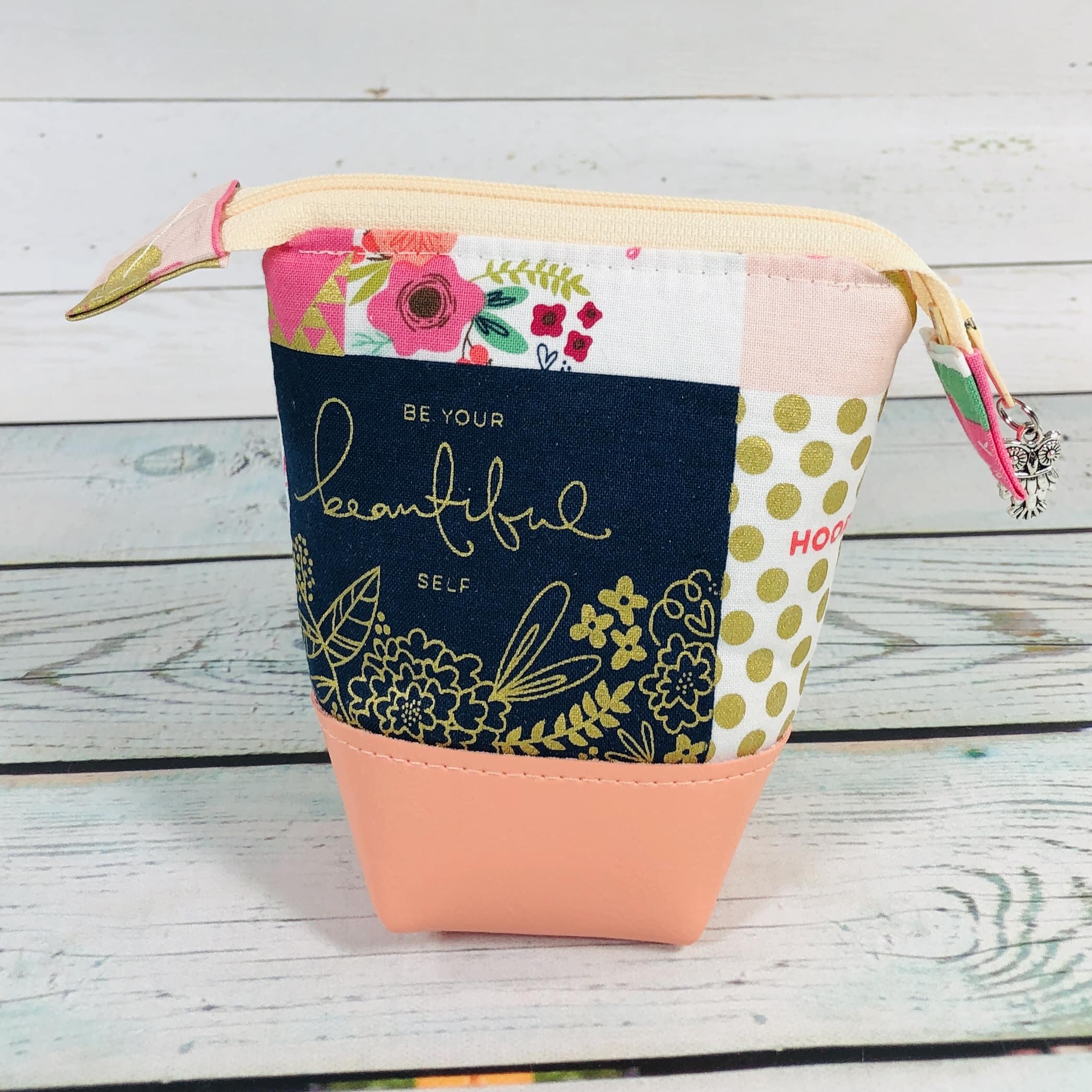 The Elated Owl Itty Bitty Pouch is a small pouch that can be used to carry rollerballs or essential oils, or you can use it as a coin purse or lip balm holder.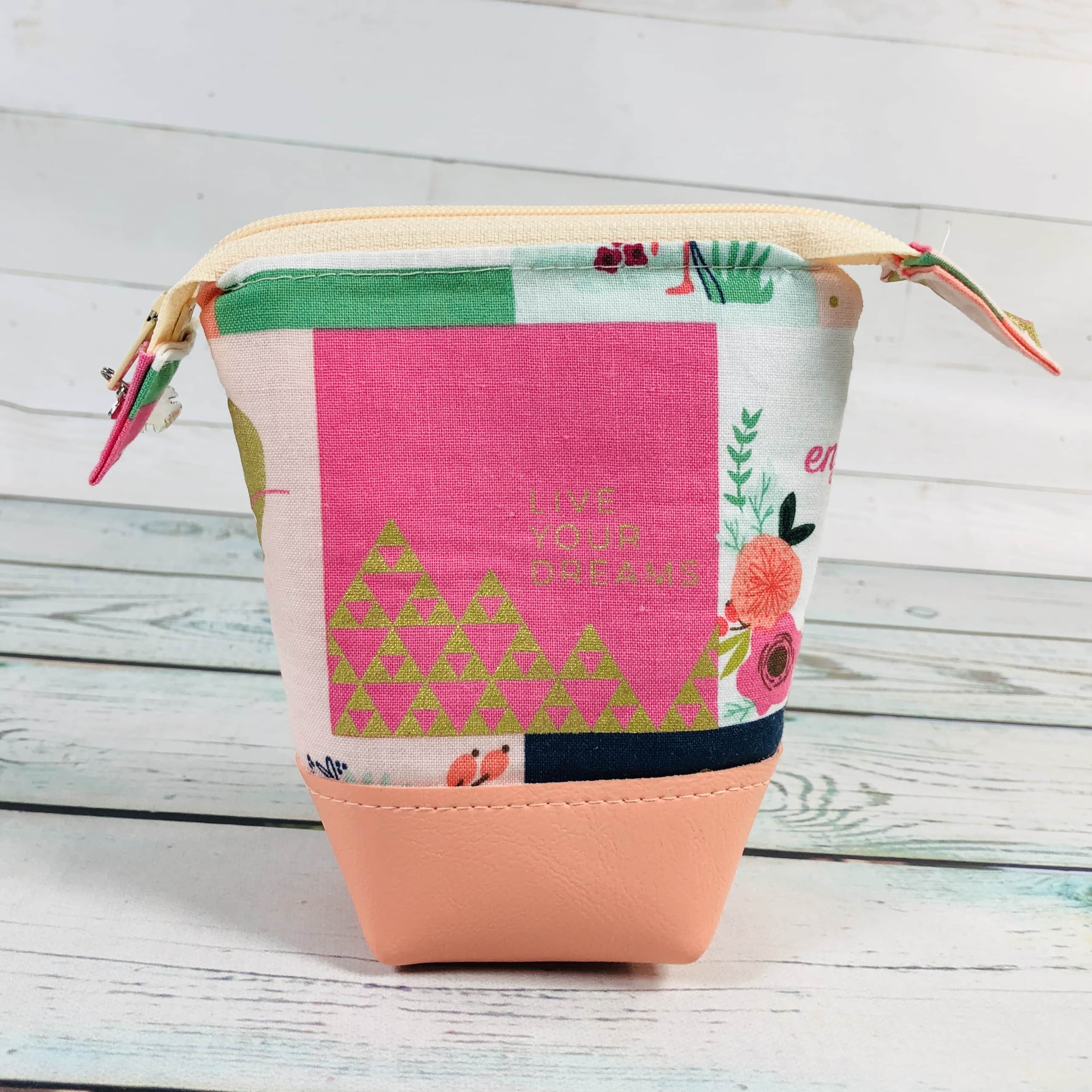 Patterns may vary but I'm really happy with mine! This bag is about 5″ high and the bottom tapers to around 2″. Check out the leather-type material on the bottom!
The inside has two pockets to secure essential oil bottles and there is room for a credit and ID card. My cell phone won't fit though, just to give you an idea of the size.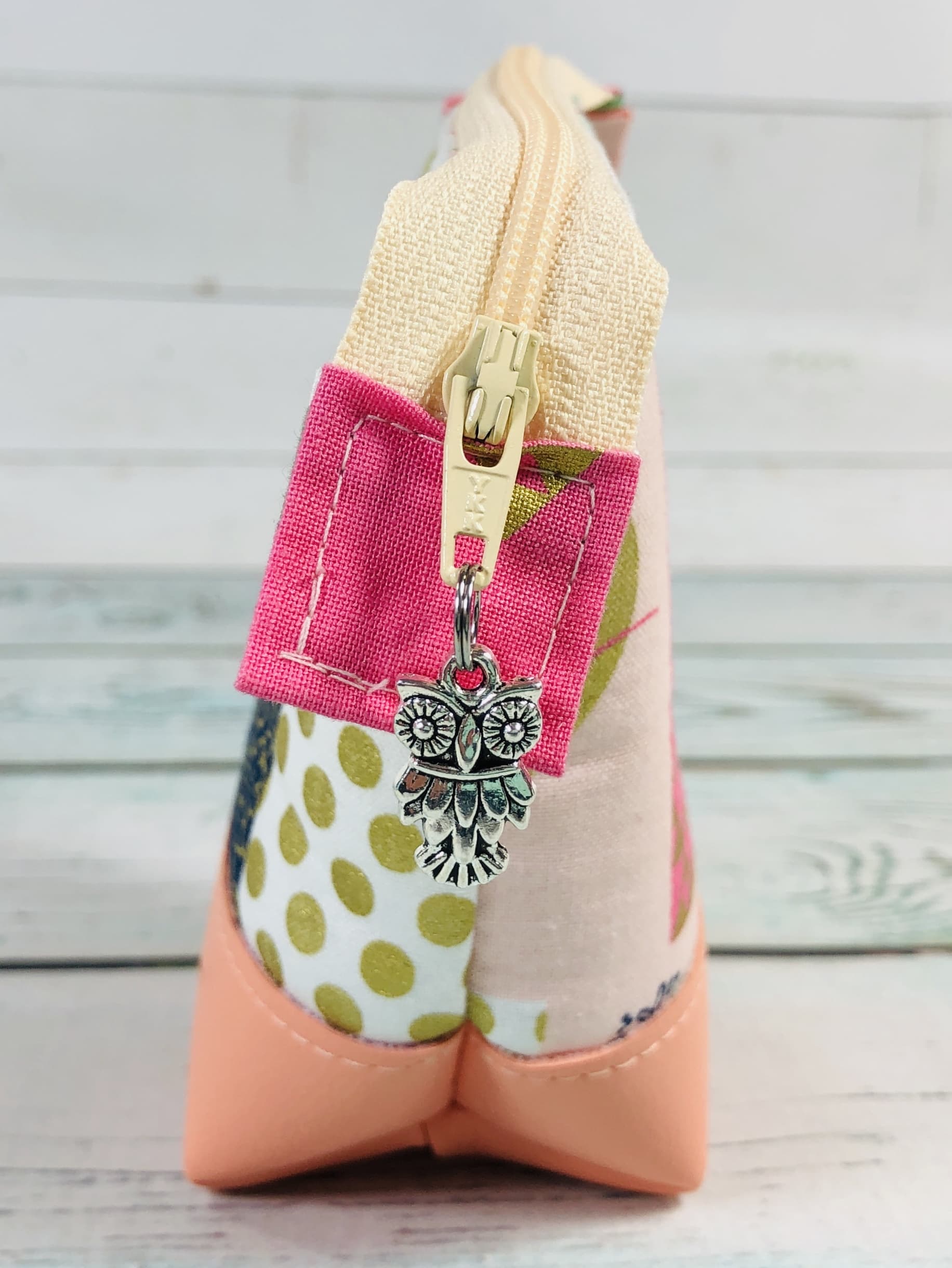 The finishing touch: a smart little owl pull. I think the special touches on this bag are just adorable. You can order larger bags on the vendor's website and there was a coupon code to save some moolah.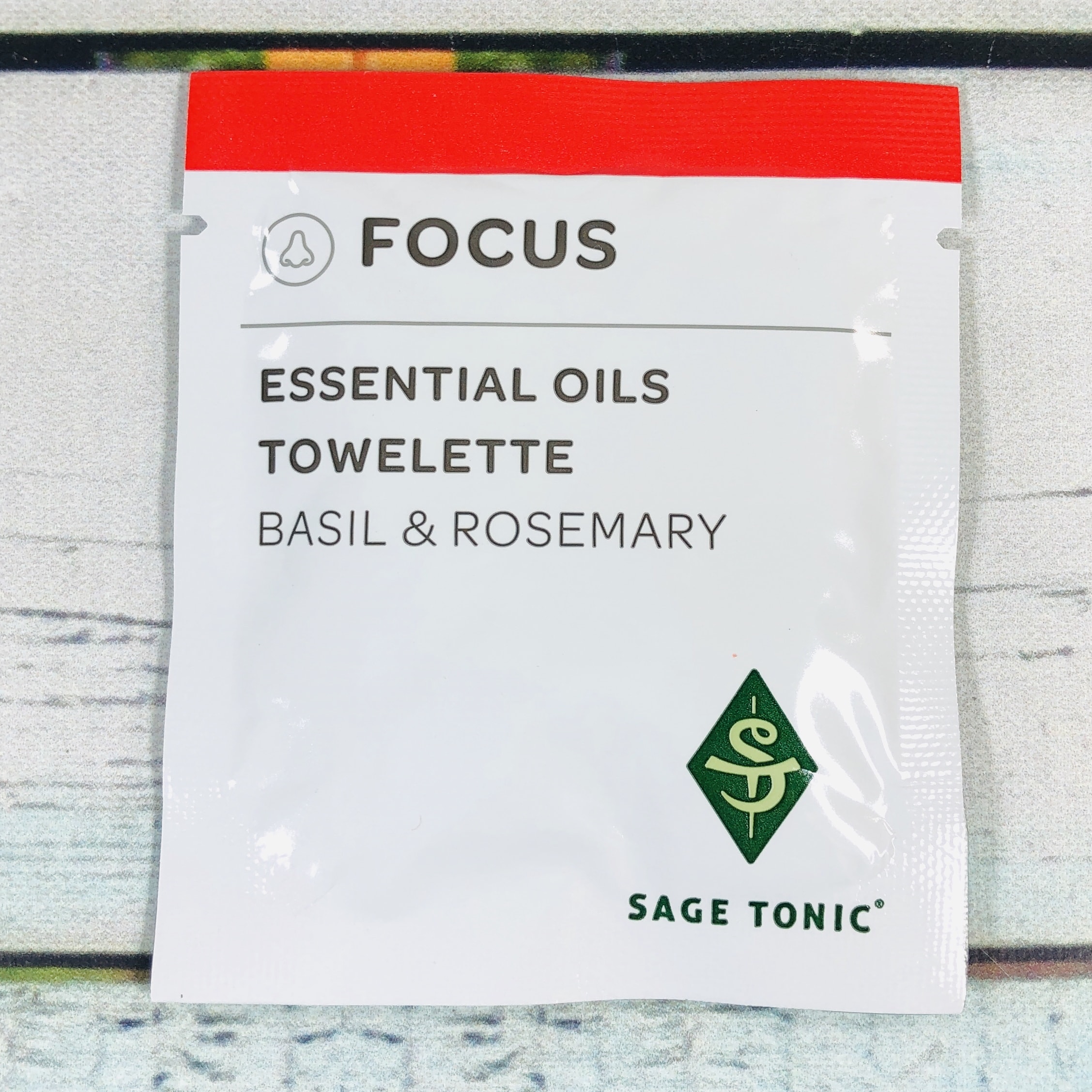 Sage Tonic Focus Essential Oil Towelette ($1.17) is a disposable towelette infused with rosemary and basil essential oils.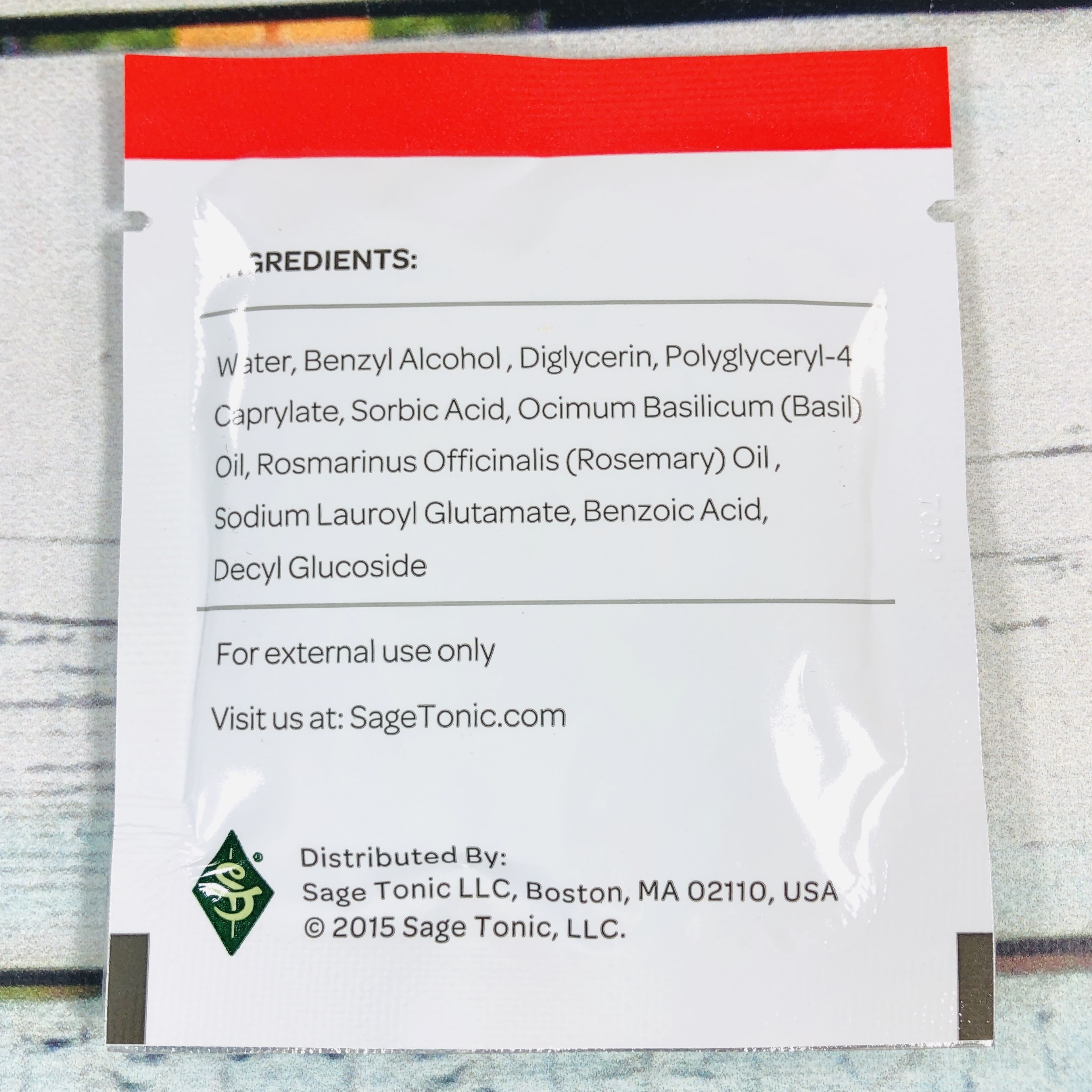 I think the idea is that these may help with memory and concentration. I didn't see any directions so I opened it up and used it as a hand towel. I did smell some green herbs but the scent was light and disappeared quickly.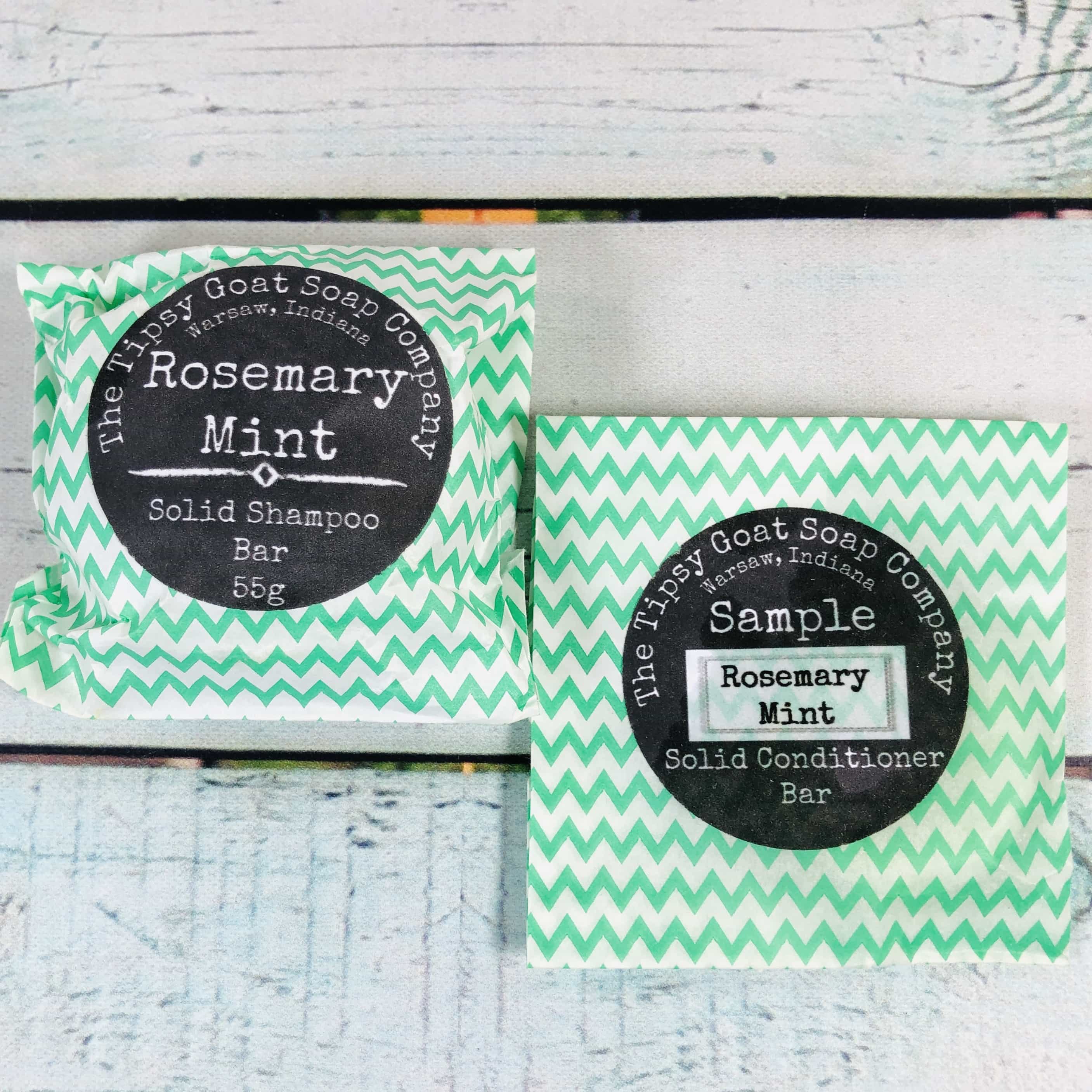 The Tipsy Goat Rosemary Mint Solid Shampoo Bar ($7.07 value) & Conditioner (No value given, $1?) We received a set of fresh smelling shampoo and conditioner in earth-friendly packaging.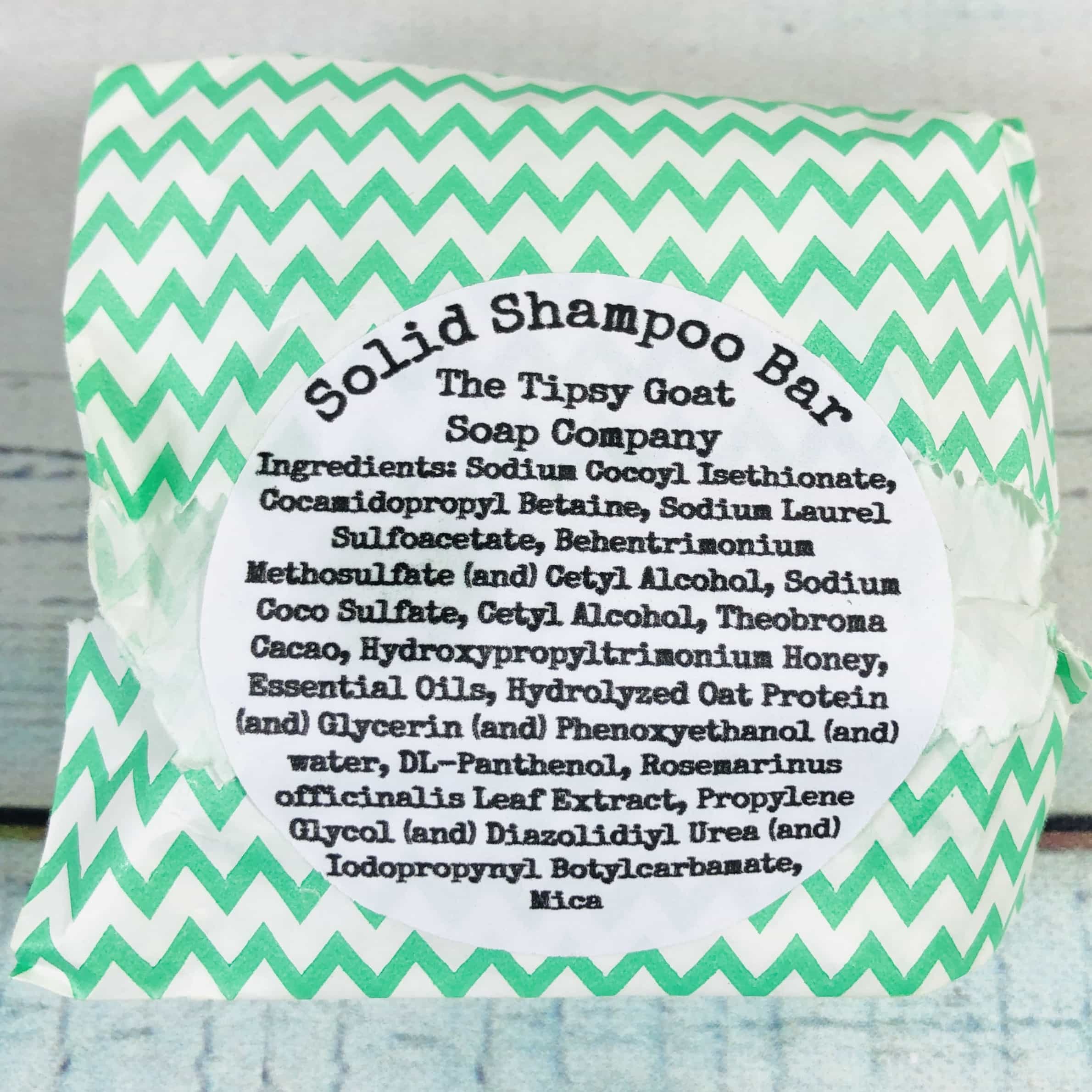 Ingredients were listed on the packages. This is for the shampoo.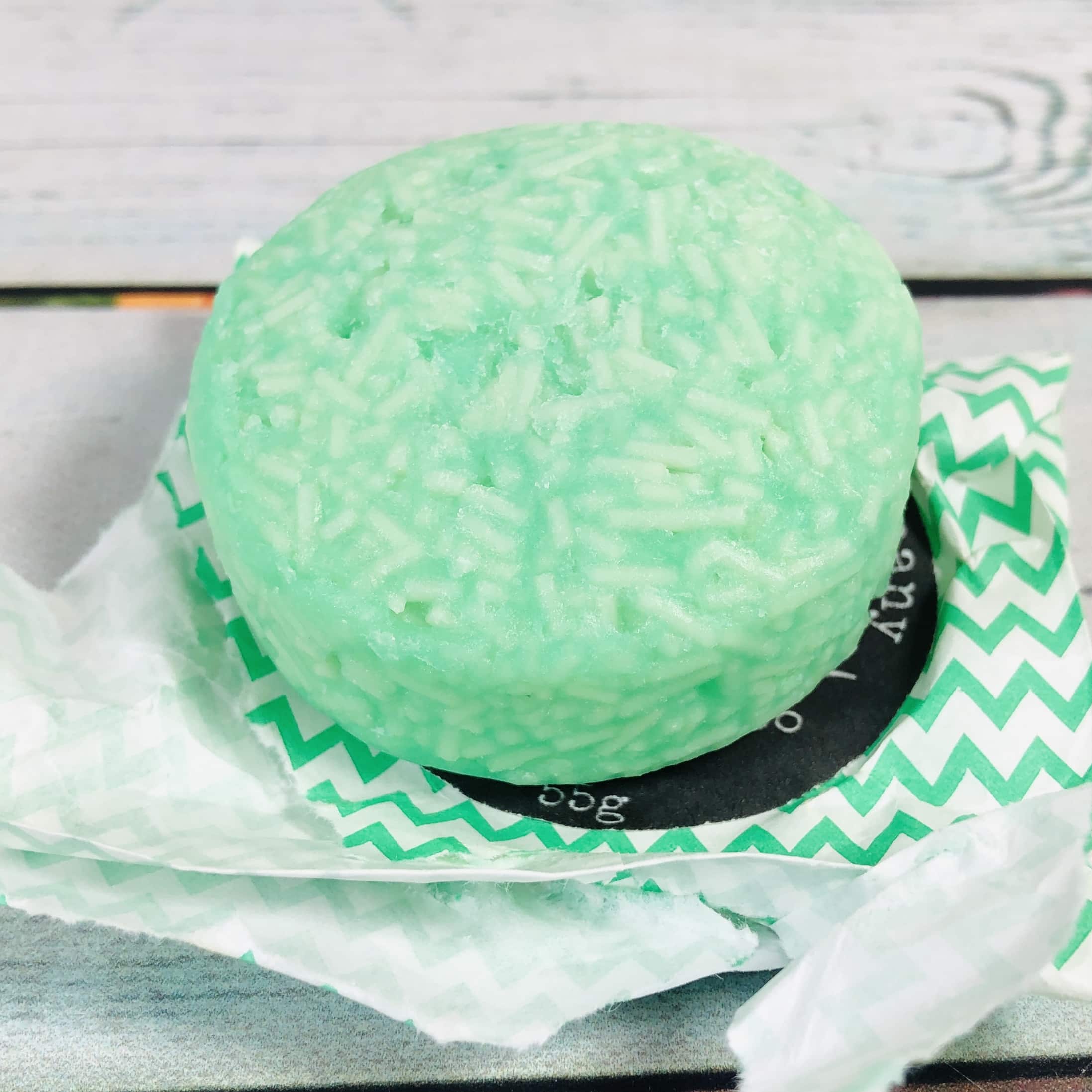 The shampoo looked interesting, like it had pieces of rice inside! It took me a while to figure out how to get this on my head. You can run it over wet hair but I sudsed it up in my hands and applied that way. It took a couple of passes before I had enough to get a good lather going.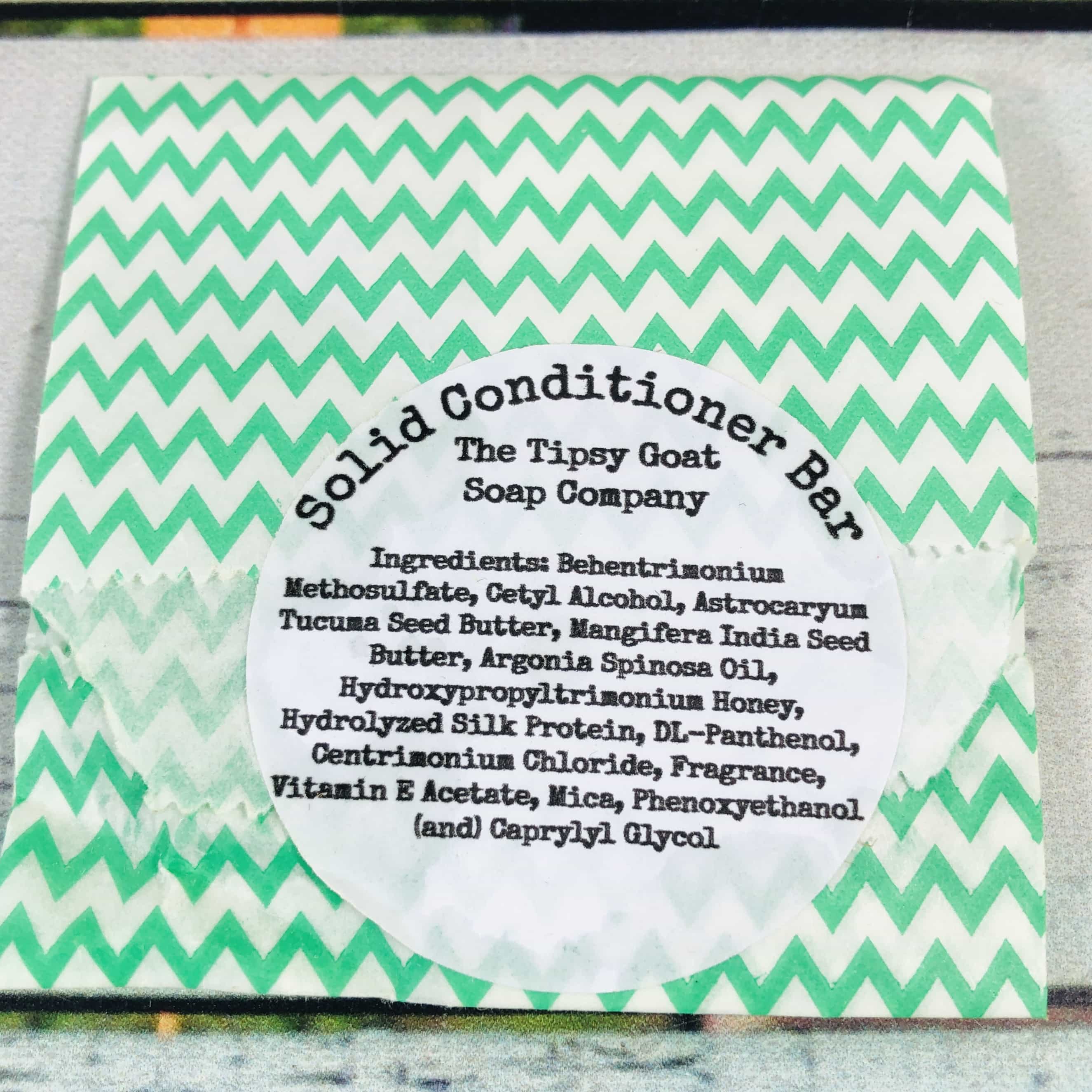 Here's the conditioner ingredients.
This was much smaller than the shampoo and is enough for a few uses. Both items smelled really good and I was happy with the way they made my hair feel afterwards. I didn't have any problems styling my hair afterwards, which was my biggest concern.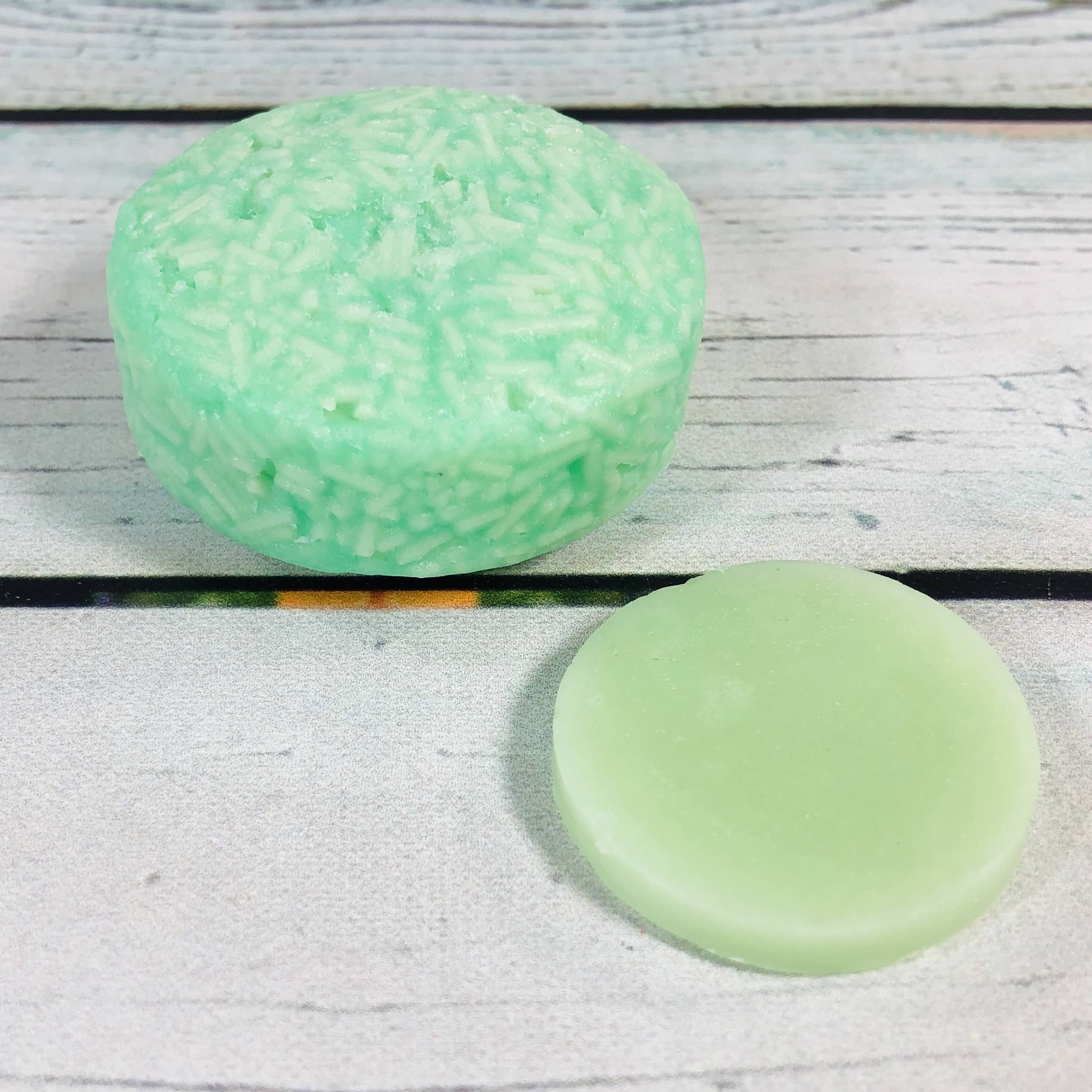 Here you can see the difference in sizes. Speaking of different sizes, the full-sized shampoo is listed as 70 grams, but we received 55 grams so I valued it accordingly.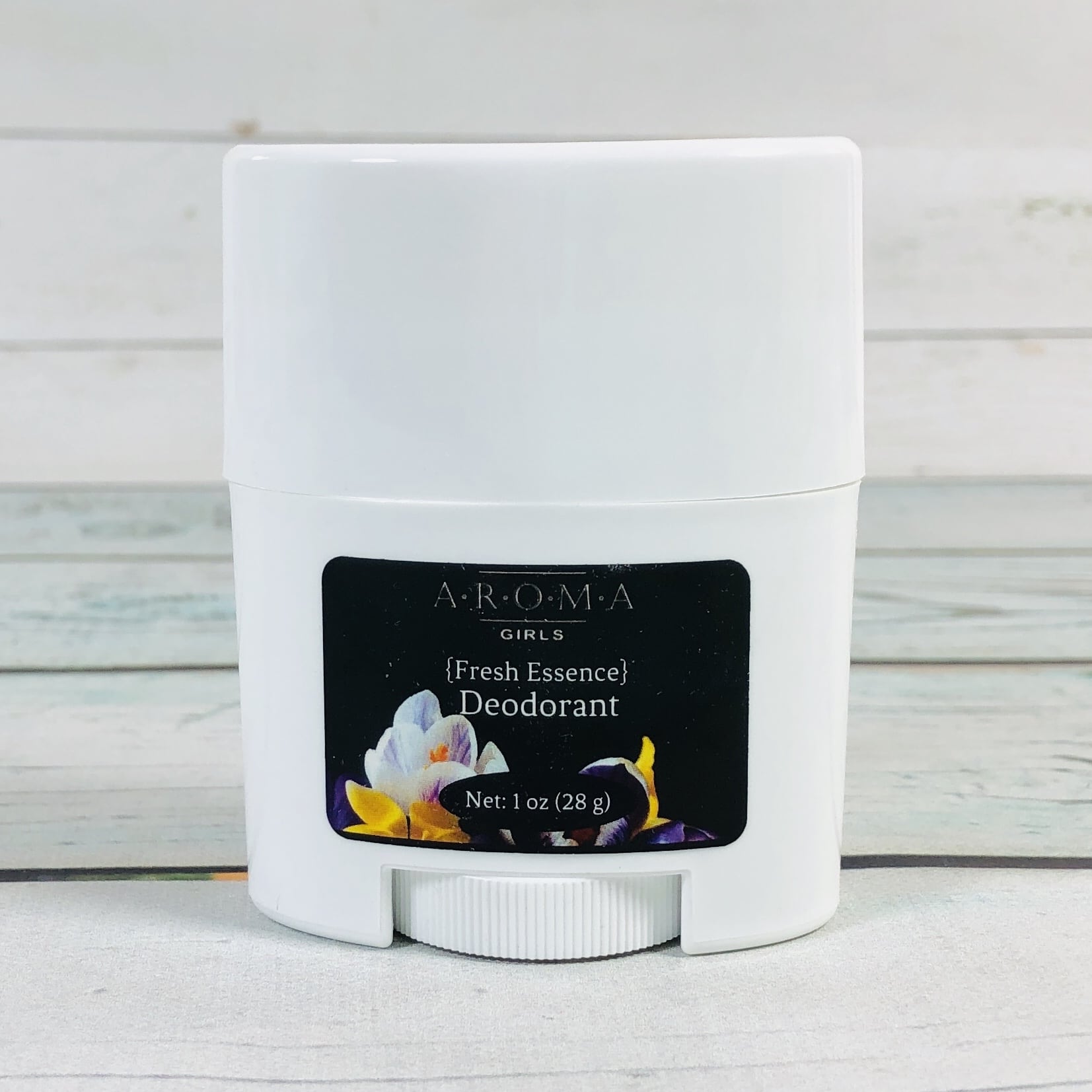 Aroma Girls Fresh Essence Deodorant Stick ($5) I like discovering different deodorants and this one went on smoothly and smelled good too.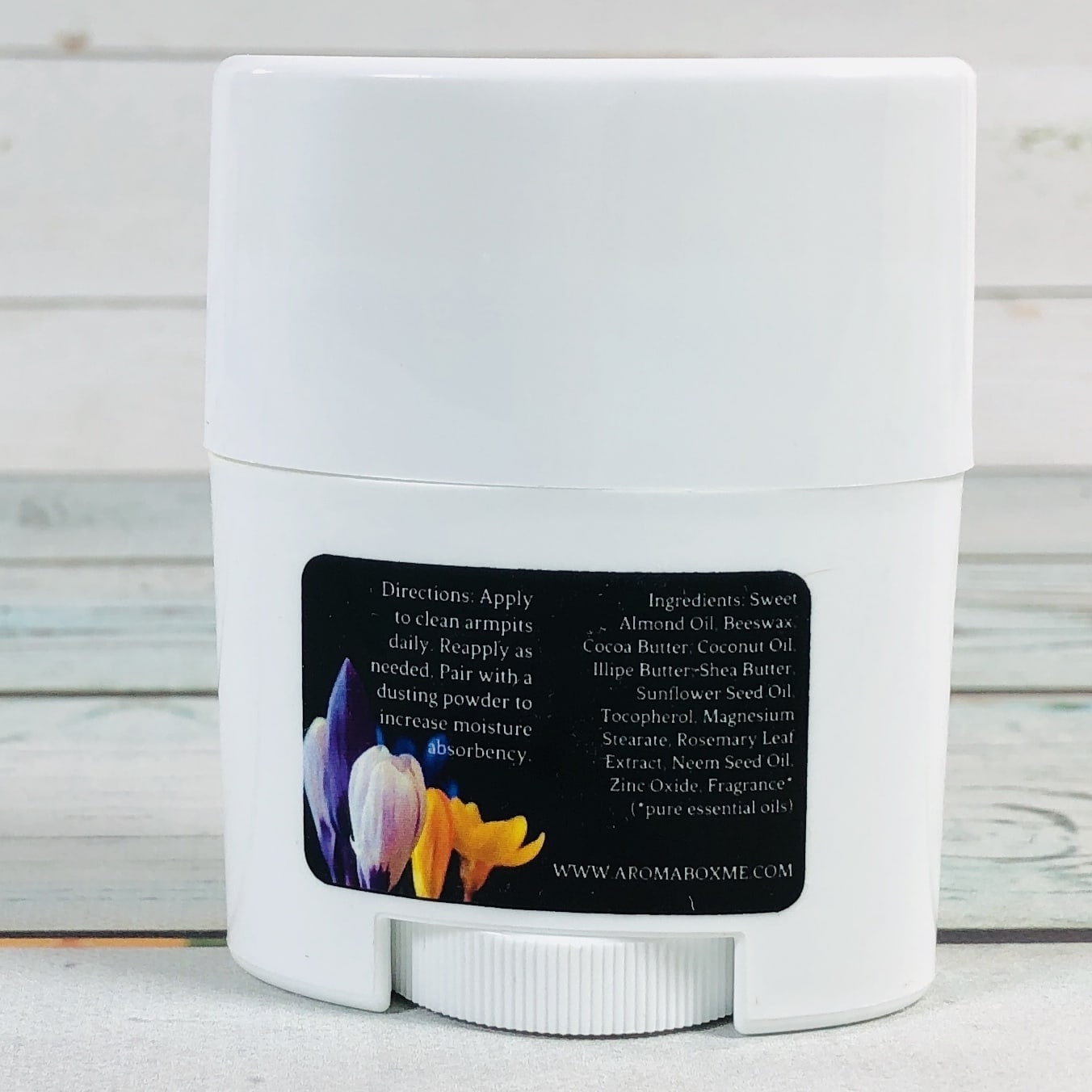 Ingredients were listed on the container and I want to point out that this is a deodorant and not an antiperspirant, so it won't stop you from sweating but may keep the stink away. It smells wonderful, like cocoa butter and something sweet, maybe honey and lemon.
I changed my shirt midday and as I lifted my arms I experienced a not-so-nice situation and discovered that, at least for my body, it didn't work to keep the stink away. However I didn't experience any irritation and your experience with protection may vary. Some people swear that you need to do an armpit detox first for it to truly work but I'm not going down that road at this point in my life.
Unfussed Body & Beauty Rosemary Night Serum ($14.50)  may be used as a facial serum and applied before bed, but I think it would also work well as a moisturizer on its own.
Ingredients include caprylic triglyceride (coconut oil with glycerin) and other plant oils plus rosemary oil and leaf extract. It may have antiaging or depuffing properties. There was a warning to AVOID if you are pregnant or have seizure disorder.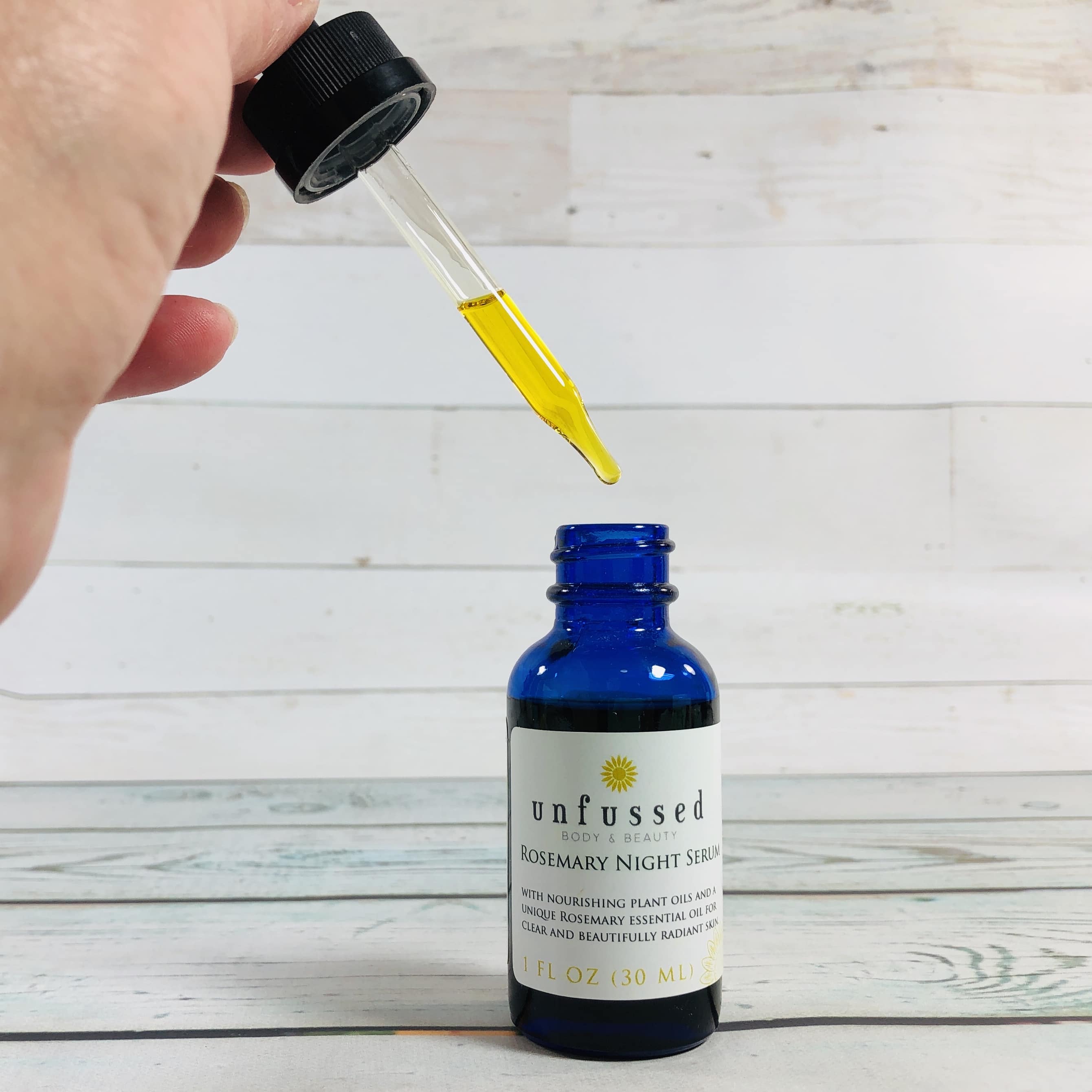 It smelled lovely, like rosemary naturally, and the smell was gone quickly. My skin liked the oil and it makes for a nice facial massage oil.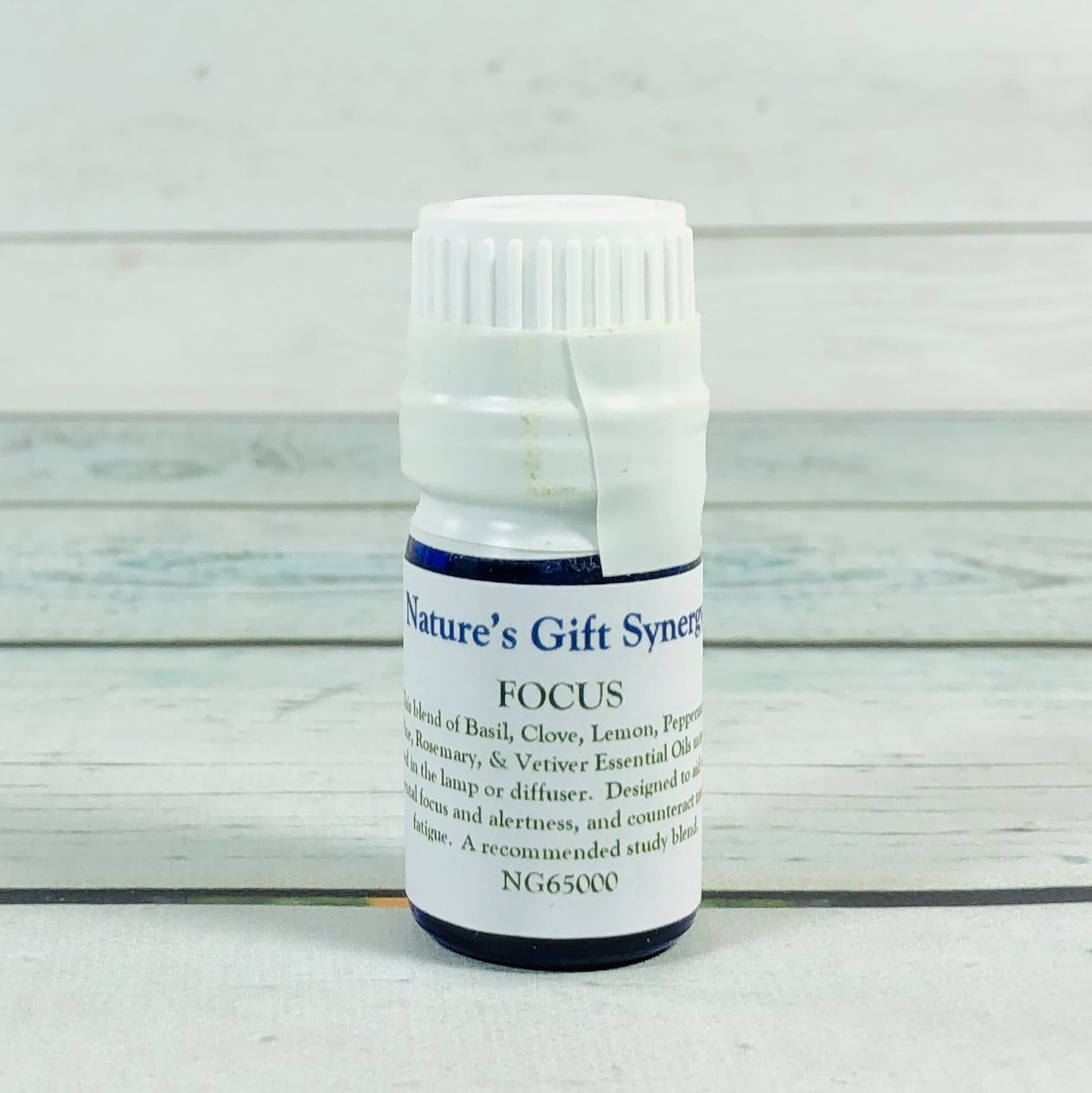 Nature's Gift Focus Synergy ($11.99) As soon as I opened this box I went ahead and placed some drops of this oil in my aromatherapy diffuser.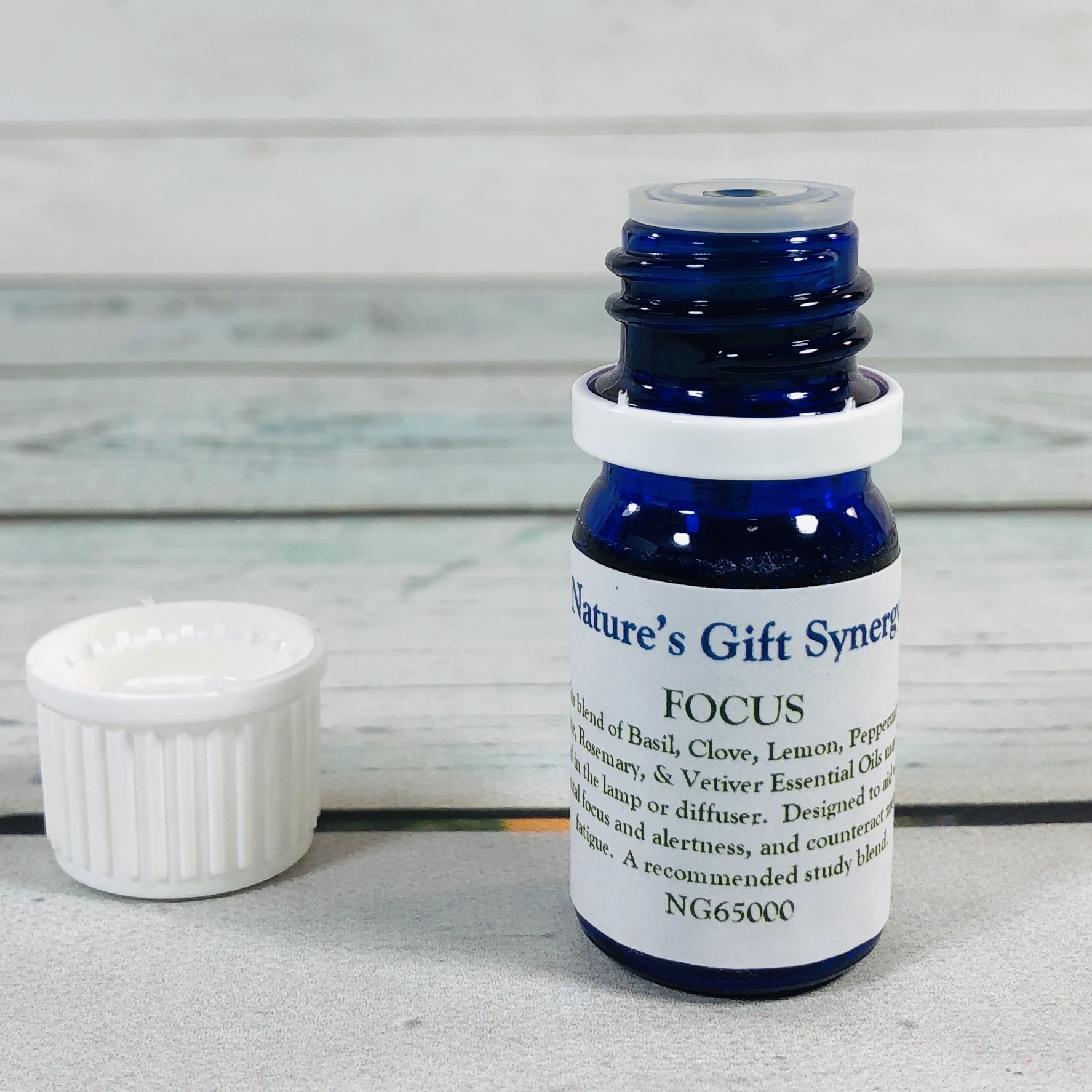 It has a blend of basil, clove, lemon, peppermint, pine, rosemary, and vetiver. It smelled really good, like trees and smoke and sunshine.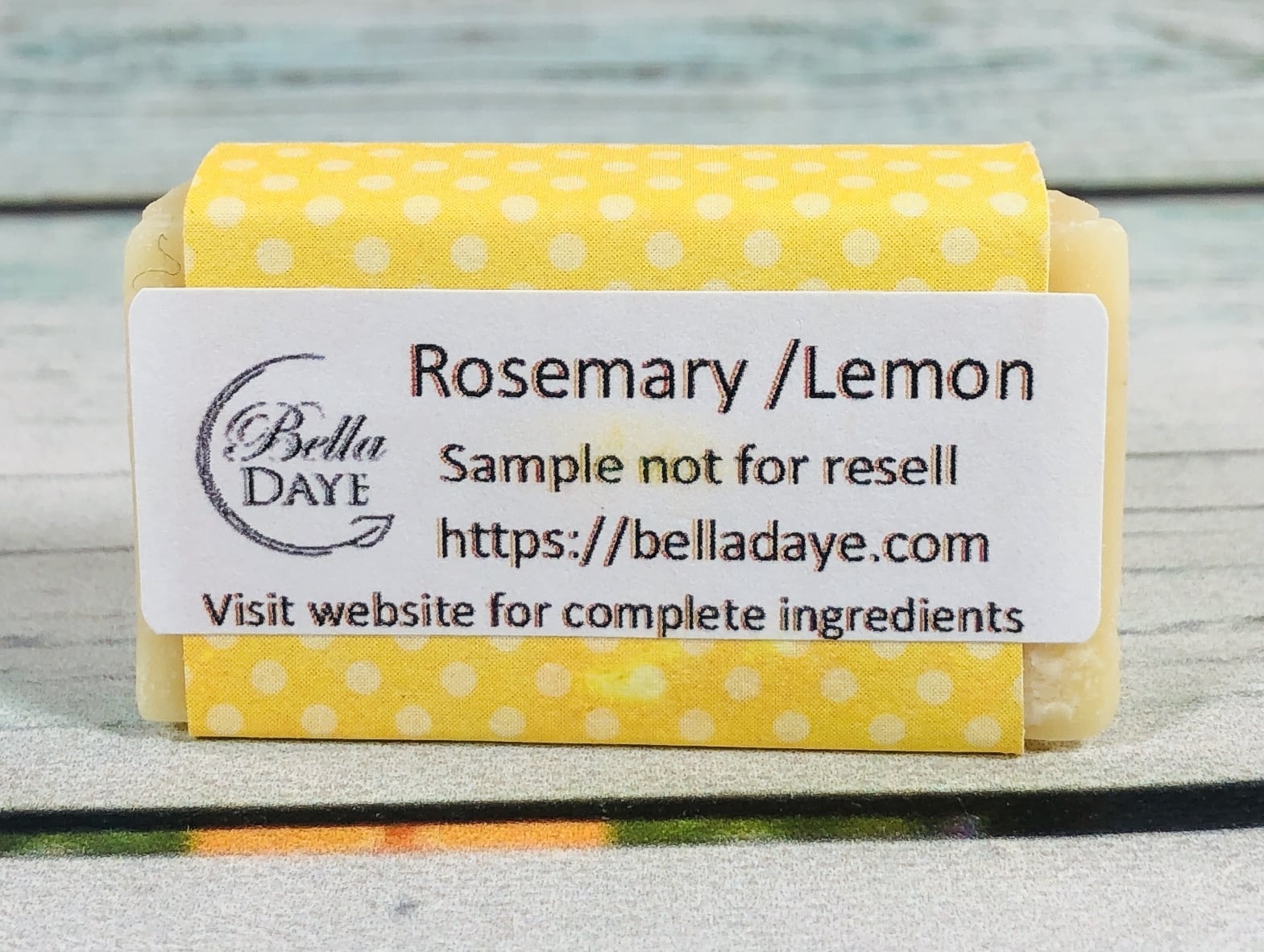 Bella Day Botanicals Rosemary Lemon Bar Soap (sample) Little bars of soap are kind of hard to use in the shower or bath since you have to really work at it to get enough to clean a grown up body. I used this on my hands instead.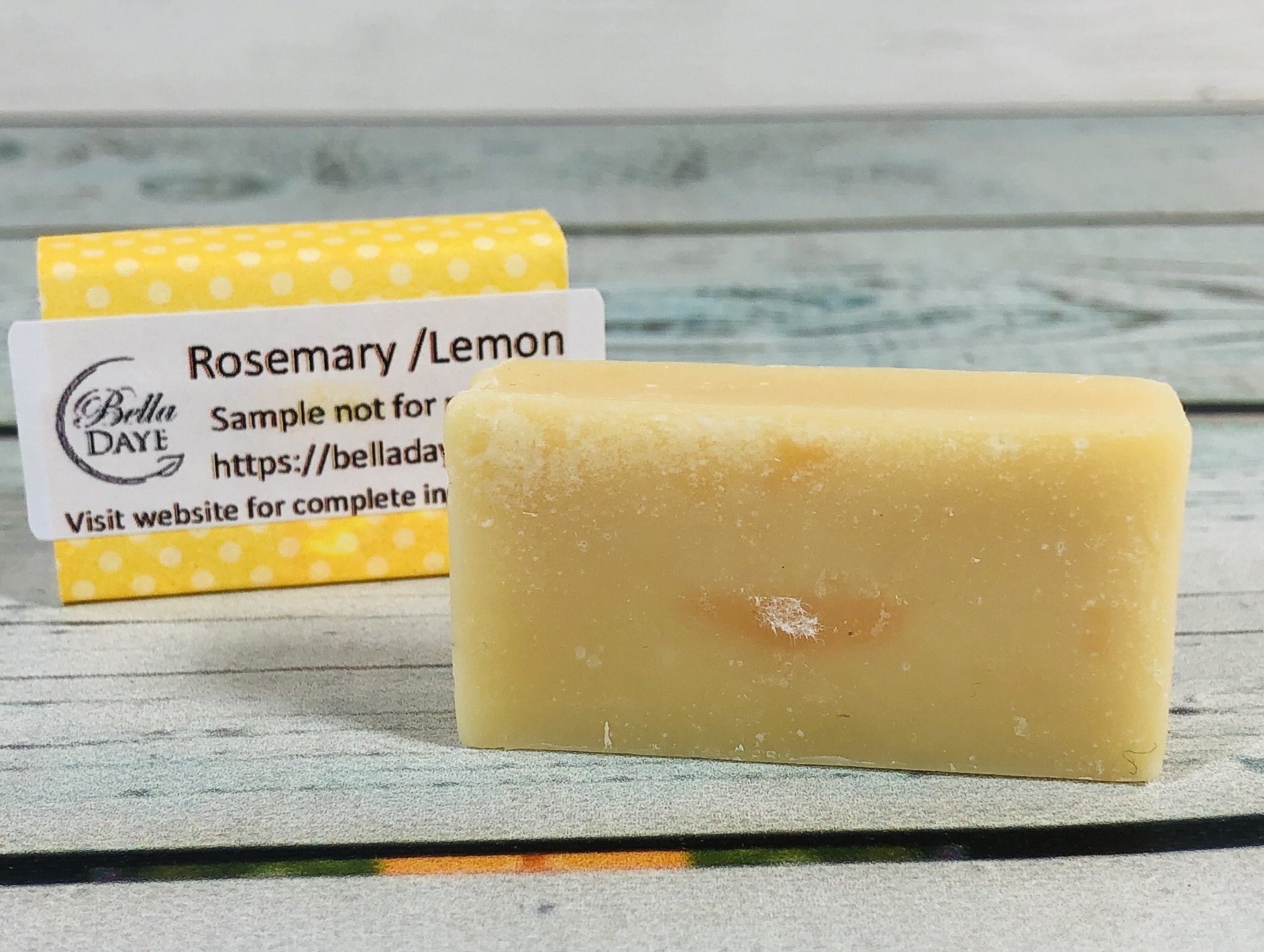 Goat's milk, coconut oil, and other oils along with shea butter and essential oils are in this little sunny bar. It lathered well and rinsed quickly away, and didn't leave behind any noticeable scent.
Soft Soles Tired Blend Roll-On ($10) I thought this was a roll-on aromatherapy perfume but it wasn't until I went to the brand's website that I discovered it is meant to be rolled on the bottom of the feet!
Ingredients in this blend include orange, ylang ylang, and lavender essential oil in a jojoba oil base.
You can roll it on the bottoms of feet and supposedly the lack of oil in feet makes it easier to absorb the oils in the roll on. Also, feet are less likely to be irritated by the plant oils. I would suggest you put socks on over the top though for safety's sake! I did roll it on my wrists as a type of perfume but the bright orange scent dissipated quickly.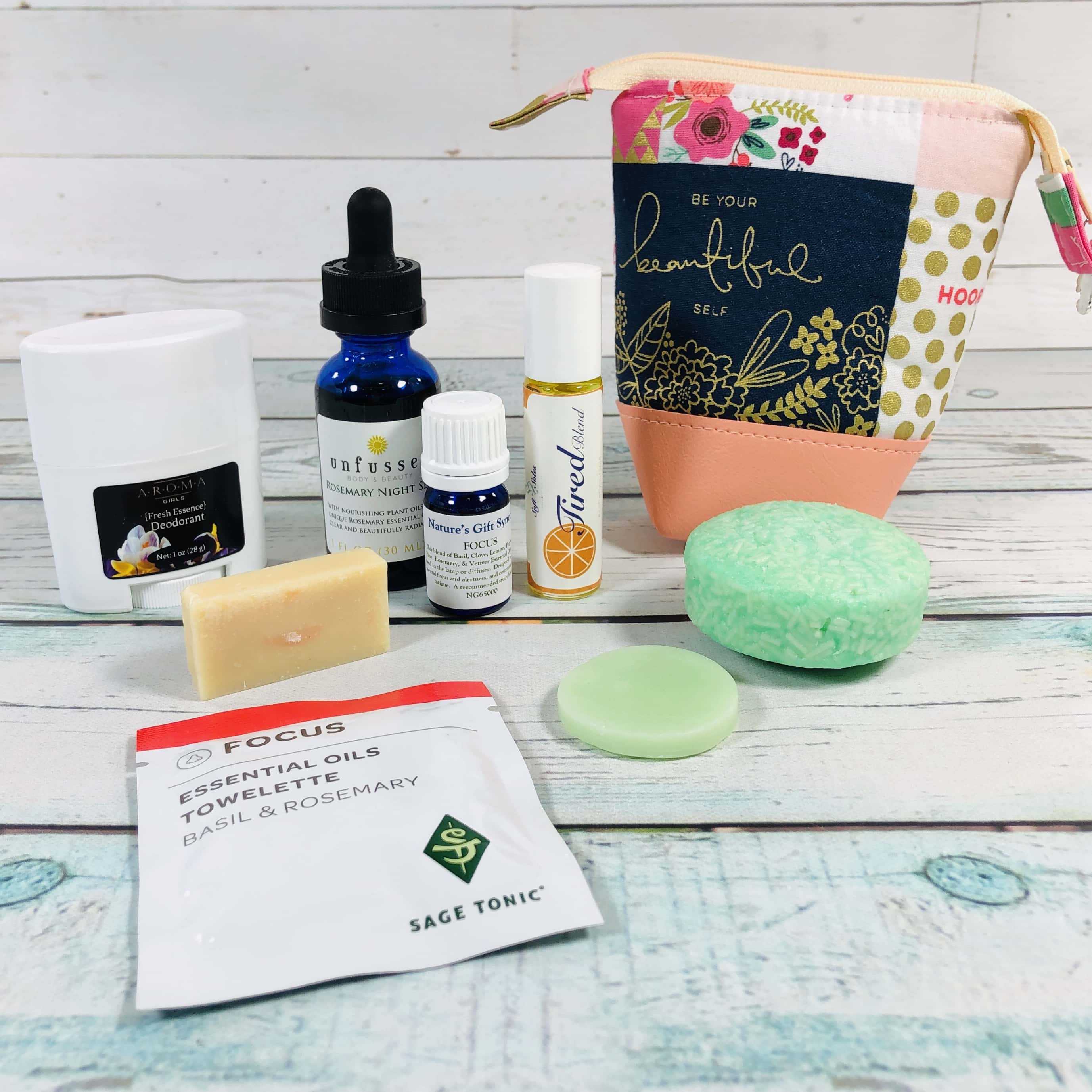 I really enjoyed the Rosemary theme for the June/July AromaBox by the AromaGirls! Rosemary is a wonderful scent, like pine but warmer, and I liked the products that came in the box. The bag is perfect for carrying a few bottles of oil on the go and the facial oil felt so good on my skin! I was surprised by how well the shampoo and conditioner worked for my fine hair and the diffuser scent was magnificent. The other items rounded out the box nicely but I missed having the AromaTips card and it would have been nice to know that I was putting the scented oil on the wrong body part! I ended up finding complete directions on the AromaBox website so it was all ok in the end. I couldn't find a price for every item but I believe the box had a retail value of about double the cost of the box.
Are you getting this box too?