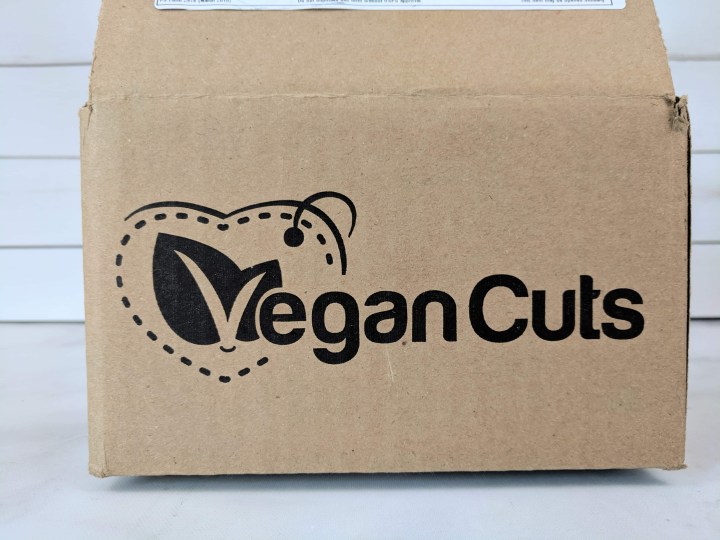 Vegancuts Snack Box is a monthly vegan food subscription that brings 5-7 organic and vegan treats each month. Each subscription box costs $22.95 monthly, and delivers mostly gluten-free snacks (always vegan!) right to your doorstep.
DEAL: Use the coupon code hellosub to get $5 off your first box on any Vegancuts subscription! This special deal ends 8/31.  It can only be used once per customer, but it can be used on multiple subscriptions at once so long as they are in the same transaction
Here's everything in the box.
This month's box supports Daisy and friends at Sunrise Sanctuary.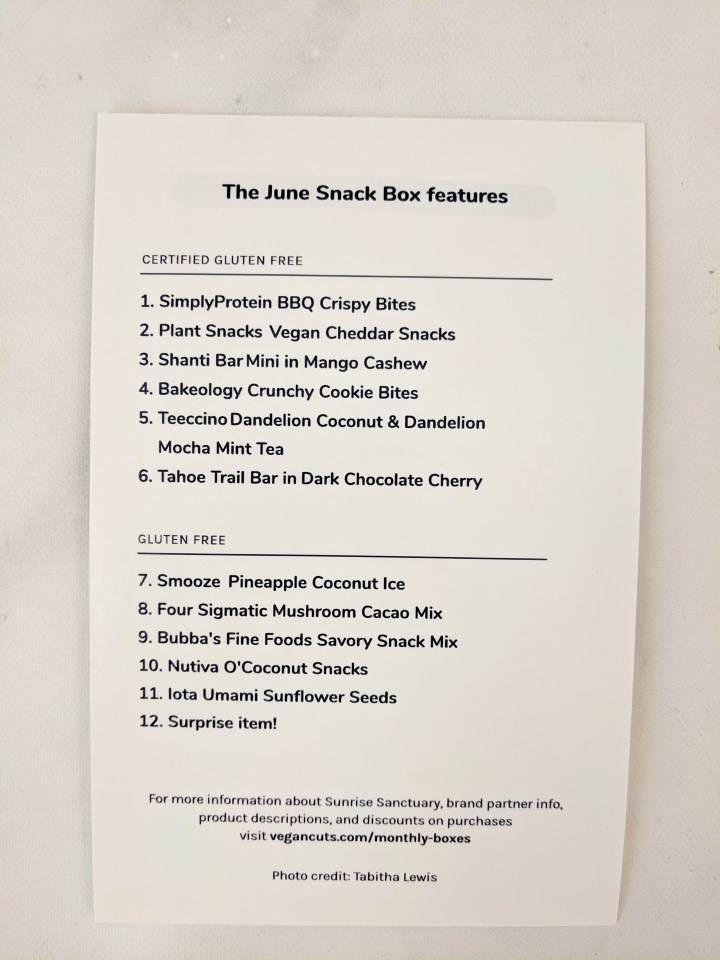 This month's box contains 12 Snacks!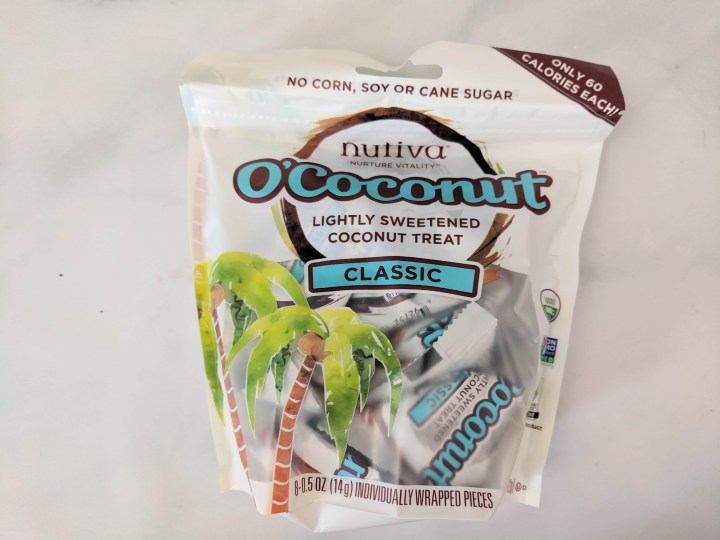 Nutiva O'Coconut. These little coconut bites are so good!
They are individually wrapped and we got a nice bag of 8 treats. They are soft, chewy, lightly sweet and so moist. They are perfect as a pre-workout bite!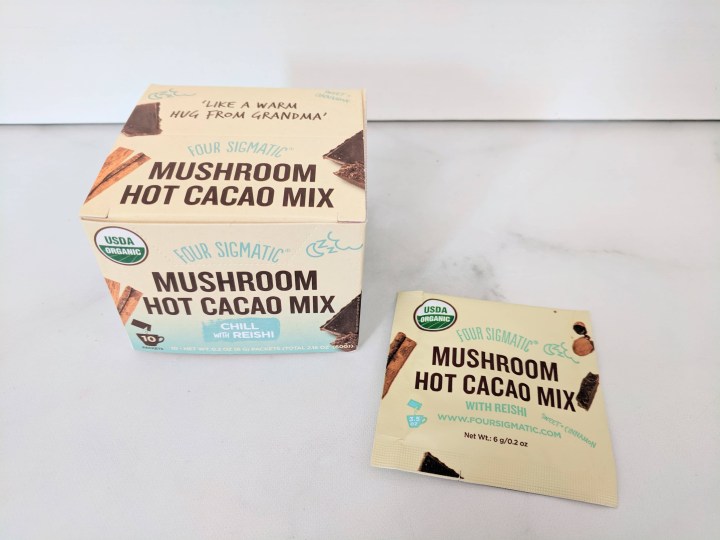 Four Sigmatic Mushroom Hot Cacao Mix – Chill with Reishi. This box contains 10 bags of the hot cacao mix. It has organic cacao, organic reishi, organic cinnamon and cardamom and it's sweetened with organic palm sugar and stevia.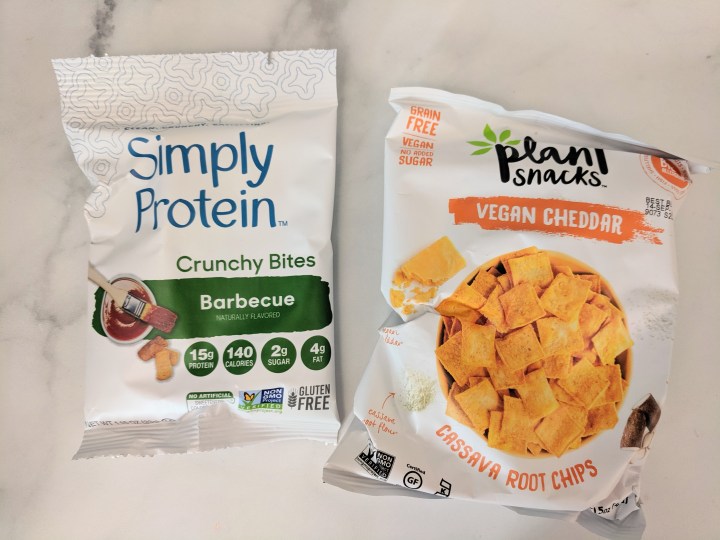 Simply Protein Crunchy Bites Barbecue. Each bag contains 15g of protein for 140 calories and they have a nice sweet barbecue taste.
It's quite crispy, thanks to the lightly puffed texture. They are really good and an easy way to get a protein snack without always reaching for the protein (sweet) bar or protein shake.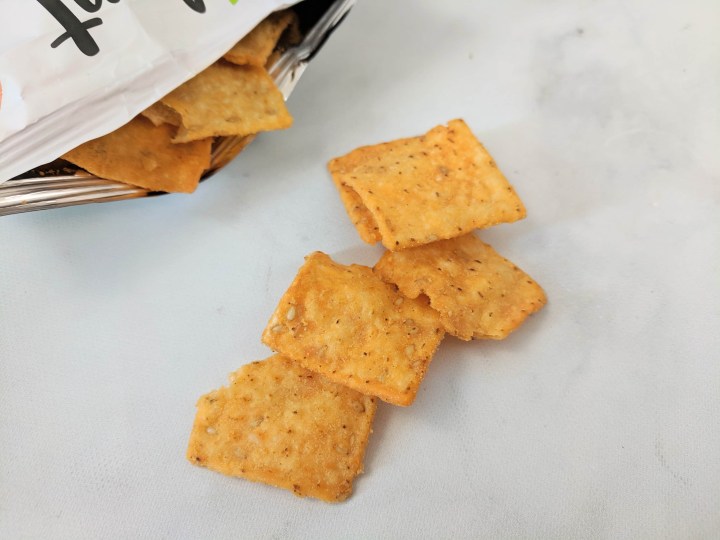 Plant Snacks Vegan Cheddar Cassava Root Chips. These cassava root chips (or yuca or manioc) are free of the big 8 allergens: milk, eggs, fish, shellfish, tree nuts, peanuts, wheat, and soy. The chips themselves have a nice light crispy texture and the flavor has a nice umami that you usually get with cheese flavored snacks.
Shanti Mini Mango Cashew Turmeric. The protein comes from the organic brown rice protein and contains dates, grape juice, organic cashews, organic almonds.
Truwomen – Daydreaming about donuts. With 12g of protein in this bar, it doesn't contain any sugar alcohols, and no soy. It's so tasty, it feels like a candy bar. I love the soft texture, even though it is ever so slightly grainy. My only problem with this protein bar is that I can't find them in my little town in Canada…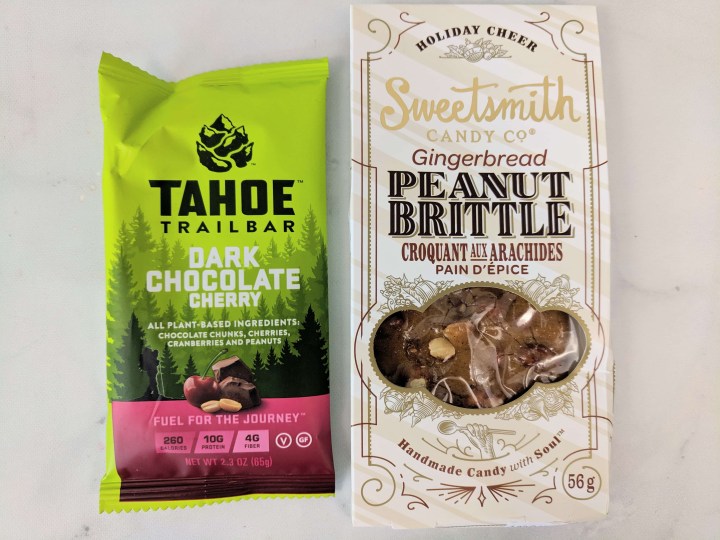 Tahoe Trailbar – Dark Chocolate Cherry. This bar packs 10g of protein and 4g of fiber in a 260 calories bar. It contains gluten free oats, Bing cherries, peanuts, coconut, flaxseeds, sesame seeds, sunflower seeds, raisins, cranberries, and sea salt, all good and tasty ingredients.
Sweetsmith Candy Co. Gingerbread Peanut Brittle. I love Peanut Brittles from this company as they are always melt in your mouth full of flavor with crunchy pieces of peanuts.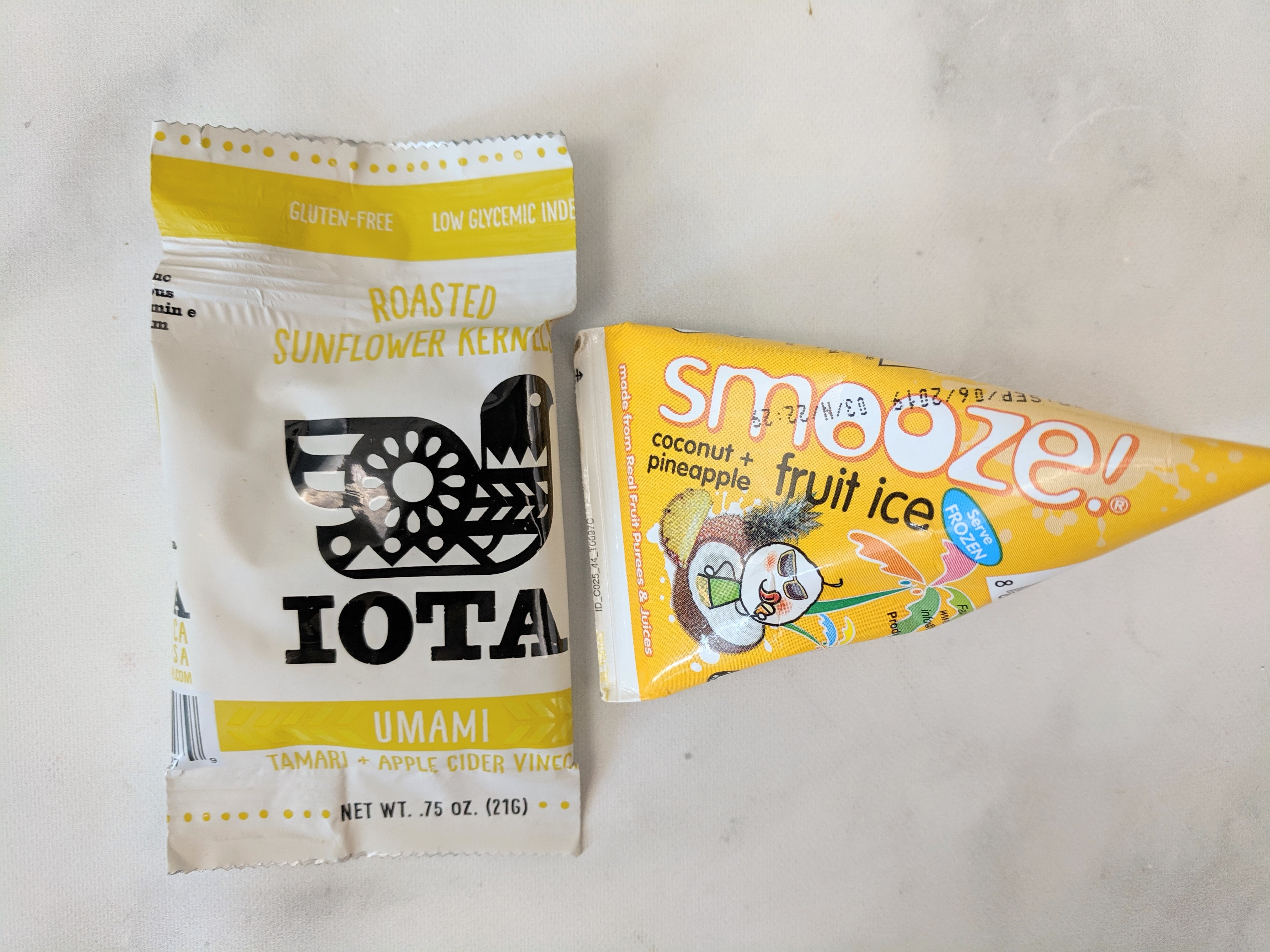 Iota Roasted Sunflower Kernel – Umami. Sunflower seeds with a delicious umami flavor from tamari and apple cider vinegar. So good!
Smooze Coconut + Pineapple Fruit Ice. An iced treat that tastes like pina colada! It's so refreshing!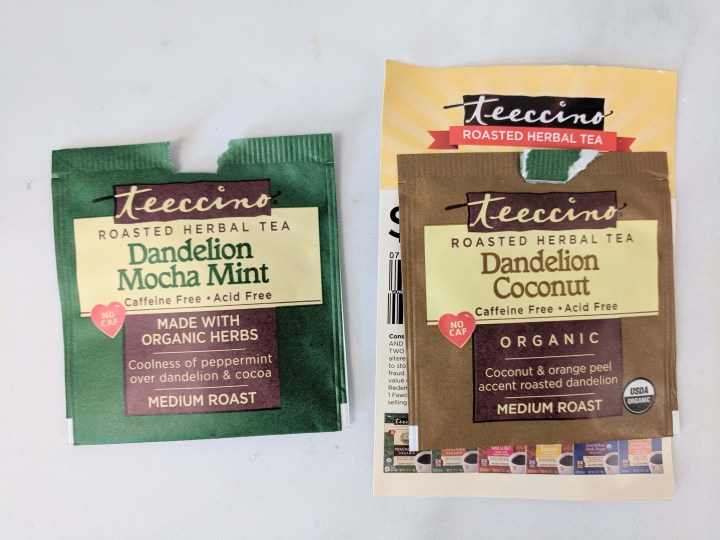 Teeccino Roasted Herbal Tea – Dandelion Mocha Mint and Dandelion Coconut. We received two sample of their Dandelion roasted herbal tea and they smell amazing! The Mocha Mint is fresh and sweet, while the dandelion coconut has a nice tropical orange and coconut scent.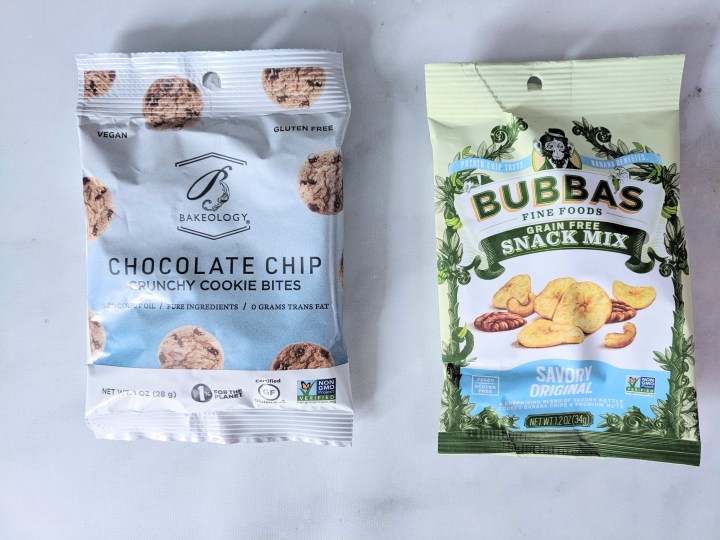 Bakeology Chocolate Chip Crunchy Cookie Bites. These Gluten-Free cookies are pretty tasty, although they are on the dryer side and quite crumbly.
Bubba's Grain Free Snack Mix. This mix is made of banana chips, cashews, pecans tossed with olive oil, turmeric and paprika. It's very tasty and satisfying.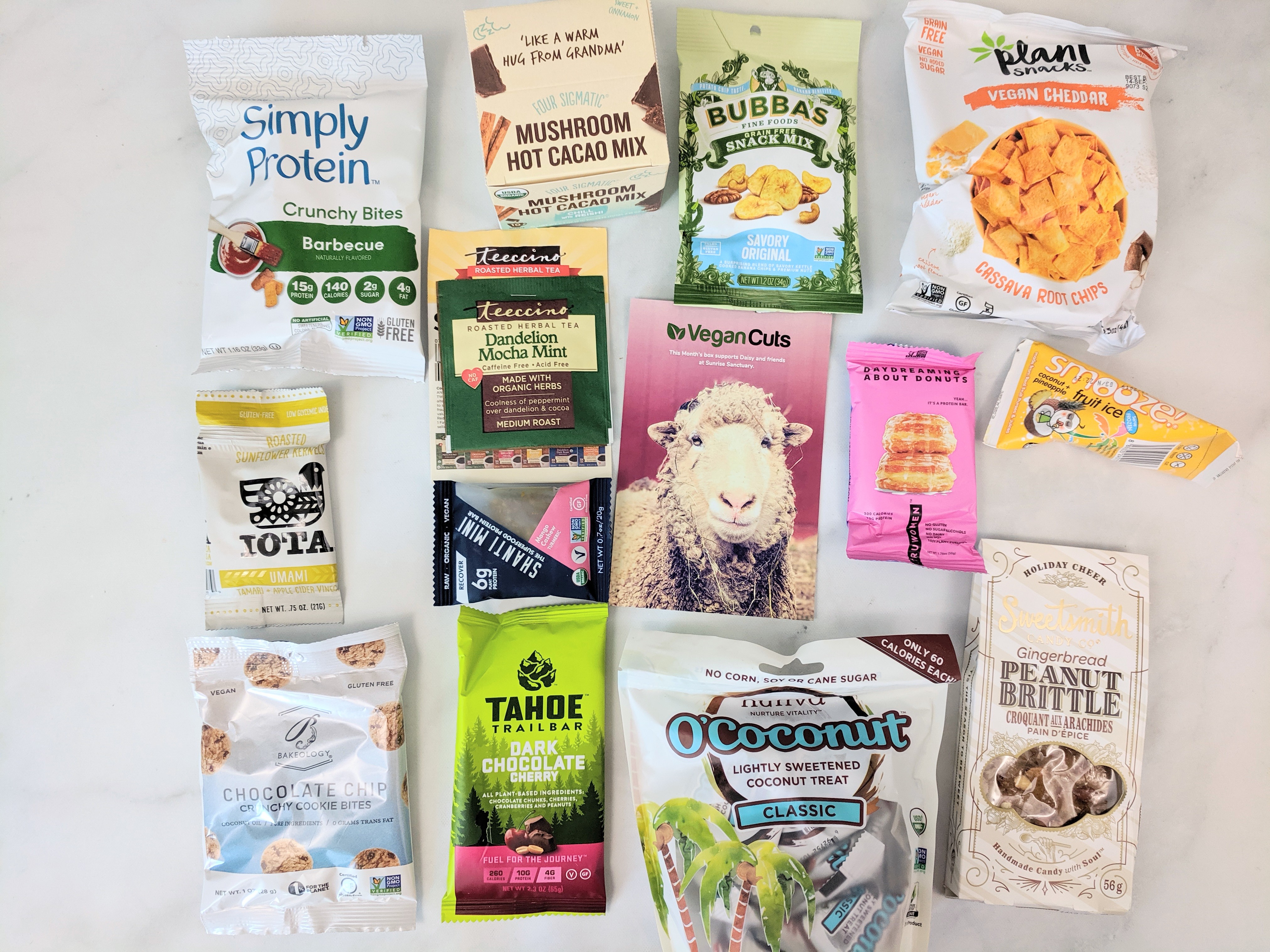 We really enjoyed this month's Vegancuts. There's always a nice mix of sweets and salty treats, and I'm always happy to get something I can enjoy out of the freezer! We also really appreciate when we get a bag of treats, like the O'Coconut, as it makes it easier to share!
Have you tried Vegancuts Snack Box? Let me know what you thought of the box!