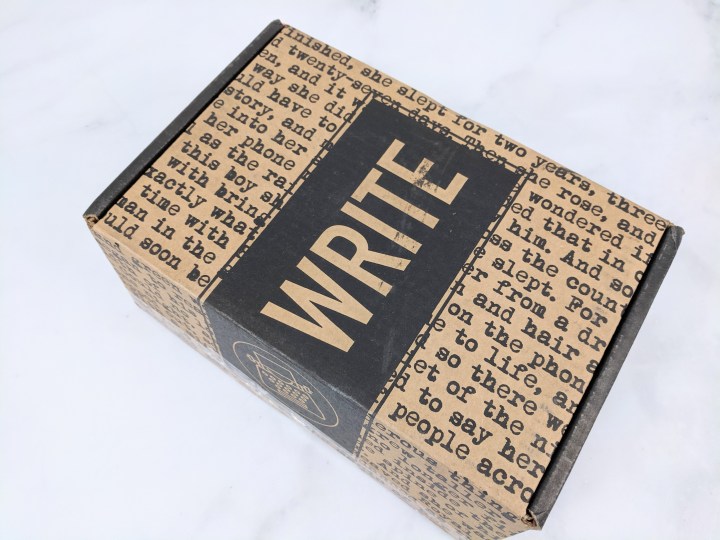 Scribbler is a monthly subscription box for novelists, created by authors, for authors. Scribbler is committed to helping writers improve their craft and reach their publishing goals, month after month.
For $29.99 a month, you'll get a newly released fiction, a "Writing Passport" from the featured author to help you master the monthly theme, curated writerly gifts, and an invitation to communicate with a publishing professional.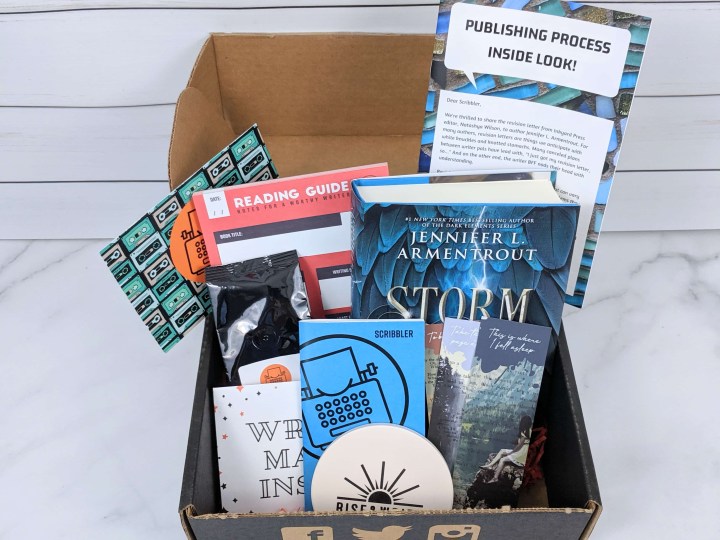 Everything in the box!
Every month, we are welcomed with a postcard from Scribbler with a writing context on the back. If you share your entry on their Instagram, you could get an extra gift in your next box!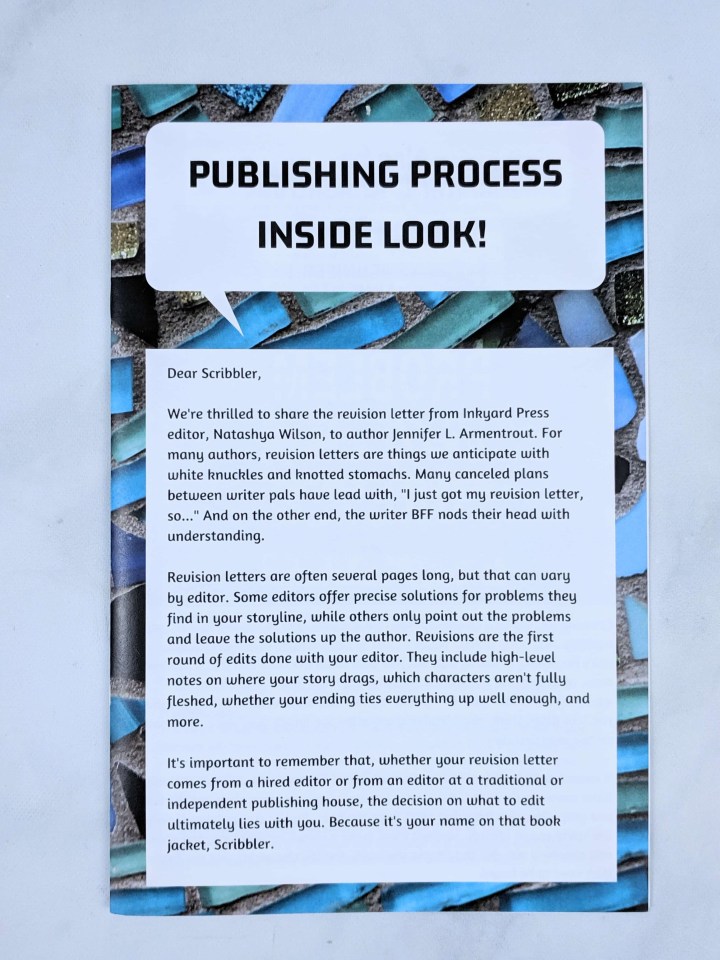 Every month, we are welcomed with a Publishing Process Inside Look.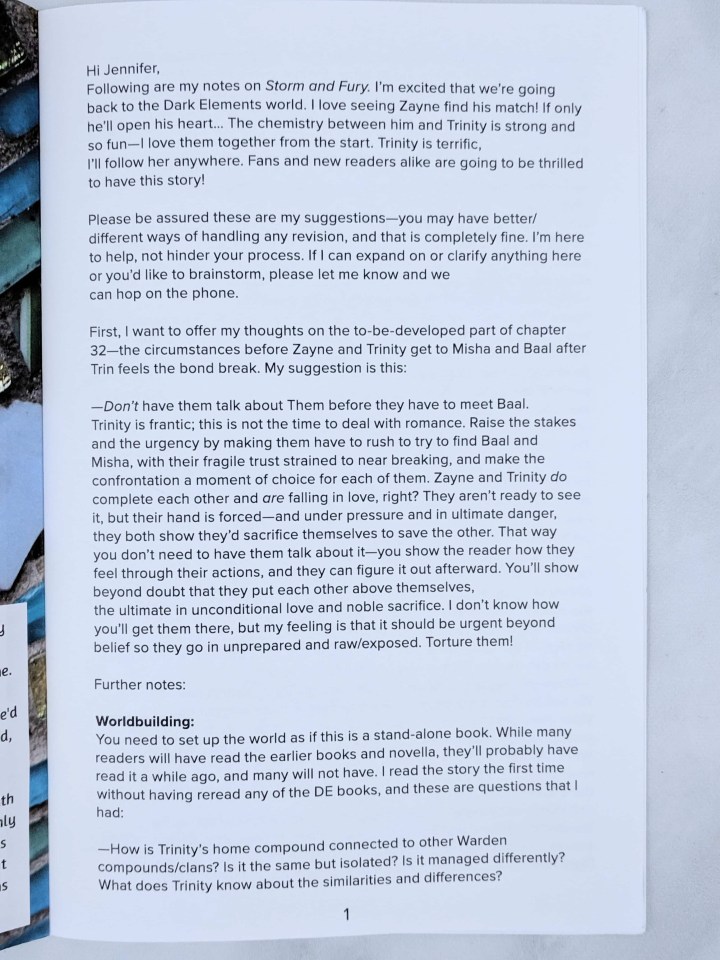 For June, Scribbler is sharing with us a revision letter from Inkyard Press Editor Natashya Wilson to author Jennifer L. Armentrout.
At the back of the booklet, we have a list of the items in the box.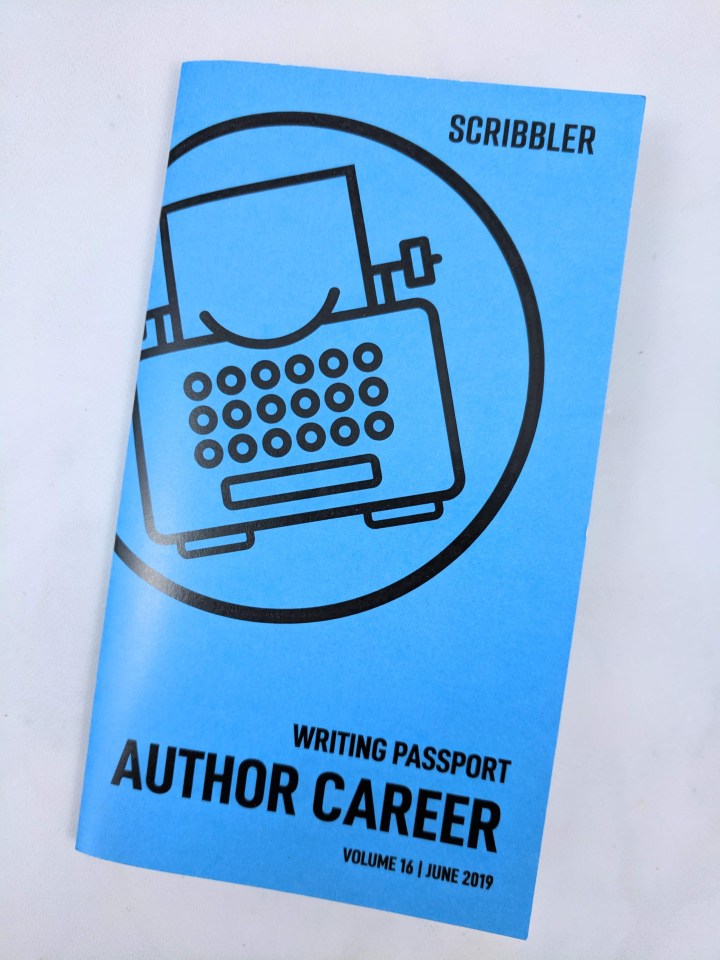 This month's theme is Author Career.
There's a quick introduction in the booklet about why the featured book was chosen.
There are no exercises in the booklet to improve our skills, but we have an insight about the Author Career in 2019, and how it's changing, from the point of view of this month's author Jennifer L. Armentrout.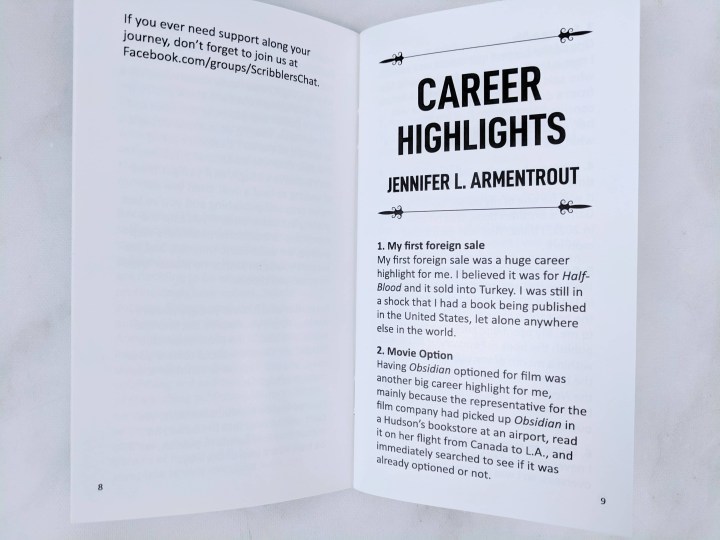 We also have a career highlights of the author.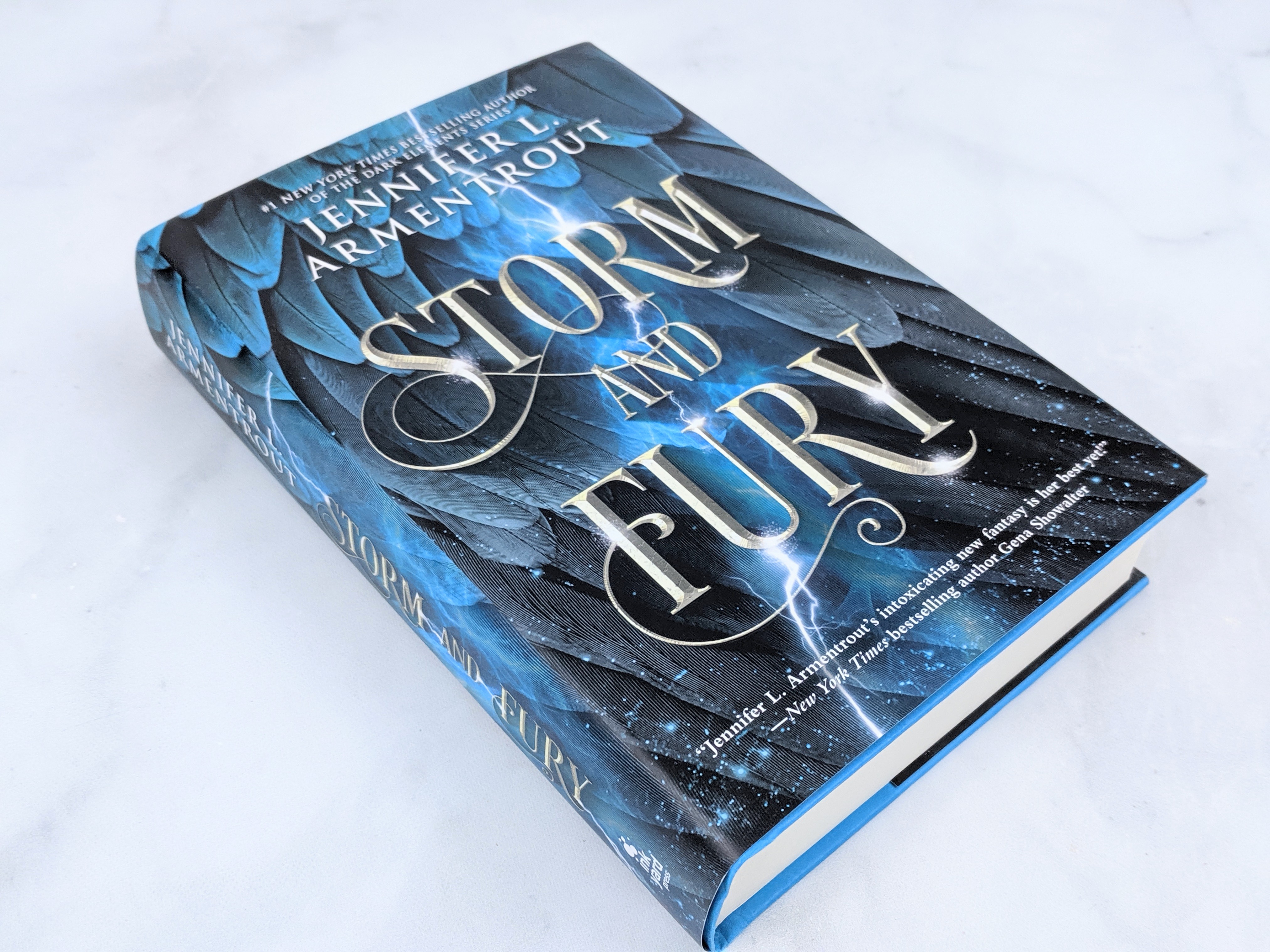 The book this month is a hardcover copy of Storm and Fury by Jennifer L. Armentrout. From Amazon:
Enter a world of gargoyle protectors, rising demons and one girl with an explosive secret.

Eighteen-year-old Trinity Marrow may be going blind, but she can see and communicate with ghosts and spirits. Her unique gift is part of a secret so dangerous that she's been in hiding for years in an isolated compound fiercely guarded by Wardens—gargoyle shape-shifters who protect humankind from demons. If the demons discover the truth about Trinity, they'll devour her, flesh and bone, to enhance their own powers.

When Wardens from another clan arrive with disturbing reports that something out there is killing both demons and Wardens, Trinity's safe world implodes. Not the least because one of the outsiders is the most annoying and fascinating person she's ever met. Zayne has secrets of his own that will upend her world yet again—but working together becomes imperative once demons breach the compound and Trinity's secret comes to light. To save her family and maybe the world, she'll have to put her trust in Zayne. But all bets are off as a supernatural war is unleashed…
I love anything with ghosts, spirits and demons, so the addition of gargoyles is interesting!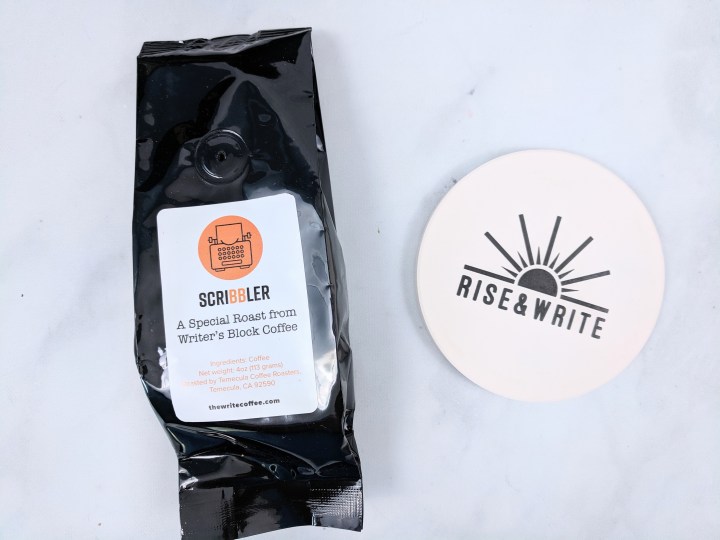 Scribbler's Special Roast from Writer's Block Coffee. This month's treat is coffee, one of the most common writer's fuel!
Rise & Write Coaster. I love coasters, I can't get enough. I always have a glass of water, some kind of tea/coffee and kombucha on my desk at all time, and it's nice to have a special place for them! The saying is a perfect reminder of what it takes to be a writer. Just rise and write.
The top is a kind of porcelain, while the cork underneath will protect any surfaces.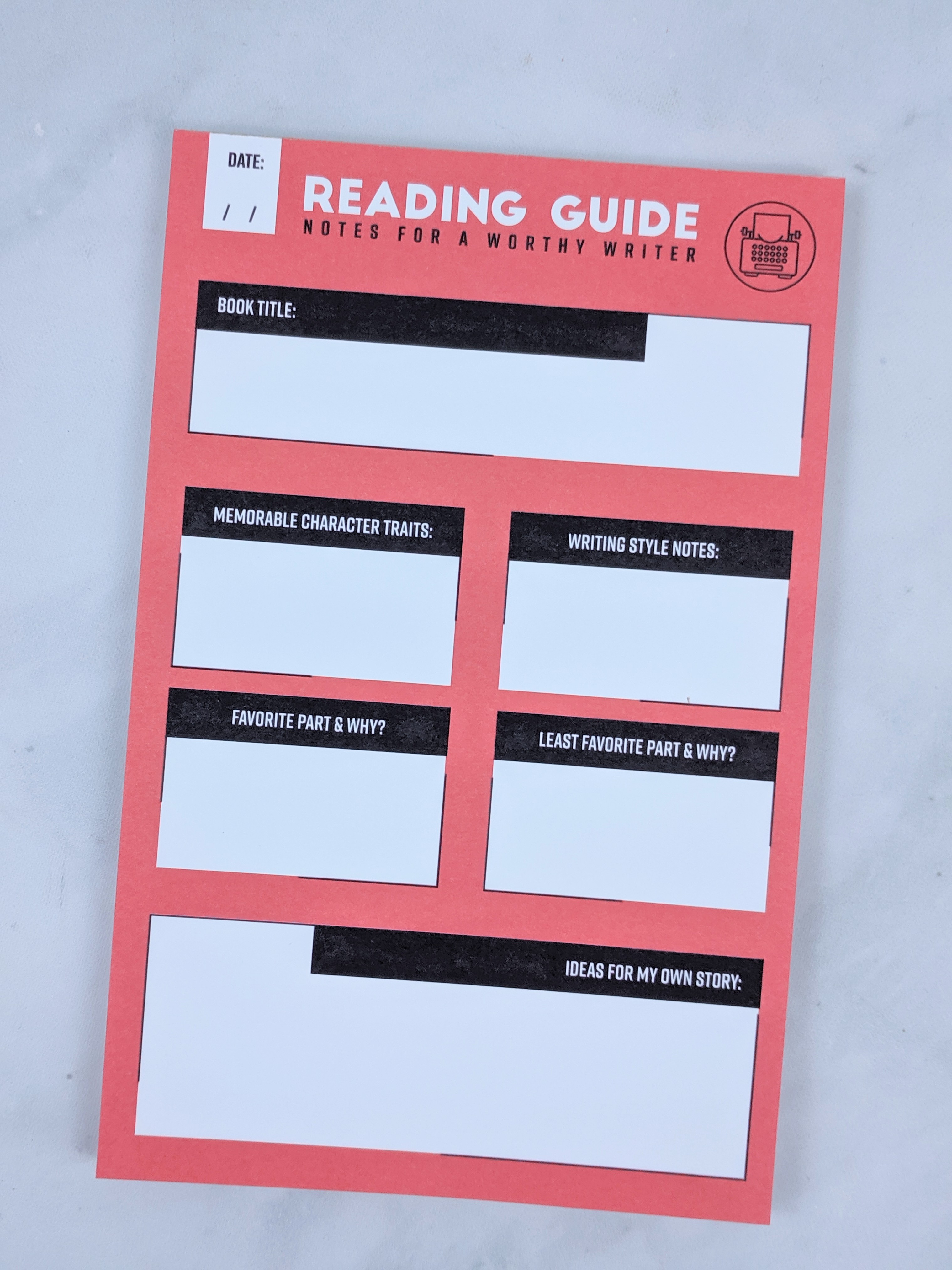 Reading Guide Note pad. A writer learns a lot by reading, and this notepad makes this process easier by focusing on things you can use in your own writing.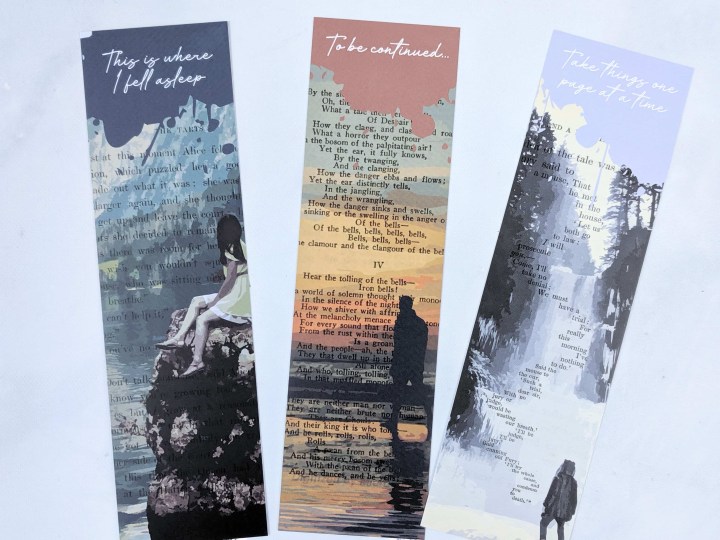 Bookmarks. You can't have too many bookmarks. They are useful not only to keep track of your reading, but I also use them in my notebooks as well.
Invitation. This month's invitation is for a chat with Natashya Wilsom, Executive Editor for Inkyard Press.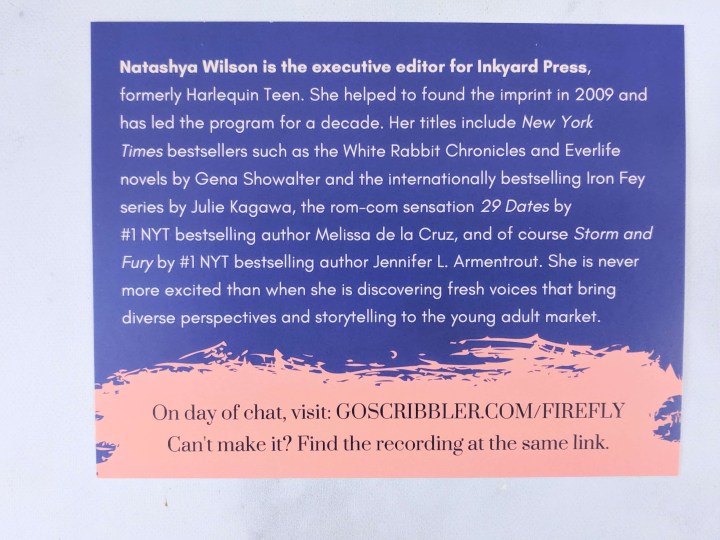 The invitation is for July 10. I really appreciate that these events happen a couple of weeks after we receive the box, as it gives plenty of time to get ready for it, even for subscribers from outside the USA. But if you miss it, don't worry as the recording will still be available on Scribbler's website.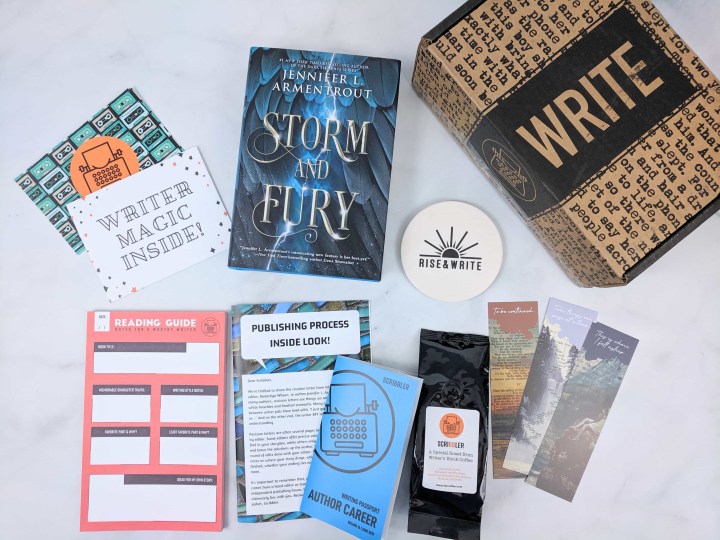 This was a nice box from Scribbler. The book sounds interesting and the Writing Passport about building your career is a nice reminder that even when you work on your skills, you can still work on your author career. I also always like the goodies as they are really celebrating the writers and the writing process, not just the books. The booklet is always a nice read to remind us of different aspects of writing a book, making use more mindful when we write. It's also amazing to have the opportunity to connect with people in the industry and have insights from published authors!
What do you think of this month's box?