Sanrio Hello Kitty & Friends Crate is a kawaii subscription box from Loot Crate featuring the cutest and the most likeable Sanrio characters. The subscription costs $39.99 per quarter, and you'll get a mystery box filled with super cute items. If you grew up collecting Hello Kitty, Bad Badtz Maru, My Melody, or have more recently fallen in love with newer characters like Gudetama, then you'll definitely love this subscription!
DEAL: Save 15% on any subscription when you use this link and coupon code HELLOSUBSCRIPTION15.
NOTE: All of Loot Crate subscription boxes are experiencing substantial delays. If you subscribe now you run the risk of never receiving boxes. Only subscribe if you are ok with that risk.
The items were wrapped in Sanrio paper with Hello Kitty's ribbon as the sticker. The whole Sanrio gang is here!
The box itself features Sanrio characters as well.
The Spring 2019 theme is OUT OF THIS WORLD! 
This poster with the Sanrio characters is really adorable. Everyone's enjoying the outer space!
This cute information sheet provides item descriptions, as well as more information from Sanrio.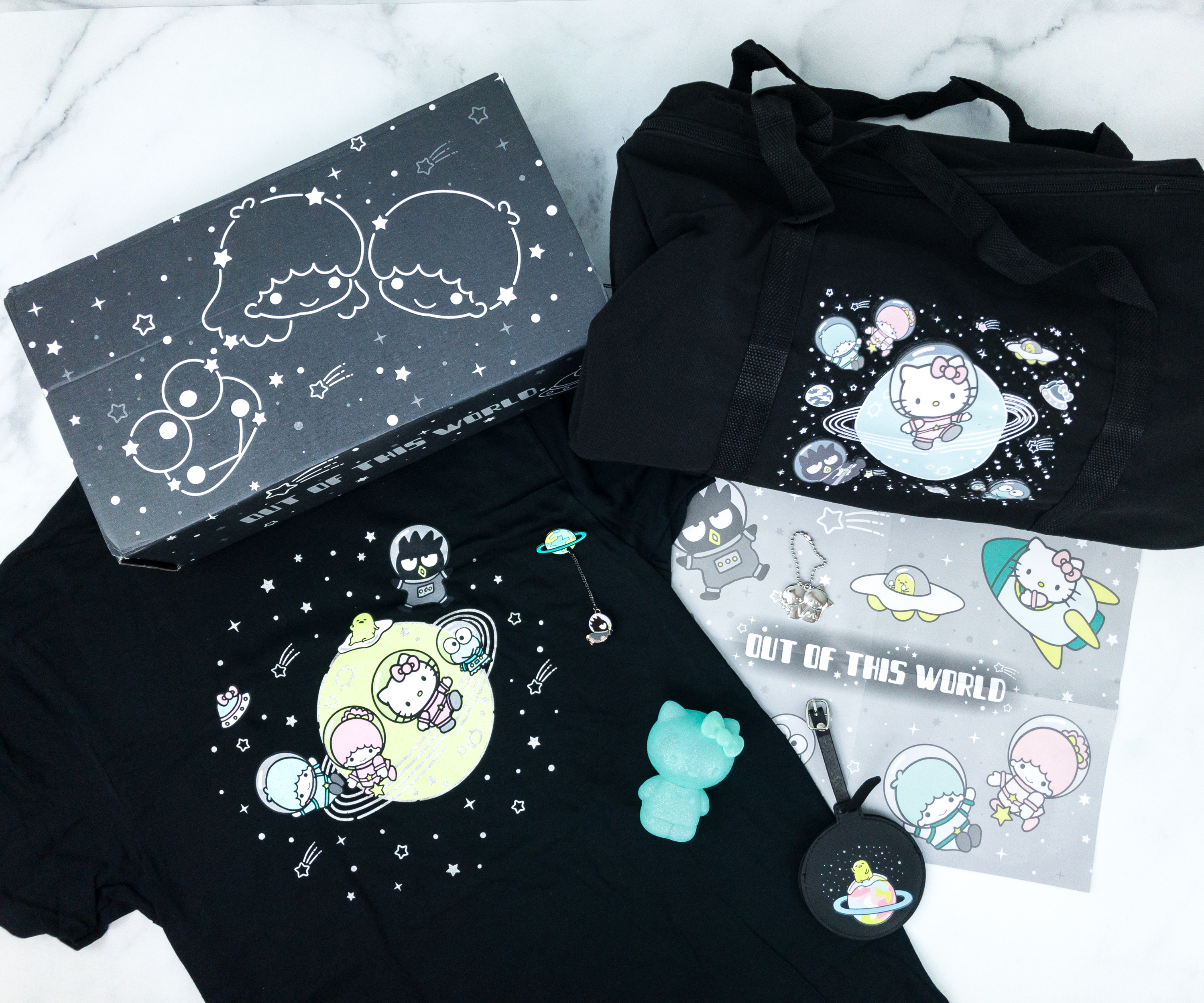 Everything in the Spring 2019 Box! This box was delivered late, but it just so happens we're celebrating everything SPACE this July! Wish we'd had it earlier though!
Sanrio Trinket. For the trinket this quarter, I got a metal charm with a ball chain that features Kiki and Lala of Little Twin Stars. Subscribers can also receive Hello Kitty, Gudetama, My Melody, or Cinnamoroll!
Gudetama Luggage Tag. Our favorite lazy egg is also included in this crate and this time, Gudetama is on a cute out-of-this-world luggage tag!
Who wouldn't want to bring this adorable cute egg on travels? The tag has a space for all your personal information, well, just in case you misplace your bag!
Badtz-Maru Enamel Pin. A new series from this crate is composed of enamel pins, and for the very first one, we got Badtz-Maru!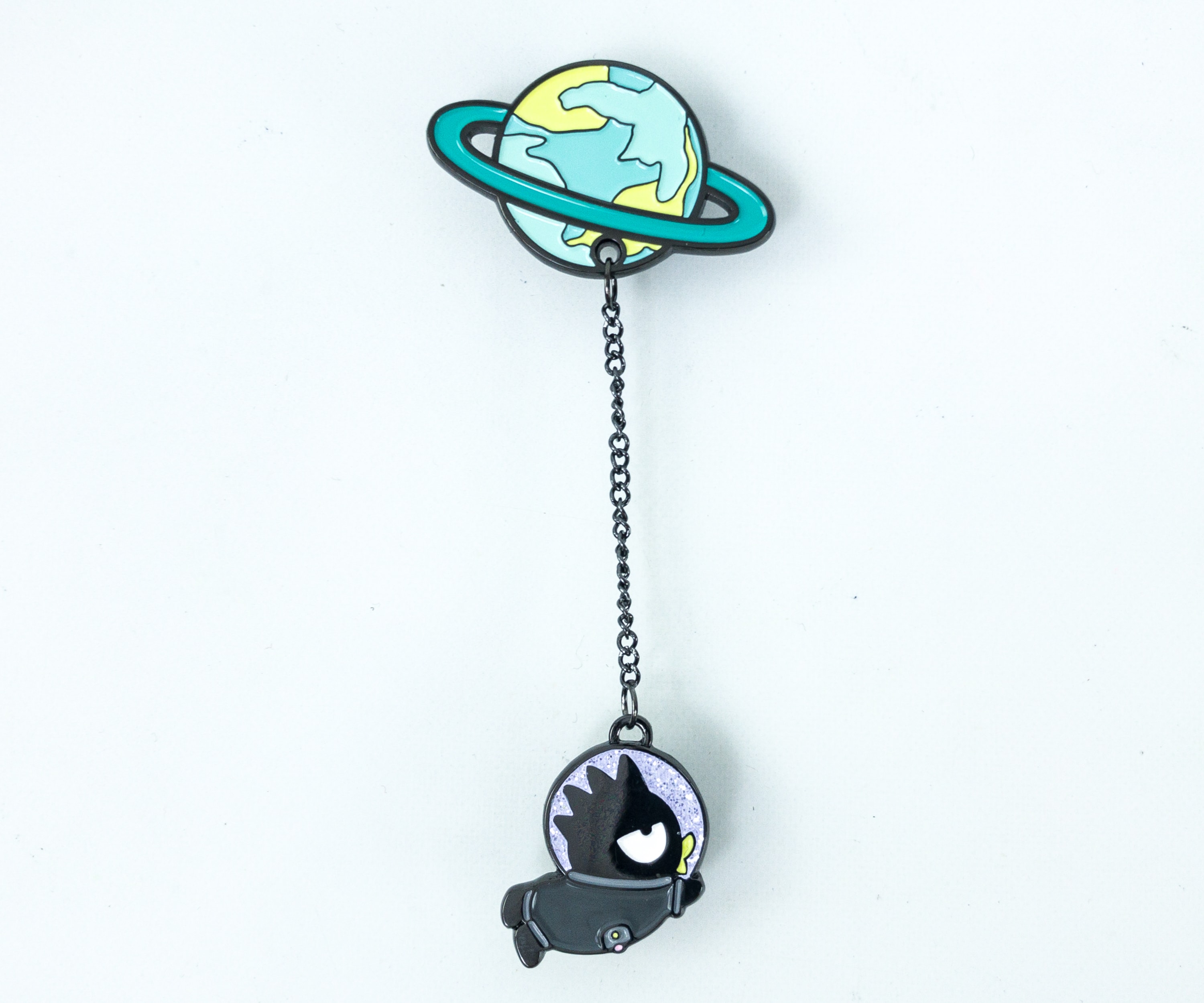 It's a two-part pin connected by a chain. One end has a planet with a ring, while the other end of the chain holds the astronaut Badtz-Maru!
Multi-Character Canvas Duffle. Of course, travels won't be complete without a bag where you can stash everything you need. This one is a duffle bag made with canvas.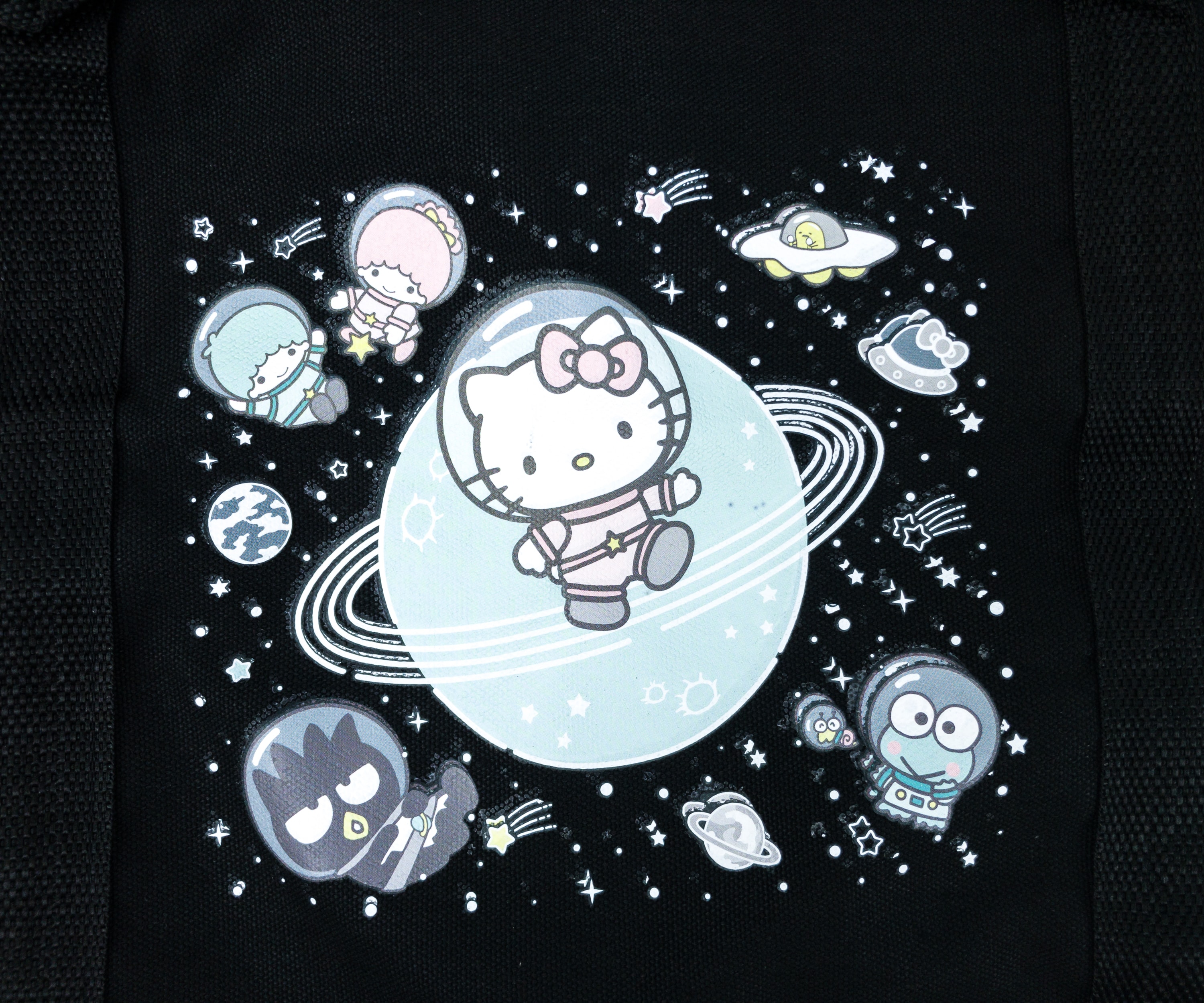 The bag features all the characters in their spacesuits: Hello Kitty, Kero Keroppi, Badtz Maru, Little Twin Stars' Kiki and Lala, and there's also Gudetama!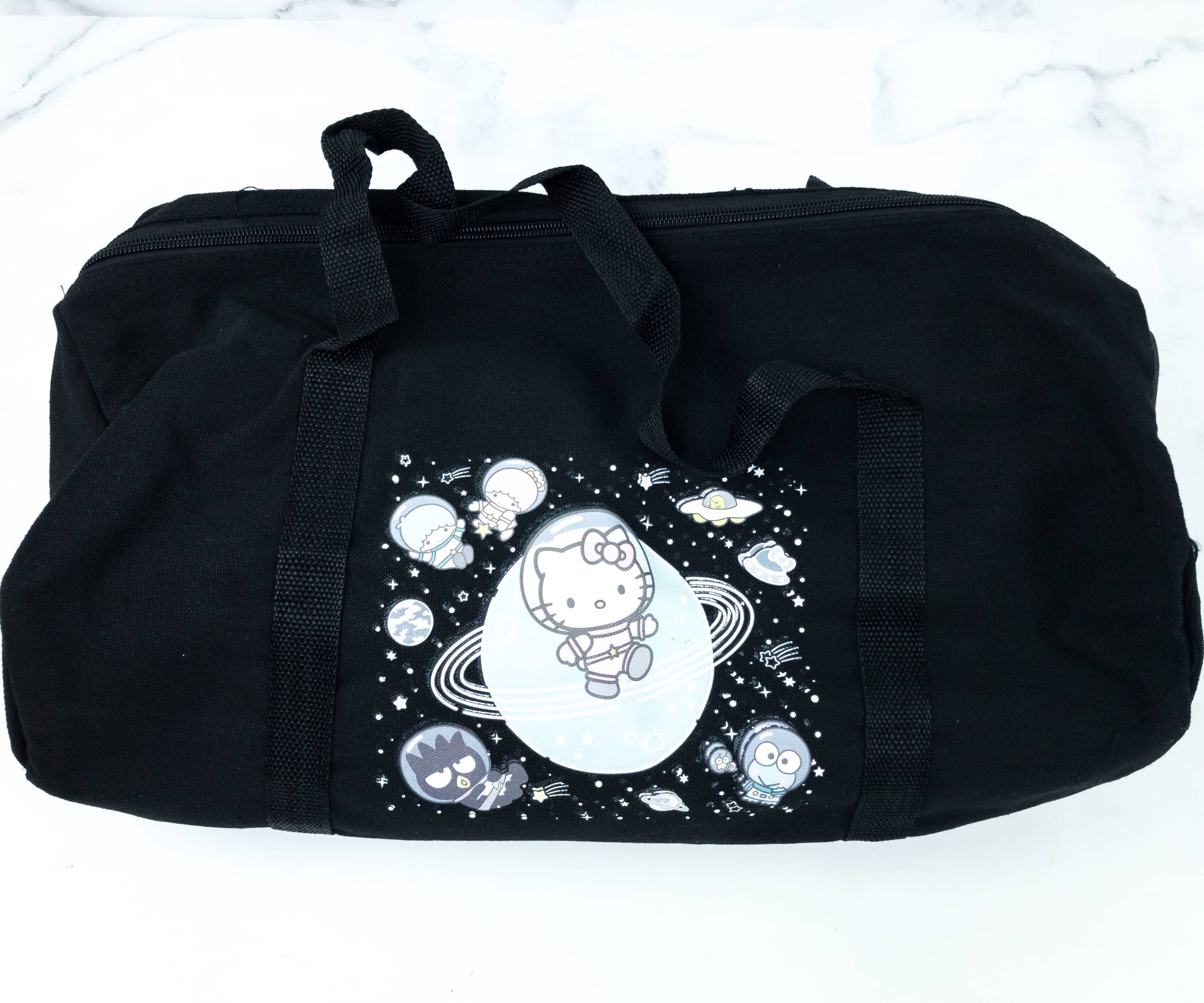 The bag is really spacious and it can contain most of my bigger stuff like clothes, towels, another bag of toiletries, and more!
However, some of the prints didn't stick well and it's really noticeable.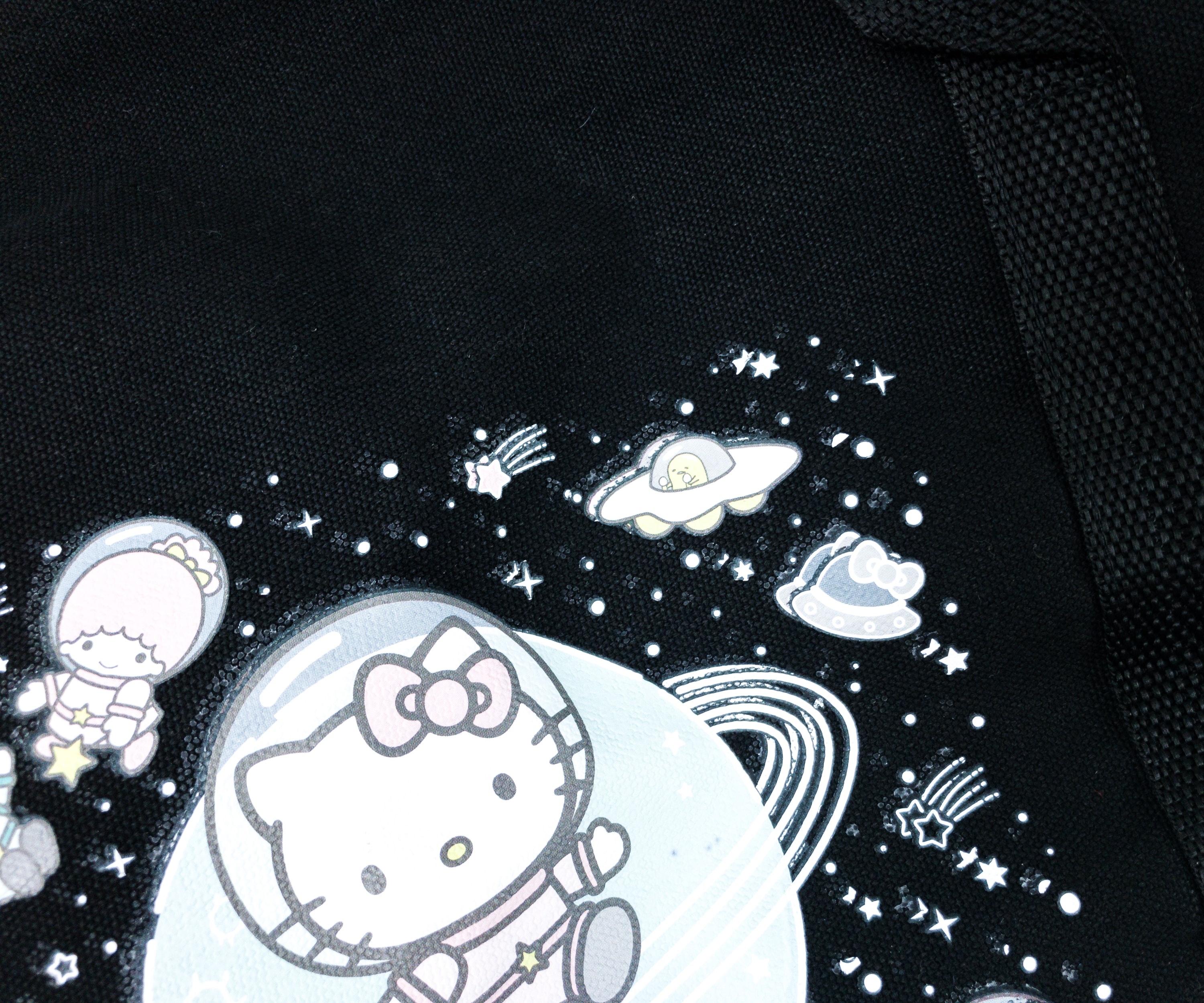 This bag would've been perfect if not for the flawed print!
Multi-Character T-Shirt. The shirt has the same design as the duffel bag as it features the Sanrio gang in their spacesuits!
The only difference is that the lazy egg is sitting atop of the yellow planet without anything on! The shirt is in black so that's a plus for me, and it makes the other celestial bodies stand out on the background.
Hello Kitty Galactic Variant Figure. The figure for this season is packed inside a cute space-themed box, again with the whole gang defying gravity!
For this figure, you can get a green one, a rare pink one, and a super rare yellow Hello Kitty figure!
I got the most common one which is a glittery green!
The back looks similar to the front of the figure, but without much detail except for her tail.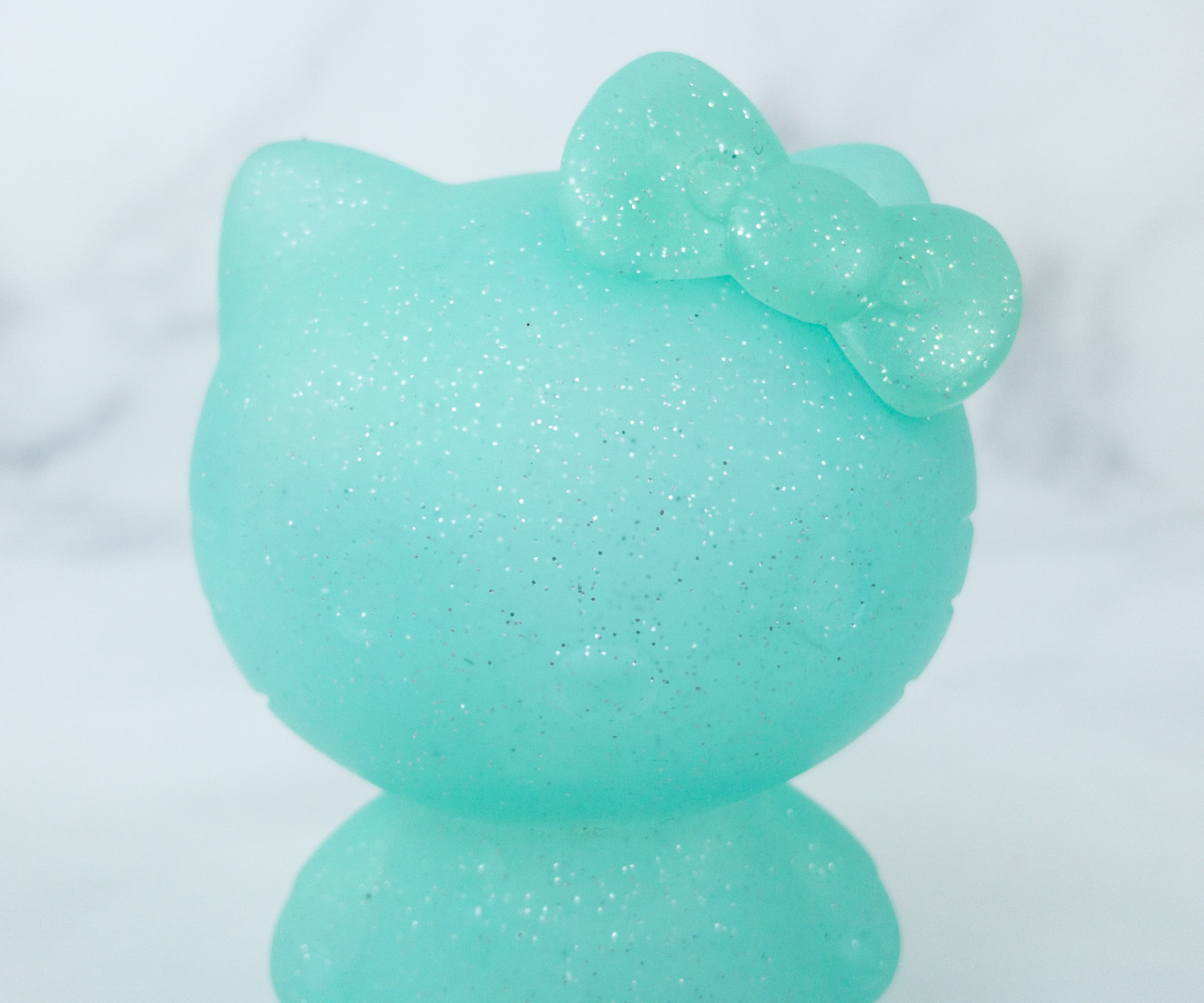 You won't see the features of Hello Kitty's face but you'll definitely spot her popular ribbon! The vinyl figure twinkles like a star because of the shimmering details. It's really adorable and a nice celestial take on the popular kitty mascot.
This crate really knows how to make us swoon with all the cuteness they send! All the items are adorable and functional, and I am really happy about all of them. My favorite is the Hello Kitty figure and I know it will look good sitting on my desk, accompanying me during the busy days. I also like the duffel bag, if not for the flawed prints. The shirt is gorgeous as well, I love the look of the gang defying gravity and enjoying the outer space. I think this crate is telling me to go out and explore the world, or just have a relaxing vacation. I know a lot of people adore the Sanrio gang so much, so it's best to get this box and receive super cute items that feature different themes each quarter!
What did you think of the Spring 2019 Sanrio Small Gift Crate?
Visit Hello Kitty and Friends to subscribe or find out more!