Petit Vour is a monthly vegan beauty subscription box sending the "crème de la cruelty-free." Petit Vour is $18 a month for 4-5 cruelty-free and non-toxic beauty products, mostly deluxe sample sized but with the occasional full-sized item. Prepay for 12 boxes and the price drops to $15 a box! Each box will have a value of between $45-$60. Petit Vour has around 30 ingredients that they pledge NOT to put in boxes and of course, each item must be vegan and cruelty-free. You can find that list of banned ingredients here.
The Petit Vour Beauty Box is made for the beauty devotee whose lifestyle leans toward compassion.
Each month we'll share the best in plant-based beauty, culled from beauty's kindest. Inside you'll find generously-sized products (personalized to your beauty profile) for you to apply, blend, buff, lather, soak, and spray.
DEAL: Save 25% on your first box with coupon code FIRSTBOX!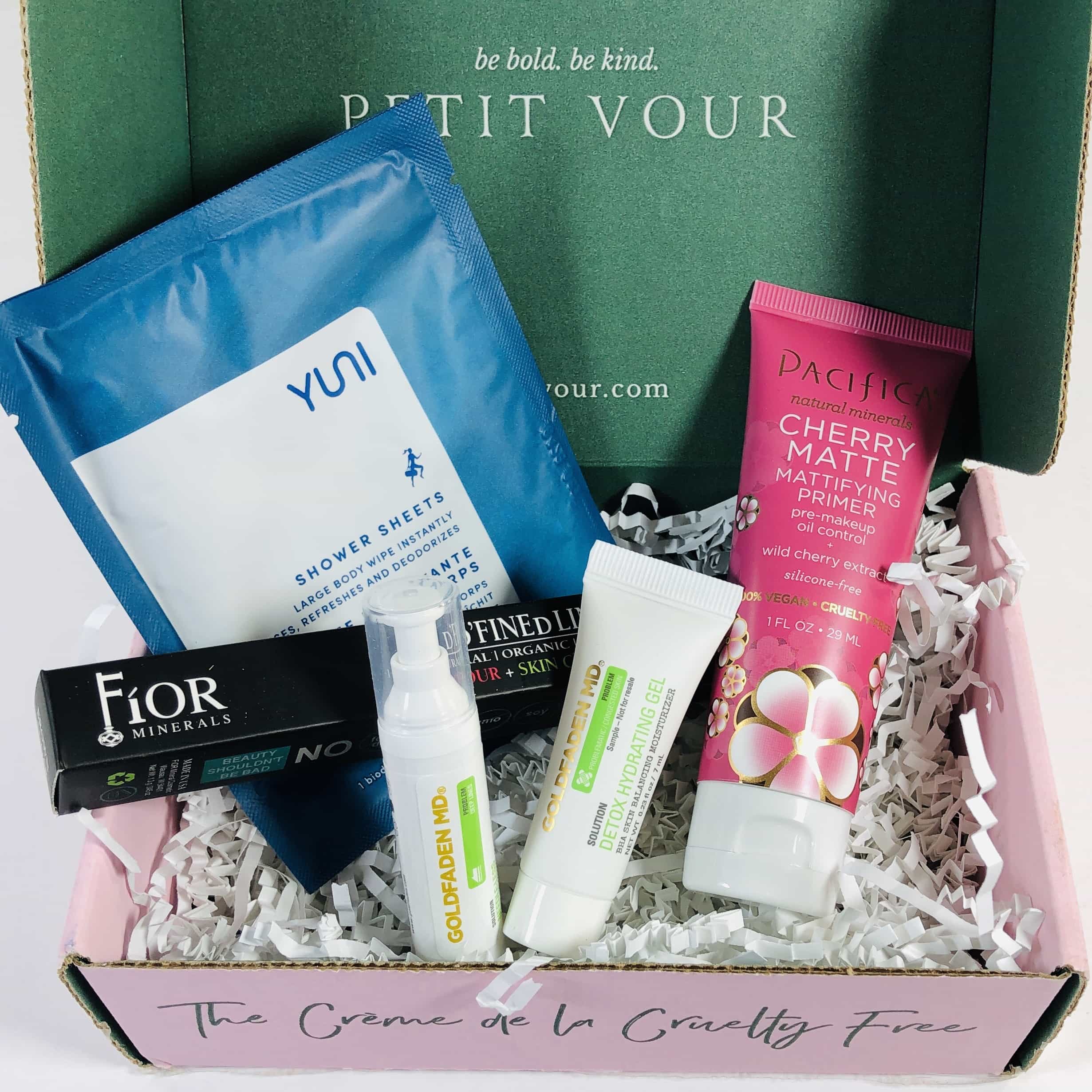 The items were packed in white paper squiggles. I think Petit Vour does a great job at presenting a pretty box.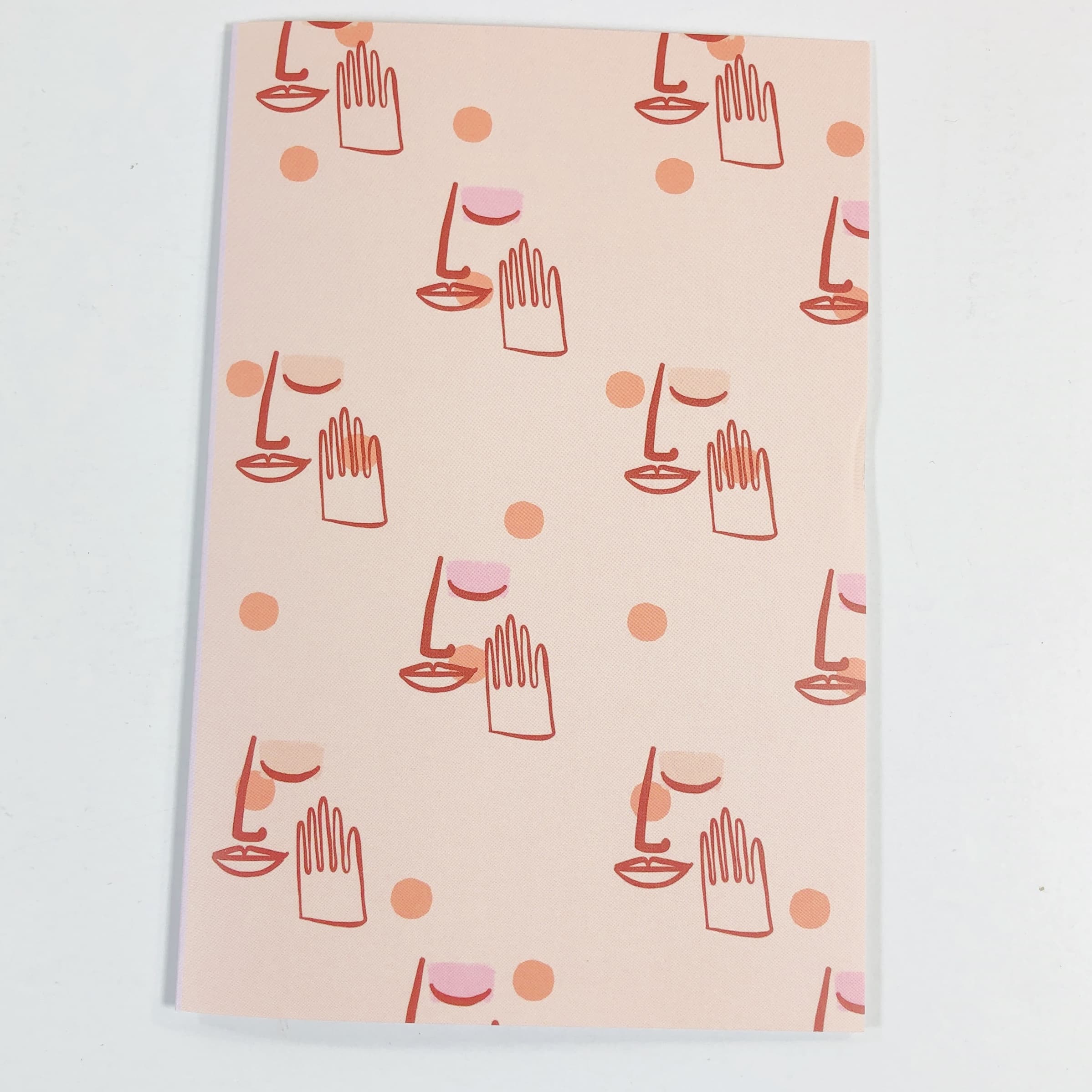 Petit Vour sends a lovely product information card.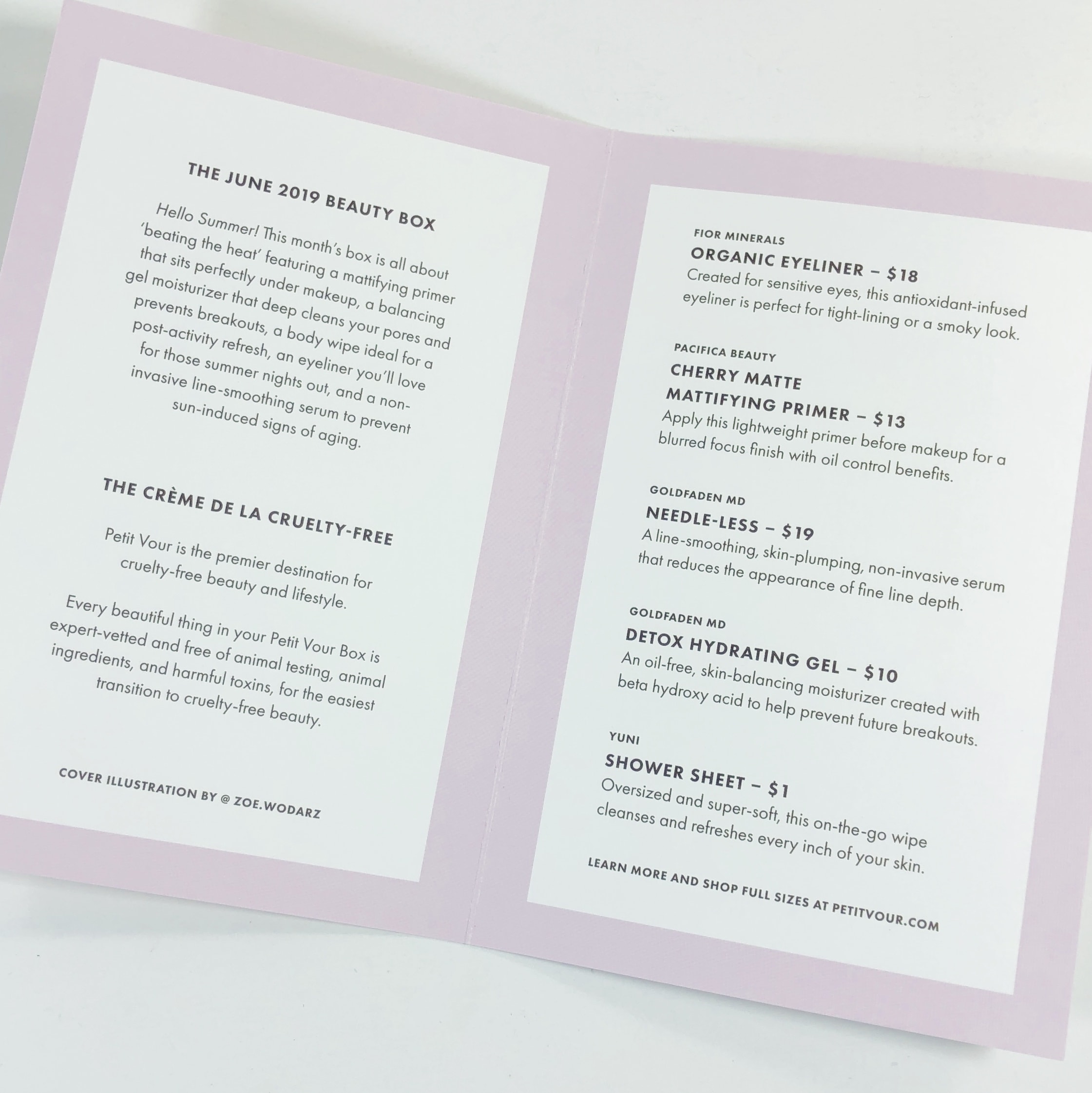 The inside of the card listed each item, some info about the item, and the value.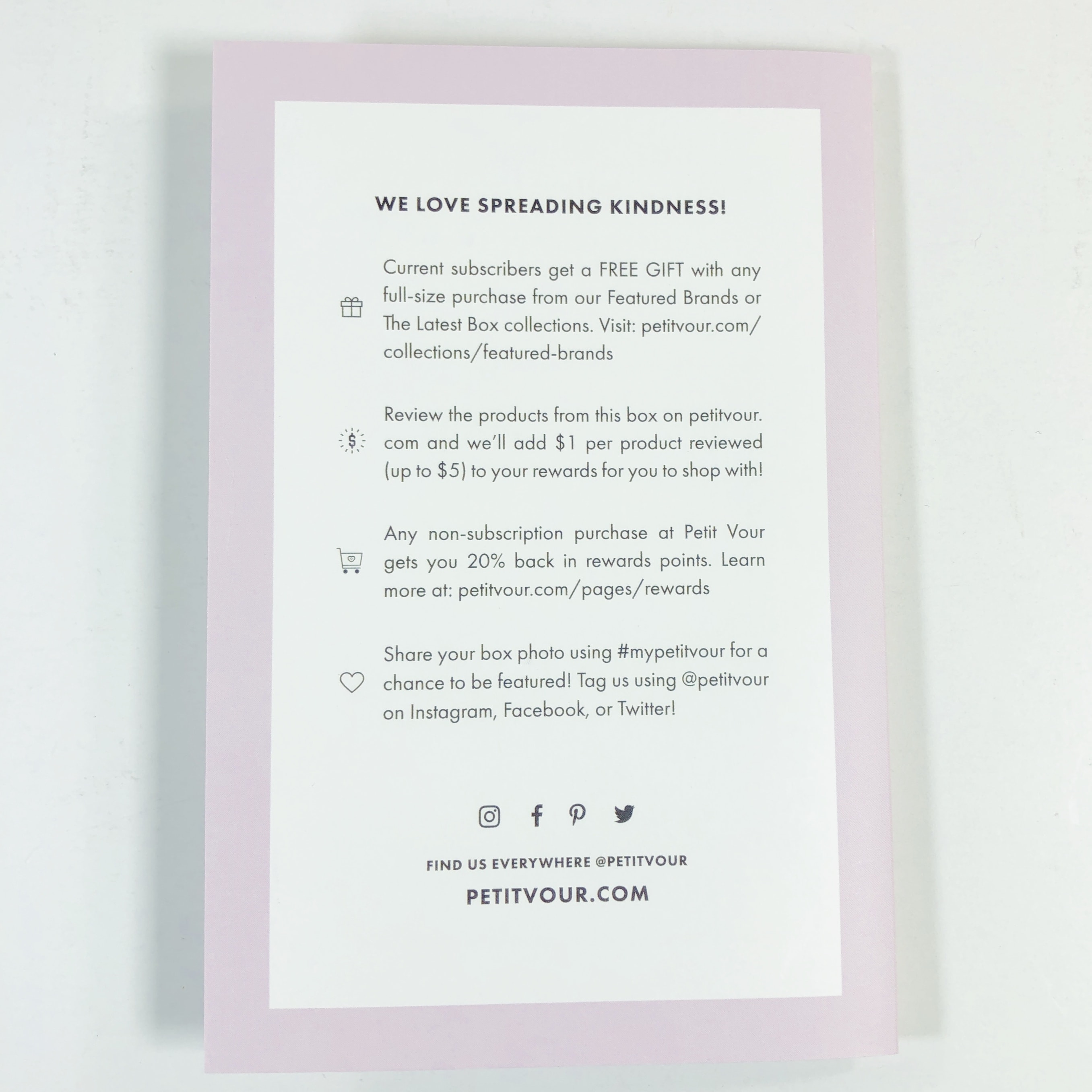 The back of the card gave info on how to earn reward points, plus if you share a photo of your box on social media your picture may be featured!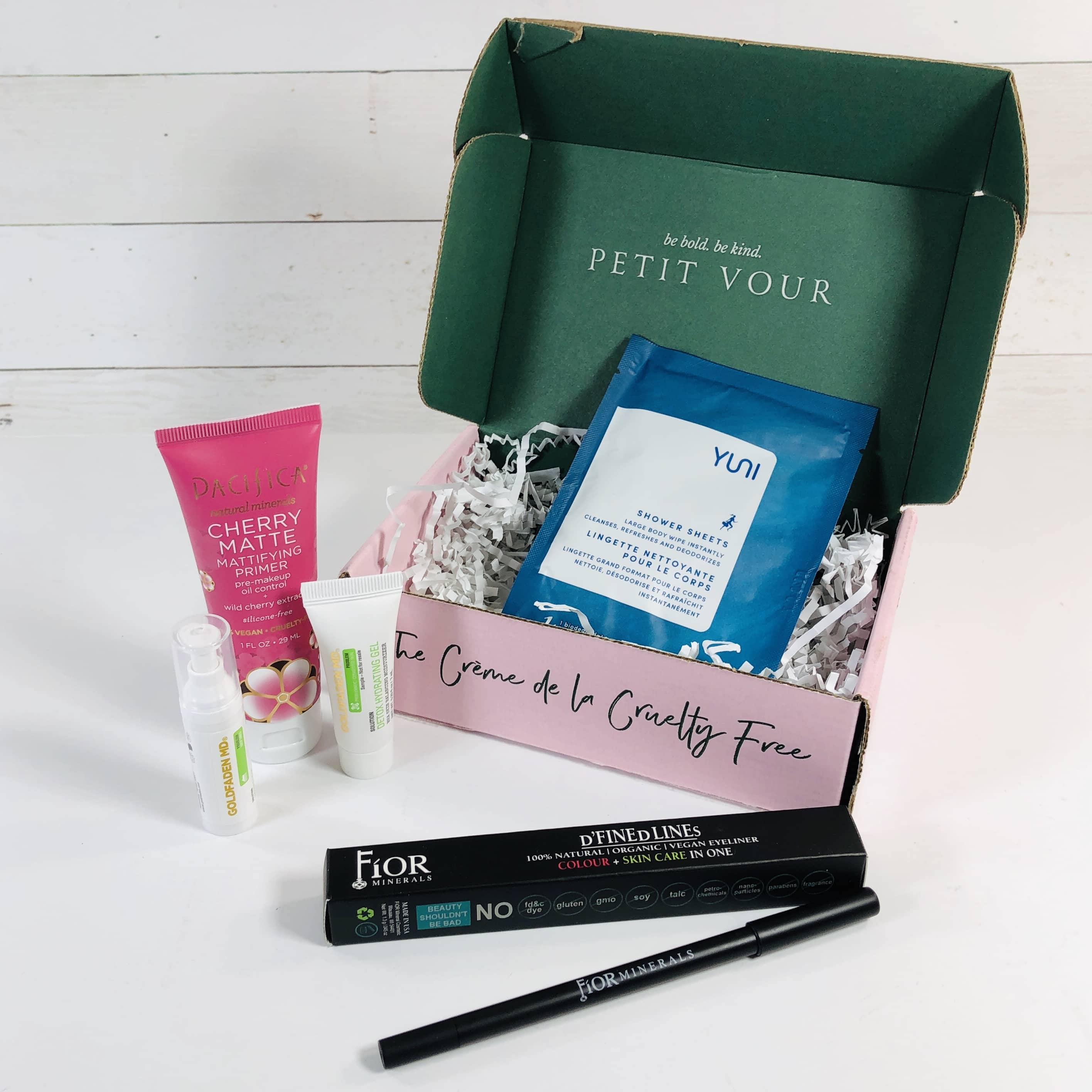 Everything in my box!
Pacifica Cherry Matte Mattifying Primer ($13) I'm not one to use a primer every day – I feel like my skincare routine has enough products and I don't need another one. However, for a special occasion I like to keep one on hand, and this one was a keeper.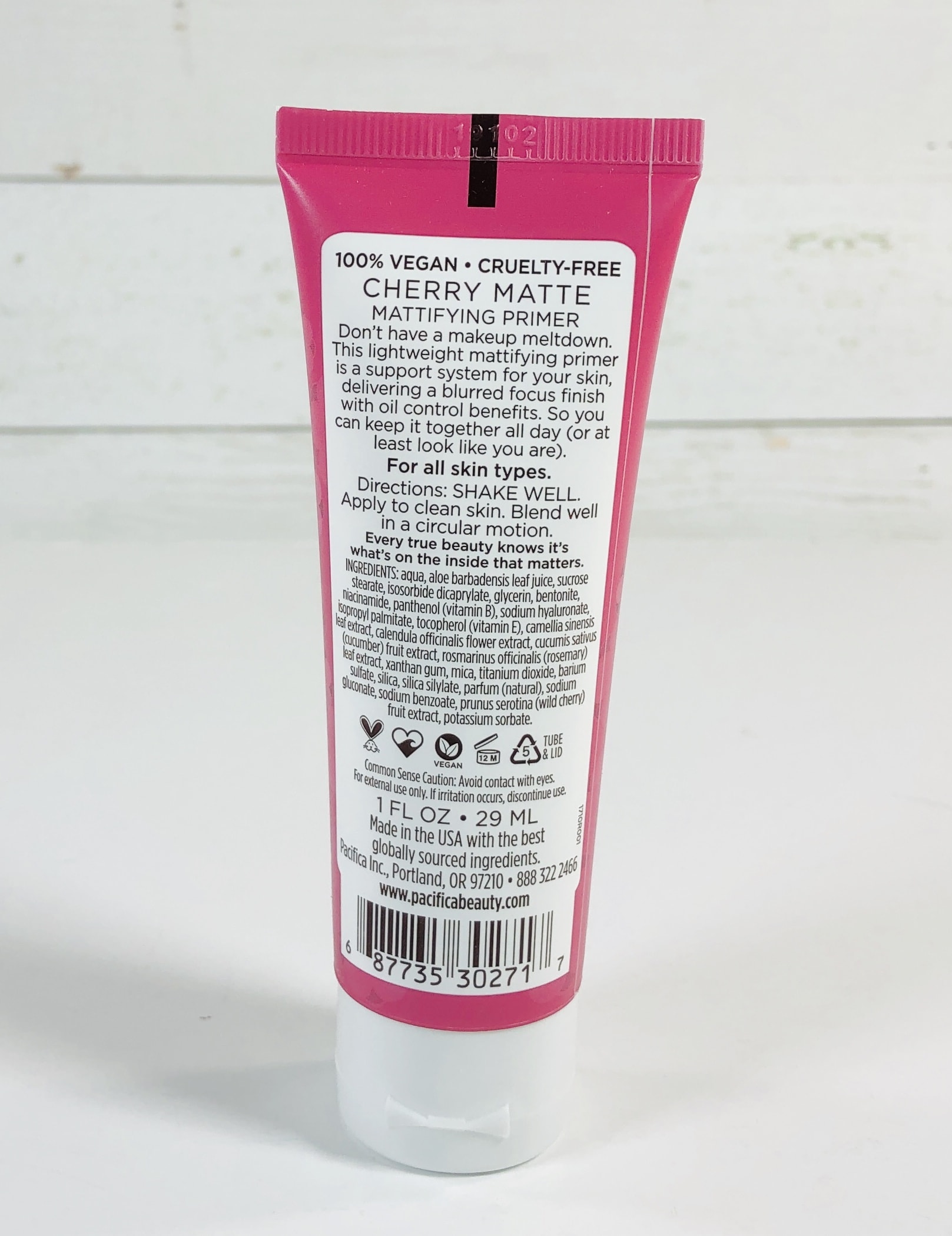 Ingredients were listed and include hyaluronic acid (for moisturizing) and clay (to absorb oil). It went on easily and had a light, fruity fragrance, like red licorice. My skin looked good all day long, no oil slicks.
Goldfaden MD Line Soothing Concentrate ($14.06) is supposed to reduce fine-lines and create a smooth surface for makeup. I am skeptical of the "laser surgery in a bottle" claims that Amazon touted, but some of us will use whatever we can to help delay or hide the signs of aging.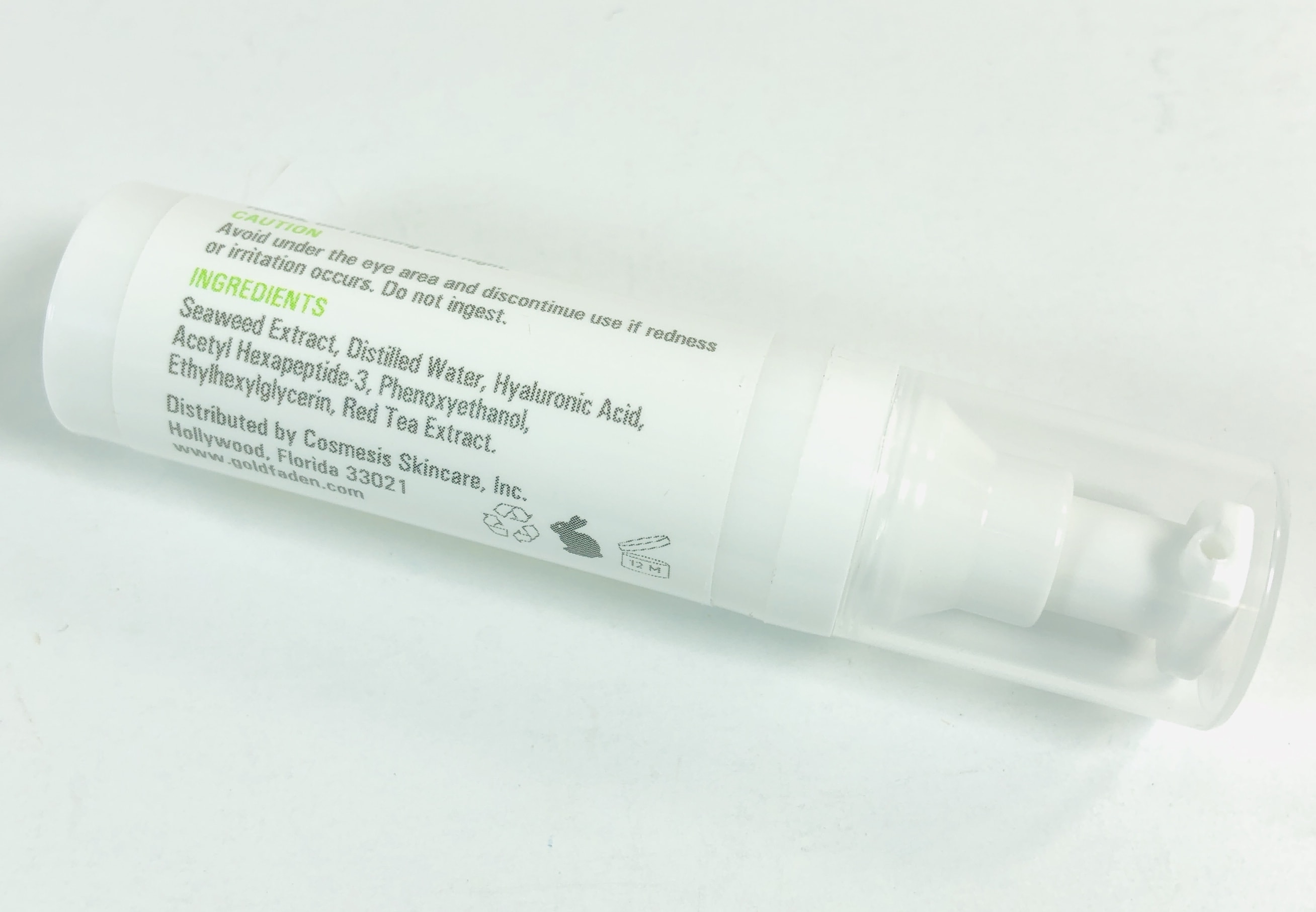 I am a little confused – there are a lot more ingredients listed on the Petit Vour website than what is listed on this bottle. Hyaluronic acid pops up often in moisturizers for its water-holding abilities and seaweed may help provide a glow. My skin absorbed this non-sticky gel quickly.
Yuni Shower Sheets ($1.25) I wish I had this with me when my plane was diverted and I had to sleep in the airport! Of course, you could use them after a quick lunch-time workout, when you're feeling too poorly for a shower, or when you miss the morning wake up alarm (why do they make it so easy to hit snooze?).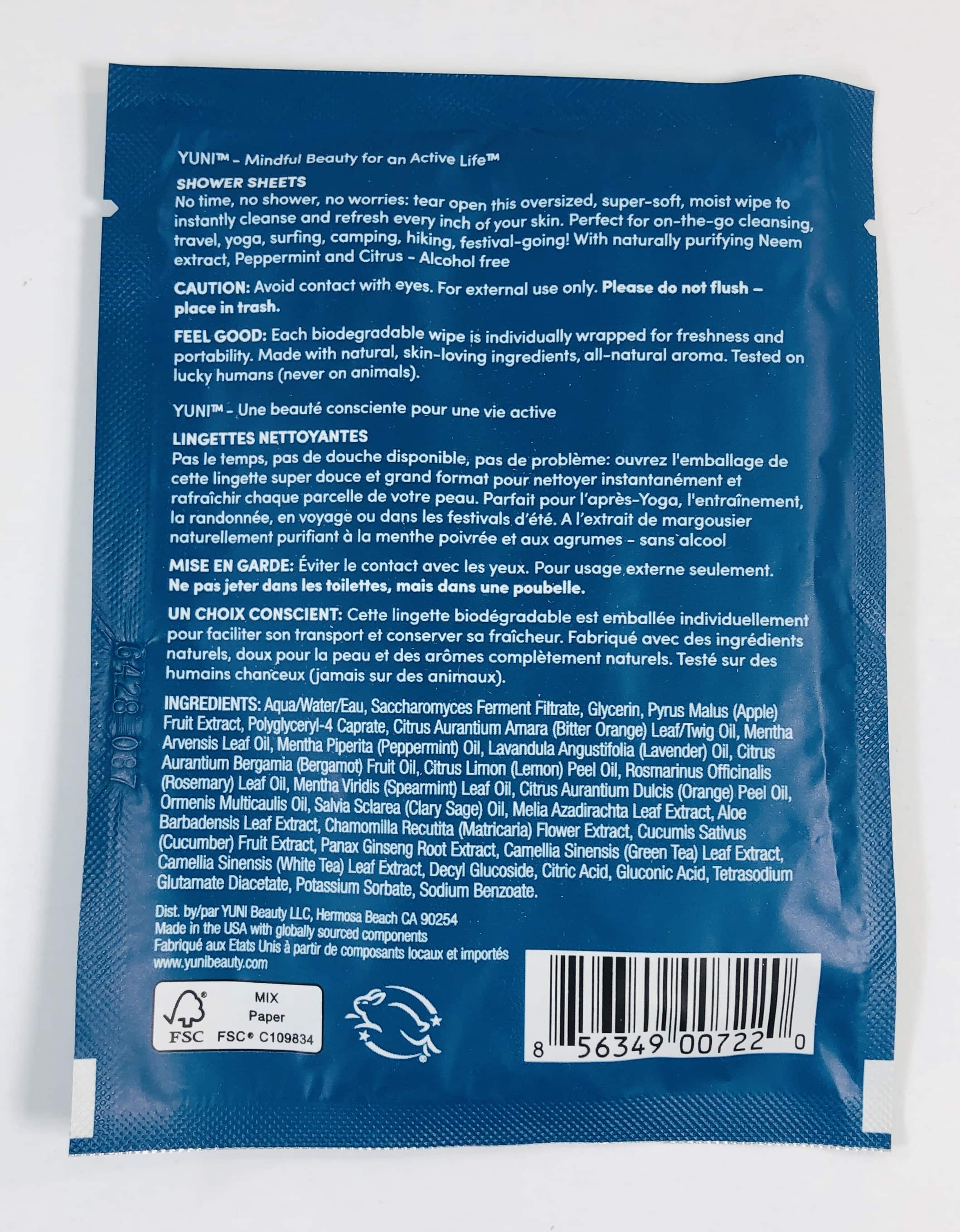 It's like a giant baby wipe but has plant extracts for scent. I'm stashing this in my carry-on for my next trip!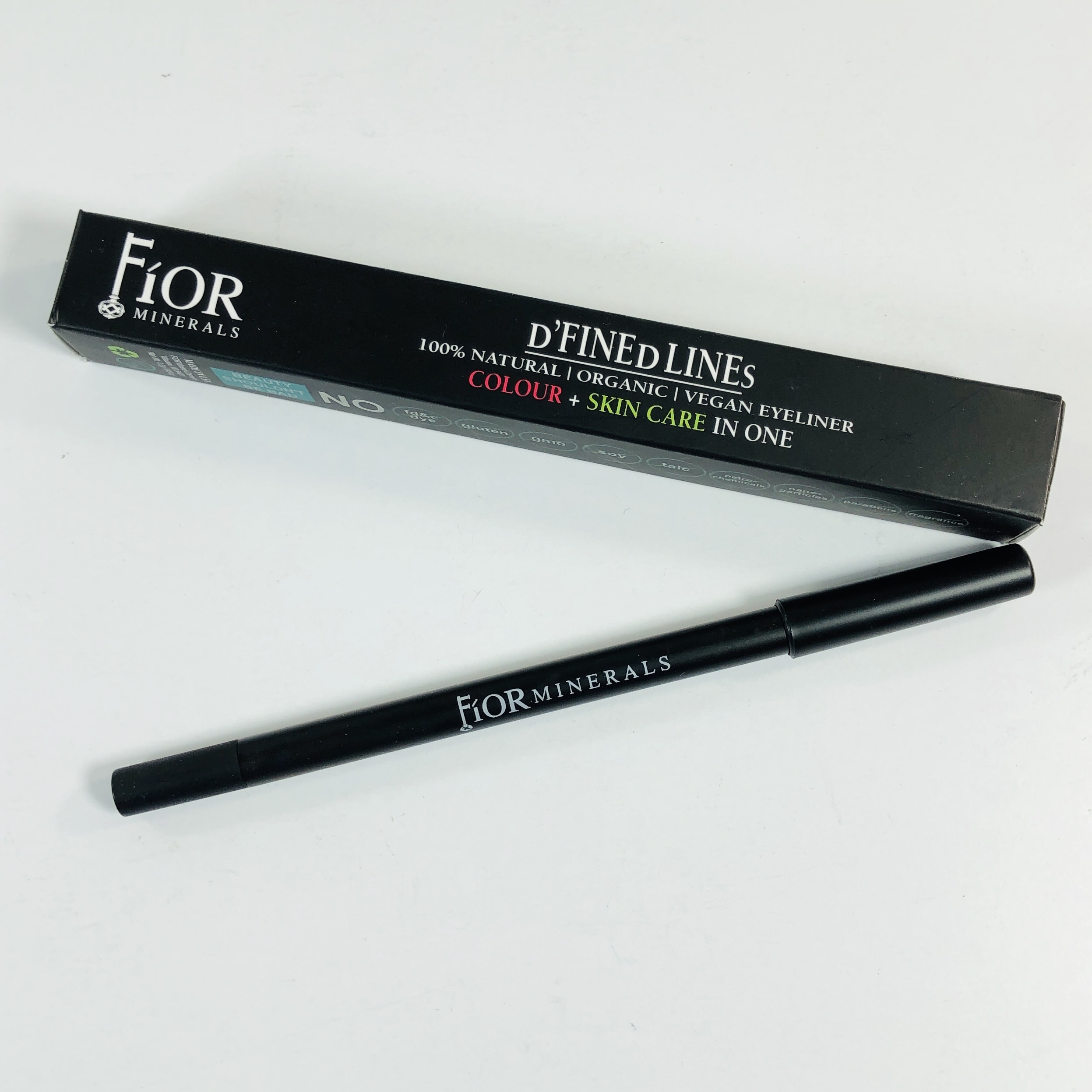 Fior Minerals D'FineDLines Eyeliner ($18) I was pretty happy to see an eyeliner in the box, and even better, it wasn't black!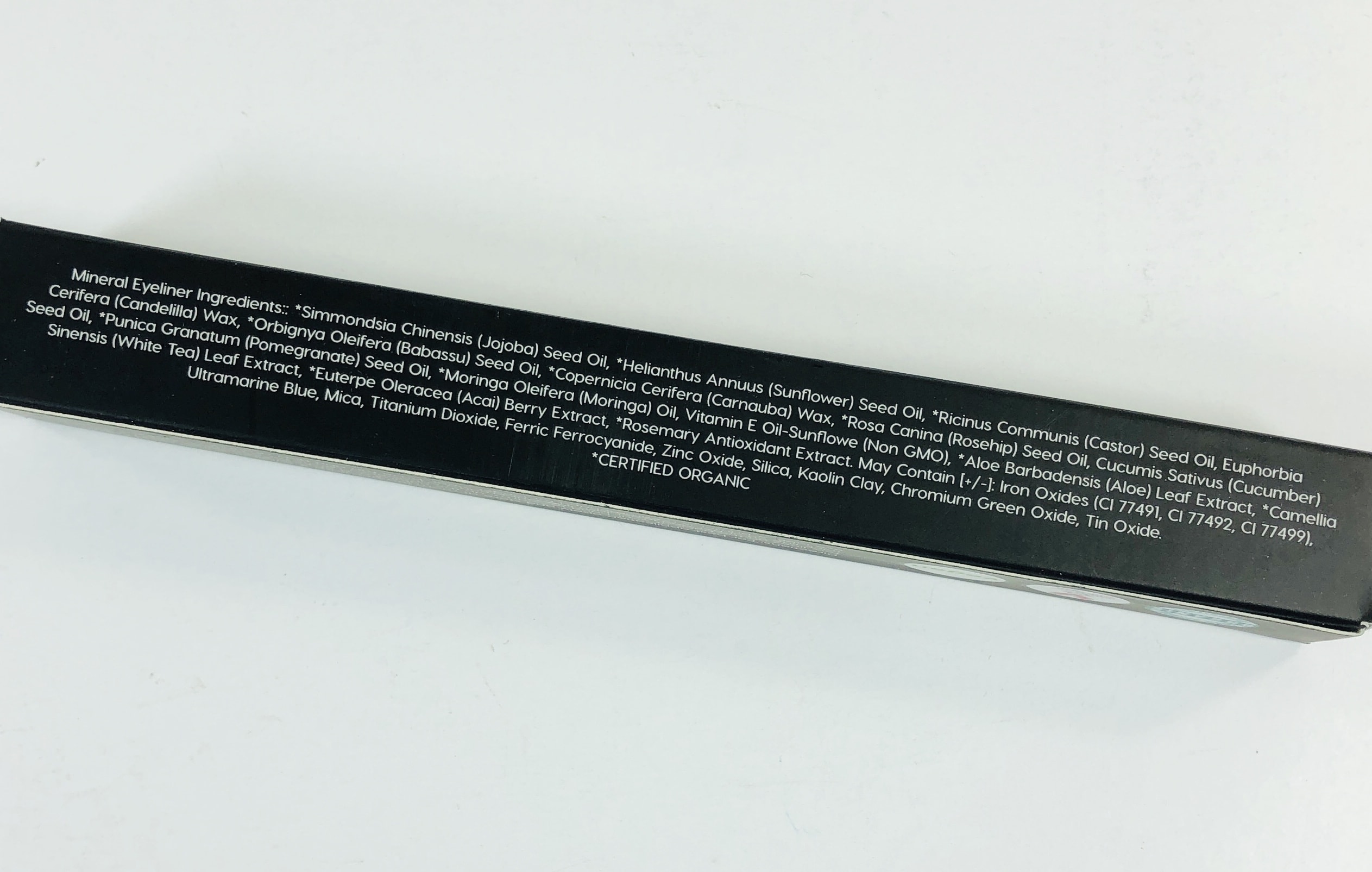 Ingredients were listed on the box and according to their website this product was created for sensitive eyes.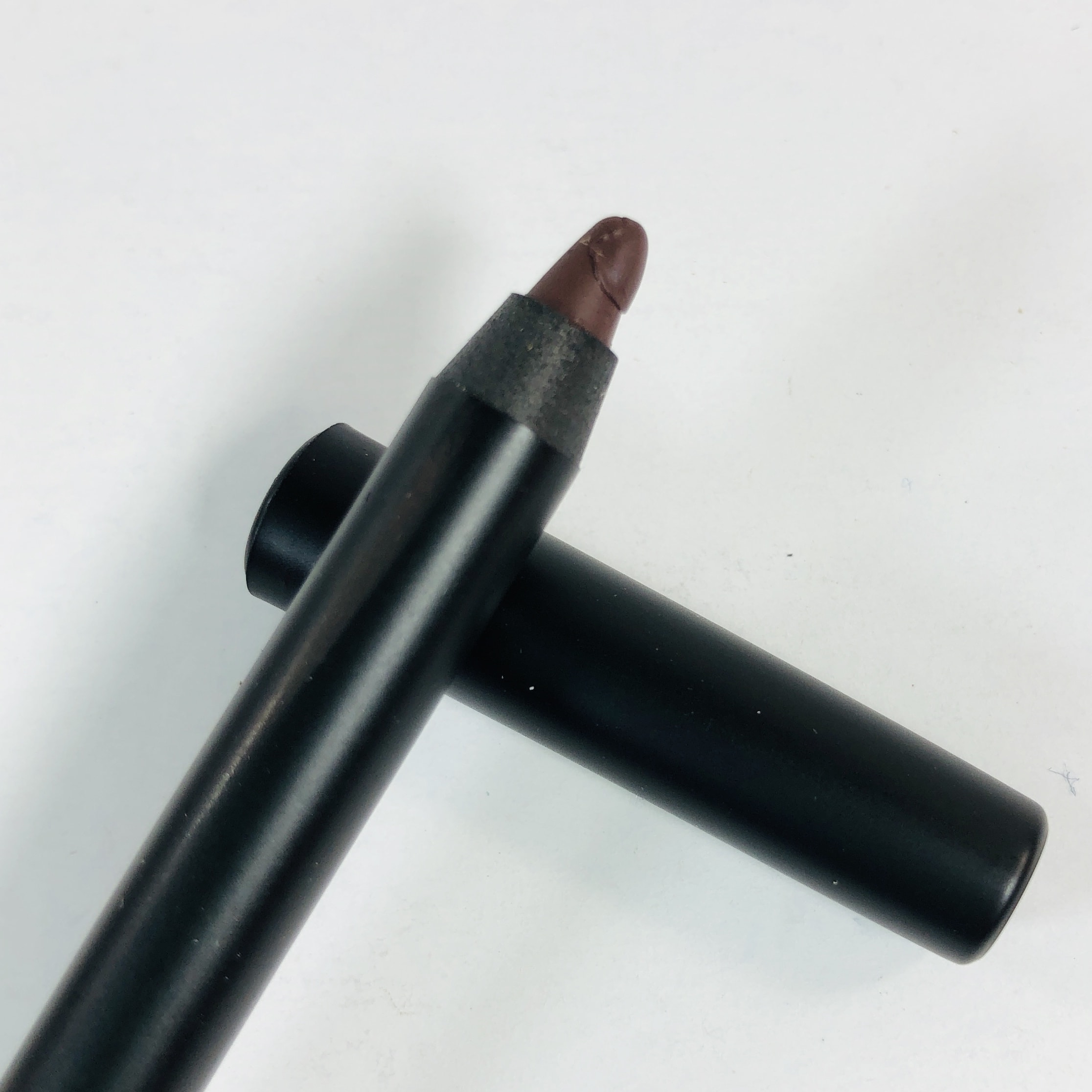 I received the shade "Brown Sugar" and just want to take a moment to say how much I appreciate receiving a color other than black! It is described as "rich chocolate brown with semi-matte finish".
It went on smoothly without tugging my lids. I think it would benefit from a midday touch up but other than that I was very happy with this!
Goldfaden MD Detoxifying Hydrating Gel ($9.20) is meant for oily or combination skin, so I will pass it on to someone else who can use it. It is supposed to help clear up acne while preventing future breakouts.
Although Petit Vour listed more ingredients for the other product, on their website they listed less than what is on this box! My skin absorbed it quickly and there wasn't really a scent.
I am always happy to see Petit Vour, they send luxurious items and usually a full-sized product or two. My favorite was the eyeliner this month, and that alone was worth the price paid for the box. The overall value was around $55.51!
What did you think of the June Petit Vour? I'd love to hear your thoughts on this box in the comments! 
Visit Petit Vour to subscribe or find out more about this vegan beauty subscription box!