Paper Source is a quarterly subscription box that sends tons of fun and colorful products! Each box costs $49.95 + free shipping within the U.S., and will arrive at your door 4 times a year with products having a total retail price of around $200! Each quarter, you will receive 12 vibrant rainbow hues-adorned items carefully curated and inspired by their Paper Source Colorscope! FYI – you must subscribe for an entire year to get this one, but you'll only be charged before it ships.
I love that it arrives looking like a gift, there's even a pink ribbon on it! The box itself has a $16.95 value – it's a Gold Big Boom on Ivory Robe Box.
It's also filled with rainbow-colored squiggles to protect the contents inside.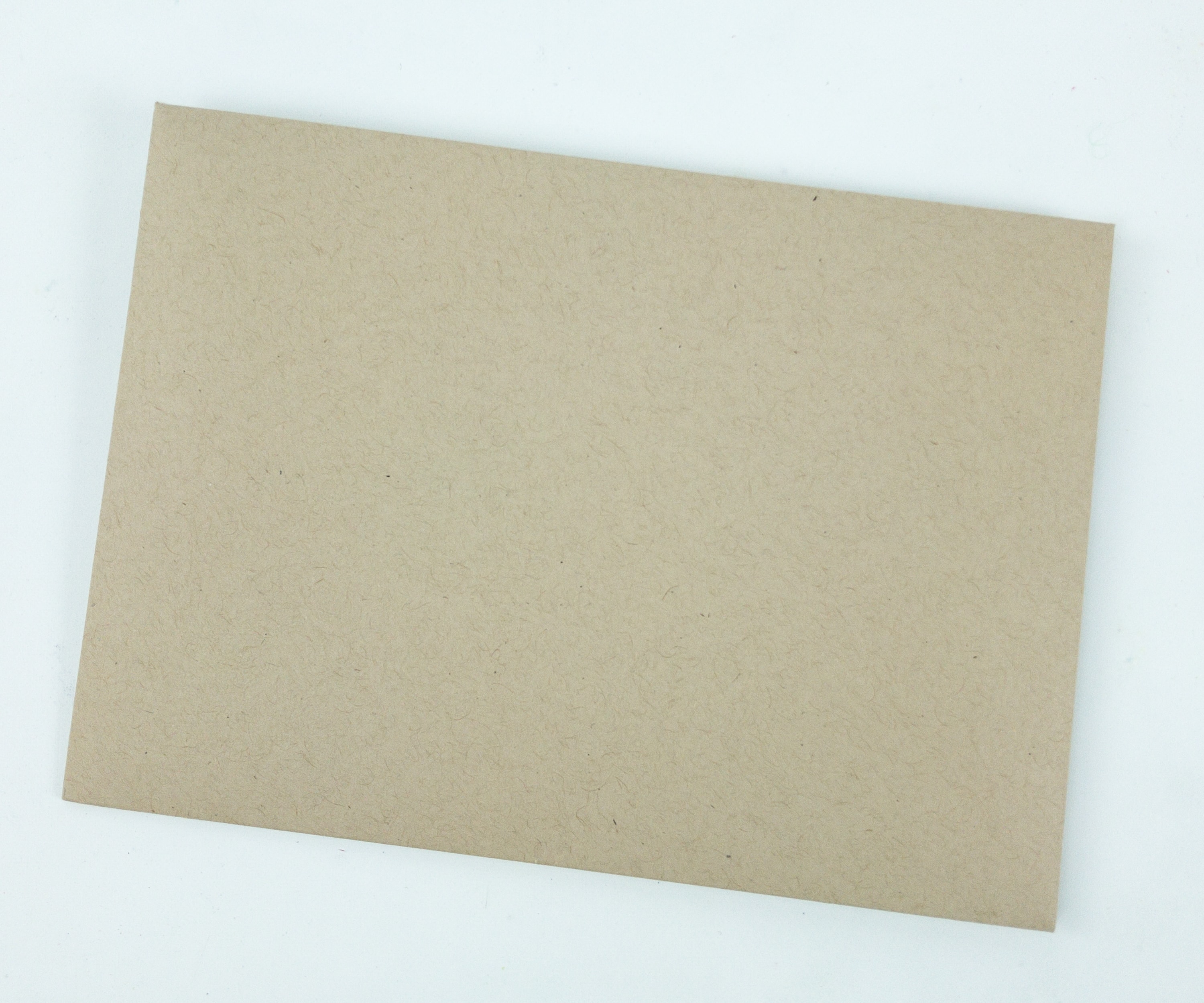 It's a brown envelope! Amusingly, this is on the spoilers for the box, but there's no card. It's an envelope.
It contains an artistically-made info card.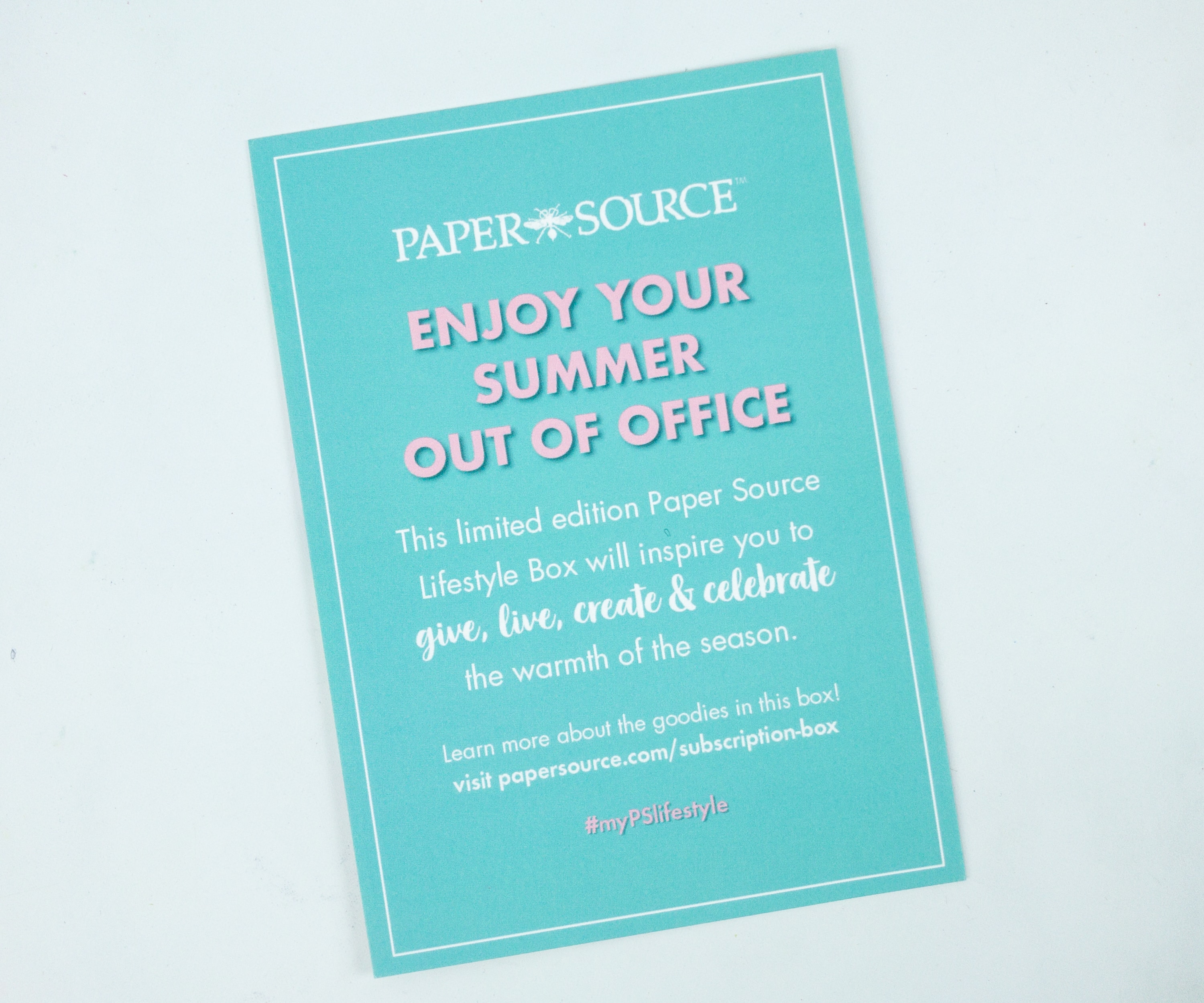 It's the Summer 2019 box and it wishes that you enjoy it out of the office.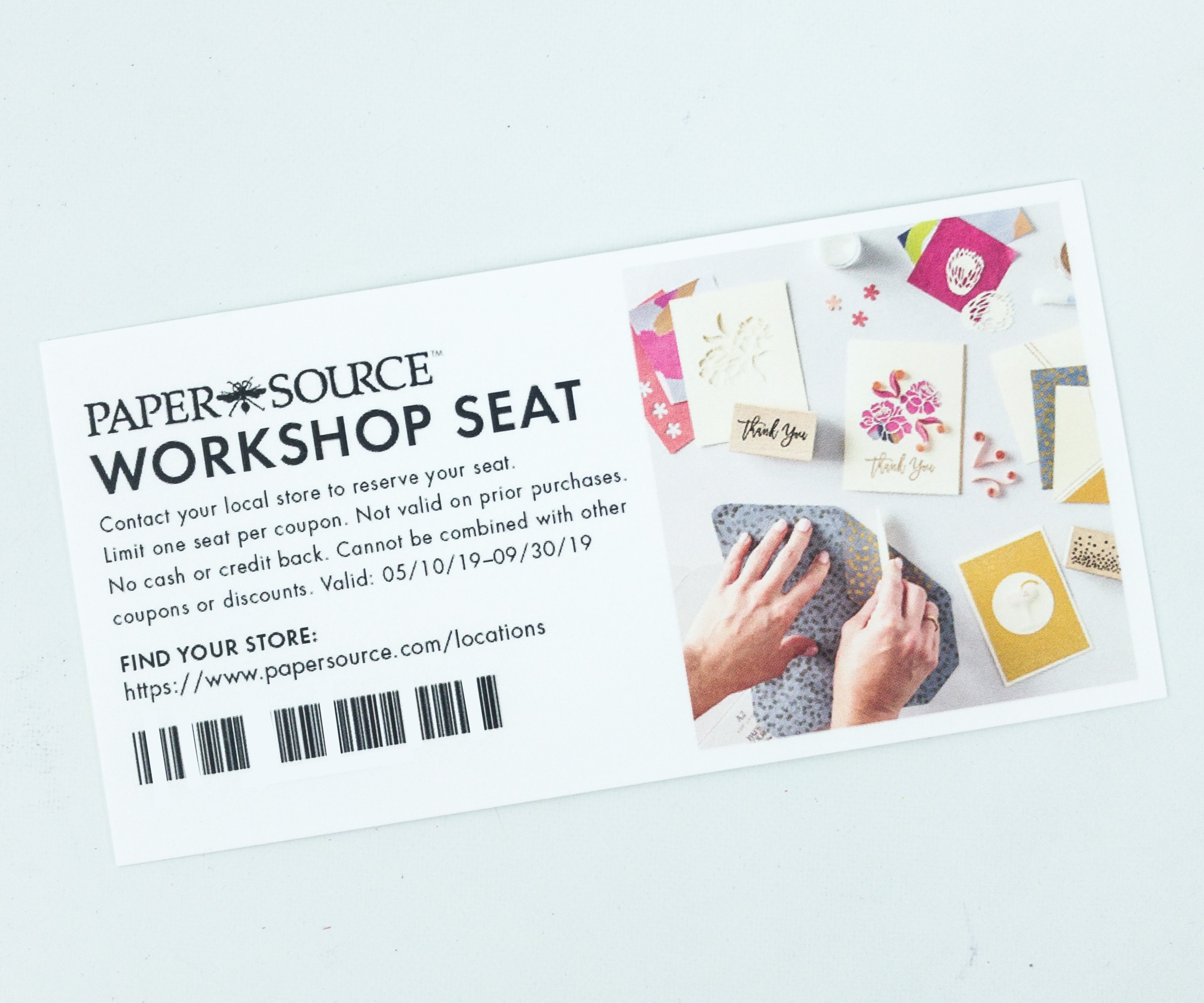 There's also a coupon for a seat on the Paper Source Workshop! It's limited to one seat per coupon and you can contact your local store to reserve it.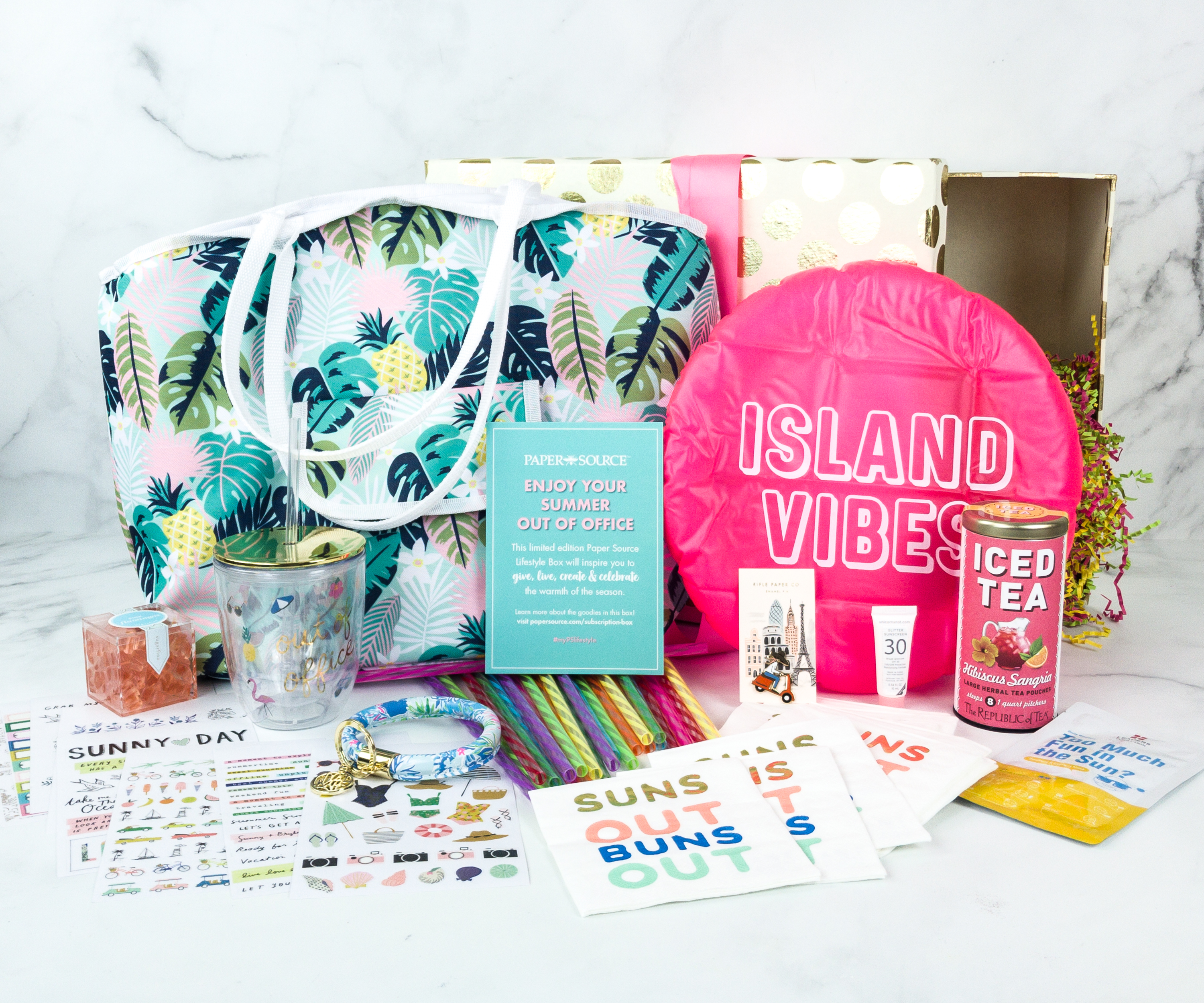 Everything in my box!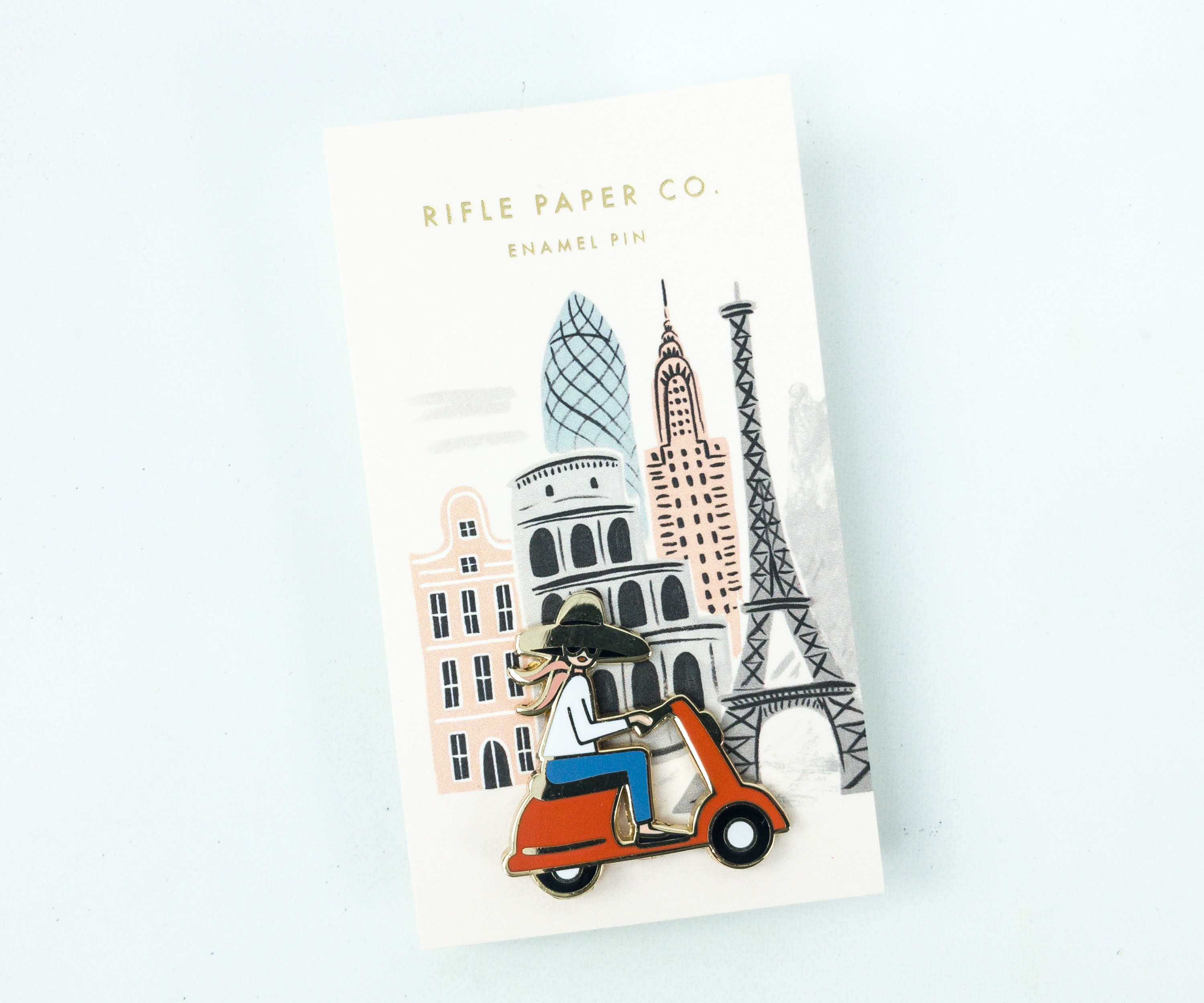 Rifle Paper Co. Scooter Girl Enamel Pin ($8) This pretty enamel pin features a girl wandering around the world on her red scooter! I like that it's attached to a card that serves as a background, so it really sets the scene and the mood.

It is made of brass and polished with enamel, boasting of a glossy finish. It also has a rubber clutch backing to keep it in place when attached to a cap, jacket, tote, or bags!
Lapcos Face Mask. Too much fun in the sun? It's really the perfect question after basking out under the scorching heat of the sun that may damage the skin. For that, this box included this soothing and calming mask and it's really easy to use!
The back of the package tells all about the product, how-to's, and even the complete list of ingredients. The mask contains aloe barbadensis and olive leaf extracts to calm and soothe irritation. You just need 15-20 minutes to do it, and have a fresh and healthy skin after!
Maggie Holmes Sunny Days Sticker ($4.37) These summer-themed sticker sheets will help me add fun and color to journals, planners, and other stuff!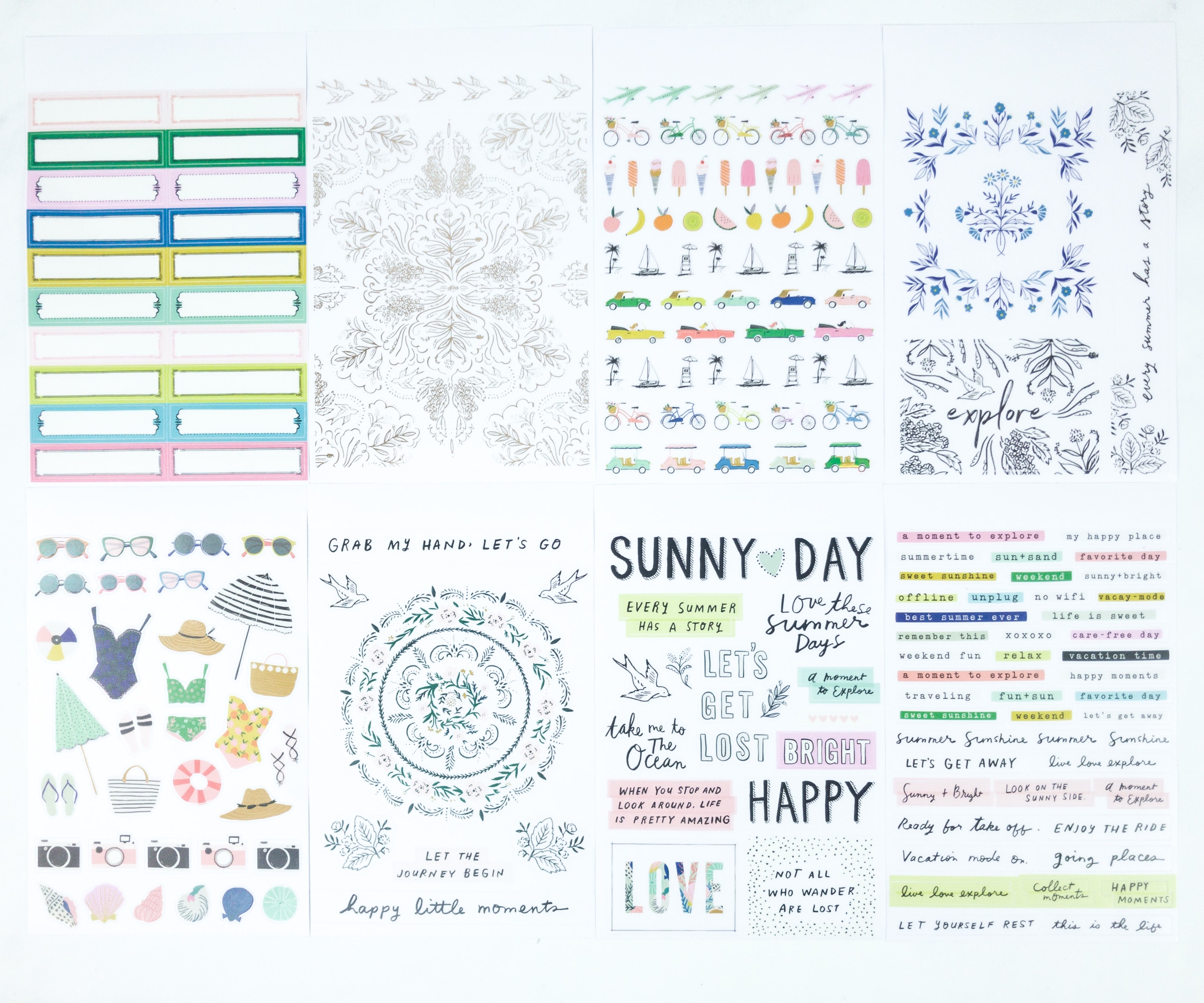 There are 8 sticker sheets in the pack! Aside from objects, and word stickers, there's also a sheet that can be used to label your stuff.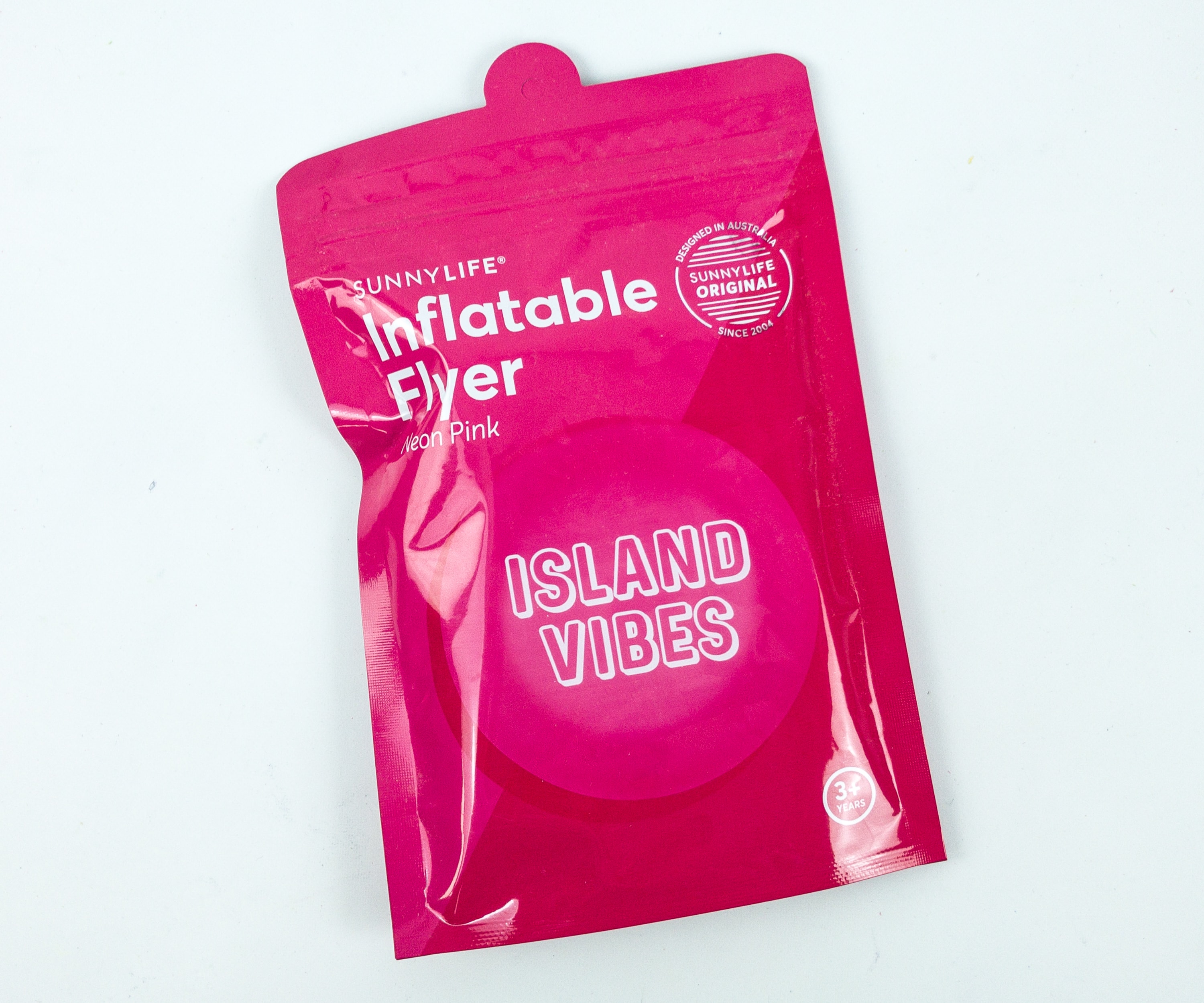 Sunny Life Inflatable Flyer ($7) There are so many things to do at the beach like beach volleyball, making sand castles, or using frisbee or flyers. Sunny Life made it easier to bring tools of fun by providing inflatable versions!
Here's a pack of a neon pink-colored inflatable flyer. It's made of non-toxic PVC, so it's safer and easier to bring on travels!
It's easy to inflate, with an inflating valve located at the bottom part of the flyer.
I love the neon pink color of the flyer! It'll look great flying under the sun!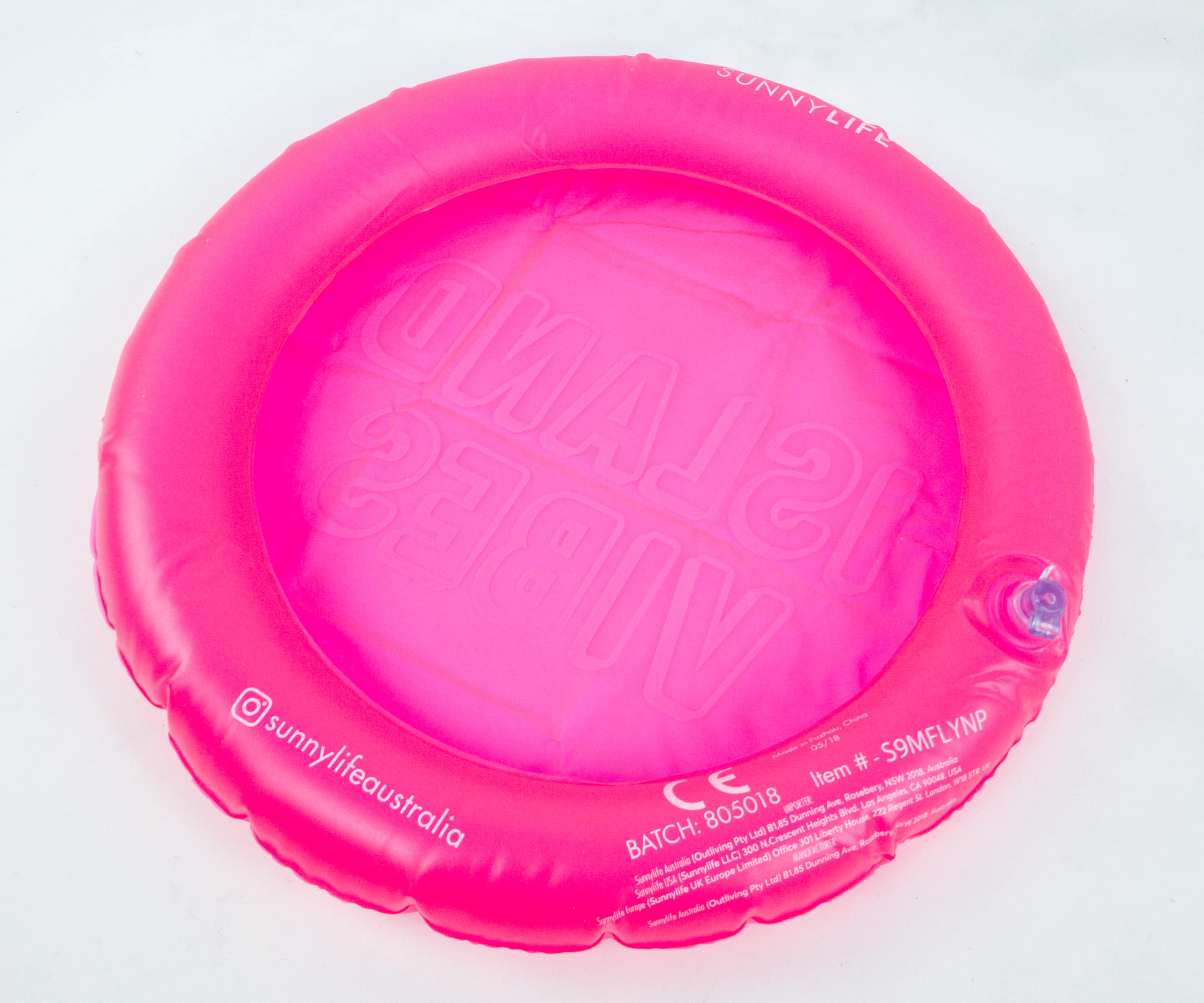 It's easy to use and easy to store as well, as you can easily deflate the fun toy and just stash it inside your bag. They also included repair patches in case of punctures.
Lilly Pulitzer Round Keychain ($18) I thought this is a bracelet/accessory, but turns out, it's a really pretty keychain!
It can be used to keep your keys together or add flair to your bag. It consists of printed leatherette with a summer vibe, a gold hardware, and the brand's symbol also used as a charm.
Unicorn Snot Glitter Sunscreen ($1.35) UNICORN SNOT! The name's enough to catch my attention! It's actually a sunscreen that protects your skin from UVA/UVB rays while also leaving your skin with a shimmery glow. The formula is surprisingly light, non-drying, and non-greasy. It's also water resistant for up to 80 minutes!

"Out Of Office" Glass with Straw. I'm excited to fill this glass with lots of ice and my favorite drink! The cute glass also features summer icons like the sun, flowers, sunglasses, bikinis, beach umbrella, and even a pink flamingo.
The glass also comes with a shiny gold lid and a clear straw to make sipping your refreshing drink easier.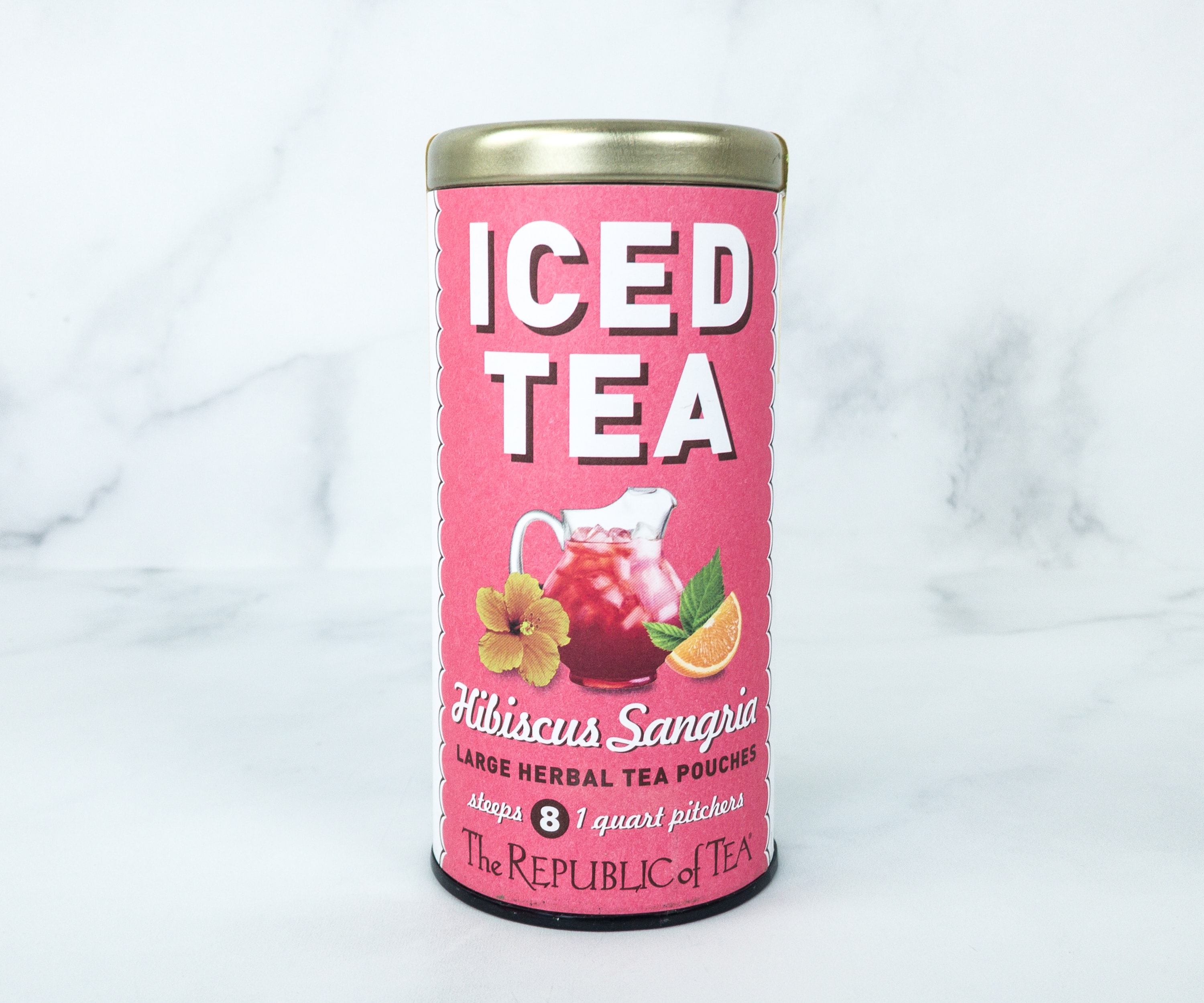 The Republic Of Tea Hibiscus Sangria Iced Tea ($7.24) Speaking of refreshments, they also included this refreshing drink perfect for summer. The tin contains several tea pouches, and can steep up to 8 1-quart pitchers!
The tea is inspired by the Spanish Sangria. It's caffeine-free, and the blend infuses tangy, premium Nigerian Hibiscus flowers, and fruits.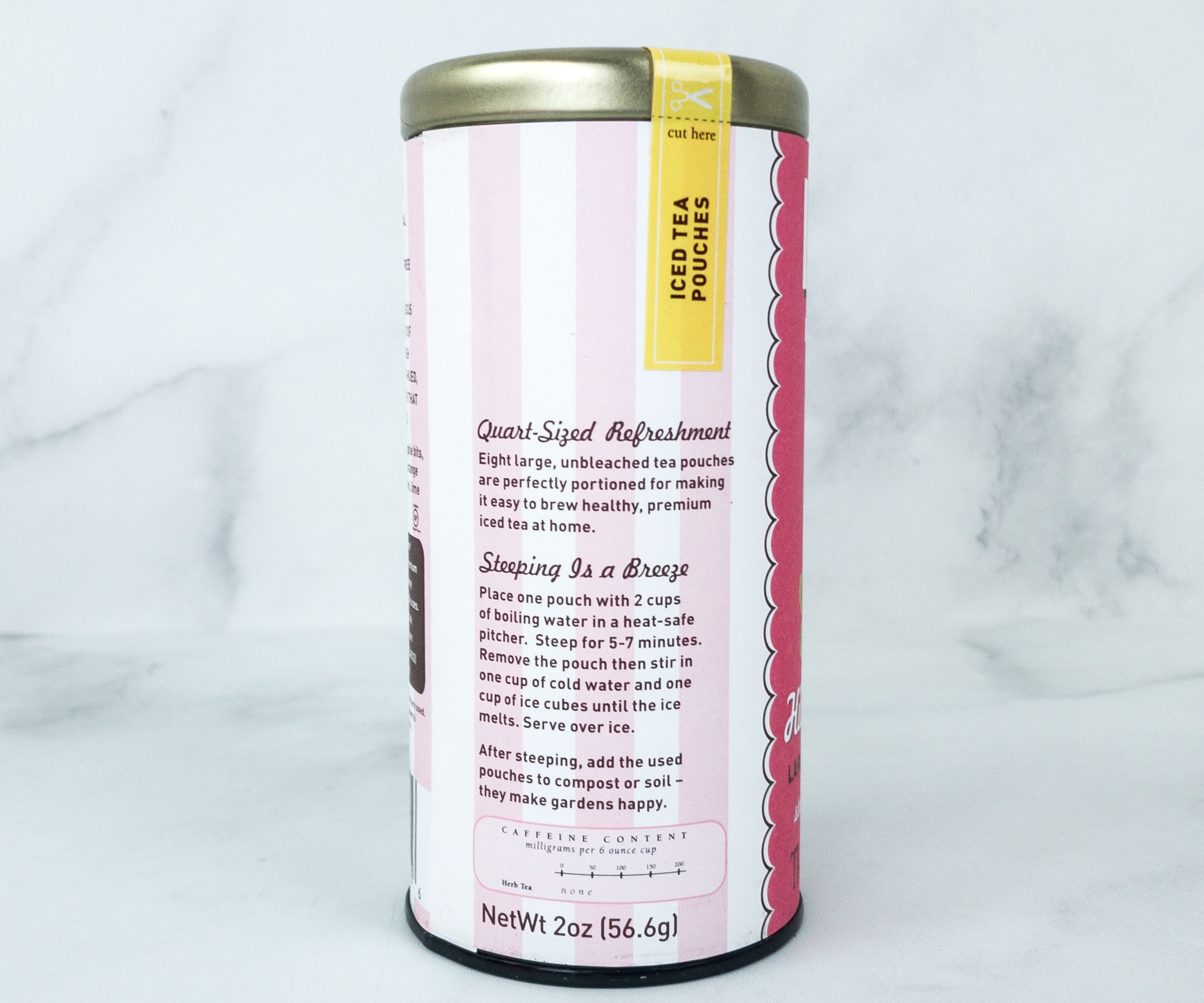 The container also included the instructions for steeping. Just place one pouch to 2 cups boiling water in a heat-safe container. Steep for 5-7 minutes, remove the pouch and add one cup of cold water and ice cubes until the ice melts. Again, serve over ice.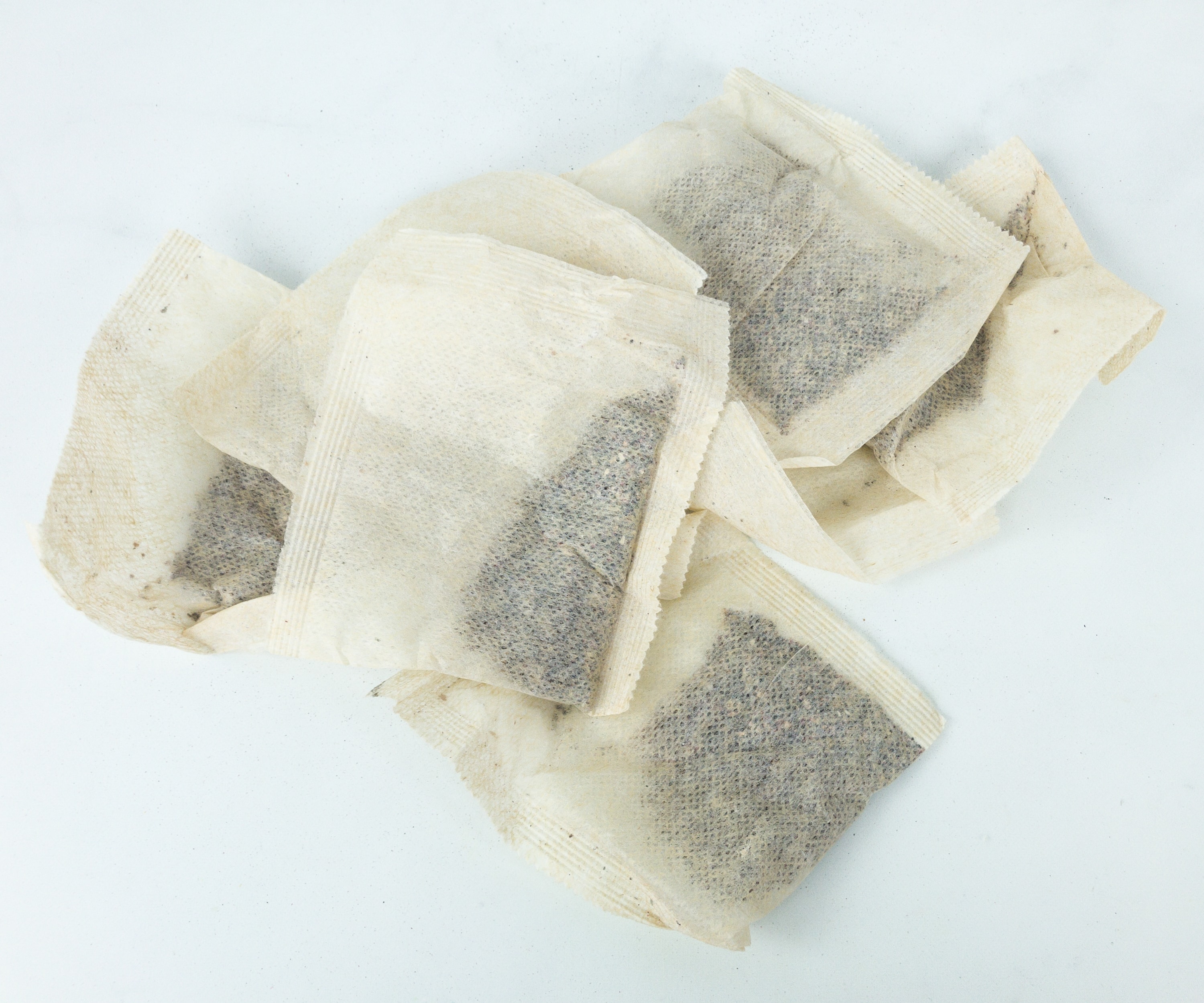 After steeping, you can add the pouches to your compost or soil as they also help with giving nutrients to your plants!
Sugarfina Pink Flamingos Gummies ($7.50) I also got excited with this clear box of sweets! And they're gummies!
The gummies are made in Germany, and there is an included table of nutrition facts attached to the box of these sweet treats!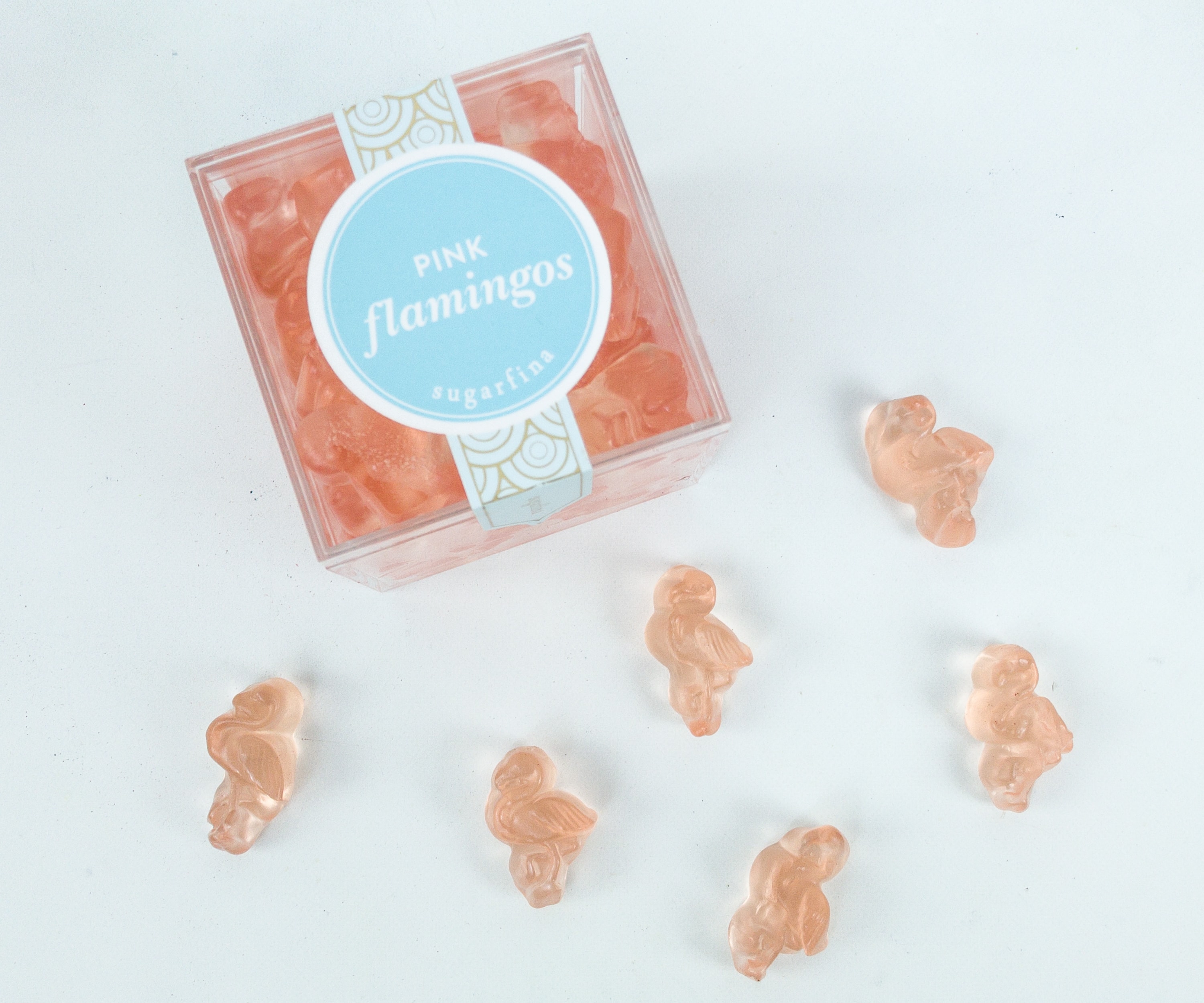 The pink flamingo gummies are chewy, plus they're bursting with a juicy grapefruit flavor! It's such a nice gummy taste as not everything is just sweet. I love it.
Suns Out Buns Out Tissue Paper. To wipe off sweat from the summer heat, they included a pack of beautifully designed tissue paper!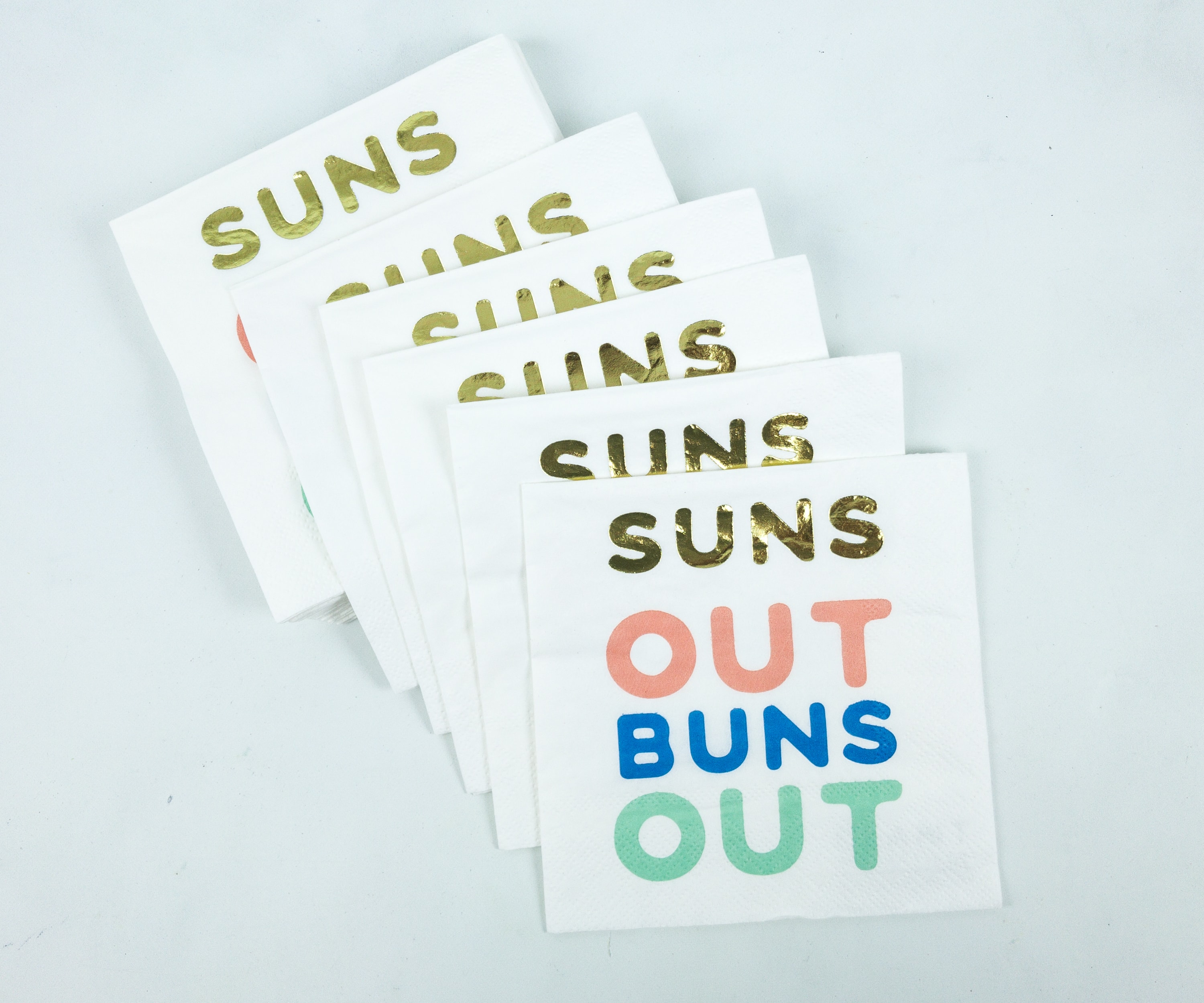 Suns out, buns out! I love the colorful letter prints on each tissue, especially the gold foiled one. The paper is highly absorbent as well.

Kikkerland Rainbow Reusable Straws ($7.97) These colorful straws are eco-friendly because they're reusable! No more need for disposable ones that usually end up in dumpsters, or worse, in the water.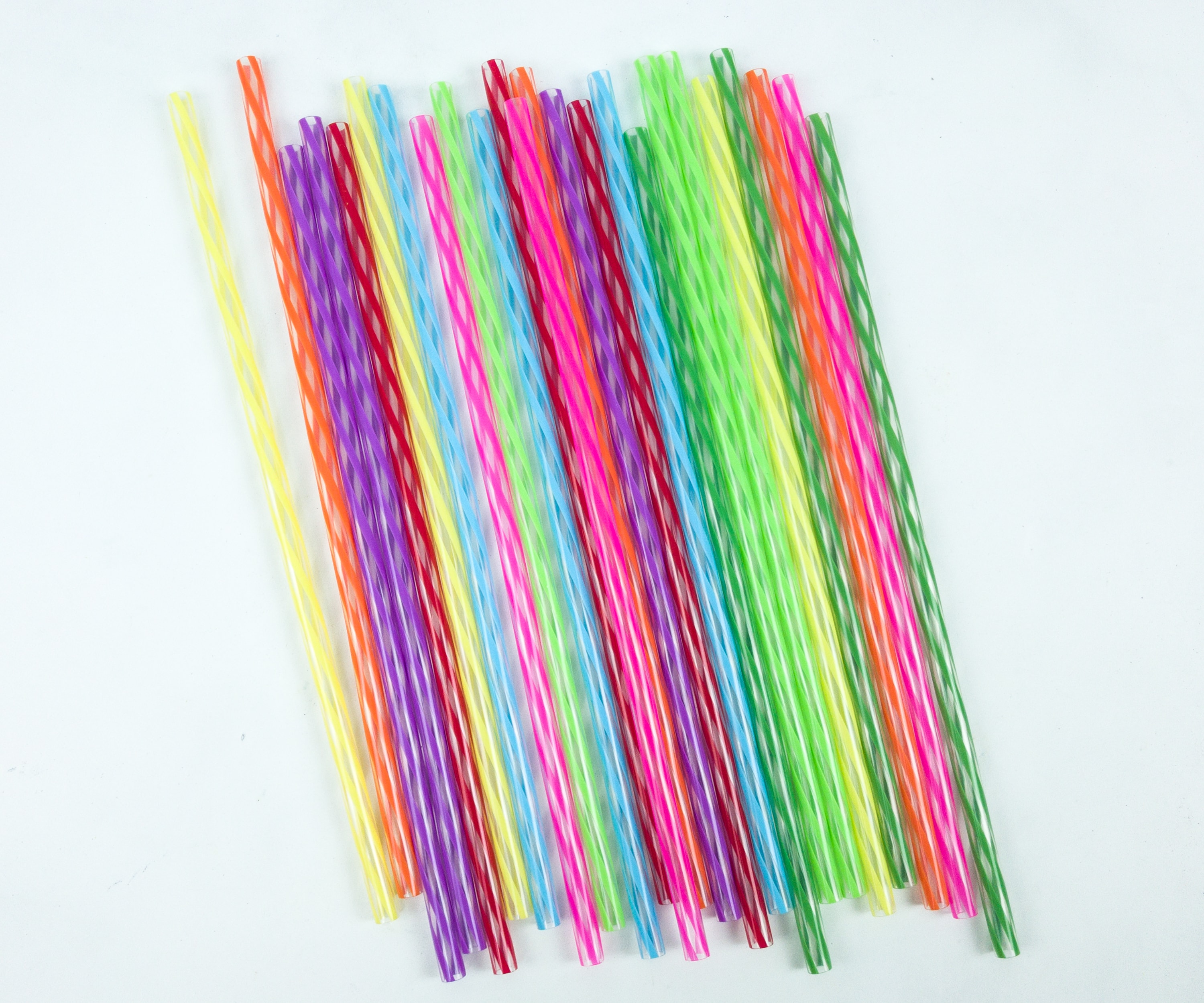 The straws are cute and really colorful! You just need to wash them after use so you can make use of them again.
Paper Source Re-Usable Tote. My favorite item this month is this tropical-designed reusable tote! It has the same design as the card from this month's box.
It has a pocket in front where I can place smaller items or items that easily get lost inside the large space.

The inside of the large tote is lined to make it waterproof! Cleaning up is easier too, you'll just need to wipe the bag off.
It's summertime and I can't wait to hit the beach using all the items I got from our first Paper Source box! My favorite is definitely the re-usable tote, the glass with lid and straw, and the unicorn snot – not to mention the actual box! Everything in this box is colorful and promises fun in the sun. I also love the fact that the subscription cares for the environment by including eco and environment-friendly items. There's another reason for me to get excited as the season changes because I know that Paper Source will sending me another box full of high-quality and fun items. I am truly loving this new subscription!
Are you getting Paper Source Subscription Box?