OwlCrate Jr. is a monthly book subscription box for young readers ages 8-12 with a middle-grade book plus fun gender neutral bookish items designed to enhance your little reader's experience. It's from Owl Crate, a super popular YA (young adult) fiction subscription.
DEAL: Save 15% on your first subscription with the coupon code HELLO15 at checkout.
This Summer Only: Save 20% on all new 3 & 6-month subscriptions! Use the coupon code SUMMER20 to subscribe.
When you open the box, the inner flap has a guide to unboxing your crate!
The items were covered with white squiggles.
Included in the box is an information card.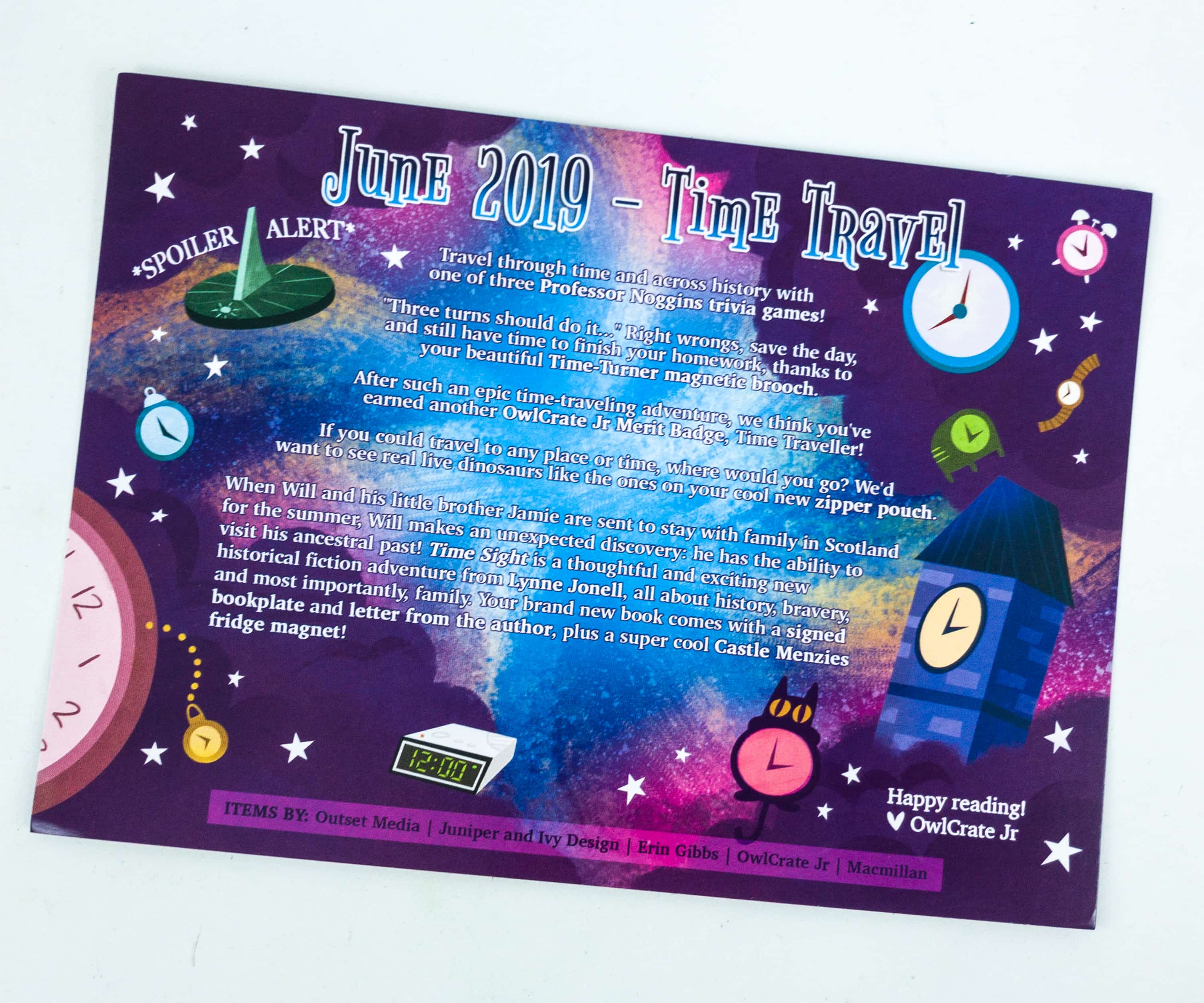 The theme for the June 2019 OwlCrate Jr. box is TIME TRAVEL!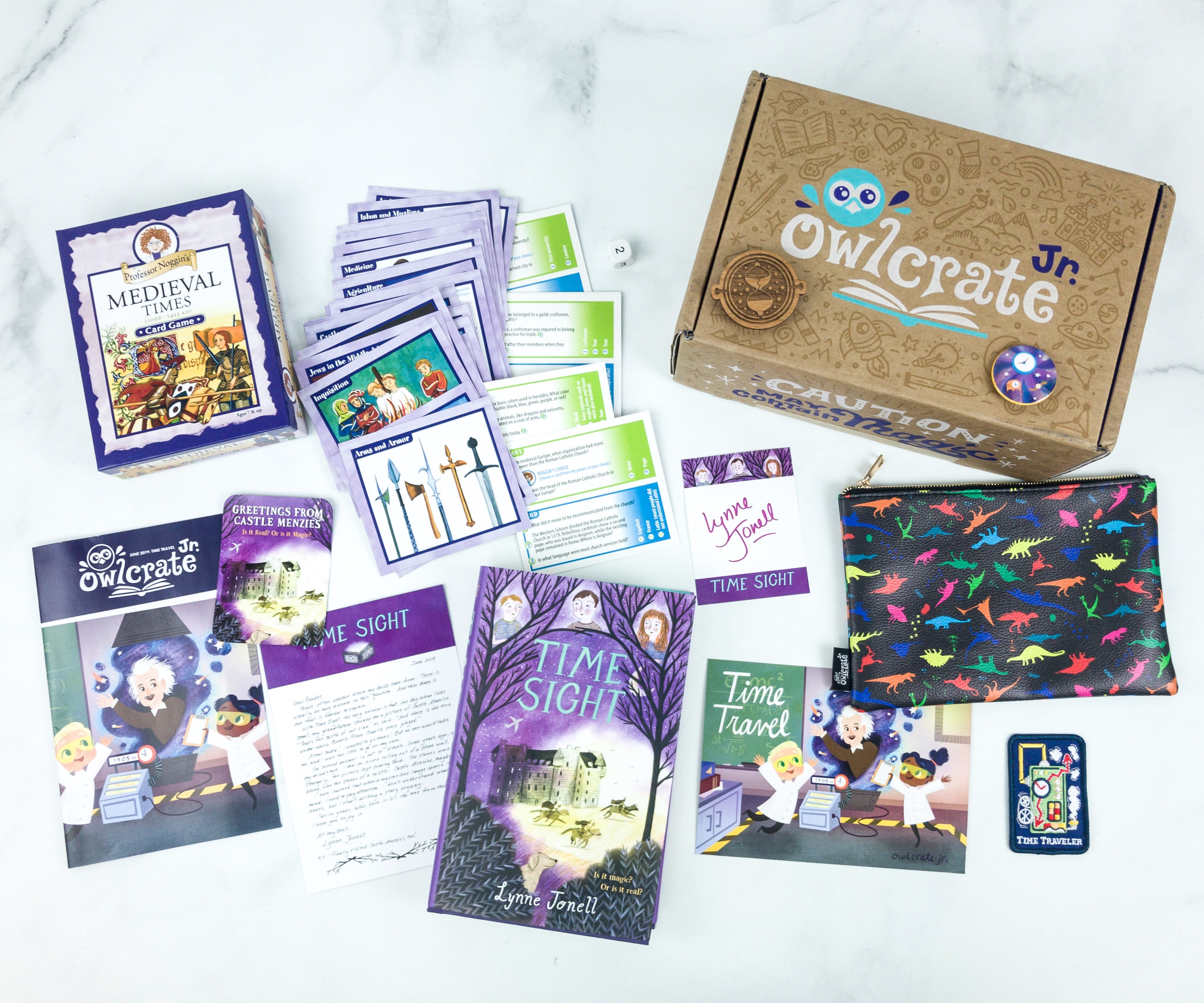 Everything in the June OwlCrate Jr. box!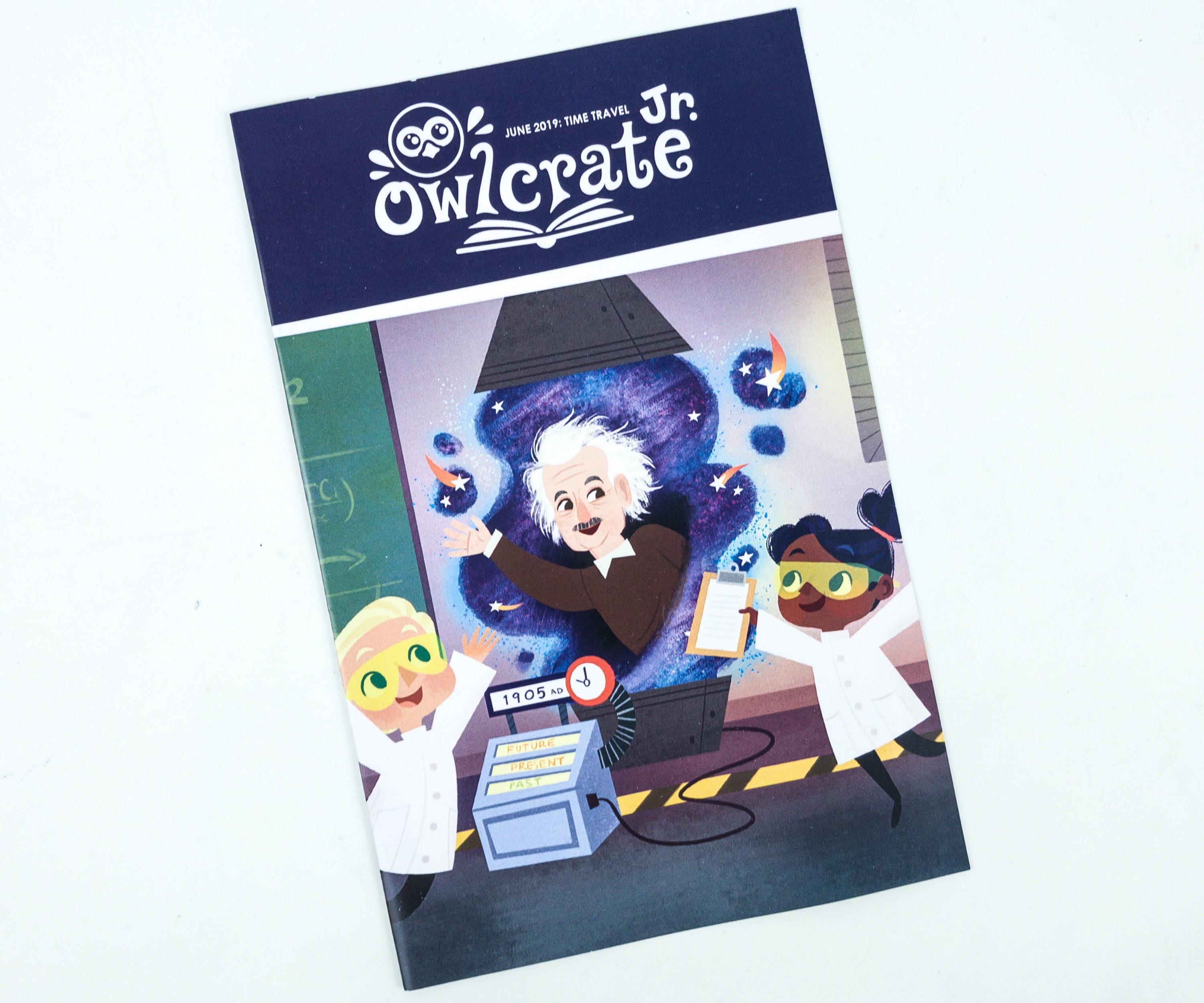 They also included an adorable mini magazine!
Of course, the mini-magazine includes an author interview! This month's featured author is Lynne Jonell. Knowing what inspired the author to pen a story can help children understand the book better.
They also suggested some titles for further reading, especially if you love this month's book: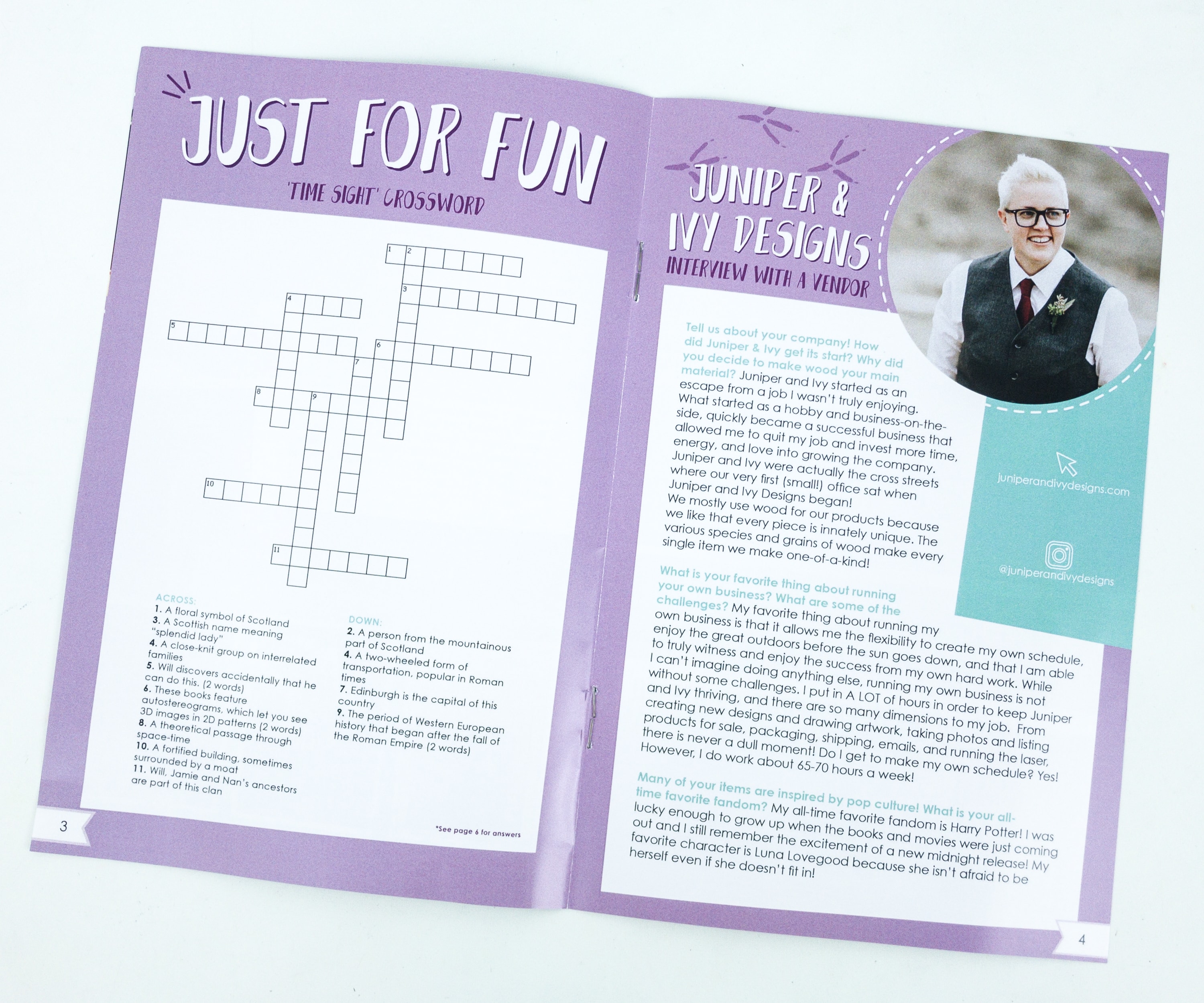 More fun activities for kids and interesting features!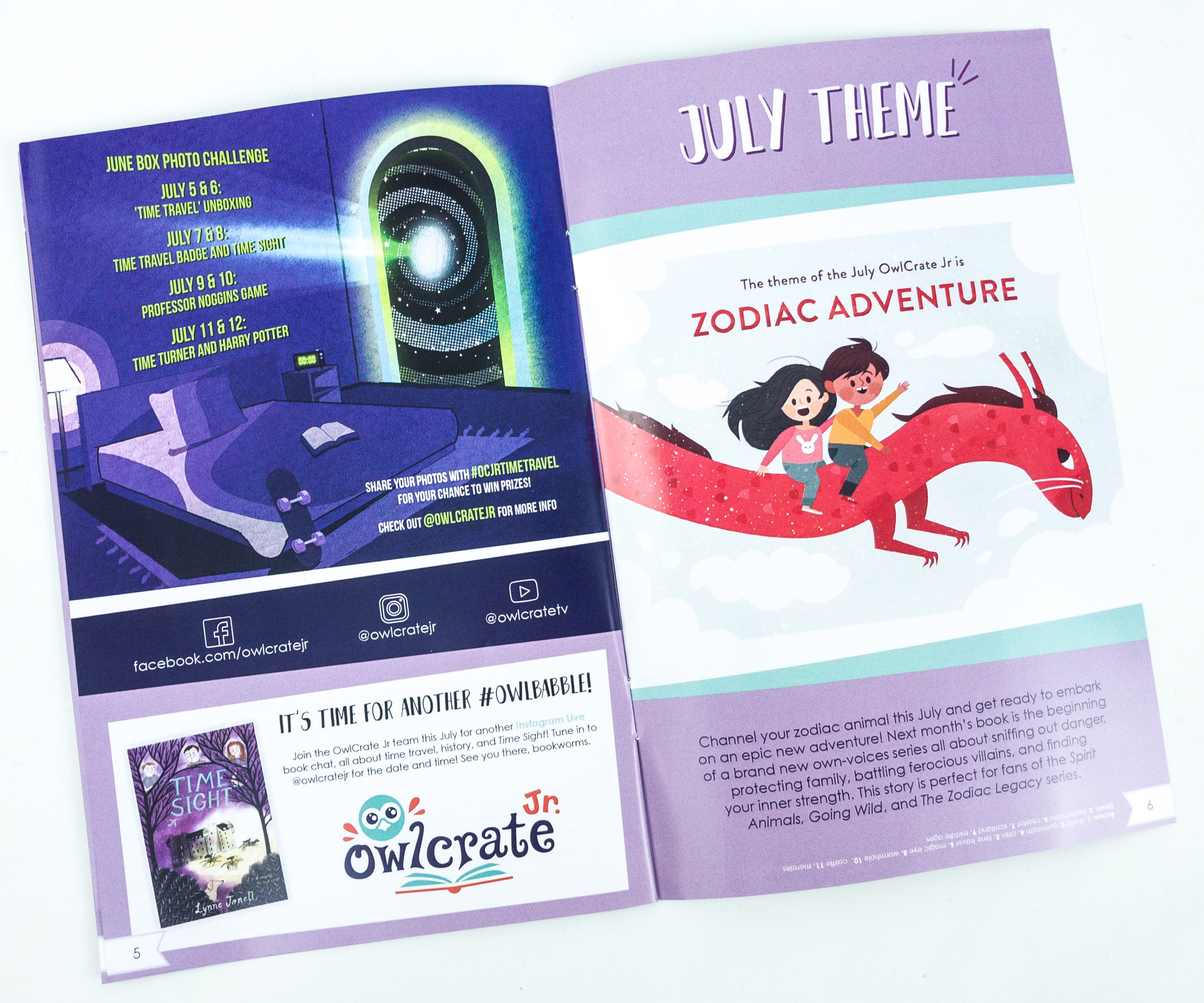 If your kid wants to join the Photo Challenge, the mechanics are found on this page. They also provided the theme for next month's OwlCrate Jr. box.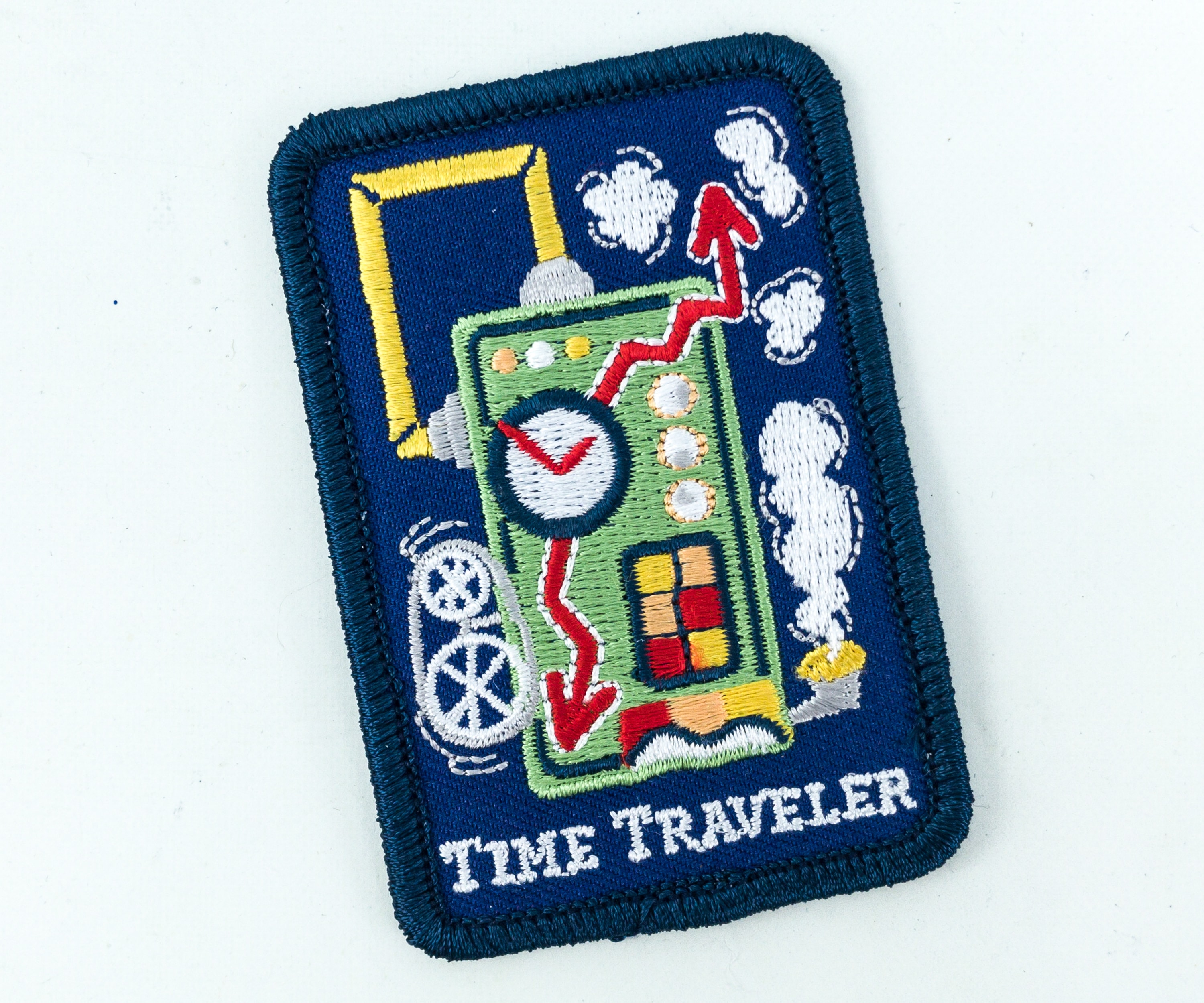 Time Traveler Merit Badge. You can show off this badge by attaching it on a bag, jacket, or cap!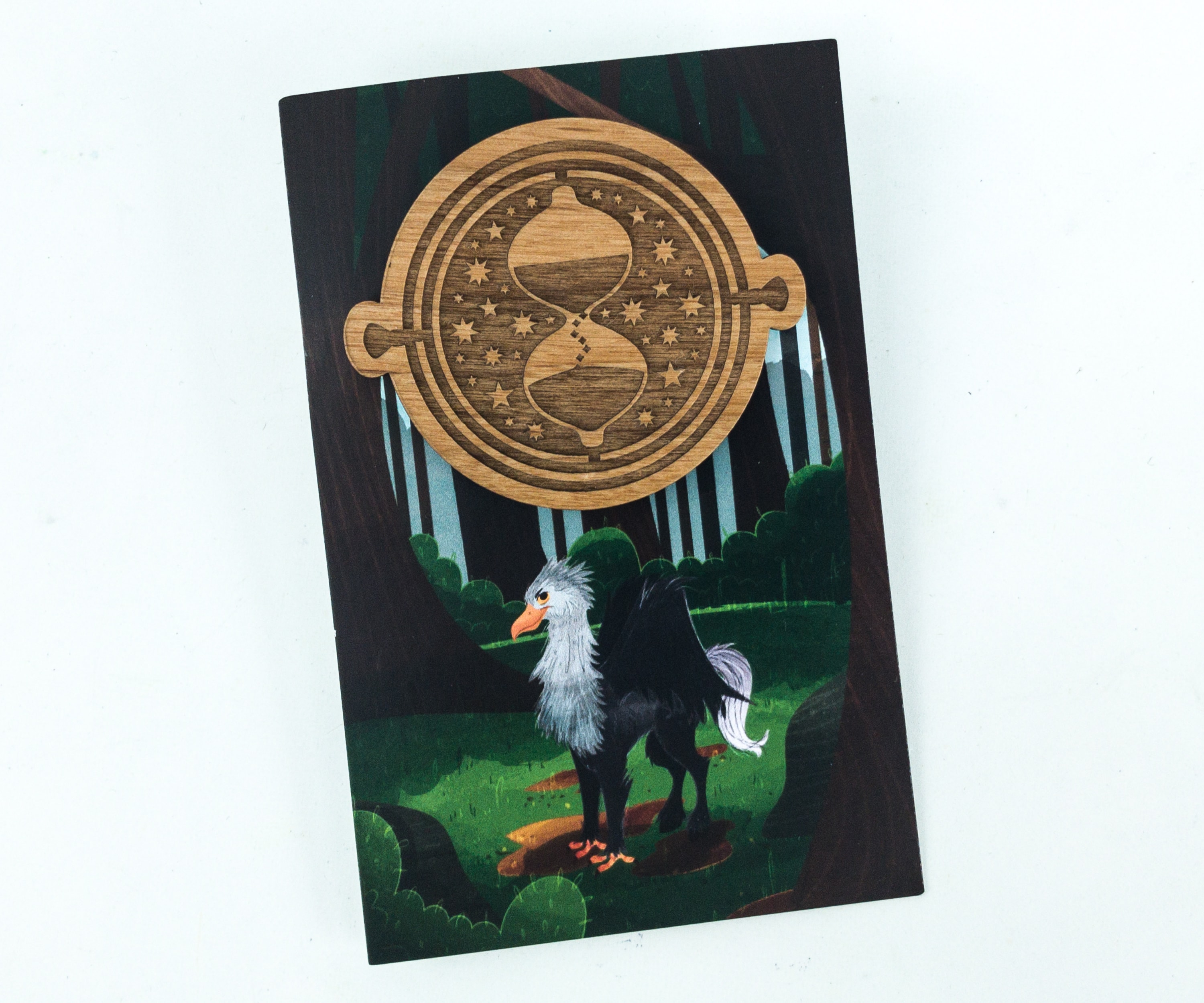 Wooden Time Turner Magnetic Brooch. Another nice trinket included in this box is this adorable magnetic brooch that the kids can use in place of a button pin!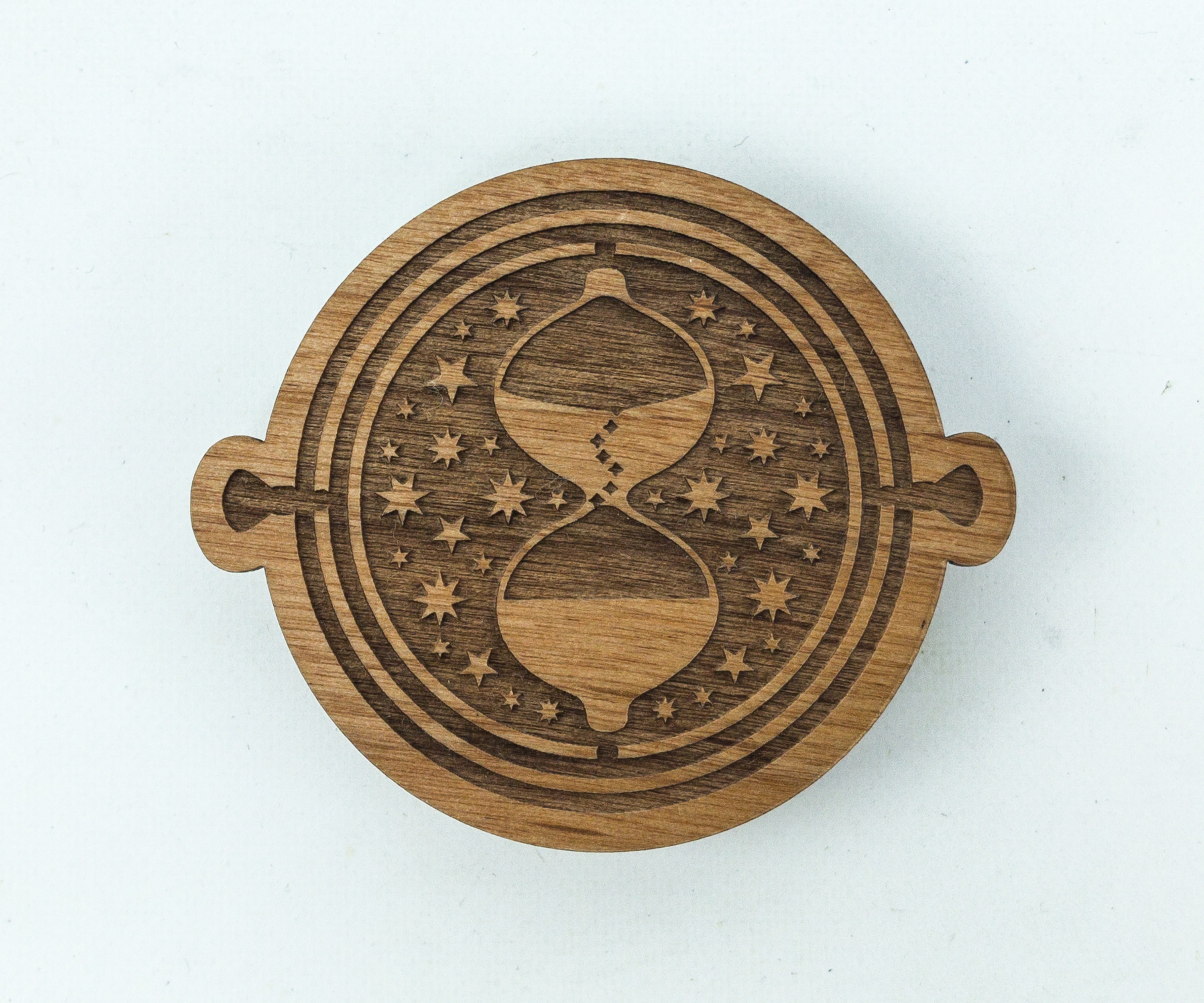 It features an hourglass that represents time. It based on the time-turner from the Wizarding World!
The magnet holds the brooch in place, and the best part, the brooch won't create holes in the fabric like most traditional brooches do!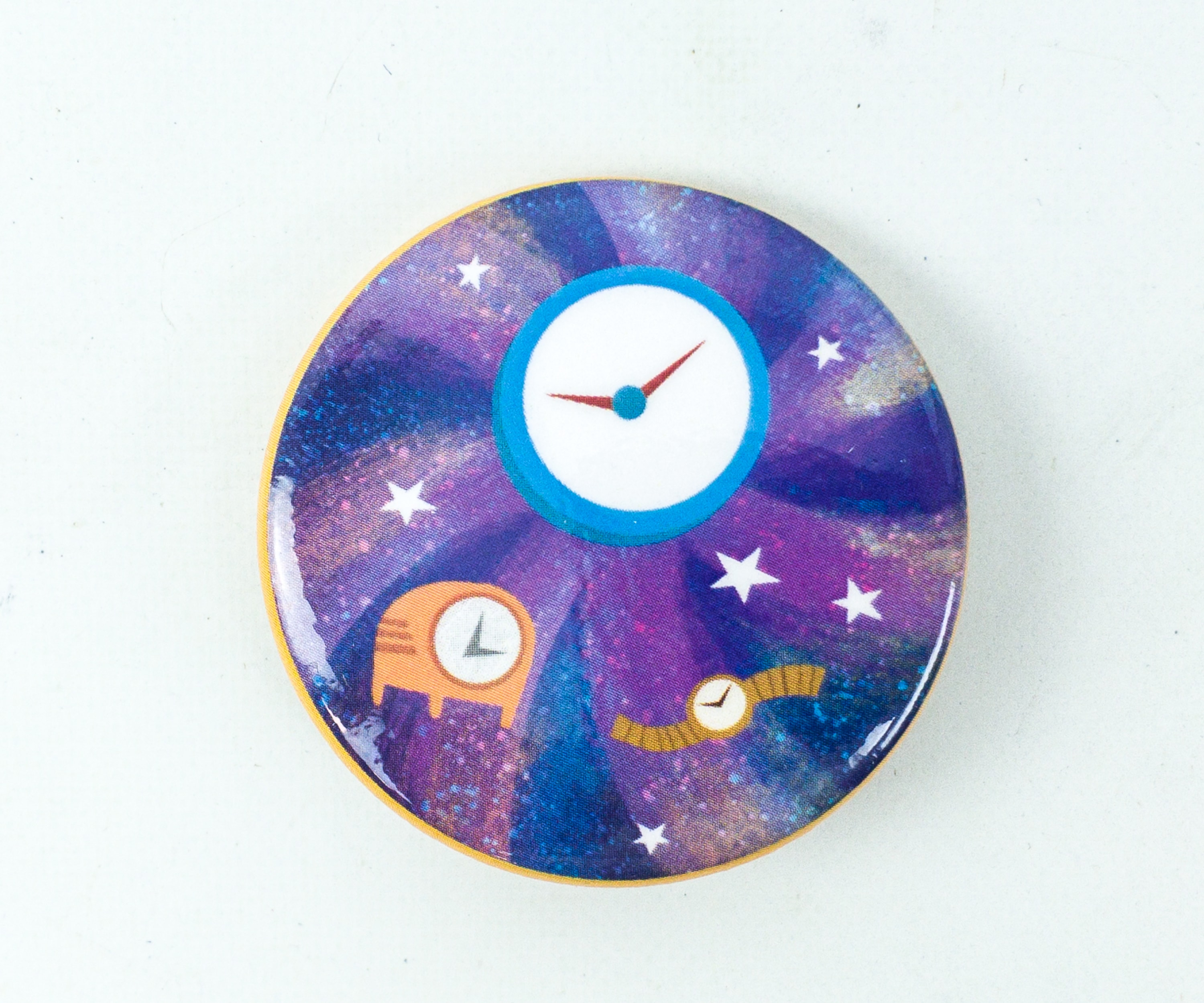 Time Travel Button Pin. The pin that we got this month really speaks about the theme! It even features different types of devices that tell time!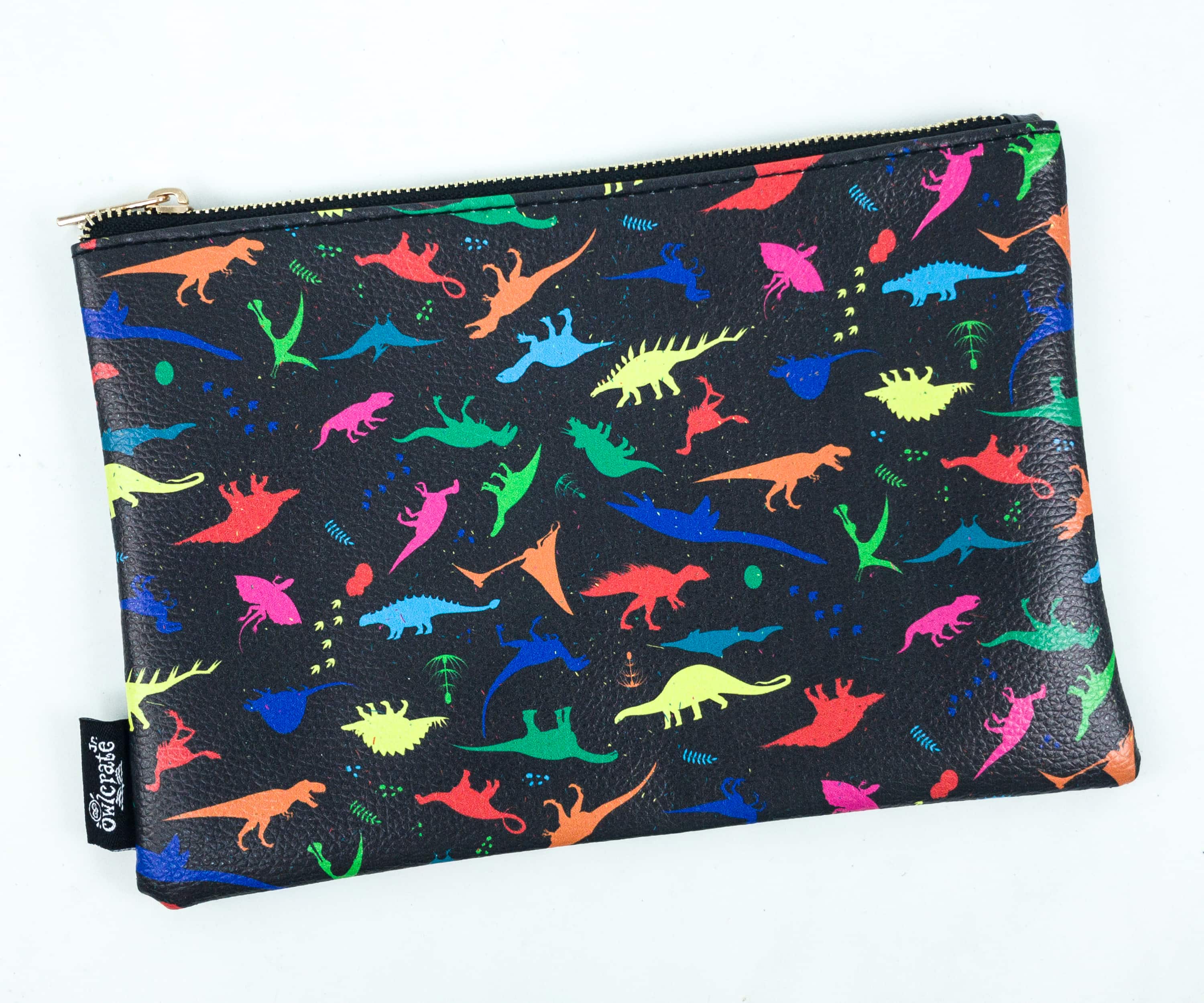 Dino Pouch. It's a dinosaur-themed pouch! The base color is black, while the dinosaur shapes are in different colors. It can hold pens, pencils, and other trinkets. LOVE IT!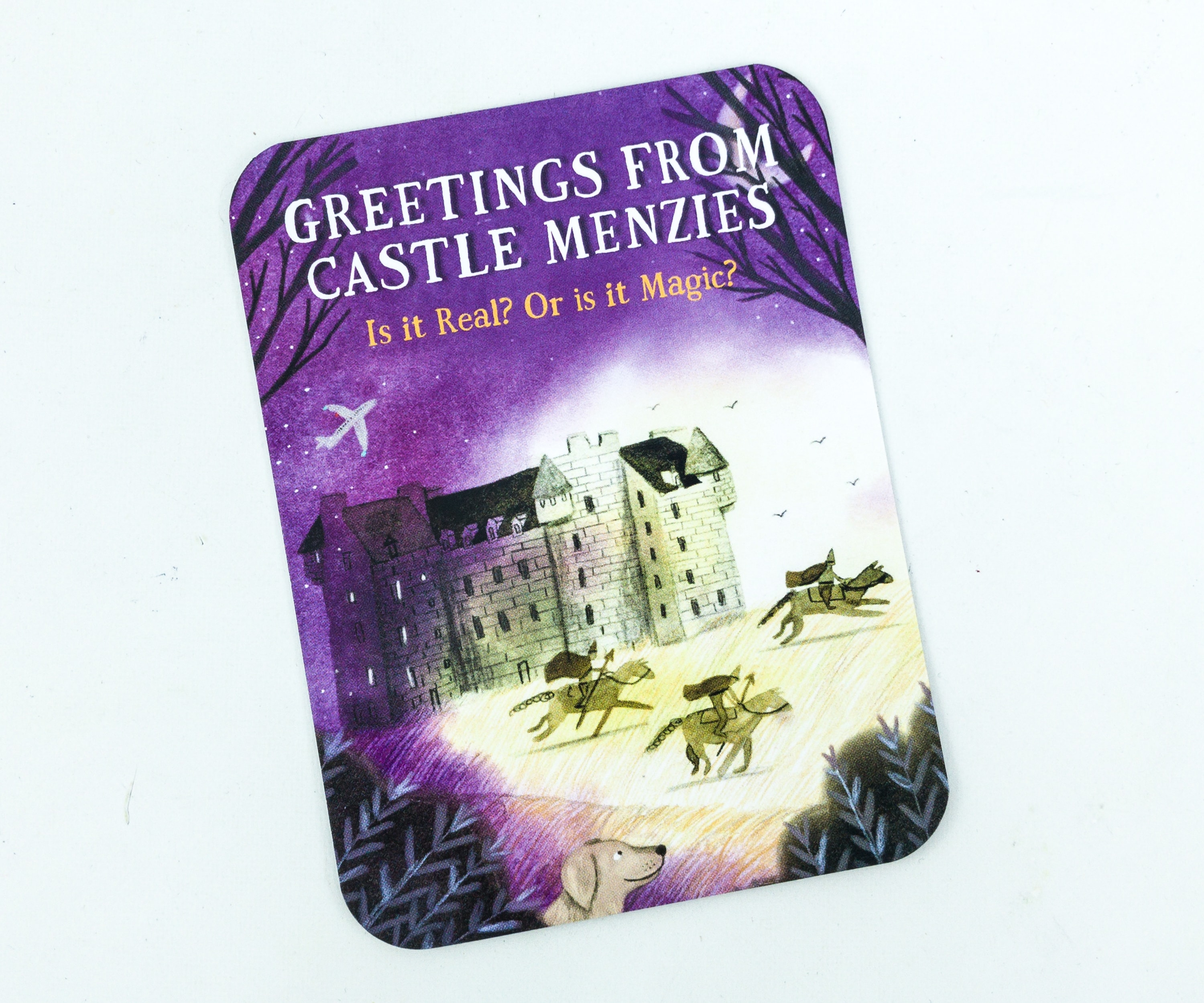 Fridge Magnet. We can add decor on our fridge with this cute magnet!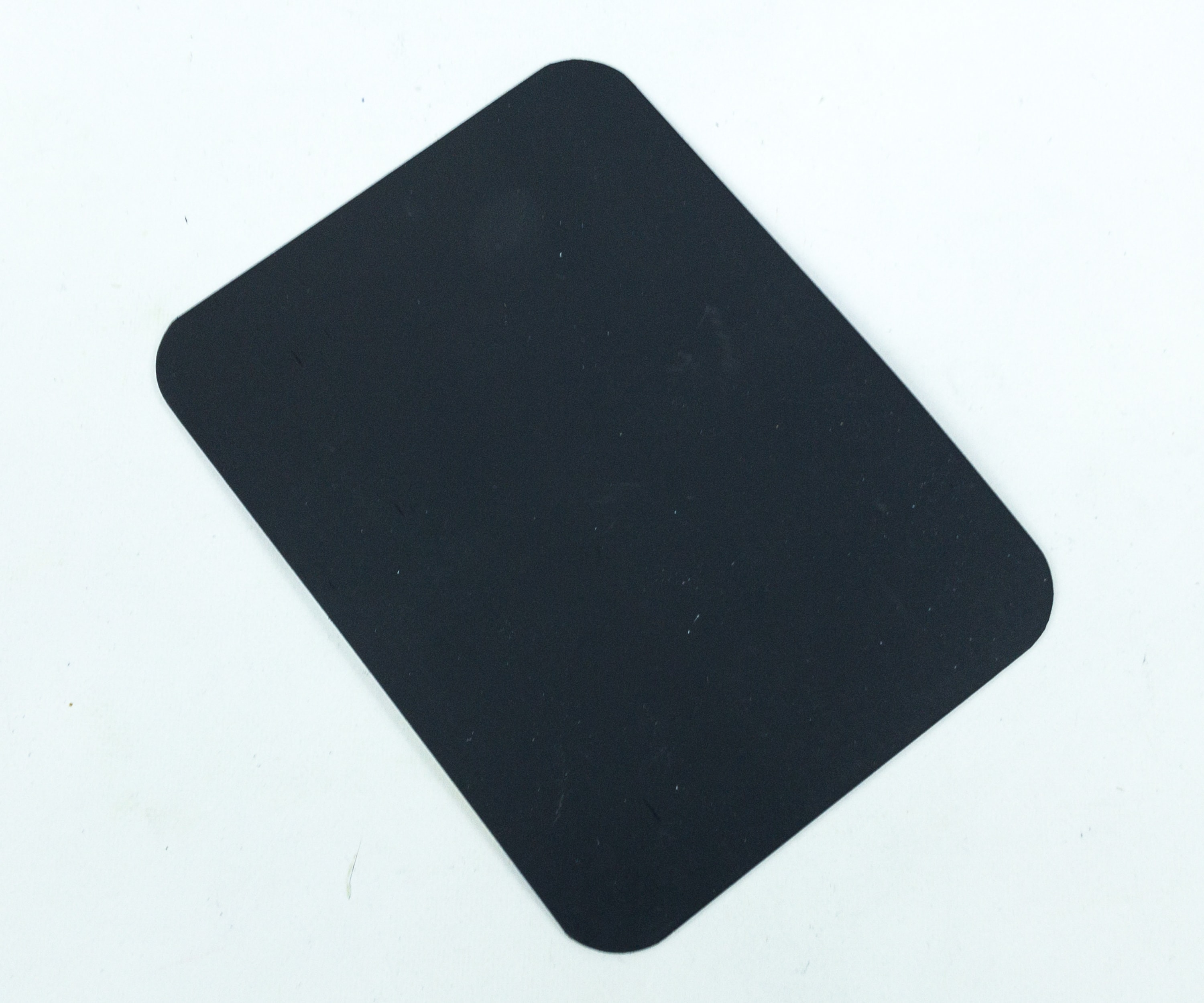 It's a flat one, so it isn't really bulky when placed on your fridge!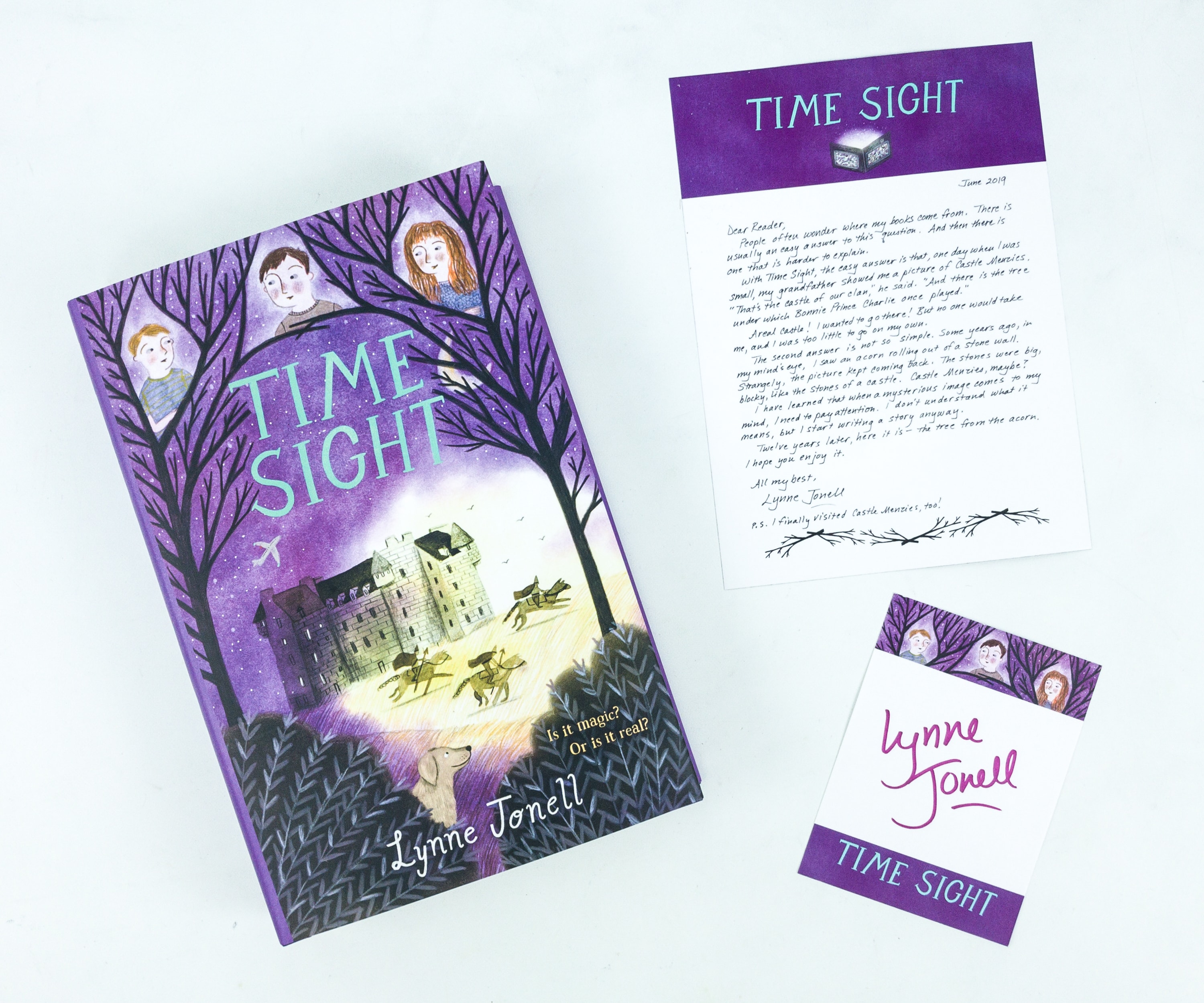 This month's book is Time Sight by Lynne Jonell.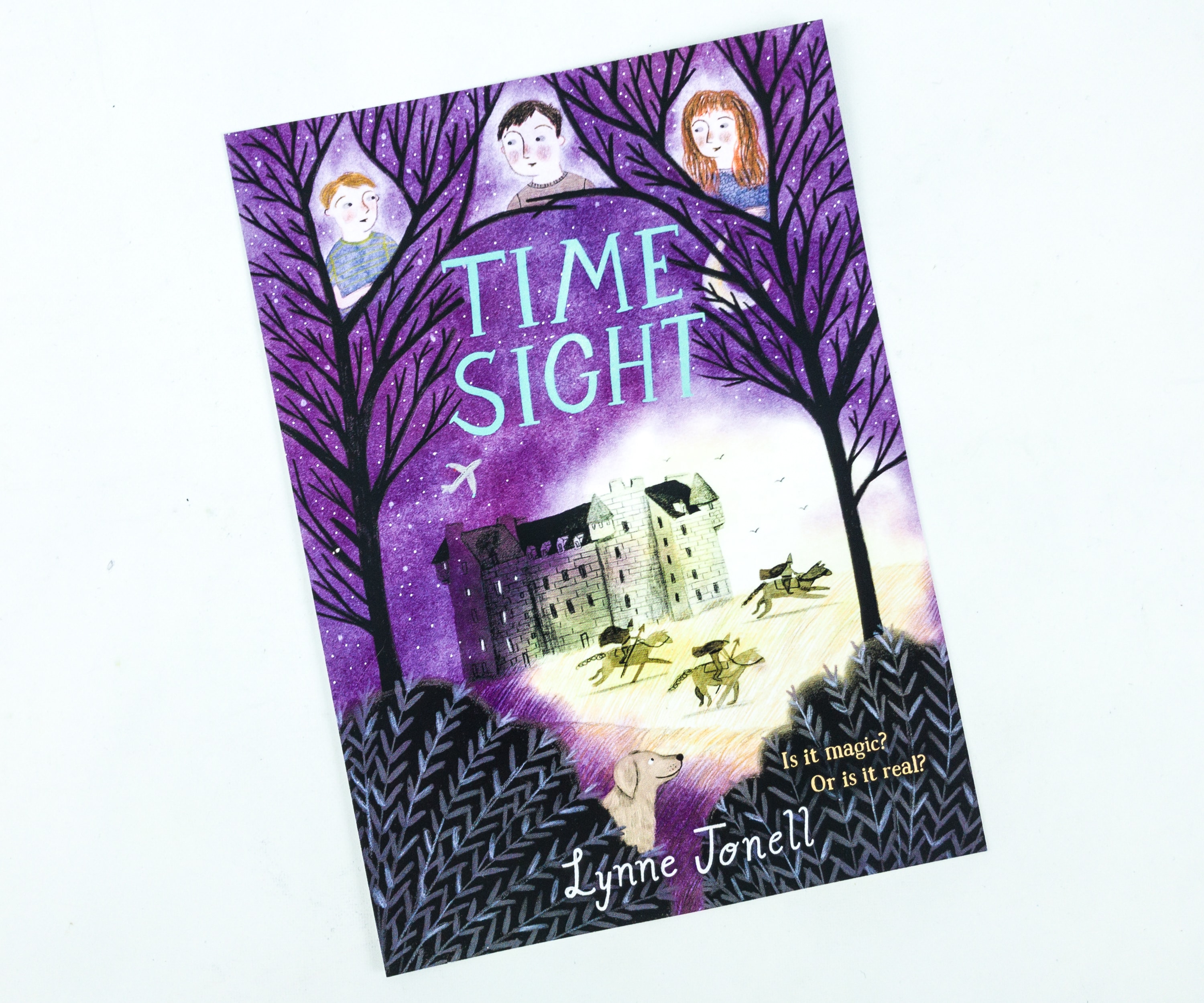 We got intrigued by the question in front of the book:
Is it magic? Or is it real?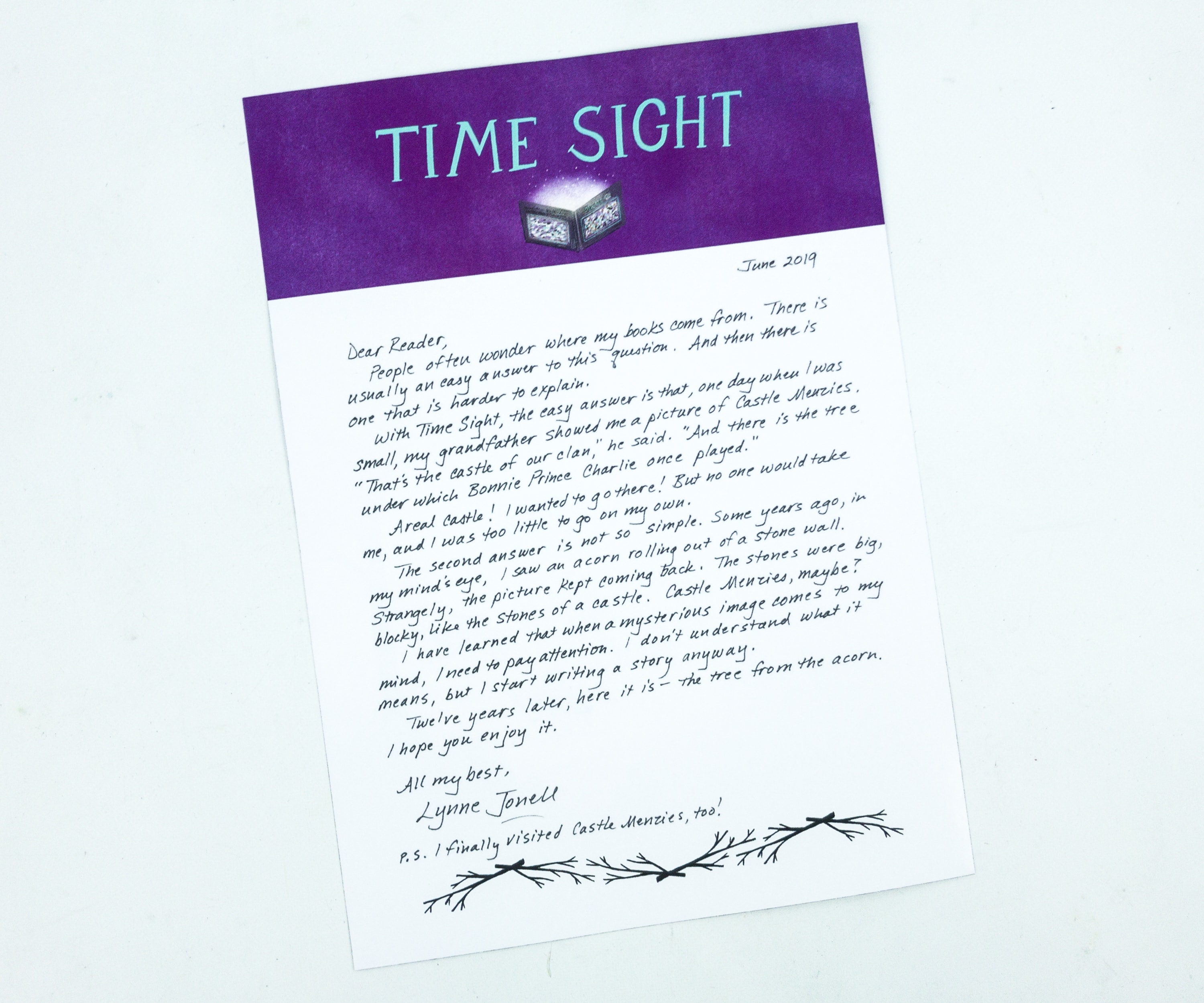 It includes a letter from the author herself.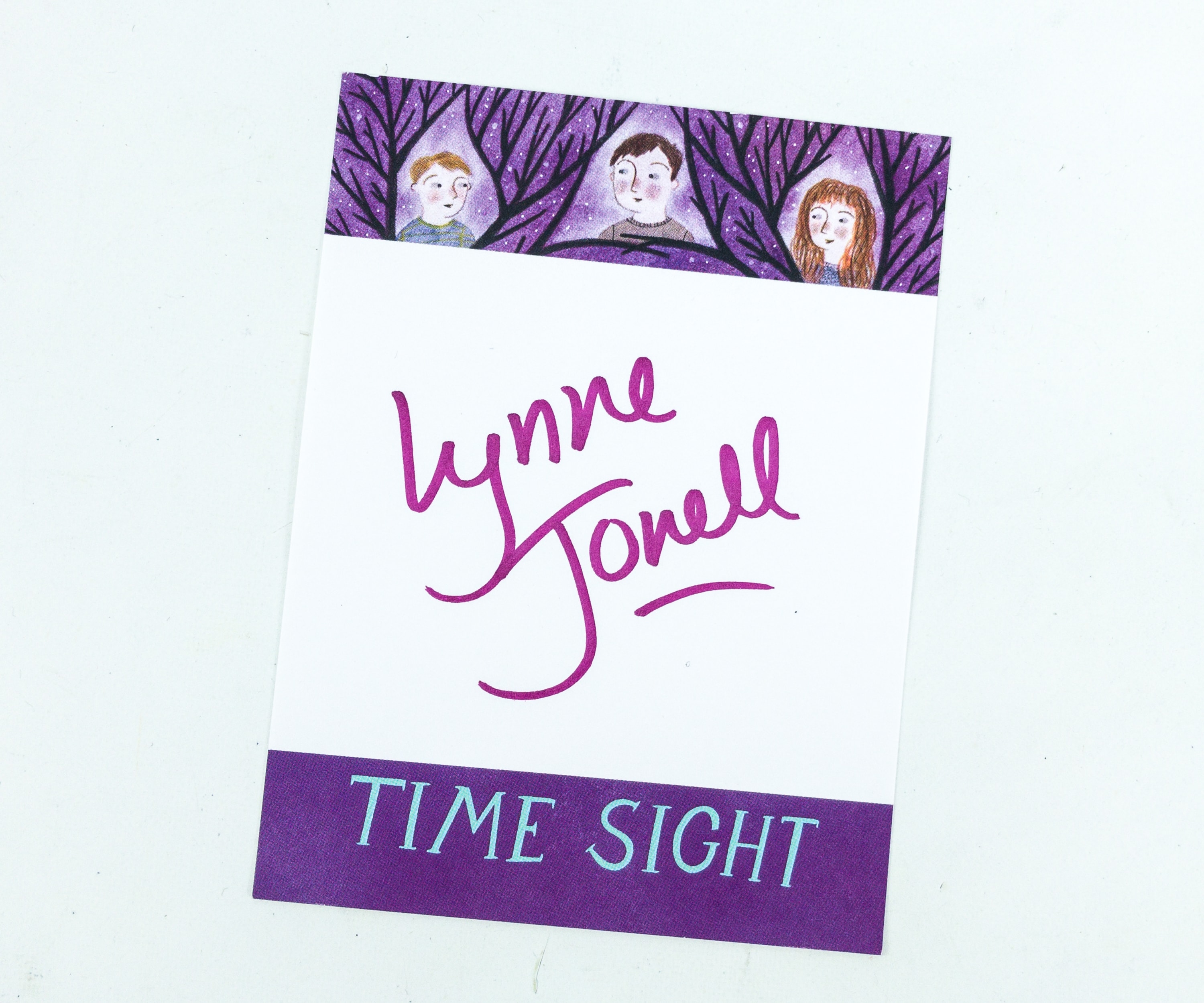 Here's the small plate that contains the author's signature!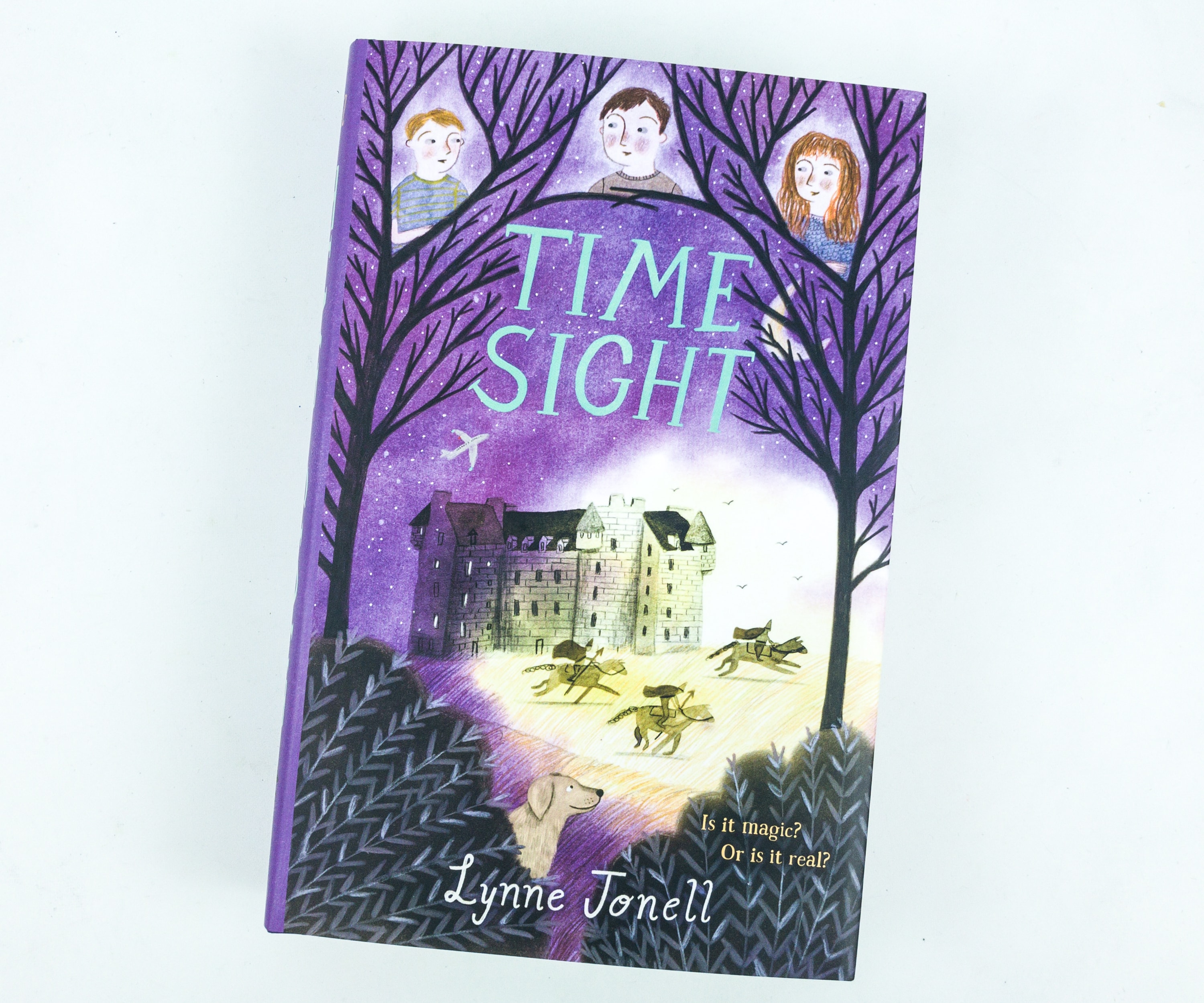 Time Sight by Lynne Jonell ($11.72)
Castles, battles, the ancient Scottish Highlands, and a boy who is determined to bring everyone safely home combine in this absorbing middle grade time-travel adventure.

Will's mother is in danger overseas, and his father must find her, so Will and his little brother are packed off to relatives in Scotland. Will feels useless. He can't save his mother. He can't help his father. And when he tries to amuse his brother on the plane ride, he can't even locate the images in Jamie's book―the hidden pictures that everyone else can see. Once at the family's ancestral castle, though, Will tries again. And as he delicately adjusts his focus, suddenly his eyes tune in to a different visual frequency―the past.

Looking back five hundred years is interesting . . . at first. But when Jamie impulsively leaps through the opening in time, Will and his cousin Nan must follow, into a past so dangerous that Will isn't sure how he will get everyone safely home.
It's a time-travel adventure and we're really excited to delve into the story!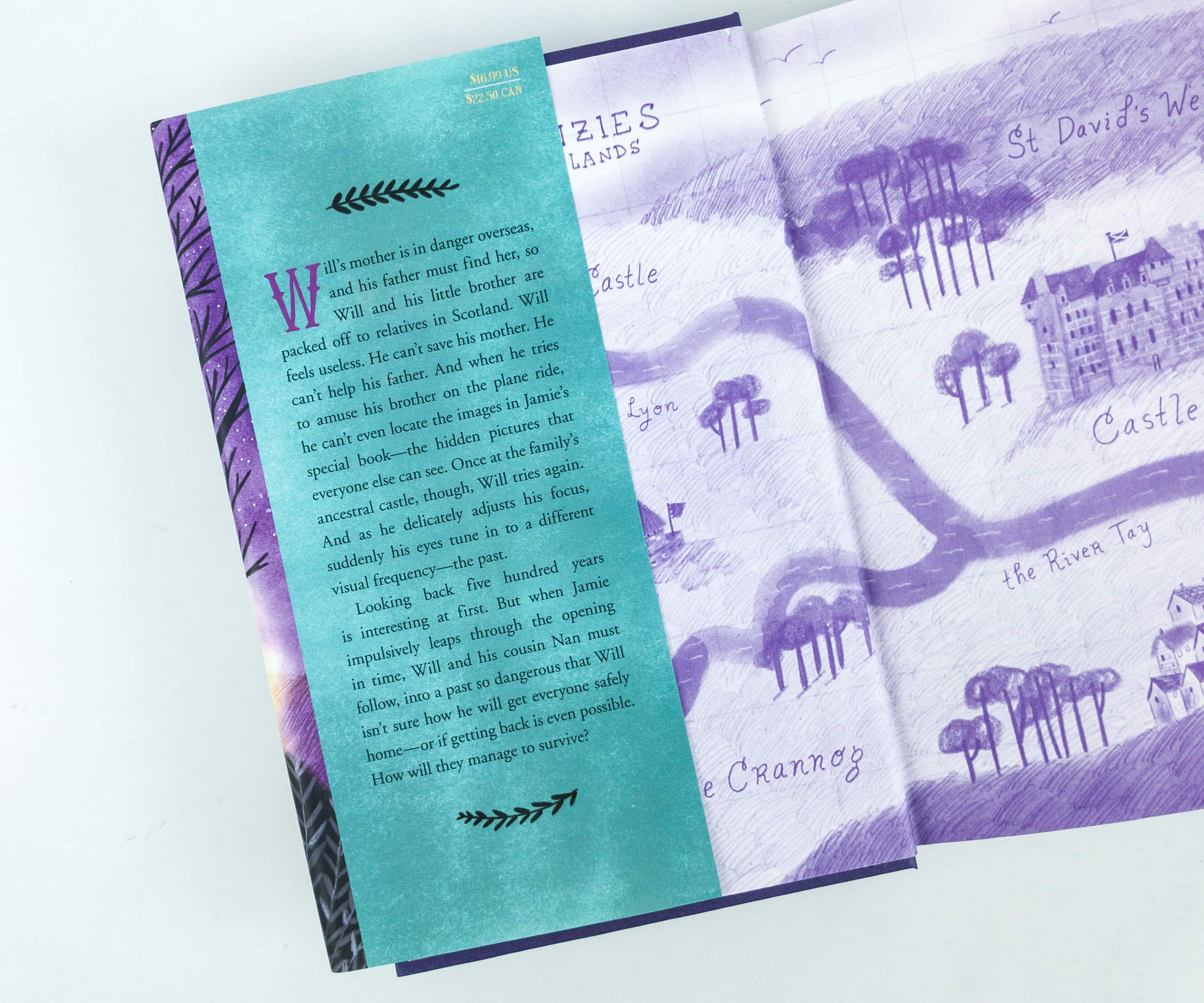 The flap of the dust jacket introduces us to the characters of the story, plus it also gives us an idea what the story's about.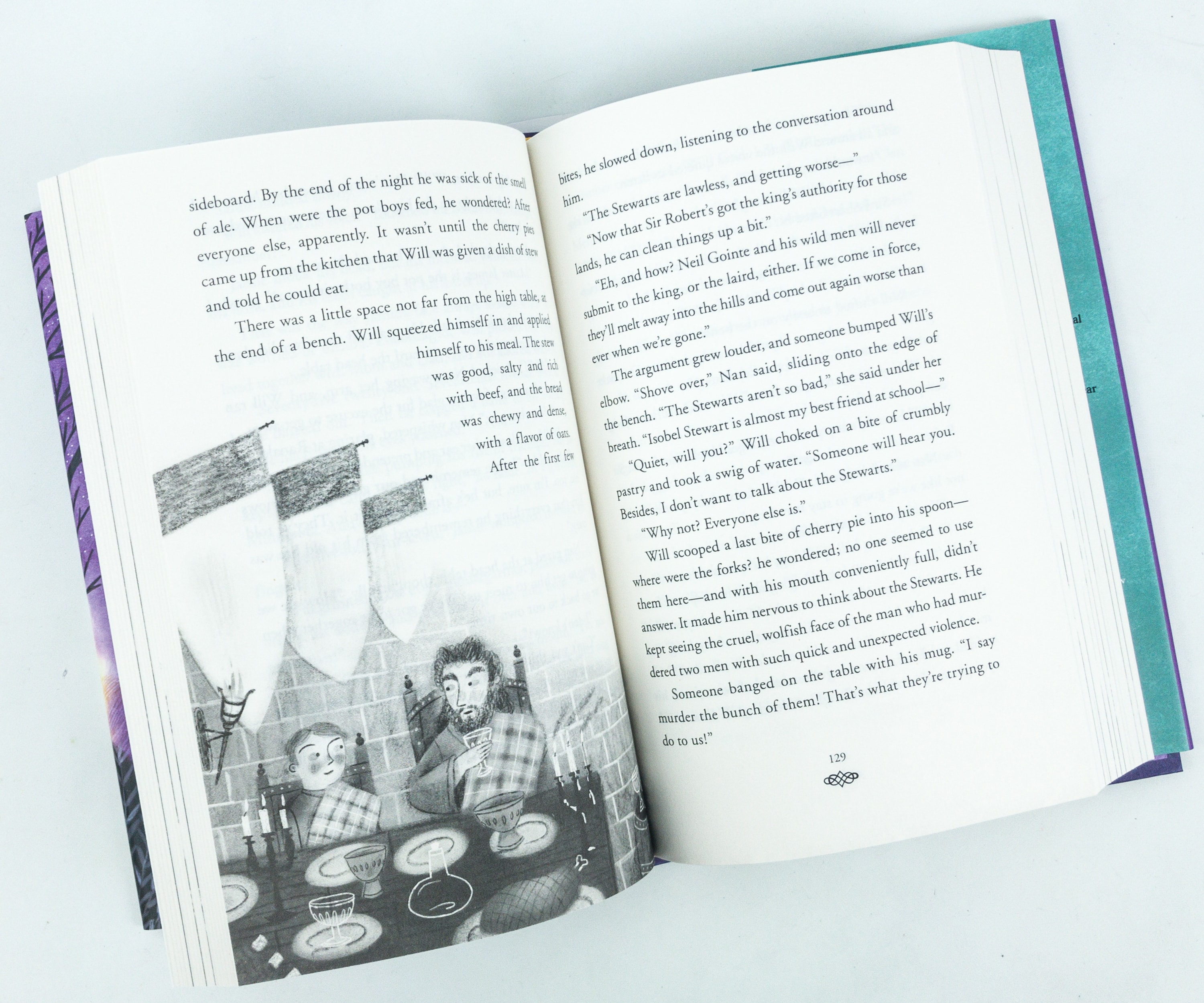 Time travel might be fun, but there are also dangers in doing so!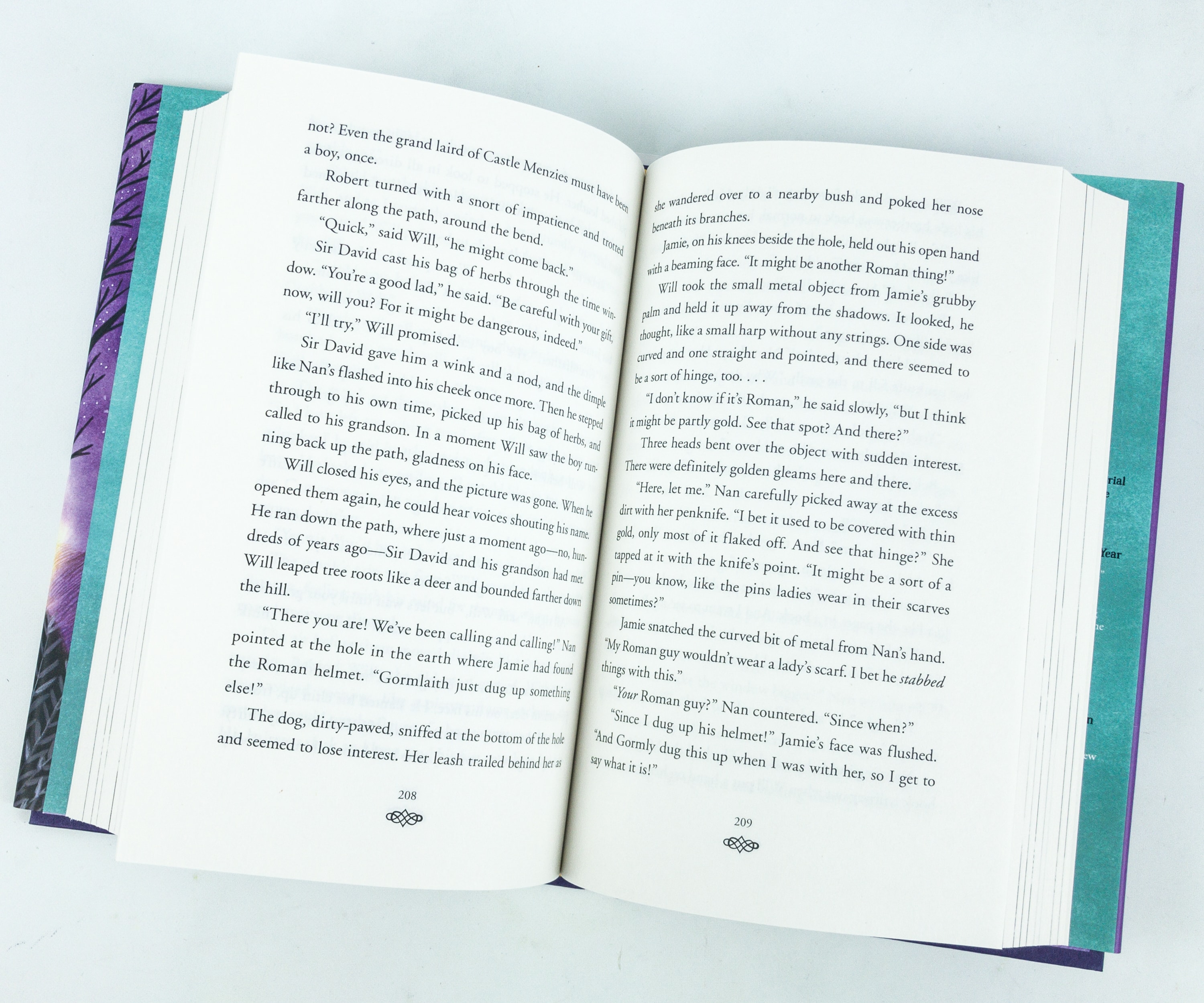 Will really needs to save everyone and hopes to bring back everyone safe! Kids who love time travel stories, or even historical fiction will really get fascinated by this cool adventure!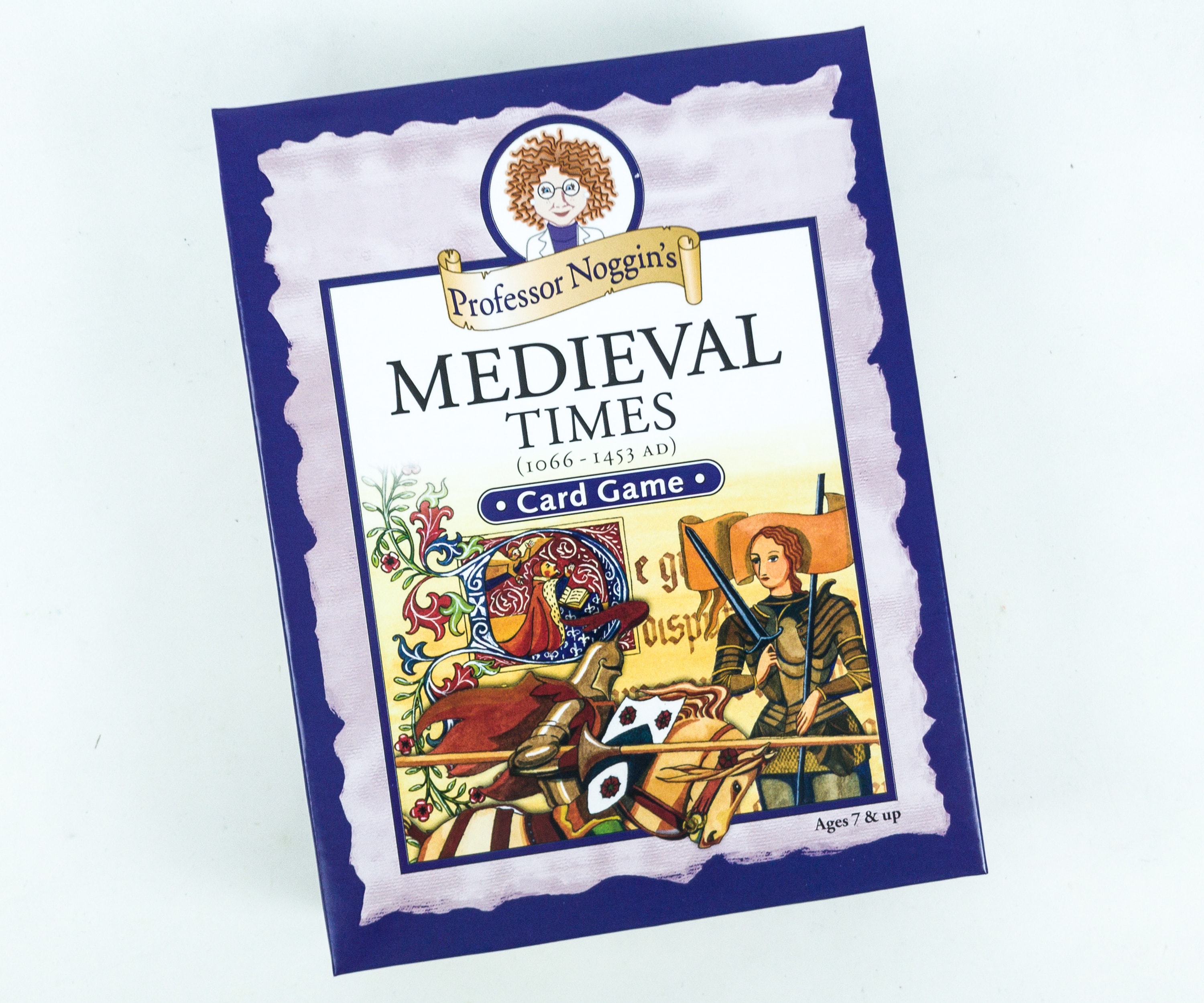 Professor Noggin's Card Game – Medieval Times ($9.99) To aid with our time travel adventures, the crate also included this fun and educational card game that features the Medieval Times!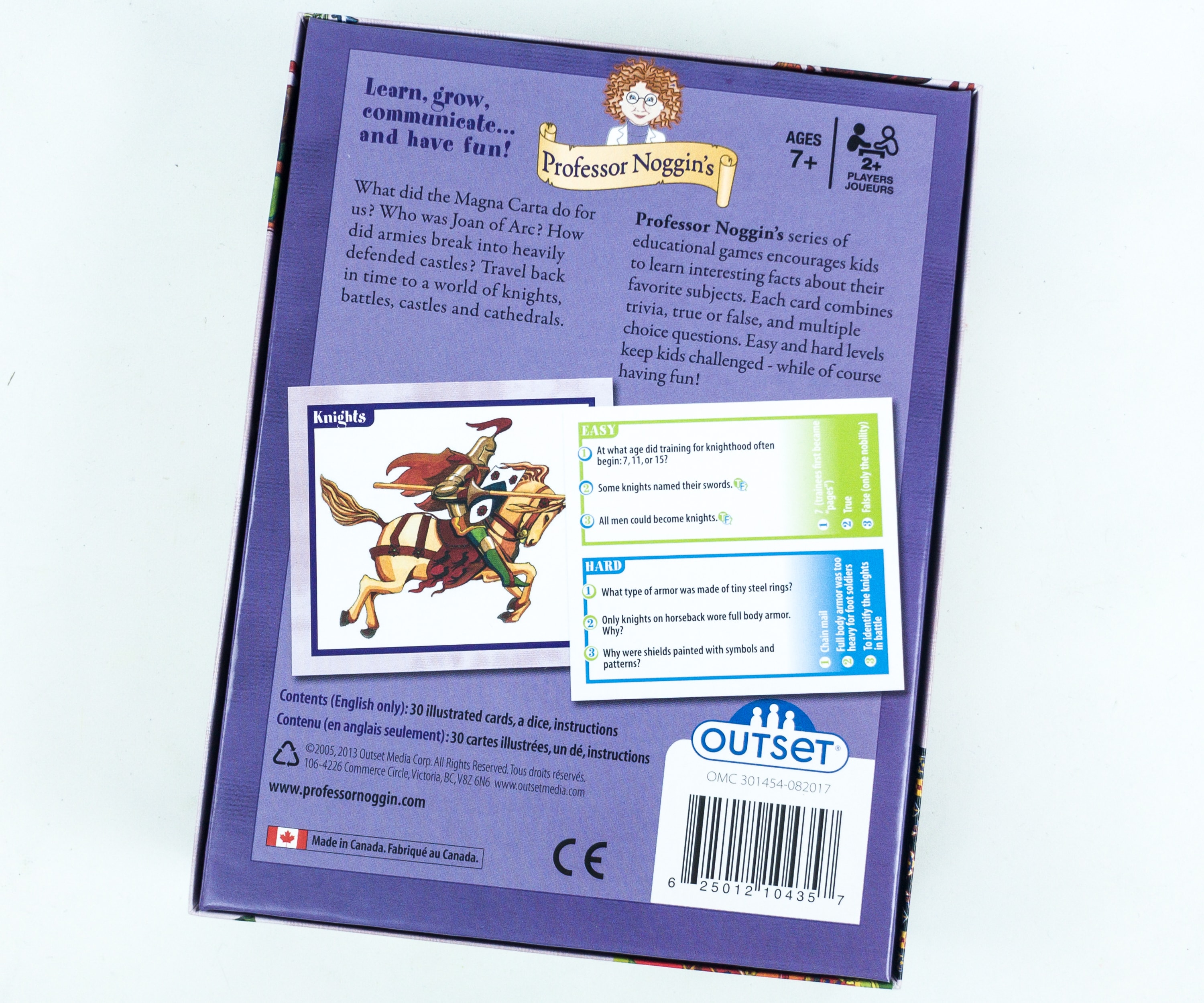 Some information and instructions can be found at the back of the packaging.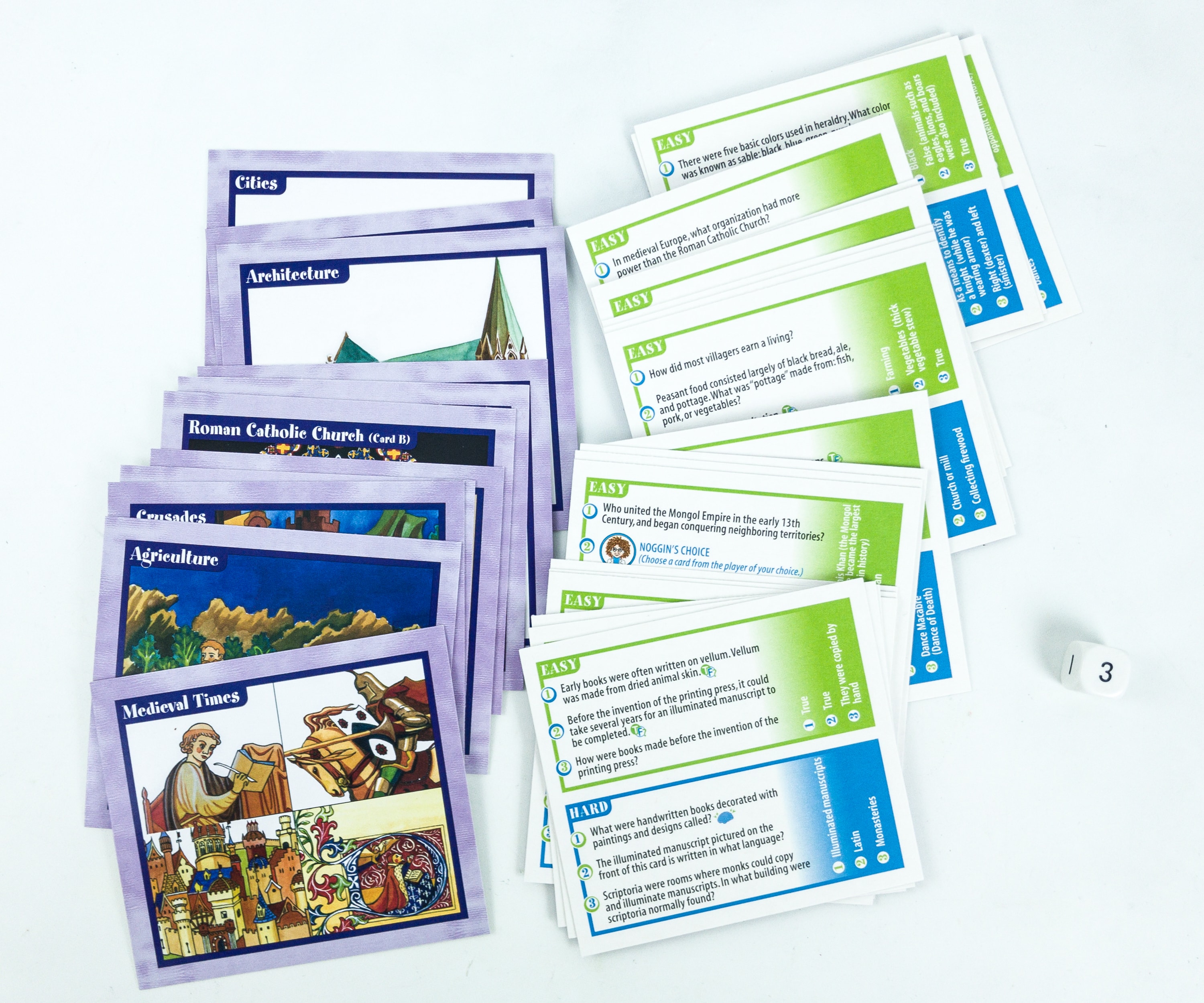 Each card features a Medieval Time art, and their back includes easy and hard questions that you need to answer. The kids really had fun learning about the events of those times, and it's an easy way to feed their minds about history!
It's another great month for Owl Crate Jr.! My kids are really interested in the idea of time travel, so they thoroughly enjoyed the book. Another hit was the card game where they learned a lot about the middle ages! All in all, it's a fun and entertaining box packed with interesting related items. We're already excited for the next box!
What did you think of the Owl Crate Jr. box this month?