MindWander is a monthly subscription box that aims to help you reduce stress and anxiety through self-care and by using cognitive behavioral therapy. Boxes will include a mini-workbook plus an assortment of 4-5 full-sized items including bath & body, lifestyle, and novelty items. MindWander is $39.99 a month, or get the Mini for $19.99, which includes the workbook and 1-3 items.
If you're looking to put a little more therapy in your self-care routine, this is the box for you! Developed by a PhD psychologist, boxes include a mini-workbook filled with strategies for decreasing anxiety and stress and increasing confidence and positivity. After all that hard work, treat yourself with a variety of high quality self-care items!
First peek!

My items were tucked into shredded paper squiggles and I noticed that the lid says the box is made of recycled content.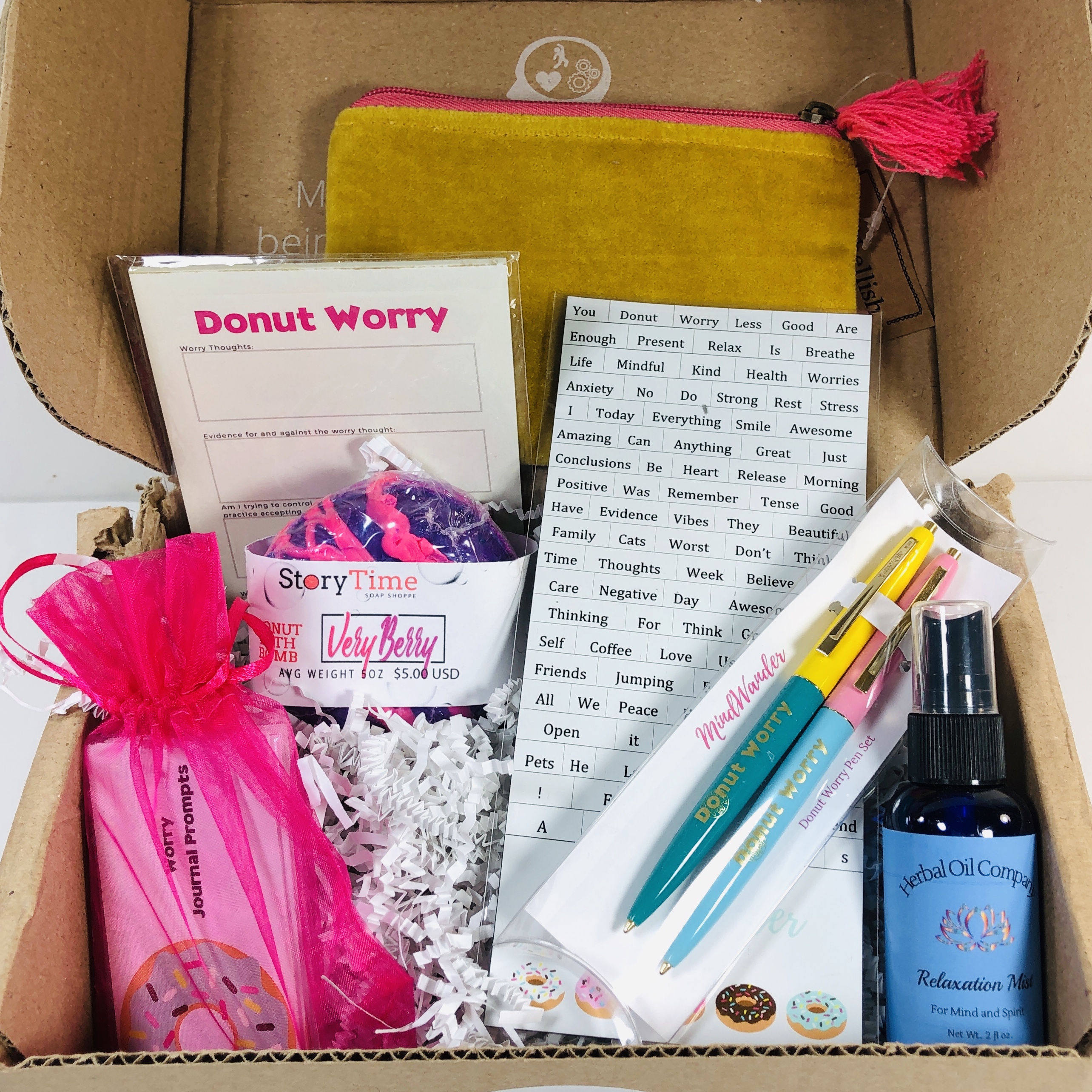 Everything in my box! Let's see what's in here!
I love the colors of this product info card!
The card had info and suggested retail prices for each item, along with a description. Very informative! The theme for July is Donut Worry.

Mini Workbook ($5) The mini workbook is designed to help you work through the behavior that is the focus of any particular month. For July the behavior is worry.

The inside page again mentions the behavior and has some info on the person behind MindWander, Dr. Sarah.
I am going to highlight pages from Session One, but know that there are four sessions in the booklet, plus a review section at the back. The first session defines worry and also helps you draft a self care plan.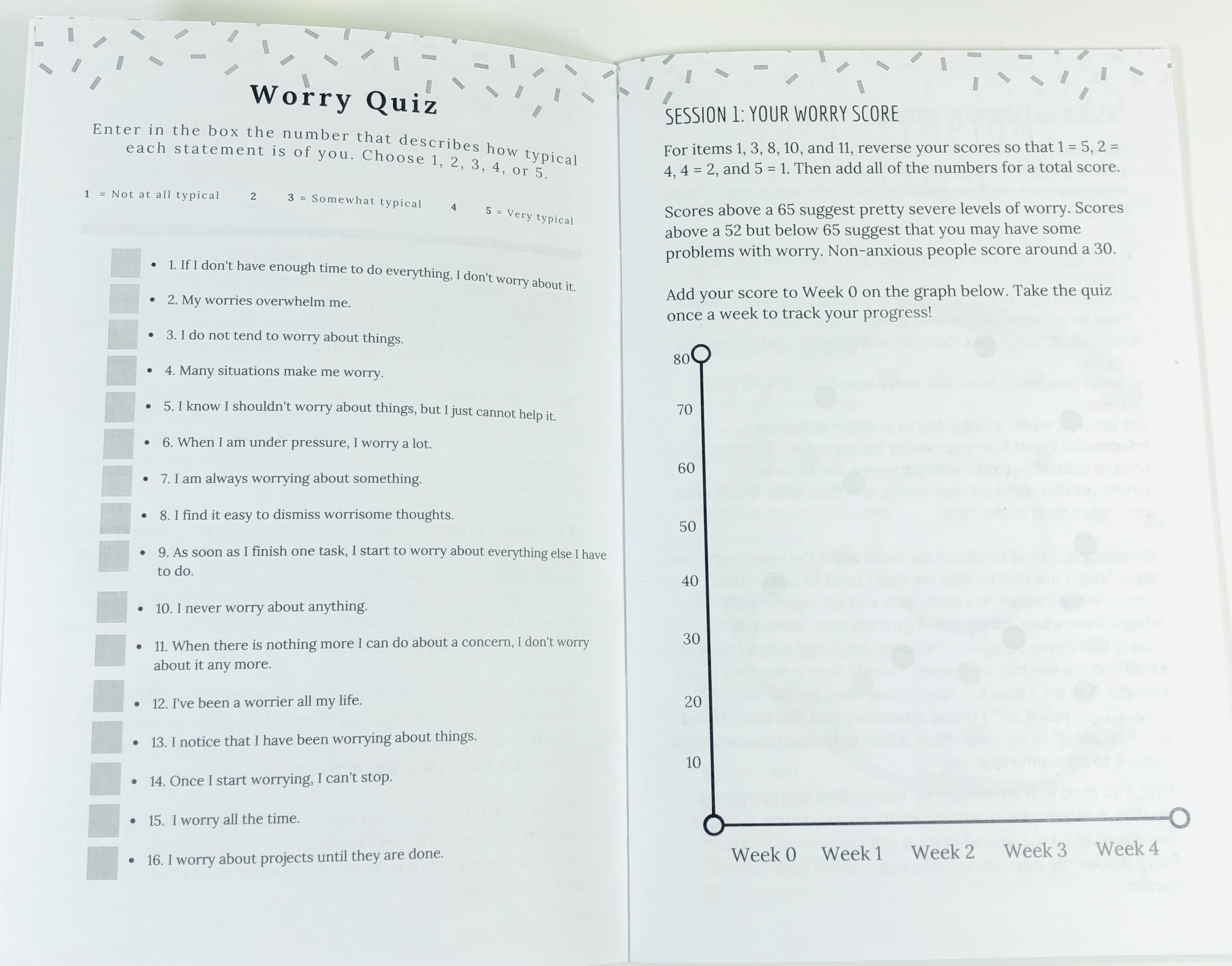 There was a worry quiz, which can be taken once a week throughout the month.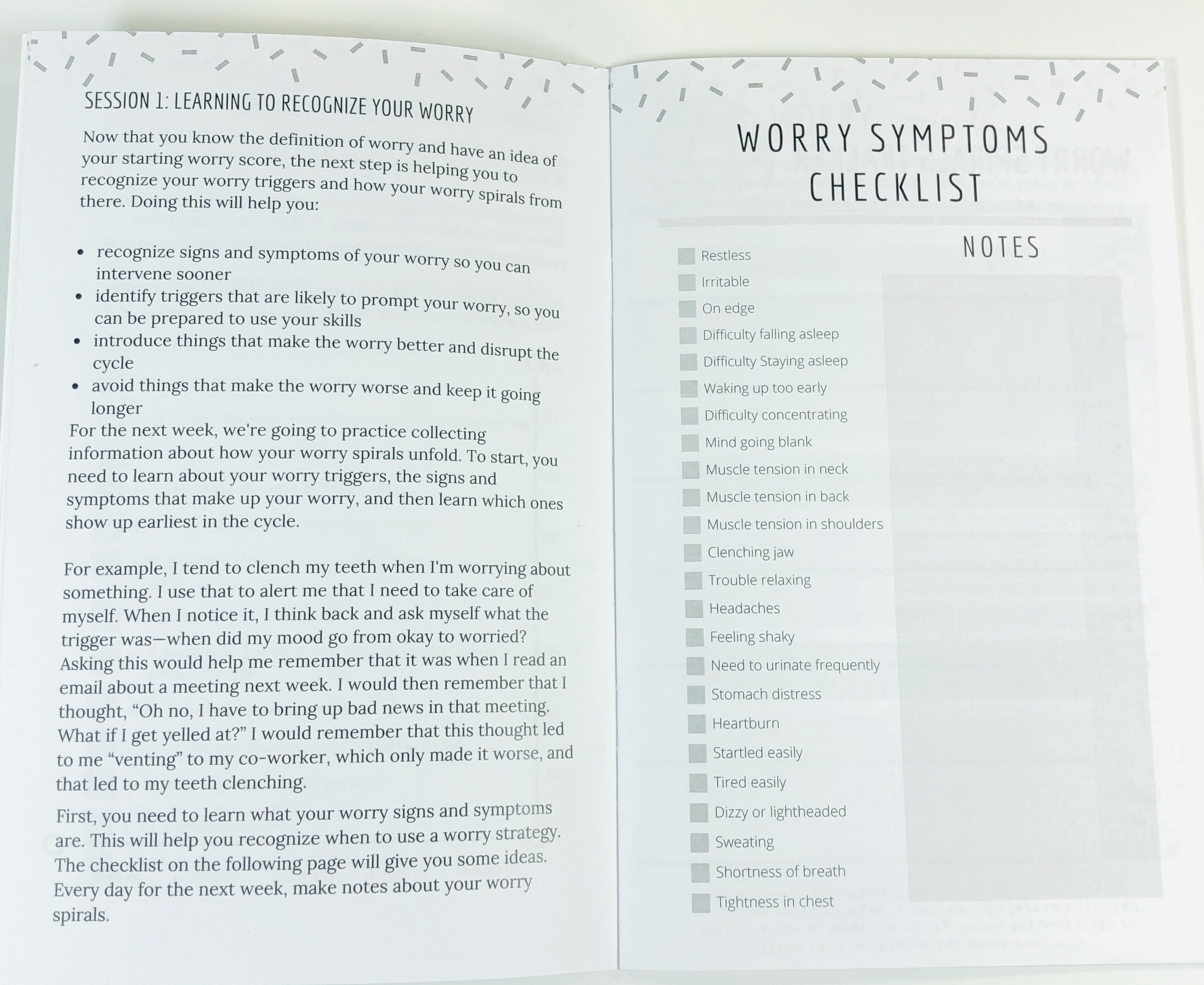 Recognizing your worry will help you realize it is happening so you can take action to keep it from spiraling out of control. The 3 remaining sessions dive into "Worry Spirals", "Using Thinking Strategies to Reduce Worry", and "Using More Thinking Strategies".

Here is the last section of the booklet. The sessions are all broken down into steps so it isn't overwhelming.

No Worries Refrigerator Magnet Poetry Set ($8) There are 104 words on this set. You can use it to write poems, affirmations, or other visuals to help you get through your day. Of course, you can stick it to any steel surface, like a filing cabinet.
Embellish by Creative Co-Op Velvet Zip Pouch with Tassel ($10) Creative Co-Op is a wholesaler so I couldn't link to this bag but it is very cute and the value seems right.
It's made of a mustard-colored velvet with a bright pink zipper and tassel zipper pull, although colors may vary. It can be used to hold makeup or toiletries but I like the suggestion of using it to hold relaxing items such as the spray shown later in this post.
Herbal Oil Company Relaxation Mist ($6) I linked the the vendor's "Meditation Mist" because everything about it appears to be the same as this product, except for the name.
It is made of distilled water, witch hazel, and lavender and eucalyptus essential oils. You can mist it on your face, pillow, yoga mat, or even use it as a room spray. It is super hot where I live so I spritz it on my body and then sit in front of a fan for instant coolness. Lavender may help one feel less stress as it is used therapeutically to promote rest and relaxation.
Story Time Soap Shoppe Donut Bath Bomb ($5) How cool is this bath bomb? It's super sized!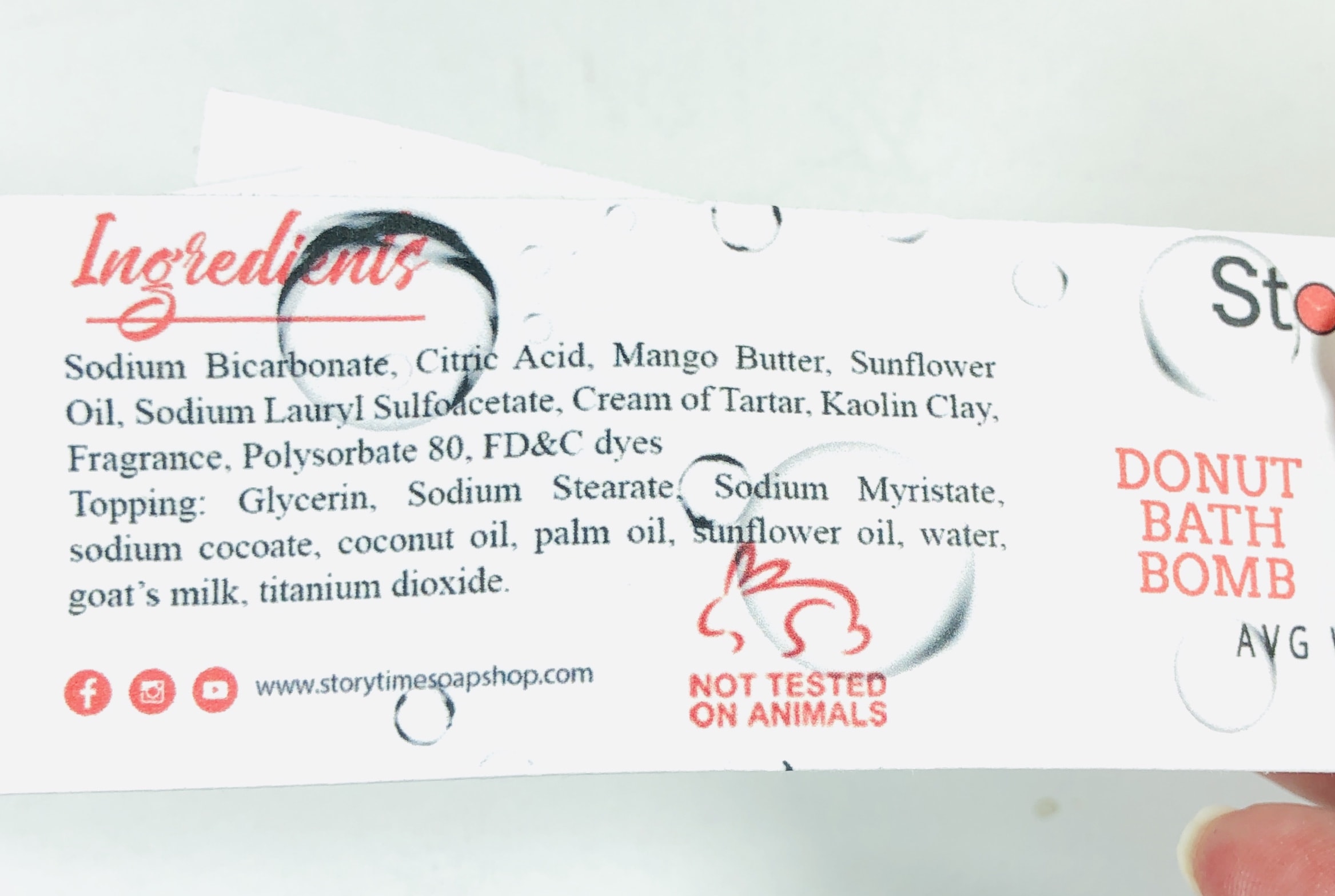 Ingredients were listed on the wrapper.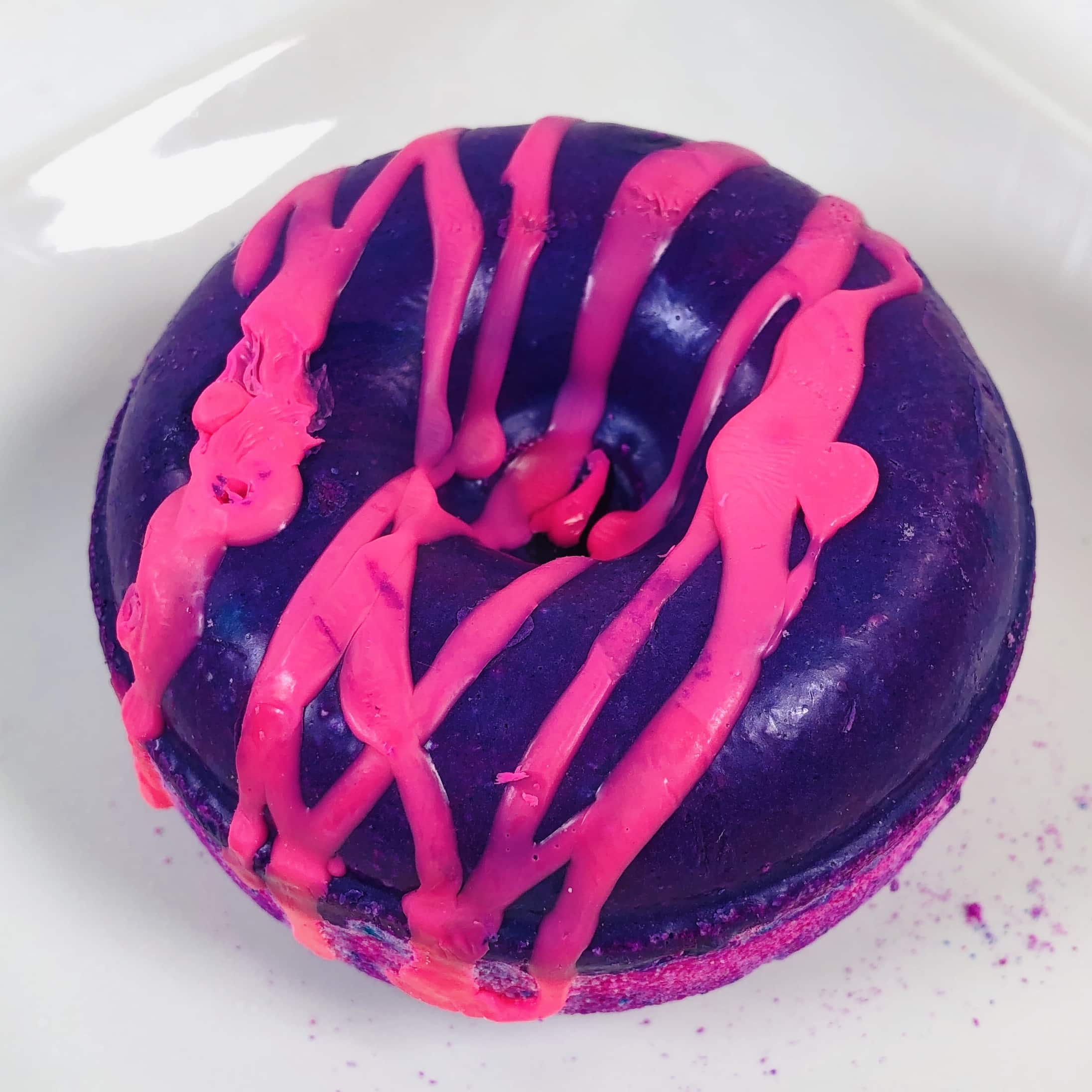 Here's the top, doesn't it look like frosting has been drizzled all over?
Here's the bottom. It smells so good, it's berry fruity! It is also the size of an actual donut. So adorable.
Gold Trim Donut Worry Bic Pens ($10) Here is another exclusive item. I love cute pens and these are super sweet looking!
They say "Donut Worry" and I am loving the cute colors going on here.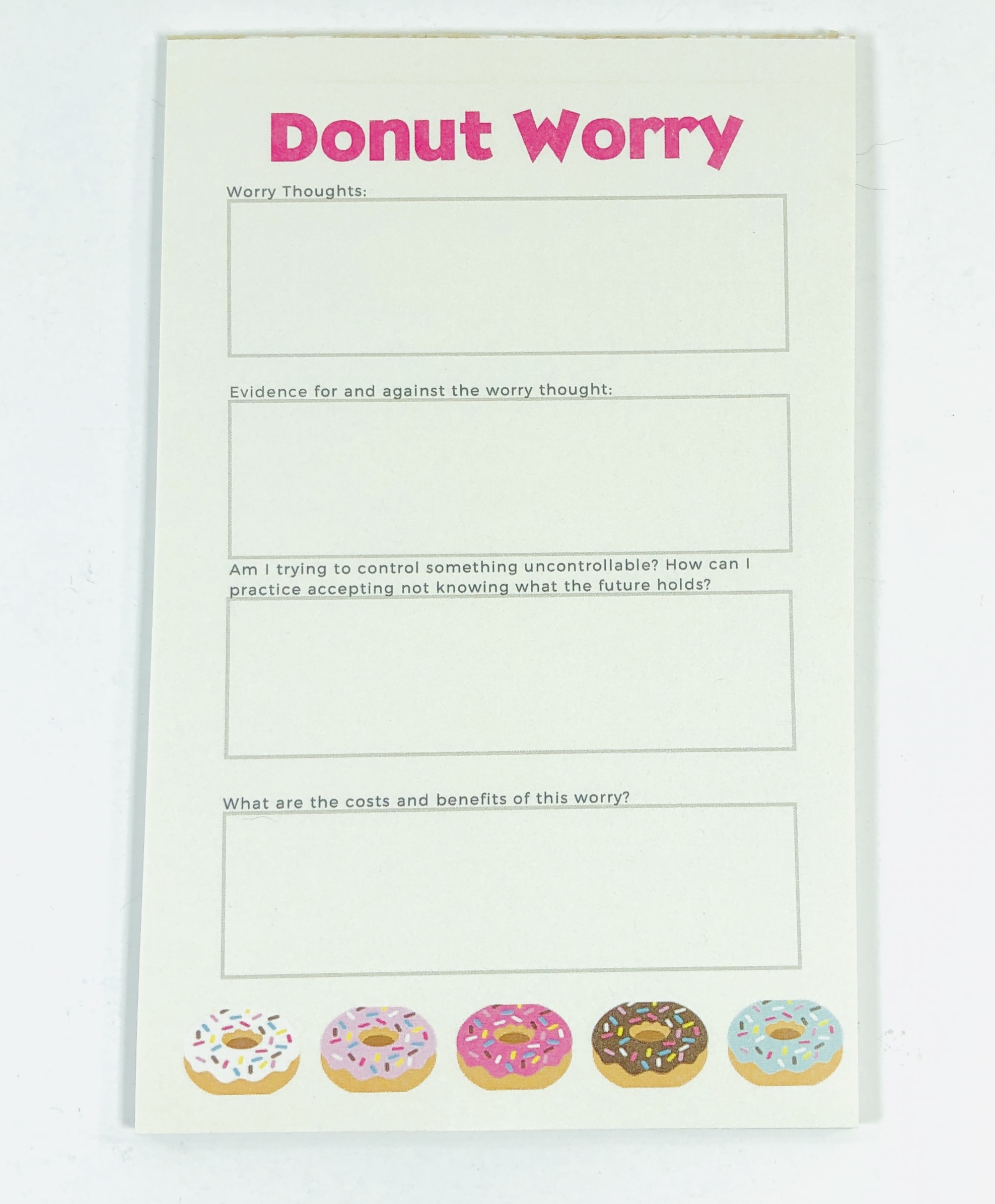 Donut Worry Notepad ($7.50) I think there are 25 pages on this customized 4″ x 6″ pad. Tear a sheet off and jot down your troubles to get beyond the worrisome thoughts – you got this!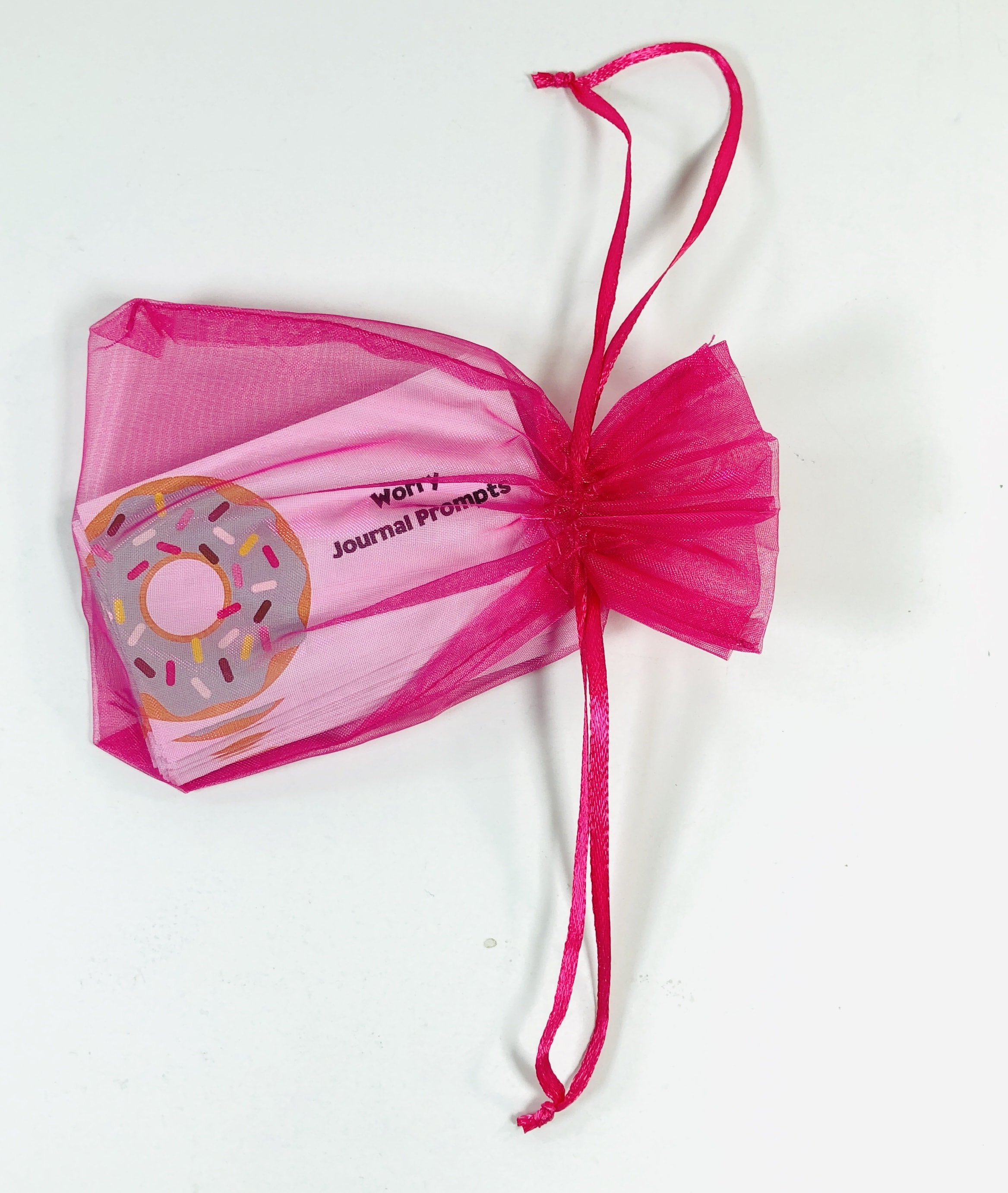 No Worry Journal Prompts ($5) came in a drawstring bag.

I counted 30 cards and here are a few of them for you to read. Just pick a card at random every day and find a quiet place to reflect on your answer. If you have a journal nearby you could jot the answers down.

MindWander is a great box to help you get ahead of overwhelming thoughts. The workbook helps you keep track of what you are doing and when and teaches you how to deal with the problem of the month. The items help you distract yourself and offer incentives for making changes. There is even a Facebook group for members to connect with others who are also working through their box and as a community you can work together to get through whatever is worrying you.
What do you think of this month's MindWander box?