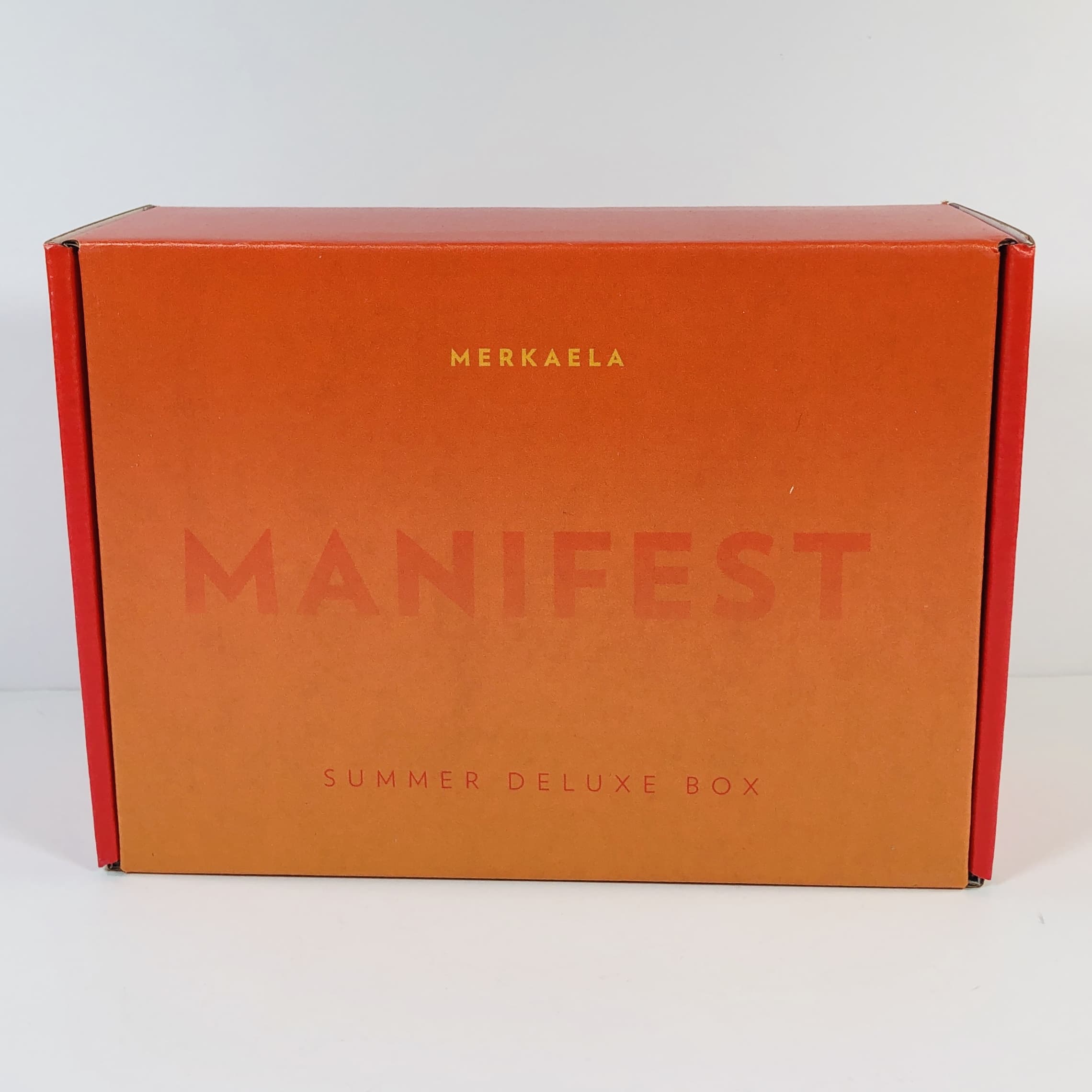 Merkaela is a quarterly box that sends natural bath, beauty, and meditation products curated to a theme as well as the season. Merkaela's items are made in-house although they may occasionally send an item from high-quality collaborators. All of the items are cruelty-free and there is a vegan option that you can choose at sign up. The ingredients are clean and in some cases organic. You can feel good about putting these items on your skin!
In our Deluxe box, you will receive 7-10 products (Essential box includes 4-6) built on the theme of the season. In addition, you will gain access to our thought-provoking content and a playlist that pairs with the products for that season. Our goal is to provide you with everything you need to be on your way to a holistic approach to a clear mind, body and spirit.
DEAL: Use code ALIVE20 to save 20% on a prepaid annual subscription or code ALIVE15 to save 15% on a quarterly box.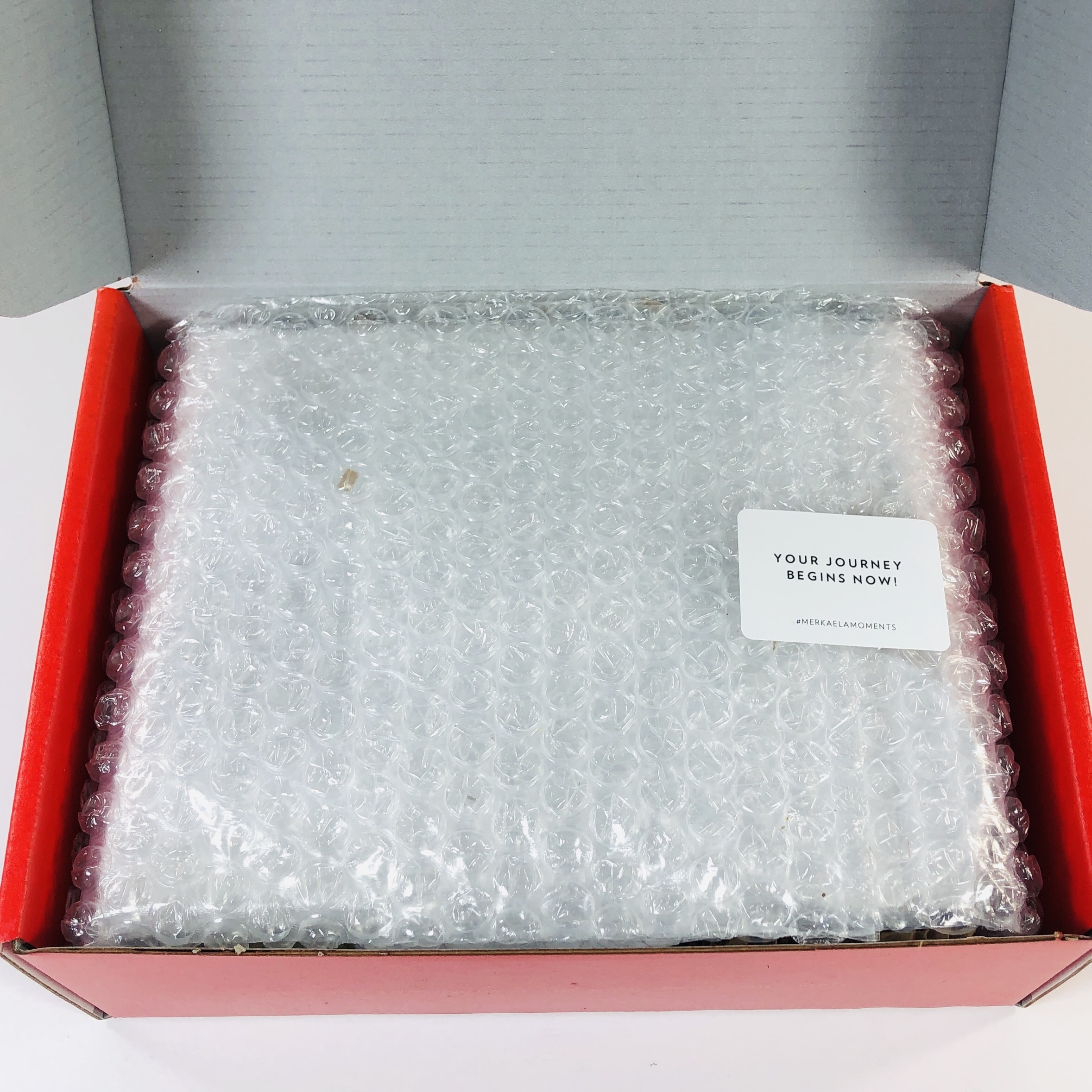 Merkaela has two different subscription levels. One is the "Essential" box ($35), which mainly has the meditation products, while the "Deluxe" box ($66) includes both the meditation products and body products. I am reviewing the "Deluxe" box. Keep in mind that shipping is extra.
There was an affirmation card that helps you set your mind to a spiritual thought and make it come true.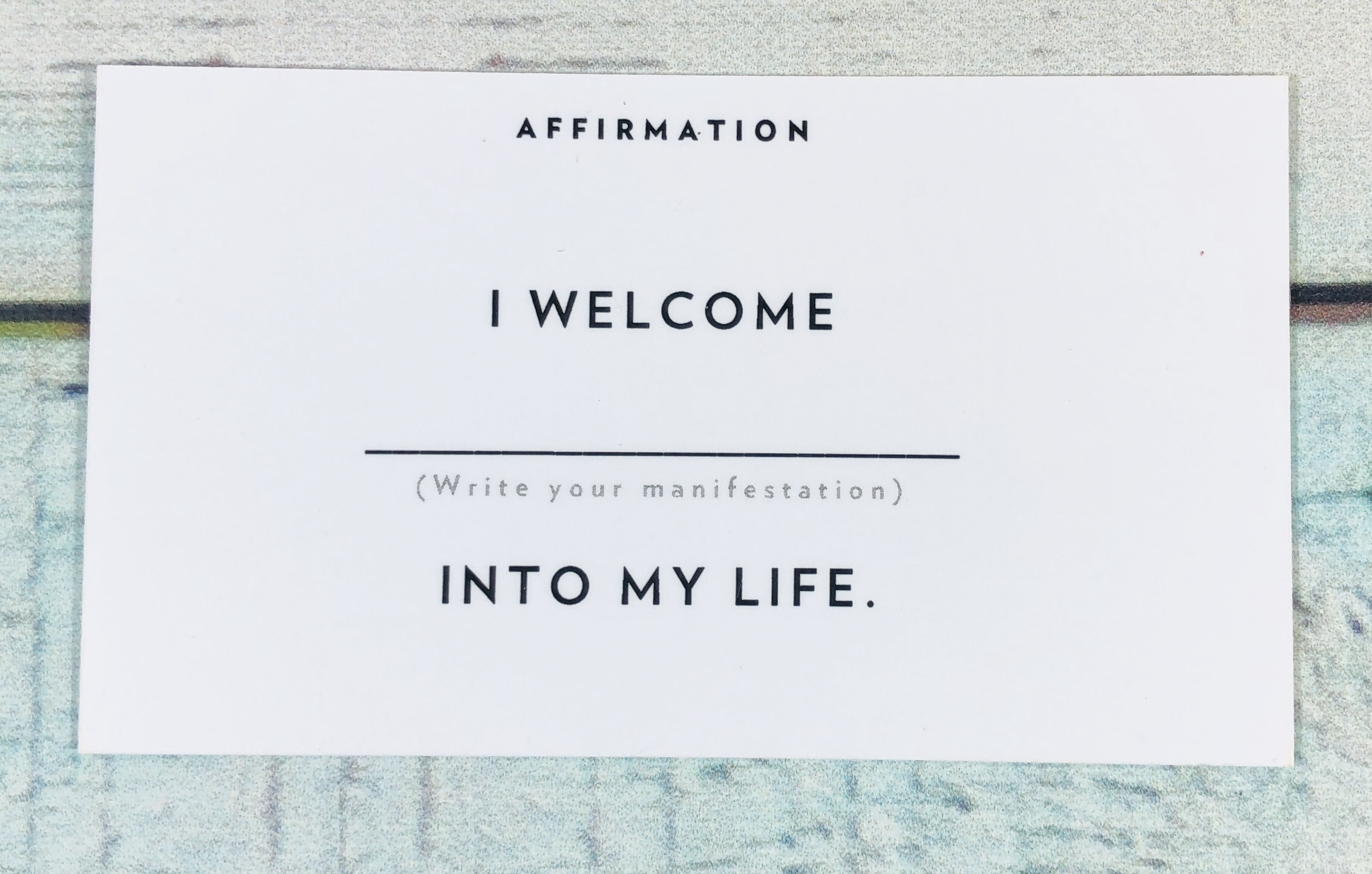 You can place this card somewhere that will catch your attention so you can focus on the affirmation often.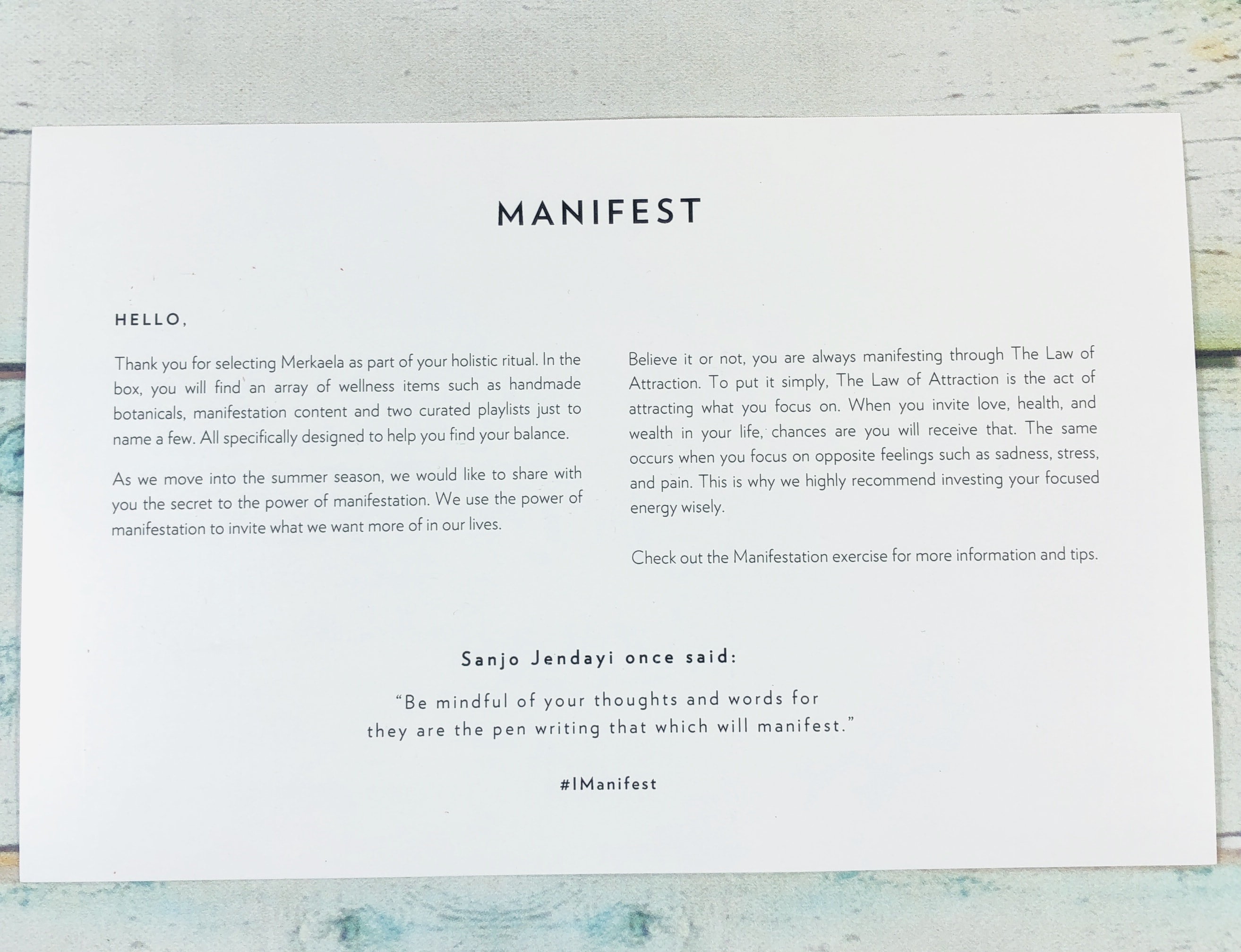 Next was the front of the product info card with the intention of this particular box. This quarter's box theme is MANIFEST.
The info card is very descriptive, with each product's intended use listed. They even provided two Spotify playlists!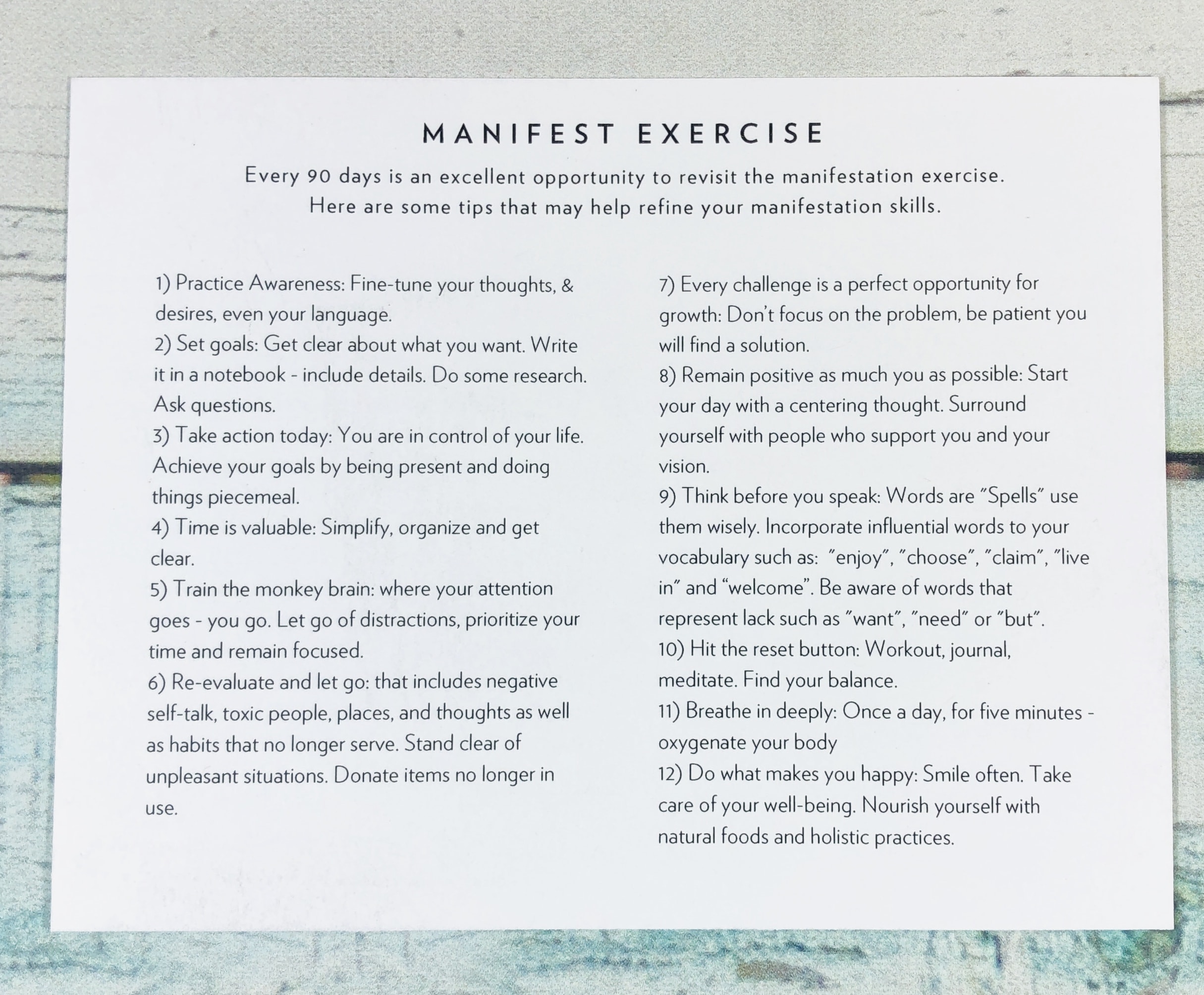 A separate card lists the 12 exercises you might try every 90 days to help you set and reach your goals. I think these are certainly doable yet I seem to put them off. No time like the present to reevaluate and start making this happen!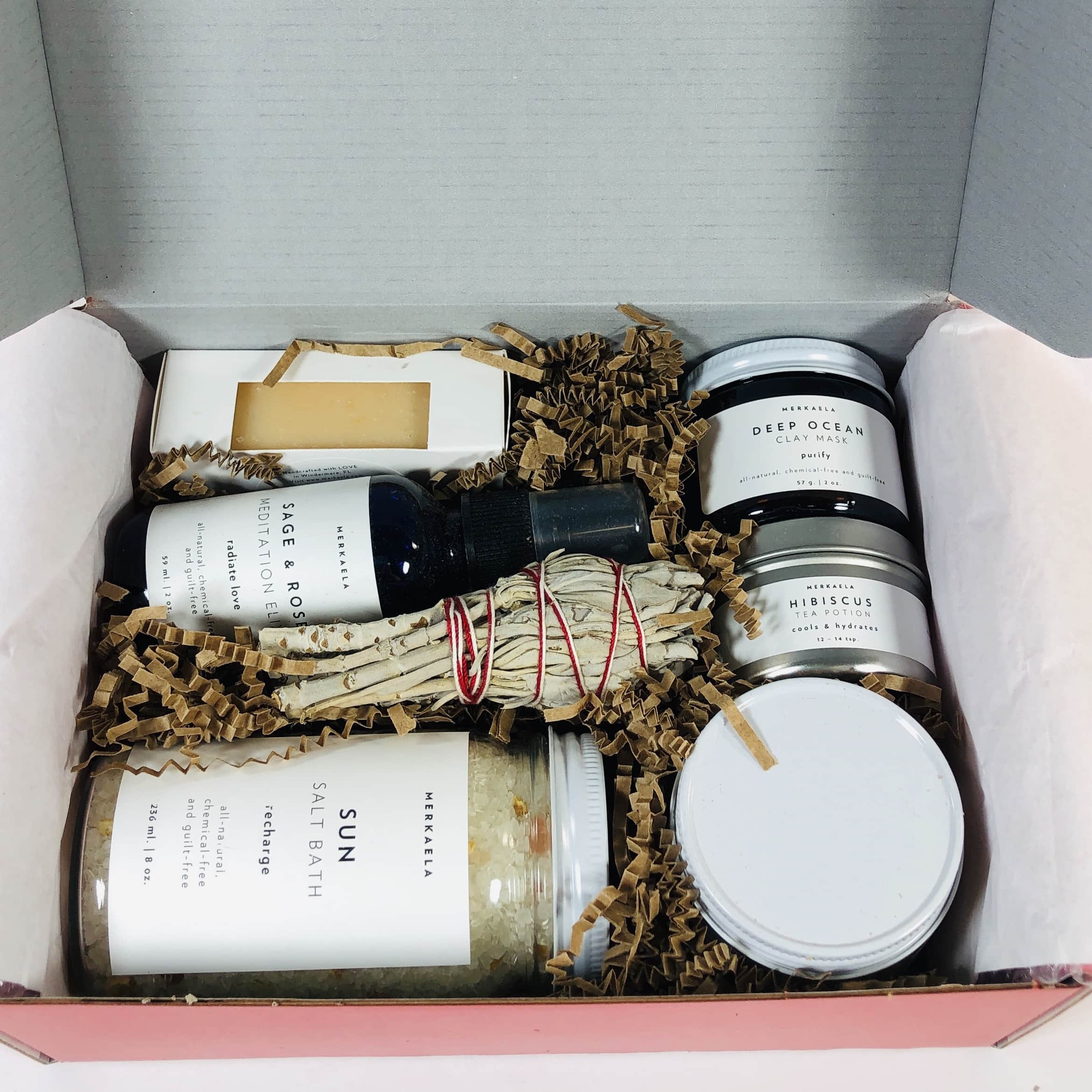 The items were wrapped in tissue paper and had a sticker closure. They were nestled in a bed of shredded paper and wrapped in bubble wrap. Everything was in perfect condition.
Everything in my box! Doesn't it look beautiful? I think the packaging of Merkaela's products is lovely and classy. They even have mini-affirmations on them.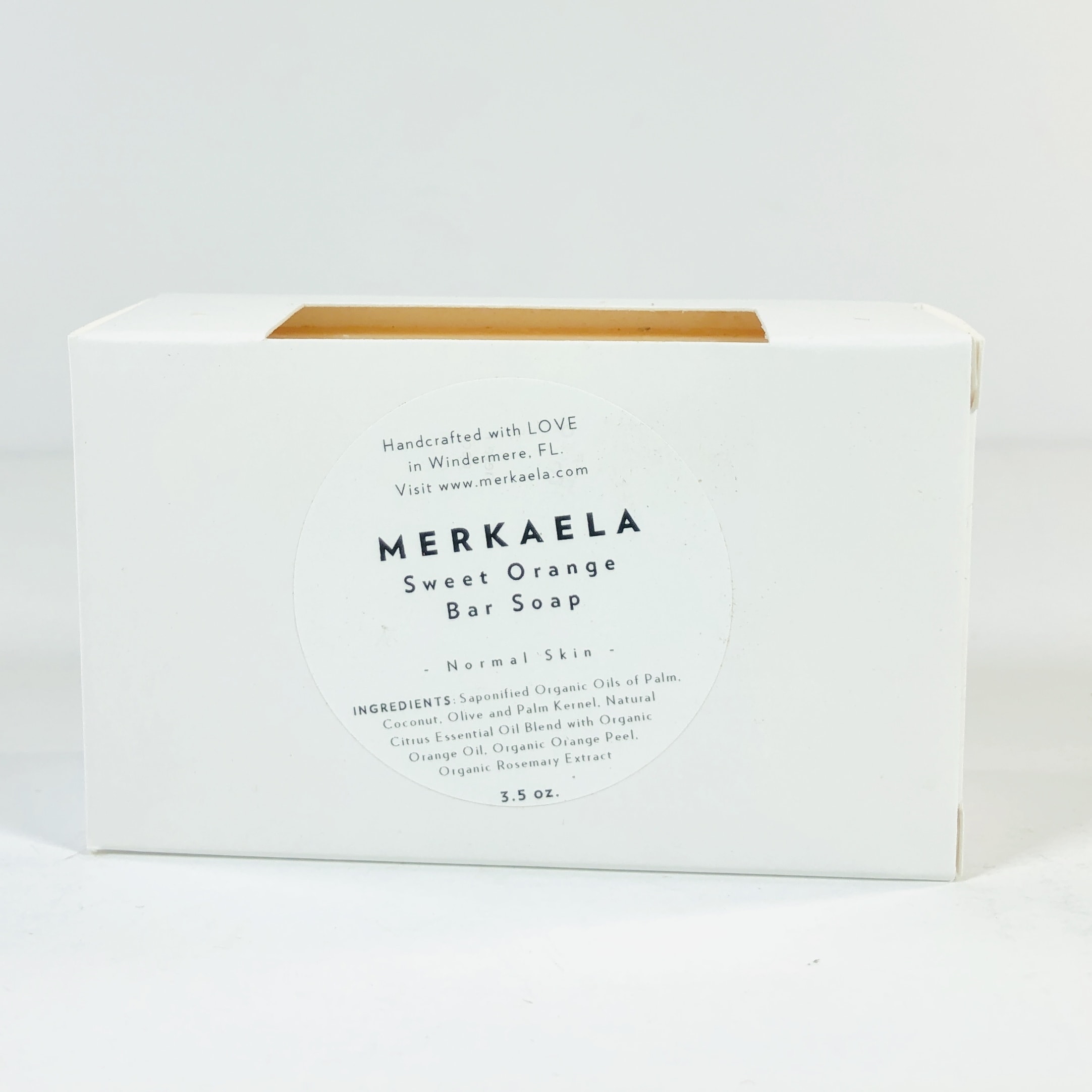 Merkaela Sweet Orange Bar Soap ($8.50) Merkaela makes some amazing products and their soaps are one of the best!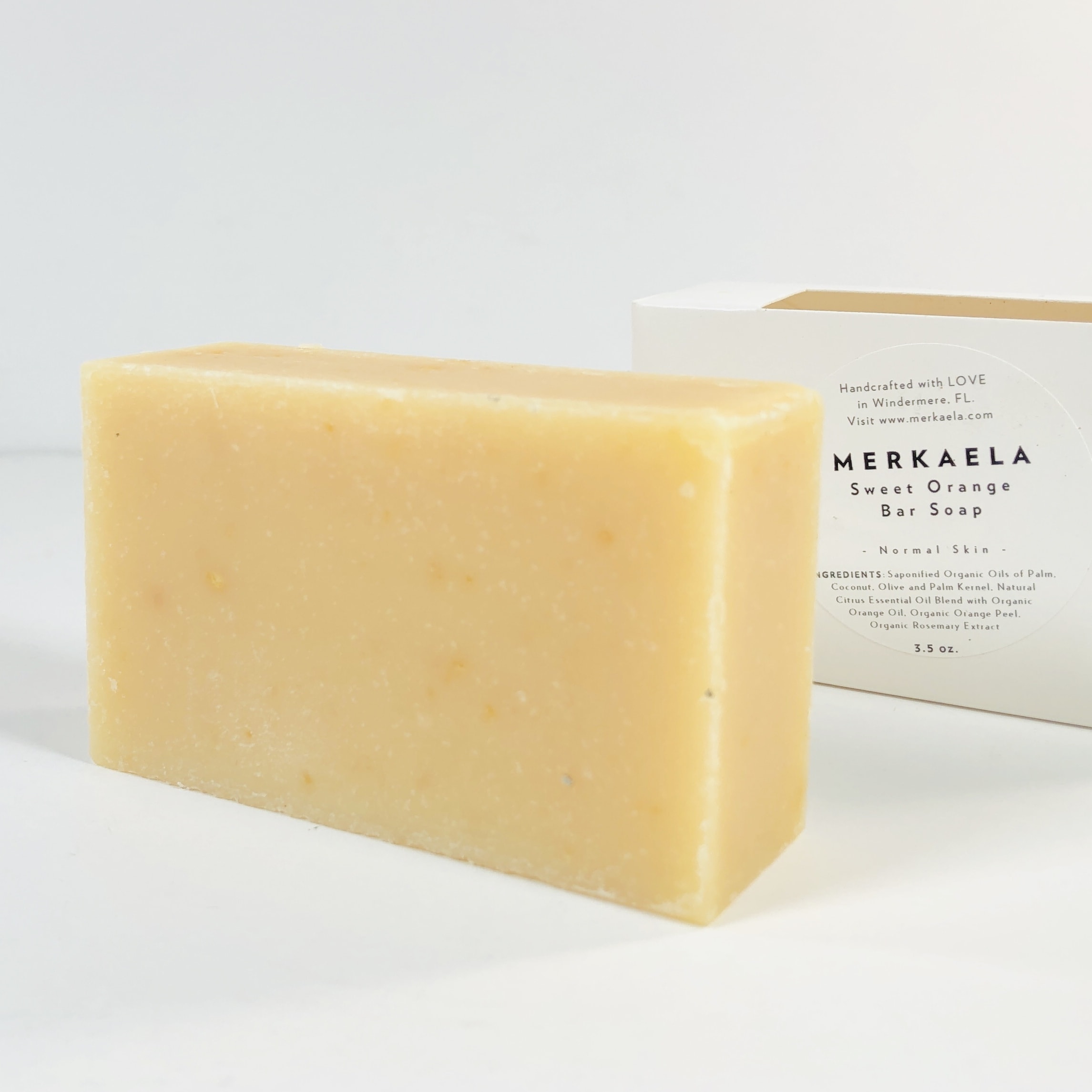 The scent of this version is warm, citrusy, and sweet, with a hint of spice.
Sacred Sage ($6.50) I didn't even know smudging was a thing until I discovered Merkaela!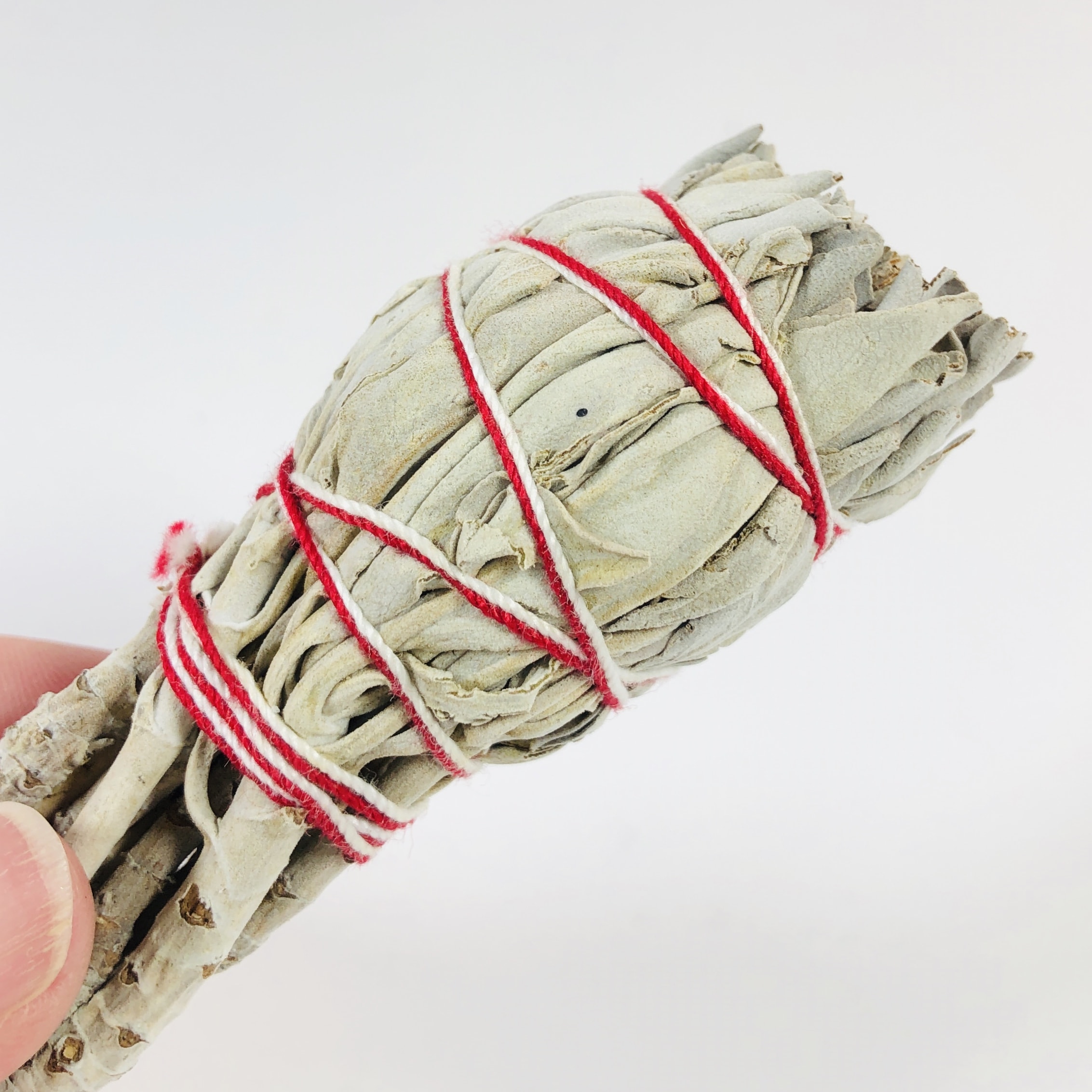 You can look up burning instructions if this is new to you but basically you light it, let it burn for about 30 seconds, blow it out, and then walk around your home with the smokey bundle (place a bowl underneath!) and "cleanse" your place of negative energy. You need to have an open mind or you can do as I do and pretend it's air freshener and pray while walking around.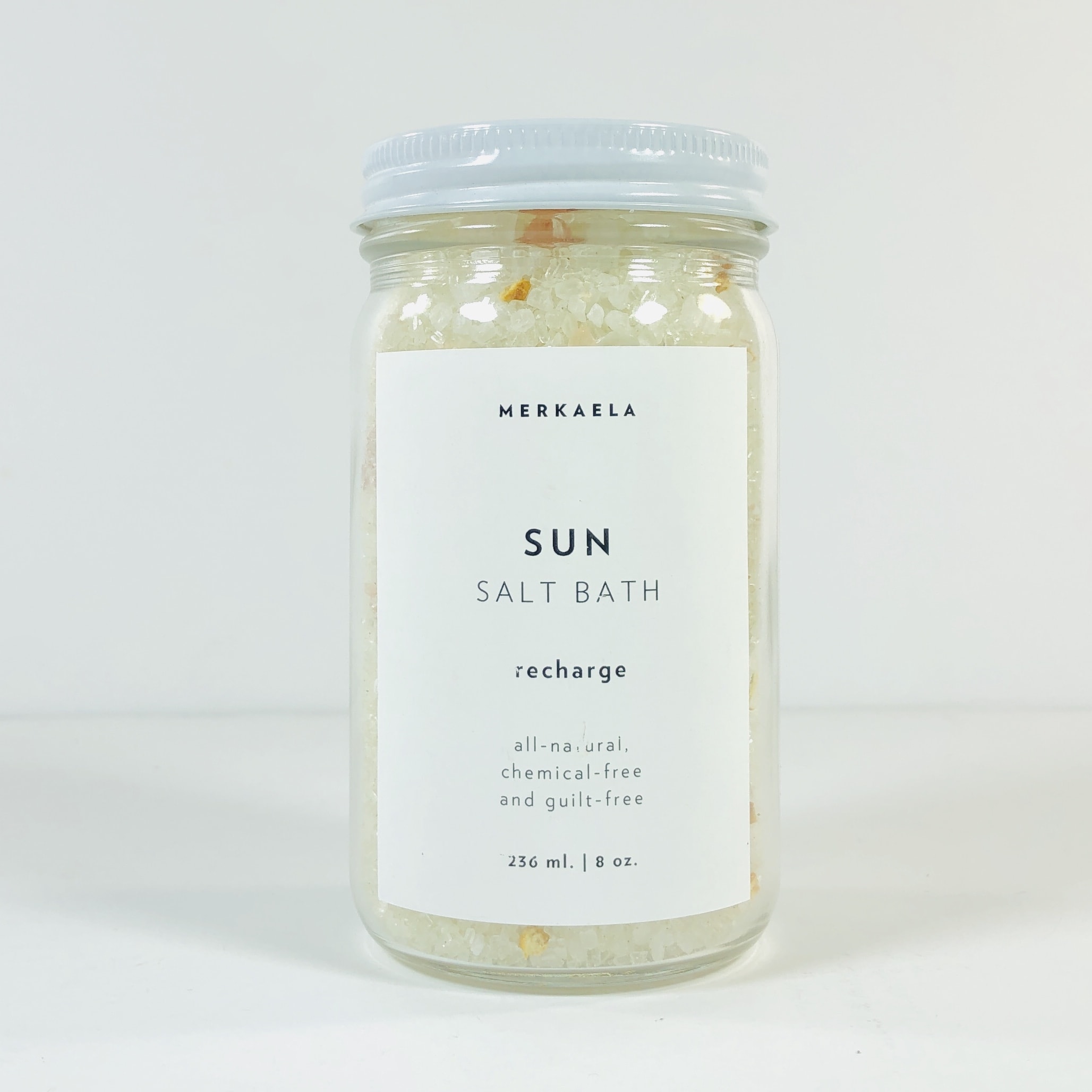 Merkaela Sun Salt Bath ($18) If you're not up for a full-on bath this summer, consider using these salts as a foot soak!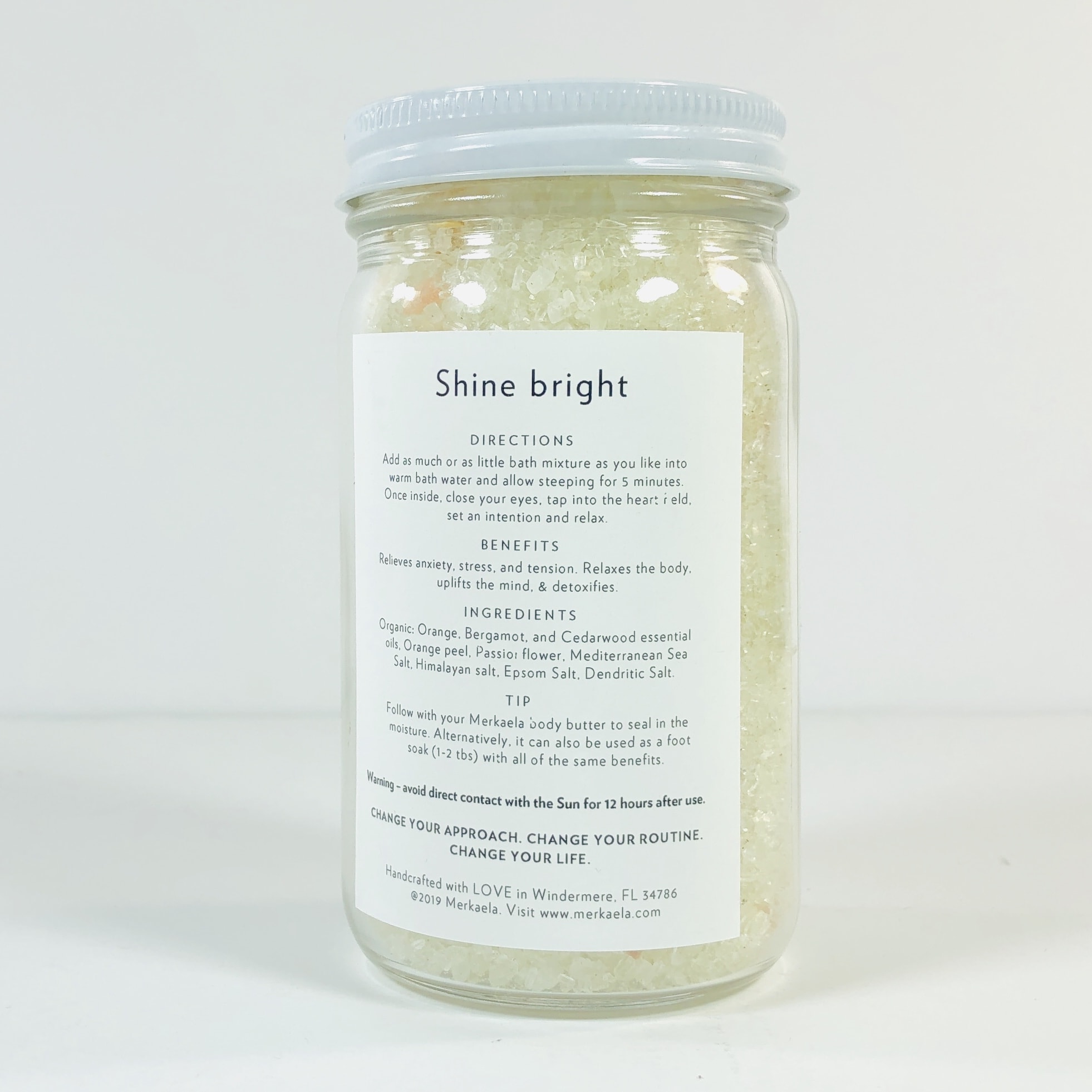 Four different salts are blended with essential oils to help revive your body and mind. I appreciate that Merkaela placed a notice on the label to remind users to avoid the sun after using as the citrus essential oils may make skin sensitive to the sun.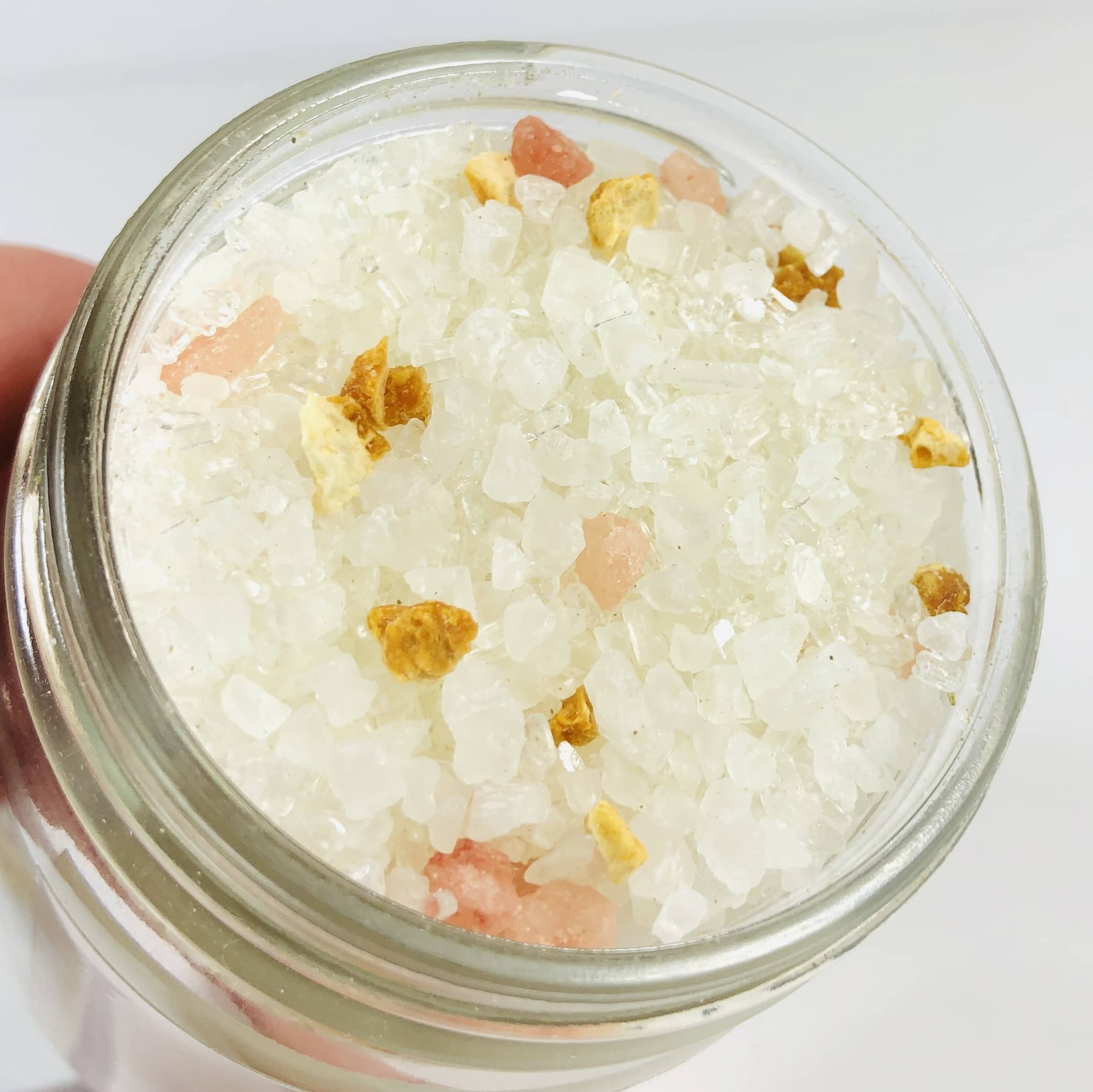 Isn't it pretty? It also smells warm and earthy with a hint of orange.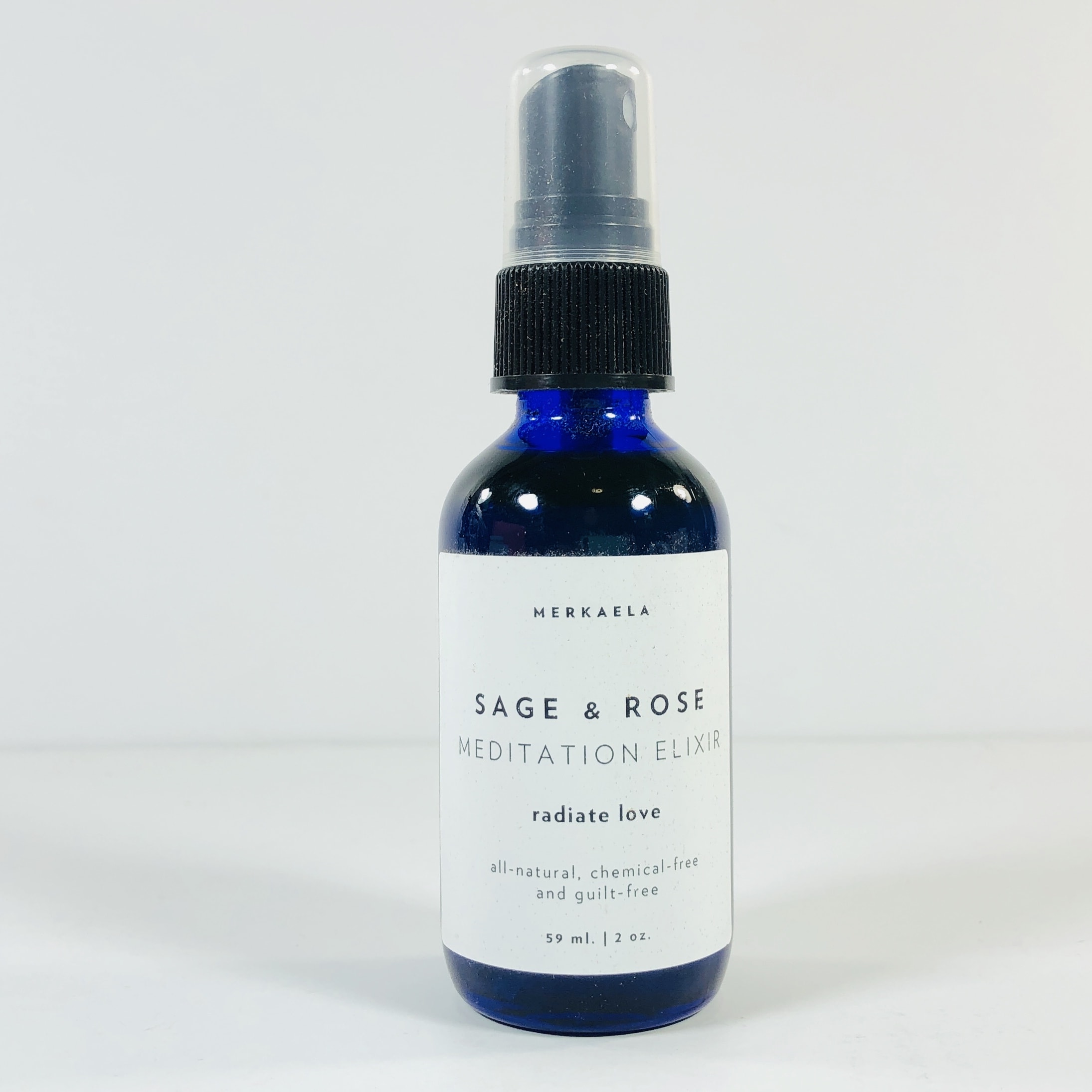 Merkaela Sage & Rose Meditation Elixir ($18.50) A meditation elixer is a low-key room or body spray that is light and fleeting.
I actually use this type of product just before bed; I give it a shake and spray above my bed and pillow. You can also spray it on your head or all over and it smells of rose but not in a super strong way.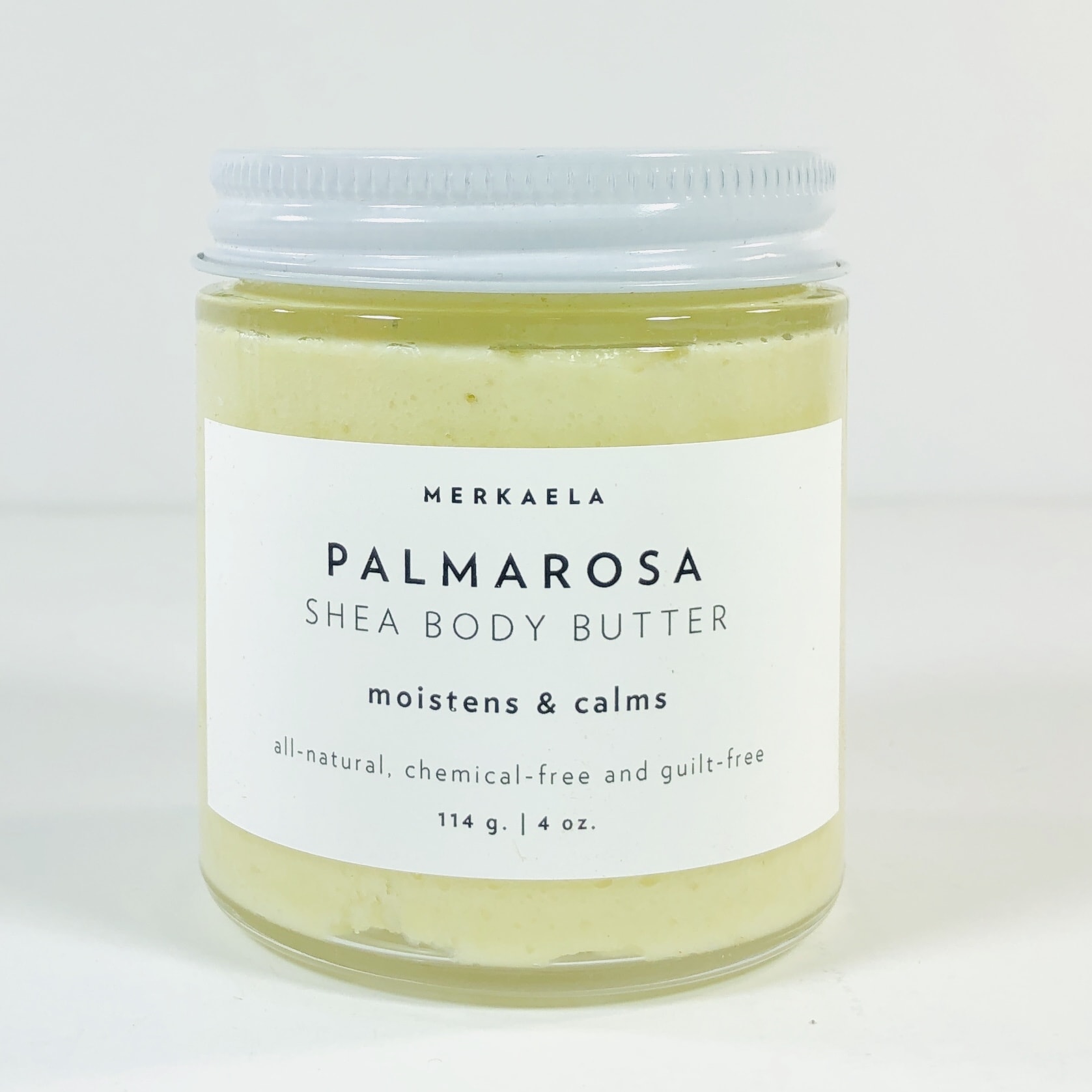 Merkaela Palmarosa Shea Body Butter ($25) Merkaela makes the best body butters, they feel so good on my skin!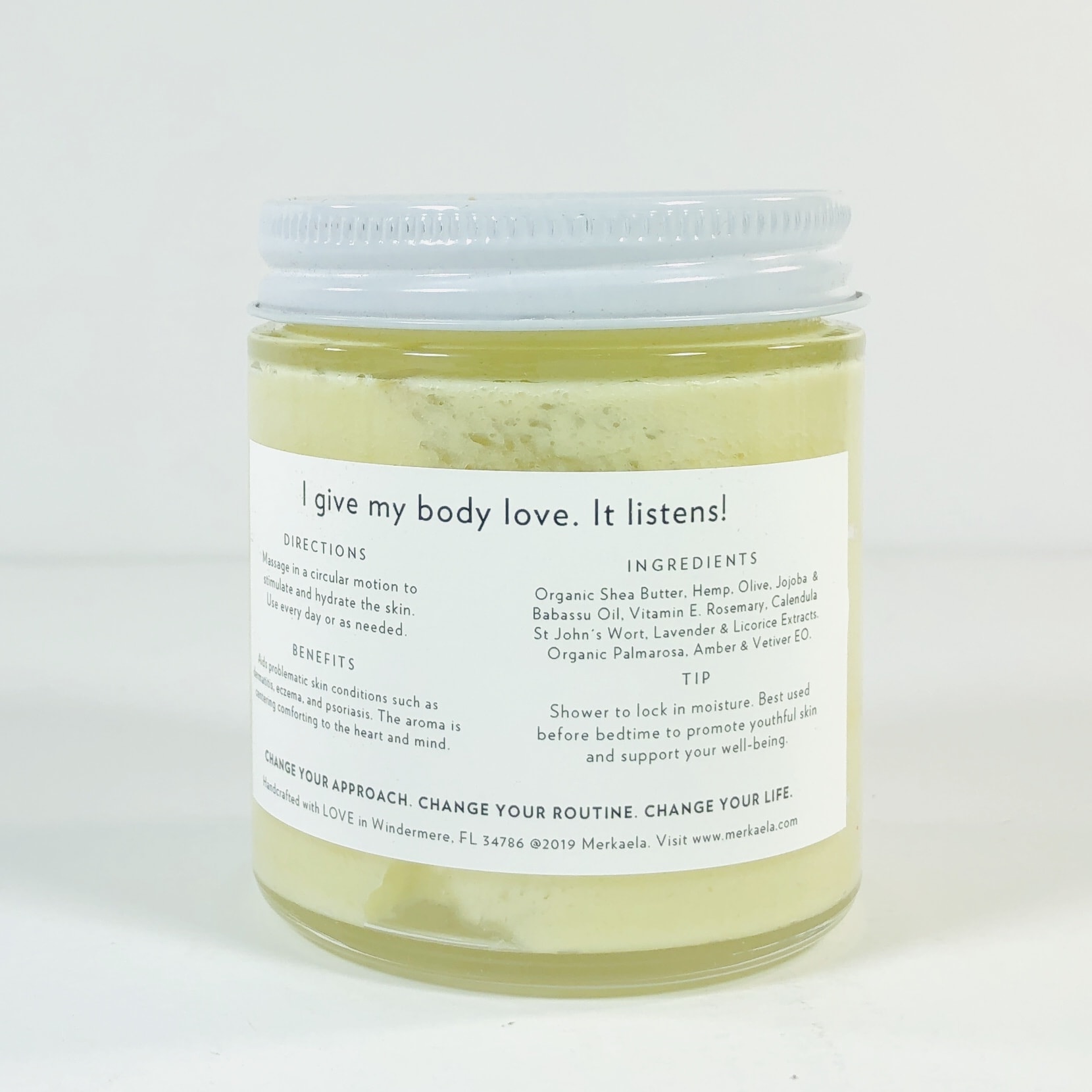 Shea butter and all kinds of natural oils plus plant extracts are in this blend
Just a little is needed and it melts instantly on the skin. The scent for this blend is warm and grounding, I can pick up the licorice and something earthy. You can rub this in all over the skin or just use it on those elbows, knees, and feet but maybe put some socks on afterwards.
Merkaela Deep Ocean Clay Mask ($16) Clay masks are a good way to deep clean the pores, especially at a time when we might be wearing more sunscreen or sweating more often.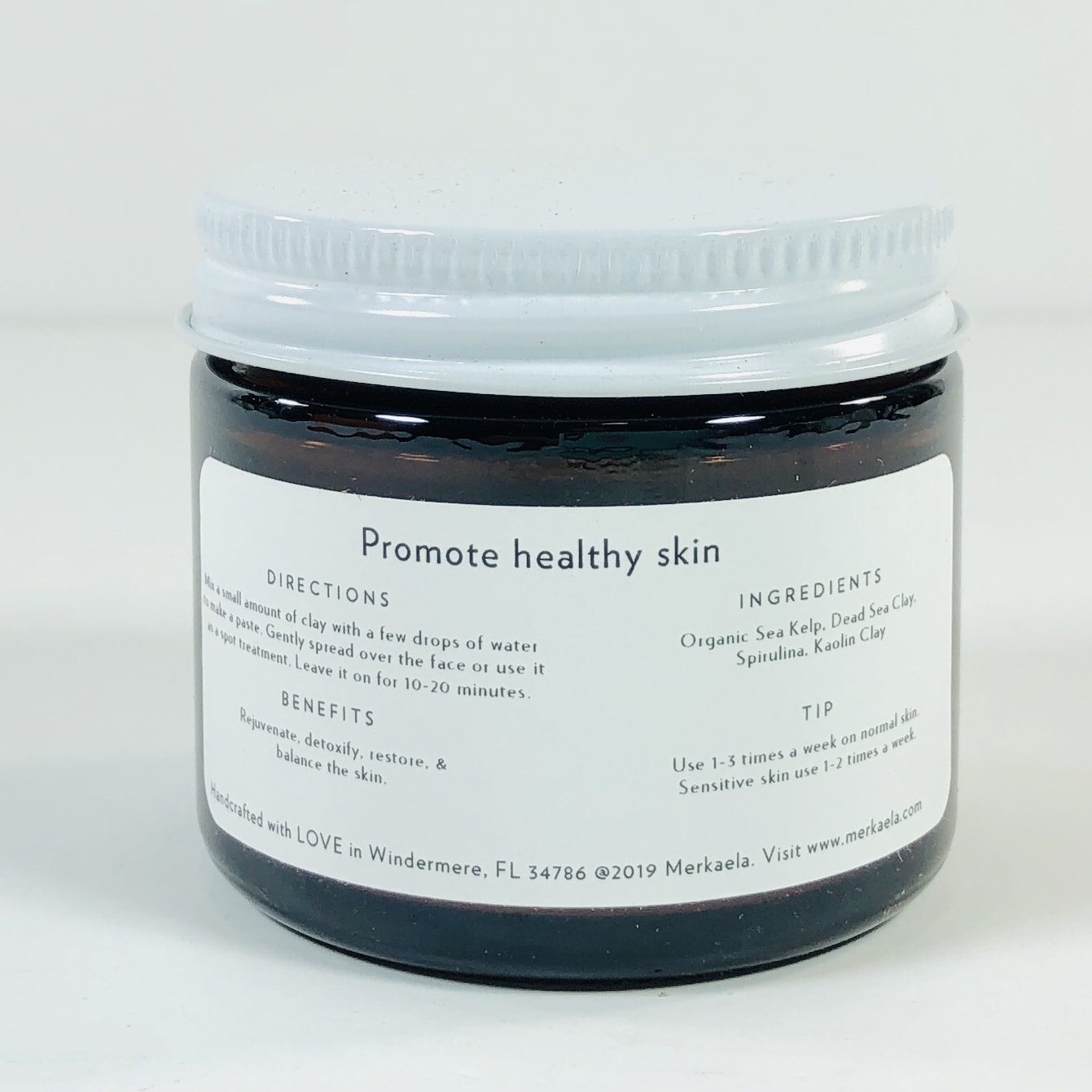 Kelp, clay, and spirulina are the only ingredients. This is a dry mask so you will need to mix it with water or plant hydrosol (like rose water) before applying to the face.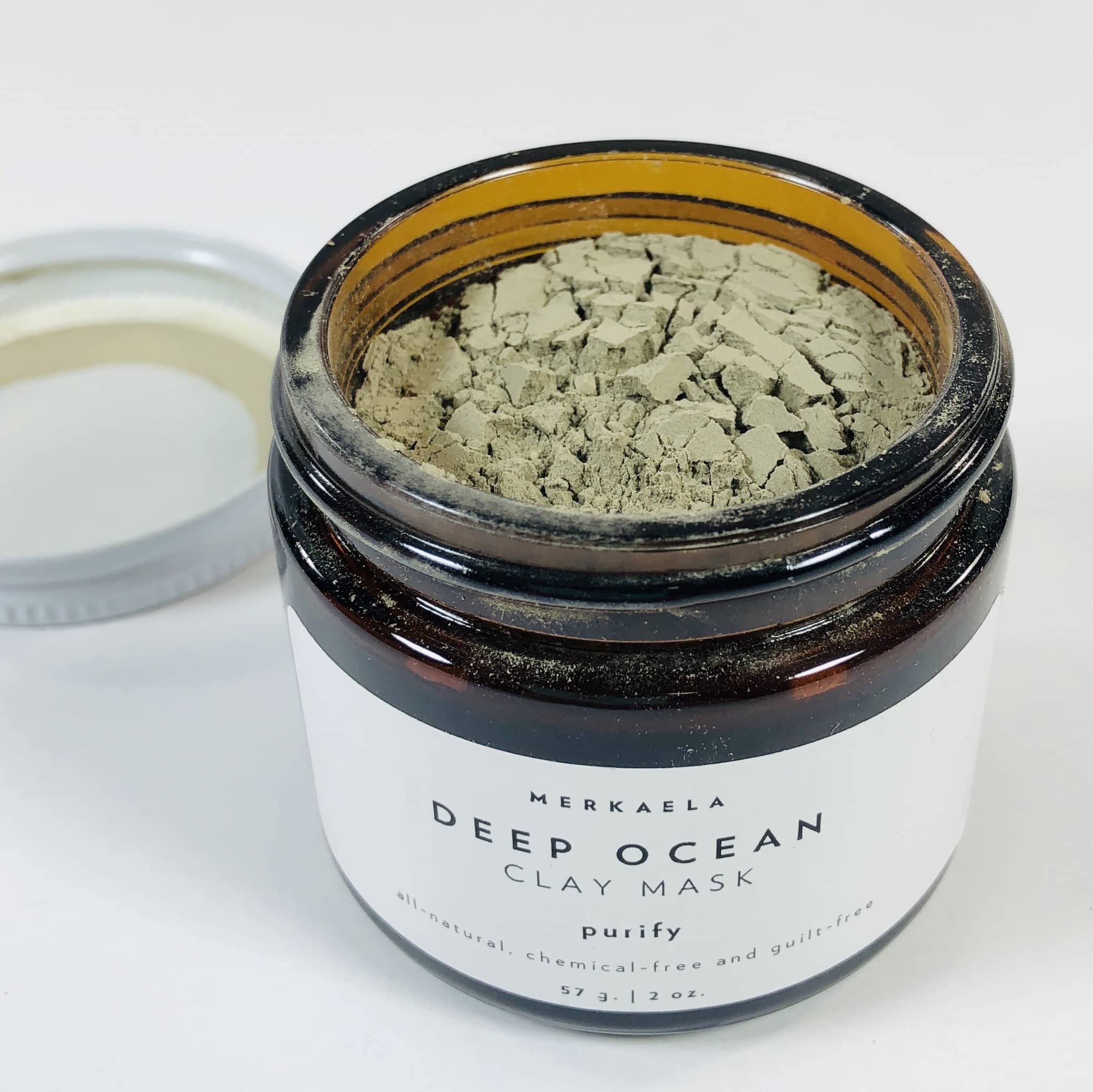 You can leave it on up to 20 minutes but I usually rinse it off before it dries fully since I have sensitive skin.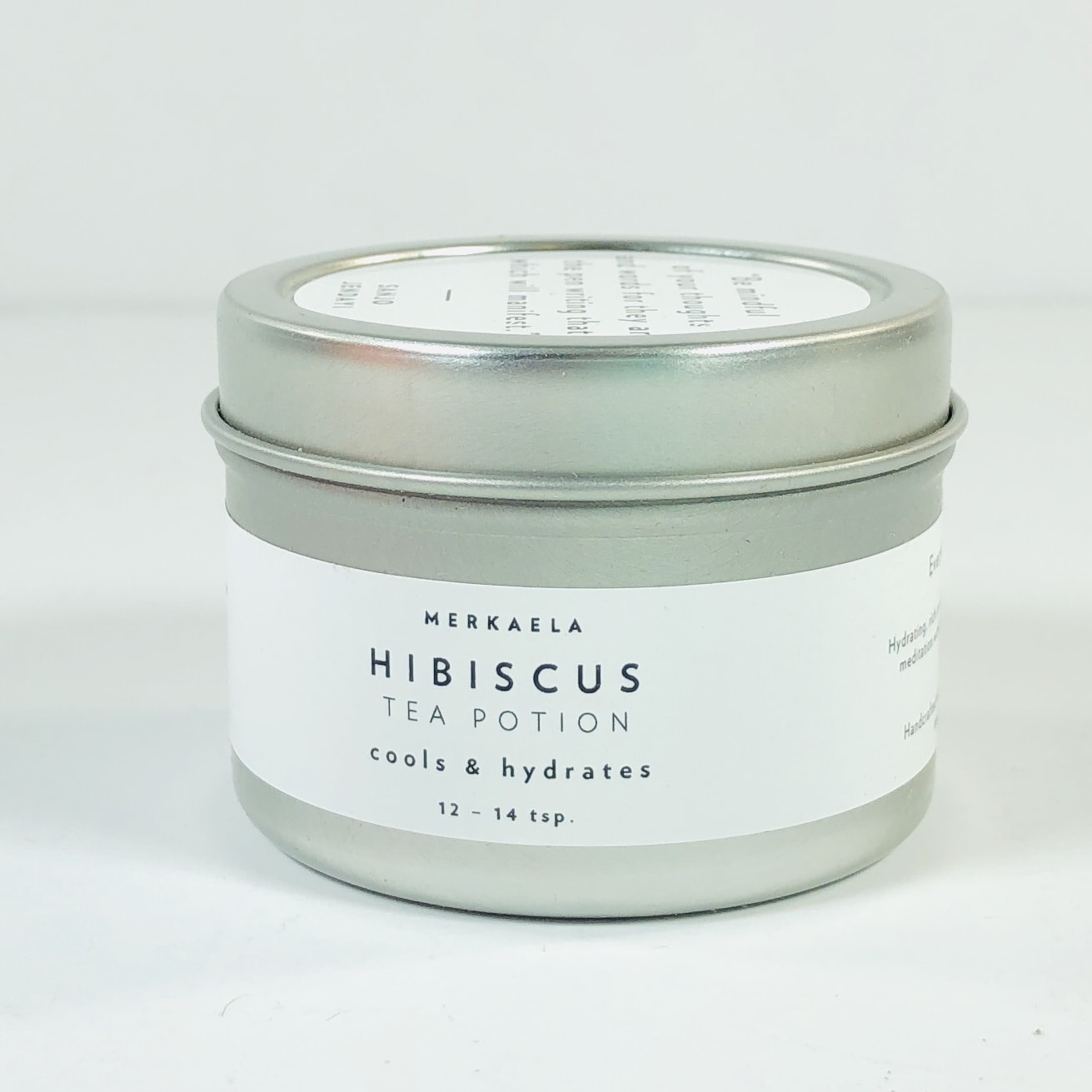 Merkaela Hibiscus Tea Potion ($8.50) Hibiscus is a popular caffeine-free tea that is perfect for sipping anytime but especially at night since it won't keep you awake.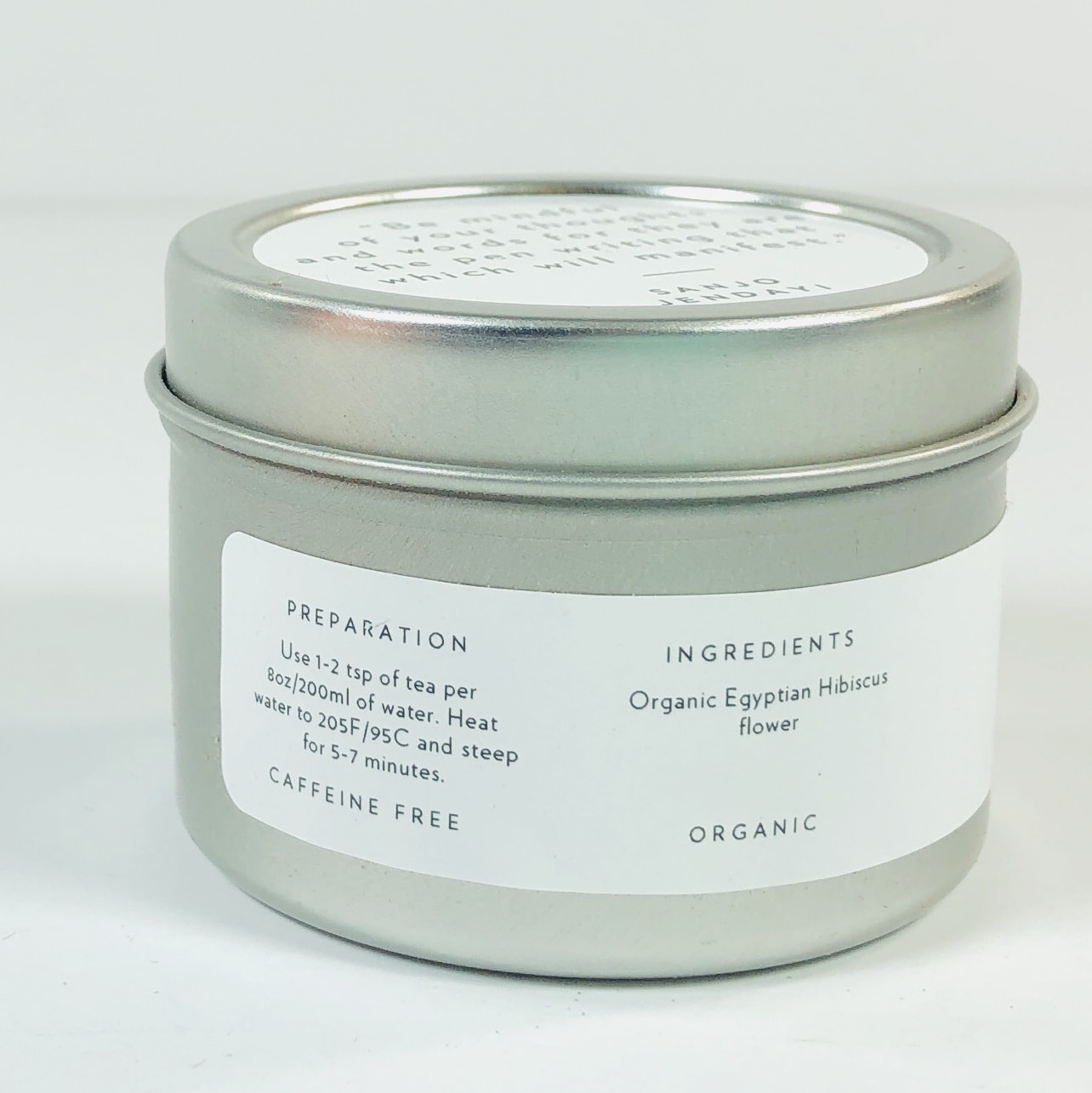 Instructions are on the container and there should be enough product to last between 6-14 cups, depending on how much you use each time.
Hibiscus steeps into a beautiful ruby red color and the drink tastes like warm cranberry juice and is almost as bitter. You can add sugar to make it sweeter and pour it over ice to make a type of punch. Very refreshing!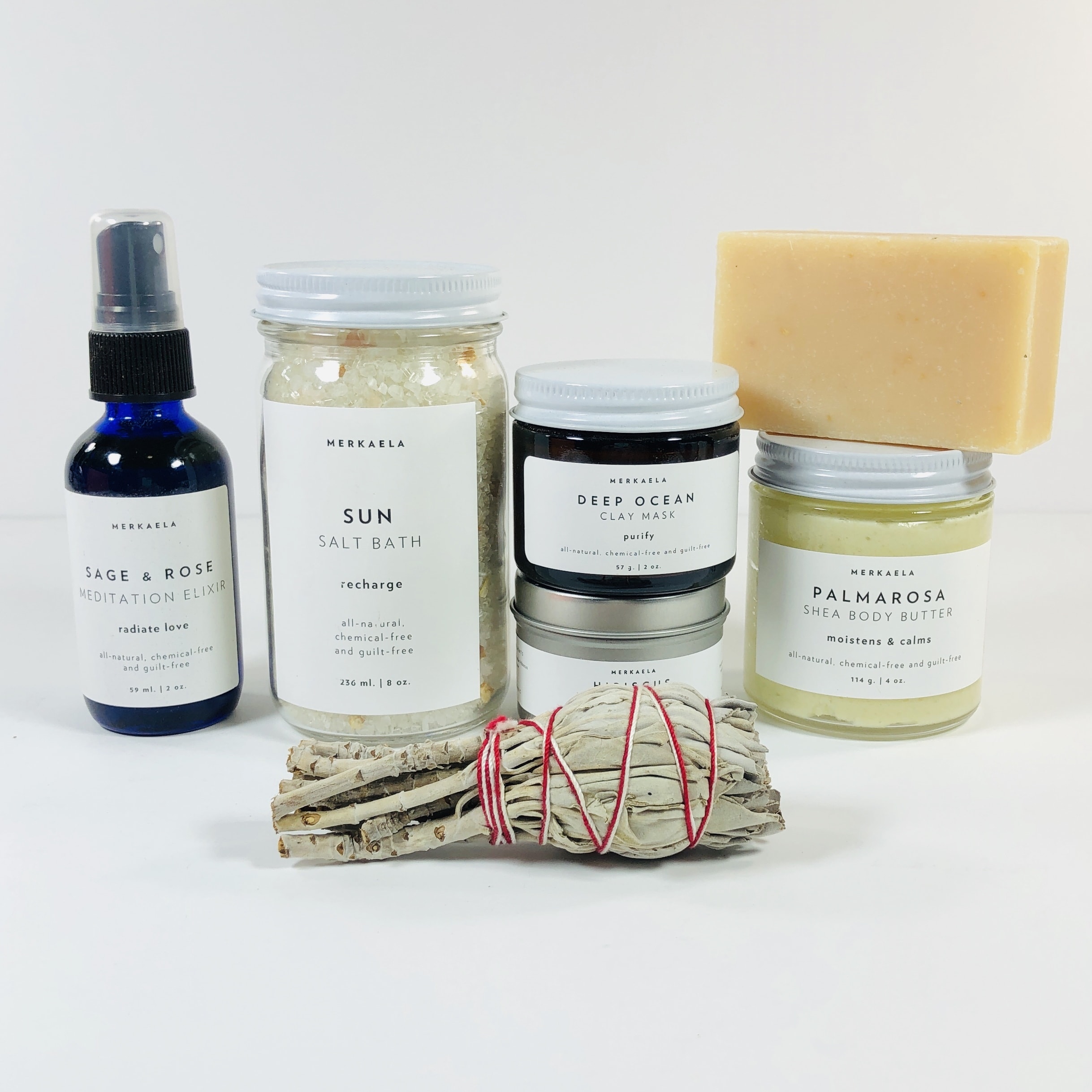 Merkaela is one of my most favorite subscription boxes and this box was no exception! The products are just so luxurious and when I think of natural beauty products I always think of this brand. The scents are not overwhelming, they are just right and they smell so good too. The playlist and sage help connect the spirit to the body and it is such an amazing feeling to relax and breath deeply while enjoying the care items. You can find most of the products on the Merkaela website and keep in mind that they come in glass bottles so be careful when using them around tile. Looking for a super special gift for someone? Try sending this box to them, it is such a treat.
What do you think of the Merkaela Summer MANIFEST Box? Let me know if it helps you connect your mind, body, and soul in the comments!