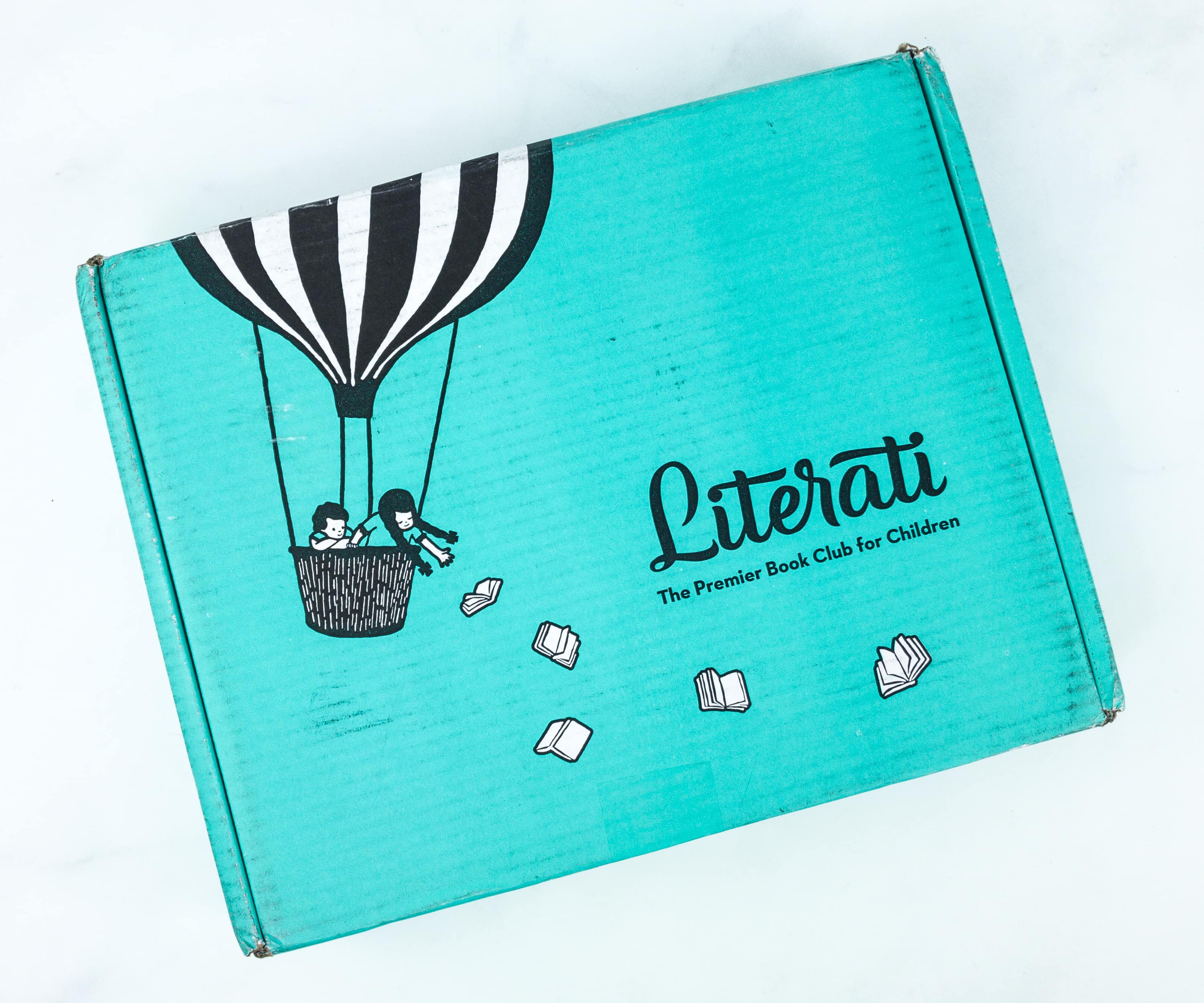 Literati is a monthly book subscription box for children that works similar to Stitch Fix. For a monthly fee of $9.95, you'll receive 5 books to try out for a week. You can purchase the ones you love and return the rest (in totally new condition) in the enclosed prepaid mailer (shipping is free in both directions).
You can get 5% off when you decide to keep all the books! There are also categories for each age bracket: Club Neo is for newborn to 1 year; Club Sprout is for children ages 2-3; Club Nova is for kids 4-6, and Club Sage is for those 7-8 years old.
This is a review of the Club Sprout box. 
DEAL: Get $25 in account credit to put towards books when you sign up! USE THIS LINK to get the deal.
The box is full and we're excited about the new titles we're adding to our growing collection!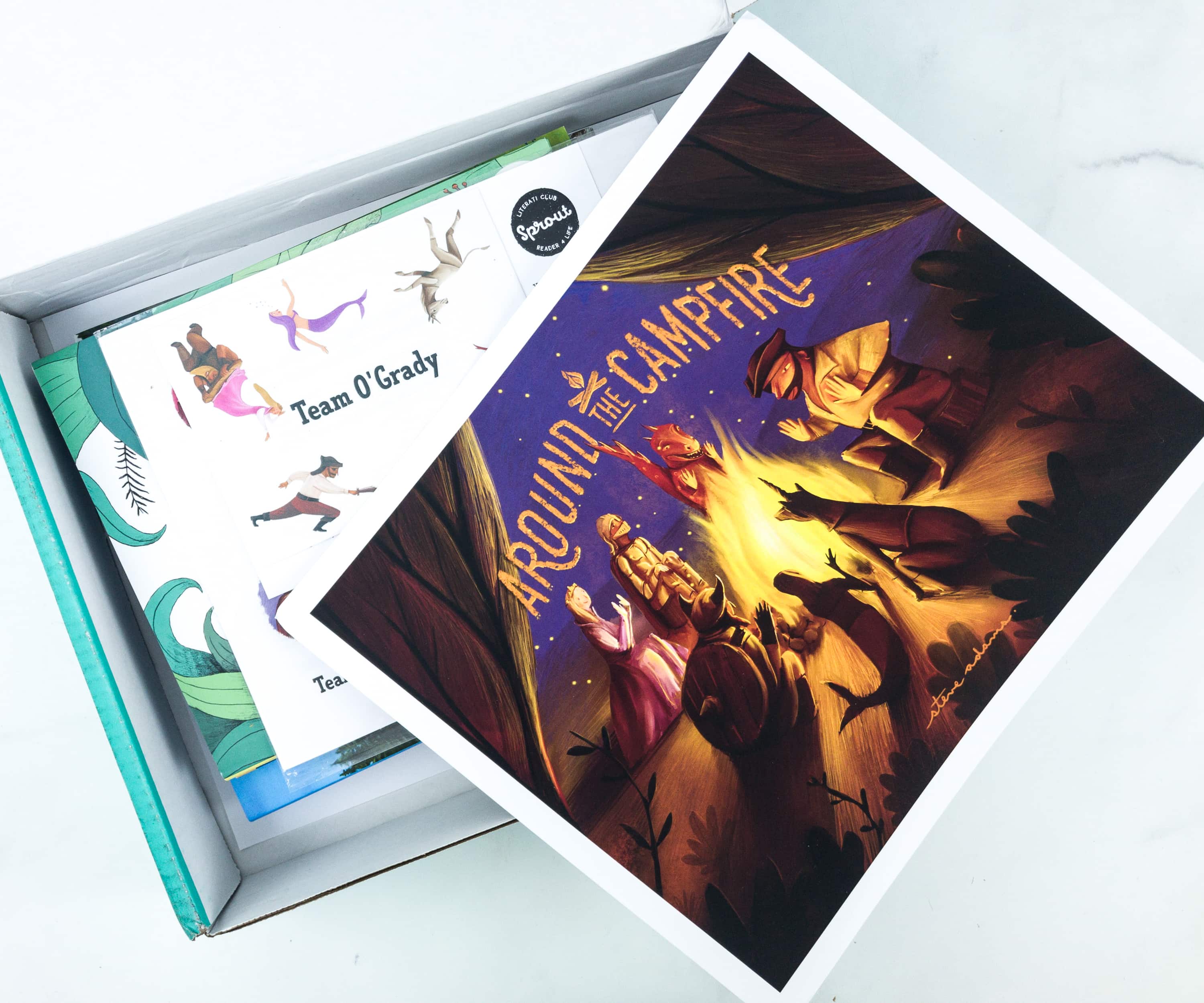 There's a nice artwork card sitting on top of everything in the box.
In case you want to return books, there's a card that lists instructions on how to do so. Instead of the usual padded mailer, you can now use the box itself to send the books back. They provide the tape and the postage label.
The featured illustrator creates new artwork for the monthly themes. This month's illustrator is Steve Adams.
A full-size print comes with the box, along with free shipping. Although I don't love that the fee doesn't apply to a full box purchase, this makes it more worth it. Also, the theme for this month is Around The Campfire!
They included a sheet to help us label the books, and let others know that they're ours when we decide to keep them.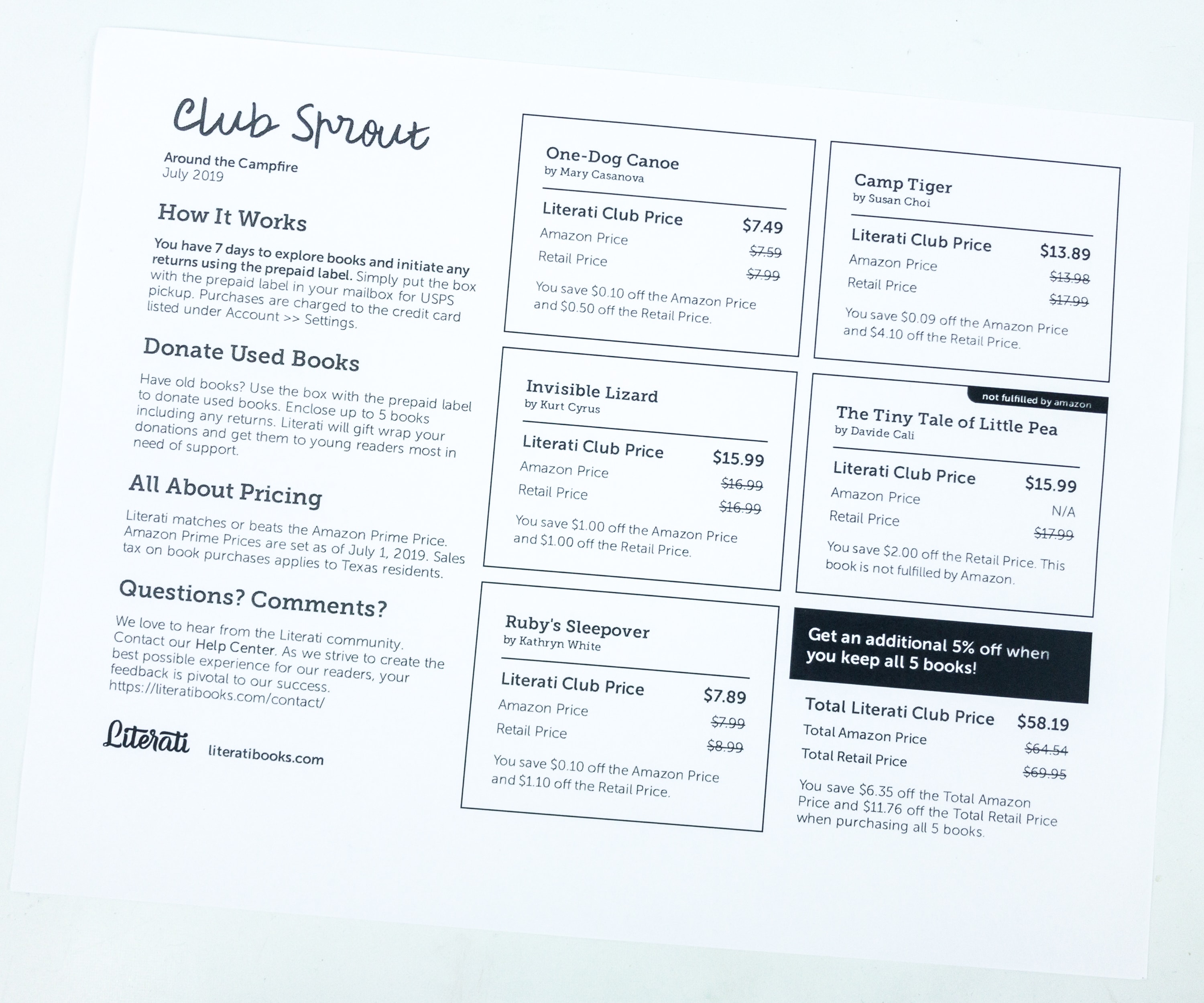 There's a listing of the book prices. If you decide to keep everything, you'll get 5% off. The subscription has a $9.95 non-refundable fee. According to Literati "it covers shipping both ways, allows the curators to invite a new world-renowned illustrator each month to draw personalized bookplates and a unique print for members, and covers other themed surprises that are included in the box." Since the print is now full size and high quality, we are digging that change. It includes the shipping back and forth too.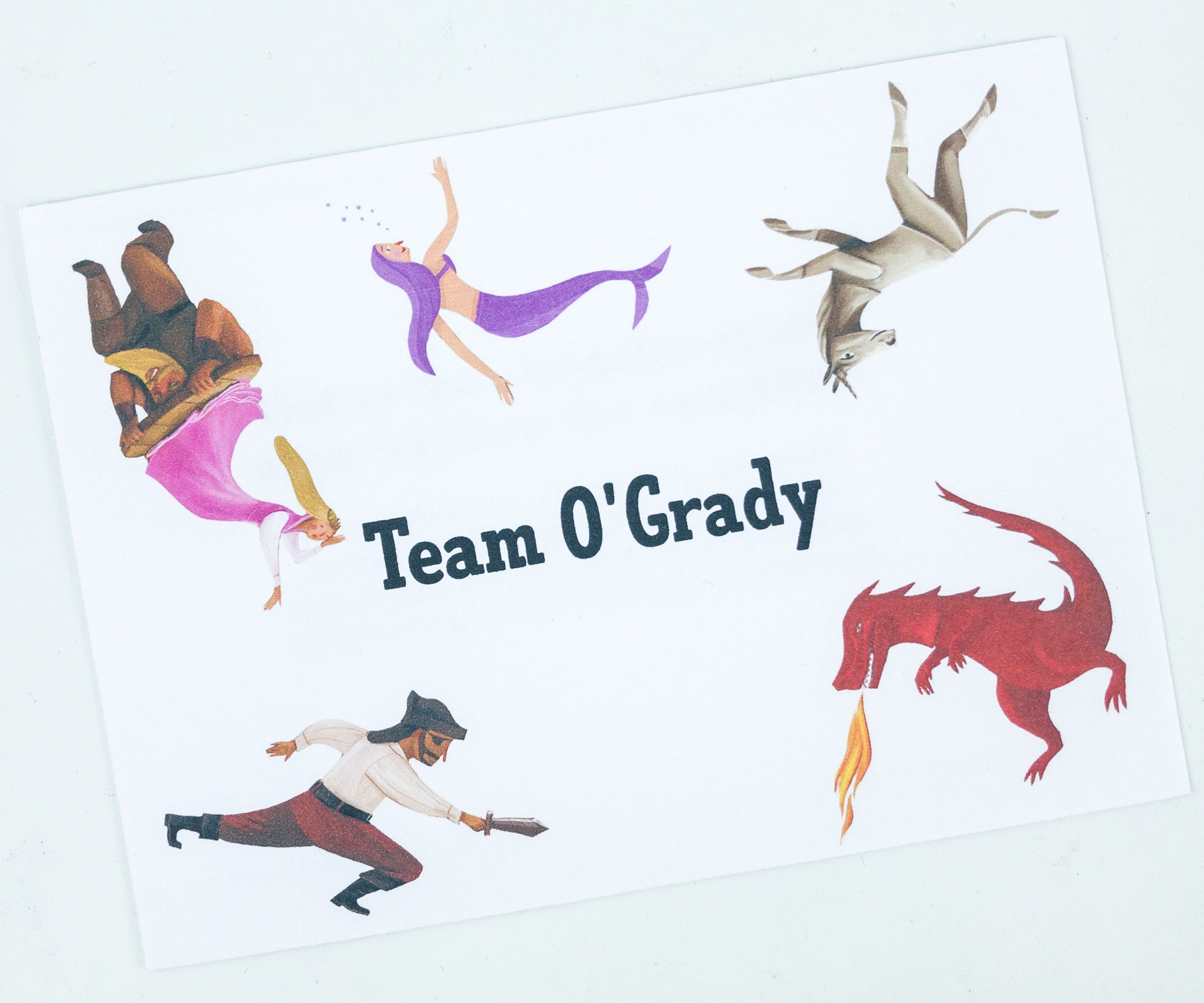 There's also a personalized card and note from Literati.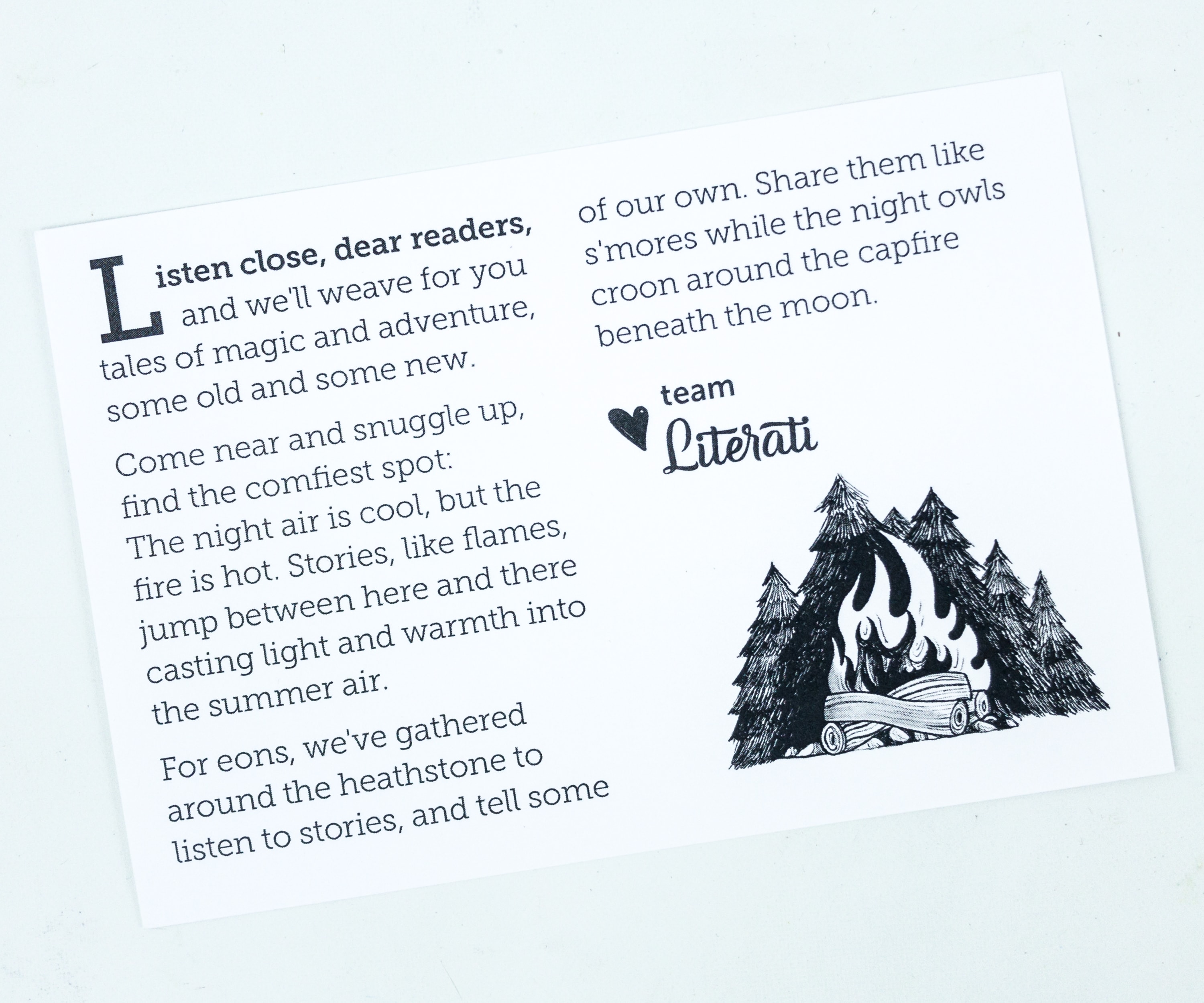 The note tells us more about how reading can take us to and explore different places, even if we just stayed at home or indoors!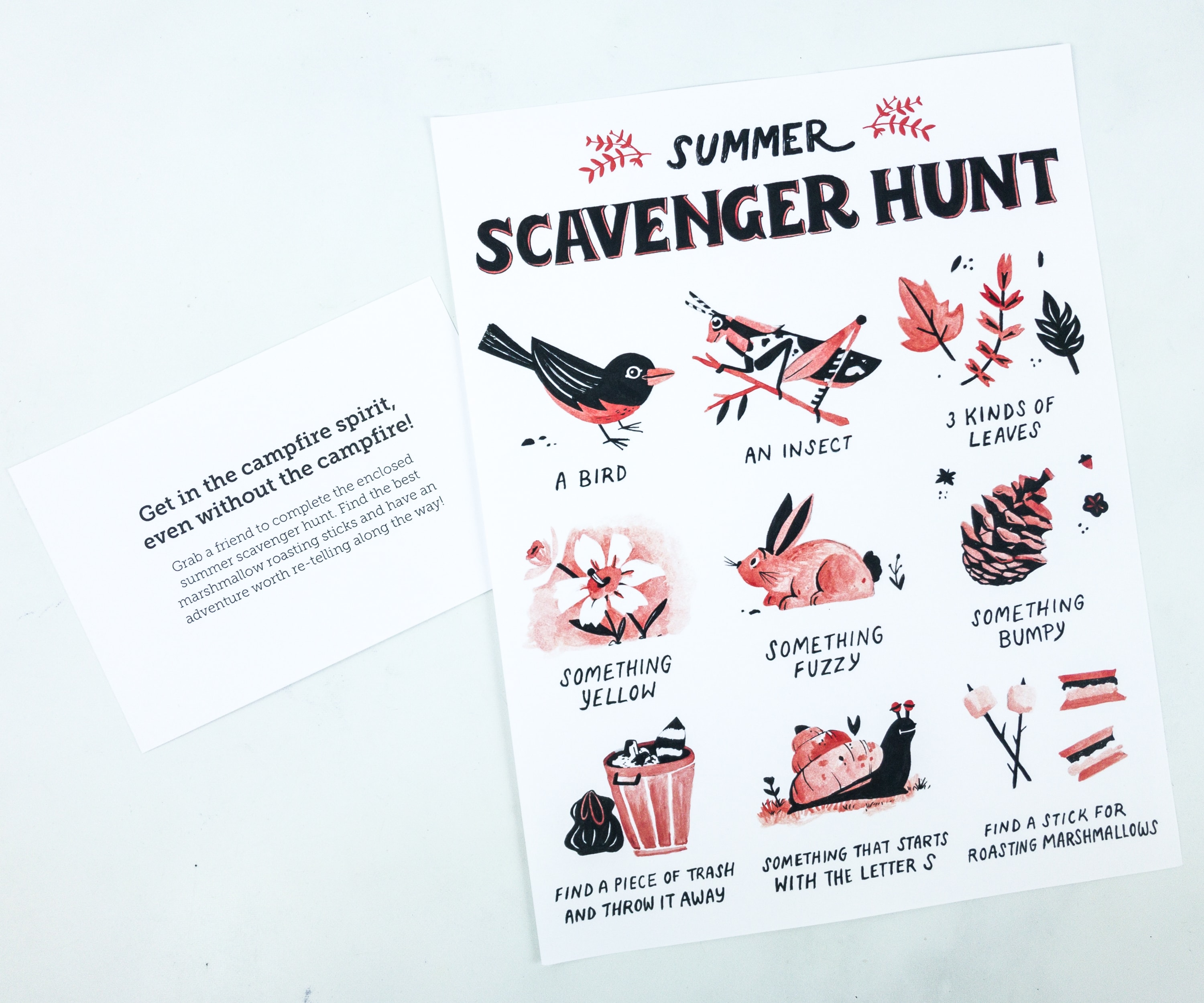 For the activity this month, they included a Scavenger Hunt!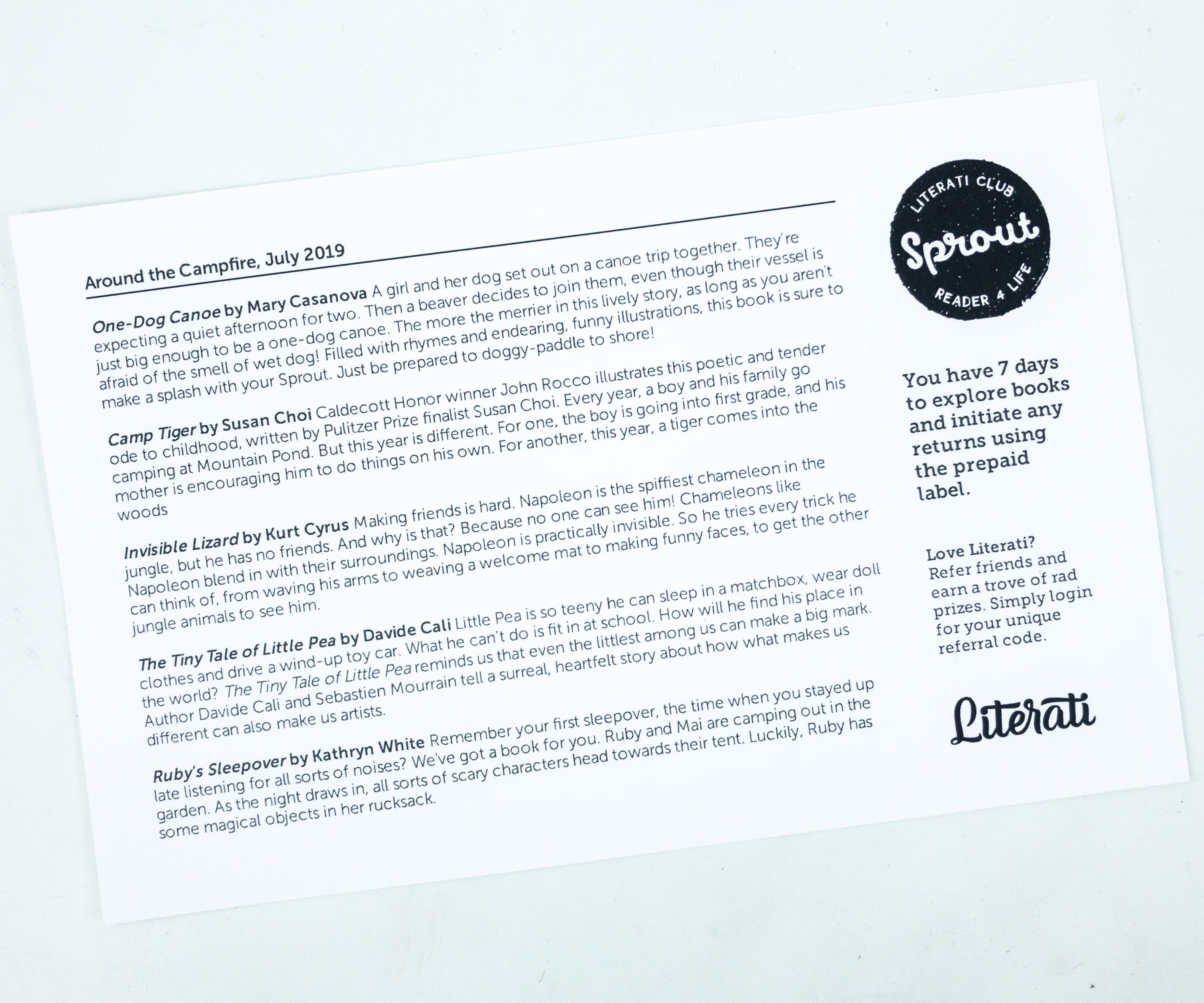 There's an info card about the five books sent to us this month. The card lists the titles with a brief description for each.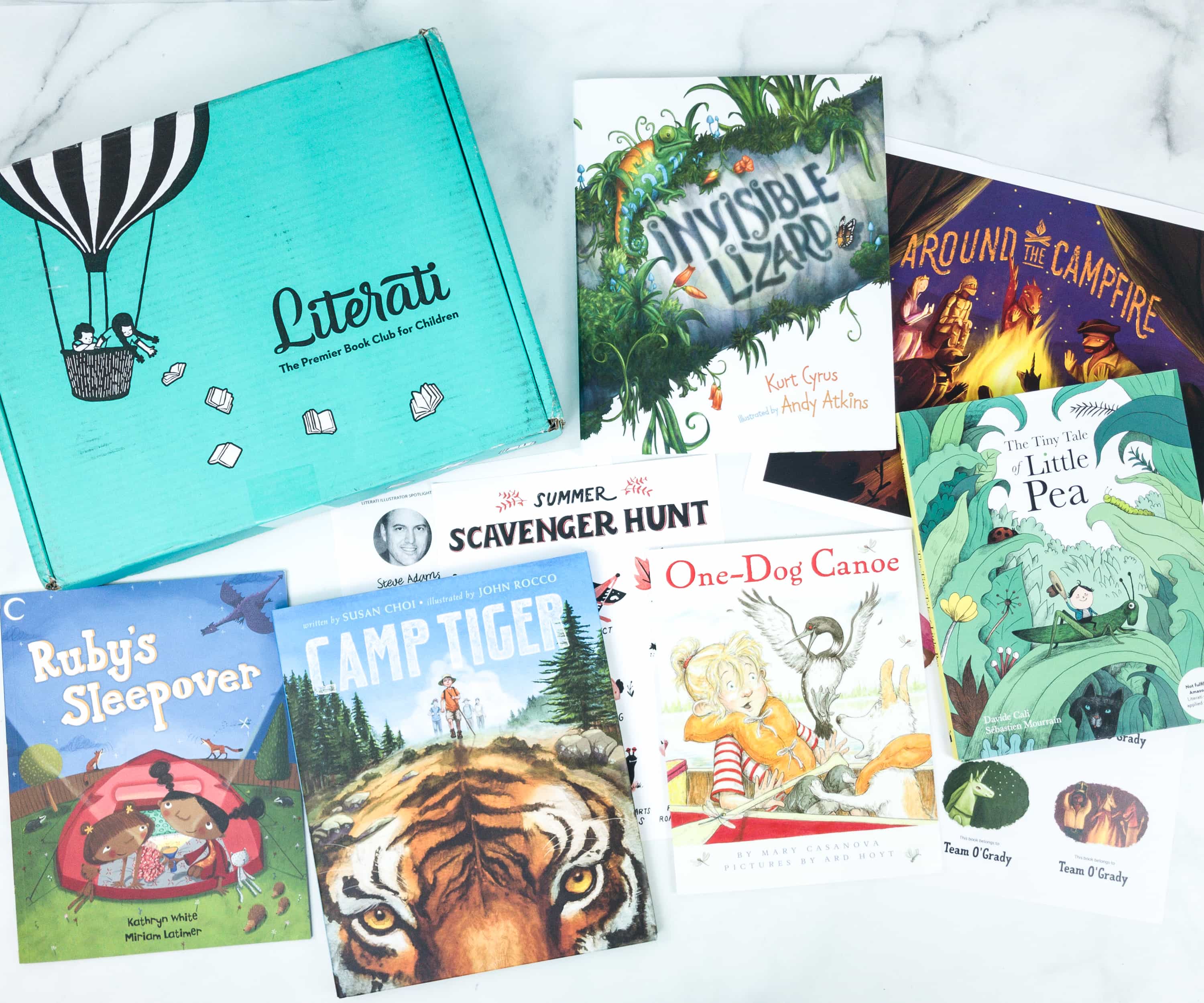 Everything in the box!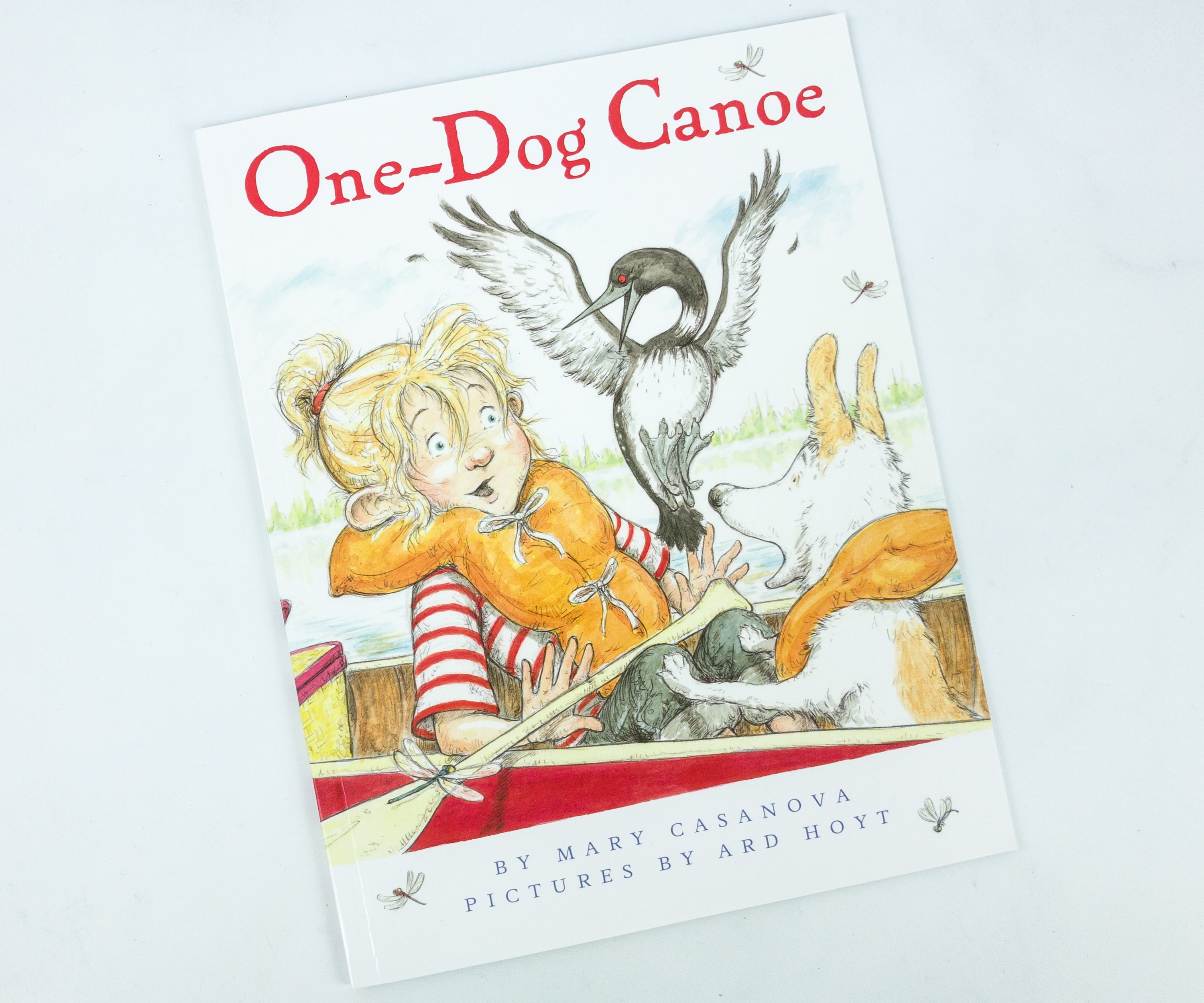 One-Dog Canoe by Mary Casanova ($18.99)
Sometimes – the more the merrier

I set off one morning in my little red canoe.
My dog wagged his tail.
"Can I come, too?"
"You bet," I said.
"A trip for two – just me and you."

But when "with a slap and a swim" Beaver scrambles in, and then "with a 'woo-hooo!' – flap!" Loon lands in the young canoeist's lap, it's clear that this will be no ordinary canoe trip.

A bouncy rhyming text and exuberant pictures full of funny, escalating antics will have young readers laughing out loud – for just when it seems the canoe can't hold anyone else, frog jumps in!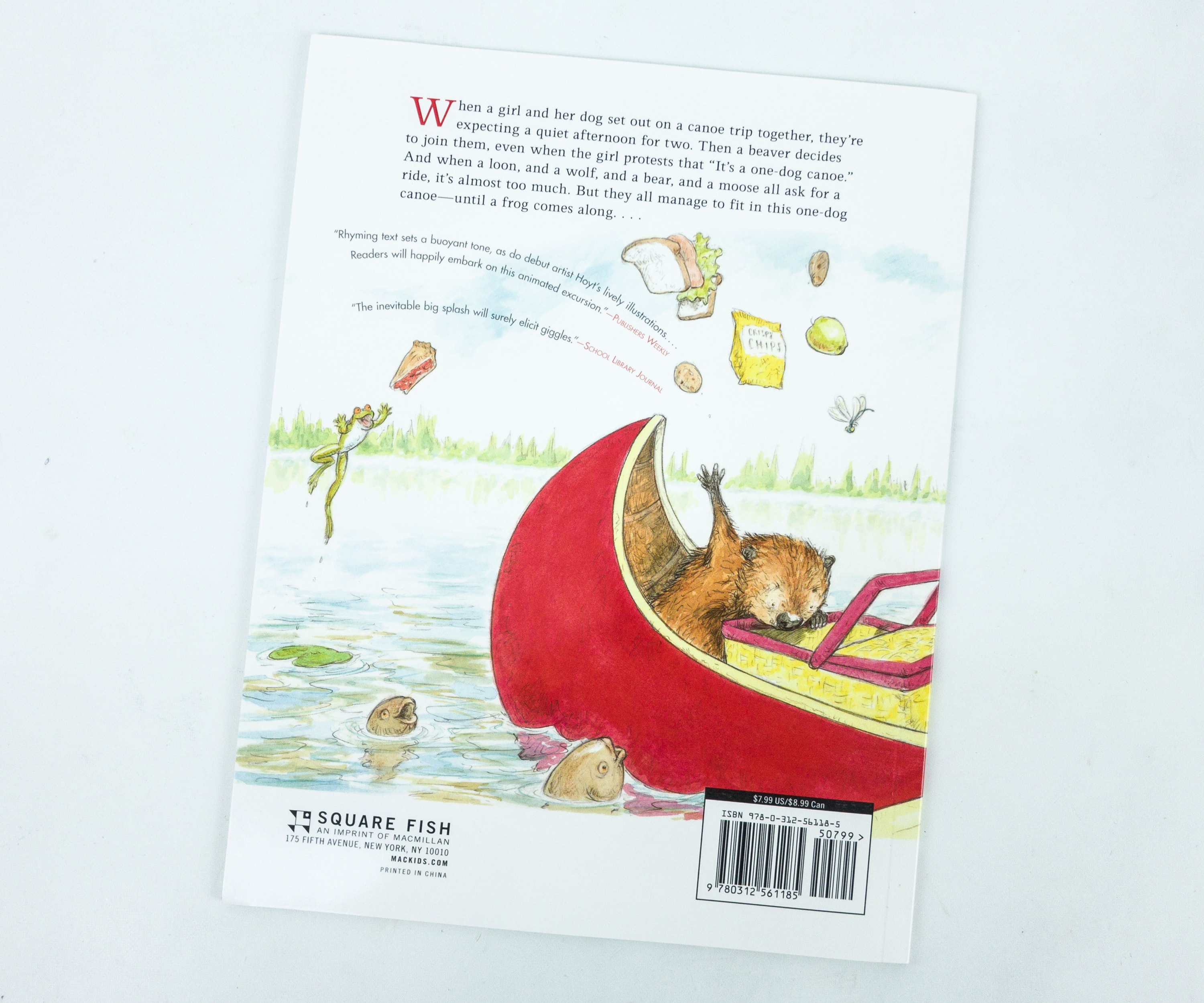 The back of the book gives us a glimpse of the story which is about a girl and a dog who sets up a canoe trip.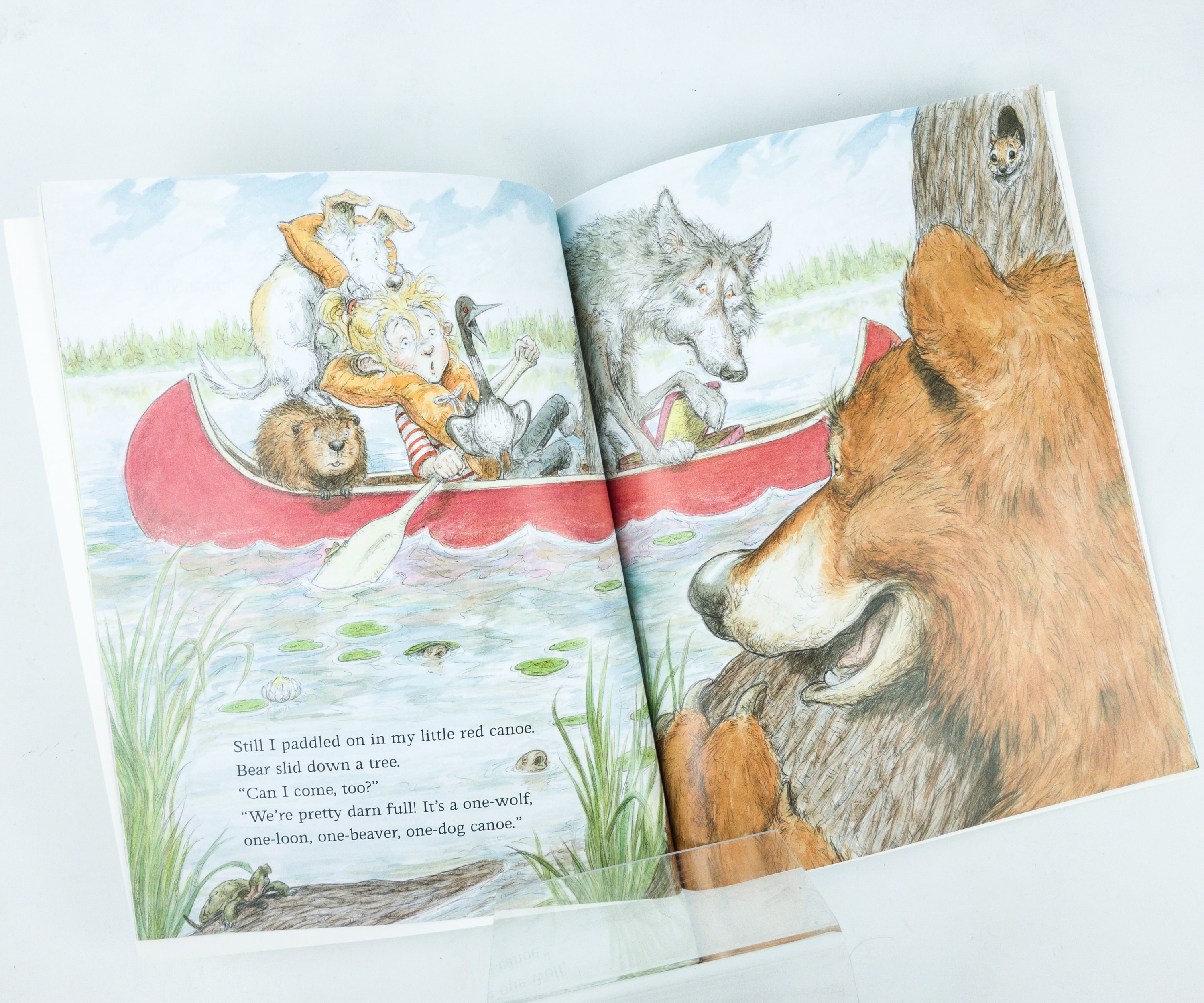 They meet a lot of other animals who want to join the adventure! The illustrations are looking really nice too, they remind me of classic picture books.
The book is easy to read for younger kids as it came with rhyming texts.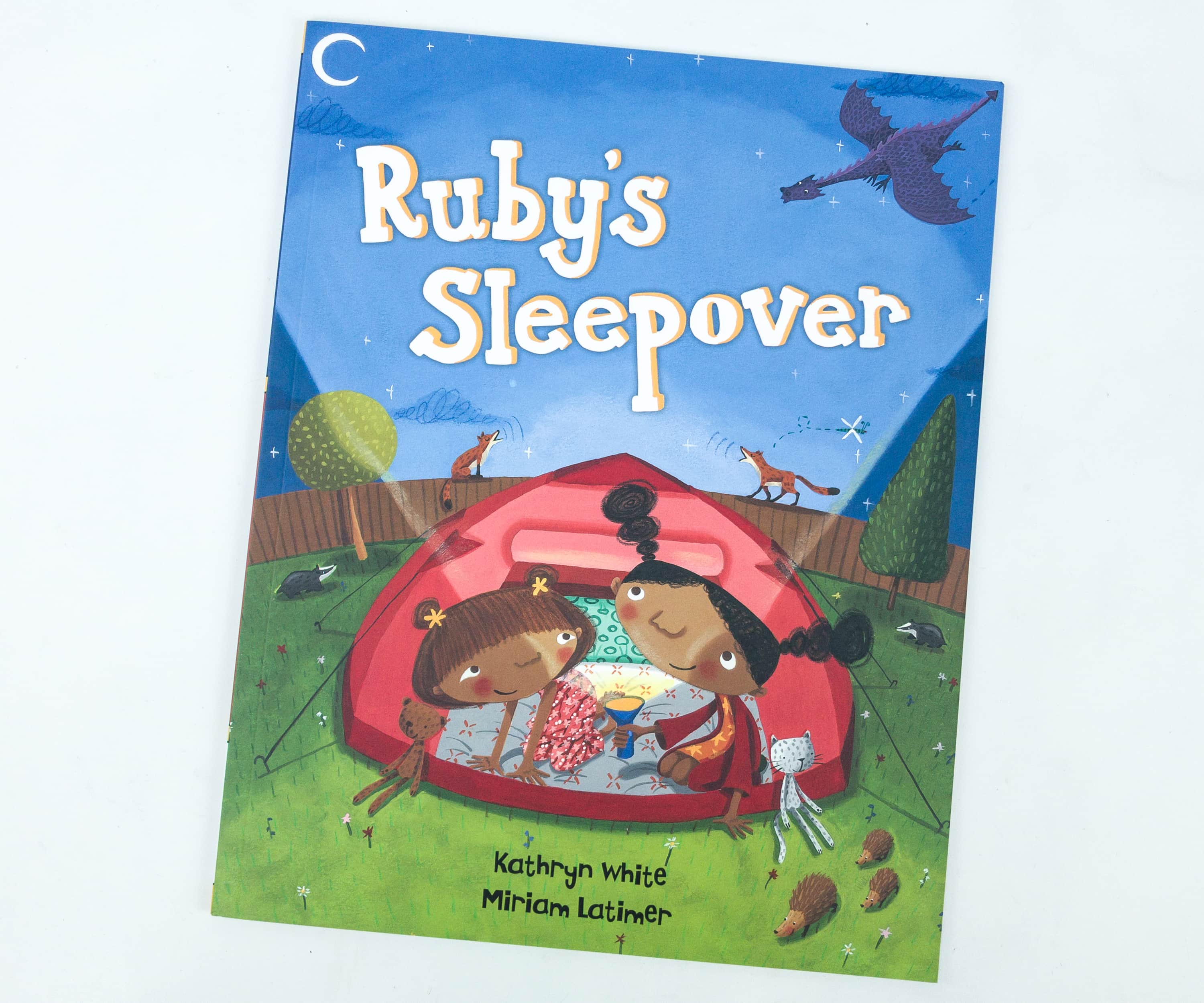 Ruby's Sleepover by Kathryn White ($7.99)
Ruby and Mai are camping out in the garden. As the night draws in, all sorts of scary characters head towards their tent. Luckily, Ruby has some magical objects in her rucksack, but will they be enough to keep the girls safe?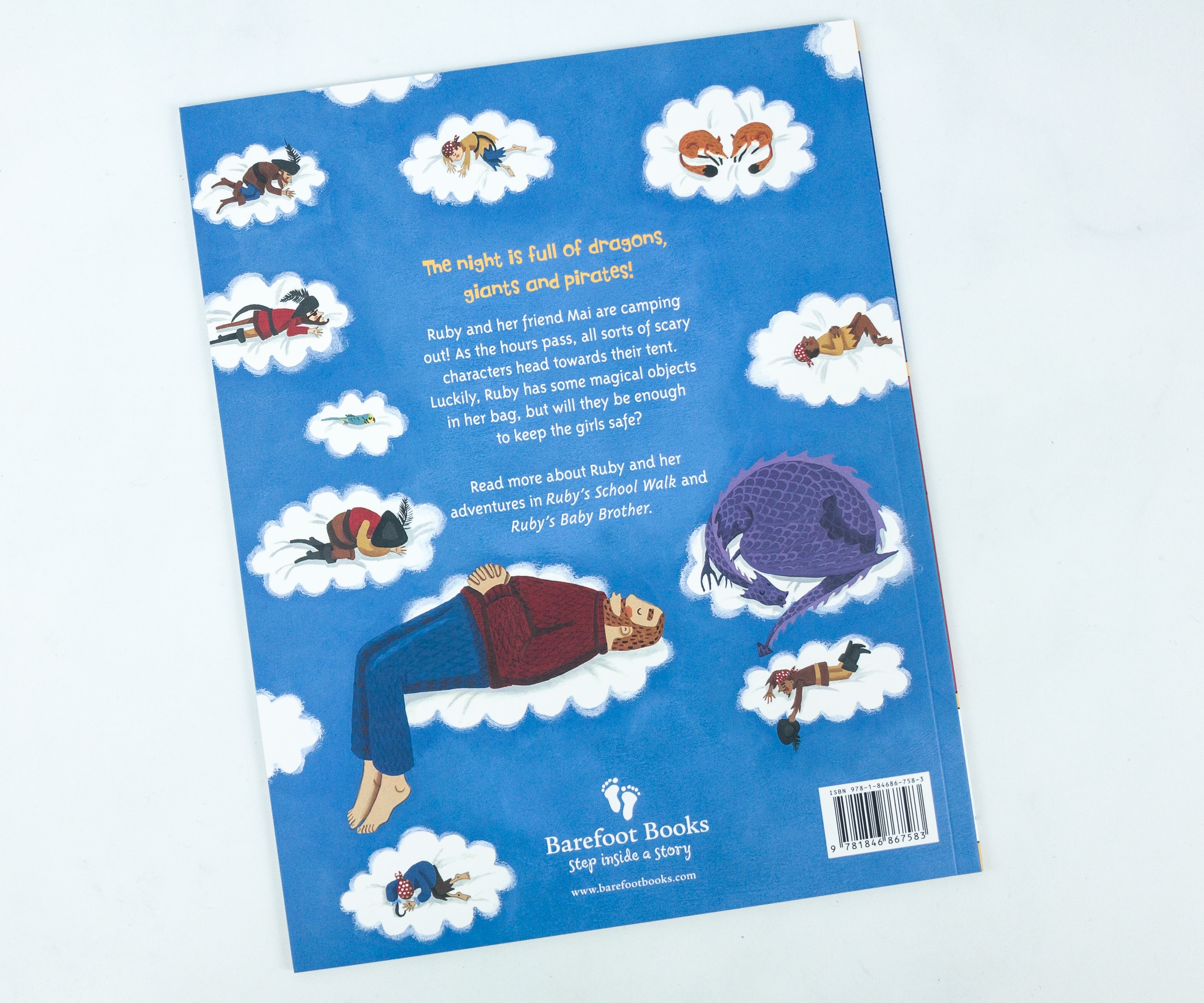 The story is about two girls going out camping and the surroundings turn dark, different scary creatures head towards their tent!
The story also has rhyming texts, which is more appealing to the young ones. It's a nice read to prepare the kids for bedtime!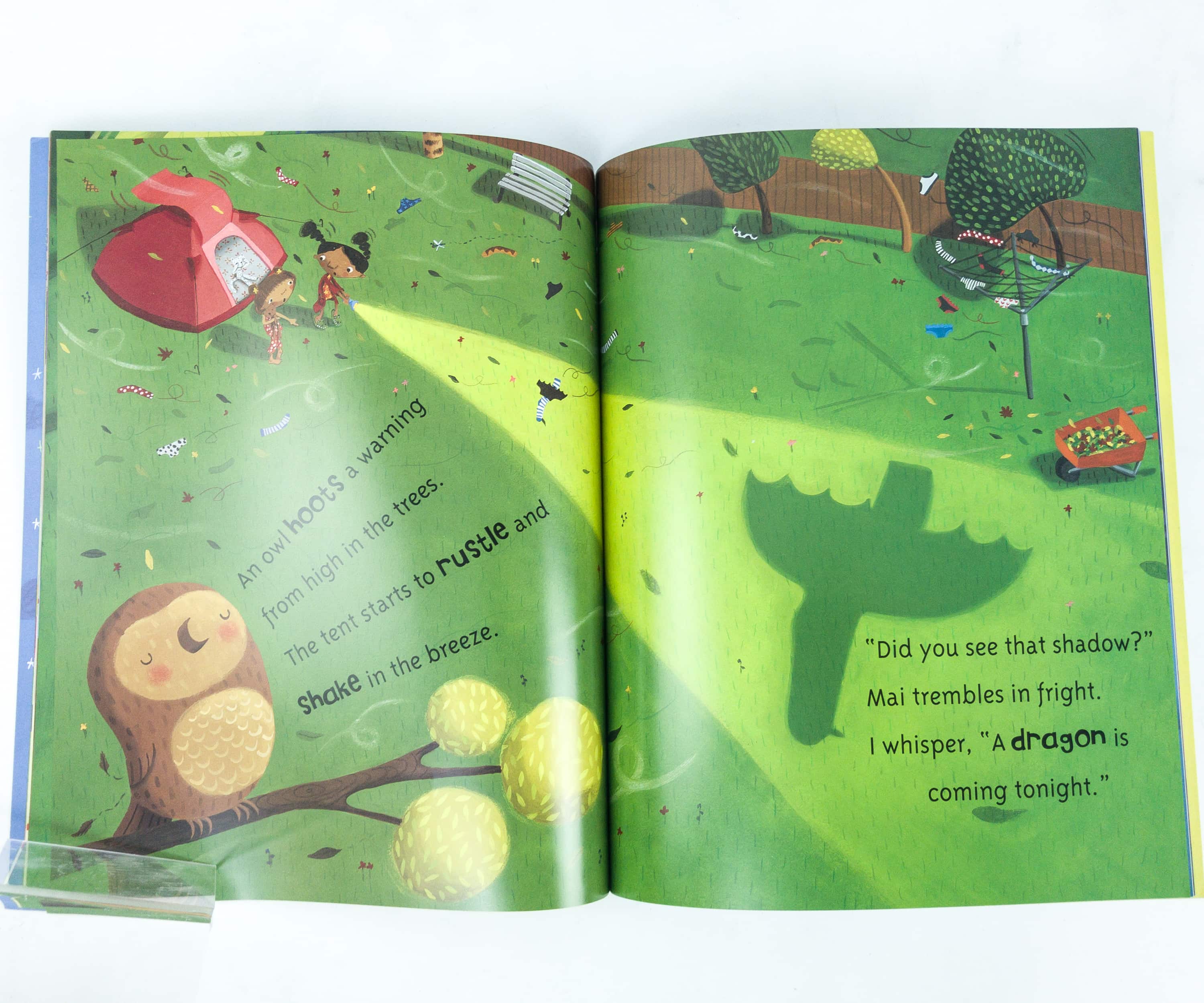 The artist did a great job in making the quirky art interesting for the kids.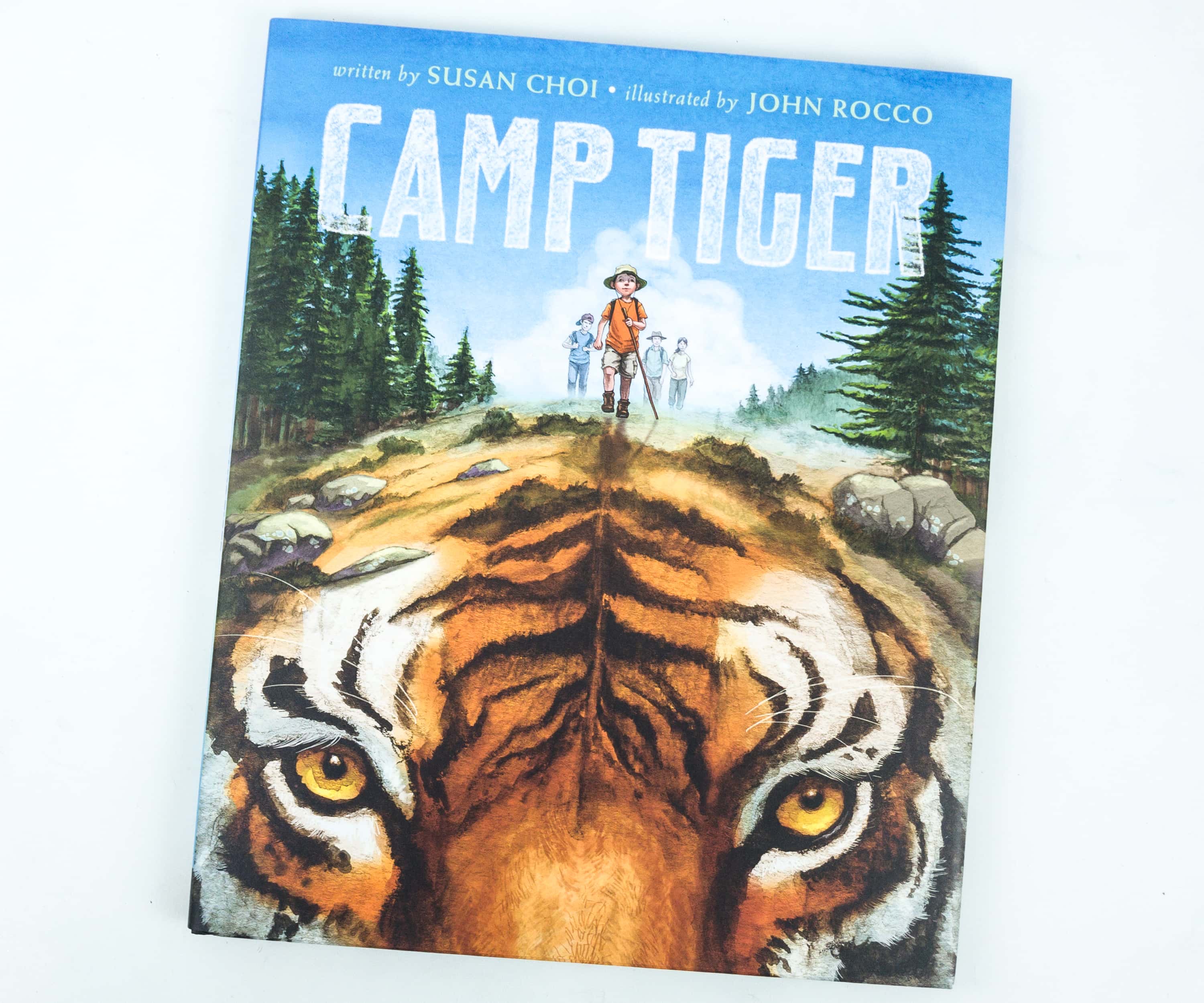 Camp Tiger by Susan Choi ($13.98)
Imagination meets reality in this poetic and tender ode to childhood, illustrated by Caldecott Honor winner, John Rocco.

Every year, a boy and his family go camping at Mountain Pond.

Usually, they see things like an eagle fishing for his dinner, a salamander with red spots on its back, and chipmunks that come to steal food while the family sits by the campfire.

But this year is different. This year, the boy is going into first grade, and his mother is encouraging him to do things on his own, just like his older brother. And the most different thing of all . . . this year, a tiger comes to the woods.

With lyrical prose and dazzling art, Pulitzer Prize finalist Susan Choi and Caldecott-honor winning artist John Rocco have created a moving and joyful ode to growing up.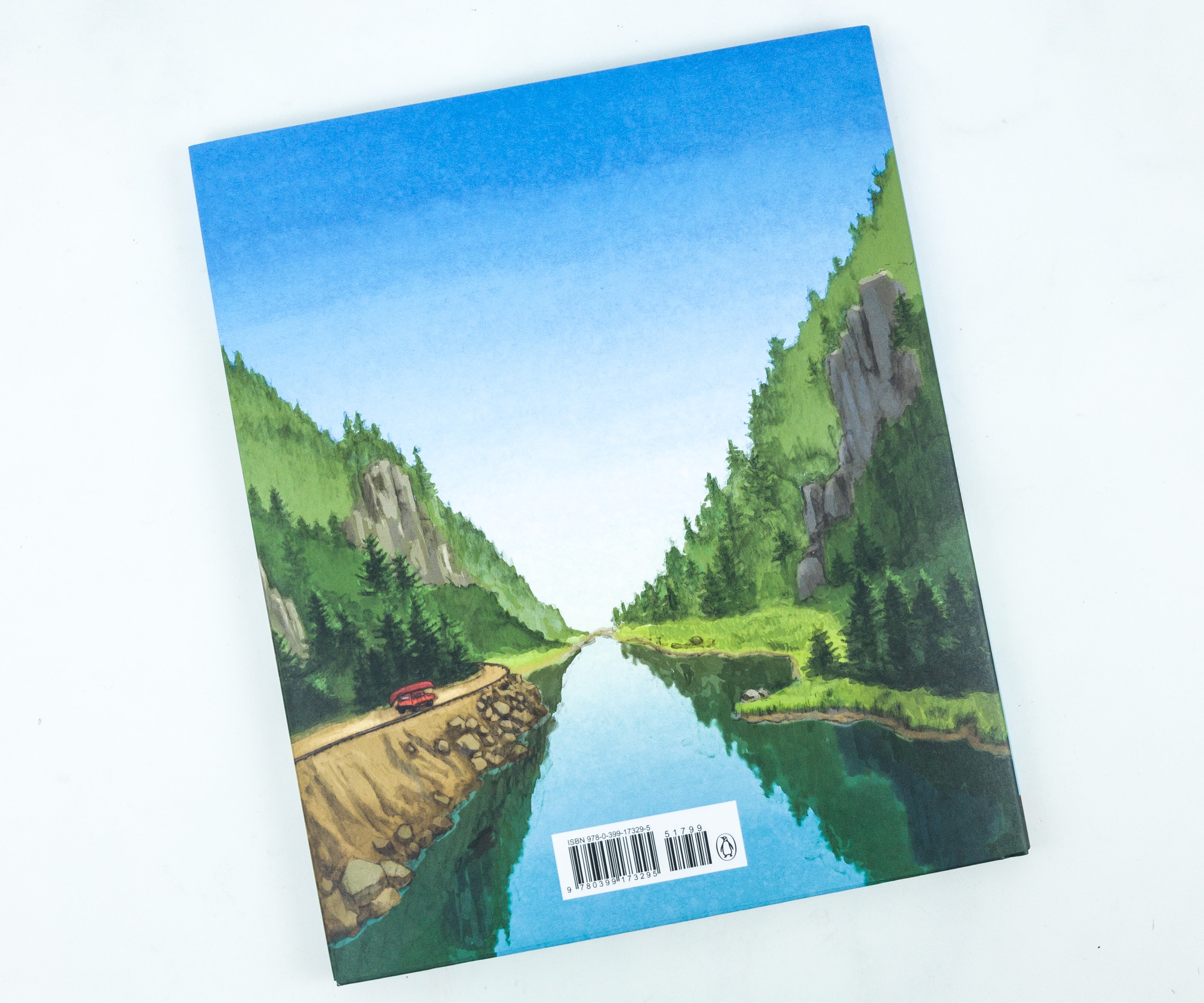 The back of the book features a really picturesque scenery!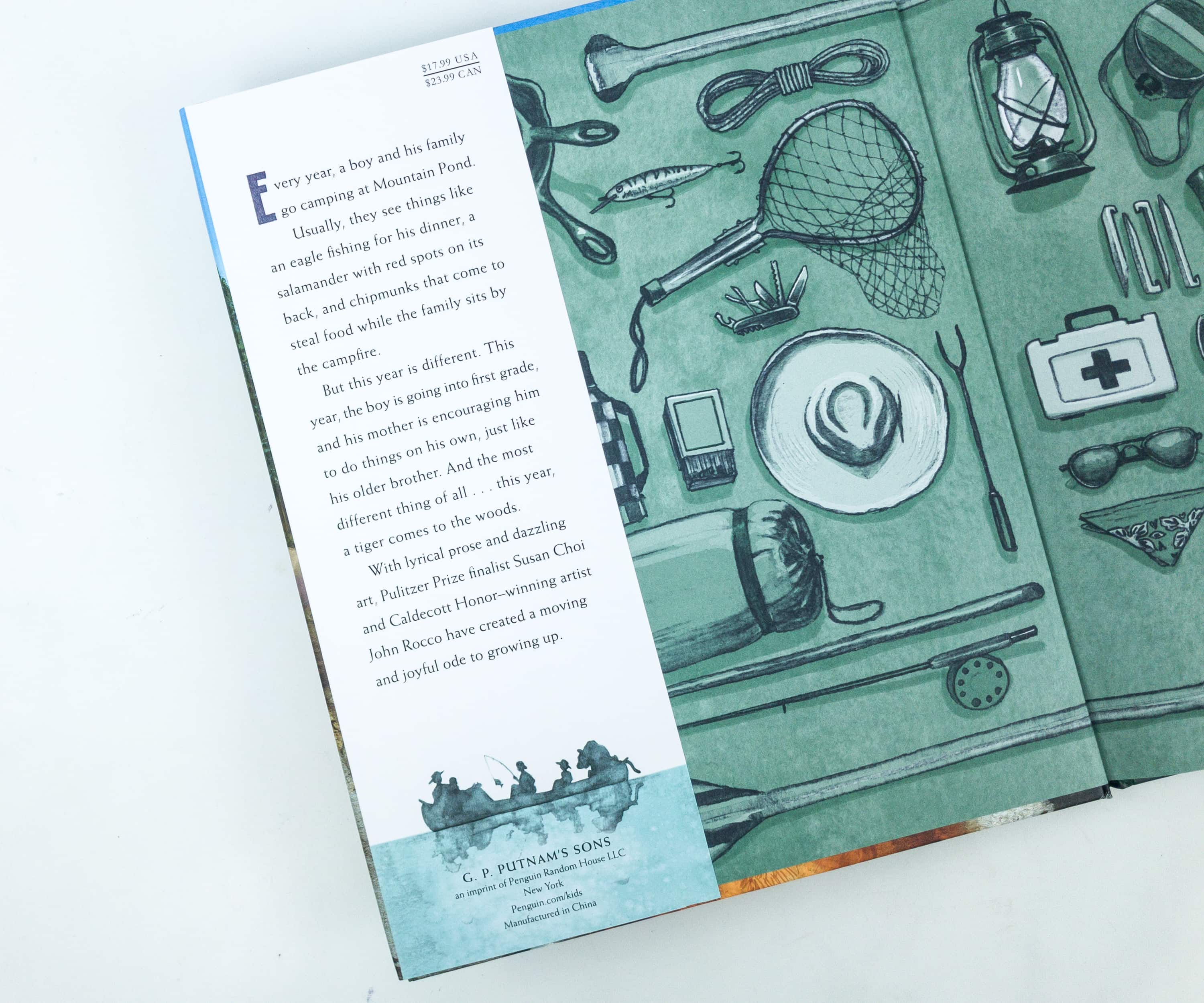 The book came with a dust jacket, and like most books, the flap of the jacket includes a brief introduction and provided more information about the story.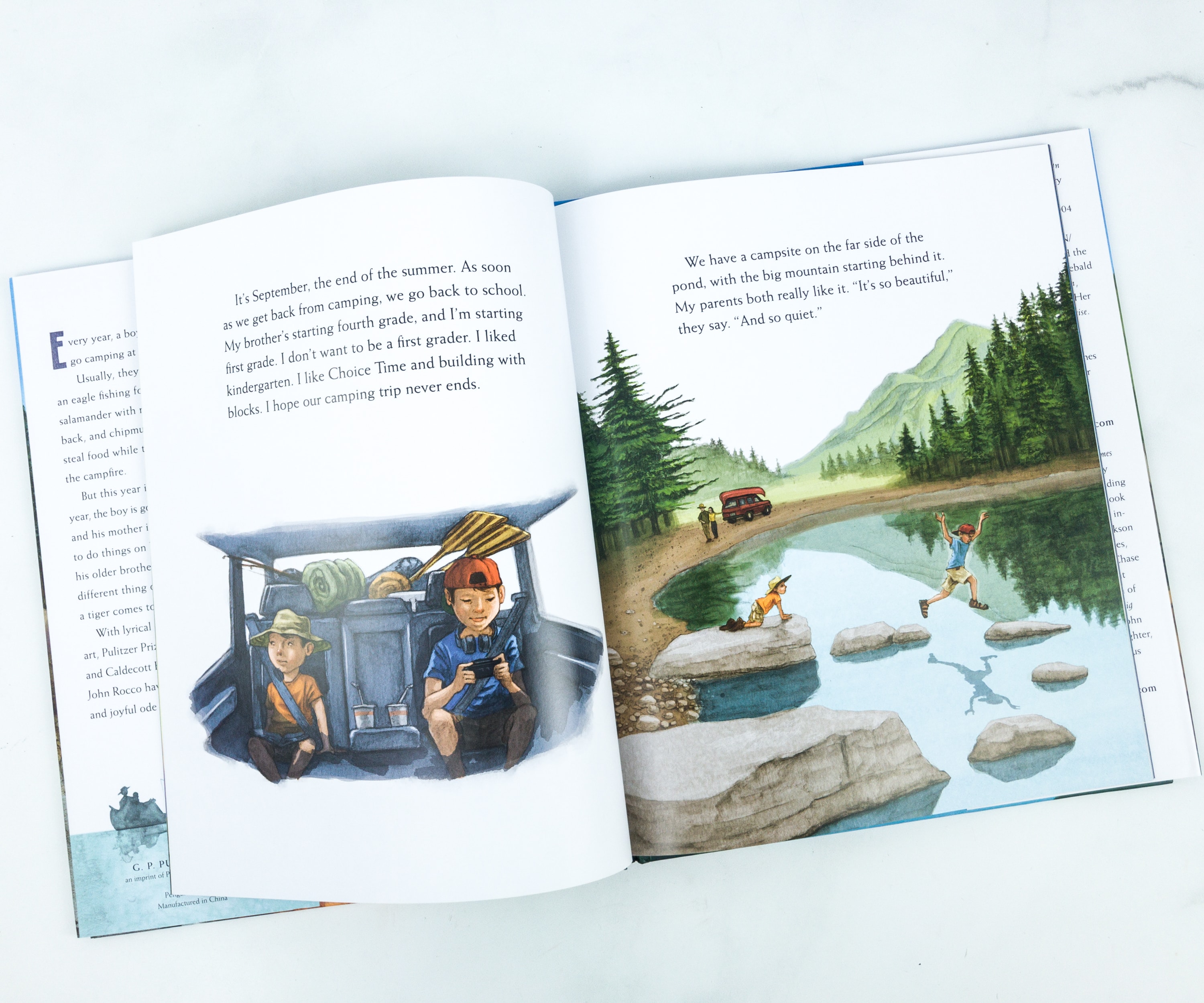 The picture book teaches kids how to become independent and responsible for their own decisions.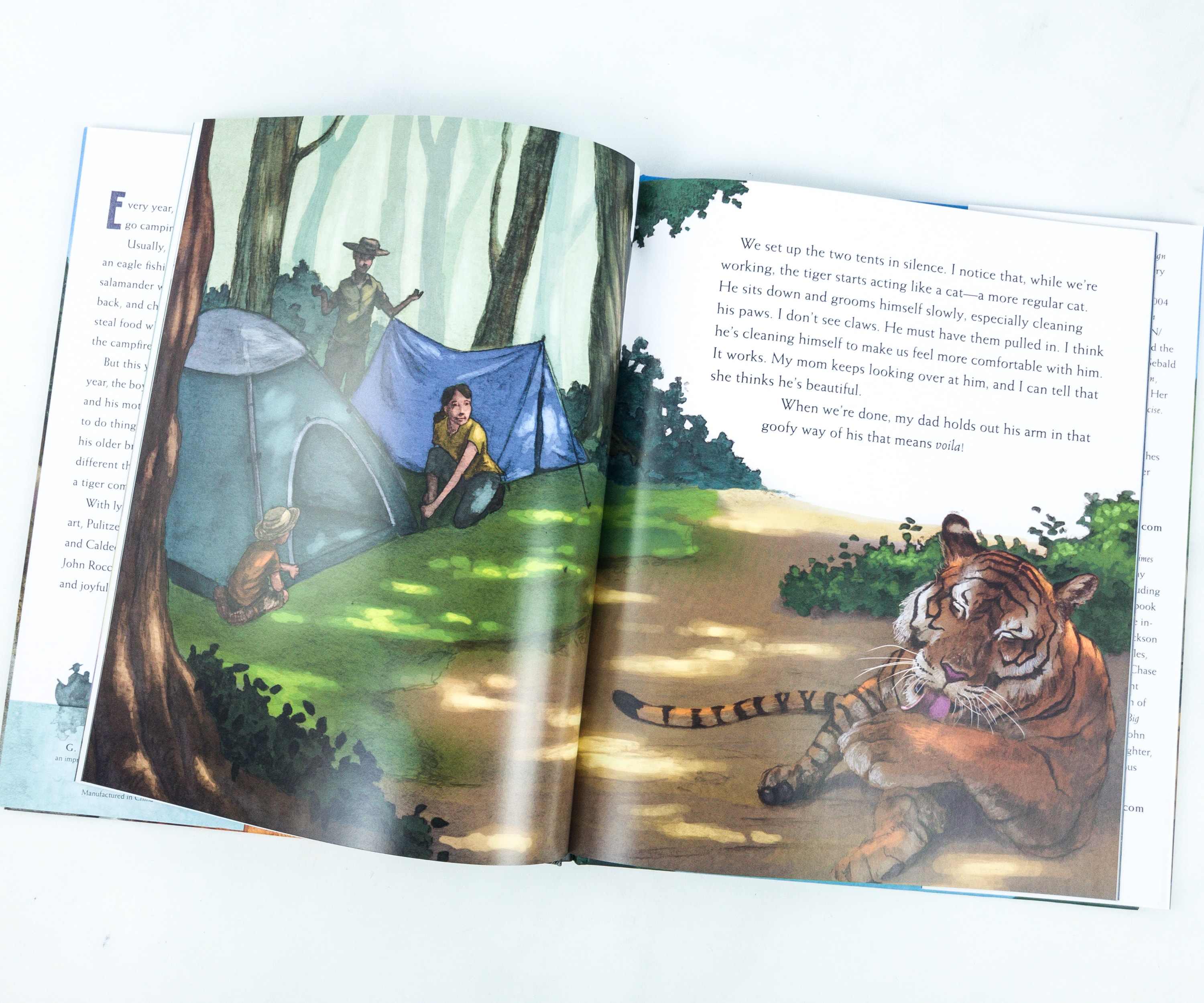 The story was written poetically. It's the perfect read for kids who are practicing to pronounce by reading out loud. Aside from being a fun read, it imparts a lot of moral lessons as well!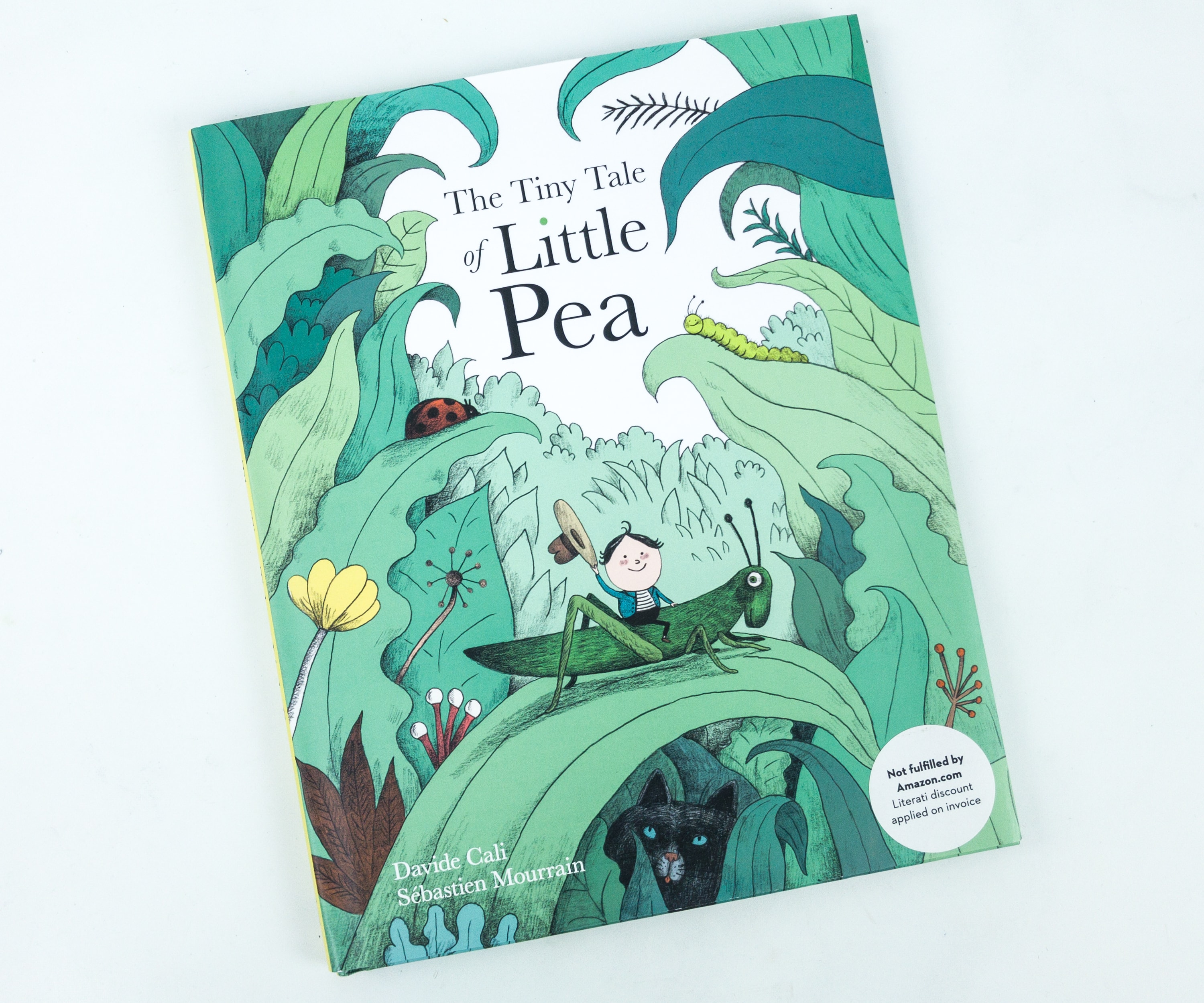 The Tiny Tale of Little Pea by David Cali ($13.99)
When he was born, Little Pea was tiny. Teeny-tiny.? His clothes were hand sewn by his mother and his shoes were hand-me-down doll shoes. As he grew older, Little Pea enjoyed climbing tomato plants, driving around in his wind-up car and riding on the backs of grasshoppers. But then Little Pea started school. And he suddenly realized just how small he was. Too small for his chair. Too small to play the flute. Too small for gym class. What would become of wee Little Pea?

This picture book story by internationally renowned children's author Davide Cali is a graceful and beautifully told contemporary fable about an unconventional hero. As Little Pea finds a place for himself in the world despite his perceived disadvantage, he becomes a champion for younger siblings, small children and all those who are differently abled. By using ingenuity to overcome challenges, Little Pea empowers children to do the same, which makes this book a terrific choice for a character education lesson focusing on perseverance or resilience. It also works for conversations on self-acceptance and individuality or on creativity (Little Pea is an artist). The idea of tiny worlds is enormously appealing to young children, and Sébastien Mourrain's imaginative scenes depicting Little Pea's miniature life will draw readers in with their funny, clever details.
The back of the book features the teeny house of the Little Pea.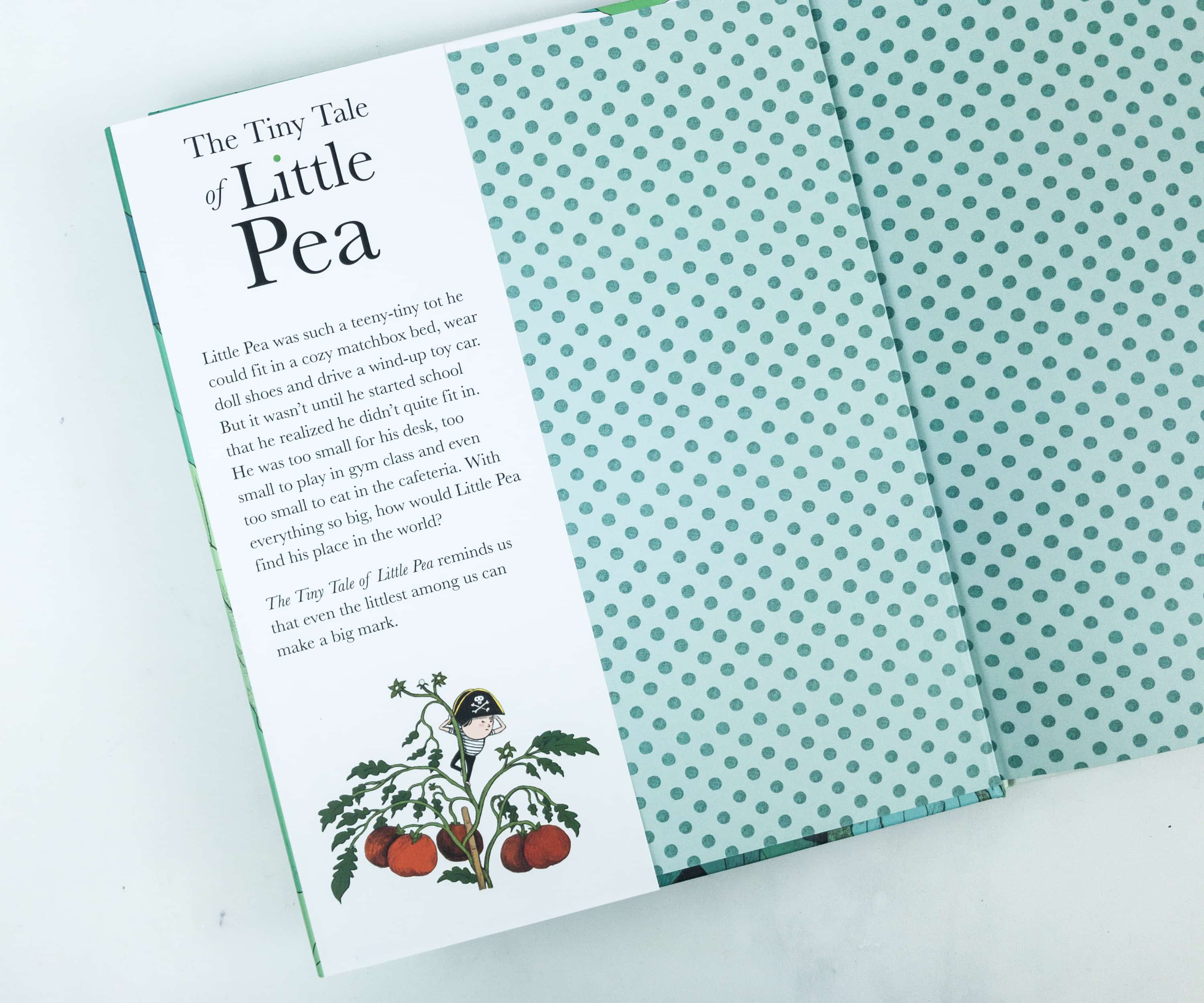 This might be a tiny tale, but we all know that it will have a big impact not just on the kids but for everyone who usually belittles themselves!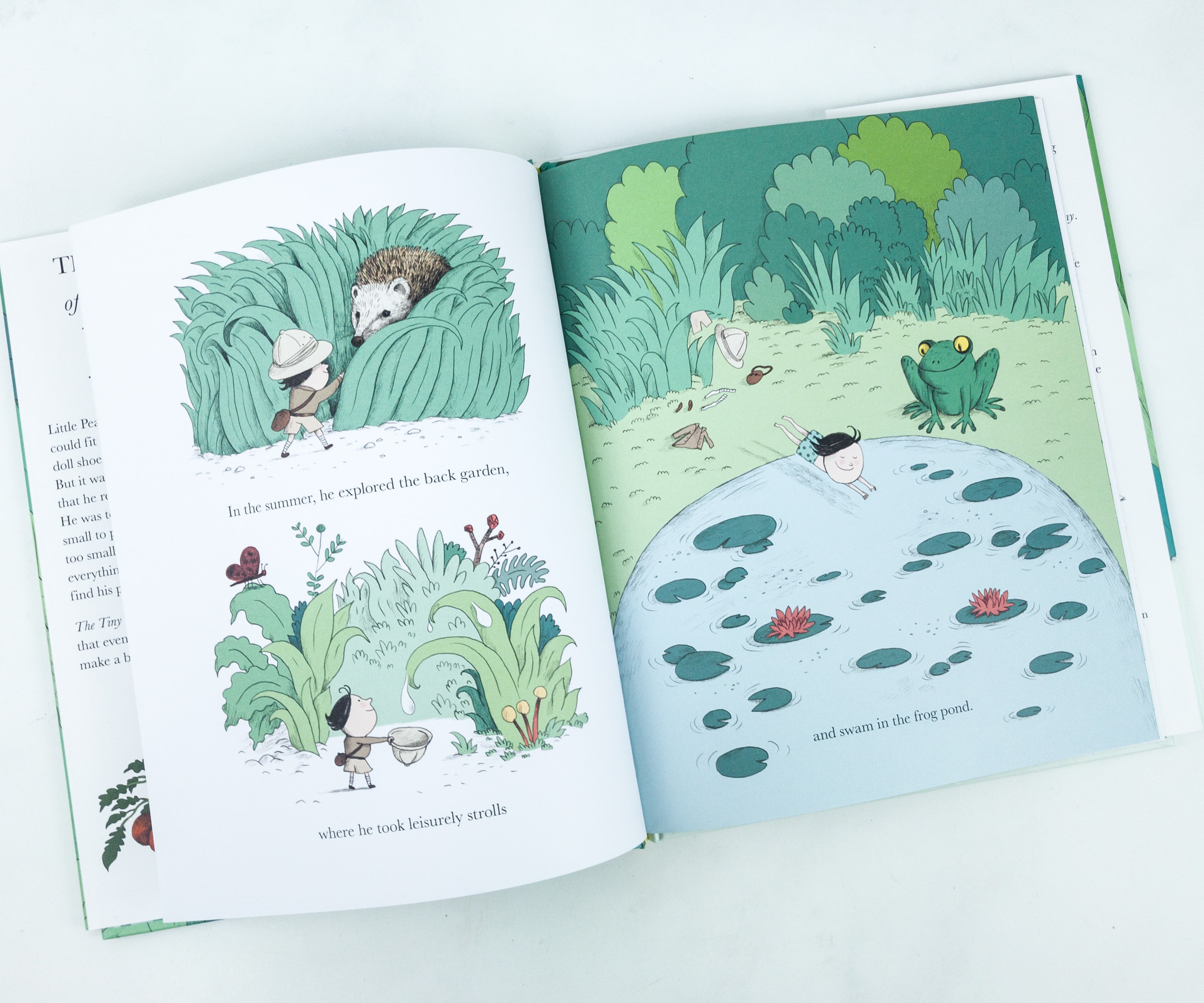 The Little Pea, at first, enjoys everything until he realizes that he is still too small for a lot of stuff!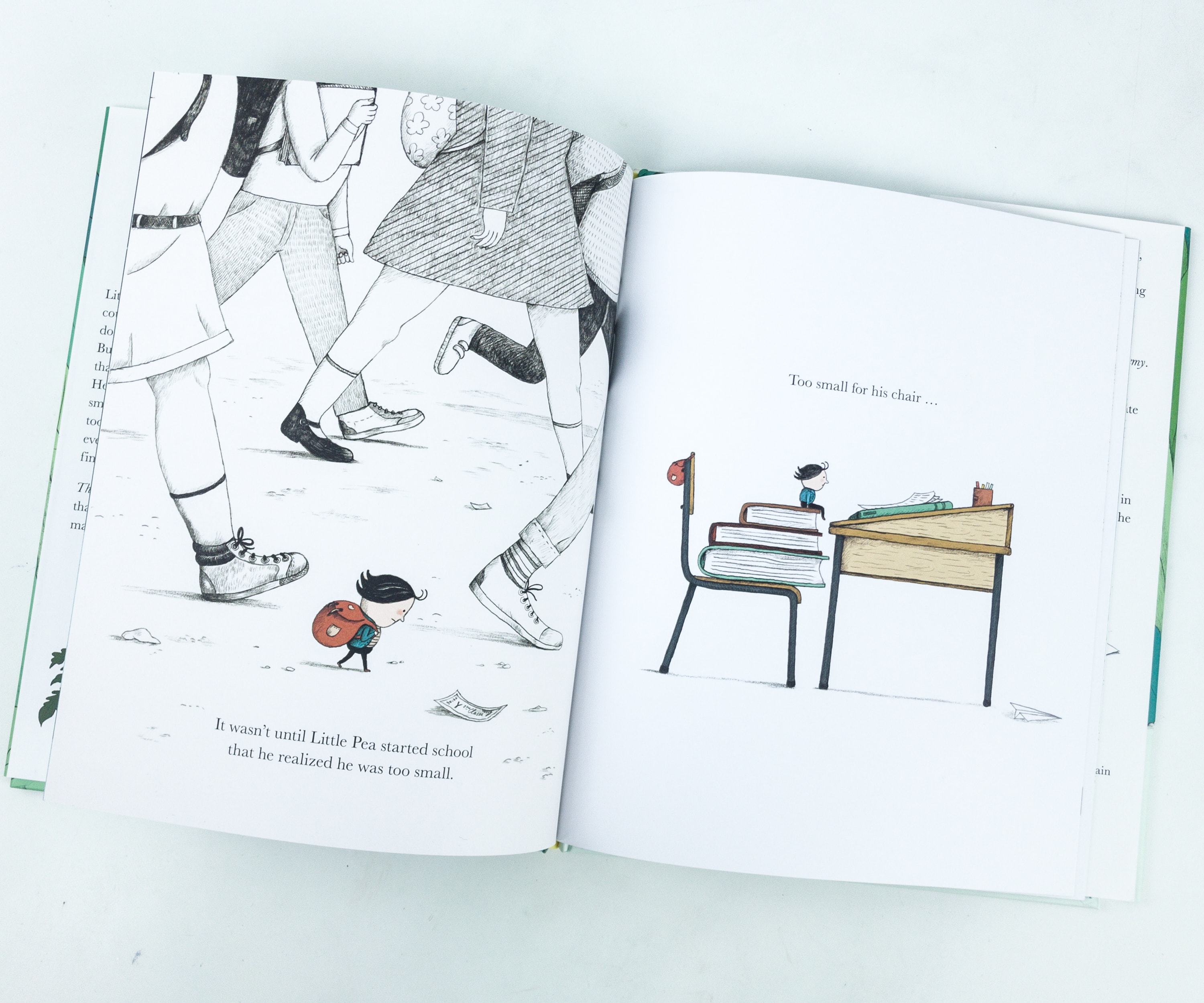 He might be small, but there are things that he can do that the bigger creatures can't. The story aims to uplift kids and tells them that as long as you persevere and do your best, you can achieve anything!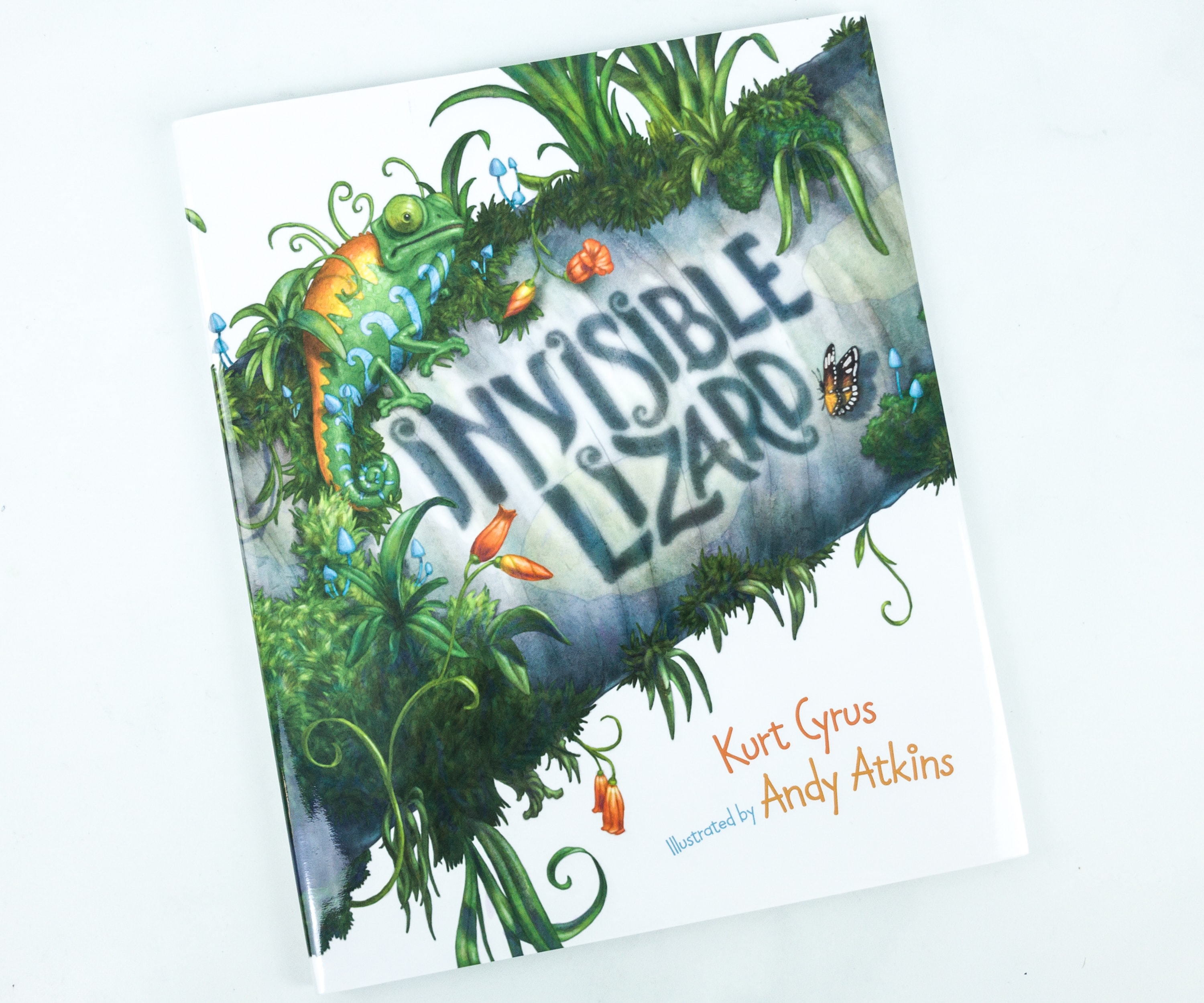 Invisible Lizard by Kurt Cyrus ($16.99)
Poor Napoleon. Despite being the spiffiest chameleon in the jungle, he has no friends. And why is that? Because no one can see him! As everyone knows, chameleons blend in with their surroundings. Napoleon is practically invisible. So he tries every trick he can think of, from waving his arms to weaving a welcome mat to making funny faces, to get the other jungle animals to see him. But it's his final trick that really gets him noticed.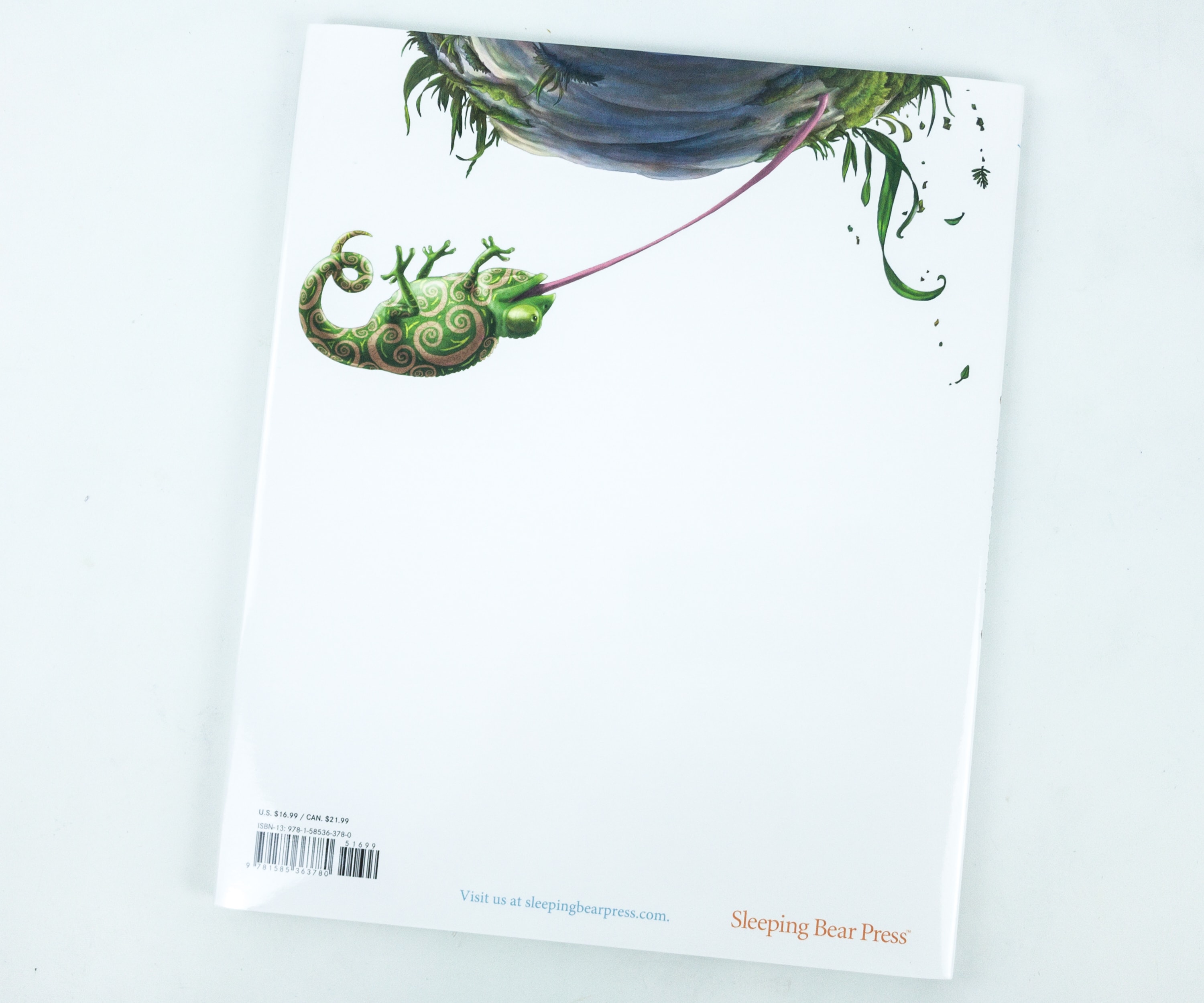 Napoleon is at the back of the book, doing a trick for him to be noticed by other animals!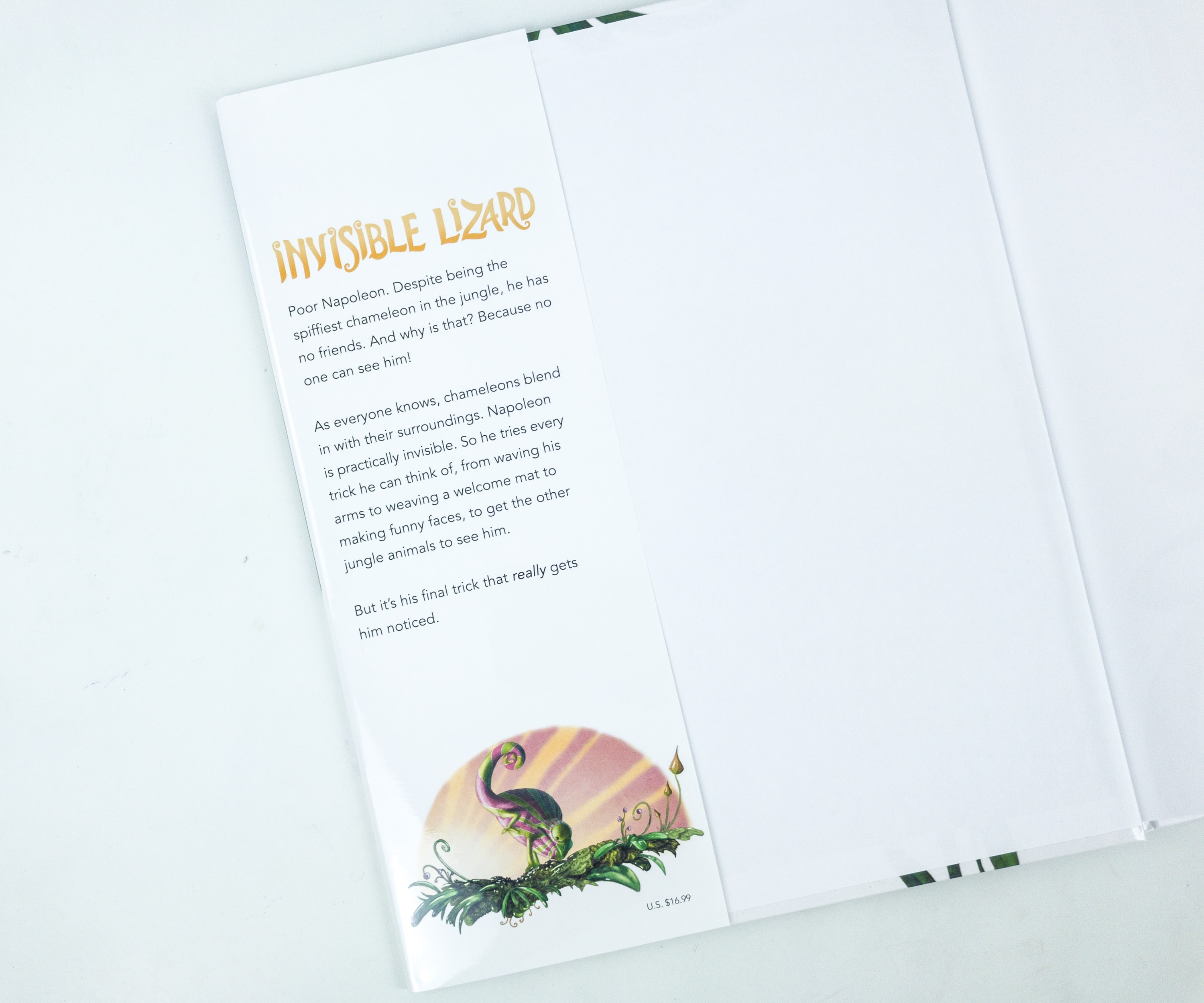 We all know that chameleons can adapt to their surroundings, and that makes them seem invisible to others.
Napoleon here wants to make friends, so he tried a lot of tricks for him to get noticed, but it seemed like nothing works!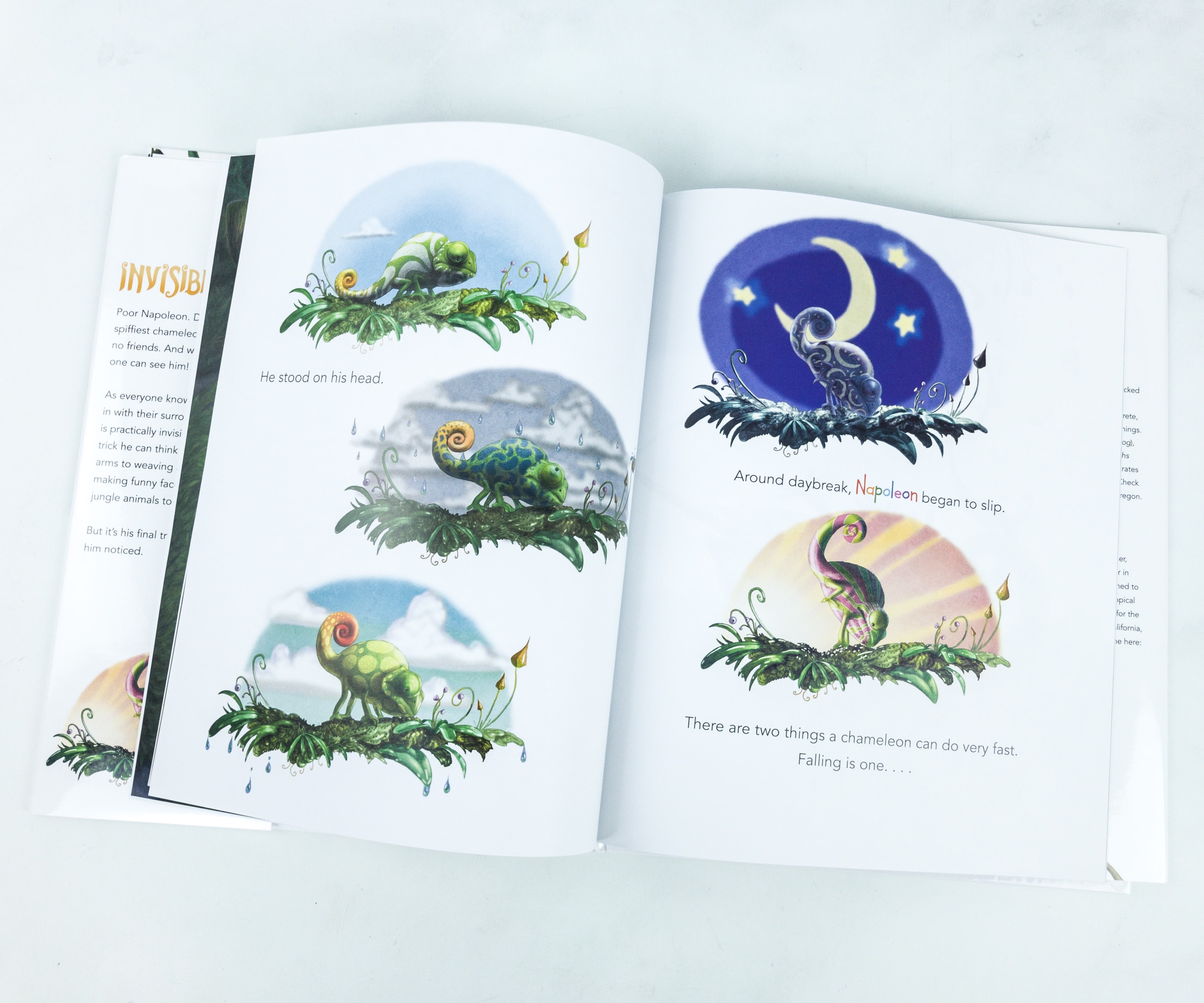 I can say that the story is telling us that being one of the crowd won't really get you noticed unless you try to stand out and be yourself! With his last trick, everyone noticed him and even wanted to become his friend because of that unique ability.
Literati definitely gathered books/stories that are really uplifting. The stories teach kids that being unique is not a bad thing, and it will actually get them to places. We all love the books, and the illustrations are mesmerizing as well, with each book having different art techniques used on them. Our mini-library is growing and we're really happy about adding more books that we don't really get tired of reading again and again!
Any thoughts on Literati?